Children are typically associated with clutter. Moreover, their toys can consume a lot of space. If your kid isn't good at decluttering his or her playthings, then have a look at our toy storage ideas below.
If you find the home cluttered, it is the time to keep your children's toy clutter at bay. For an organized living space, make sure that their toys have their own places.
You should teach your kid to put his or her stuffed animals in one place and cars in another. We recommend having a box to hold random and small toys since they can't fit in a specific category.
Here, we have rounded up some clever toy storage solutions. Put the available space into consideration. Additionally, make sure your kids are capable of following your plan.
Furthermore, you should guide your younger children to declutter their toys independently. Fortunately, most of the solutions are inexpensive.
1. Soft Toy Storage Ideas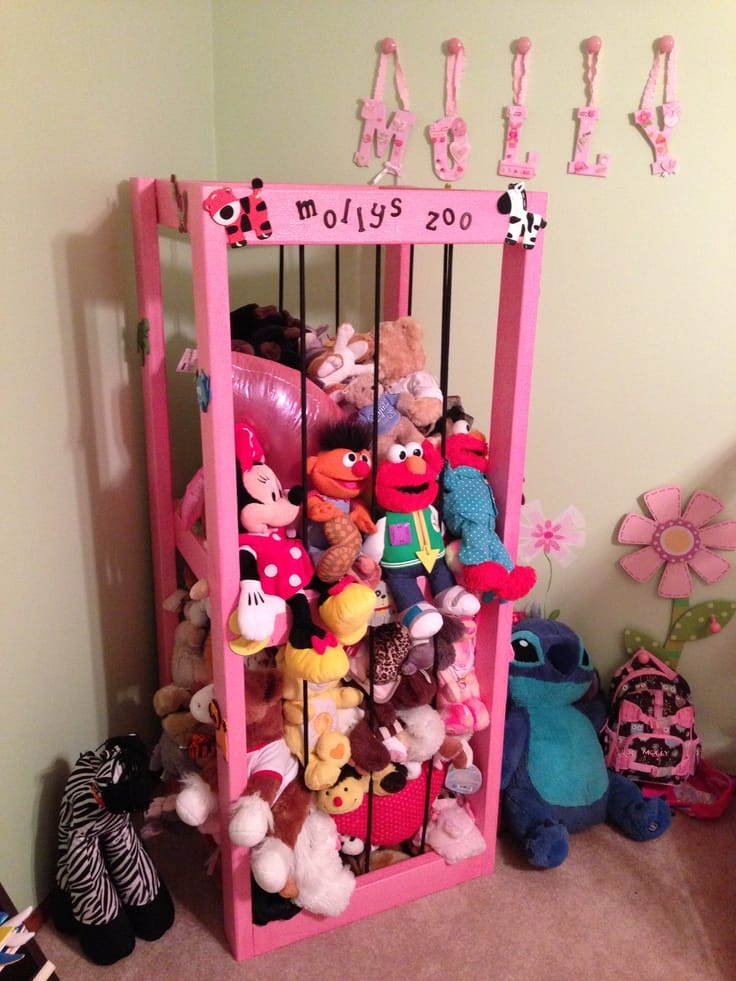 If your kid loves pets, she or he certainly has a lot of stuffed animals. They usually come from relatives and carnivals. Just give this "animal zoo" a chance.
As you see, this is basically an open box with stretchy bungee cords creating the "bars". It allows your kid to see his or her stuffed animals inside.
Moreover, this stuffed animal zoo is both unique and practical. It also makes tidying up really fun. Your child can pull the toys out or put them in easily.
The cute animal stickers and paint color personalize the unit. Since the toy holder has a zoo label, your kid will definitely use it more enthusiastically.
2. Royal Themed Toy Storage Box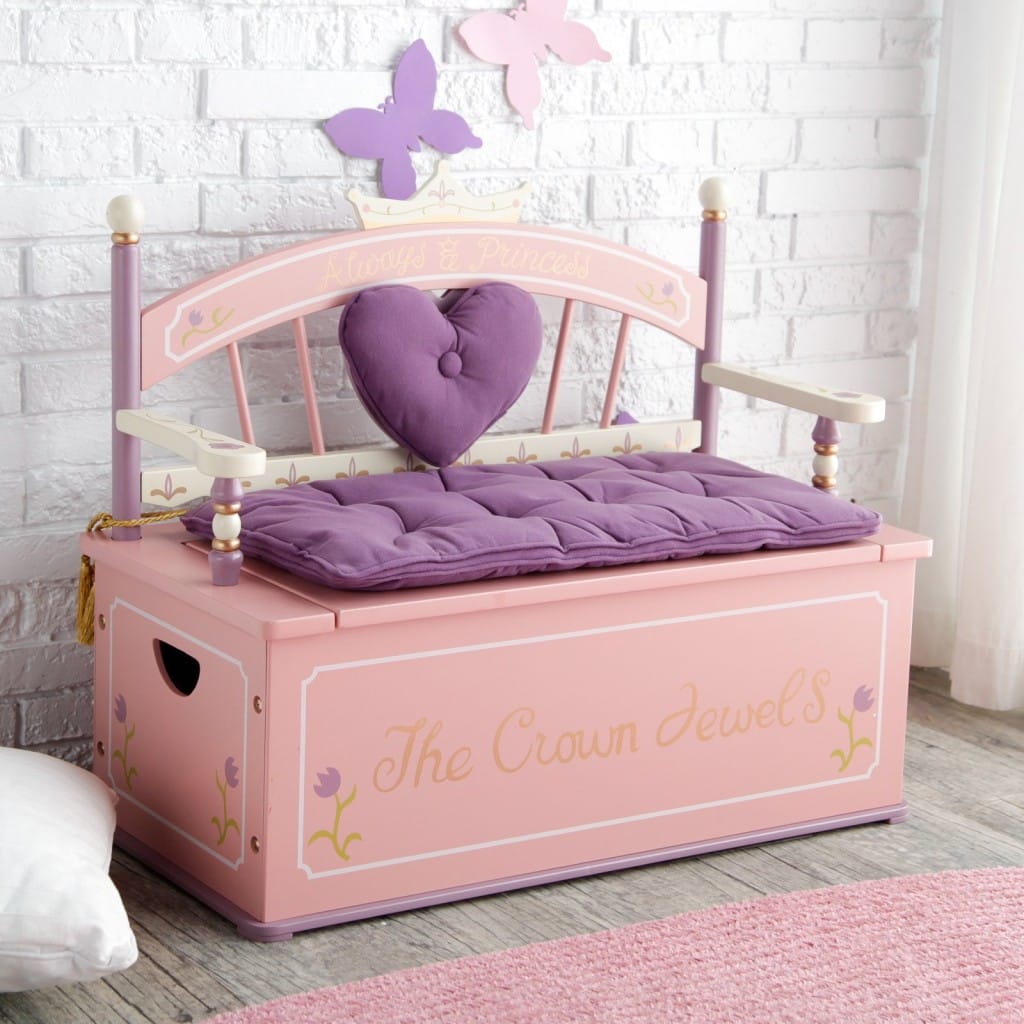 If you have a little princess, give this cute toy chest a go. Since the box is so gorgeous, it will encourage your child to put all her stuffed animals and dolls away.
Toy storage box sits right under the benchtop. The cushion is an ideal place to share her secrets with friends or indulge in a great book. Most importantly, the design and colors will fit nicely into any princess themed bedroom.
3. Toy Storage Ideas with Beach Bags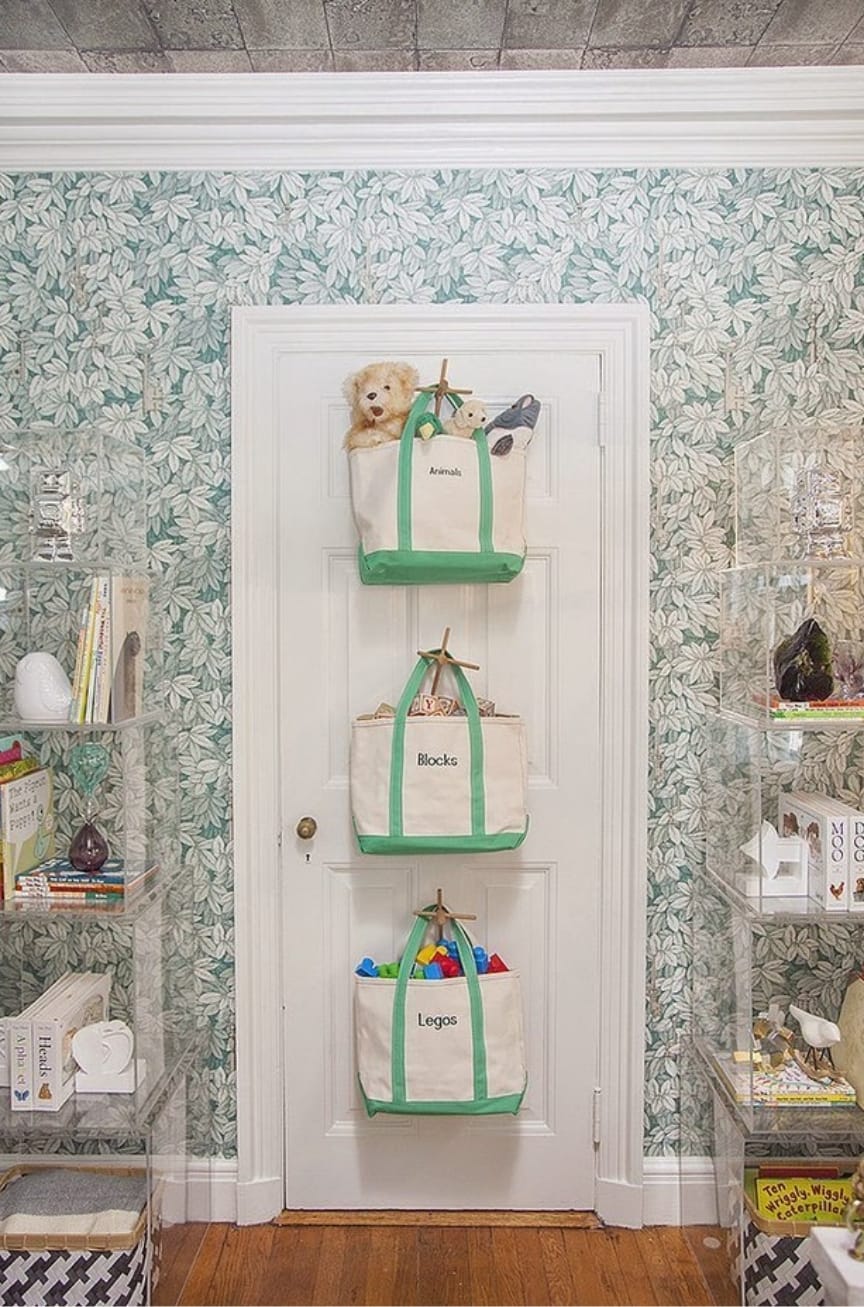 Personalize the beach bags by adding labels to them. That way, your kid can easily identify the toys inside of those units.
You could label the tote bags with professional embroidery. Then, use the pieces as your kid's toy boxes. Since younger children can't read, we recommend color-coding them. Pink for dolls and green for legos.
Mount the beach bags on the door's back. The hangers should be sturdy enough, so they can hold the toy organizers up.
4. Leaning Toy Towers with Storage Boxes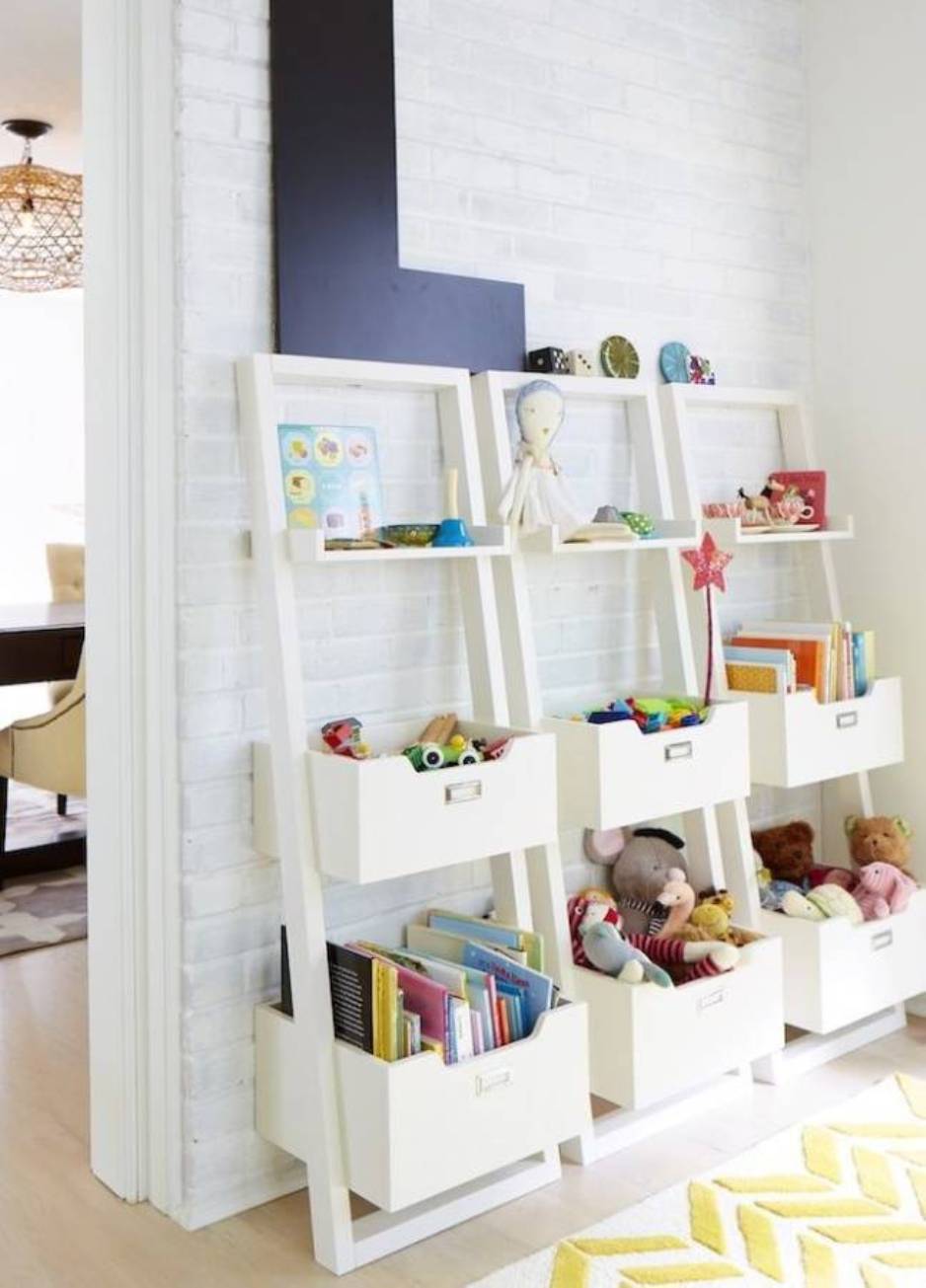 These shelves would look excellent both in the playroom and living area. Many homeowners begin with a simple shelf and put a large box on it.
However, the leaning towers are unusual because they feature built-in storage boxes.
Furthermore, these leaning towers boast basic shelves on the top and medium-sized boxes in the middle. The large ones sit on the bottom. They all provide a lot of storage space for your kid's toys.
The storage boxes have space in the front for your labels. They help kids keep things tidy and organized. You could paint the leaning towers in any color to fit the home decor.
5. Toy Storage Ideas with Colorful Sacks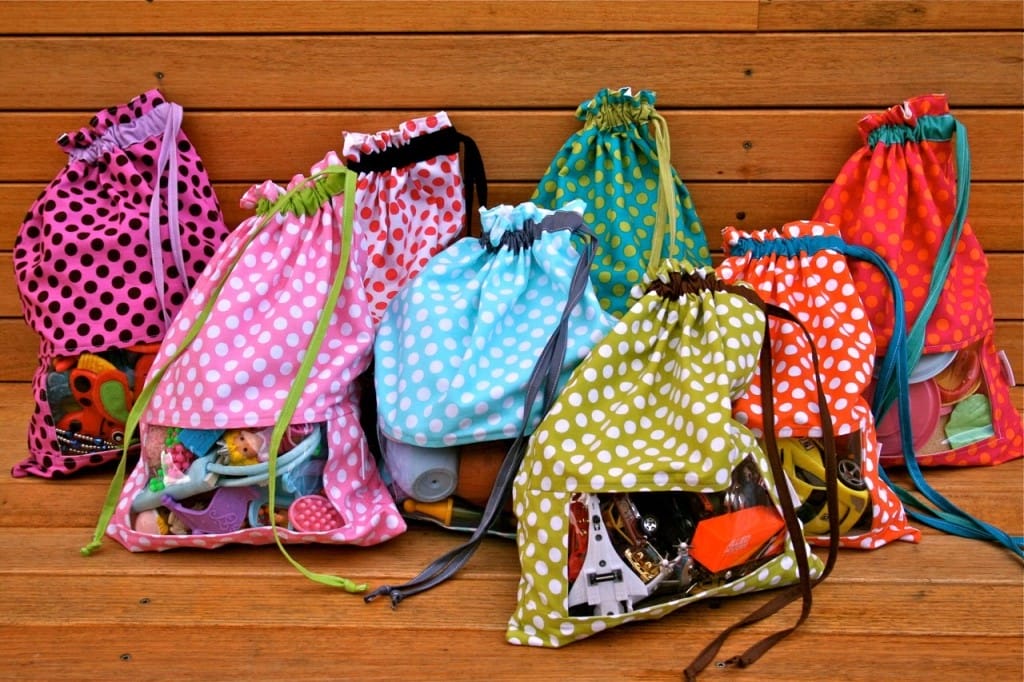 The toy organization couldn't be easier with these small bags. All your kids have to do is just throw their toys in the units and put them away. Clear vinyl "windows" let children see the playthings at a glance.
Moreover, these little toy sacks allow for size customization. The large bags can hold trains and cars. Meanwhile, the small ones accommodate your kid's tea set.
Your children could use these colorful sacks creatively. First, they have to place their toys in a large circle. After that, swoop the pieces up by pulling the strings.
6. Toy Storage Ideas for Multiple Children
If you have multiple kids, this is one of the fabulous toy storage ideas to try. It utilizes acube-style organization solution with big bins on the bottom.
We recommend painting the back wall in different vibrant colors. The stark white paint makes these cubbies look uniform. However, kids will easily know which ones are theirs.
Give each kid a different bold color. Then, personalize this toy organization idea for the number of children you have.
7. Simple Wooden Wall Garage for Toy Cars
The homeowner hung the blonde pieces of wood on the wall. He actually used this lovely "garage" as a shoe rack. However, they make for a great place to neatly park kid's toy cars.
You could craft this simple wall garage using brackets and small wooden planks. Don't forget to plan its height meticulously. That way, your kid can put his toy cars away with ease.
Furthermore, you must put the design of the wall garage into consideration. This helps prevent his toys from rolling off.
8. Toy Storage Ideas with Mesh Hangers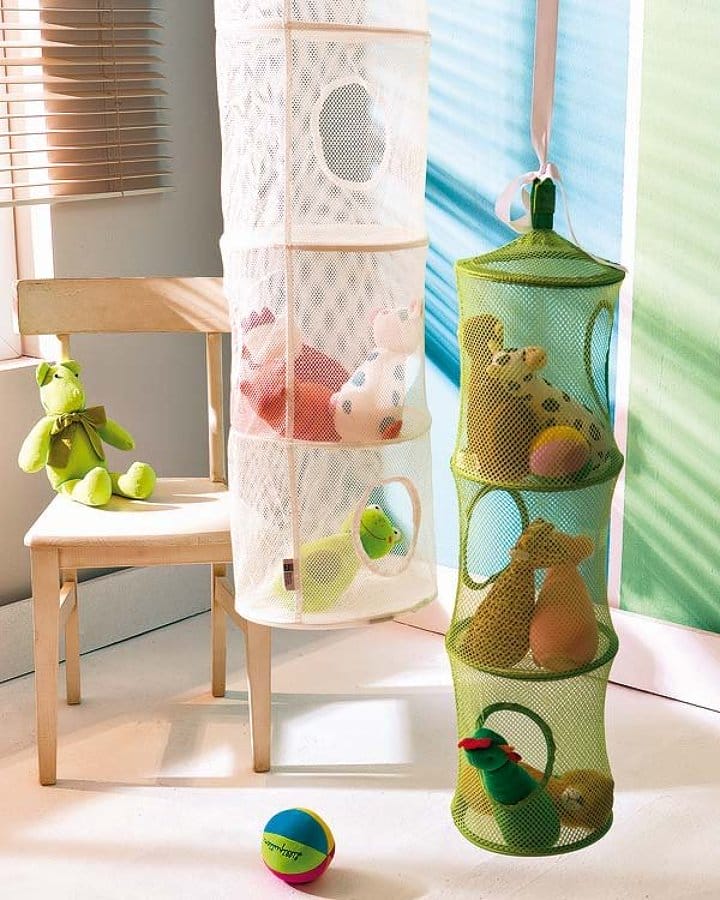 These mesh hangers are functional yet affordable. They offer practicality as well as keep toys off the floor. Here, the hanging containers hold stuffed animals. However, the pieces probably could accommodate balls, too.
Small children possibly couldn't reach the hanger's top shelves. The mesh hangers are an ideal place to stash toys away that your kid will use occasionally.
When empty, the mesh hangers will easily fold down flat. That means they won't consume a lot of playroom space.
9. Toy Storage Ideas for Small Bedroom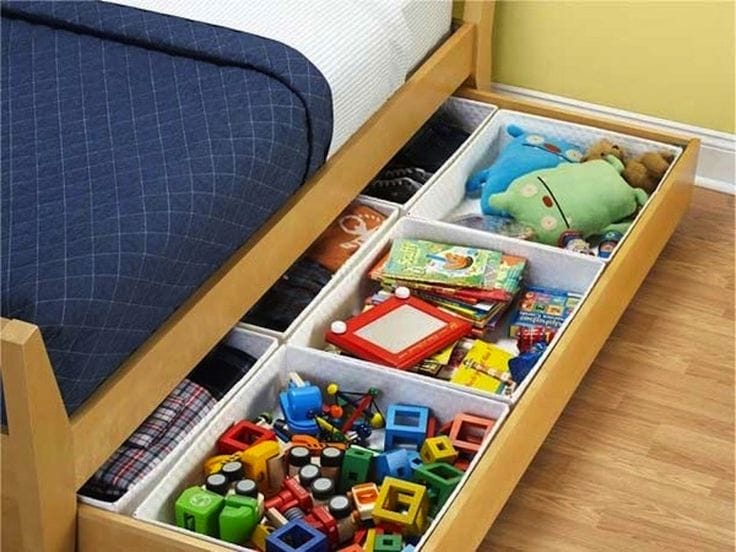 If your kid's bedroom is small, you certainly have to optimize the space. Choose the bed that comes with a slide-out drawer underneath. Without a doubt, this is one of the best toy storage ideas.
You could purchase a trundle bed that has no mattress. In this example, the drawer features additional containers. They let your kids sort their toys. The children can take the items out with ease for playtime.
In addition, it would also make perfect storage for magazines.
10. Vertical Barbie Doll Holder
Your little girl really likes playing with Barbie dolls. Why not add this shoe organizer to her bedroom? It keeps the Barbies from taking over space without covering the whole door.
This vertical shoe holder may look simple. However, it provides an amazing storage solution. Moreover, each section holds a single Barbie doll.
Furthermore, this shoe holder motivates her to put the Barbie dolls back in the right places after playtime. Additionally, your girl can easily find Barbies.
11. Toy Storage Ideas with LEGO Inspired Box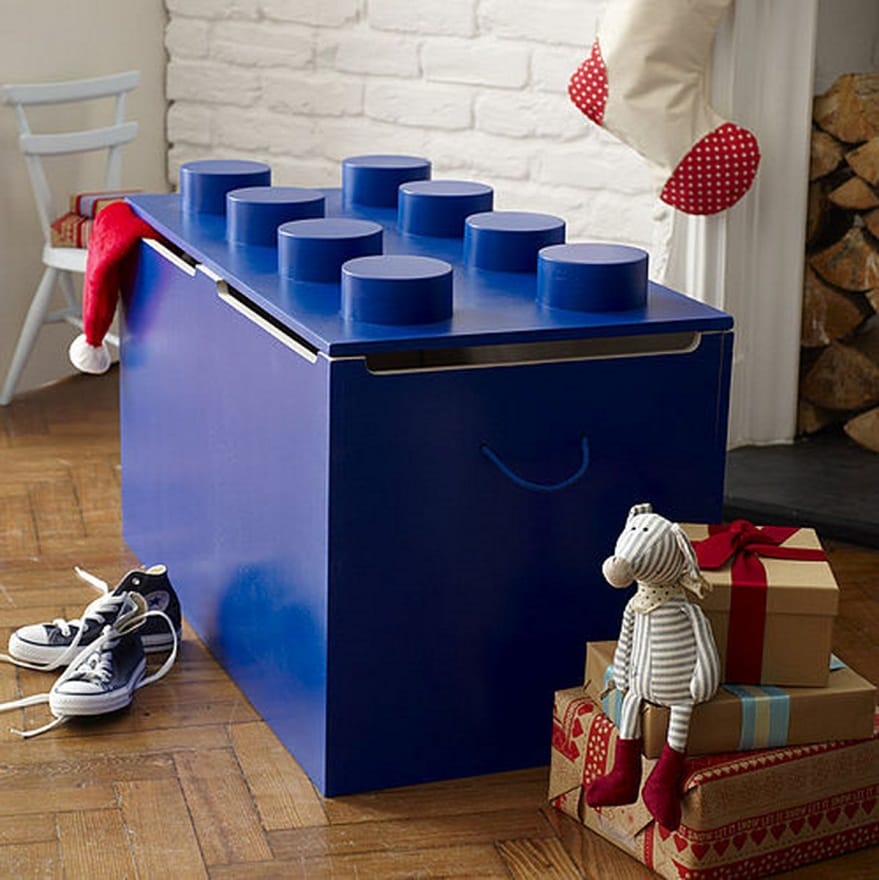 Toy storage boxes are really popular among parents. This is an easy way of telling kids to clean up their toys. They just put all the pieces into a box.
This blue box is truly interesting because it reminds your children of LEGO. Unlike other storage boxes, the chest boasts a safer lid.
As you see, the LEGO storage box has a tiny space around its edges. This makes the lid much safer for your kid's fingers. It keeps your little one from getting pinched.
Speaking of IKEA toy storage ideas, this company collaborated with LEGO and released the BYGGLEK collection. It makes cleaning up toys really fun.
12. Toy Storage Ideas with Colorful Nets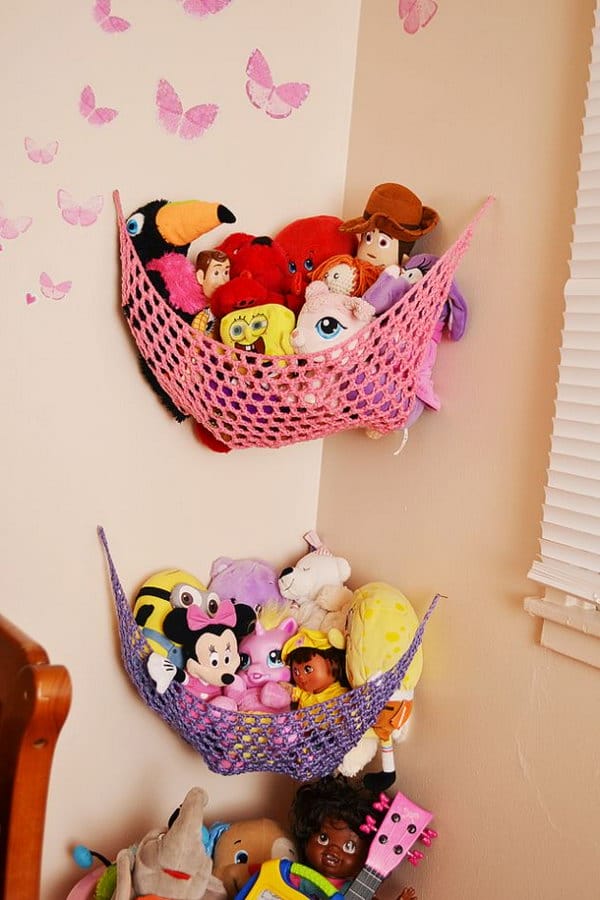 This is one of the magnificent toy storage ideas. The colorful nets allow stuffed animals and dolls to hang around. They also prevent the corner space from going neglected. Moreover, the pieces can accommodate a lot of toys.
The vibrant nets are perfect for any teens and tweens. They keep the toy's clutter at bay while giving your children's old friends proper homes.
Furthermore, these toy nets come in various colors as well as styles. You can personalize them easily for any kid's bedroom.
13. Outdoor Toy Storage Ideas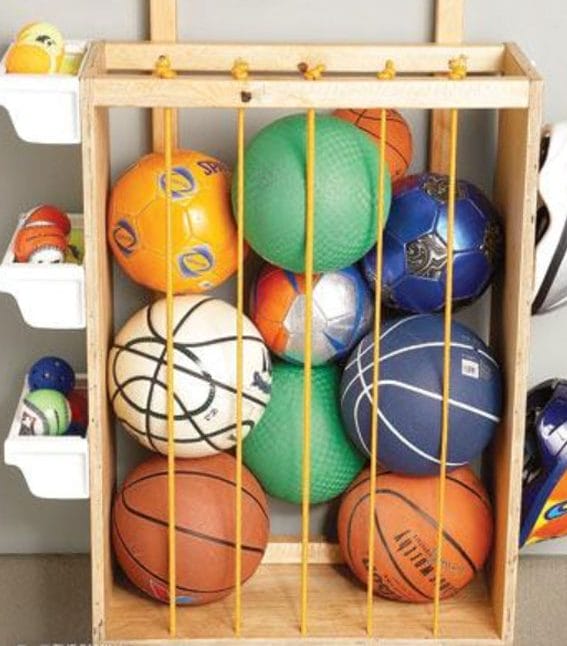 Sometimes, you focus on organizing things inside and forget about the marvelous outside toy storage ideas. The best ball holder should provide enough storage space while letting your kids use it with ease.
Here, the box features elastic ropes along its sides. It keeps the kids' balls in place. However, they enable the children to take them out quickly.
When the playtime is up, your little ones can toss the items in from the organizer's top.
The side space of this ball holder doesn't go unused too. It offers storage for bike helmets as well as tiny balls.
14. Toy Storage Built-In Shelves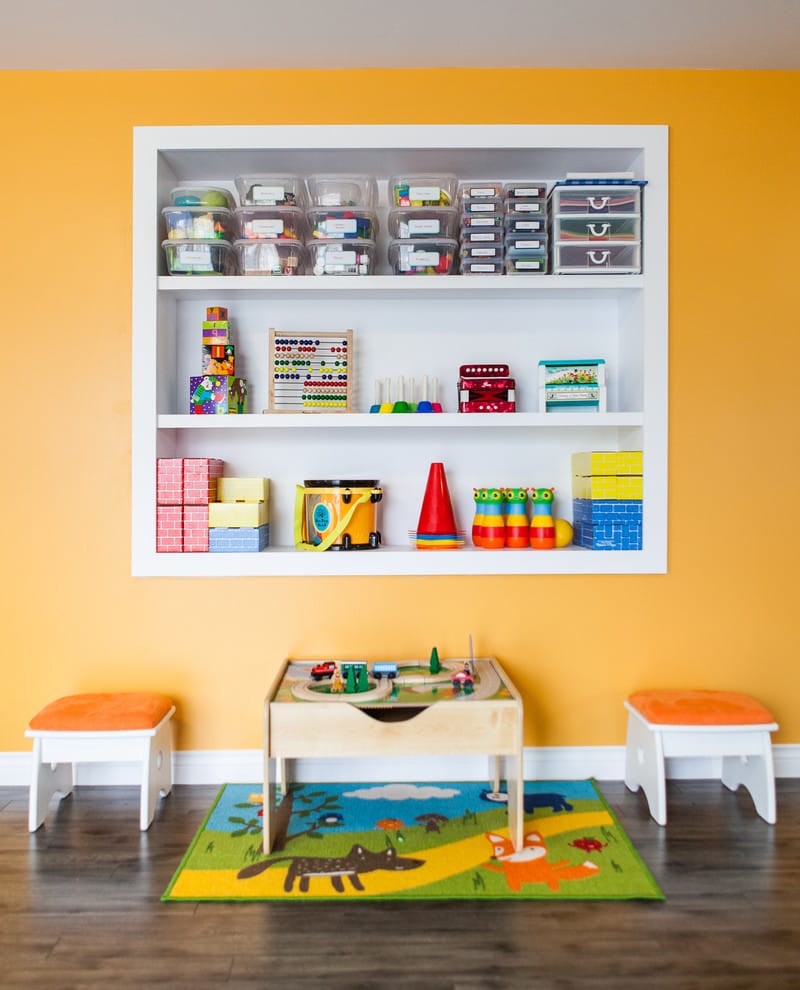 If you live in an older home, chances are it has built-in shelves. They could work as your child's toy storage nicely. We recommend painting them in any color that perfectly contrasts with the existing walls.
Typically, built-in shelves are high up. That means small kids can only take the toys off the lower shelf. This recessed shelving also boasts plastic storage boxes. They keep smaller items from visually cluttering the playroom.
Also, take a look at these storage ideas for your bathroom.
15. Toy Storage Ideas with Milk Crates
You cannot afford a classic bookshelf. Why not using milk crates as toy holders? Back then, many homeowners stacked them for temporary shelving. This idea certainly makes that awesome again.
Do not stack milk crates on the floor. You can hang them on the wall instead. We suggest mounting the units at different odd angles.
Here, the homeowner hung some milk crates on the wall. Meanwhile, she tilted the others to accommodate tiny things. Mounting at various angles makes this toy organizer more unique.
16. Pegboard Storage for Kid's Toys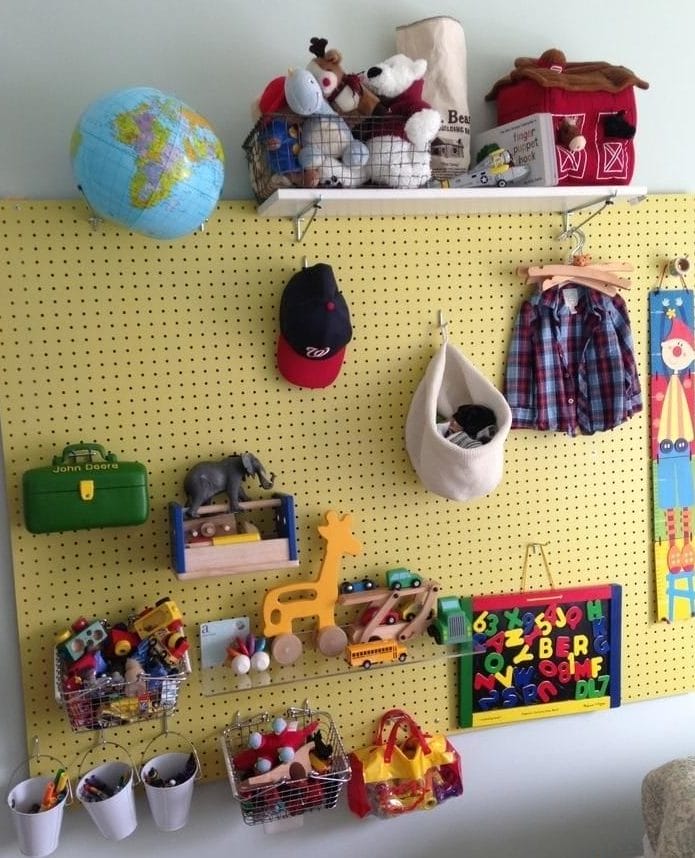 Undoubtedly, this is one of the fantastic toy storage ideas. The pegboard has so many holes. It definitely makes organizing a breeze. You simply have to mount the toys on the board.
Moreover, you could add hooks to the pegboard. They can hold various items such as small toy containers, clothes, or hats.
Bear in mind that the pegboard cannot accommodate heavy things. This means it is surely not an ideal place to hang blocks. However, the unit can hold your kid's craft supplies.
17. DIY Toy Storage Ideas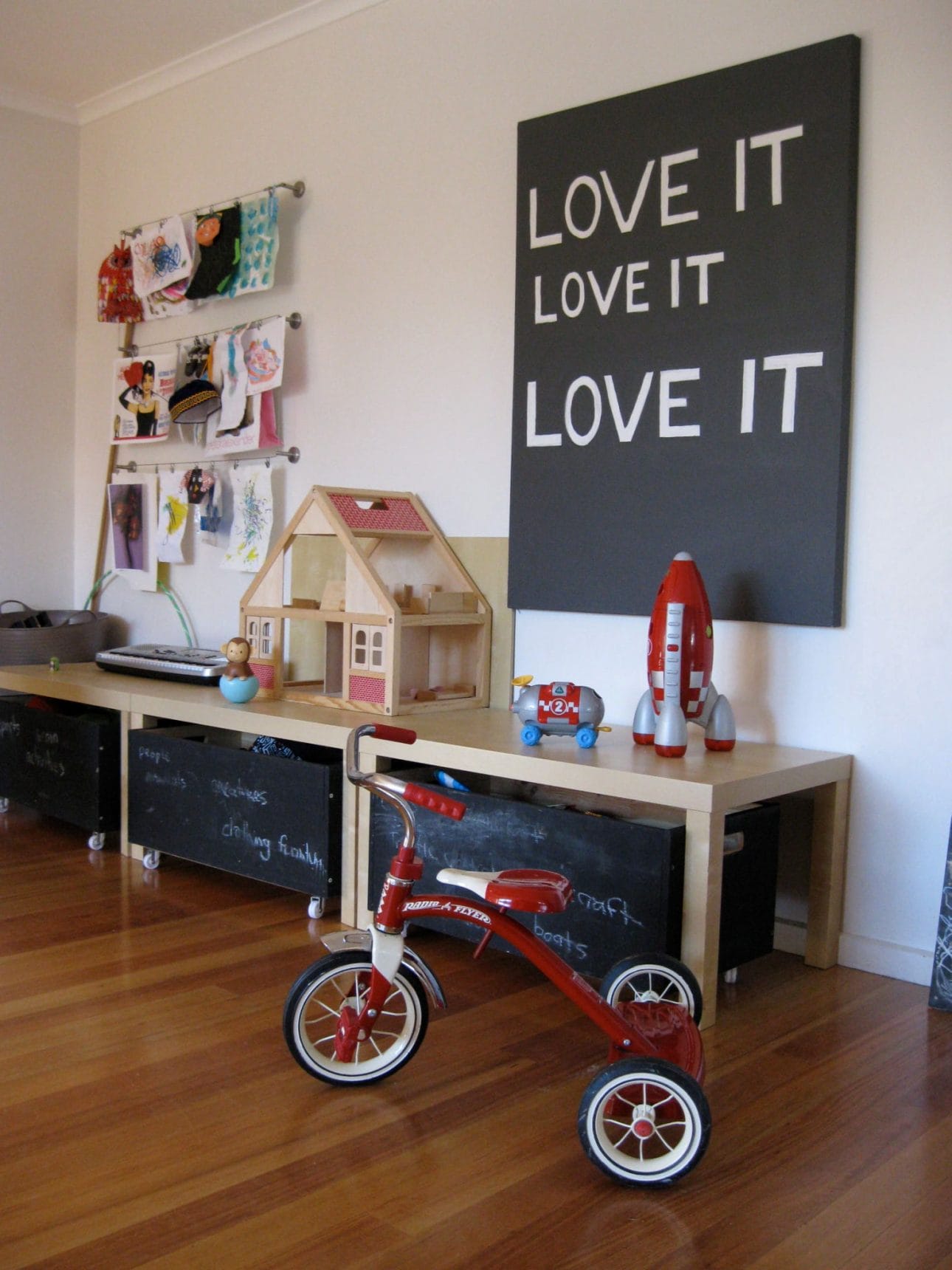 Are you a crafty parent? If yes, steal this DIY idea. Create a row of three low wooden tables to declutter larger toys. Your kids can also use these furniture pieces for play.
Furthermore, place the large boxes on wheels. That way, small children can slide them in and out with ease.
We suggest coating the boxes with black chalkboard paint. This lets your kids unleash their creativity. Additionally, it won't hurt any home decor.
18. Personalized Toy Storage Box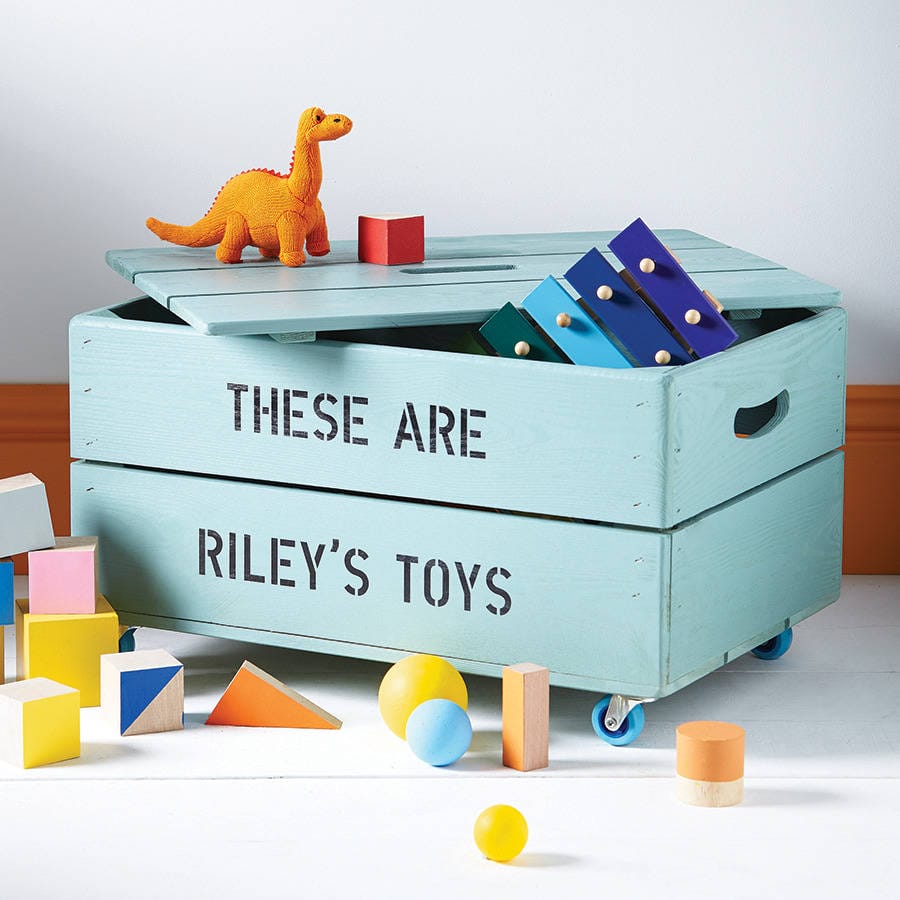 This toy box certainly will allow everyone to know who is the owner of the toys. Buy different storage boxes for your kids. We guarantee the units motivate them to stash their things away.
Moreover, this toy storage box sits on wheels and features a handle. They let you move the unit from a certain place to another easily. This makes rearranging the furniture a breeze.
19. Toy Storage Ideas with Hanging Baskets
To keep your ceiling space from going unused, apply this idea. Here, the simple pulley system lifts colorful toy baskets amazingly into the air.
When your kids want to play with their toys, just loosen the pulley ropes. That way, the baskets will come down nicely to the floor.
Moreover, wall markings allow your children to identify the items in the hanging baskets.
For a safe storage system, fill each basket up with lighter things. Do not forget to supervise the kids when lowering and raising the toy holders.
20. Craft Supply Organization Ideas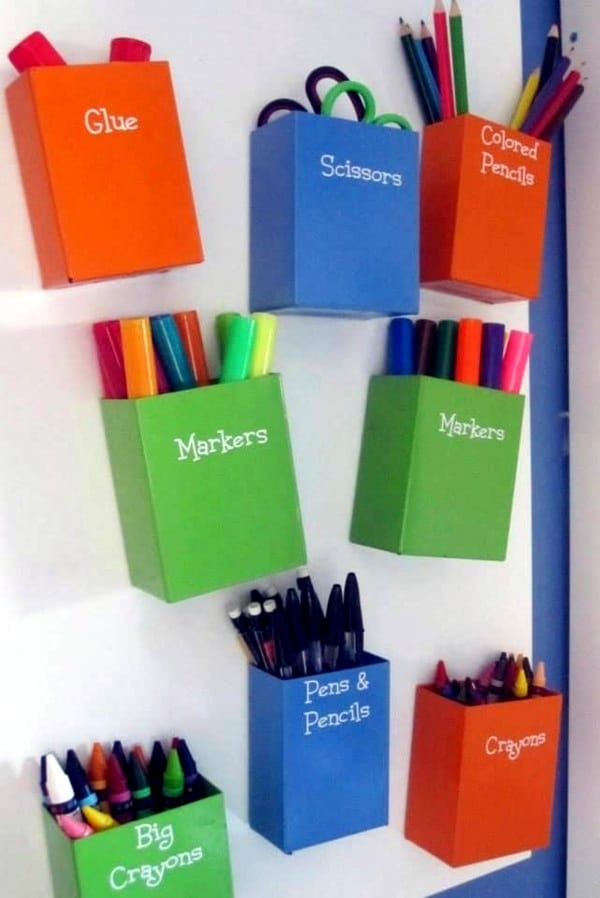 Do you have an artistic kid? If yes, apply this toy organization solution. When your child can find the craft materials easily, he or she will spend more time creating the masterpiece.
Build these vibrant craft supply holders using pasta or cereal boxes. Your kids can separate the materials out in them. You must add magnets on their backs, too.
21. Toy Storage Ideas with Buckets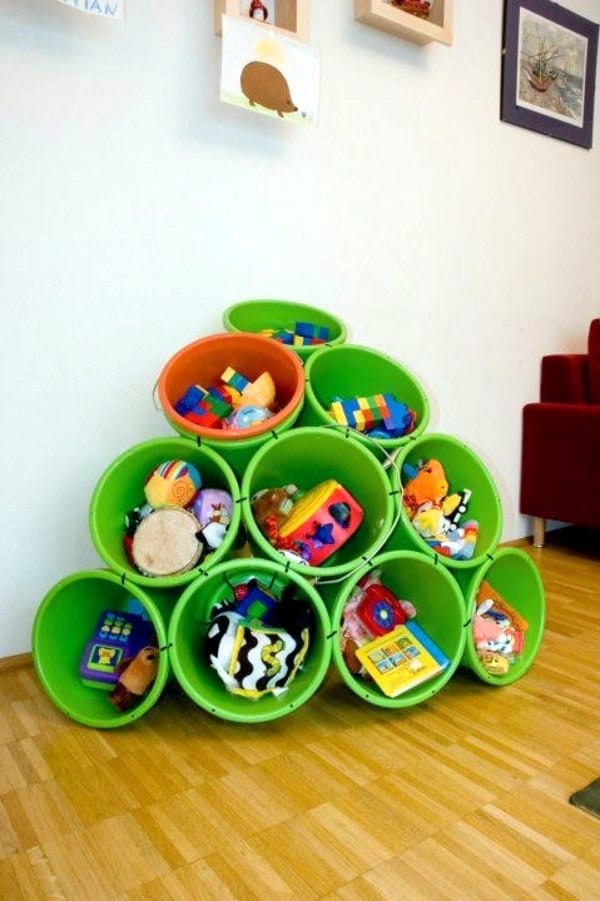 Well, this is one of the awesome toy storage ideas. First, you must pre-drill some small holes on the bold buckets. Then, tie the pieces together.
Consider the bucket's angle. This will prevent the toys from falling out. We suggest placing the items in separate buckets, so your kids can grab theirs easily.
Nothing is permanent, neither does your kids' needs. Make sure the organization system for toys grows with the children. Moreover, put its practicality and home design into consideration. Let's try our spectacular toy storage ideas!