After a really long and stressful day, all you want is lying on your bed. However, you cannot feel relaxed in a heavily cluttered room. Therefore, you need some minimalist bedroom ideas to make yours more comfortable.
The minimalist design is typically characterized by a neutral palette and clean lines. If you want to have a serene personal sanctuary, take a gander at these.
Minimalist Bedroom on a Budget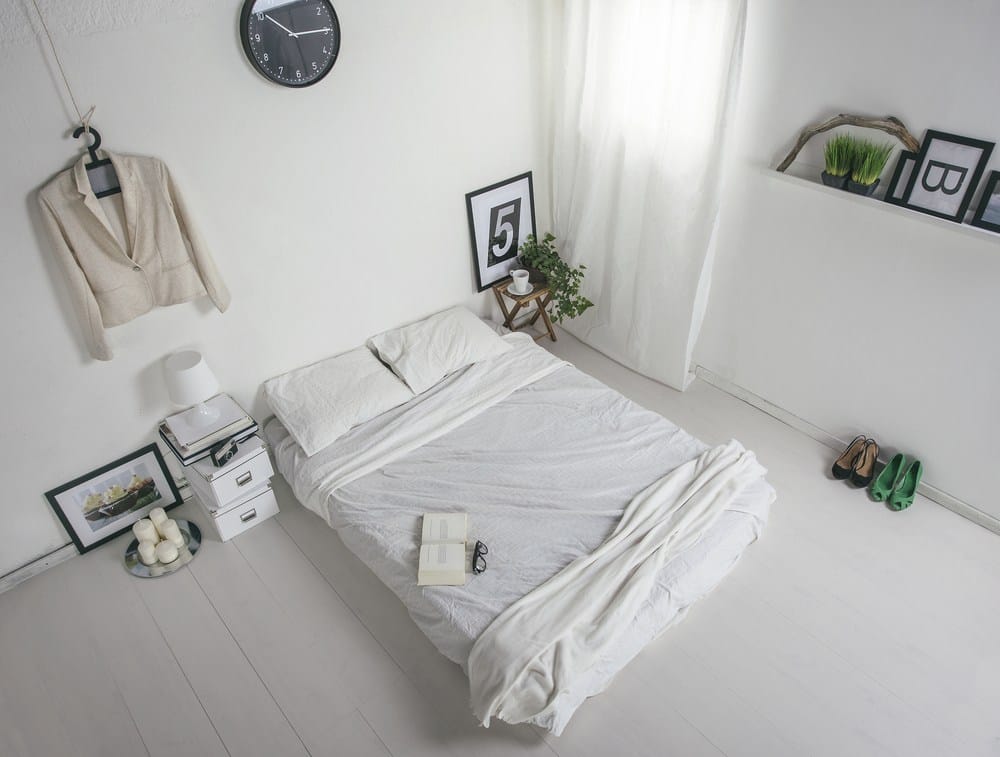 As seen in the picture, the minimalist bedroom is suitable for people with a tight budget. It only employs bed, wooden bedside table, stacked drawers as the nightstand, and some embellishments.
The sleep retreat seems bigger and brighter with the help of white space scheme. Then, the hanging beige blazer, scented candles, and flat shoes give the room a feminine touch.
Minimalist Bedroom Ideas for Small Rooms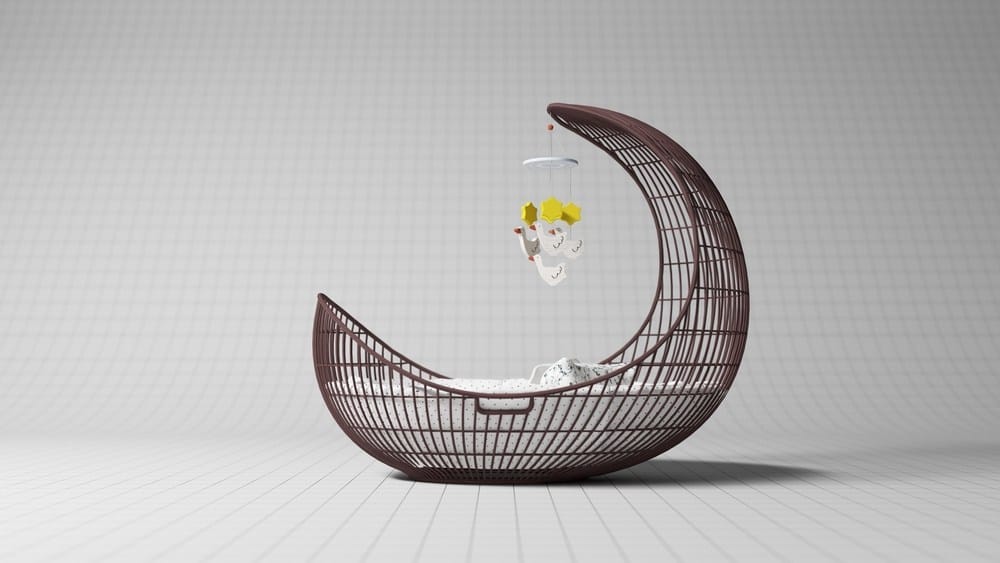 Are you thinking of minimalist bedrooms for small rooms? This one will definitely tug at your heart. Here, I show you a baby's room that is simple yet alluring. The white floor and walls create a visually expansive space.
Moreover, moon-shaped baby crib comes in dark brown. It develops a marvelous contrast. And the paper bird mobile adds a pop of vivid color to the area.
Elegant Minimalist Bedroom
This bedchamber is not spacious, but it grabs the attention in no time. There are plywood desk, built-in cabinet, and mirror frame. Plus, the white brick wall and reclaimed wooden floor lend the area a rustic appeal.
The headboard details are not only exquisite but also elevate the design. A wicker pendant light illuminates the room as well as offers a stylish impression. I believe you can hardly say "no" to this elegant minimalist bedroom.
Minimalist Interior Bedroom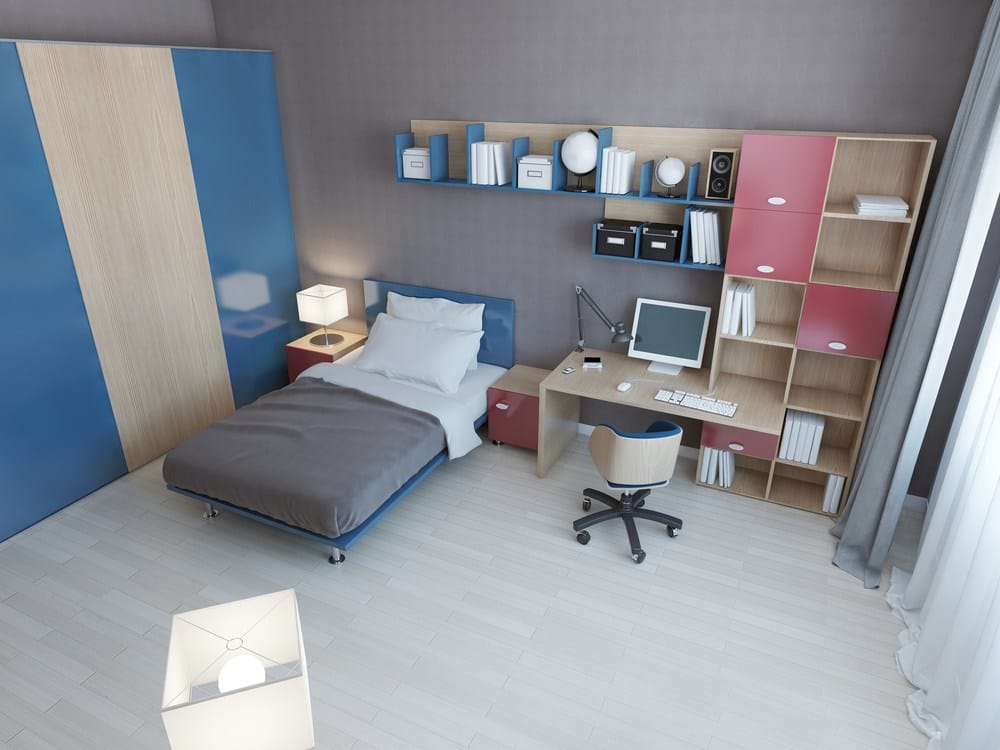 Some of you might think the black and white bedroom is too cold and uninviting. Then, why don't you include bright colors? In this version, the homeowner opts for blue and pink.
The contrast between grey and white is pleasing to the eye. And a white pendant light brightens the whole room in a trendy way. What a gorgeous minimalist interior bedroom!
Minimalist Bedroom Furniture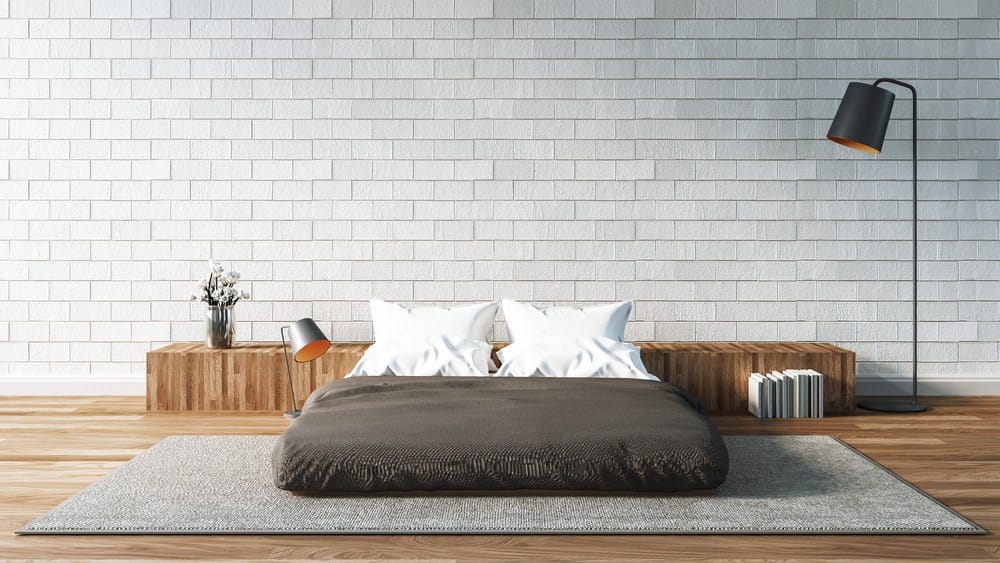 No doubt, this sleeping zone gets an industrial influence, in the forms of metal bedside and floor lamps. Here, the minimalist bedroom furniture is the wooden headboard that doubles as the desk.
The white brick wallpaper generates the rustic effect while the dark brown blanket complements the room. And white flowers adorn the area. I wish this chic room could be mine.
Scandinavian Bedroom Design Tips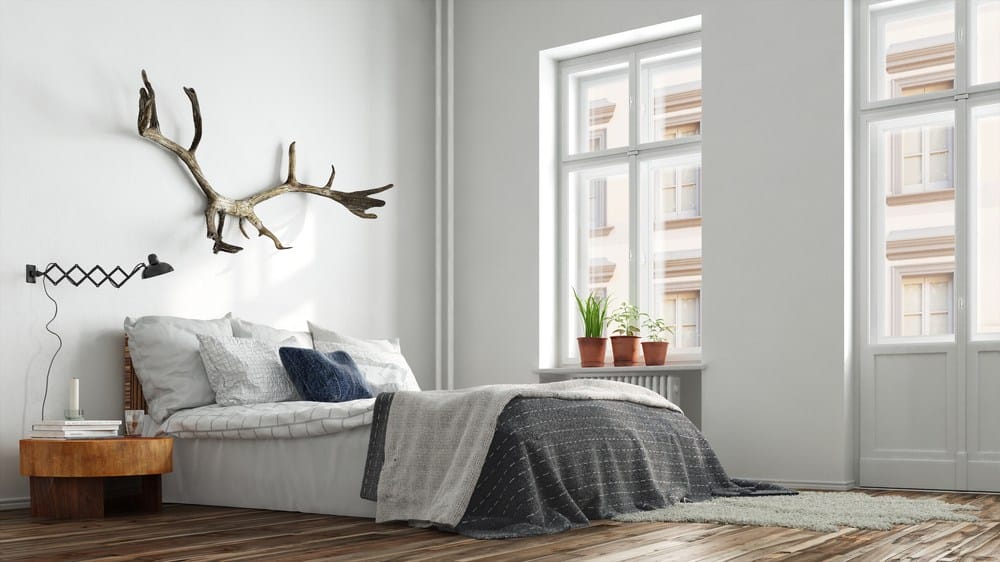 Are you crazy about a Nordic style? I have a few Scandinavian bedroom design tips for you.  First, choose neutral colors such as grey, black, and white. Second, bring natural elements into the room. Third, fill the space with sunlight.
The white walls serve as the perfect backdrop for deer antler and black lamp. Additionally, wooden bedside table and floor exude tangible warmth. Potted plants liven up the area.
Romantic Minimalist Bedroom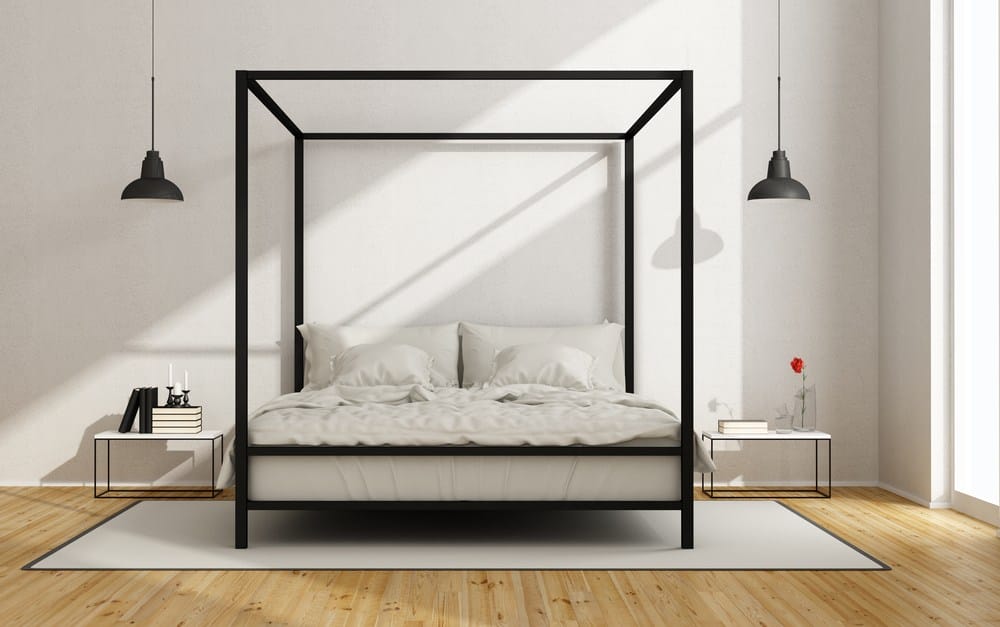 Whether or not you and your spouse are newlyweds, this romantic minimalist bedroom is worth to try. Place the four-poster bed in between a couple of sleek bedside tables and pendant lights.
The black and white contrast is fabulous here. A red rose in the vase injects the romantic vibe into the area. The unvarnished wooden floor exhibits a calm atmosphere.
Japanese Minimalist Bedroom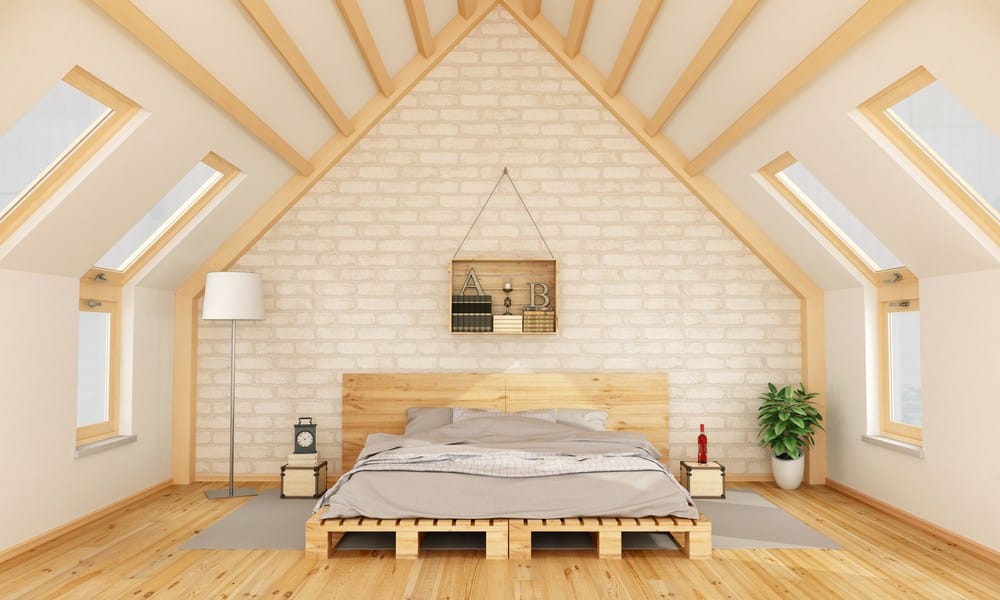 Most of the Japanese fancy simplicity in the design. They also do not hesitate to utilize the attic area and transform it into a bedroom because it offers privacy as well as a breathtaking view.
The unfinished wooden floor, bed frame, and ceiling beams emanate the clean setting. Plenty of windows bring natural lights into Japanese minimalist bedroom. And potted greenery channels your inner Zen.
Minimalist Room Decor DIY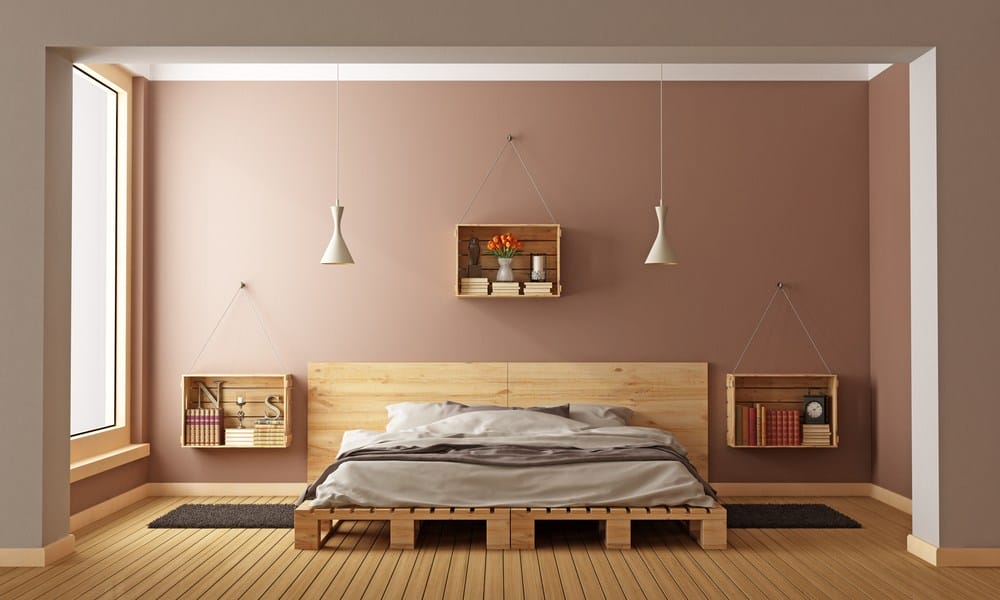 They say minimalism is always associated with a bland aesthetic. Well, this is indeed wrong. The blush pink walls keep the starkness at bay. They make a captivating statement, too.
The unpainted wooden bed frame and floor lend the space a rustic edge. Meanwhile, the DIY half wooden crates decorate the room as well as house artificial flowers, vintage alarm clock, sign letters, and books.
Minimalist Bedroom Tumblr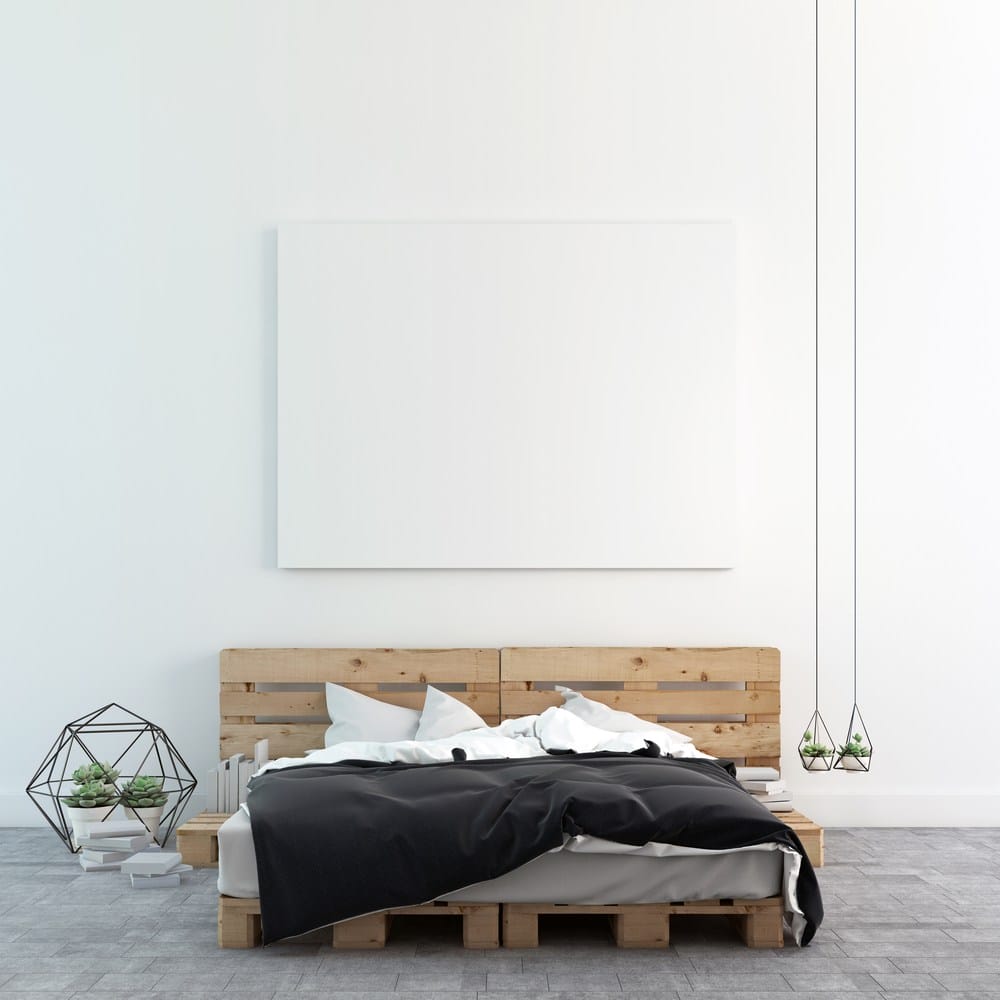 For sure, the minimalist bedrooms on Tumblr are incredibly attractive. That's why you should create the same look in your home. Here, the bedding is simple. You only spot low-slung wooden bed frame, white bed, and black blanket.
Moreover, the geometric metal plant containers are located next to the bed and hung from the ceiling. They quickly steal the spotlight.
Minimalist Shared Kids Room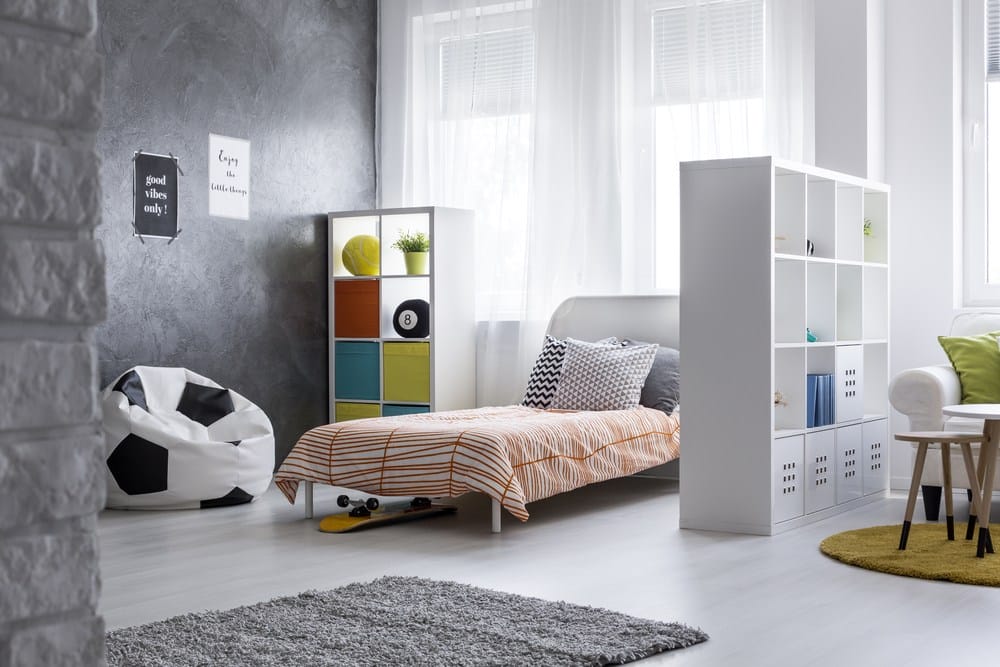 Kids' bedchamber can be uncluttered, fun, and calming, too. The key is the minimalist design. In this case, the concrete walls and wooden floor effectively highlight the colorful shelving units and orange striped bed cover.
The grey shag rug provides comfort underfoot. In addition, the ball-inspired bean bag infuses the playful air. The black and white pillows complete the look.
Monochrome Minimalist Art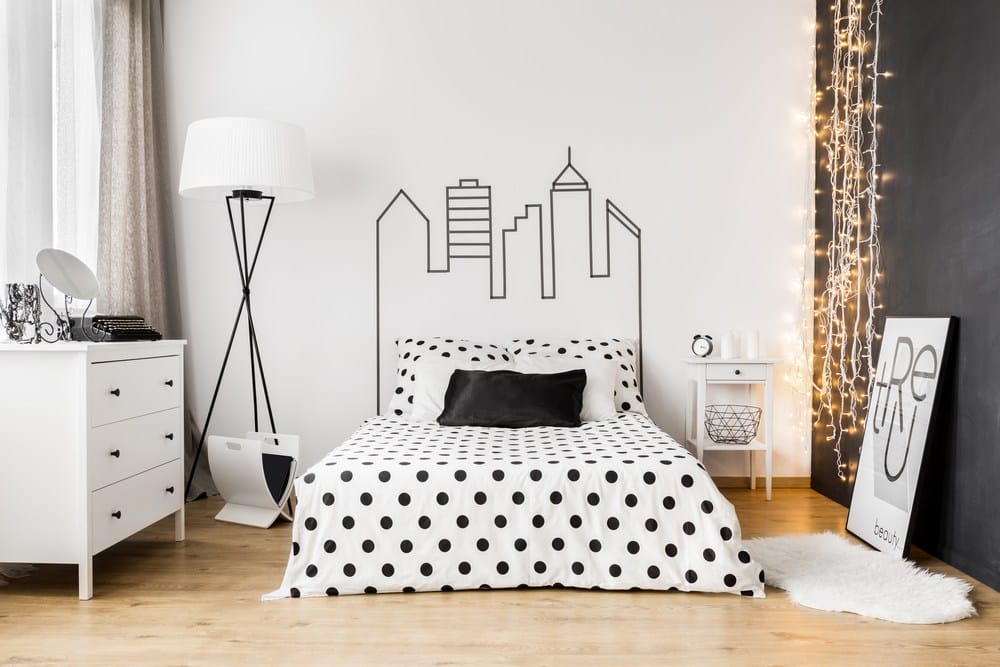 A bold statement is not just about vivacious colors, but also a classic contrast. Here, everything comes in black and white from ceiling to the bedding. Not to mention, the cityscape wall decal is a cool monochrome minimalist art.
The strings of lights cast a warm glow. They beautify the space, too. A white fur rug complements the area and pampers the feet.
Cozy Minimalist Bedroom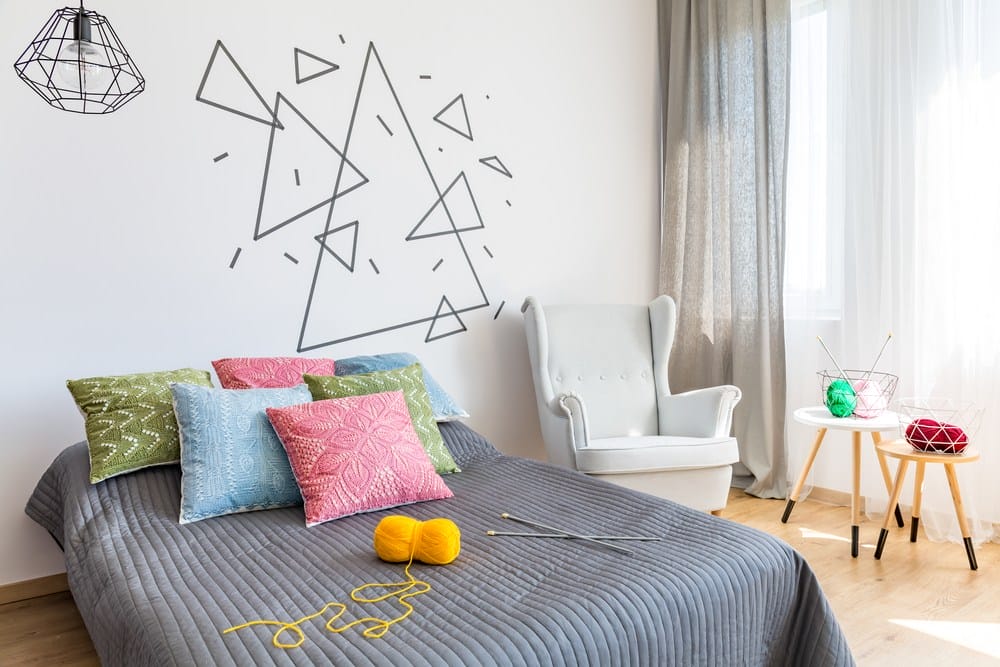 This bedchamber is minimalist yet cozy. Just imagine sleeping on an ultra-comfy bed. There are also colorful throw pillows that catch the attention.
The triangle wall decal and geometric pendant light pair well with the streamlined sleeping area while the white wingback armchair adds a state of sophistication to the room.
Industrial Rustic Minimalist Bedroom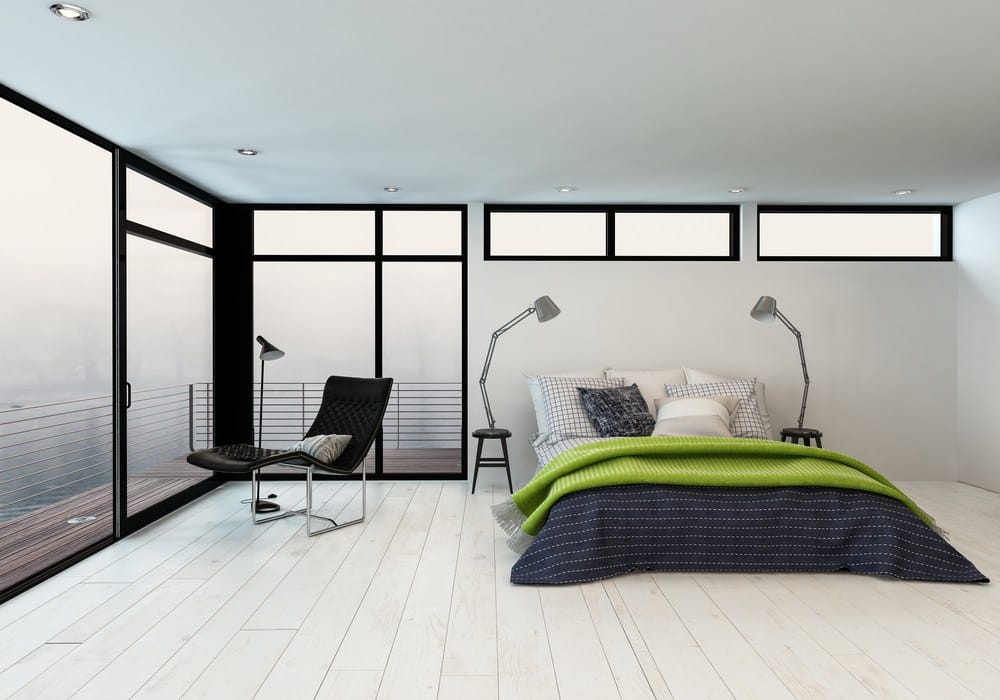 The white wooden floor and metal lamps exhibit the industrial rustic flavor. I personally love the stools that replace the nightstands.
Since the room is predominantly white, it feels open. The windowed walls let you enjoy spectacular surrounding views. A splash of green introduces a cheerful personality.
Modern Turquoise Minimalist Bedroom Ideas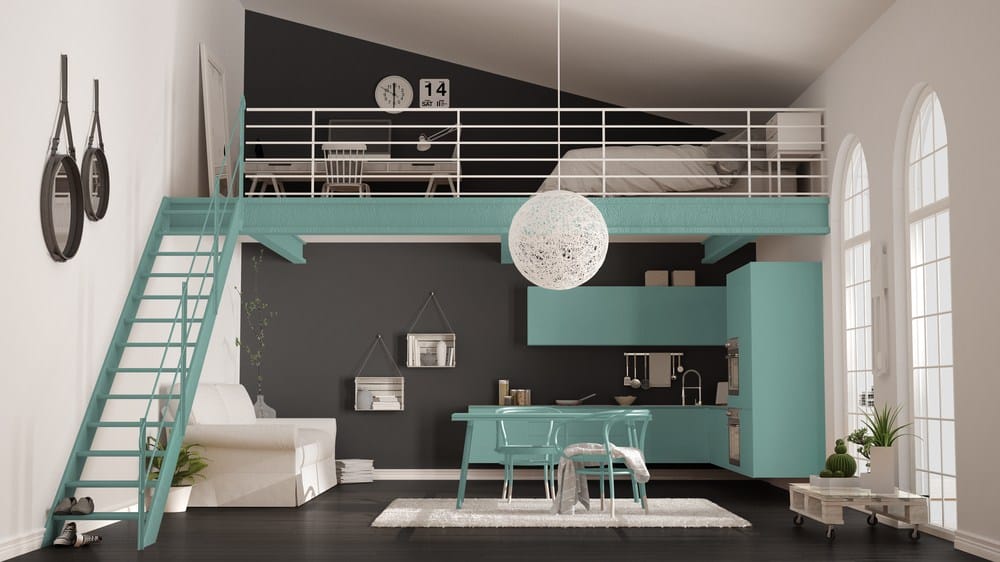 Are you searching for turquoise modern bedroom ideas? This one is the best route to go. The black and white space scheme makes the turquoise staircase and floating cabinetry pop.
Even though the room is minimally decorated, it does not feel monotonous at all thanks to the potted greeneries and oversized pendant light.
Splashes of Vibrance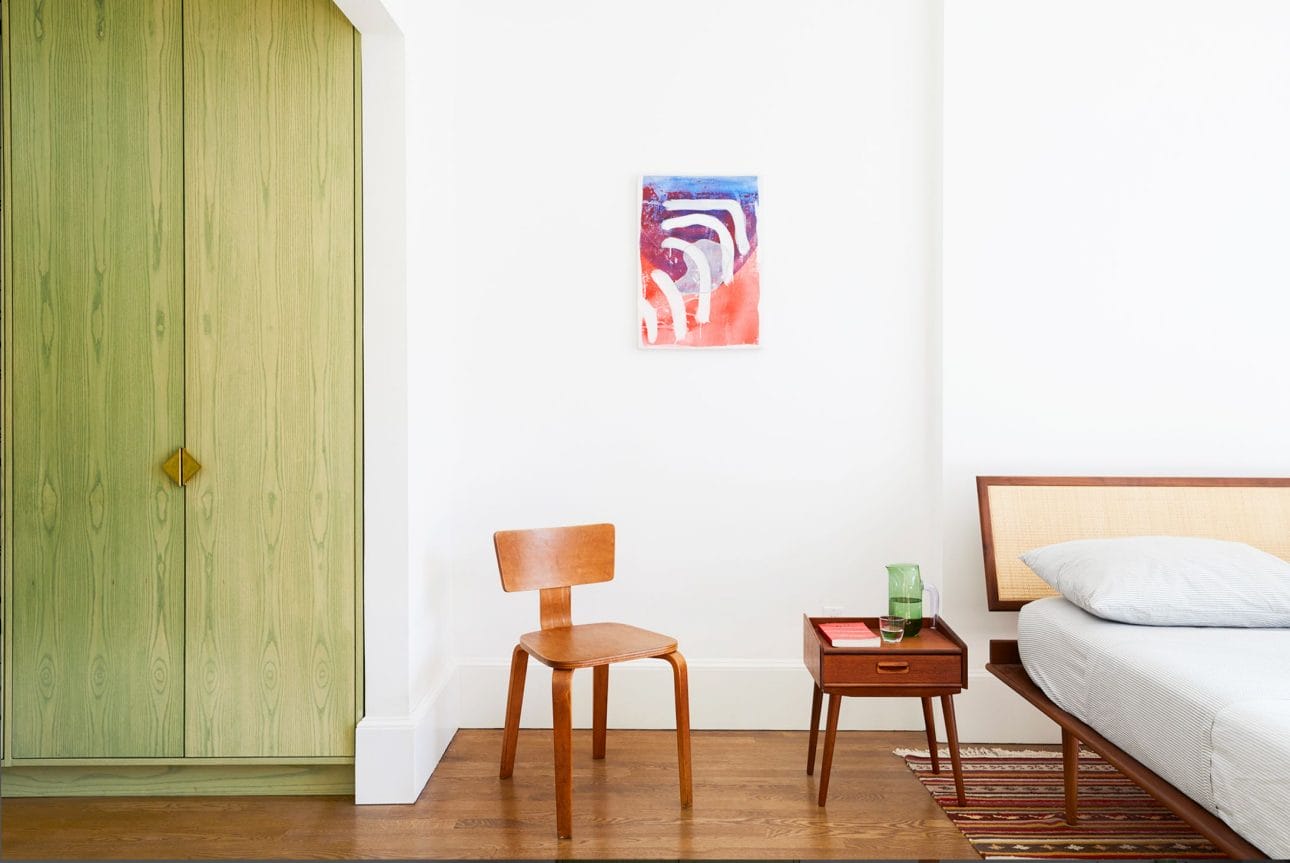 This bedroom is a great example of how to make the most of your space and incorporate color. If you want something that will draw attention, add an area rug in one corner or paint each wall with different colors. A statement piece like abstract art can also help bring life into any room!
Minimalist Geometry Bedroom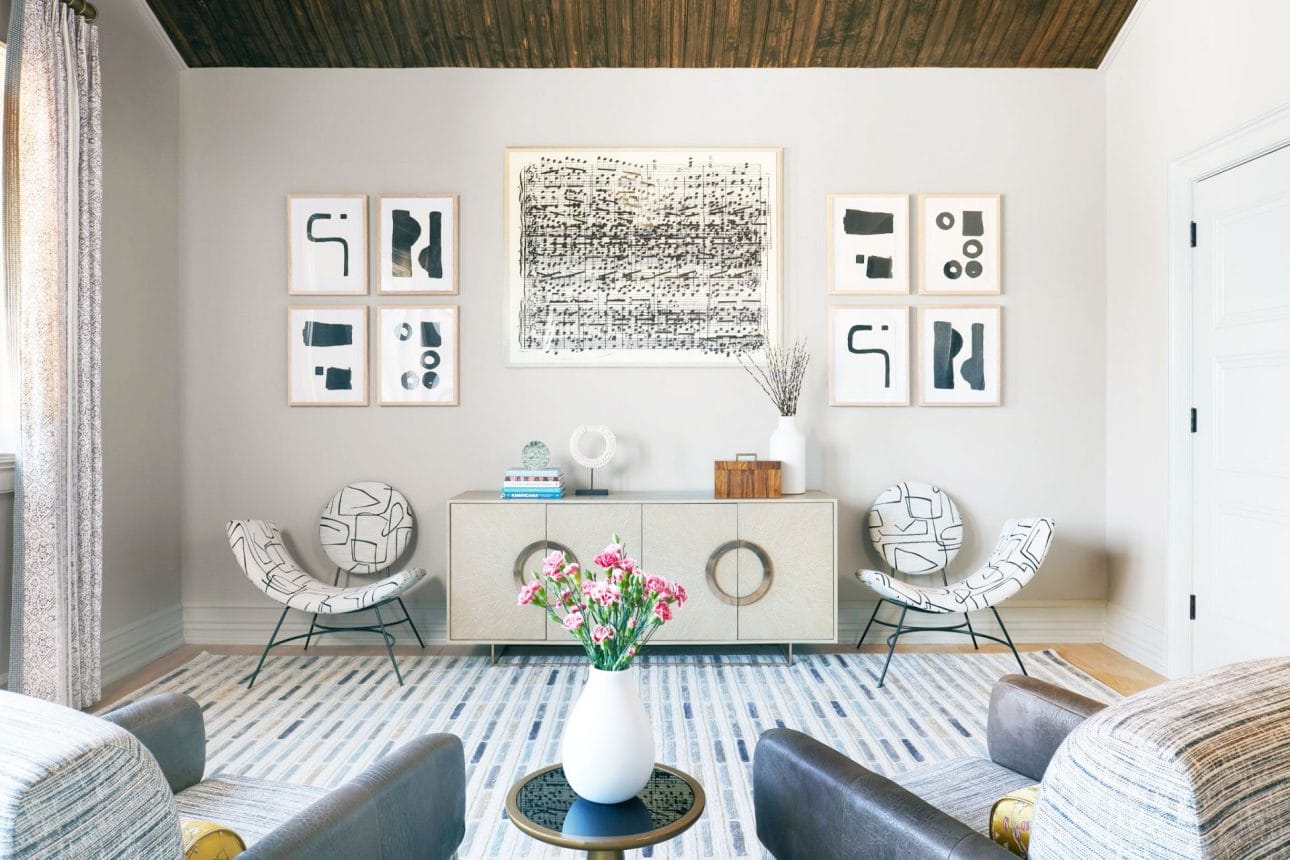 The monochromatic palette is given a burst of energy and excitement by the pattern-play in this minimalist bedroom. The geometric motifs are seen throughout from the gallery wall to rug, upholstery, and even chair shape.
Gray Palettes Magic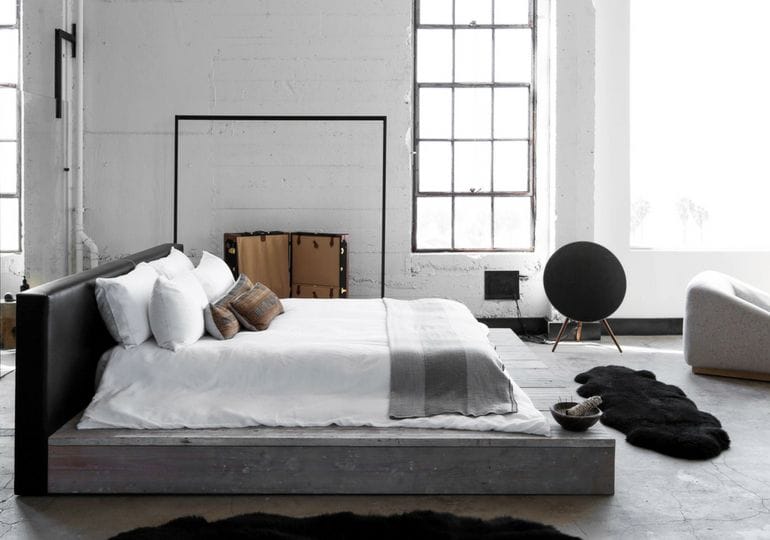 When you are designing a minimalist bedroom, gray is always the perfect choice. It can be cold and boring if not combined with other colors but this industrial space proves otherwise. The black sheepskin rug on the floor adds warmth to an already sleek design without being overwhelming or dark like black paint would have been in that spot.
Warm Minimalist Industrial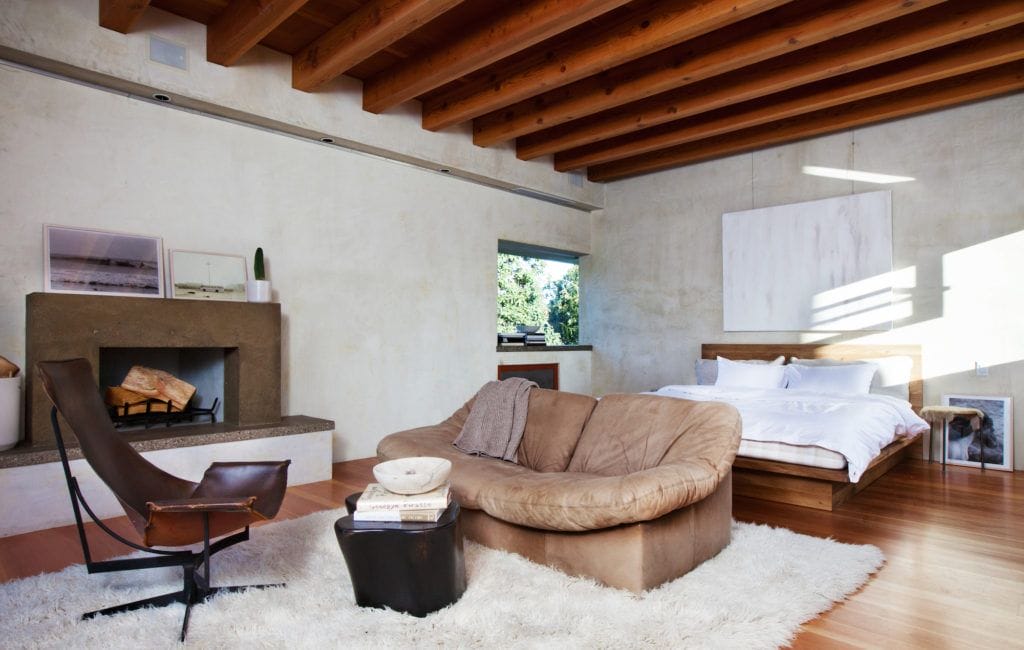 The neutral color scheme and natural light in this industrial bedroom creates a tranquil environment. Different materials, such as the textured bedding on top of crisp white sheets or the dark flooring against stark walls add a sense of warmth to this room with minimalistic design features.
Minimalist Bohemian Touch Bedroom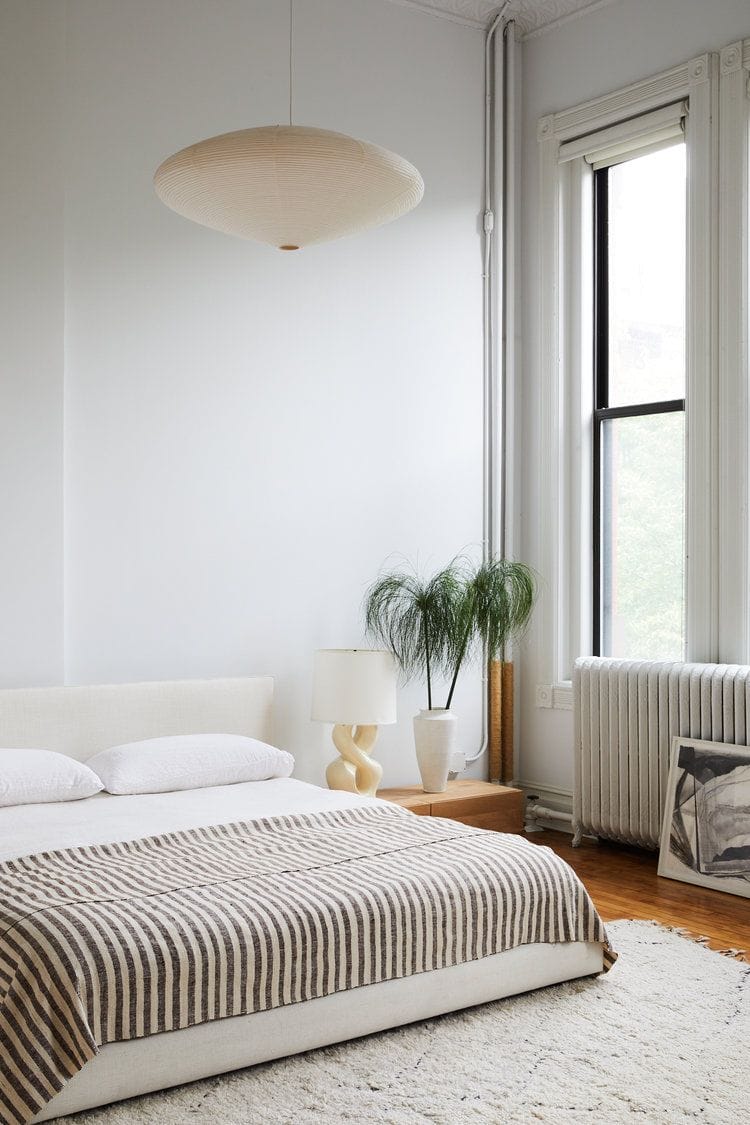 A few simple tweaks to the bedroom can go a long way in creating an inviting space that is both low key and sophisticated. A plush Moroccan-inspired rug on hardwood floors will create warmth against cool, white walls while organic lighting creates ambiance without harsh glare from overhead bulbs.
Minimalist Displayed Artwork In Bedroom
In order to keep things from looking cluttered, use one focal piece of artwork and allow it to dictate the color scheme. This minimalist bedroom proves that sometimes less is more!
A Minimalist Cozy Cocoon Bedroom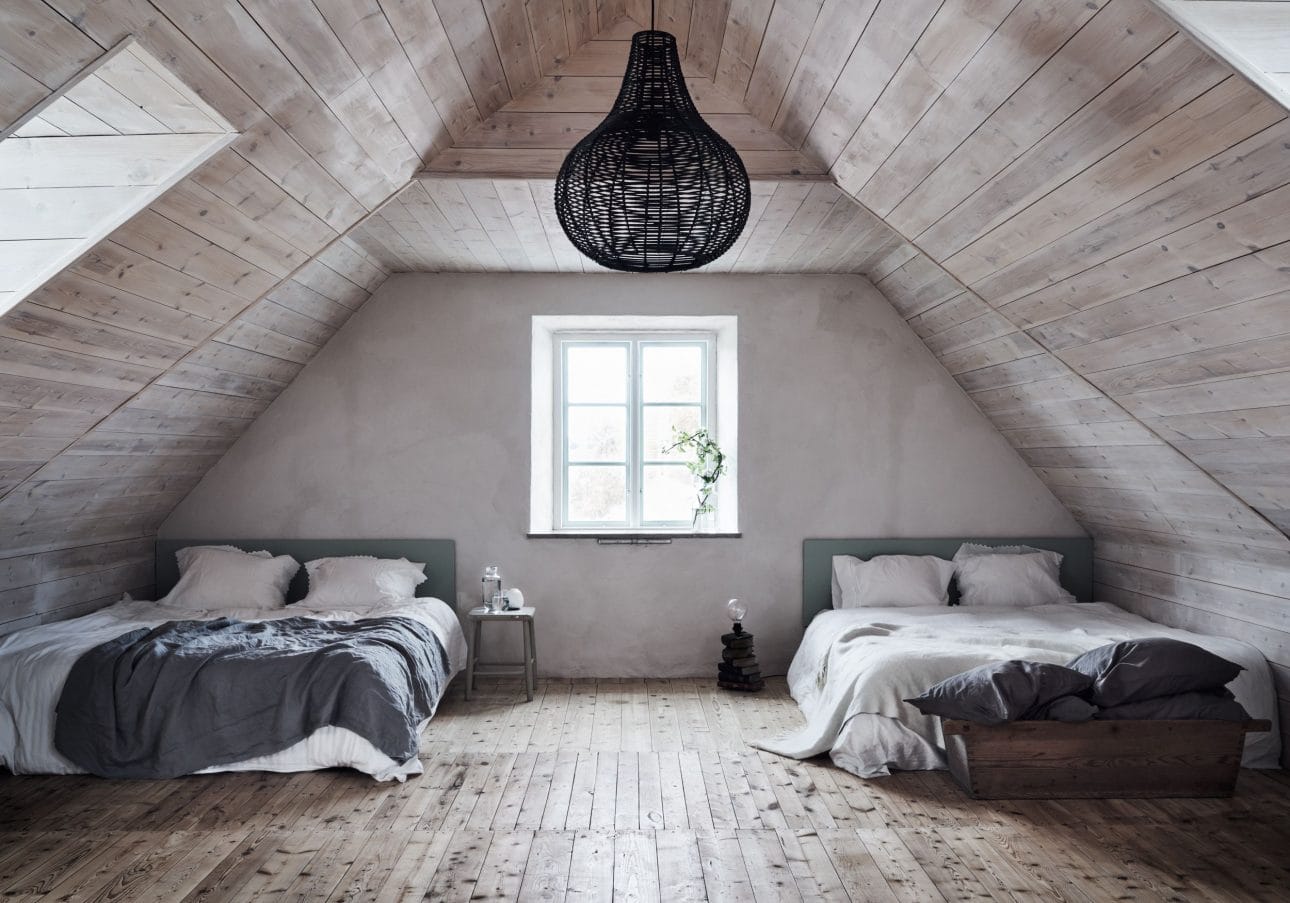 Your attic is cozy, unique and the perfect place for a minimalist bedroom. Keep everything low to the ground if your ceilings are sloped or low in order to preserve that sense of closeness; hang one pendant light at an angle from the ceiling beams so as not to compete with natural lighting coming through windows below.
Minimalist Ethereal Texture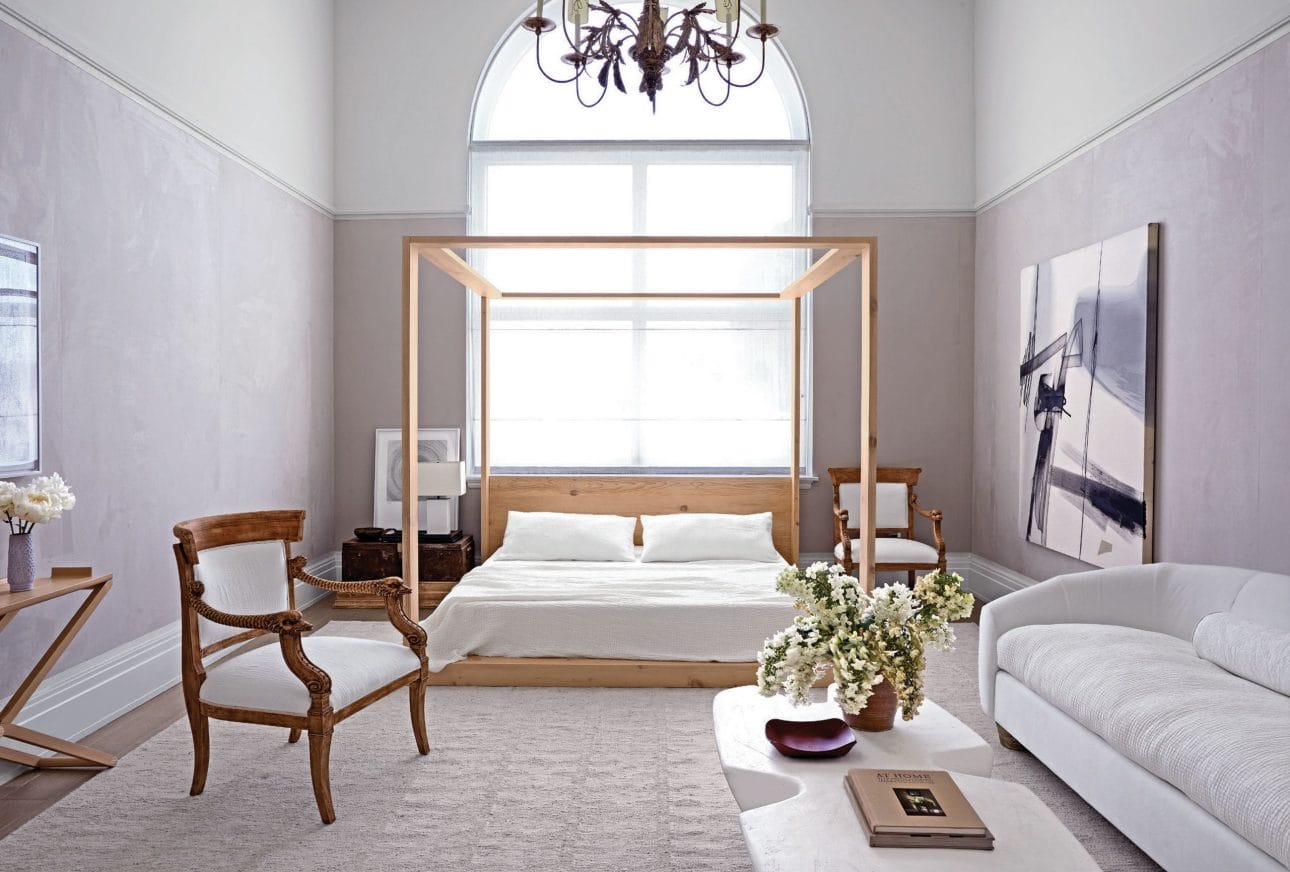 Free from the clutter of furniture, your minimalist bedroom is a place where you can be free to explore new ways of feeling and being. From mattresses that are low enough for deep meditative sleep through luxe wall coverings in rich suedes—no detail goes unappreciated.
It's easy to feel at peace when there's nothing within reach but the bare essentials; it might not seem like much, but with everything out of sight yet still close by one never feels neglected or drawn away from their own breath as they drift off into slumber on lower-heighted beds once adorned only with pillows.
Zen Vibes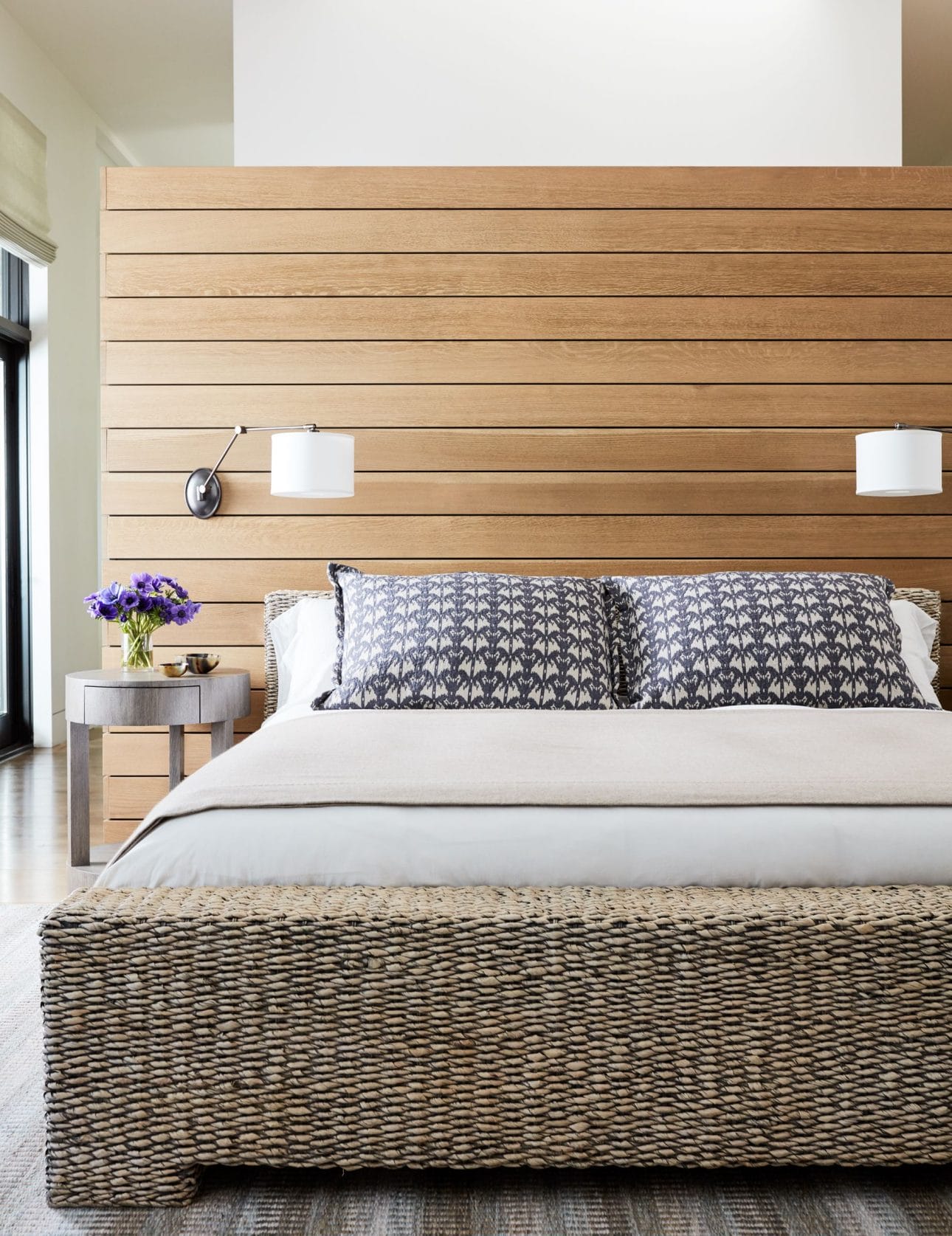 The oak-paneled partition in this minimalist bedroom doubles as a rustic background and wall divider. A rattan bed with natural textures provides the perfect place to sleep while maintaining an earthy, bucolic aesthetic.
Minimalist Modern Serenity Bedroom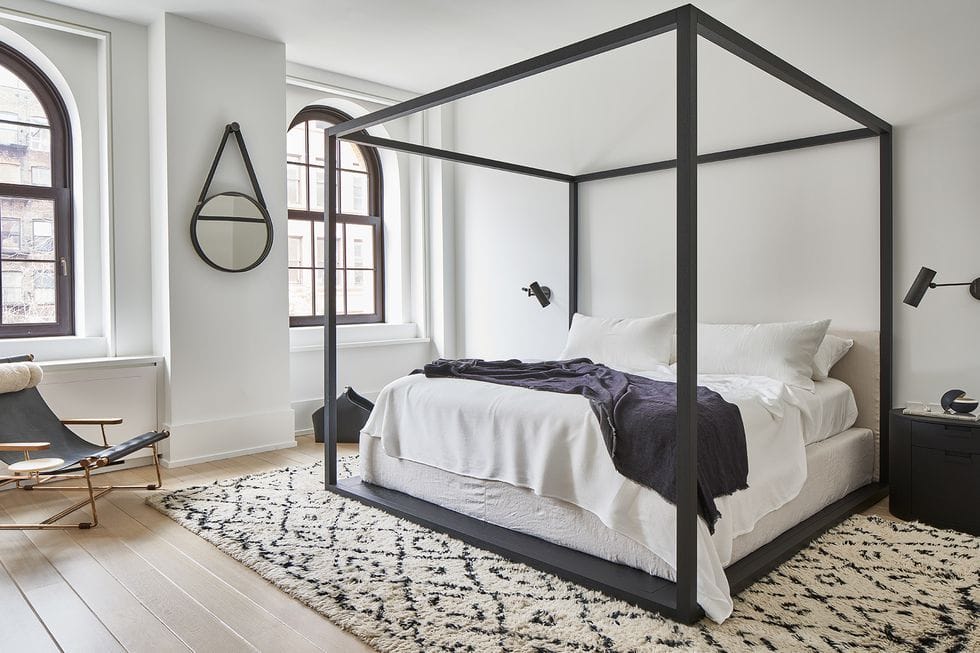 A spacious master minimalist bedroom is designed with texture over color, where a leather lounge chair and massive rug create an atmosphere of relaxation. A white wall backdrop allows for simple black accents to shine alongside the large bedding which creates layers that are perfect for unwinding in after a long day at work or school.
Add Some Natural Elements In Minimalist Bedroom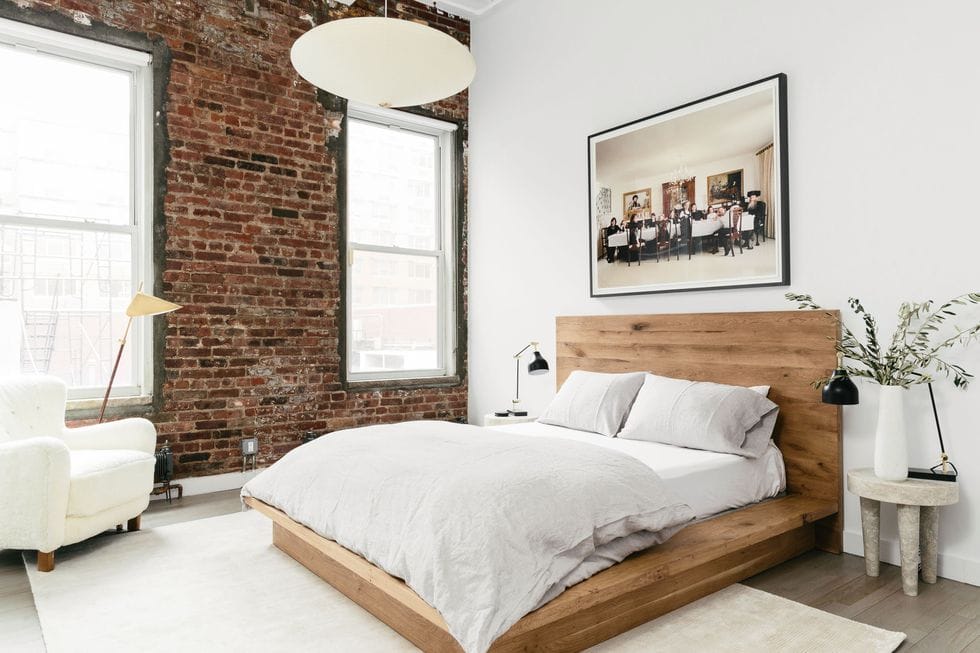 This minimalist bedroom is perfect for someone who likes a modern design and doesn't mind living in smaller quarters. A simple bed frame made of wood provides the only furniture within this space, while an exposed brick wall offers architectural style that complements any minimalist decorating scheme without clashing too harshly with it.
Minimalist Bedroom with A View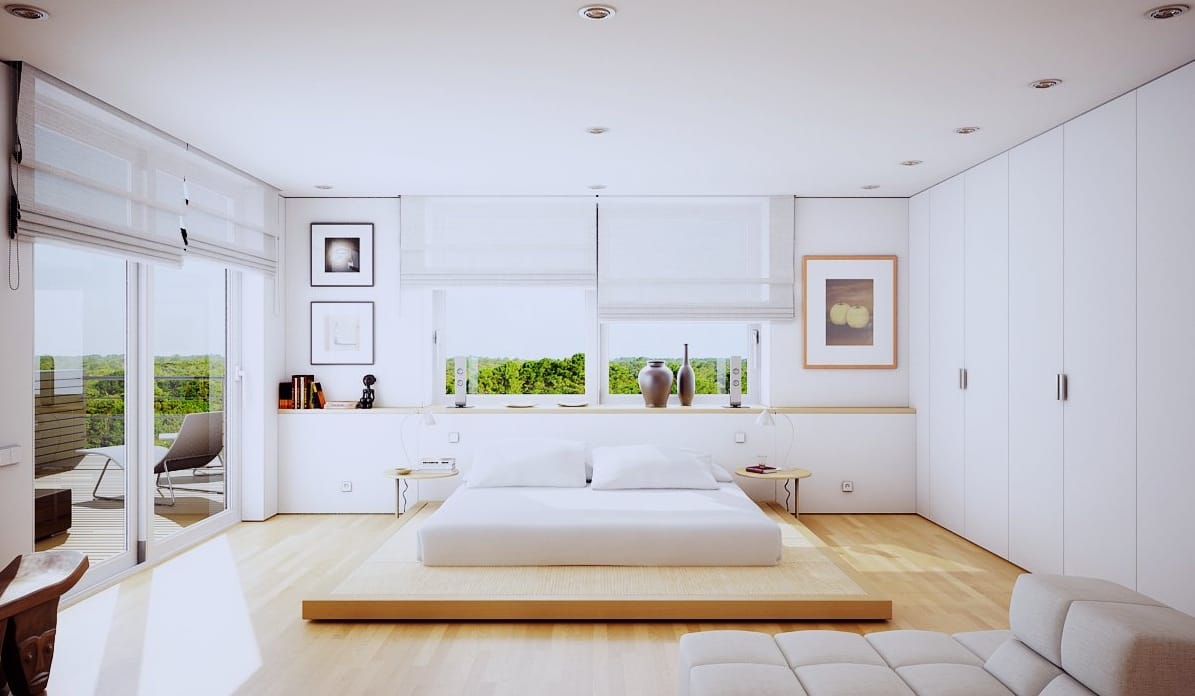 With windows like these, it makes sense to opt for a low bed. This room has so much going on with the artwork and cabinetry that you'll want something simple in this case. The landscape is too great not to see with such huge windows!
Using Fewer Furniture to Make It Minimalist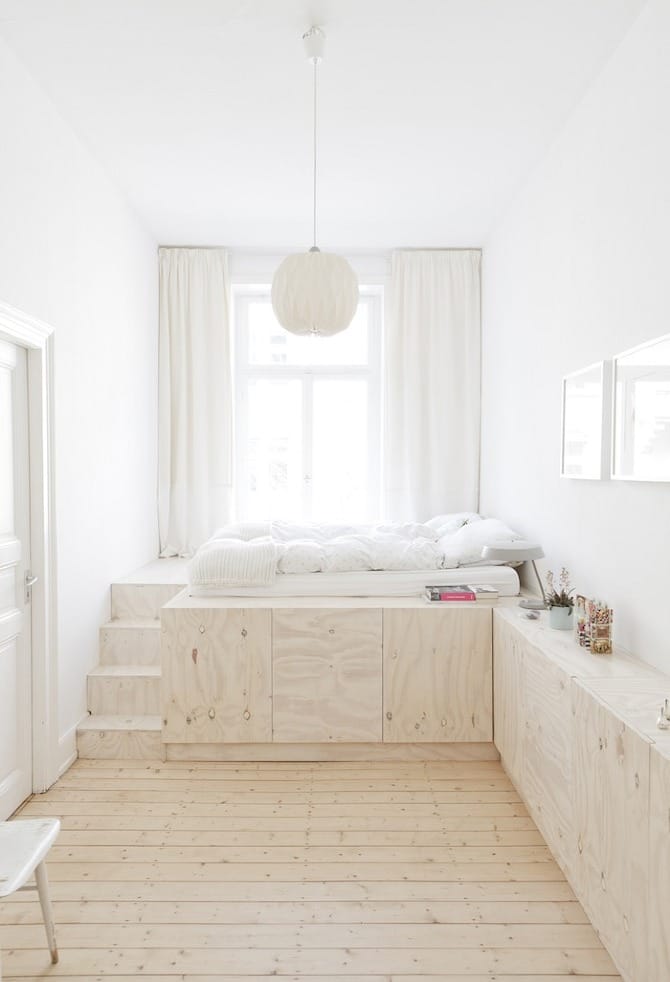 Bedrooms don't have to be too cluttered with heavy items. Even the simplest of bedrooms can still look elegant, sophisticated and beautiful if you keep it simple!
Remember that a bed is the most important item in any bedroom; therefore make sure your mattress has enough space by not adding an ottoman or other large furniture pieces around it.
The key is finding balance between having quality over quantity – keeping everything as light and minimalistic as possible will also give more room for creativity when decorating your home!
Minimalist Greyscale Bedroom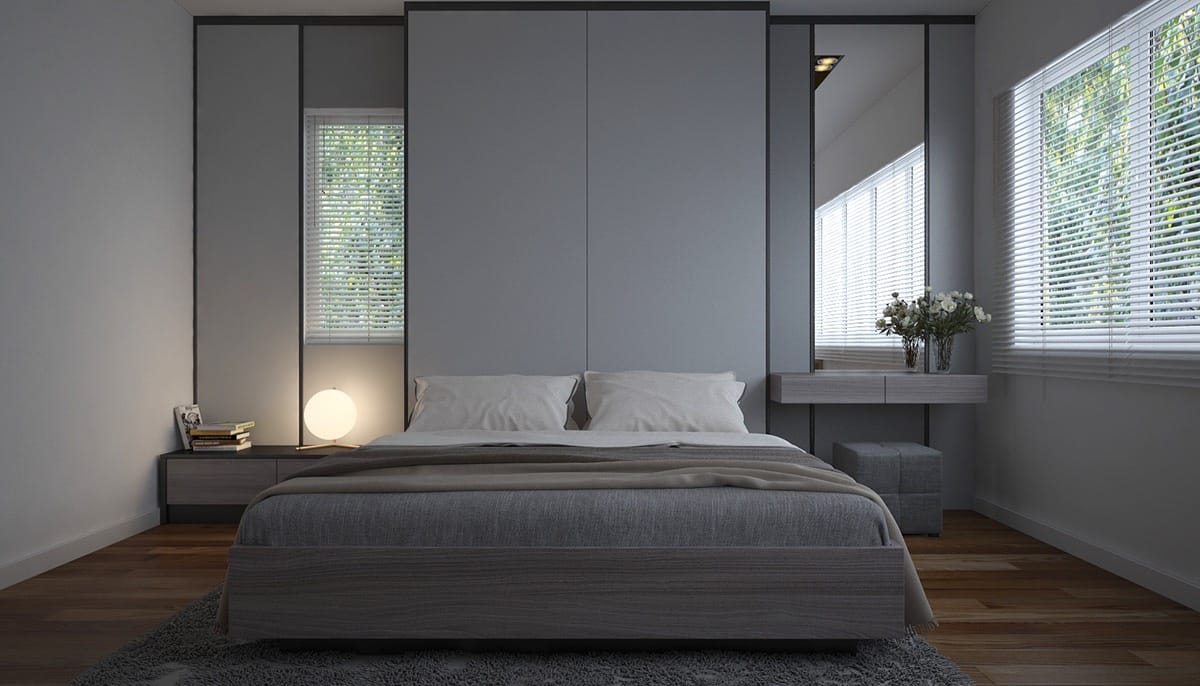 Greyscale can be a great way to make an aesthetic statement without being too boring. A lot of people think that using black and white colors is just for minimalism, but combining it with different color temperatures makes the space more interesting – especially in rooms where you want something serene or calm.
Super Minimalist Low Bed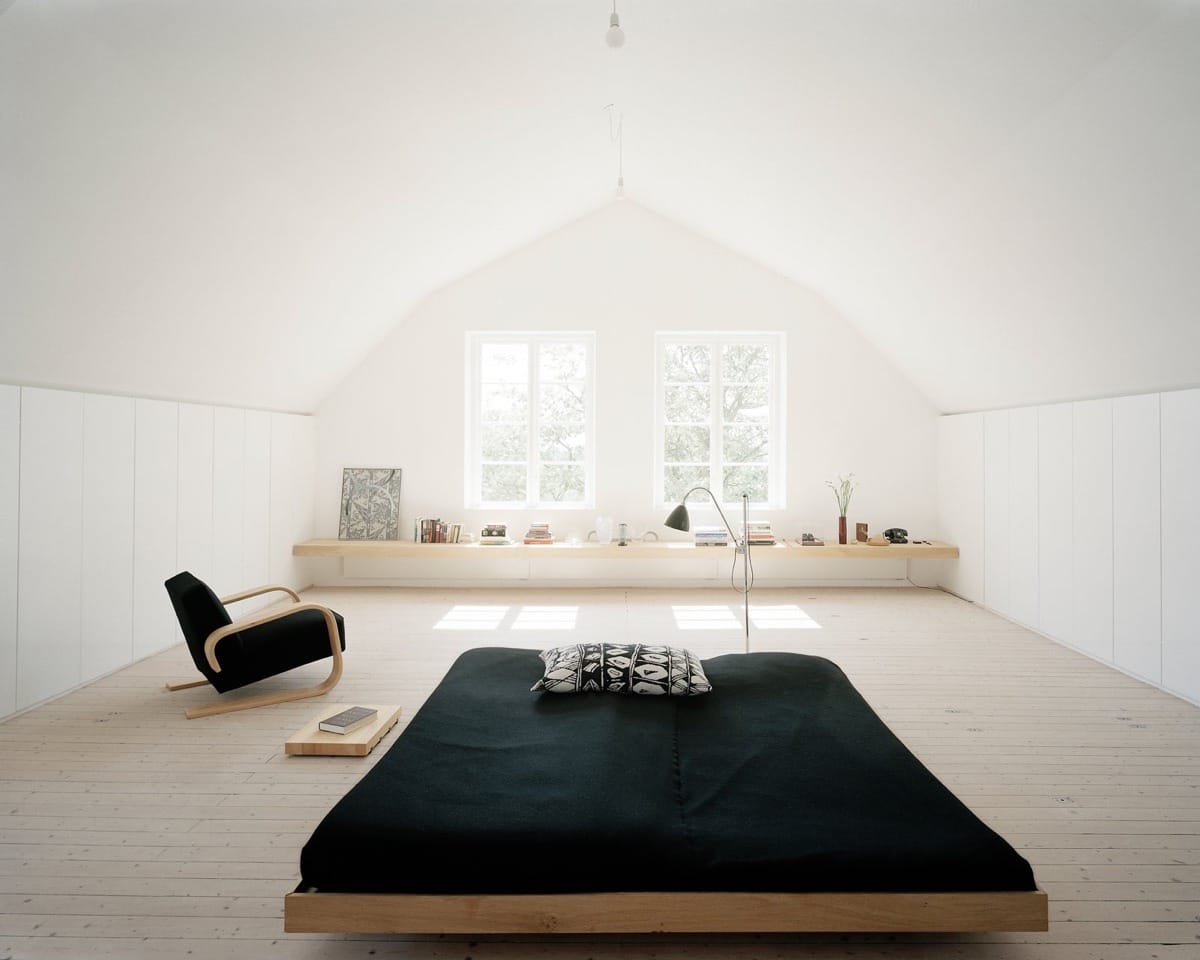 With its low beds, this minimalist bedroom is the perfect place to spend some time with a good book. The eye naturally gravitates towards it without being distracted by what surrounds the space like an incredible architecture that embraces your every need provided for you in comfort and style.
Japanese Minimalist Traditional Bedroom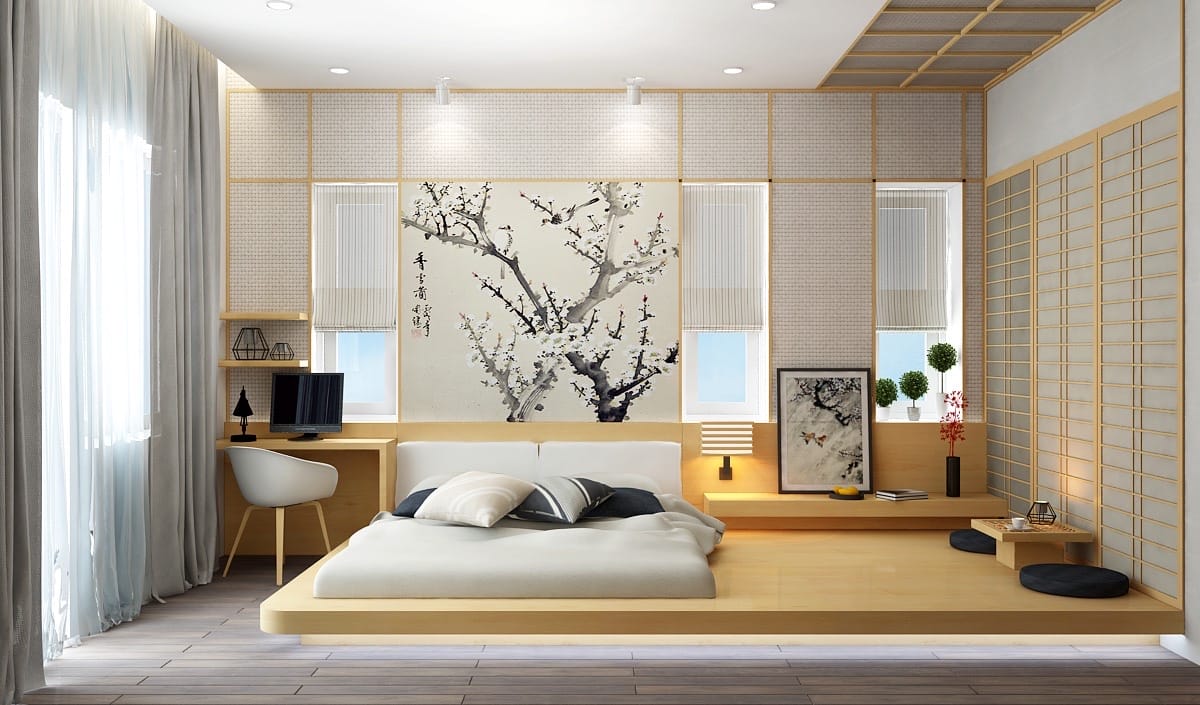 Japan is often associated with the traditional styles of decoration that are now popular in minimalist decor. The floor-bound beds, which have come to be a hallmark of Japan's style and culture over time, were also an inspiration for modern trends in minimalism.
***
In essence, a minimalist bedroom is all about living a mess-free life. So, if you are ready to tidy up your abode, give any of those ideas a try. I guarantee the result will amaze you.