Whenever you hear of Gothic bedroom ideas, a mysterious and dark sleeping space instantly comes to your mind. The design itself is normally associated with old churches with pointed arches.
Furthermore, Gothic design is actually quite old. However, since people do not use and practice the style widely, some may find this new. In addition, it has room for a few other interior decorating styles to create a stylish emotive space.
If you are into a Gothic-inspired bedroom, make sure your space is clean and tidy first. Then, pick the right theme. After that, use patterned wallpapers or paint the walls for a dramatic effect. Lastly, decorate the area.
1. Teenage Gothic Bedroom Ideas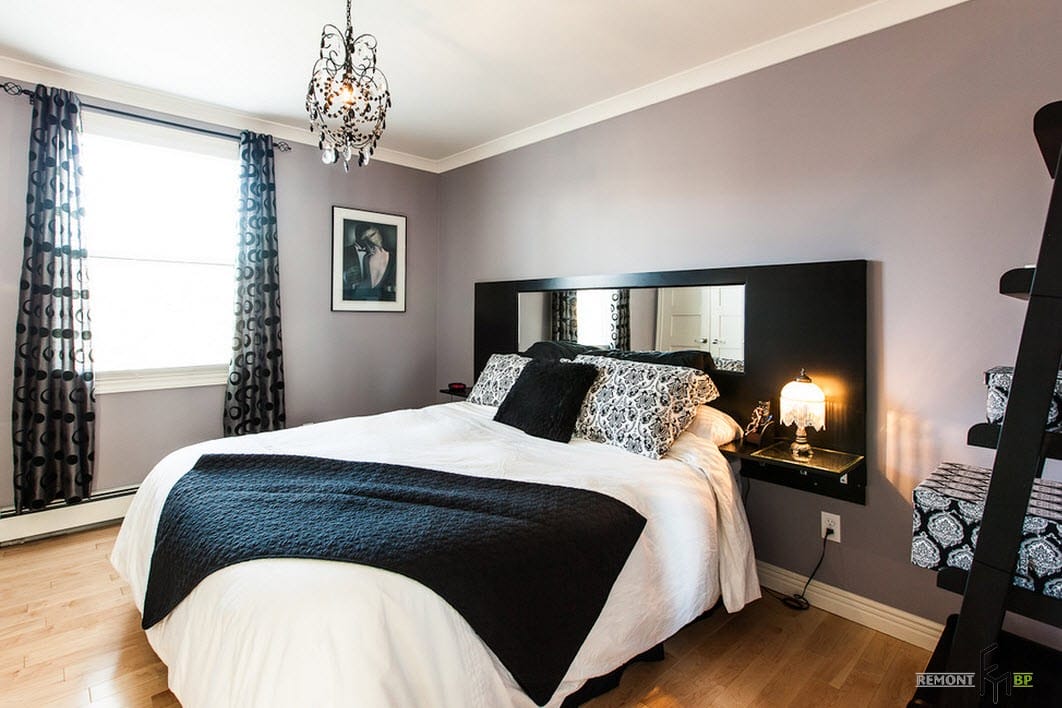 This teenage bedroom boasts light lilac painted walls for a feminine feel. They don't only brighten up space, but also let monochrome bedding and damask prints stand out.
Moreover, this simple bedroom features a black ladder blanket holder, headboard, and floating nightstands. They quickly lend the area visual drama. The units along with the framed haunted picture produce a Gothic flavor.
The chandelier and table lamp add glamor to the teenage bedroom. Black and gray curtains dress up the window.
2. Queen-Like Gothic-Style Bedroom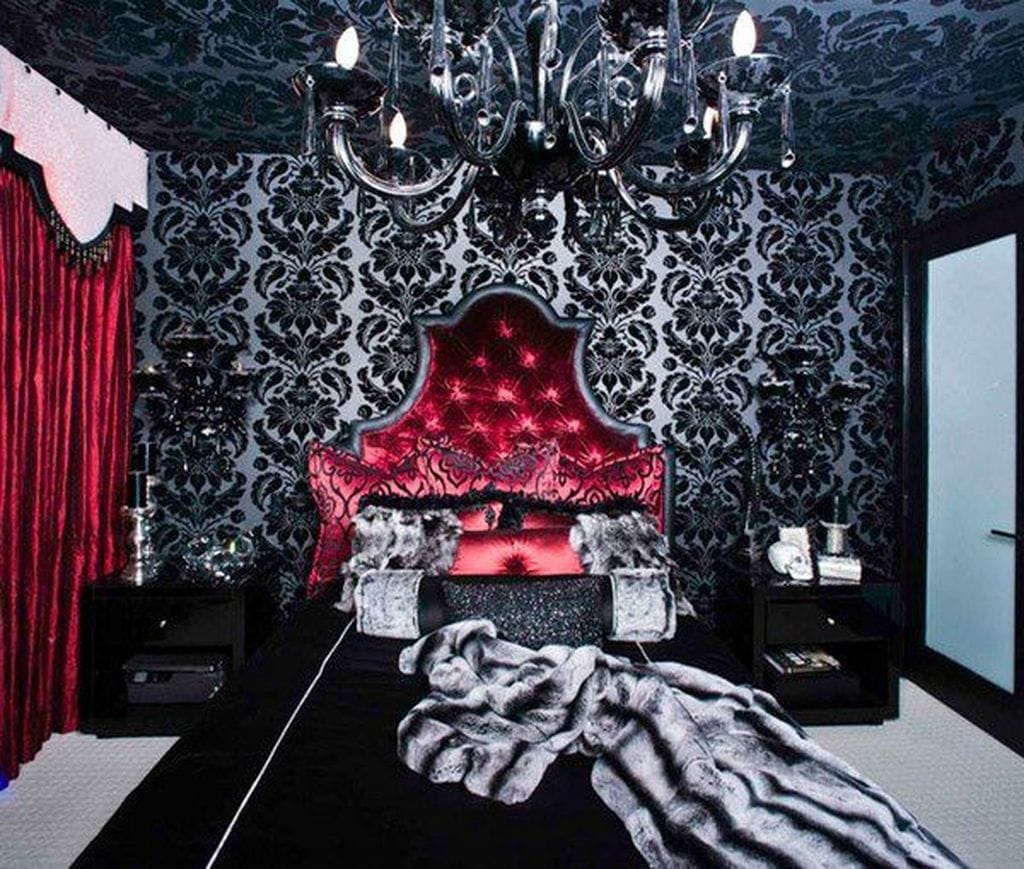 In this example, the floral patterned wallpapers adorn the bedroom ceiling and accent wall. They ground the sleeping space and bring so much wonderful texture to the area.
Black chandelier, bedsheet, and nightstand reinsure the bedroom with a moody vibe. The tufted headboard infuses a queen-like atmosphere into the interior.
Pops of red keep the bedroom from feeling too melancholic. Meanwhile, silk, satin, and velvet come together in the space. The fabrics effortlessly scream timeless luxury.
3. Contemporary Gothic Bedroom Ideas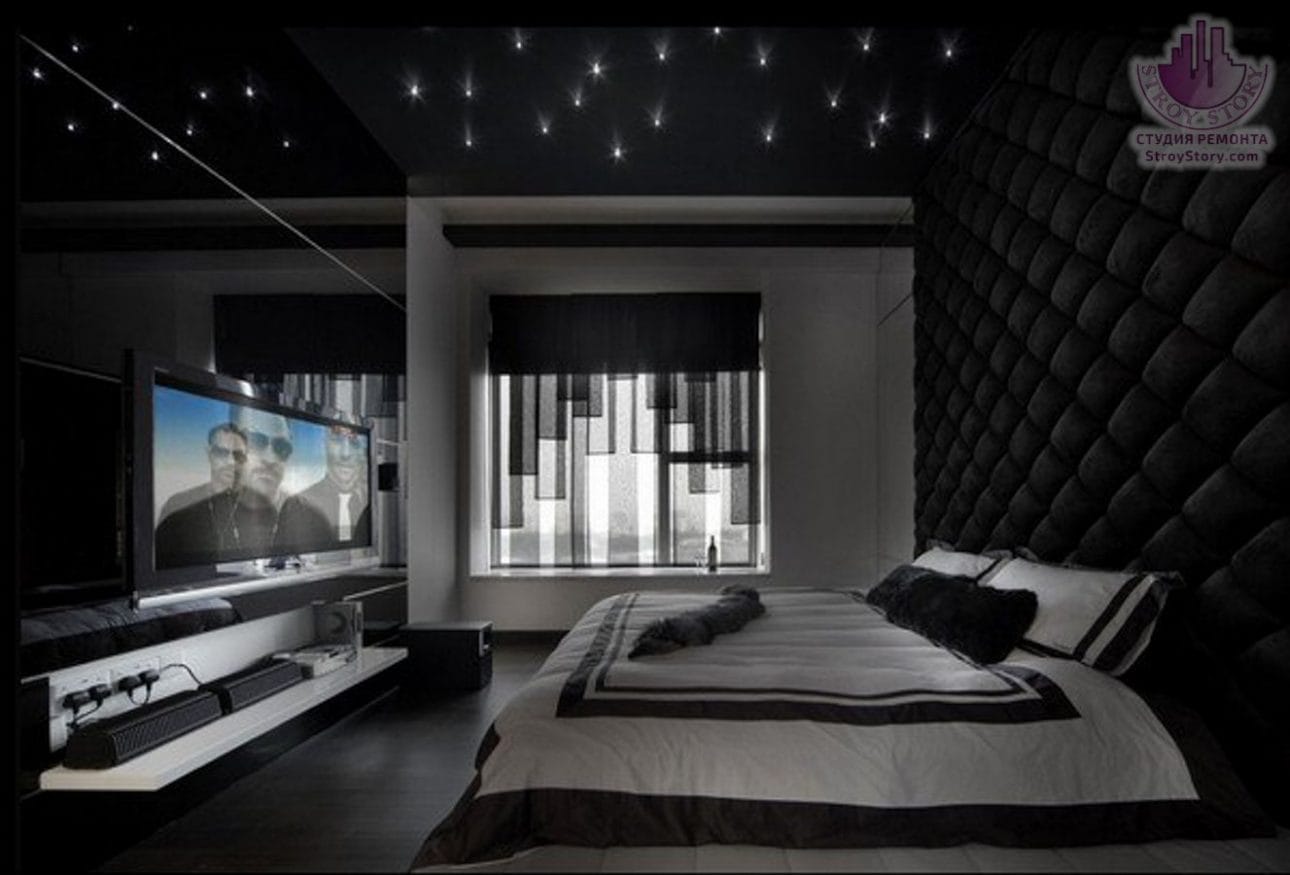 A Gothic bedroom is definitely not all about outdated furniture. Here, this sleeping space looks so fresh and stunning.
Black beautifully wraps this bedroom from the ceiling to the floor. The color gives off a Gothic ambiance and a sumptuous feel. Furthermore, the extra tall upholstered headboard makes the whole space seem larger.
Moreover, window dressing isn't only functional, but also looks fabulous. The downlights resemble stars in the night skies. Lastly, black and white bedding unifies the bedroom.
4. Victorian Gothic Bedroom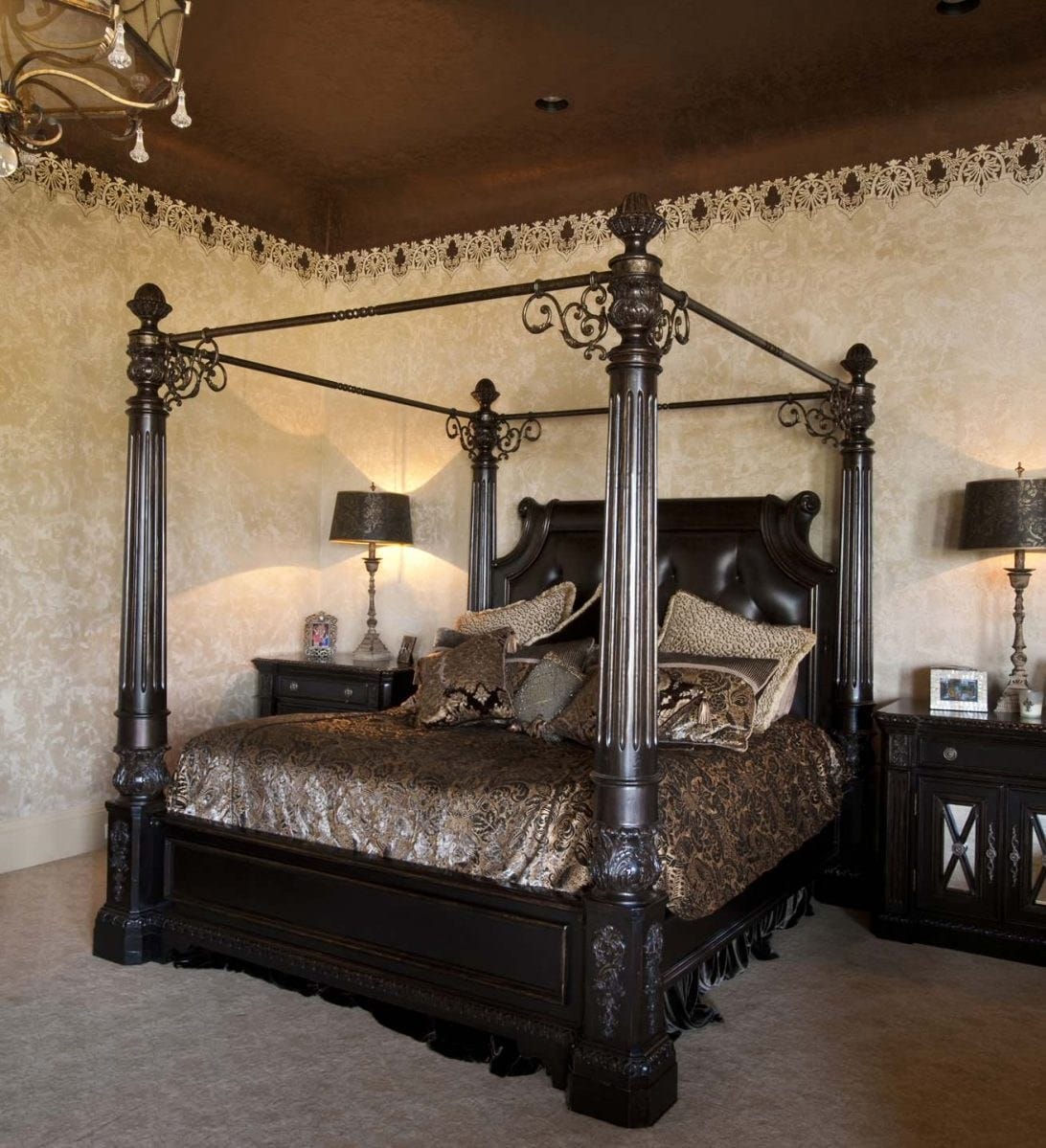 This is one of the most delightful Victorian Gothic bedroom ideas to try. The decor uses dark colors like black and brown. They make the space serene and mysterious at once.
The ceiling treatment is truly impressive. Moreover, the four-poster bed and vintage nightstands lend the bedroom intricate details. Meanwhile, leather upholstered headboard and satin bedding give the space a touch of glam.
Two table lamps add warm lighting to the bedroom. The area carpet and wallpapers lend the space some rich texture.
5. Romantic Gothic Bedroom Ideas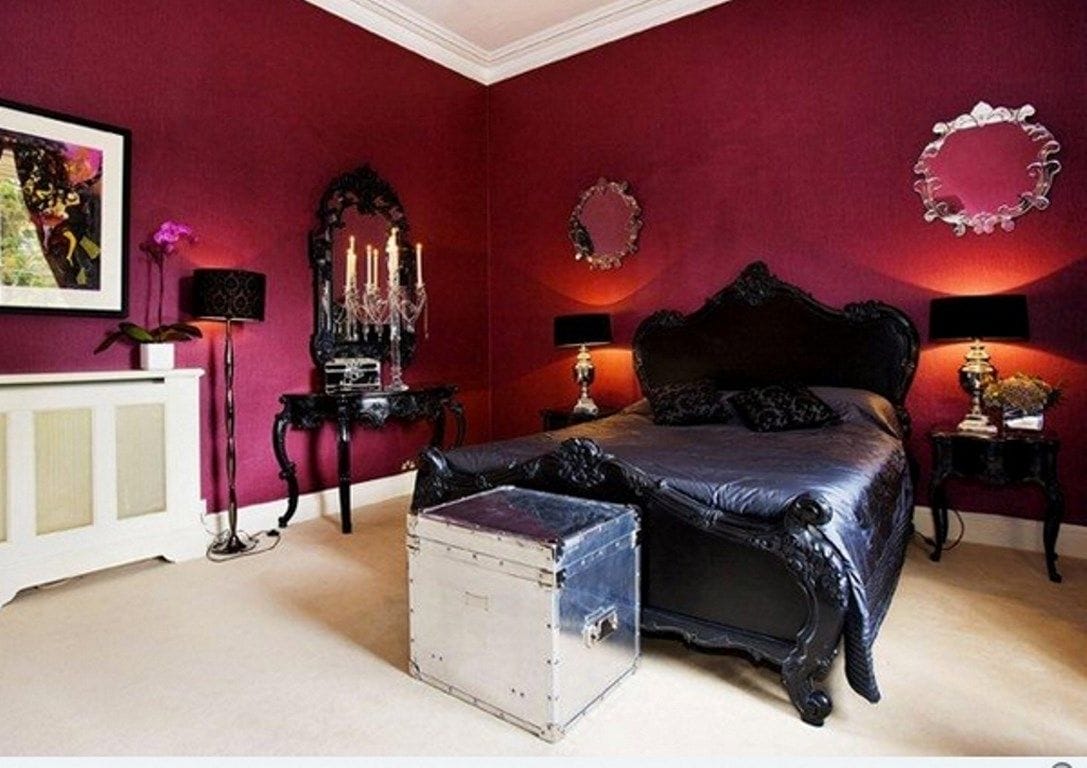 Besides black, Gothic bedrooms also involve brown, purple, and red. This example shows that decor can be gorgeous and colorful.
For certain, the said bedrooms do not wear many vibrant colors. You can only incorporate one or two vivid shades to make the space cheerful. Here, red walls quickly infuse Gothic romance into the interior.
Black furniture sport ornate details. They carry visual depth and grandeur to the bedroom. The simple lighting generates nighttime drama. Meanwhile, a mirrored storage box, painting, and decorative mirrors around the space out.
6. Magnificent Gothic Bedroom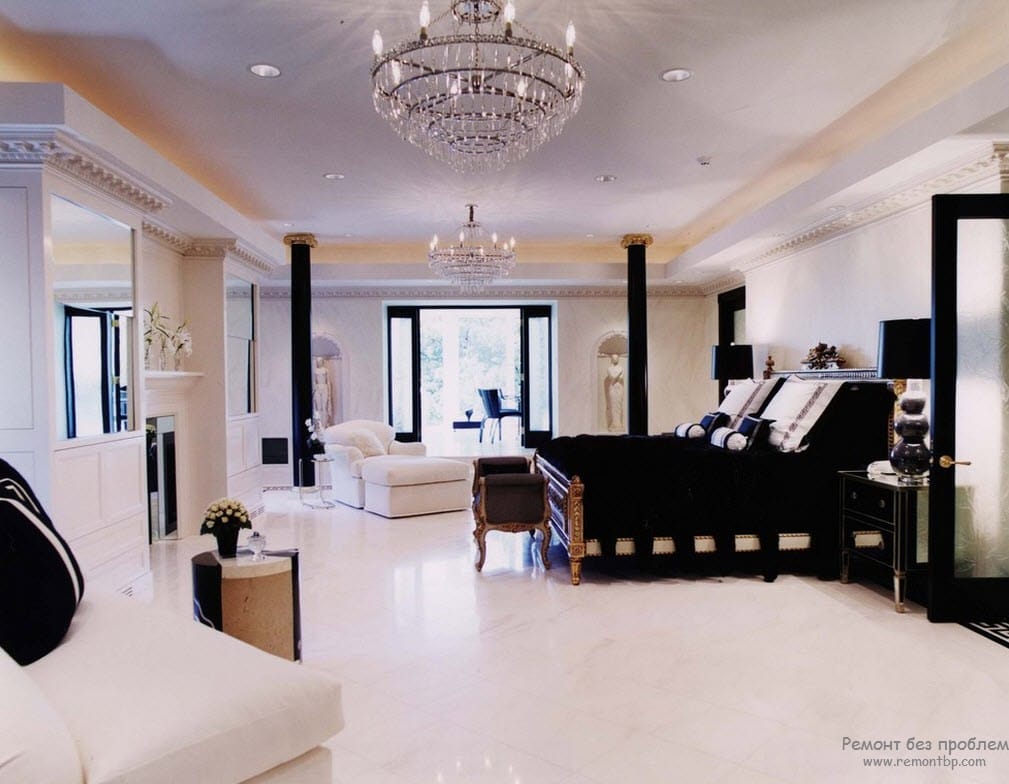 This Gothic bedroom is so spacious. It employs black bedding, table lamps, nightstands, and columns as well. They create a distinctive look in the all-white space. Both end bench and molding offer intricate surfaces.
The white ceiling, floor, and walls keep the bedroom airy as well as light. Meanwhile, the mirrors make the space even bigger than it is.
A crystal chandelier and gold accents inject a touch of luxury into the interior. The sofa and lounge chair provides optimum comfort. Flowers and decorative pieces on the a fireplace mantel complete the scene.
7. Elegant Gothic Bedroom Ideas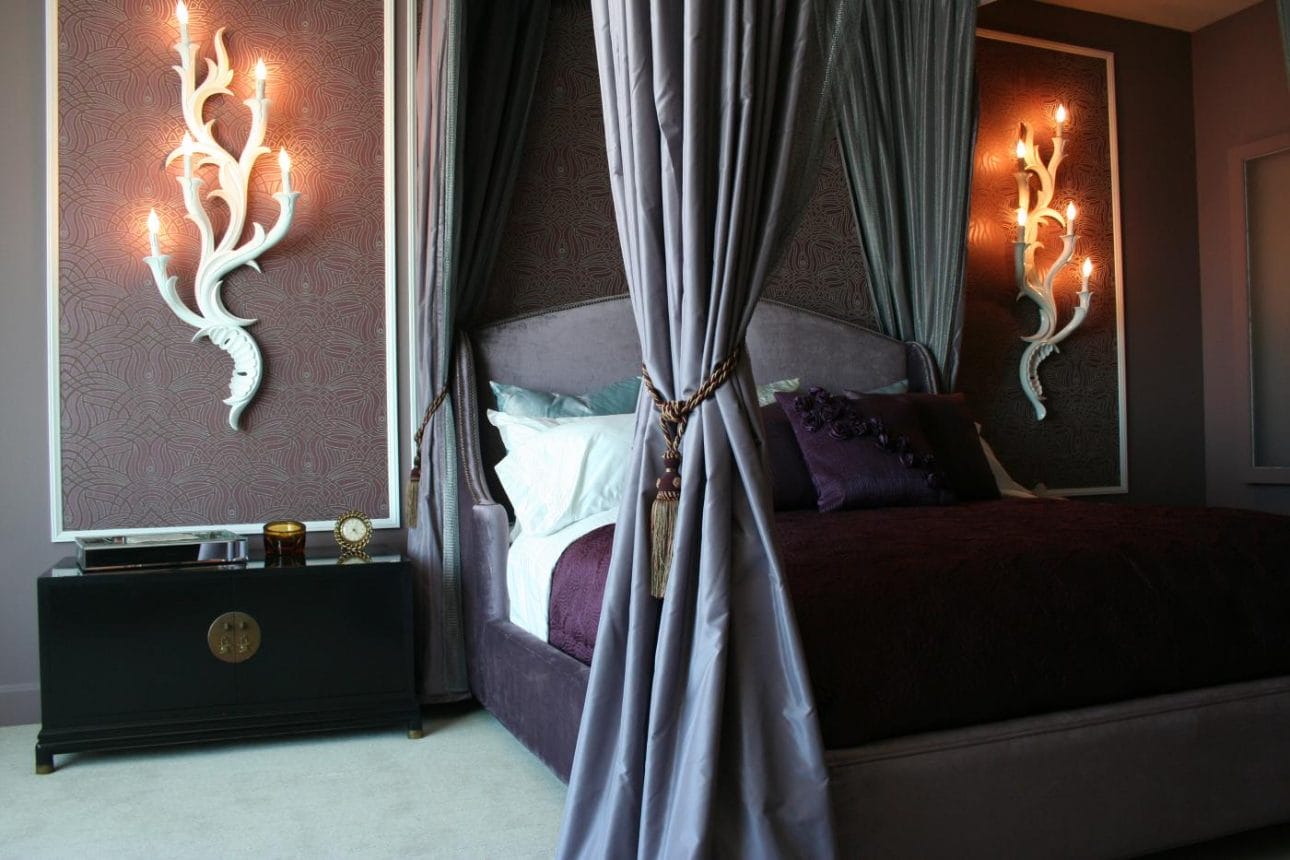 If Goth-glam is your thing, then steal this look. The bedroom blends stylish elegance with signature vintage. Meanwhile, a classic bedside table and bed frame make the space more appealing.
Furthermore, varying purple shades give off a Gothic flavor. They lend the space a touch of femininity too.
The pure white wall sconces light up the bedroom. They keep it from feeling too gloomy as well. Meanwhile, silk curtains embellish the four-poster bed nicely. The units are also gentle and lovely.
8. Gothic Bedroom Ideas for Small Spaces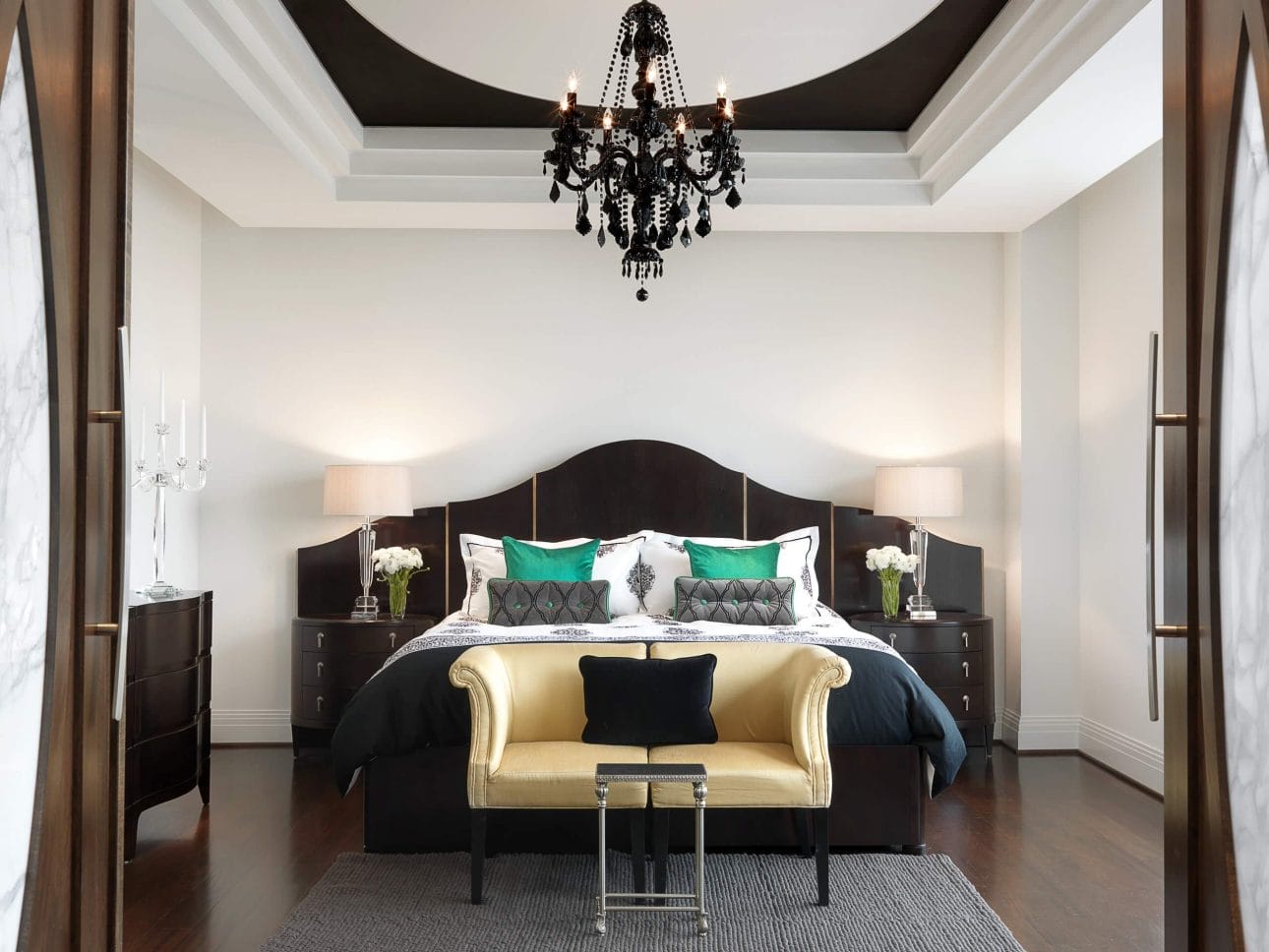 Searching for small Gothic bedroom ideas? If so, implement this design. The crisp white walls prevent the space from feeling confined. They also develop an airy feeling in no time.
The bed, headboard, chandelier, and nightstands sport different shades of black. They do not only create a high drama but also carve a Gothic flair. Moreover, the units give the bedroom some visual separation.
Satin and velvet throw pillows reinsure the space with a dash of glamor. Yellow and green accents make a bold impression. The loveseat and small table create a cozy seating spot.
9.  Man's Gothic Bedroom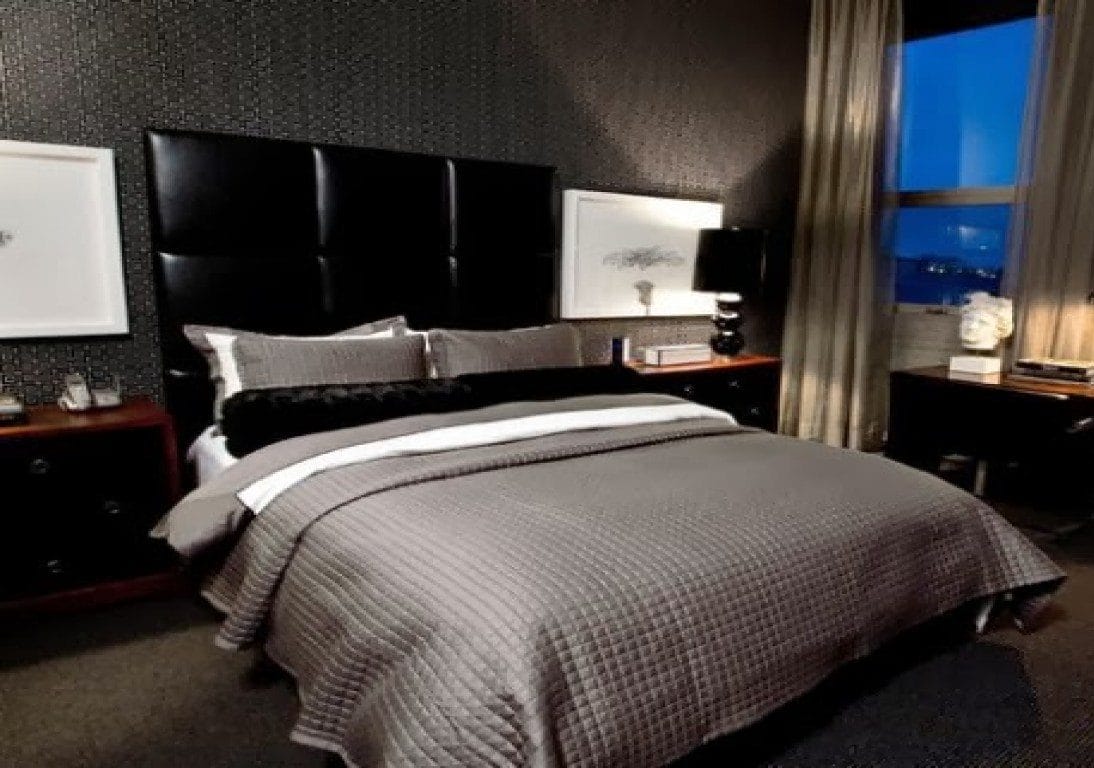 This is one of the most fabulous gothic bedroom ideas for men. Because space features a black leather headboard, nightstands, pillows, and table lamps. They instantly send out a Gothic feel.
Furthermore, this modern bedroom employs brick wallpaper, metal desk lamp, statue, and gray linens. They give off a masculine vibe. Meanwhile, the simple artworks add some character to space.
The sheer gray curtains soften the look of this man's bedroom. They also keep the sleeping space from becoming flat.
10. Gothic Bedroom Ideas for Women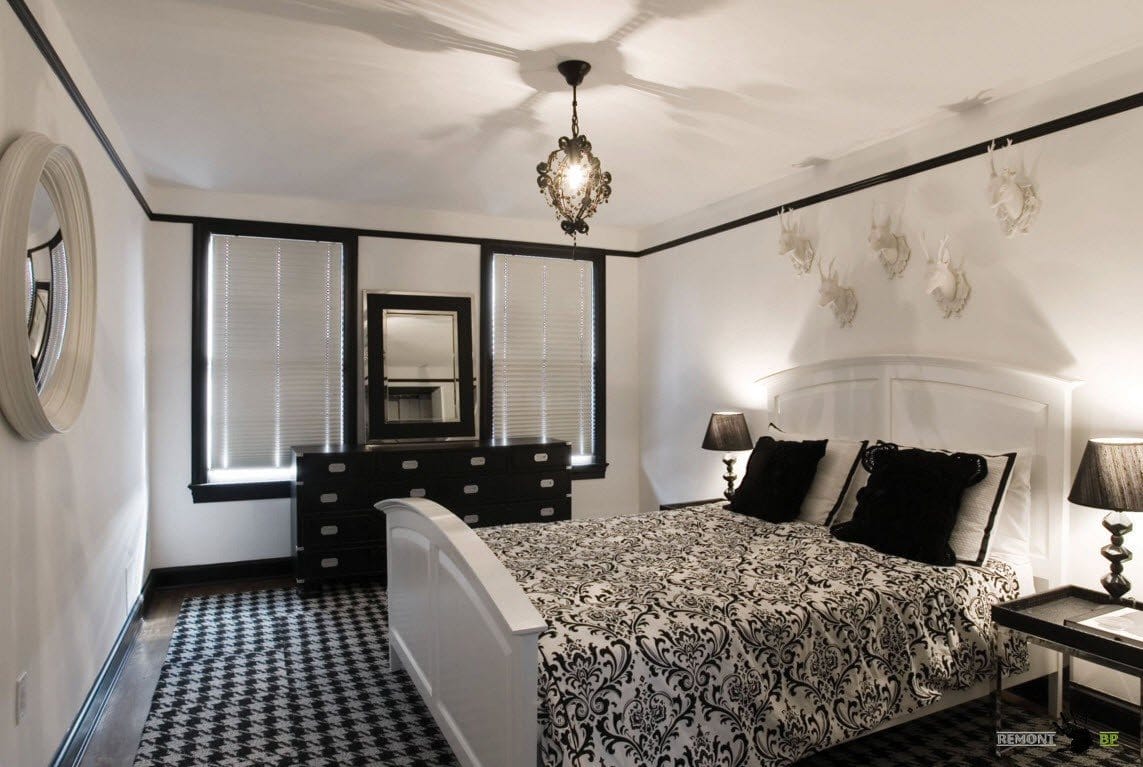 As you see, this bedroom seems airy and renewed. Furthermore, the white ceiling, bed frame, and walls make the space more expansive than it is.
The patterned area rug, chandelier, damask prints, and vintage table lamps set a Gothic ambiance. They lend the sleeping space some ornate details as well.
Moreover, the sideboard comes with drawers. They hide blankets and knick-knacks from view for an organized look. Meanwhile, artificial trophies adorn the white wall. They showcase their mysterious shadows.
11. Purple Gothic Bedroom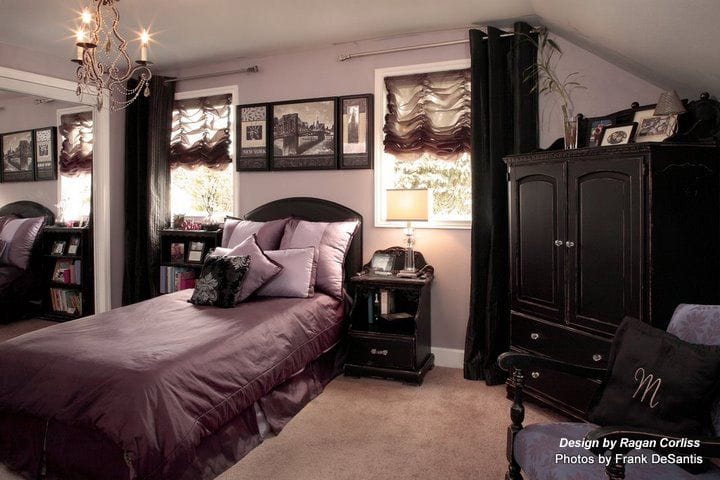 This bedroom features a purple wall and fabrics. They inject a sweet appeal and a tranquil ambiance into the sleeping space.
The black cupboard, armchair, nightstand, and bookshelf produce a shabby chic feel. Meanwhile, balloon window shades lend the area a feminine flair.
Moreover, a black headboard, haunted picture, and curtains evoke a sense of mystery. The mirror visually enlarges the sleeping space. Lastly, the chandelier with tiny black shades imparts a romantic ambiance.
12. Bachelor's Gothic Bedroom Ideas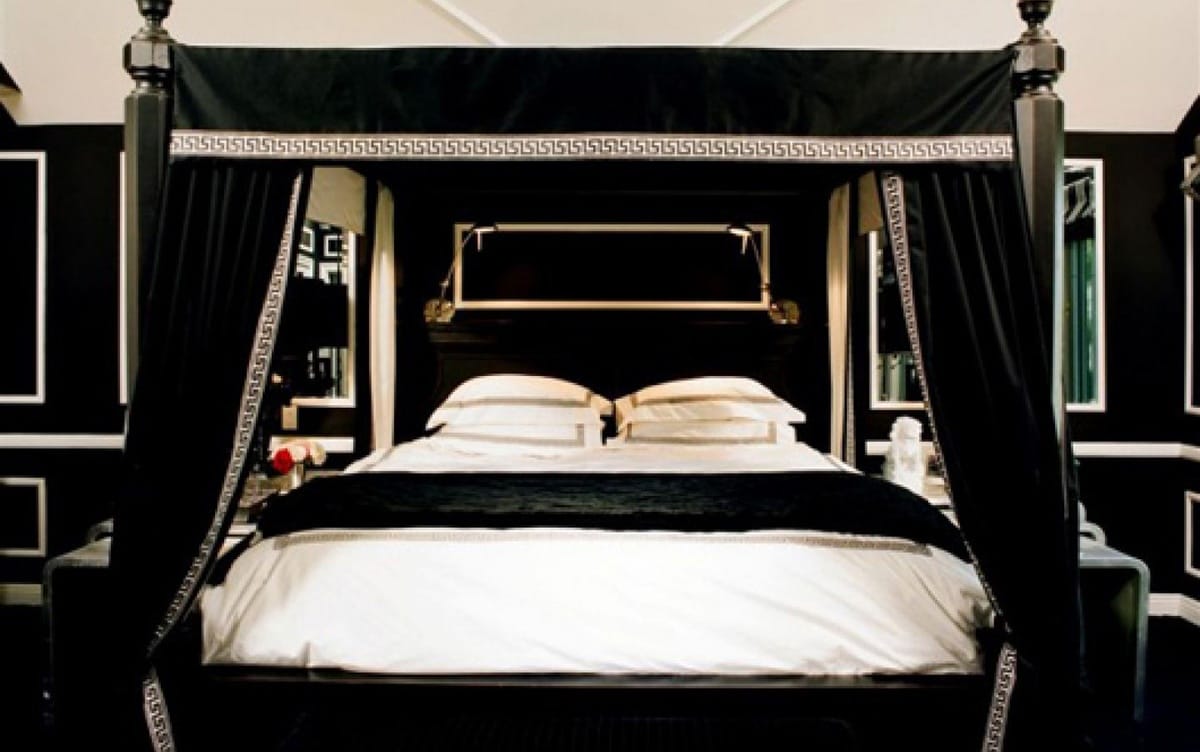 Without a doubt, this bachelor's pad bedroom will win any gentleman's heart. It reminds us of a custom-made tuxedo and bright white shirt. The design actually works great for ladies' bedrooms as well.
Moreover, the floor, four-poster bed, curtain panels, and blanket carry a Gothic tone to the bedroom. Meanwhile, white bedding, wall trim, and ceiling introduce some sharp contrast.
The bedside tables and mirrors infuse a modern flair into the interior. Pink and red roses in the vase titivate the room.
13. Dark Gothic Bedroom Ideas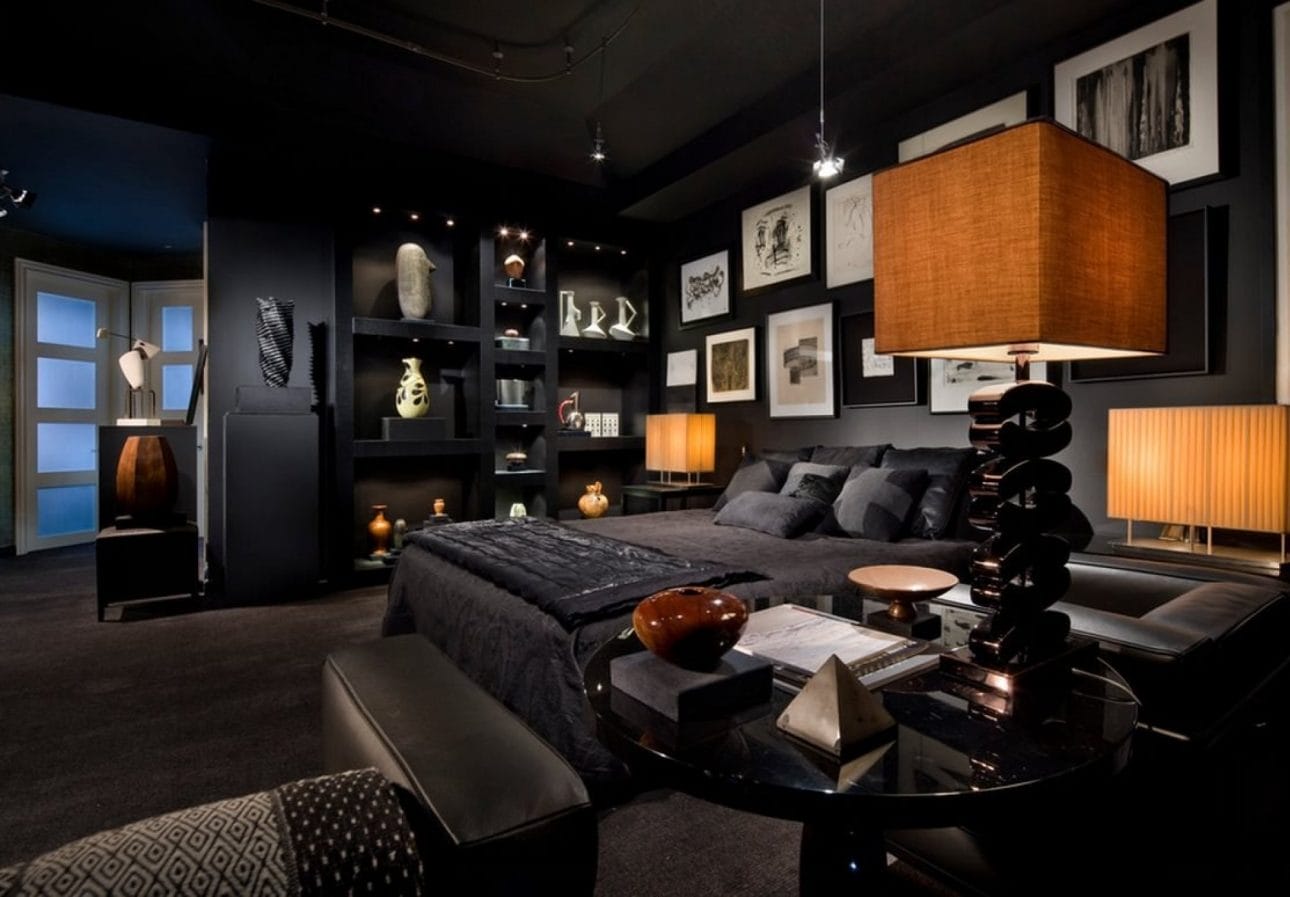 We love this bedroom set so much. The lamp on the round table and ornamental pieces on the shelves look really sexy. Meanwhile, leather end bench and bedding fabrics provide unparalleled comfort.
The ceiling, floor, and walls wear varying shades of black. They instill a Gothic ambiance while keeping the bedroom from feeling monotonous. Two table lamps on the nightstands carve a relaxing vibe.
Furthermore, framed artworks in different sizes make for an appealing gallery. They embellish the blank wall. The pieces also produce a stylish appearance. Slim metal hanging lights add an industrial charm.
14. Beautiful Gothic Bedroom Ideas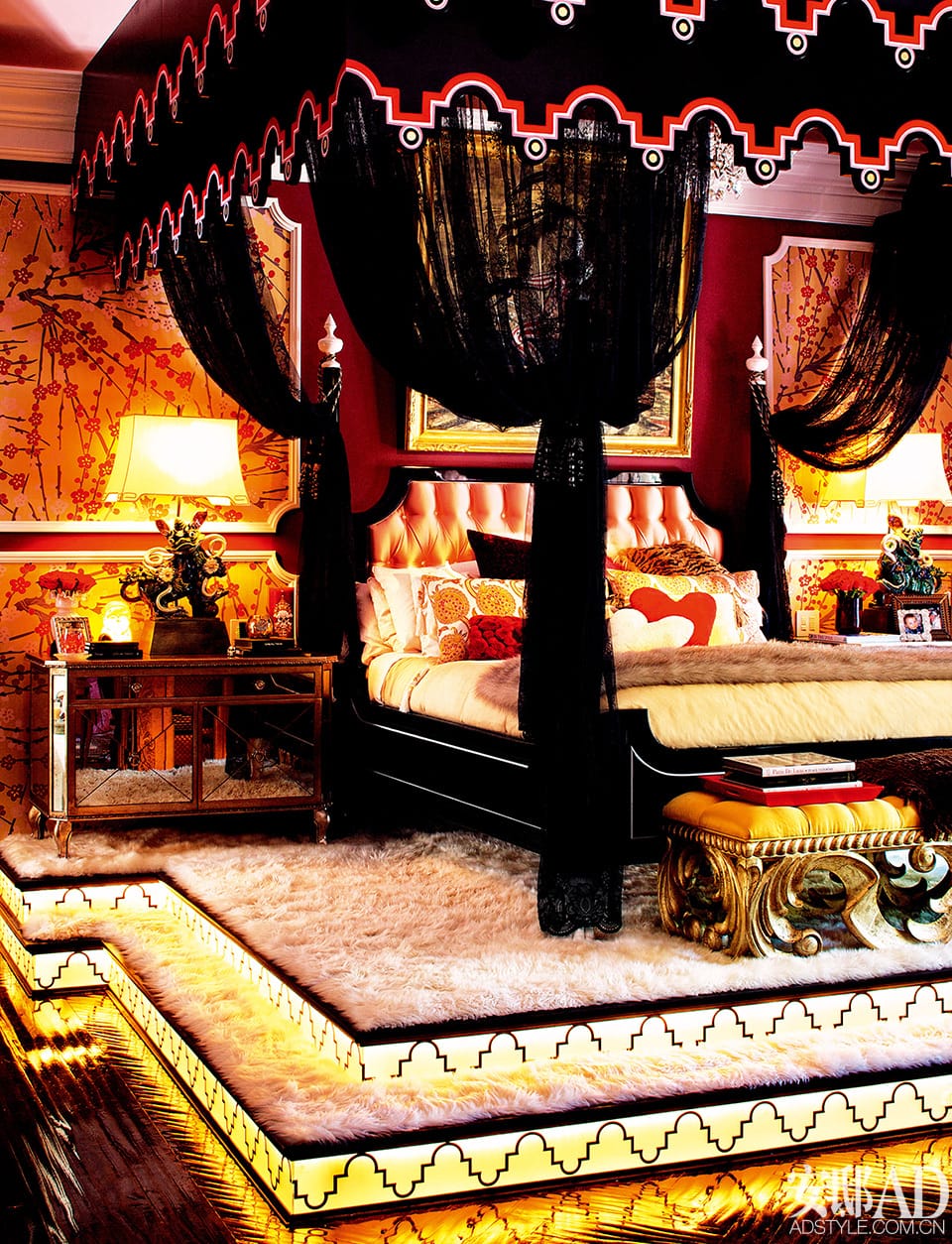 This is an excellent example of Gothic master suite bedrooms. The black lace curtain panels surround the four-poster bed. They do not only create a highly sensual feel but also ooze classic elegance.
The bed platform and illuminated lucite steps are so gorgeous. They make any woman feel like she is in the movie scene of Film Noir. Meanwhile, red walls and throw pillow lend some vibrancy to the bedroom.
Moreover, pink tufted headboard and floral wall trim infuse a womanly touch to the interior. The sheepskin wool rugs pamper any bare feet. Table lamps sport intricate details, while gold furniture evokes a lavish atmosphere.
15. Gothic Man's Bedroom Decorating Ideas
Here, the man's bedroom includes a black floor and walls. They instantly deliver drama as well as depth to the interior. Two wall sconces create a moody atmosphere in no time.
That white wall, ceiling, and bedsheet open up the sleeping space. Moreover, they are in high contrast to the bedroom's black surfaces. Wool blanket and satin throw pillows impart a luxurious ambiance.
The bed frame and nightstands generate a sleek look. White cross wall decor and metal bulb lighting lend the bedroom a strong Gothic flavor. Lastly, a red cotton cord armchair gives the space an element of surprise.
16. Chic Gothic Bedroom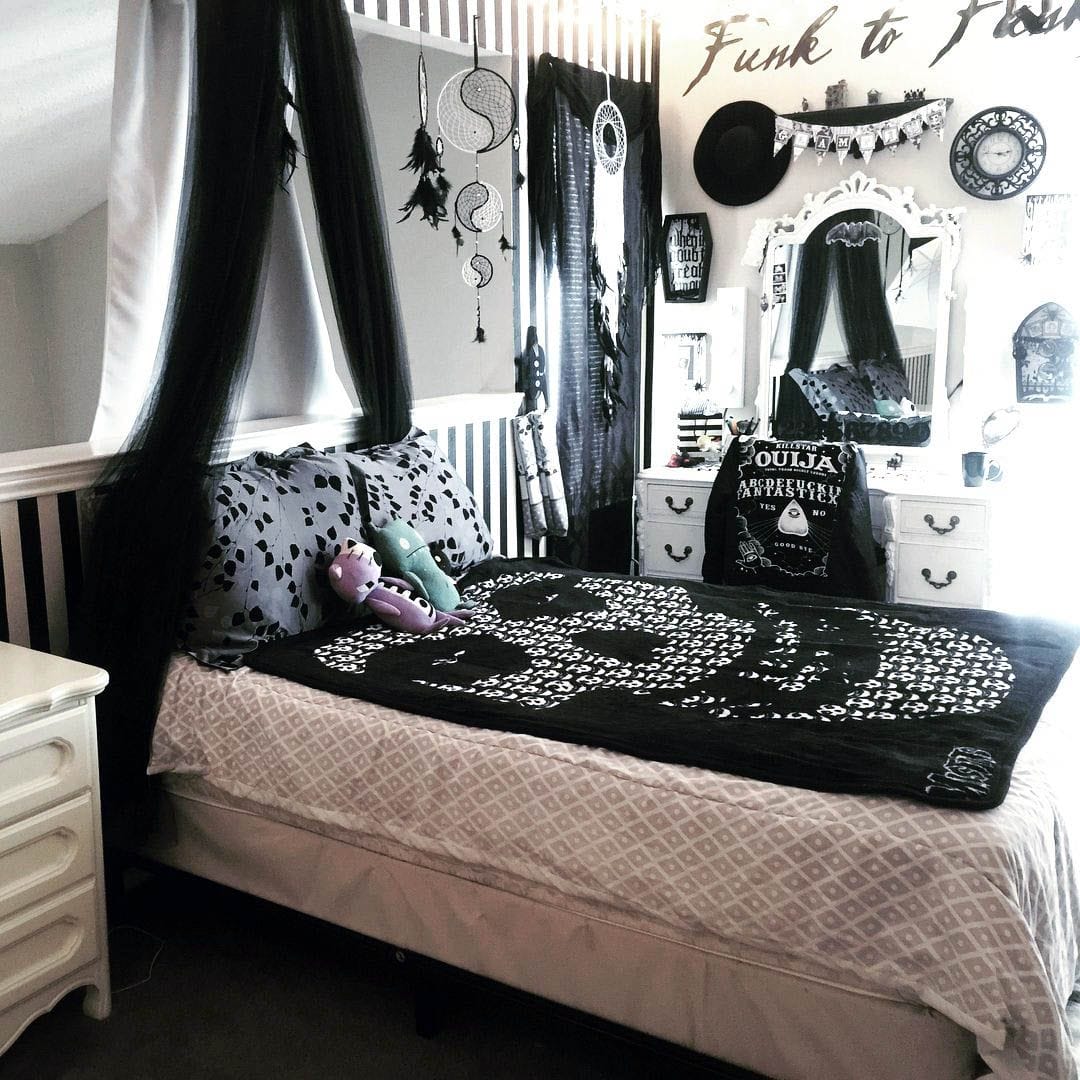 Looking for gray gothic bedroom ideas? If yes, practice this model. It allows you to create your dream sleeping space at a more affordable price. Furthermore, the gray accent wall exhibits a serene ambiance.
Both black sheer curtains and bed canopy produce an elegant feeling. The skull blanket, desk chair, and wall decorative items make the bedroom emo.
Moreover, the black floor and white nightstand develop a great contrast. Hanging feather and yin-yang decorations represent a Gothic bohemian style. The two-tone pillows tie the space together.
17. Gothic Bedroom Ideas with Plants
Here, the dark gray wall acts as a perfect background for furniture pieces. The bedroom also features a black bed frame, rug, nightstands, vintage table lamps, and candle holders. They lend a Gothic flair to the area.
The shag area rug, blanket, bedsheet, and pillows come in different gray shades. In an instant, they impart a cozy ambiance.
Bulb string lights and painting complete the Gothic look. Potted plants enliven the whole sleeping space. This bedroom is far from scary, right?
18. Red Gothic Bedroom Ideas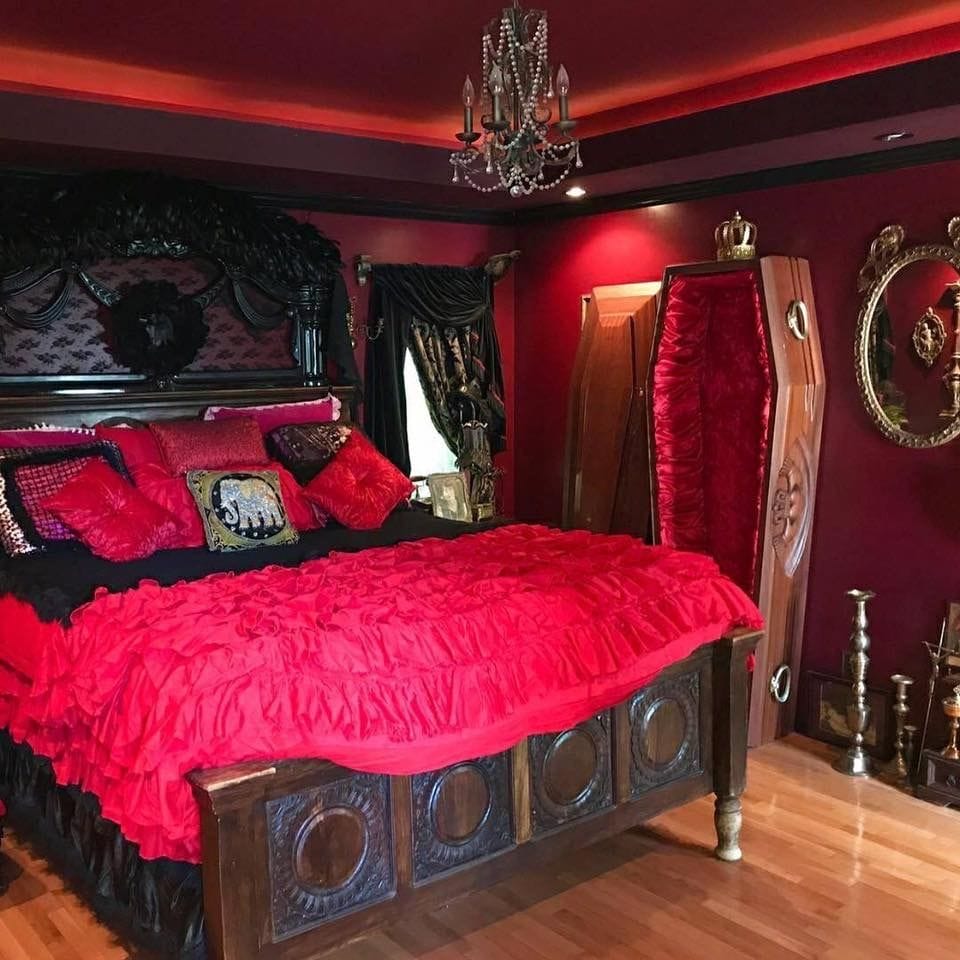 If black is not your thing, consider using bold colors like purple or red to decorate the bedroom. Dark hues add a sense of sensuality to space.
In this case, varying shades of red wrap the bedroom. They do not only make a strong statement but also send out a romantic atmosphere.
The wooden bed frame, black headboard, and mirror lend exquisite details to the bedroom. Meanwhile, coffin, chandelier, and window scarf produce a spooky ambiance.
19. Gothic Bedroom Ideas with Galaxy-Themed Bedding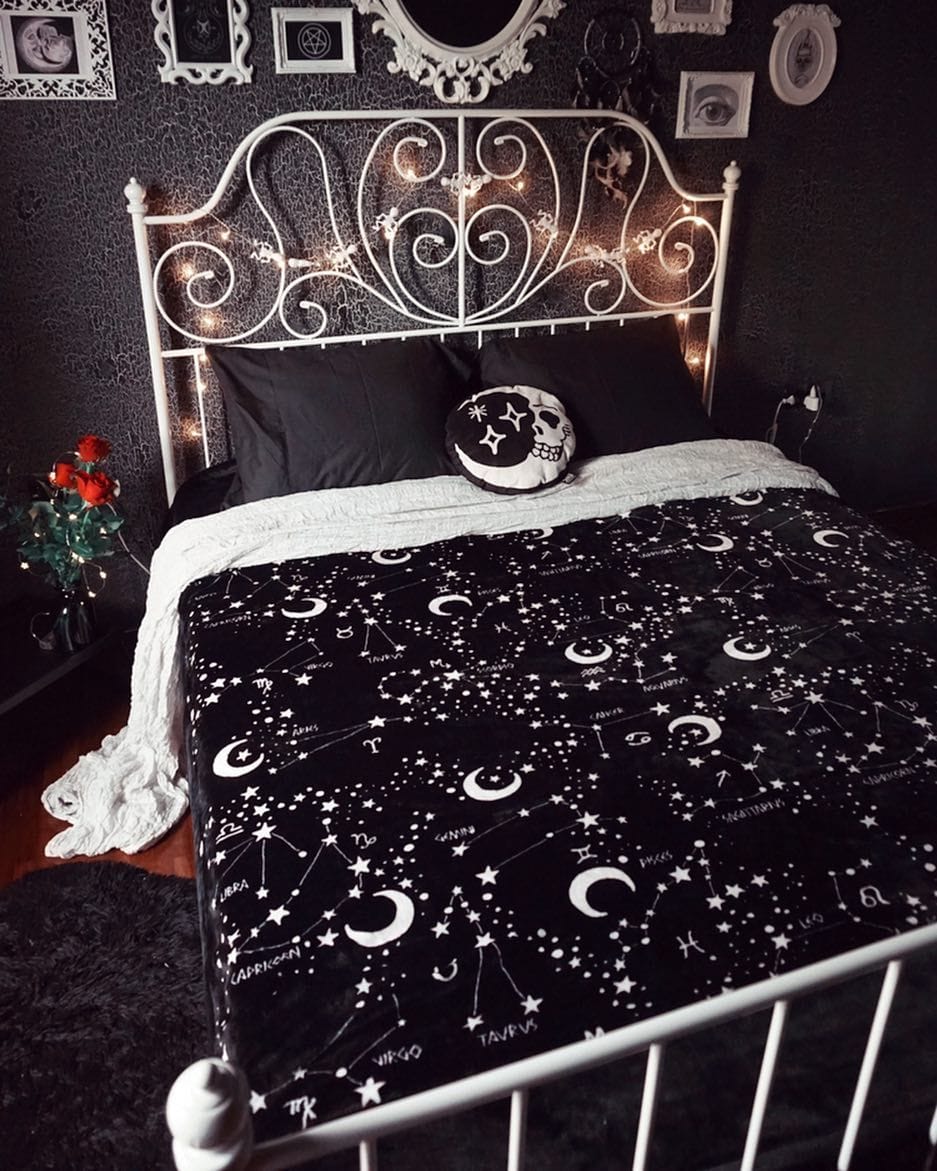 We admire this fantasy bedroom. It boasts a black and white galaxy-inspired bedding that steals the show.
The wallpaper, shag rug, and bedside table generate a Gothic ambiance in a jiffy. Meanwhile, the wood floor keeps the sleeping space homey and welcoming.
Faux red roses, skull throw pillow, and white bed frame with spirals ooze Gothic romance. Moreover, the wall decorations bring some ornate details to the room.
20. Black and Orange Gothic Bedroom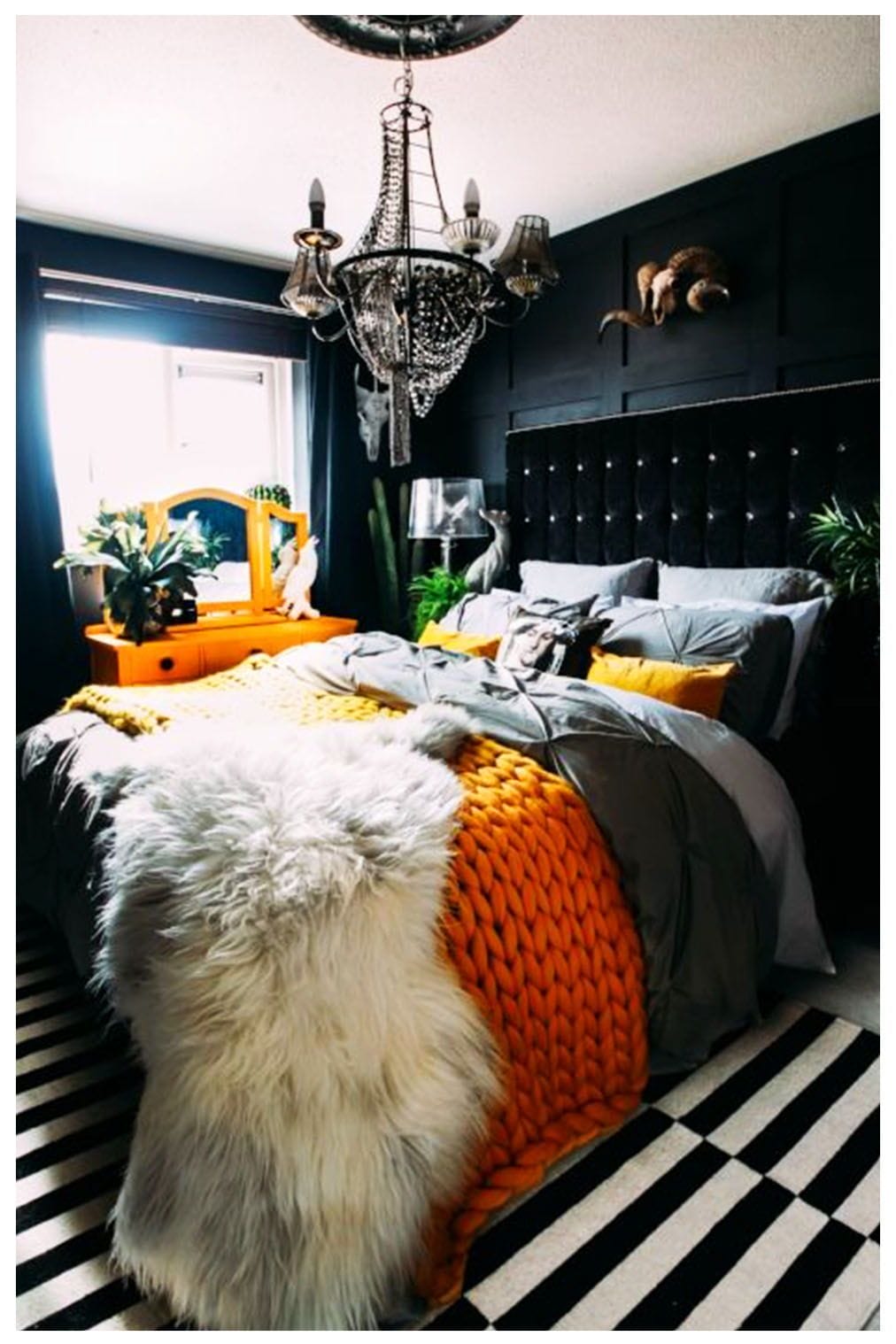 This bedroom boasts a black wall panel, tufted headboard, and curtains. They exude a sense of moodiness, while the striped area rug catches the eye.
The animal wall decor, old lady throw pillow, and black chandelier add to the bedroom's existing spooky vibes. While the white ceiling prevents the bedroom from being too gloomy.
Orange blanket, vanity table, and pillows lend instant cheer to space. The houseplants spice up the bedroom, while the wood rug produces a classy look.
21. Minimalist Gothic Bedroom Ideas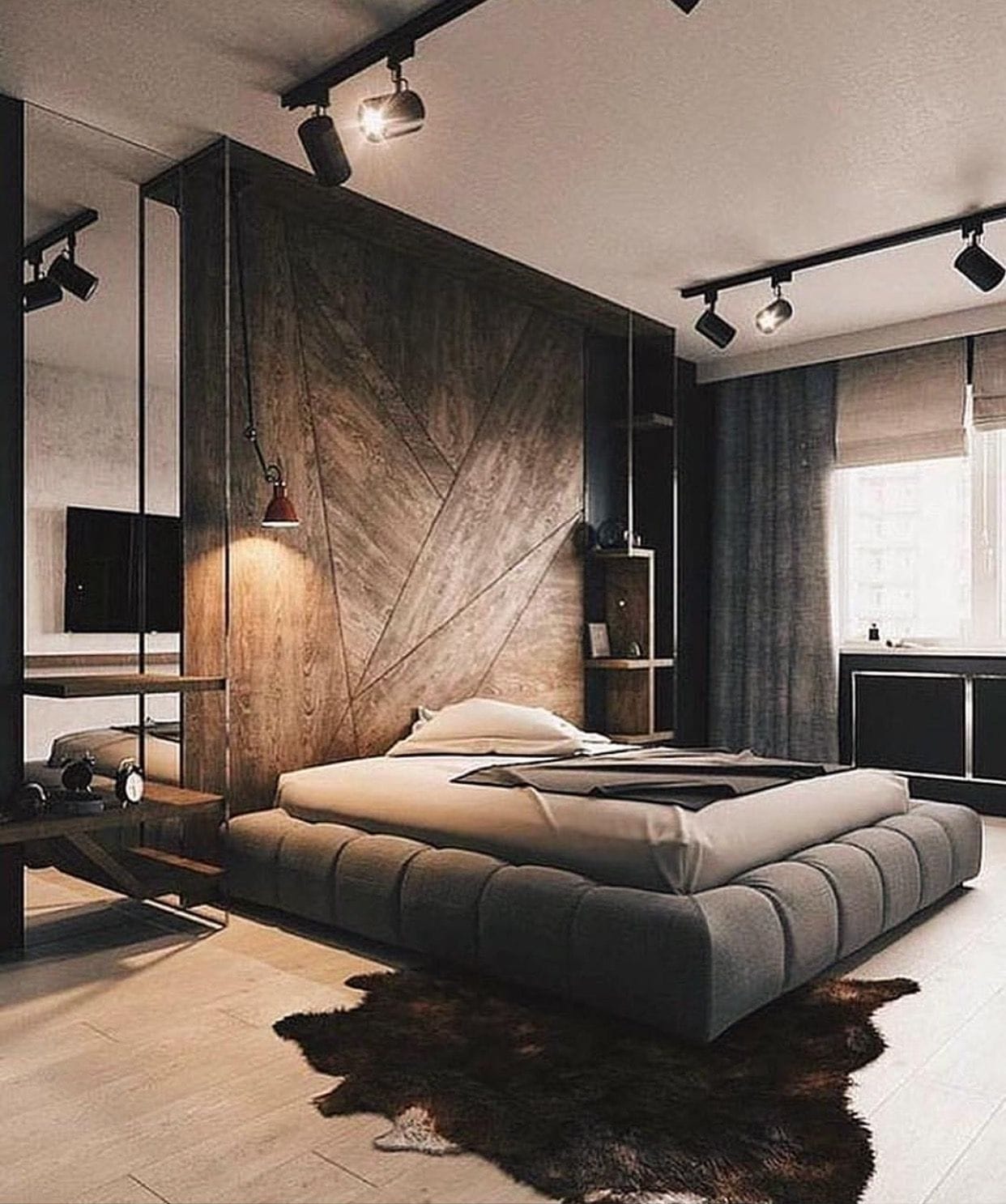 This is one of the most interesting Gothic bedroom ideas for certain. The space looks outstanding since it features a high ceiling. Moreover, a black wall panel, shag rug, and curtain deliver a mysterious touch to the area.
Furthermore, this bedroom doesn't have a great number of furnishings. Black track lighting and vintage lamp illuminate the bedroom. The sleek shelves make the space spacious and relieving.
22. Graceful Bedroom in Gothic Style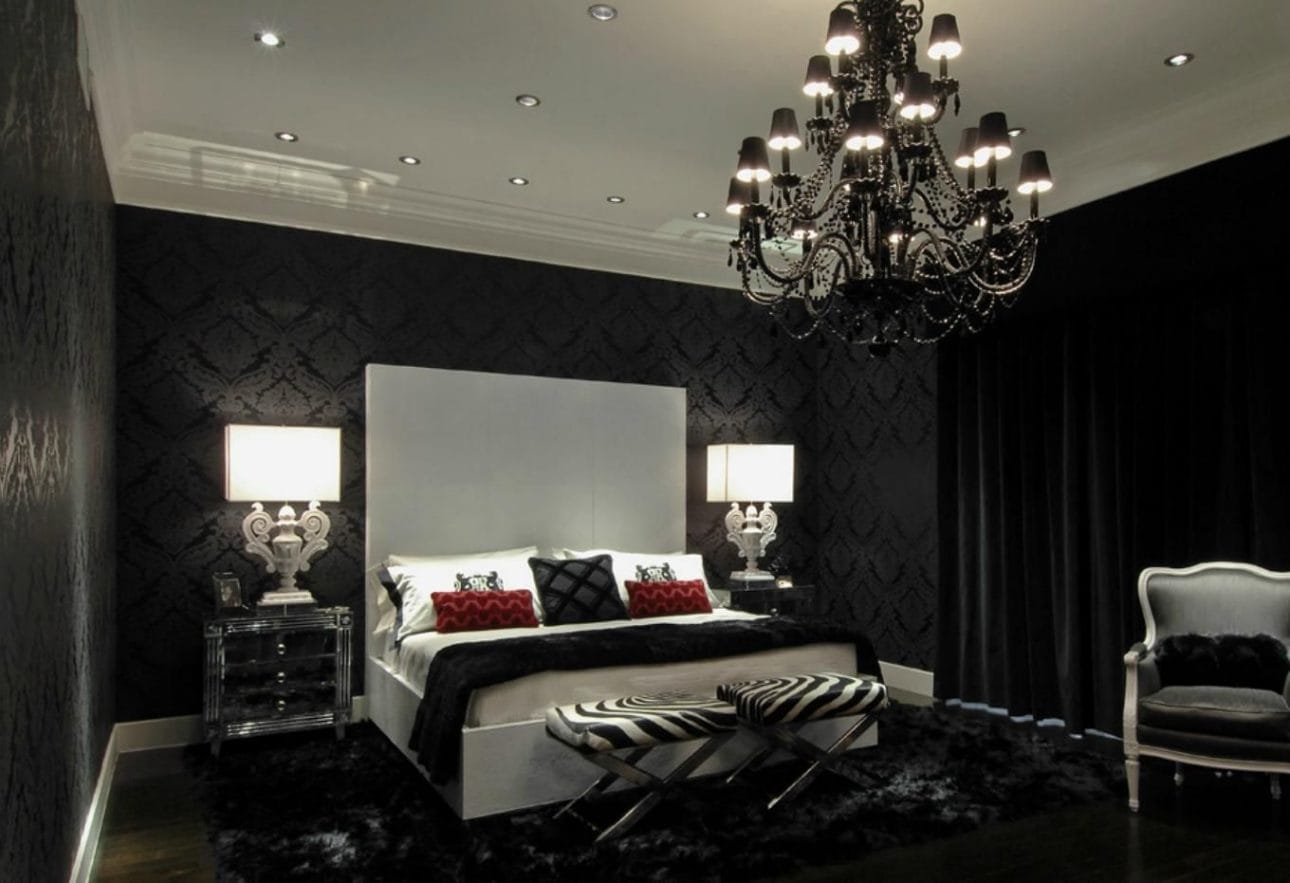 Gothic bedroom ideas are open for modification. Here, the area feels so elegant with curvy armchair, chandelier, and sculptural table lamps. The black floral wallpapers spruce up the walls.
That white bed frame and headboard deliver a modern flair to the bedroom. Two red pillows inject vivid pops of color into the scene. Meanwhile, zebra print stools let you have a nice chit-chat with your loved one.
Hopefully, we hope you truly enjoyed our list of amazing Gothic bedroom ideas. Before creating your own emotive space, plan everything out. That way, it will look iconic and inviting.