Some people have a strong affinity for rhythm as well as beats. If you are one of them, it is time to unleash your inner musician. In this article, we've assembled wonderful music theme bedroom ideas.
Our list covers everything from modern to traditional bedroom designs. There are even some vintage and contemporary archetypes.
Moreover, both designers and manufacturers create so many cool music-related accents these days.
The teenagers and musicians will love these fabulous music bedrooms for certain. Furthermore, some features actual musical instruments, while others showcase decals. Check the pictures out and have lots of fun!
1. Music Theme Bedroom Ideas with Posters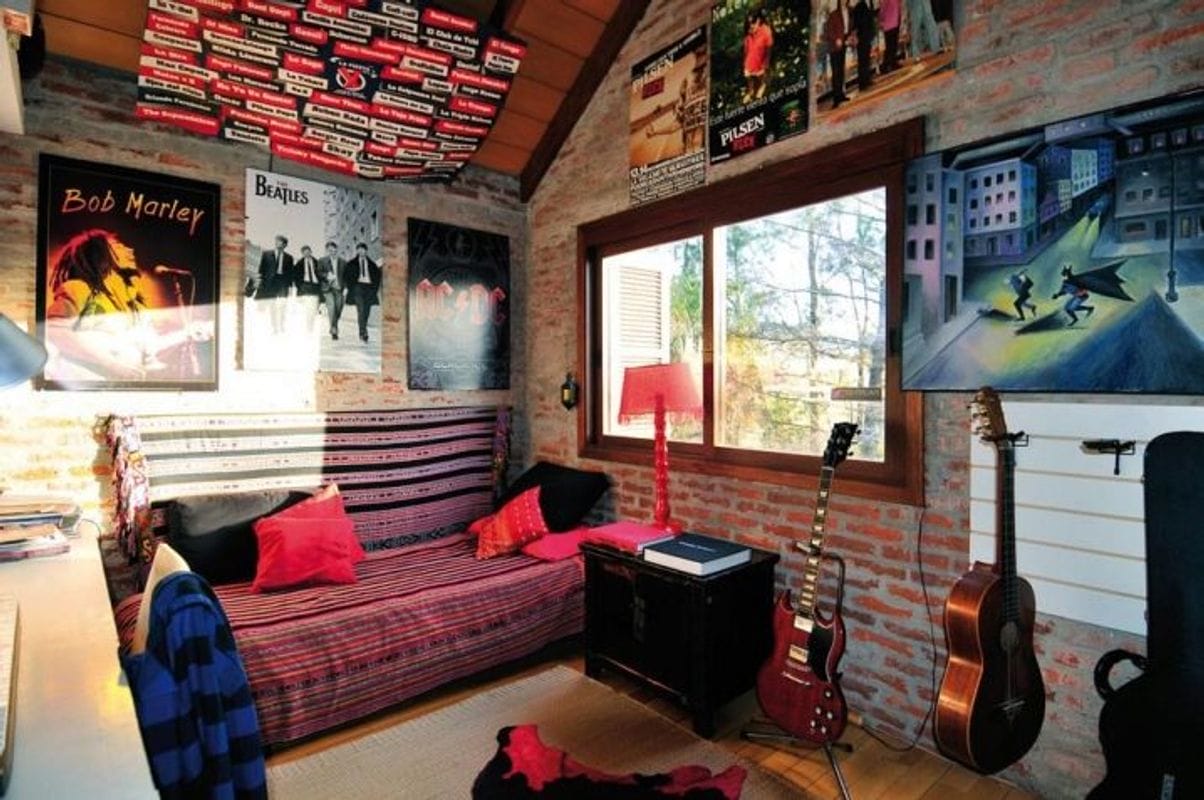 At first sight, it seems like the dweller is a struggling musician. The bedroom surely reminds you of certain sitcoms and movies.
The wood floor gives this loft bedroom a homey ambiance. Meanwhile, the exposed brick walls produce a rustic feel effortlessly. Windows emanate an open atmosphere in an instant.
Moreover, this bedroom boasts the homeowner's favorite band posters and album covers. They spruce the walls up. The pieces evoke an eclectic feel and a messy rock vibe.
Just by looking at the posters, you know that he truly loves rock and reggae music genres. They transform the bedroom into a poster paradise too. Pops of red and black generate a bold impression.
2. Music Themed Bedroom Furniture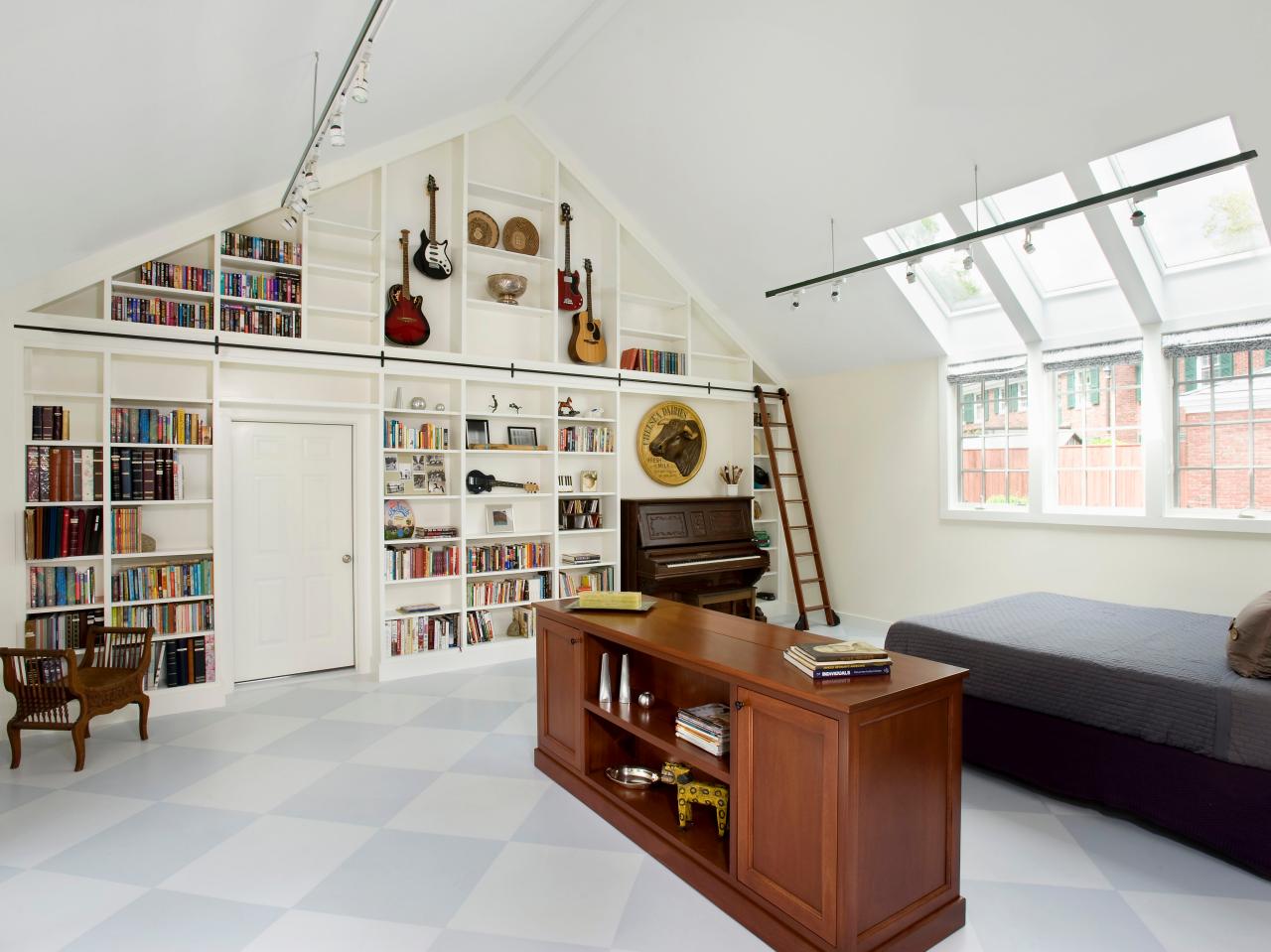 This is undoubtedly one of the coolest music theme bedroom ideas. Here, the space looks crisp, chic, and clean. Furthermore, the monochrome color palette doesn't overwhelm the eye at all.
The bedding and metal track lights develop a masculine feel instantly. Meanwhile, the checkered floor steals the show. Wooden ladder, sideboard, and bench send out a welcoming ambiance.
Moreover, huge off-white shelving produces a dramatic statement. It accommodates real musical instruments, books, and photos. The throw pillows let the space feel cohesive.
3. Beatles Inspired Music Theme Bedroom Ideas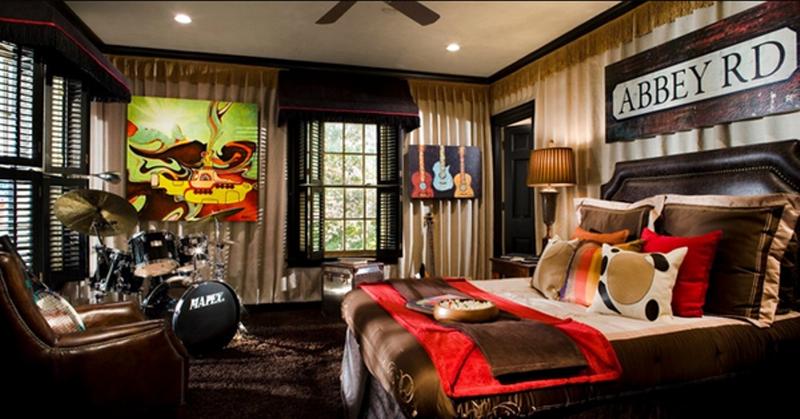 It's certainly safe to say this is the Beatles' room. The leather headboard and chair ooze timeless appeal. They give off a glamorous ambiance.
Meanwhile, the vintage Abbey road sign makes the sleepy space music themed.
The drum set and dark-toned furniture convey masculinity. Black window shutters and valances lend drama to the bedroom. Brown shag area rug injects a comfortable vibe into the interior.
In this case, the beige curtains provide an awesome background for bold artworks. The blanket and throw pillows instantly tie the bedroom together.
4. Music Themed Bedroom Decor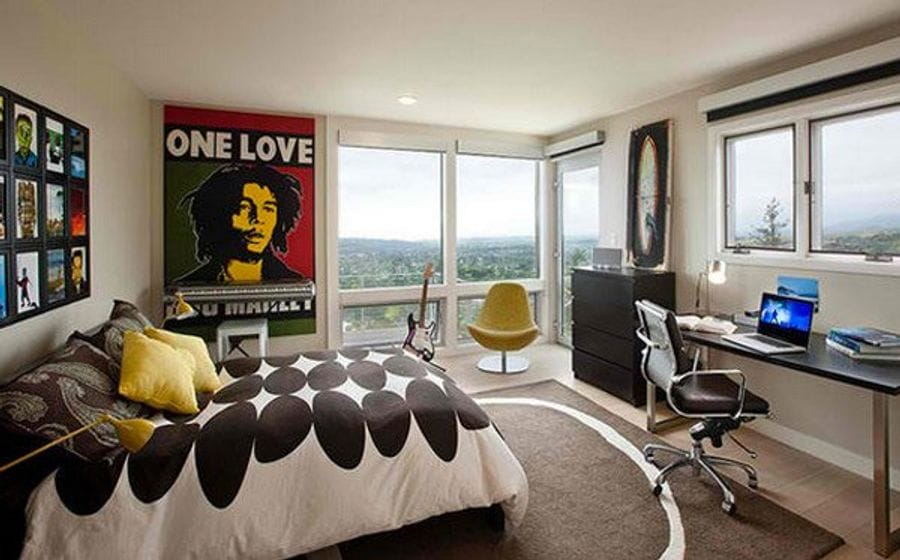 This music inspired bedroom is incredibly cool. Moreover, the monochrome color scheme is easy on the eye. Whites and pale grays quickly open up the area, while windows capture stunning outdoor views.
The oversized Bob Marley poster shows that the homeowner loves reggae. Meanwhile, the album covers over the headboard represent his musical inclinations. However, they do not make the bedroom look kitschy.
Furthermore, electric guitar sits next to the lounger. You can play your favorite chords anytime in a comfortable manner.
The comforter and throw pillows elevate the bedroom's look, while yellow accents brighten up the interior.
5. Music Theme Bedroom Ideas with Murals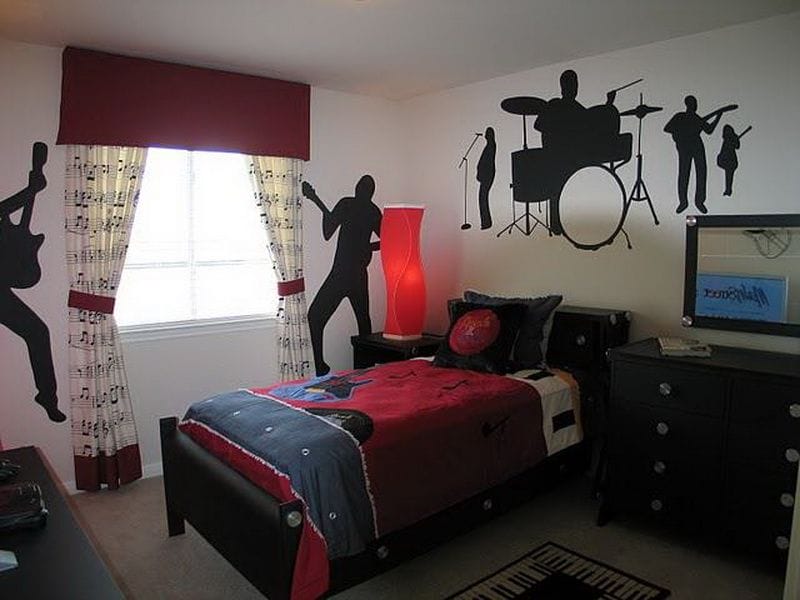 If you truly love something classic, choose black and white for your bedroom's color palette. They do not only make a timeless combination but also allow decorations to stand out.
Black bed, side tables, and throw pillows scream coolness. Different red shades carry a dynamic feel to the bedroom.
Music silhouette murals are simple but striking. Simply replace the decorations when you get sick of them.
The curtains, area rug, and bedsheet solidify the music theme. Taupe area carpet emanates a tranquil ambiance, while windows keep the bedroom from looking gloomy.
6. Music Theme Condo Ideas for Musicians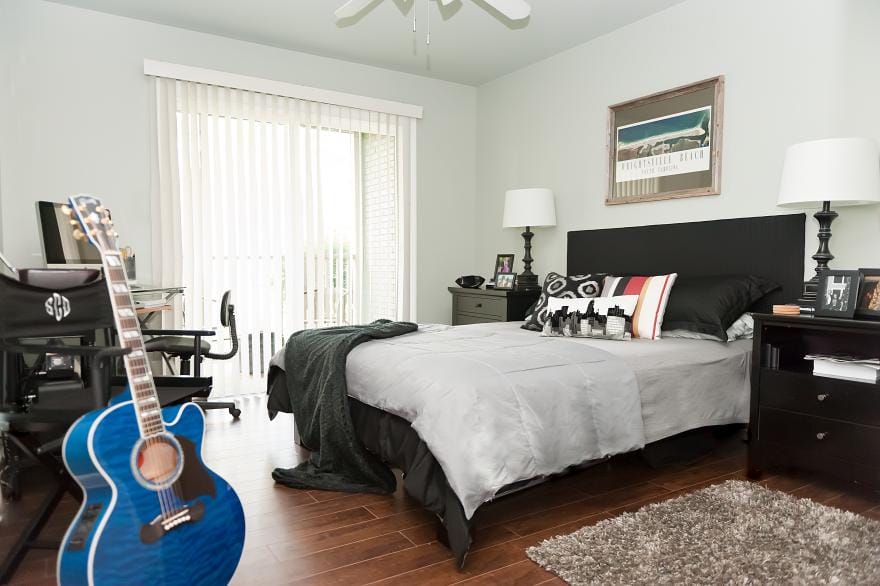 Searching for contemporary music theme bedroom ideas? Give this simple design a go.
It undoubtedly will steal the hearts of musically-inclined people. The space features delightful window treatment and a gorgeous color scheme.
Bright white ceiling and walls convey cleanliness as well as openness. Varying black shades gather in this bedroom. They lend a masculine touch to space while keeping the interior from becoming flat.
The blue guitar gives the space a splash of color. Sound wave throw pillows to accompany it nicely. Family photos and wood-framed artwork reinsure the bedroom with personality.
7. Music Theme Bedroom Ideas for Teenage Boys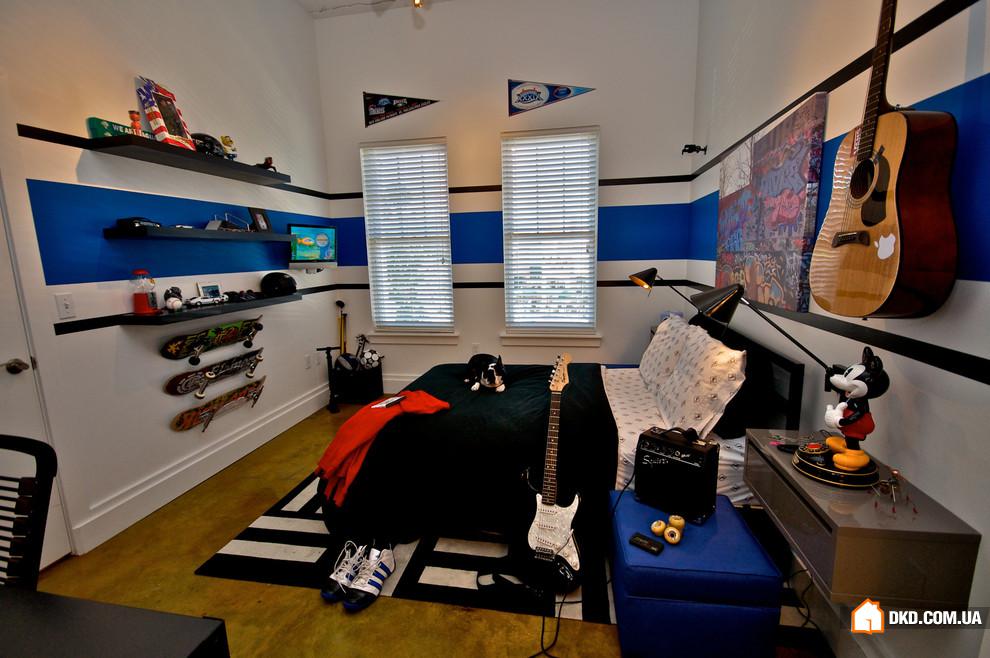 Are you a true music lover? If so, implement this bedroom idea. Any teen boys would love to sleep in it. This space boasts an amplifier and two guitars. They effortlessly bring out the dweller's inner musician.
The collector toys and skateboards complete this teenage boy's bedroom. They carry fun to the sleepy space as well. Meanwhile, the Mickey Mouse table lamps lend the interior a playful ambiance.
Window shutters and white walls prevent the bedroom from being dingy. Red and blue accents jazz up space quickly. The statement area rug tops the wooden floor while enhancing the look.
8. Beautiful Music Theme Bedroom Ideas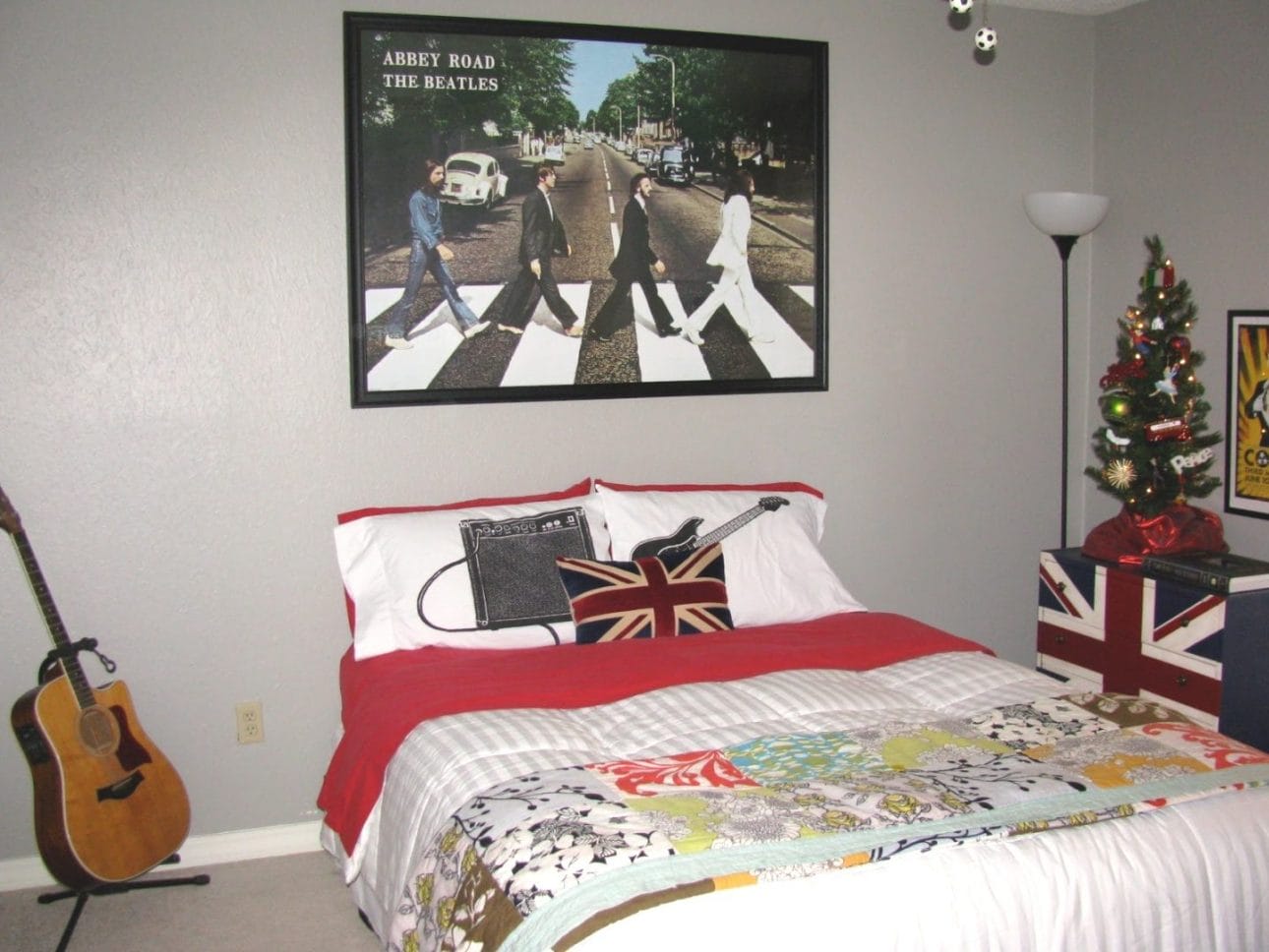 Great Britain is a great music magic source. Many awesome rock bands are originating from England. As a musician, you should honor that via bedroom decorations.
In this example, the Brit rock inspired bedroom employs Union Jack throw pillow and side table. They definitely remind you of classic Beatles songs. The wooden guitar leans against the gray wall.
There is a black-framed poster over the bed. It showcases the Beatles' popular pose. The colorful blanket makes this bedroom more stunning. Meanwhile, the Christmas tree exhibits holiday vibes.
9. Classical Music Theme Bedroom Ideas for Guys
This guy's bedroom features an impressive bedsheet, comforter, and throw pillows. Actually, the homeowner designed it for some pictorial purposes. However, we still admire the sleepy space no matter what.
The exposed brick walls and hanging guitars produce an edgy look. Vintage suitcases, signs, and radio allow the bedroom to shine with attitude. Meanwhile, the American flag carves a patriotic ambiance.
A black metal floor lamp infuses an industrial flavor into the room. It depicts someone playing the guitar. The open cubbies house his items and favorite books. Lastly, the gray shag rug softens the look instantly.
10. Music Themed Bedroom Set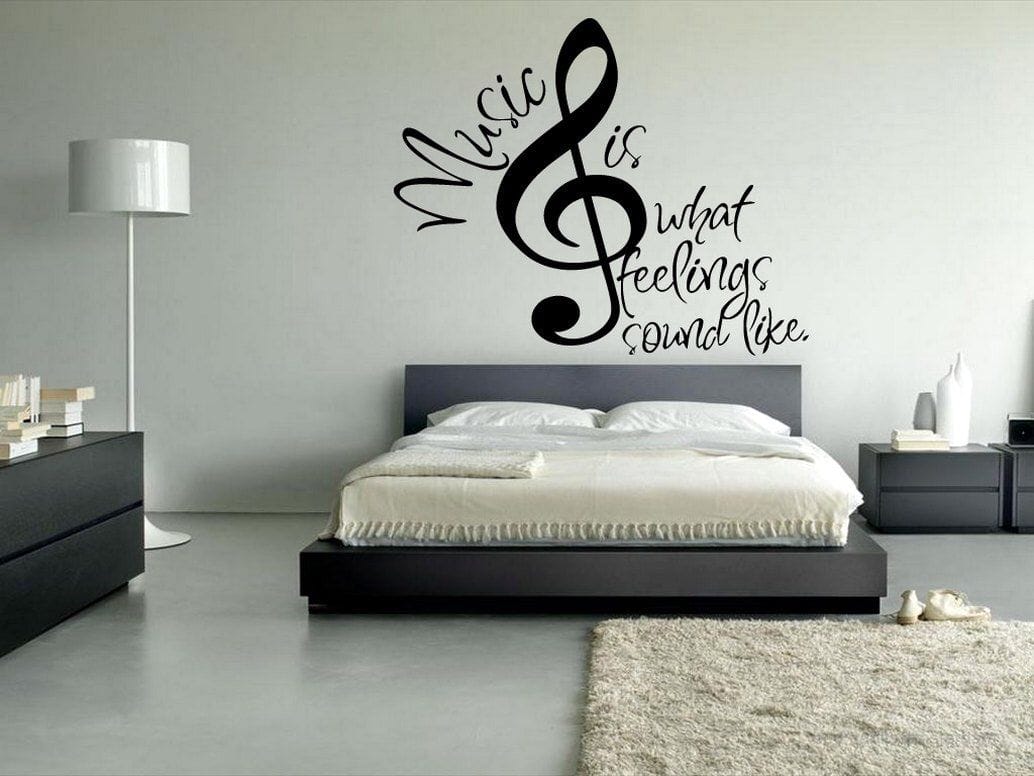 Looking for minimalist music theme bedroom ideas? If yes, we suggest trying this design. The bed frame, sideboard, and nightstands are so stylish. They deliver a masculine atmosphere to the sleepy space.
The polished concrete floor and white metal floor lamp quickly inject an urban feel into the interior. Meanwhile, an off-white shag rug and blankets give off a cozy ambiance in a jiffy.
Furthermore, the music wall decal showcases dweller's favorite quote. It really steals the spotlight. The decorative pieces allow the entire bedroom to look cohesive. This space will certainly uncover his inner musician.
11. Music Theme Bedroom Ideas with Vinyl Records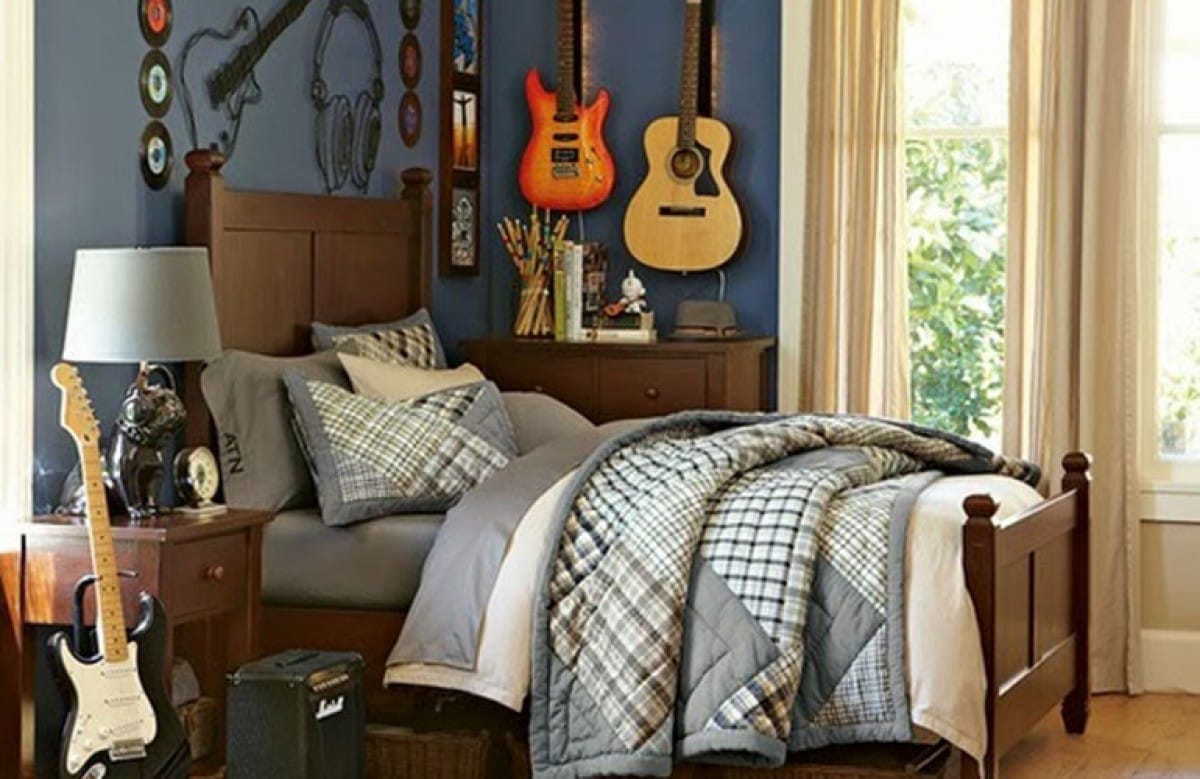 We instantly set our eyes on the headset and guitar wall decals over the headboard. They are truly artsy. Moreover, if you can't find them in your local stores, then online shops could be excellent sources for those items.
Small vinyl records on the wall carry an eclectic touch to the bedroom. They clash tastefully with the headphone and guitar decals. You could put them around your mirror or on the bed frame.
Real guitars infuse rockstar vibes into space. Gray-blue walls exude a masculine flair, while wooden furniture units warm the bedroom up. The table lamp and amplifier make any man feel like a rocker.
12. Gray Musical Theme Bedroom Ideas
This transitional bedroom belongs to the homeowner's teen boy. It lets him comfortably spend his musical moments. Furthermore, the musical note wall decals and real violin show that he really loves music.
The area rug, comforter, throw pillows, and walls wear varying gray shades. They assert a sense of masculinity while giving the bedroom dimension. The ceiling and windows set an airy feeling.
Plaid curtains elevate the bedroom's appearance. The red decorative piece on the table and black-framed artwork take the space from boring to bodacious. Meanwhile, potted plant perks the interior up.
13. Green Music Theme Bedroom Ideas for Teenage Guys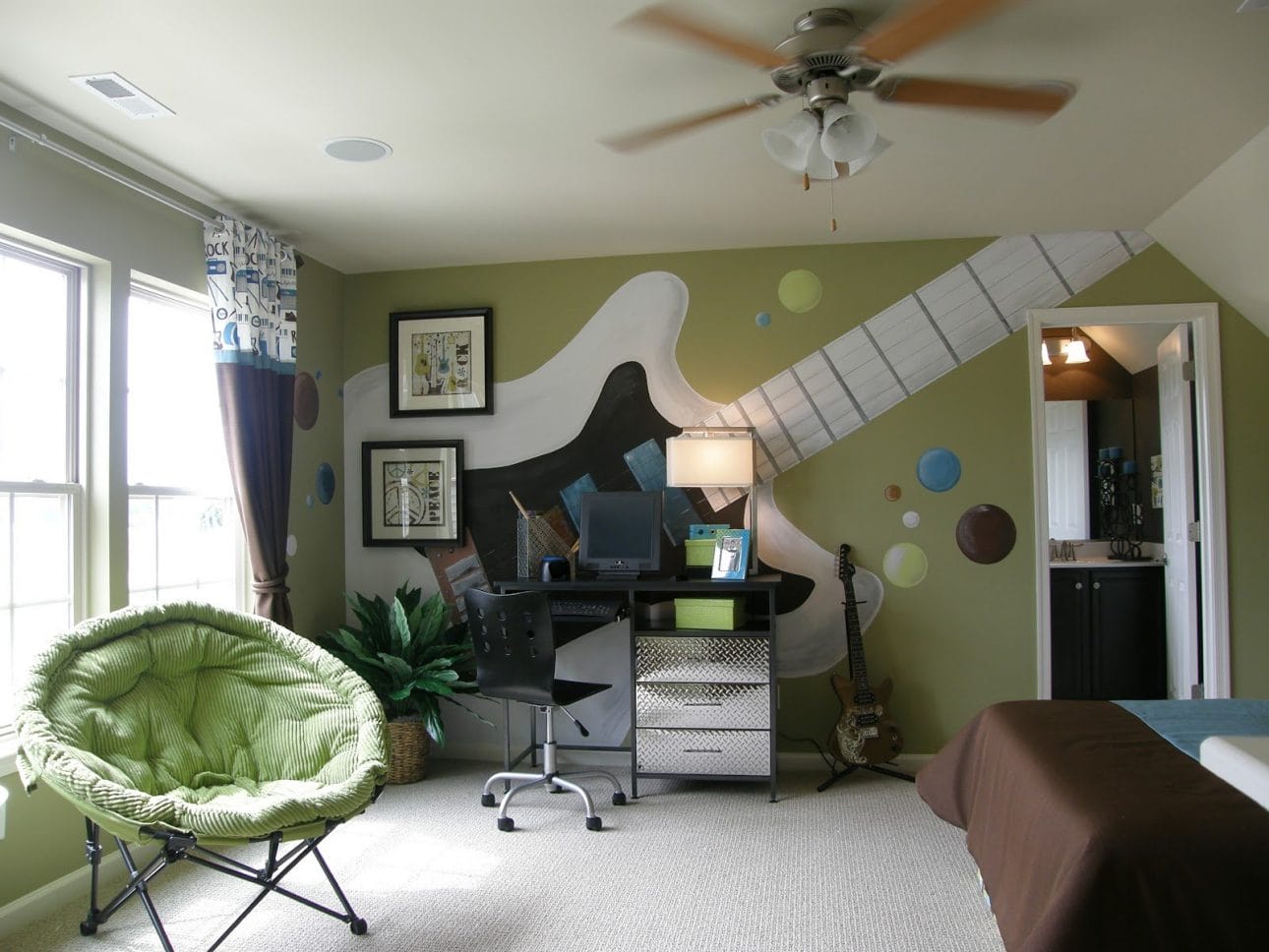 This is certainly one of contemporary music theme bedroom ideas. It boasts moss green-painted walls. In no time, they exhibit calming vibes and a soothing atmosphere. Dark brown bedsheet carves a homey feel.
The oversized guitar wall decal gives the bedroom a fun element. Additionally, it makes a design statement while tying the theme together.
A metallic study desk and chair represent urban style. Plant and wicker pot bring the outside in.
14. Music Theme Bedroom Ideas for Future Rockstars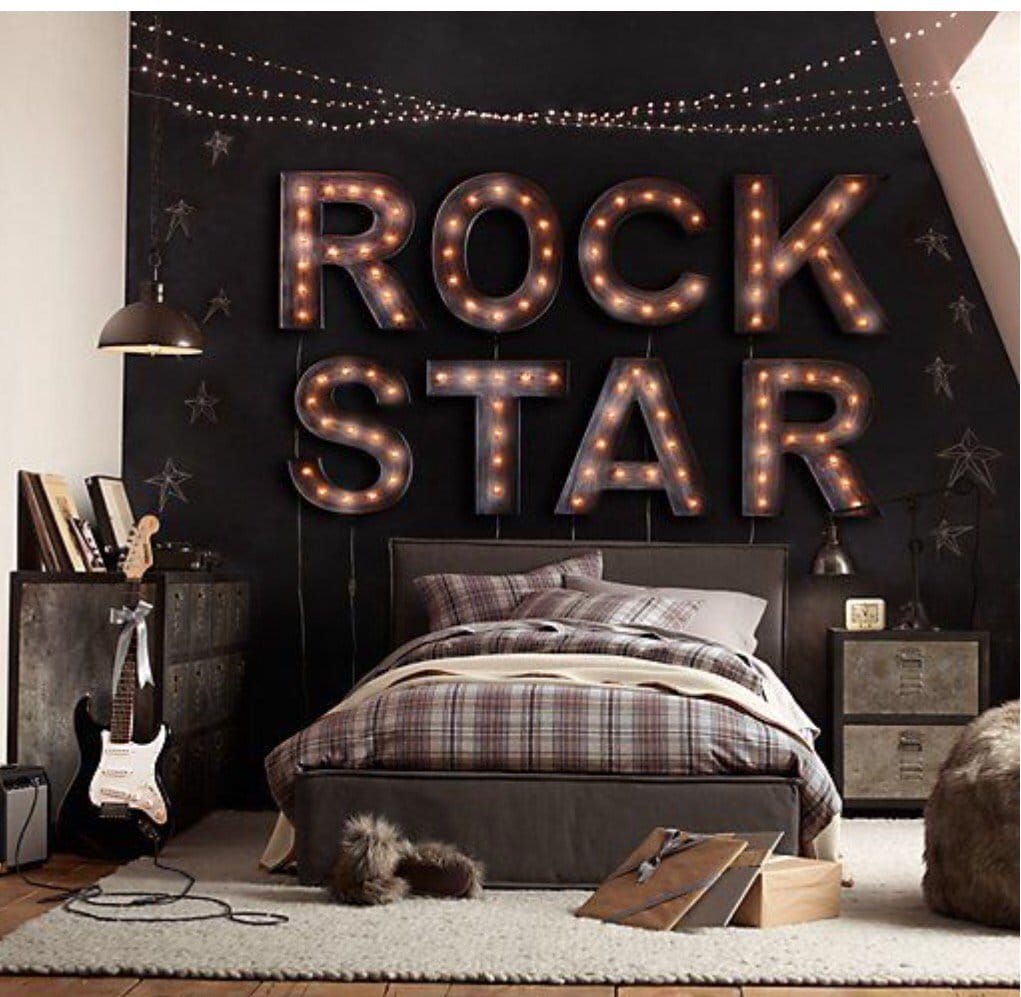 If you like industrial and vintage pieces, then this is one of the music theme bedroom ideas to try. Here, the space features large illuminated letters. They do not only look beautifully rustic but also draw the eye.
Black accent wall and dark gray bed scream masculinity as well as sophistication. The nightstand and sideboard carry vintage vibes to the bedroom.
Meanwhile, animal hide bean bag, rug, and bedding cozy up space.
15. Contemporary Music Theme Bedroom Ideas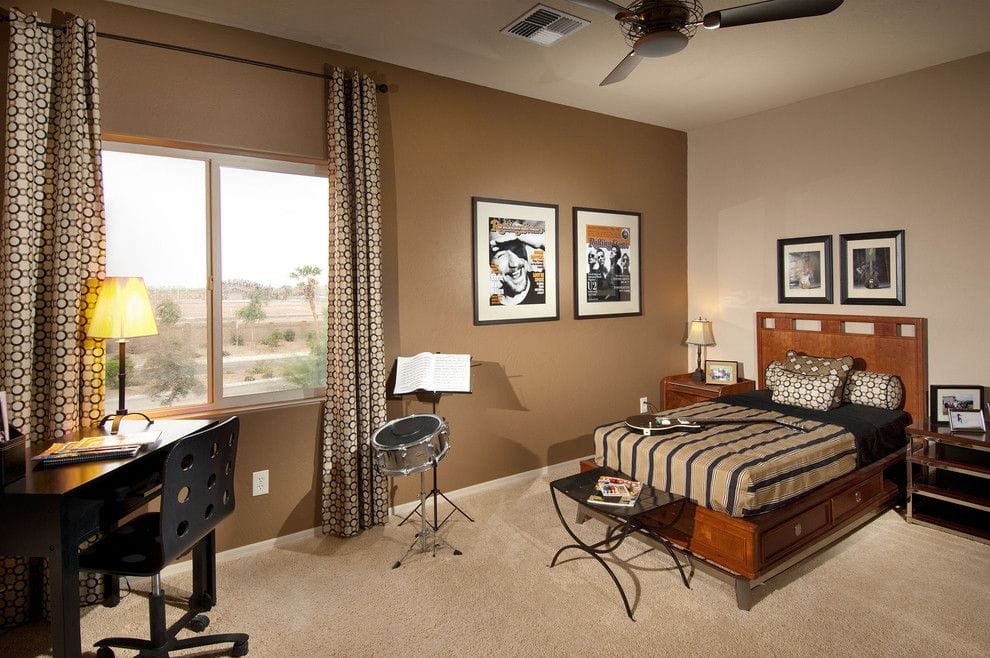 Talking about music theme bedroom ideas, you should consider this design. It is both stylish and welcoming. Moreover, brown, beige, off white, and cream wrap the space. The neutral color palette conveys warmth.
Patterned throw pillows and curtains grab the attention. Meanwhile, black-framed album covers make the space collector-ish. The drum complements them perfectly.
16. Music Themed Bedroom for Pop Princess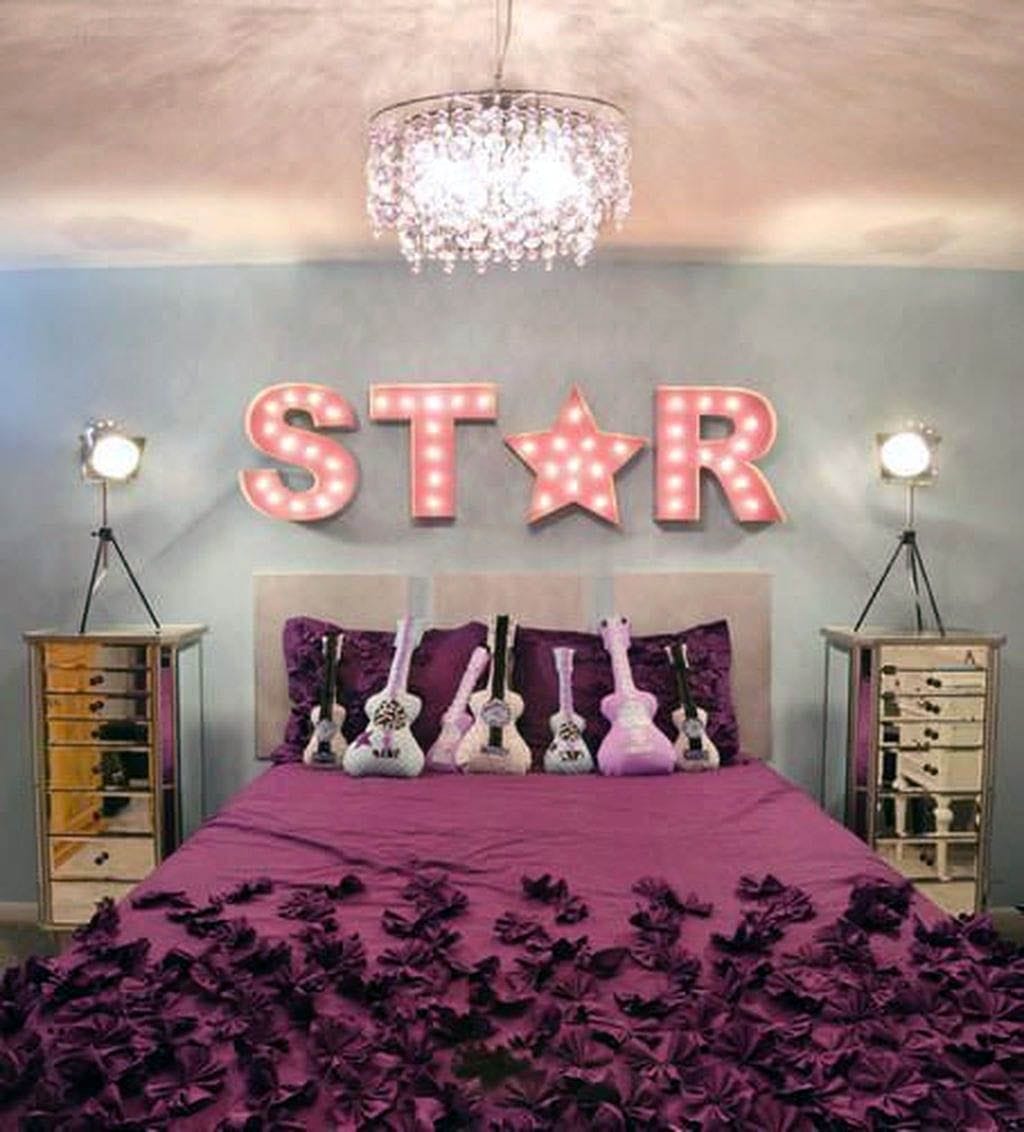 This music themed bedroom for girl employs light-up star and letters. They inject pop princess vibes into the interior. The decorative items motivate your little lady to be a famous musician or future diva.
Purple bedding evokes a feminine feel. Mirrored nightstands and crystal chandelier produce a luxurious ambiance. Gray walls and metal lamps keep the room from being too girly, while plush guitars carve a cohesive look.
17. Eclectic Music Theme Bedroom Ideas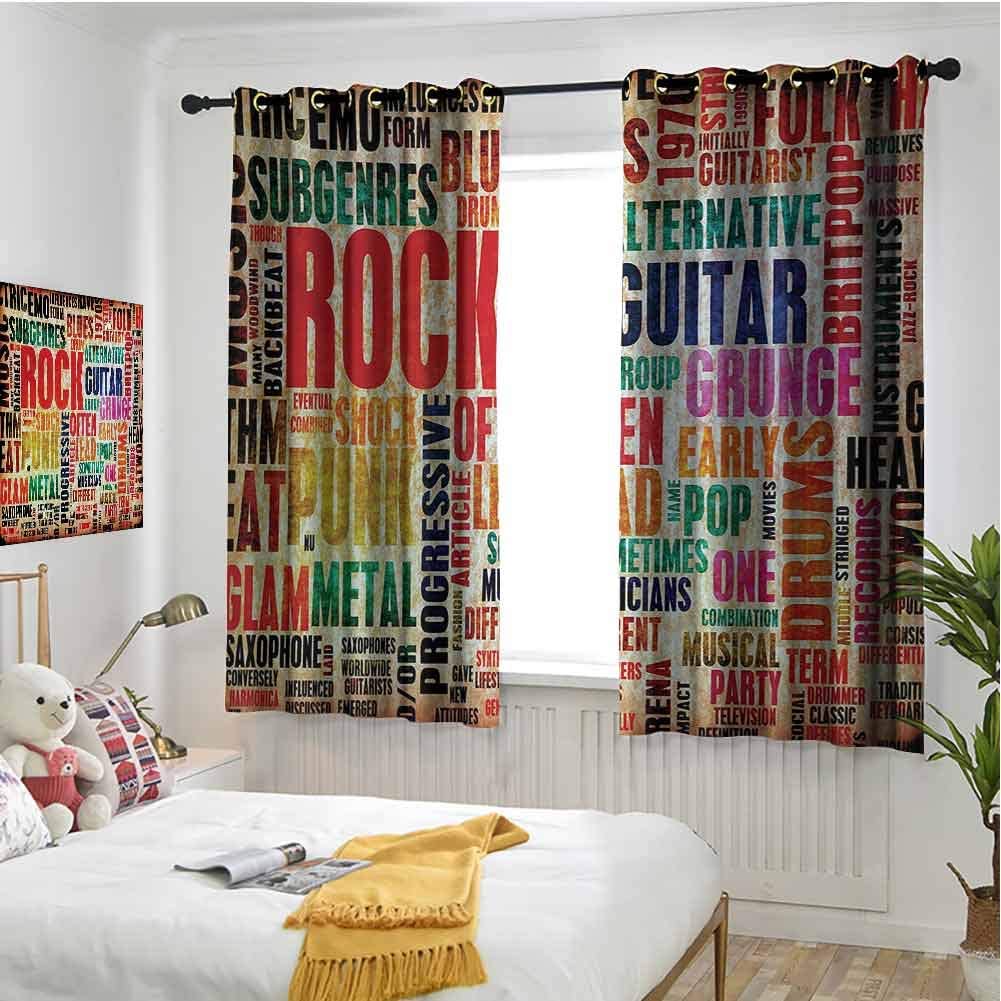 As you see, this teenage girl's bedroom boasts pure white bedding, ceiling, and walls. They make the space look clean and airy. Wood bed frame, floor, and plant deliver a touch of nature to the interior.
Furthermore, music themed bedroom curtains and poster showcase different musical genres. The yellow blanket effortlessly brightens up the area. Meanwhile, the plush toy generates a playful vibe.
18. Music Themed Bedroom Wallpaper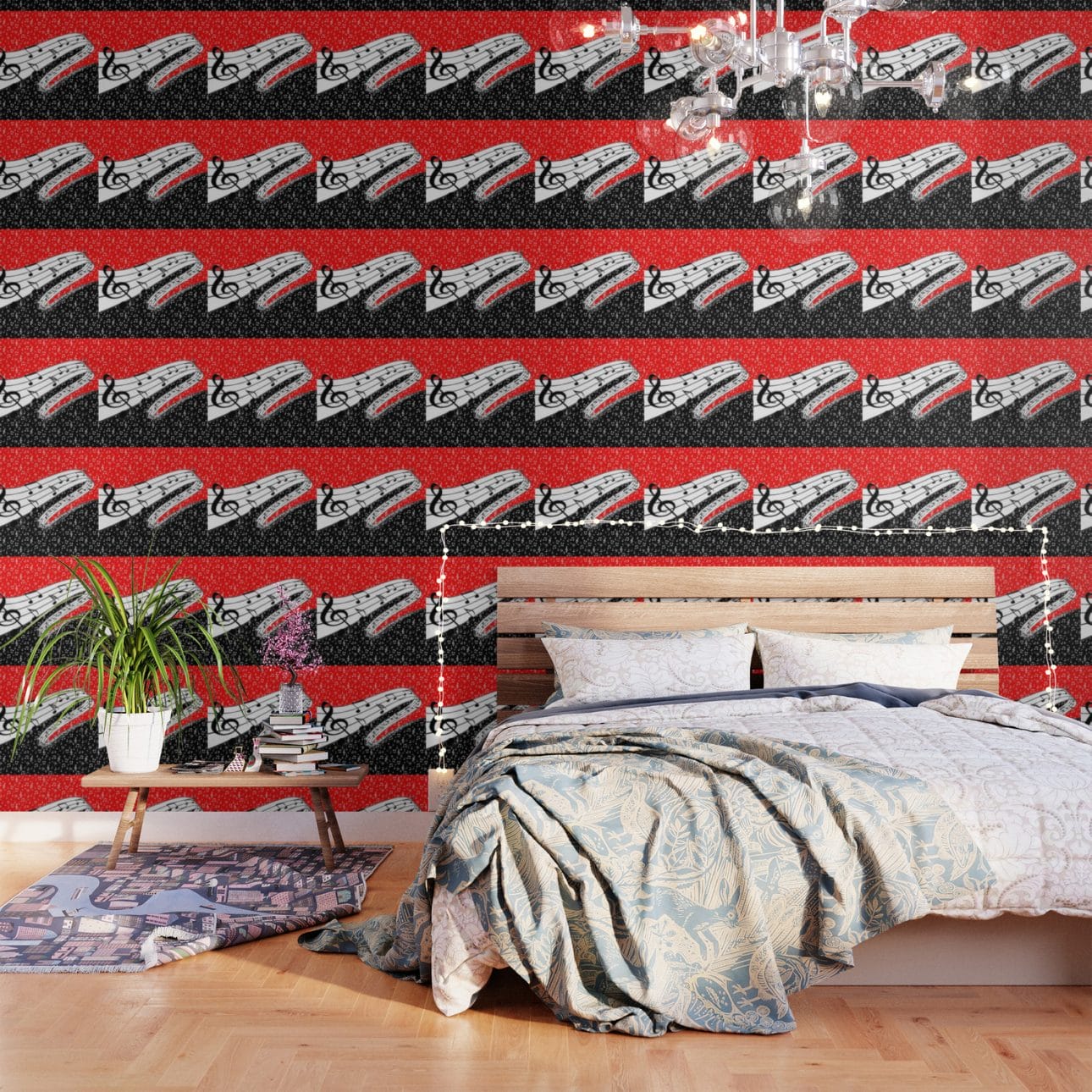 Without a doubt, this bedroom is captivating to any true music lovers. Here, the wallpaper features sharp, bold images. It instantly catches the eye and unveils your inner musician.
Wooden floor and bed frame along with houseplant add organic as well as natural elements to the bedroom. Patterned bedding and area rug gussy the space up.
19. Music Themed Nursery
Undoubtedly, this is one of the music theme bedroom ideas for baby girls that we love. The black decals stand out against the pale gray background. White pouf, table, and ceiling impart an open atmosphere.
Pink and white paper flowers lend a girly feel to the bedroom. Chandelier and floor lamp produce a vintage appeal.
20. Piano Themed Bedroom Ideas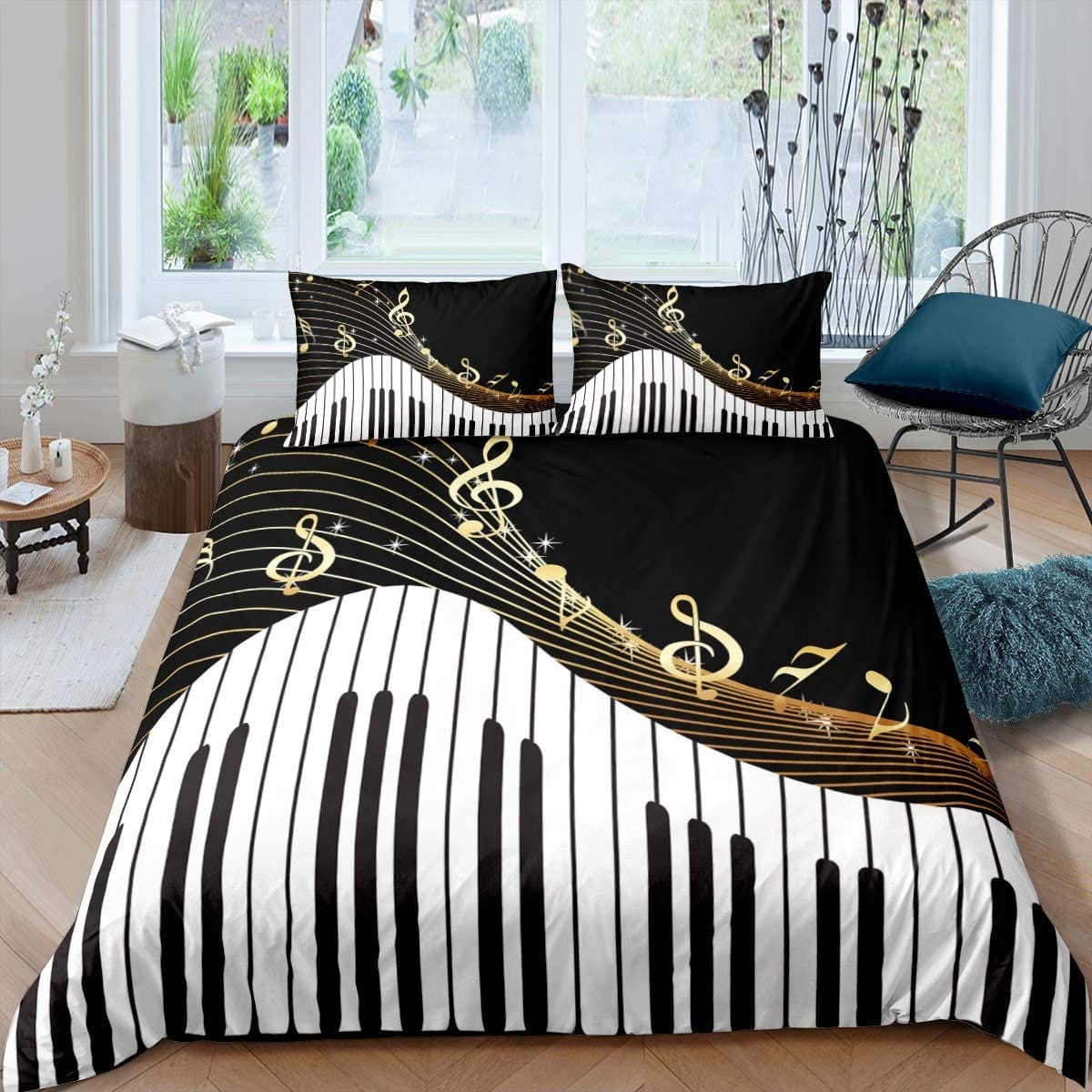 This bedroom is obviously airy and light, thanks to the windows. They connect both outdoor and indoor areas too. Meanwhile, unfinished wood floor and small side tables give off an inviting ambiance.
The piano comforter and throw pillows create a real statement. In addition, they make you feel like a pro pianist. Pops of blue liven the interior up, while both candles and flowers develop a tranquil sleeping experience.
21. Music Theme Bedroom Ideas for Drummers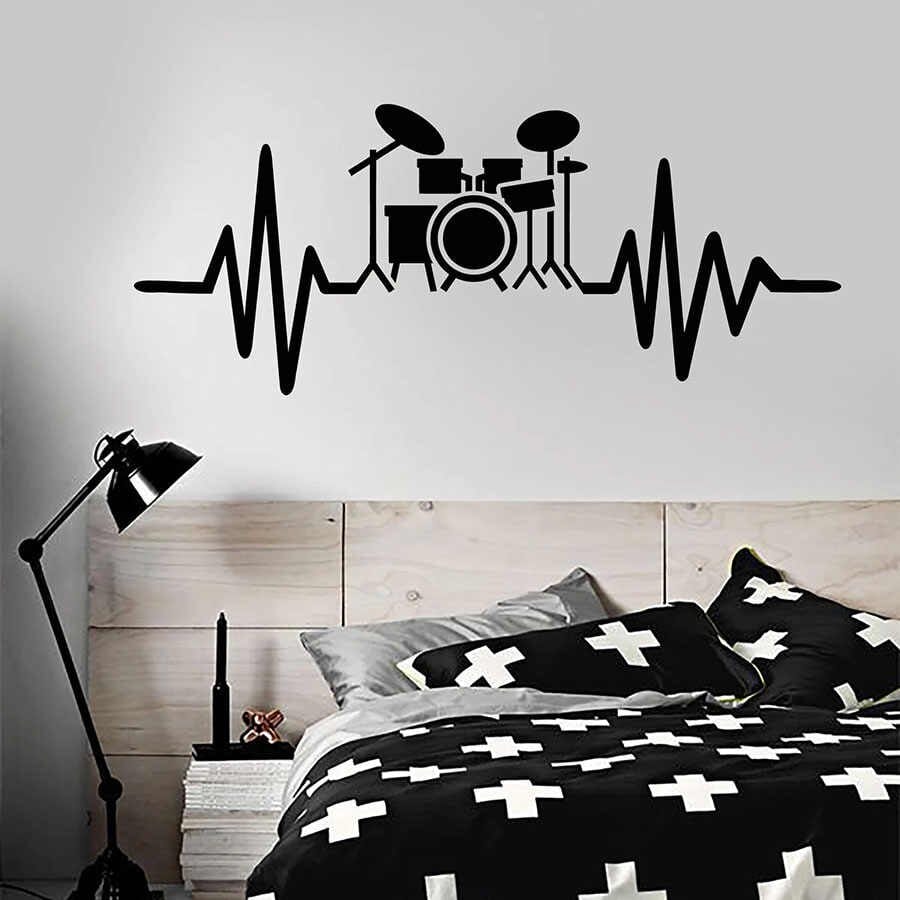 Needless to say, this bedroom is both chic and cool. The light gray wall and throw pillows instill a serene ambiance. Meanwhile, ablack metal floor lamp makes the space somewhat masculine.
Drum set wall decal emphasizes the bedroom's music theme. The blonde wood headboard infuses a rustic flavor into space. Patterned bedding steals the attention.
22. Bright Music Theme Bedroom Ideas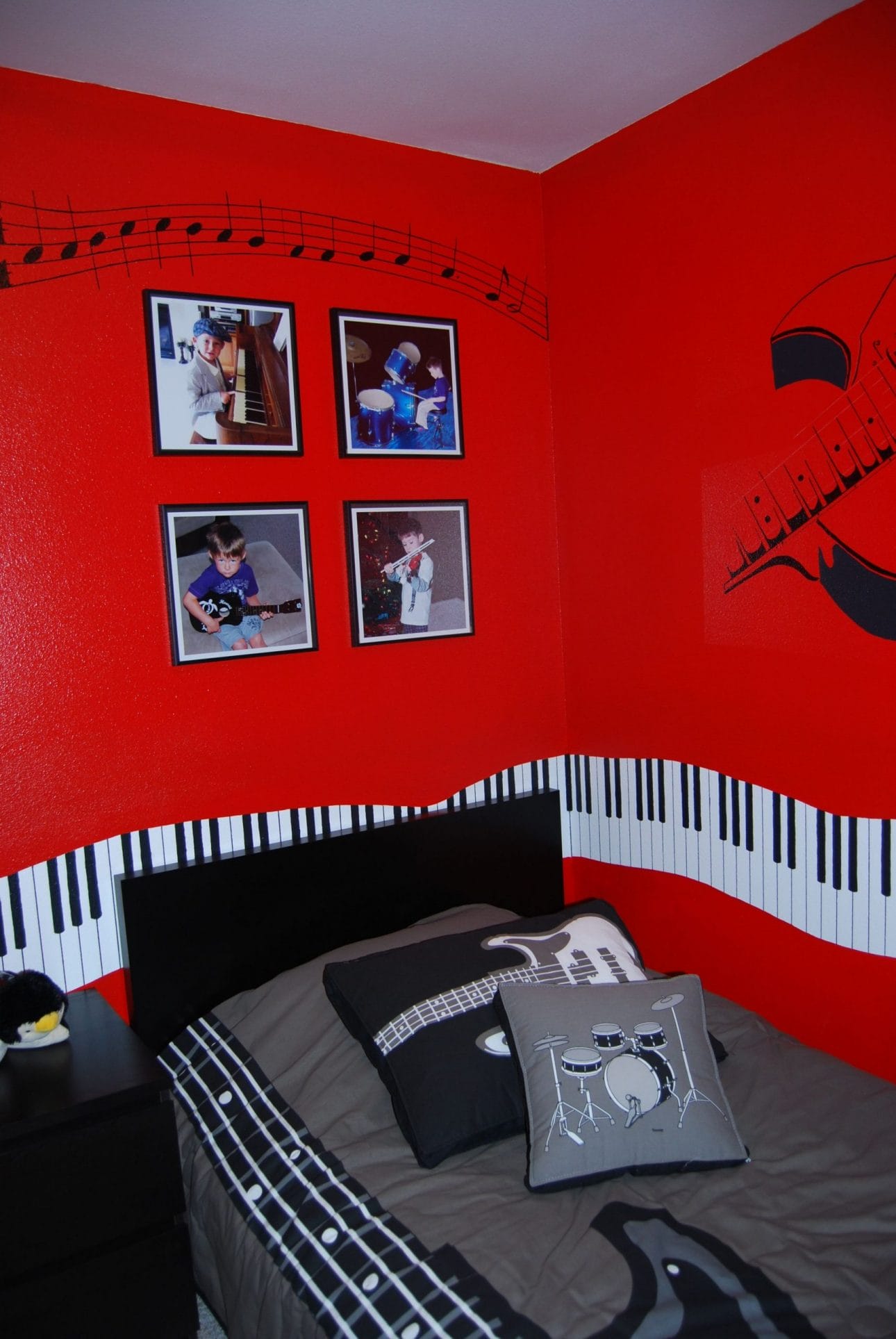 The fun decals make this kid's bedroom musical. They feature xylophone, piano, and music notes. Meanwhile, the drum pillow and guitar comforter effortlessly amplify the theme.
Bold red walls scream optimism. The black bed frame and side table lend the space a modern vibe. Pictures of a kid playing musical instruments on the wall round out the bedroom.
Whether you are a musician or not, our music theme bedroom ideas definitely deserve a try. Do not hesitate to integrate those decorations inside yours. Which design stole your heart?