A mid-century bathroom offers you a clean and high-end look, which can refresh not only your body but also your mind. Continue reading to discover how to carve out this style for your residence.
1. Wooden Vanity and Brass Accent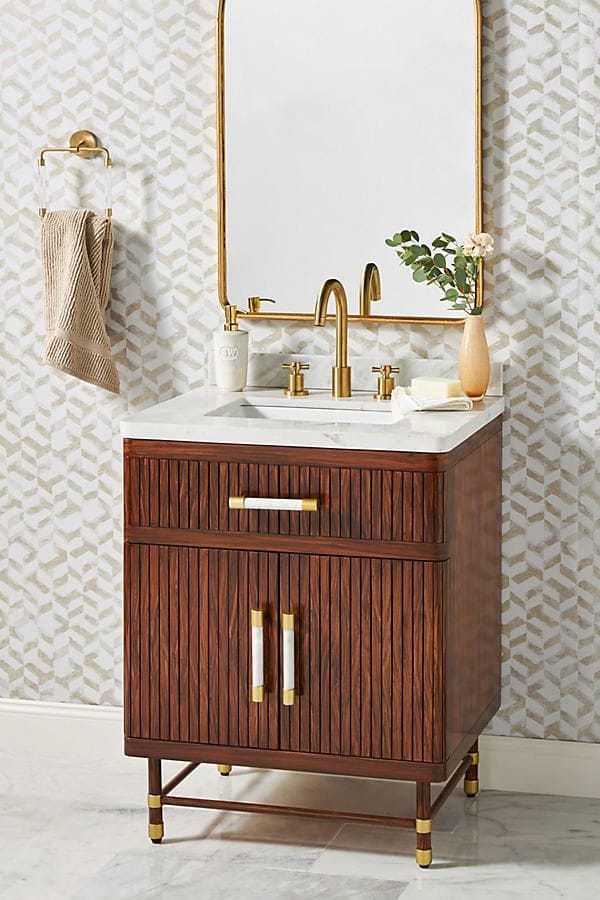 The combination of natural and manmade materials is one of the most prevalent things in a mid-century bathroom. It explains why you are likely to encounter wooden furniture and brass accents in it.
If you want to carve out mid-century modern in your bathroom instantly, investing in a wooden vanity with a brass mirror frame will be a smart move.
This bathroom, for example, features a wooden vanity topped with a marble countertop. Some brass accents found in the legs, cabinet, and drawer pulls and faucet makes it look more standout.
The mirror frame and towel holder also use the same brass accent to complement the vanity and create a united look.
2. Mid-Century Bathroom with Simple Lighting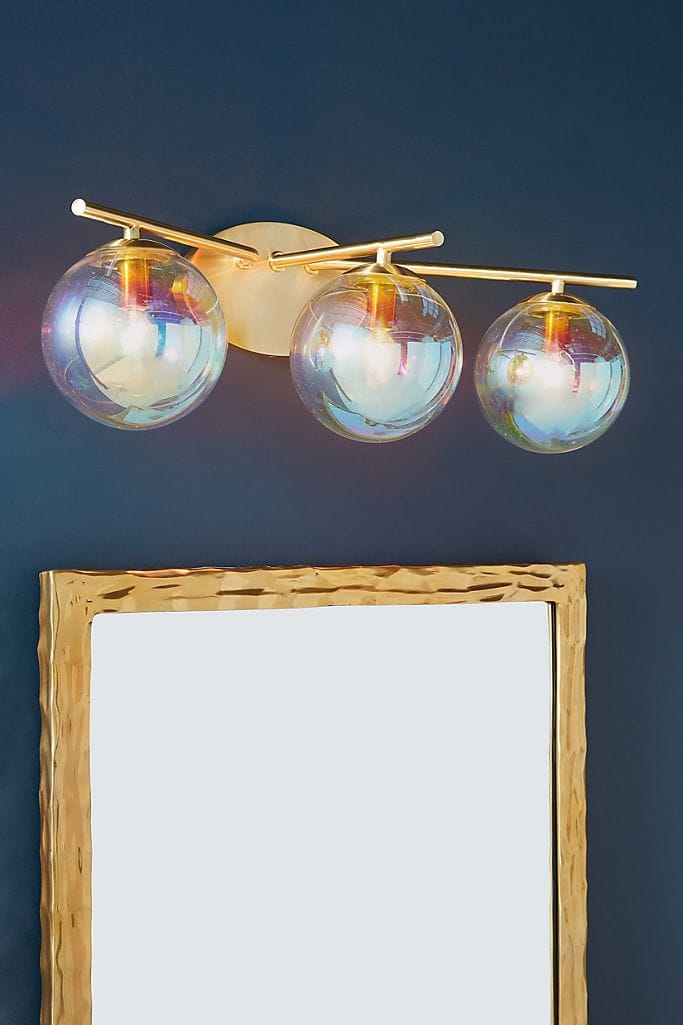 In addition to brass and copper accent, sleek design also defines mid-century bathroom immensely. Therefore, it is essential that keep the furniture and fixtures, including the lighting, in your bathroom simple.
As a good rule of thumb, you need to avoid splurging out on fancy chandeliers if you want to create a mid-century modern style in your bathroom.
Focus on its function rather than sophisticated design. Besides, being simple is not always boring.
A sputnik sconce looks outstanding despite the simple design. It hangs above the mirror to provide ample lighting for the grooming area.
These lamps come in the brass finish to match the frame while accentuating the mid-century modern style.
3. Add a Rug
In a mid-century style, you do not need to stick to only one material. Juxtaposing the furniture can create an intriguing look. It does not mean you can toss everything into your bathroom, though.
Take a look at this bathroom. The combination of dark-brown wooden vanity that features clean-lined edges and the round mirrors embodies the charm of modern flair. Brass accent infuses mid-century style nicely.
To kick it up a notch, a cotton rug coming in earthy tone lies on the floor. Not only does it absorb moisture and add warmth to your feet, but also incorporates texture in this bathroom.
4. Add Bold Pattern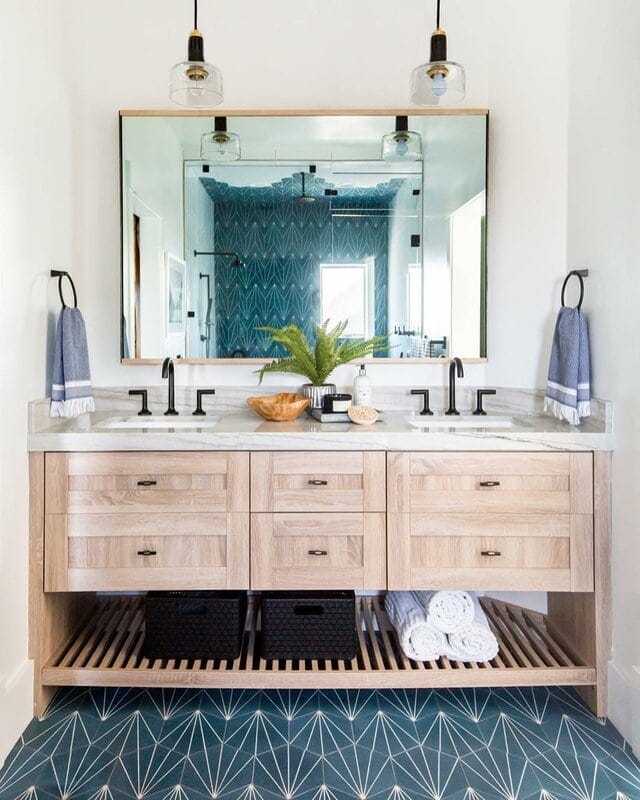 Do not let your mid-century bathroom look dull due to being plain. Adding some patterns to the wall or floor is not a bad idea. In fact, it is also one of the notable qualities of this idea.
Geometric patterns have always been a part of the mid-century modern style. You can obtain it by creating an accent wall or installing patterned tiles, just like what you can see here.
This small mid-century bathroom looks epic with geometric flooring. It also comes in bold colors that contrast with the crisp white walls.
To make it more intriguing, you can try installing the geometric tiles from the floor up to the ceiling in a staggered finish. By doing this, you will not only embrace the mid-century style nicely but also add an epic transition.
5. Keep Things Uncluttered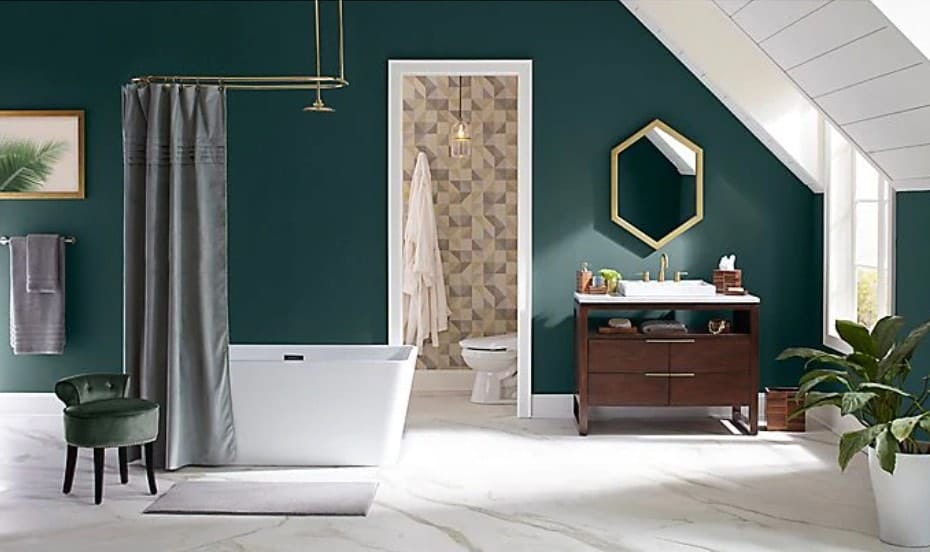 The concepts of mid-century style are simple, airy, and spacious. Therefore, the easiest way to decorate a mid-century bathroom is by getting rid of clutter.
Think about what you need in your bathrooms, such as a vanity, bathtub, mirror, toilet, and shower curtain. Stash away unnecessary things so that they will not mess the space.
This bathroom looks great with only essential things that inhabit it. The veins of the marble floor add an elegant pattern to space.
Dark green incorporates the touch of boldness. To make the bathroom feel airier, let essential light penetrate the space.
6. Go for Neutral Color Hues
Mid-century style often uses bold colors to decorate the space. But you can always paint your bathroom in neutral colors if you like it. The key to carving out this style is not only about painting the walls in bold colors.
This bathroom, for example, embraces mid-century interior design immensely although it comes in various gray hues, thanks to the simple design that is free of clutter.
Gray subway tiles with white grout incorporate pattern while covering the walls nicely. A white bathtub with clean-lined edges sits by a large window, allowing you to enjoy the spectacular landscape while taking a bath. Wanna see more ideas on windows?
7. Herringbone Accent Wall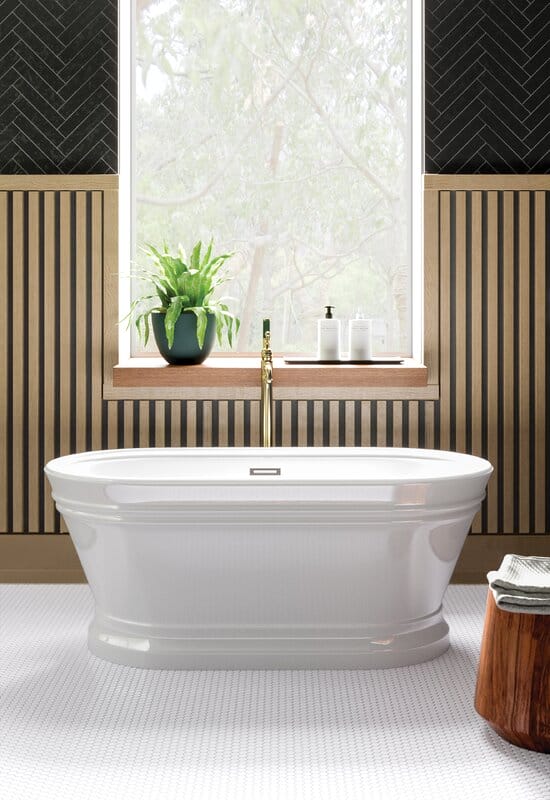 This bathroom shows you what elegance in simplicity is all about. The white mosaic tiles have added pattern to the plain floor, making it look cozy. They also match the white sleek bathtub well.
Wood always makes its way in mid-century modern interior design. As you can see here, it covers the lower half part of the wall, creating an elegant pattern and texture.
The upper half of the wall looks stunning with black herringbone tiles. They contrast with the wooden paneling immensely in the term of pattern and material.
But it is not a big deal because juxtaposition is one of the most common things you see in a mid-century bathroom.
8. Sleek Geometric Pattern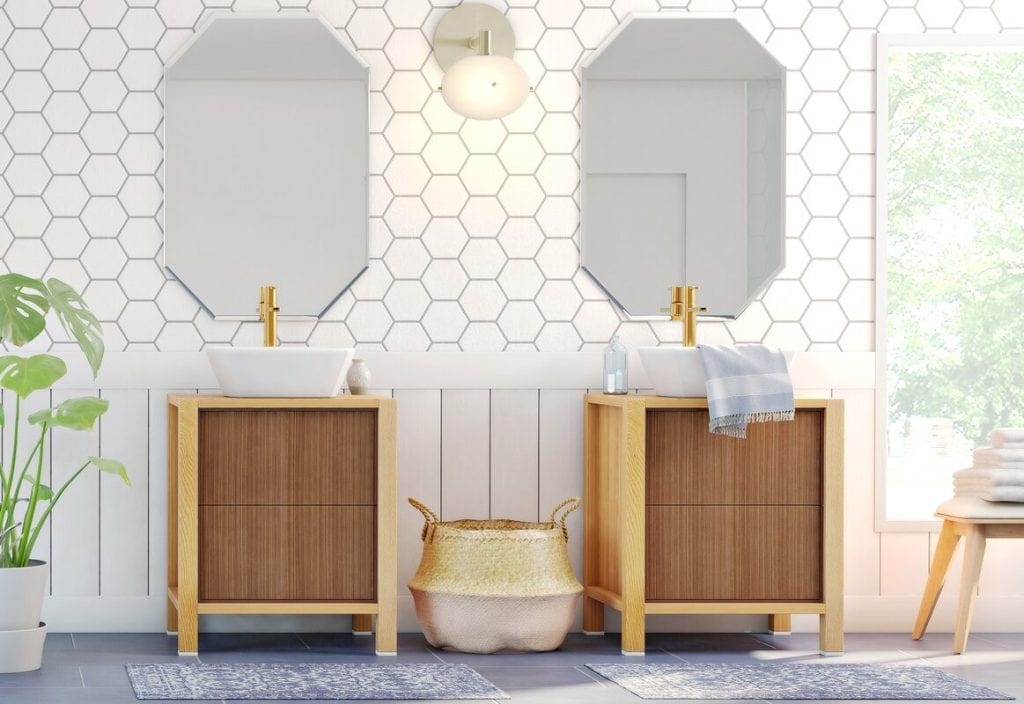 A mid-century bathroom is always about geometric minimalism. Everything comes in clean lines and curves with a smooth surface.
This bathroom looks amazing with hexagonal tiles that cover the upper part of the wall. Shiplap paneling covers the remaining area of it, adding a bit of cottage style.
In addition to the geometric pattern on the wall, this bathroom also features two clean-lined vanities with brass frames and frameless hexagonal mirrors for multiple users.
9. Add a Lively Lift with Greenery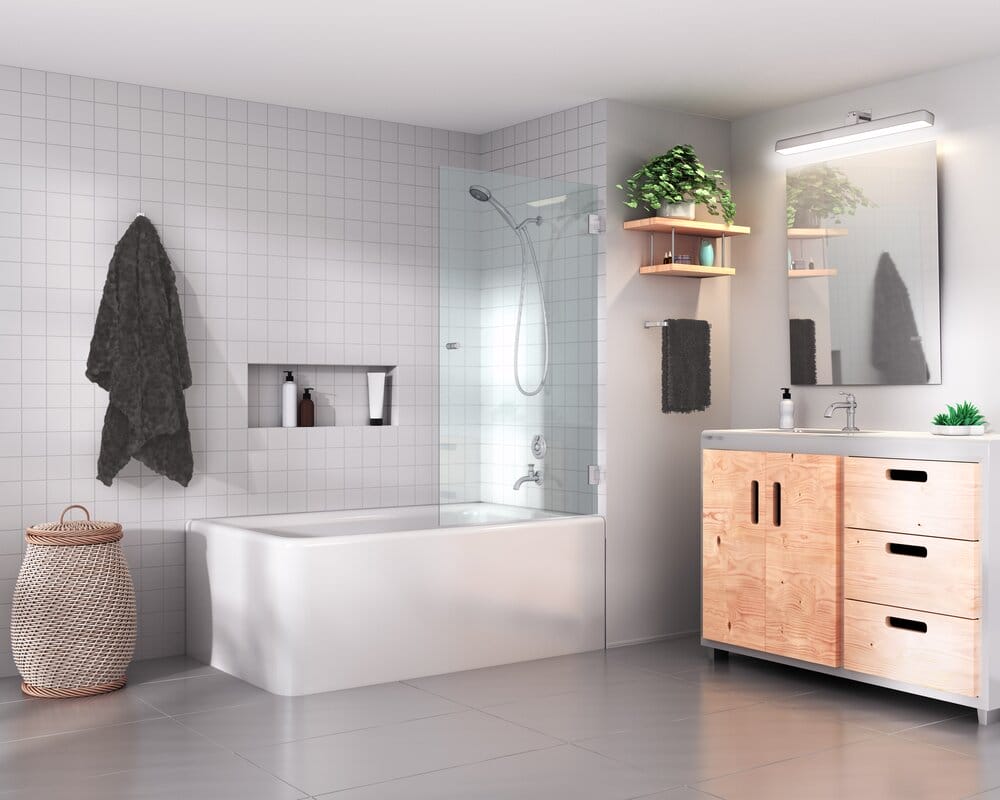 Plants have always been a great addition to any room despite the style. They will turn out well in your mid-century bathroom, too. But you may be wondering what types of indoor plants may work well in this space.
Since you are going to carve out the mid-century style in your bathroom, you had better stick to greenery, such as Monsters, Fiddle Leaf Fig, Snake Plant, ZZ Plant, Umbrella Plant, or Ivy.
Greenery not only offers simplicity that will round out mid-century style perfectly but also purifies the air, which eventually gives good vibes.
10. Incorporate Wicker Basket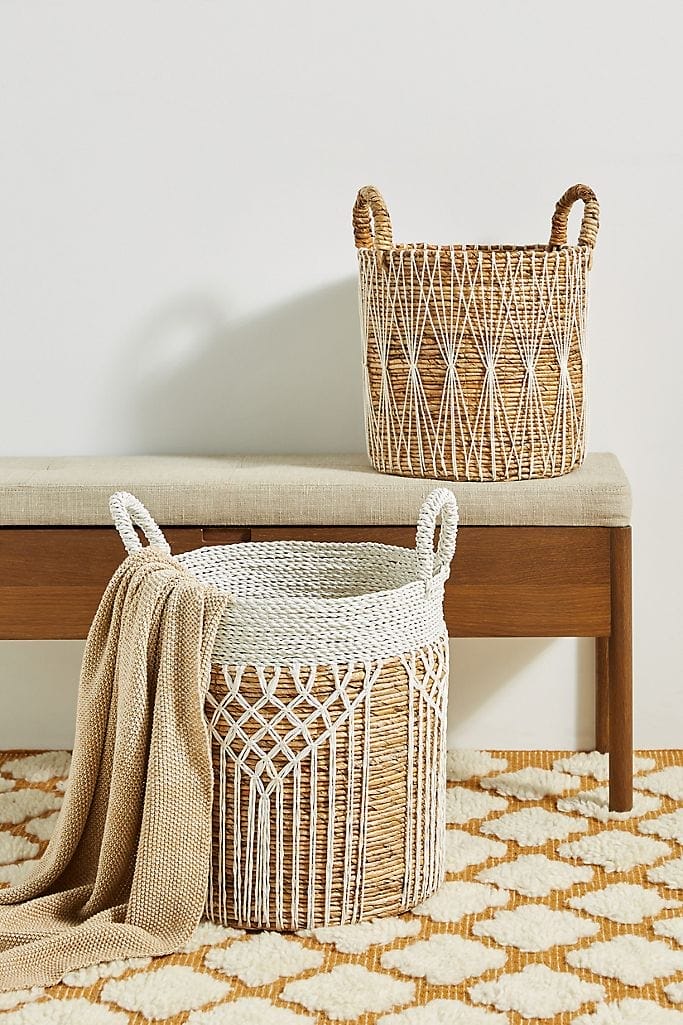 Sometimes you need one basket or two to stash away towels or magazines. But you can take this wonderful idea to a greater level by investing in wicker baskets.
Wicker baskets come in earthy tones that will spruce up your mid-century bathroom. Besides, they will not only offer you a storage solution but also add a textural element to space.
11. Stay Organized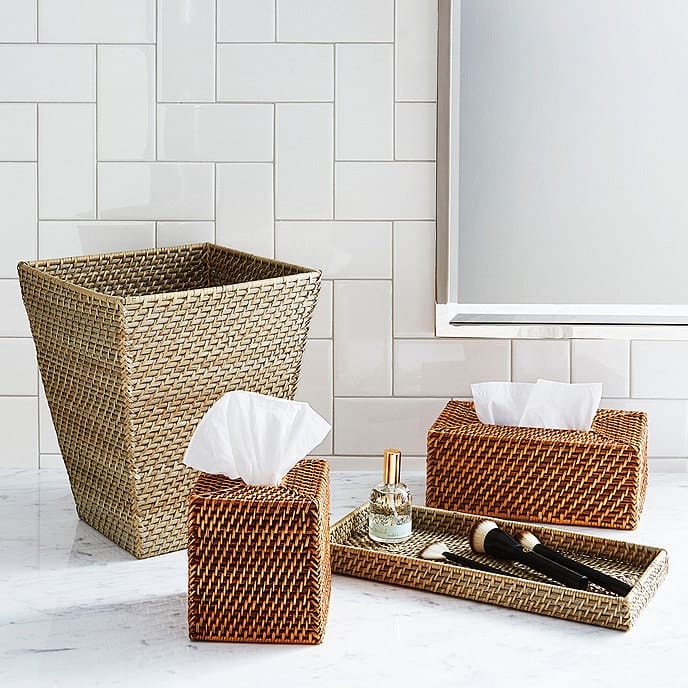 Clean and open space is the most primary thing in creating a mid-century style. You have to guarantee that you can cope with the clutter. However, it is not always as a breeze as it seems.
The vanity's countertop is the area that tends to collect clutter. You may find brushes and any other grooming essential scattered on it, creating a messy look.
To unravel this query, you can put some baskets. Instead of plastic containers or trays, you can opt for wickers to accentuate the mid-century style.
12. Keep Being Minimalist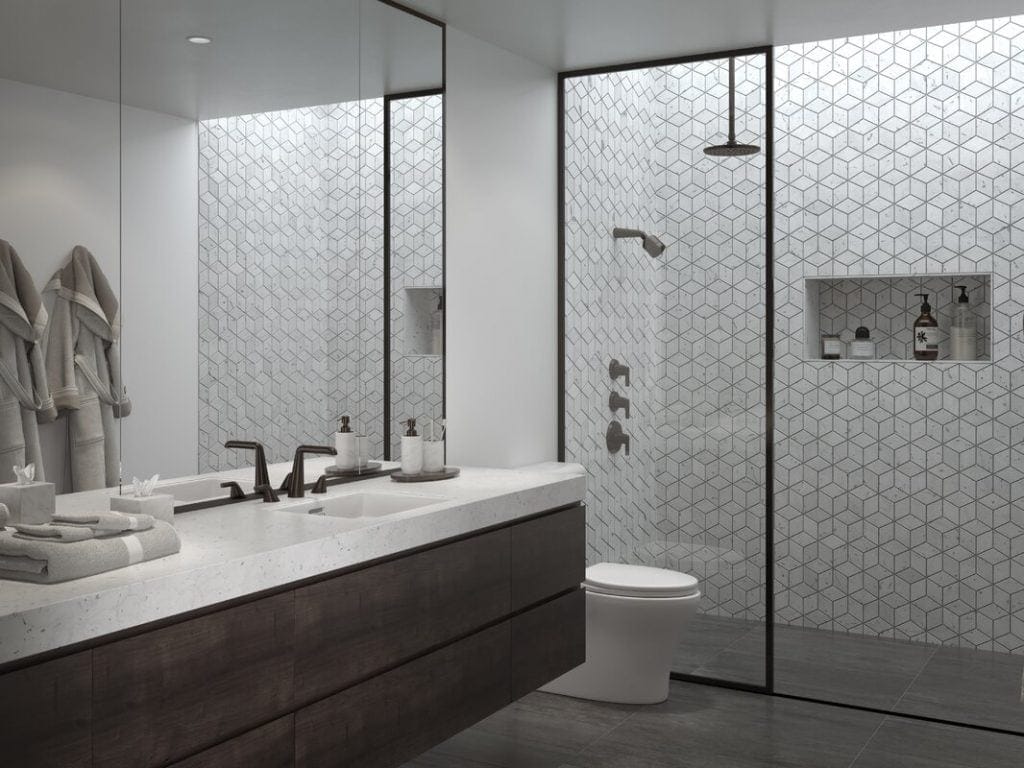 The ultimate concept of a mid-century bathroom is an open and spacious space. However, it might be a bit challenging, especially when you have limited room.
Well, you can tackle this problem by keeping things minimalist. You can begin by going big. Instead of furnishing your bathroom with a small vanity, you can opt for a bigger one that accommodates multiple users.
You can also take advantage of an oversized vanity because it covers the wall nicely while offering you plenty of storage space.
It will be better if you attach it to the wall to create a floating effect, which makes your small bathroom visually larger.
Try investing in a huge mirror that covers the top of the bathroom vanity up to the ceiling so that you can see yourself better. Besides, it can reflect the light better, which causes the chamber to feel more spacious.
13. Raise Your Vanity with Tapered Legs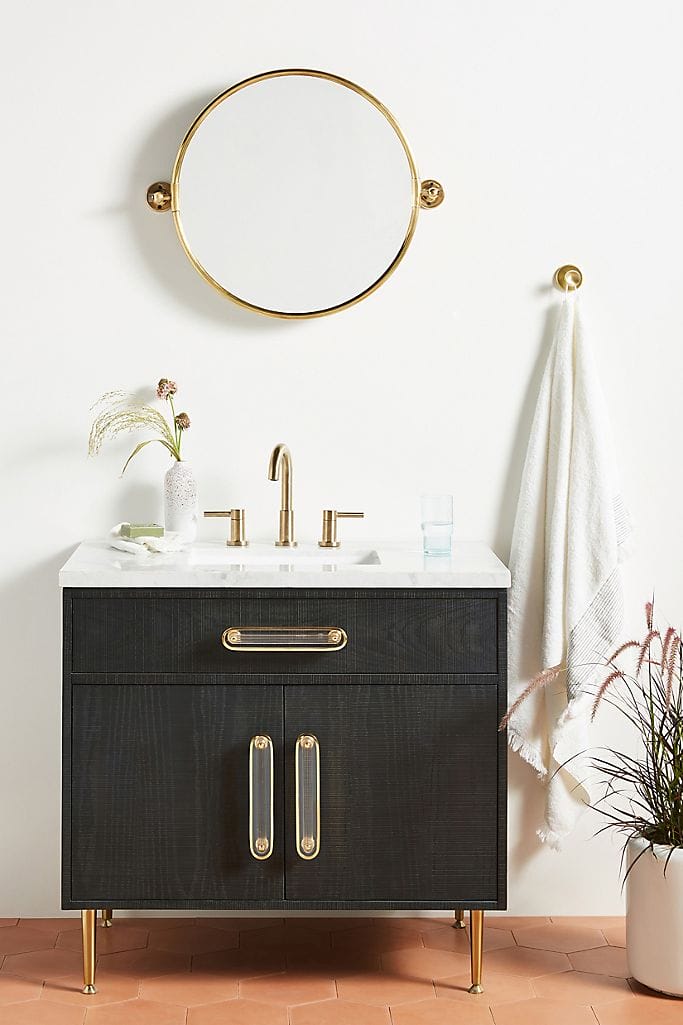 Floating furniture is one of the hallmarks of mid-century style. You can gain this effect by attaching it to the wall using screws or nails and L brackets.
Another option will be using tapered legs to raise it several inches off the flooring.
This bathroom features wooden vanity with a chalkboard finish. Four brass tapered legs make great accessories as well as creating a floating effect.
14. Add a bit of Rustic Flair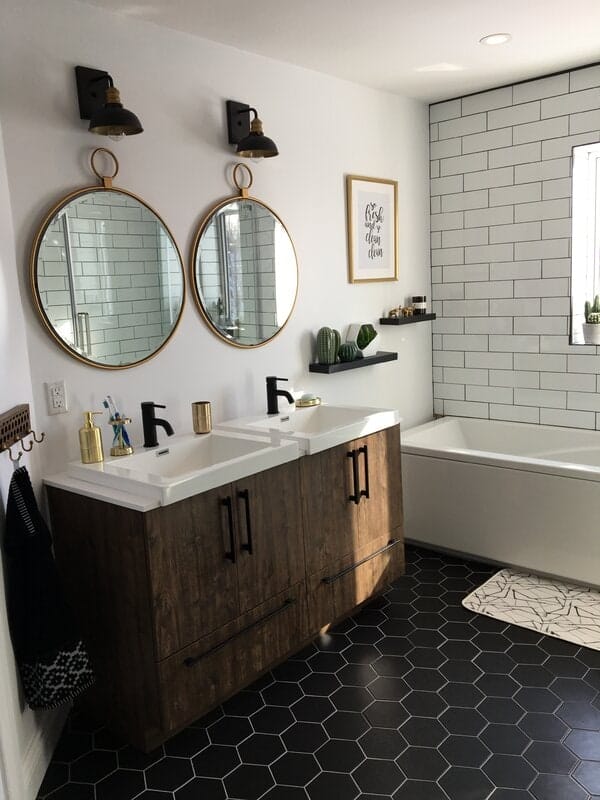 Sometimes you can combine two different styles to create an epic amalgamation, just like what you can see here.
This mid-century bathroom combines the minimalist look of modern flair and the rustic flair that pays tribute to the past. The vanity comes in a weathered finish with sleek pulls, which adds charm to space.
Two round mirrors with brass finish accentuate the mid-century style. A rustic sconce illuminates each of them nicely, providing you a better sight when you double-check your look.
15. Accentuate the Mirror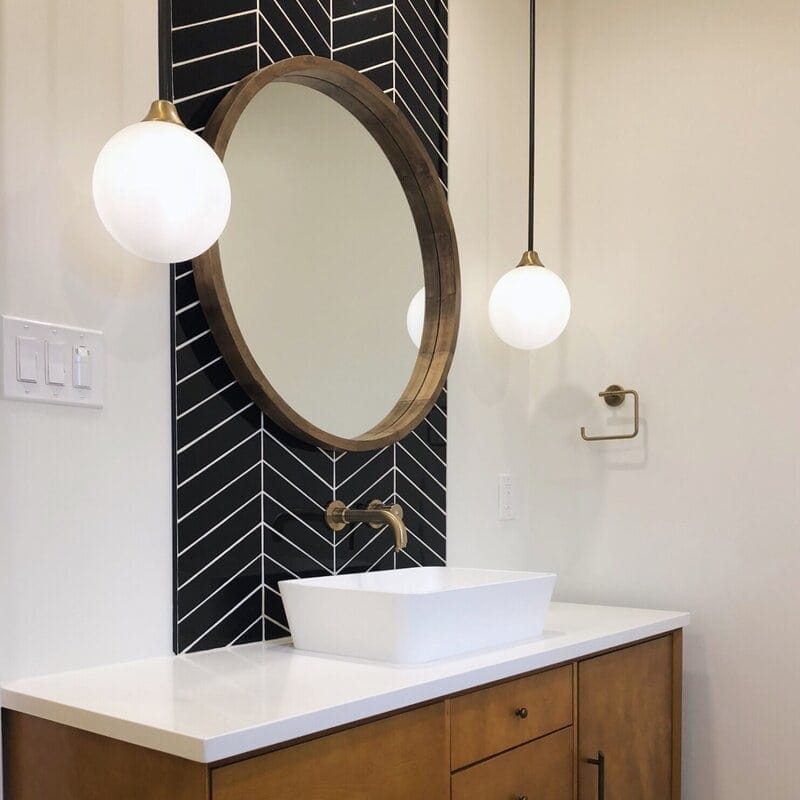 The mirror is one of the most indispensable things in the grooming area in any bathroom. People spend their time looking at it every day. Therefore, it deserves an embellishment.
Dressing up your vanity mirror with a brass frame will accentuate it well while carving out mid-century style.
To add more highlight, you can install an accent wall behind it by laying tiles that contrast with the wall. For a more effortless option, try stencils instead.
Do not forget to install lighting to illuminate the grooming area. Two sconces or pendant lights flanking the mirror will be a great option as they can accentuate it.
16. Opt for Bold Colors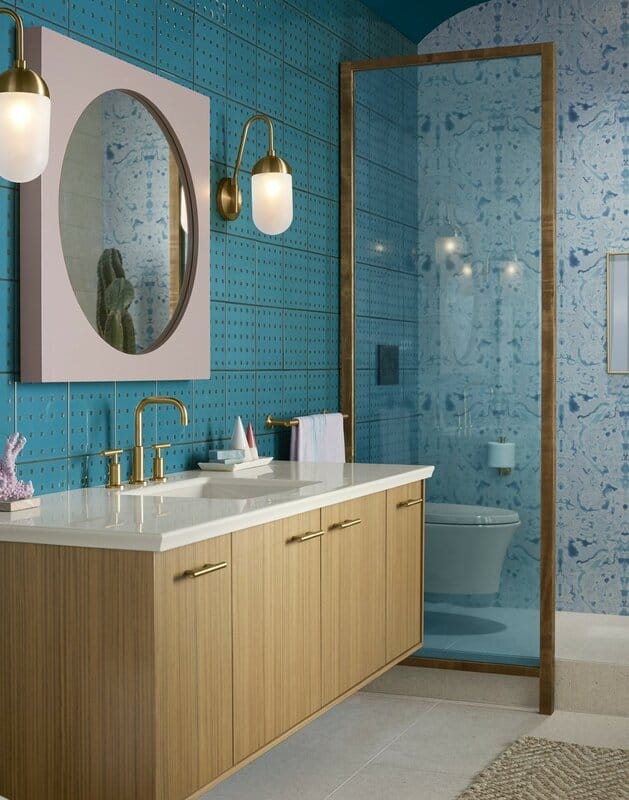 A mid-century bathroom usually uses neutral or earthy tones to decorate the space. But if you want to go for bold colors, the choice is yours. In fact, using deep hues is one of the vital traits of this style.
This bathroom looks stunning with deep turquoise tiles that cover the wall behind the mirror. Blue marble tiles embellish the shower area while complementing the accent wall.
A wood veneered vanity offers you ample storage space while balancing the look. To accentuate the mid-century style, some brass accents in the drawer pulls, faucet, sconces, and divider are added.
17. Hexagonal Mosaic Tiles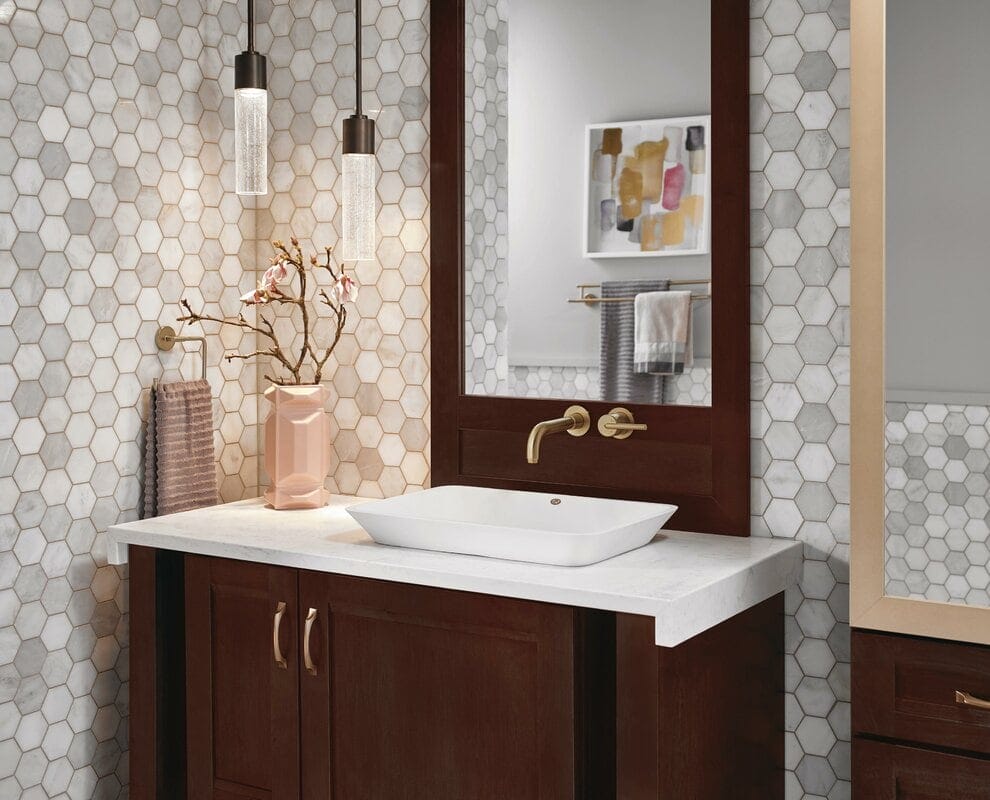 Geometric patterns have never failed to create a mid-century modern style. Therefore, installing hexagonal tiles is an instant way to embrace the look well.
This bathroom looks great with hexagonal tiles. Each tile comes in different gray and white hues, which creates a stunning mosaic effect.
This space looks even prettier with a pink vase on the vanity that holds cherry blossoms twig, which adds a little bit of Japanese style.
18. Bring in Nature to Space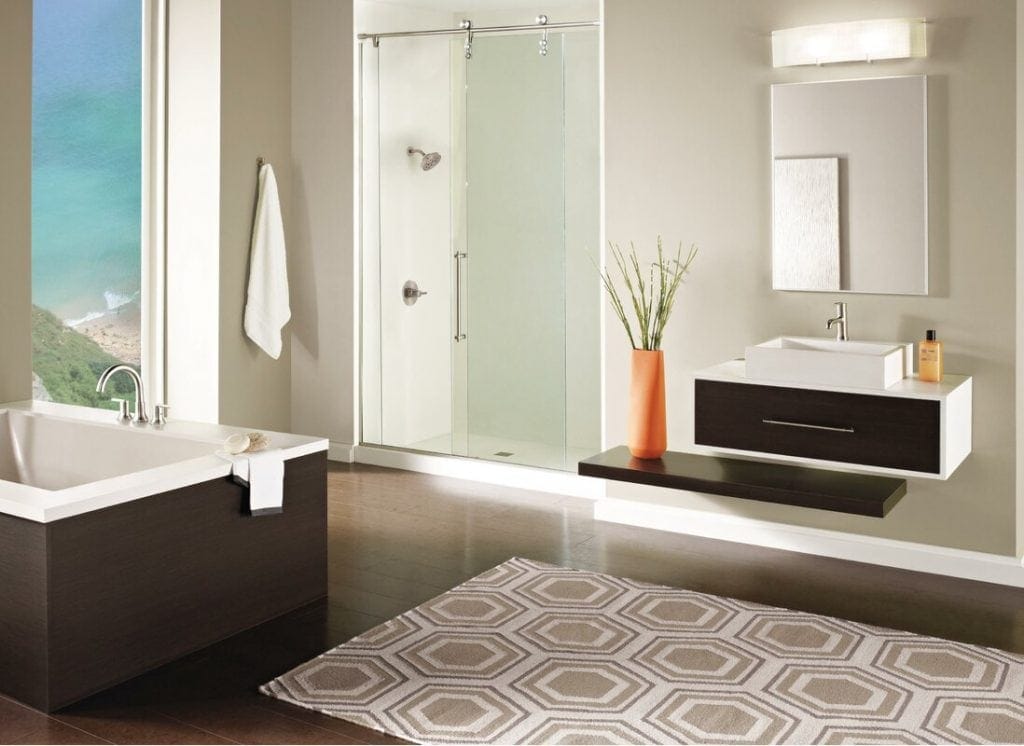 The simplicity of a mid-century bathroom can be stark to some people, making it look boring.
You can tackle this problem by hanging a large painting or photo as wall art. Take this idea to a greater level by bringing nature to space.
Try installing a big, flat-paneled window that allows you to see the landscape right from your bathroom. It will please your sight and soothe your mind immensely.
Besides, the large window enables your bathroom to get more natural light, which makes this space look more spacious and airier.
19. Add a Nuance with Succulents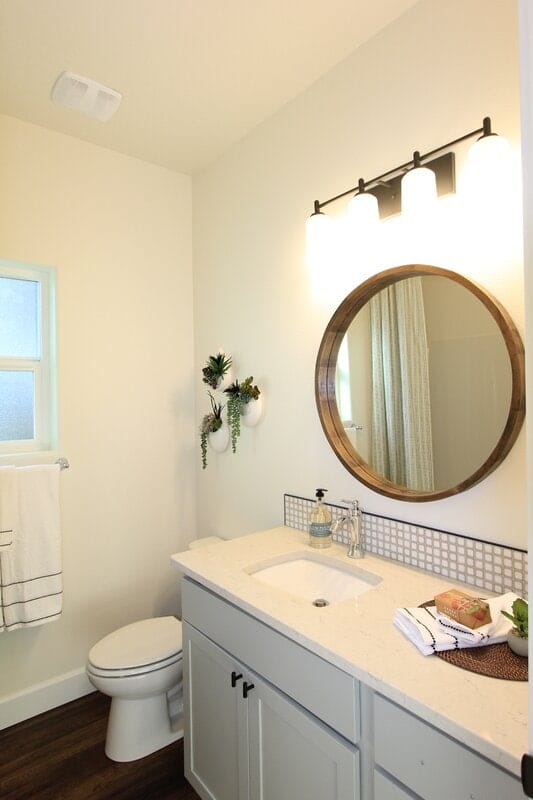 Adding plants to a bathroom has always been a great idea to upgrade the space instantly. If you worry about the maintenance, opt for succulents.
Succulents are renowned for being no-fuss indoor plants. Some of them even create a stunning look, such as hanging succulents. Some hanging succulents can create a more dramatic backdrop in your bathroom.
Try growing burro's tail, ragwort vine, or string of pearls in a container, and put them on a shelf or attach them on the wall so that they can dangle dramatically.
20. Subdued Color Hues for a Soothing Effect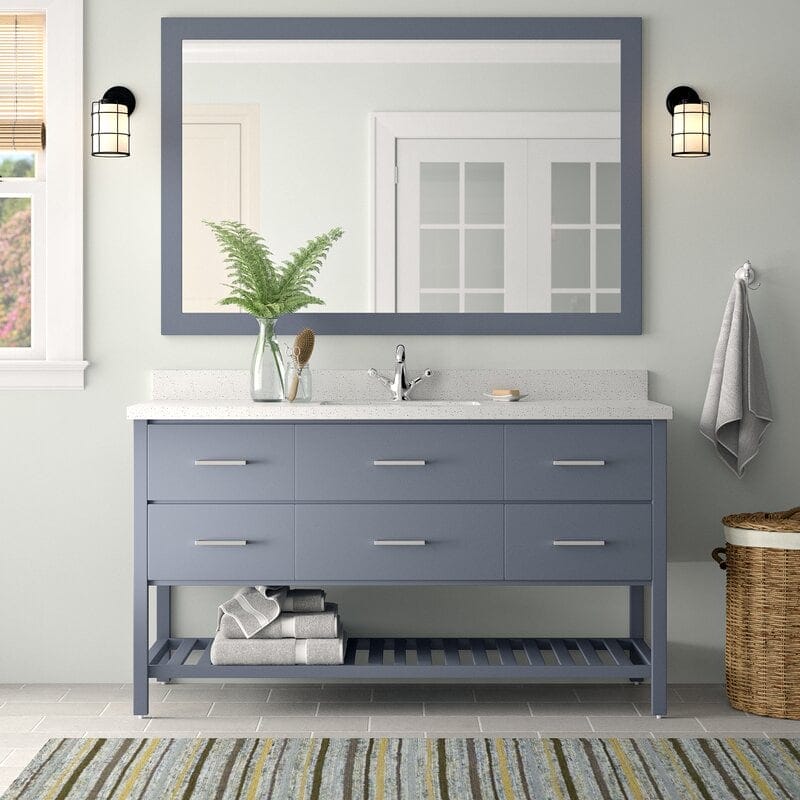 A mid-century bathroom usually uses neutral or bold hues. But if you are a big fan of subdued colors, why don't you give it a try?
You can pair these tones with sleek vanity and mirror so that you can carve out the modern flair.
Decorating a mid-century bathroom is not always hard and costly. If you can combine the colors and patterns properly, you are good to go. You can even add greenery for a cheaper option.