The living room is prone to clutter whereas books, a remote control, and smaller items scattered on the coffee table. Therefore, you can consider these Ottoman tray ideas to hold the mess at bay and embellish space.
1. Striped Ottoman Tray Ideas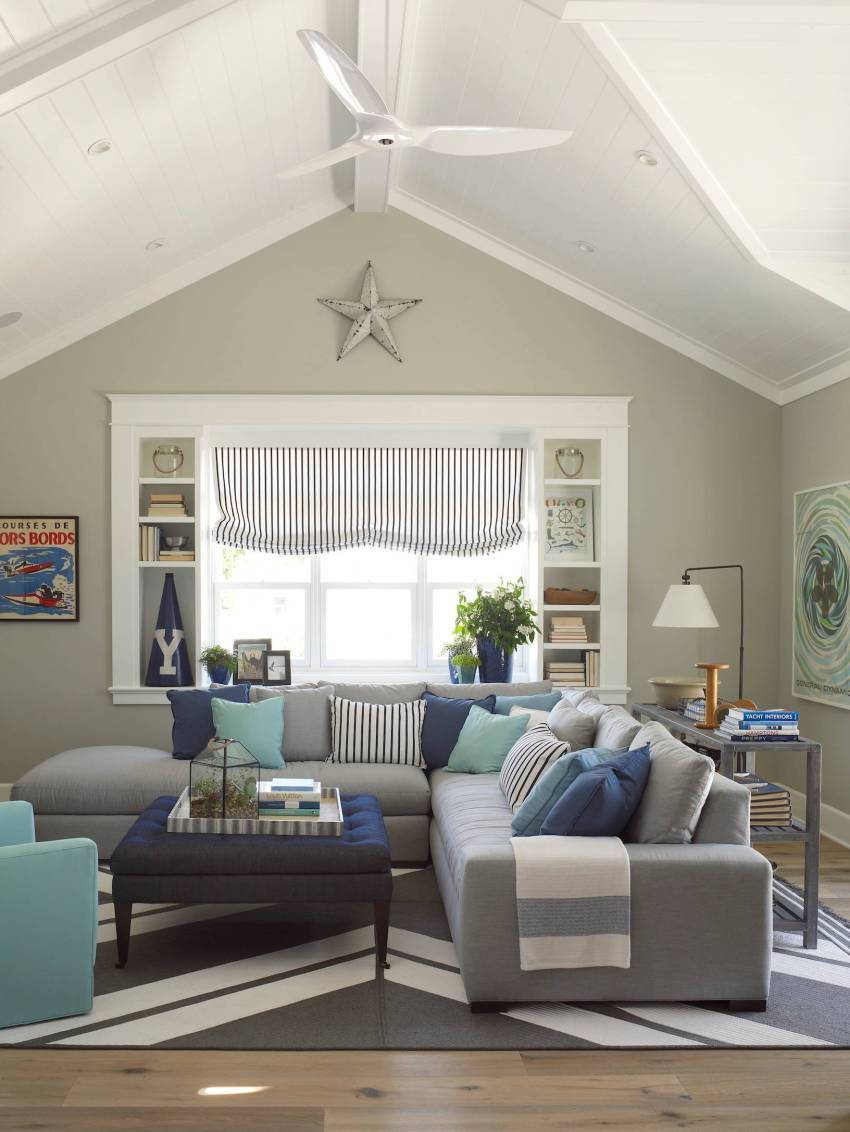 Matching is one of the things you can do to bring in a united look to your living room, just like what you can see here.
This living room embraces coastal vibes through the use of neutral colors, turquoise, and navy blue found in the cushions and chair.
The striped tray lying on a navy blue Ottoman matches the rug, cushions, and roman shade immensely, making them look united.
Apparently, the tray not only keeps things organized but also highlights the centerpiece. As you can see, the terrarium looks more standout within this striped border.
2. Classic Large Round Ottoman Tray Ideas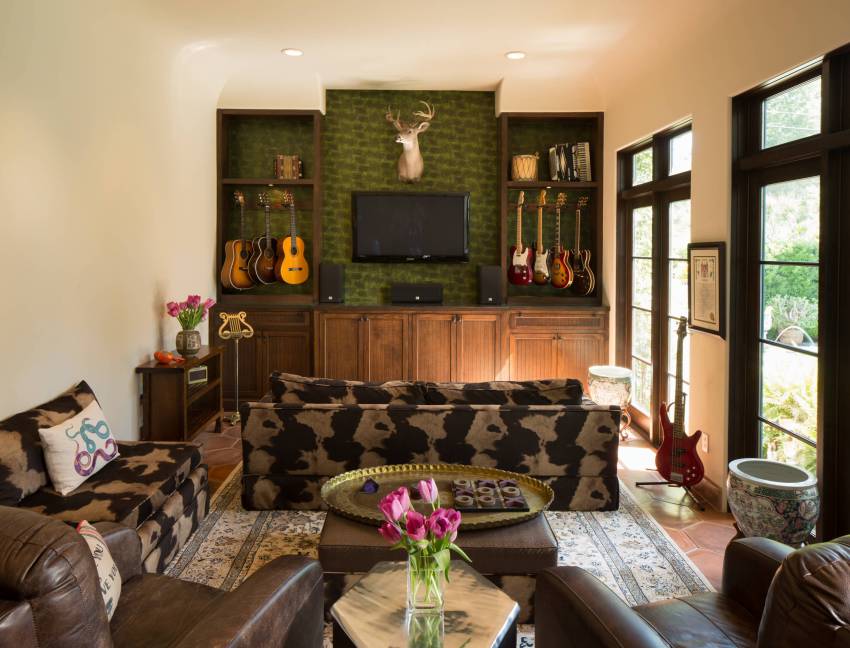 This eclectic living room has traveled through time and brought various memories from different eras. You can find two leathered armchairs representing the industrial style.
Meanwhile, a hexagonal side table denoting the simplicity of modern flair stands between them.
You can also find tiger-striped couches that add exotic pattern to the living room. At the center is an ottoman that pulls the diversity together.
On the ottoman lies a classic round tray coming in brass finish. It is a perfect place to set down your tea or coffee along with some snacks.
You can also incorporate the tray into the decorative items of your living room by topping it with a stack of books. Another option is by placing a vase with flowers to add height, which can lead to the visual interest.
3. Brass Ottoman Tray Ideas
This is another brass ottoman tray idea that you can copy.
Unlike the previous tray that provides ample space for various items, this one is rather small, which gives a cozy home for different objects, such as remote control, glasses, and cookies.
However, the small size of the tray would seem awkward on an oversized ottoman. To balance the look, try filling it with several items.
Also, consider varying the height of the objects. Three books, a candle, and a vase would be sufficient without overcrowding it.
4. Round Blue Ottoman Tray Ideas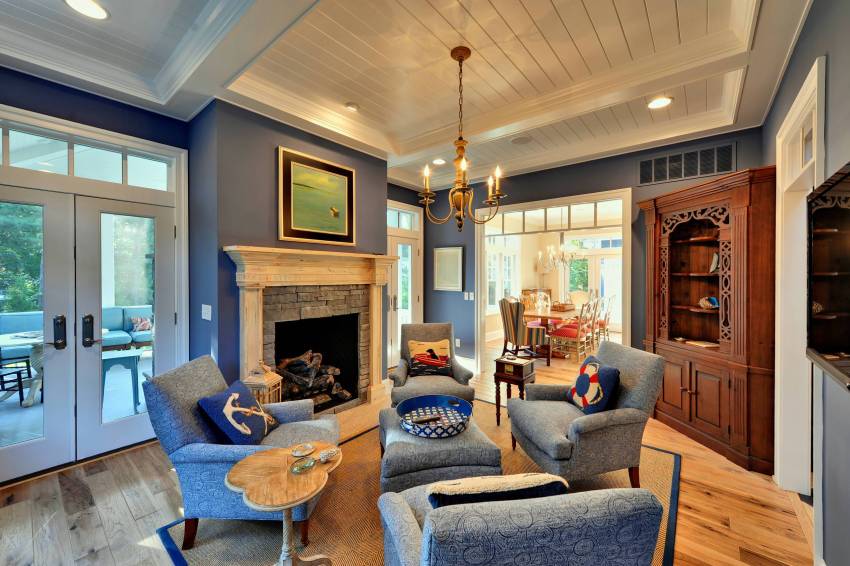 This living room embraces a nautical theme well with the navy blue and crisp white hues. Instead of a couch, you can find four armchairs facing each other with a plush ottoman in the middle.
The arrangement that you see here is best suited for a small living room. Besides, it allows four people to maintain a conversation or play a board game together. Therefore, the ottoman plays a crucial role here.
As the centerpiece, you need to make the ottoman become the center of attention by topping it with a tray.
In this picture, you can see that the tray unites the elements of this living by coming in blue and white. The color combination is already good. Still, you can optimize it by placing a bottle or a vase in it.
5. Ottoman Tray Ideas in Earthy-Toned Living Room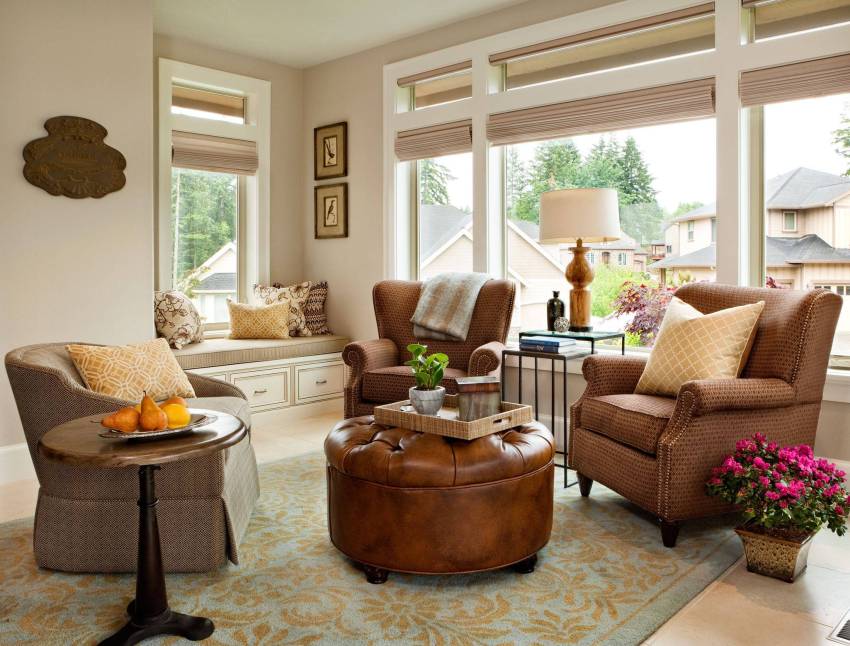 Just like the previous living room, this one does not have any couch where you can stretch your legs and lounge on.
You can only find three plush armchairs that face each other, which enables you to have an intimate conversation with your guests or family.
As a good rule of thumb, this kind of arrangement requires a centerpiece, and an ottoman topped with a tray will be your greatest bet.
Earthy tones are the color schemes of this sophisticated living room. Therefore, the tray also has to come in the same hues.
As the centerpiece, the ottoman tray has to be epic. Topping it with one or two books and a flowerpot that hosts greenery would be nice.
6. Minimalist Ottoman Tray Ideas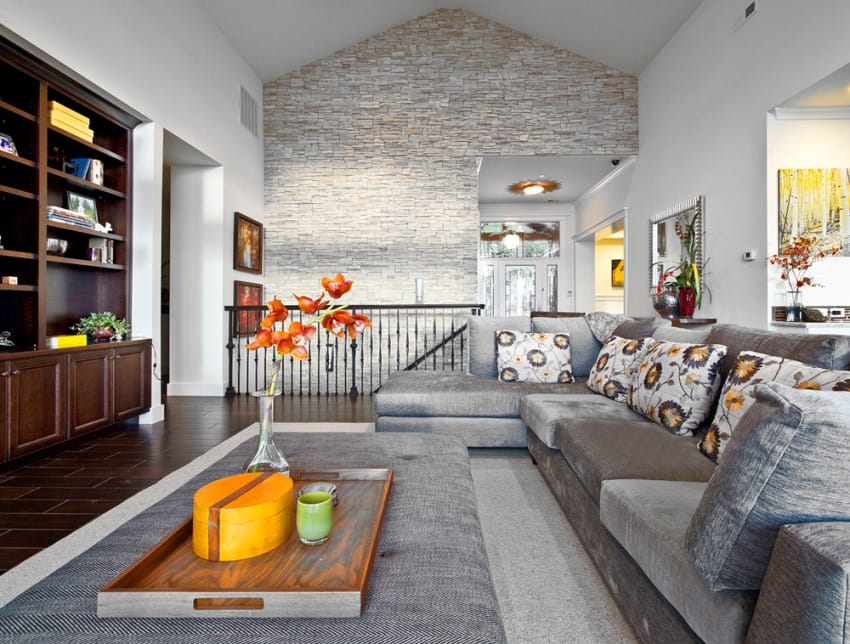 Low-level furniture with clean-lined edges is the hallmark of modern flair. Everything remains simple yet charming. Therefore, you have to be able to use fewer decorations while adding more style to space.
This living room features a gray sectional sofa that offers comfort to multiple users. Instead of a coffee table, a long ottoman helps you set down drinks and snacks as well as providing more seats when more guests come.
Since this ottoman is quilted, it is not as flat as a coffee table. That is why you need a tray to hold your glass and cookies.
In addition to hosting drinks and snacks, you can use this ottoman tray to accentuate the modern flair. Top it with an ashtray and a small box that stashes away tiny items. Enrich the look by adding a tall vase.
7. Wooden Tray with Succulents
A U-shaped furniture layout is suitable for a compact-sized living room. However, you have to add either a coffee table or an ottoman as the centerpiece.
This U-shaped living room features a white ottoman for the centerpiece. Since you and your guests will be sitting around it, you can try topping it with an epic adornment, like some beautiful succulents.
Since it is not a coffee table, you will need a tray to lay them down. Besides, the tray will anchor the succulents well.
8. Contemporary Ottoman Tray Ideas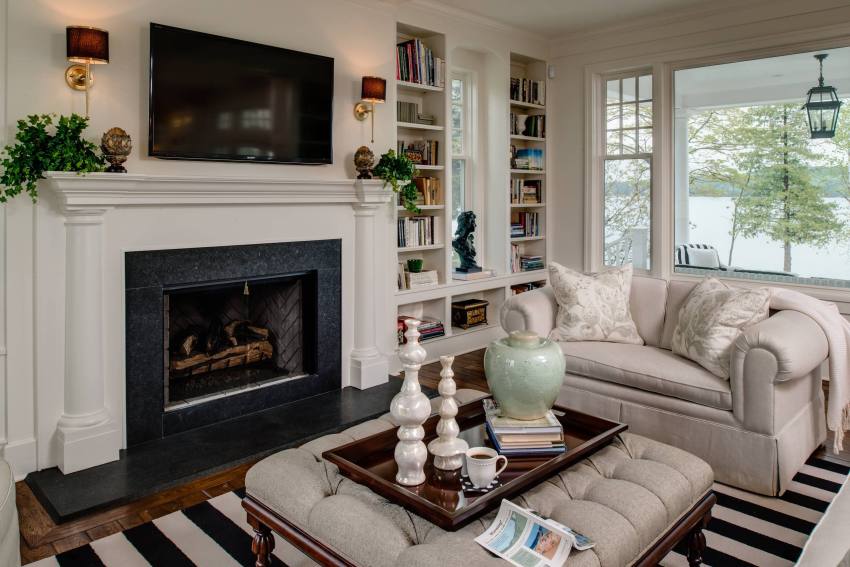 Who says that a tray is only a place to set down snacks and drinks? It can be a haven for a wide array of decorative items sometimes.
In this living room, a simple wooden tray that comes in dark-brown stain, which matches the ottoman legs, lends an artistic look to space.
This tray has two white chandeliers that give a little bit of a classic look. An antique jar perches on a stack of books, making it more visible and outstanding.
9. Small Silver Ottoman Tray Ideas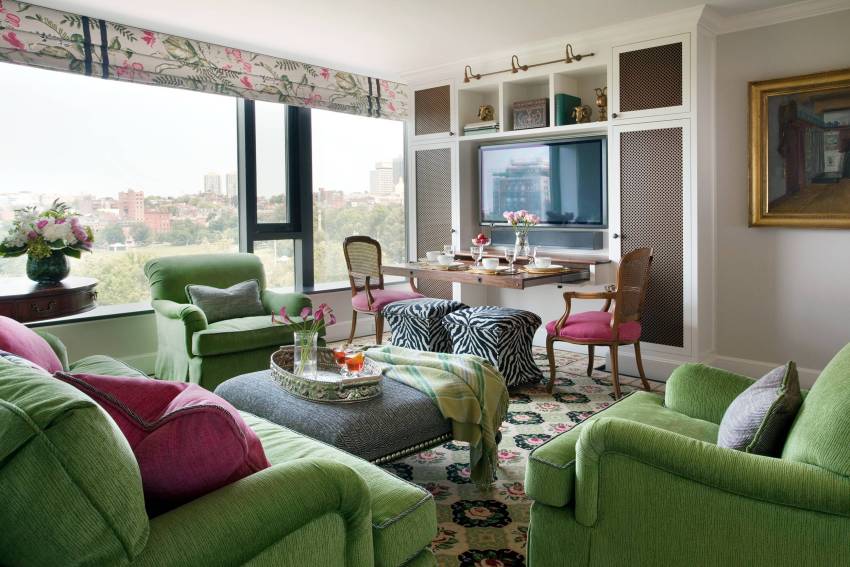 Here is another eclectic living room that is worth copying. The combination of green and pink infuses joyful vibes into space. Right in the middle is a gray ottoman surrounded with silver beads for the accent.
An antique silver tray tops the ottoman as well as complementing the accent. Since it is rather small, a clear vase with two glasses would be enough.
10. Woven Ottoman Tray Ideas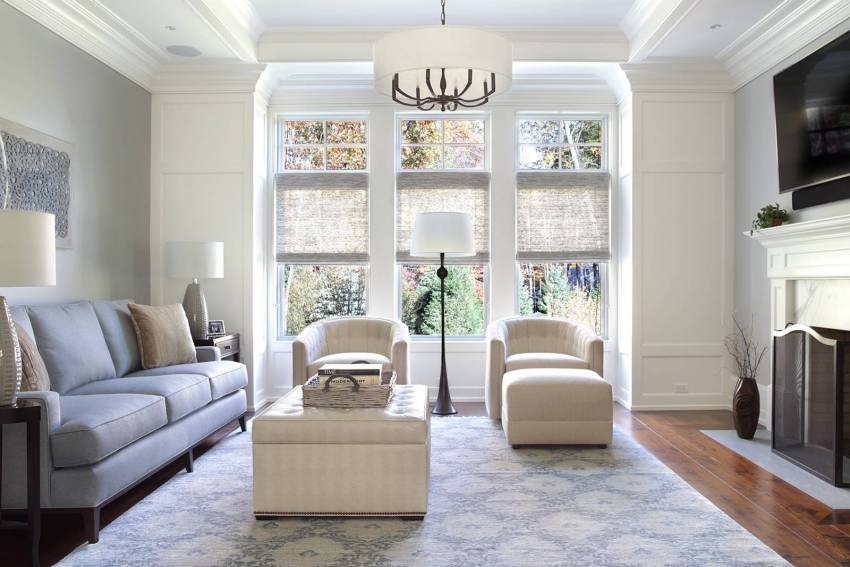 Linen couches are great for a contemporary living room. They are simple yet comfortable. However, they might lack texture somehow.
If you are dealing with this issue, you can top your ottoman with a woven tray to add a bit of textural element.
Still, you will not leave it that way. Place a stack of books or magazines in it or simply a single vase, and you are good to go.
11. Rustic Ottoman Tray Ideas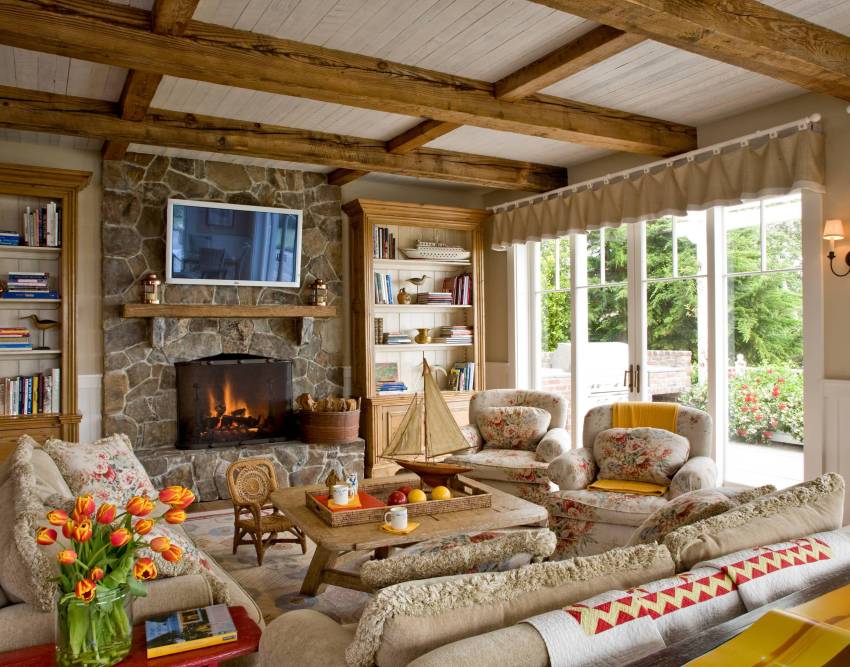 This living room lends a rustic charm with an exposed beamed ceiling and the stone accent wall. Right in the middle is a wooden coffee table that features a weathered finish to accentuate the style well.
On top of it is a rectangular tray coming in the same hue as the small stool and table, which makes it camouflage well.
Here you can see that the tray serves double duty. It not only becomes the place to set down cups but also embellishes the living room.
Try filling the tray with something yellow and red, such as apples, lemons, and books, to match the decor immensely. To kick it up a notch, you can add a wooden sailing boat model.
If you cannot find any, you can place a flowerpot wrapped with burlap instead.
Although you can only see a rustic coffee table here, you can implement this decorative tray idea for your ottoman too.
12. Ottoman Tray with Candles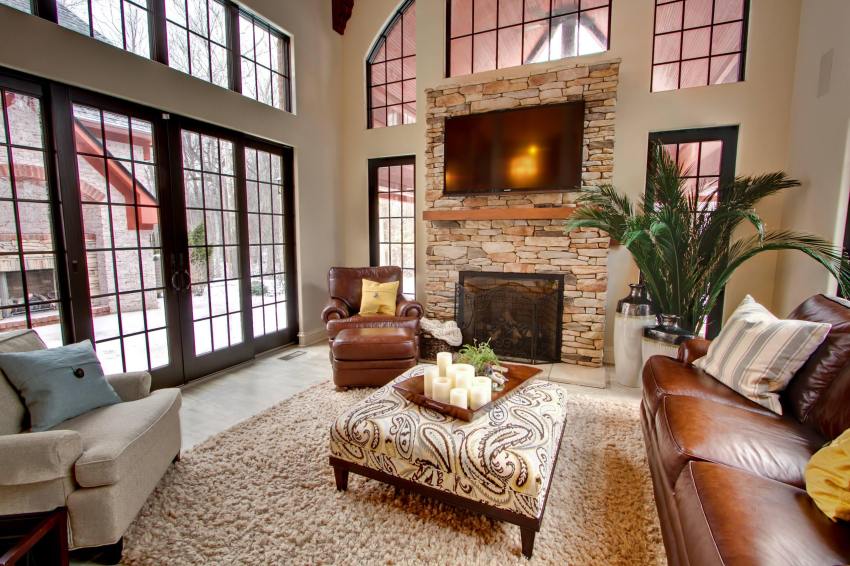 If you want to jazz up your living room but are afraid of creating a haphazard look, you can stick to a neutral color palette because nothing can go wrong with it.
This contemporary living room looks elegant with a brown leather armchair and couch. To complete the look, a tray that comes in the same color is put in the center.
In the tray are some white candles that have different sizes, which will be useful when a blackout occurs. You can also find a small planter in it that will carve out a romantic ambiance when collaborating with the dim light.
13. DIY Ottoman Tray Ideas
If you think that this wooden tray looks fascinating and elegant, why don't you try to make one yourself?
To make this tray, you will need wood, a Gorilla glue, saw, hails, a hammer, sandpaper, and stain.
First, you will need to measure and cut the wood to size, glue the pieces together, and sand the tray down thoroughly before applying gel stain and two coats of epoxy to make it more durable and resistant to spill.
14. French Country Modern Ottoman Tray Ideas
This classic tray comes in a dark brown finish, which matches the furniture and exposed beamed ceiling immensely. Since the tray is quite spacious, you can store your books and pens on it after work.
15. Books in a Tray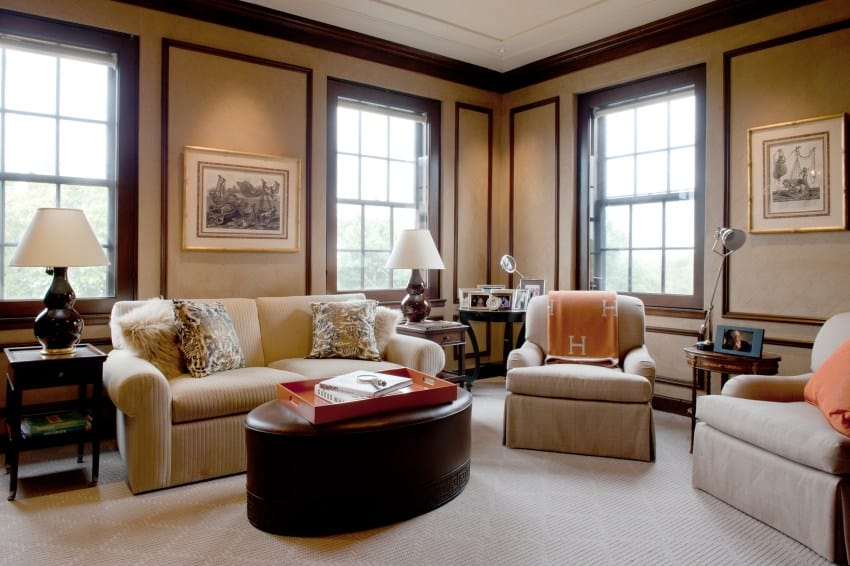 This tray is quite simple with a clear-cut design that fits in with contemporary style. It also features the same hue as the throw that dangles over the chair.
To style the tray without overwhelming it, consider stacking some books in it. By doing this, you will be able to grab and read your favorite book without making a trip to the shelves.
16. Cardboard Ottoman Tray Ideas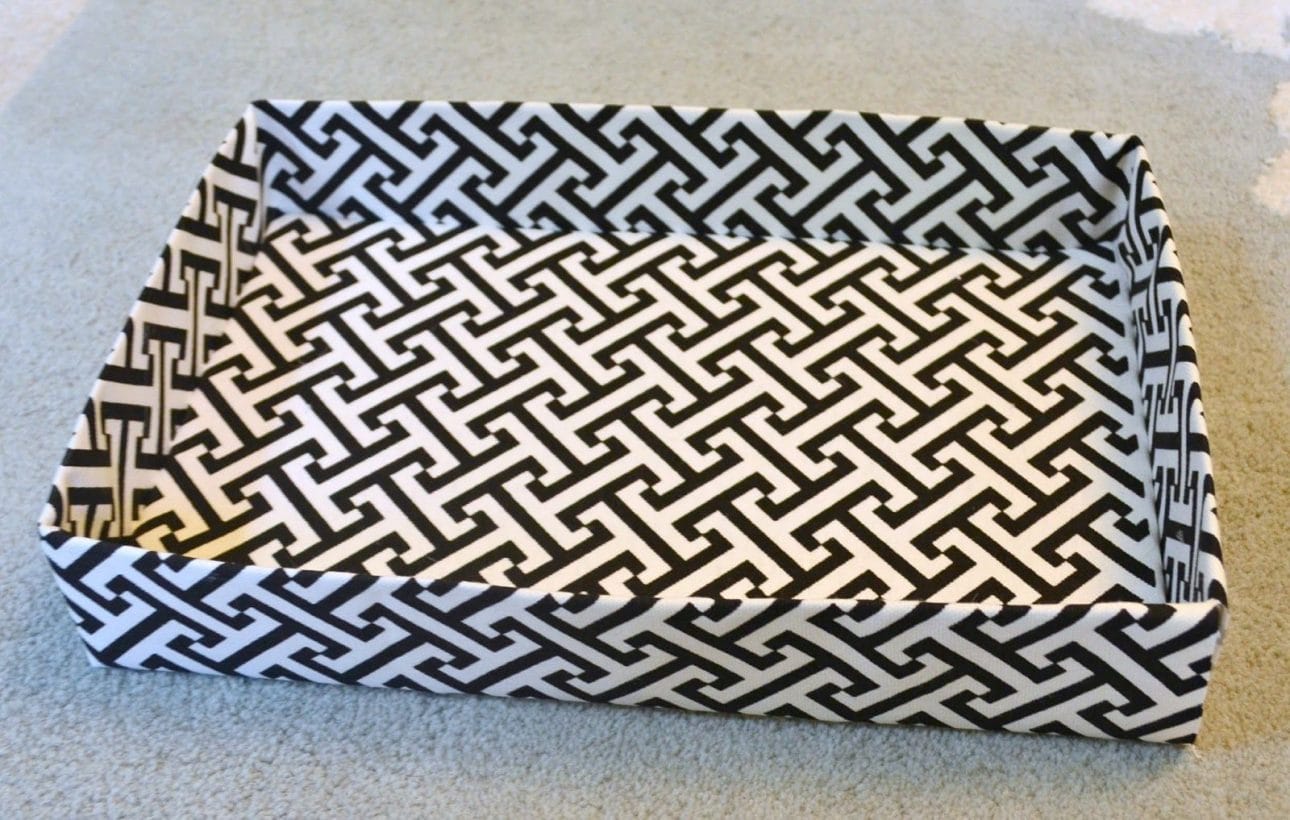 Why do you have to splurge out on a fancy Ottoman tray if you can make one yourself? Even better, you can create one by recycling what you already have at home, like a cardboard box.
To make this tray, you will need to get a piece of cardboard that you will use to cover the bottom part of the box.
Wrap any fabric of your choice around the box and cardboard. Secure it with hot glue.
Insert the cardboard into the box until the bottom part is completely covered. Finally, style your tray with decorative items, such as succulents, terrariums, or books.
Bear in mind that this cardboard tray is not sturdy, so do not use it to transport heavy items.
17. Yardstick Ottoman Tray Ideas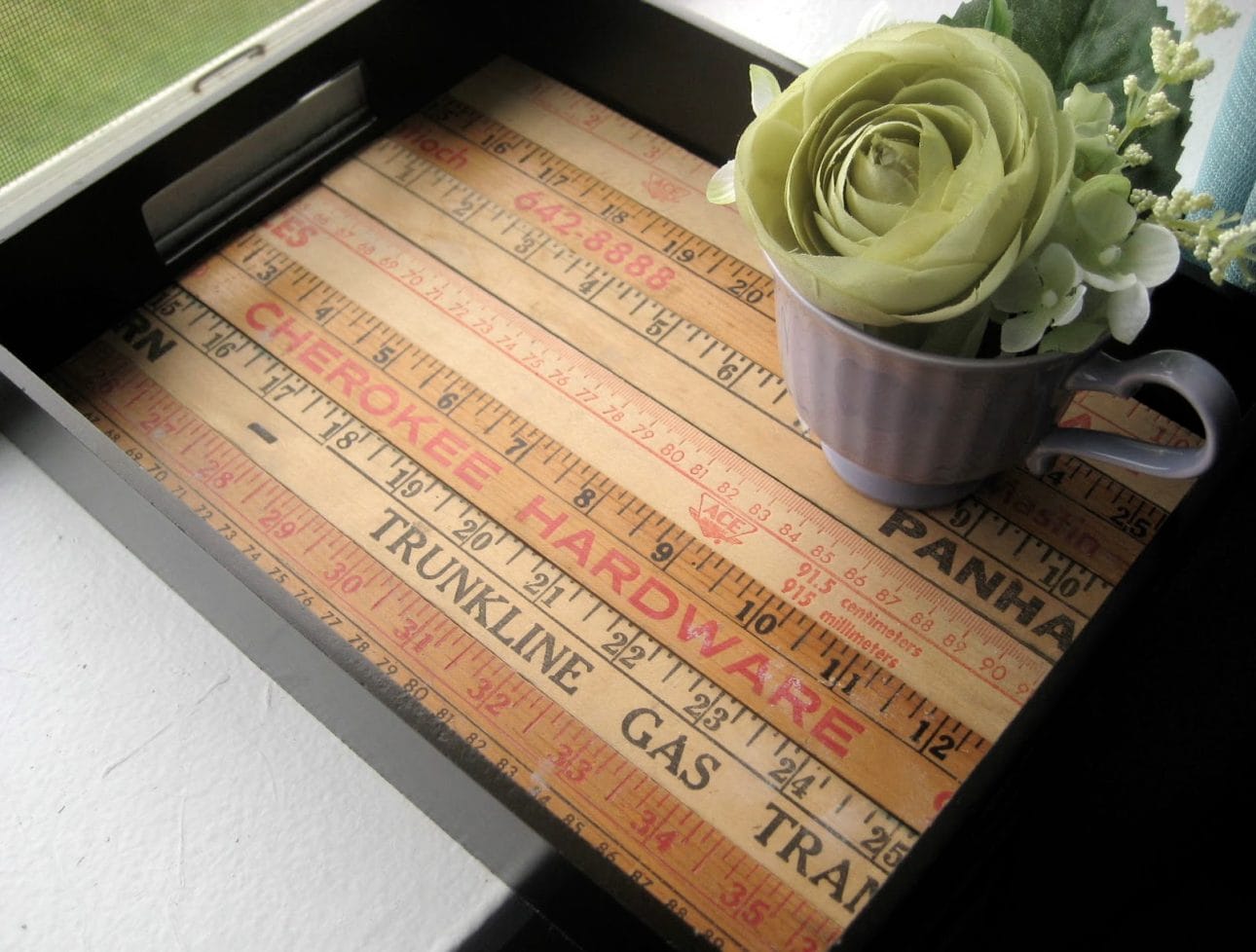 This is another brilliant idea that you can use to makeover your existing tray.
You only need to grab some yardsticks and attach them to the bottom of the tray until you cover it completely. It is merely a breeze, isn't it?
18. Reclaimed Wood Ottoman Tray Ideas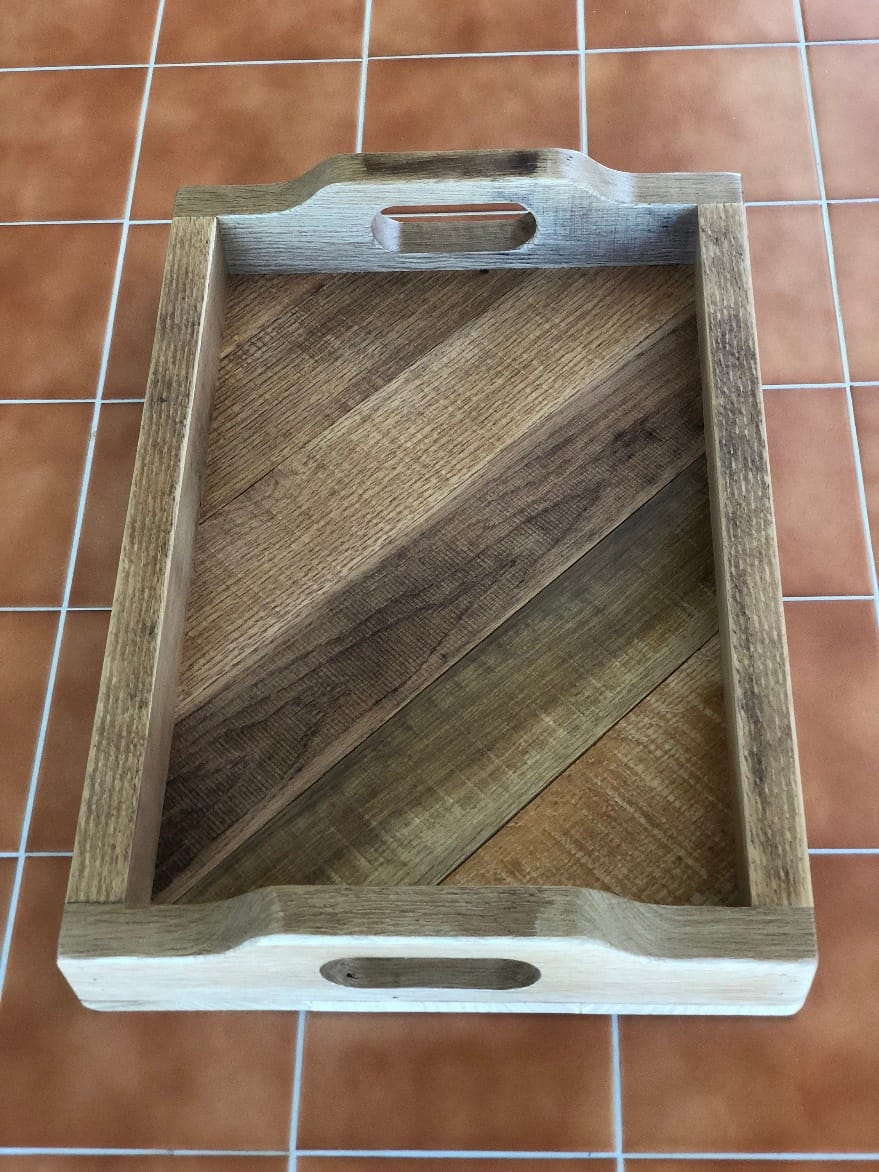 If you have some leftovers at home, you can try to make use of thema by creating a wooden ottoman tray.
Begin with making the frame. Cut the pallet to size, and make sure they fit in with the bottom of the tray. Sand them down before assembling them. Finally, you can apply any finish of your choice.
19. Wicker Tray Ideas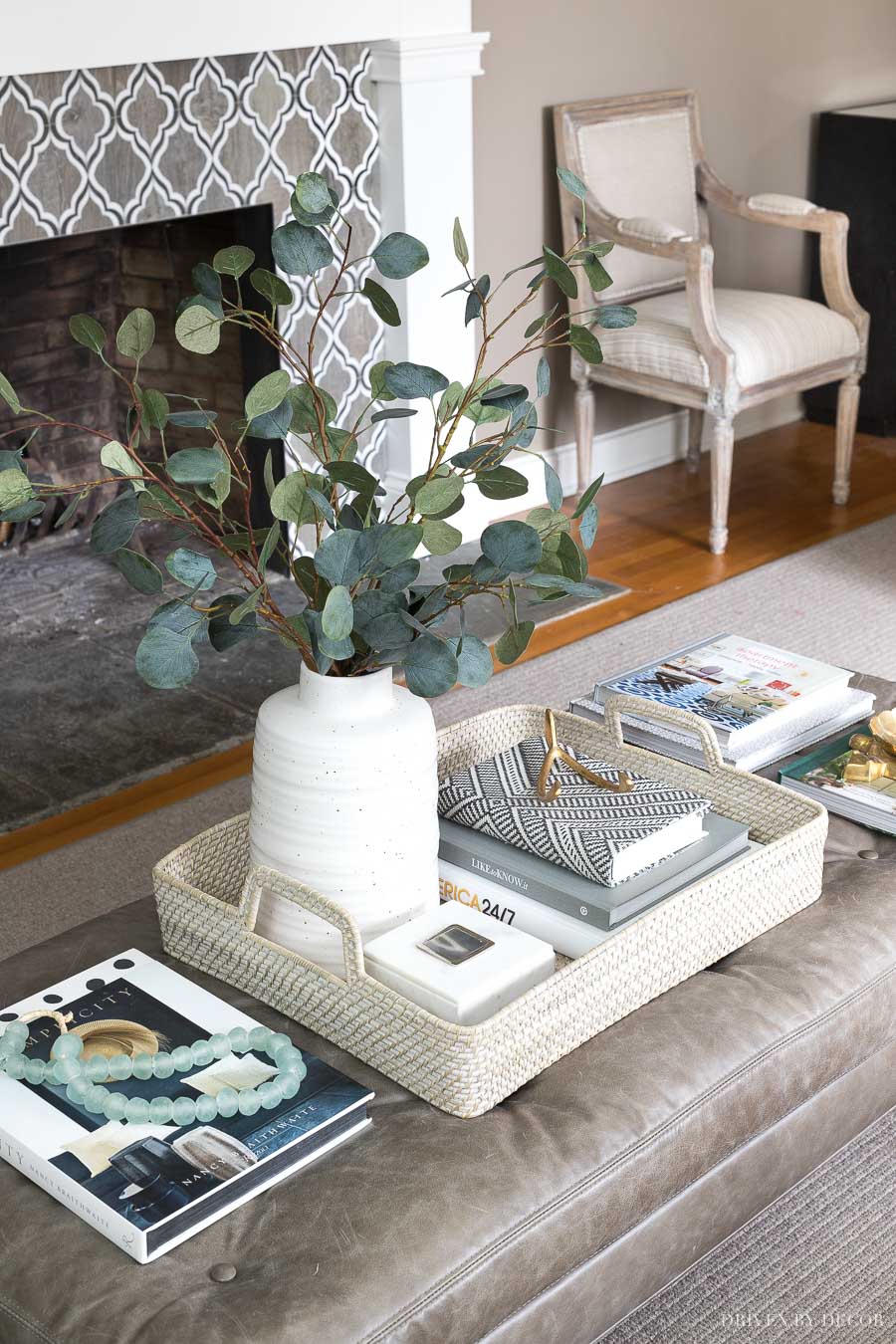 A wicker tray has never failed to add a textural element to space, just like this one. It suits this contemporary living room nicely.
Besides being decorative, you can use this tray to host several items, such as books and a vase with faux eucalyptus in it.
20. Acrylic Ottoman Tray Ideas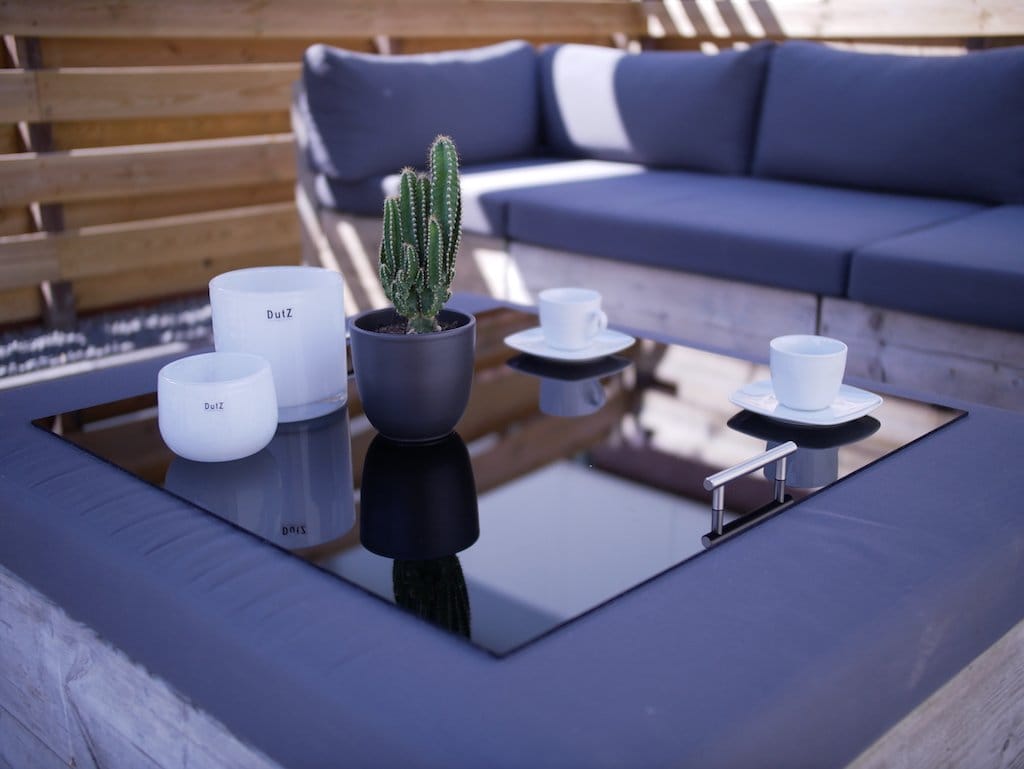 This is an easy yet chic ottoman tray idea that you can try to make at home. It has a flat surface and clean-lined edges that will match your modern living room immensely.
To make this ottoman tray, you need to get a 15-mm acrylic sheet and a pair of handles of your choice.
Next, attach the handles on two edges of the sheet. You can do it with a powerful adhesive or screws, but make sure they are symmetrical and balance.
21. Herringbone Ottoman Tray Ideas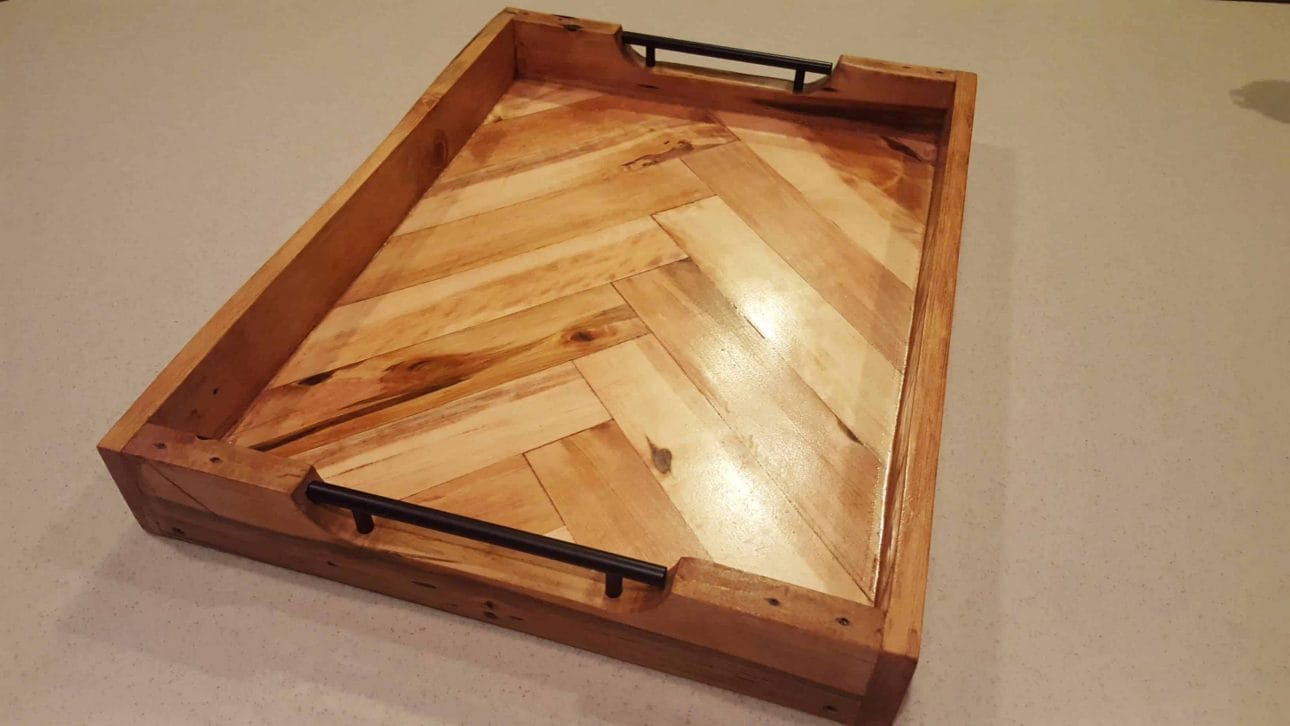 This ottoman tray will add a little bit of a classic look to your living room due to the herringbone pattern.
You can makeover your existing tray and create this look by attaching some boards in a herringbone pattern.
Ottoman tray ideas are notably versatile. Although people usually use them to serve foods and beverages, it does not mean they cannot do more than that.
With a little bit of creativity, you can turn one of those Ottoman tray ideas into a wow factor in your living room.