The secret to good night sleep is a serene bedroom. In terms of space color scheme, white makes the environment feel truly peaceful. It is no surprise white bedroom is a favorite among homeowners and designers.
White enables you to include any decor, fabric, and furniture. Other than that, this classic color teams well with other neutrals and vibrant hues. If you are thinking about upgrading your oasis, read on for white bedchamber inspiration.
1. White Bedroom Walls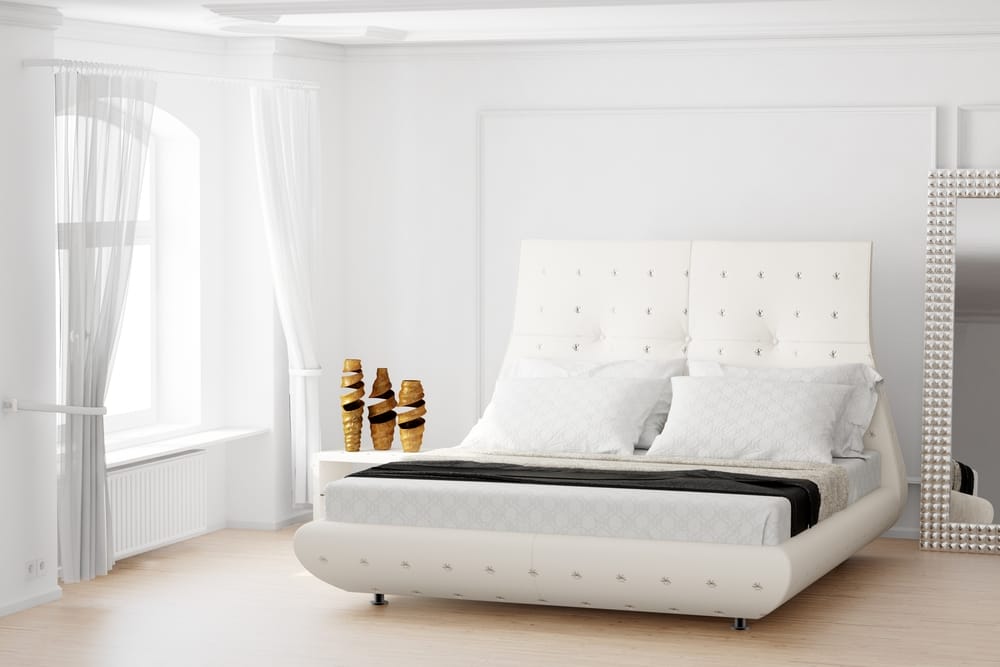 This bedroom looks sunny and bright. White walls and sheer curtains are all it takes. Wooden floor and ornamental pieces exude warmth.
The upholstered bed and plush pillows carve a cozy atmosphere. Pearl framed mirror takes the room from blah to glam.
2. White Bedroom with Plants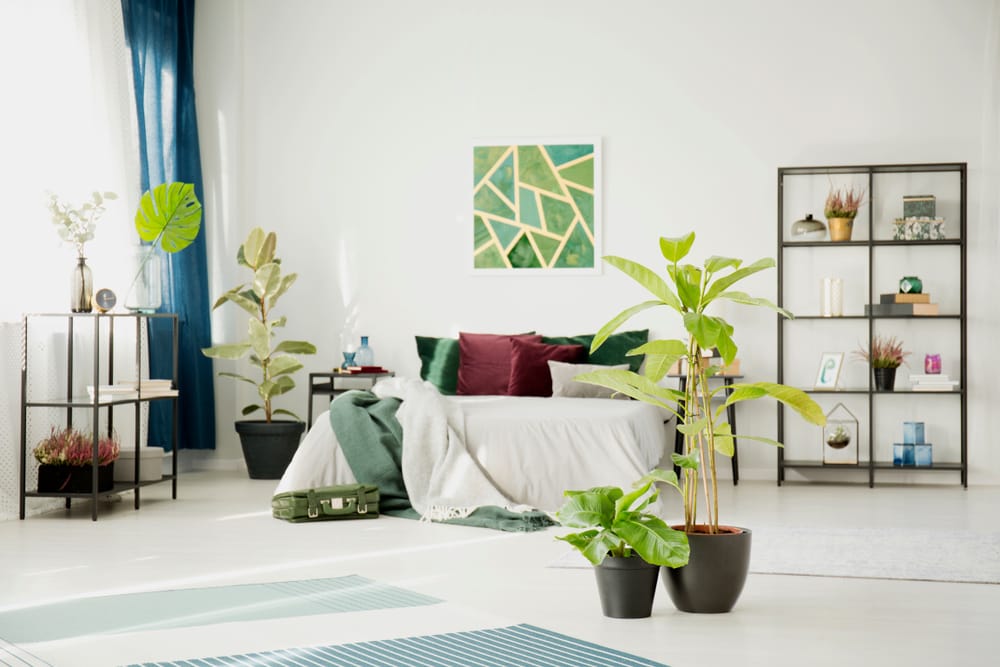 Who says white sleeping space is boring? That's wrong. Blue curtains, dark green and red pillows add splashes of energizing colors to the room.
The emerald artwork poses as a focal point. Potted indoor plants liven up the entire area.
3. White and Wood Bedroom Furniture


If you want a bedroom that never fades, go for white and wood combo. Wooden furniture units convey timeless beauty. White bedding, floor, and walls offer a sense of refinement.
Curtains lend room privacy. Wooden blind lets the sunlight pass through. Big leafy plants bring some life to the space.
4. White Blackout Curtains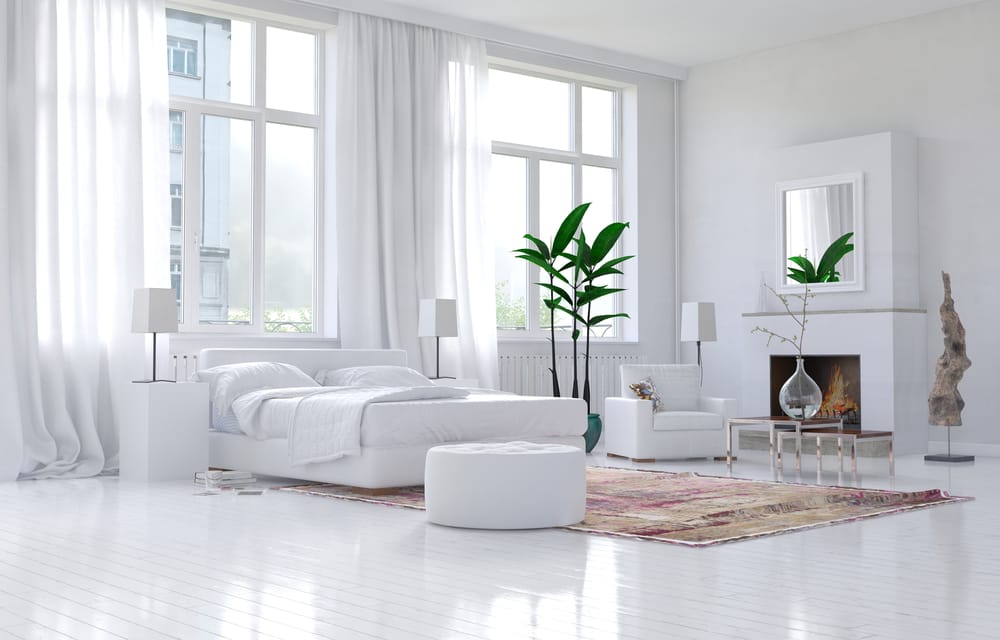 Love the look of an all-white bedroom? This idea is for you. The white color palette makes the resting space appear open and airy.
Furniture pieces and light fixtures demonstrate contemporary design. White curtains block out irritating sun rays. Rug, wooden sculpture, and plants keep the room from being sterile.
5. White Bedroom Furniture for Girl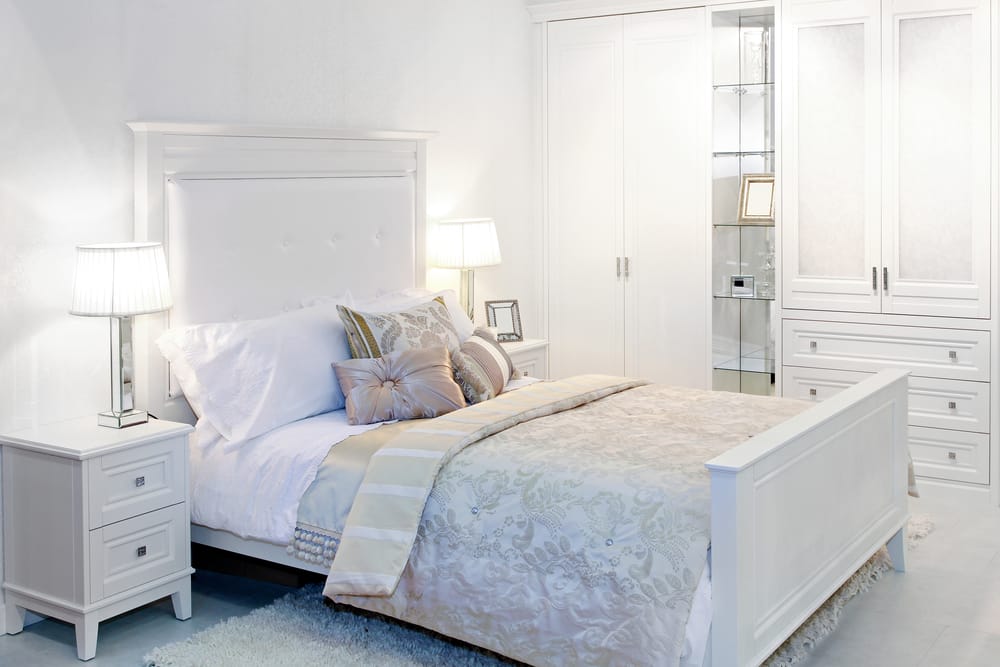 Pale gray floor and white walls result in a relaxing sleepy space. Tufted headboard, bed, and nightstands produce an aura of femininity.
A shag rug gives comfort underfoot. Floral comforter and metallic pink throw pillow inject a fancy touch.
6. White Master Bedroom Furniture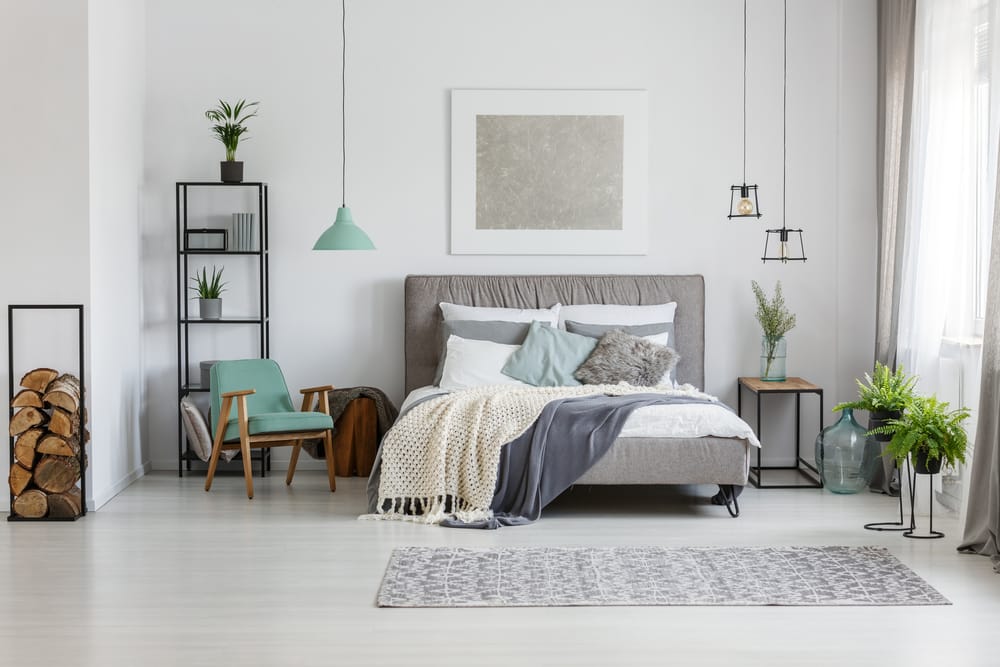 This bedroom is so soothing, thanks to white, gray, and pastel mint. Black iron log holder, side table, and shelving units embrace the industrial style.
Rug, textured blankets, and throws set a cozy mood. Wall art and houseplants beautify the room in seconds.
7. Black and White Bedroom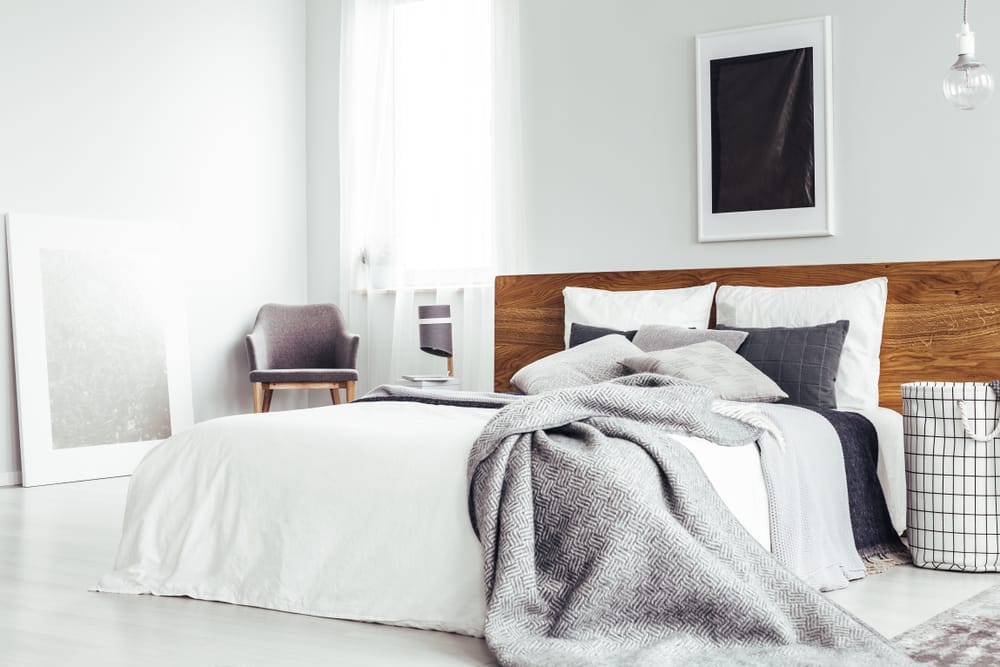 For sure, this bedroom boasts Scandinavian interior design. Everything is kept minimal. There are only armchair, bed, and headboard.
White foundation imparts a feeling of cleanliness. Meanwhile, grid laundry basket and framed black artwork give visual interest.
8. White Bedroom with Pops of Color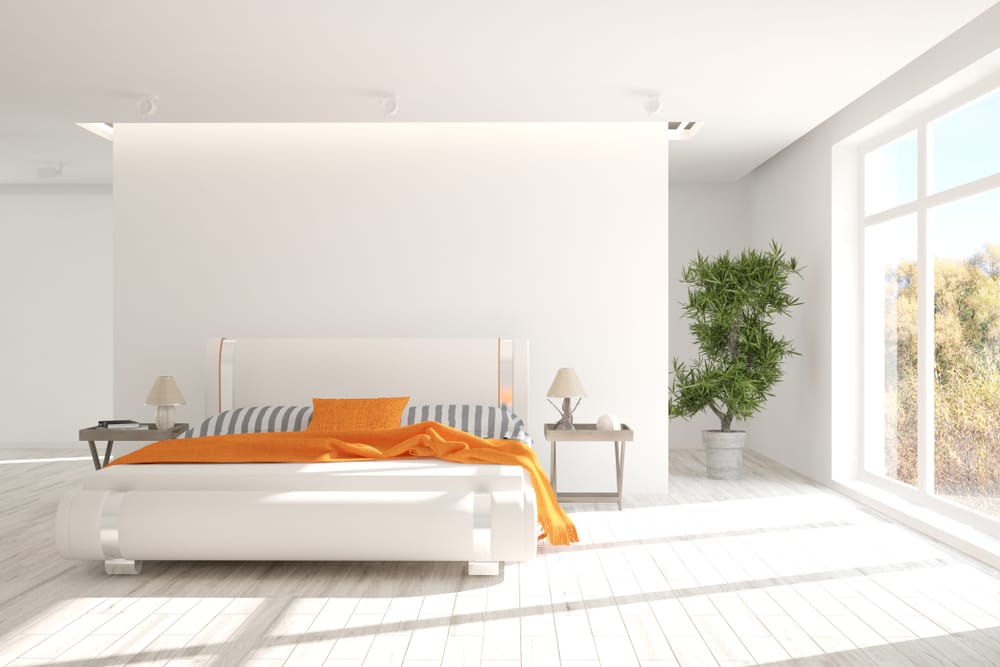 White panel, floor, and walls stretch the bedroom. As the result, the space seems more expansive than it truly is. Daylight streams into the room through windows.
Striped pillows grab the attention. Tall potted plant, orange throw and blanket spruce up the area.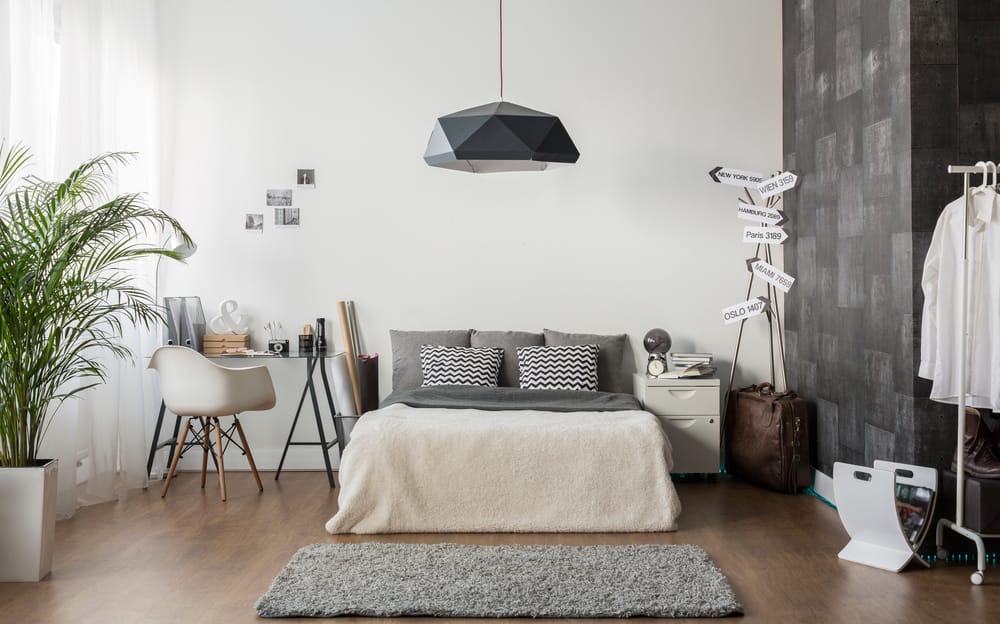 This bedchamber mostly comes in white. Varying shades of gray elicit sophisticated peacefulness.
Wood floor lends the room warm tone. Layers of textured fabric raise the room's coziness. The greenery brings a breath of fresh air into the zone.
10. Modern White Bedroom Furniture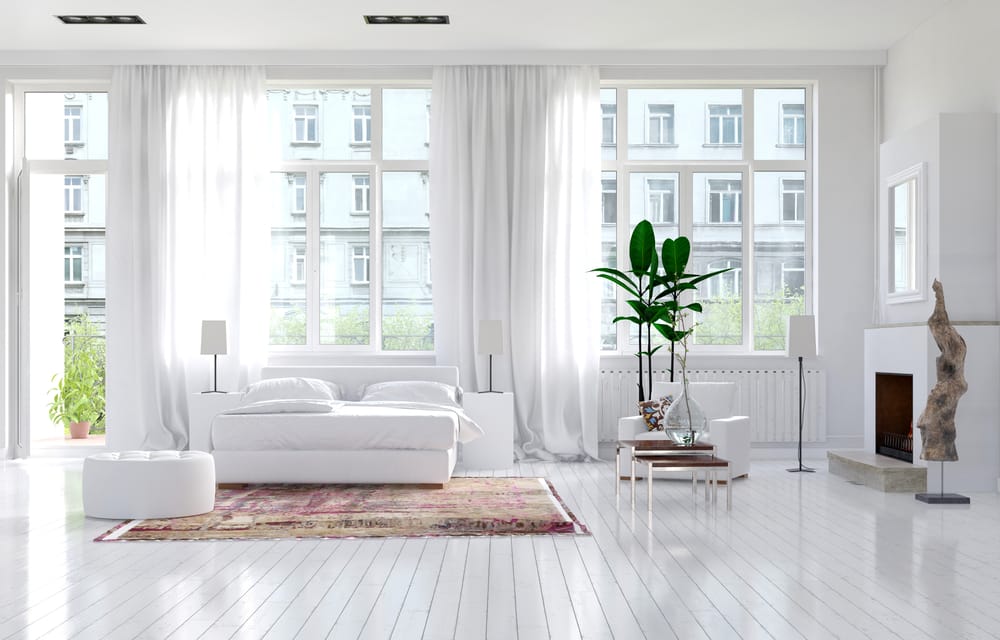 The simplicity of this contemporary bedroom lets the wide-planked floor shine. A fireplace heats up the area especially on winter nights.
Glass door and windows capture sunlight as well as remarkable outside views. The metal furniture pieces are cozy up with rug, curtains, and throw pillows.
11. Beige and White Bedroom Ideas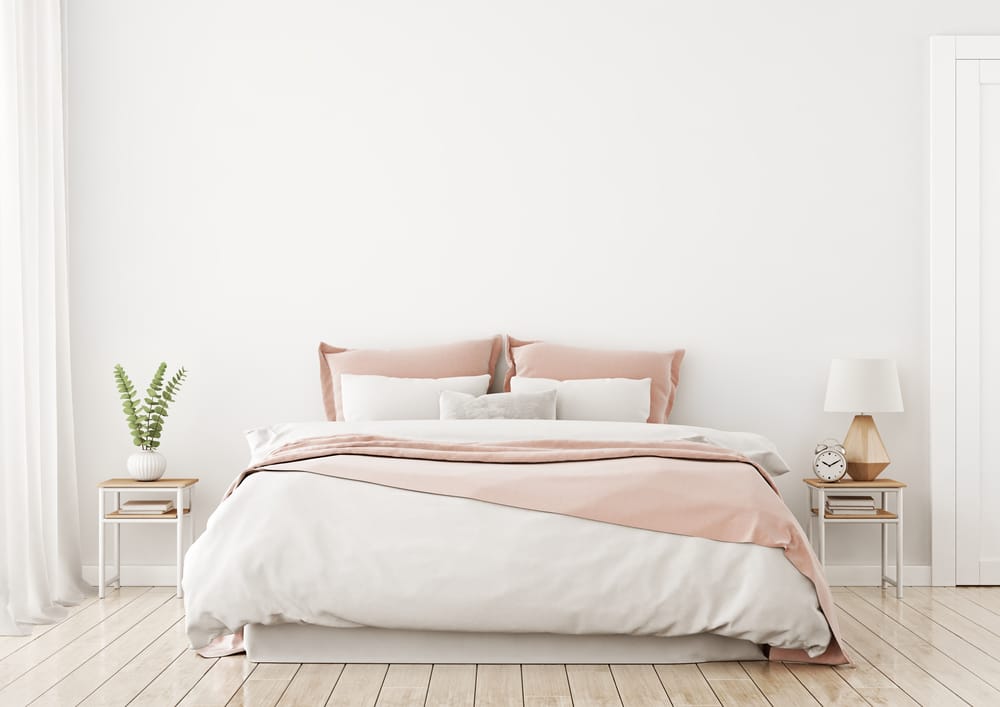 Pink beige bed runner and pillow generate a calming effect. They add a punch of subtle color to the resting space too.
Wood and brown accents raise the intimate atmosphere. Green fern in vase contributes to the liveliness of the room.
12. White Bedroom Door with Lock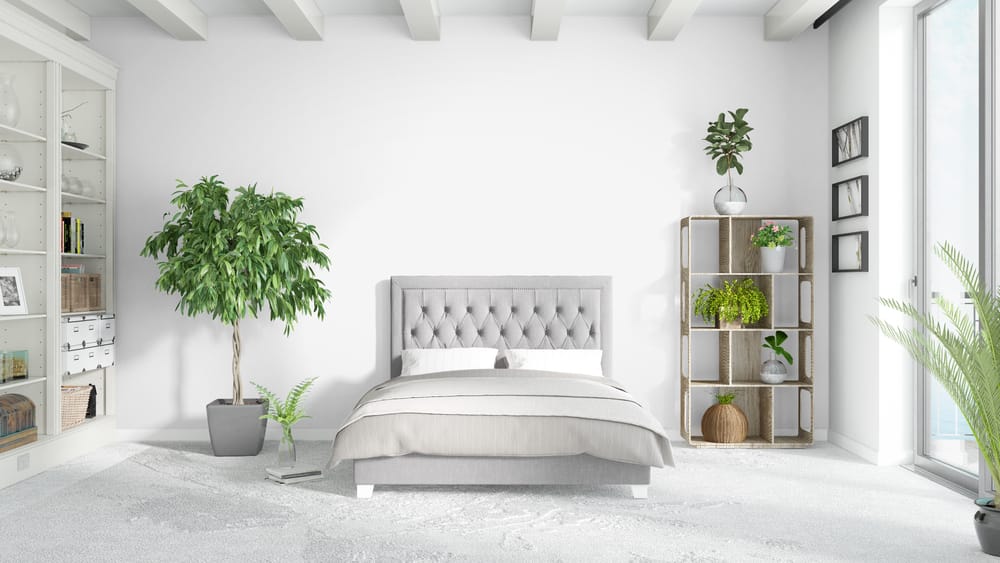 Light gray and white go really well in this bedroom. Those neutrals help relieve stress and foster sleep.
Sliding glass doors comes with lock. They add a sense of security and safety. Houseplants purify the air and transform the space into an urban jungle.
13. White Sheer Curtains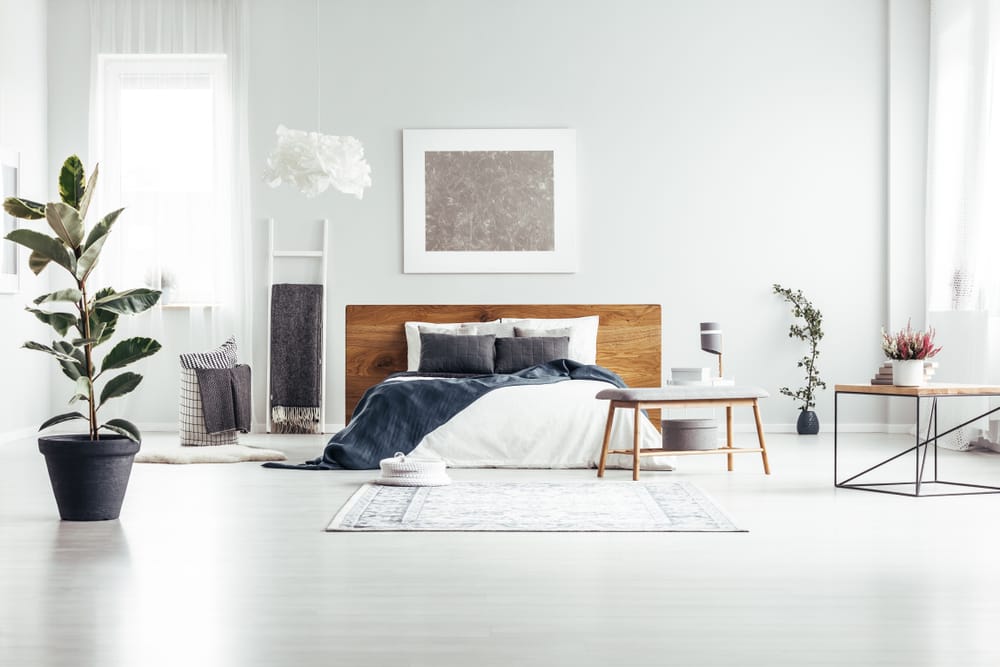 Cloud pendant light and sheer white curtains create a dreamy, romantic sleep environment. The wall hanging serves as a focal feature.
Navy, dark gray as well as black ooze the drama and the dimension. Wooden headboard, bench, and tabletop introduce rustic appeal.
14. White and Blue Bedroom Ideas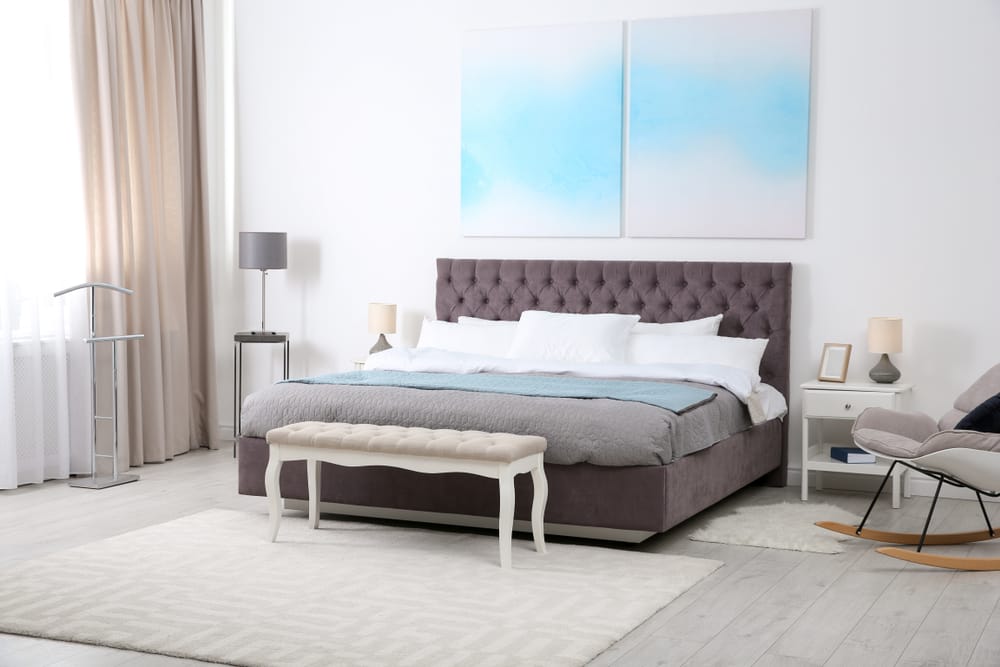 Pastel blue, gray, beige, and sand shades tone down the bright white bedroom. They channel casualness and serenity at once.
Tufted headboard and end bench offer a touch of regality to the area. White and blue paintings over the bed are the head-turning pieces.
15. White Bedroom Decorating Ideas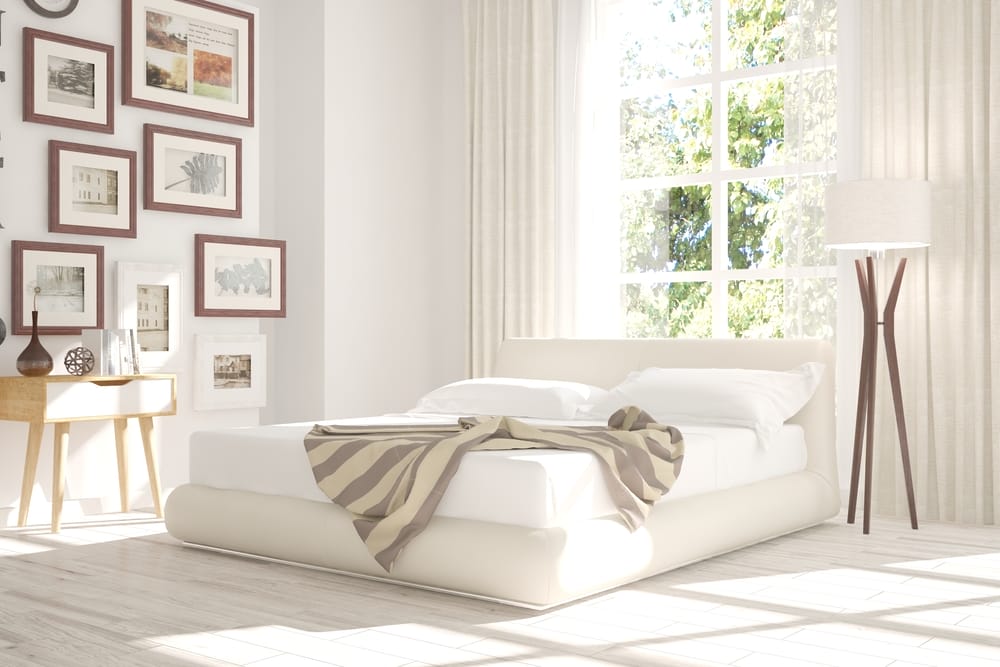 Here, I show you a light-filled resting space with pleated off white curtains and plush bed. Cream-and-taupe striped blanket draws the eye in a flash.
Wooden floor lamp and side desk emanate a laid-back atmosphere. A gallery wall infuses loads of personality and style into the room.
16. Cream and White Bedroom Ideas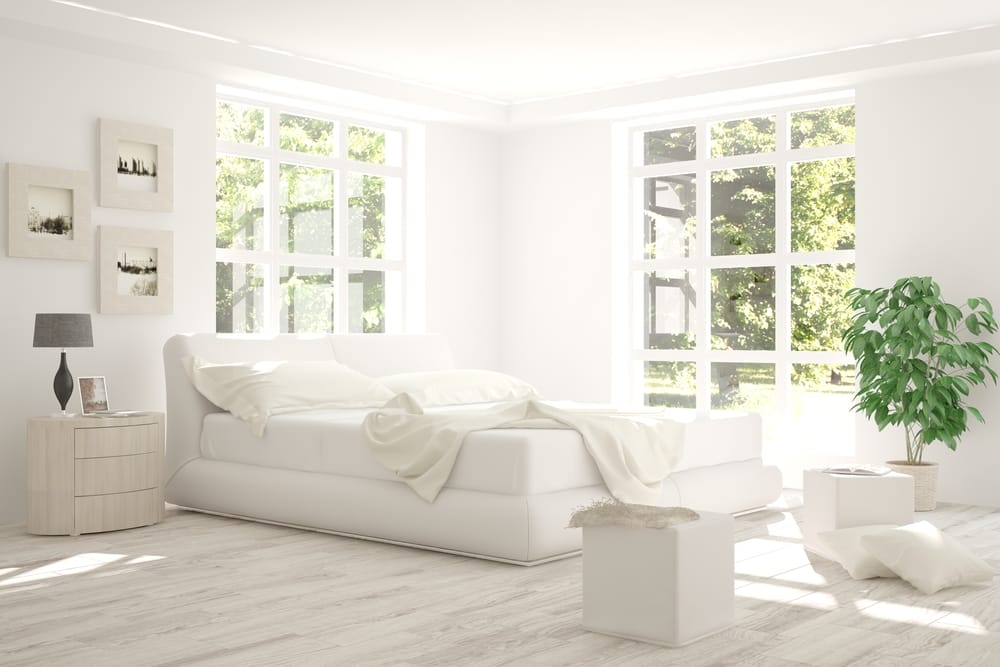 White bedding, cube stools, and walls create an amazingly restful hideaway. Pale cream and gray accents boost the relaxing vibe.
Distressed wood floor lends the room a rustic flavor. The indoor plant naturally uplifts the space, while framed works of art are the stunning crowning touches.
17. White and Gold Bedroom Tumblr

Well, I must say this bedroom is a boho haven. There are macramé blanket, wicker pouf, and rattan planter.
Botanical prints and glitzy gold stripes add interest to the otherwise white bedroom. Freestanding shelving unit keeps things in place.
18. White Bedroom Decorating Ideas Modern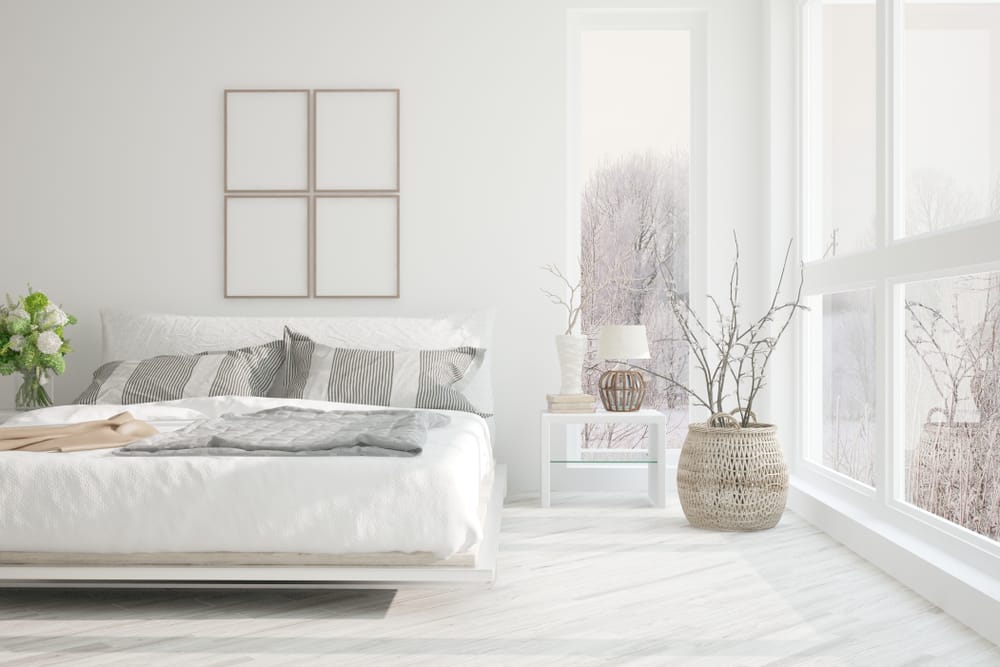 Wall-mounted bed and minimalist side table cement the modern style. They also exude a feeling of airiness.
Oversized windows allow the dweller to enjoy the surrounding view while inside. Wooden framed wall hangings, leafless branches, and flowers embellish the room.
19. Small White Bedroom Ideas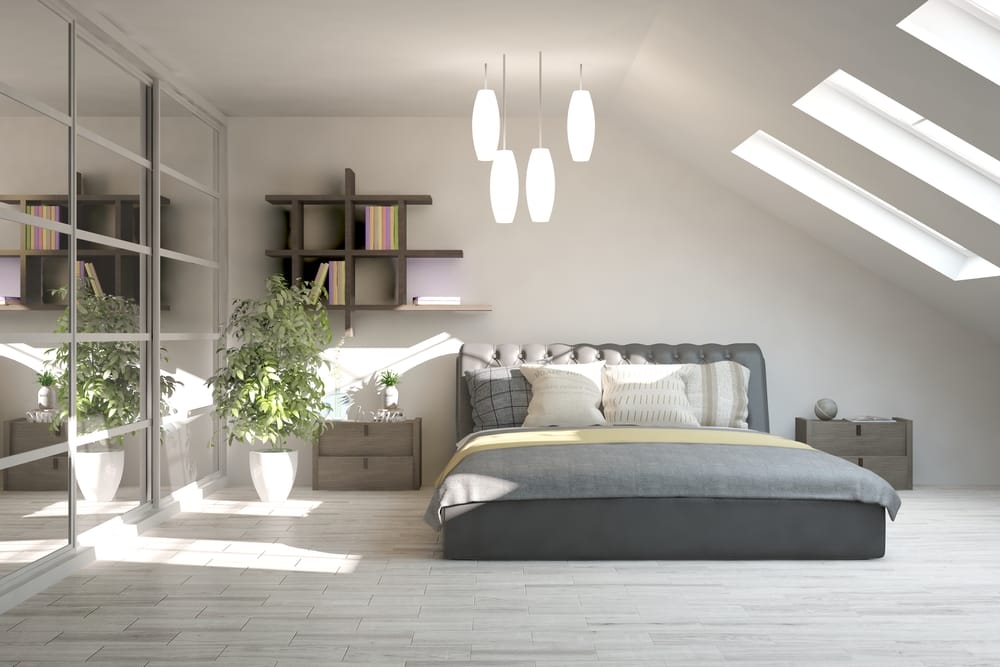 This bedroom appears larger with the help of mirrored sliding doors. It is lit by pendant lights at night. During the day, skylights bring plenty of sunlight into the space.
Gray tufted bed, headboard, and comforter produce a quiet ambience. Wood bookshelf and nightstands offer nature's splendor.
20. Bright White Bedroom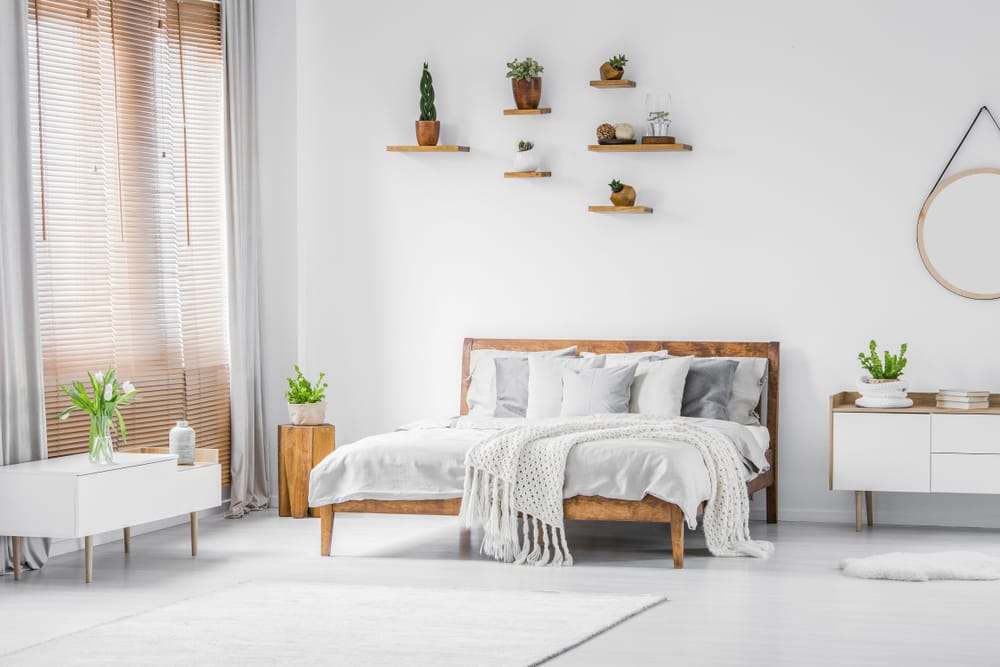 Do you drool over this bedroom? So do me. It is fashionable, bright, and inviting at the same time.
Wooden bed, nightstand, and wall-mounted shelves radiate warmth. Bed sheet, macramé blanket, and throw pillows add a cozy factor to the space.
It takes place at the proper angle, thus beneficial for the bed under it. When the weather is nice, the casement affords you stargazing in the coziest way before sleeping every night.
21. Except for the Flooring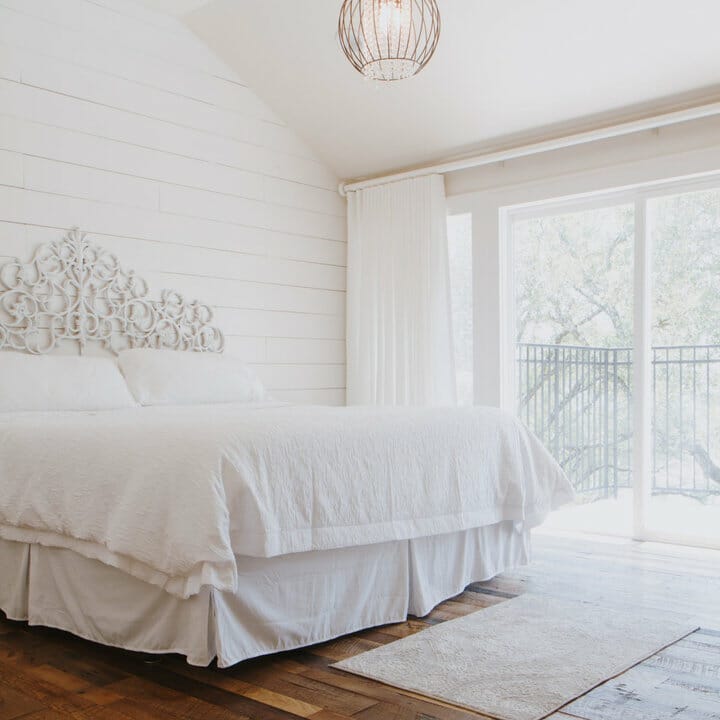 Someone presumably took this picture in winter, looking at how white the view outside is.
It raises the inside vibe of an ice castle with the intricate-looking metal headboard and all-white surfaces, oh, except for the flooring. Medium tone wooden floor is present to contrast everything above it.
22. Color Scheme of Orange and Navy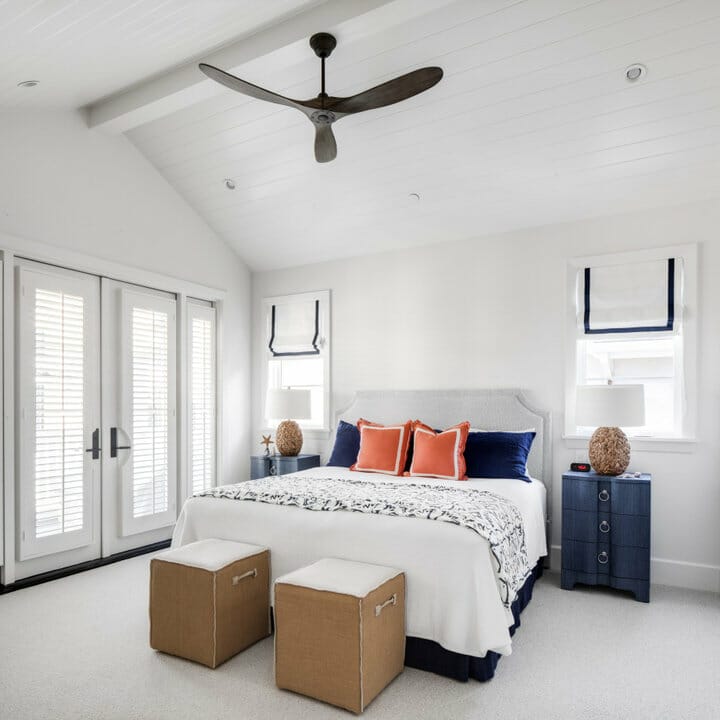 Orange and navy scheme in white bedroom ideas surely escalate the style of coastal.
The stylishness then becomes stronger with a planked ceiling, Monto Carlo Maverick ceiling fan with light, cordless blackout roman shade, beige table lamps, 3-drawer nightstands, and accent stools.
23. Black and White Bedroom… and Green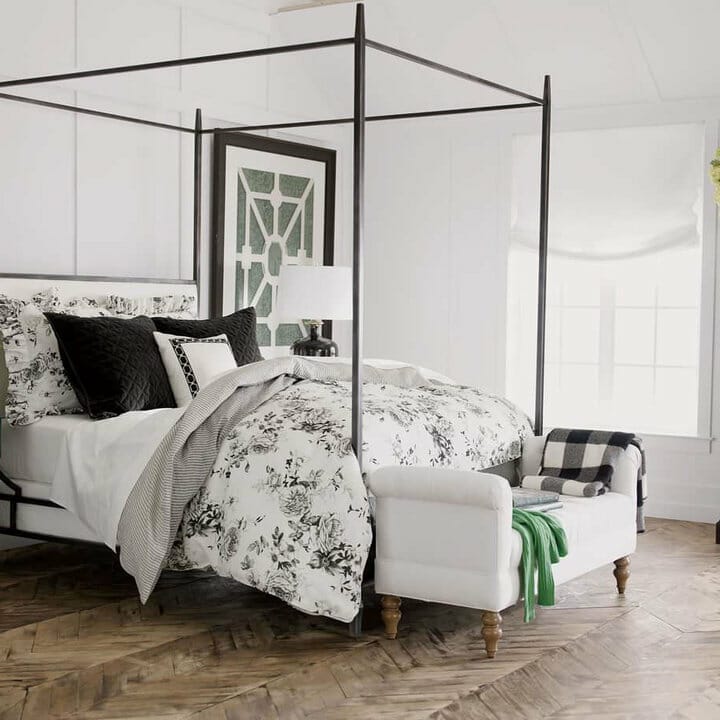 White bedroom ideas are also open to freshness in any form. In this case, it is present through the existence of green fabric over there.
Whether it is on purpose or only becomes the photoshoot property, it is certainly a gaze diverter.
24. White Bedroom Ideas for Teenage Girl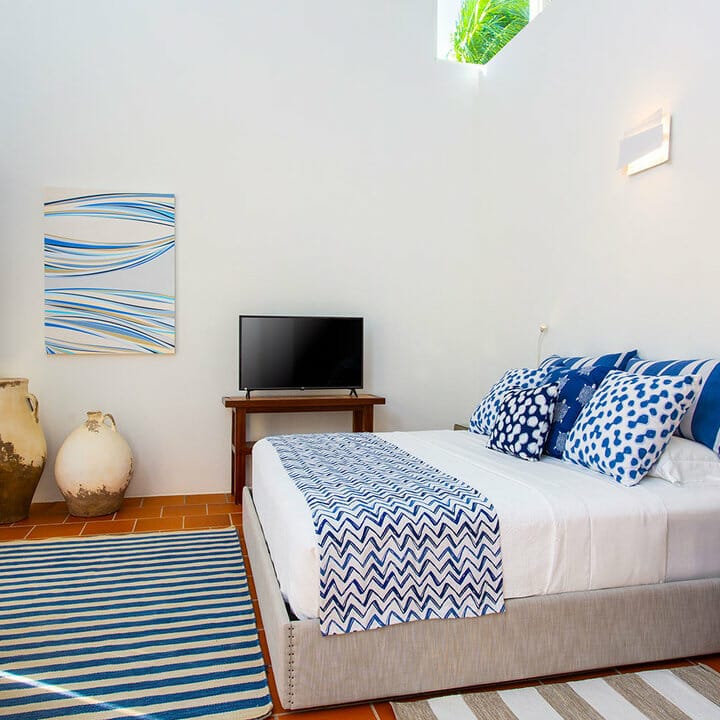 The ideas are to afford dots, lines, zigzags, and stripes inside the bedroom. You should provide that many patterns for your teen girl to represent her youth with an array of movements.
Also, set a television since her current favorite program shows are not the same as you used to remember anymore.
25. Double Tray Ceiling and Paneled Wall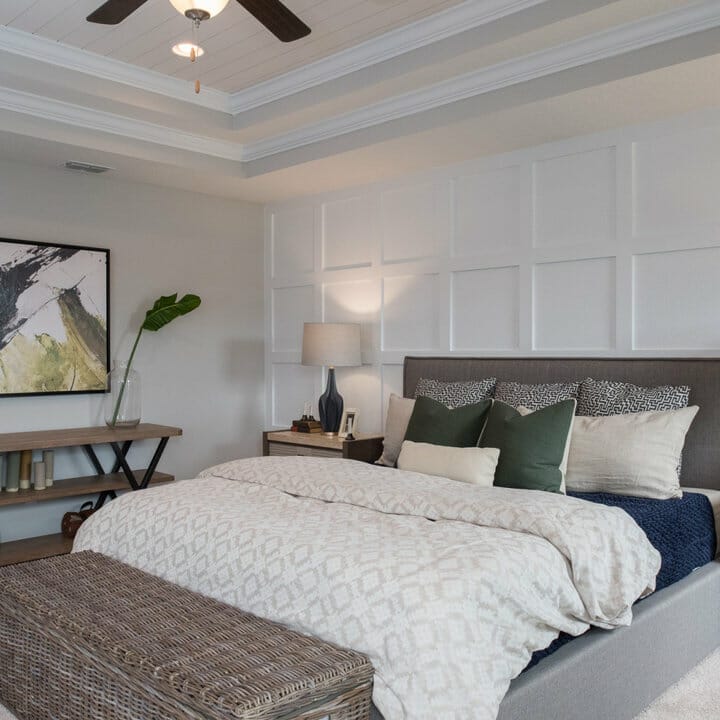 The tongue and groove ceiling is classic and common, but this room makes it beyond the standard with the help of double trays.
Smooth surfaces are presumably not the ones this room pursues because there are more textures on the accent wall.
Not to mention, the wicker bench with storage at the foot of the bed and patterns on the bedding also reinforce the impression.
26. Built-In Shelves with Makeup Vanity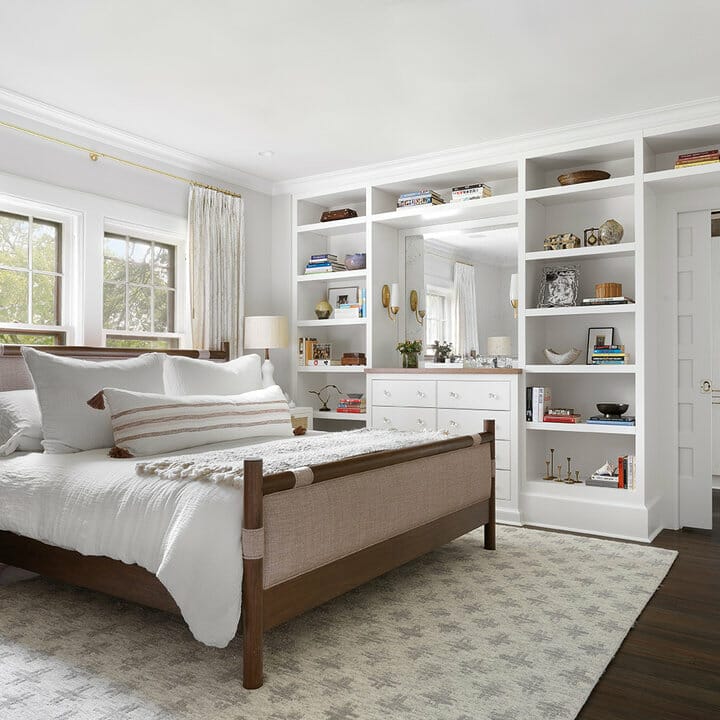 It is a way to save some space, say small white bedroom ideas. By building the shelves along with makeup vanity on a single wall, you get to maximize what seems to be limited.
And, this idea is also applicable to another form of furniture or amenity, such as a study desk.
27. Modern Master Bedroom with Personality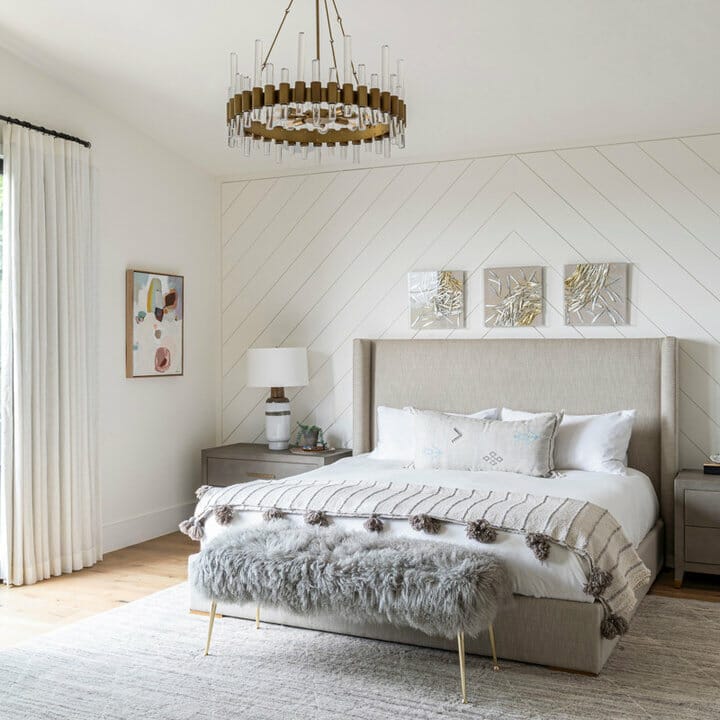 Characteristics should be visible in your bedroom, and this slumber zone teaches you how to add some. First, make the bedhead wall a focal point by applying a chevron pattern.
You could get help from a paneling professional or a mural artist.
Next, install a quirky chandelier and hang some arty artworks. Arranging a faux fur long bench ottoman in front of the bed will be the last step.
28. Black Armed Wall Sconces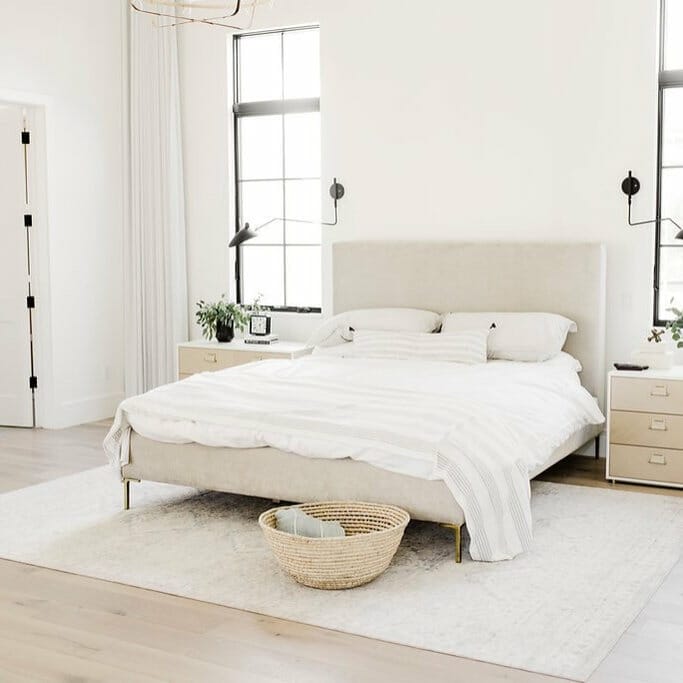 If the previous picture shows some characteristics, this bedroom also has some. It features a pair of black armed wall sconces at both bedsides.
The dark color becomes the accent, and it continues to the window trim and minor details.
29. Trending Wooden Canopy Bed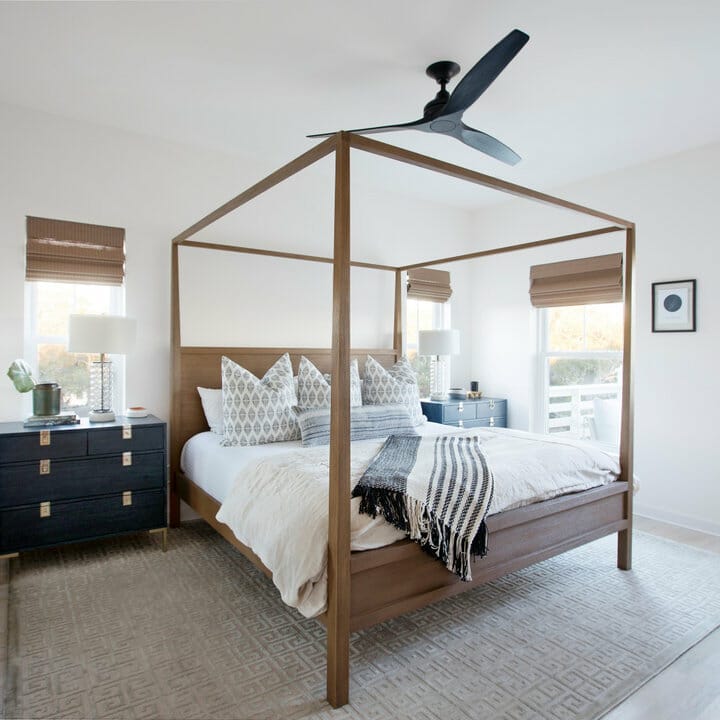 Black and brown come to be the accentuating elements for this white bedroom. Together, they create a scheme of neutral along with the main tone.
The medium color is present on the set of cordless roman shades and the wooden canopy bed. For you to know, this kind of bedstead is on-trend nowadays.
Meanwhile, black is visible on the ceiling fan, a pair of four-drawer dressers, and the woven throw.
30. White Bedroom with Breathtaking Outside View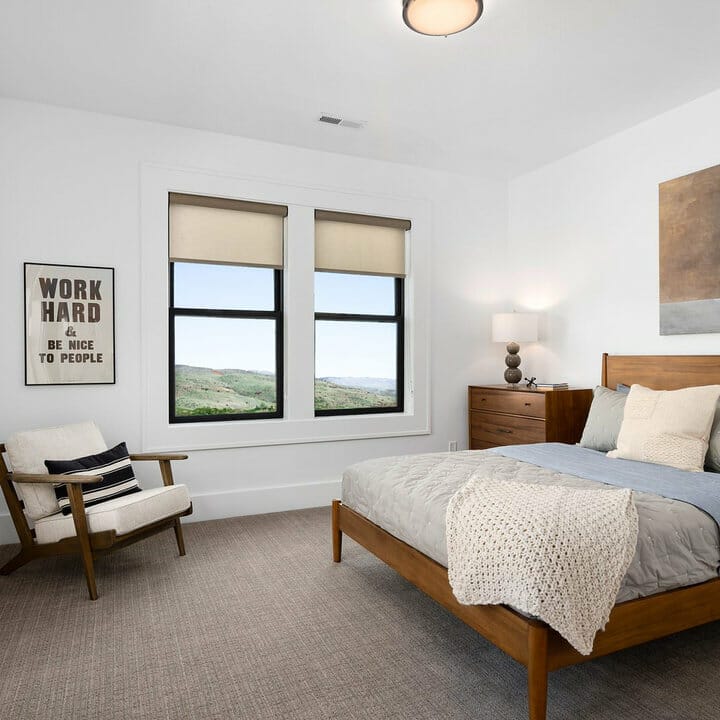 It is such a blessing to have a breathtaking view right outside the bedroom. As it is one of a kind and not everybody has that type of luxury, you could copy the window placement, instead. Besides calculating where the sunlight falls, you should as well consider the outdoor scenery.
As seen from the thirty pictures above, the mostly white bedroom is a retreat of tranquility and peace. It is a space where you feel relaxed and fresh after spending quite some time inside. Hence, boring is not on the list of results.
Your sleeping zone must be the definitive space for a breather and refreshment. It is a place where you say goodbye to nights and greets mornings, so it is only natural to arrange it to your liking. Yet, decorating and redecorating could be such a pain. Thus, just go back to the ABCs with white bedroom ideas.
31. Canopy Bed for Coastal Master Suite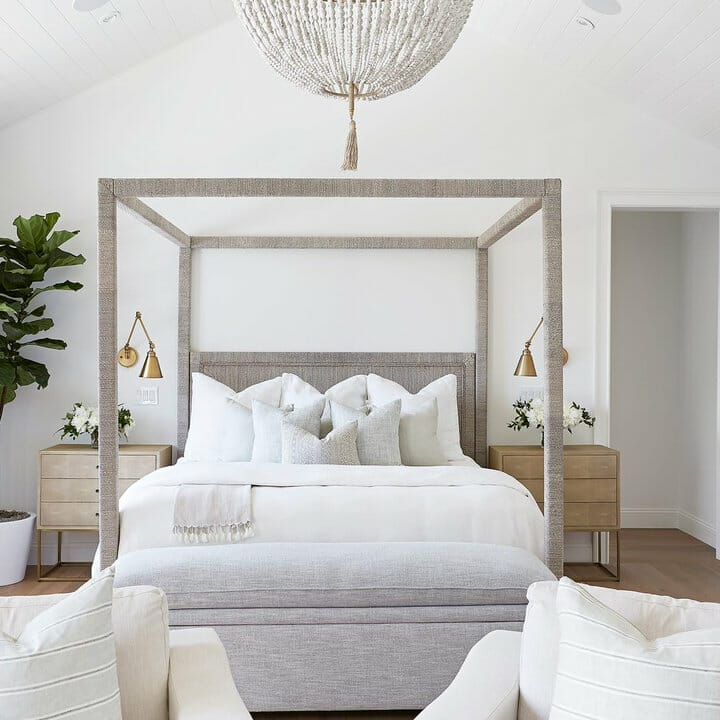 Coastal style is recognizable from its cool palette. In this case, white, a little bit of gray, light tone wood, and brass gold call for a long high-quality sleep, even more with the central canopy bed.
Further, the tongue and groove ceiling raises the impression of a beach cottage. It is where some recessed lightings, a ceiling fan, and a beaded chandelier find their place.
32. Carpet and Rug for Double Comfort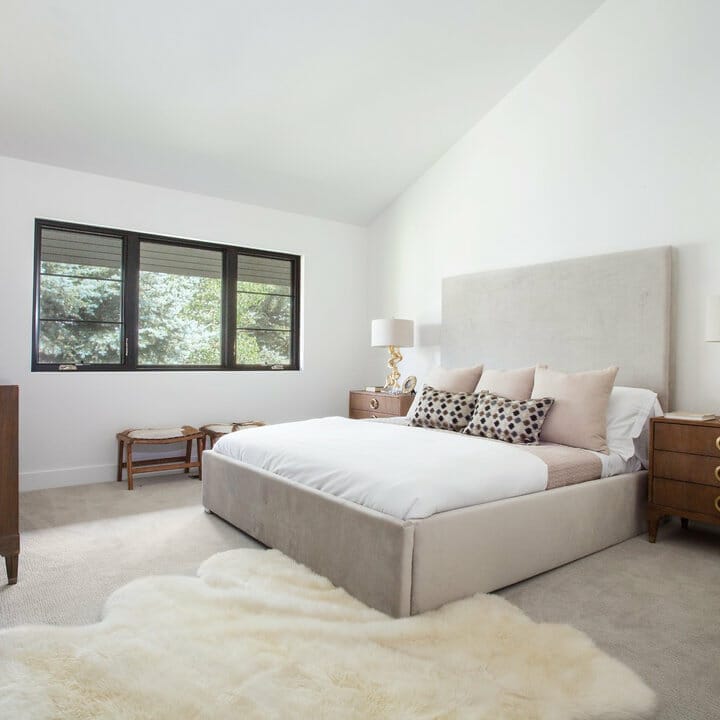 You would want to go barefoot inside your slumber zone since it feels the safest. So, wall-to-wall carpet is an enjoyable choice for alternative flooring.
It will not cost you any pricier than hardwood, both when installing and maintaining.
On top of that, a sheepskin area rug with fluffy fur offers you the softest footing. Thus, roll out one for double comfort.
33. Access for Natural Light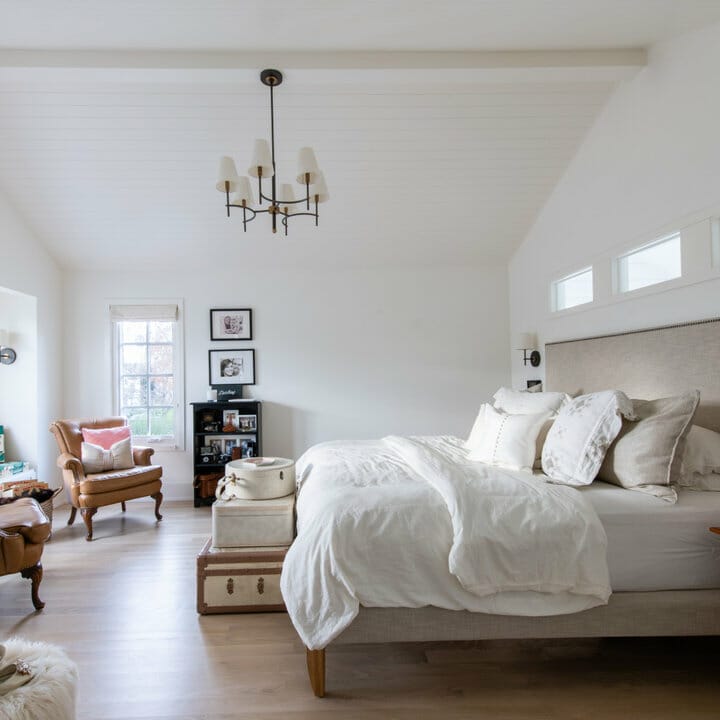 Even though the room is already bright due to this snowy color, lighting still becomes the number one concern in white bedroom ideas.
Thus, this slumber zone features a lot of access for natural light and installs more than enough illumination fixtures.
Specifically, there are three windows and a pair of wall sconces surrounding the divan. Shining the whole room from the ceiling is a 6-light chandelier. Meanwhile, a couple of more windows are visible in front of the bed.
34. Black Details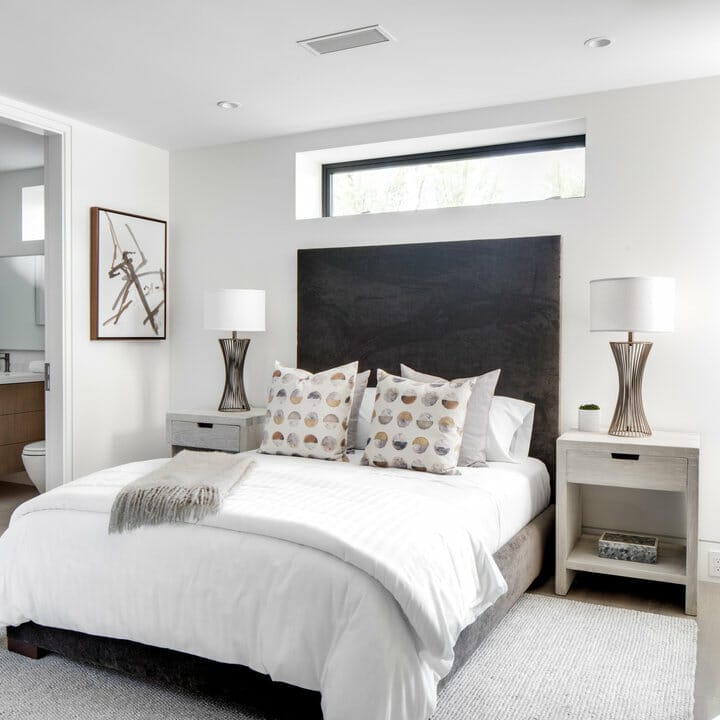 Mostly white bedroom ideas also include the involvement of other shades as accents or details. As seen in the picture, this slumber zone also implements the idea inside.
Blacks are seen on the window trim above the bed, headboard, and bed frame. And for a few patterns, cushions are present in the mix.
35. White and Grey Bedroom Ideas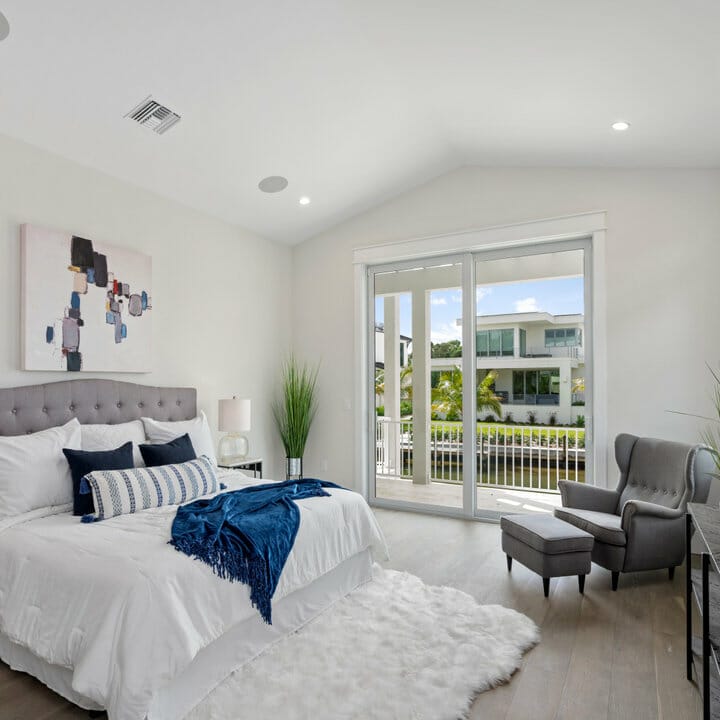 If you think about mixing other colors with white bedroom ideas, consider gray for the matter. As neutral colors, the two shades compliment and balance each other. Here, you see the dusty tone accentuates the whole scheme naturally.
In the meantime, the existence of blue surprisingly completes the scene. It is there on the artwork, cushions, and the throw.
36. White Bedroom Ideas with Color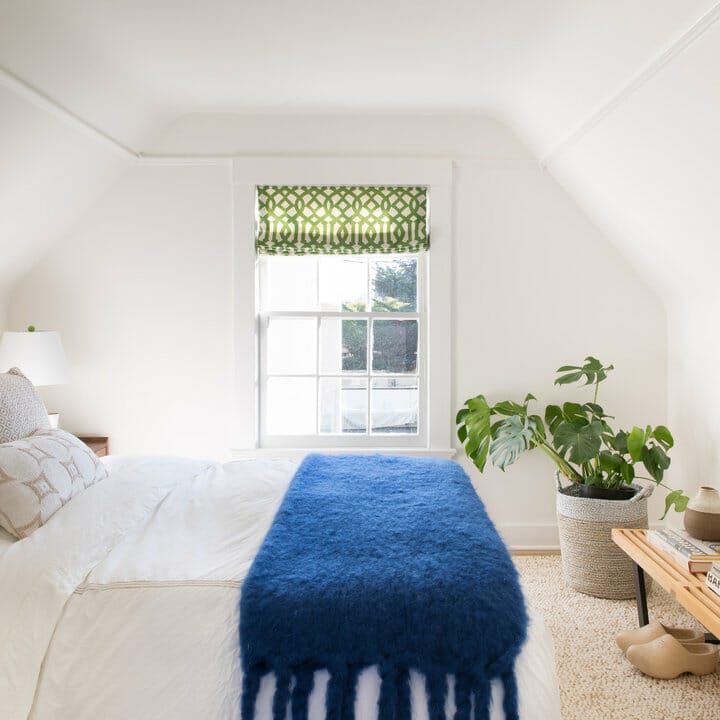 Blue and green are present to color the space. While the ocean hue accentuates the bed as a wool throw, the grassy tone is representable by the Swiss cheese plant and the roman shade.
As a loft bedroom, it is natural to have a low ceiling. Thus, provide the area with an adequate amount of lighting by installing a window.
37. Tufted Headboard in Elegant Master Bedroom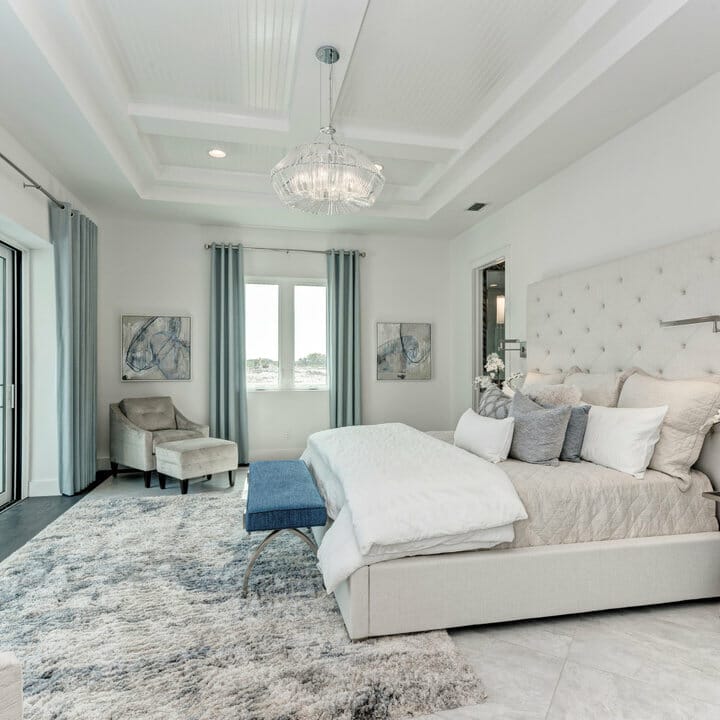 Stripe's coffered ceiling becomes the hanging place for the glass chandelier in this slumber zone. Together, they mark the elegance of white bedroom ideas. Not to mention, the tufted headboard also adds glam.
Also appear to support the stylishness are the super fluffy shag rug, navy velvet bed bench, and the solid blue sheer curtain.
38. White Bedroom with Whitewood Beams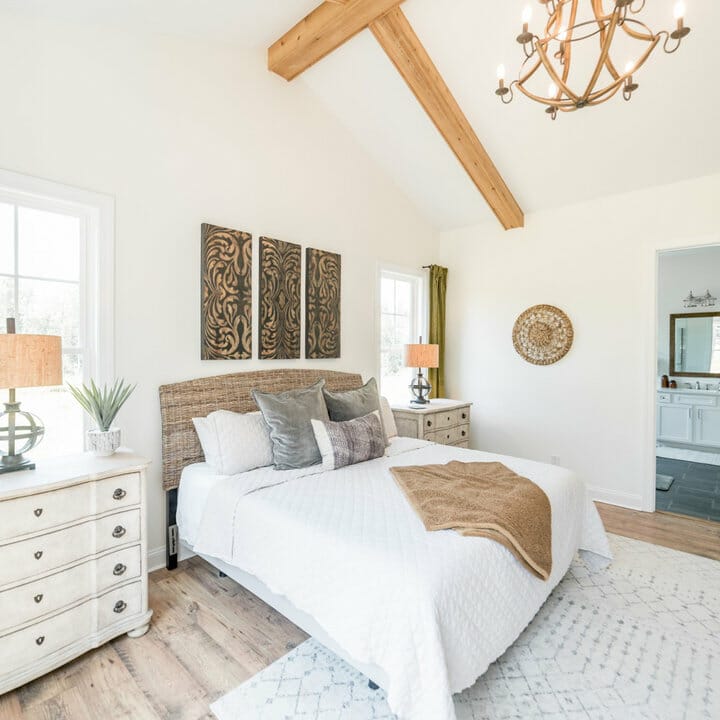 Everything whitey of course matches white bedroom ideas, including this whitewood material you see as the ceiling beams.
It is a highly durable wood with a clean and light appearance. Together with an 8-light candle-style chandelier and a pair of table lamps, they give this slumber zone a color.
All the while, patterns are also present in the set for a little bit of groove. They are on the wall art panels, headboard, and the area rug.
39. Medium Tone Wood in the Mix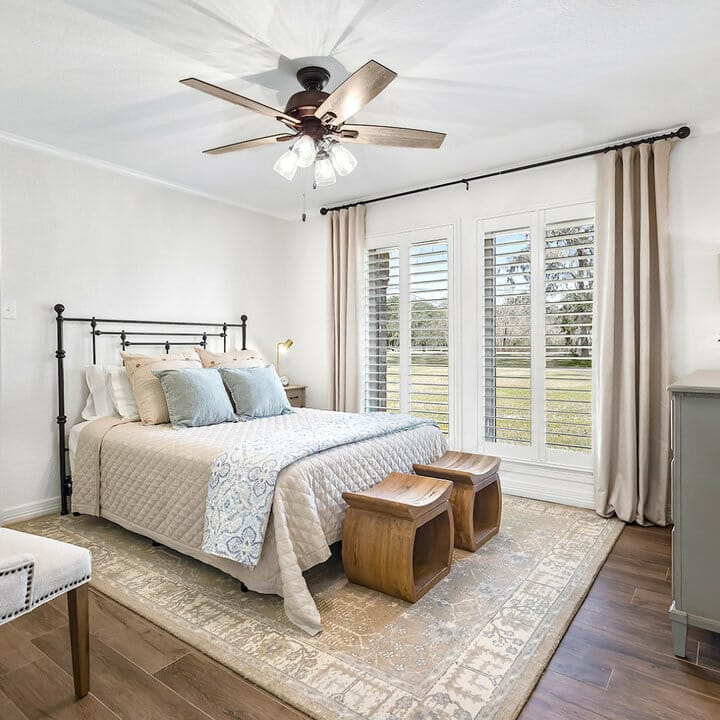 As a neutral shade, this snowy hue pairs extremely well with all colors, be it as the main attraction or the accent.
However, darker tones make a better harmony and poise as illustrated here. Dark tone wood completes this white bedroom as the ceiling fan with light, a couple of curvy stools, and flooring.
40. Black Pendant Light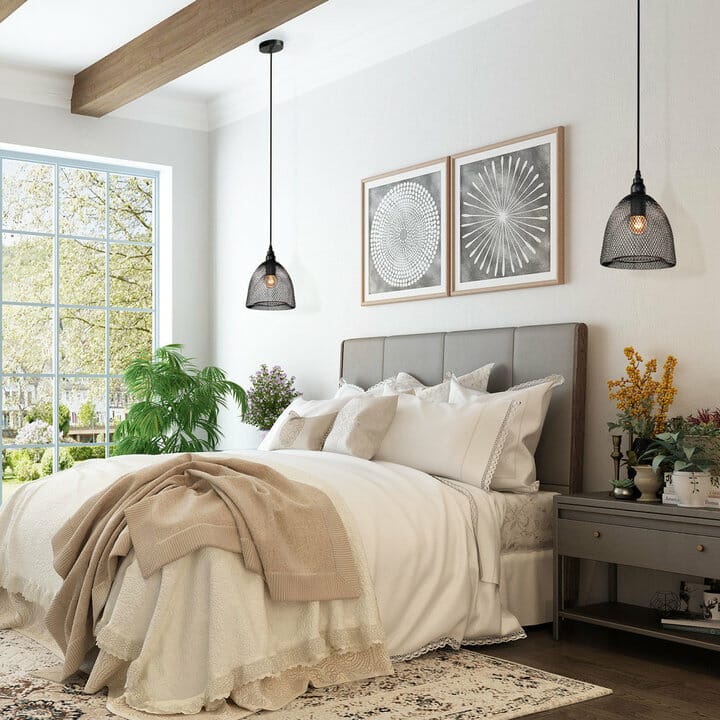 Traditional, farmhouse, classic, industrial, and rustic, the pair of black pendant lights above the side tables fit all of the mentioned styles.
They hang low to alternate the existence of table lamps or wall sconces. Yet, they are also adjustable. You could set the height to your preferable condition.
Also featured in this bedroom in darker shades are the framed artworks, gray headboard, and the wide nightstands where some potted houseplants stay.
41. Thistle Top Low Post Bed Feature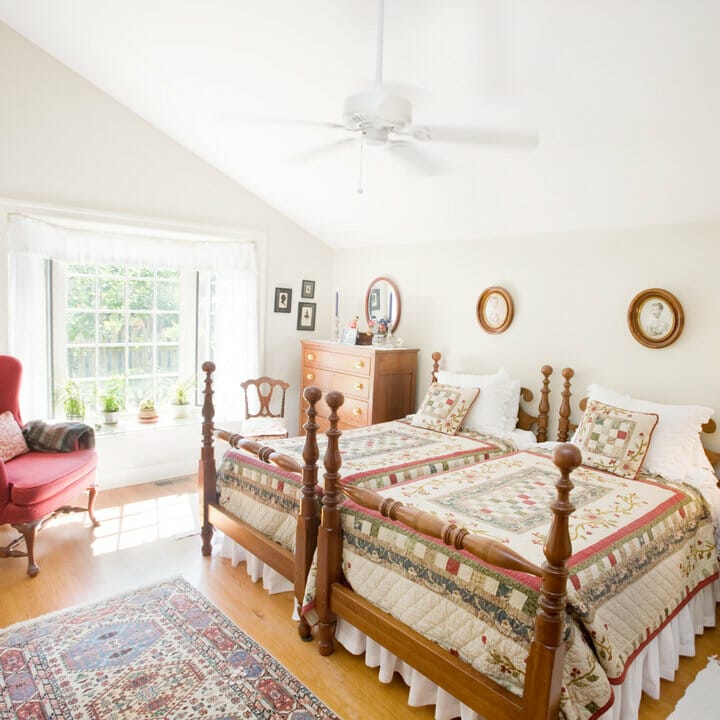 This slumber zone applies shared white bedroom ideas using a pair of thistle top beds. They are surely classic, thus matchless to feature in a vintage sleeping zone.
What also support the theme are the golden round photograph frames, typical quilt, red French armchair, tall wooden dresser, and the area rug.
42. Blue Rug, Gold Canopy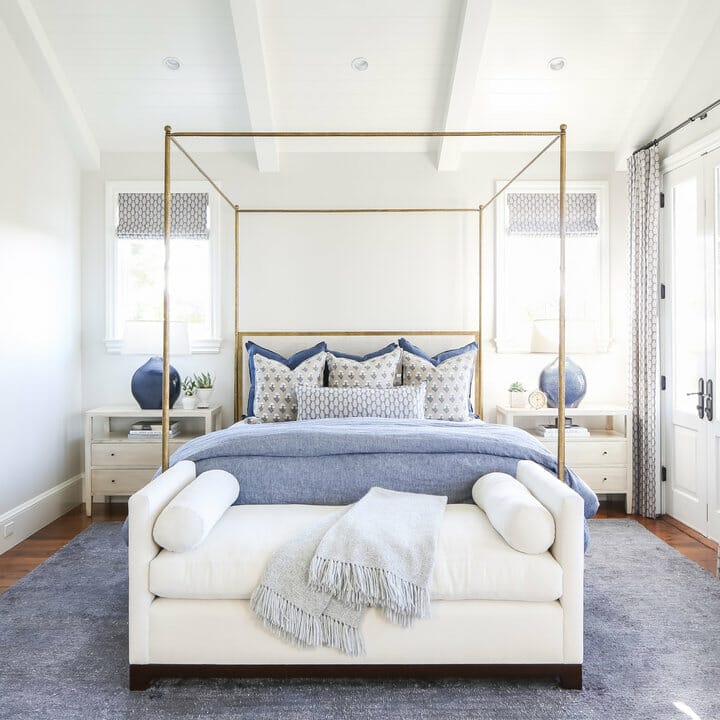 It proves that white bedroom ideas are not boring. You could slip the color in any style, play it with other tones, and fit it in nearly all concepts.
For example, rolling out a blue rug, setting a pair of navy table lamps, and making the bed with blue bedding result in a snuggly cottage sleeping zone.
43. Modern White Metallic Table Lamps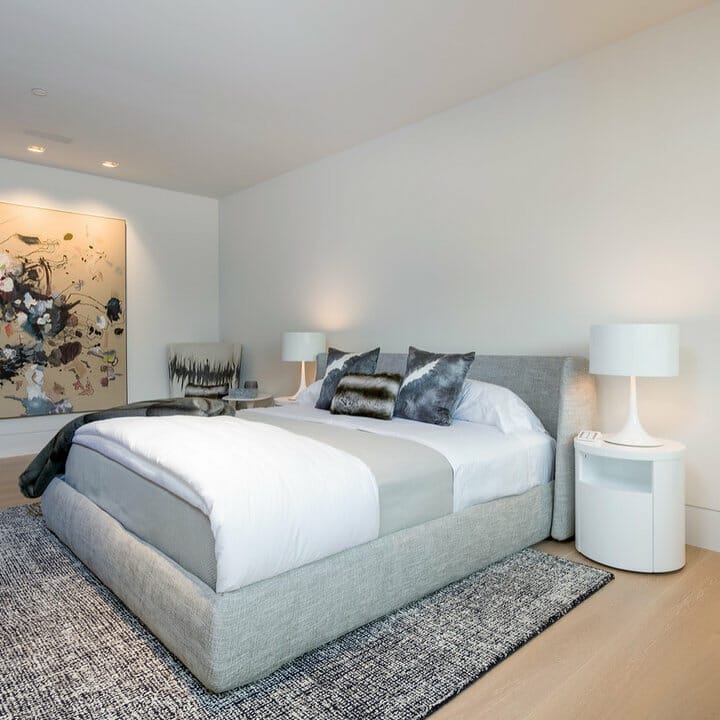 Although white bedroom ideas are also concerned about the lighting, it is okay if the location of your slumber zone could not allow for a lot of windows. But, the alternate fixtures should be enough as the only source of illumination.
Inside, this sleeping area depends on a couple of table lamps for illumination on both sides of the bed. The pair could resonate the light upward and downward for extra brightness during night time.
44. Small White Bedroom Ideas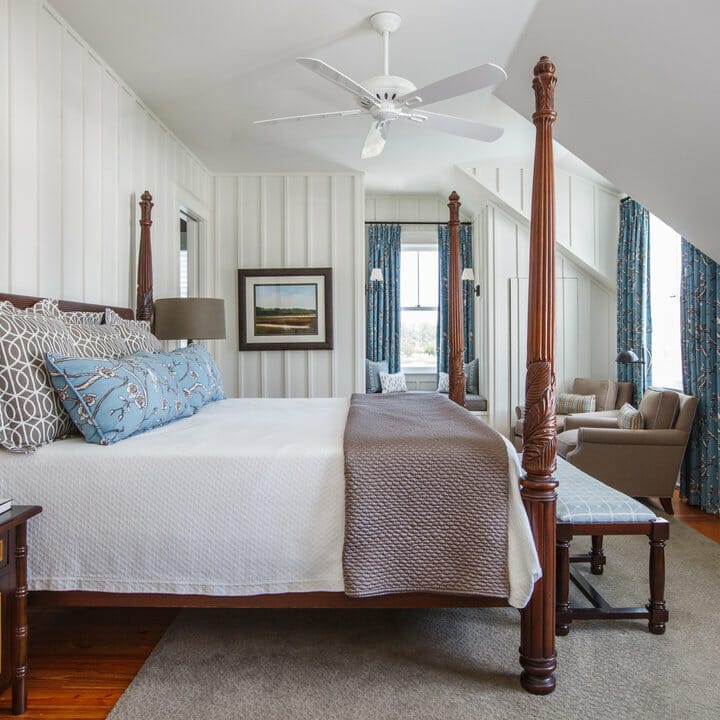 A low ceiling bedroom does not always give a cramped feel. There are hacks to create an illusion of a higher place.
For a starter, of course, is to paint the majority in white. Next, install vertical stripes molding along your wall. Lastly, have a neat arrangement.
45. Faux Fur Throw and Pillows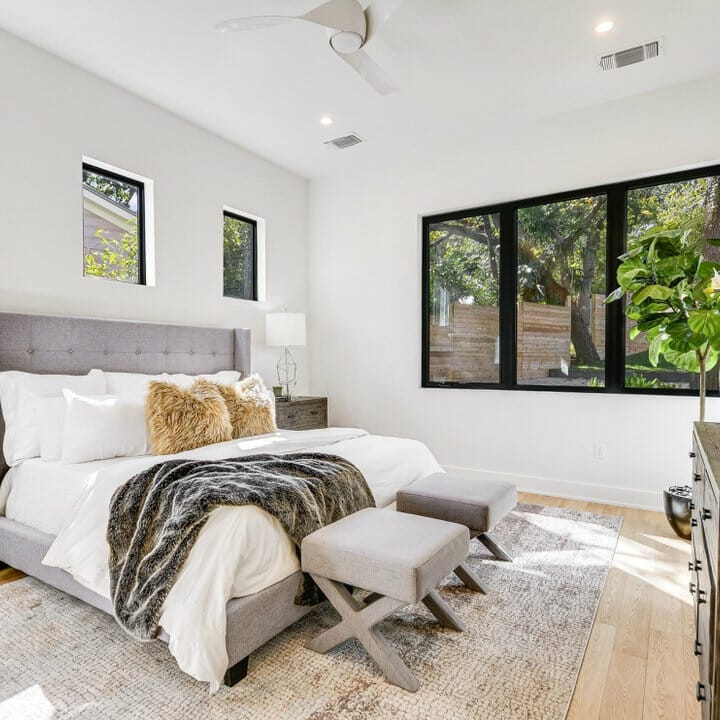 White bedroom ideas often call for a chilly vibe. Yet, with a certain arrangement, it could be warming. Featured in this slumber zone are things to hug you with warmth and coziness.
They are gray fabrics, faux fur cushions, a super soft throw, and a pleasant footing of an area rug.
46. Visually Comfortable Blue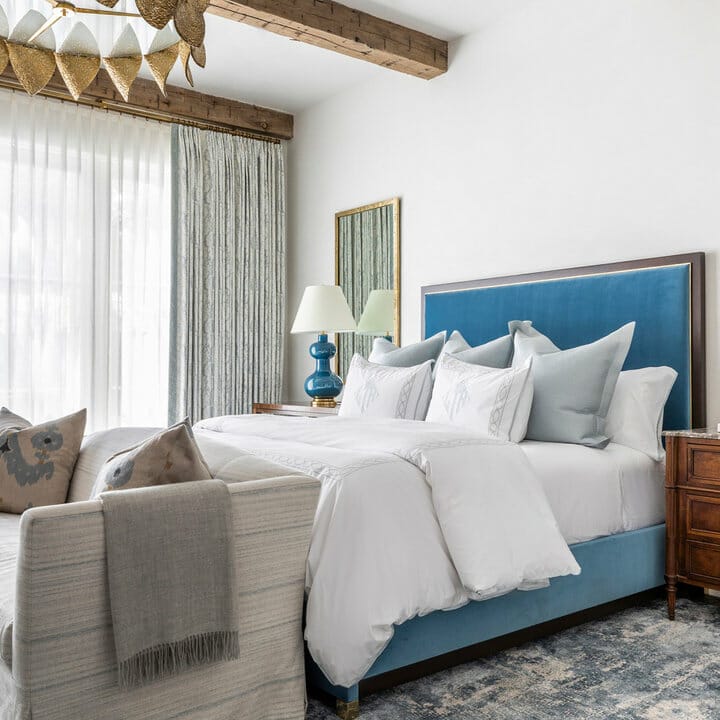 You have seen several examples of blue combinations in white bedroom ideas, and here is another one. It has a satisfying mishmash of the snowy and the sea colors caused by the flawless shade selection.
For instance, the aqua crackles finishing of the table lamp is all for gloss among the matte crowd. Also, the teal blue velvet panel bed is ready to give a touch of softness.
47. Mixing a Few Shades…
Apparently, there are so many shades in white bedroom ideas, namely pearl, alabaster, snow, ivory, cream, eggshell, and many more.
Mixing only a few of them would even get you all day. In other words, it is an exciting shade. The owner of the room knows it and plays with more than one.
48. Twelve-Light Black and Chrome Chandelier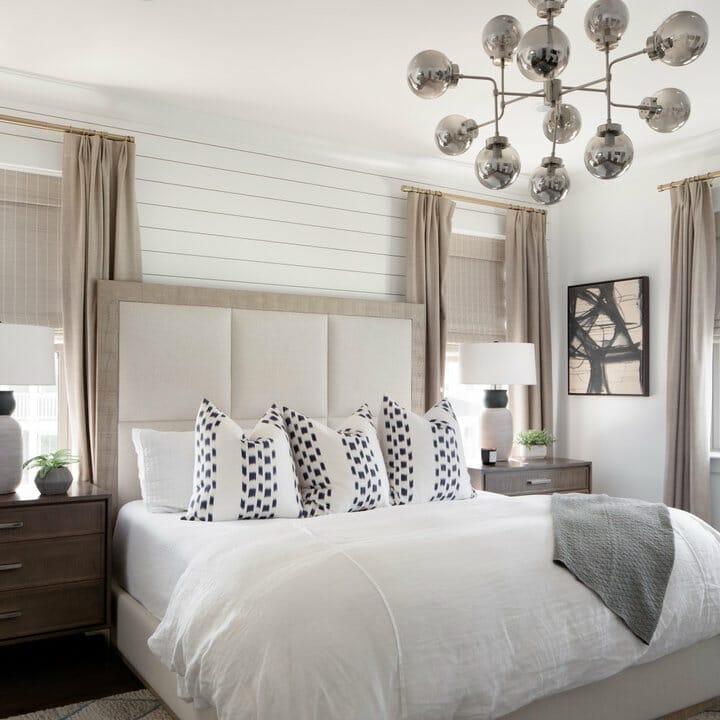 This slumber area practices white bedroom ideas with a winning lighting arrangement. It features layers of bedside illumination.
Specifically, the taupe window treatment of roman blinds and curtains open to sunshine from morning to the end of the afternoon.
And when evening comes, the modern table lamps are ready to substitute. They also get help from the 12-light black and chrome chandelier on the ceiling.
49. Theme of Nature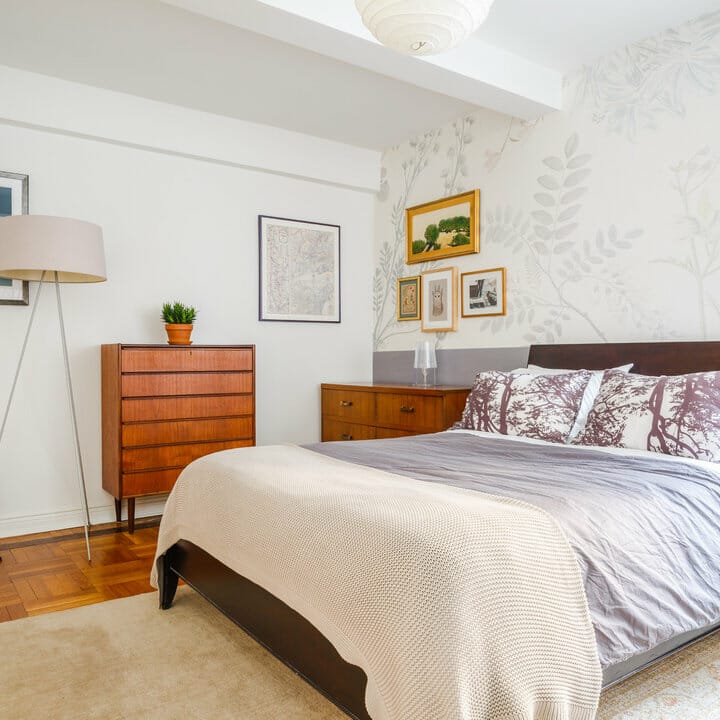 This white bedroom pursues the theme of nature where an accent wall with foliage silhouette is present behind the bed.
You could also get it done by pasting wallpapers or painting a mural. Further, the concept then flows to the pillow covers, some framed artworks, and a potted houseplant.
50. Spacious Loft Bedroom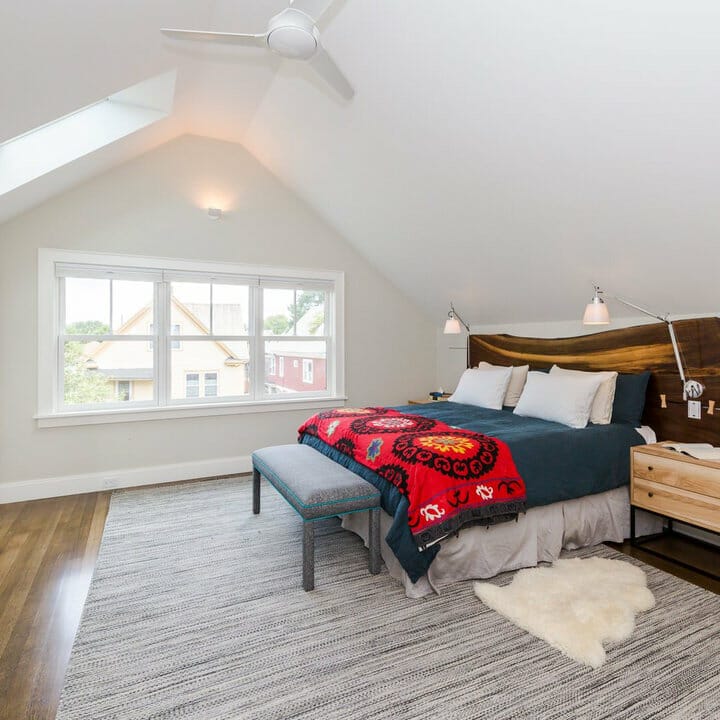 Loft white bedroom ideas offer vaulted ceilings that can be a shortcoming if not treated right. The dweller of this slumber zone realizes it and installs a skylight.
Now, after checking that your comfort is already intact, it is time to go and implement the white bedroom ideas and theories you have read here. Happy decorating!
In conclusion, white bedroom is like a blank canvas where you can put colors, patterns, and prints on it. You are also able to change it up.