As a high traffic area, bathroom deserves your attention. For instance, you can outfit the bathing space with a cabinet to keep it organized. In case you have no clue, worry not. I compiled some incredible bathroom cabinet ideas.
These bathroom cabinets vary in sizes, colors, styles, shapes, and materials. Not to mention, they are practical and eye-catching. Let's explore my bathroom storage options and pick your favorite later. I promise that storing things has never been easy.
1. Wall Mounted Bathroom Cabinet Ideas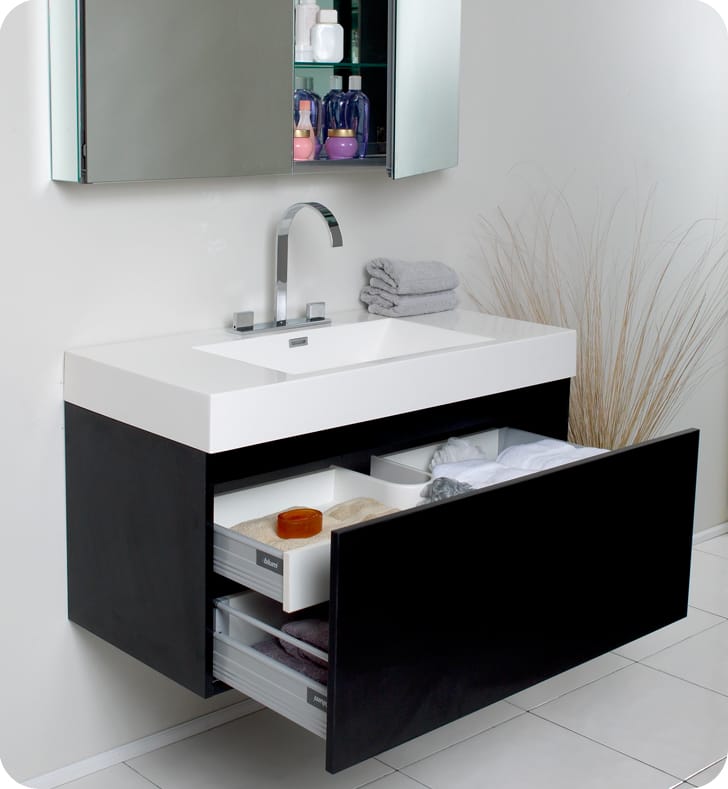 This bathroom employs wall-mounted aluminum cabinet. It hides away beauty products and offers an industrial appeal.
The black pullout drawer adds extra storage space to the area. White vanity top contrasts strikingly with it.
2. Built-In Bathroom Cabinets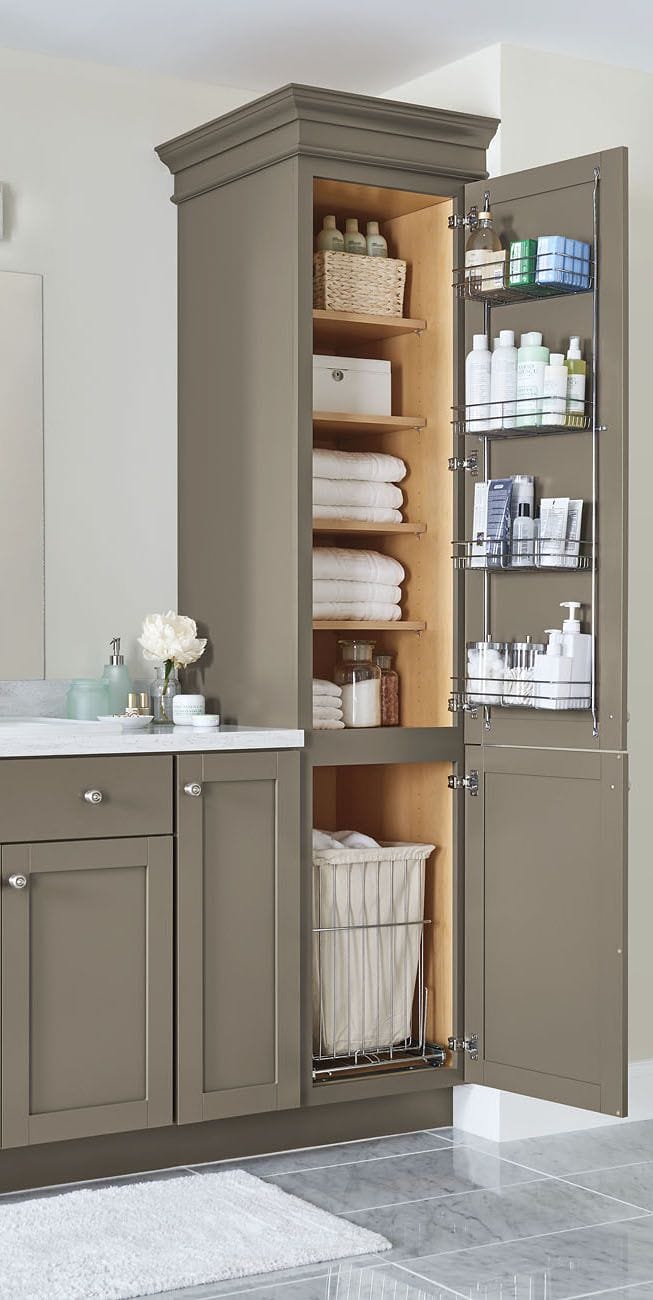 The built-in taupe cabinet is narrow and tall. It wonderfully fits into the corner of the room.
Moreover, it has five shelves, metal racks, and a reversible cabinet door. Along with under-sink cabinets, they provide space for toiletries and linens.
3. Modern Bathroom Cabinet Ideas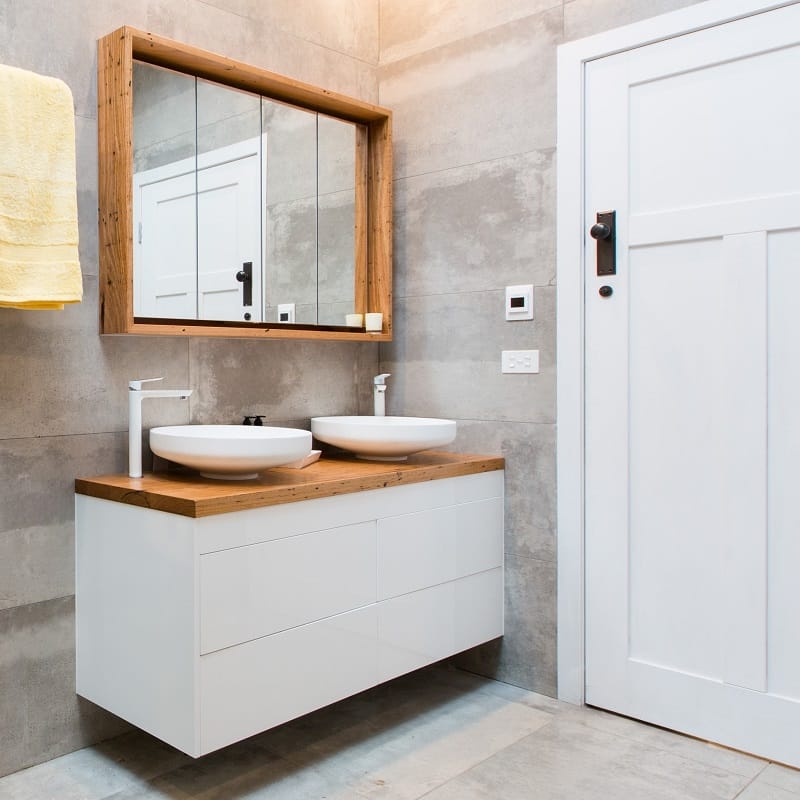 As you can see, the floating bathroom cabinet is sleek and stylish. Its straight lines and sharp edges undoubtedly embrace modernism.
The flat-front cabinet produces a clean environment too. Meanwhile, wood vanity top and mirror frame convey rustic simplicity.
4. Stainless Steel Bathroom Cabinet with Mirror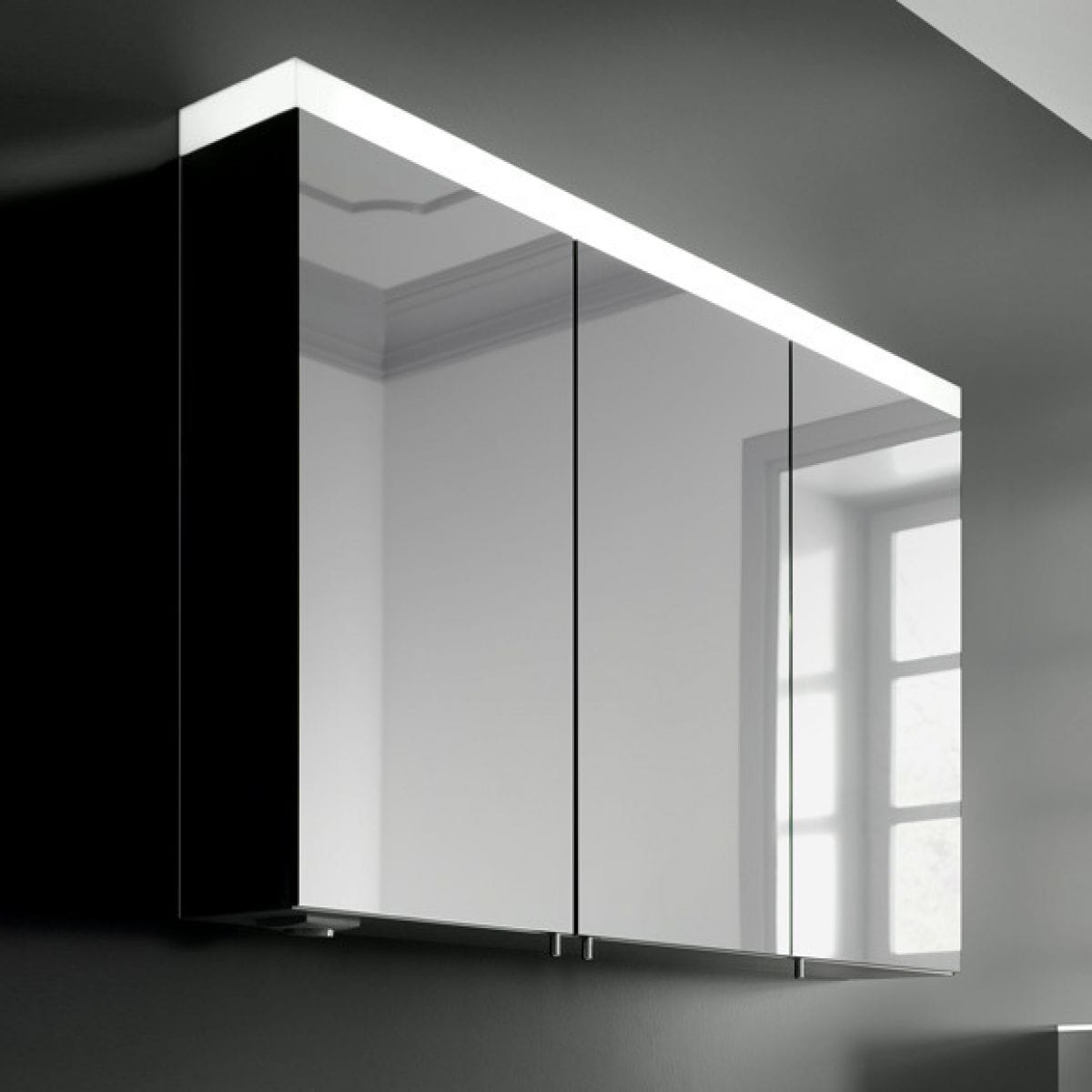 This cabinet is made of stainless steel. It is not just sturdy but also lends the bathing space the industrial charm.
Furthermore, it comes with three mirrors on its doors. They carry elegance and dimension to the bathroom.
5. Cottage Bathroom Wall Cabinet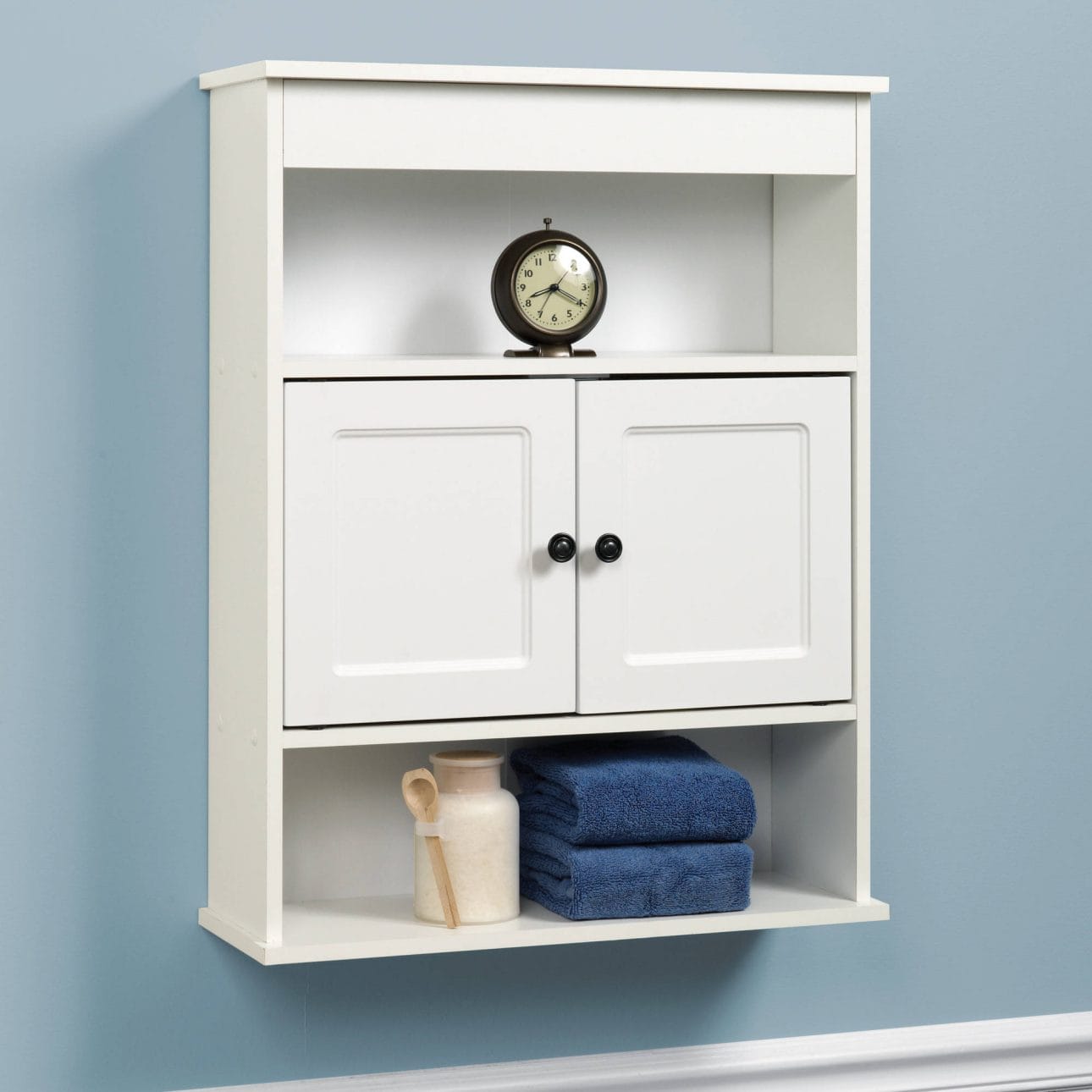 Light blue backdrop and white wall cabinet contribute to the cottage feel of the bathroom. They also create a fresh look.
Two open shelves of the cabinet display vintage alarm clock, toiletry item, and towels. Meanwhile, the doors keep the small objects out of sight.
6. Bathroom Storage Cabinets Floor Standing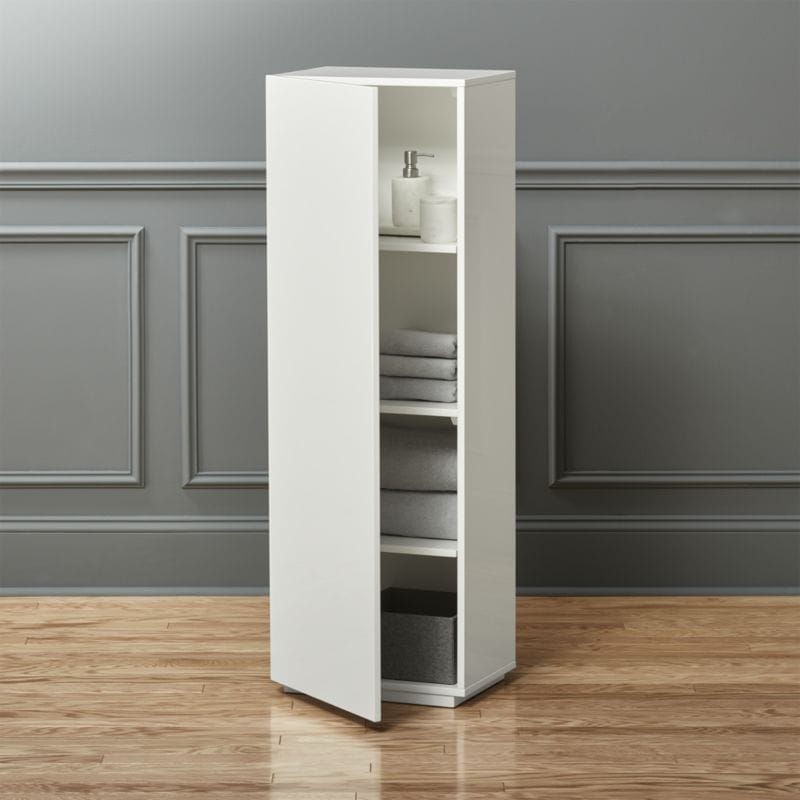 Here is a freestanding modern bathroom cabinet. It contrasts with a pastel gray wall panel subtly. Moreover, it magnificently sits on the polished wood floor.
There are four shelves inside that hold linens, toilet paper roll, and beauty products. The top of the cabinet also gives extra storage space.
7. Wooden Bathroom Wall Cabinets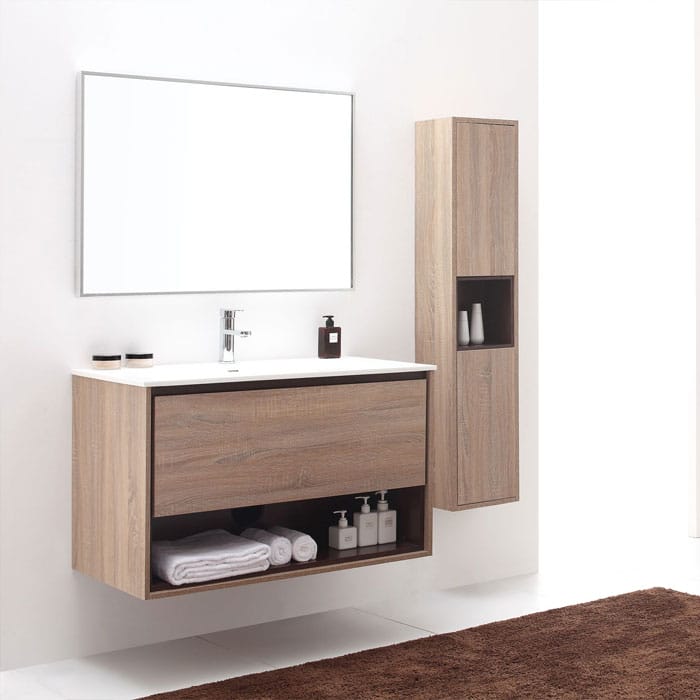 The wooden cabinets exhibit warm minimalism. They have open shelves and hardware-free doors for storing bath essentials.
Moreover, those two wall-mounted cabinets bring an element of nature inside. Along with brown shag rug, they maintain a welcoming bathroom.
8. Contemporary Bathroom Cabinet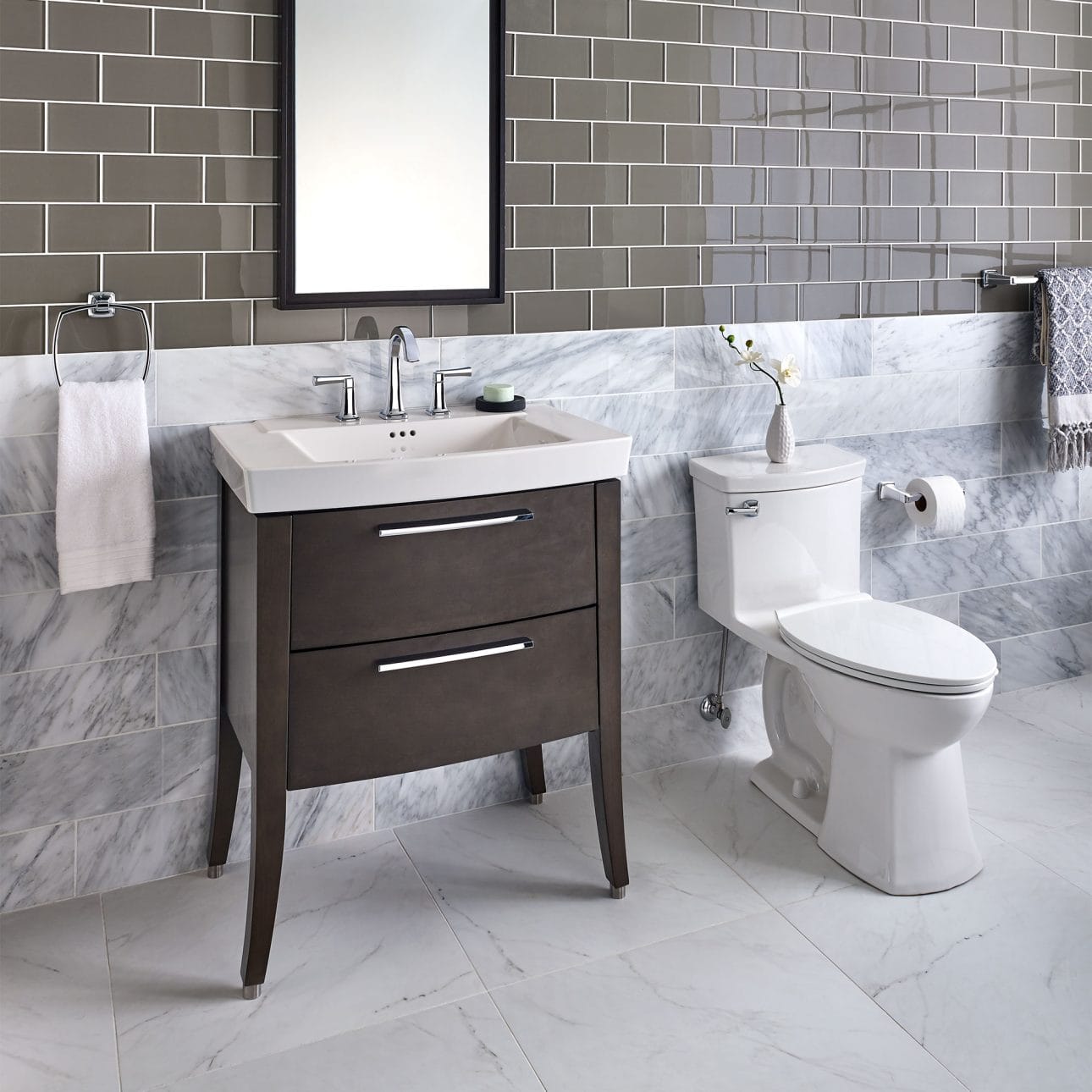 The dark-toned wood cabinet projects contemporary design. Slim stainless-steel drawer pulls pepper it with industrial chic.
In no time, the cabinet infuses comforting warmth. Marble subway tiles serve as a deluxe backdrop.
The cabinetry, mirrors, and sinks are arranged in a symmetrical order. They evoke a sense of formality.
Unfinished wood cabinet features doors, drawers, exposed legs, and open shelf. They introduce timeless elegance and rustic beauty.
10. Bathroom Cabinets over Toilet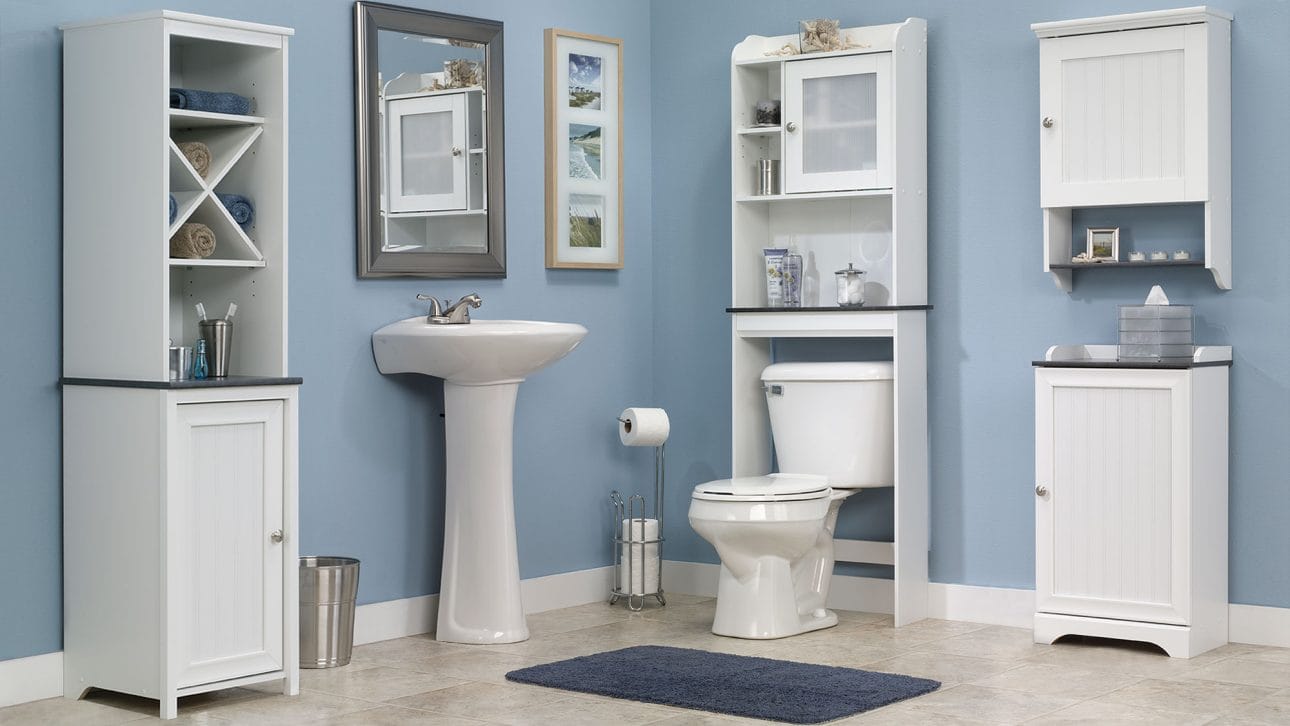 Cornflower blue walls make the space livelier. Along with white furniture units, they promote a coastal atmosphere.
The cabinet over toilet maximizes the room. There is an X-shaped cubbyhole as well. It accommodates rolled towels.
11. Custom-Made Bathroom Cabinets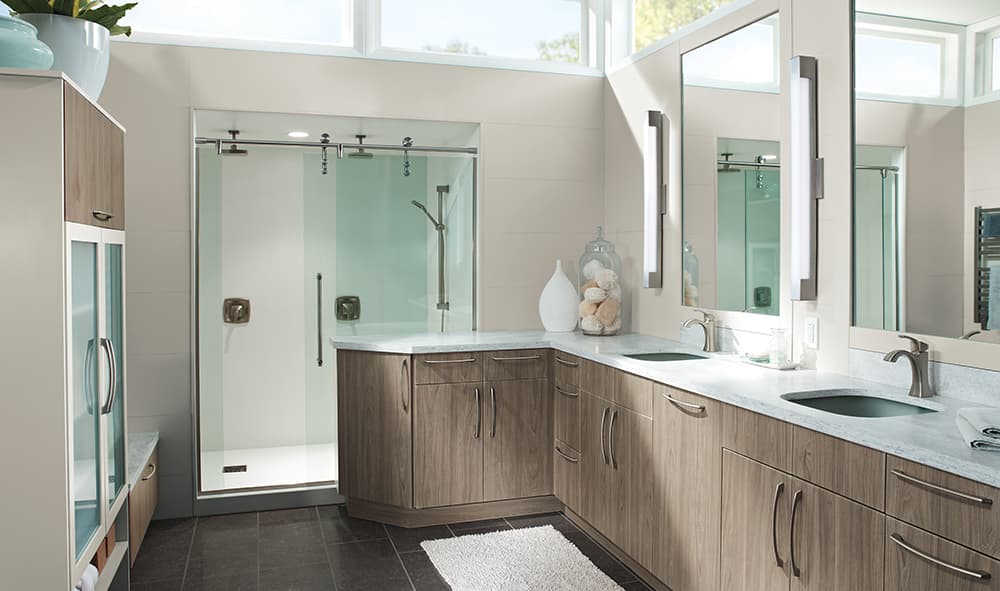 The wooden cabinets and curved shelves truly squeeze plenty of storage space. Brass drawer pulls lend the bathroom contemporary charm.
Stunning grains of the cabinetry pamper the eye. Lastly, white rug and blush pink walls balance out metal elements.
12. Mid-Century Modern Storage Cabinet
As the image shows, the crisp white bathroom cabinet contrasts gorgeously with teal backdrop. It involves reversible doors, knobs, and shelves inside.
The mid-century modern freestanding cabinet offers an abundance of storage. Marble top carves a luxurious air.
13. Traditional Bathroom Cabinet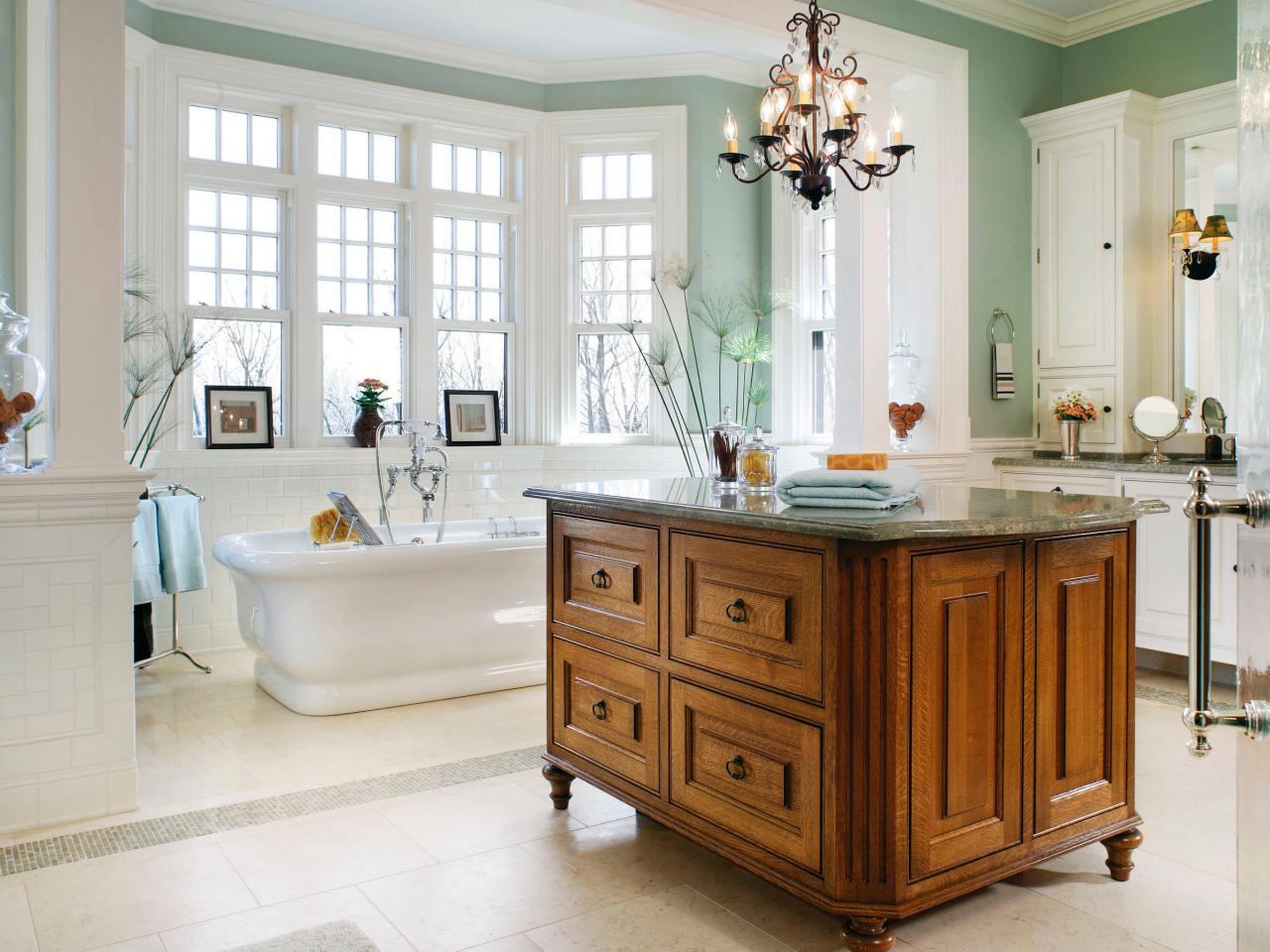 This bathroom is decorated with claw-foot soaking tub, wrought iron chandelier, flowers in vase, and works of art. Duck egg walls develop a tranquil setting.
The wood cabinet injects traditional country aesthetic into the room. White Shaker-style cabinets are a classic addition to the bathing space.
14. Wooden Bathroom Cabinet with Iron Handles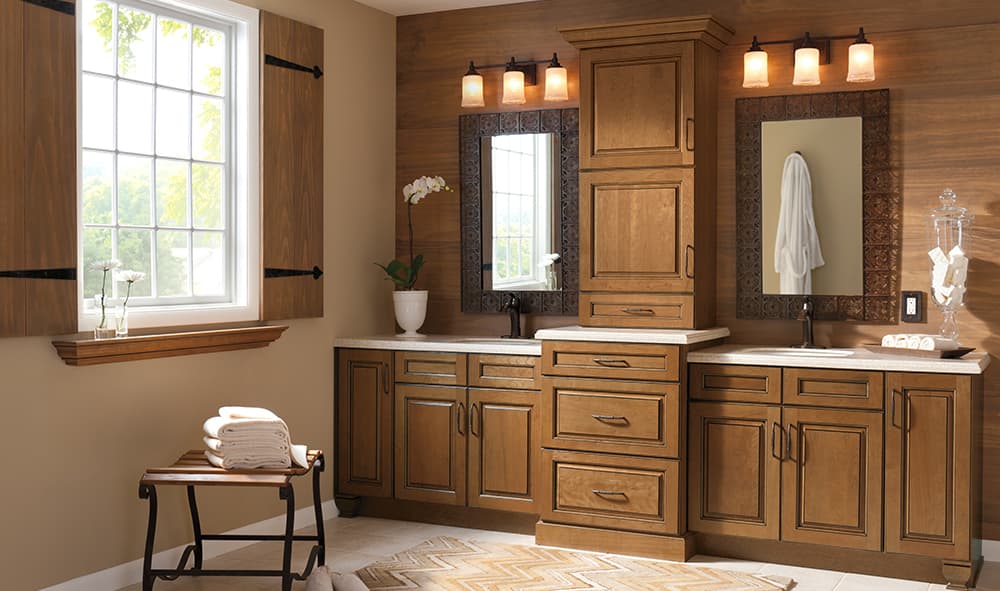 Beige accent wall sets a relaxing ambiance. The mirrors, wall sconces, and window shutters cement traditional style.
The cabinets over and under the sink are made of wood. They are used to stash away knickknacks and bathroom supplies.
15. Bathroom Storage Tower
This half bathroom has a generous amount of storage, thanks to dark wood cabinets. The cabinet with open shelves is designed to fit around the toilet.
A corner tower cabinet is ideal for holding rolled towels and toiletries. Meanwhile, wall and floor cabinets keep linens as well as decorative items off the floor.
16. Beach-Chic Bathroom Cabinets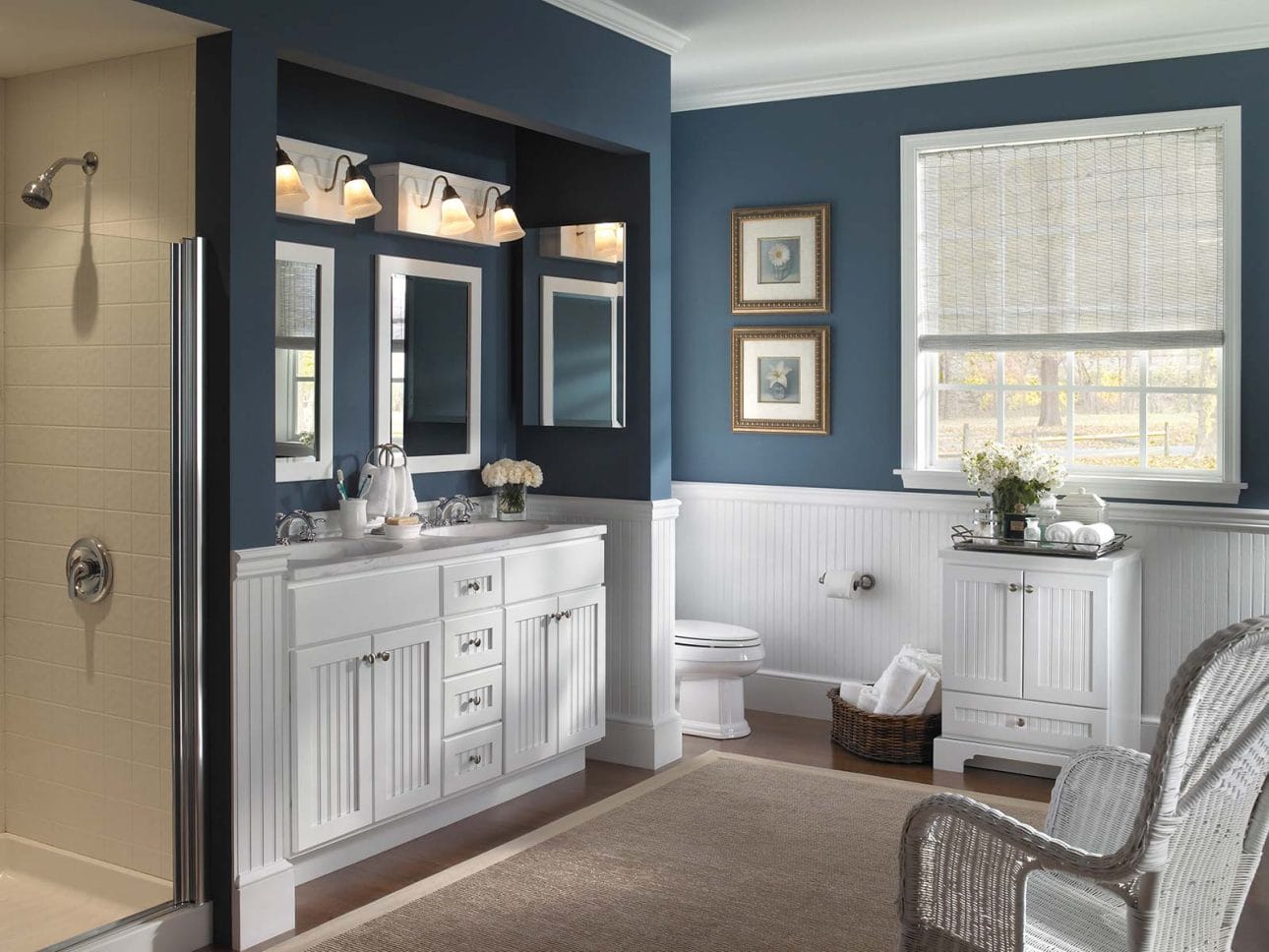 In this bathroom, navy walls meet white siding and cabinets harmoniously. They generate a nautical flair.
Besides, freestanding cabinets bring texture and personality to the room. There are a tray, rolled towels, and flowers in vase on top of a smaller cabinet.
17. Luxury Bathroom Cabinets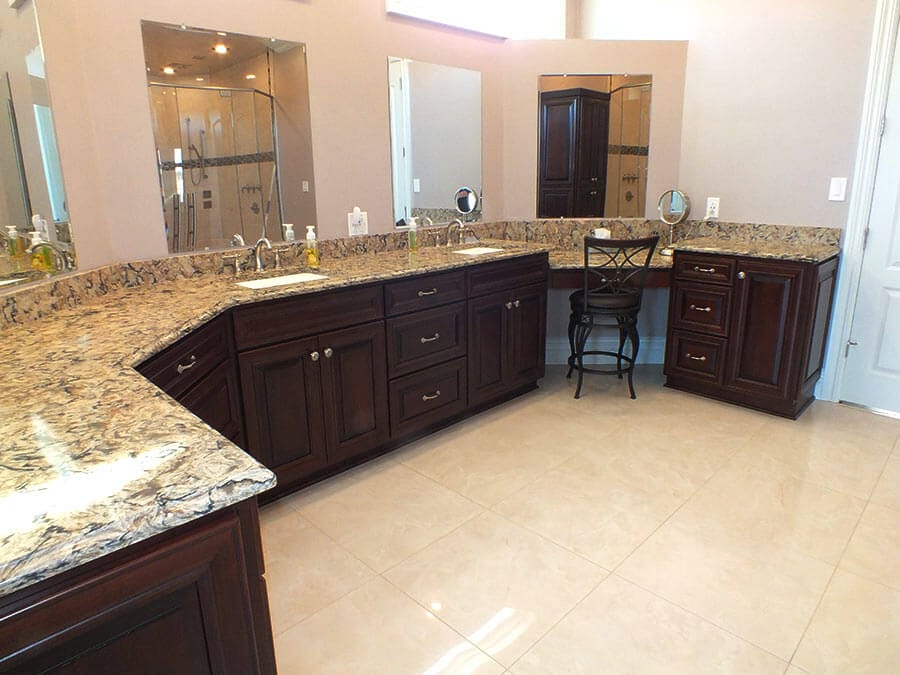 This oddly shaped bathroom is outfitted with custom-made wood cabinets in cinnamon cherry finish. They instill an upscale environment.
Other than that, dark wood cabinets evoke a feeling of timelessness. The quartz top raises the glamorous vibe.
18. Bathroom Cabinet Organizer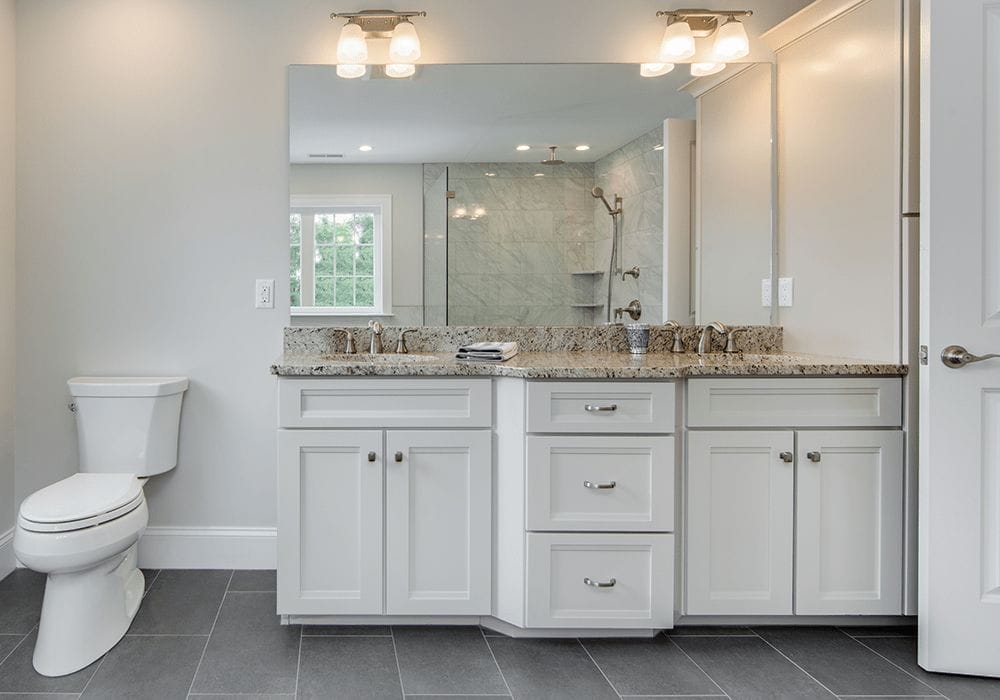 Light and medium grays contribute to the bathroom's elegance. Granite vanity top works as a focal point.
The white cabinets have unique shapes. They are designed to organize the things and fit in well with tiny bathroom.
19. Tall Bathroom Cabinet Ideas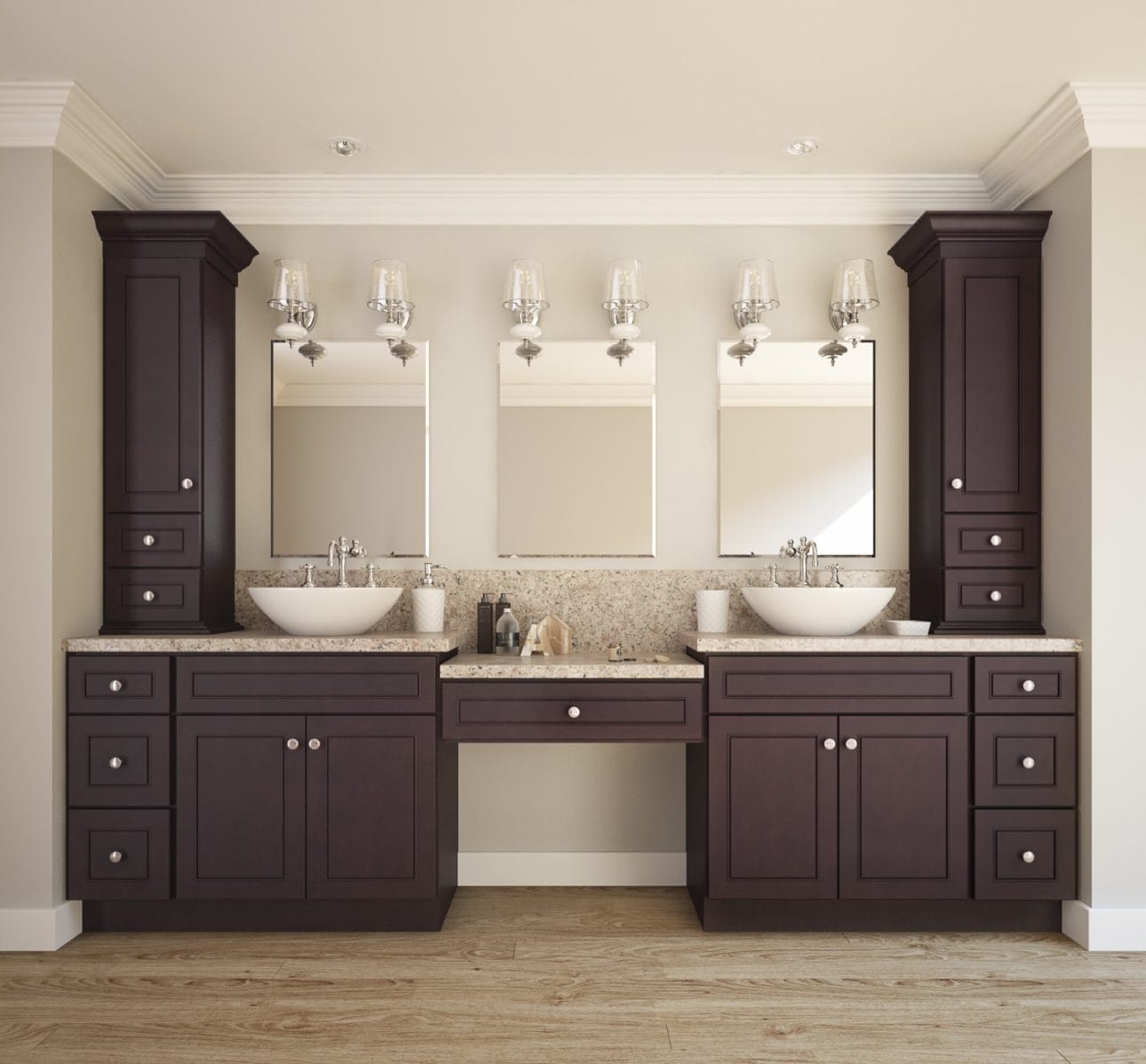 Do you love symmetrical balance? This one is for you. Cabinets, mirrors, wall sconces, and downlights introduce a formal setting.
The espresso-stained tall cabinets look so graceful. Those furniture pieces utilize vertical space, which would otherwise be unused.
20. Bathroom Storage Cabinet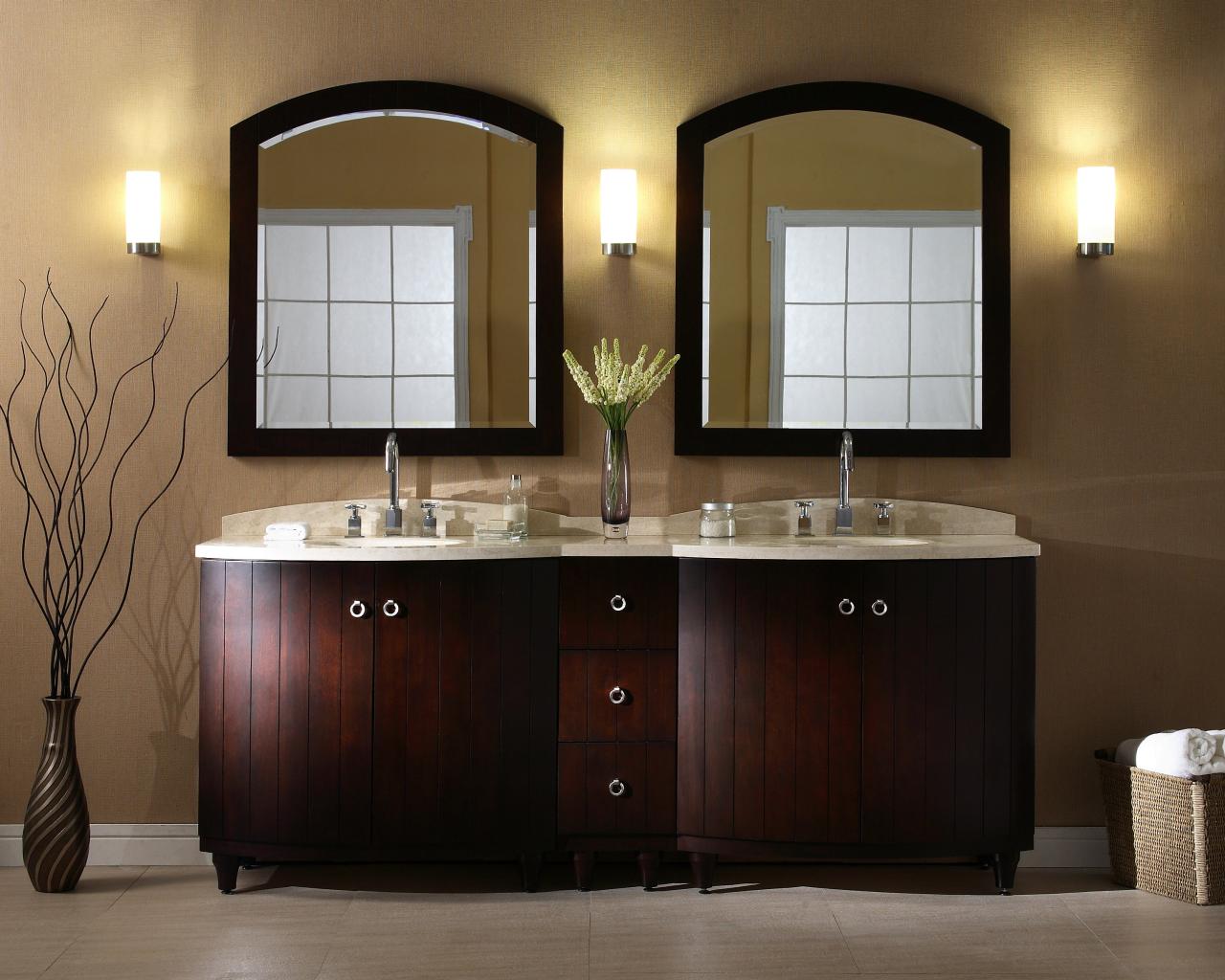 Tan backdrop carves a tranquil atmosphere. Wall sconces moodily illuminate the bathroom.
Curvaceous wooden cabinets are the homes for linens, bath supplies, and small items. Meanwhile, the vanity top adds high contrast to cherry finish cabinetry.
21. Very Small Bathroom Storage Ideas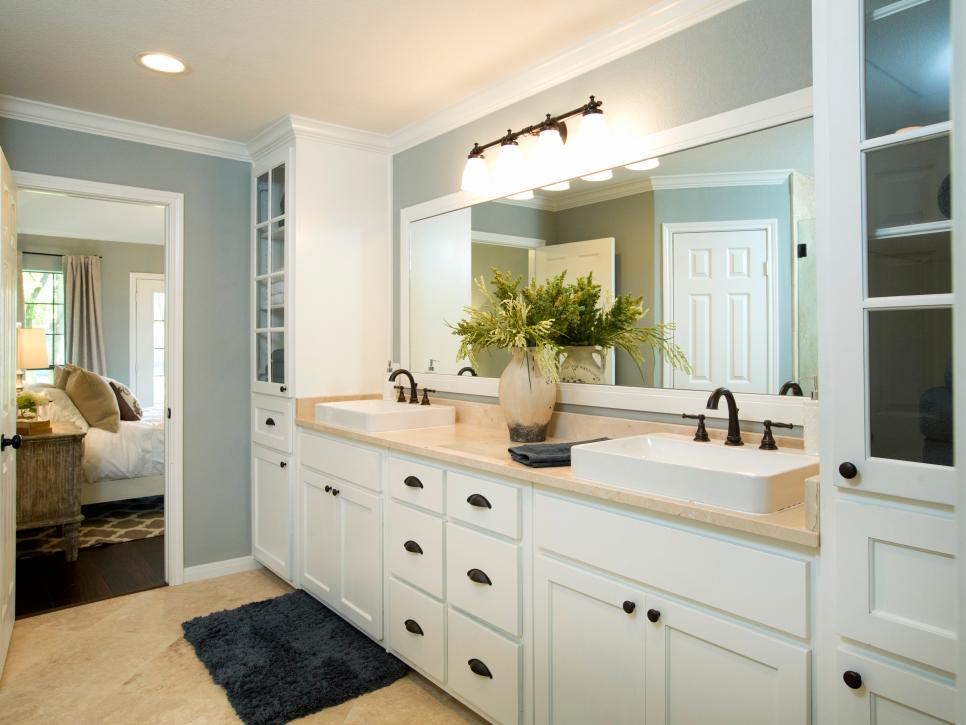 Are you dealing with a small bathing space? Install floor-to-ceiling cabinets to make most of the bathroom. Be sure you paint them white.
Glass panels let you see the objects inside the cabinets. Black knobs and drawer pulls infuse a bit of drama.
22. Jet Black Bathroom Cabinets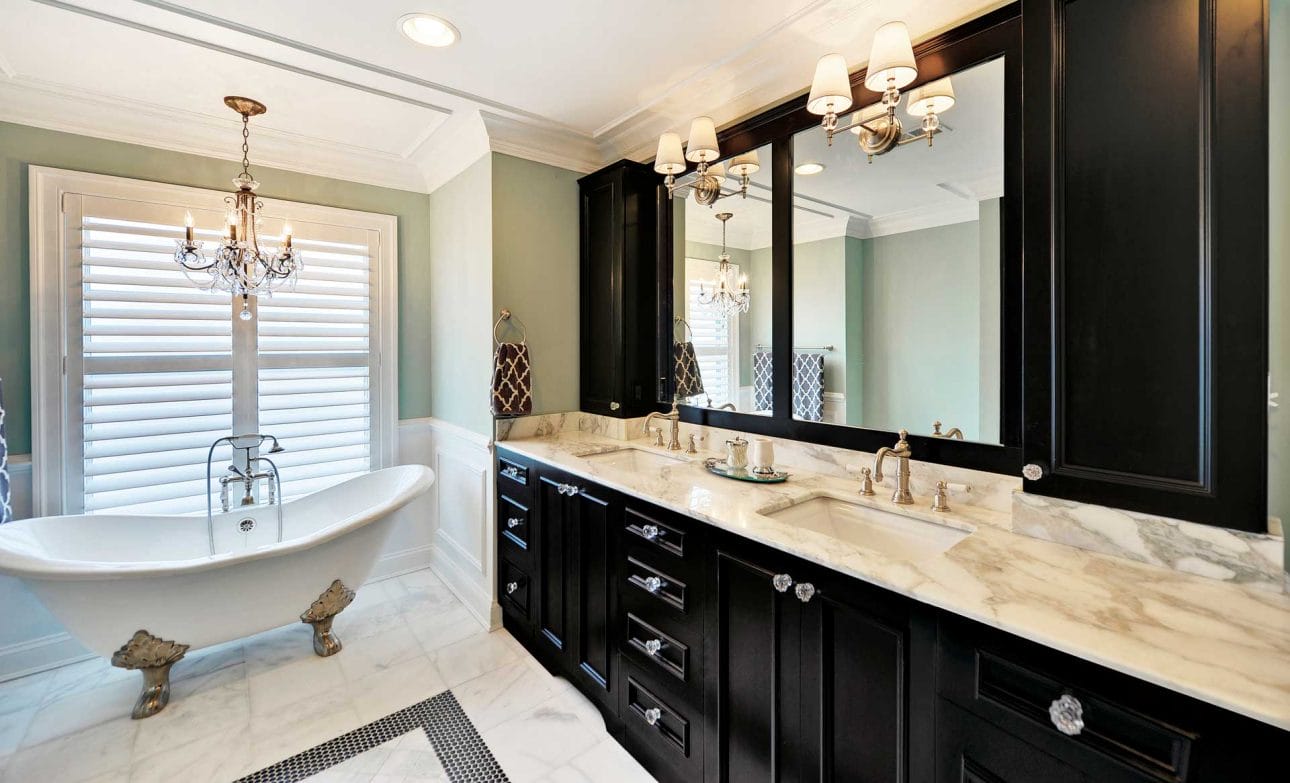 Don't you want to take a warm bath in this bathroom? I do, too. It is not only sumptuous but also peaceful.
Glossy black floor and wall cabinets lend the space visual depth. The bathtub, marble top, and light fixtures carve traditional chic.
There you have it, 22 mesmerizing bathroom cabinet ideas. Since cabinetry is such a vital part in your bathing space, you have to opt for it wisely.