Before, the cellar was widely used as a storage area. However, as time goes by, people begin to consider it a spot to gather. Since then, the basement ceiling ideas slowly emerge to make the chamber look more pleasing.
The gathering spots referred here are a living room, private office, home theater, playground, and a home gym.
If you are one of those who have transformed your lower ground floor into the places mentioned above, surely you would not want to let your unflattering ceiling be exposed, would you?
Therefore, you need to look for some basement ceiling ideas suitable for your interior design immediately.
Below are twenty inspiring basement ceiling ideas that you can use to transform your lower ground floor into a stunning gathering space.
1. Modern Geometric Textured Basement Ceiling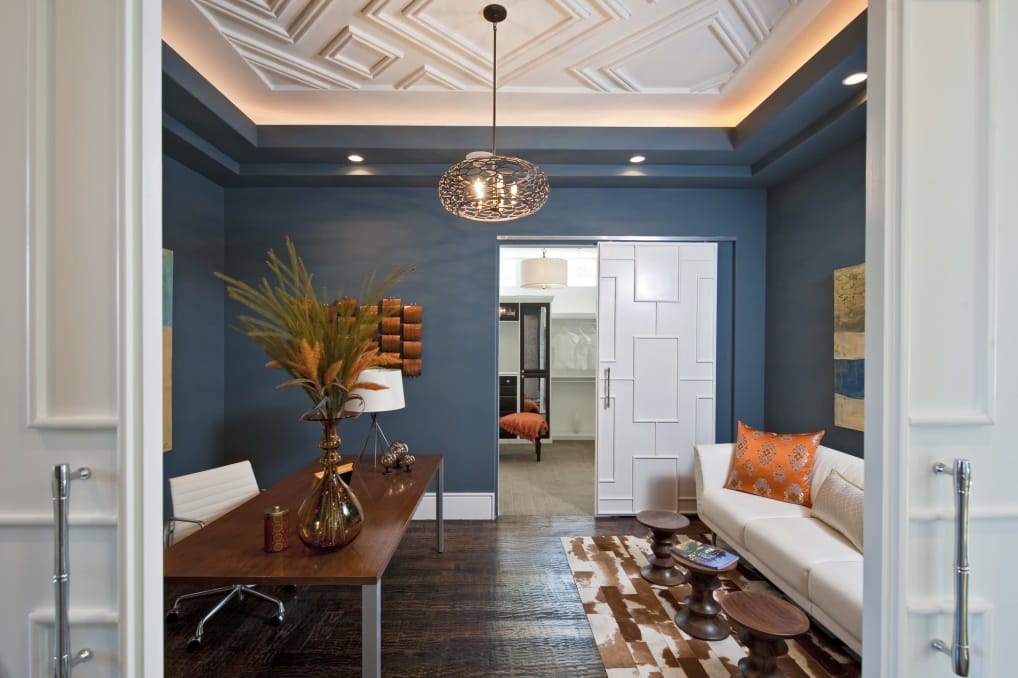 The first option on the basement ceiling ideas comes with a geometric molding style.
Instead of using a plain white basement ceiling, you can give a strong texture touch to your gathering space or home office through this design.
Moreover, molding the ceiling is one of the best solutions you can take as it is known as an easy and low-budget method among other basement ceiling ideas.
However, keep in mind that you need to use large geometric sculptures for a vast room, while for small spaces, merely apply delicate patterns. That way, your home office won't look stuffy.
To increase the room's ambiance, you can combine it with a dark color painted wall, such as gray. Next, install the LED bulbs around the edge of the ceiling to enhance the lighting.
2. Corrugated Metal Basement Ceiling for More Industrial Look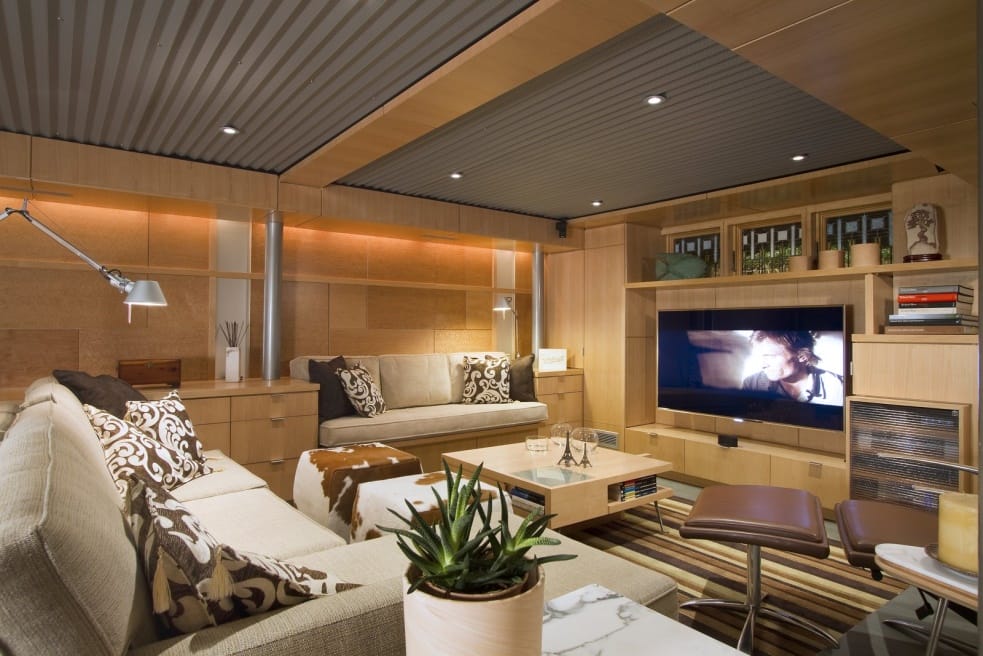 The next concept comes with two kinds of basement ceiling ideas that adopt a corrugated form palate.
As seen, the first design is using a corrugated perforated metal ceiling. With its ability to reduce sound well, this material is perfect for you who live in noisy areas.
By installing this corrugated perforated ceiling, you can transform your underground chamber into a comfortable home theater far from annoying voices.
Combine this material with wood beams and elegant, warm white light fixtures for a softer and more natural look.
Apart from being made of metal, a corrugated ceiling also comes with copper, aluminum, zinc, and steel. You can choose the one you like.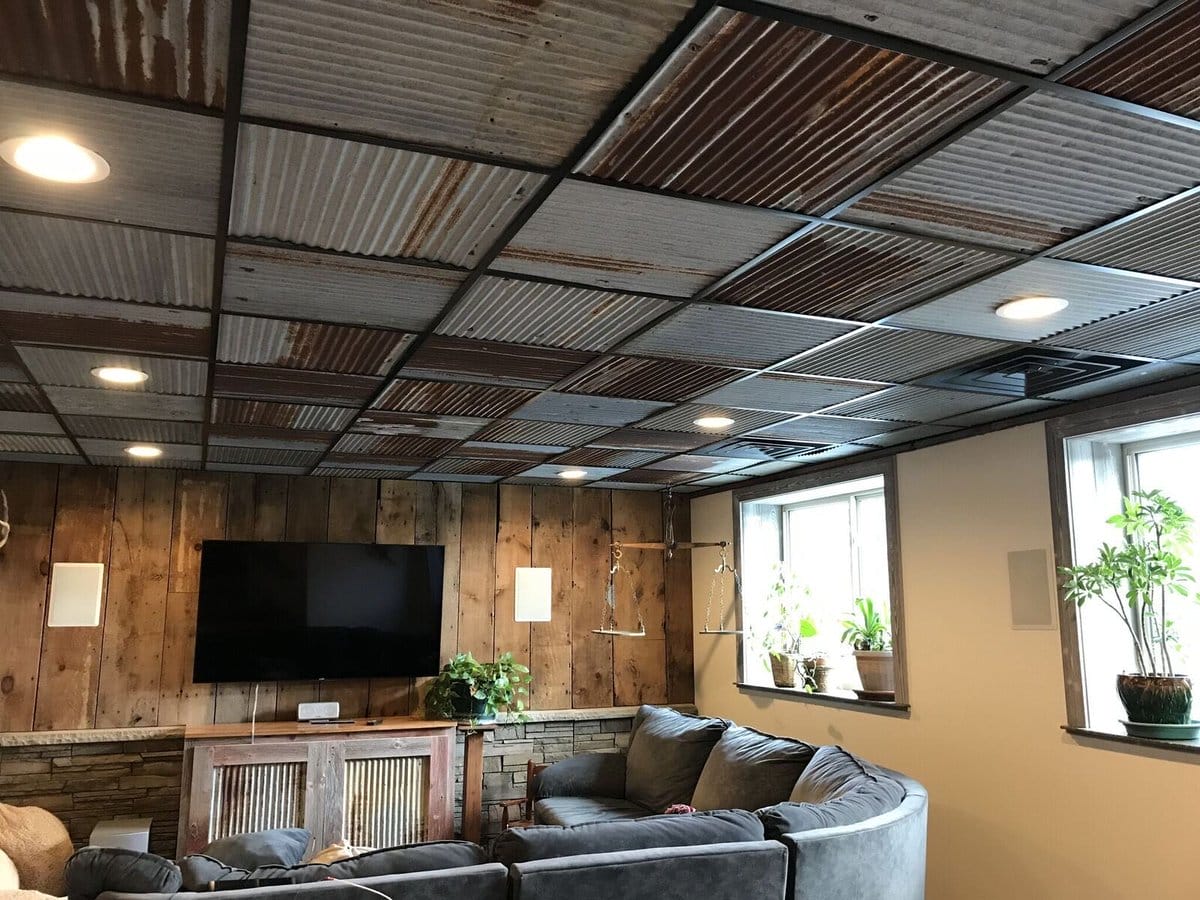 Alternatively, suppose you want a cost-saving design. In that case, you can also use the recycled corrugated tin like the picture above.
You can get this material at the store that resells it. Before buying, ensure that each sheet is safe to be used for the ceiling for a long time and free from damage.
Nevertheless, even though you can use the tin as a substitute material for your basement ceiling, it doesn't mean you can install it yourself.
Since this job requires cutting and installation skills, it would be best to hire a professional home installer to get a more secure final design.
3. Re-varnishing Wood Beams as One of Many Best Exposed Basement Ceiling Ideas
Most of the lower ground floors have wood beams on the ceiling. For that reason, you need to expose it for a more rustic look.
The best way is to re-polish the wood beams so that their natural color can be more prominent and impressive.
After that, you need to paint the ceiling white and attach a few bulbs to particular spots to even out the room's lighting.
If your basement doesn't have wood beams, you can also have them by installing them with experts' help. Consult first to get the best and comfortable design for your underground living room.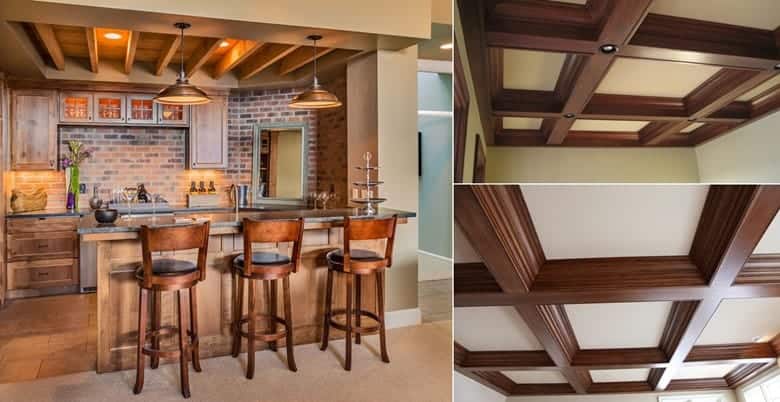 Besides the living room, you can also take the initiative to create a rustic basement bar by combining beams or coffers with wood planks like the one above.
To get a warm ambiance, adjust the lighting using the LED lights installed at the beams' intersection. Further, you can also give brick accents to the walls of your bar.
That way, the natural vibration in this room will be even more substantial. As a bonus, you will have a wood plank basement ceiling that many people desire.
4. Strong Industrial Concept by Exposing Pipes and Wires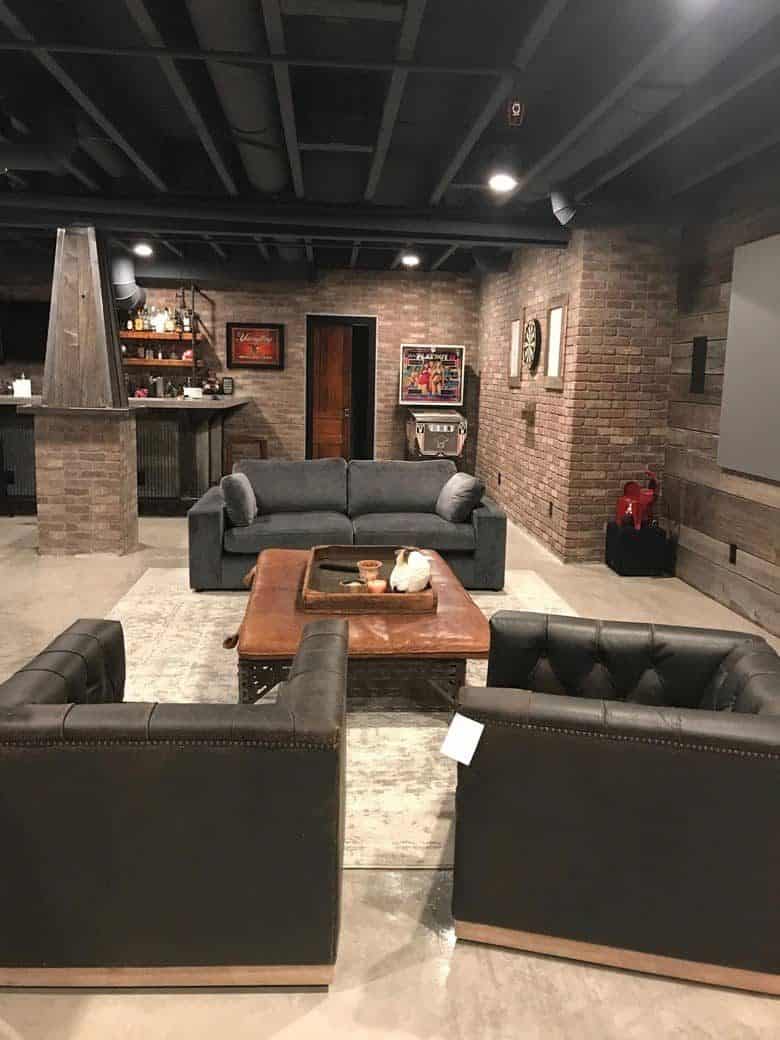 Apart from wooden beams, pipes and wires are also often found in the ceiling of the basement. But don't worry about that.
Instead of covering it up, you can expose it anyway to give an impressive industrial vibe to the gathering space in your home.
You don't need to pay a fortune for this process, since you only need to buy paint with deep colors such as charcoal, black, or dark gray.
After that, color the basement ceiling and all the elements within, be it cables, beams, or pipes.
Next, attach the flush bulbs for your best lighting fixture. For walls, you can try to combine the rough brick texture with the compact wooden planks.
5. Beadboard as the Best Option for Your Basement Ceiling Panels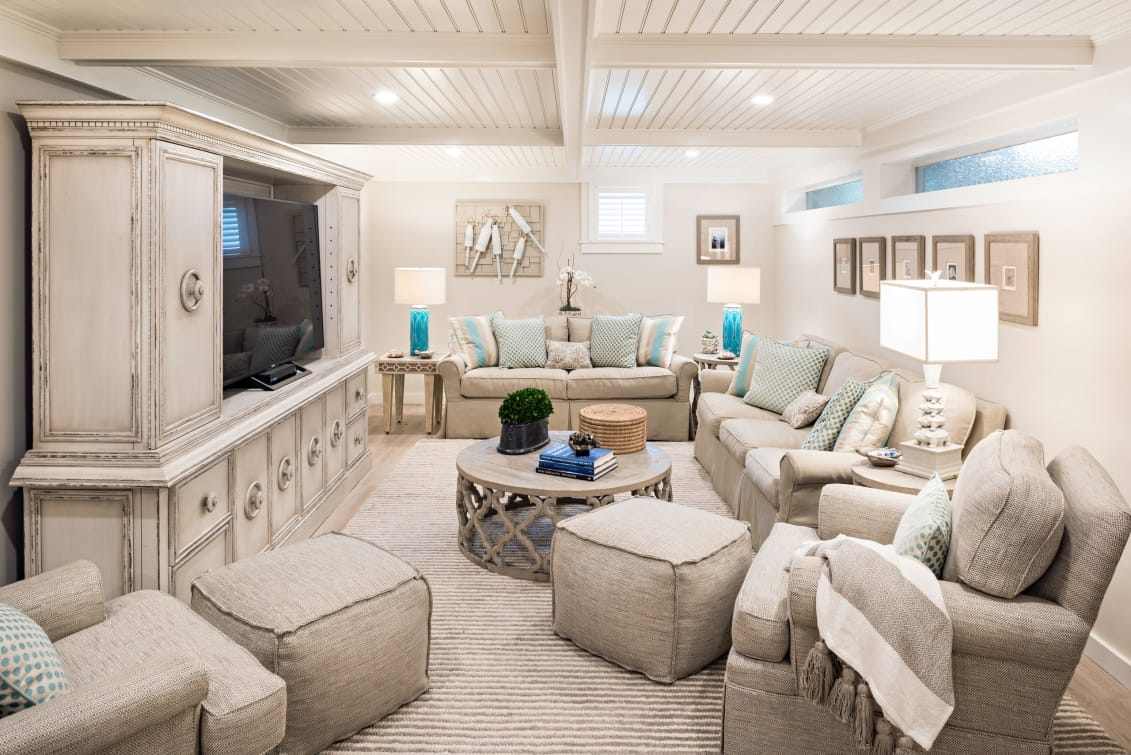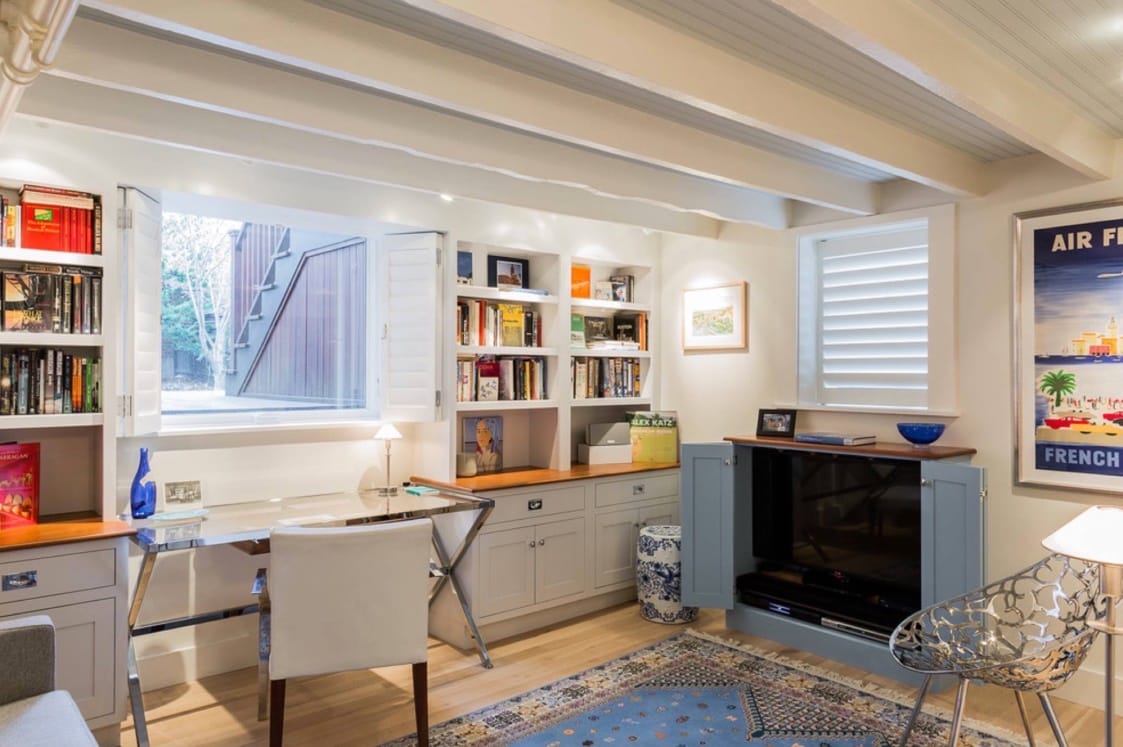 Suppose you are looking for the best low basement ceiling ideas for your underground chamber, don't hesitate to consider a beadboard as the solution.
By using beadboards, especially with white or other bright colors, of course, your dream of having a bright, spacious, and comfortable living room or home office, will soon be achieved.
Besides providing adequate lighting, using a beadboard is perfect for your basement with a low ceiling and a popcorn texture. Indeed, it will make your room more expanse than before.
Further, you can install several beams or coffers to enhance the appearance of your gathering space.
You don't need to be afraid that this material will worsen your decoration because the beadboard fits all interior designs, be it rustic, farmhouse, coastal, or contemporary.
6. All-white or Multi-Color Basement Drop Ceiling Concept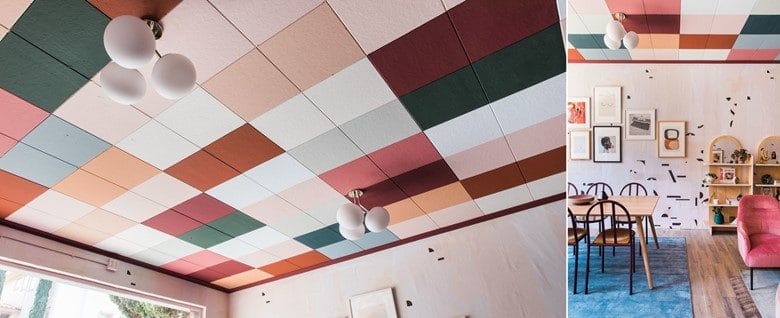 The drop ceiling or suspended plafond comes with many advantages that can impress you.
Usually, this palate type is made of water-resistant vinyl, so it does not cause molds and mildew. What's more, the drop ceiling can last up to twenty years.
There are various ways that you can apply to decorate your basement roof with a drop ceiling. The first idea is to leave it white.
This concept is perfect for you who like classic styles. You can combine it with warm lighting and bark textured walls for more earthy vibes.
Alternatively, if you want a more favorable impression, you can consider coloring each tile on your drop ceiling differently.
Before that, consult the experts to get tone recommendations that match your interior design perfectly.
7. Patterned Wood Plank Basement Ceiling to Give Statement to Your Gathering Space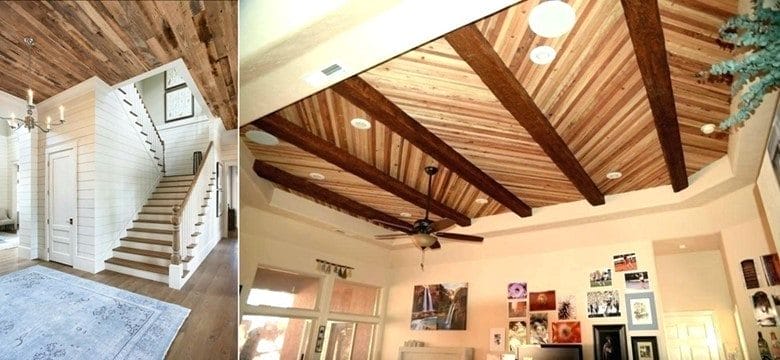 Suppose you're bored with the mediocre design and want other creative basement ceiling ideas that can give an impressive focal point for everyone. In that case, you can consider the wooden plank palate.
For more cost-effective work, you can use reclaimed or barn wood. Besides being cheap, these wooden panels can provide a beautiful accent for your cellar ceiling.
To install it is also easy. You only need to cut each wood plank according to your wishes and needs. It may be in the same size or various shapes. The critical point is that the panels have to be matched to the width of your roof.
As a recommendation, it would be best if you make a chevron pattern like the one above. After that, install some beams on it to support the existing paneling.
8. PVC Paneling for Minimalist Look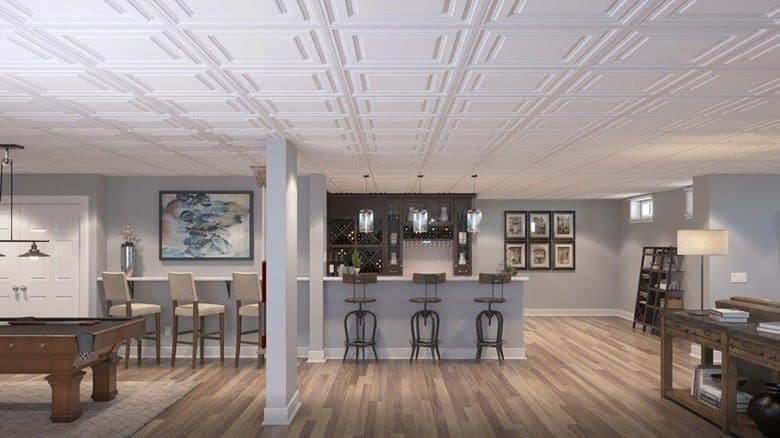 Just like the drop ceiling, PVC also has good water-resistant capabilities that can protect your basement from dampness. Moreover, this kind of palate can also last for years, even though it comes at a reasonably low price.
Plus, PVC has various designs that you can match to your preference. If you prefer a minimalist look, go for some straight styles with geometric accents.
Meanwhile, for a more vintage touch, you can take a textured one with embossed sculptures.
Regardless of all its advantages, there is one negative point that you have to remember, PVC will release free chlorine, which is harmful to health after years of use.
But for short-term use, this PVC ceiling is still safe and affordable to buy. Therefore, you have to make careful consideration before picking this material.
9. Luxurious Recessed Basement Ceiling Panels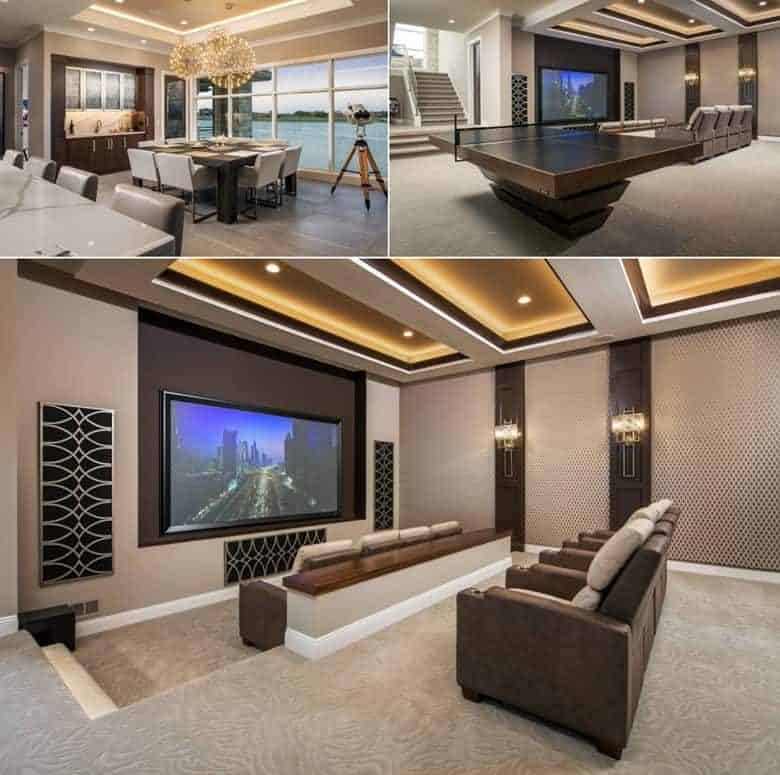 One of the best basement ceiling ideas that you can try is this recessed ceiling. To finish the installation, of course, you need professional help because this is not easy work for unskilled people to do.
It would be best to give the trim a color that contrasts with the rest of your ceiling to get a luxurious look. Further, you can also ask your contractors to install several LEDs in several spots to properly distribute the lighting.
In general, this design will be suitable for your gaming room, home theater, or basement living room.
10. Plain Suspended Ceiling for Home Gym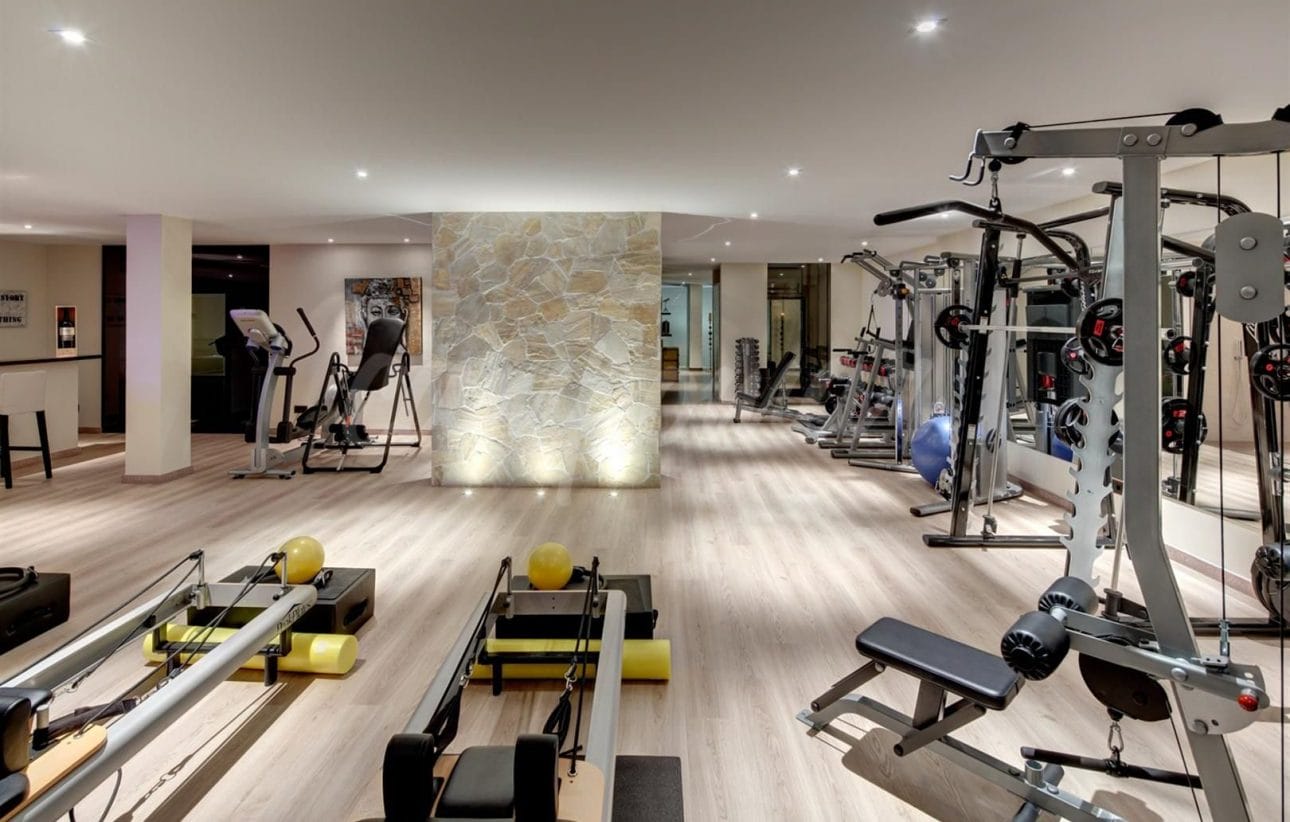 Apart from coming up with basement ceiling ideas suitable for your living room and private office, this article also gives you the best concept for your underground gym roof.
As a place to work out and play, the main thing that must be carefully considered is lighting as this aspect will help you achieve the perfect relaxation time.
Talking about a ceiling that can emit lighting well, then a drop ceiling is a solution. You might consider painting it plain white. As for the walls, please give them a touch of texture, so it doesn't get boring.
11. Cozy Man Space Ceiling with Windmill Accent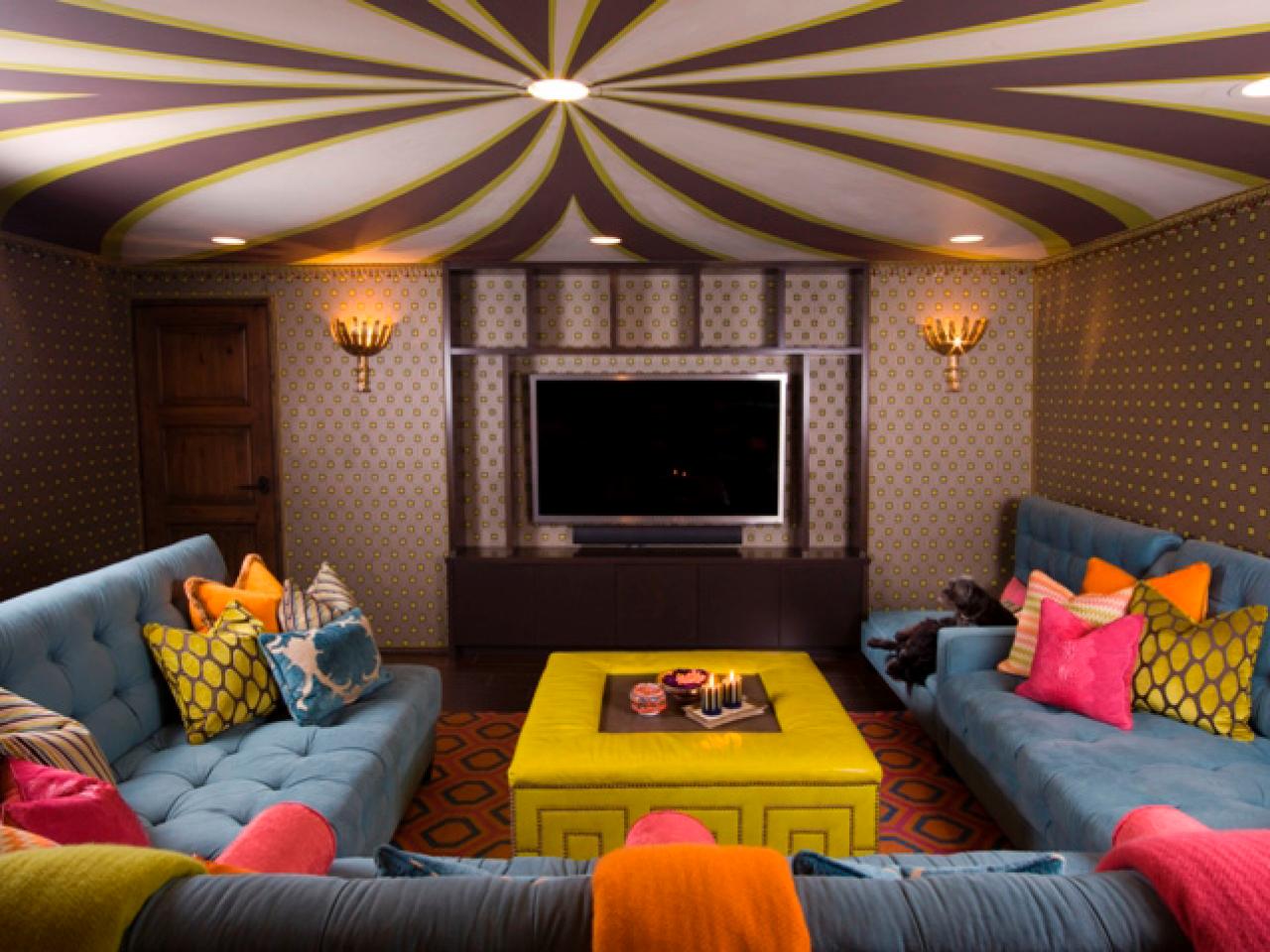 A basement is a perfect place for you to create a man cave, especially when coupled with an attractive and relaxing ceiling design.
Factually, there are many basement ceiling ideas to suit your personal space. However, one that is recommended is one that has a windmill accent or curve as above.
With a design like this, it will be easier for you to do relaxation and meditation.
To enhance the ambiance in this personal space, don't forget to arrange some colorful furniture such as the daybed couch equipped with pillows and a bright coffee table.
12. All-time Style with Nail-up Faux Ceiling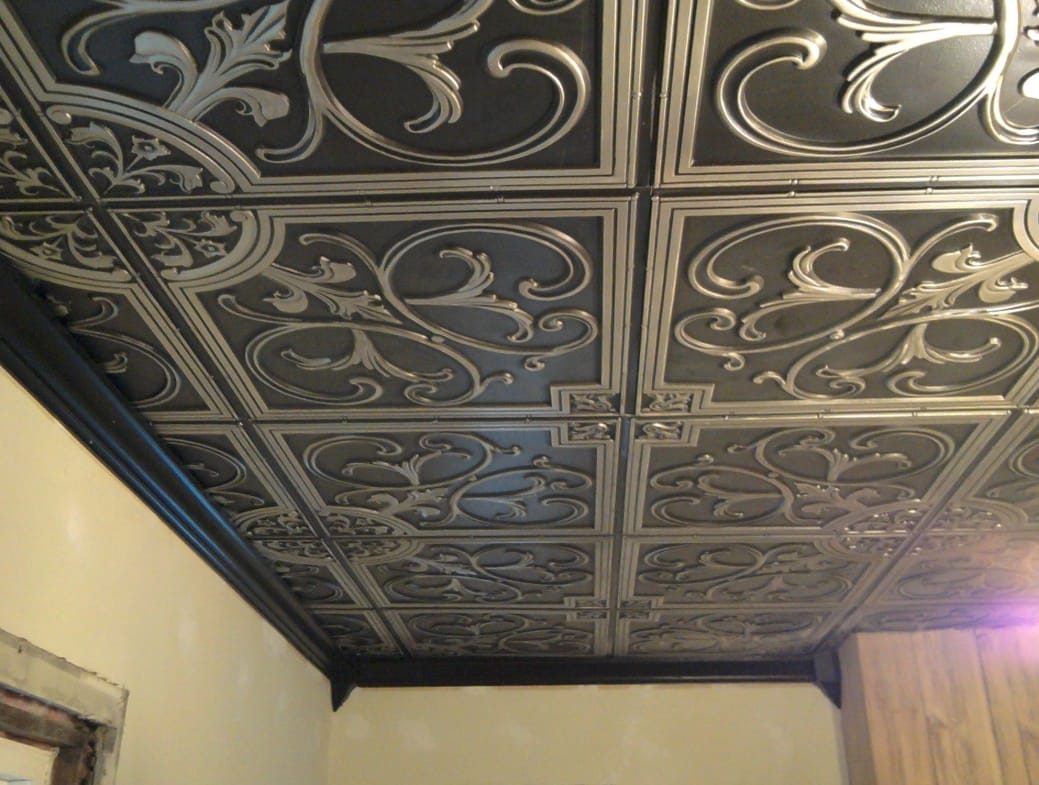 One of the easiest ways out of several basement ceiling ideas revealed on this list is the use of nail-up faux ceiling.
Instead of making your lower ground floor outdated, this palate will bring your living room to elegant modernity that never meets the end.
Besides being easy to find and affordable too, you can also install these nail-up ceilings yourself. Are you ready to try it?
13. Bright Coffered Ceiling Panels for All-Purpose Room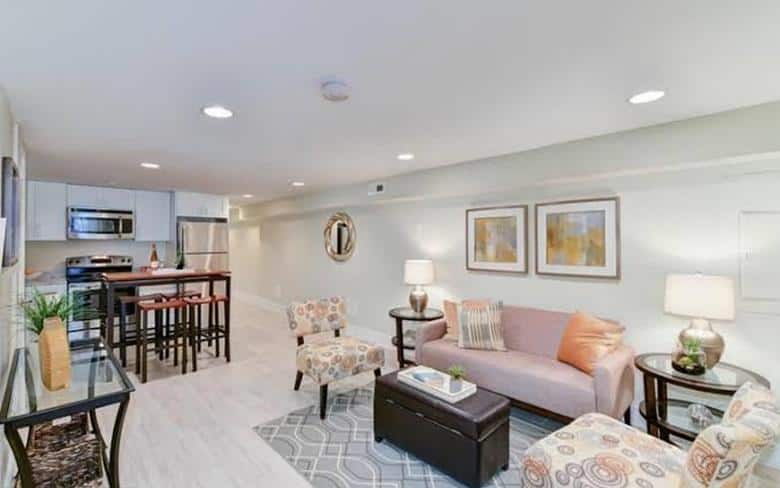 Who says that the underground chamber is not suitable for a guest quarter? On the contrary, by applying the right and attractive basement ceiling ideas, this place can become a spot that will be loved by many guests.
One way is to install a white coffered ceiling panel combined with furniture and other pastel wall paints. That way, all your guests will feel at home in this room.
14. Soundproof Ceiling Panels for Perfect Home Theater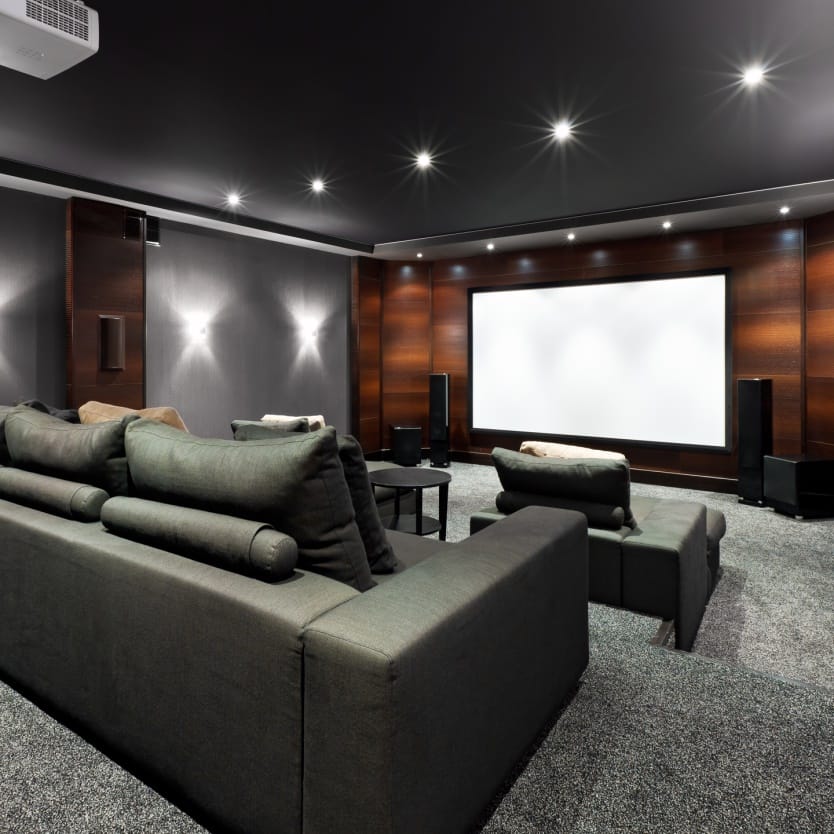 Choosing soundproof ceiling panels is a great decision you can make to bring a cinematic atmosphere to your basement.
Coupled with match coloring by applying dark tones and complemented by black cushions and gray carpets, your lower ground floor now turns into a stunning home theater that most people desire.
For light fixtures, make sure to set them evenly on the ceiling and wall as well. That way, you can get the best cinema atmosphere that will never be forgotten.
15. Ceiling Tiles for Comfortable Private Office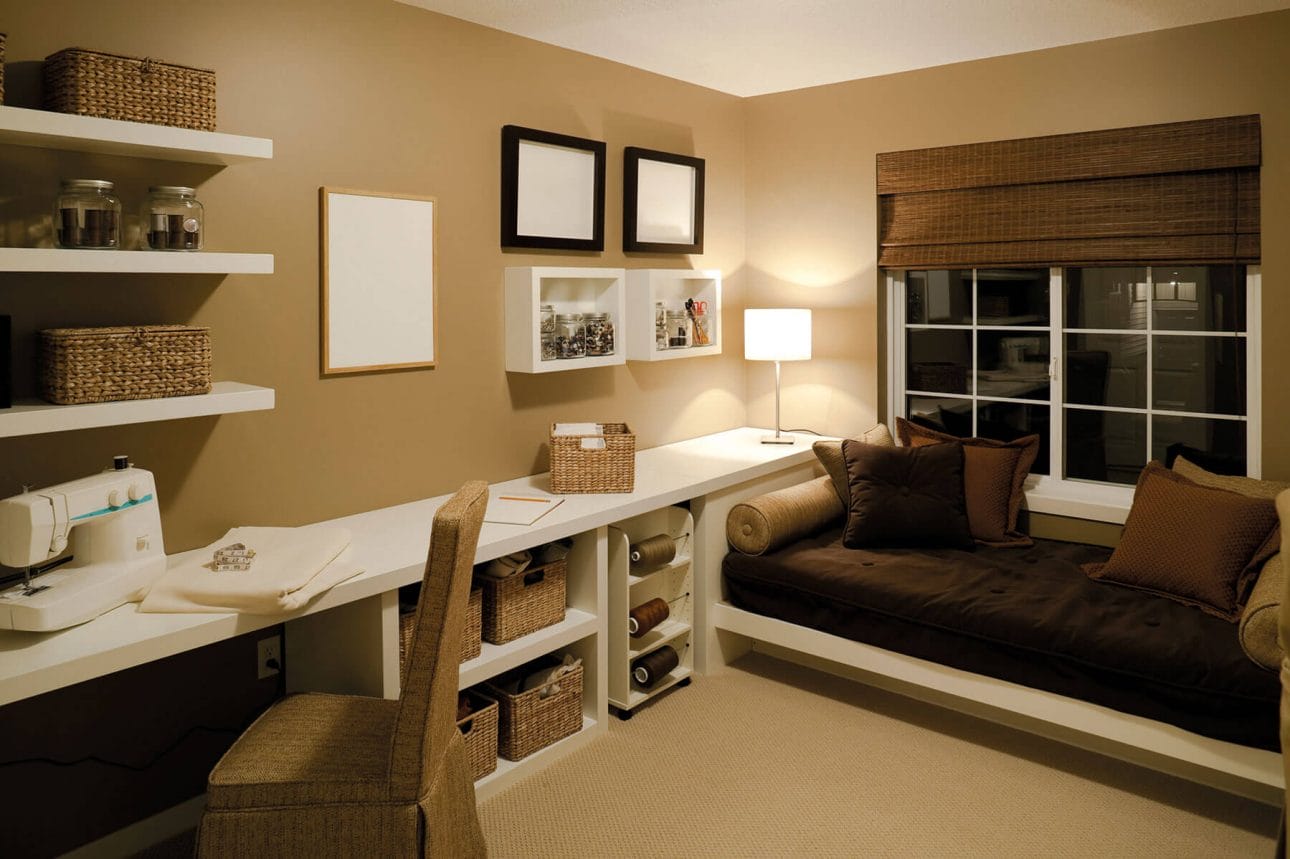 One of the many basement ceiling ideas suitable for a private office is to install ceiling tiles.
With its ability to absorb sounds from the outside, you now have a quiet and comfortable office spot.
As the tiles come in many colors, it's recommendable to choose a lighter color, like white or cream, to make it easier to reflect the lamp's light. That way, you can work or study with more focus and calm.
16. Wallpaper as the Alternative Option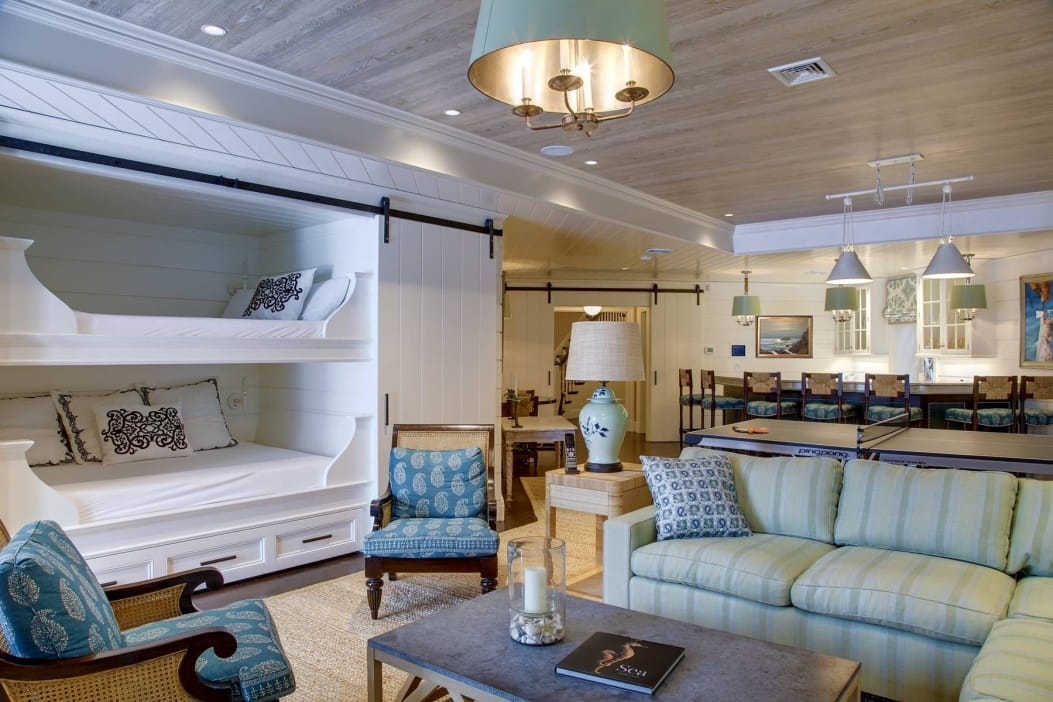 When you start wondering about "what can I use for the basement ceiling?" but end up with many expensive basement ceiling ideas, then it's time for you to consider using wallpaper.
Apart from being cheap and easy to get, wallpapers can also provide a beautiful accent for your basement ceiling. It would be best if you choose some with natural designs and colors that resemble wood textures.
Please avoid choosing wallpaper with many patterns. It will irritate the eyes.
17. Drywall Basement Ceiling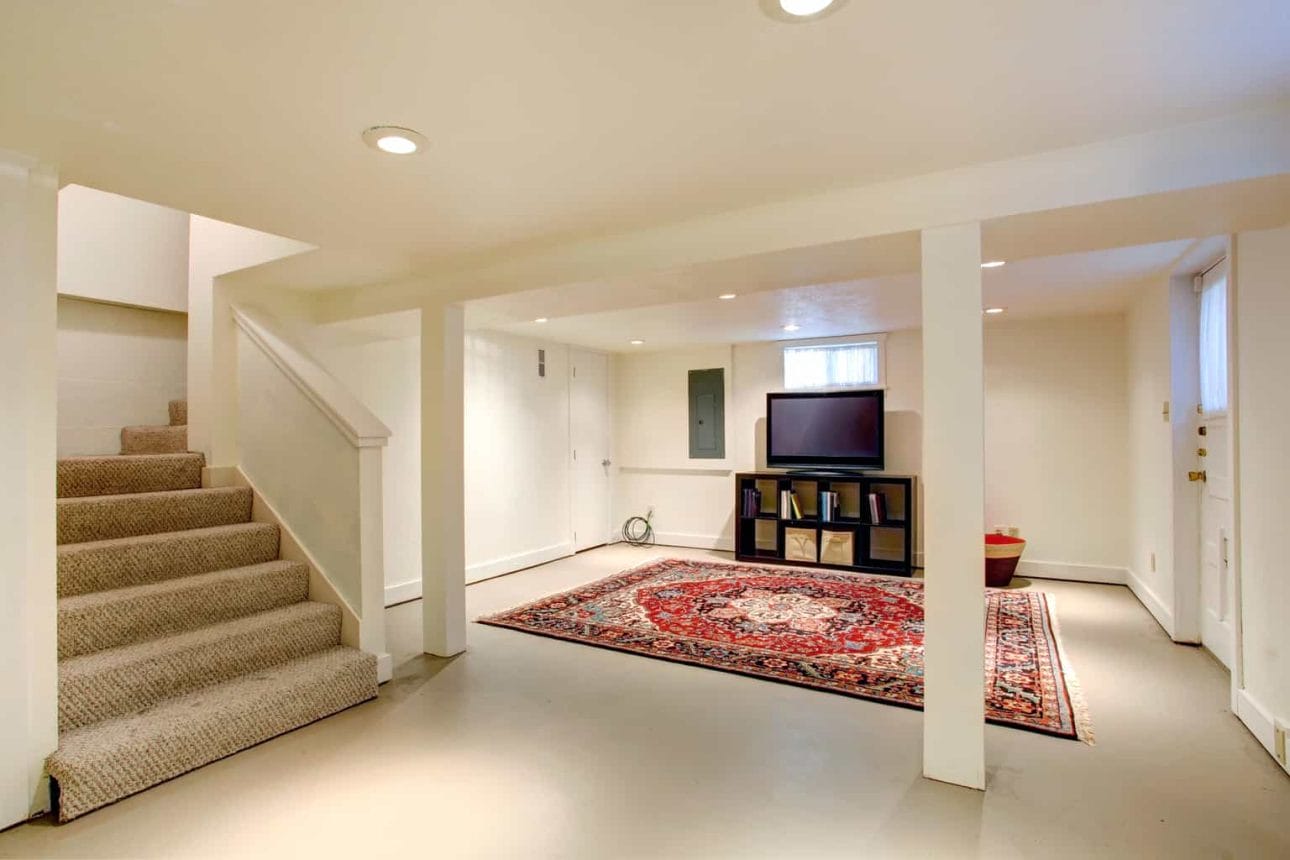 Considering drywall as one of the many basement ceiling ideas is not wrong. This material will fit perfectly with your lower ground floor, which doesn't have any humidity problems.
It is because drywall is not a waterproof material.
Apart from these drawbacks, drywall can also give a stunning appearance to your basement ceiling. Merely grease it with a primer, then paint it in colors that match your interior design, and everything is a wrap!
18. Tin Tiles for Easy Basement Ceiling Ideas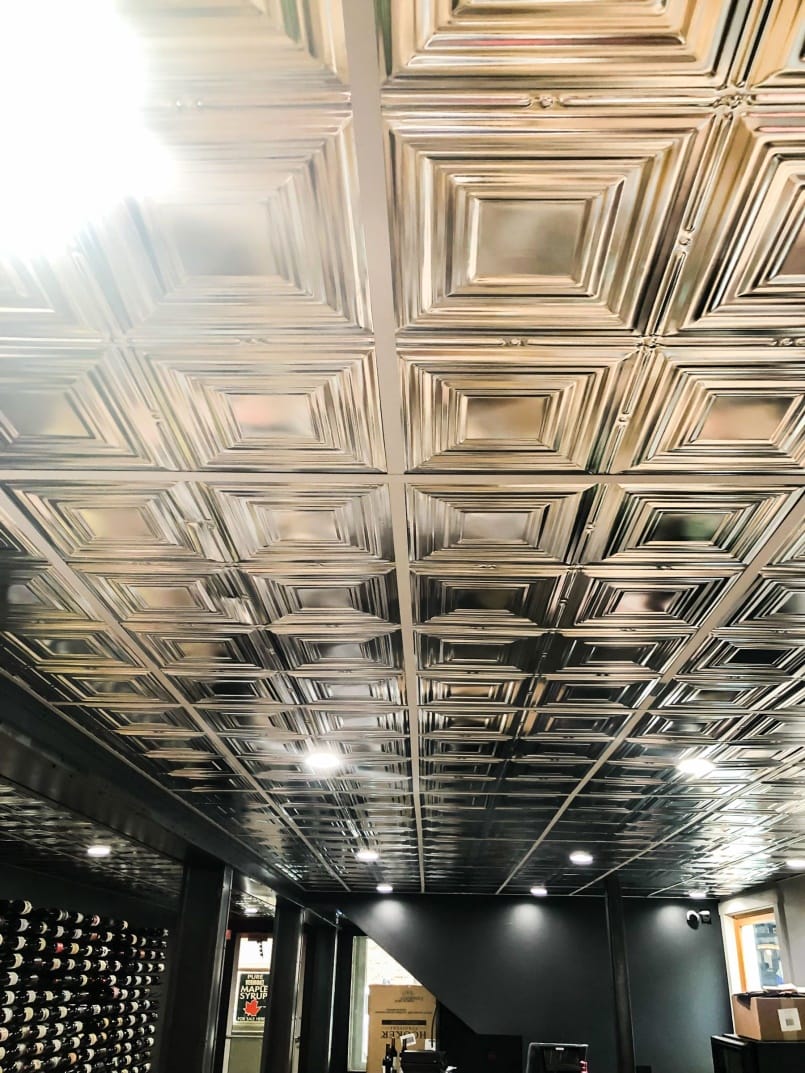 Once again, the tin tiles come to complete the list of best basement ceiling ideas that you can try. Even though it comes with many designs, this material has a reasonably affordable price.
For example, if you decide to install a drop ceiling style or the traditional one that requires plywood as the base, you will only need to spend between $ 4 and $ 7 per sheet. Isn't it interesting?
19. Shining Stretch Ceiling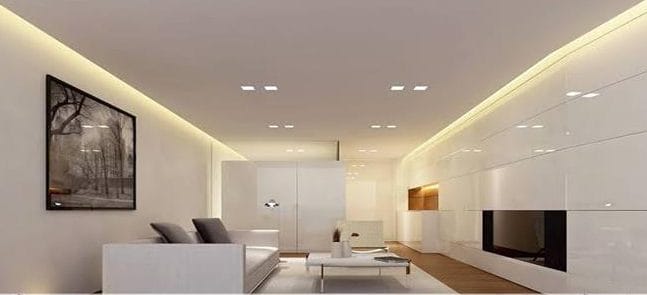 If you are looking for stunning contemporary basement ceiling ideas, then the best choice is this stretch ceiling.
With its sleek and shiny texture, the stretch ceiling will give you a luxurious, modern feel that is timeless.
You can leave all corners of your basement white to showcase your space. Meanwhile, for some furniture and decorative items, pick some in dark colors like black and gray.
20. White Exposed Ceiling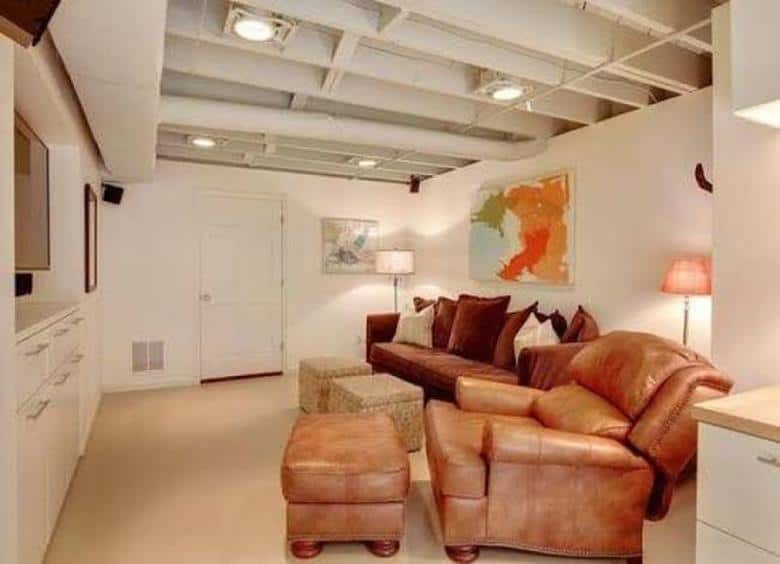 Whereas in the previous design, you found the exposed ceiling with pipes and beams colored in black. Now you are discovering innovation in white. You can see more ideas for unfinished basement.
It turns out that giving the exposed ceiling a bright color isn't a bad idea. You can set some light brown sofa and warm white standing lamps in the corner of the space for a more exciting look.
Finally, the twenty basement ceiling ideas that can inspire you have already come to an end. Have you found your favorite?