Doorless walk in shower ideas come with many stylish options. Mostly they range from rustic, modern, to contemporary themed.
You know that doorless walk in shower ideas don't just suit small bathrooms, but they're also great for large restrooms. This bathroom without door design will always be timeless by coming up with aesthetic and eye-pleasing decorations.
In addition, the presence of versatile furniture also increases the value of the bathroom.
We have written previously about cool and good bathroom door ideas.
Suppose you are looking for some suggestions. Here are 30 recommended doorless walk in shower ideas that you can adopt.
1. Contemporary Doorless Walk In Shower Ideas in Gray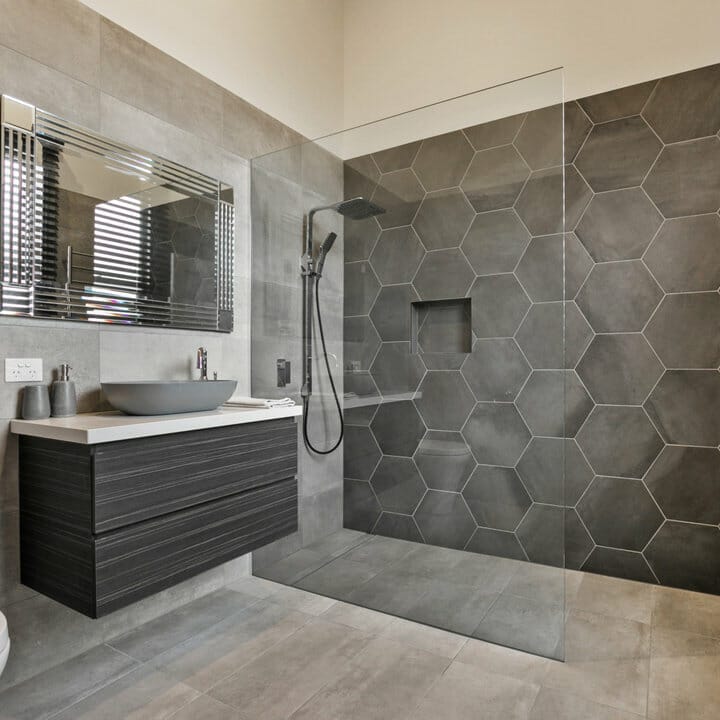 Gray is a popular color in minimalist-themed bathrooms. Most people choose this shade because it can go well with any decoration.
To get an impressive design for your doorless walk-in shower, it's a good idea to complement this gray bathroom with a frameless mirror and also a floating pedestal sink like in the picture above. Believe it or not, this concept will be timeless.
2. Wall Paneling for Your Doorless Shower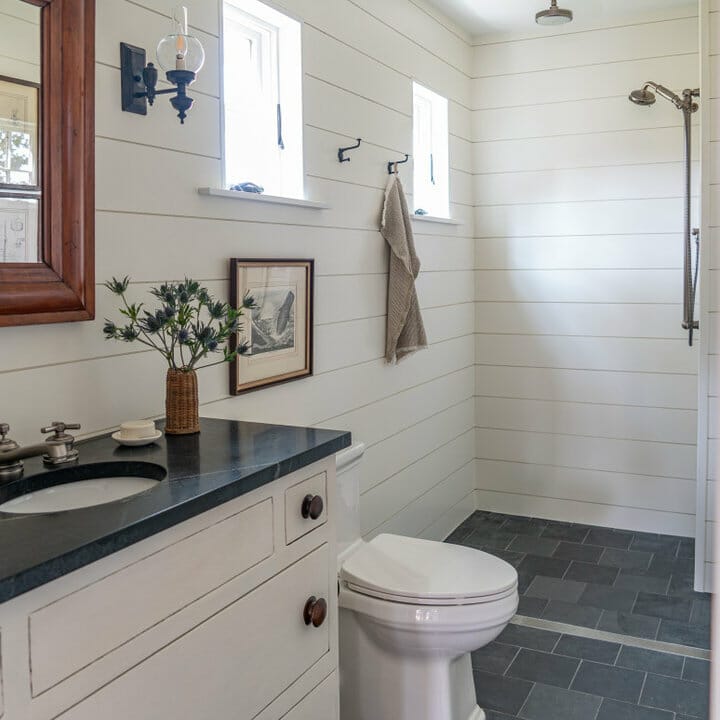 Wall paneling or shower panels are alternative options that you can take when you get bored with a wall tiling system.
Because this wall paneling is installed in the bathroom, be sure to choose a waterproof and durable one.
Choosing white color to be applied with your doorless walk in shower ideas is the best.
White will go well with any wall art decor and provide a clean look in your bathroom. Further, you can consider adding decorative elements like artificial flowers in the wicker vas and hanging wall art in a frame to increase your bathroom aesthetical value.
3. Patterned Flooring with White Marbles Wall Tiling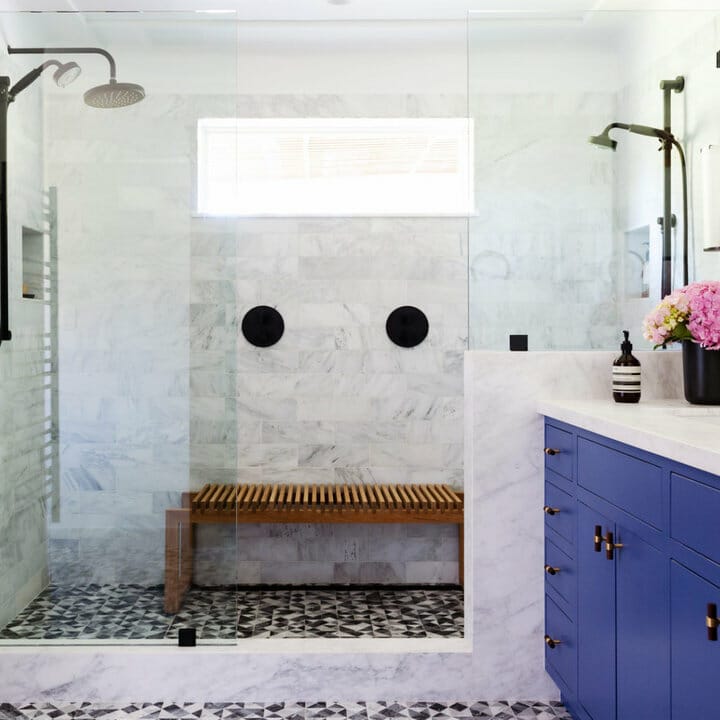 Marble wall tiling will indeed look luxurious even without anything around. However, that does not mean you will continue to have the same plain decor in the bathroom at all times. Of course, that would be pretty tedious.
Therefore, you can combine white wall tiling with patterned flooring to give your doorless walk-in shower personality. Whether you're going to use abstract, geometric, or mosaic ones, it's all up to your preference.
4. Rustic Ladder Shelf for Bathroom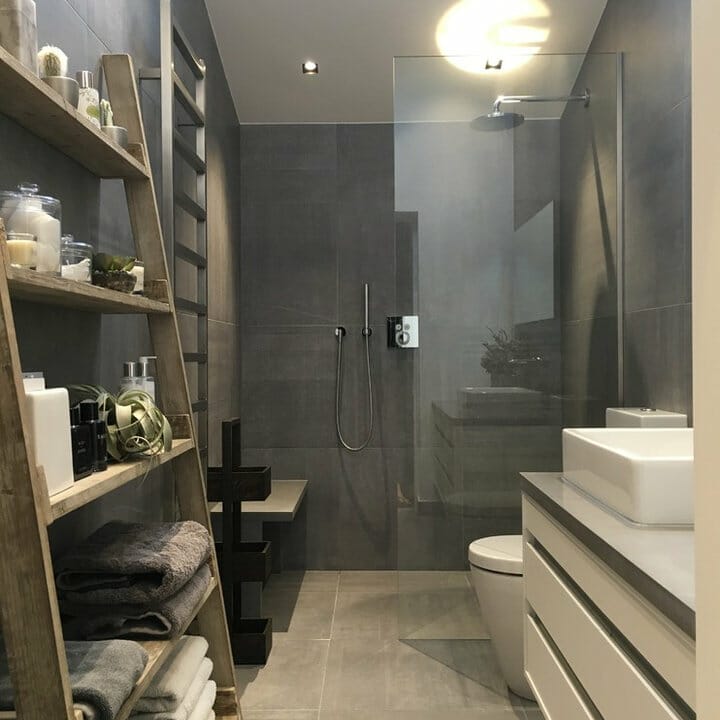 Having storage that is both versatile and aesthetic is an incomparable advantage, indeed.
Suppose you are confused about providing decorations and storing tons of bath necessities at once. Then, you can go with rustic ladder shelves as above.
You can not only store clean towels for your guests there. However, you can also display some ornamental elements on top to beautify your doorless walk-in bathroom.
5. Adorable Doorless Walk In Shower Ideas in Pastel Colors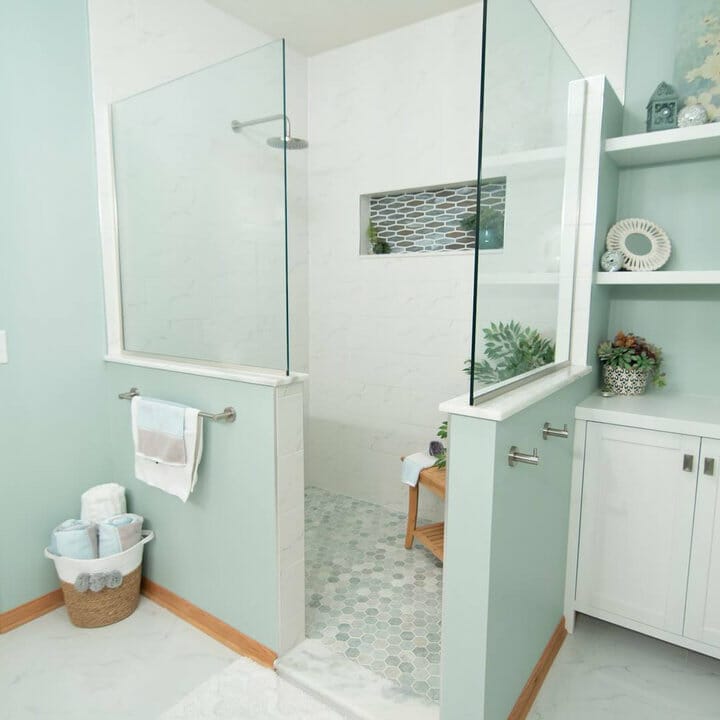 Suppose you like pastel colors, and feel okay to give a doorless walk-in shower with a chic farmhouse theme. In that case, applying soft colors like blue will provide a calm and relaxing atmosphere to the bathroom.
However, you don't have to go with the same design as the image above. The point is to combine the soft color with some raw wood furniture and wicker baskets to create a solid and understated farmhouse vibe in your bathroom.
6. Mixed Tile Flooring with Bamboo Partition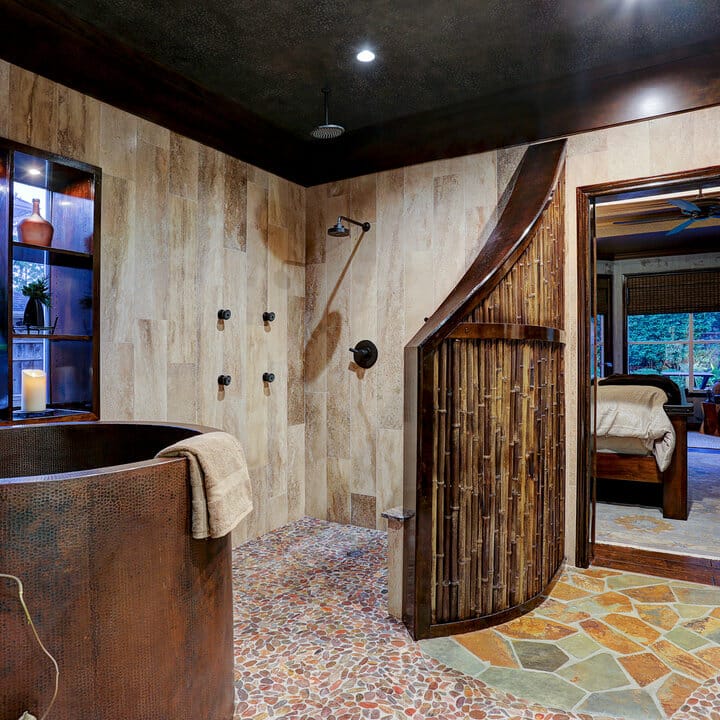 You can adopt the following doorless walk in shower ideas by mixing tile flooring as above. For some people, it will feel risky because it can make the room seem cramped.
However, you can go with pebbles and stone flooring to balance the decor. Tiny comes together with the big ones is the key. Everything is just an aesthetic without making your doorless shower stuffy with the proper placement.
In addition, to enhance the traditional atmosphere in the bathroom, you can consider going with a bamboo wall partition as above.
7. Metallic Green Shower Tile and Round Mirror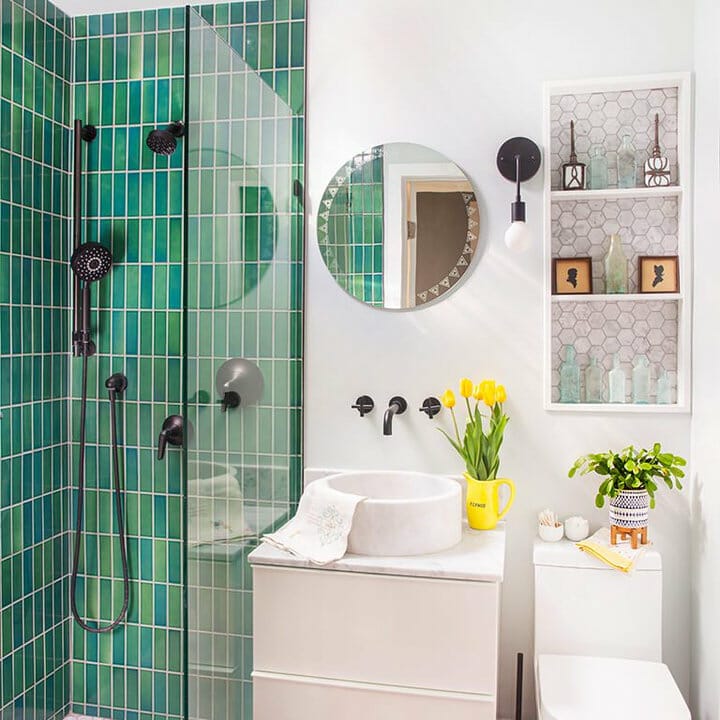 Considering installing metallic tile flooring to complement the implementation of your doorless walk in shower ideas is a good decision.
Presenting it in the middle of the white furniture will make an attractive focal point with a retro impression in your bathroom.
Next, you can be more confident to put a round mirror to complete your doorless shower decoration. This round-shaped furniture comes to balance your bathroom space to keep it looking spacious.
8. White Wall Tiling and Black Flooring with Double Showerheads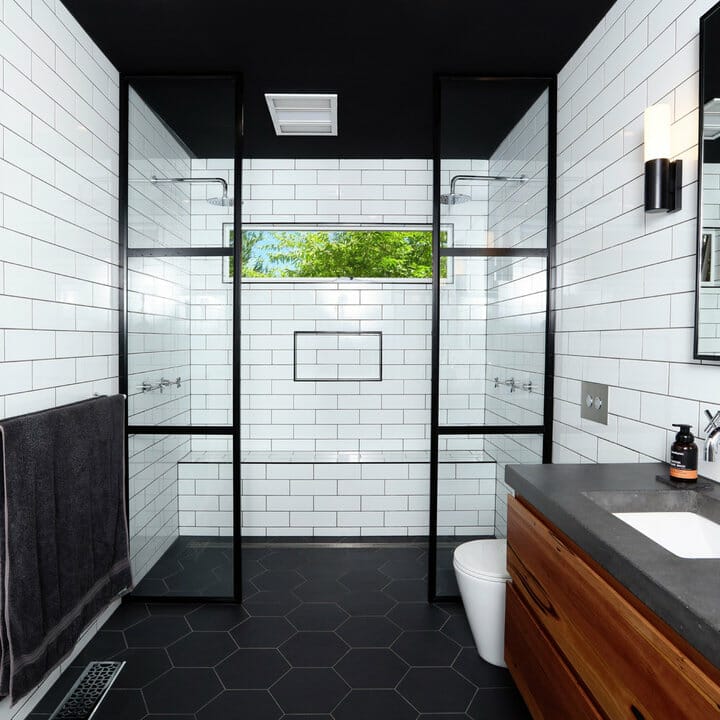 You can quickly get the doorless walk in shower ideas in a semi-industrial style by arranging two glass partitions on both sides of your bath area. Meanwhile, leave the center without a door to give the impression of an open "entrance hall" as above.
Next, you can consider installing showerheads on both sides of the shower area as well. You will easily create industrial assertiveness by giving it white wall tiling and black flooring.
9. Bench with Storage by The Half Wall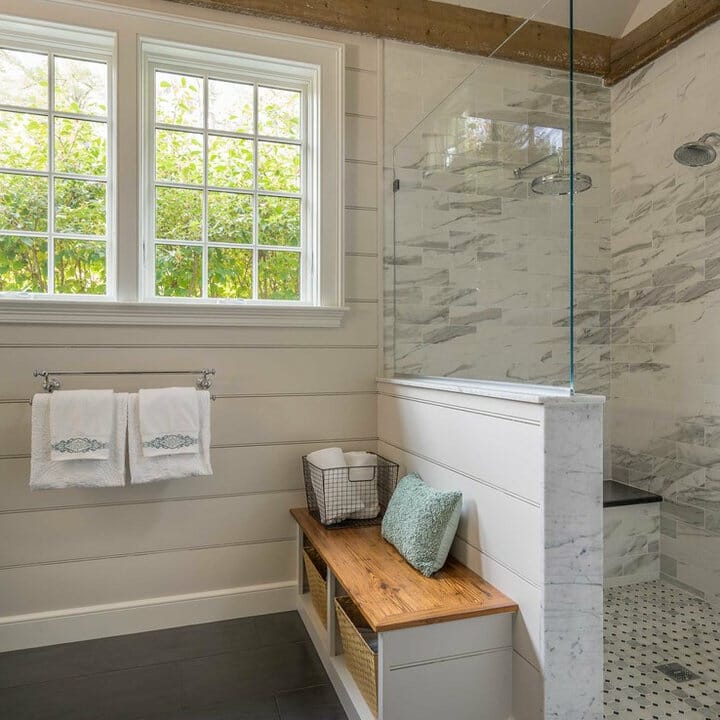 Doorless walk in shower ideas also suggests adding a bench in your bathroom area. It will help all your me-time rituals like shaving and others better.
Moreover, a seat with bottom shelves also makes it easier for you to store your bath necessities easily without taking up a lot of floor space.
Try to put it close to the window to get a good view that can improve your mood during bathing.
10. Mix Patterned Ceiling, Flooring, and Wall Tiling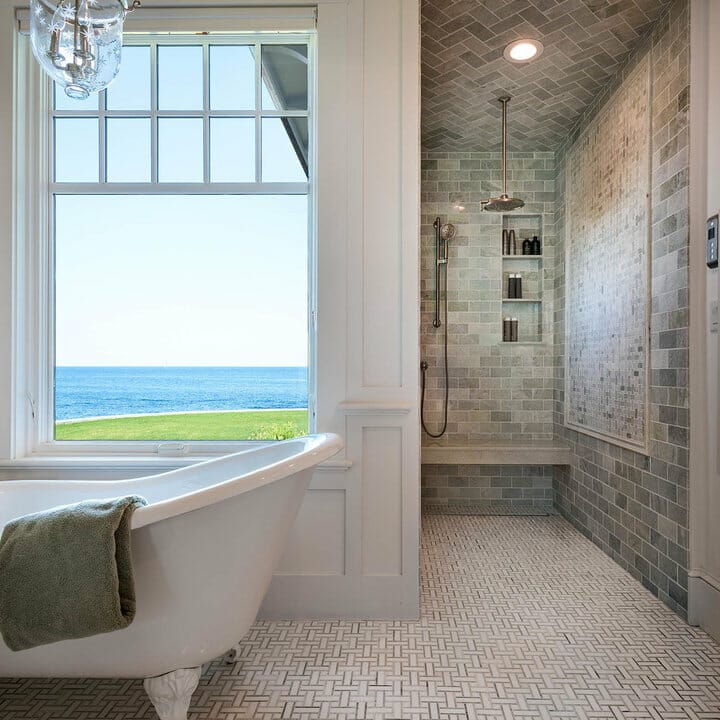 If you have a separate area between your bath and shower, then considering giving your splash area longer is a smart move.
Not without reason, this L-shaped will be able to make your bathroom look more expansive.
In addition, you can freely provide a mixed ceiling, flooring, and wall tiling settings to state your doorless shower area. Try going with chevron, linear, mosaic, and subway tile accents for an eye-catching personality.
11. Complete Your Doorless Bathroom with Some Accents and Wicker Basket Rack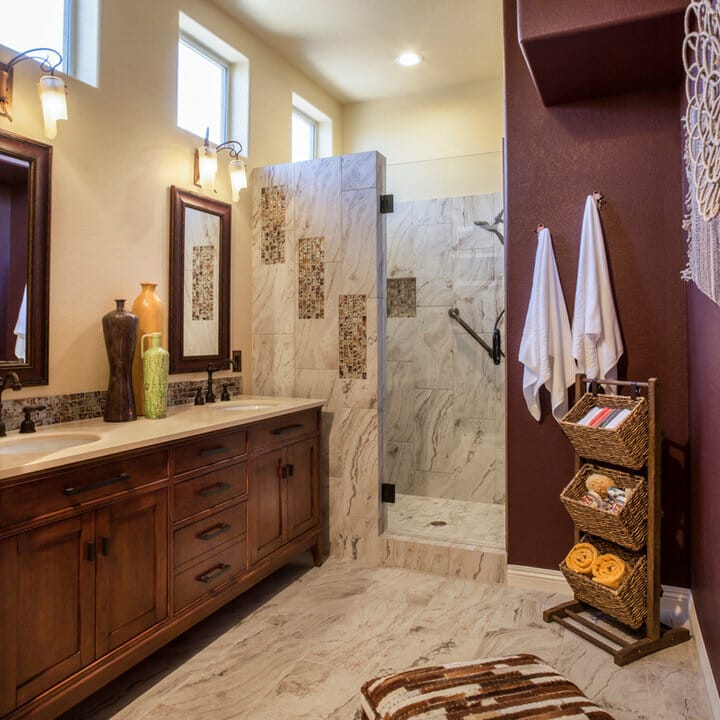 Whatever doorless walk in shower ideas you choose later, be sure to provide storage that is both versatile and aesthetic.
The picture above shows that the freestanding wicker basket rack will give a more environmentally friendly rural touch.
And combining a countertop with rugged wood and marble tiles will soon make your bathroom look elegant at the same time.
12. Wall Mounted Lights Fixture for Bathroom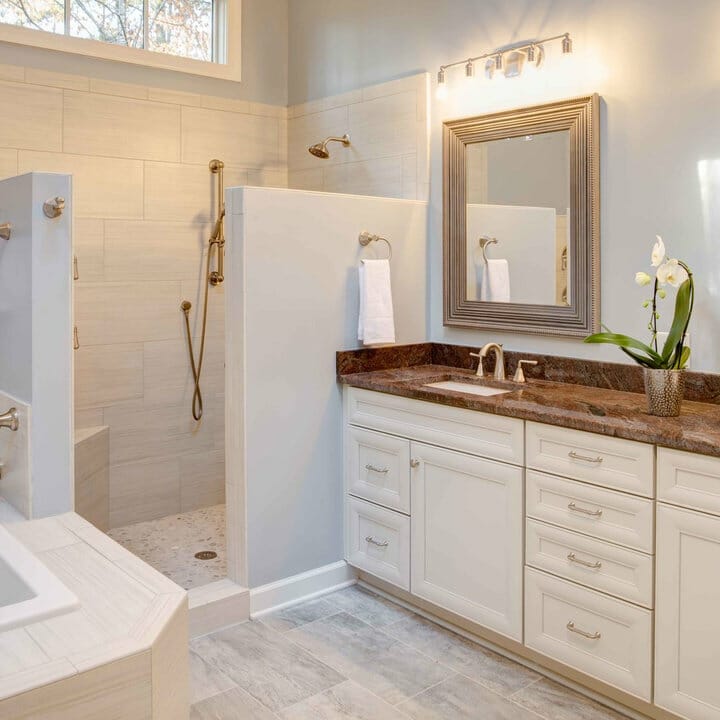 Choosing the proper light fixture will also be able to upgrade the look of your doorless bathroom.
However, that does not mean you should immediately give it the most expensive with a complicated model.
Alternatively, try installing a wall-mounted light fixture to highlight the presence of the mirror in your dressing room.
Moreover, having one with a unique shape can give your bathroom an artistic and aesthetic impression at once.
13. Simple Doorless Walk In Shower Ideas with Dots Tiles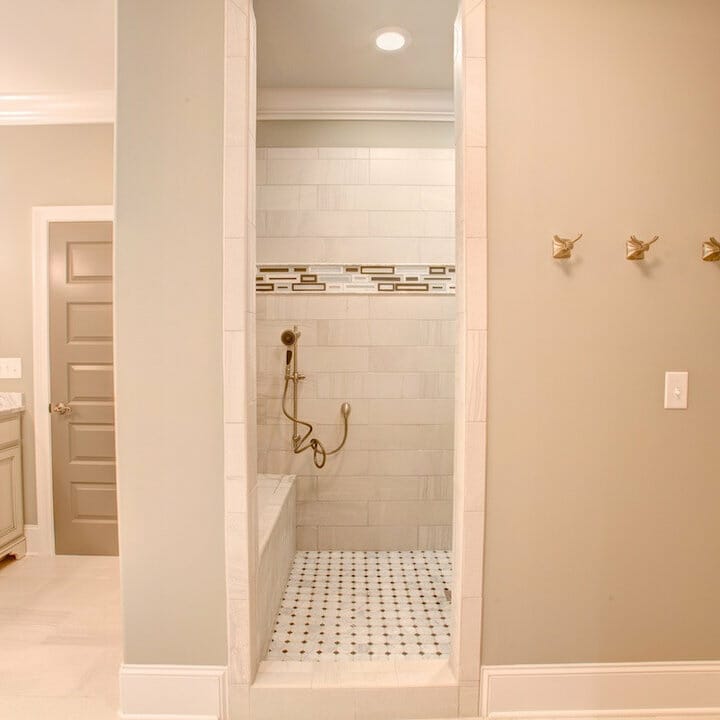 If you feel more comfortable going with a simple walk-in shower design, choosing one that combines warm colors like white and beige is worth trying.
In addition, to give it a statement and focal point, you can select dot tiling for your flooring. And, you can install some geometry tiles in one of the spots you want to highlight.
14. Private Shower Space with Tub by The Window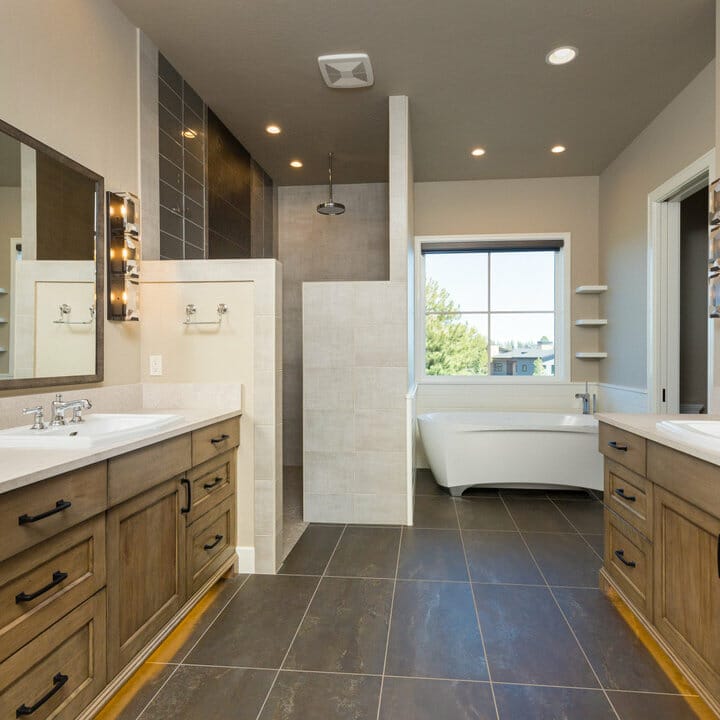 A doorless walk-in shower doesn't mean it can't give you privacy. Instead, you can arrange to provide a shower wall partition high up to the ceiling to hide you and differentiate your splash area from the tub area.
That way, you can still have more privacy while using the shower space and easily access it without needing a door.
15. Open Access Wet Room with Triple Shower Heads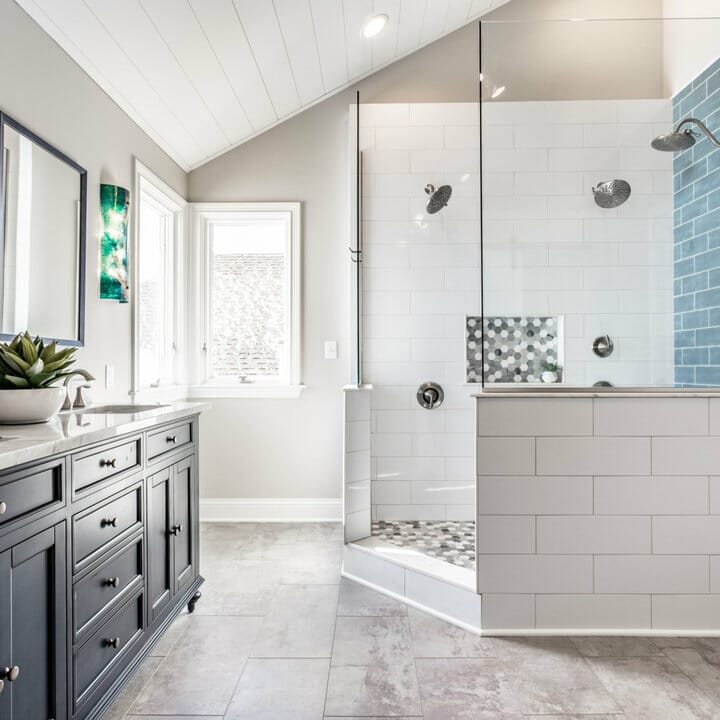 Doorless walk in shower ideas never limits you from having lots of showerheads in one place.
The bathroom concept without a door with ample space like this will provide more opportunities to present many showerheads with various models that suit your preferences.
Furthermore, you can also freely give a focal point with a different pattern in one area of your shower. Never hesitate to do everything according to your sense and personality.
16. Half Wall with Glass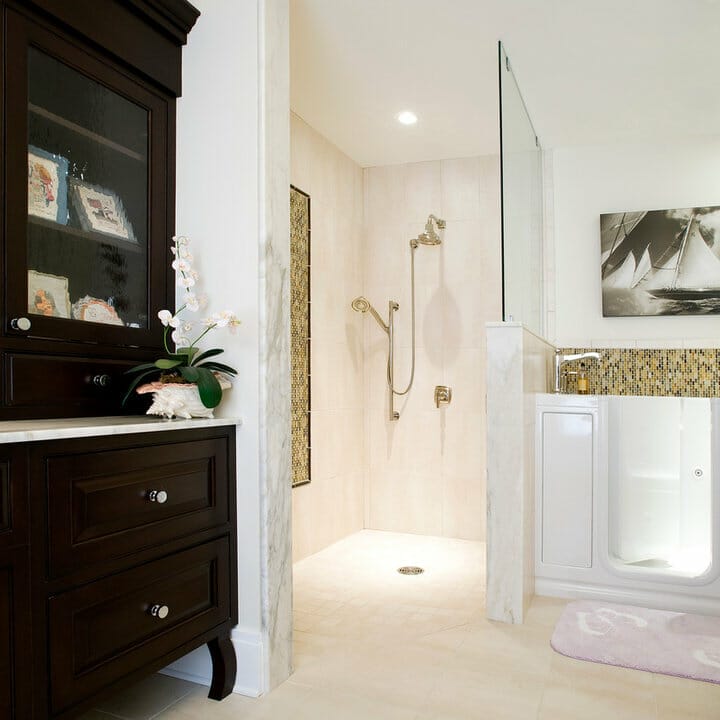 Providing your doorless bathroom with half wall and glass partition is an easy step for you to take to give a modern impression to your shower space.
Without a lot of effort, you already have a separate toilet and a splash area without making it look cramped.
Leaving it all white is certainly not a big deal. However, it's a good idea to give it a tiny focal point by presenting a mosaic tiling on some of the spots you want to highlight.
17. Vast Doorless Shower Space with Indoor Plants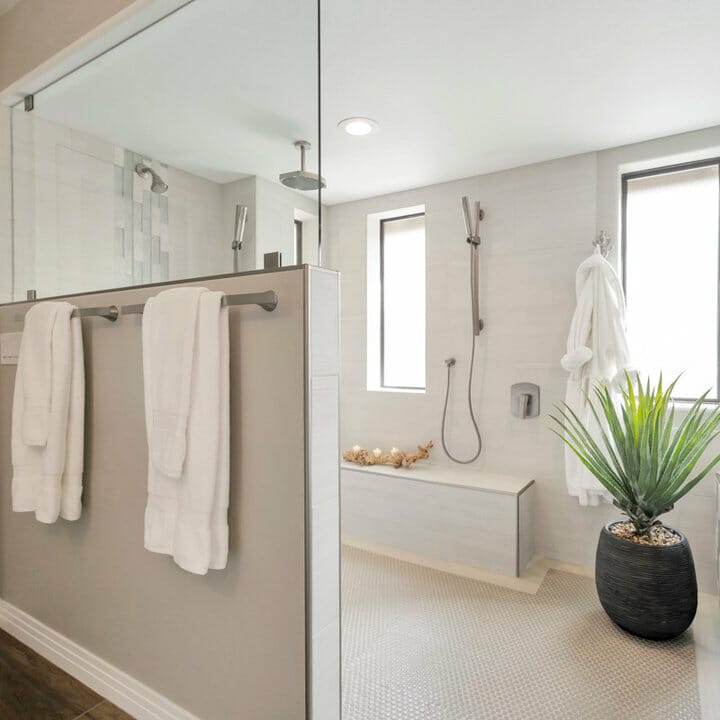 An ample doorless shower space will look plain and boring if it doesn't have indoor decorations.
To overcome this, you can place indoor foliage that matches the humidity level in your shower space.
You can start with palms or other plants tolerant of high humidity levels.
18. Separate Bathing Area with Nice View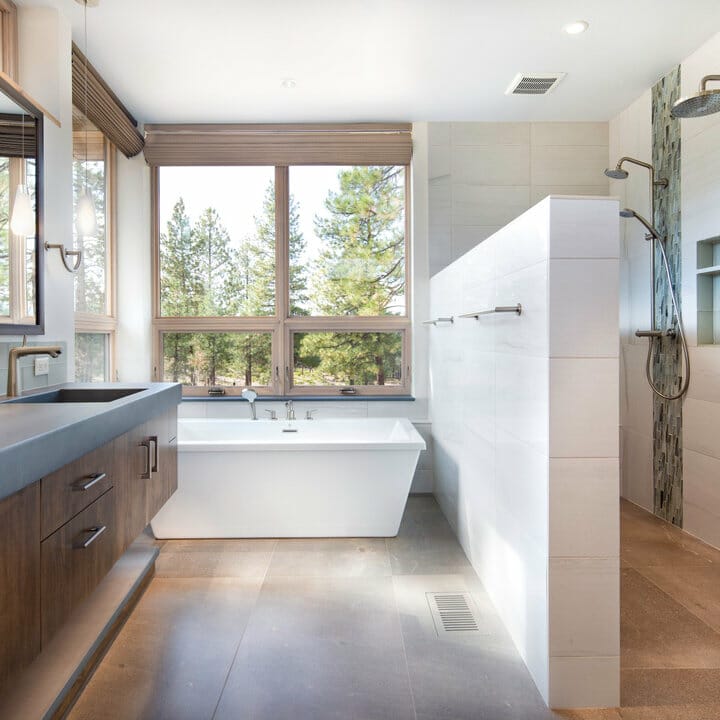 In the ample bathroom, you can freely separate the shower room from the bathtub space even without a door to provide easy access while facing busy working.
In addition, you can also be simpler by presenting only a half wall without glass to give an airy impression to your restroom.
If your shower space is in the corner of the room, you should set the bathtub area right next to the window to let you relax and enjoy the beautiful view while bathing. However, don't forget to give it blinds or shades to provide more privacy for you.
19. White Retro Style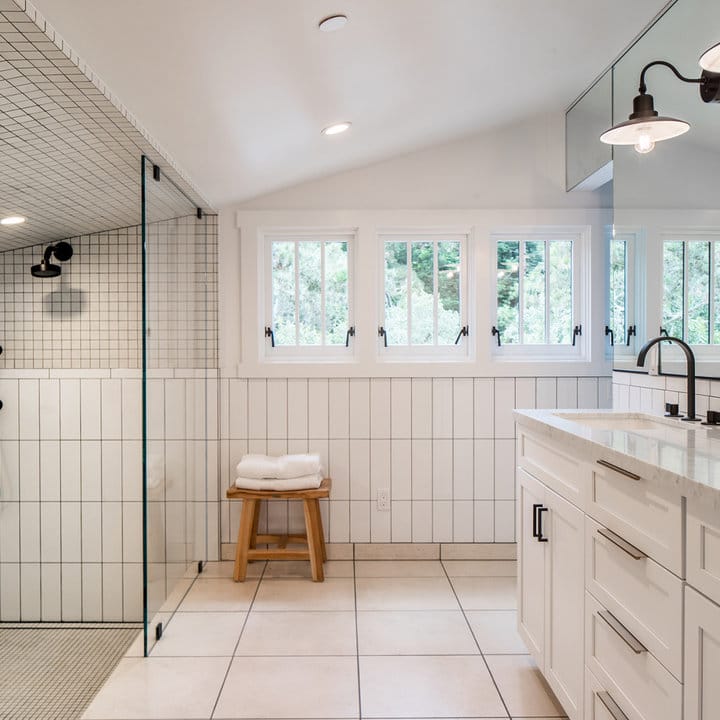 There is nothing wrong with giving your doorless shower space with a tiling arrangement that is square and rectangular. As long as it comes in different sizes and matches bright colors, all will be well.
You'd be better off going with a white retro design like the one above to keep your bathroom looking clean and spacious.
20. Relaxing Walk In Shower in Earthy Tone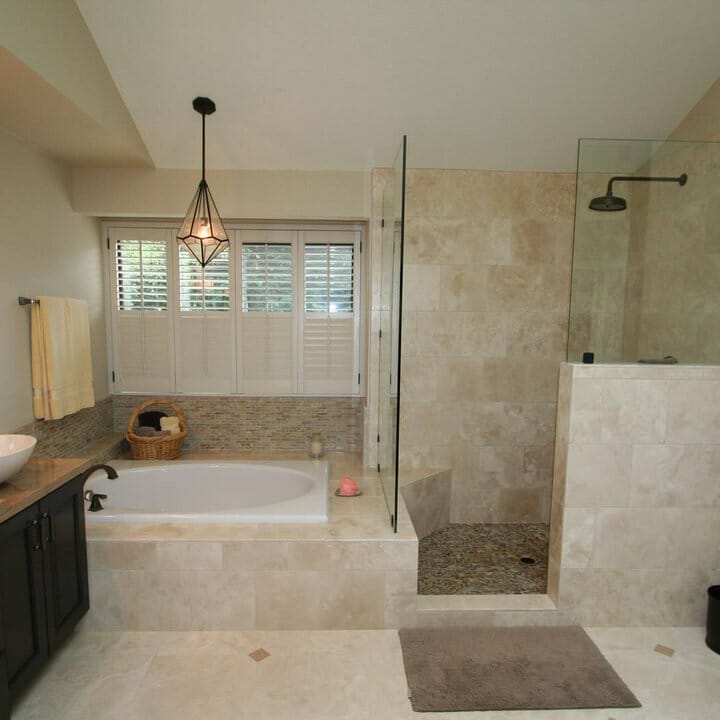 After going with white with its calming sensation, you can also complement your doorless walk in shower ideas with earthy colors such as cream, sand beige, and brown as above.
The selection of this tone will also give you a relaxed feeling during bathing.
Moreover, suppose it comes with pendant lighting that resembles a lantern with warm yellow illumination. In that case, you will immediately get an excellent vintage feel in your master bathroom.
21. Traditional Doorless Walk In Shower Ideas with Mosaic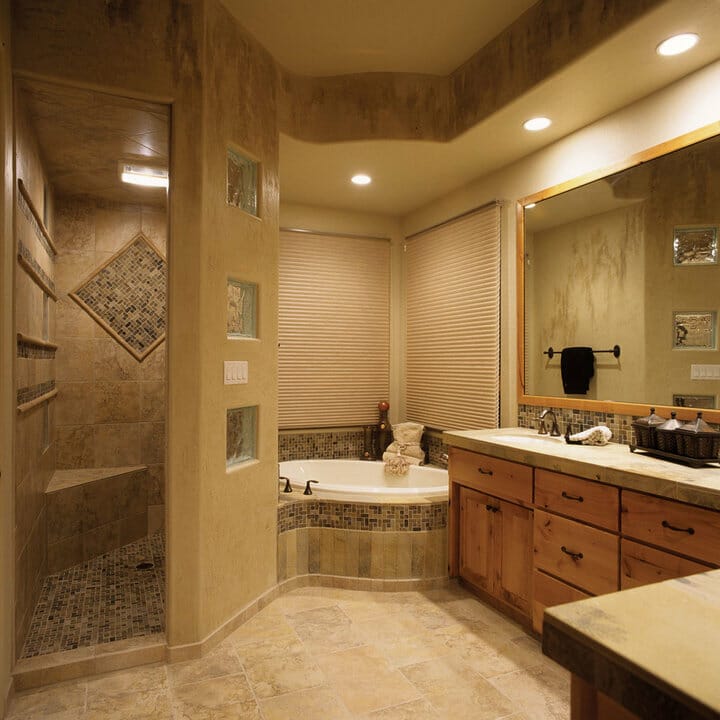 Bringing a classic style but still looking luxurious on your walk-in shower is not a difficult thing, indeed. You can start by giving a splash zone that has more privacy with a high wall partition and some glass blocks.
Furthermore, you can also consider setting up a built-in tub instead of the freestanding one.
To state your shower space and bathtub area, you can custom-mosaic tiles amid simple decor.
22. Brush Stroke Nickel Porcelain Tiles and Golden Mirror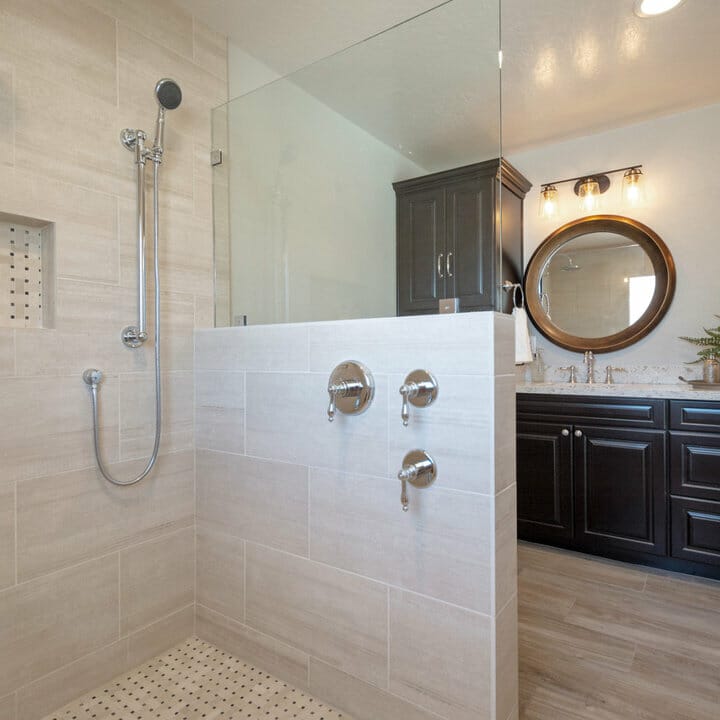 Playing with brush stroke nickel porcelain tiles is best for a more modern look. Indeed, especially with primary neutral colors that are nice with any decor, such as misty gray.
You only need to give it one focal point to make it elegant, namely by presenting a round mirror with a gold frame. And, now everything is all set.
23. Cream and White Theme with Mosaic as Focal Point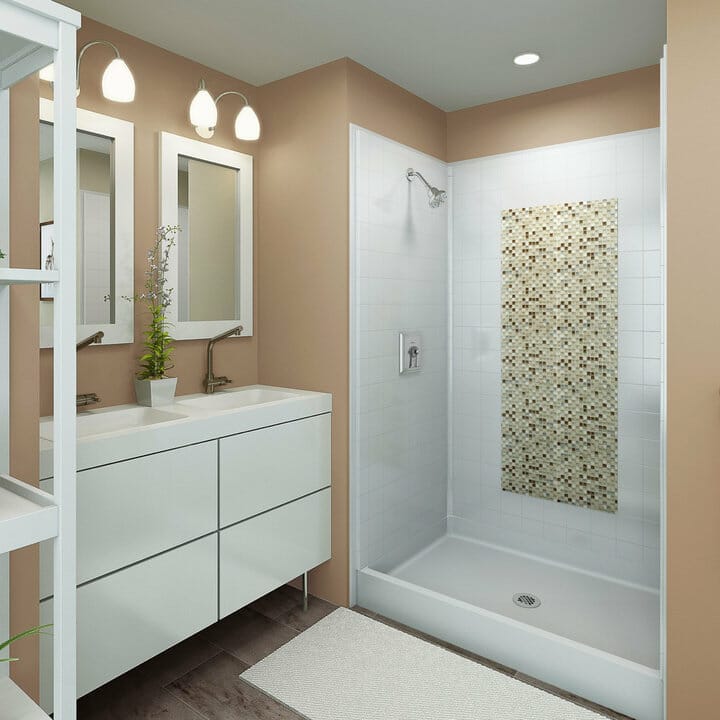 The personality presented by the mosaic tiles is never disappointing everyone's eyes, especially when combined with white and cream walls as above.
You can easily create a modern farmhouse vibe bathroom by adding a couple of white pedestal sinks complete with the bottom storage. Further, hanging two mirrors with wall-mounted spotlighting as above is also preferable.
24. Dark Plain Wall Tiling with Honeycomb Flooring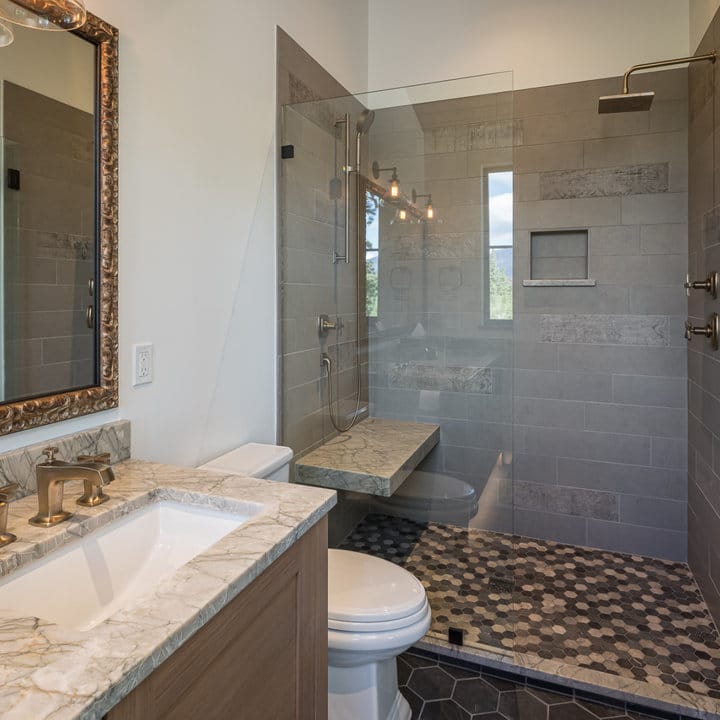 Playing with textures in several areas in your walk-in shower is the best choice to give it personality. Simply put, you can start by providing honeycomb floor tiling in different colors and sizes, both for your splash zone or your restroom. Meanwhile, you can leave it in the dark plain mode for the wall.
Then, you can also present a countertop and floating bench made of marbles of the same color.
As a final touch, merely hang a mirror with a carved frame and have a gold color to make everything look more elegant and luxurious.
25. Small Doorless Walk In Shower Ideas with Built-in Bench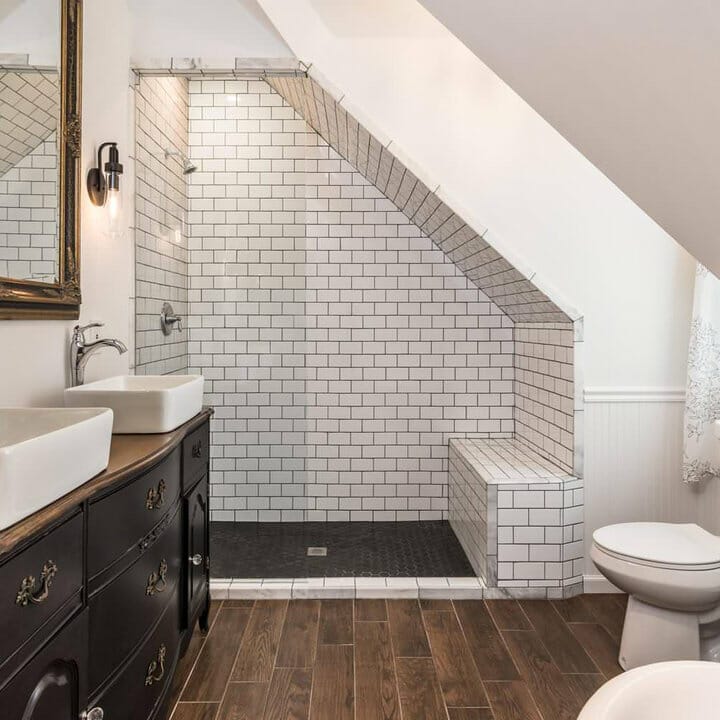 The walk-in bathroom with a small space allows you to have a space-savvy bench by presenting a built-in one.
This bathing spot has become an attractive focal point even without flashy decorations because it is located under the stairs with a sloping ceiling.
To make it look spacious, you need to give it a honeycomb tiling in white. As for the rest of the floor, it is better to use flooring that resembles wooden panels.
26. Built-n Shelf and Hexagon Mirror without Frame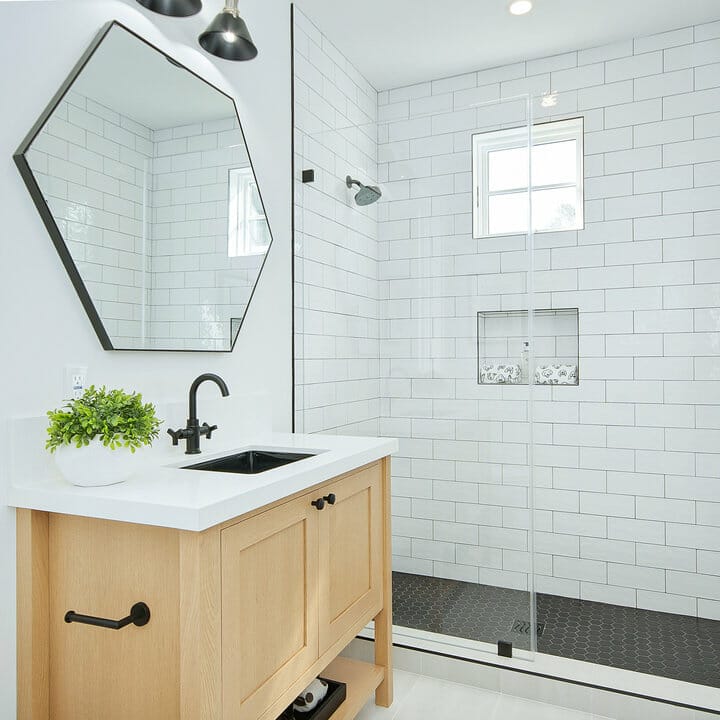 Making your small walk-in shower look more spacious is not a difficult thing. Apart from going with all-white decor, it would help if you also had straightforward furniture without a lot of accents, like this frameless hexagon mirror.
Combine the simplicity of this mirror with a built-in sink with storage like above. And, as a final touch, put greenery to get more refreshing air.
27. Classic Style with Dot Accent Tiles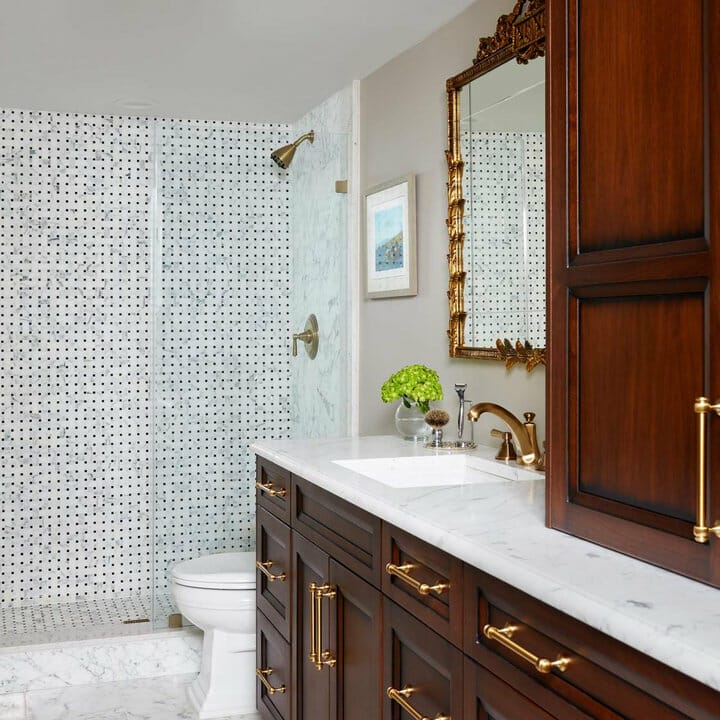 The classic design on the doorless walk in shower ideas will not look outdated as long as it comes with elements that stand out and are not complicated.
For example, you will succeed with simple dot tiles and don't give an overwhelming accent to the bathroom. Next, you can add a touch of gold to some elements in your furniture.
That way, everything will look fine together and timeless.
28. Modern Bathroom with Freestanding Shelf Unit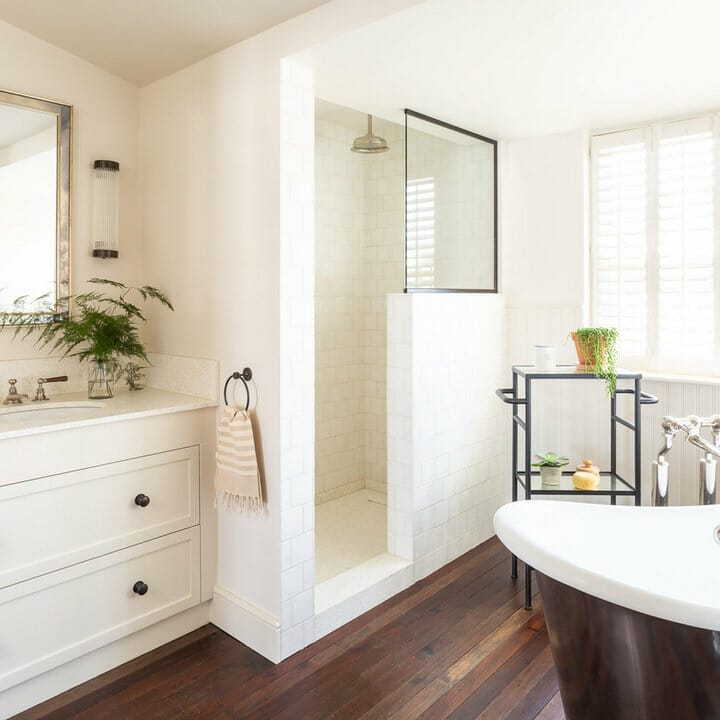 Freestanding units are a favorite for modern themed designs, including your doorless shower.
Freestanding furniture has a compact look. That way, it can display a more expansive bathroom space.
Once you go with these kinds of doorless walk in shower ideas, indeed, it will please everyone's eyes that come in.
29. Modern Minimalist Style with LED Mirror for Bathroom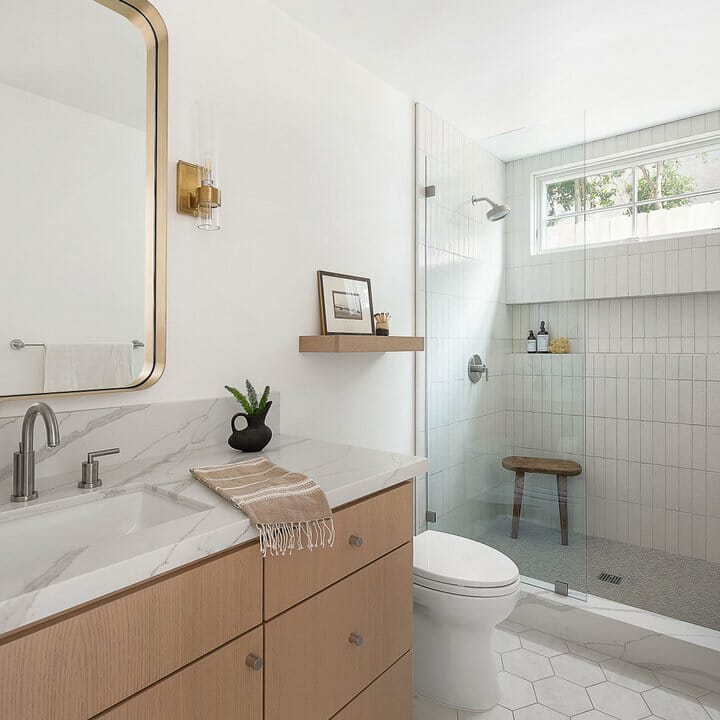 Still sticking with doorless walk in shower ideas with a simple theme. The white color with rectangular tiling for the wall is the most common concept you can adopt.
There is no need to be afraid to give the impression that it is too dull or plain because you can work around this on all the furniture in the bathroom.
As the simplicity is attached to a modern minimalist style, presenting a mirror with LED is the best solution you can take.
30. Luxurious Walk In Shower with Freestanding Tub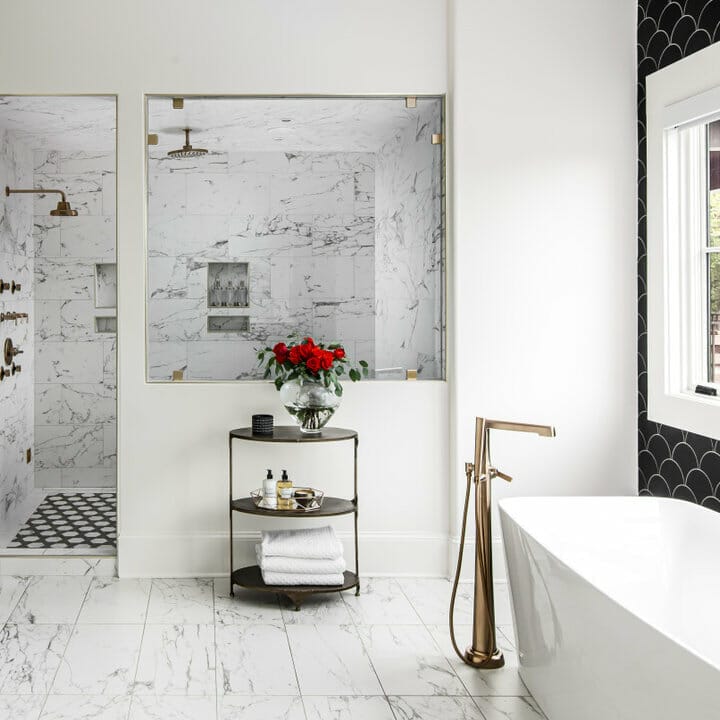 Let's go to the last option. Here is the luxurious theme without exaggerating things inside your walk-in bathroom.
You only need to go with a freestanding tub with a sleek design and equipped with a standing faucet with gold accents.
In addition, for your shower space, let it have a half wall that resembles a large window frame without glass with stunning metal edges.
The use of marbles on the walls and floor tiles also creates an incomparable luxury in your bathroom.
The key to these doorless walk in shower ideas doesn't just rely on how easily you can access your bathroom or spruce it up.
But it's also about the aesthetical value that it gives into your home, which will provide a calming and relaxing atmosphere while you are bathing.
Once you already get the best doorless walk in shower ideas that you want, immediately do a remodel, and get ready for your best me time ever!