Just because the plots are tiny doesn't mean they cannot give guests a grand welcome. Since front yard gardens develop a crucial first impression, homeowners should care for them. With these very small front garden ideas, you can convert yours into a pleasing space.
Front yard gardens allow homeowners to meet their communities and neighbors. Moreover, they let kids socialize with their friends. Apart from being a social space, such areas provide the opportunity to include various landscaping plants.
Whether you plan on making your tiny garden feel cozier, more inviting, or larger, these ideas will come in handy. Let's read up on them!
1. Low-Maintenance Very Small Front Garden Ideas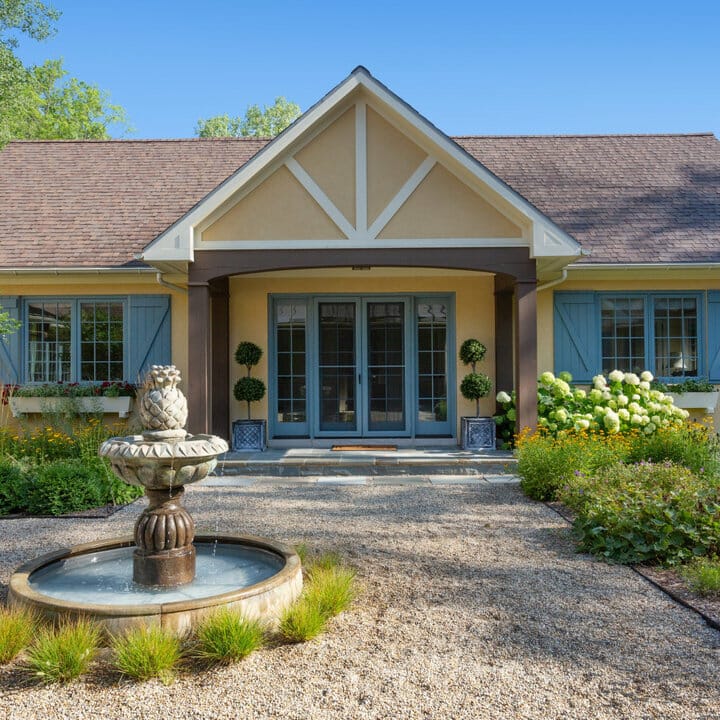 I admire this formal front garden. The gravel pathway makes it appear bigger. Furthermore, the marvelous water fountain adds interest and calms the soul.
The ornamental grass gathers around the circular water fountain. Moreover, it lends the gravel path a touch of color. As you see, the homeowner replaced the lawn with blooming plants like hydrangeas.
Two potted topiaries frame the doorway. In addition to creating vertical visual interest, they evoke low-maintenance luxury. Meanwhile, window box planters complete the look.
2. Very Small Front Yard Garden Ideas with Bulbs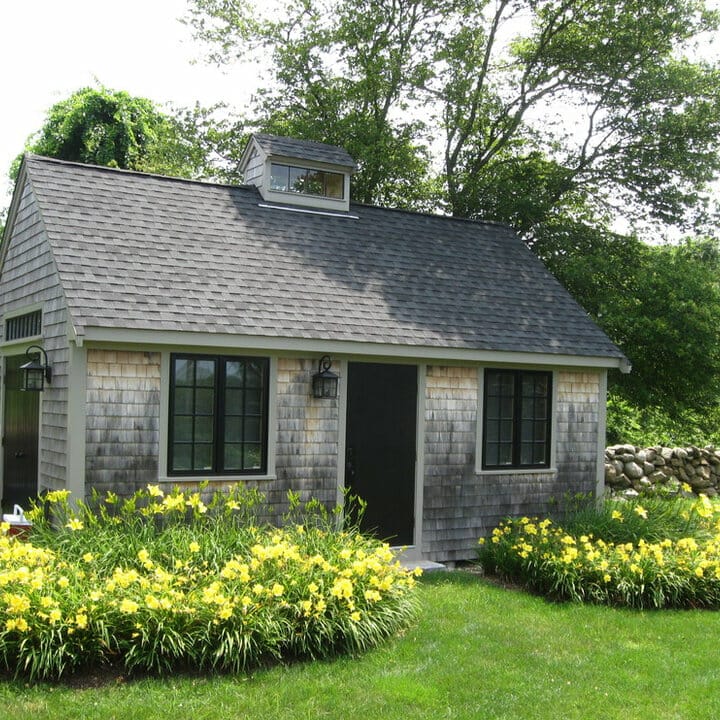 Speaking of small front garden plant ideas, you should pick plants carefully. Consider growing plants that provide greenery or a pop of color in 3 seasons out of 4.
Undoubtedly, planting gaps lead to an imbalance. Moreover, cheerful bulbs can be useful to fill those seasonal gaps. Also, they occupy little ground space.
Here, the homeowner makes the most of her front yard garden. She incorporated lawn and bodacious bulbs. Moreover, they complement wooden shingles and stone borders.
3. Modern Front Garden Ideas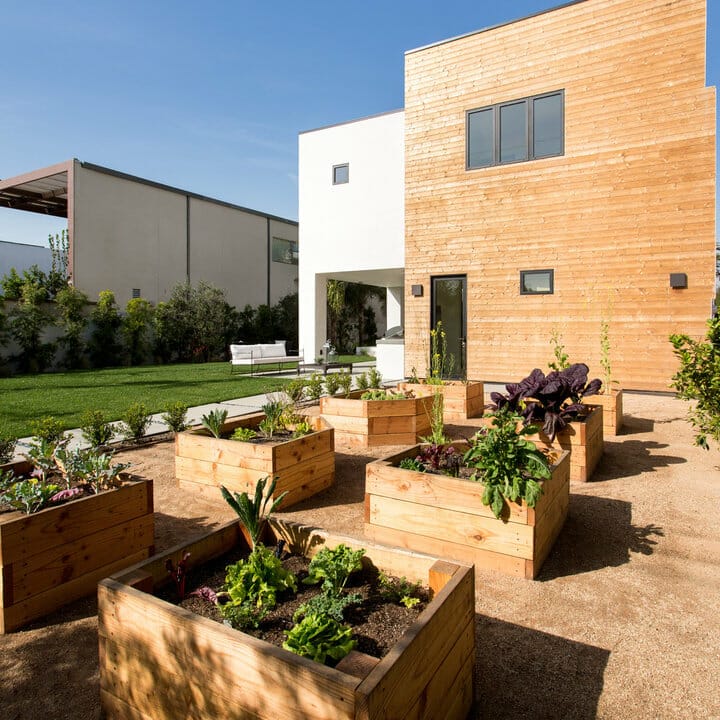 This is one of the very small front garden ideas that I swoon over. The homeowner added some wooden planters to her garden. They allow her to grow vegetables or herbs.
As you see, this vegetable garden offers some practical benefits. Moreover, the blonde wood planter boxes blend seamlessly with the siding.
These raised planter boxes hold different kinds of vegetables, from lettuces to kale. In addition, they deliver natural splashes of color to the modern front garden.
4. Very Small Garden Ideas with Hedges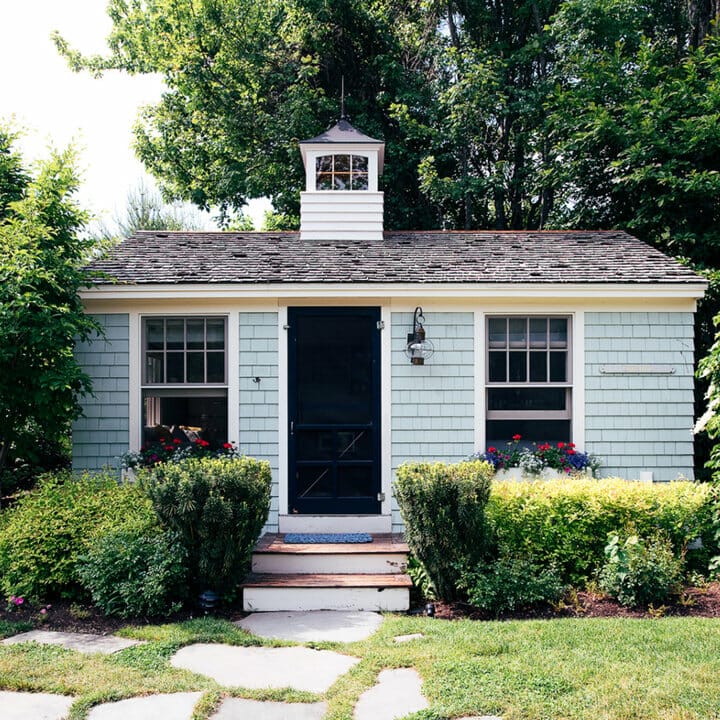 Need some small front garden ideas? If so, replicate this landscape. In the photo above, the flagstone walkway leads to wood and white steps. Furthermore, it carries a rustic flair and a natural ambiance.
The grass and groundcovers soften the harsh look of the flagstone path. Meanwhile, hedges lend this front garden some greenery.
Shrubs and tall evergreens produce interest. Moreover, bright white window boxes accommodate vibrant flowering plants that make the front garden complete.
5. Southwestern Small Front Garden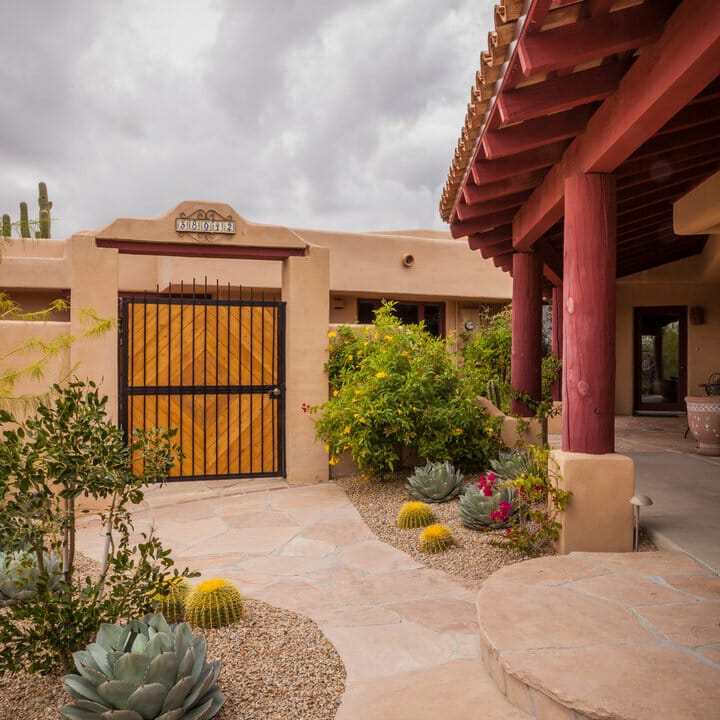 Need very small front garden ideas? Just replicate this look. The stone pathway, gravel, gate, and privacy walls wear warm neutrals. In addition to carving a welcoming vibe, they introduce a Southwestern flair.
Different varieties of cacti beautify the tiny front garden. Furthermore, they heighten the Southwestern atmosphere.
The flowering shrub and tree accompany cacti perfectly. Meanwhile, the climbing plant grows over the muted red-painted log pillar. It offers visual impact without overcrowding the ground space.
6. Very Small Front Garden Ideas with a Porch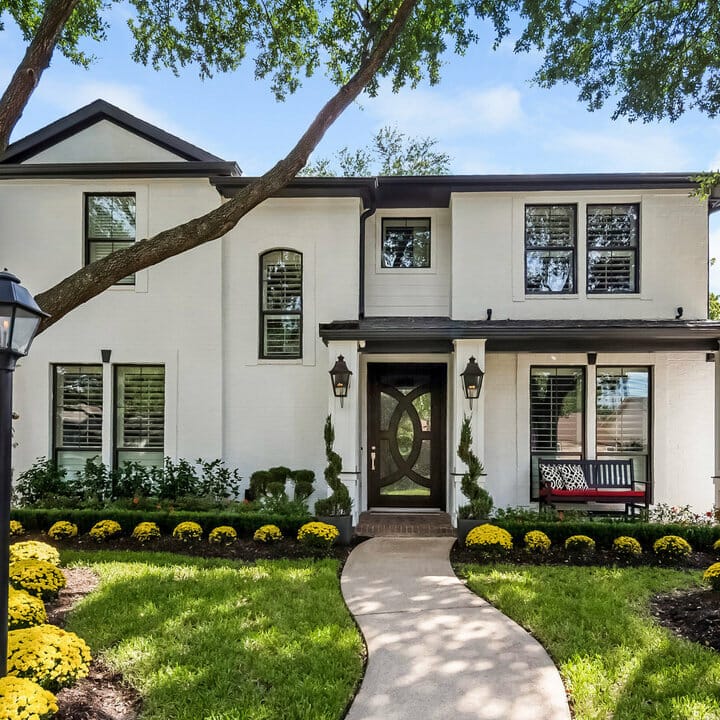 This tiny front garden boasts a curved concrete path. It divides the yard into two planting areas while clashing with red bricks.
Potted statement plants and wall sconces flank the doorway. Furthermore, they give the front garden visual symmetry and year-round greenery.
Yellow blooms and hedges brighten up the front garden. Moreover, the bench, red seat cushion, and monochromatic printed throw pillows lend the porch a focal point.
7. Front Garden Ideas with Gravel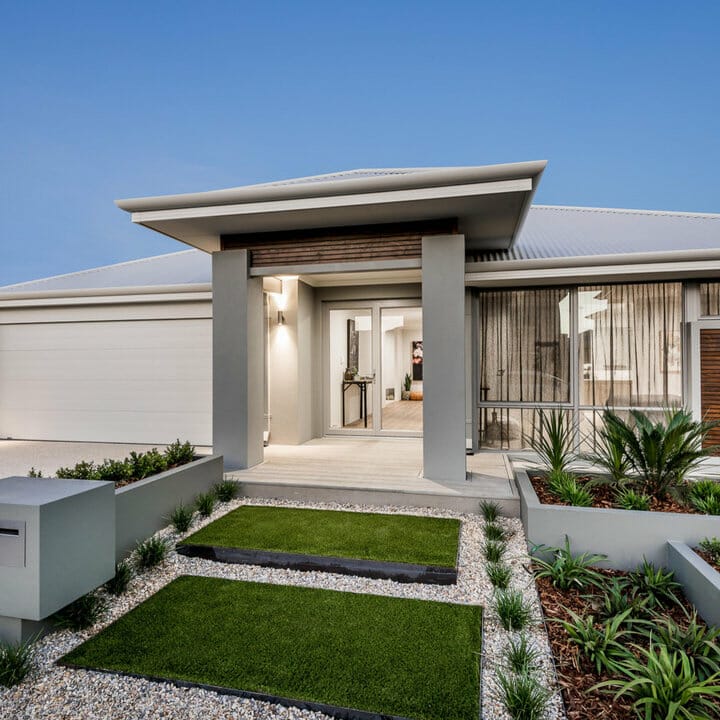 Speaking of very small front garden ideas, refrain from overcrowding your yard. If you're clueless, take inspiration from this landscape.
The gray planters are in sync with the house. In addition, their well-defined lines deliver a modern aesthetic to the front yard garden.
Here, the strip edging separates mulches from the gravel. Meanwhile, the ornamental grass and tiny raised lawns titivate the modern garden instantly. Also, they emanate a sense of order.
8. Easy Front Garden Ideas with Ornamental Grasses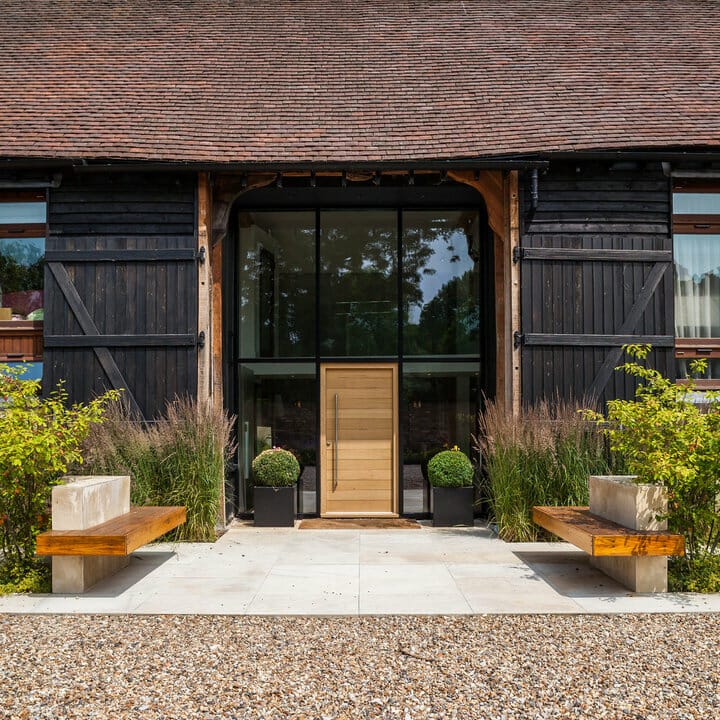 With plenty of very small front garden ideas, you might be overwhelmed. For a low-maintenance garden, consider growing ornamental grasses as well as specimen shrubs. Apart from carving visual interest, they infuse different textures.
The homeowner generated symmetry in his tiny front garden using minimal color repetitions. Here, wooden benches and potted boxwood shrubs guide visitors to the blonde wood door. Meanwhile, the concrete path highlights the gravel driveway.
9. Front Garden Wall Ideas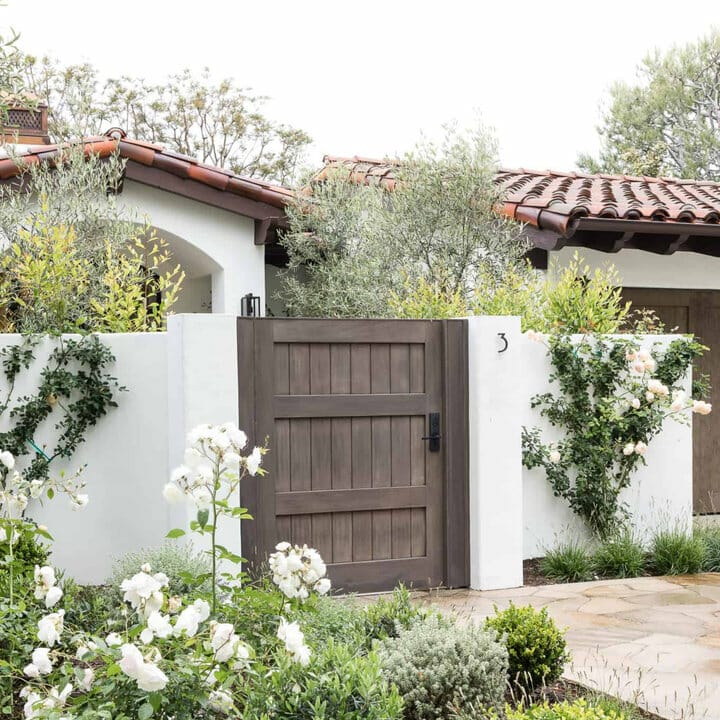 Since the planting space is limited, the homeowner planted a climbing plant and roses. Furthermore, they soften the walls effortlessly without eating up too much ground space.
The wooden gate door and bright white walls maintain the homeowner's privacy. Also, the warm-toned flagstone driveway keeps things balanced.
The ornamental dwarf grass lends the front garden extra visual appeal. Moreover, different varieties of shrubs and blooming plants make the yard more charming.
10. Very Small Front Garden Ideas for Mediterranean Houses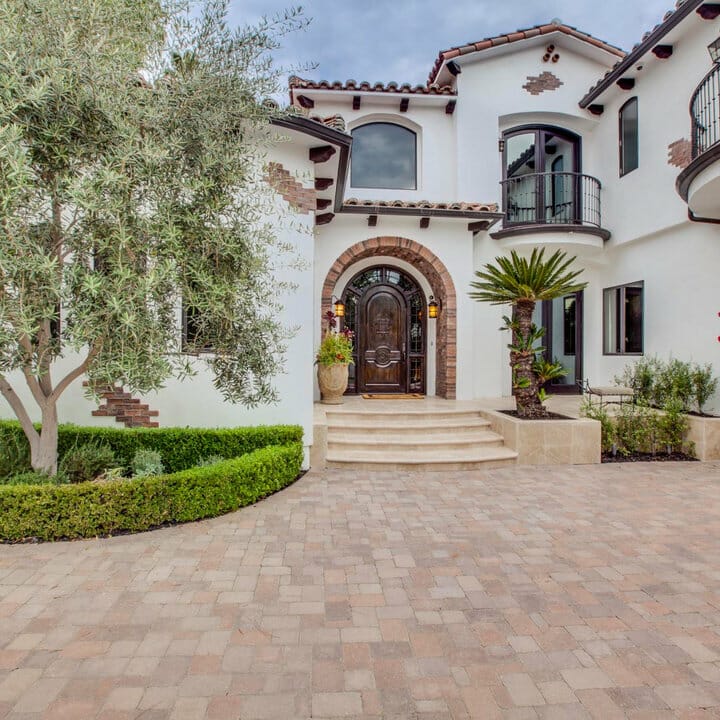 Don't you drool over this Mediterranean home? The front yard garden is nothing short of outstanding. Moreover, hedges add some greenery while carving a neat look. Meanwhile, the statement olive tree and palm plant steal the show.
Speaking of front garden ideas with driveways, consider installing paving stones. Their natural color variations will adorn the driveway while generating an inviting scene. The brick arch, marble staircase, classic sconces, and garden bushes round things out.
11. Formal Small Garden Ideas
If you need fabulous yet very small front garden ideas, copy this landscape. Here, everything is balanced. The symmetrical entrance carves a formal look.
Warm-toned bricks make for a welcoming pathway. Furthermore, they contrast with square concrete slabs while producing interest. Meanwhile, round front garden shrubs soften the sharp lines of the path in seconds.
Tall trees give the front yard garden some height. Moreover, the wrought-iron railing calls attention to brick steps.
Due to the pink and yellow blooms, the landscape seems gorgeous. Lastly, gray shingles and black mulches balance them out.
12. Very Small Front Garden Ideas with a Stone Gate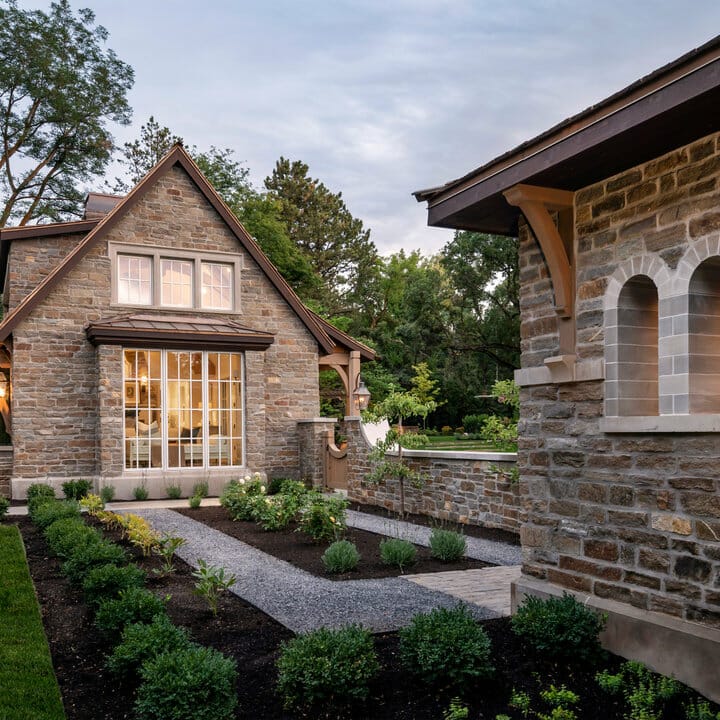 As you see, this front garden boasts a natural stone gate. It generates a physical boundary between the homeowner and the outsiders. Furthermore, the wooden gate door complements the stone exterior walls perfectly.
The strip edging keeps the gray gravel walkway shipshape. Meanwhile, round shrubs and slim trees titivate the front yard garden without making it feel cramped. Lastly, flowering plants add beauty. They give the wildlife a haven, too.
13. Small Beach Cottage Garden Ideas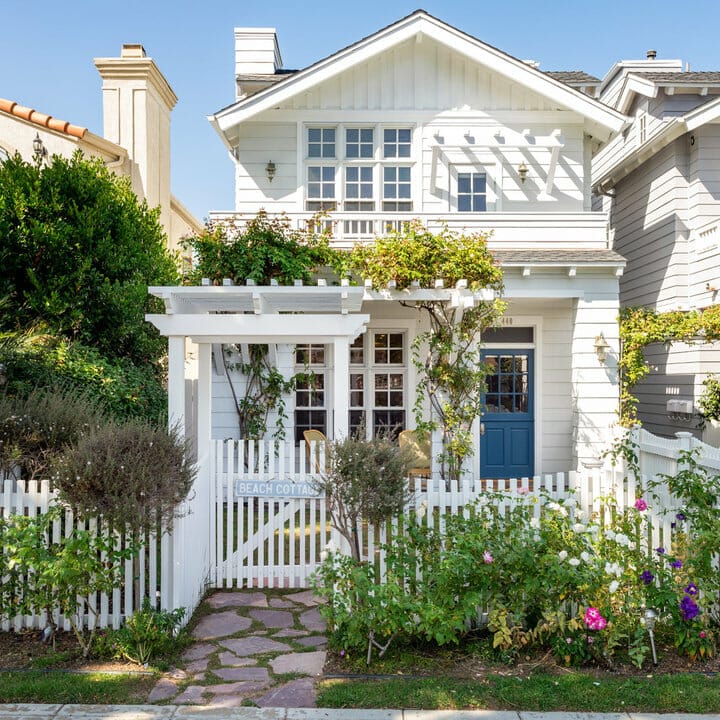 This is one of the very small front garden designs that leave me speechless. The white fence, blue front door, and shiplap exterior walls carve beach cottage vibes.
The blooming plants soften the architecture while adding pops of purple and pink. Meanwhile, tall trees and climbing vines create vertical interest.
14. Small Eclectic Front Garden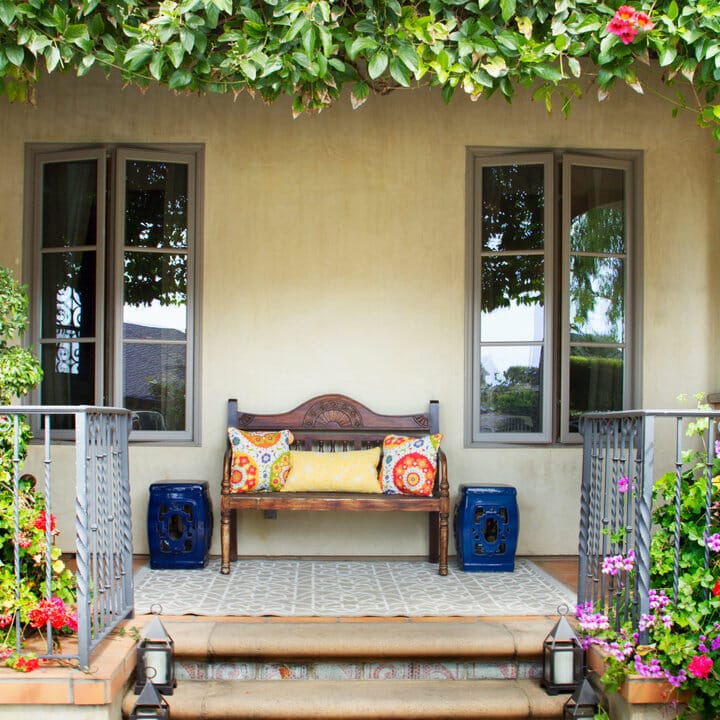 Speaking of very small front garden ideas, you should refrain from integrating lots of pieces. Here, the porch boasts a wooden bench and statement throw pillows.
The gray area rug anchors bold blue ceramic stools. Moreover, flowerings plants and candle lanterns frame the steps. Also, the climbers overhead add some shade.
15. Very Small Front Garden Ideas with Fountains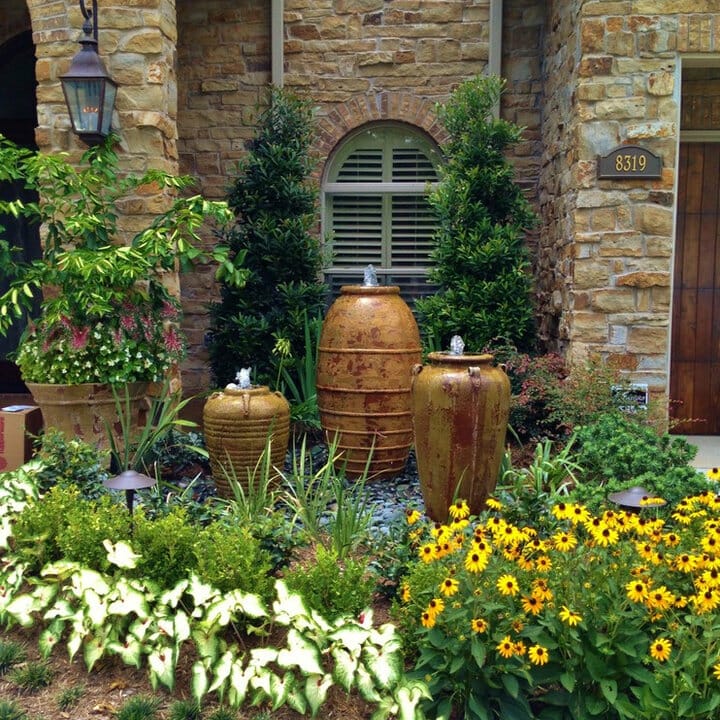 Here, the jug fountains blend seamlessly with stone exterior walls. Furthermore, they provide a soothing water sound while introducing interest.
In this tiny front garden, river rocks gather around jugs of different sizes. Moreover, evergreens, bushes, seasonal bulbs, and black-eyed Susan plants make the yard impressive.
16. Front Yard Garden with a Patio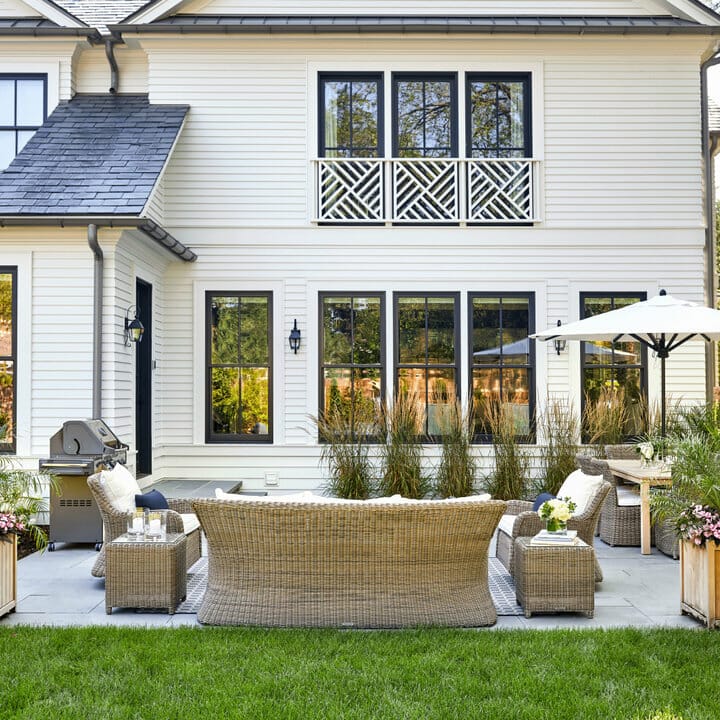 The homeowner makes the most of his tiny garden. As you see, she created a cozy patio in the very small front yard.
Concrete slabs clash with the vibrant lawn. Meanwhile, cushions and wicker furniture items offer optimum comfort. The ornamental grass, blooms, and potted palm trees deliver natural beauty.
17. English Cottage Front Garden
The high gloss planters complement the bright red glass door and dark-toned wooden shingles. Meanwhile, round boxwood shrubs add greenery and symmetry.
Here, the jute doormat sends out an inviting vibe while heightening the cottage ambiance. Furthermore, the flagstone path accentuates nearby plants.
18. Small Front Garden Ideas No Grass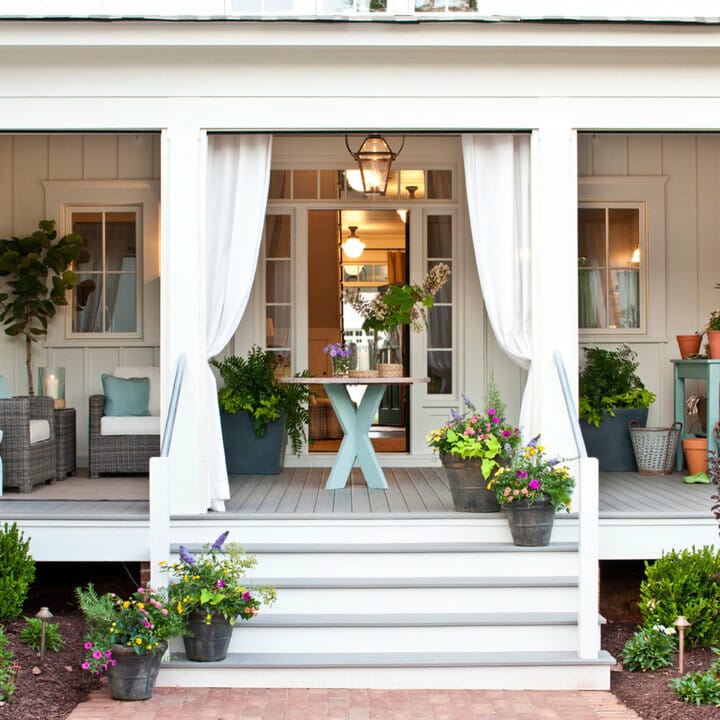 Undeniably, this is one of the very small front garden ideas that wow me. The gray porch flooring and steps clash with reddish-brown pavers.
White draperies make for an elegant entrance. Meanwhile, the statement plant, shrubs, beautiful blooms, and ferns adorn the small porch.
19. Welcoming and Wondrous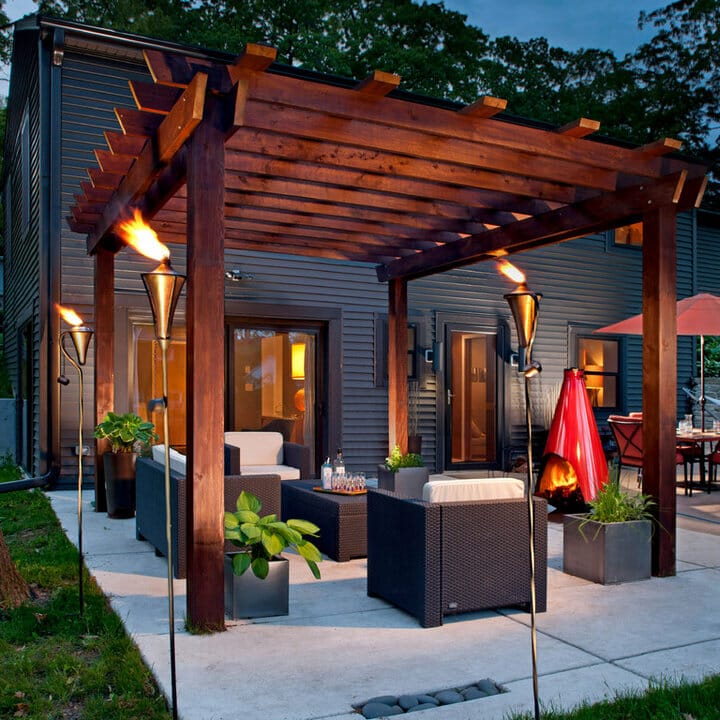 The lawn softens the harsh look of the concrete patio floor. Meanwhile, deep gray planters and furniture items infuse sophistication.
Here, the dark-toned wooden pergola structure, fireplace, and freestanding torches warm things up. Furthermore, the greenery delivers visual impact.
20. Very Small Front Garden Ideas with Rustic Touches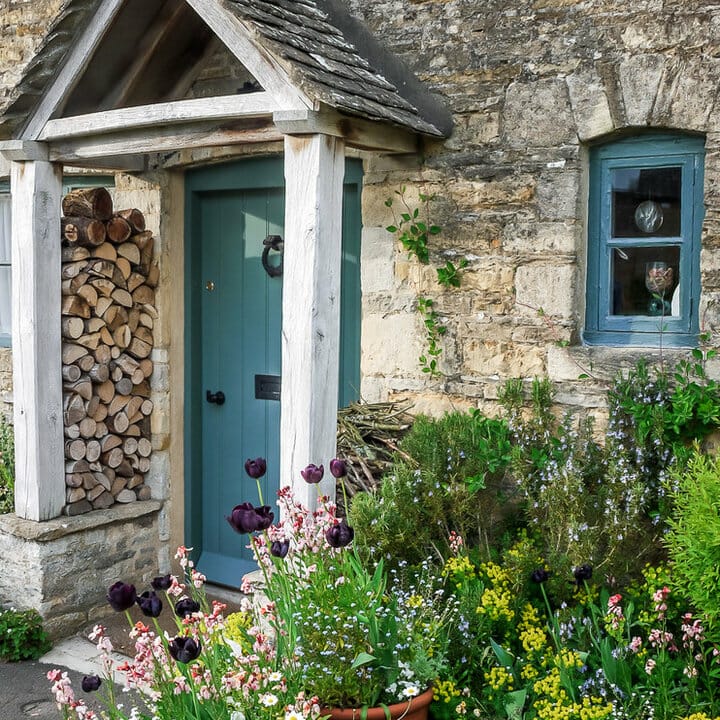 This small house employs rugged stone exterior walls. Moreover, the firewood and whitewashed wooden pillars amplify the rustic feel.
The blue front door and window frame infuse a splash of color. Meanwhile, climbing plants and blooms of different hues catch the eye. They divert attention away from the tiny, rustic house in seconds.
21. Tiny Front Garden with Flowerbeds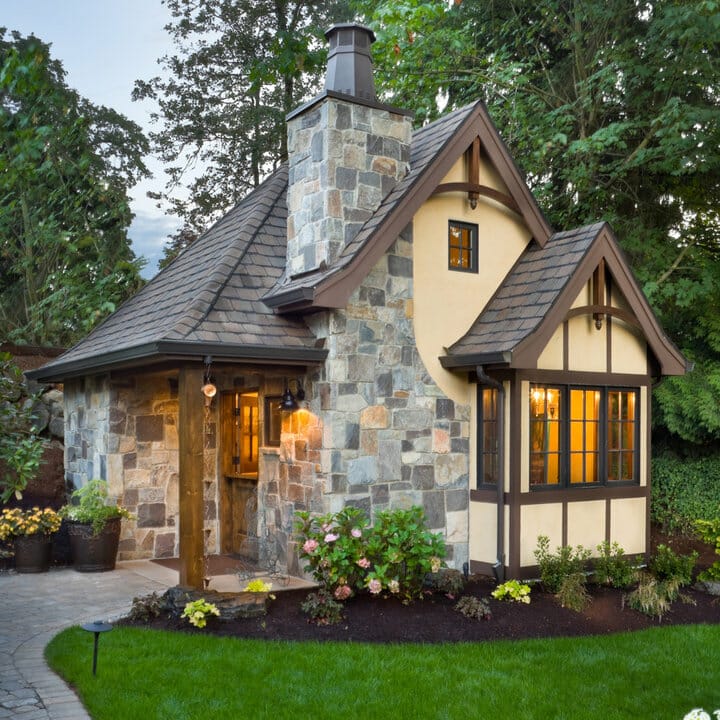 The somewhat large stone path makes this tiny front garden seems bigger. Furthermore, it blends perfectly with the natural stone walls.
In this photo, the flowerbed features hydrangeas and bushes of different heights. Meanwhile, potted plants brighten up the entrance.
22. Very Small Front Garden Ideas with Steps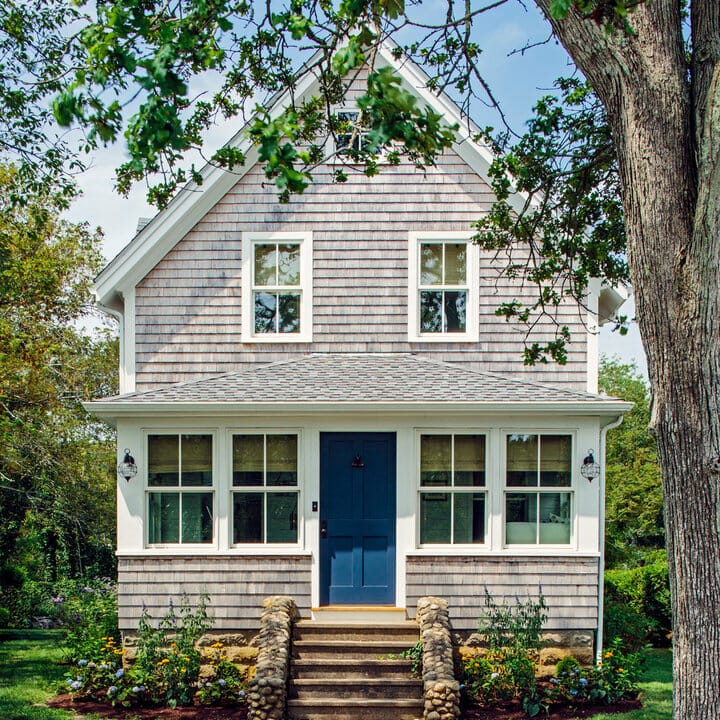 The homeowner softened the stone railing with stunning blooms. Moreover, the steps allow the guests to have easy access to the navy front door.
As you see, the immaculate lawn keeps this small front garden looking lively. Furthermore, hedges and large trees complete the landscape.
23. Very Small Front Garden Ideas on a Budget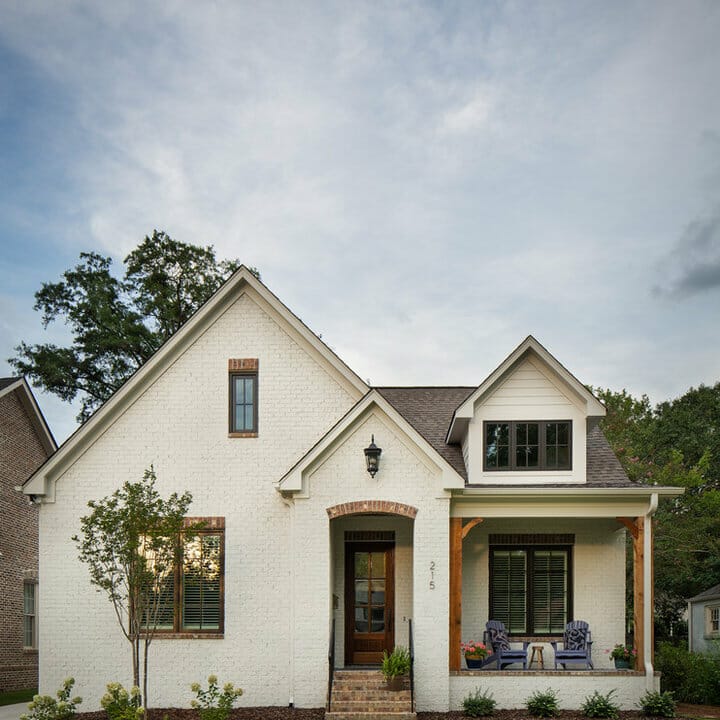 If your budget and ground space is limited, try out this option. Consider painting the brick exterior walls to enlarge the entrance visually.
Optimize the available space by creating a porch with a tiny table and Adirondack chairs. Since the front garden is tiny, keep the planting scheme simple.
24. Tiny Front Garden with Landscaping Rocks
The brick and stone walls make for a rustic but welcoming entrance. Furthermore, a couple of black planters with pretty plants create symmetry.
Dark gray and light neutral-colored rocks offer a neat look. Moreover, shrubs, bushes, and climbing vines ensure that the tiny front garden doesn't seem lusterless.
25. Small Front Garden with a Swing Chair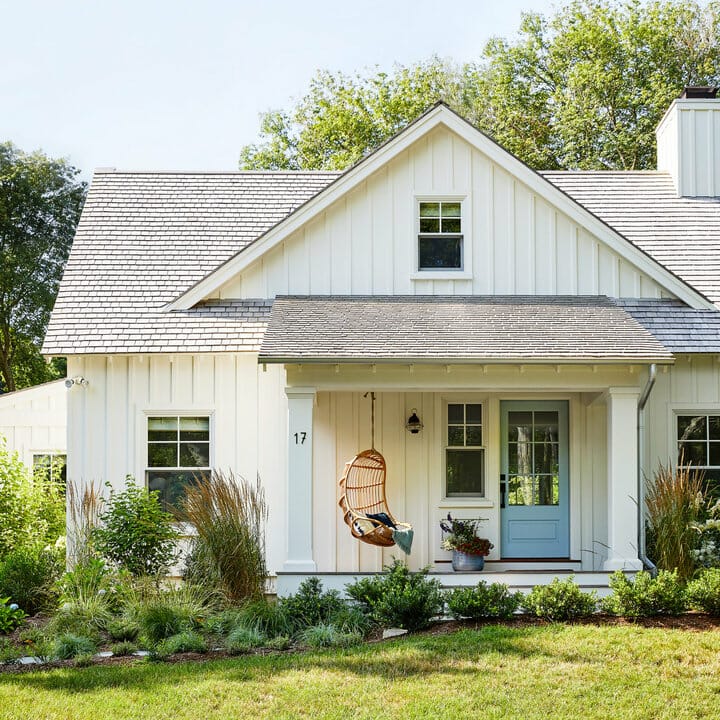 Speaking of very small front garden ideas, consider three levels of planting. Moreover, plants of different heights lend the landscape some dimension.
Here, the garden bed looks marvelous because of shrubs and ornamental grasses. Meanwhile, the rattan swing chair produces a laid-back scene.
26. Compact Yet Charming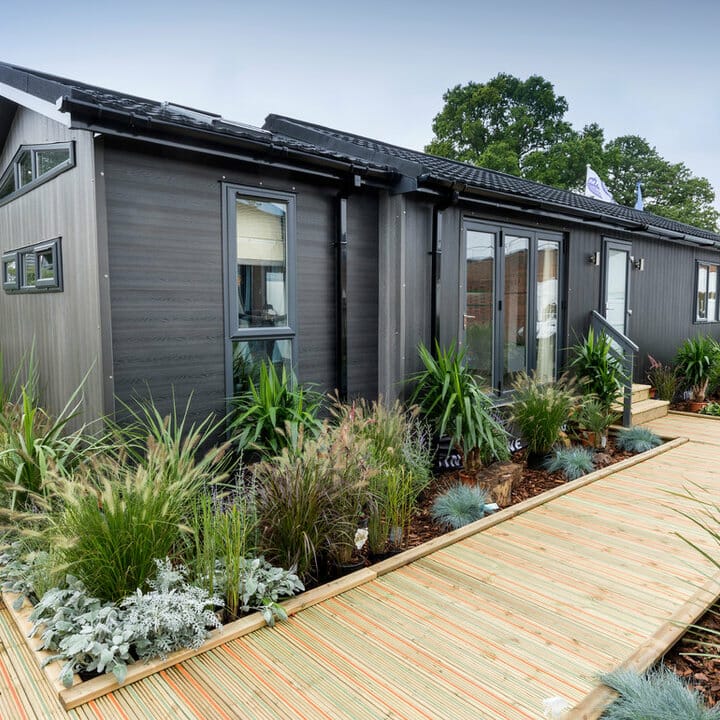 Tiny front gardens don't need a lawn. You can replace the lawn with silver-foliage shrubs and ornamental grass that are equally stunning.
The colorful, striped wooden pathway guides visitors to the entrance. In addition, it warms the tiny front garden up while offering interest.
27. Guest House with a Small Front Garden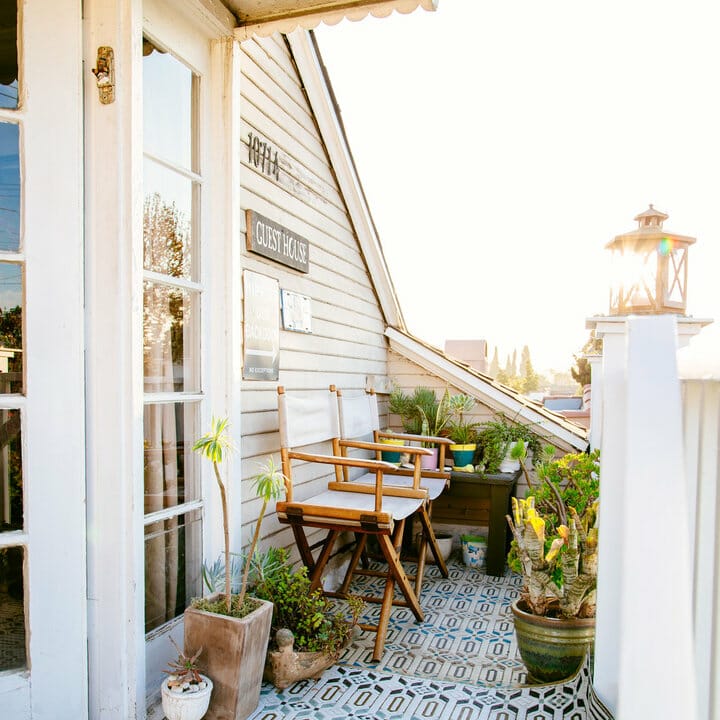 This tiny front garden belongs to the guest house's balcony. The multitone printed rug softens the look. It anchors slim armchairs and gives visitors some comfort, too.
The wooden table accommodates small yet cheerful pots. Meanwhile, large planters hold statement trees.
28. Fabulous Flowers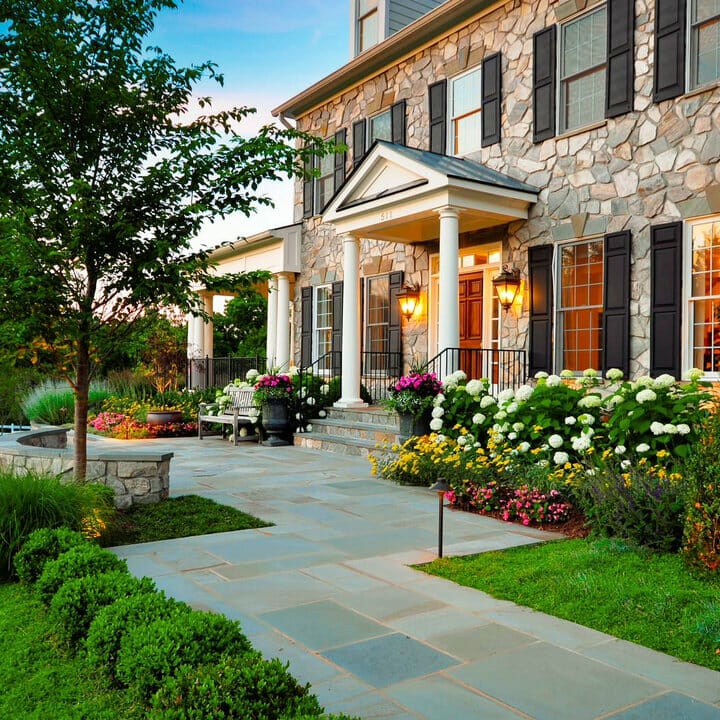 Despite its small front garden, the entrance makes an impressive welcome. The planters, sconces, and pillars evoke unmatched elegance.
The stone path and seat wall let the front garden be in line with nature. Lastly, shrubs, grasses, and blooms spruce the landscape up.
29. Say No to Dense Planting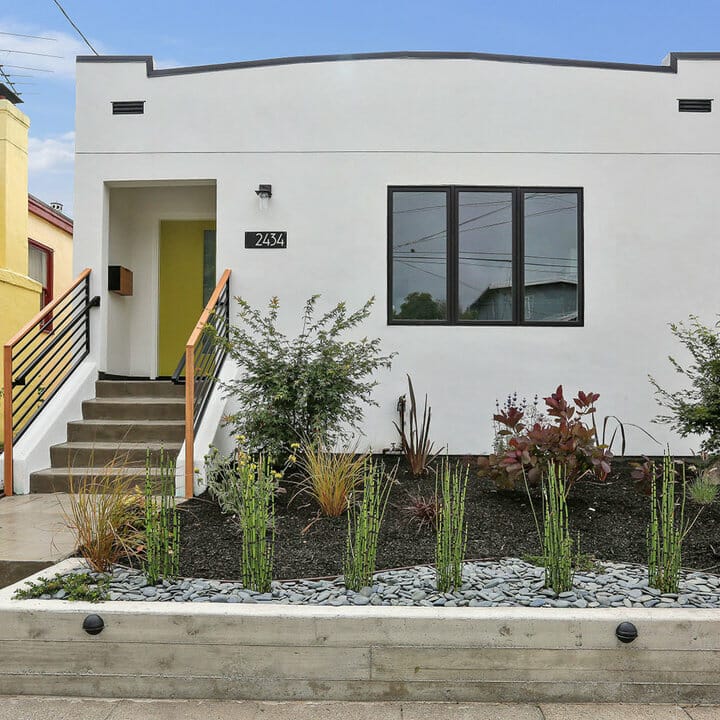 This is one of the very small front garden ideas for hillside properties. The steps allow guests to enter the house with ease.
The strip edging is a sleek divider between flat river rocks and black mulches. Meanwhile, ornamental grasses and bushes jazz up the front garden.
30. Front Yard Garden with a Lawn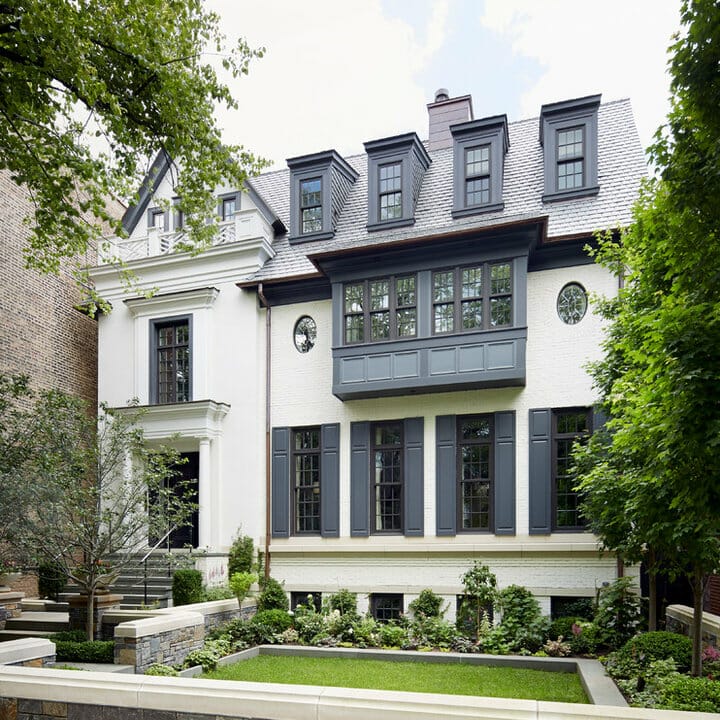 I adore the architectural details here. Furthermore, the wide gray steps and stone walls deliver a cohesive feel in seconds.
The shrubs and blooming plants surround the tiny sunken lawn gorgeously. Moreover, tall trees lend the small front garden dimension and vertical interest.
Tiny gardens deserve attention and thought. You need to think about depth, seasonality, visual height, color repetition, and focal points. Duplicate any of my very small front garden ideas. I believe yours will seem more uplifting and expansive.