The color scheme is one of the elements that play a crucial role in carving out a certain home style. If you are in your quest for it, keep on reading to find 29 cool grey modern rustic living room ideas.
1. Grey Modern Rustic Living Room with Brick Partition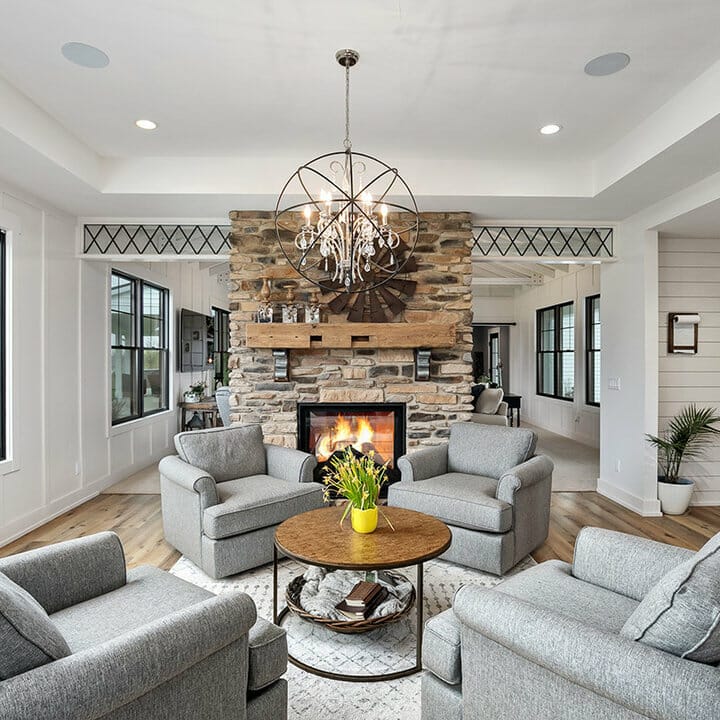 This house embraces the open floor plan concept, which is common in modern homes. One of the blessings of this choice is you can get a very spacious living room.
Unfortunately, the open floor plan concept compromises your ultimate privacy. Well, it does not have to be true. Try investing in a room divider to replace a wall.
You can find many room dividers in stores. If you want to carve out a grey modern rustic living room, this exposed brick wall is your safe bet.
This exposed brick wall makes not only a great room divider but also a magnificent centerpiece that steals anyone's focus.
2. Double Up the Windows
One of the effective ways to tackle the awkward look of a high ceiling is by installing more windows. This way, you will not only solve the problem but also let natural light illuminate the living room better.
You can also install wood paneling to cover the ceiling and suspend a wrought-iron chandelier from it to create a standout grey modern rustic living room.
3. Make Statement Pieces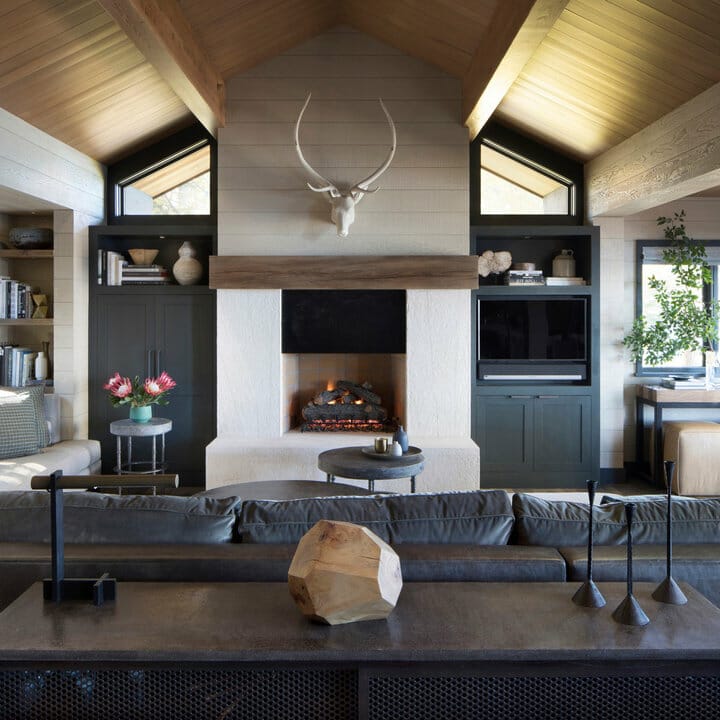 If you look for a simple way to add the touch of rustic charm to your modern living room, you can try adding some accessories that make statement pieces.
They're not always costly, though. A wooden plank above the fireplace will do the job. You can also add a distinctive accessory on the console table, just like the one you see in this picture.
4. Modern Rustic Living Room Wall Décor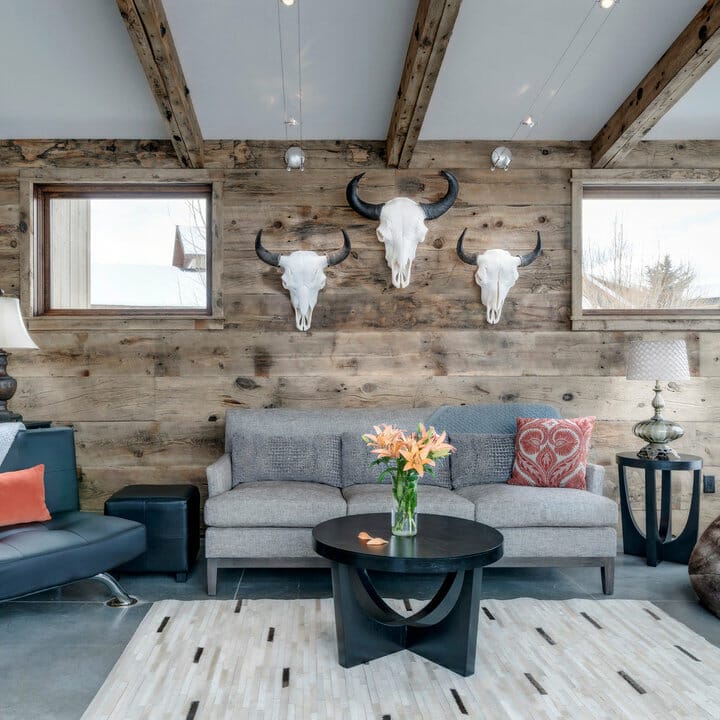 An accent wall always plays an essential role in defining the style that you are trying to carve out. If you want to create a grey modern rustic living room, you can simply install shiplap paneling using reclaimed Barnwood.
If you think it is still incomplete, try rounding out the look with animal skull décor.
5. Tap into the Ceiling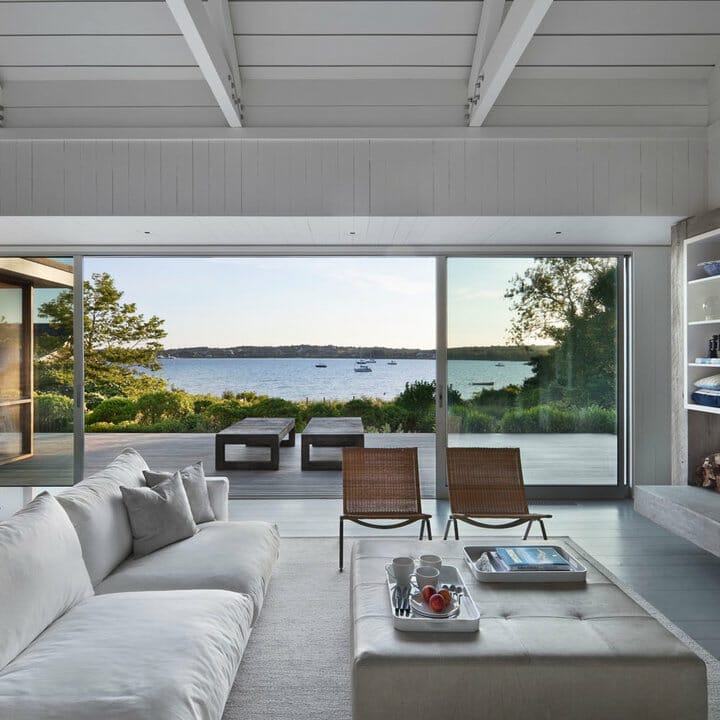 Many people tend to focus on bettering the look of the walls. How about the ceiling?
Covering the ceiling with reclaimed wood paneling is an instant way to add a bit of rustic style. Furthermore, it can draw the eyes upward, making people think that the living room is larger than it really is.
6. Modern Rustic Living Room Ideas on a Budget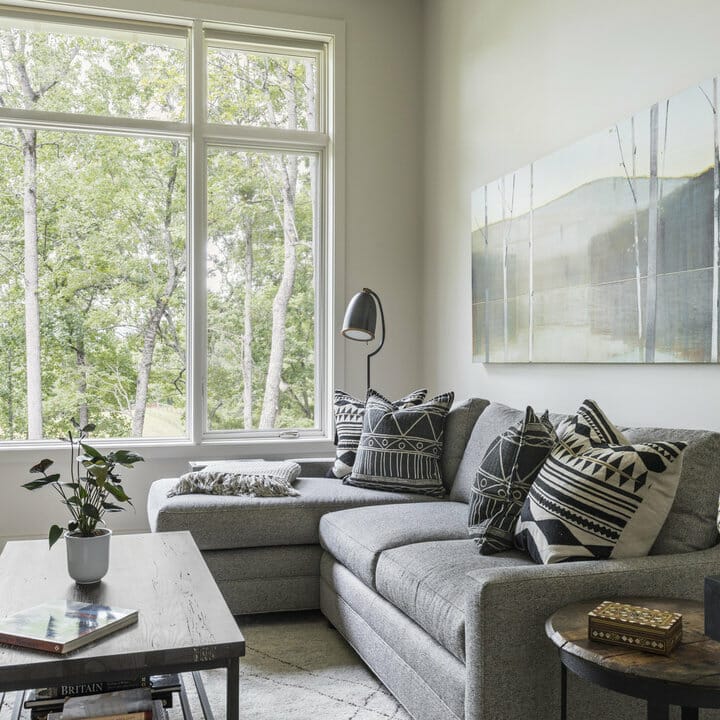 If you long for a striking grey modern rustic living room yet you are short on budget, try this affordable idea.
Bringing in some pieces of wooden furniture to your living room will do in a pinch. This coffee table and side table, for example, infuse a bit of rustic style. More importantly, they are affordable.
In addition, if you are thrilled about DIY assignments, you can always make them yourself so that you can save more money.
7. Effortless Grey Modern Rustic Living Room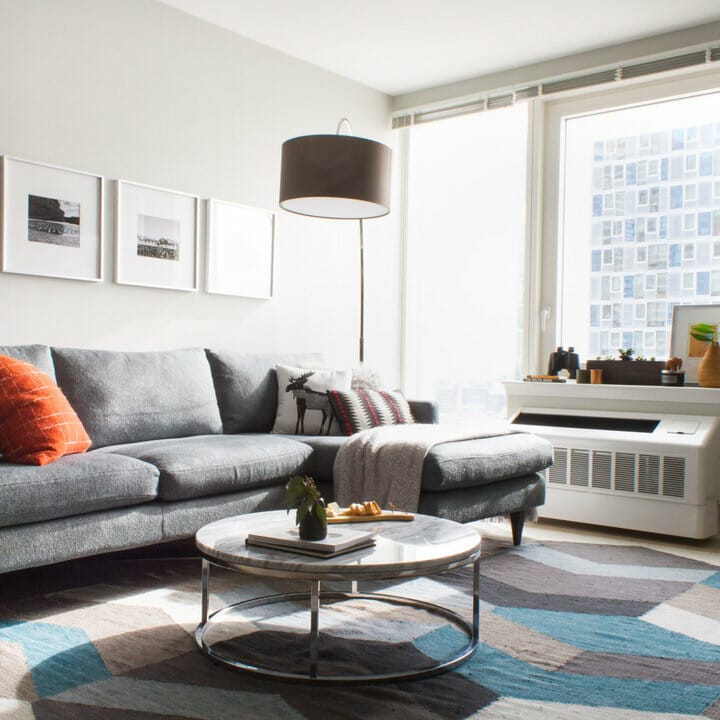 You can notice the fusion of modern and rustic style in this round coffee table.
The geometric shape and sleek design denote the modern style immensely. On top is a round wooden board that suggests a trace of rustic allure.
8. Small Rustic Modern Living Room Ideas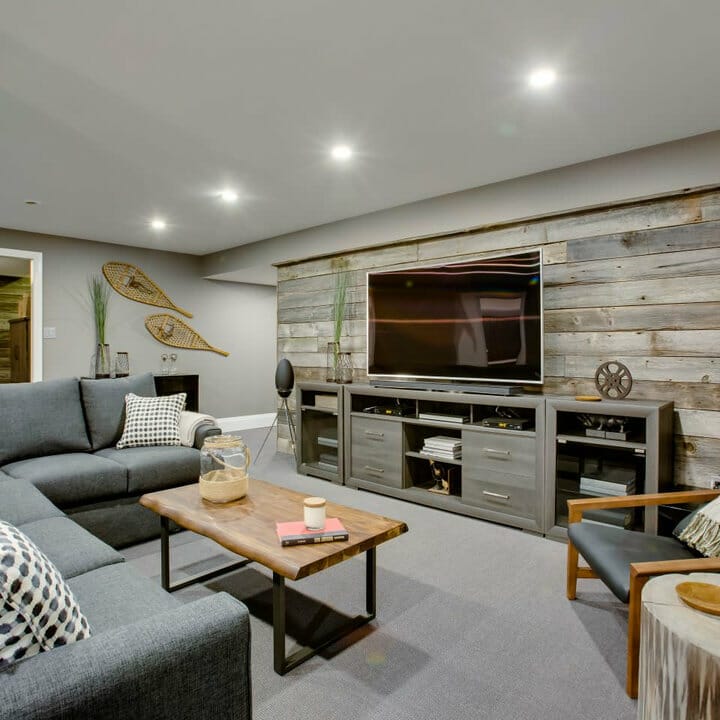 This living room looks appealing with a grey sectional sofa facing the TV. It also features wall-to-wall carpet tacked down to the floor.
As the centerpiece, the wall behind the TV deserves decorating. Thus, shiplap reclaimed wood paneling is perfect to carve out a bit of rustic ambiance.
9. Incorporate the Wow Factors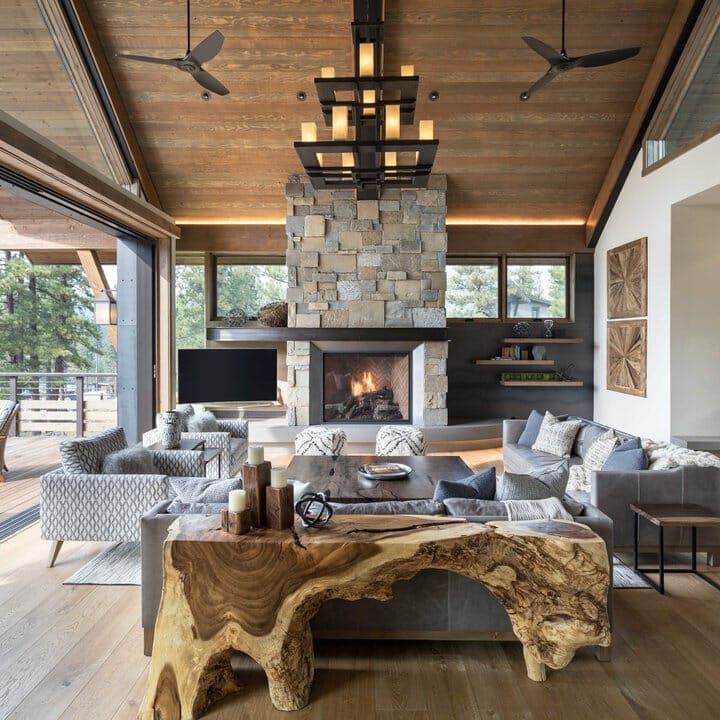 The most prominent item in this living room is the console table sitting behind a grey couch.
The console table features a distinctive design that looks asymmetry. It does not seem unpleasing or weird. In fact, it can steal anyone's focus instantly and make people adore its mesmerizing shape.
More importantly, it lends the rustic ambiance that you are trying to create.
10. Treat the Trim Better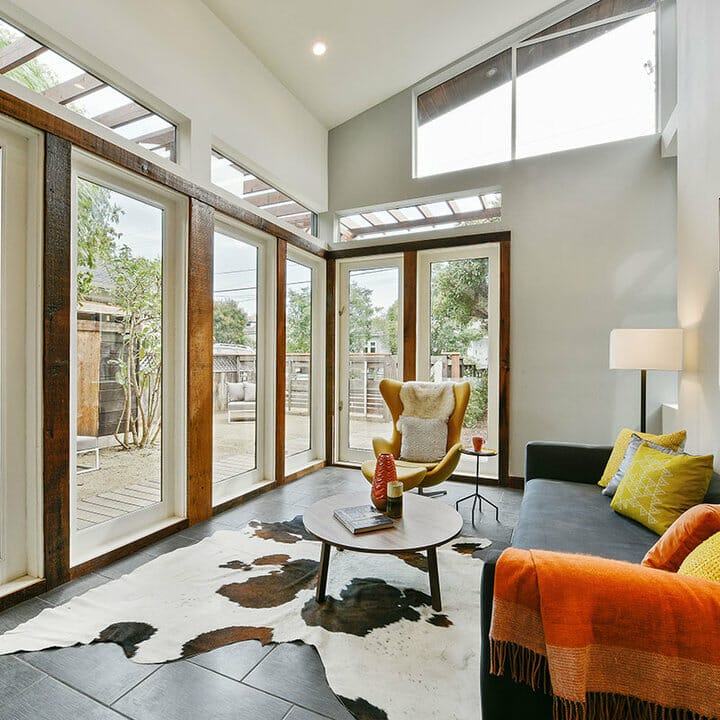 Although window trims and baseboards are not the essential part of a living room, they can make a great addition to it. In fact, you can tell certain home styles by looking at the trims.
You can even notice that this living room has a hint of rustic style by looking at the trim. Wood is the primary material of it. Furthermore, the homeowner opted for staining rather than painting it to highlight the natural look.
11. Combine Shape and Texture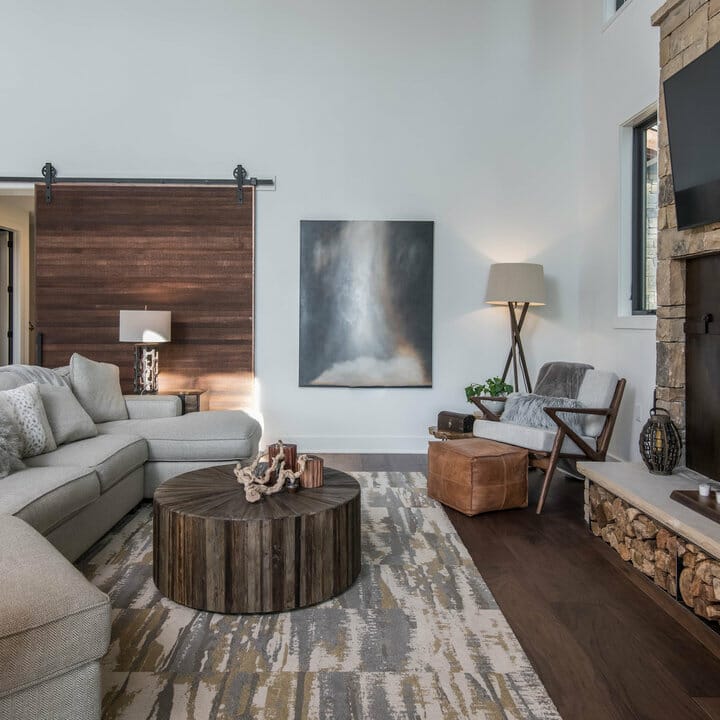 Modern style is all about sleek design combined with geometric shape. Thus, you can earn this look instantly by investing in furniture with clean-lined edges.
This residence room showcase a round coffee table. In addition to the geometric shape, it also offers patterns and textures that creates a bit of rustic ambiance.
12. Keep It Elegant with Wood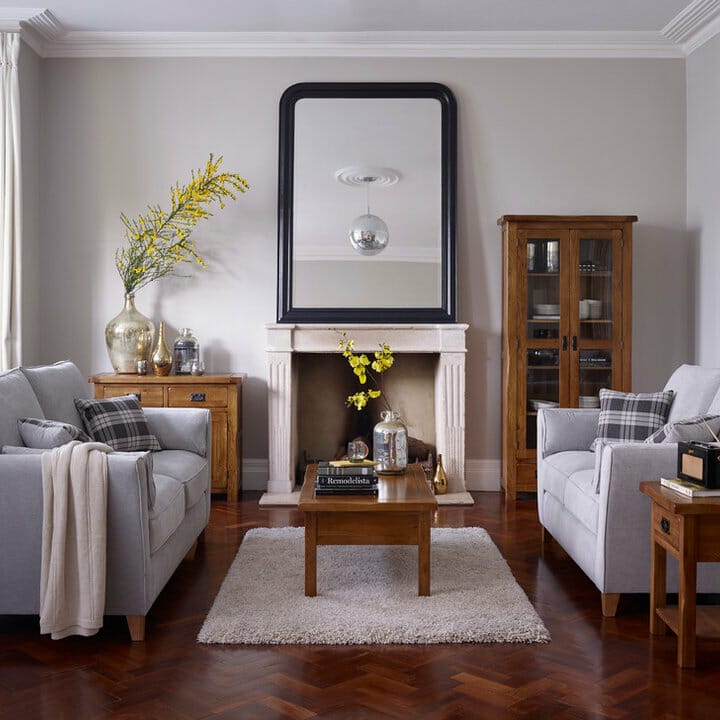 Herringbone floors have never failed to add a timeless charm to the space. It carves out contemporary style while paying tribute to the past.
To accentuate the rustic look, you can purchase wooden cabinets and dressers. Try applying a distressed finish for a well-worn appearance.
13. The Juxtaposition of Eras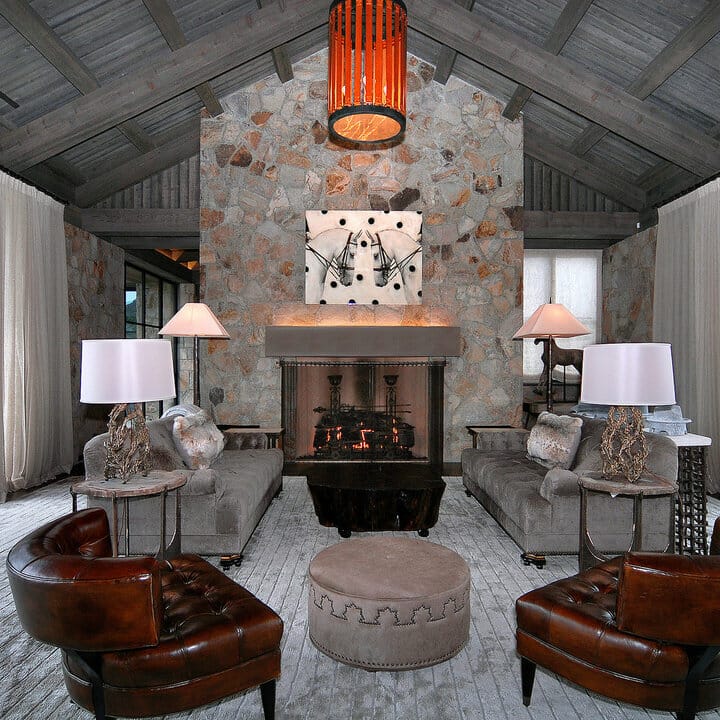 When stepping into this living room, you might think you have traveled around some eras and brought some souvenirs along with you.
The leathered chairs belong to the past, which you are still likely to find in the mid-century modern style. Another interesting thing that you will not miss is the table lamps that look like a golden coral reef.
You must not miss the rustic aspects of this living room. Who would not adore the stone fireplace and corrugated metal roof with a hefty beamed ceiling?
14. Warm up the Living Room with Rough Fireplace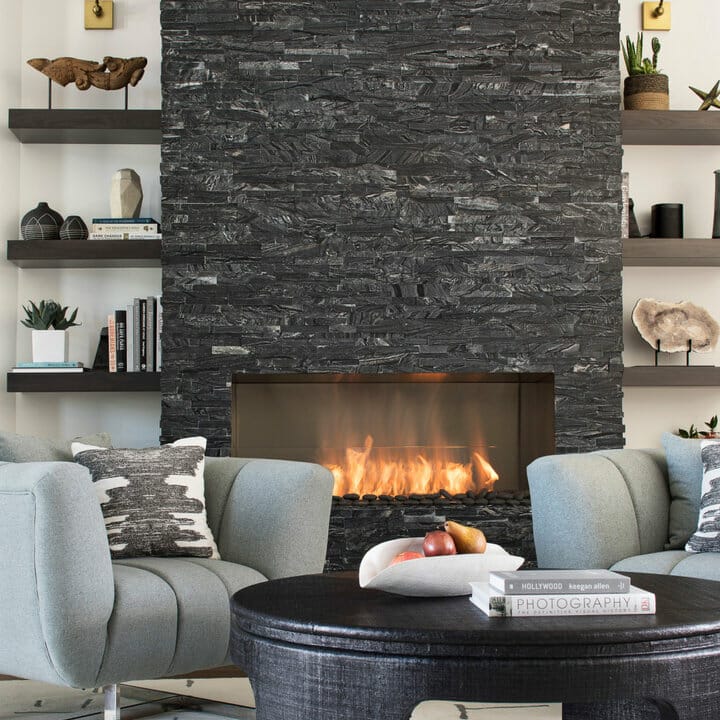 Shiny and sleek furniture with geometric shapes is the hallmark of the modern style. Some people might consider it a bit boring.
If you want to vary the look of your living while incorporating more visual appeal, you can try adding texture. It can be in the form of anything, including this rough fireplace.
15. Balance is always Good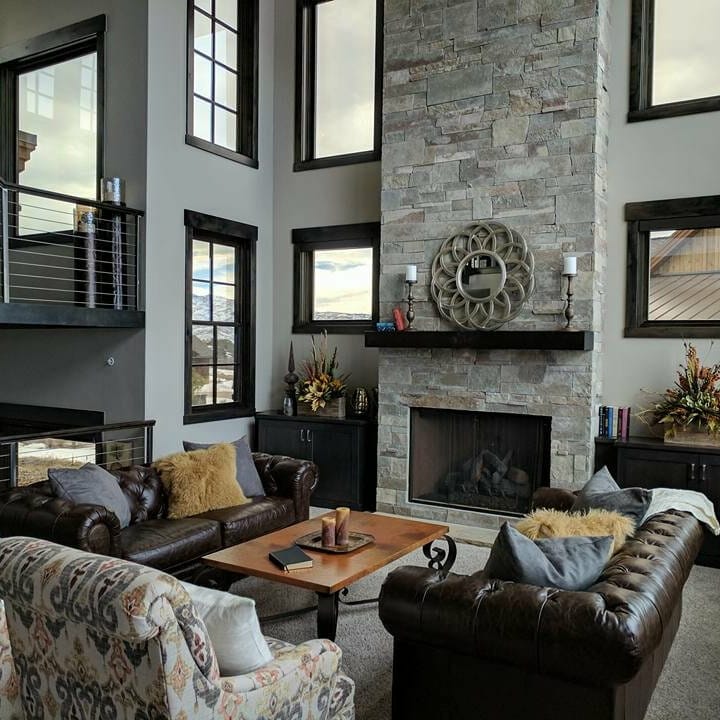 The idea of keeping things balanced is always good. Thus, many people struggle to create a symmetrical look.
This grey modern rustic living room shows you how a symmetrical look creates balance immensely. Begin with defining a centerpiece so that you can arrange the furniture fastidiously.
The immense stone fireplace is the centerpiece in this living room. You can see how the homeowner arranged the identical leathered couches and cabinets symmetrically to create balance.
16. Exposed Beam Ceiling for a Timeless Charm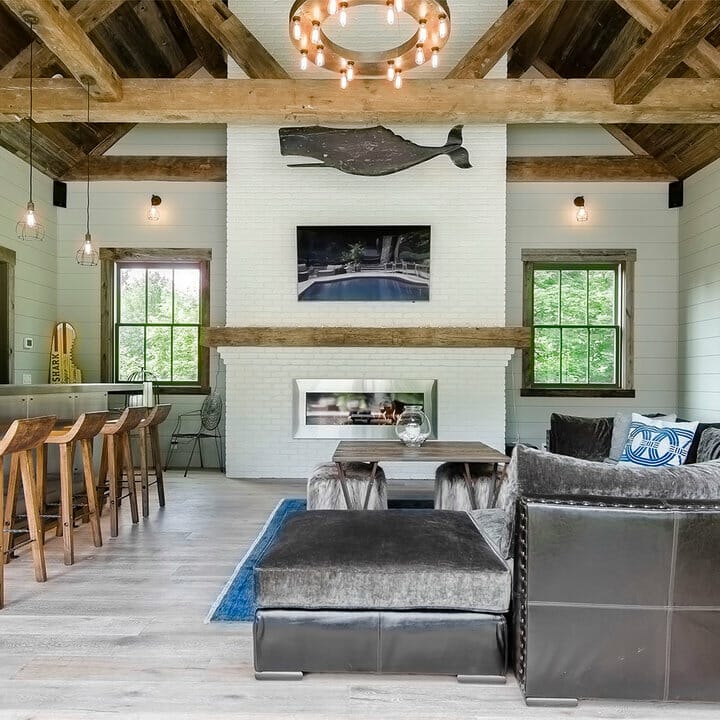 Some people prefer to conceal the roof by installing a ceiling. You can do otherwise to create a spectacular grey modern rustic living room.
Instead of hiding the roof, you can try to be brave enough to show it off. Still, you have to make it epic. You can do this by installing well-worn beams.
17. Grey Modern Rustic Living Room in a Cabin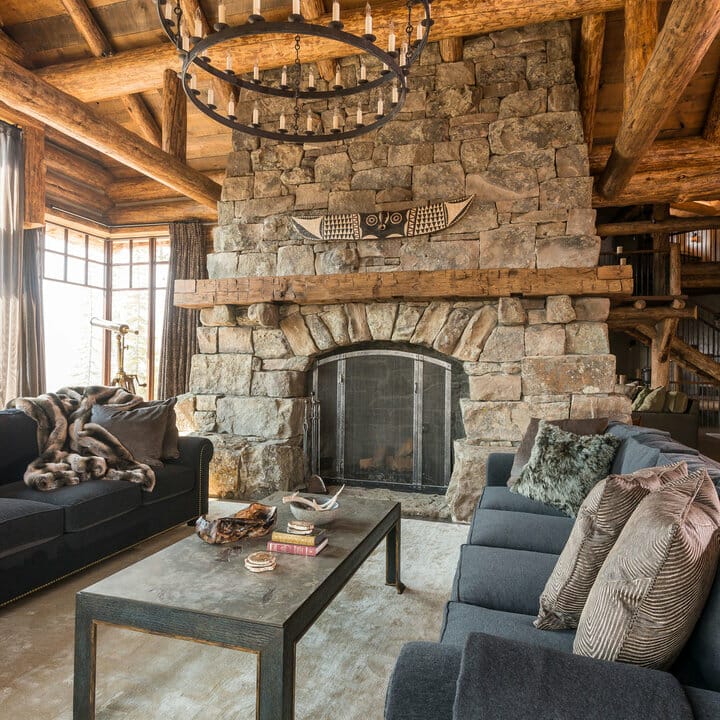 You can see the rustic charm immensely from the irregular stone fireplace. It creates a perfect centerpiece in this living room.
Other intriguing elements in this grey modern rustic living room are the wrought-iron chandeliers and hefty beamed ceiling that deserve admiring.
18. Country Rustic Living Room Ideas
This grey modern rustic living room features a mezzanine level where you can overlook the seating area.
Just like many other countries' rustic interior designs, this living room entails an exposed beamed ceiling with an abundance of natural materials, like wood and stone.
For a bit of modern touch, you can place a wooden coffee table with a super sleek surface that can reflect the light.
19. Rustic Room Divider in a Modern Living Room
If your living room adopts an open floor plan concept, you are likely to banish a wall to create a more spacious home.
Sometimes, sacrificing the ultimate privacy is not necessary. However, creating a new masonry wall can be costly.
Thus, you can opt for this rustic room divider made from bamboo aligned on the floor.
20. Invest in Noticeable Pendant Lights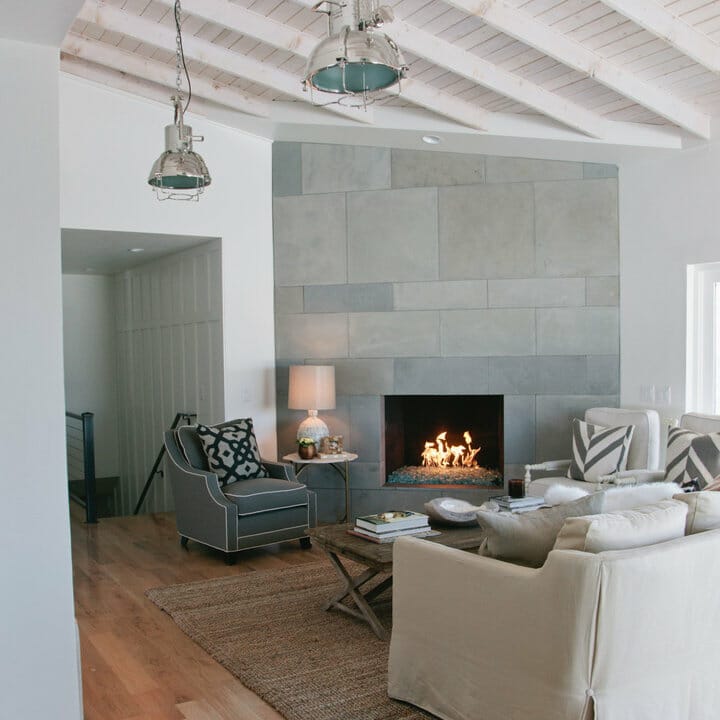 Although you have installed shiplap paneling to the ceiling, you might still find that something is missing. You have not created the wow factor.
If that is the case, you can try investing in unique pendant lights that are likely to attract people.
21. Rustic Accent as a Centerpiece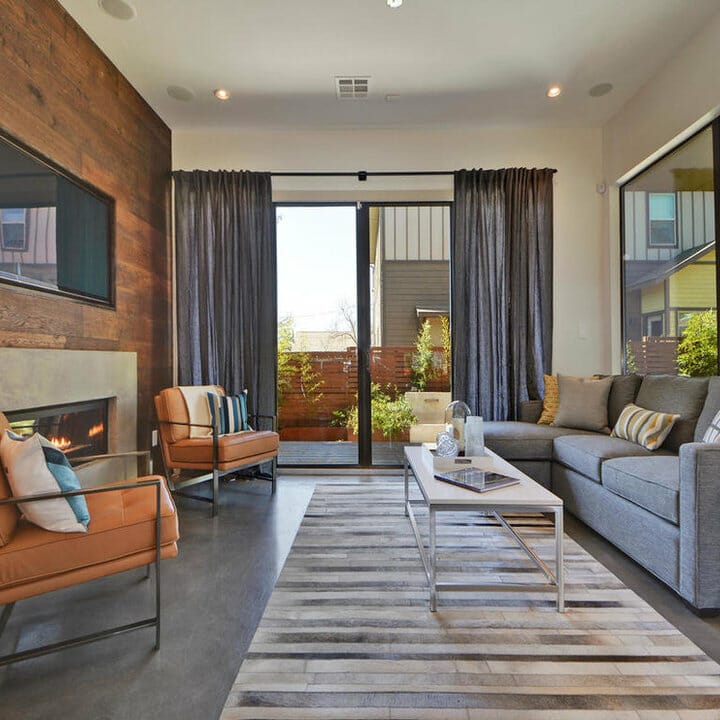 It is important to create a centerpiece, especially in a grey modern rustic living room.
The centerpiece has to be something that you are likely to stare at for a longer period, like a TV or fireplace. Then, you can accentuate it by installing reclaimed wood.
22. Install Well-Worn Beams and Trim
This grey modern rustic living room has shown you that mixing and matching two different styles does not have to be arduous.
If your living room lends the sleek design of the modern style, but you want to add a bit of rustic ambiance, you do not overhaul the whole space. Installing distressed trim and beams would work like a charm.
23. Cozy Grey Modern Rustic Living Room Ideas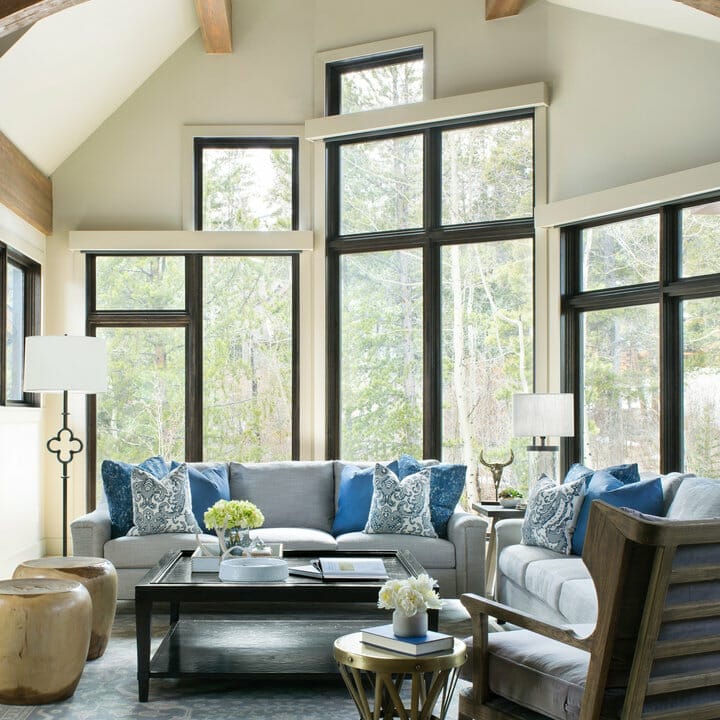 Despite the small size, this grey modern rustic living room offers coziness, thanks to the plush linen sofa.
It also has large windows that allow natural light to illuminate the space, making the living room more open and airier.
You can also find two wooden stools that incorporate a proper amount of rustic charm to the space.
24. Add a bit of Industrial Style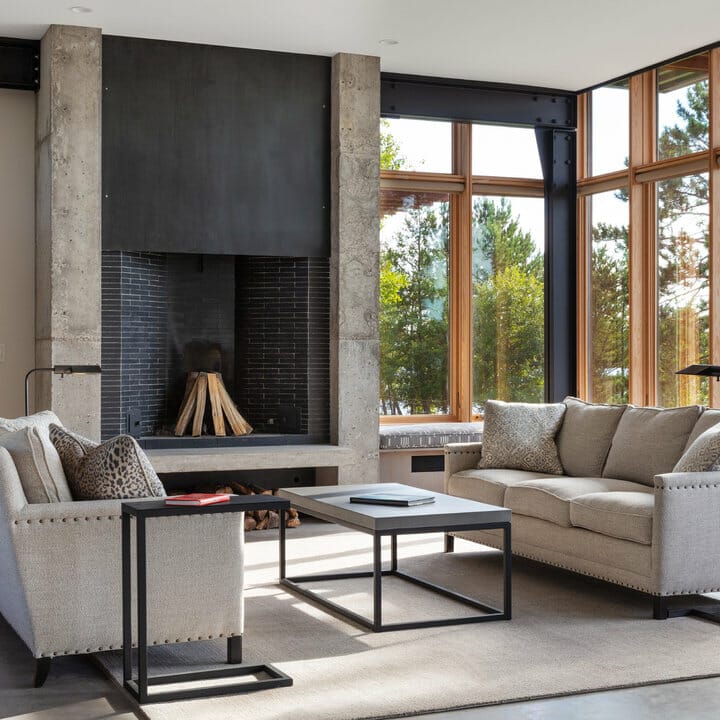 The combination of concrete and metal instantly adds a touch of industrial style to this grey modern rustic living room.
Although they are likely to overwhelm the living room with a rustic style, you can alleviate the effect with clean-lined furniture and fixture, like this concrete fireplace and tabletop.
25. Embrace Various Materials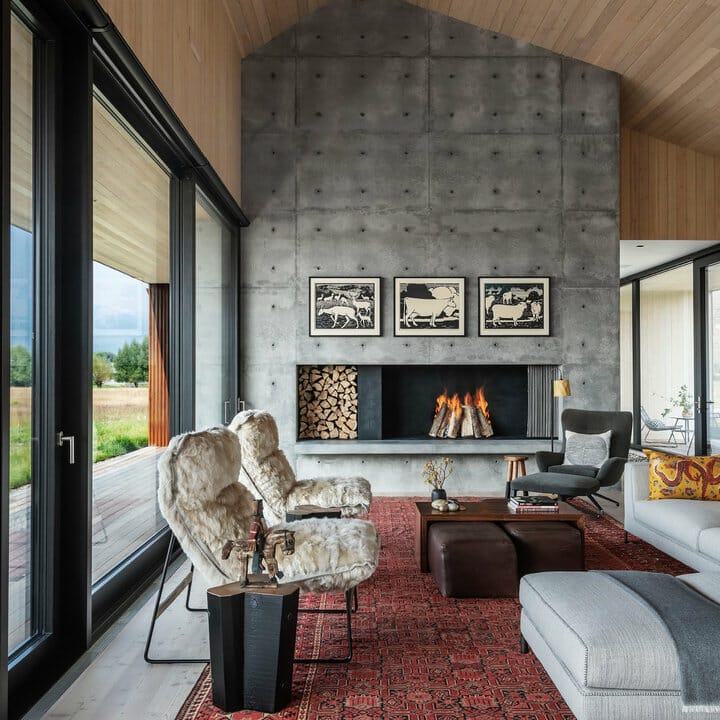 Juxtaposing various materials and textures can be daunting because if you do not do it properly, you can only get a haphazard look. Fortunately, it does not happen in this grey modern rustic living room.
The concrete fireplace makes a statement piece. Two fluffy chairs sitting on the red Persian rug add a textural element.
In addition to the fluffy white chairs, you can also notice how the leathered ottomans and linen recliner chairs add more interest as well as extra seating for more guests.
26. Add a Rustic Factor with a Pendant Light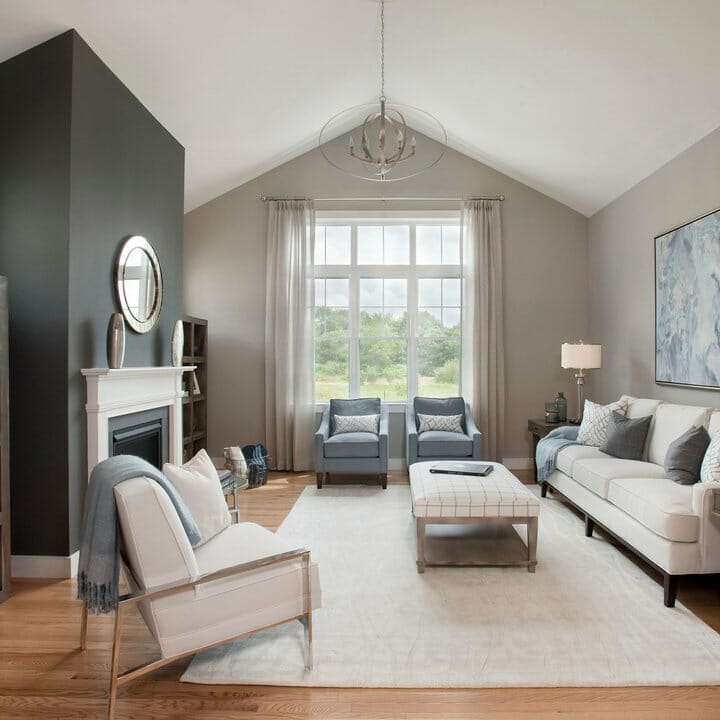 Are you looking for a convenient way to bring rustic charm to your modern living room? It is easy. You just need to suspend metal chandeliers from the ceiling.
By doing this, you do not need to install exposed beams to tame the sloping ceiling.
27. Open Concept Living Room Ideas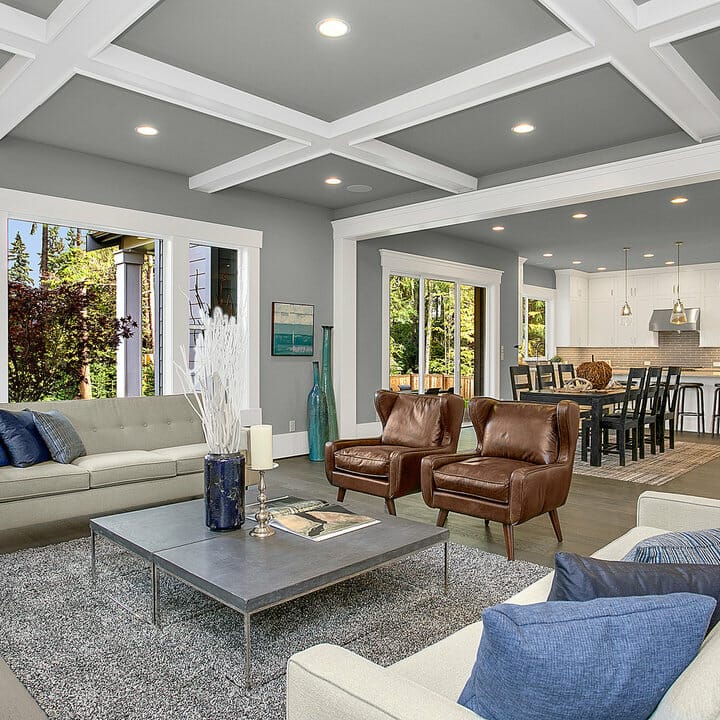 Many people say that a modern style is not for shy homeowners because it tends to expose everything inside the house with large glass windows.
The interior design usually adopts an open concept, meaning it forgoes the wall separating the living room and kitchen. It allows everyone to see all the activities – and clutter – happening in the kitchen.
Since there are not any walls separating these two rooms, you can lay area rugs to define the living room and dining room, just like the ones in the picture.
Then, you can bring in two leather armchairs to add a bit of rustic style to this grey modern living room.
28. Cover the Ceiling with Wood Paneling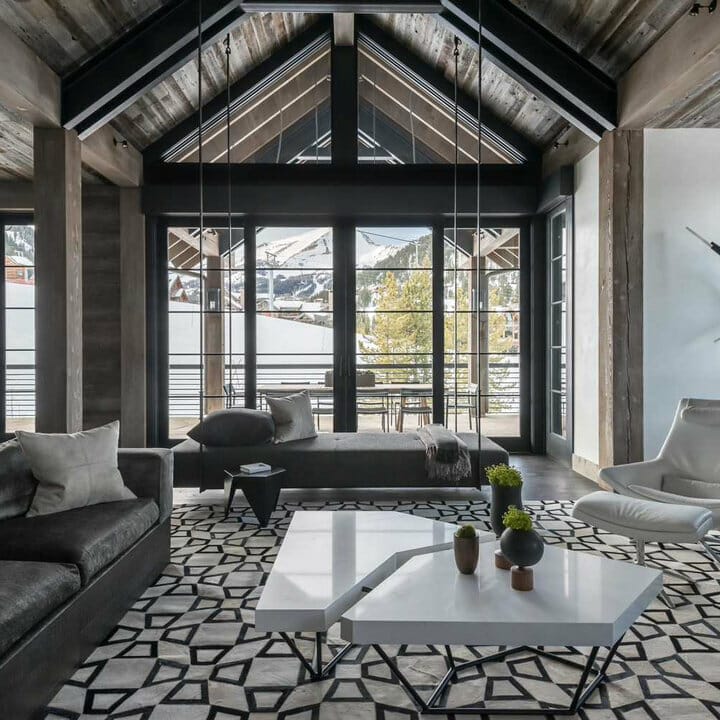 You can notice the contrast between the sleek, shiny white coffee table with the distressed wood paneling on the ceiling.
Although they do not come from the same trend, they can still create a harmonious look, which is pleasing and fascinating.
A swinging bed hanging from the ceiling comes to add comfort. It is an ideal spot for taking a nap.
29. Standout Flagstone Accent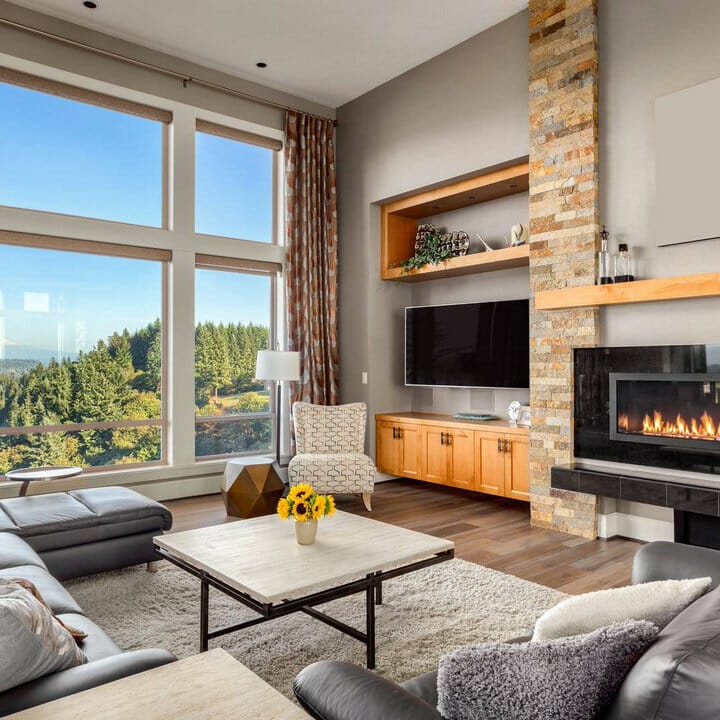 Incorporating natural elements into a modern living room is not a bad idea. In fact, it can be awesome, just like this flagstone accent.
The flagstone accent adds decent rustic style among the minimalist of this modern living room. Although it is just a single wall, it really does its job well by creating more visual appeal without overwhelming the space.
Combining two different styles that derive from different eras is not impossible. Still, you have to do it with careful thought. Thus, these grey modern rustic living room ideas should be on your list.