Space is always an issue in determining the design for your bathroom, especially if you have the tiny one. However, you can overcome all problems by applying a few tricks in small bathroom walk-in shower ideas.
You can go by presenting a shower only without tubs, using space-savvy storage, and playing with the right colors and patterns for the walls.
Indeed, in that way, you will still be able to have a complete bathroom according to your dreams in your narrow space.
Tiny space will look spacious if you follow the right small bathroom walk-in shower ideas.
The following are small bathroom walk-in shower ideas that we recommend for you. I hope it inspires you!
1. Simple White Small Bathroom Walk-in Shower Ideas with Rain Shower Head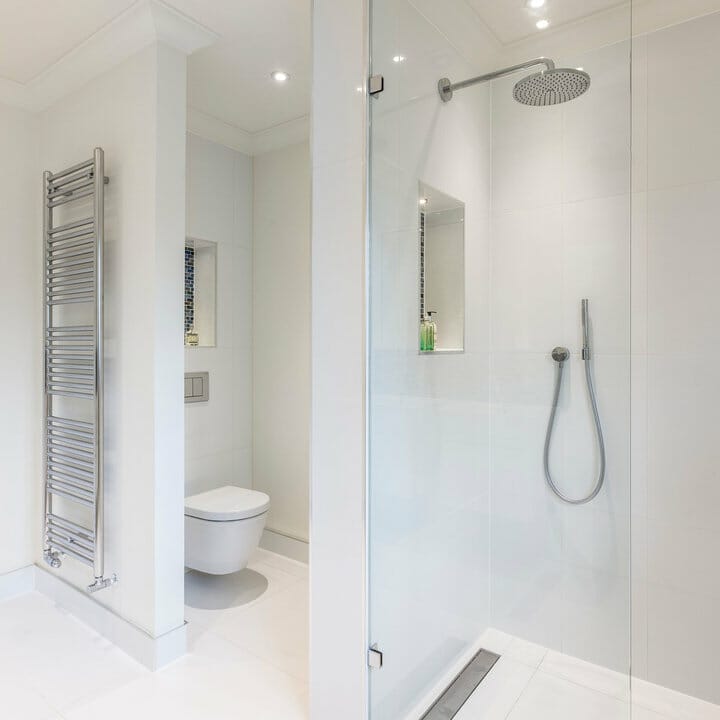 The first idea in implementing a walk-in shower in a small space shows you the right choice of showerhead. Not only in terms of aesthetics, but you also have to think about the functionality.
For example, it would be better to choose a rain shower head instead of the single spray one. Rainshower heads have more regular water drops right on your head to the one spot of the floor.
On the contrary, by using a single spray, there will be the possibility of splashing water on the toilet or other parts of your bathroom that you don't want to get wet.
2. Use Built-in Storages and Fold Up Bench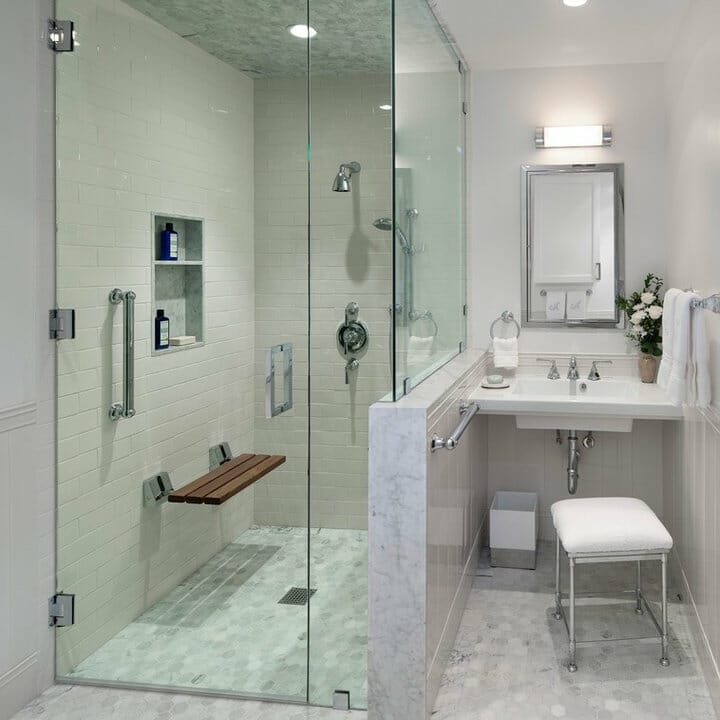 Small bathroom walk-in shower ideas also recommends you have space-savvy storage. It happens because if you force to put some furniture in one cubicle, it will only make your bath space stuffy and cramped.
Alternatively, choose to make built-in shelves to store your bath essentials. Also, consider installing a fold-up bench to support your feet while shaving.
3. Walk-in Shower Enclosure with Outside Shelving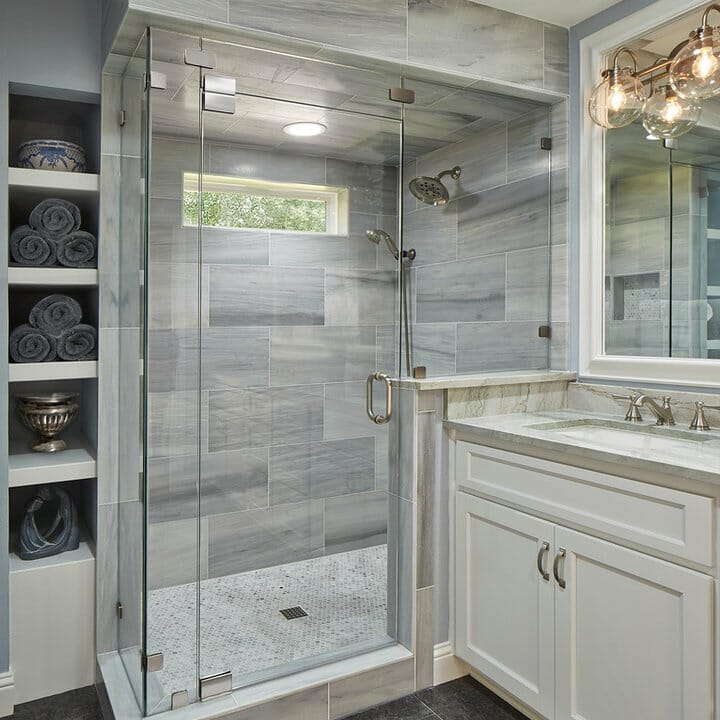 The presence of a shower enclosure with glass doors allows you to freely choose the type of showerhead without thinking it will splash in all directions.
Apart from that, it helps you set the shelving system outside the cubicle like the one above. You can not only use it to store new towels for guests.
Still, you can also place decorative elements to enhance the appearance of your restroom.
Instead of arranging it horizontally, vertical shelving will make your small bathroom look spacious.
4. White Subway Tiles, Highlighting, and Round Mirror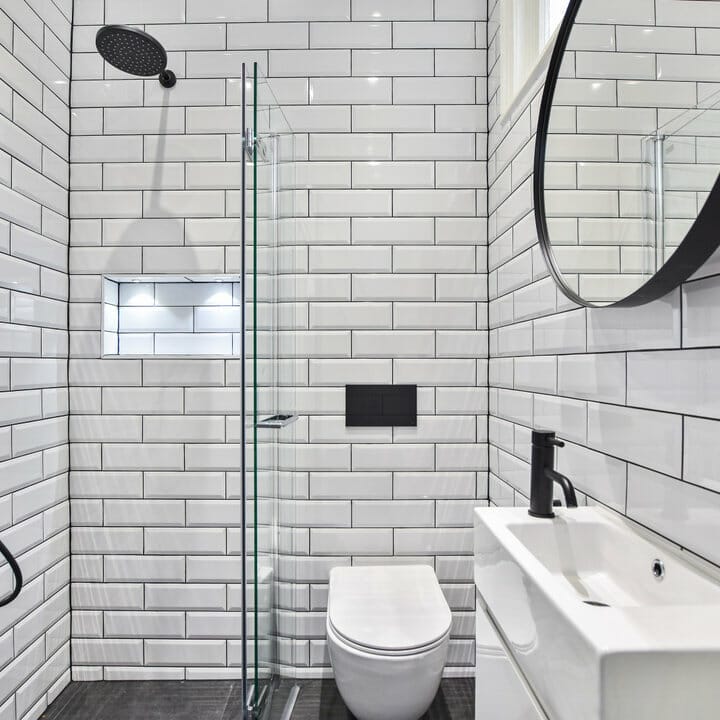 Choosing subway tiles with white color can make your narrow space look clean and spacious. However, it would help if you always were extra careful with all the crust that may stick to the walls and floor.
It would be better to provide regular cleaning so that your bathroom always looks stunning. Besides, providing spotlights in the built-in storage is a very bright idea. It will help to display your bath necessities at once.
And, be brave to put a round mirror to give a variety of shapes in your bathroom.
5. Shower Tray Inside the Glass Enclosure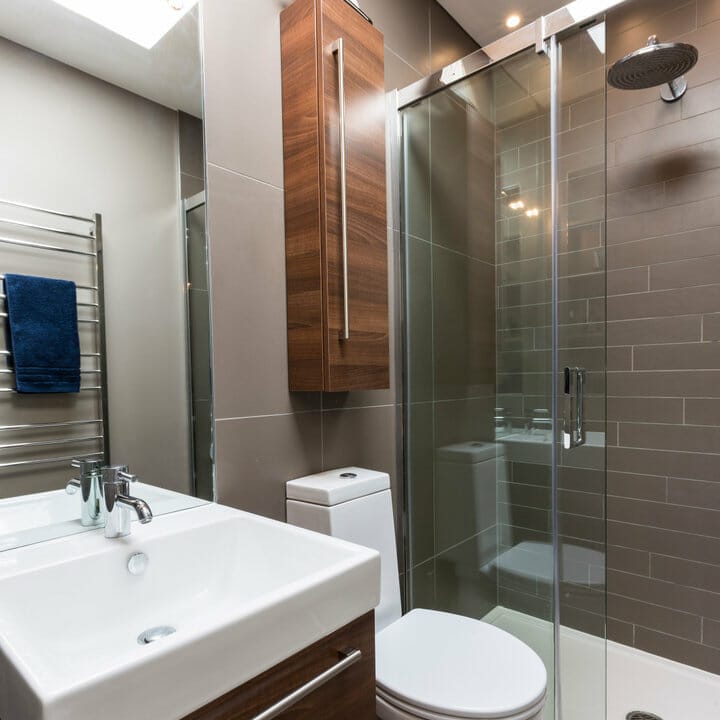 The following small bathroom walk-in shower ideas introduce you to installing a tray on your cubicle floor. It aims to prevent water from flowing and splashing out, which will wet your restroom floor, which should be dry.
You are indeed very welcome to go with a barrier-free shower. As long as you don't mind splashing water, everything is under control.
6. Fit in Size Furniture
On very small bathroom ideas, choosing the right size furniture is the key to keeping your shower room look spacious.
As in the picture above, the floating sink equipped with storage is compact enough to save the floor space in a narrow area.
In addition, the presence of a built-in shelf with a square mirror installed right above the toilet allows you to have a complete restroom without looking stifling.
And, you have also remembered that a bright color selection is better to make up the space to be cleaner and pleasing to the eyes.
7. Glass Partition in Dark Mode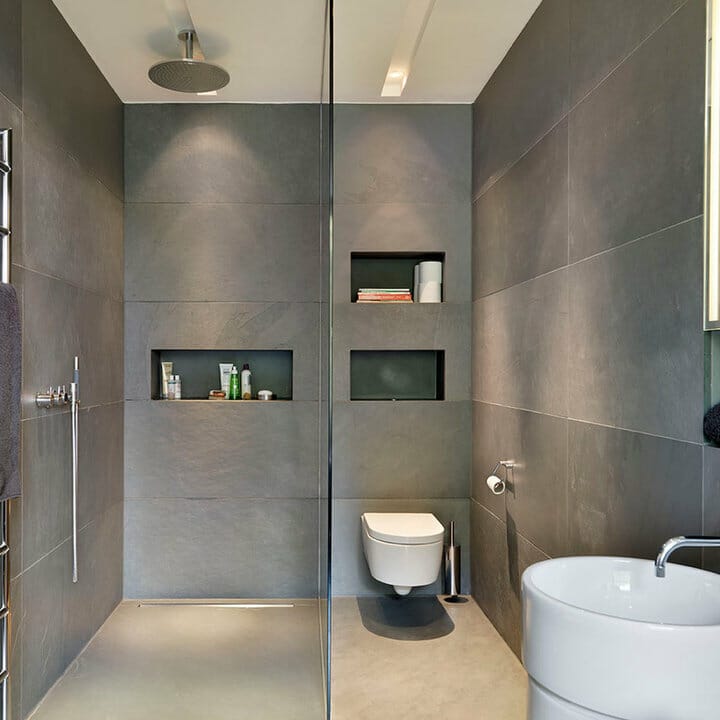 Keeping your toilet and bath space in separate areas is not recommended in small bathroom walk-in shower ideas.
Alternatively, it's better to let them in one room yet have a glass partition in the middle of the bathroom. Believe it or not, this kind of arrangement can show you a more expansive space than the standard one.
Further, Suppose the previous ideas asked you to go with bright tile colors. In that case, there's nothing wrong with choosing dark ones with a note that the bathroom arrangement with dark gray tiles comes with suitable lighting.
8. Installing Glossy Glass Linear Wall Tiles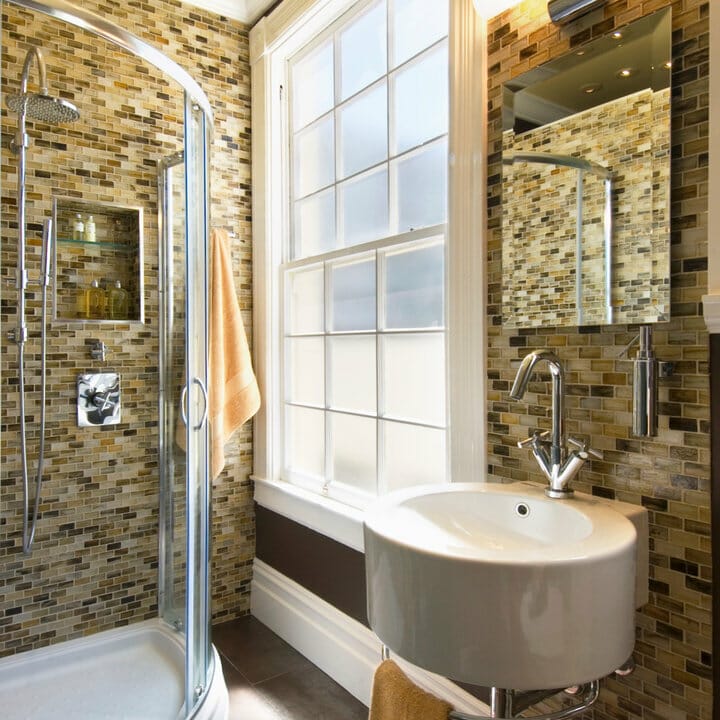 Glossy glass linear wall tiles with earthy tones will be able to provide an overall brightness in your bathroom.
Moreover, when you supply your small restroom with a reasonably wide glass window that faces directly from the incoming sunlight source.
And, of course, you have to complement it with shades to avoid being too transparent.
The glossy glass linear wall tiling application with this window treatment is the smartest among many small bathroom walk-in shower ideas you should try.
9. Bright Shower Space with Glass Door and Pedestal Sink Storage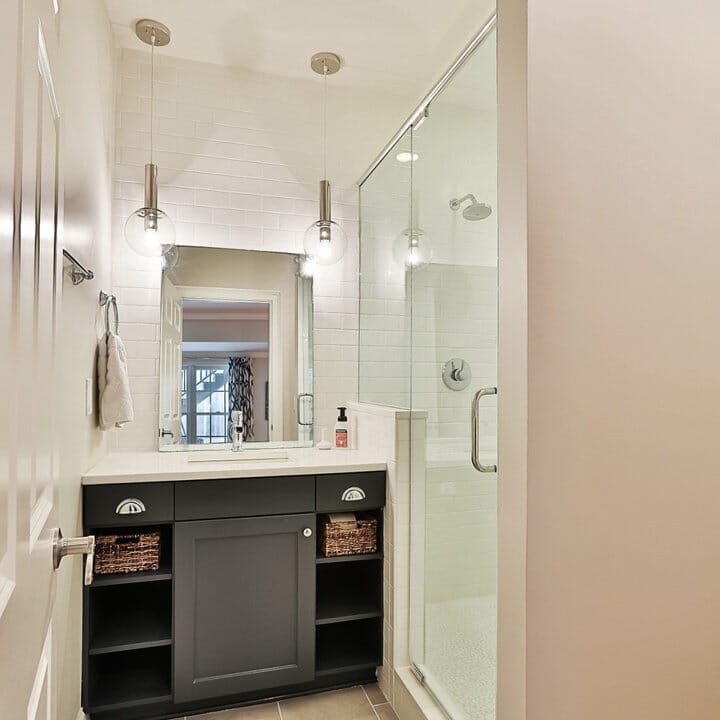 Next, about small bathroom walk-in shower ideas with versatile furniture. In a narrow bathroom, you are even great to only go with a shower in it.
However, there are times when you want to simultaneously provide a sink and storage to store all your bathing needs. Therefore, you can use multi-functional furniture as above.
Instead of presenting storage in another spot, you can immediately make it one at the bottom of your sink.
10. Constellation Tile Design on One Side Wall
Who said that patterned tiles are not allowed in small bathroom walk-in shower ideas? Instead, it will succeed in providing an attractive focal point in your restroom.
With its modern design bringing the concept of constellations on a dark color base, everything is beautiful to look at. However, it would be better to present it on one side of the shower space to avoid being stuffy.
11. Smoky Gray and White Combination
Small bathroom walk-in shower ideas with smoke gray and white marble tiles combination is the best option to adopt.
In addition to making your bathroom elegant, it also makes it look spacious at once.
Moreover, if it comes with greenery, your walk-in bathroom will be fresher than before.
12. Subway and Pebble Tile in Grey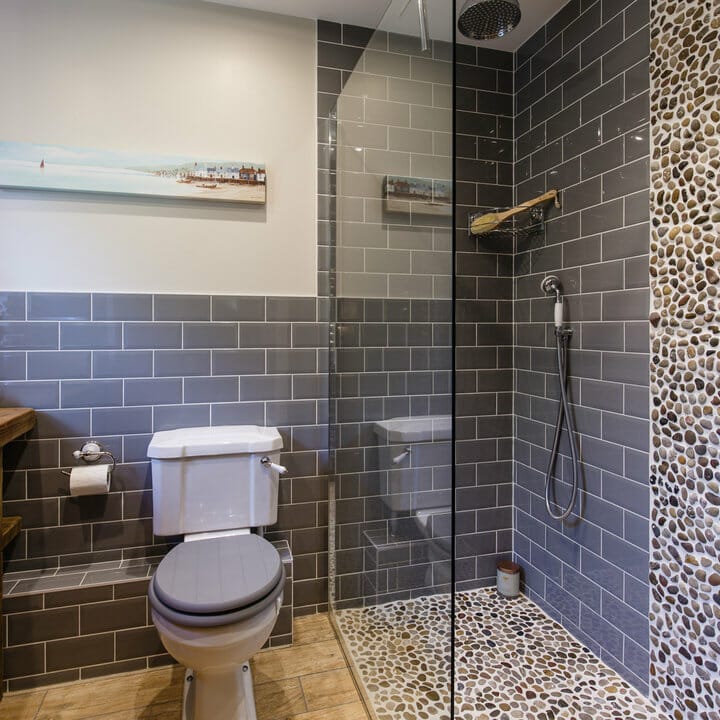 In addition to marble tiles, your small walk-in bathroom will also look great with subway wall tiling and pebbles.
The existence of pebbles gives texture to your simple bathroom without much furniture in it.
13. Small Bathroom Ideas with Tub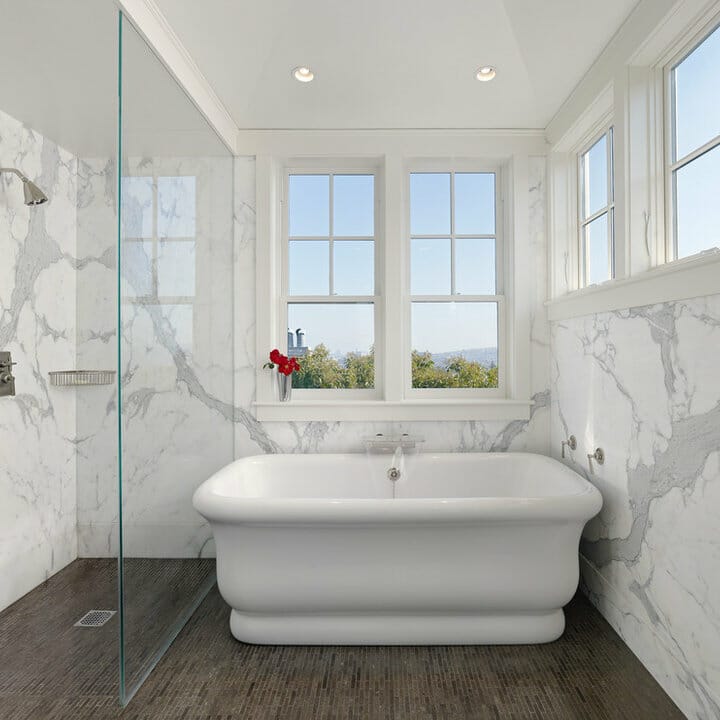 Who says small bathroom walk-in shower ideas don't let you go with a bathtub?
You can still install the tub freely in your narrow bathroom as long as you choose a simple and concise design as above.
Also, make sure to set everything white so that your bathroom looks better.
14. Semi-Circle Storage Over the Toilet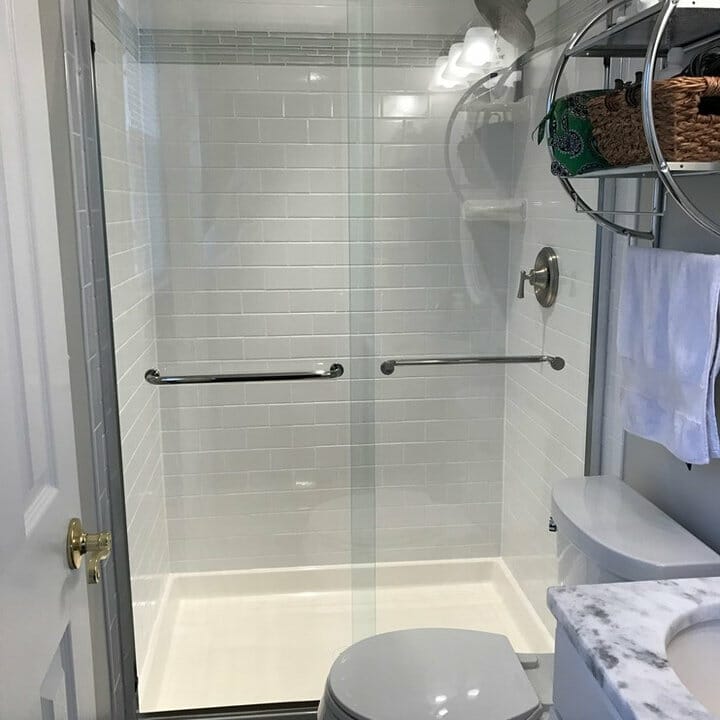 Suppose you have succeeded with determining the color and arrangement of the space in implementing small bathroom walk-in shower ideas.
Now is the time for you to consider any form of furniture to keep this small restroom tidy and aesthetic at the same time.
Here it is, the presence of stainless-steel racks in a semi-circle shape is both versatile and aesthetically pleasing.
You will soon save more space on your bathroom wall by hanging it right above the toilet.
15. Industrial Vibes with Glossy Brown Tiles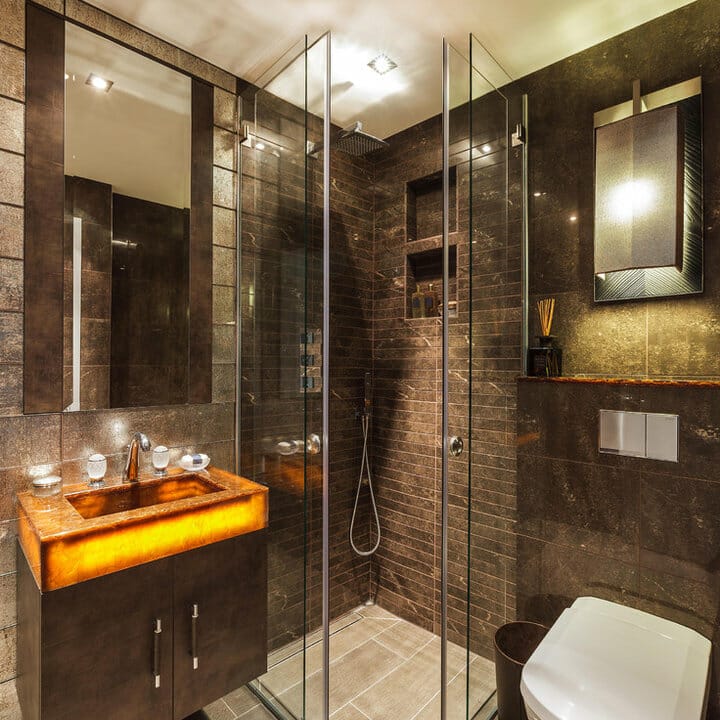 The recommended glossy tiles in small bathroom walk-in shower ideas can widen a narrow space. It happens because they can reflect light well from the lighting you have.
One brown design as above lets you have industrial vibes inside the restroom undoubtedly.
16. Black and White Corner Shower Ideas for Small Bathrooms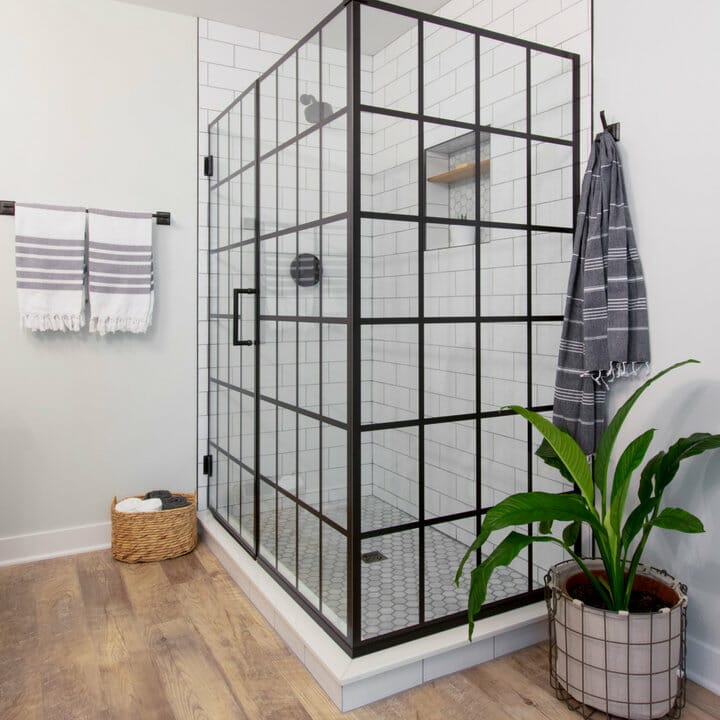 The choice of black and white has become popular because they can give a simple yet attractive impression, including in bathroom settings.
Try this corner shower enclosure style if you are confused about remodeling your small restroom.
Even though it only comes with a showerhead, without a sink and storage, choosing an enclosure with a glass door like the style above is enough to state your bathroom.
17. All White Shower with Half Wall and Glass Door
Just as previously explained, separating the shower space from the toilet area will only make your small bathroom cramped. Therefore, try to install a half wall to give a more airy and bright bath space.
You can provide a glass partition and a door to prevent water from splashing outside for the top part.
18. Built-in Shelf Around the Wall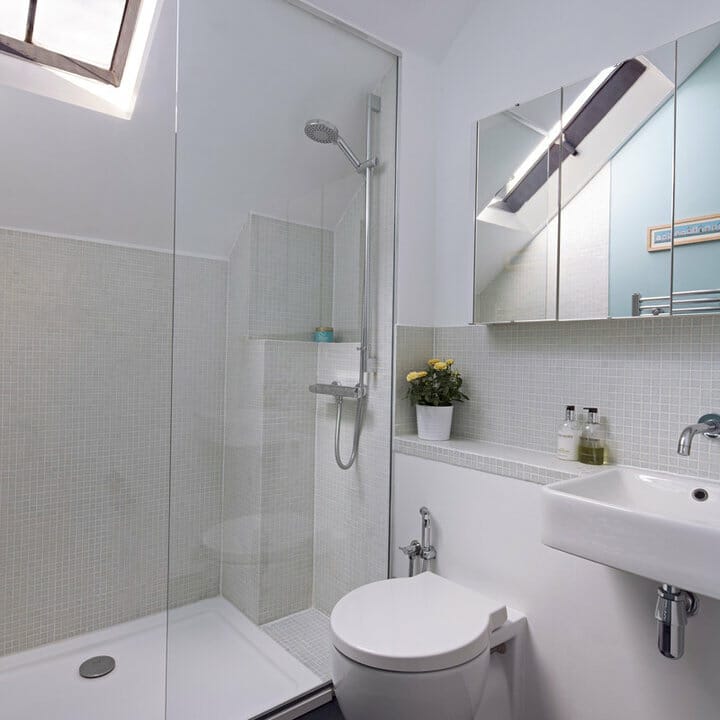 Creating built-in shelving that rotates across the entire bath space wall is one of the most efficient small bathroom walk-in shower ideas you should try.
By having an all-around shelf on the wall, you no longer need to buy additional storage, which will only make your bathroom space narrower.
19. White Marble Tiles with Bright Lighting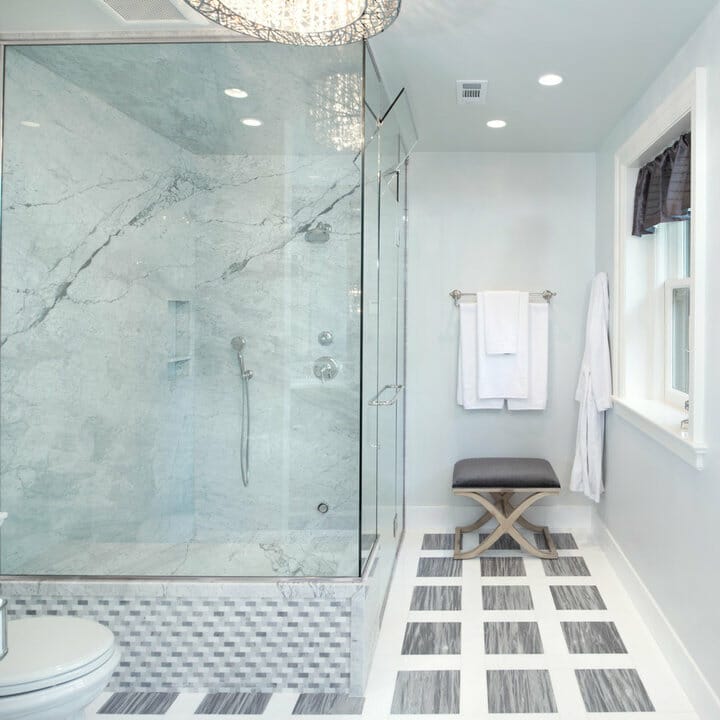 Marble tiles are a favorite tiling option in implementing small bathroom walk-in shower ideas. It is because this material has an elegant and luxurious final look.
So, even if your space is small, by installing this marble tile on all the walls and floors, then you will get a luxurious bathroom that everyone desires.
Consider placing a prominent light fixture in the center of the room to provide lighting that spreads well throughout the restroom.
20. Wavy Textured Tiles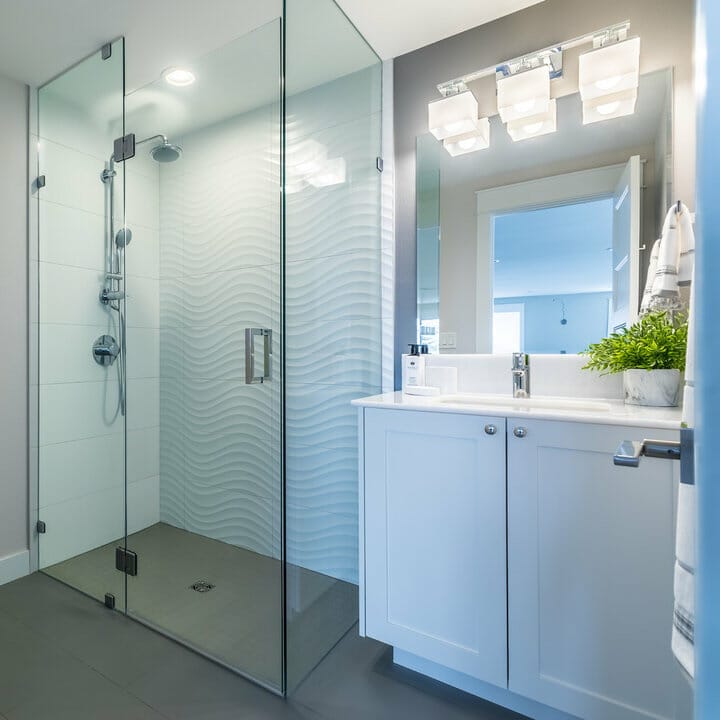 Giving texture to your small walk-in shower walls will provide you with an exciting personality.
Without going with complicated patterns, you can get stunning results with cement tiles with a wavy texture as above.
Believe it or not, it will become the best modern small walk-in bathroom you've ever had.
21. Small Bathroom Walk-in Shower Ideas with Seat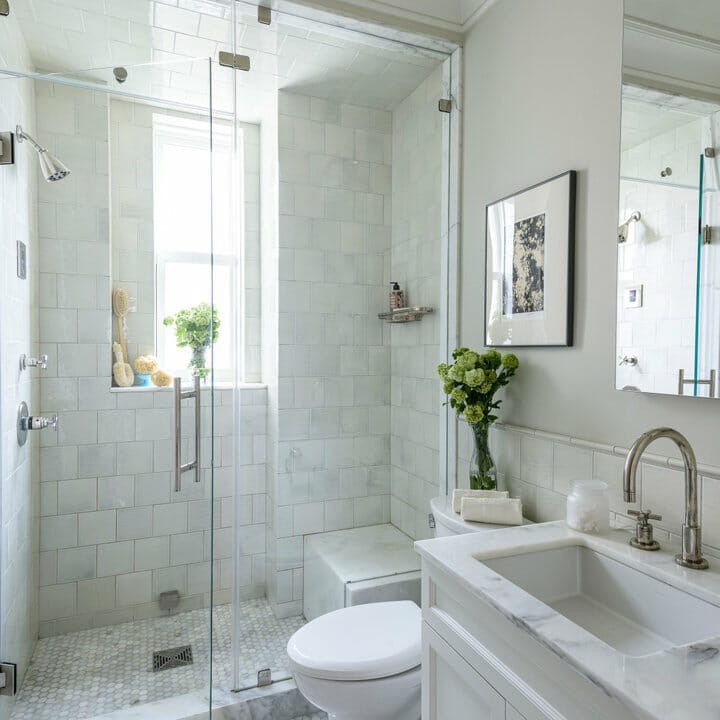 After previously going with small bathroom walk-in shower ideas with modern and versatile furniture. Currently, it would not hurt for you to return to the traditional style. That is by providing a built-in seat in your shower enclosure.
You don't have to go with the big ones to keep it space-savvy. It is better to arrange it according to the width of your shower enclosure and give it an elegant and luxurious marble tile covering.
22. Green Tiles Small Bathroom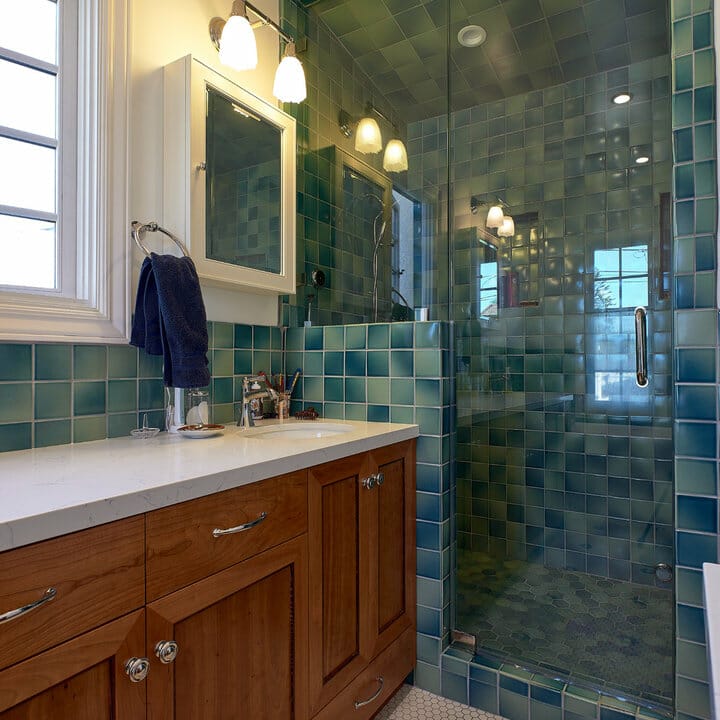 Presenting tiles in green to complement your small bathroom walk-in shower ideas is the best step ever.
As you already know, green can make the atmosphere in your bathroom fresher than before.
23. Chevron and Granite Tiling Inside the Doorless Walk-in Shower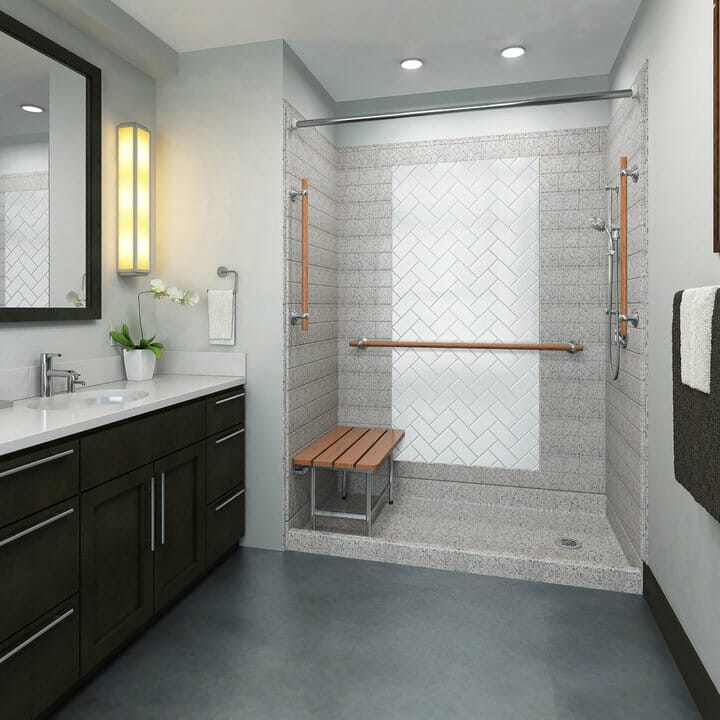 Arranging chevron tiles in the middle of your wall, while leaving some other parts with granite tiles will be worth a try. This combo can provide a mixing texture and an attractive focal point in your bathing area.
24. All Around Dark Brown Tiling with Wide Rectangular Mirror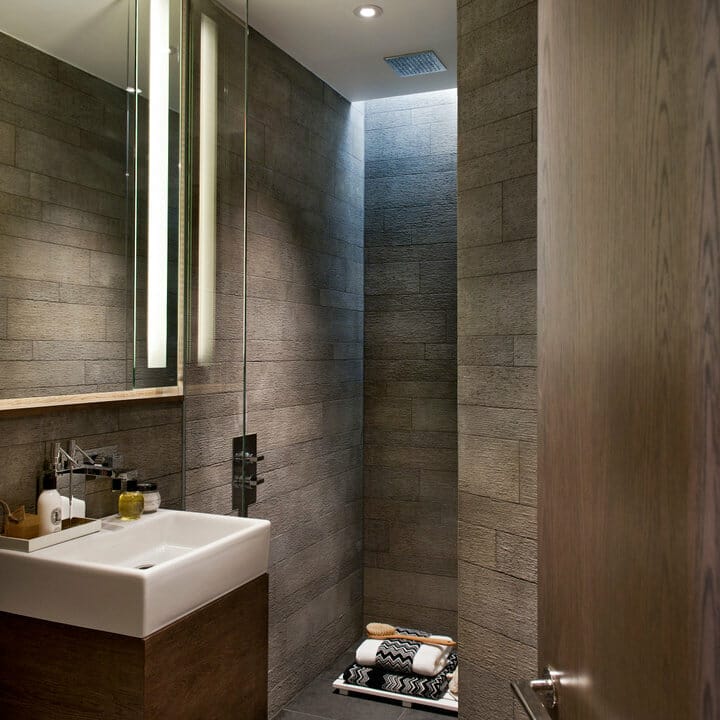 Small bathroom walk-in shower ideas with a modern theme let you have the dark wall tiling freely. However, you need to complete it with sufficient illumination to get the most desirable bathroom.
And then, you also set a wide rectangular mirror above the sink to create a nice reflection and make the bathing area look more expansive.
25. Big Size Tiles in Light Brown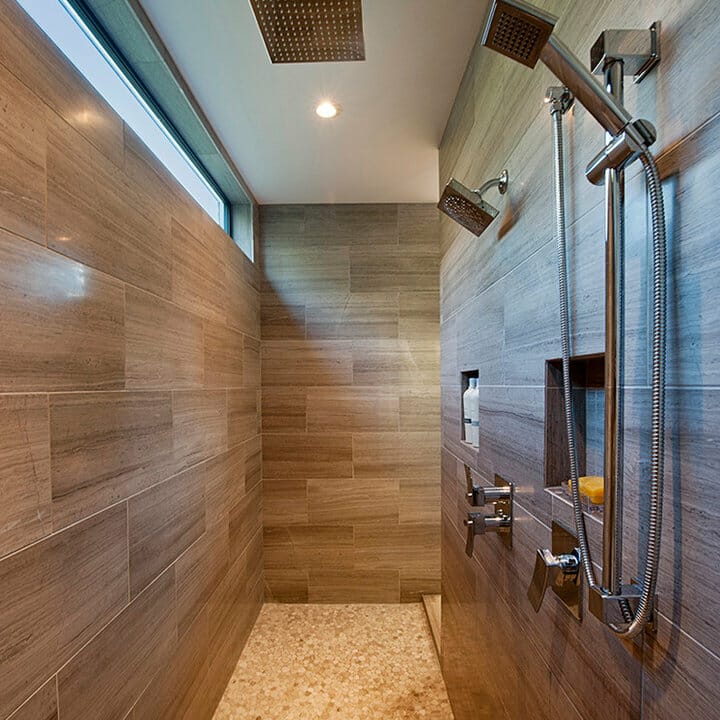 You have come with tiles that resemble wooden panels at the previous small bathroom walk-in shower ideas above. Now it's the turn of ceramic tiles with large sizes filling the walls of your walk-in shower.
Both of them are great yet bring different personalities.
By coming up with earthy colors and combined with pebble flooring, then you will succeed in creating serenity in your bathroom.
26. Mini Corner Shelving System and Wall-Mounted Towel Holder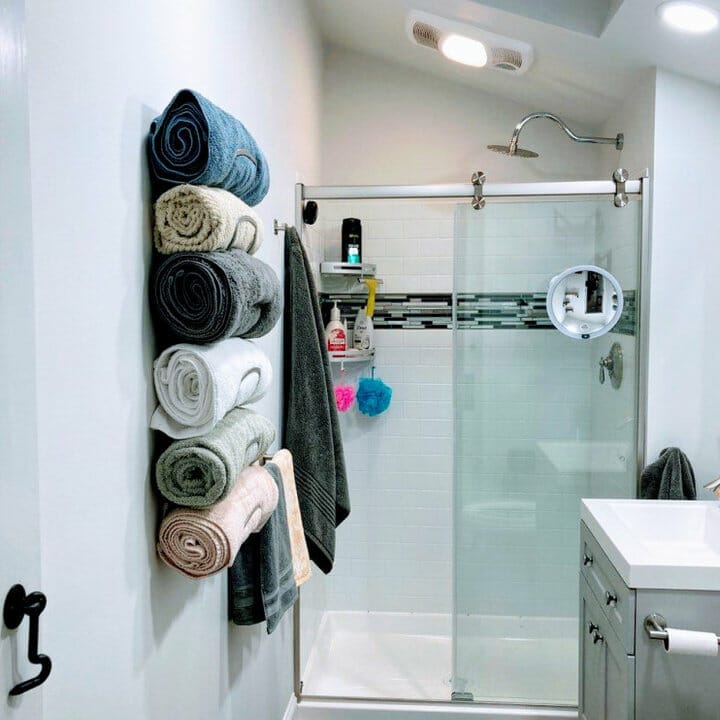 Let's go back to the issue of storage in small bathroom walk-in shower ideas. You are better off trying to go with wall-mounted racks and towel holders to make your bathroom have enough space to leave.
Besides being space-savvy, this furniture soon can let you have many necessities in it and still become fashionable all times.
27. Bright-Colored Storage Among Dark Wall Tiling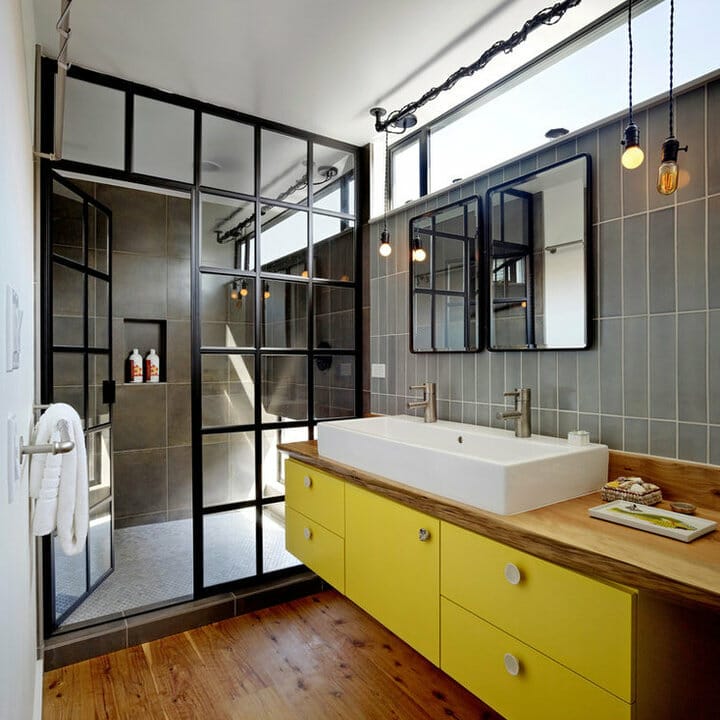 While you give dark tiling to your walk-in shower, you can still give your small bathroom area storage with a striking color, such as yellow.
That way, you will not find the problem of a room that looks cramped because the lighting is too dim in your bathroom.
28. Elegant White Shower Space with Dark Flooring and Gold Accent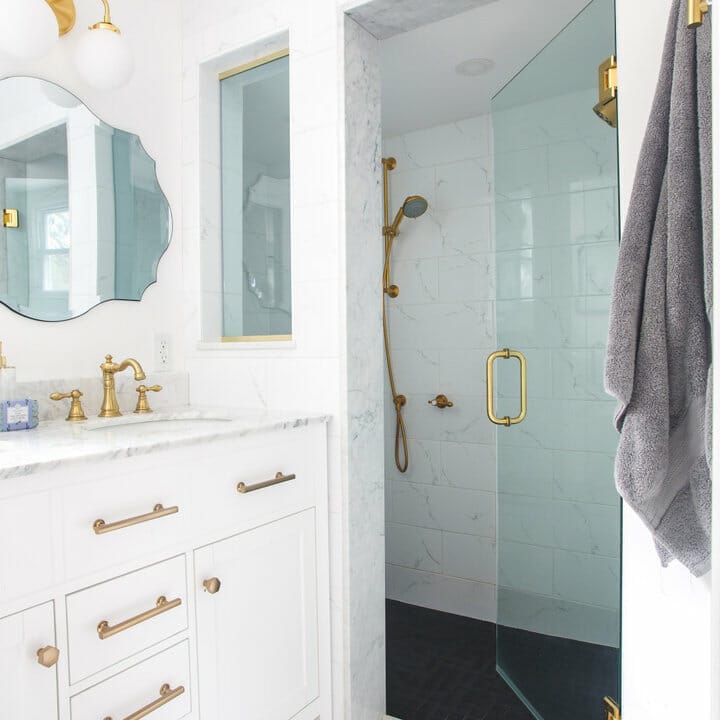 All white designs in your small bathroom may give an atmosphere that is too pale and unattractive. Therefore, try to provide it with a touch of gold on some elements such as the door handle, shower head, and faucet.
That way, your small bathroom now appears more luxurious and desirable.
29. Bright Aquamarine Tiling with Ceiling-Mounted Rain Shower Head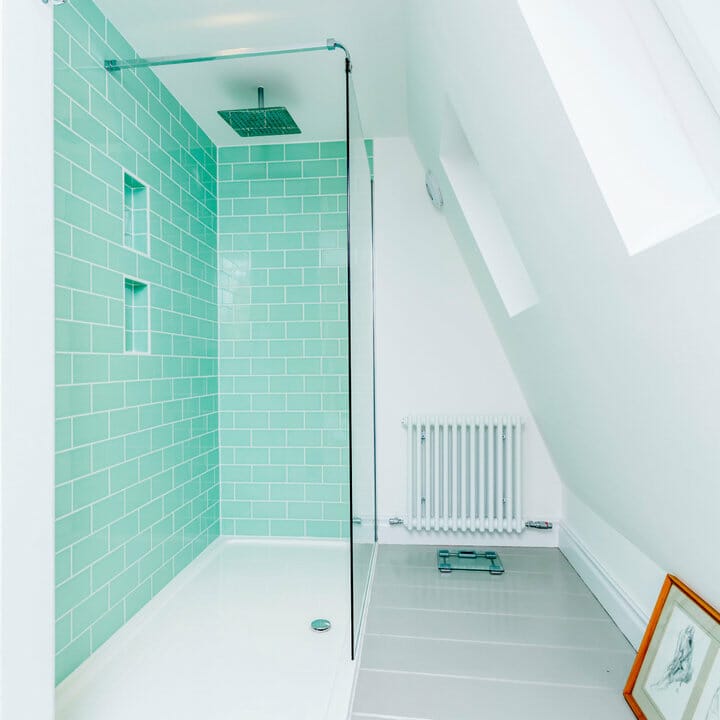 You can also realize small bathroom walk-in shower ideas with bright colors by installing aquamarine-colored tiles on the entire wall of your bathroom. Meanwhile, you can leave the floor in white.
Further, try to install a ceiling rain shower head to keep your bathroom away from plumbing issues and stuff.
30. Minimalist Walk-in Bathroom in Grey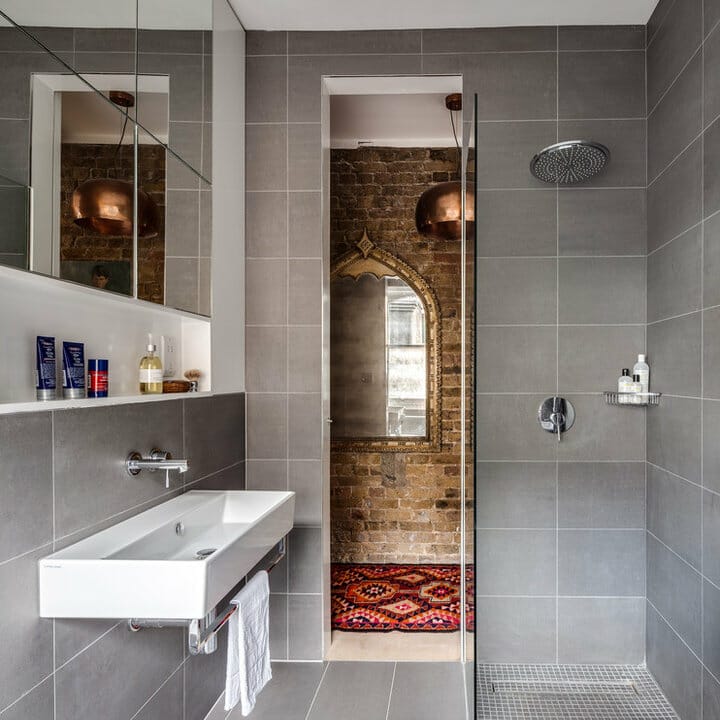 The last recommendation to remodel your small walk-in bathroom, so it doesn't look cramped is to give it a gray tiling. Furthermore, you can also go with a floating sink for a more compact and space-savvy design.
Without additional decorations, your shower room already has minimalist vibes and is pleasing to the eyes.
After observing all the small bathroom walk-in shower ideas above, you may have one that looks perfect with your tiny space. Go get your immediately. As long as you set everything in the right place and angels, all will be great.