A walkway made of stone has never failed to add some sort of charm to your home's exterior. Besides, they also help you prevent mud from ruining your footwear.
Since a pathway is essential, you need to check out these alluring stepping stone walkway ideas. They will definitely improve the curb appeal in an epic way.
1. Natural Stone Walkway Ideas
Stepping stone walkway ideas offer you a limitless option that you can choose depending on what kind of style you want to carve out.
The designs of stepping stone walkway ideas will also rely on their purposes and the layout of the area.
If you have a hilly yard, consider taming the sloping area with big, chunky natural stones. This way, you can carve out a bit of rustic look that mimics the charm of nature.
Then, place boulders to create a border. Round out the look by growing some plants and installing lighting.
2. Let the Limestone Escort Your Trip to the Front Door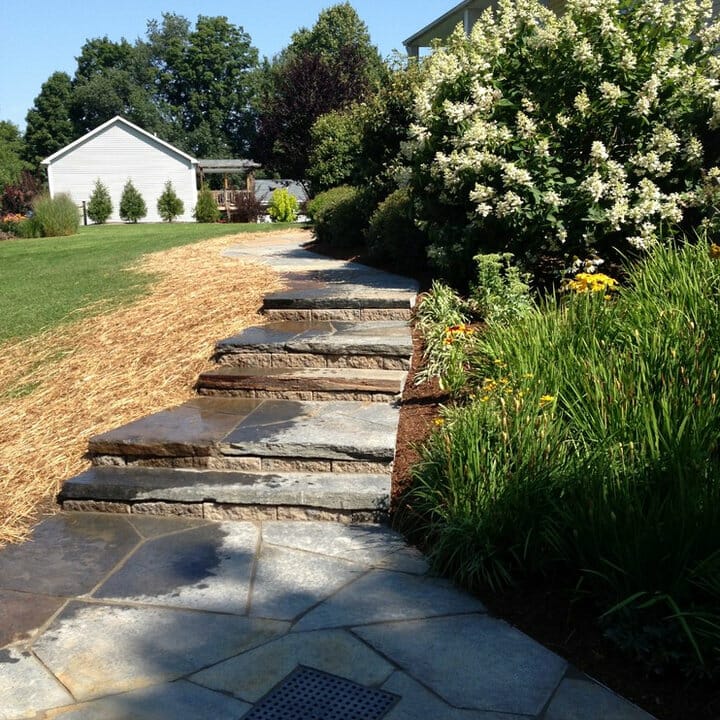 One of the crucial roles of a walkway is it can guide your guests to the front door safely by showing them the right path. This way, they will not stomp on your lawn or flowers.
This walkway, for example, will escort you to the front door and make sure you will not get lost.
Limestone is the primary material to make this walkway. Thus, you do not need to worry about its durability.
3. Curved Stepping Stone Walkway Ideas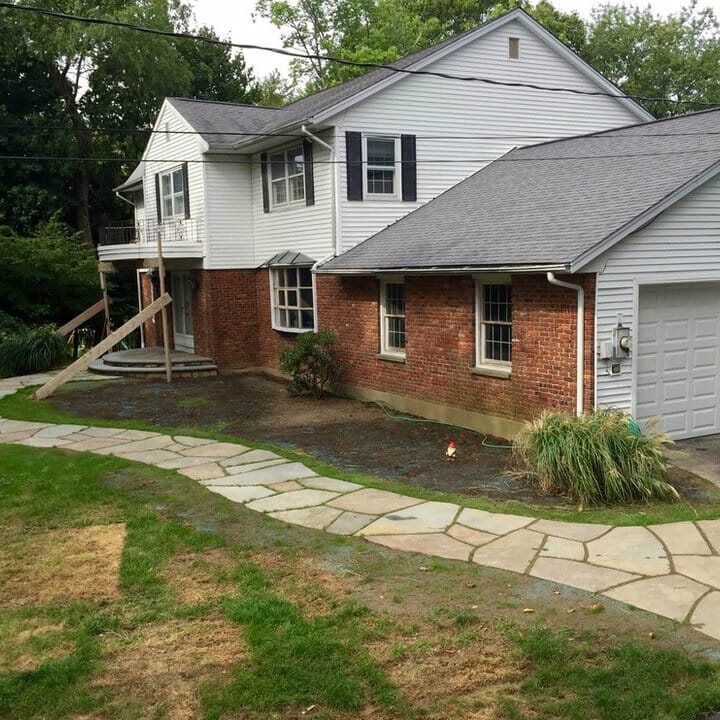 When you plan to create a pathway, you will have to consider whether you want it to be straight or curved.
If you want to carve out a classic look in your yard, you had better opt for a curved walkway because it tends to be more elegant and polished.
Also, if you want to highlight certain features in your garden, a curved path will do wonders. Just make sure you design it properly to avoid mobility issues that encourage people to take shortcuts.
4. Limestone Stepping Stone Walkway Ideas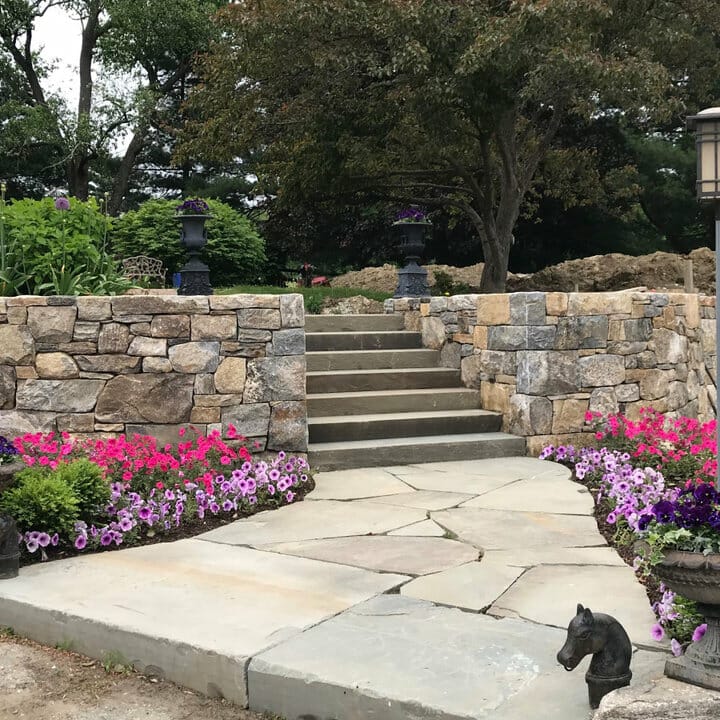 Limestone is one of the most common materials used to make a pathway. Although it does not give you much choice when it comes to color variations, people still use it due to its durability.
The limestone walkway offers a flatter and smoother texture. It is also your top-notch choice if you live in a rainy area. Besides, it can withstand tough weather conditions.
5. Mix It Up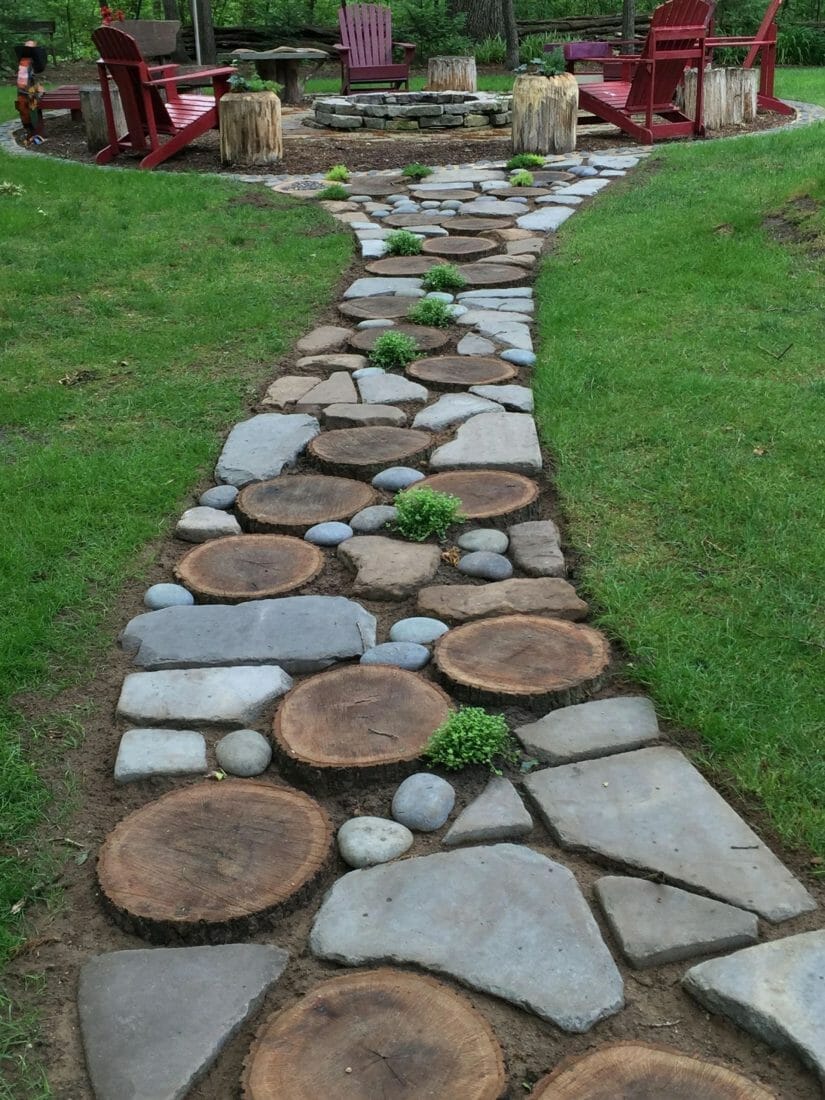 Do you want to incorporate more textures and patterns? Try these stepping stone walkway ideas.
Instead of making the walkway from stone only, you can use other materials, like wood slices, bricks, and ground-cover plants.
You can still find small and medium chunks of stone in this pathway. Some wood slices installed in between enriches the look immensely.
A few creeping thymes grow between the stone and wood, which spruce up the pathway nicely.
6. Classic Natural Stone Walkway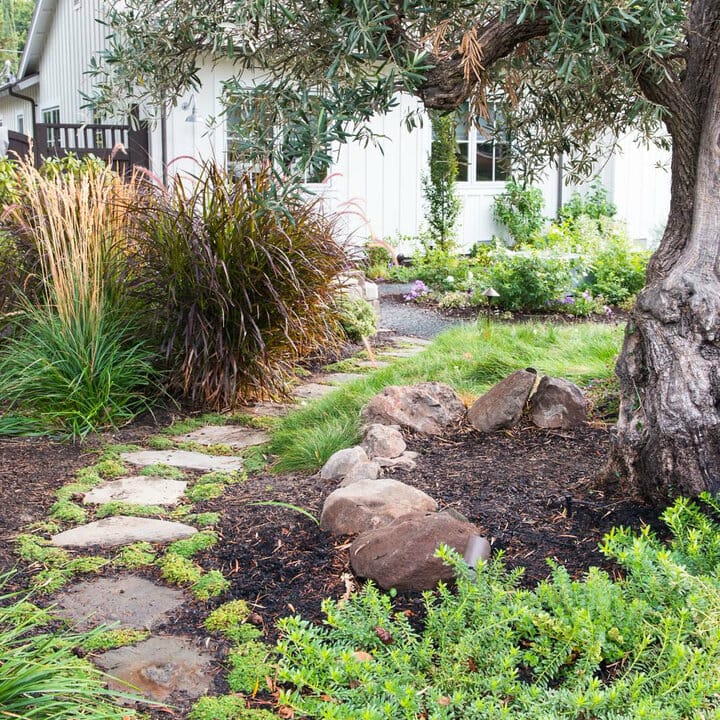 If you want to create a simple and hassle-free pathway, these classic stepping stone walkway ideas are your safe bet.
To make this simple pathway, you will only need crusher run and flagstones.
First, lay the flagstones before digging the soil so that you can check whether the arrangement is like what you have in mind.
Once you have laid the flagstones, you can dig out the soil, and fill it with a crusher run to create a stable base. Next, set the stones firmly with a rubber mallet.
7. Level Up with Mortared Stepping Stone Walkway Ideas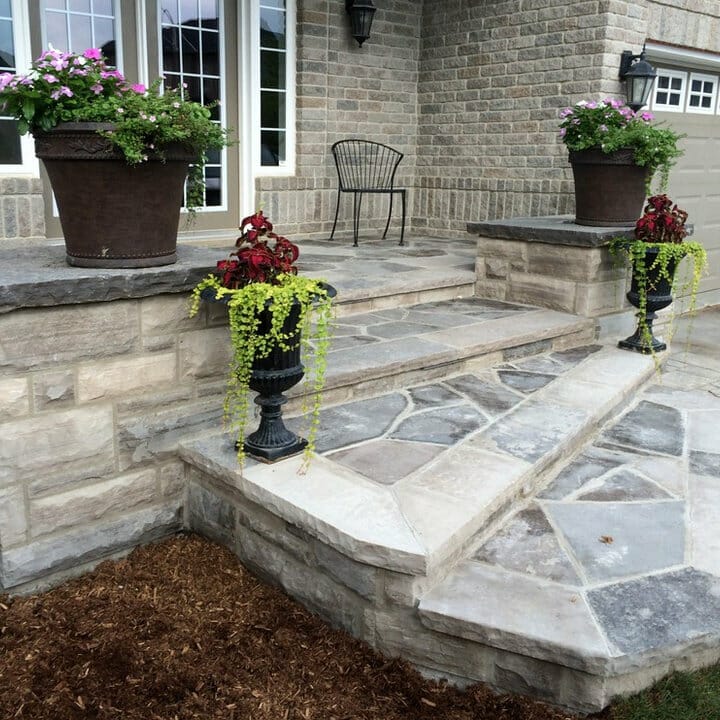 Natural stones come in irregular shapes and edges sometimes, making it hard to arrange them to be some steps to access the front door.
Laying natural stones solely will not be enough if you want to create steps with even surfaces and edges. Thus, you will have to fill in the gaps with mortar.
The combination of natural stones and mortar can result in smoother and more even lines. Moreover, you can eradicate the gaps, which tend to collect water and grow weeds.
8. Lay the Stones among the Grass
These stepping stone walkway ideas will help any visitors reach the door without stomping on your lush, green lawn. You might think that making this pathway is arduous. Apparently, it is straightforward and you can do it yourself.
First, you just need to lay the stones on the grass to picture how the pathway will look. Then, cut through the turf.
Next, fill the soil with a crusher run. This will make a stable base. Finally, set the stones firmly. You can use a rubber mallet to do that.
9. Rustic Stepping Stone Walkway Ideas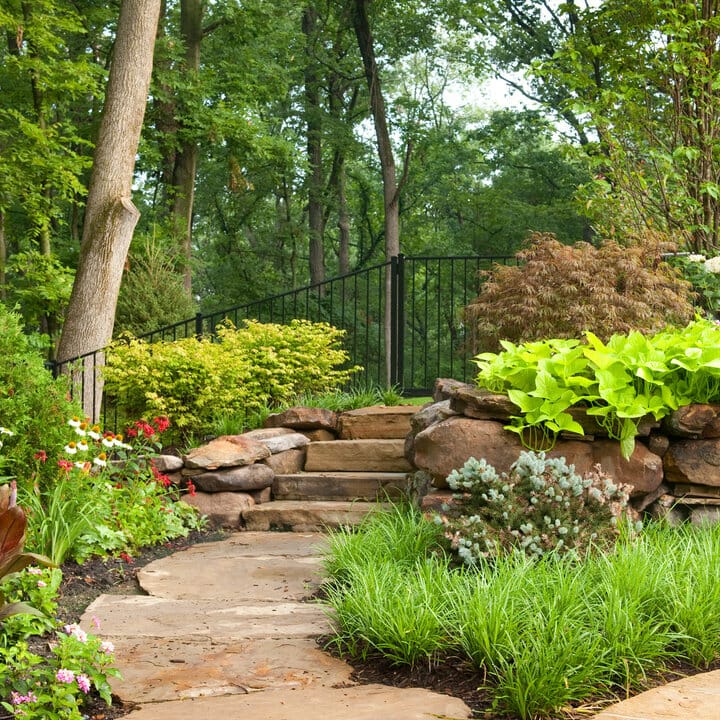 The combination of large and chunky flagstones, boulders, and irregularity is just perfect to create a rustic ambiance.
These stepping stone walkway ideas will be suitable for any classic houses, like French country and cottage styles.
You can also grow some plants around the pathway to add a lively lift.
10. Add Stone Border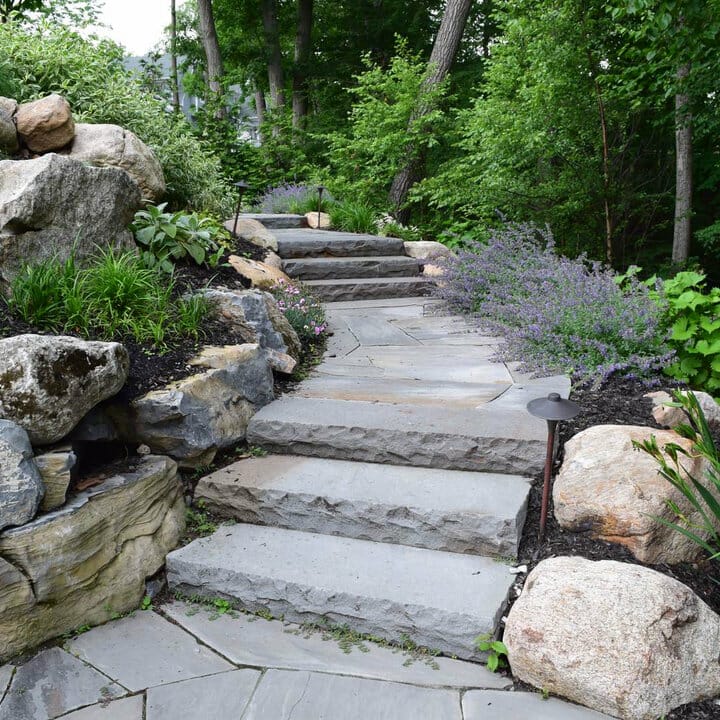 Stepping stone walkway ideas are not only about creating a pathway that helps visitors reach a certain place. They are also about carving out a pleasing view that everyone can enjoy during the short trip.
You can do many things to accentuate the pathway. One of which is by installing borders flanking on both sides.
This walkway, for example, looks dramatic with large boulders flanking it on both sides. It also has some lights that will illuminate the visitors' steps.
11. Surround Them with Mulch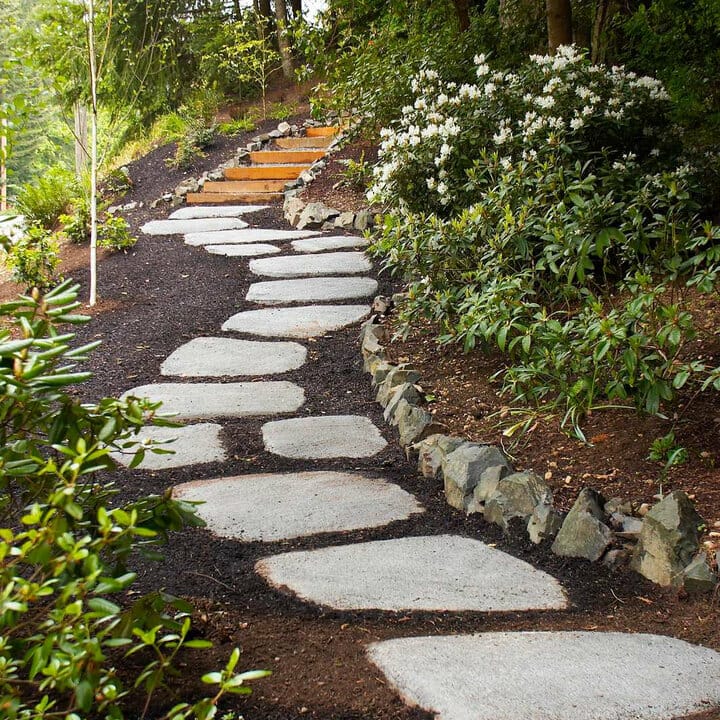 Installing stones in the soil as a pathway is straightforward. However, you might find that something is not complete.
You might want an organic base to embellish your stepping-stones. Then, grass might pop into your head instantly.
Unfortunately, grass requires regular cuttings, and you do not have time to do that. Thus, you can use mulch instead.
12. Create a Seamless Look
Do you want to complete the exterior of your contemporary and French country modern houses? Try these stepping stone walkway ideas.
A contemporary exterior usually features an organized look. Thus, irregular, large, chunky stones directly laid on the ground do not fit in.
Consider creating a seamless look by using fabricated flagstones that can create a straight perimeter.
Natural stones entail imperfections. Therefore, you need to use a mortar base to maintain a level surface. Then, accentuate the seamless look by applying mortar to the joints.
13. Pea Gravel Walkway with Stepping Stones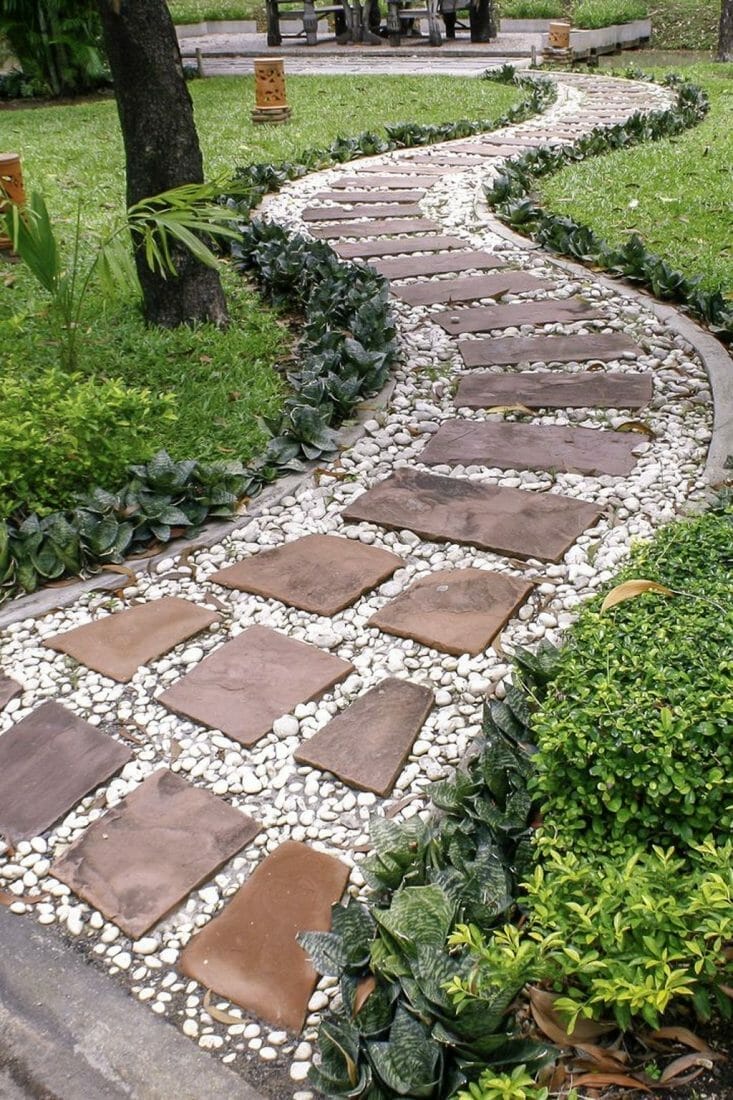 Combining stones and gravel is also another way to create a striking and practical pathway.
The gravel works as well as grass. It fills in the gaps between the stones while accentuating them without the hassle.
To make this idea work like a charm, you need to choose gravel that contrasts with the stones, just like this white gravel and brownstones.
14. A Walkway to another Universe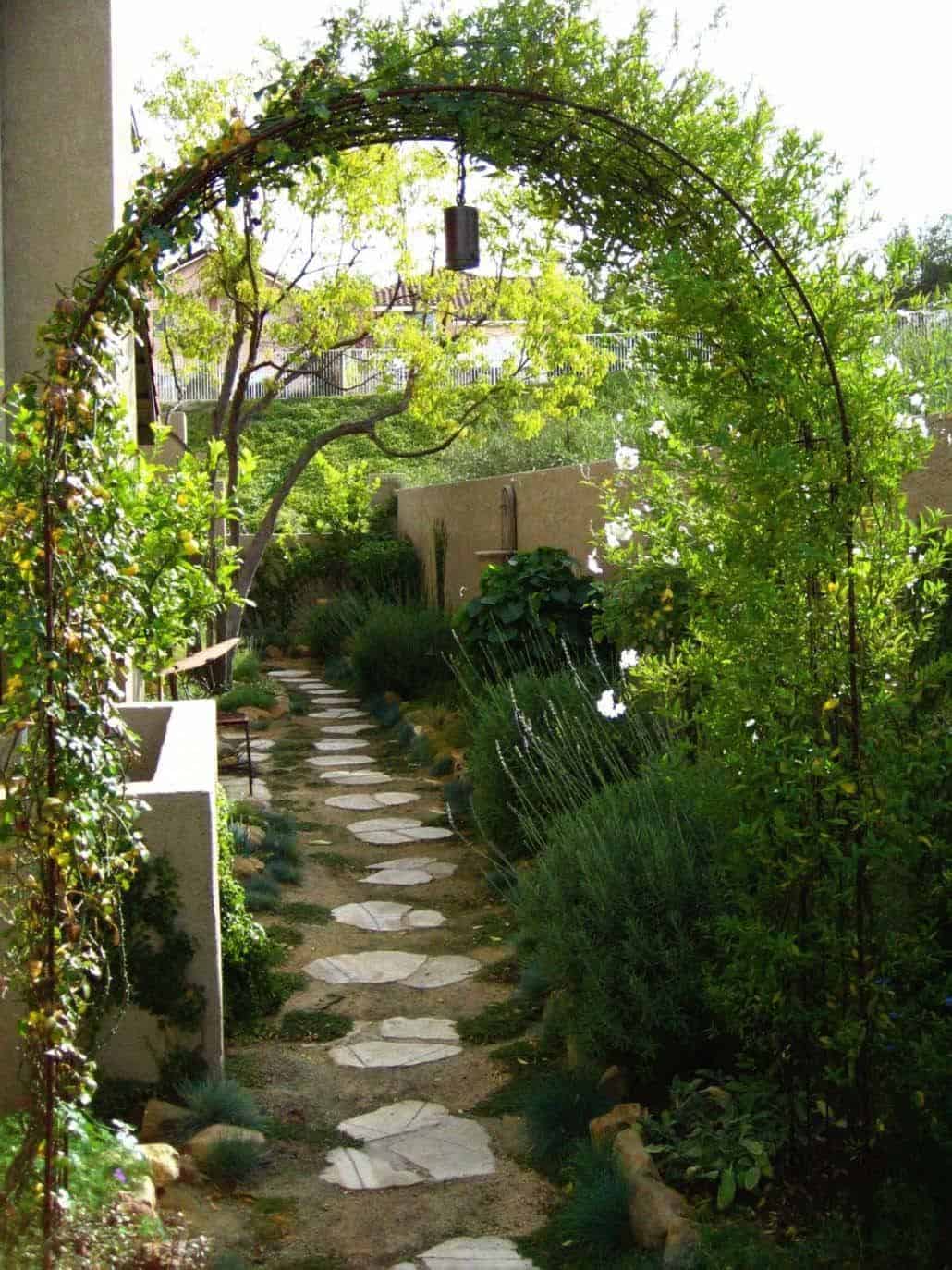 These stepping stone walkway ideas lend a mesmerizing look, thanks to the boxwood and some other shrubs that create a beautiful border on one side and decorative grass on the other side.
The most conspicuous thing is the garden arch over the pathway. Lush climbing plant wraps it thoroughly, which creates a more dramatic look.
15. Low-Maintenance Stepping Stone Walkway Ideas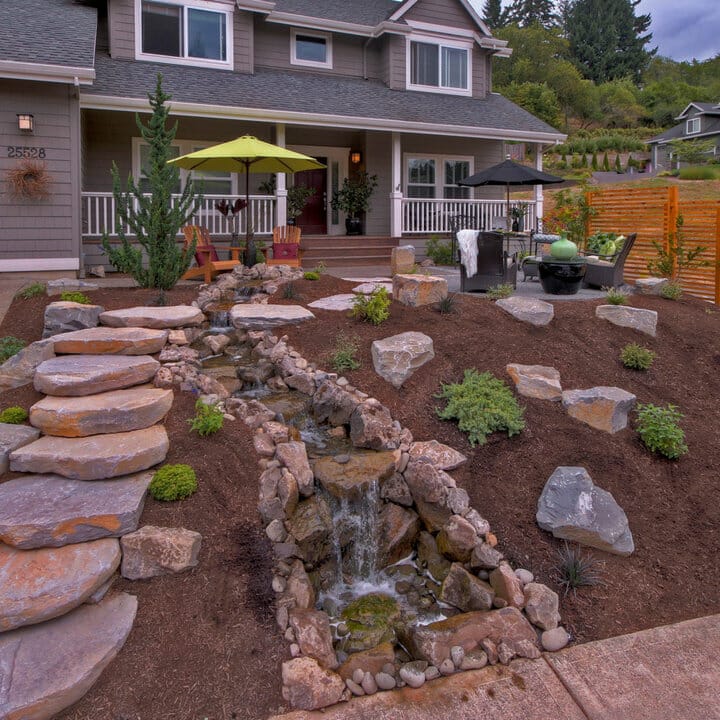 Having a dramatic front yard landscaping that can improve curb appeal is everyone's dream. However, regular maintenance will make you get cold feet.
Well, you can have beautiful landscaping without worrying about maintenance if you implement these stepping stone walkway ideas.
Large stones create sturdy steps that ease your journey to the front door. This front yard also has a water feature that looks like a small stream, which is mesmerizing.
Instead of covering the ground with grass, you can simply use mulch as a fuss-free option.
16. Smooth Flagstone Pathway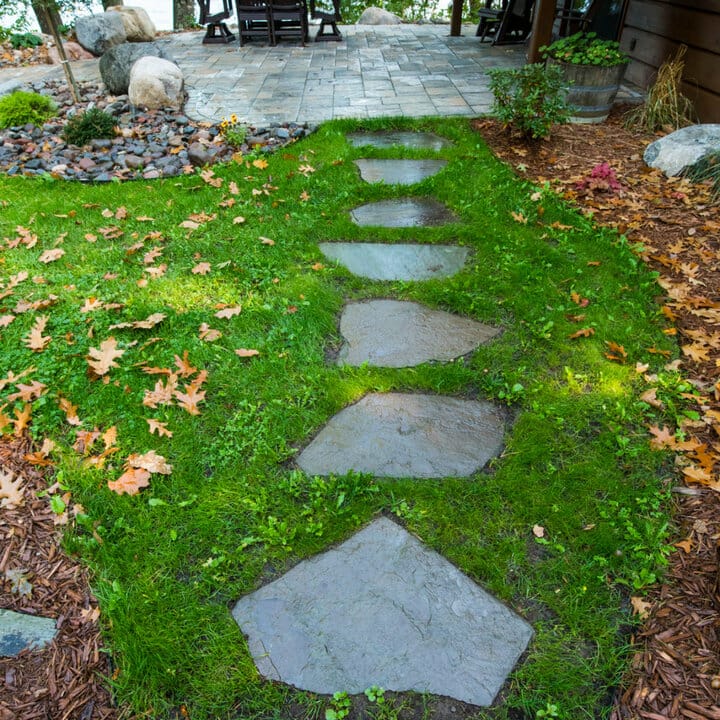 Flagstone is renowned for being a durable material to create a pathway. It comes in various shapes.
However, if you want to look for something that matches your contemporary house, smooth flagstone is your greatest bet.
Look at how this flagstone aligns on the ground. The stones look great although they do not come in the same shape.
More importantly, the sleek surface will accentuate your contemporary exterior.
17. Embrace the Irregular Shapes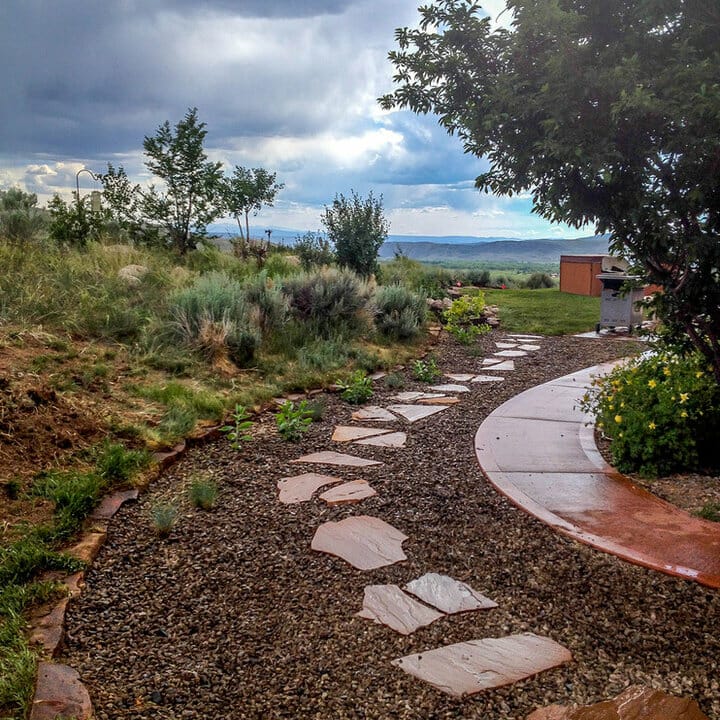 Matching is not always about installing square or round stones to make a walkway. Laying irregular shapes can also do wonders. In fact, they can carve out a bit of drama to your yard.
If you still want to create a united look, you can choose stones that have the same color as the flowerbeds' borders.
18. Desert Landscaping Ideas with Stepping Stone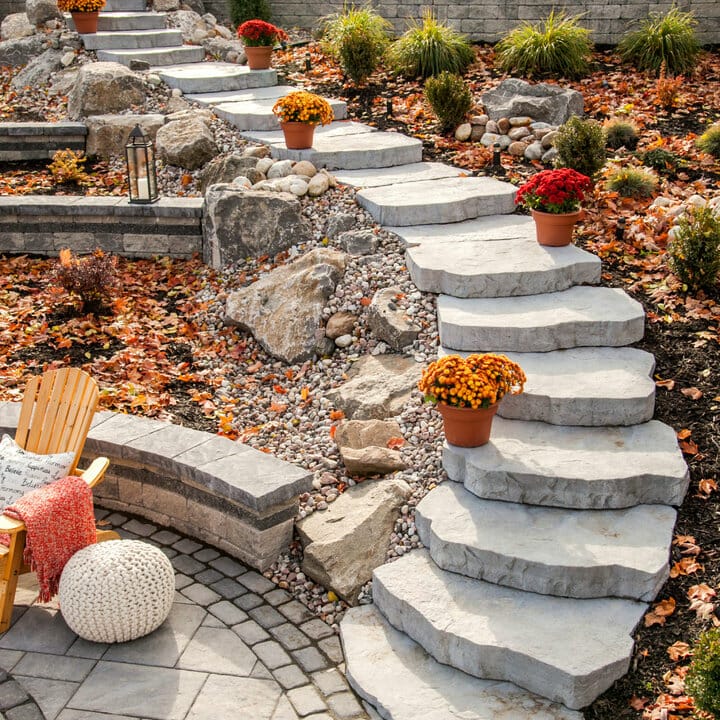 Desert landscaping is a great choice for those who live in arid areas. However, many people have adopted this style despite the quality of the soil.
One of the popular reasons why many people like desert landscaping are the dramatic look and the hassle-free maintenance.
You can only see large stones arranged to create steps. Instead of green grass, you can use mulch or gravel to cover the soil.
19. Create Balance with Stepping Stone Walkway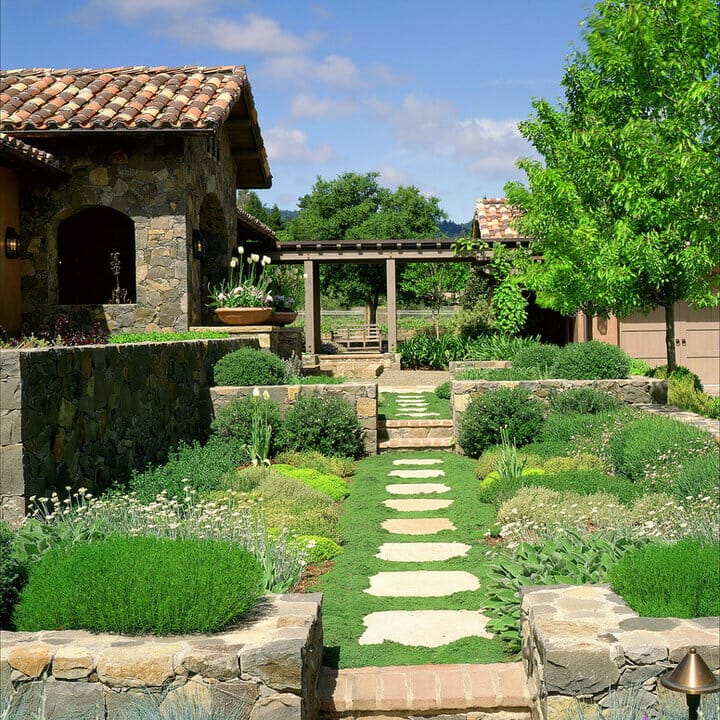 Some people adore symmetrical looks immensely. If you are one of them, you can try these stepping stone walkway ideas.
These stones align in the middle among the green grass. It acts like a mirror that splits the garden into two. The fabulous thing is you can notice a balance here.
20. Bluestone Walkway in a Modern Garden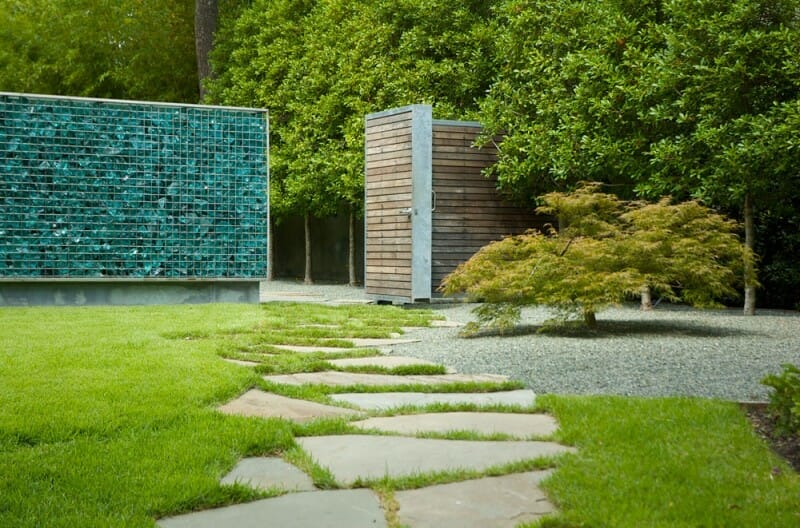 You might think that a pathway for a modern house should come in geometric shapes. Well, that may be right.
However, you can still break the rules and explore your imagination. If you want to add more drama to your modern backyard, you can try combining large and small stones.
To maintain the modern look, try to minimize the inequality on the surface. You can do this with a rubber mallet.
21. Texas Style Landscaping Ideas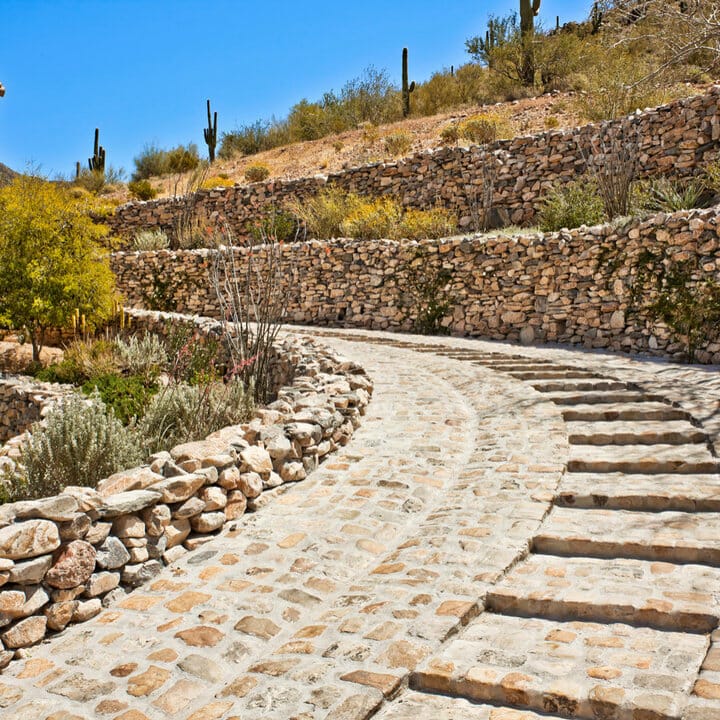 Similar to the desert landscaping, Texas style entails a lot of rocks.
Here, you can see mortared pathway with subtle steps along the way. Accentuate the style with stone walls and cactus.
22. DIY Stepping Stone Walkway Ideas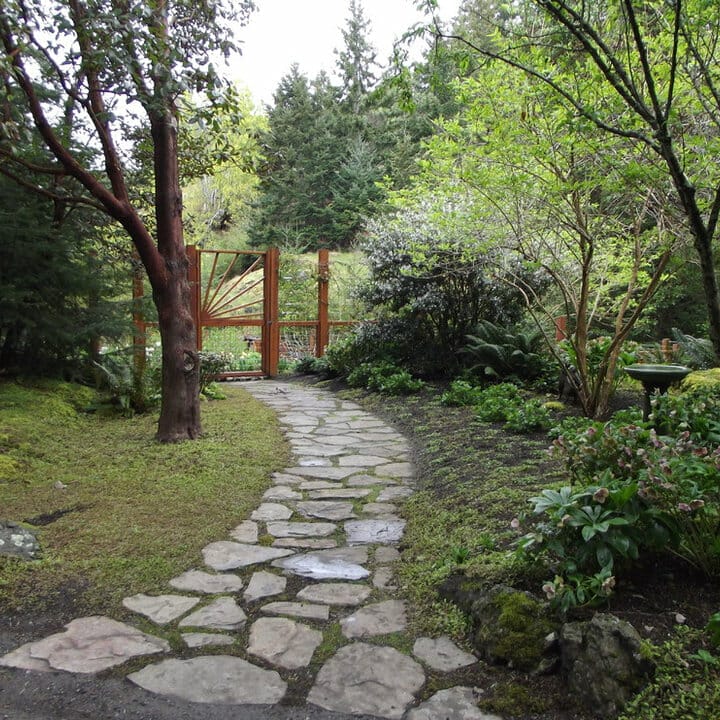 If you just want to focus on the function and do not think about the look thoroughly, you can DIY your walkway.
Making your walkway is as easy as digging out the soil, setting down the stones, and reinforcing them with a rubber mallet.
23. Straight Stepping Stone Walkway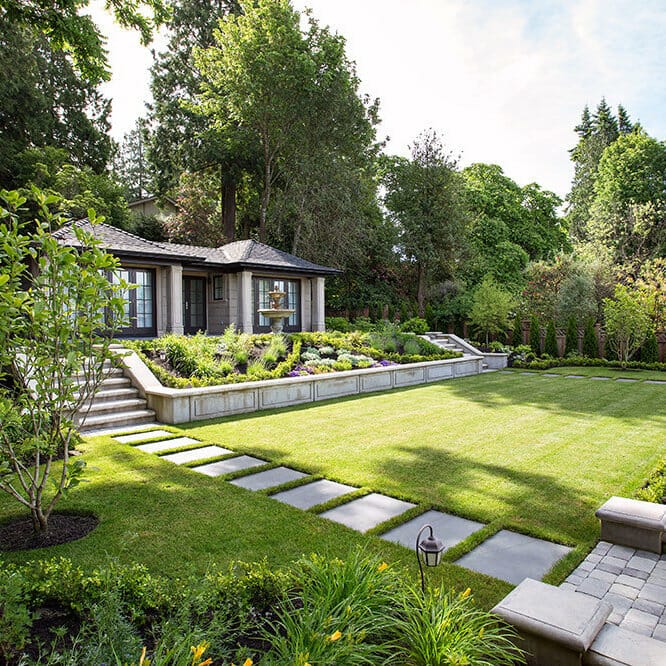 When making a walkway, you will also need to consider the length of it.
If you are going to build a pathway for less than 18 feet, you will not need to make a curved one because it will only entail a quick and short trip.
The best walkway for a short trip is a straight one. It is more straightforward and practical.
24. Simple Sandstone Walkway
This is another simple idea that you can copy this weekend. You do not need any special tools to create it.
You will only need sandstone, crusher run, and a rubber mallet. Then, add some beauty with plants.
25. Split the Stepping Stone Walkway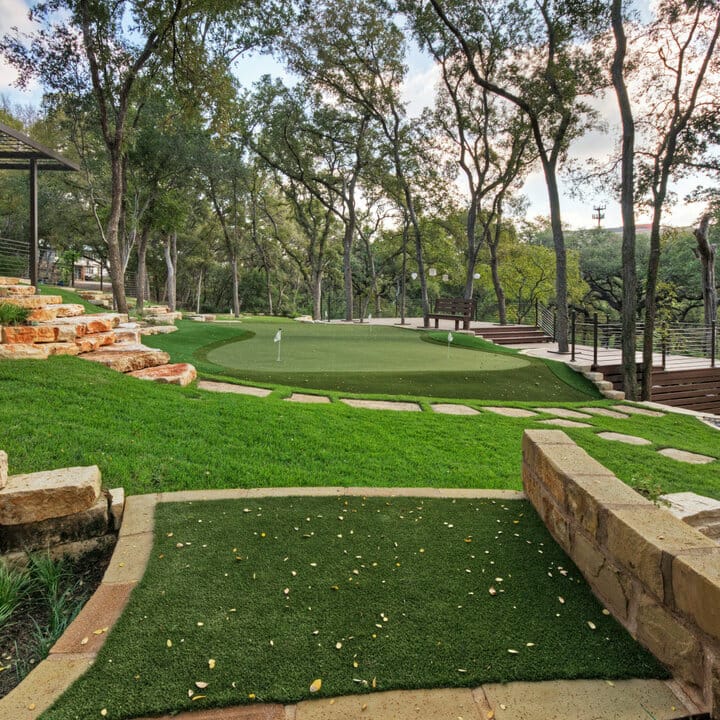 For a spacious yard, you need to consider to making multiple walkways, just like this one.
The square pathways look great among the green grass. They denote the charm of the modern style.
26. Irregular Stepping Stone, Gravel, and Boulder
It is not a red carpet, but it serves the same way. It offers special access to the front door through the stepping stones and crushed stone for walkways.
You can also find boulders and garden lights flanking the pathway and anchoring it in place.
27. Winding the Walkway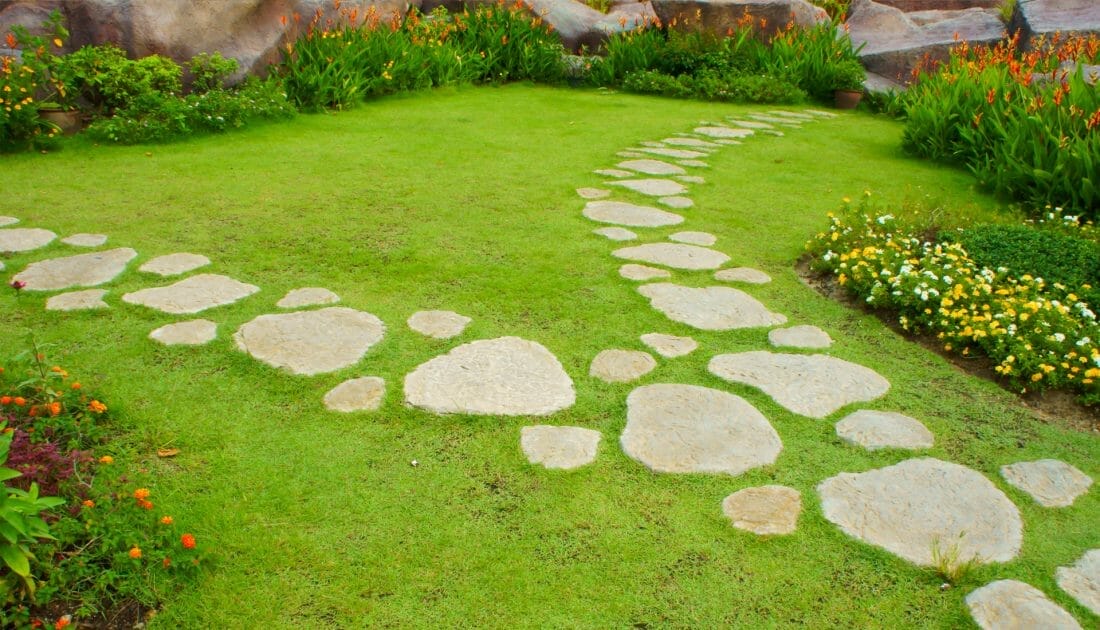 A curved walkway is necessary if your backyard is spacious. It is also crucial because it helps you guide the visitors so that they can see special features in your garden.
28. Bluestone Patio and Walkway Combo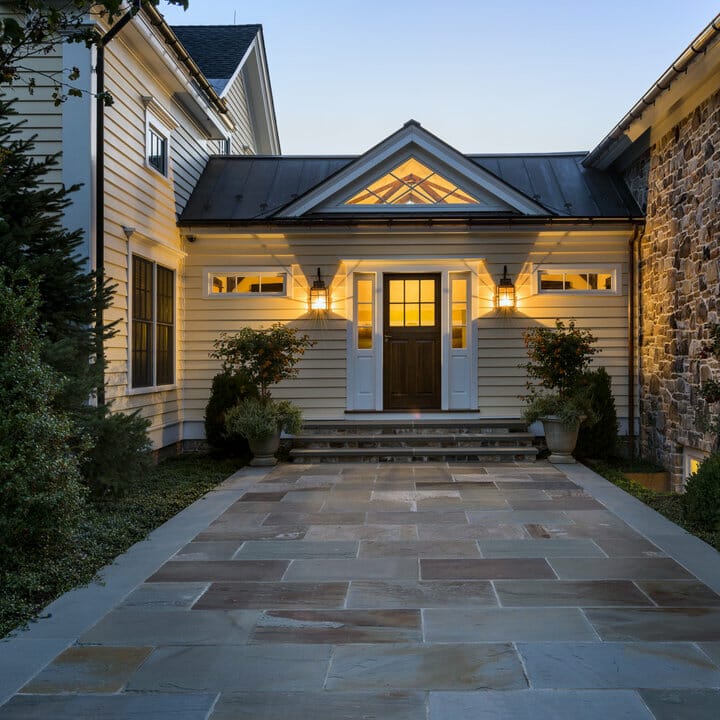 Instead of building a mere walkway, you had better make a patio.
This patio will serve you double duty. It can be a great place to hang out while becoming a pathway that escorts you to the door.
29. A Path to an Outdoor Living Area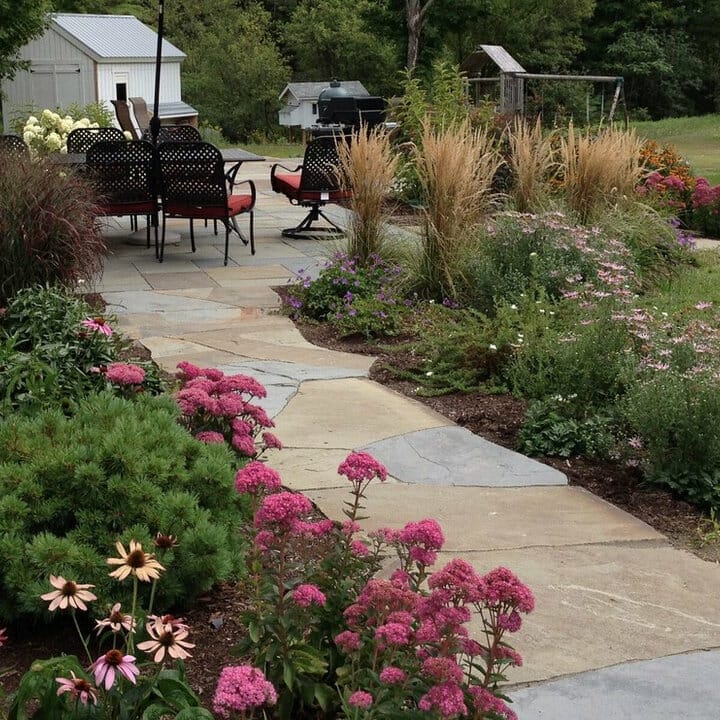 One of the purposes of creating a pathway is to connect the house with a specific feature in the backyard, like this patio.
You can make the patio and pathway look united by using the same materials and colors.
Whether you want to improve the curb appeal or create a pathway that guides you to the house, these stepping stone walkway ideas will always be your best bet. So, which one is your favorite?