Do you want to escape from the hurly-burly life and indulge in the realm of nature? Then you might want to try to bring it to your home with these forest themed bedroom ideas.
Many people think that white is the safest option when it comes to decorating a small bedroom. That could be true. However, you are not supposed to give up your creativity.
Do not let a small bedroom restrict your big creativity and imagination. In fact, it can be your chance to turn into something beyond wonderful. Just like these ideas below.
1. Enchanted Forest Themed Bedroom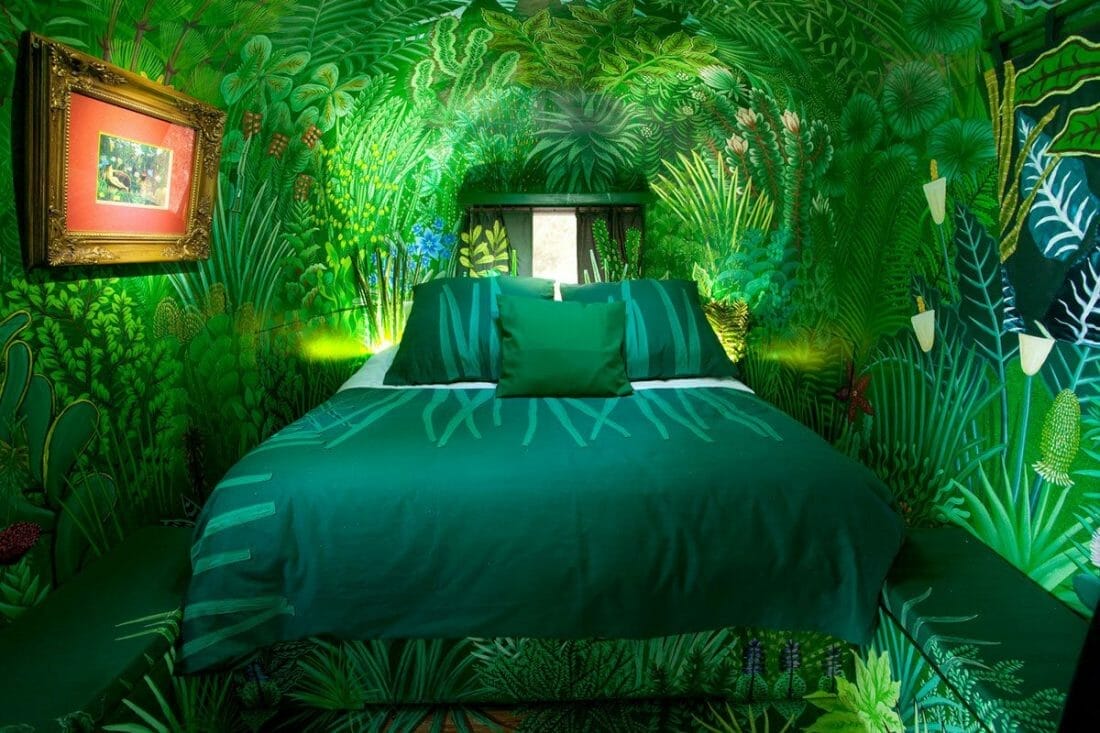 This compact bedroom looks enchanting and mesmerizing with all-green botanical decorations. It is indeed a bold decision because if not done properly, you will end up having a room with a haphazard view.
The trick to implementing this bold option to small space is by creating unity. You can do this by applying the same colors and patterns to the entire surface, including the walls, ceiling, and flooring. This way, they can flow into one being.
2. Forest Themed Bedroom for a Kid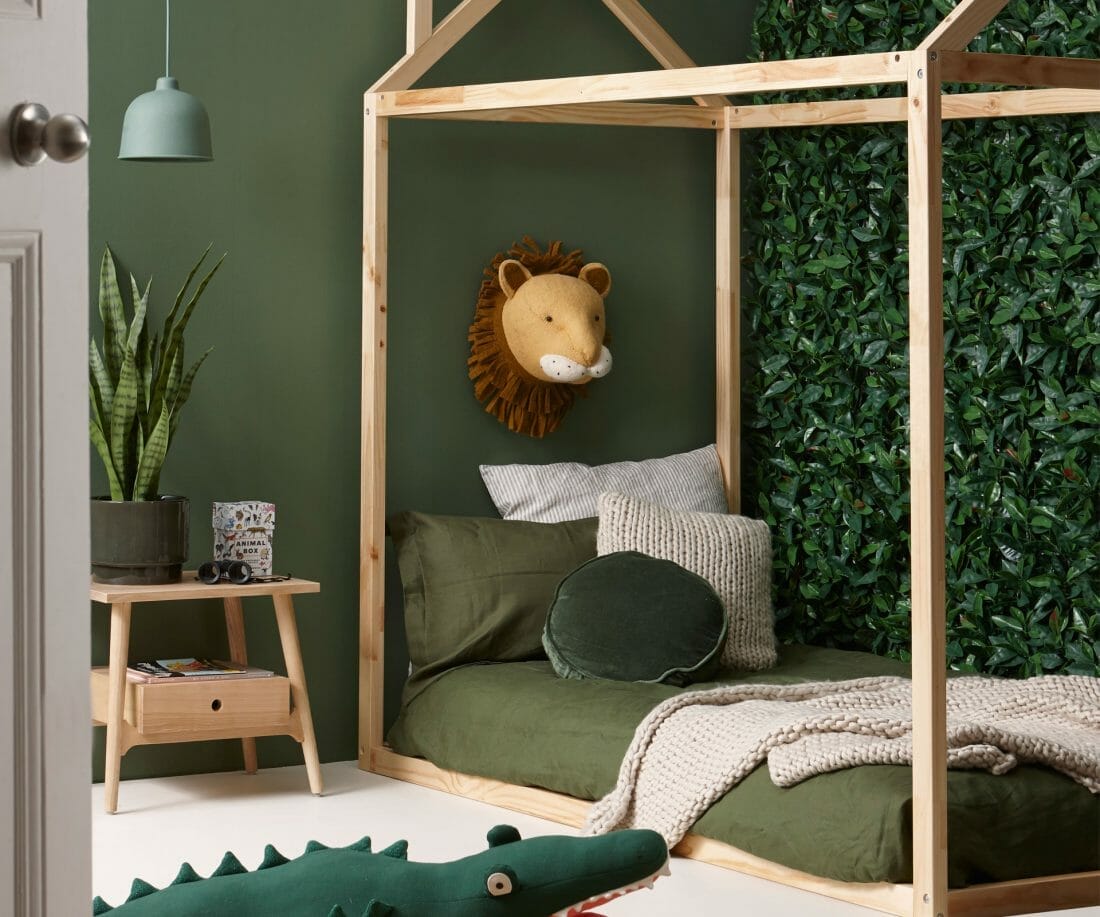 A forest themed bedroom is for not only adults but also kids. However, it may be simpler than the previous idea. More importantly, do not forget to add some cuteness effects.
In addition, a faux hedge wall is a good start to creating a forest-themed decoration. Do not go overboard, though. You may not want to cover the entire surface with it.
Paint the adjacent walls green, instead. This way, you can carve out the forest theme nicely.
Since it is a bedroom for a kid, adding a cute accessory like stuffed animals is a must. Perhaps, you will also need to contemplate investing in a low-level bed for peace of mind.
3. Forest Themed Bedroom Girl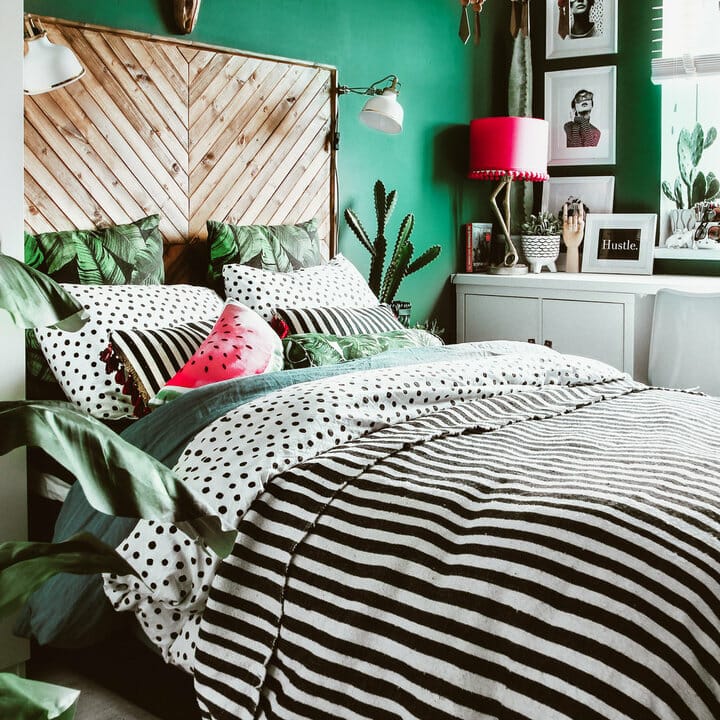 For a teenage girl, a playful canopy with stuffed animals can be so yesterday. She needs a more stylish look that suits her style well.
You can begin with painting the walls green for the base. Then, invest in botanical bedding or, at least, pillowcases. Wrap them all with lots of indoor plants for an instant forest themed bedroom.
The herringbone headboard really adds more visual and textural appeal to this small bedroom. To kick it up a notch, two sconces hang on both sides of the bed.
4. Instant Forest Themed Bedroom with Wallpaper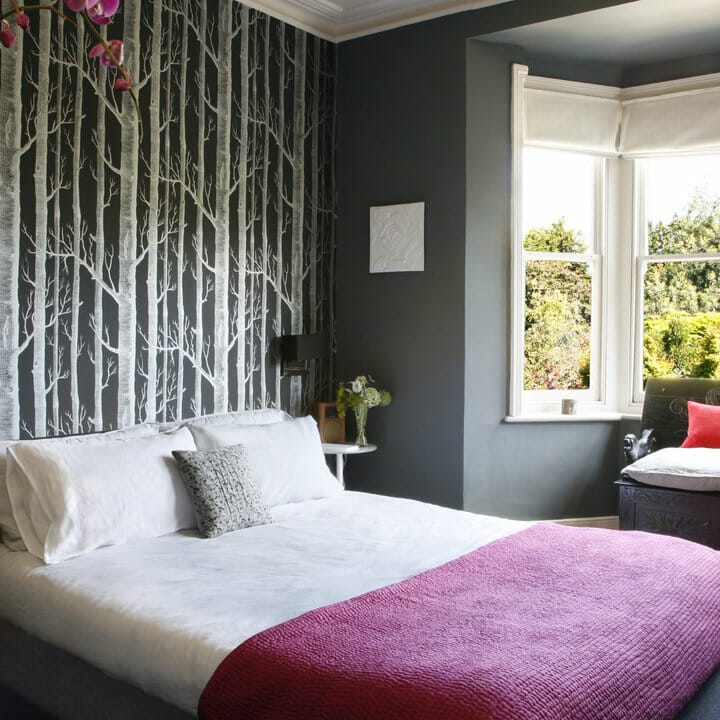 If you want to create a forest themed bedroom without the hassle, you can always rely on the magic of wallpaper.
Wallpaper is extremely versatile. It comes in a vast array of designs, making it easier for anyone to carve out a certain style, including a forest themed bedroom.
You can also use another color besides green, though. If you like a minimalist look, this monochromatic botanical wallpaper should be on your list.
5. Forest Themed Bedroom Boy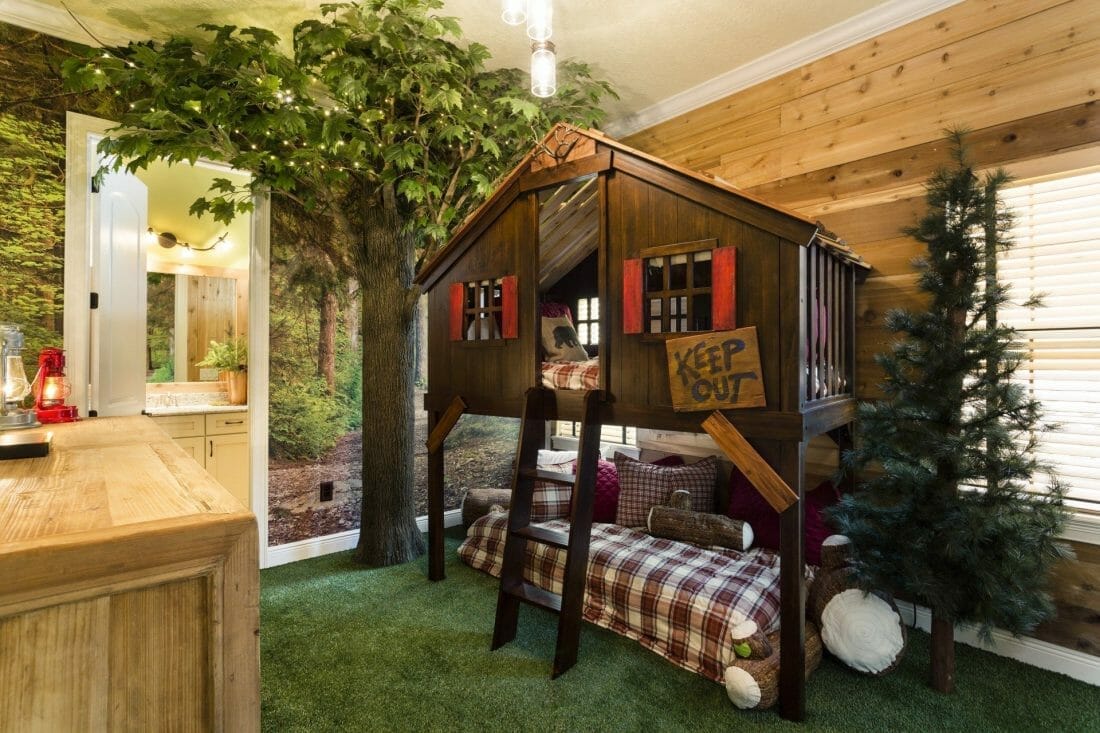 Boys love adventures. Thus, this forest themed bedroom is worth the try.
You can begin with tack wall-to-wall green carpet to the floor to mimic grass. Then, hang forest wallpaper and add two faux trees to enhance the look.
Instead of a low-level bed, you can purchase a bunk bed that looks like a treehouse. By raising it a few feet off the floor, you can get another functional space underneath.
6. Jane Rules the Jungle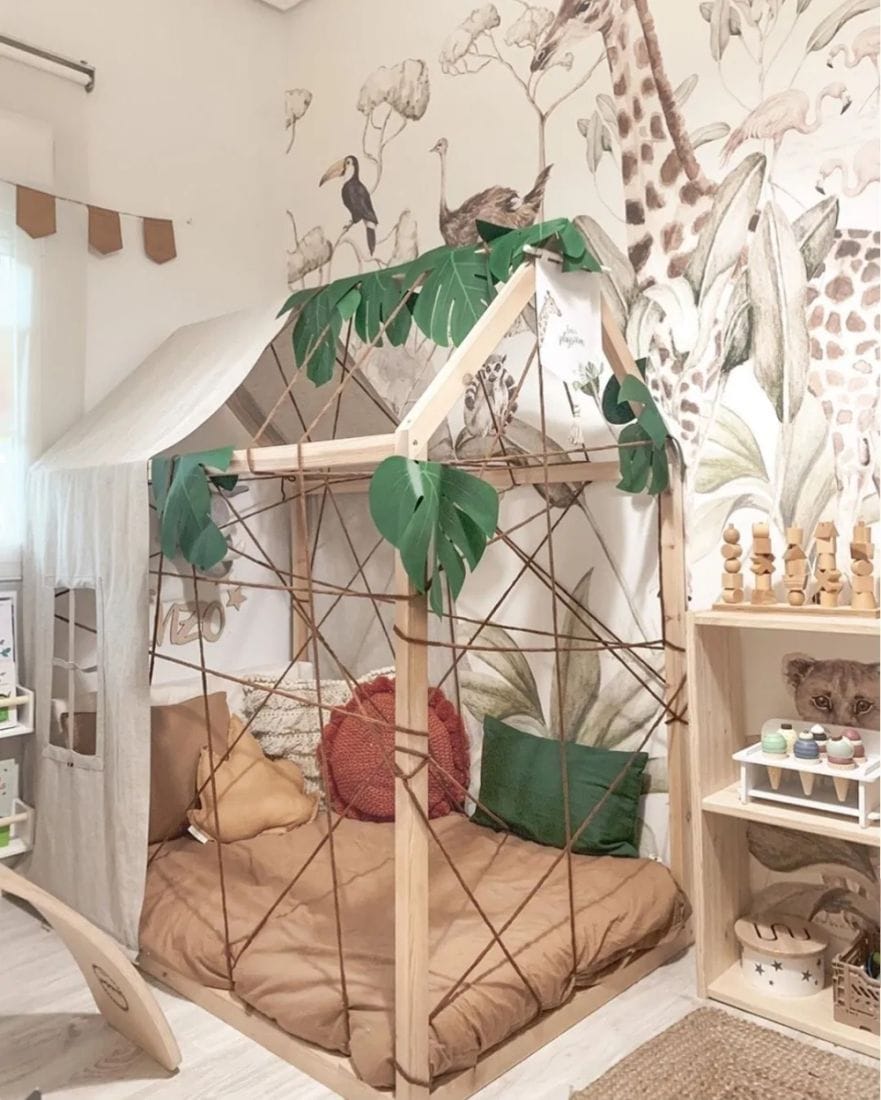 A house-framed bed offers the limitless possibility that you can try to achieve a certain style. It can help you make your kid's dream come true.
Try wrapping brown rope or thread around the bed frame to imitate the look of aerial roots. Then, add some faux leaves to make it more appealing.
Consider applying African animals that are renowned for their exotic look to complete the forest themed bedroom.
7. Colorful Forest Themed Bedroom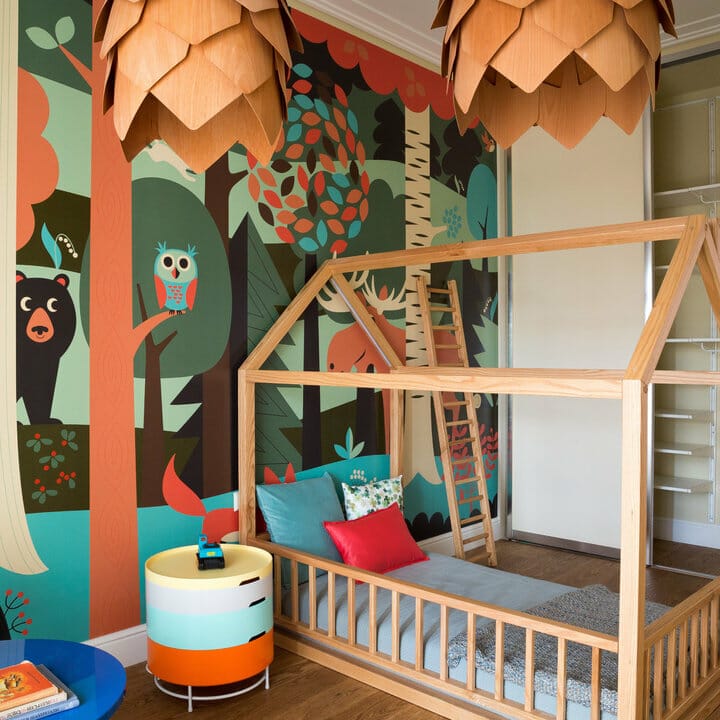 A forest themed bedroom is not always green. It can be as colorful and cheerful as the one in this picture.
The wall decal makes a perfect centerpiece while showing how cute the animals are. Next to the bed is a nightstand with storage that matches the accent wall immensely.
Above the bed are two pendant lights with acorn-like lampshades. They are unique and add characters to the space.
8. Let the Wall Art and Greenery Do Their Magic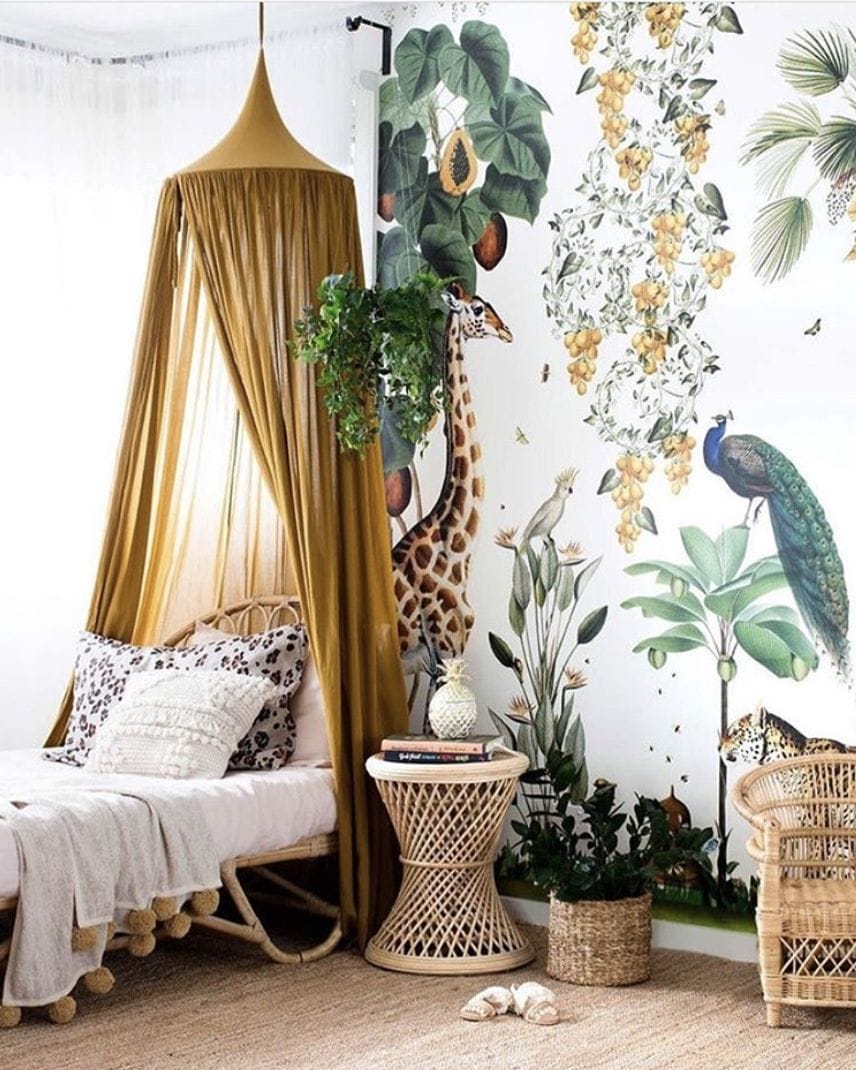 Although the bed does not denote the wildlife in the jungle, the wall art still creates the vibes. You can also add some greenery to highlight the style.
Besides the forest-themed decorations, you can try adding more interesting elements, like this rattan nightstand, chair, and planter.
9. Green and Pink Forest Mural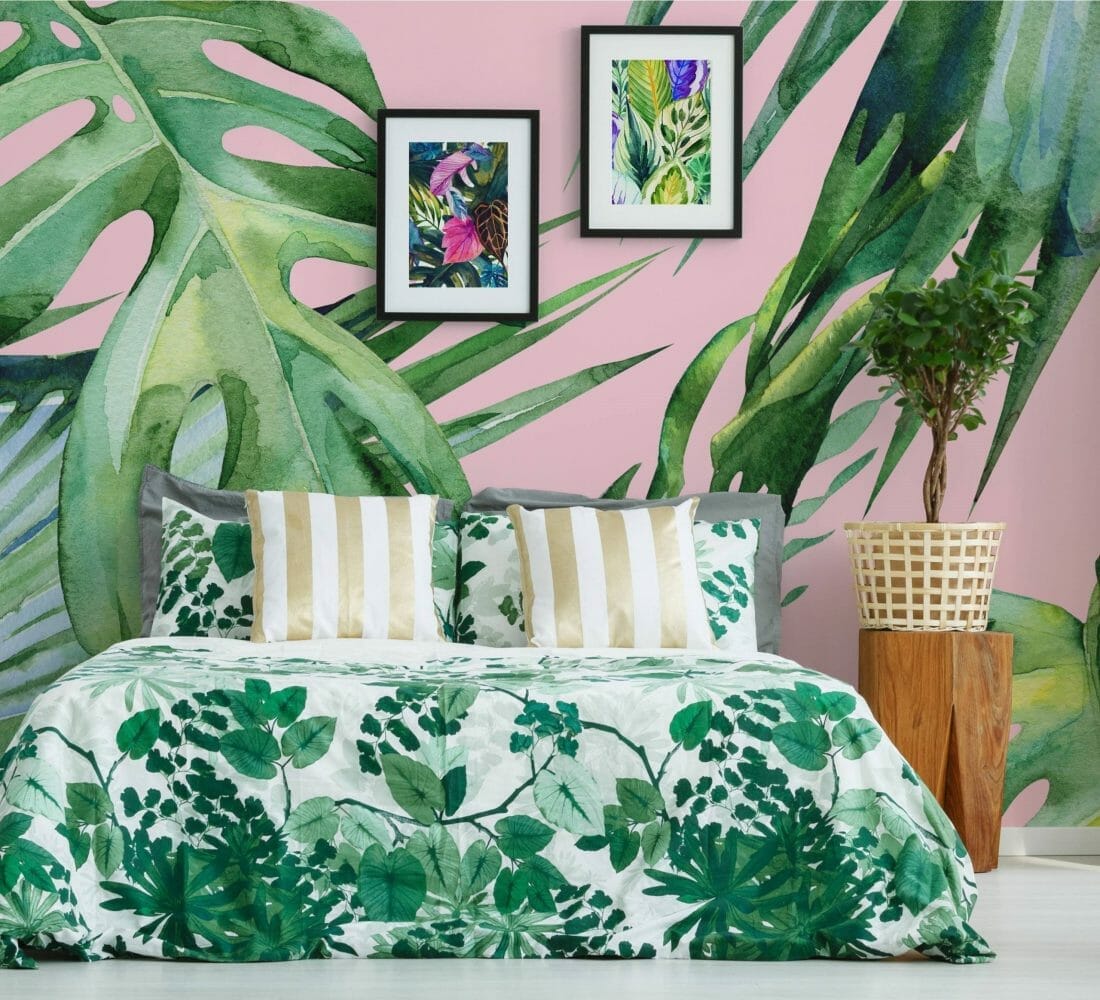 This bedroom shows you that green can get along well with green. In fact, this combination can create a distinctive nuance.
Besides the fores- themed accent wall, dress up your bed with botanical bedding to match the centerpiece. For a more intriguing look, invest in a wood log acting as a nightstand or plant stand.
10. Do Not Go Overboard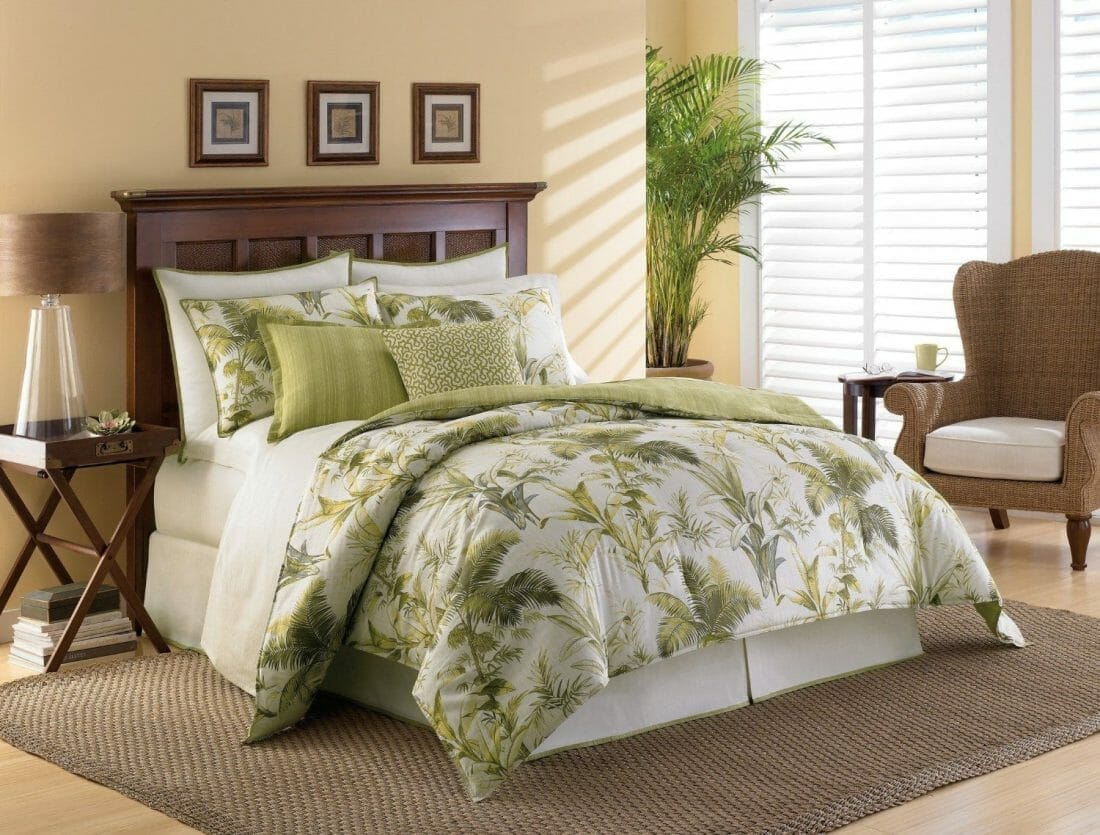 When talking about a forest themed bedroom, wall decals and a mural with a lot of plants may pop into your mind immediately. They can be a convenient way to carve out this style.
However, if you go overboard by using a forest mural on your entire walls and ceiling, you might be overwhelmed. In fact, if a minimalist look is your thing, you might find this idea a bit tacky.
You do not require to shield the whole walls with a forest mural. Investing in botanical bedding and duvet cover would be enough. You can also place Areca Palm in the corner to accentuate the style.
11. Embrace the Tropical Vibes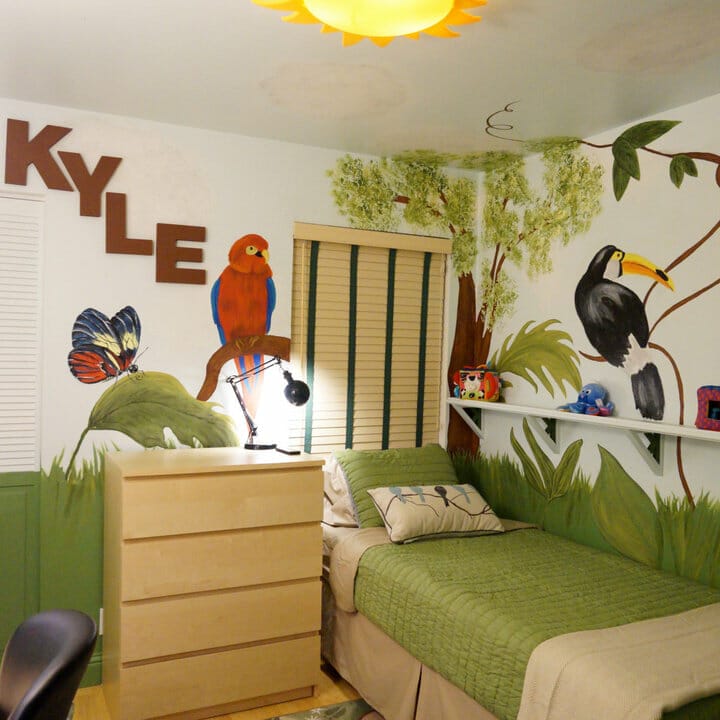 Just because it is a small bedroom, it does not mean you can forego the decorations. It still deserves embellishing.
This bedroom offers tropical vibes through the parrot and toucan wall art. Since the space is limited, you may need to shove your twin-sized bed against the corner. This way, you can have plenty of room for other furniture.
Consider installing a wall-mounted shelf to organize things. You may not want to make it too obvious because it will not look natural. Thus, you had better paint it the same color as the wall to camouflage it.
12. A House of a Forest Ranger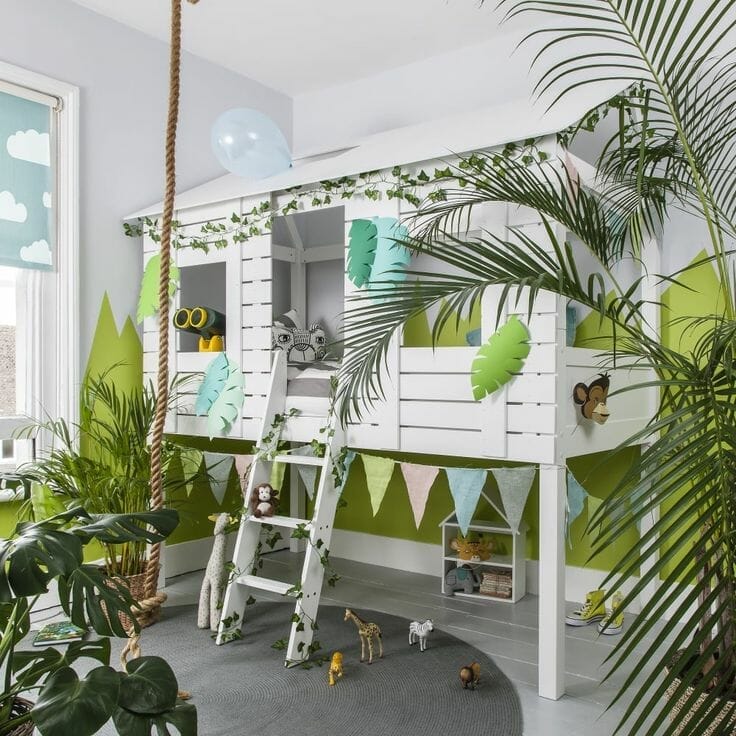 Let your kid become a forest ranger although it is just in his bedroom.
To make this idea tangible, you can purchase a bunk bed and paint it white. After that, decorate it with faux English ivy and large leaves made of paper.
Then, you can toss some stuffed animals or figurines along with greenery that adds a lively lift.
13. Find Peace in Woods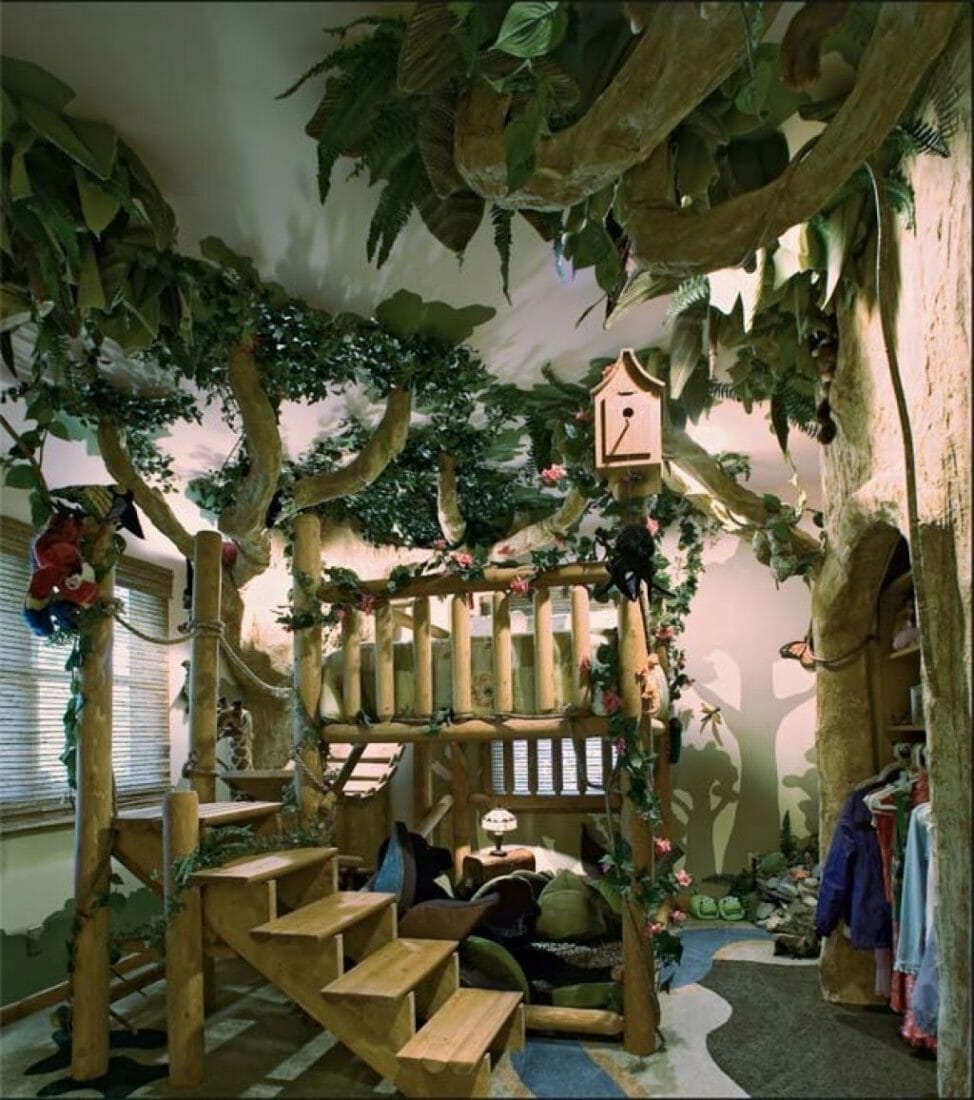 This one is a jungle-inspired bedroom that you need to try.
When stepping into this bedroom, you will feel as if you were visiting a treehouse of an elf or dwarf.
The bed sits on the higher level so that you can use the ground level as a reading nook or a game room. You can also install railing for safety.
Another unique thing is a closet that looks like an opening in a tree. The design blends perfectly with the remaining furniture.
14. Forest Themed Bedroom with Hanging Bed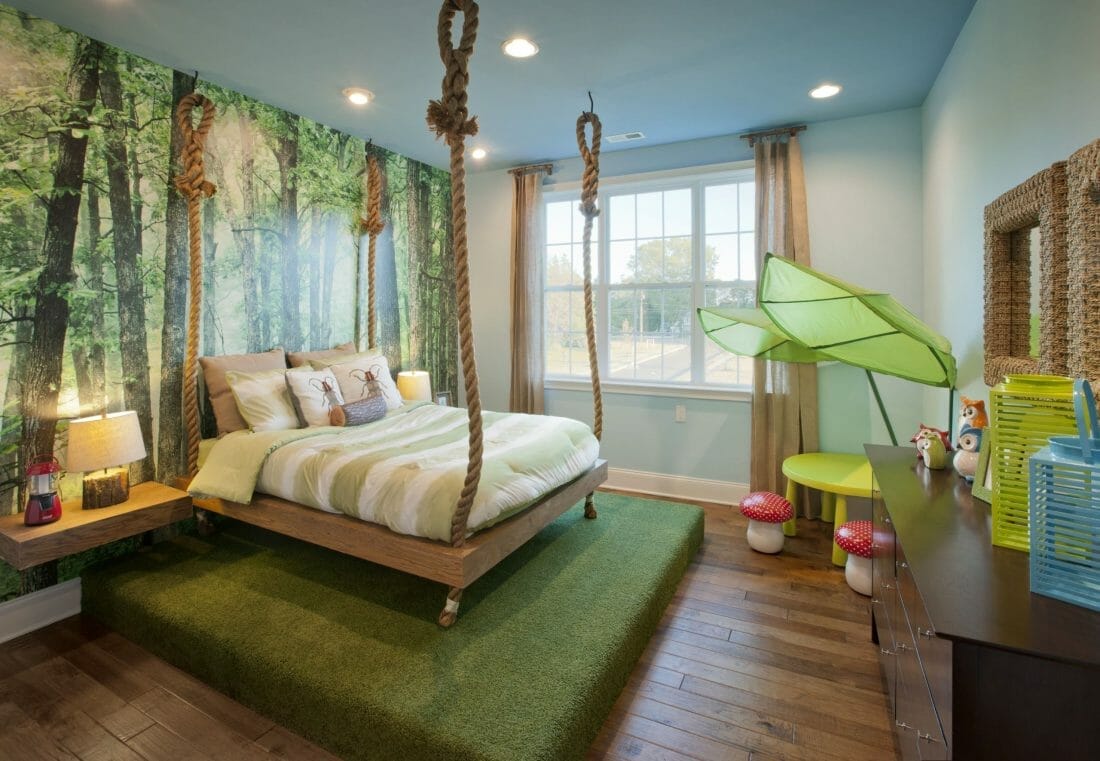 Letting your mattress sit on the floor is a dime a dozen. You can opt for a more intriguing look by suspending it from the ceiling using heavy-duty or anchor rope.
Could it be any more appealing? Of course.
Hanging forest-themed wallpaper behind the bed makes a dramatic backdrop. Then, anchor it with two wall-mounted wooden shelves on both sides.
15. Travel to Africa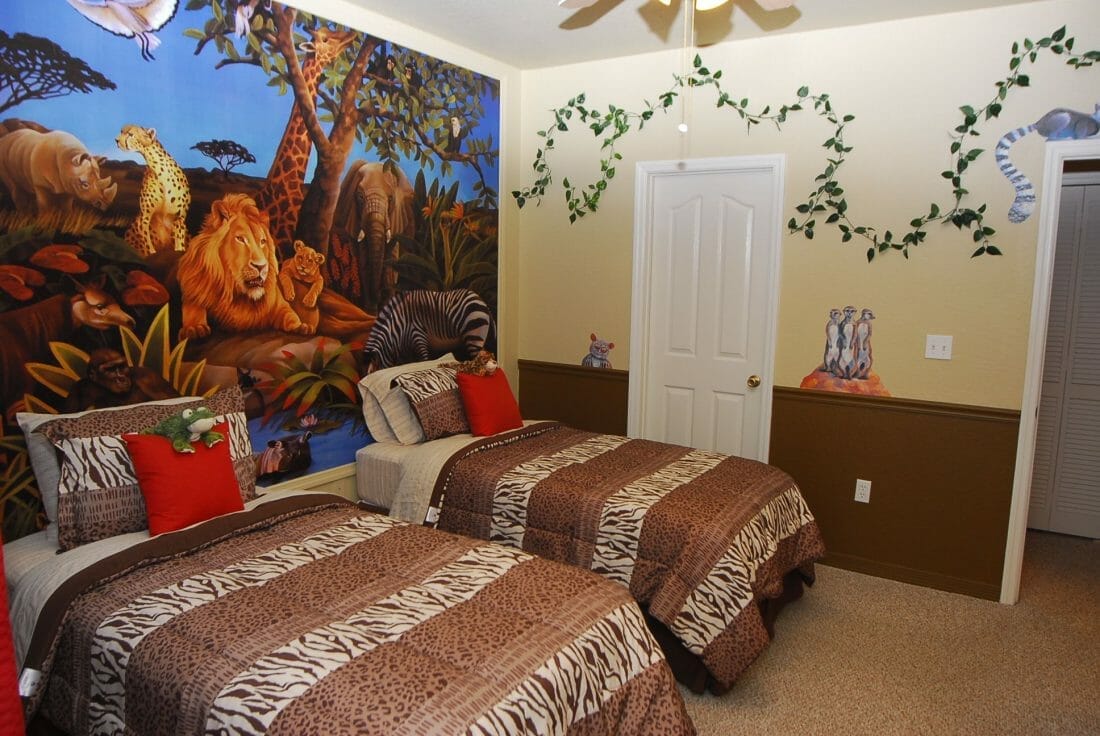 This bedroom will remind you of the wildlife in Africa or even that prominent movie from Disney – The Lion King.
The wallpaper plays a crucial role in creating the forest theme in this bedroom. To highlight it, you can cover your bed with patterned bedding that resembles a cheetah and tiger.
16. The Realm of Fairy Tale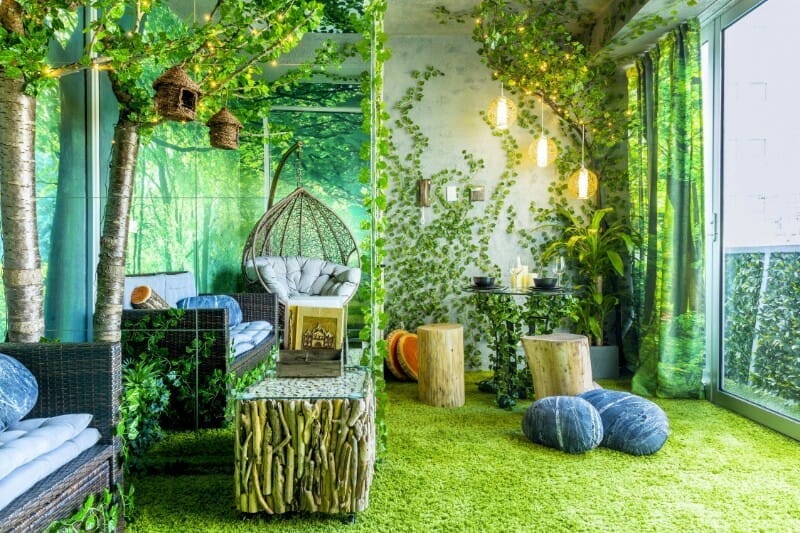 Have you ever imagined how it would feel to live in a fairy tale? Well, although it is unlikely to happen in the real-life, you can at least create one in your bedroom.
This forest themed bedroom features a long-pile carpet that looks like a lush, green lawn. You can even find a faux tree that holds fairy lights and a small birdhouse.
Faux ivy runs from the floor to the walls, creating a super mesmerizing and dramatic effect.
Next to the coffee table is a large mirror that will trick the eyes to think that this small room is bigger than it really is.
17. A Boy Scout in the Jungle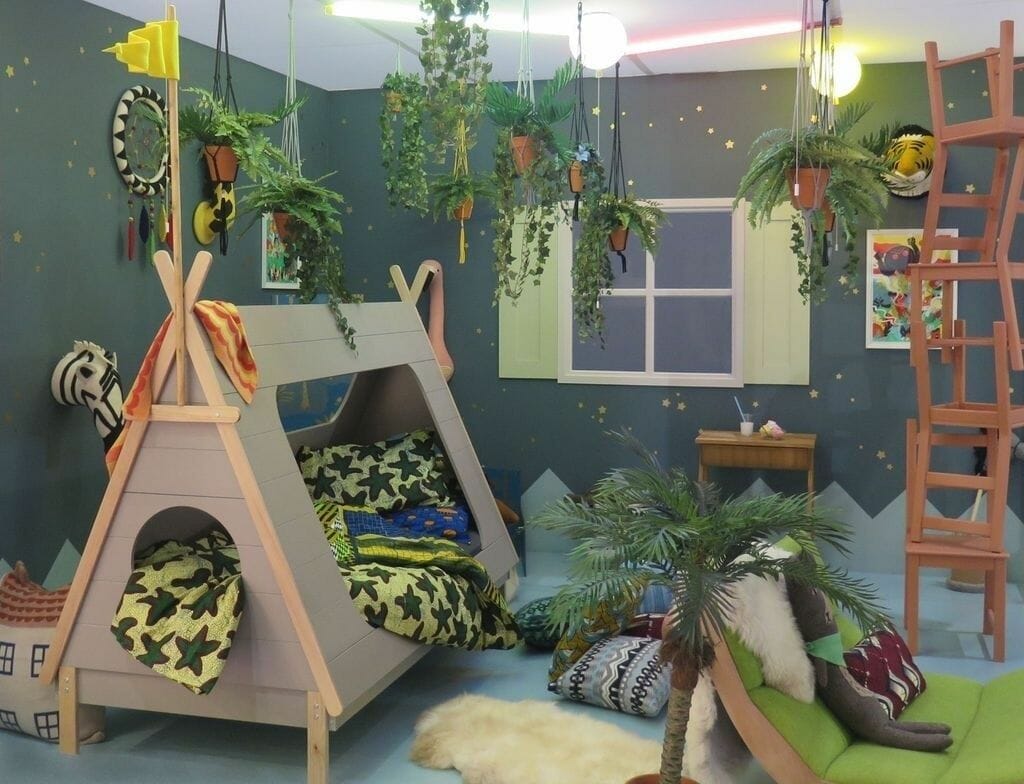 Your kid may be too young to become a scout. Still, he insists to join a summer camp.
Well, if you cannot send him there, you can bring the camp to his bedroom. Simply purchase a teepee-tent bed frame. Then, add some potted plants dangling from the roof.
18. Night in the Jungle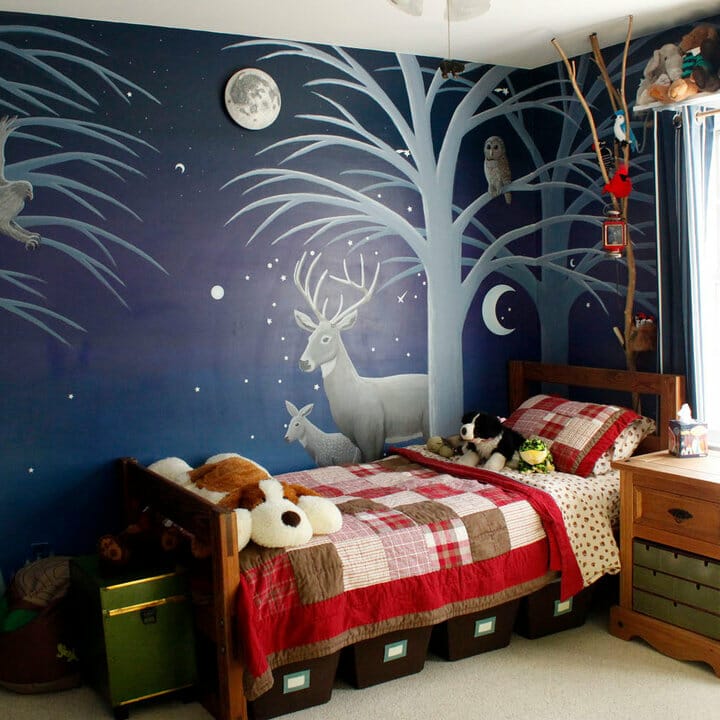 A forest theme bedroom does not have to be green. The view of the night in the jungle can be more dramatic and striking.
You just need to paint your walls dark blue like the night sky. Then, add some trees and animals along with a beautiful moon.
19. Beautiful Forest Themed Bedroom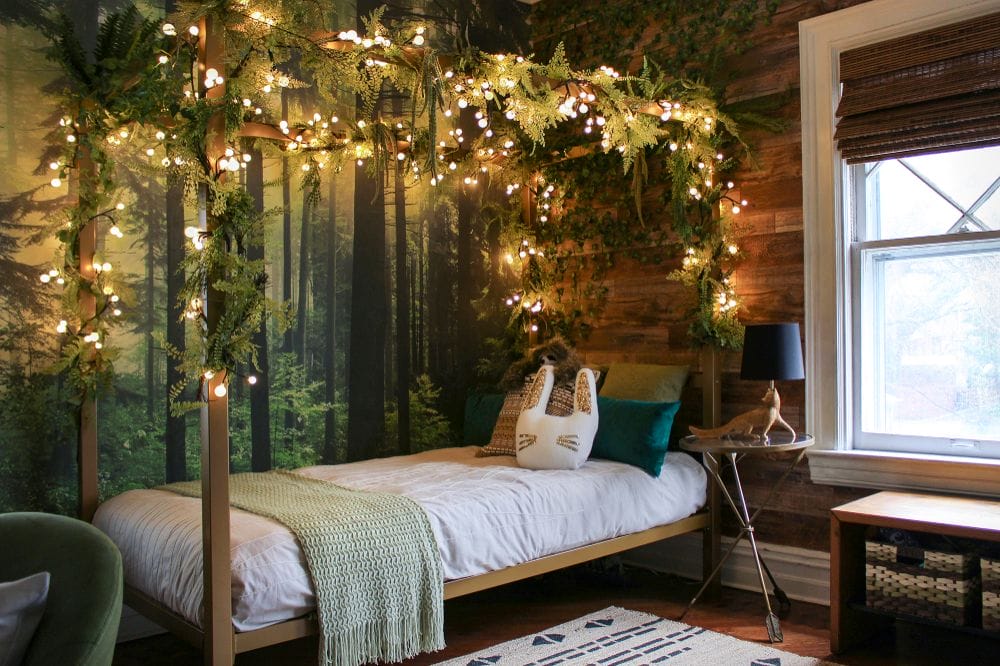 This bedroom looks romantic, thanks to the ferns and vines that wrap around the bed frame.
For a more dramatic look, try wrapping fairy lights around the bed frame. It would be pleasant to gaze at them before sleeping.
20. Modern Forest Themed Bedroom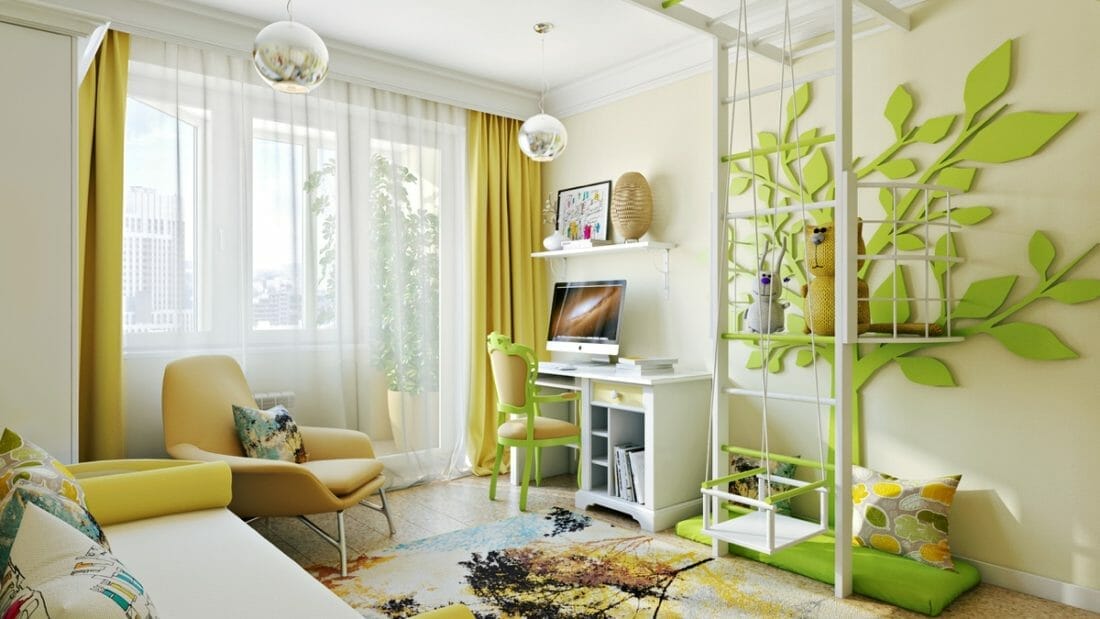 If you want to implement a forest theme while maintaining the minimalist look in your bedroom, you can adopt this idea.
Instead of filling the space with vines and faux trees, you can just decorate the wall with a wall decal. Of course, it has to be green.
21. Space-Saving Ideas with Bunk Bed and Forest Theme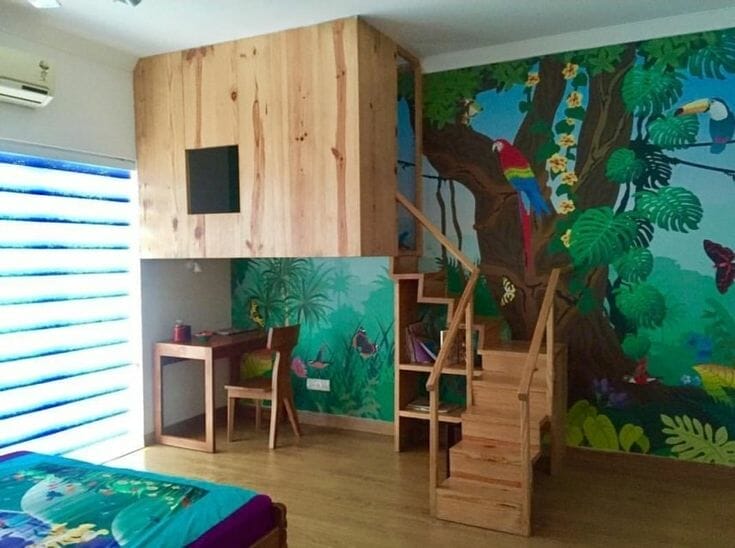 This bedroom is a smart solution for those who have problems with clutter. The bunk bed packs a lot of storage. You can even use the steps to store books and knick-knacks.
Since you want to add a bit of a forest theme, you can do it by creating a forest mural. It will do in a pinch.
22. Bring in the Forest to Your Bedroom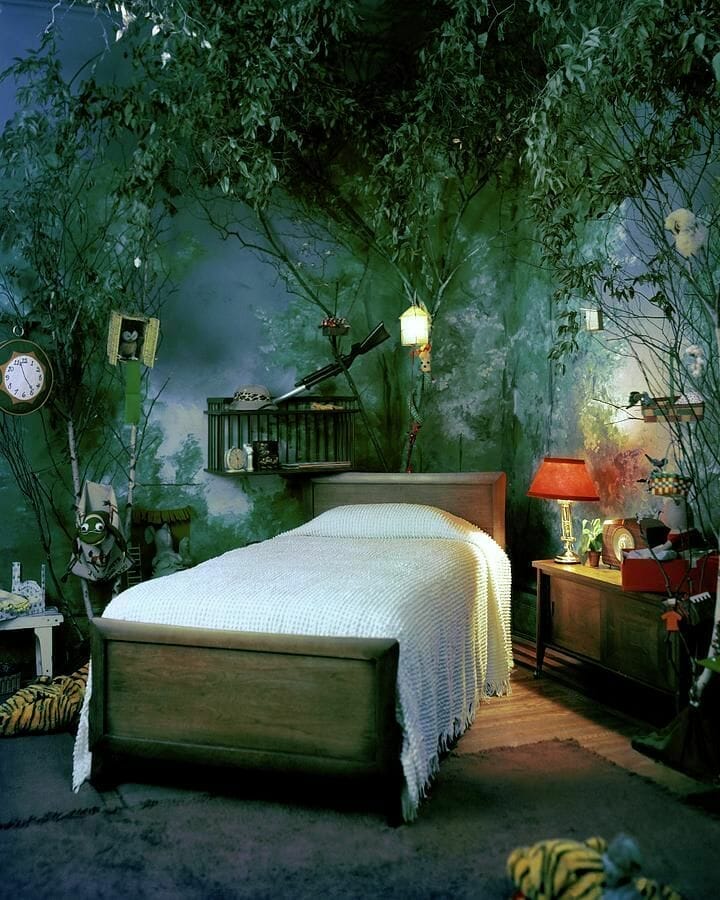 You are looking at a mystical view that will awe everyone who sees it. It is like the scenery of a forest in the night.
Begin with creating a forest mural for the base. Then, you can accentuate it with faux trees that blend perfectly with the decorations.
23. Trick the Eyes with a Gigantic Tree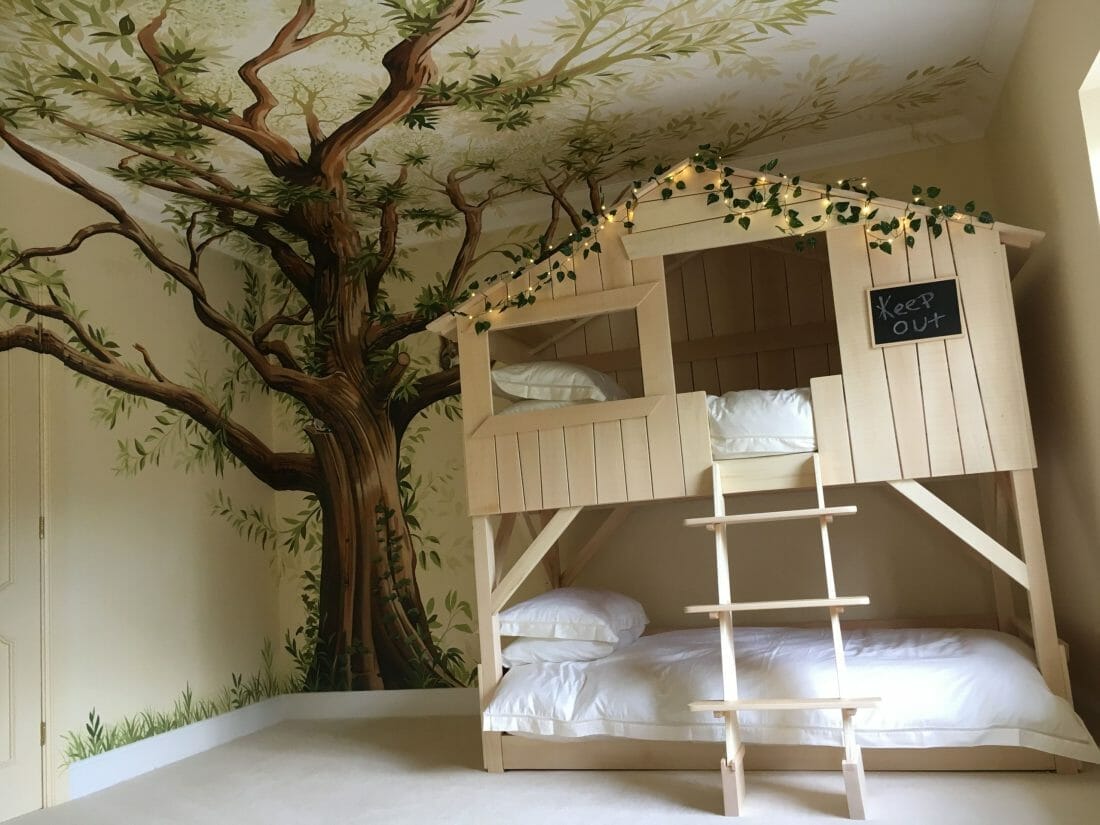 Carving out a forest theme in a bedroom can be as simple as creating a huge tree mural from the wall up to the ceiling. This design will make your room appear to be larger.
24. Wrap Around the Canopy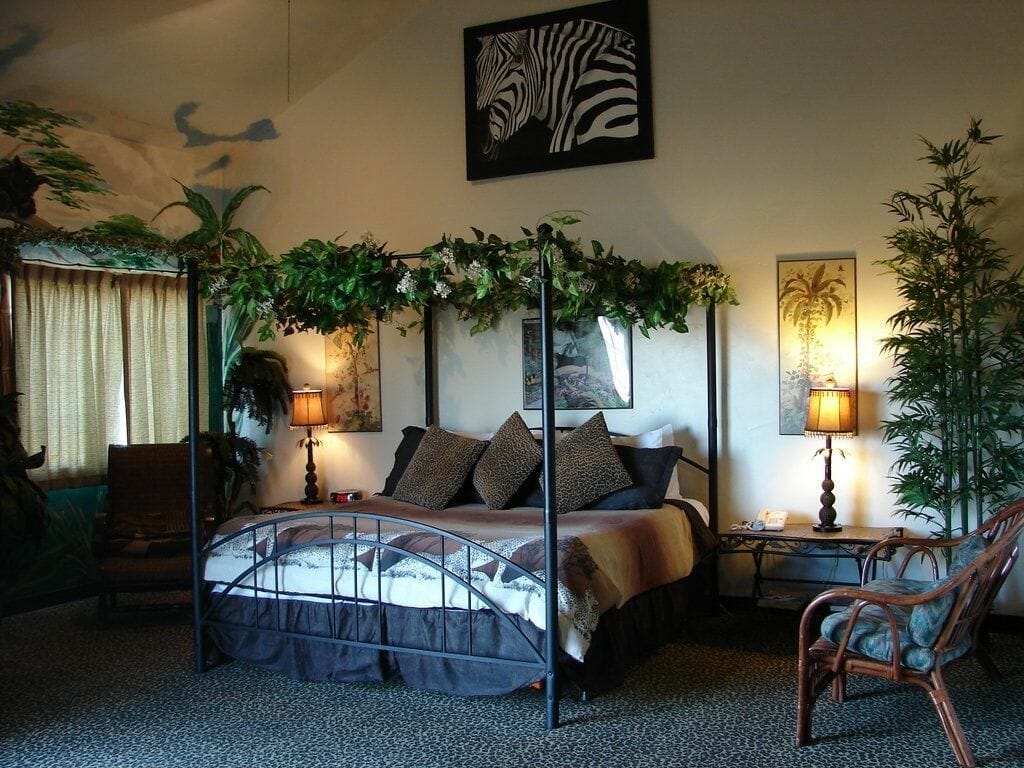 This bedroom might remind you of the wildlife in Africa. The carpet resembles the pattern of a cheetah, and so do the throw pillows.
To create a more romantic look, wrap climbing plants around the canopy.
25. Cute Forest Themed Bedroom for Girl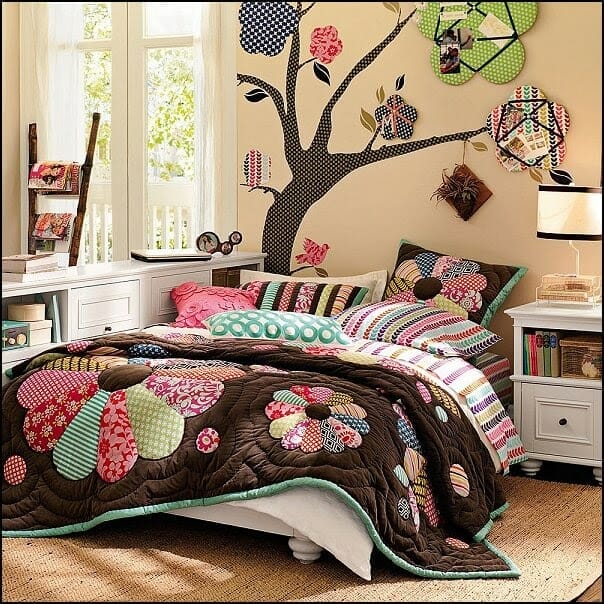 Who says a forest theme cannot be cute? This bedroom shows that it can be playful and DIY friendly. You can even make the flower patterns from patchwork.
26. Snow White and the Woods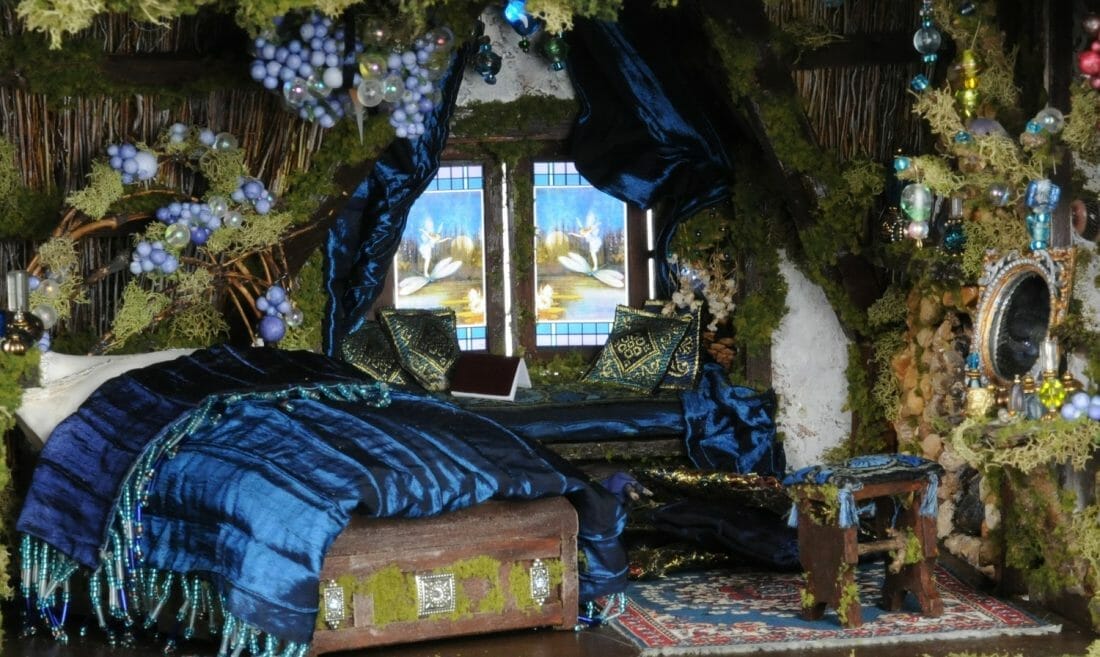 The combination of lush, green vegetation and luxurious blue fabric reminds you of the scenes in Snow White. You can even find the magic mirror there.
27. A Bedroom for Soldiers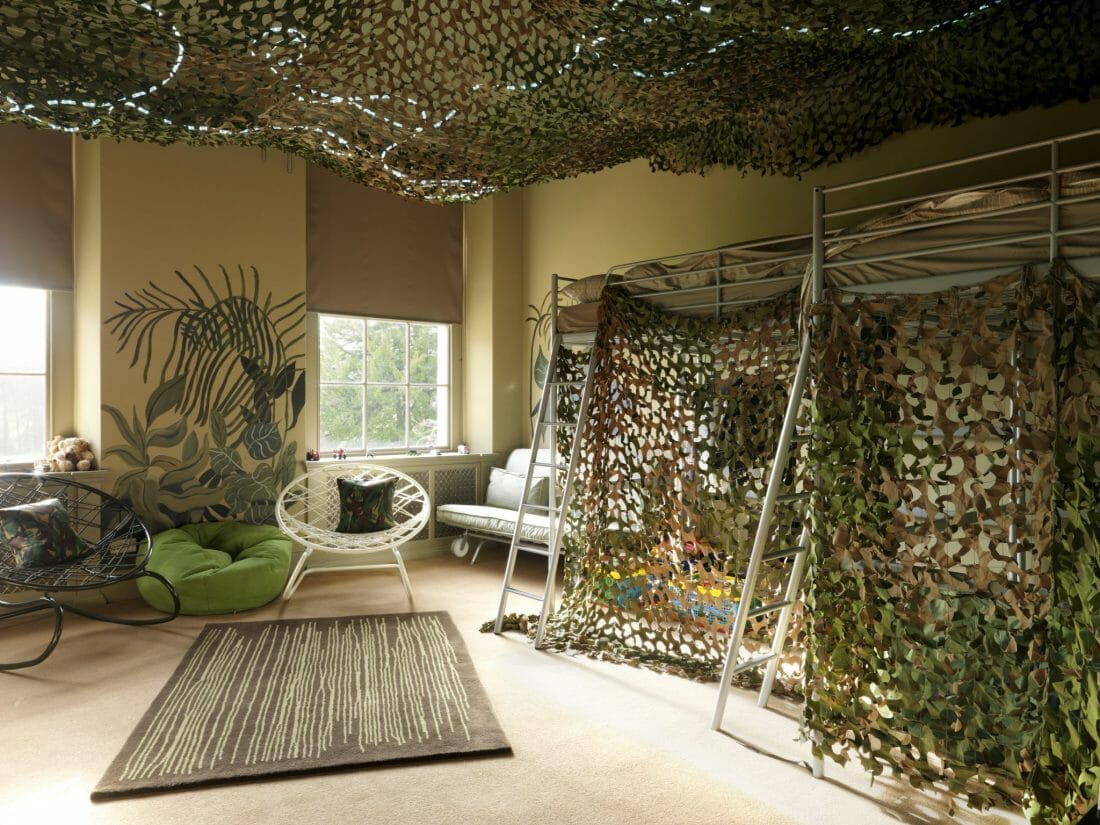 The soldier nets do wonders to conceal the area under the bed. To make it look more fantastic, you can try combining it with faux vining plants.
28. Add Some Playful Accents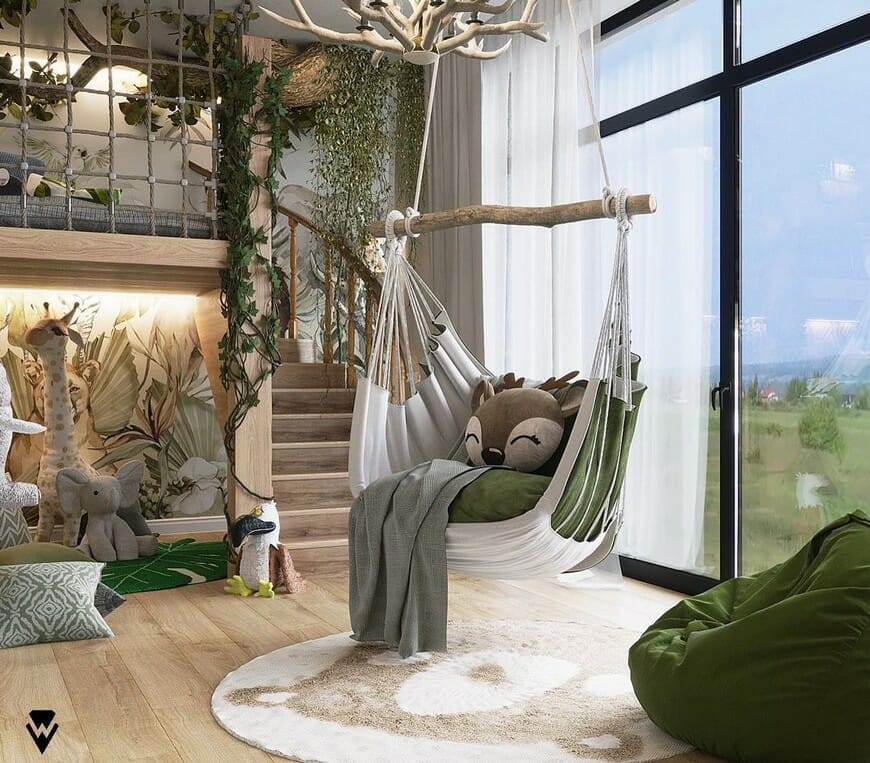 If your kid's bedroom is spacious enough, you can adopt this idea. Use faux vining plants to decorate the stair and ceiling.
To add more comfort and visual appeal, try hanging a DIY swing. You can also toss some stuffed animals for extra cuteness.
29. Enliven the Space with 3D Wallpaper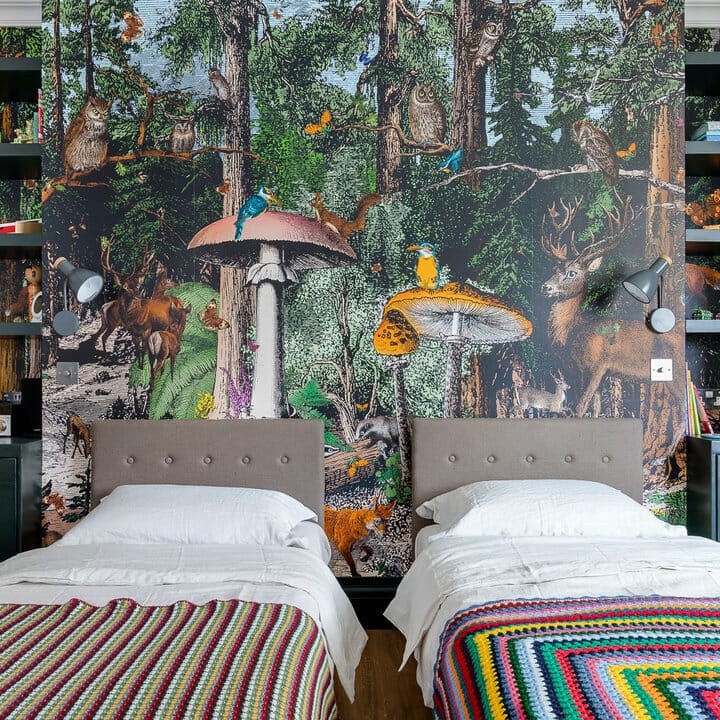 Do you want to add an instant appeal to your bedroom? It is just a piece of cake. You just need to hang a 3D wallpaper of the wildlife in a forest. This way, you can create a dramatic backdrop without breaking a sweat.
These forest themed bedroom ideas are mesmerizing. They can be as simple as changing the bedding, or a bit complex like decorating the entire walls. Whatever your choice is, make sure you feel comfortable with that and get a good night's sleep.