Whether the space is tiny or massive, shelves can be an incredible storage solution. In addition to carrying style, they generate some order. After organizing the objects, you should think about beautifying them. Take a gander at these 30 fascinating shelf lighting ideas.
Shelf lights do not only produce a feature but also bring indirect softness. Furthermore, they enable you to personalize your shelves.
Here, I'll show you various applications of shelf lights. Moreover, this article covers some creative ways of positioning the lights. So let's dive into them!
1. Shelf Lighting Ideas with Spotlights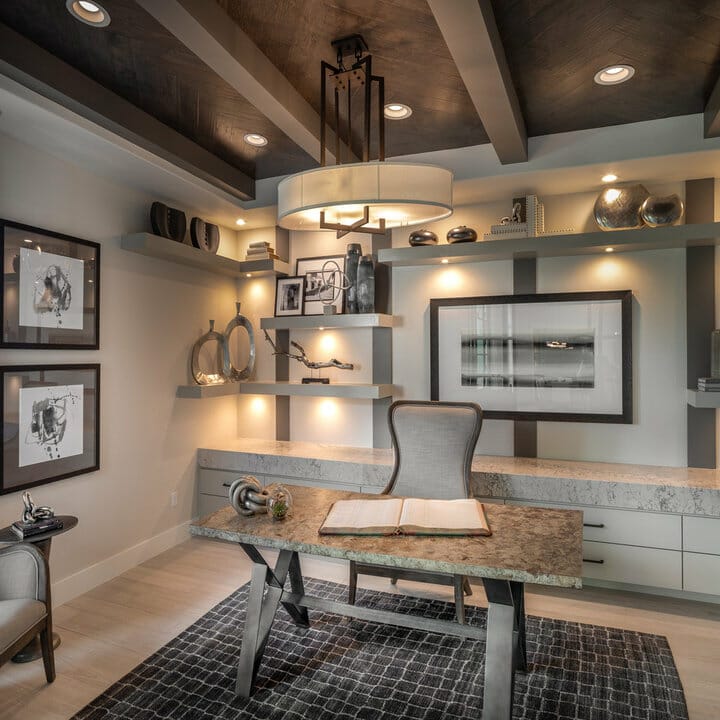 Light gray floating shelves lend this home office an air of sophistication. Additionally, they keep things airy while imparting a masculine feel.
Talking about floating shelf lighting ideas, the homeowner installed spotlights of different sizes. As you see, they don't cause unnecessary shadows.
Here, the downlights offer display lighting. They allow metallic ornaments, books, and photographs to shine, too. Due to their warm glow, the home office seems balanced.
2. LED Shelf Lighting Ideas for Attic Study Rooms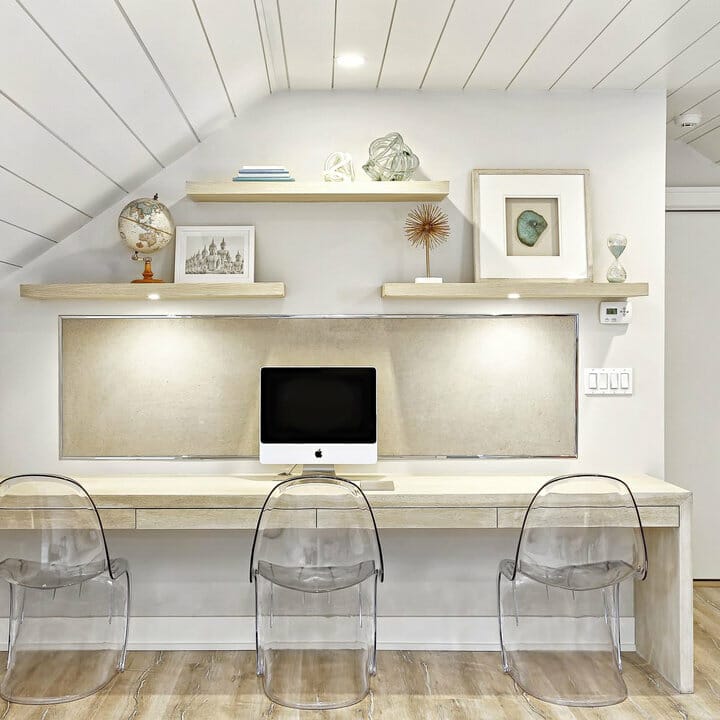 This attic study room boasts a plain white shiplap ceiling and pale gray walls. Because of them, the whole interior appears open and airy. Meanwhile, stylish acrylic chairs preserve the area's bright atmosphere.
The streamlined open shelves deliver a bit of warmth to the study room. Furthermore, the large LED downlight illuminate favorite pieces of the homeowner's teen kids. Smaller ones lighten up the minimalist long desk.
3. LED Shelf Lighting System Ideas for Closets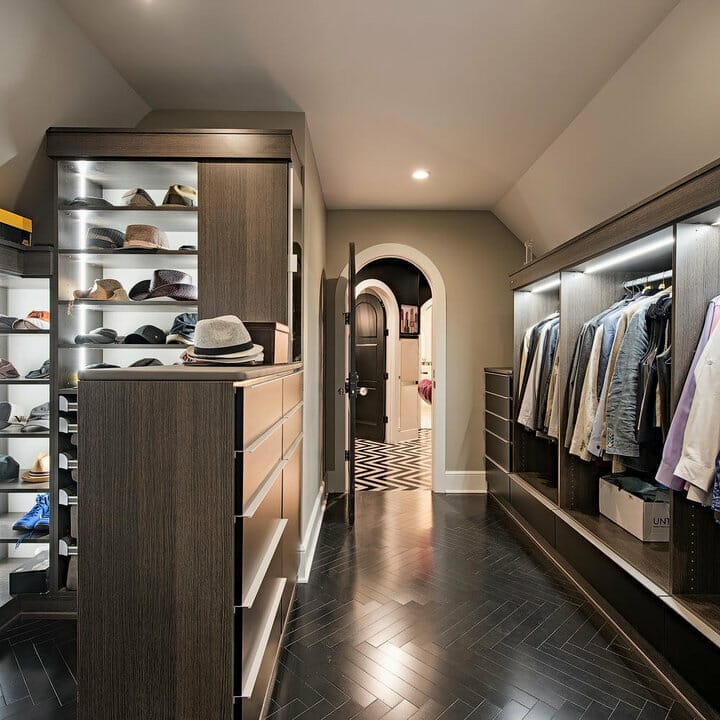 Here, the closet employs black herringbone flooring and dark-toned wooden cabinets. They bring visual depth while lending the interior drama.
The deep gray-painted shelves fabulously display the homeowner's hat and cap collections. Moreover, the LED strip lights give them adequate lighting. In addition, their super bright glow prevents the closet from looking dingy and unappealing.
As the photo shows, the homeowner also uses the same lighting above hanging jackets. The LED strip light accompanies the downlight overhead.
4. Pantry Closet with Shelf Lighting Strips
This pantry closet boasts a dark gray ceiling and black flooring. Due to them, the interior was lusterless. That's why the homeowner included white subway tiles, stainless steel shelves, and light gray cabinets in the space.
The battery-operated string lights nestle underneath silver open shelves. Also, they feature a powerful sticky tape for easier installation.
Here, the string lights illuminate the shelves and glass food containers. Moreover, they let the homeowner focus on dry goods and cake sprinkles.
5. Individual Shelf Lighting Ideas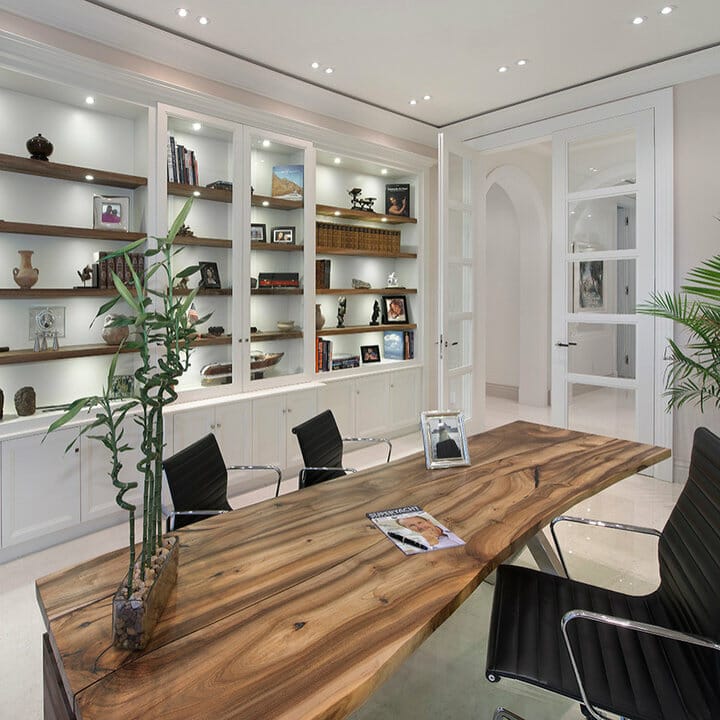 Speaking of display shelf lighting ideas, you can't forget miniature downlights. They can marvelously highlight specific objects.
The homeowner divided crisp white built-ins into cabinets and open shelving. Furthermore, the latter one boasts short and long wooden shelves.
Wooden shelves deliver timeless warmth to this space. They showcase the homeowner's beloved pieces like family photos and books.
Meanwhile, miniature downlights emphasize the shelving and decorations. The larger downlights keep the entire room looking bright.
6. Under Shelf Lighting Ideas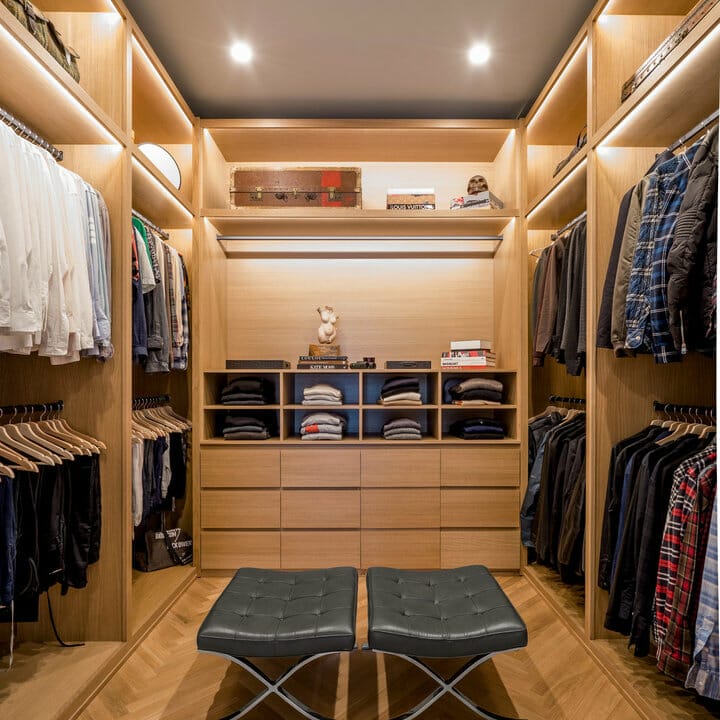 This blonde wood closet is not only very organized but also super inviting and stylish. Furthermore, it accommodates clothes and decorative pieces.
Here, the front lighting lends the closet's open shelves even illumination. Additionally, there are under-shelf LED strips that accentuate vintage ornaments and hanging clothes.
The shelving with folded shirts receives proper lighting from nearby light fixtures. Lastly, black leather upholstered stools imbue the closet with masculine vibes.
7. Woman's Closet with LED Strip Lights
The white ceiling, shelves, and furniture pieces make this woman's closet airy. Moreover, they ensure that the interior feels more expansive.
In this picture, the pink velvet ottoman and loveseat produce a feminine flair. Meanwhile, the wooden flooring and gray upholstered furniture balance them out.
Open shelves showcase gorgeous footwear pieces, handbags, caps, and folded clothes. Furthermore, LED strip lights excellently lighten them up.
8. Shelf Lighting Ideas for Mini Home Offices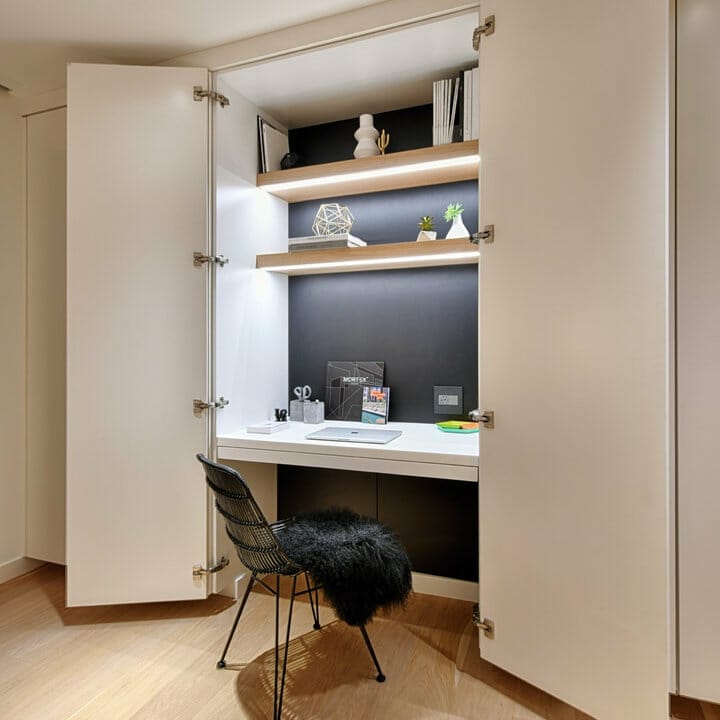 The dweller of this apartment created a tiny yet trendy home office behind cupboard doors. As you see, it employs black and white walls that carve a drastic contrast. Meanwhile, the black chair and throw blanket deliver extra visual drama.
This hidden home office offers a cozy workspace. Furthermore, it's a magnificent complement to the apartment bedroom.
A pair of blonde wood shelves clash with the inky backdrop. Moreover, they keep books and modern decorations in place. The homeowner installed strip lights to illuminate the lower shelf and white desk.
9. Stylish Shelf Lighting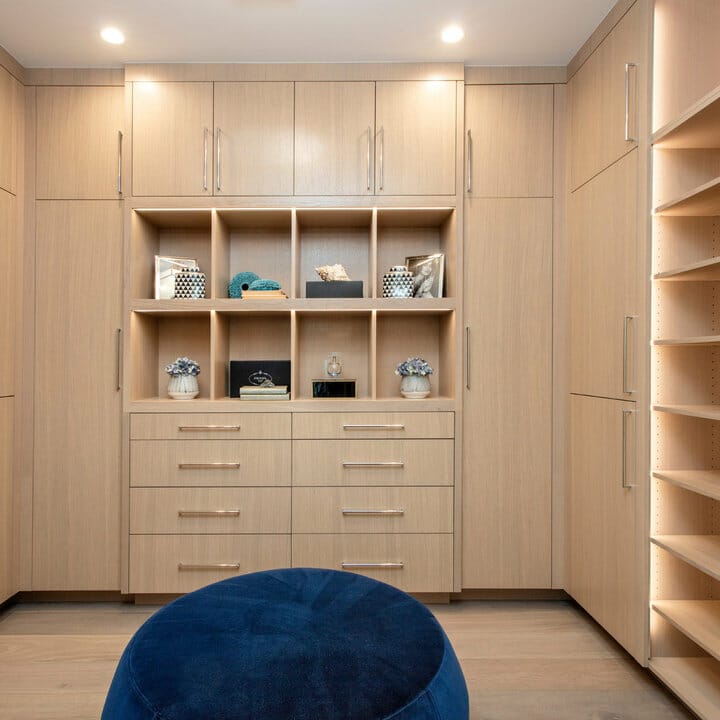 This contemporary custom closet features ceiling-to-floor blonde wood built-ins. In addition to cabinets, it boasts shelves of different sizes.
The LED strip lights offer proper front lighting. Moreover, they accentuate a myriad of stunning decorations, from geometric vases to books.
Due to downlights above the built-ins, the closet appears brighter instantly. Meanwhile, the navy ottoman carries a bold splash of color to the scene.
10. Minimalist Kitchen Shelf Lighting Ideas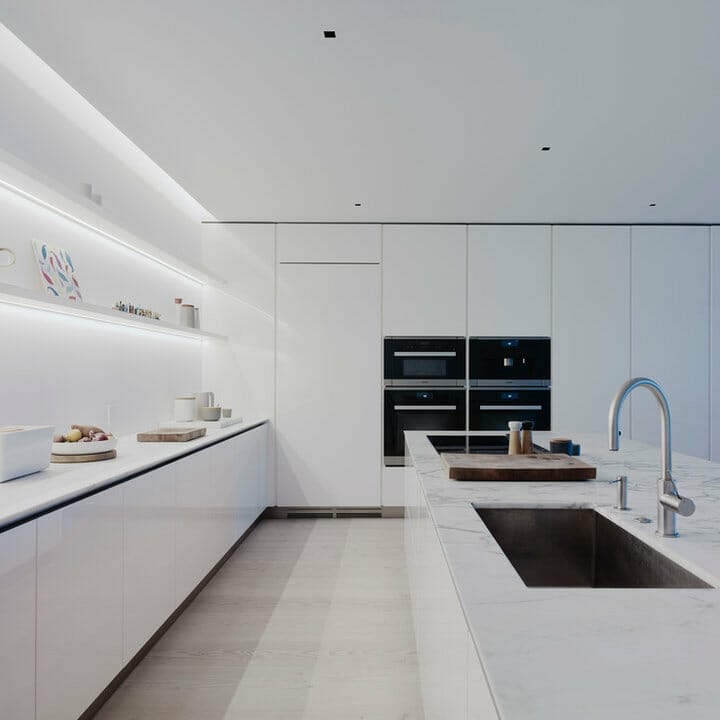 Don't you fall for this minimalist cooking area? The marble counter does not only inject grandeur but also some personality and beauty.
The white counter, shelves, and raised cabinets generate the illusion of more space. Meanwhile, strip lights provide appropriate back-lighting. Apart from offering task lighting on the workspace, they emphasize multicolored objects.
11. Miniature Spotlights for Built-In Shelves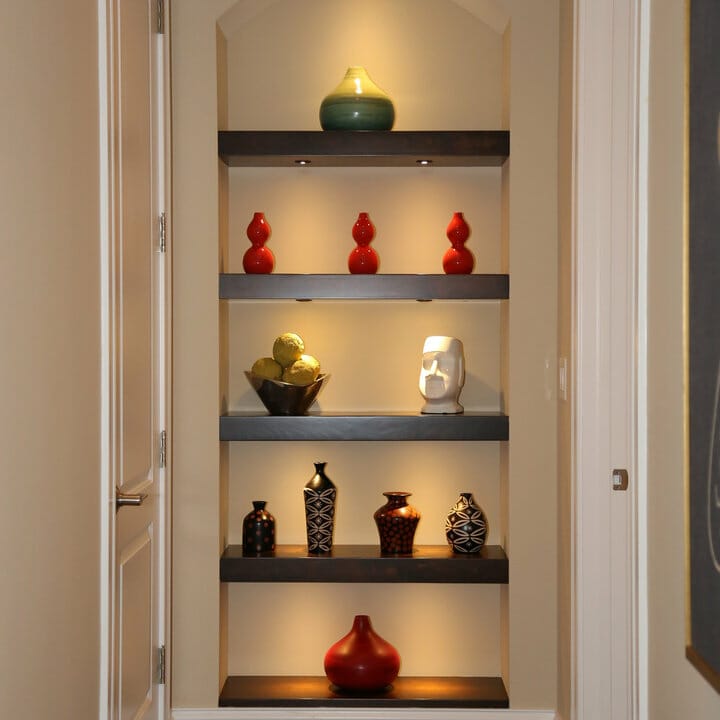 Not all homeowners have massive spaces. If your room is compact, try out this option. It's one of the swoon-worthy shelf lighting ideas.
The dark-toned built-in shelves optimize the available wall space. Moreover, they house decorative vases of varying shapes and hues. Also, there's a white statue that lends this small space extra interest.
Miniature spotlights emit a warm glow. In addition to offering display lighting, they also complement cream-painted walls.
12. Back Lighting for Open Shelves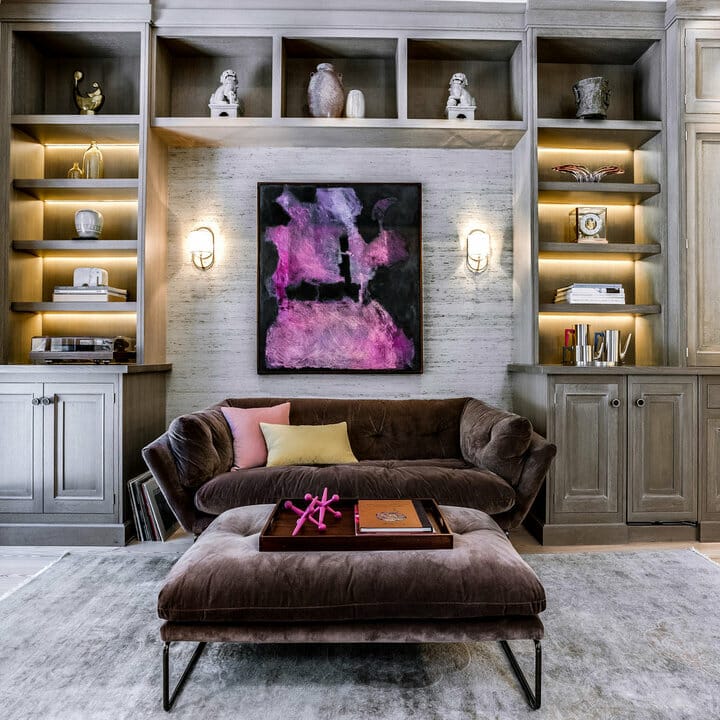 The abstract painting, sconces, and gray built-ins produce visual symmetry. Meanwhile, dark brown velvet furniture units make the space seem balanced. Additionally, they allow pink and yellow pieces to shine.
LED strip lights ensure that the interior receives proper back-lighting. They exude a sense of depth, too. There are no lights for shelves underneath the ceiling since the homeowner installed other light fixtures.
13. Streamlined Shelf Lighting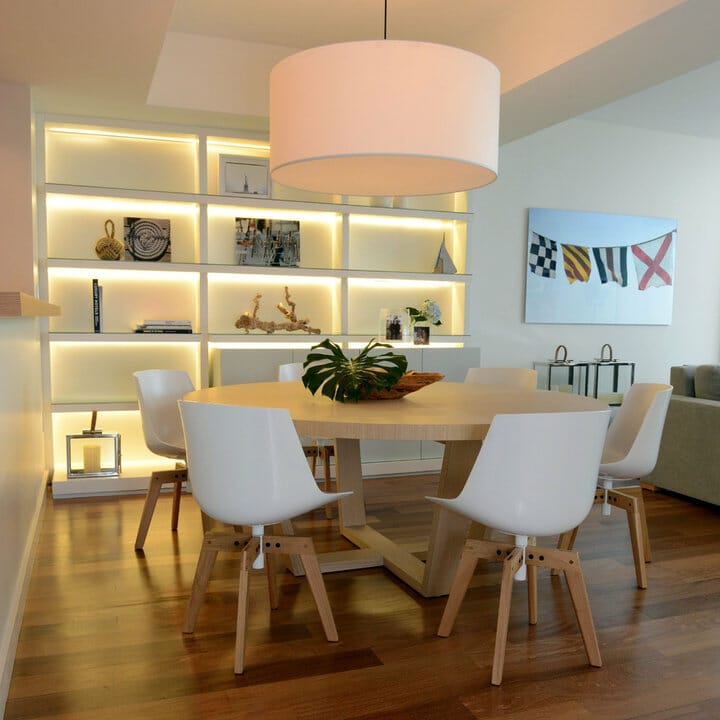 This is one of the delightful shelf lighting ideas for open-plan rooms. The LED strips lend the interior a relaxing glow. Not only do they provide back illumination but also carry a sense of depth.
Since the open-plan space employs crisp white surfaces, it seems open yet somewhat cold. Fortunately, the warm LED lighting comes to the rescue.
There's an LED strip light on each open shelf. Moreover, the lights draw attention to various ornamental pieces, from family pictures to books.
14. Recessed Shelf Lighting Ideas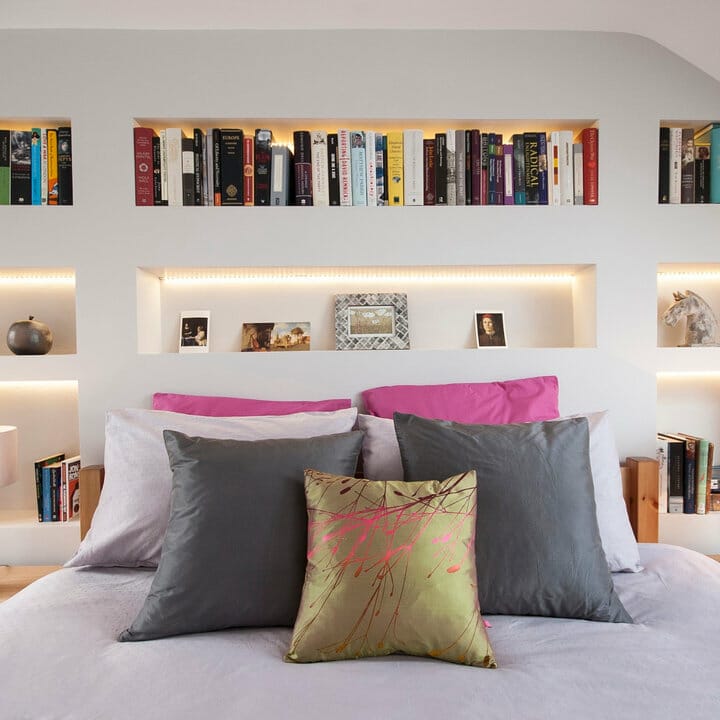 In this predominantly white attic bedroom, recessed shelves keep things tidy. They make for an uncommon yet stylish backdrop, too.
The upper shelving houses the homeowner's beloved books. Meanwhile, the middle and bottom ones display impressive decorations as well as other books.
These LED lighting strips illuminate recessed shelves while accentuating the bedroom. Moreover, they send out a snuggly ambiance. Also, the light gray wall clashes with them subtly.
15. Lighting Ideas for Shelves with a TV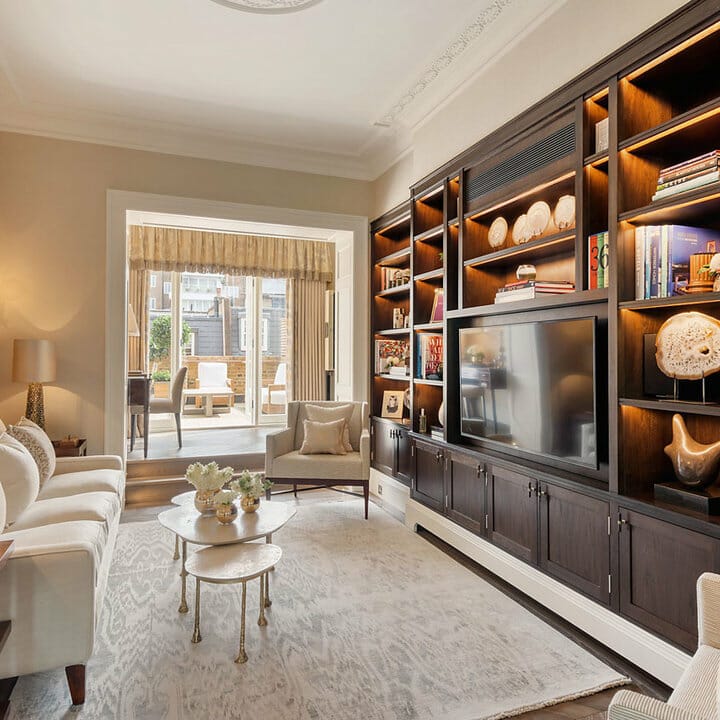 The deep brown built-ins give this glamorous family room some warmth. In addition, they complement adjacent beige walls.
Here, custom built-ins feature open shelves. Furthermore, they hold attractive decorations such as ornamental plates, books, and framed artworks. Also, those units minimize the black screen's presence.
The front lighting boasts LED strip lights. Apart from delivering style and warmth, they ensure that dark-toned shelves receive an even illumination.
16. Kitchen Shelves with Tiny Downlights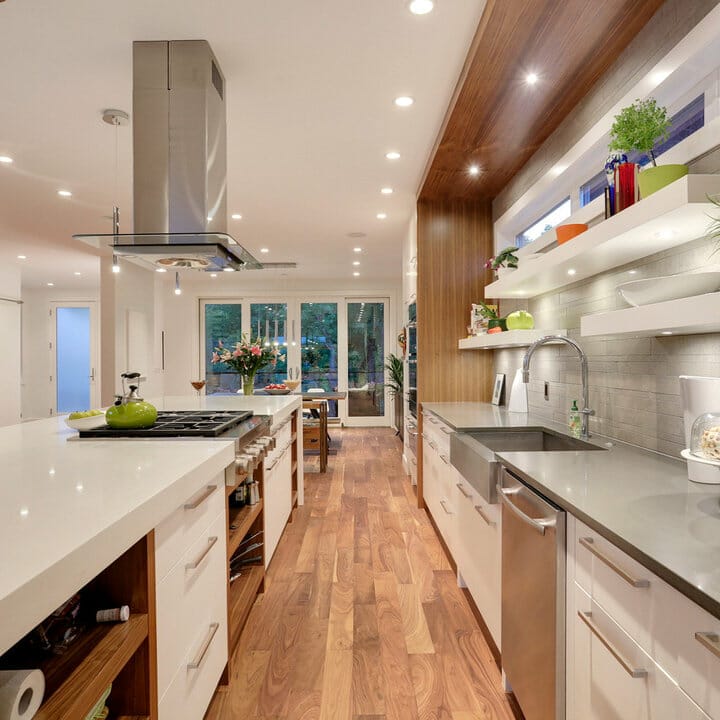 The homeowner embellished his open-plan galley kitchen with pure white shelves. They come in different lengths to generate visual interest.
Built-in miniature spotlights give the wall-hung shelves proper illumination. In addition, they highlight perky objects while brightening up the stainless steel workspace.
17. Strategic Positioning of Shelf Lights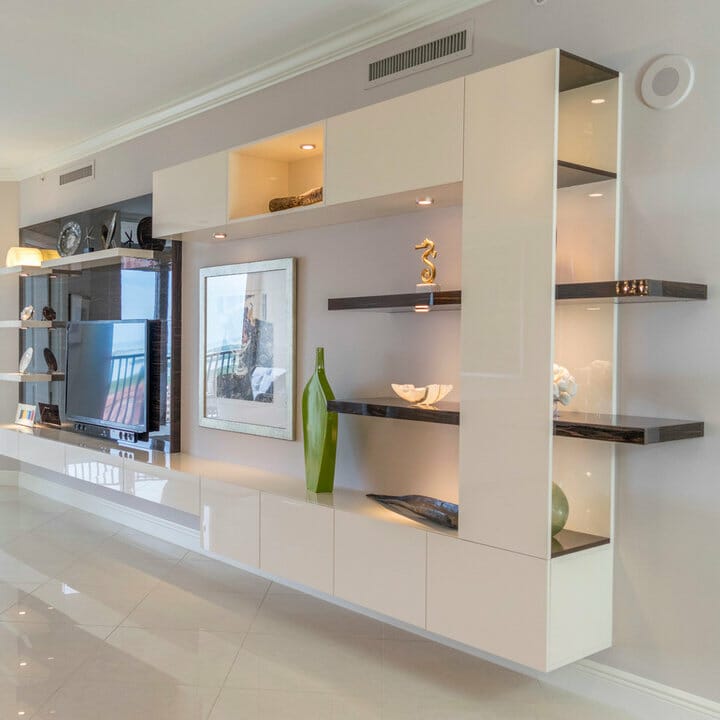 The brilliant arrangement of LED spotlights prevents unwanted shadows. Furthermore, the homeowner installed them strategically, so decorative items can be the focus of attention.
Dark gray shelves offer a minimalist aesthetic. Also, they display striking pieces that divert attention away from the black screen. Meanwhile, the warm glow of LED spotlights softens the look.
18. LED Bookshelf Lighting Ideas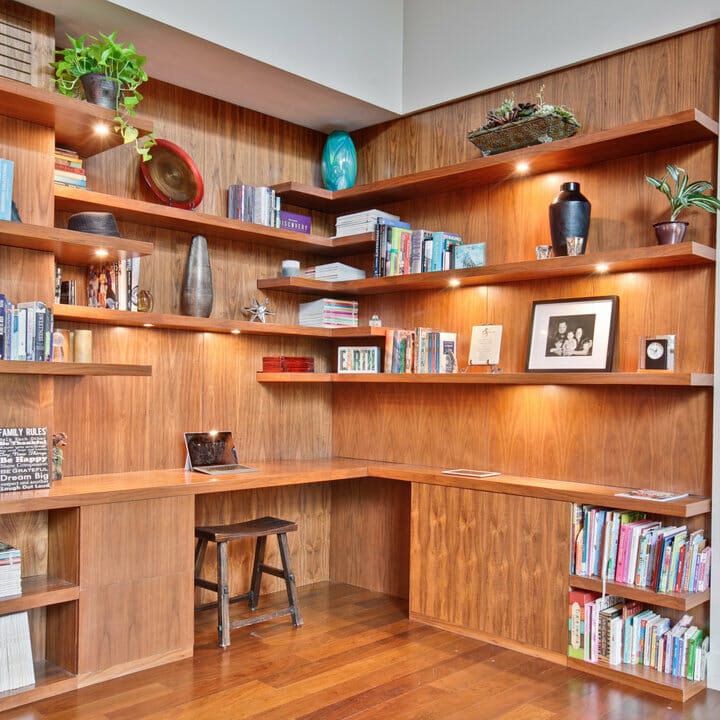 Talking about shelf lighting ideas, you can't forget LED spotlights. In this study room, the homeowner shone them on her teenage kid's books.
As you see, the LED spotlights call attention to delightful decorations. Moreover, they provide excellent recessed task lighting while emphasizing the wood grains.
19. Under-Shelf Downlights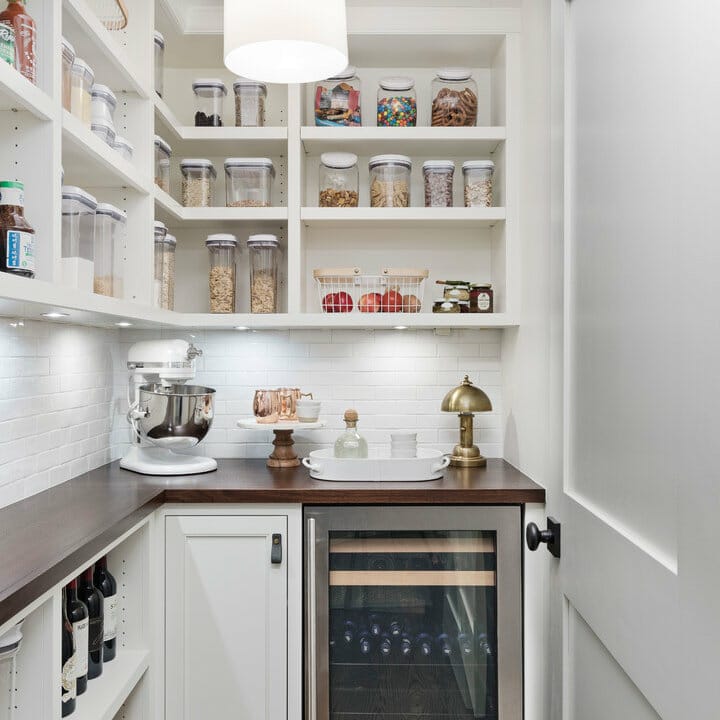 These crisp white corner shelves blend seamlessly with subway tiles and walls. Moreover, they allow the eye to focus on dry goods in glass canisters and jars.
The cylindrical pendant lamp illuminates the corner shelves excellently. Furthermore, the under-shelf downlights give the dark-toned wooden work surface proper lighting.
20. Wireless Shelf Lighting Ideas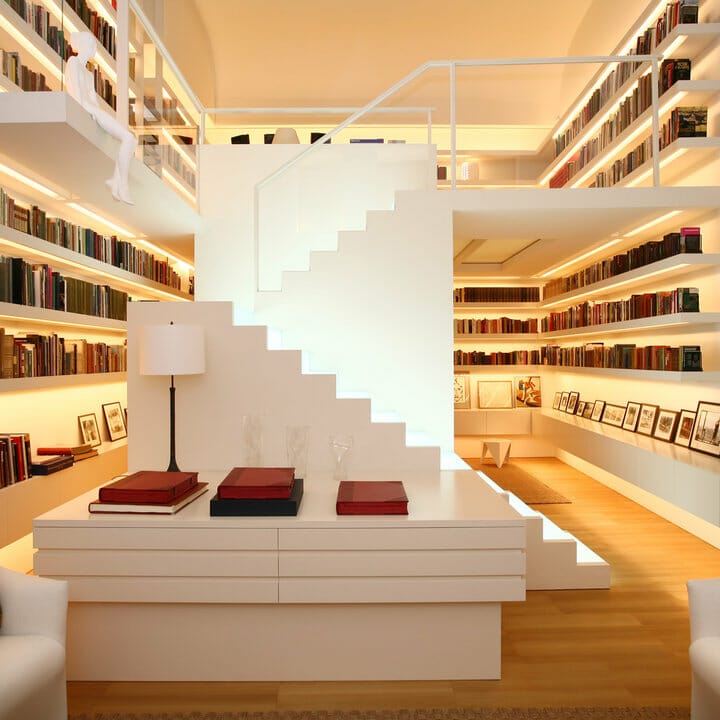 Don't you admire this aesthetically pleasing home library? The wall-mounted white shelves introduce a minimalist appeal in seconds.
Here, LED wireless lights stylishly nestle under open shelves. Not only do they adorn the shelving but also accentuate objects and carve a homey scene.
21. Downlights for Glass Shelves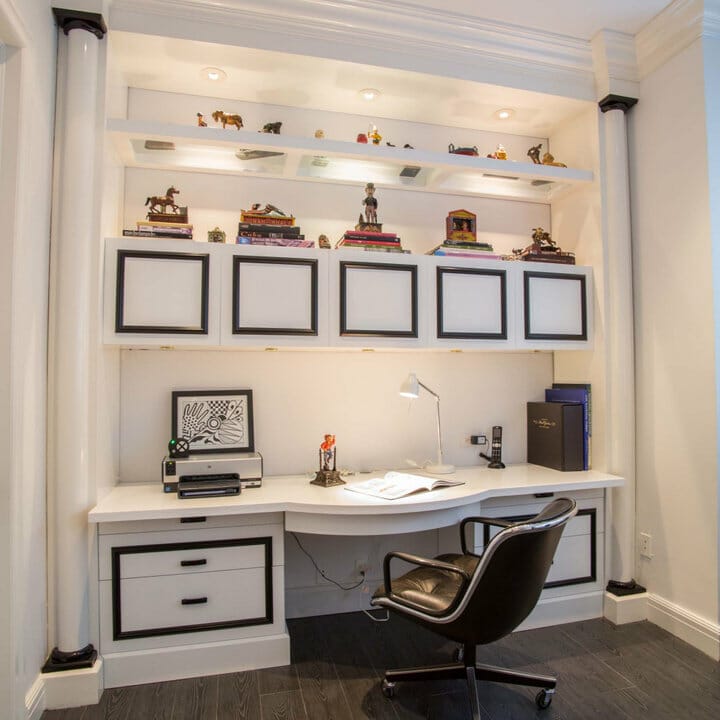 Need glass shelf lighting ideas? If yes, copy this lighting scheme. Here, the upper shelf displays the homeowner's collectibles. Moreover, the top of the monochromatic cabinet doubles as a shelf for books and tiny objects.
The downlights marvelously shine through individual glass shelves. Meanwhile, the under-cabinet spotlights complement the white desk lamp.
22. Kitchen with Individual Shelf Lighting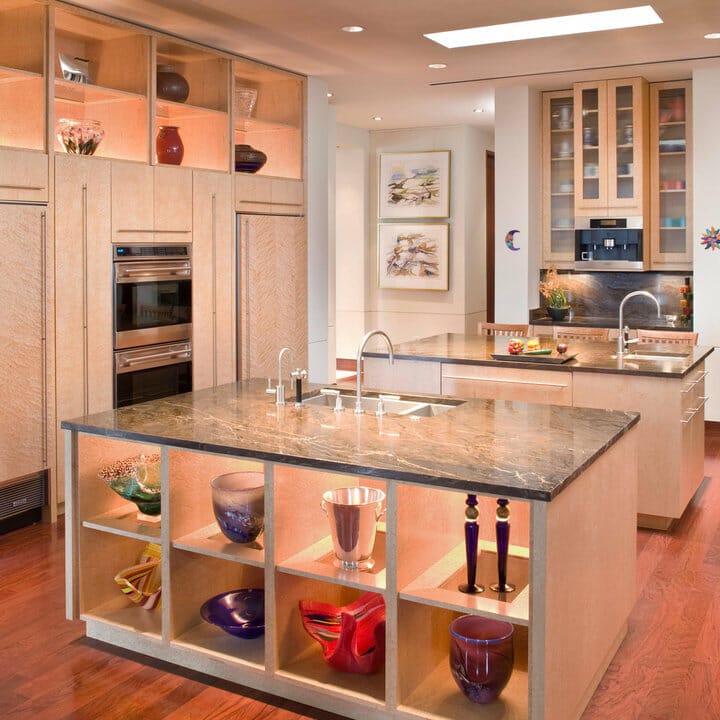 This luxury contemporary cooking area boasts shelves under the marble counter and ceiling. As you see, each of them showcases a single feature.
The back-lighting gives the culinary space visual depth. Furthermore, the warm lights allow eye-catching objects to sparkle in no time.
23. Back Lighting for Wooden Shelves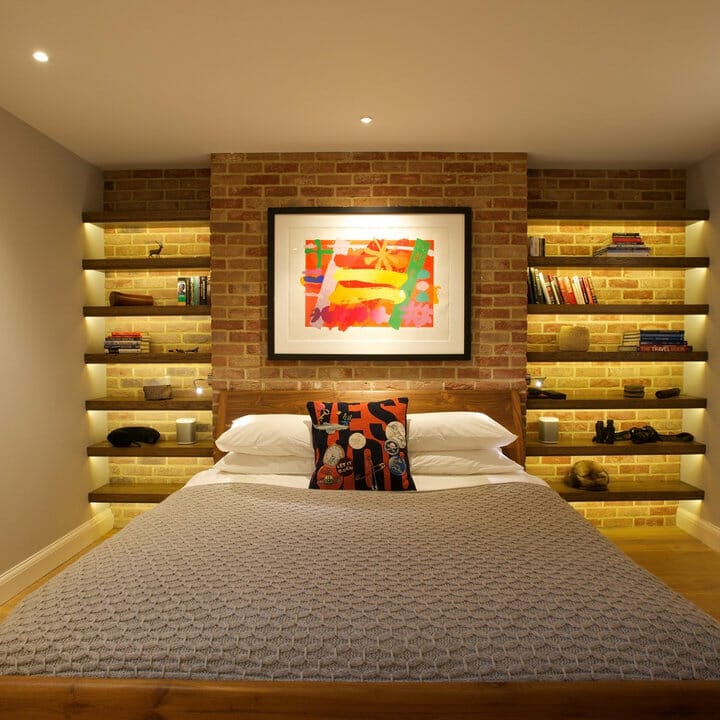 In this photo, the man's bedroom employs a brick accent wall. In addition to imparting an industrial flair, it highlights the multicolored artwork.
Wooden recessed shelves complement the brick feature wall fabulously. Moreover, they illuminate ornaments and books without creating unsightly shadows.
24. Freestanding Shelf Lighting Ideas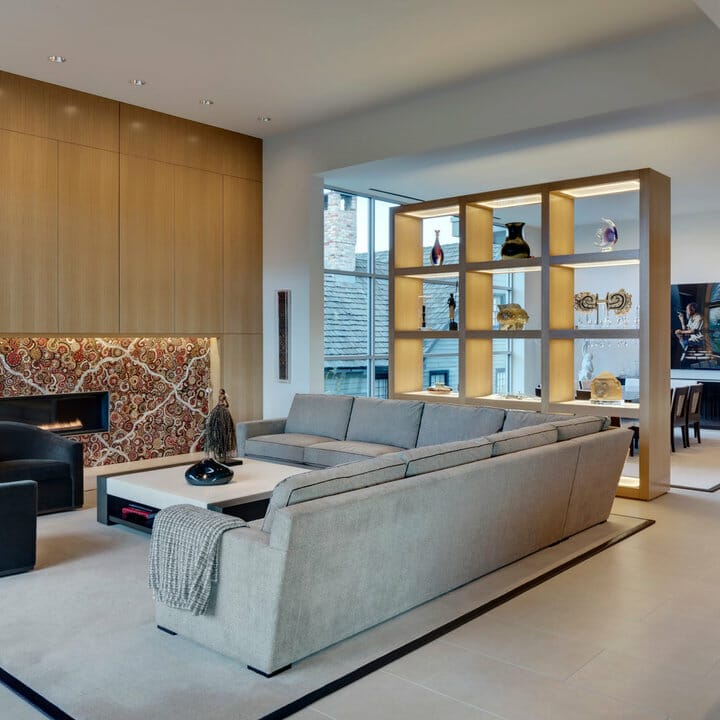 I adore the shelf lighting scheme in this open-plan space. The freestanding shelving unit features open shelves. Also, it separates the eating area from the living room.
The accent lighting enables the freestanding shelving unit to grab attention. Furthermore, it directs the eye to visually pleasing objects on shelves.
25. Single Shelf Lighting for Kitchens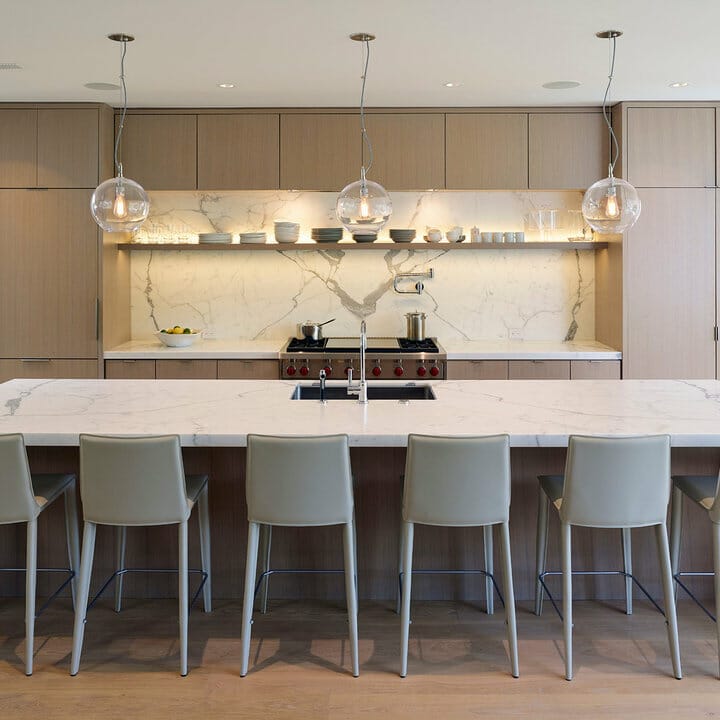 This culinary space is undeniably swoon-worthy. The marble backsplash and counter keep things glam as well as elegant.
In this picture, the cabinet-to-cabinet shelf looks incredible against the marble backsplash. Moreover, the LED back-lighting and miniature downlights draw attention to neutral dinnerware pieces.
26. Kitchen with Two Types of Shelf Lighting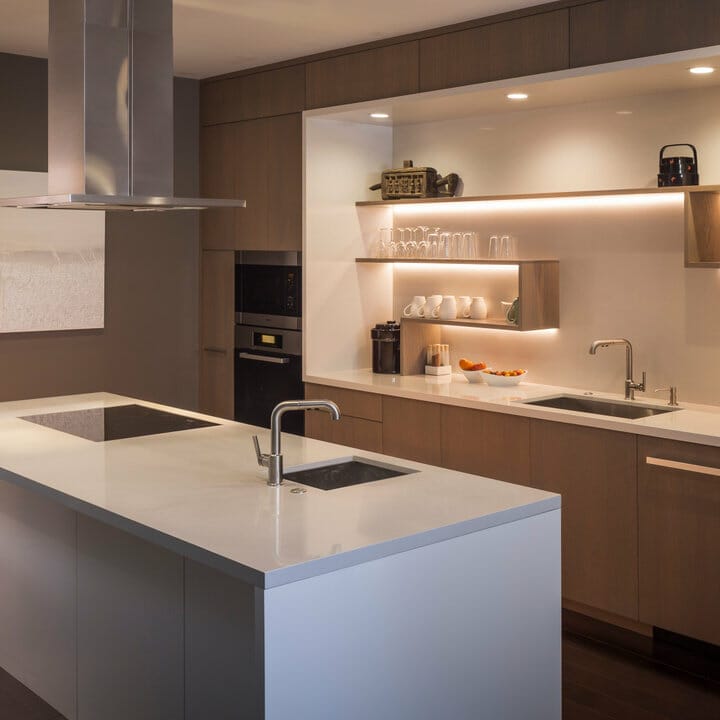 In this minimalist kitchen, light-toned wooden shelves provide display storage. Furthermore, they carry visual interest due to their uncommon shapes.
The LED under-shelf strip lights lend the kitchen some depth. They lighten up the white counter, too. Meanwhile, downlights illuminate the long, upper shelf.
27. Black Shelves with Miniature Spotlights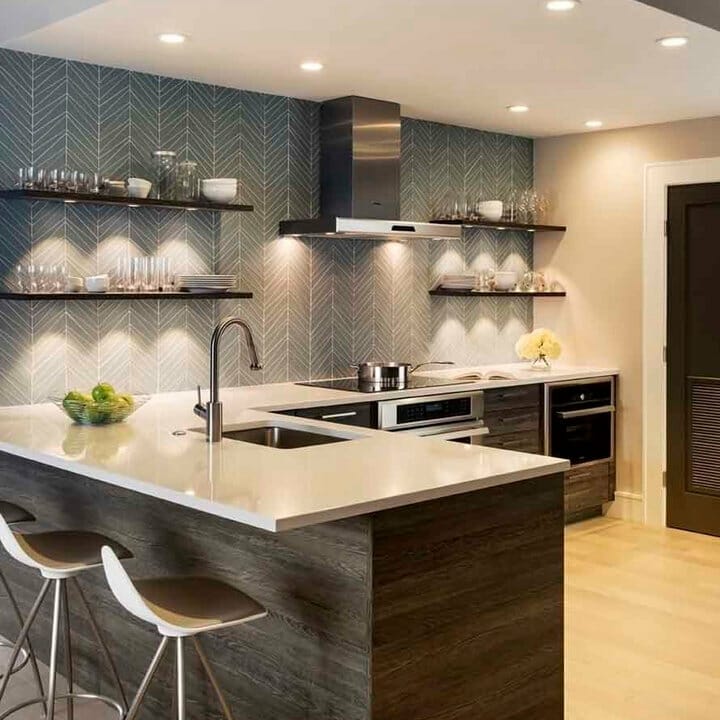 If your kitchen employs black floating shelves, try out this lighting scheme. The LED miniature spotlights brighten up the workspace and lower shelves.
The large downlights illuminate black upper shelves brilliantly. Furthermore, they let the glass dinnerware and jars sparkle. Due to them, the kitchen seems brighter.
28. Blue LED Lights for Closet Shelves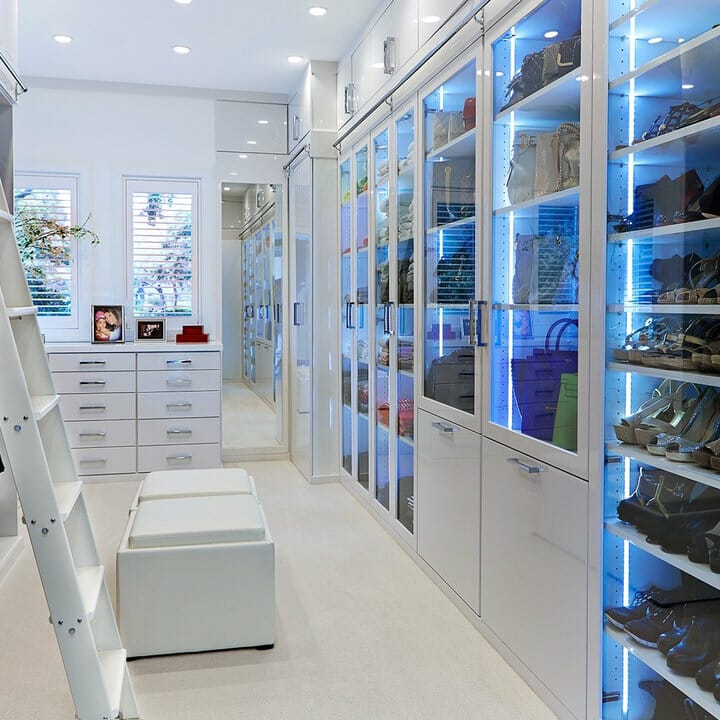 This predominantly white closet is nothing short of marvelous. Moreover, stainless steel drawer pulls imbue it with a bit of luxury.
The side lighting does not generate unsightly shadows. Also, blue LED lights deliver a touch of color to the closet while accentuating shoes and bags.
29. Tiny Home Office with Shelf Lights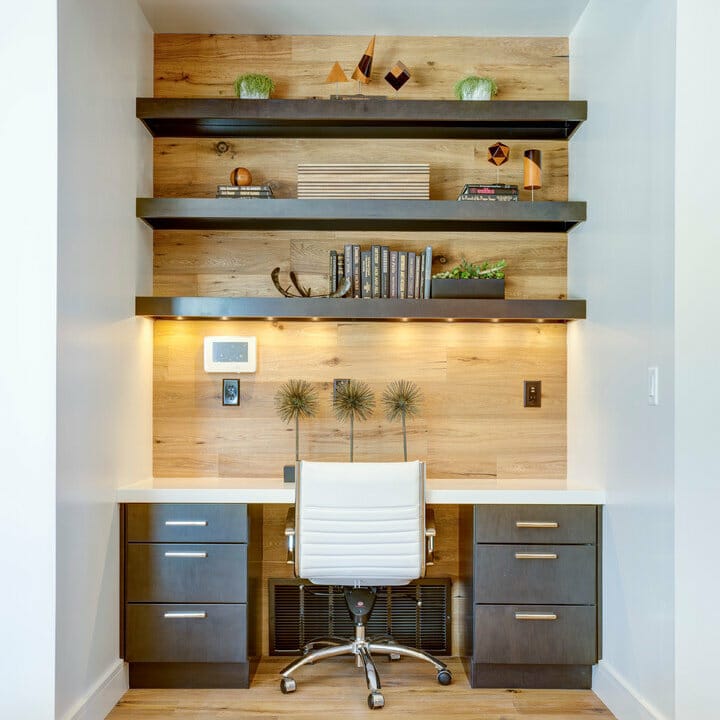 In this compact home office, the desk features deep gray cabinets. They stylishly keep odds and ends organized, so the interior doesn't appear messy.
The gray shelves house books, indoor plants, and ornaments. Moreover, the under-shelf miniature downlights lighten up the desk.
30. Display Lighting for Shelves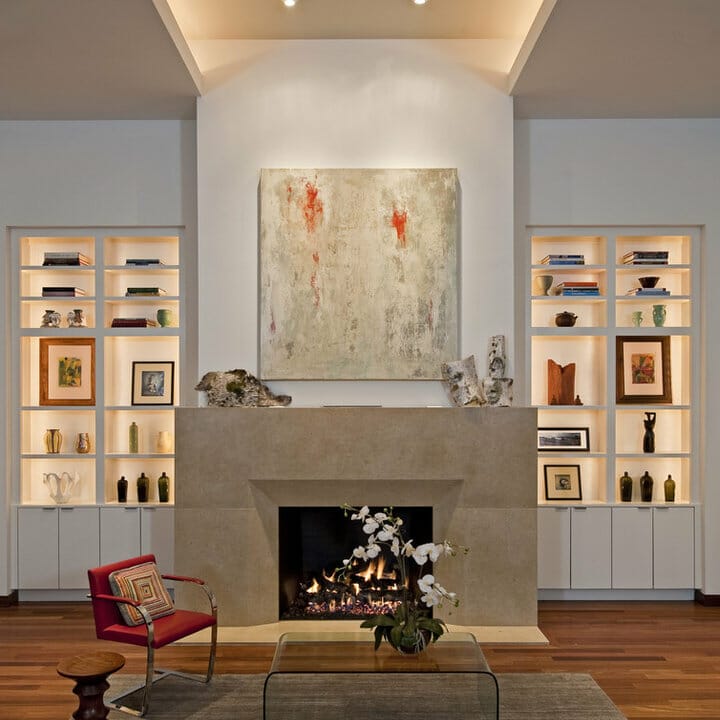 Need shelf lighting ideas for formal living rooms? If yes, copy this setting. Here, there are square and rectangular recessed shelves that flank the concrete fireplace.
The display lighting allows books, framed artworks, and decorative vases to shine. Furthermore, downlights illuminate objects on top of the fireplace surround.
I guarantee those shelf lighting ideas will bring the shelving to the next level. Not only do lights brighten up objects but also personalize the shelves. With the right arrangement and light fixtures, you can create your dream scheme.