Some people want to recall good memories by decorating spaces with old-fashioned items for an inviting vibe. So, if you plan on upgrading your seating area, take a gander at our vintage living room ideas.
Moreover, people usually confuse vintage design with shabby chic. Despite having elements in common, they showcase big differences. When taking a closer look at those styles, you definitely can decipher them easily.
Vintage pieces were so popular from the 1920s to the 1960s. Generally, people consider the design as retro. They obtain this style by using old things, traditional furniture, and layers of fabric.
Furthermore, vintage style living rooms typically boast striking colors. If you currently need some design inspiration, here are our wonderful ideas. Let's see these gorgeous photos!
1. Warm and Rustic Living Room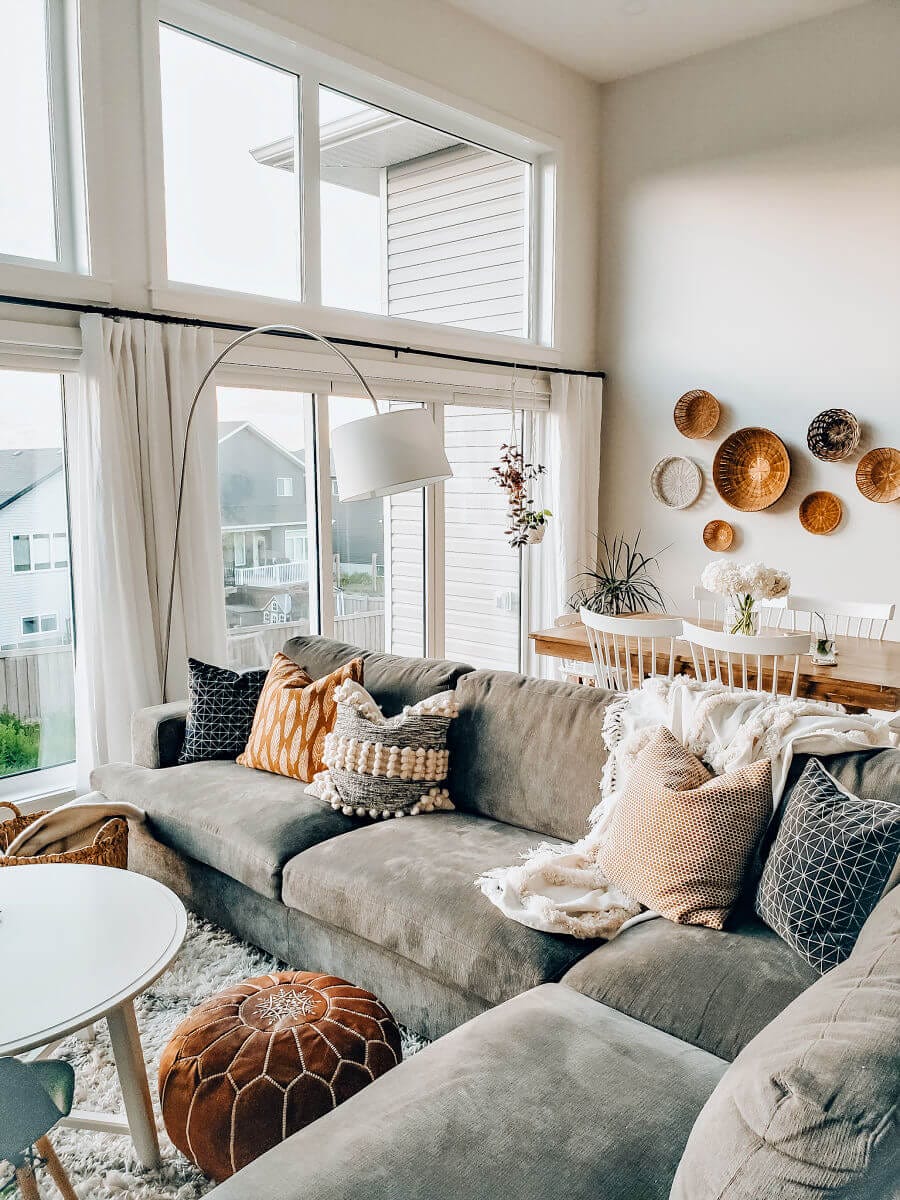 This vintage style living room is perfect for people who are looking to make the most out of their smaller space. The spacious sectional, farmhouse dining table, and small children's table can all be seen in this photo which also shows how warm and cozy it feels with a lot packed into such a little area.
This living room would comfortably accommodate several guests at once as you enjoy hosting family or friends without feeling cramped!
2. Vintage Color Scheme Living Room
Create an old-fashioned feeling in your home with a vintage styled living room. Add rustic wood frames as wall decor and have mismatched, yet complimentary items on the coffee table for that farmhouse charm!
3. Shades Of Scarlet
Red is a color that many people love, and luckily for you this living room design redecorated in shades of scarlet. The red chair matches the pillows on the couch as well as adding some warmth to your space with its inviting hue. A vintage floor lamp will look great near our wood cabinet by giving off an energy-efficient light which suits any home décor style including country cottage or modern farmhouse.
4. Downplayed Elegance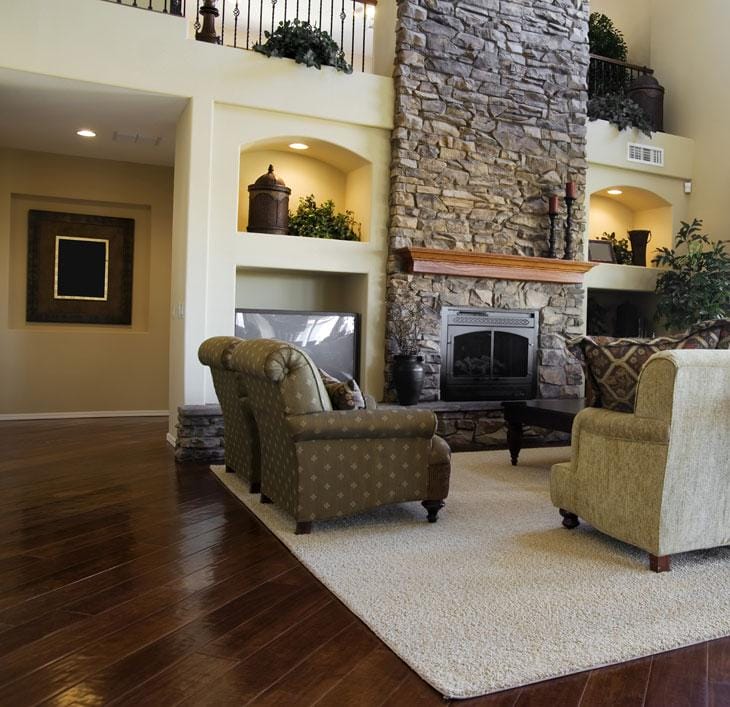 If you have the luxury of space, your possibilities are endless. You can center any room around a fireplace and decorate it with log holders, fireside sets, other vintage decorations such as mirrors or side tables- anything that suits your taste!
5. Mid-Century Modern Daybed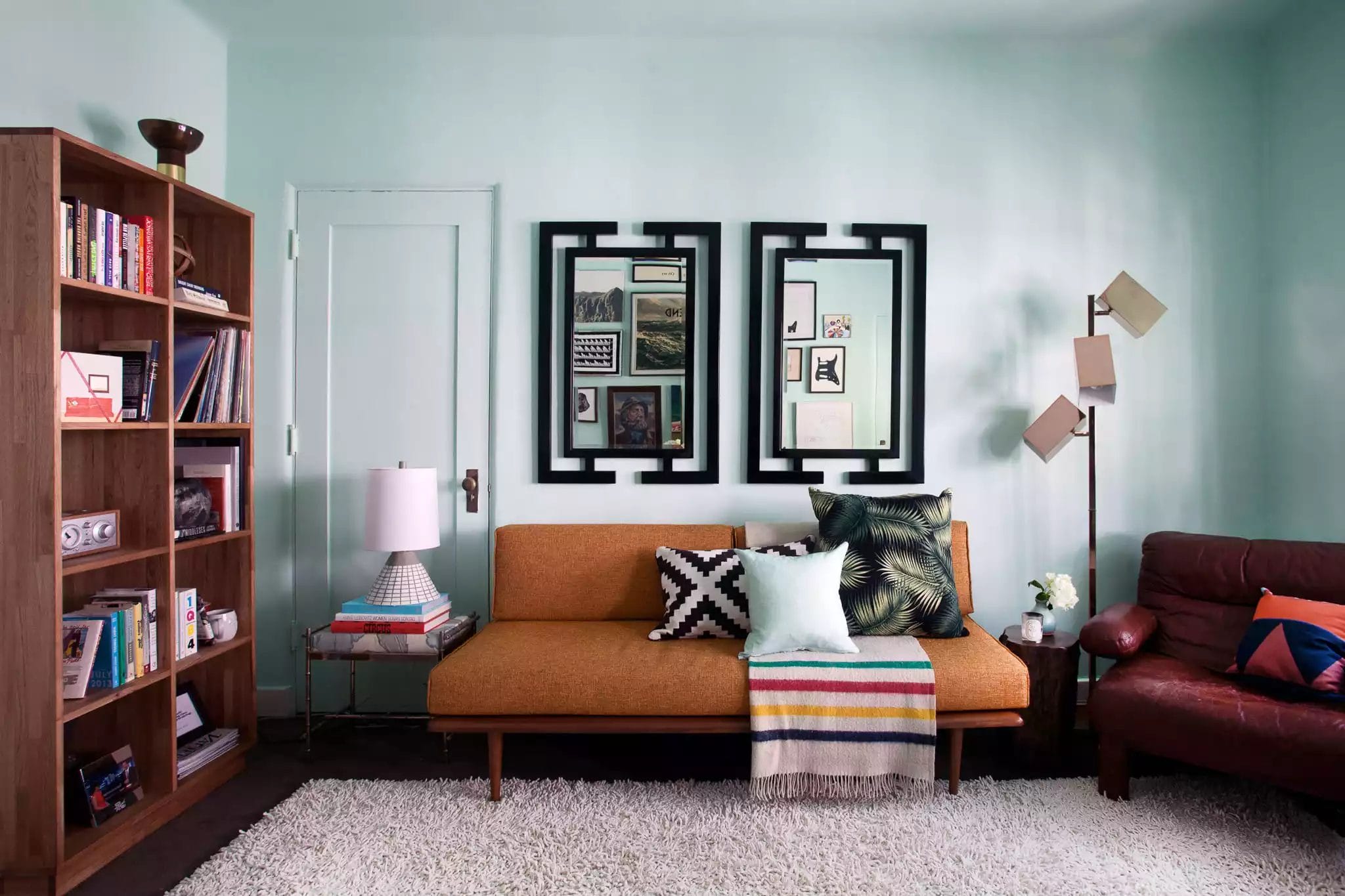 This living room is the perfect small space, complete with a vintage daybed and an armchair that will have you reminiscing about your childhood.
6. Nautical Elements Add Seaside Feel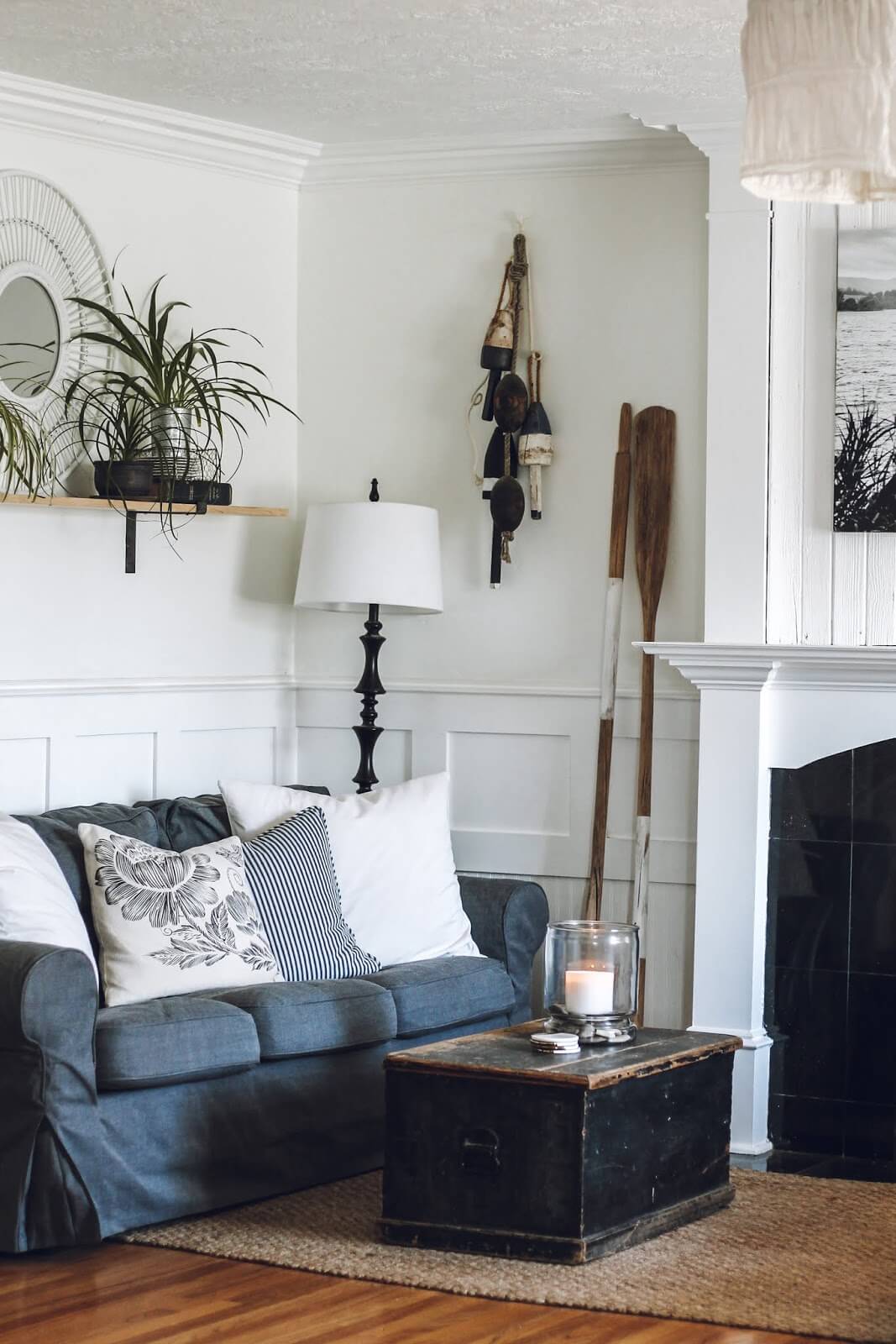 You'll feel like you're vacationing at the beach in this room. The white walls and ceiling evoke a cool, bright feeling while blue furnishings hint at sea life just below the surface.
With touches of green and brown throughout that help keep your eyes from getting too restless or tired, it's easy to imagine yourself laying on an oversized sofa with soft pillows covering its arms as waves break nearby.
7. Show Off a Credenza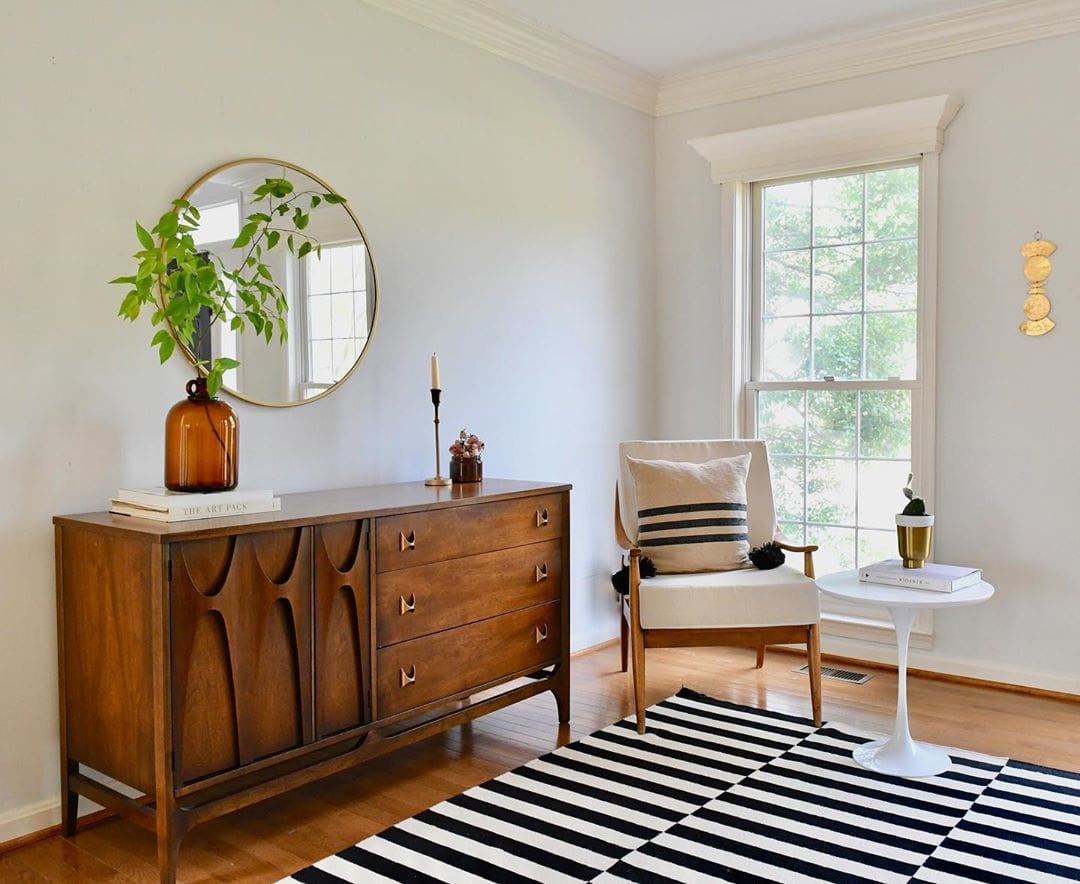 Retro is back with a vengeance and why not bring the look to your home by finding furniture that can create this effect. A credenza will work for any living room, entryway or dining room as it offers plenty of storage space and shelves perfect for displaying fine china. Use them in conjunction with vintage mirrors – either old fashioned round ones on the wall or milk jug vases at its base-to add some contrast while still keeping things sleek!
8.  Brick Brown Wall Vintage Living Room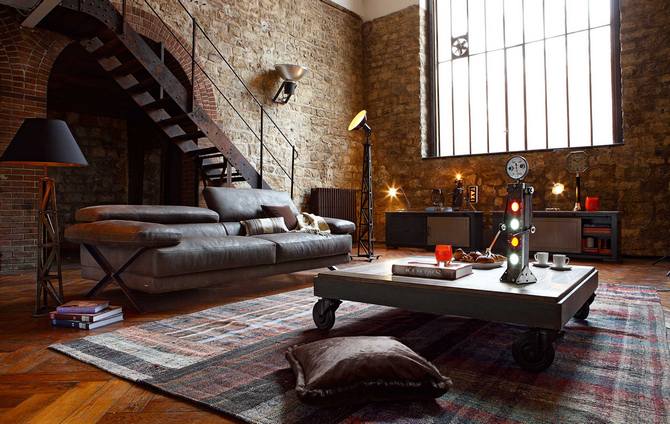 Industrial may be a subdued color palette, but it's nothing short of eye-catching. The brick brown wall is complemented by the grey carpet and lamp with its polished silver base. Add to that a utilitarian center table on wheels for an extra industrial touch!
9. Light and Airy with a Southwestern Flair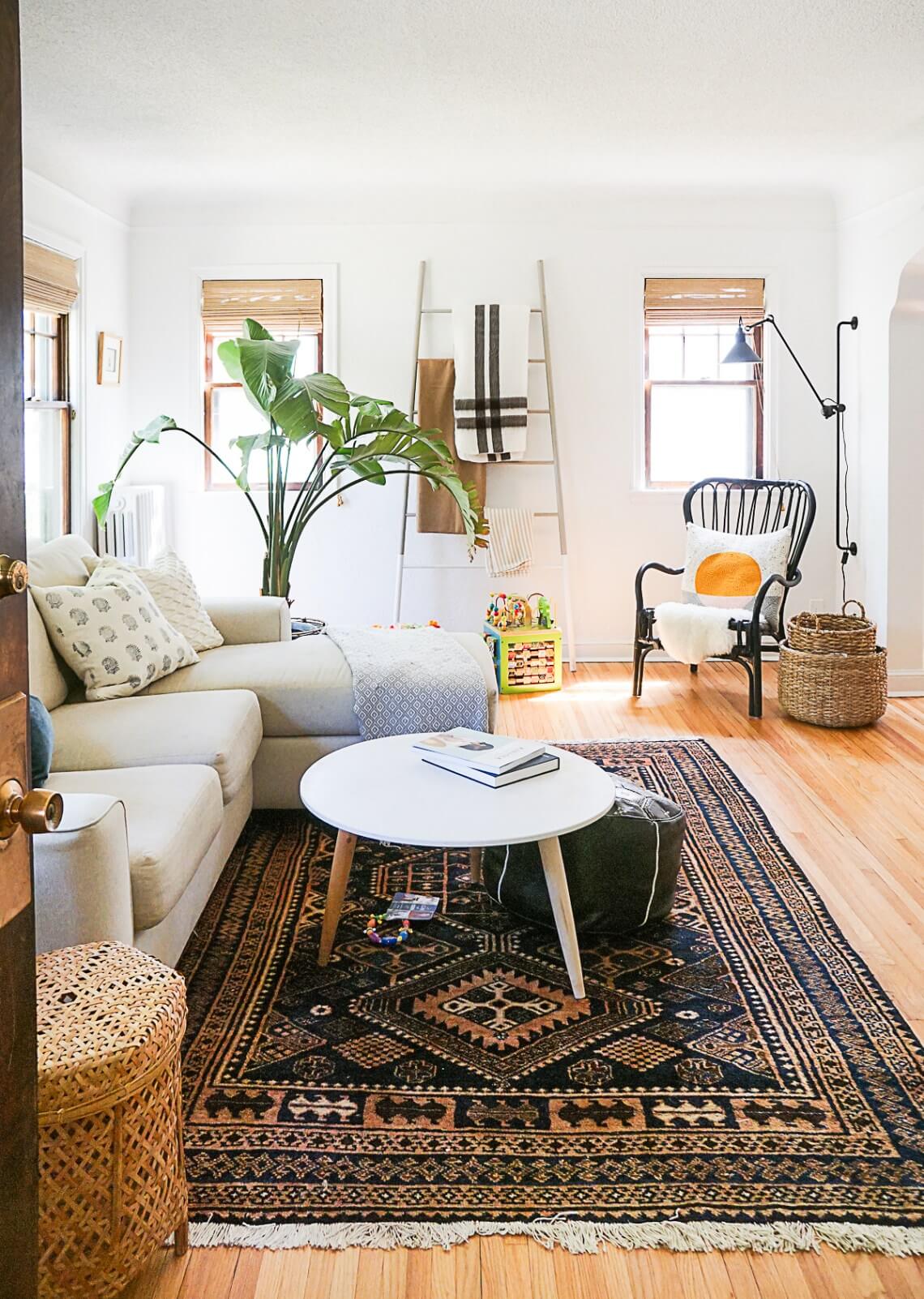 This southwest-inspired living room has some great vintage decor ideas. The light wood colors on the floor, furniture and windows make it feel open and inviting with a perfect contrast of black elements that add interest to this ares design. It's easy to store your blankets in an eye catching way while also adorning the space for aesthetics!
10. Turn Suitcases Into Tables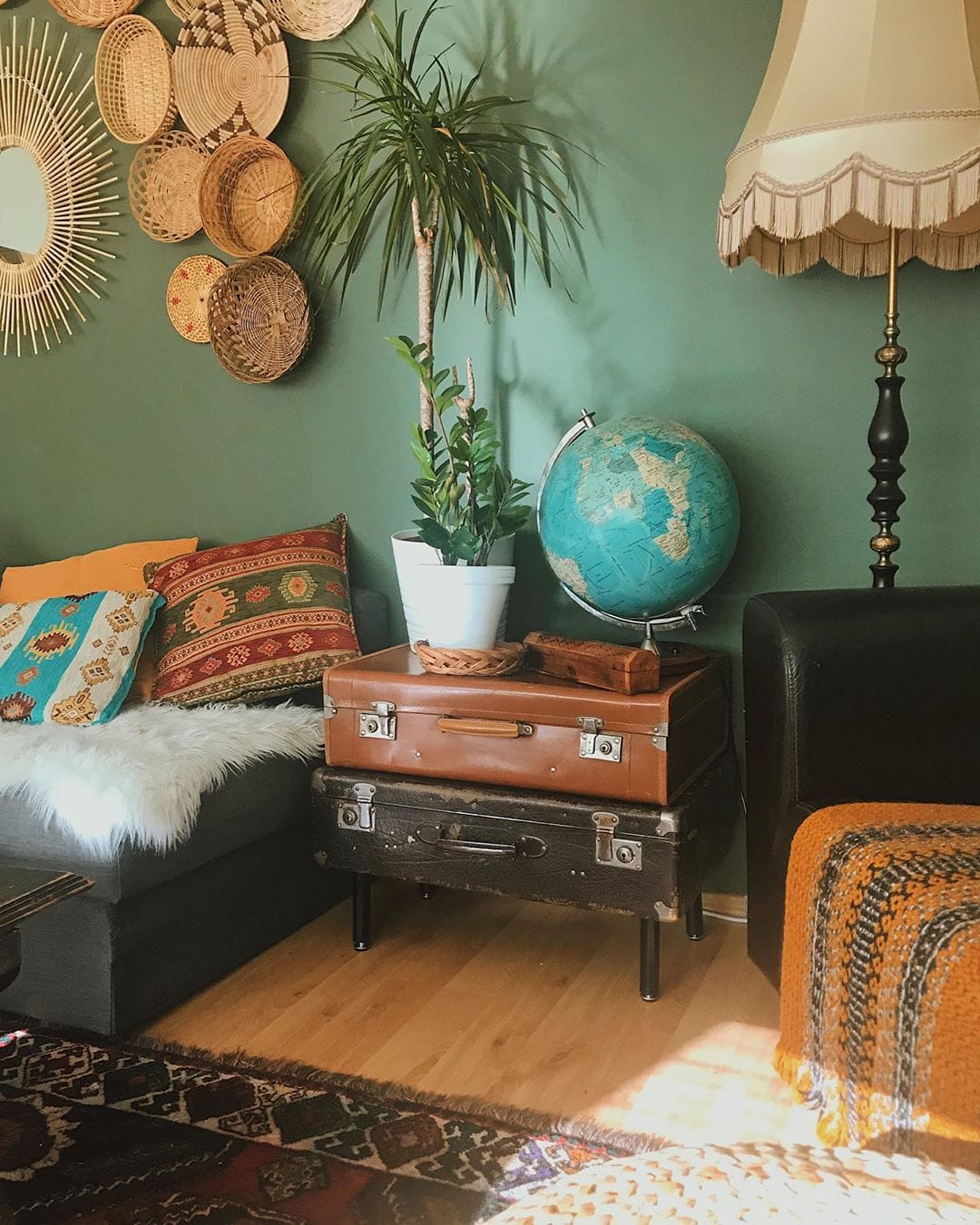 Wondering how to make your living room appear more spacious? Stack up some old suitcases and use them as a side table! You can even store any extra knick-knacks in the compartments.
11. Cozy Vintage Living Room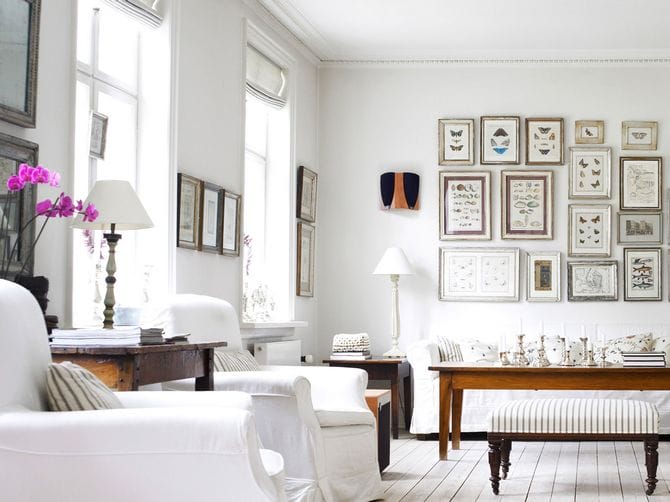 A trendy industrial home with a white, cozy ambiance. We provide you the option to choose from our decor suggestions and make your own unique style statement at an affordable price!
12. Stone Wall Vintage Living Room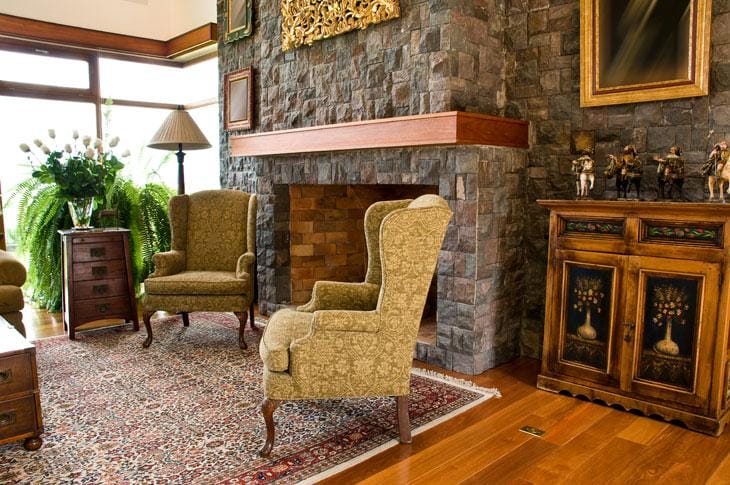 The light earth tones and warm browns of the cabinets, coffee table, art pieces on the wall give this room a welcoming feel. To make your space seem more spacious in smaller rooms consider using an elegant radial mirror to reflect that fullness onto other areas around it.
13. Chic And Vintage Room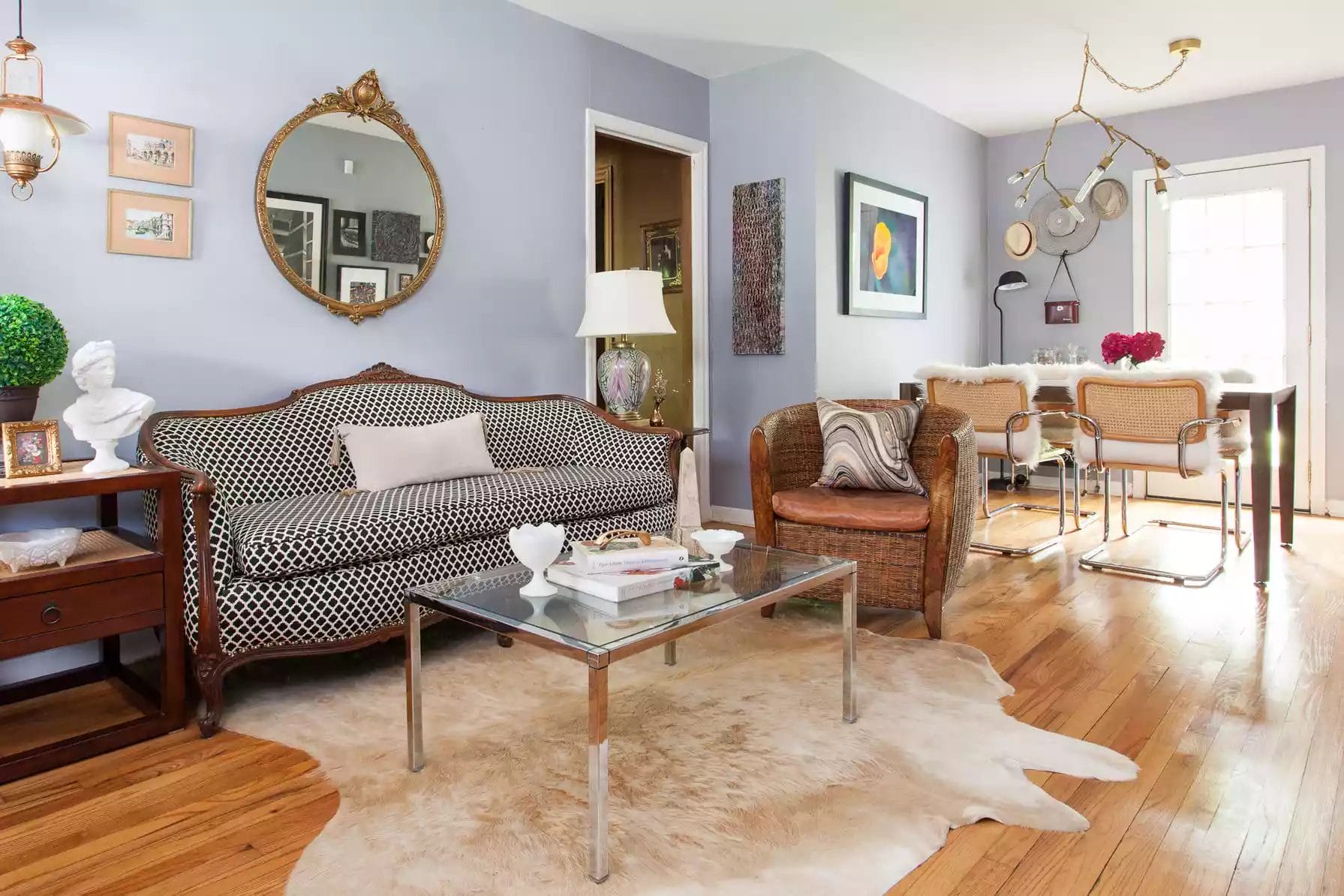 This chic bungalow is a perfect example of how mixing furniture and decorative accents from different periods can personalize your space. Case in point, the cabriole style sofa features an 18th-century carved wood frame while the sleek chrome coffee table dials back to disco era.
14. Vintage Texture Blended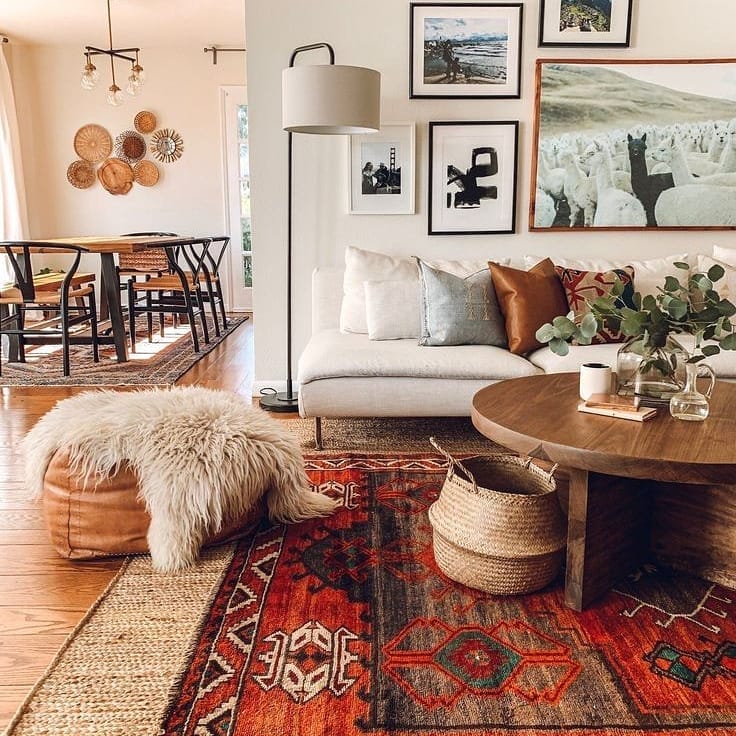 Adding a little warmth to your space is easy with the use of antiques and vintage textures. Layer neutral fur rugs over large Persian ones or place silk pillows on leather couches for an awesome aesthetic experience. Try setting up knitted blankets in old woven baskets under Mid-Century Modern tables, too!
15. Go Vintage With Wooden Crates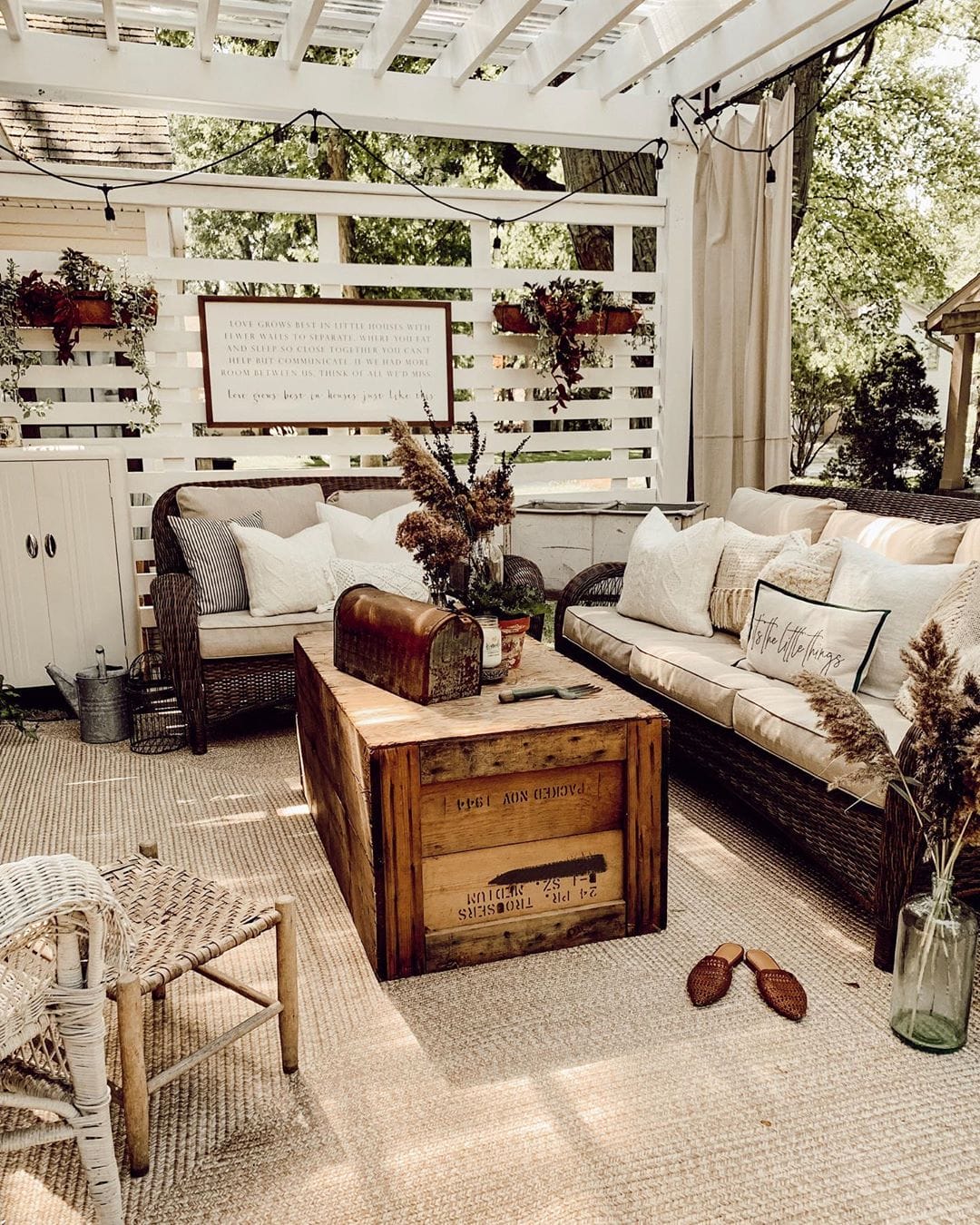 Wooden crates are an interesting, decorative accent for your home! Not only can they be used to store small plants and hold documents in a home office but these versatile pieces of furniture also make the perfect coffee table or outdoor patio.
16. Vintage Overboard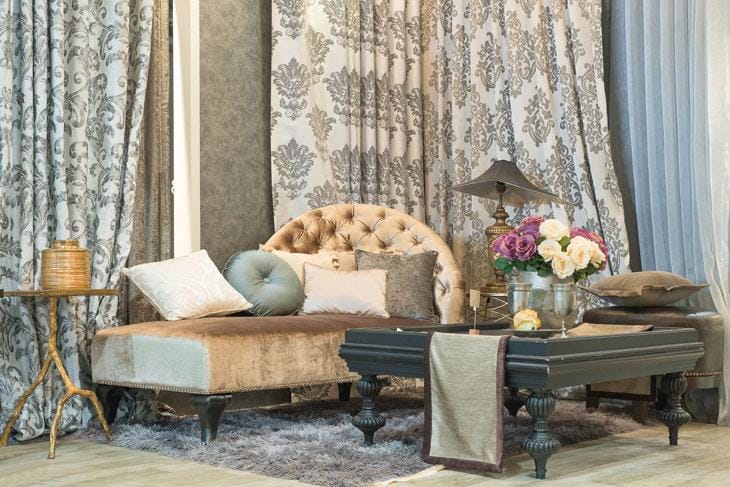 It's important to know when it is appropriate for a certain situation. For example, consider using different fabric types and textured materials – but only one color palette per design element if you want the final product to appear harmonious.
17.
Vintage Hawaiian Living Room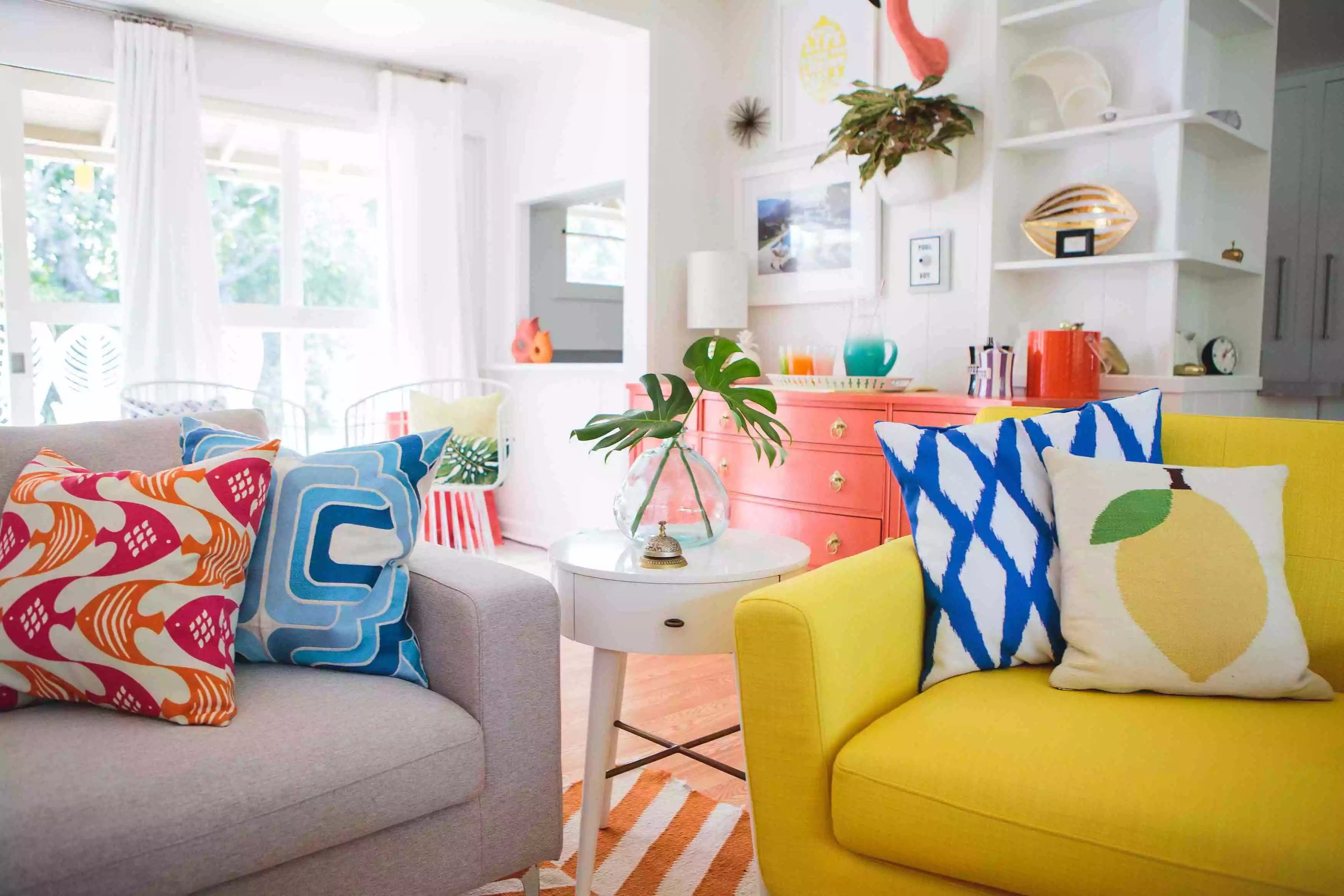 This retro living room is a mixture of playful colors and midcentury modern design. It features deep, low slung furniture with whimsical vintage accents such as the barware on the salmon console or the pink flamingo bust over one wall planter.
18. Classic Vintage Living Room Ideas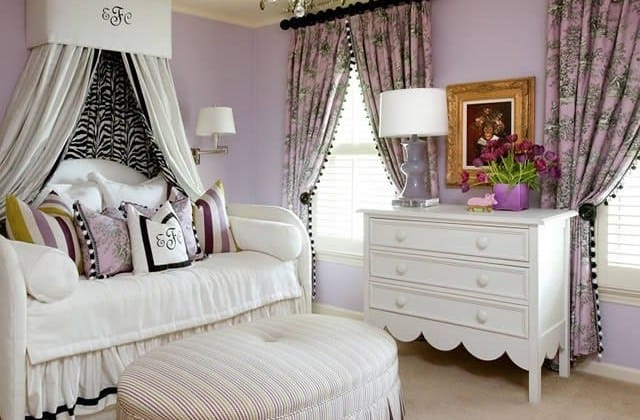 This living room features a white ceiling, sideboard, and two-seater sofa. They instantly make the space feel airy and open. Meanwhile, lilac walls lend a bit of femininity to space in no time.
Table lamp, wall sconce, oval-shaped ottoman, and chandelier generate a traditional vintage look. Furthermore, purple floral curtains jazz window shutters up. They contrast beautifully with a black metal rod too.
The gold artwork frame injects a dash of glamor into the living room. In addition, the beige area carpet evokes a welcoming vibe. Meanwhile, both floral and striped throw pillows tie the space together.
19. Gray Vintage Living Room Ideas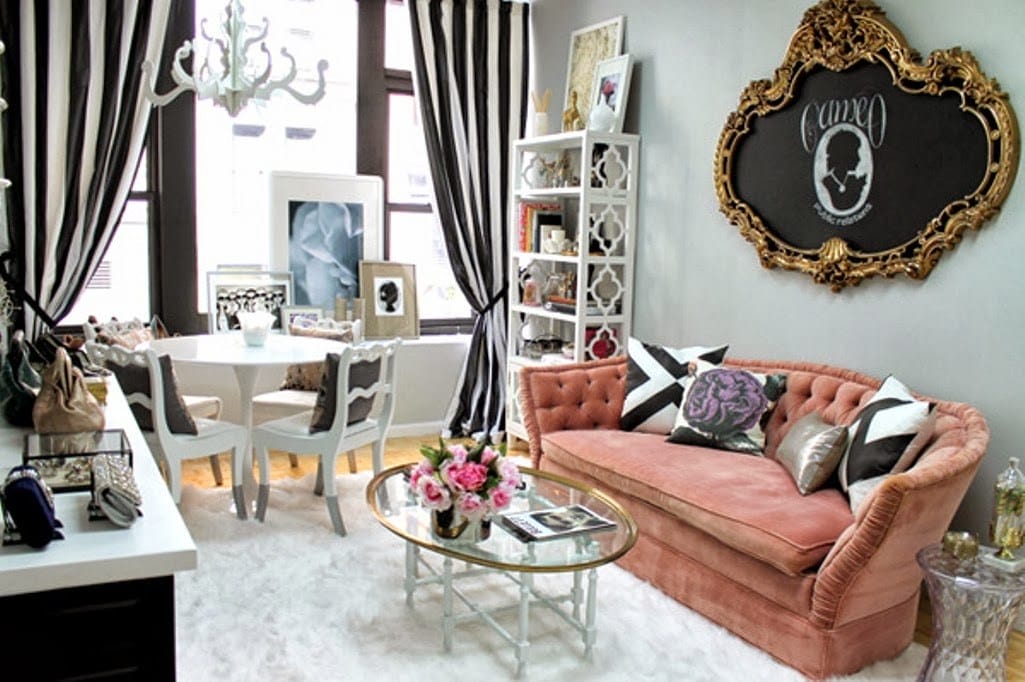 Here, the pale gray walls develop a light feeling. In an instant, they send out a serene atmosphere. Meanwhile, the wood floor brings rustic charm as well as warmth to the living room.
The gold frame and white chandelier exude a timeless feeling. Freestanding shelving unit sports Arabesque pattern. Moreover, the faux area rug is probably the most stunning unit in this space.
As seen, the muted pink tufted sofa stands out against the gray background. The separate sitting areas within this living room encourage intimate conversations.
Flowers infuse nature touches into space, while curtains and throw pillows catch the eye.
20. Vintage Living Room with A Huge Photo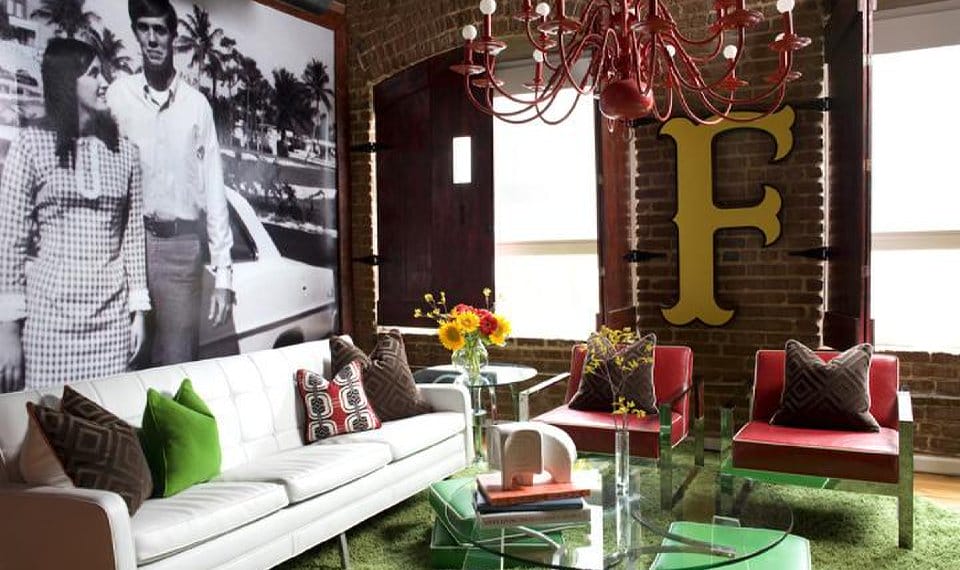 Searching for rustic vintage living room ideas? If so, apply this design. As you see, the space appears so fantastic. The exposed brick wall produces an unpretentious look. Yellow initial wall decor pops against it.
The living room boasts an oversized black and white photo. It quickly delivers a retro feel to the seating space. In addition, the unit makes the interior personal and unique. The red chandelier instantly steals the show.
Glass side and coffee tables lighten up the living room. The vibrant flowers lend an air of romance to space. Lastly, throw pillows bring the whole interior together.
21. Decorating Living Room with Vintage Renewal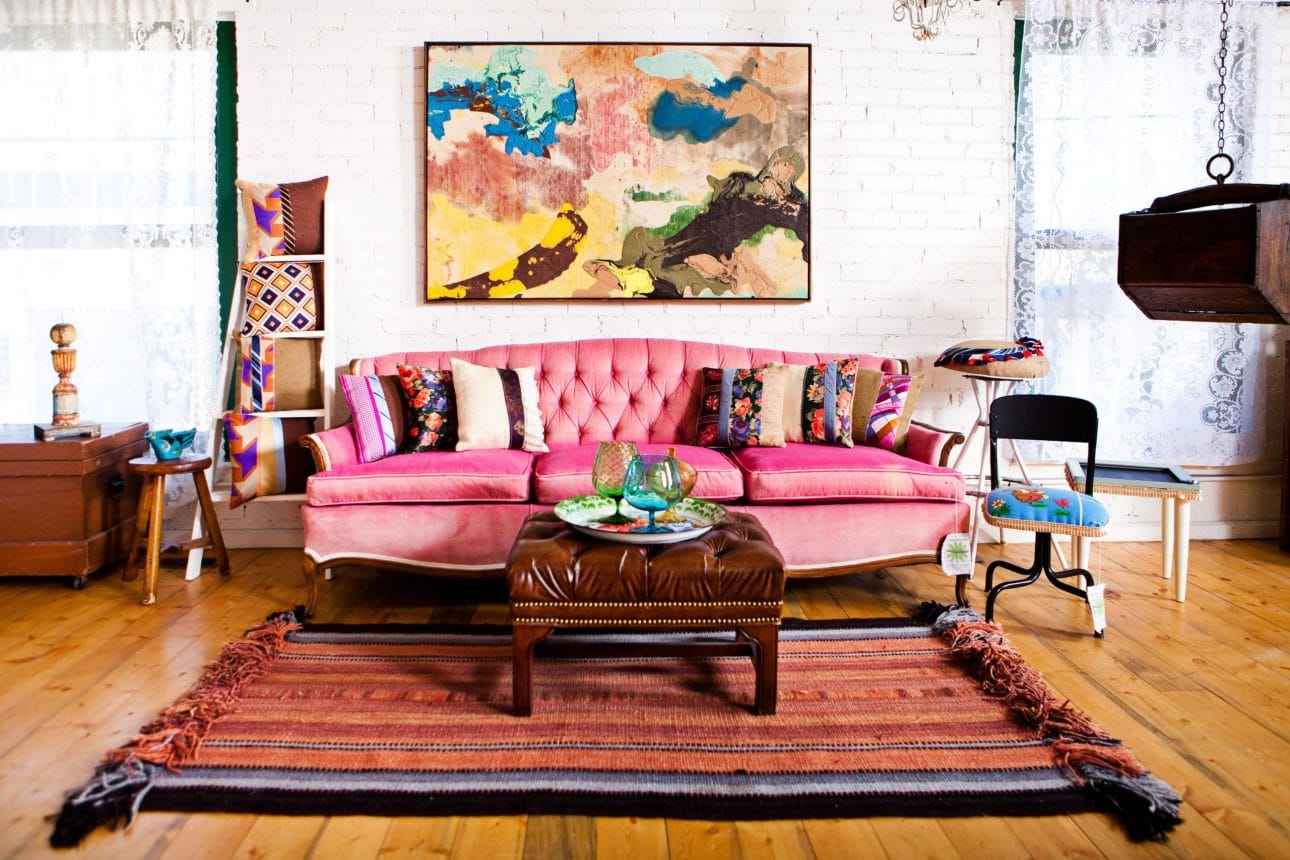 Vintage Renewal typically employs funky upholstered chairs. In this example, the pink sofa tastefully offsets other elements in the living room. It also imparts a cheerful vibe.
Crisp white brick wall delivers a rustic charm to space. The metal hanging decor injects an industrial flair into the room. Meanwhile, floral sheer curtains instantly soften the look.
The fluffy throw pillows on the sofa and 4-tier ladder shelf carve a vintage ambiance. Leather ottoman and rugs instill a cozy vibe. Wooden floor and furniture warm up the area, while painting carves a unified feel.
22. Vintage Living Room Ideas with Splashes of Colors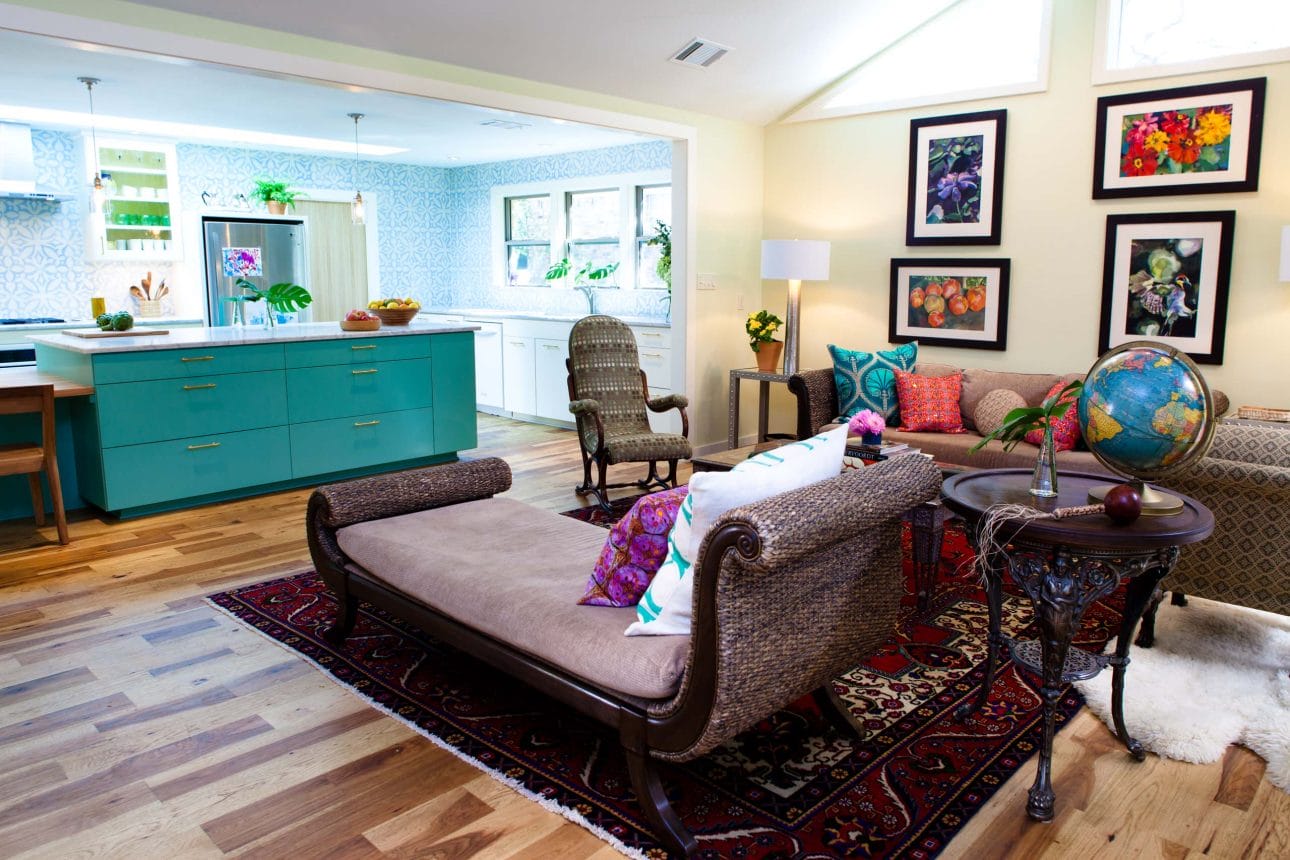 This living room boasts a white ceiling and pale cream walls. In no time, they open up the seating space.
Mismatched furniture pieces bring a retro atmosphere to the interior. Meanwhile, the windows fill the area with daylight.
The wood floor gives the living room a touch of Mother nature. Table lamp, antique globe, and glass vase work as statement pieces.
Besides, the wool and Turkish rugs emanate an inviting mood. Bold throw pillows complement neutral-colored furniture units. Fun wall hangings round the living room out.
23. Retro Vintage Living Room Ideas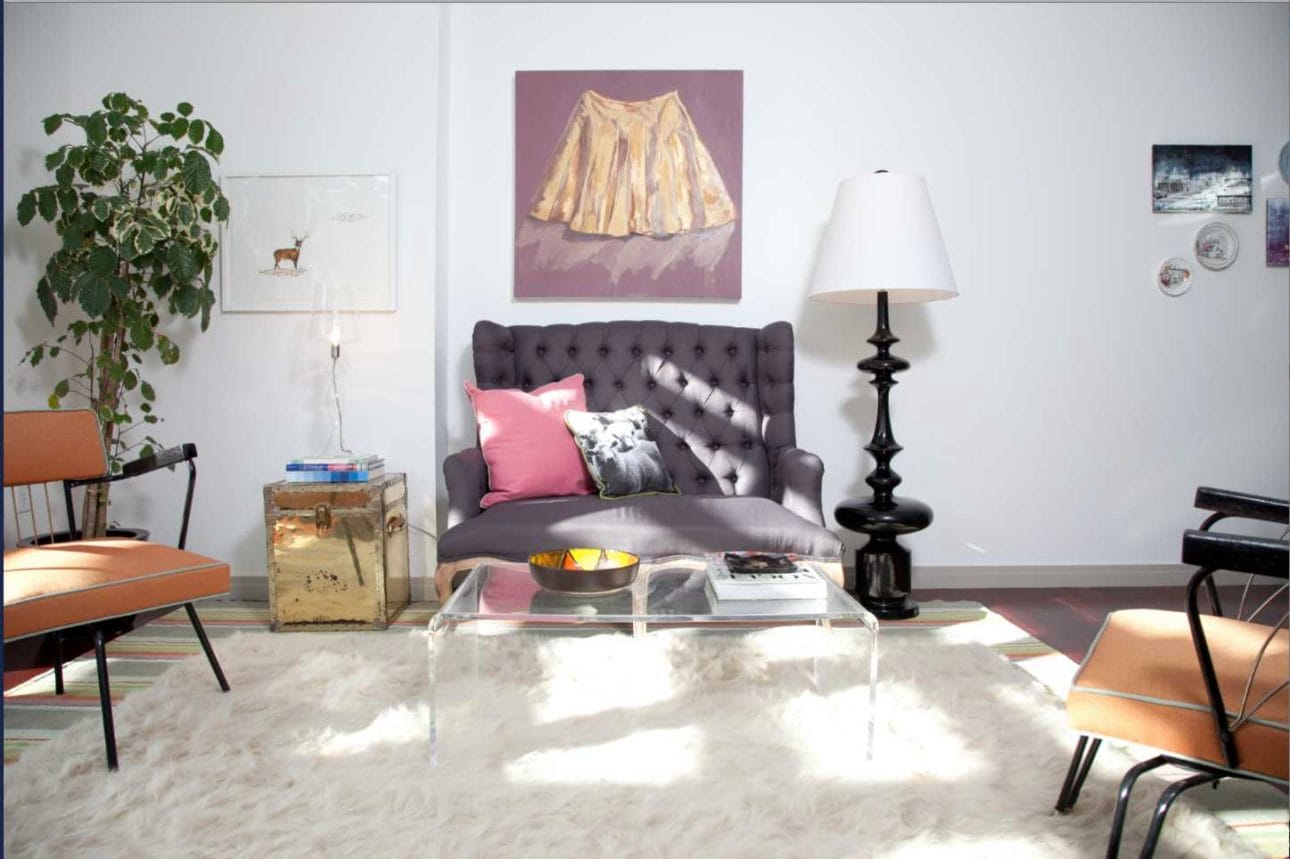 Looking for cool vintage living room ideas? If yes, try this incredible design. First of all, begin with light colors. Here, different white tones wrap the seating space, from the area rug to the walls. They produce an airy feeling.
The skirt painting adorns the otherwise plain wall. It carries a unique touch to the living room as well. Moreover, a dark gray 2-seater tufted sofa makes the interior elegant and comfortable.
Floor lamps, armchairs, and decorative plates ooze vintage appeal. The gold mirrored trunk poses as a side table.
Furthermore, acrylic lamp and coffee table create a stylish room. Wood floor and houseplant effortlessly bring the outside in. The throw pillows and area rugs continue the retro look.
24. Contemporary Vintage Living Room Ideas
The off-white sofa and walls develop a serene atmosphere. They contrast perfectly with the black wooden floor. Meanwhile, the curtains filter natural light. The two-tone area rug also draws attention quickly.
Picture frames come in different unique shapes. They embellish the otherwise blank wall.
Wingback chair and two-seater sofa deliver a classic vintage style to the living room. The coffee table and lamps give off a contemporary flair.
Moreover, pops of yellow brighten the seating space up. Silver accents reinsure the living room with instant glamor. Small throw pillows keep the interior from feeling too stuffy, while purple artwork completes the scene.
25. Vintage Living Room Ideas with Lovely Decorations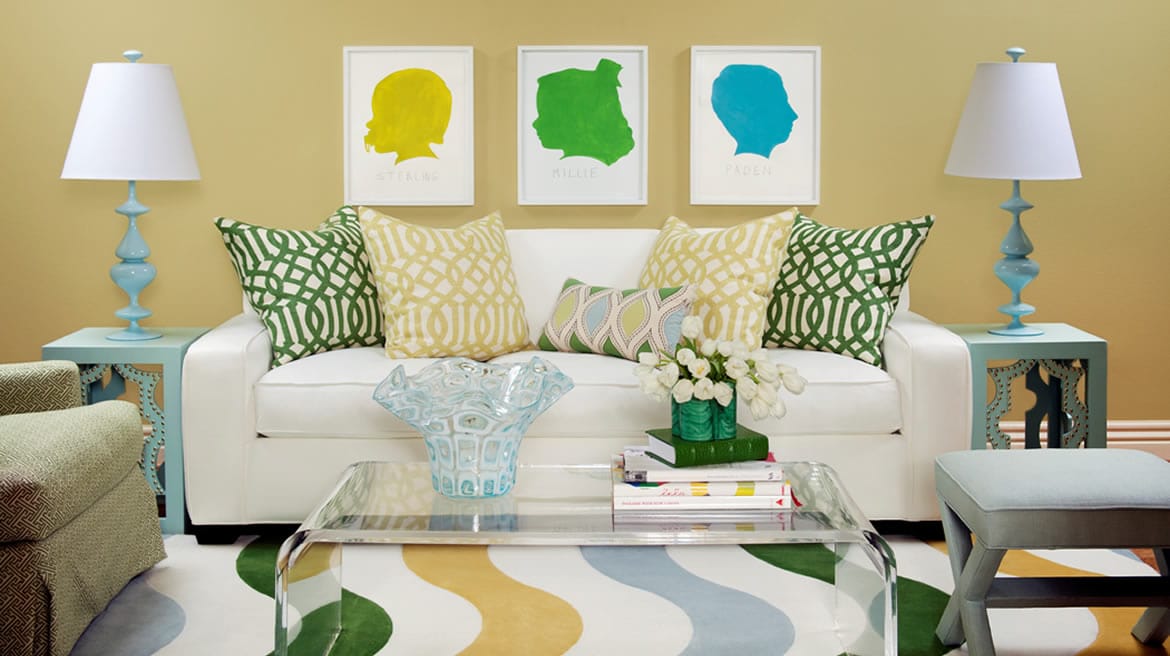 This living room is both classy and captivating. It features accent chairs, mismatching pillows, bold artworks, and a custom-made acrylic coffee table. The simple designs keep the space from becoming overcrowded.
Moreover, light blue table lamps and side tables lend a vintage flavor to the living room in a jiffy. They do not only make the space refreshing but also pair nicely with the wooden floor.
The coffee table holds a vintage blue glass vase and books. Meanwhile, white roses scream beauty and elegance. Lastly, the area rug picks colors from the furniture, wall, and throw pillows. It generates a cohesive appearance too.
26. Mid-Century Modern Living Room with Vintage Heritage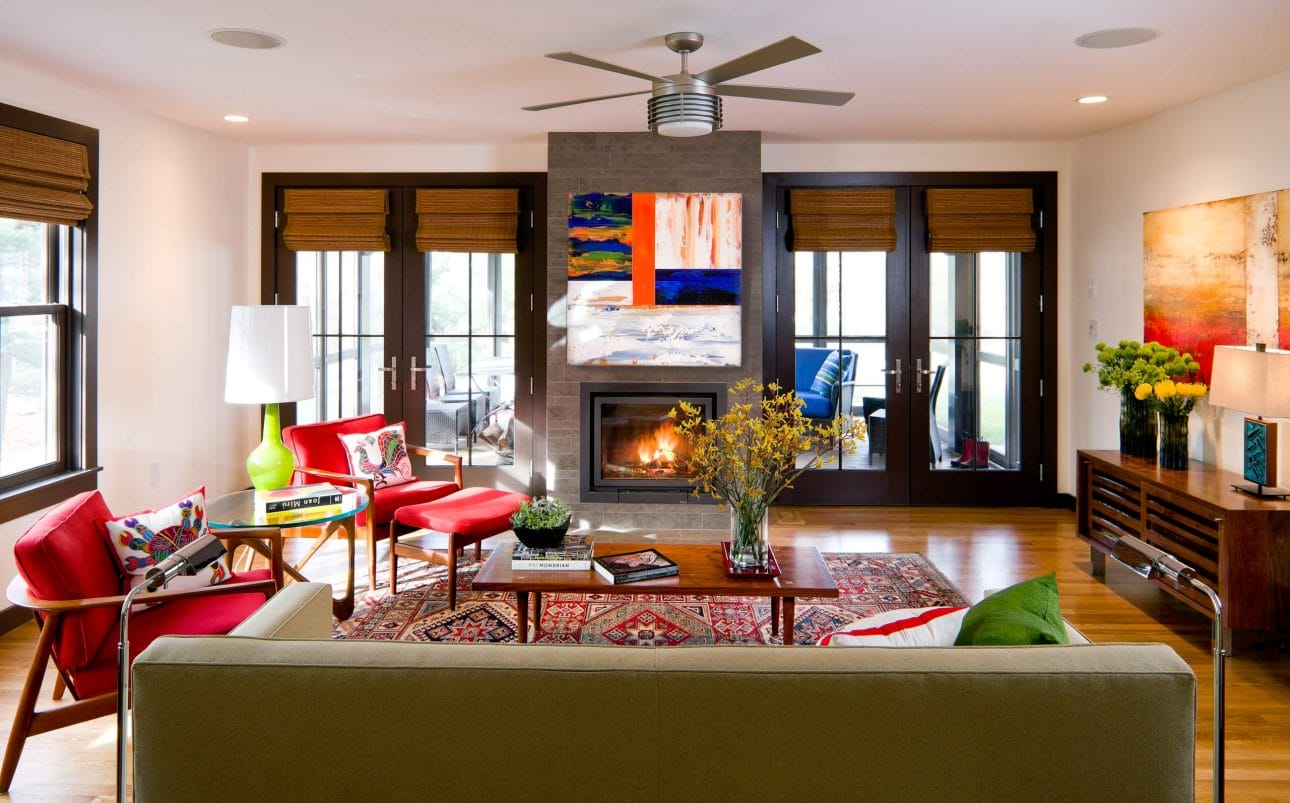 Searching for modern vintage living room ideas? If so, take inspiration from this design. It is another bright and trendy seating space that sports retro items. The intense colors bring space to the next level.
White walls and ceilings add a sense of cleanliness to the seating area. Black door and window frames contrast delightfully with them. Wood floor, greenery, and bamboo shades give the living room nature's elements.
Moreover, the sofa, sideboard, armchairs, and tables inject a mid-century modern vibe into the living room. The Turkish rug is so striking. It bears shades of red, cream, and blue.
The metal ceiling fan quickly draws the eye up. Additionally, it sends out a retro ambiance. Lastly, the abstract paintings unify this living room.
27. Small Vintage Living Room Ideas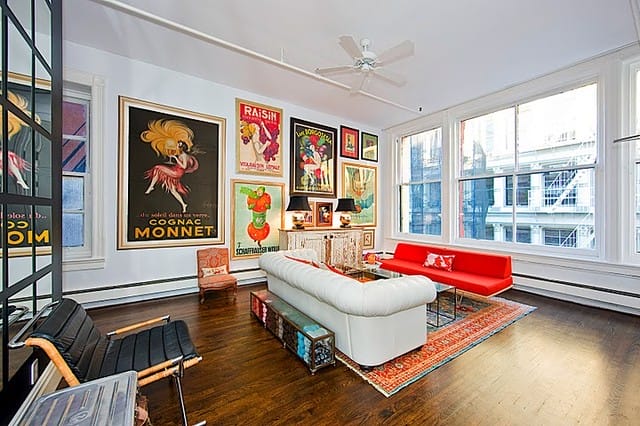 Your living room should encourage both you and your family to spend quality time together. It also lets everyone do the things they love. Here, the small seating space is not only pretty but also functional and cozy.
Pure white ceiling, as well as walls, enlarge this living room. The windows allow sunlight to get inside the space.
The wooden floor instantly radiates warmth. Ceiling, table lamps, and chairs infuse a vintage atmosphere into the interior.
Big framed posters showcase bold colors. They enliven the living room and steal the spotlight at once. Patterned rug quickly titivates the area. If this seating space was yours, you won't leave it ever for certain.
28. Eclectic Living Room Ideas by Vintage Renewal
If you plan on decorating your seating space with vintage renewal, steal this look. Here, the whitewashed brick wall makes the interior feel light and open. Meanwhile, the wood floor oozes rustic charm.
Furthermore, the living room features upholstered seats. The white background lets them shine. Throw pillows come in one-of-a-kind designs. Mismatched and adorable pendant lights amplify the vintage theme.
Two-tone patterned rug generates a cohesive feel. Dark brown hexagon table and floor lamp give the space a retro mood. The folding screen boasts plant pictures. Undoubtedly, this living room is perfect for any chic botanist.
29. Vintage Living Room Ideas with Lots of Pillows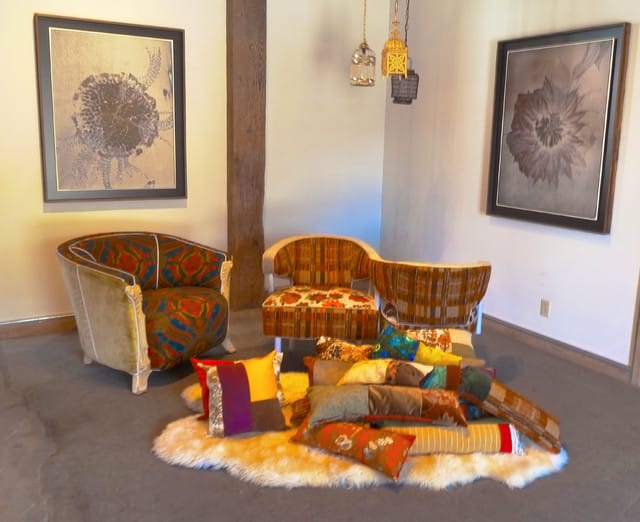 Some homeowners like decorating their homes with vintage renewal. If you are one of them, this is one of the vintage living room ideas to apply.
The bright white walls provide a perfect background for the furnishings and decorations.
Neutral toned wood accents emanate a warm vibe and rustic ambiance at once. The gray carpet and white sheepskin rug make the living room feel comfortable.
Moreover, throw pillows and upholstered chairs wear bold colors. They add class as well as style to the room. The artworks and hanging lanterns transform the living area into an art space.
30. Vintage Living Room Ideas with High Ceiling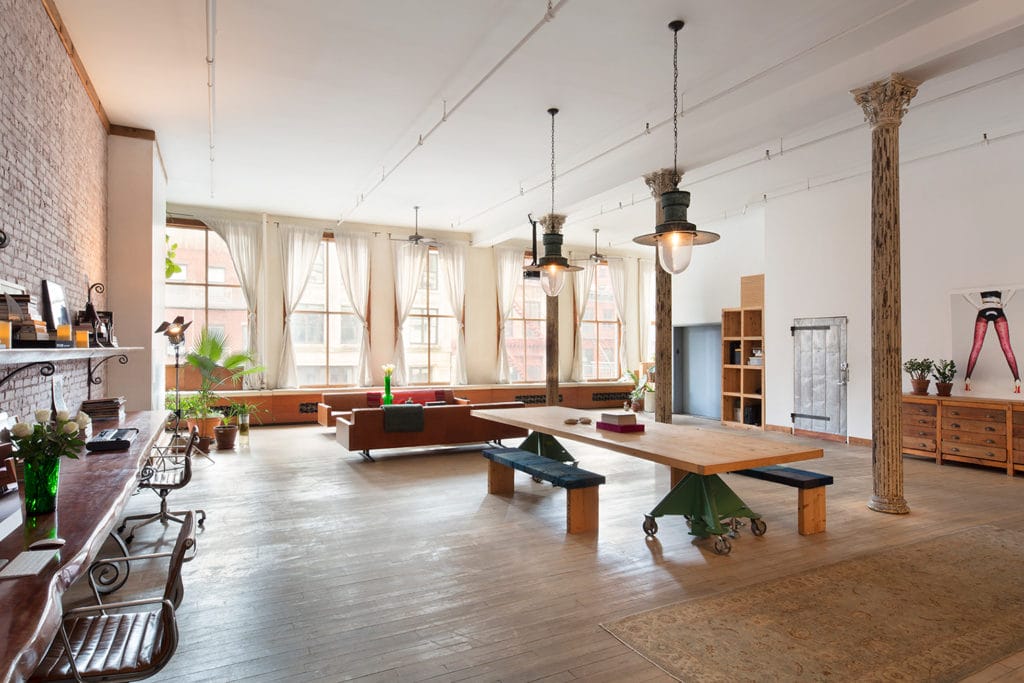 Before the renovation, this space was a spare room. The owner used it to store the stocks. As you see, the building is huge and features a high ceiling. Furthermore, the interior design is still completely rocking vintage.
White coffered ceiling and walls effortlessly open the living room. Metal column and track lights lend an industrial flavor to space. The dark-toned wood floor reinsures the interior with unmatched warmth.
Black sofa and armless chairs face each other. Meanwhile, the patterned curved seat grabs the attention.
Blanket, throw pillows, and soft rugs cozy up the interior. Painting and metal animal sculptures continue the room's vintage look.
31. Vintage Living Room Ideas for Cabin Homes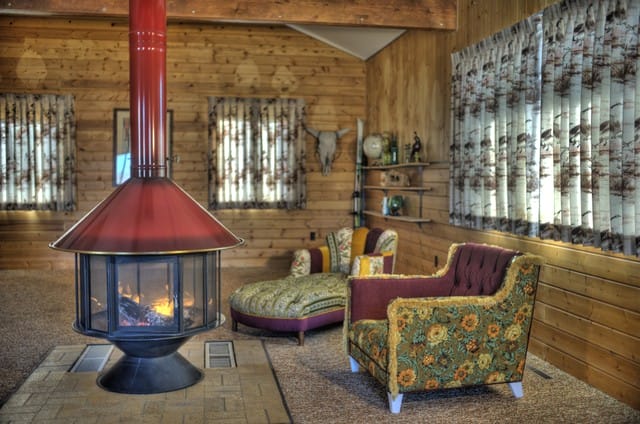 It seems like many homeowners can't get enough of vintage renewal. When we mention retro living, you certainly didn't imagine this room. Here, the classic style fireplace makes the cabin home super inviting.
The lounge and sofa chairs look so unique. They carve a sumptuous atmosphere and stamp vintage style.
Wood plank walls and ceiling beams exude a rustic charm. Meanwhile, the oddities on the wall and shelves personalize the room.
32. Vintage Living Room Ideas with Brick Walls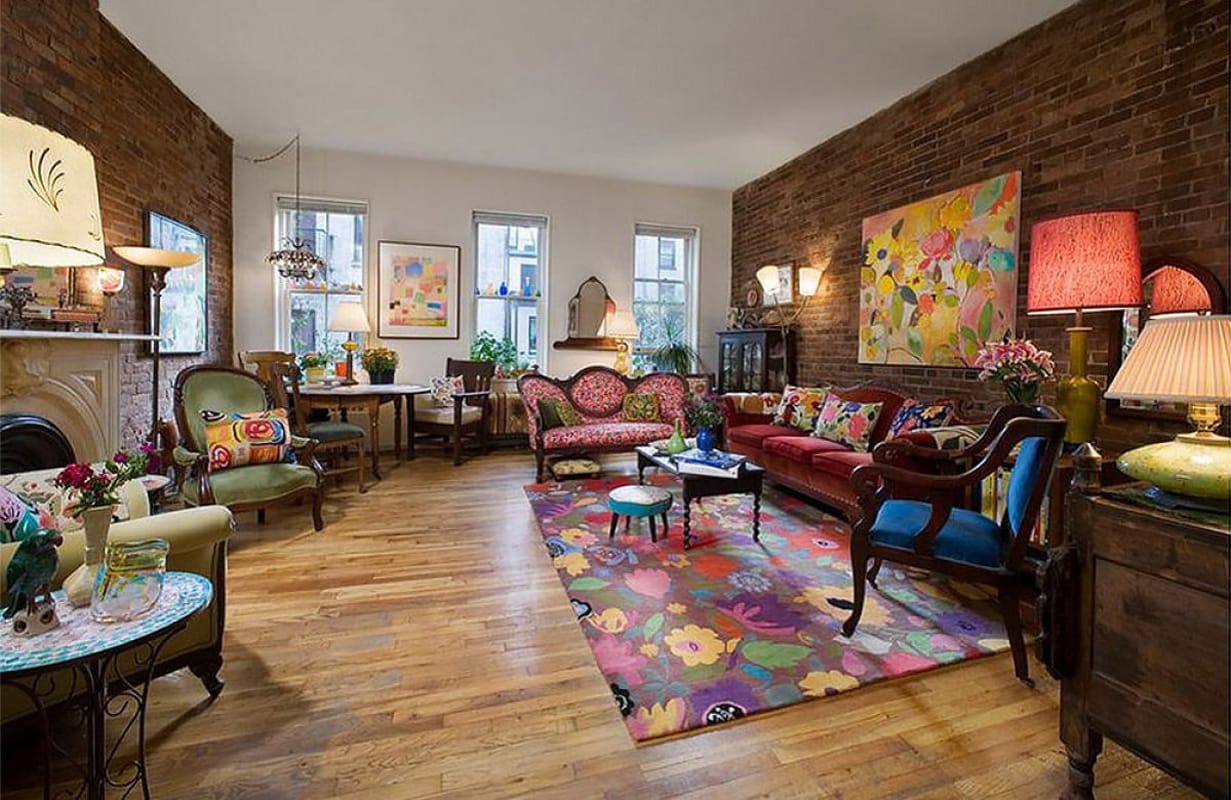 This living room features brick walls and a wood floor. They imbue the seating space with a rustic ambiance instantly.
Whitewall and ceiling carry a feeling of openness to the interior. The houseplants and fresh flowers titivate the whole space.
The unique and colorful chairs quickly inject a vintage feel into the room. Lamps, mirrors, and tables solidify the theme. Floral painting and rug tie the seating area together.
33. French Country Living Room with Vintage Items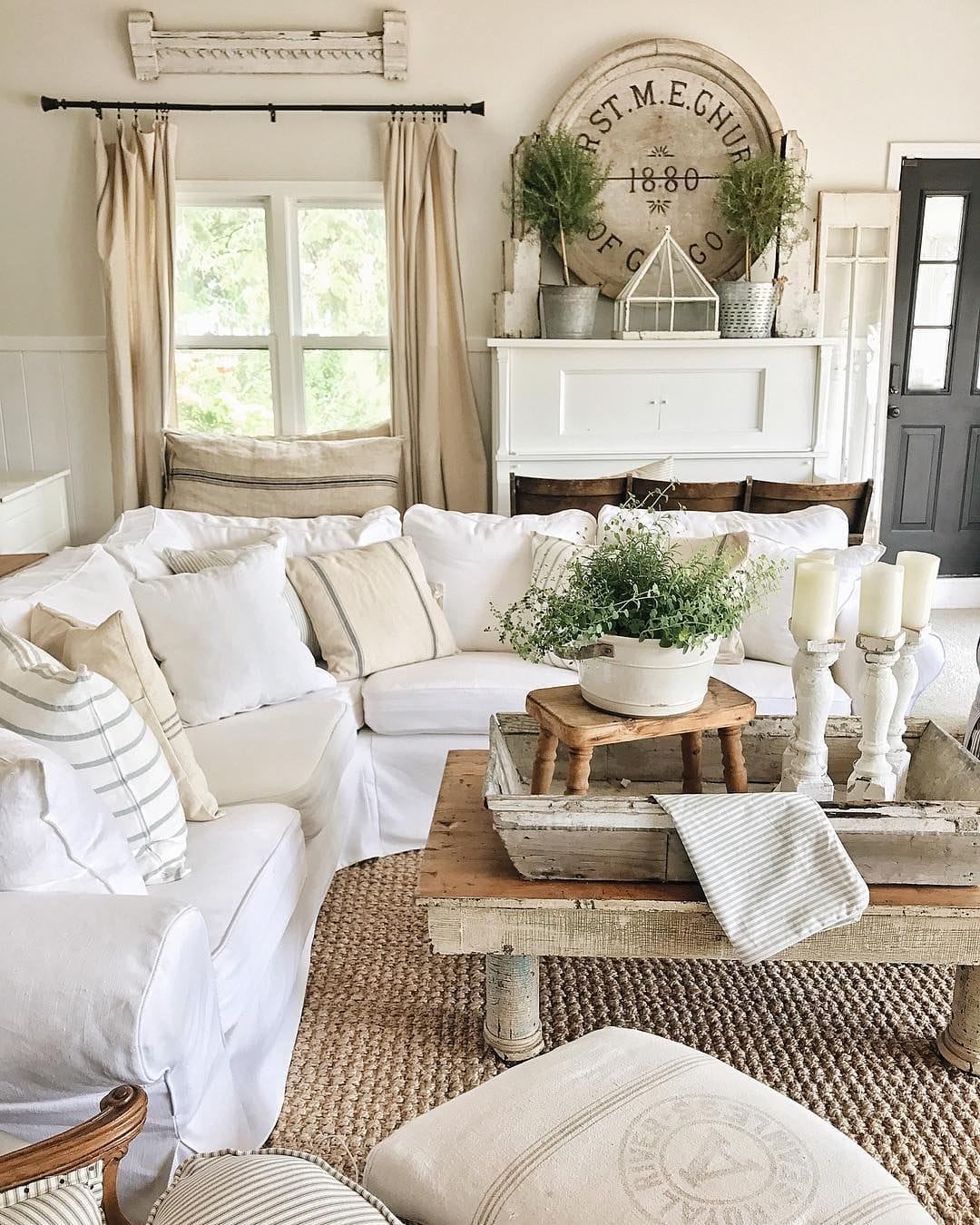 Without a doubt, this is one of the most gorgeous country vintage living room ideas. The neutral furniture and wall nicely complement the decor. Jute rug and wooden coffee table create a homey ambiance.
The vintage sign, low wooden stool, distressed candle holders, and galvanized pots are lovely accents. Meanwhile, live plants perk the living room up.
34. Vintage Living Room Ideas on A Budget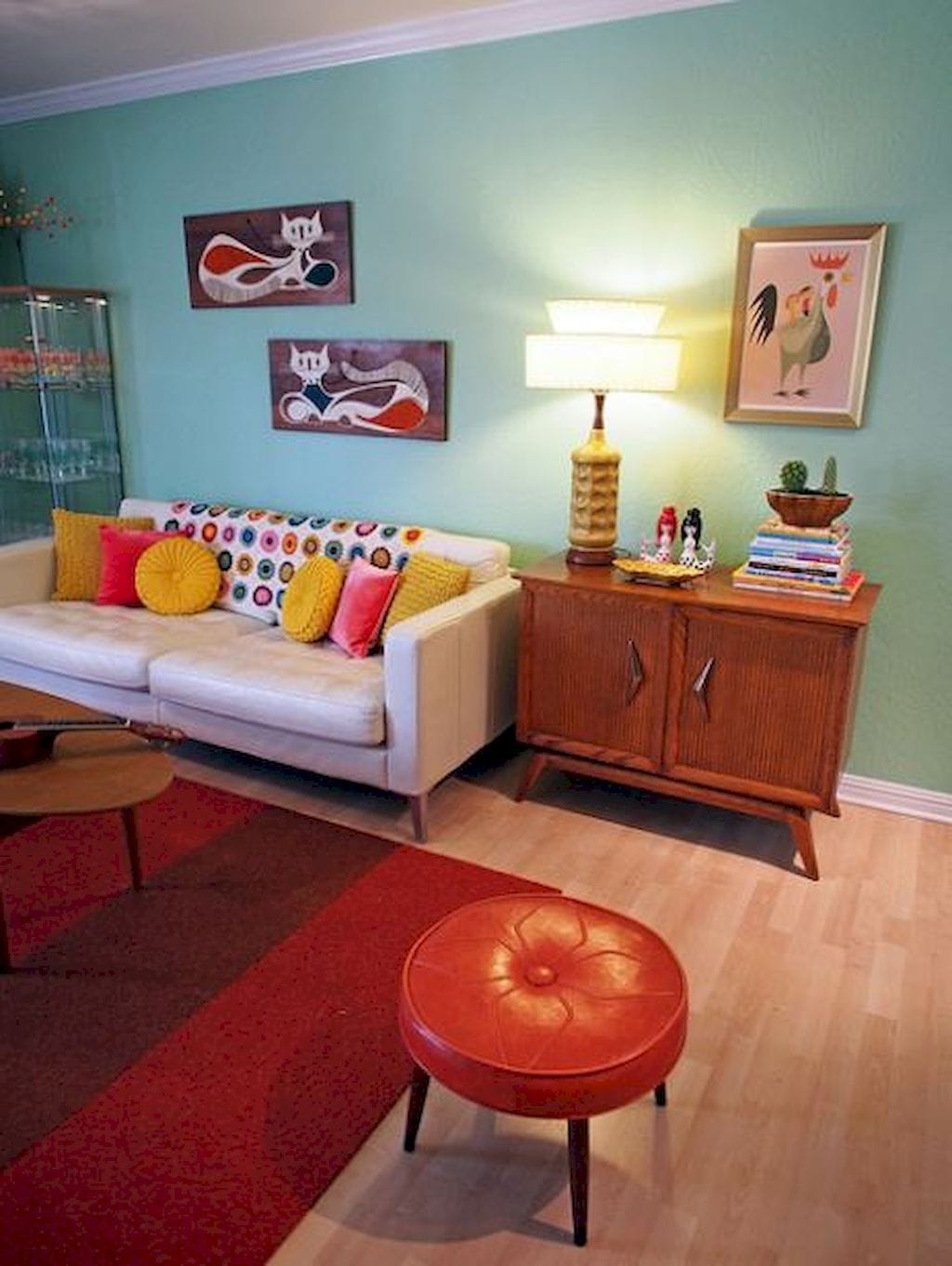 If your budget is limited, give this design a go. Here, the deconstructed antique sideboard looks fabulous against the blue wall.
The upholstered sofa, red rug, and throw pillows carve a snuggly atmosphere. Meanwhile, lamp and wall hangings add some extra retro flair to the room.
35. Vintage Living Room with A Southwestern Twist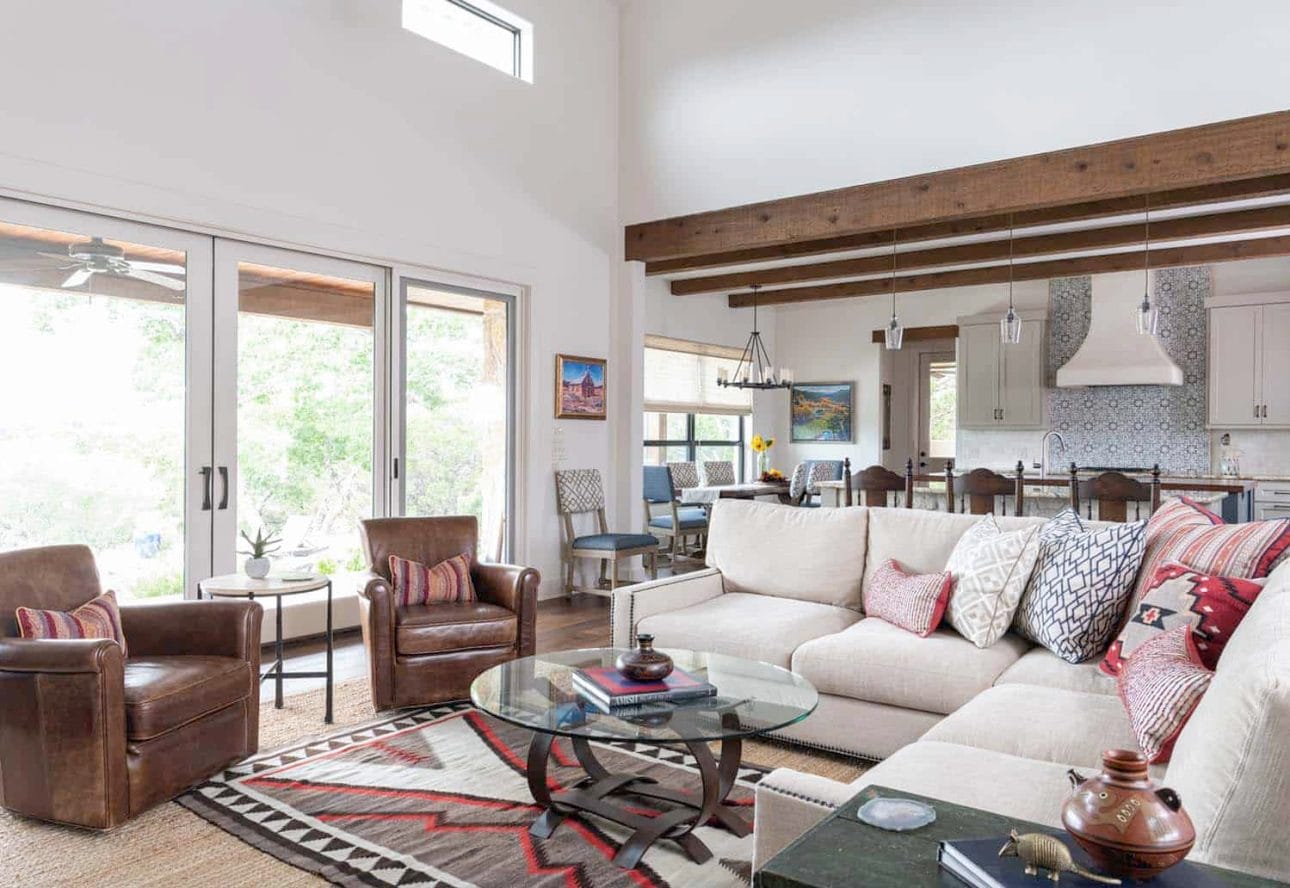 We love this large living room. Windows and white walls generate an airy atmosphere as well as an open setting. Natural jute rug and wooden beams infuse a rustic charm into space.
The rich brown leather armchairs lend the living room a Southwestern vintage flair. Meanwhile, tribal area rug, paintings, and throw pillows give the interior pops of color.
36. Vintage Living Room Ideas with Nautical Elements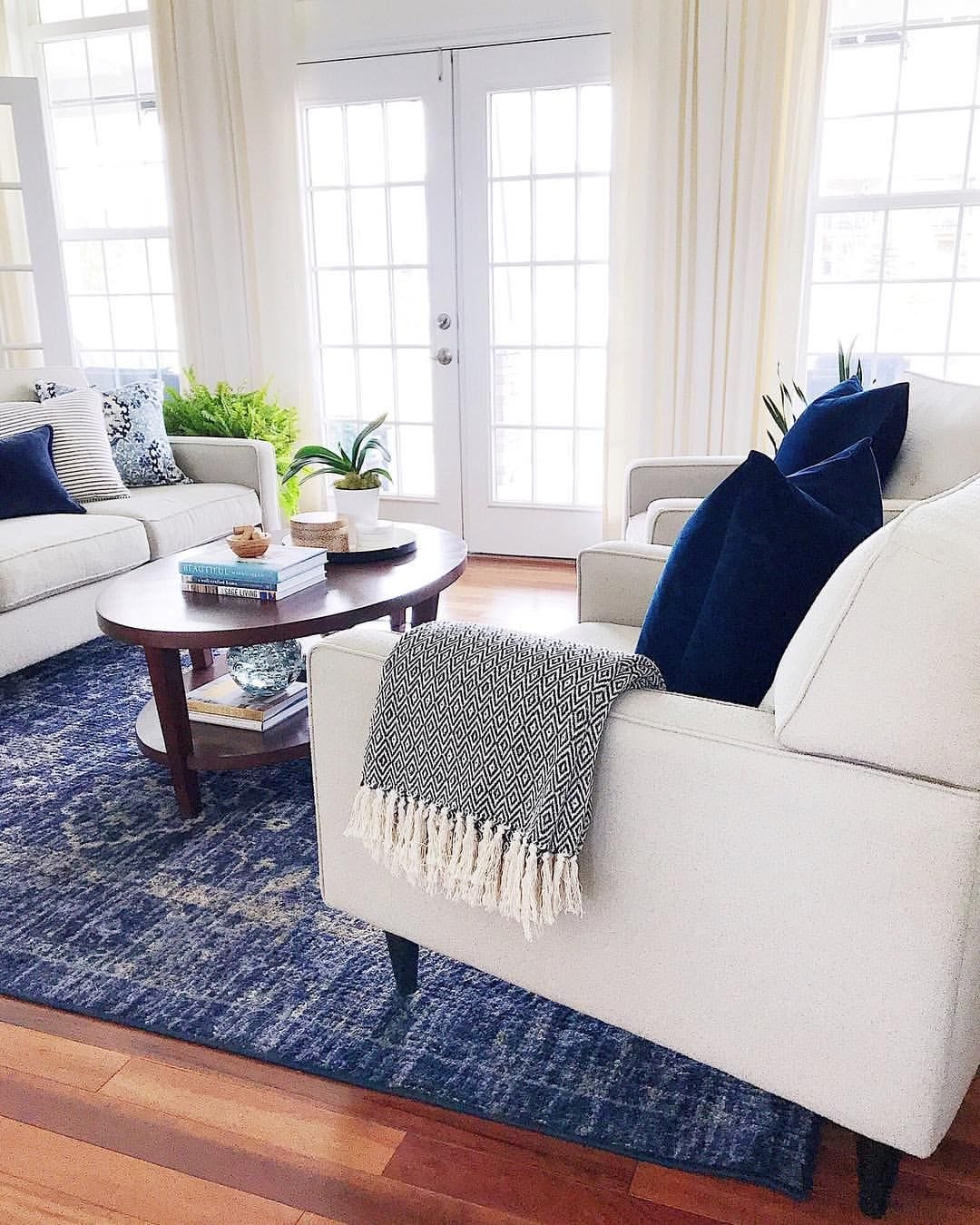 This living room starts with lots of crisp white elements for a breezy feel. Navy velvet throw pillows inject a seaside feel into space.
The area rug and dark coffee table with a lower shelf quickly carry a strong vintage flavor to the interior. Wood floor and live plants bring the outdoors in.
37. Vintage Farmhouse Living Room with A Bohemian Flair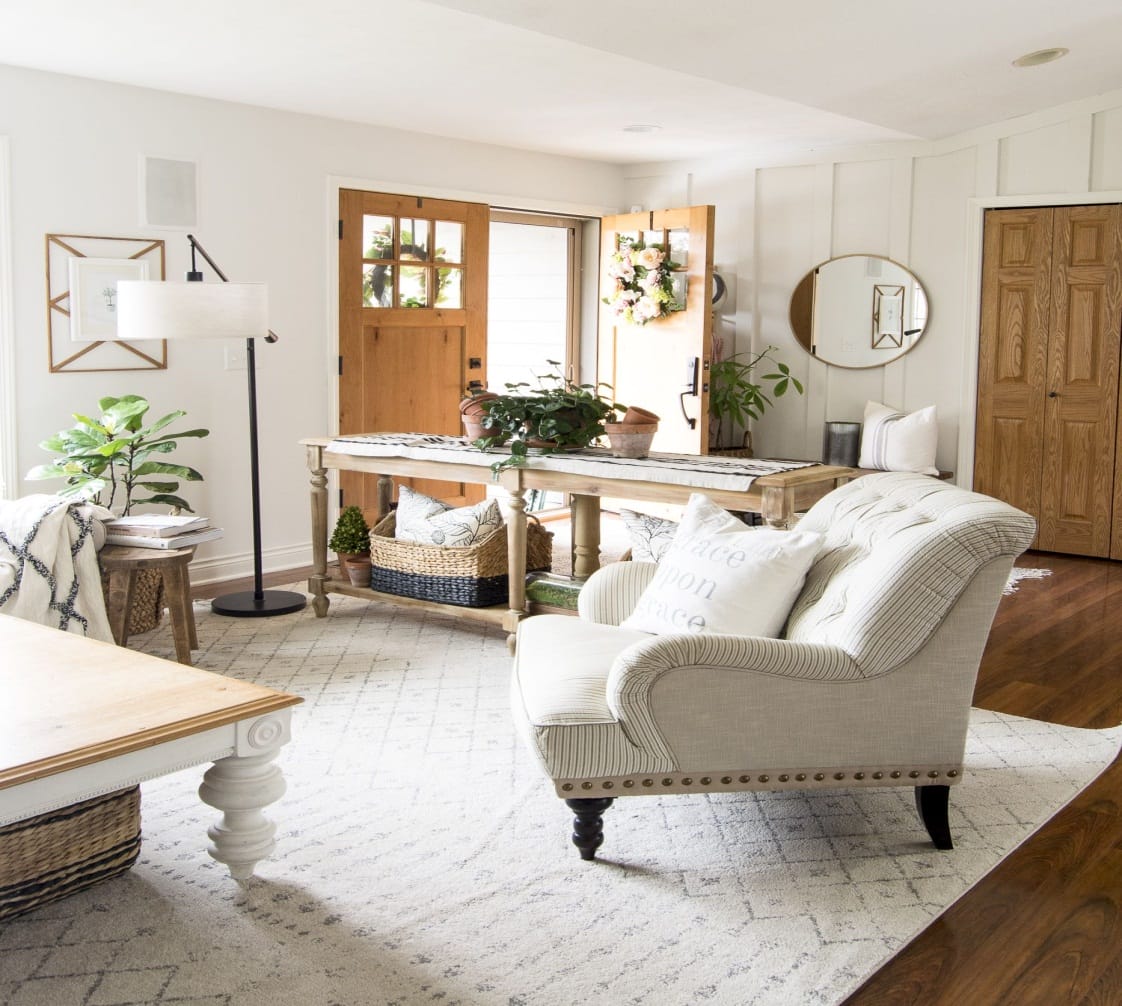 As you see, this living room is airy and inviting, thanks to white walls. The wood floor and wicker storage boxes ooze a farmhouse charm.
The armchair, coffee table, sideboard, and floor lamp send out a vintage ambiance. Meanwhile, the area rug and throw blanket evoke boho vibes.
In short, retro design has lots of room for other styles. Don't hesitate to give our marvelous vintage living room ideas a try. Your family and friends will certainly fill up the sitting area quickly.