The handmade signs are a fun and affordable way to inject a rustic charm into your entrance. They're a fantastic project for crafty people too. If you are one of them, have a look at our DIY welcome sign ideas.
You could hand letter the front door or porch sign. We recommend using stencils for neater lettering. Most of our ideas are easy to build in just a few hours with paint and upcycled materials.
Speaking of front porch decor, homeowners normally opt for weathered or rough wood. When it comes to material, wooden pallets are an excellent option. They are not only inexpensive but also naturally offer a rustic look.
If you are truly new to DIY wooden pallet projects, a simple front porch sign is an awesome first project. This list features various signs such as holiday-themed wreath and chalkboard display. Check these out!
1. Black, Blue, and White Welcome Sign Ideas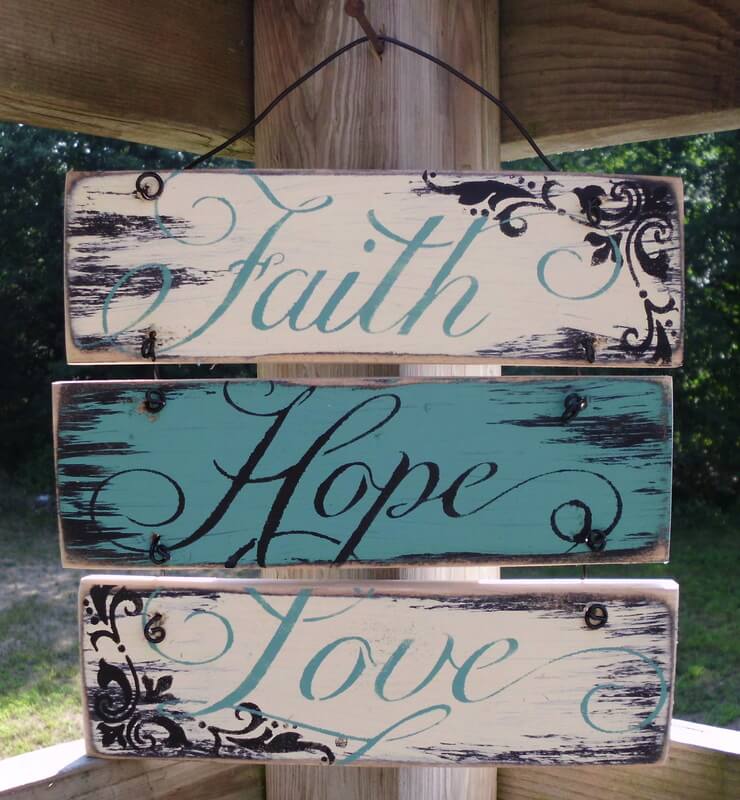 Shabby typically has a negative connotation, so does the distressed one. However, that's not the case with this DIY welcome sign. The black, white, and blue paint colors spruce it up.
Moreover, the sign lends the porch a shabby chic flair. It boasts beautiful stencil lettering as well. The decor piece doesn't only greet your guests but also reminds them of three important things in life.
2. Entrance Welcome Sign Ideas with Monogram Wreath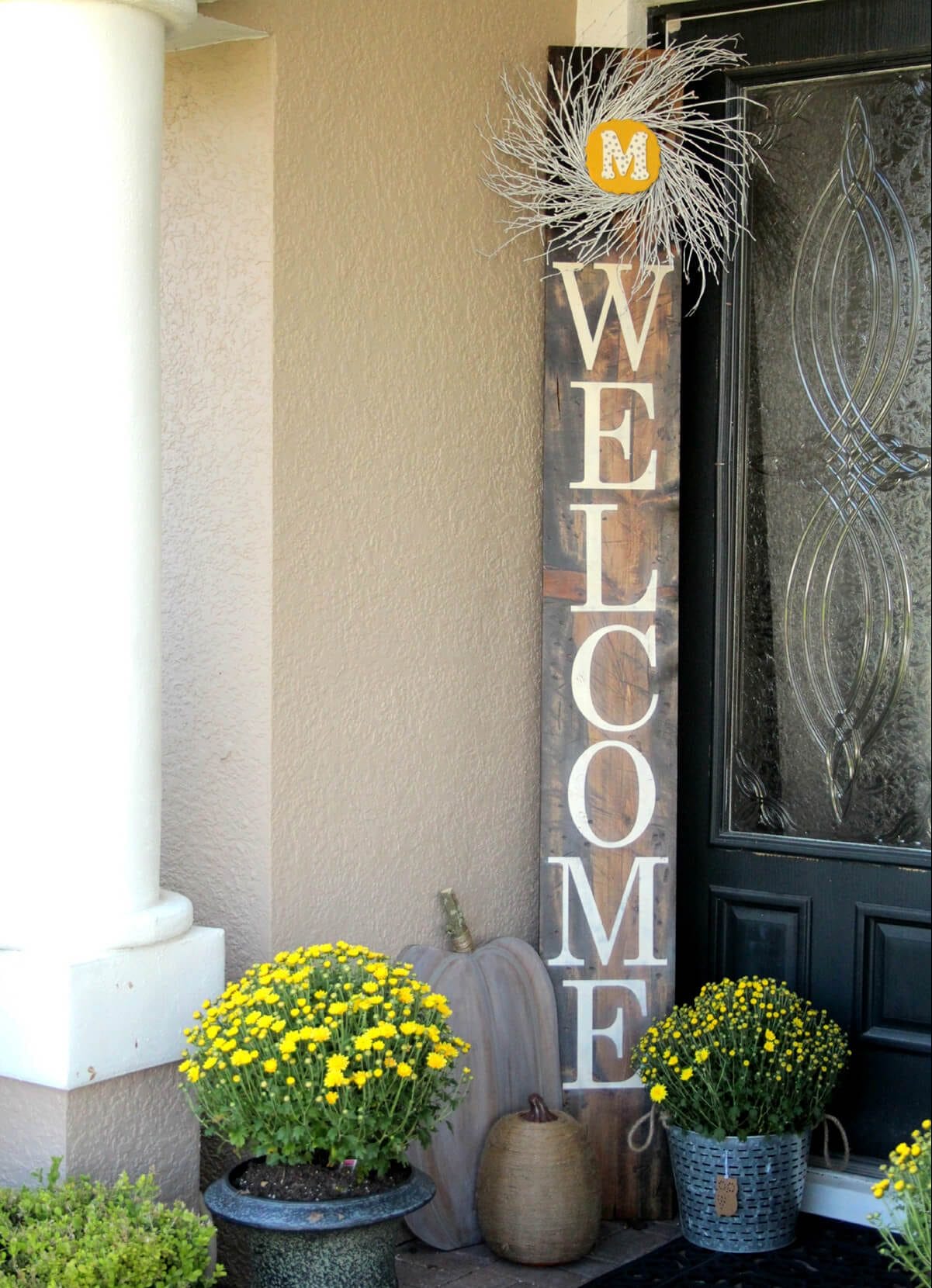 This wooden sign adds a rustic feel to the entryway. It will make your visitors feel fully welcome. Moreover, the stark white lettering and primitive wood background produce a delightful contrast.
The sign also features a monogram wreath nestling on top. It provides visual interest and delivers instant cheer to the entrance.
Furthermore, you don't need to mount this long wooden welcome sign. Just position it against your entryway wall. We guarantee the entrance will look more stunning.
3. Country Style Barn wood Welcome Sign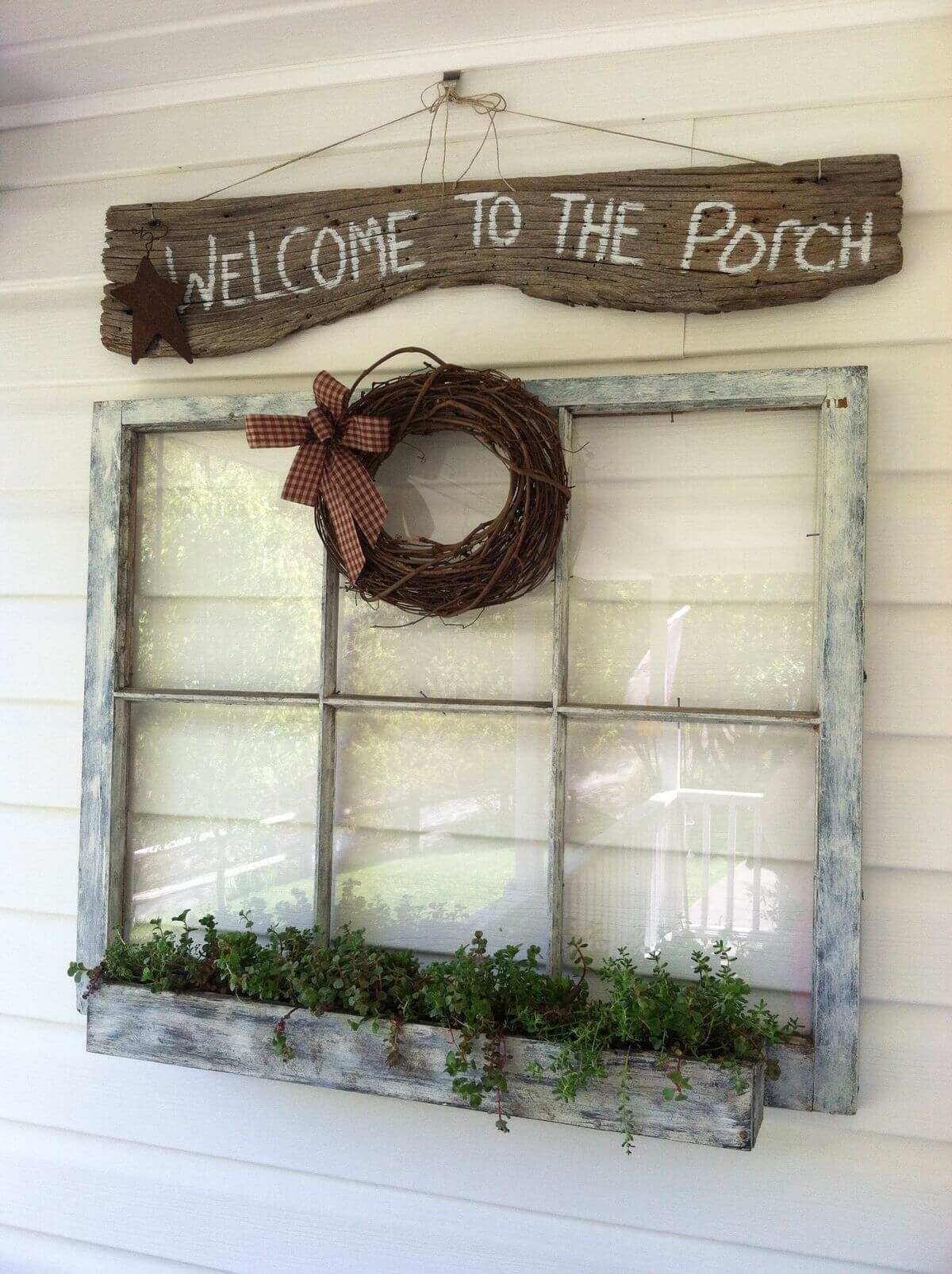 Are you on a budget? If so, this is one of the welcome sign ideas to steal. The project only requires a little paint, an old window, and upcycled barn wood.
This barn wood sign features white hand lettering. It says "welcome to the porch".
The decor infuses a country rustic charm and cozy ambiance into space, too. Moreover, the unit wears a twig wreath, plaid ribbon, and rusty barn star.
If your barn wood board is not in perfect dimensions, no worries. Make sure it is elongated as well as large enough to letter. Adding a rustic string and mounting the decor is enough for creating a statement.
4. Front Porch Welcome Sign Ideas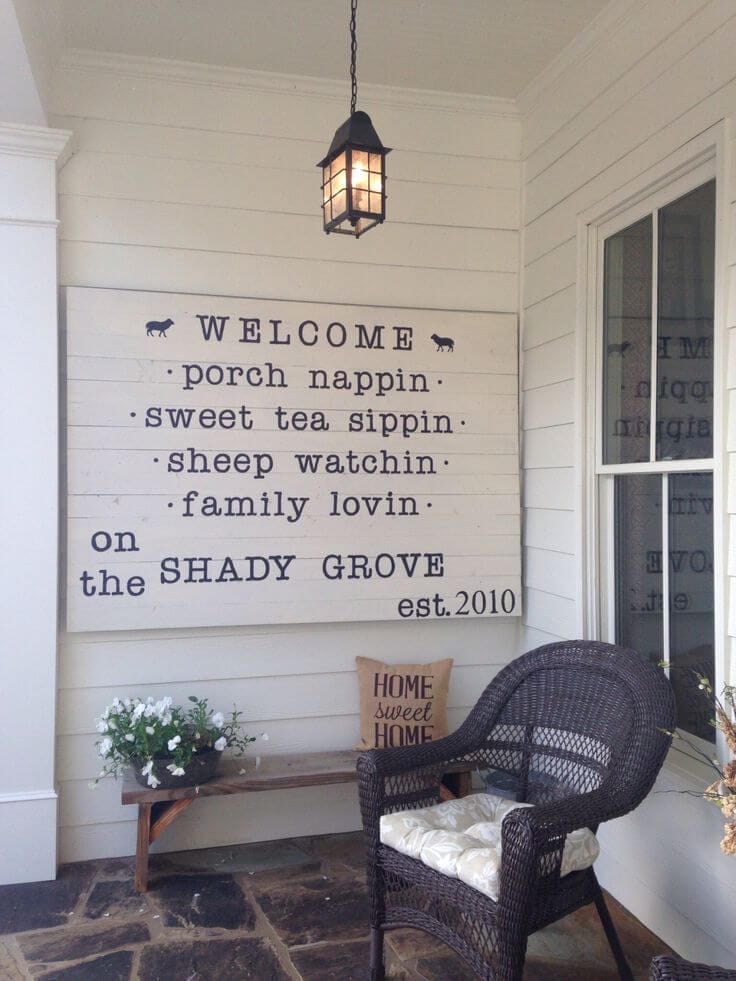 The homeowner made this DIY shiplap welcome sign using solid wood. It quickly brings farmhouse charm to the front porch. Additionally, the white background and black lettering develop a dramatic look.
You can use plain wood for this project. However, we suggest adding a faux distressing. It gives your sign dimension and personality.
This sign encourages your guests to take a nap on the porch and sip sweet tea. The wooden bench sits under it. In addition, the unit holds a burlap throw pillow and a potted houseplant.
5. Sunburst Inspired Welcome Sign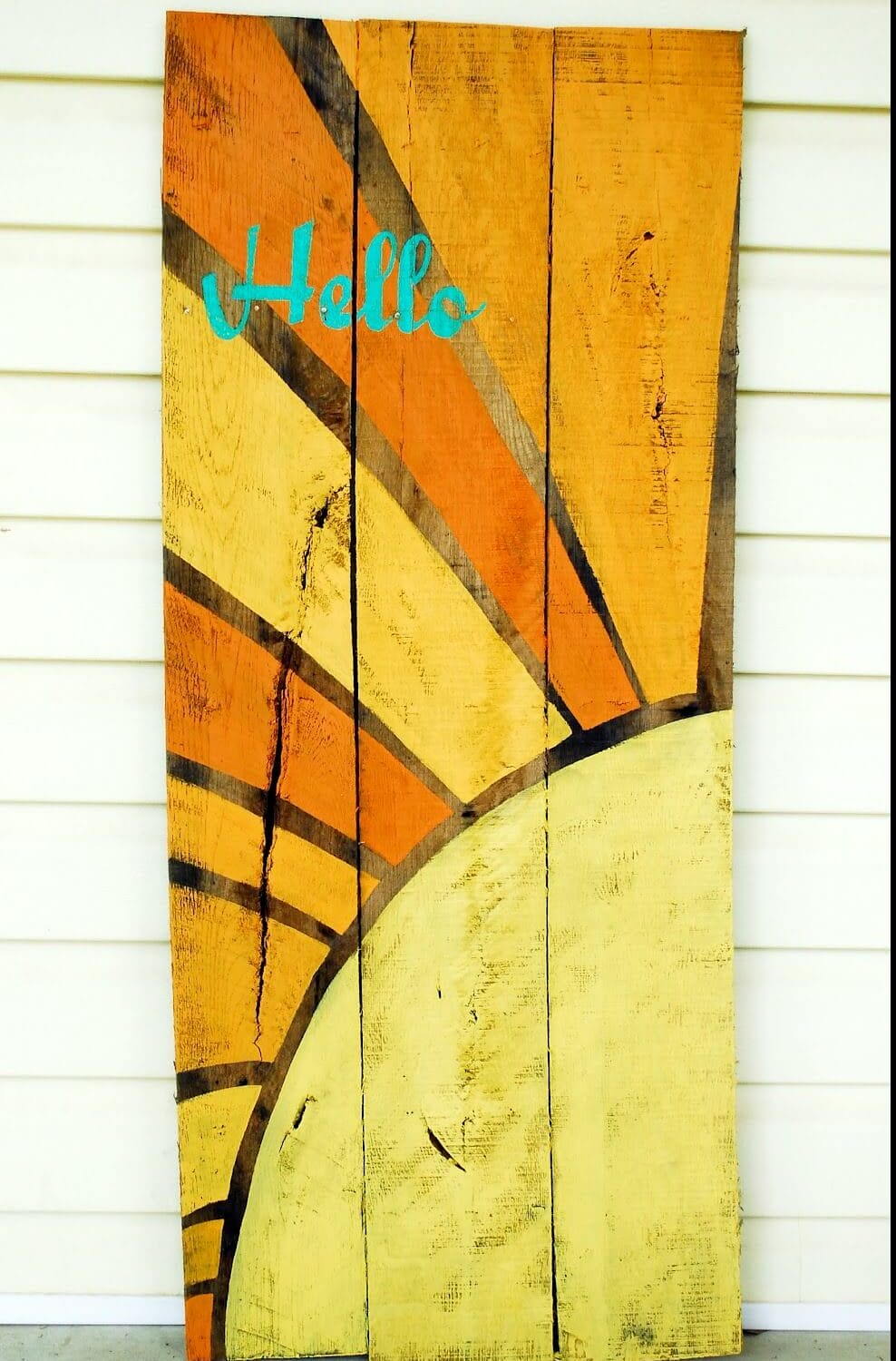 Are you a thrifter? If yes, then give this wooden welcome sign a go. It only needs paint and recycled materials. The project itself just takes a few hours.
With a little bit of creativity, you can transform scrap wood planks into a sunburst welcome sign. It is head-turning, budget-friendly, and inviting.
The blue stencil lettering will greet your visitors. Moreover, this handpainted welcome sign itself wears varying shades of yellow. They send out a happy atmosphere.
6. Welcome Sign Ideas for Fall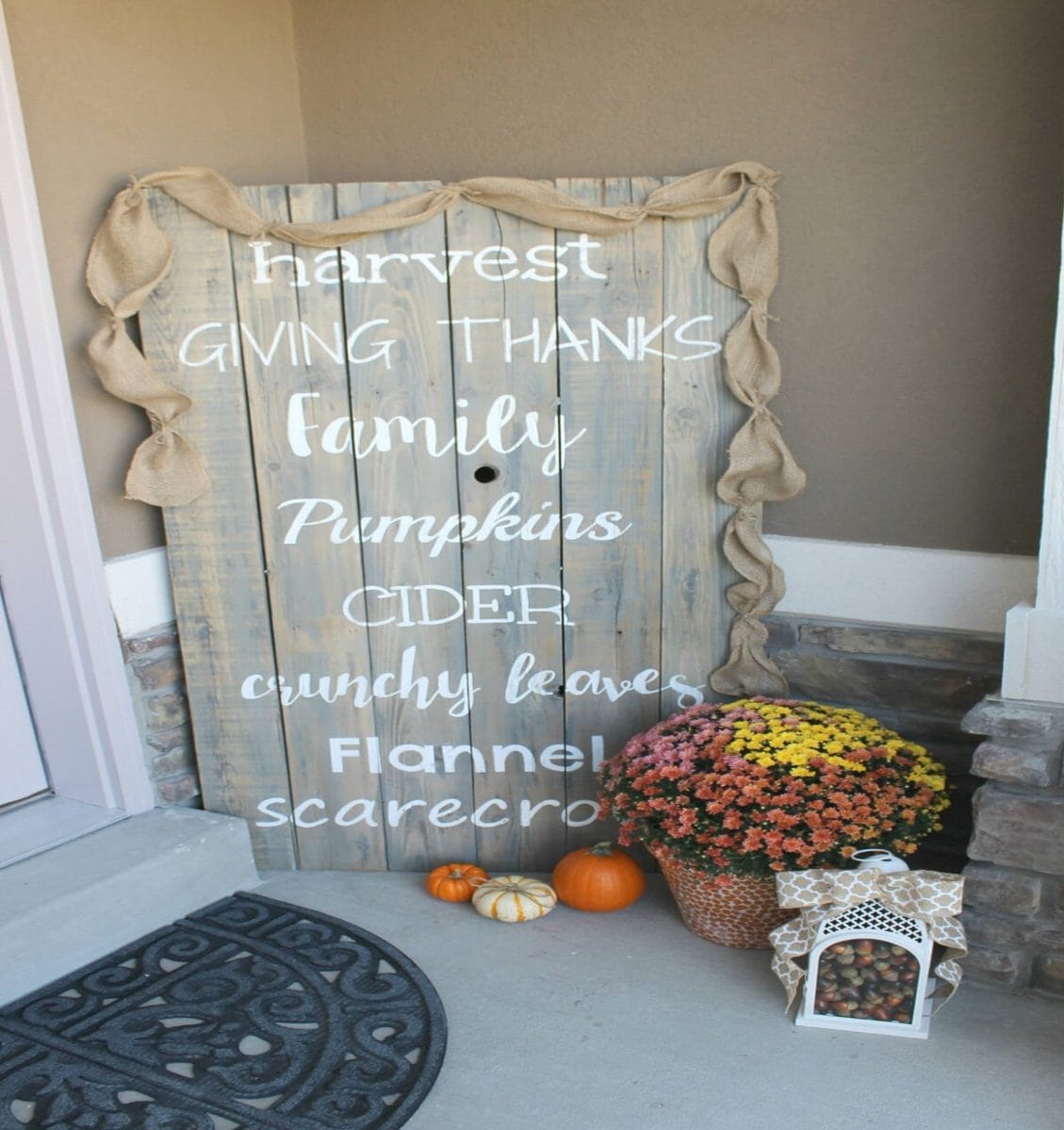 Do you have old reclaimed wood planks? If so, don't throw them out. They would make a delightful front porch sign.
Here, the wooden welcome sign reminds you to be grateful for your harvests. It also features some fall favorites such as pumpkins, scarecrow, cider, crunchy leaves, and flannel.
This handmade welcome sign carves a rustic vibe. Additionally, it blends in wonderfully with any backdrop. A unit is a perfect option for homeowners who really want something unique.
7. Tall Wooden Welcome Sign for Entryway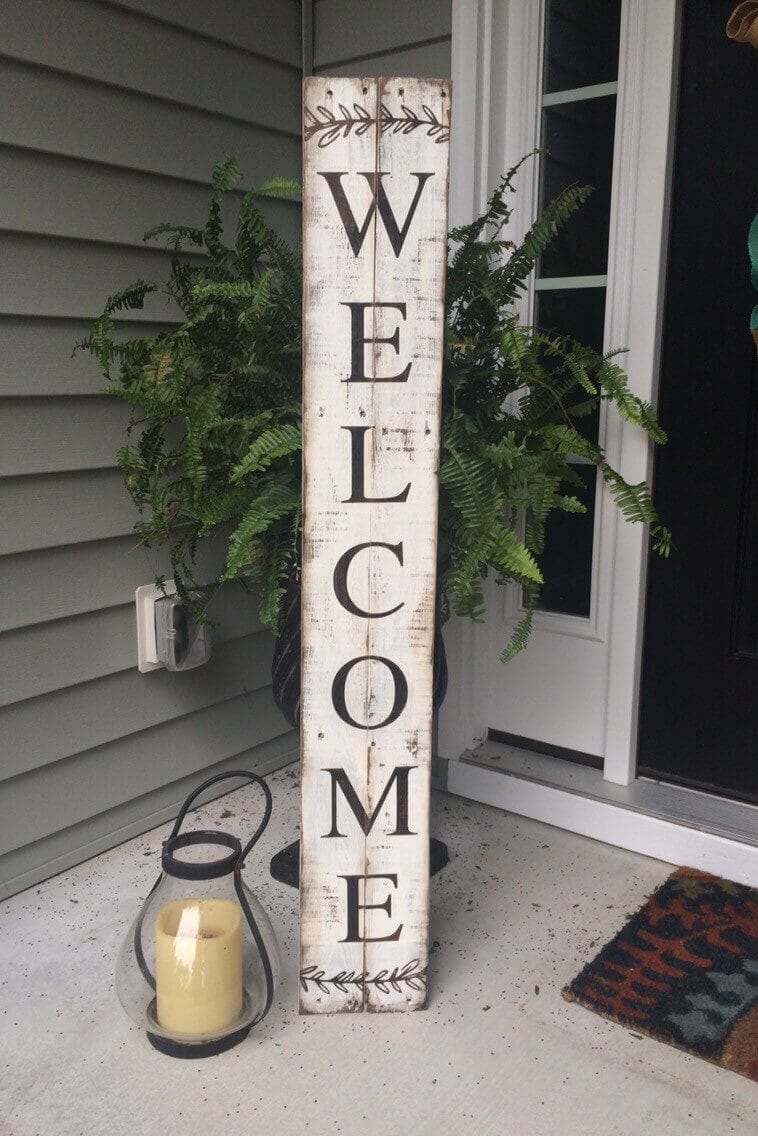 This is one of the captivating homemade welcome sign ideas. To build it, you need some nails, plywood, a little paint, and flat trim wood.
Moreover, this silhouette sign is tall and terrific. It looks magnificent in the entryway and makes your guests truly feel at home.
The distressed bright white paint contrasts tastefully with the black lettering. Meanwhile, the large fern in the pot provides a lively backdrop for it. Lastly, a candle in a farmhouse glass lantern warms the entryway up.
8. Chalkboard Welcome Sign Ideas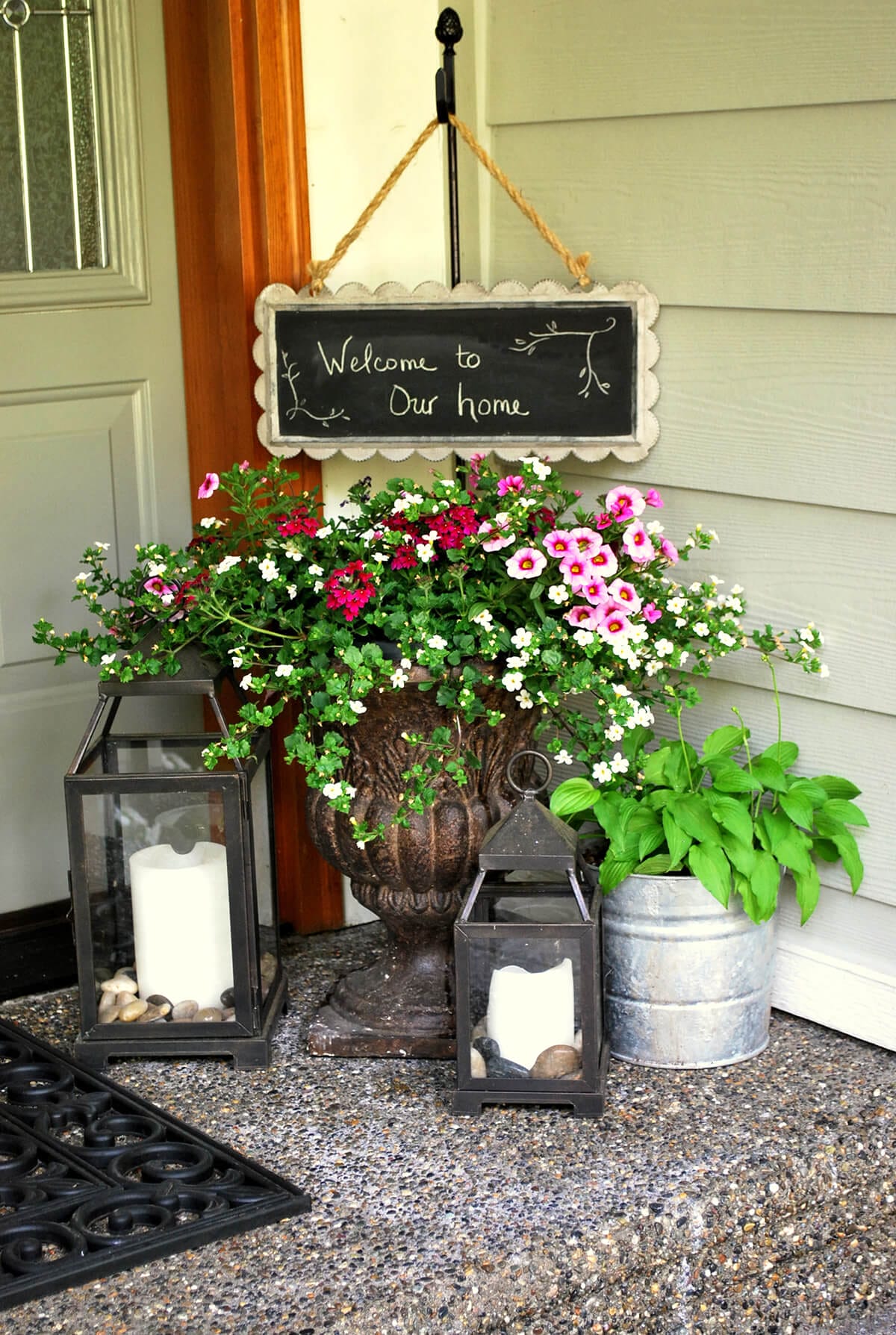 You love chalkboard welcome signs. However, the regular ones seem too bulky. If that's the case, give this hanging sign a shot. It certainly can work wonders on your front porch.
Furthermore, you might not consider this idea at first. However, hanging the sign right on your porch's corner creates a difference.
Both the fun chalkboard display and nautical rope lend a rustic feel to space. The plants and black lanterns jazz the porch up.
9. Welcome Sign with Greenery Wreath
Searching for front door welcome sign ideas? If yes, give this decor a chance. It looks marvelous against the medium-toned wood backdrop.
Moreover, this welcome sign features a boxwood wreath. The black "hello" lettering is an outstanding contrast to the crisp white background.
This wreath livens up the sign in a jiffy. The unit doesn't have any glitter and a shiny holiday-ish vibe. However, it will become a nice warm greeting.
10. Front Porch Sign Ideas with Fabric Wreath
Talking about handmade front porch signs, this one definitely deserves a try. The door with stencil lettering greets all your guests before they step into your abode.
Furthermore, this DIY entryway sign exudes Southern hospitality at its finest. The earth-toned fabric wreath looks charming against the pastel blue front door. It also makes the porch more striking.
The wooden porch sign sits fabulously on the corner. Meanwhile, the welcome doormat matches the burlap wreath. Undoubtedly, this house is really ready for guests.
11. Distressed Welcome Sign Ideas for Front Porch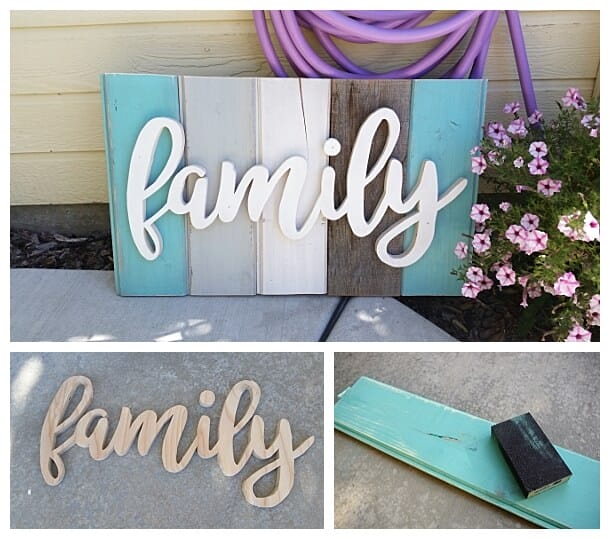 This handmade distressed wooden sign spruces up the porch instantly. The project is not only easy, but it also won't take a lot of time to complete.
To make this decor, you need some wood pallets. Then, paint them in turquoise, gray, and white. They will enhance the unit effortlessly.
Next, cut wooden letters using a laser machine. Coat the pieces with white paint and glue on your sign.
If having laser cuts seems impossible, purchase wooden letters from your local crafts store. They will give your sign a mesmerizing 3D effect.
12. Lovely Welcome Sign for Porch Seating Area
When thinking of welcome sign ideas, consider this outside wall decor. Moreover, it is simple yet significant.
This sign is suitable for minimalists. It makes an amazingly profound statement. You can perch the item on your front porch. The decor will encourage people to gather and have a catch-up.
The wooden bench and bold throw pillows make a sweet and cozy porch seating area. Meanwhile, the turquoise table accommodates a white vase full of purple flowers.
13. Autumn Wooden Welcome Sign Ideas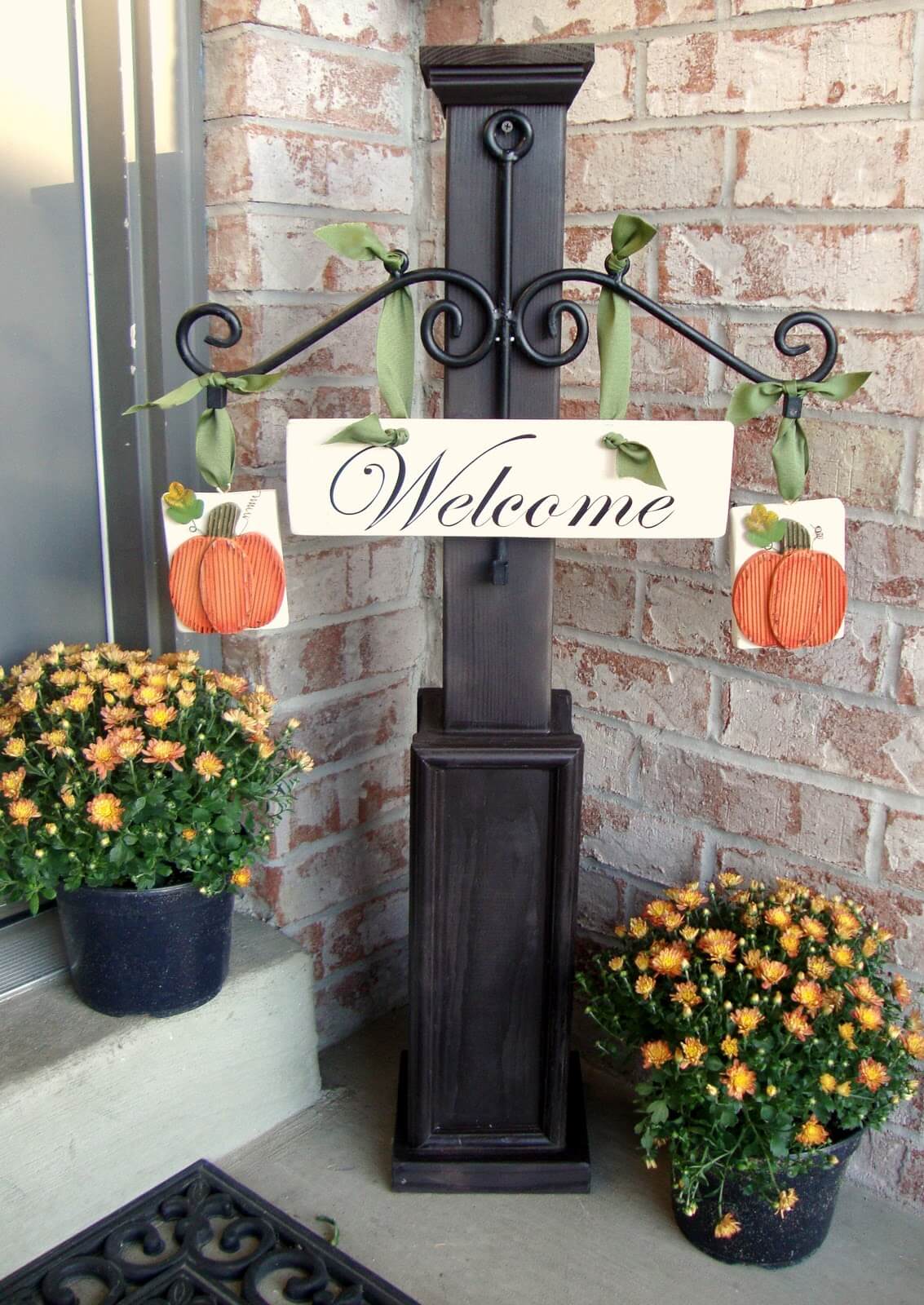 If fall is truly your favorite time of year, make this decor with vinyl lettering yourself. It partners with the vintage freestanding sign holder nicely. The whitewashed brick walls provide a wonderful backdrop for the item.
The stark white wood board and stylish black text make a remarkable porch sign. Pastel green ribbons and orange pumpkins evoke fall vibes.
This wooden welcome sign could go rustic, distressed, or plain. These three options work with fall colors very well.
14. Welcome Sign Ideas with White Picket Fence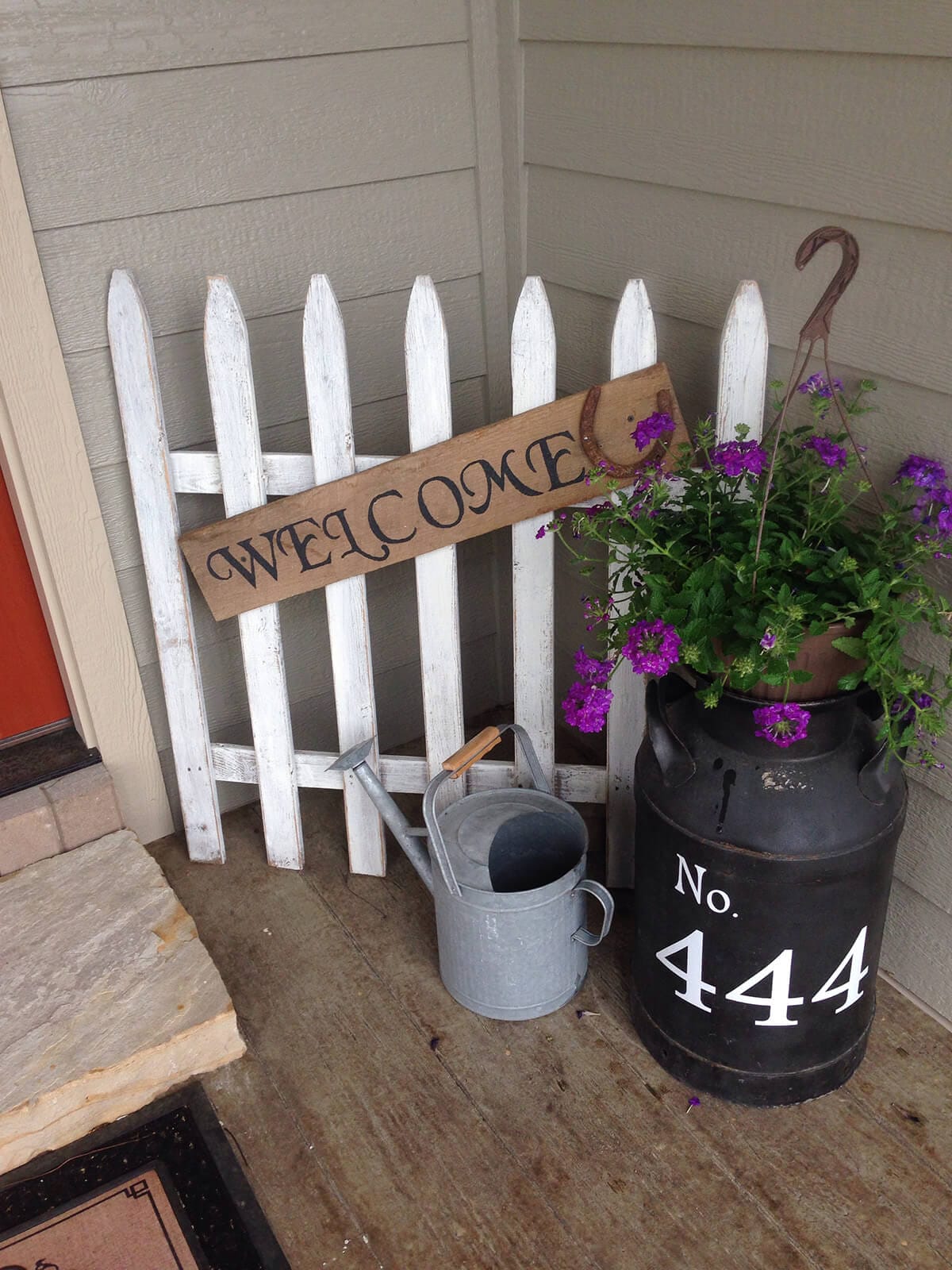 This adorable picket fence will inject an inviting vibe into your porch. It is also one of the cutest and easiest wooden signs you can create yourself. Since the decor is indoors, repainting the item is unnecessary for certain.
The natural wood welcome sign contrasts beautifully with a white picket fence. It displays striking vinyl lettering as well. Meanwhile, vintage pieces and potted flowering plants complete the porch's farmhouse look.
15. Western Turquoise and White Welcome Sign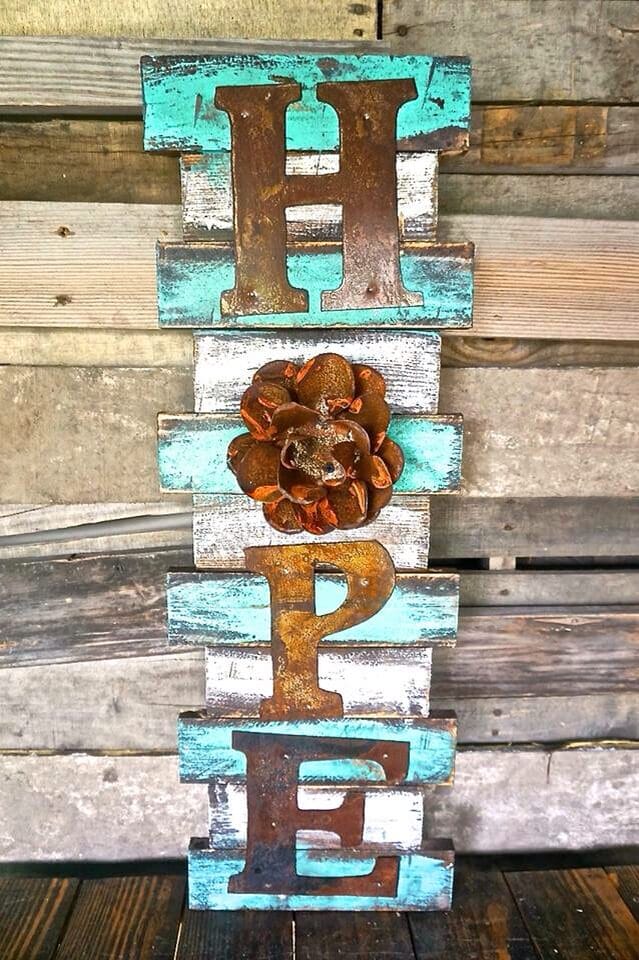 Looking for Western-style welcome sign ideas? If yes, don't hesitate to try this rustic decor.
The distressed turquoise and white paints quickly enliven the item. Since the unit utilizes recycled materials, it is definitely cost-effective.
This welcome sign stands out on its own, thanks to rusty metal letters. It also infuses Western vibes into any establishment. That means the decor would look great on the front porch.
16. DIY Welcome Sign Ideas with Chalkboard Placard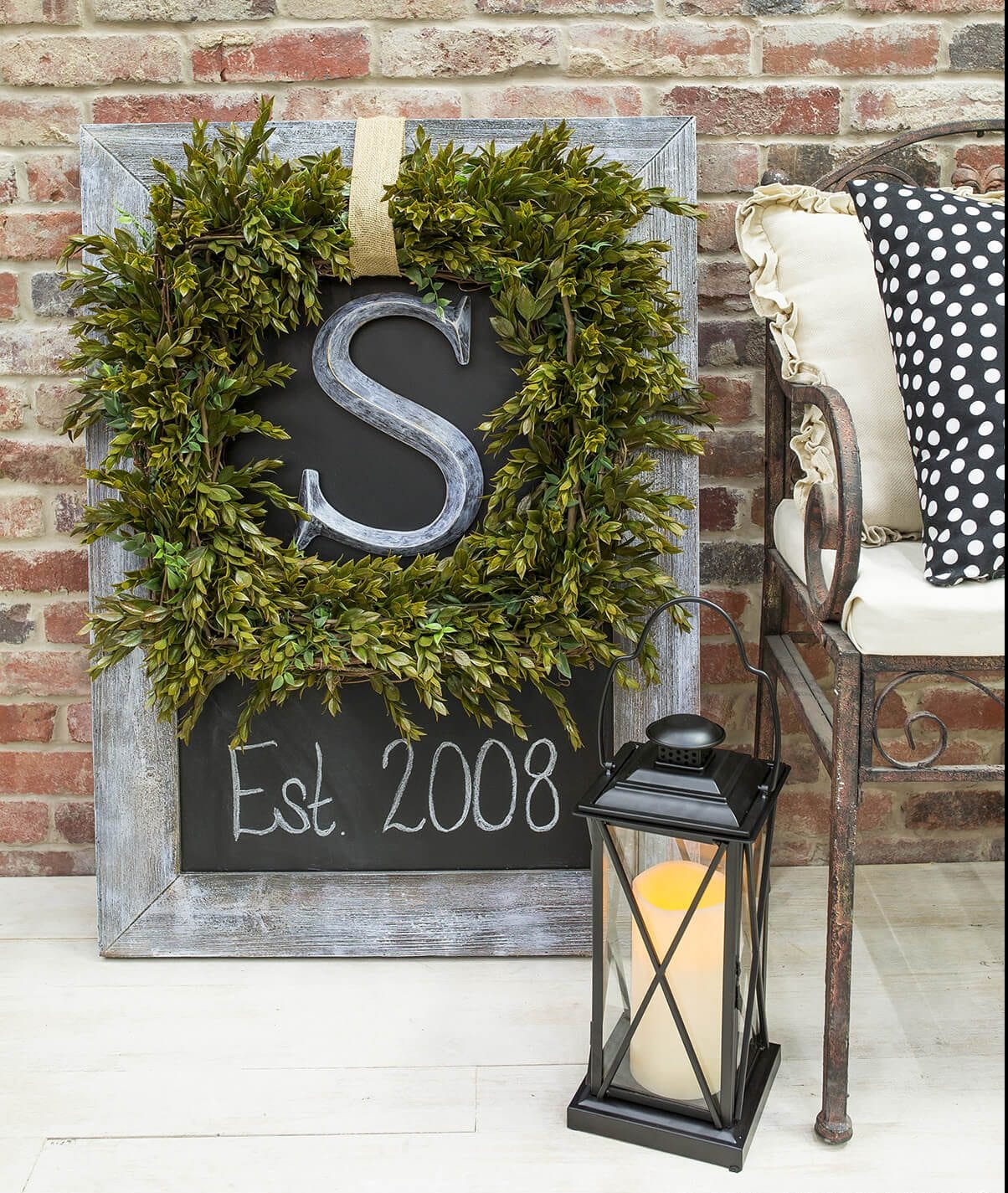 This homemade front porch sign is so enchanting. The year of establishment and family name initial give it a personal touch.
The boxwood wreath is not shiny and sparkly. However, it brings aesthetic value and elegance to any porch. We recommend placing the item in front of the chalkboard sign.
Moreover, the bold lettering catches the eye. You definitely won't find this unique sign anywhere else. Leave the decor steady in your elevated area or hang it on the wall.
17. Hanging Welcome Sign Ideas
If you want something simple for your porch, craft this hanging wooden sign. It instills a welcoming ambiance and makes visitors smile.
Furthermore, the wooden sign screams rustic charm. Nothing beats the classic way for sure. It features natural jute rope and white lettering. The unit seems like an invitation anyone cannot resist.
18. A-Frame Welcome Sign for Porch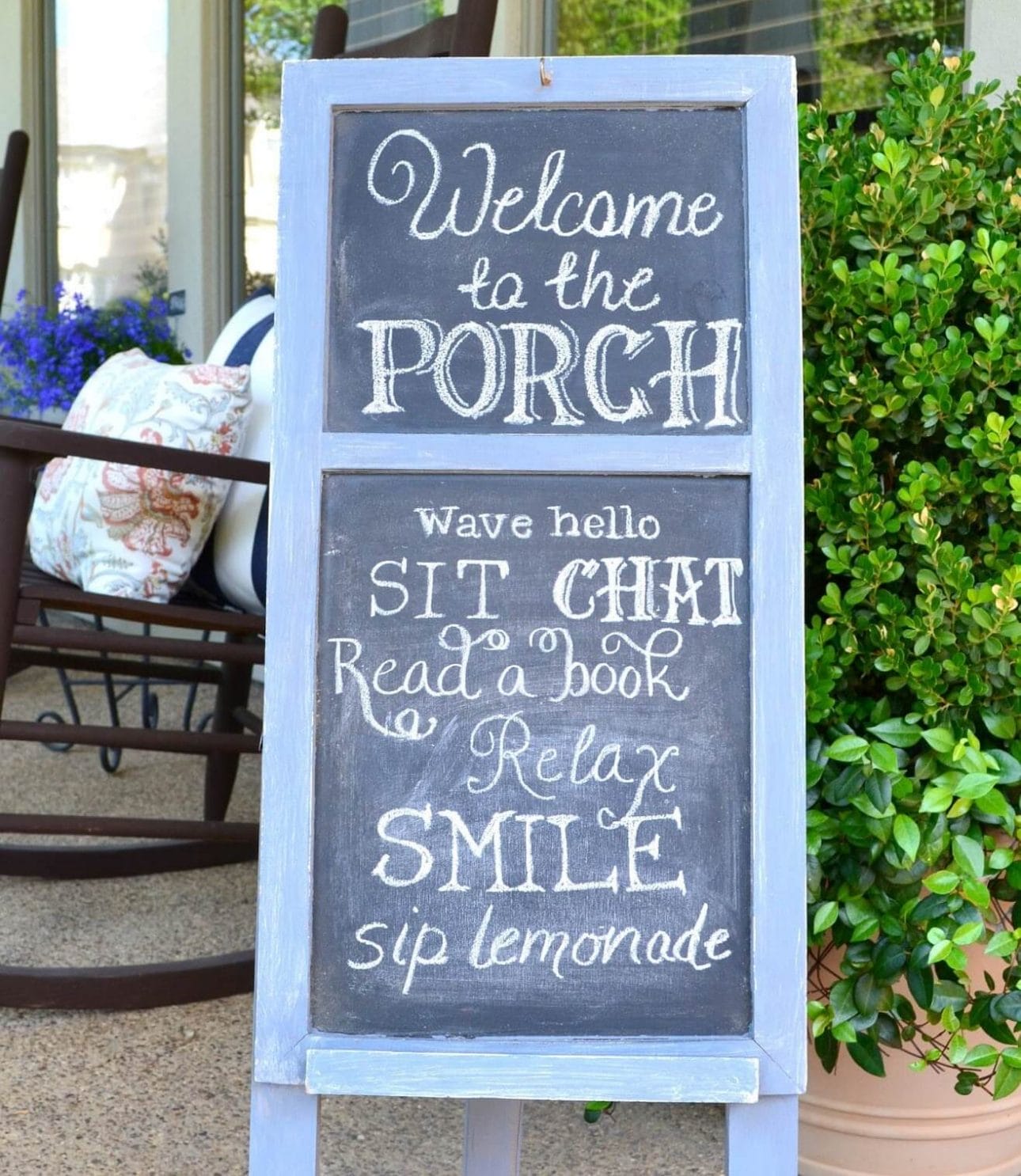 This chalkboard sign conveys frugality and practicality. It also allows your visitors to know some front porch rules.
Moreover, this sign is ideal for an enticing family as well as friends to gather especially during summer and spring outings. It sends out sweet messages. The item boasts creative lettering, too.
19. Framed Chalkboard Welcome Sign Ideas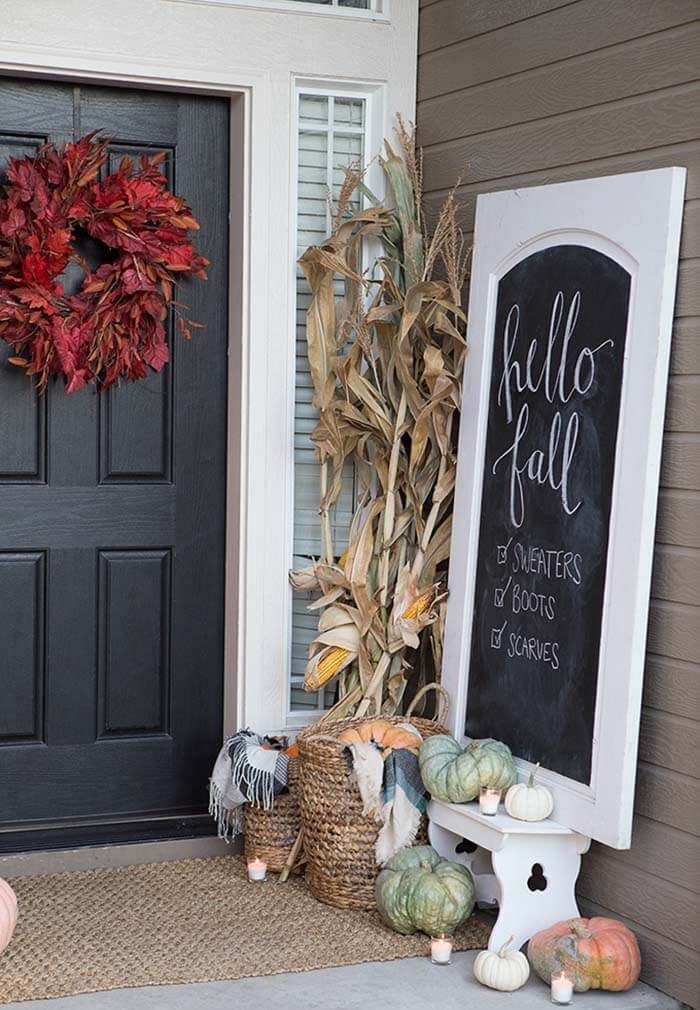 We love this fall entrance framed welcome sign. It lets you bring your old chalkboard back to life. The unit ensures that your guests wear scarves, boots, and sweaters.
This chalkboard welcome sign is low-maintenance and budget-friendly. The dried corn stalks and pumpkins carry fall vibes to the entryway in no time.
20. Antique Porch Welcome Sign
Talking about welcome sign ideas, give this wall hanging a try. It reinsures the front porch with a vintage appeal.
Antique welcome signs won't go out of trend. The handmade vintage wood will definitely make your front porch completely ready for any season.
21. Playful Front Porch Welcome Sign Ideas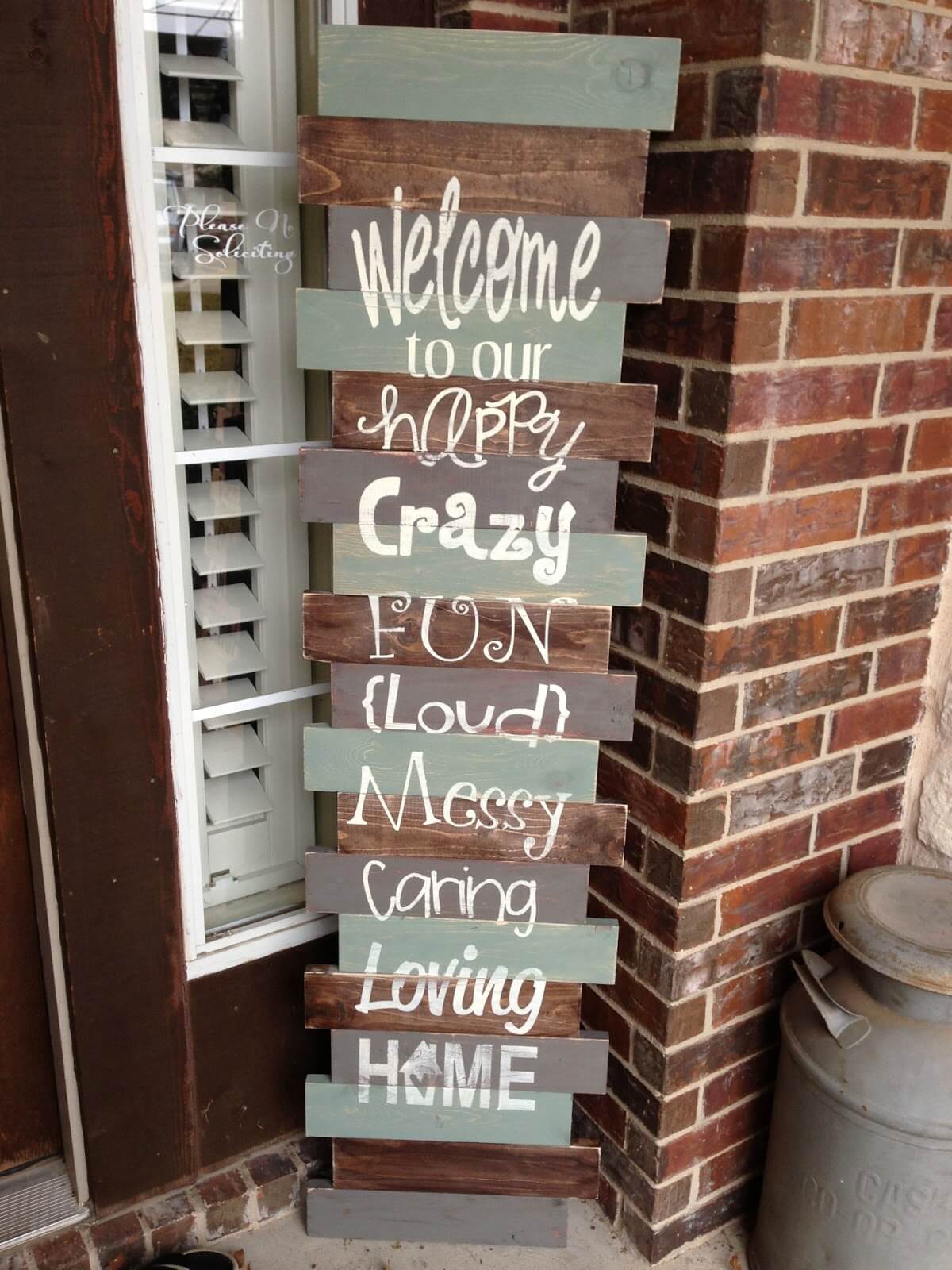 We love this front porch welcome sign's dimension. It boasts a natural wood tone and varying gray shades. No surprise, the unit instantly steals the show.
The wood scraps come in different sizes. They lend character to the sign and instill a playful ambiance. Meanwhile, white lettering produces a whimsical look.
22. Welcome Sign with Laser Cut Letters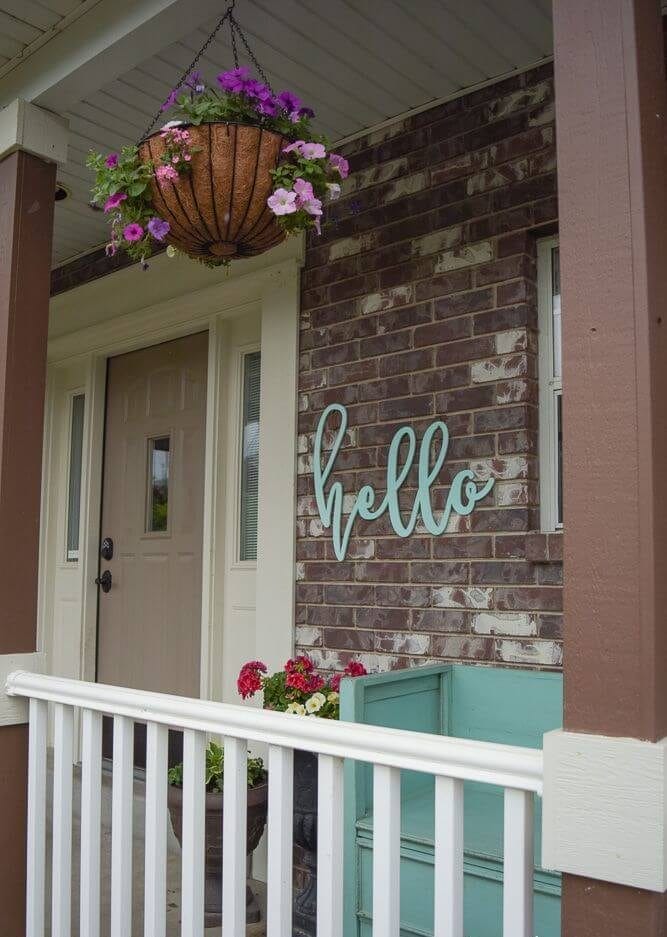 Laser cuts are typically a bit too expensive. However, this is the easiest way of getting your message across.
With this wooden laser cut welcoming sign, you don't have to make a backdrop. Simply choose a color and yours is ready to hang. The decor will make your porch a total standout.
23. Welcoming Sign Ideas with Recycled Window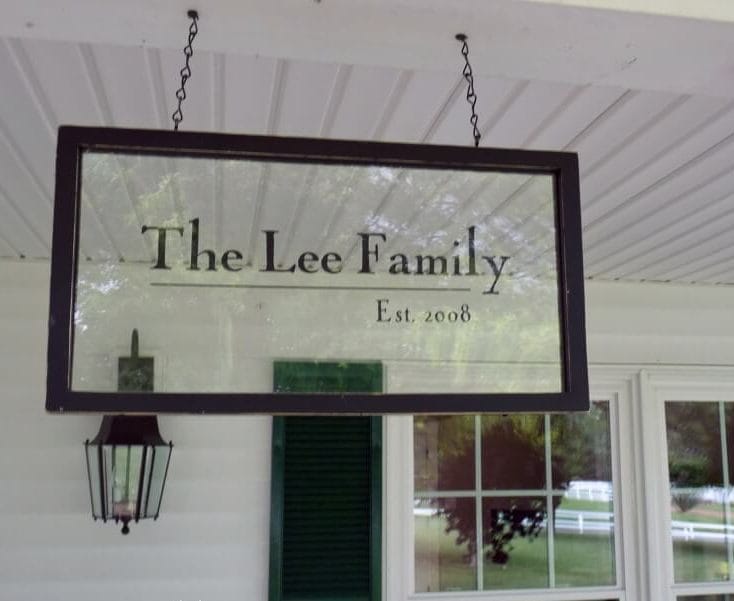 Convert your old window into a gorgeous hanging sign. It can give your space aesthetic value. Be sure you add black vinyl letters and metal chains to the unit.
Position this sign inside the house to motivate you every day. Another option is to hang it outside to display your place's name.
24. Fall Leaf Welcome Sign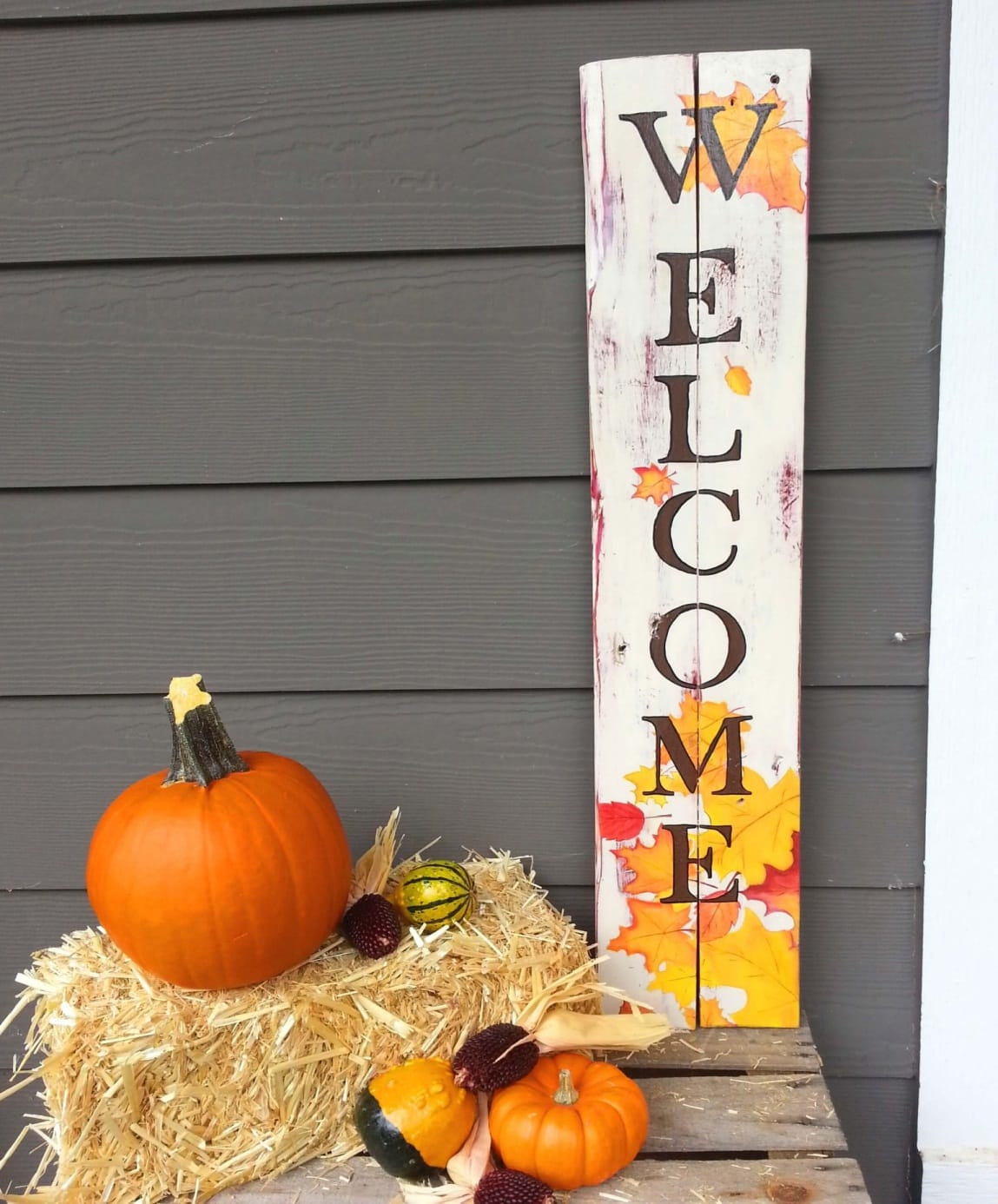 This is another cool welcome sign for the autumn. It requires skill painting and two wood planks. The unit boasts warm-toned fall leaves, too.
Moreover, this sign welcomes the autumn season the right way. The hay and pumpkins round it out perfectly.
25. Rustic Shutter Welcome Sign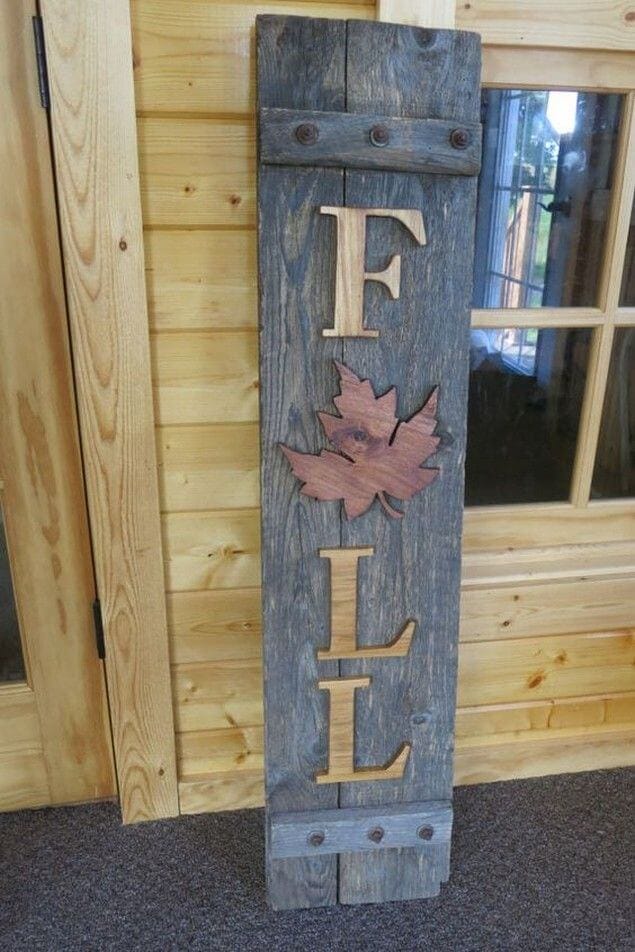 If you have a wooden shutter, turn it into a rustic fall themed sign. Feel free to use any reclaimed wood piece.
This recycled shutter welcome sign features cut out letters. They give it a dramatic effect. We suggest coating them with fall colors. However, you could leave the decor alone in its primitive shade.
There you have it, easy handmade welcome sign ideas. Before creating one for your abode, don't forget to plan everything out. We guarantee the item will make the home more splendid and inviting.