Bedrooms are our comfort zones. They allow us to spend quality time with ourselves. But, choosing the right color palette is challenging. If you need some inspiration, scroll through these golden and white bedroom ideas.
Furthermore, every white and gold bedroom is such a beauty. It will certainly lend a glamorous touch to your home.
For sure, anything with golden accents would look sophisticated, regardless of how simple space is.
You might have seen white and golden bathrooms or kitchens. The gold accents surely give them a visual impact. This time, we're going to discover some luxurious and beautiful sleeping spaces.
There are many awesome ways to decorate with gold. You can use it as main bedroom colors or subtle additions. Either way, your space will look incredible.
Here are our striking collection of white and golden bedroom designs.
1. Golden and White Bedroom with Geometric Wallpaper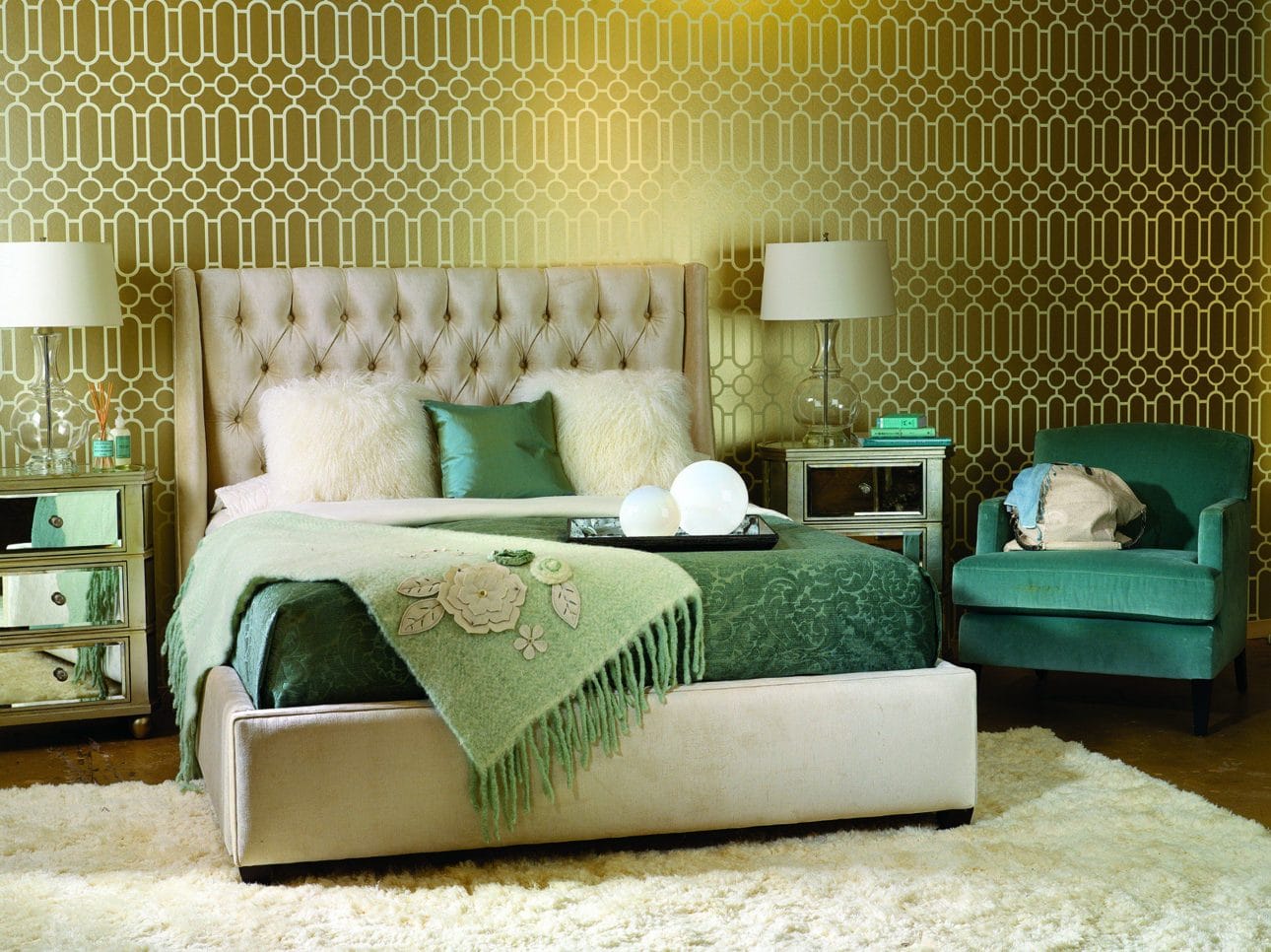 This master suite bedroom boasts golden geometric wallpaper. It delivers a modern flair and a sophisticated feel to space. Meanwhile, two silver nightstands give the area an extra touch of glamor.
Furthermore, an off-white area rug, tufted headboard, shag throw pillows, table lamps create an elegant look. They also balance out gold and silver accents nicely.
The armchair, small throw pillow, bedsheet, and blanket wear varying shades of green. They stand out against the gold background. Moreover, the units reinsure the bedroom with panache and liveliness.
2. Contemporary Golden and White Bedroom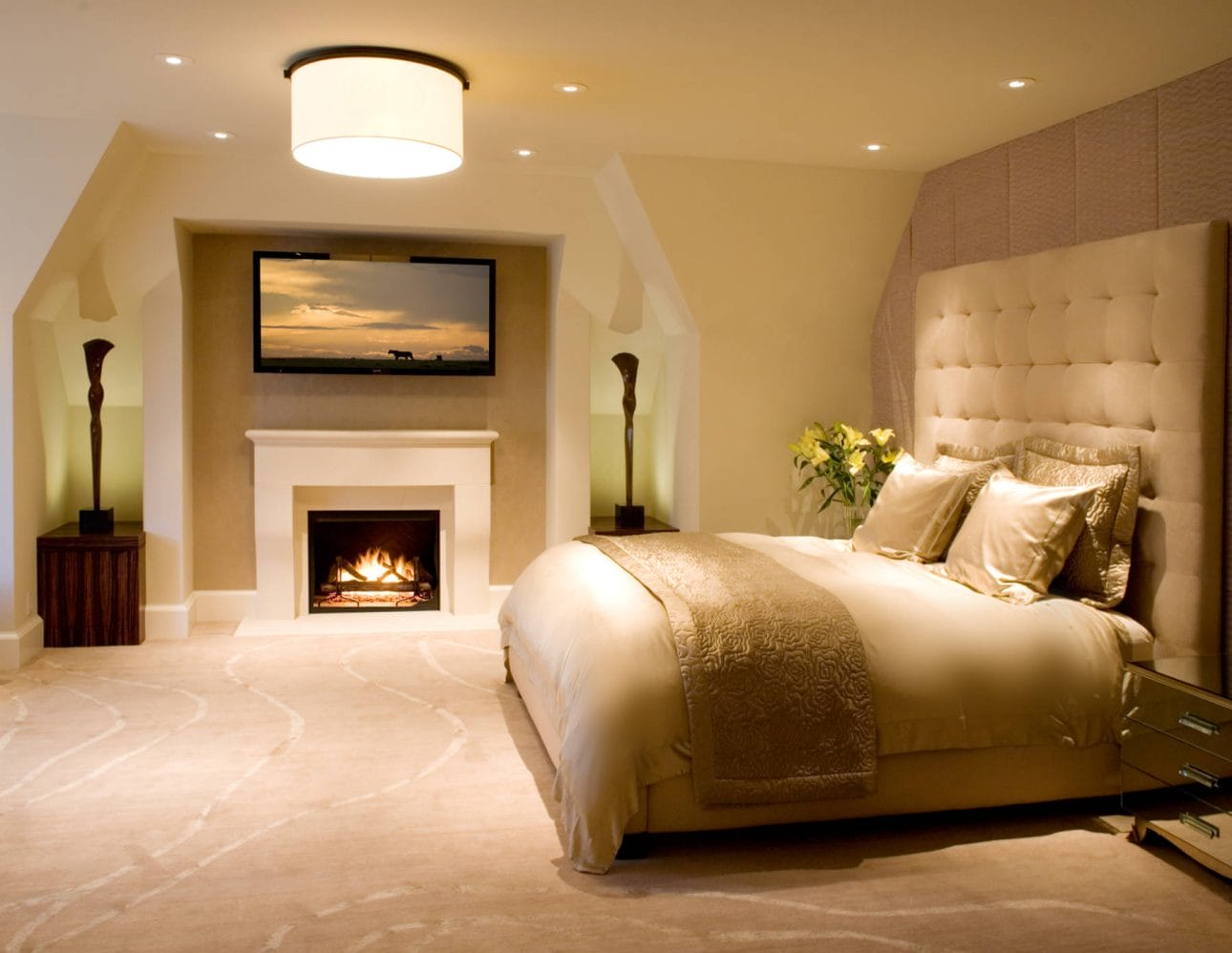 We really admire this contemporary bedroom. Just take a closer look at the bed. Both blanket and throw pillows come in gold. They instantly deliver beauty and luxury to the sleepy space.
Beige carpet, tufted headboard, and accent wall produce a tranquil ambiance. Additionally, they partner perfectly with gold pieces. Flush mount ceiling light and downlights illuminate the room at night.
Metallic nightstands feature drawers. Not only do they hold personal items but also infuse an industrial flair into space. Wooden bedside tables, painting, white fireplace, and slim sculptures offer a visual balance.
3. White and Gold Bedroom with Decorative Mirrors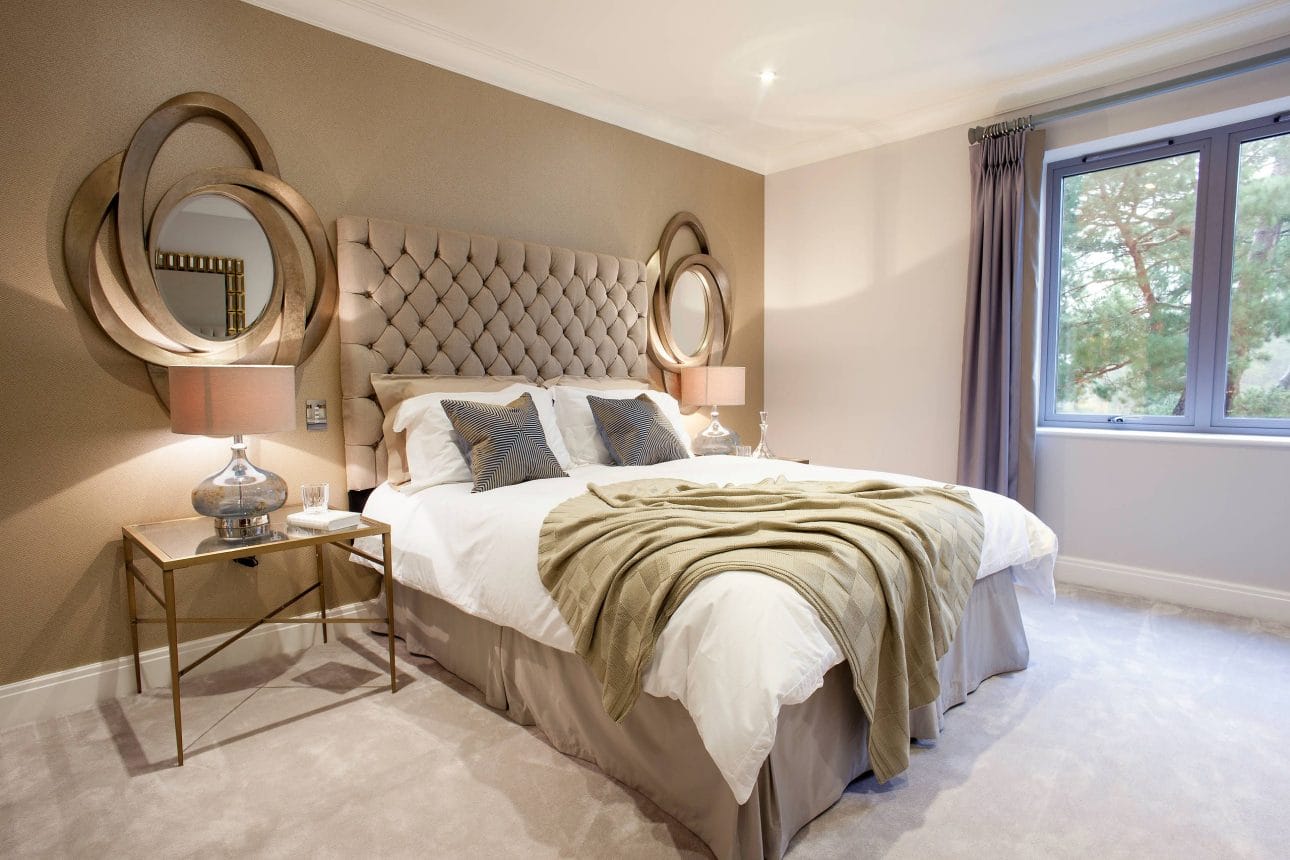 Well, this bedroom may look simple. However, gold mirrors lend ornate details and a sumptuous atmosphere to space. Meanwhile, silver metallic bedside tables bring extra glamor to the interior.
Mustard yellow and pale gray walls produce a striking contrast. White ceiling, throw pillows, moldings, and bedsheet open up the room. Windows fill the bedroom with lots of natural light.
Curtains and smaller throw pillows sport different gray shades. They add dimension to space. Beige, cream, and taupe also come together in this bedroom. Those warm tones exhibit a serene vibe.
4. Traditional Golden and White Bedroom Ideas
This traditional style bedroom is ravishing. The carpet and walls showcase marvelous patterns. They give the sleepy space visual interest. Black sideboard and nightstands infuse drama into the area.
Gold ceiling, chandelier, and mirrors make the room more elegant. In an instant, they generate a lavish appearance. The table lamps and round mirrors lend the space symmetrical balance.
Moreover, the end bench carries versatility as well as added style to the bedroom. Floral ceramic jar and throw pillows jazz the space up.
5. White and Golden Bedroom with Plants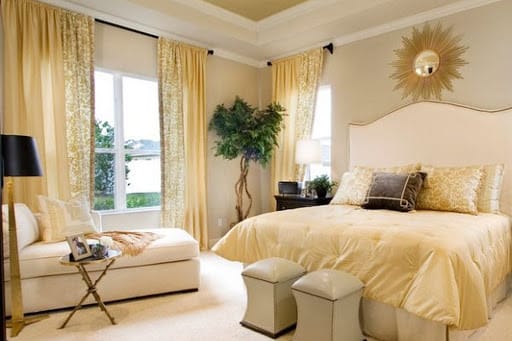 Searching for chic golden and white bedroom ideas? If so, apply this design. In this example, golds wrap the space, from sunburst mirror to floor lamp. The curtains wear the same color. They send out an opulent feel.
Light taupe walls and off white carpet assert a sense of serenity. The chaise lounge sofa and stools provide ultra-comfy seating areas.
Furthermore, a white headboard allows throw pillows to shine. Black accents make a statement effortlessly, while plants enliven the sleepy space.
6. Golden and White Bedroom Ideas for Teenage Girls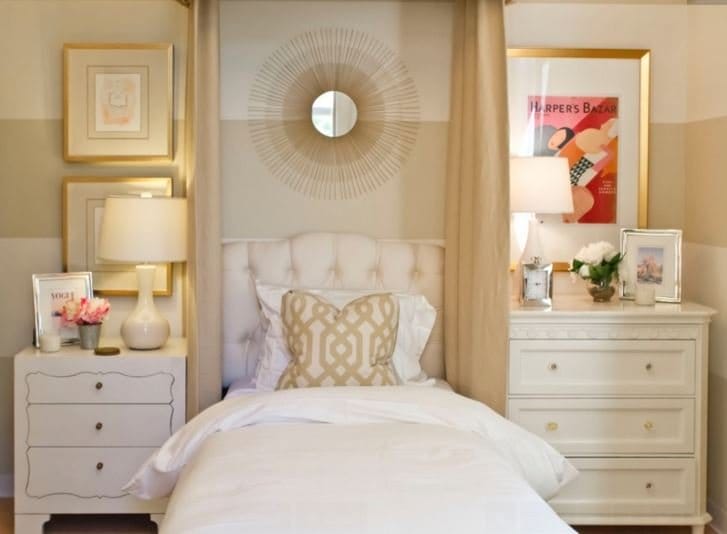 Without a doubt, this bedroom is perfect for catching the zzz's. We guarantee any teen girl cannot say no to it.
Striped walls carry a touch of fun to the sleepy space. The tufted headboard and canopy bed evoke a regal feel.
The works of art on the wall steal the spotlight. Their golden frames develop an opulent look. Meanwhile, silver accents raise up the bedroom's sophistication. A small sunburst mirror is just pretty.
Mismatched nightstands and table lamps produce an inimitable bedroom. Flowers perk the interior up. What a splendid hideout! This is surely one of the captivating princess bedrooms.
7. Golden and White Bedroom in French Country Style
We admire this French country bedroom. It is stunning, graceful, and sumptuous at once. The pale taupe carpet, light gray wall, and white floral bedding exude a sense of gentleness.
Moreover, a golden chandelier, bed frame, table lamps, and artworks glorify the sleepy space. Mustard yellow accent walls and curtains develop a bold impression without overwhelming the room.
Wooden nightstands feature drawers with rustic metal handles. They keep any small personal items in place. The floral rug injects pops of color into the space, while curved back armchair exhibits a French country charm.
8. Grand Bedroom with Gold Accents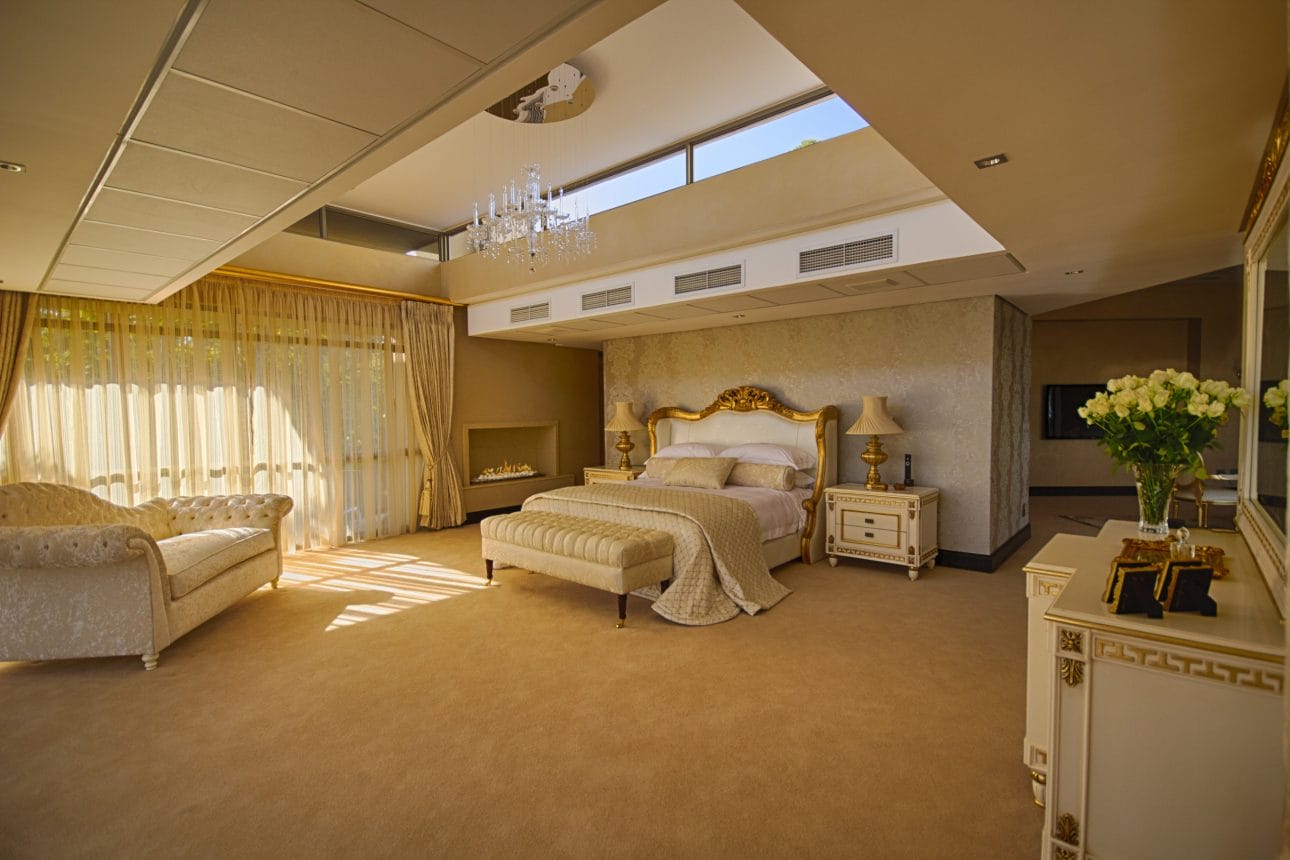 This is one of the large golden and white bedroom ideas to try. The furniture pieces boast gold trimmings. They make the space more gorgeous and sophisticated.
Moreover, tufted sofa, bench, area carpet, and curtains showcase different yellow shades. They keep the bedroom from becoming flat. The clerestory windows allow daylight to get inside the sleepy space.
Crystal chandelier lends a royal atmosphere to the area. Yellow flowers breathe life into the interior, while bedding creates a unified look.
We believe you as well as your spouse feels like king and queen in this bedroom.
9. Inviting Golden and White Bedroom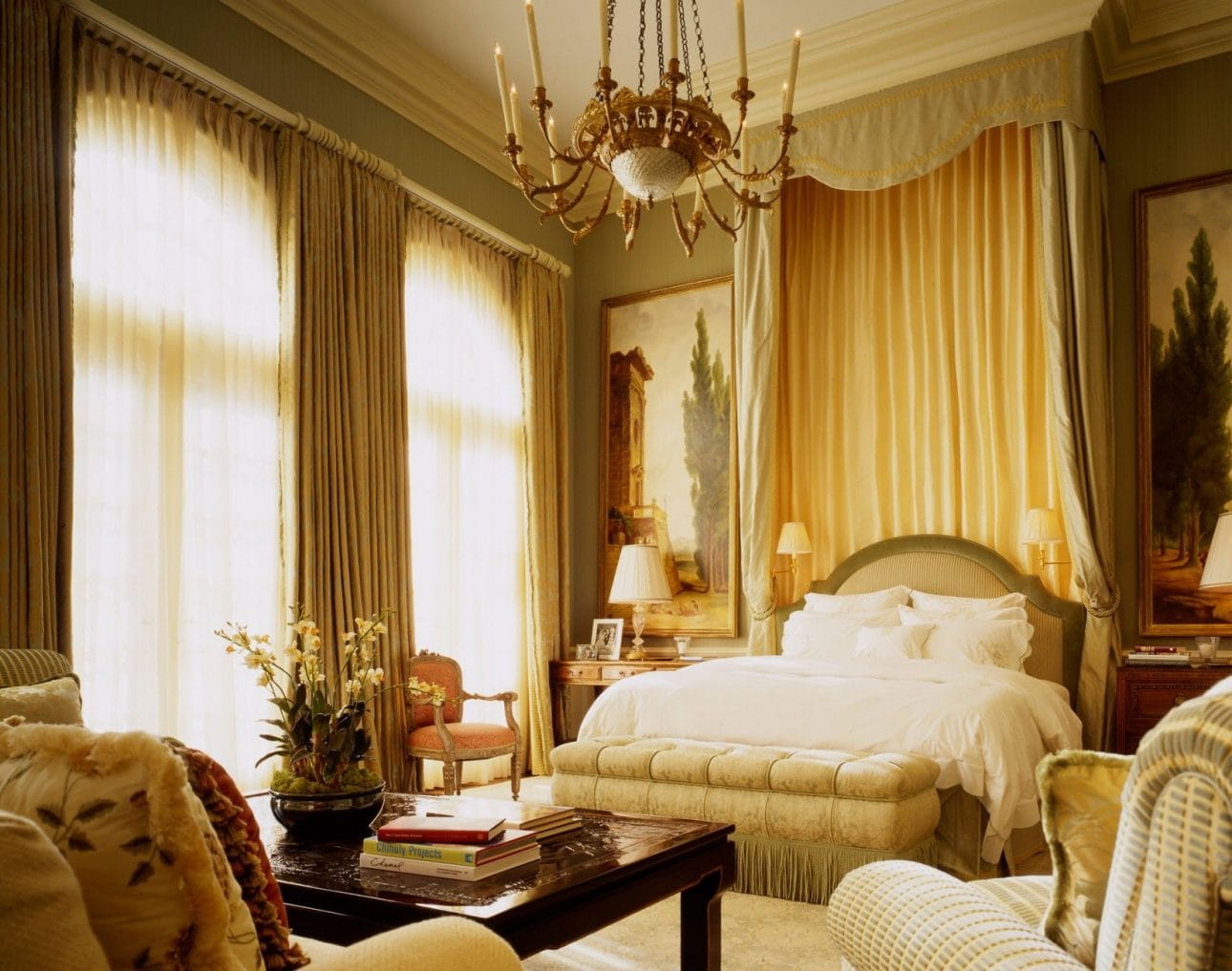 This is certainly one classic golden and white bedroom that we like the most.
The bed canopy, chandelier, painting frames, and curtains wear varying shades of gold. They quickly lend the sleepy space a new dimension and a classy look.
Light moss green walls give off a peaceful atmosphere. Crisp white ceiling and bedding balance out gold elements. The bedside table and nightstand accommodate table lamps as well as photos.
The armchair, bench, and sofa chairs provide ample seating capacity. Meanwhile, black rectangular table holds vase and books.
10. Golden and White Bedroom with Floral Patterns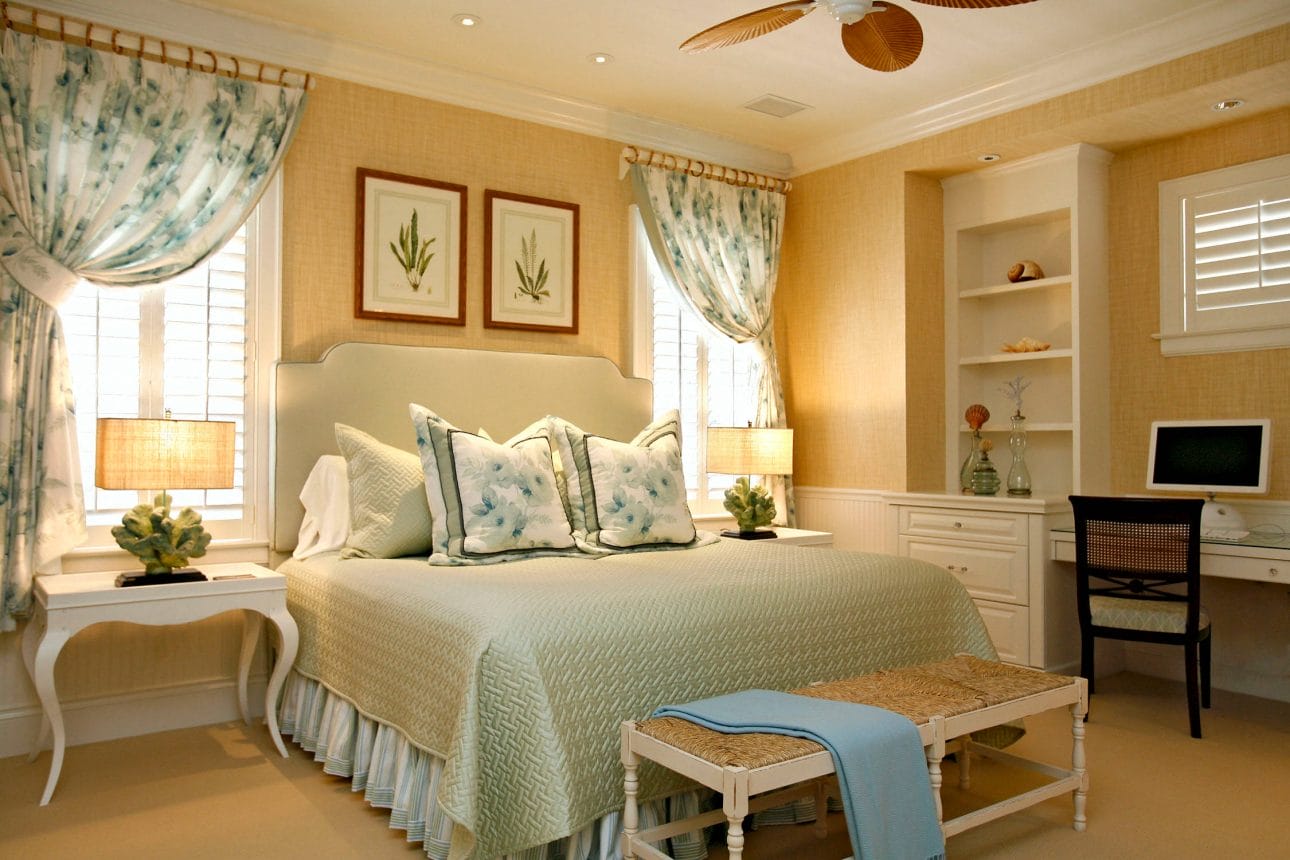 No one does not love golden walls. They reinsure the sleepy space with unmatched elegance and glamour. That's why we believe you really adore this bedroom.
The white headboard, ceiling, window shutters, and bedside tables make space airier. They enlarge the bedroom visually too. The open shelves and built-in cabinet house ornamental pieces.
Furthermore, a golden ceiling light catches the eye in a jiffy. Light green comforter and throw pillows set a calm ambiance. Blue blanket freshens up the room.
Floral throw pillows and curtains bring a visual appeal to a space. Framed art prints, end bench, and coral table lamps enhance the room.
11. Magnificent Golden and White Bedroom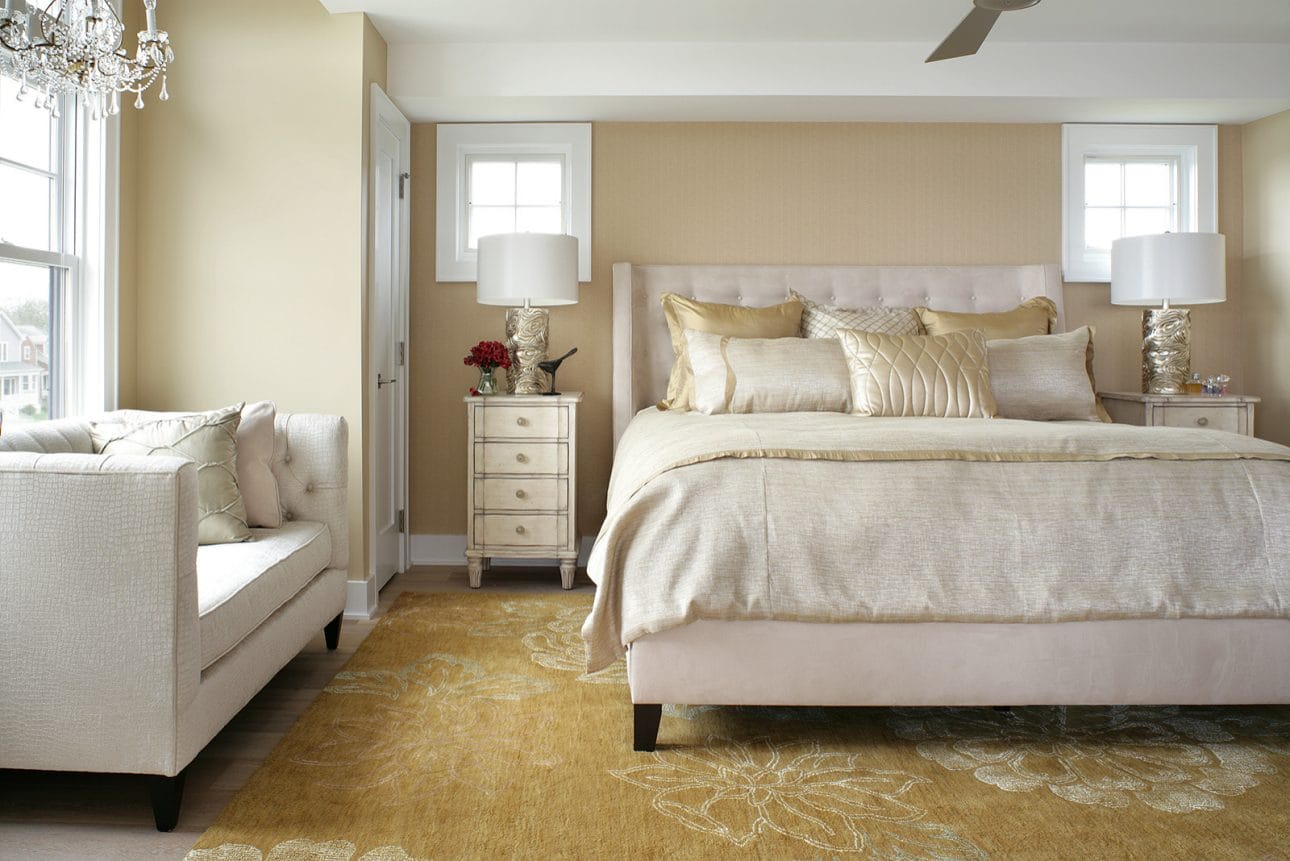 This bedroom is beyond captivating. It features a golden floral area rug and throws pillows. They carve an extravagant look instantly. Cream and beige walls make the homeowner feel soothed.
The tufted headboard, nightstands, and table lamps bring grandeur to the gray bedroom. Windows let natural light enter the sleepy space. Meanwhile, the crystal chandelier lends the interior a touch of royalty.
White bed, ceiling, and window frames highlight gold units. This bedroom is definitely a perfect blend of vintage power and golden glory. The result is gorgeous to any onlookers.
12. Gray and White Bedroom with Gold Ceiling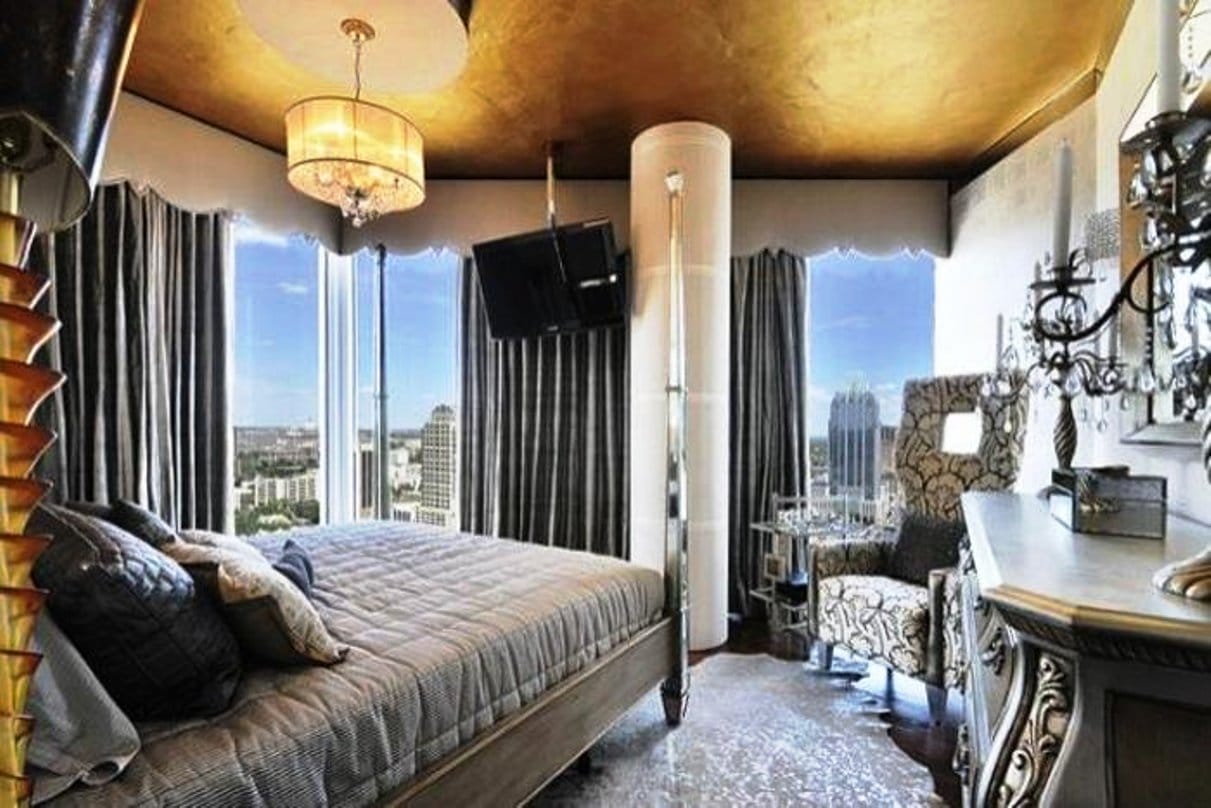 If you are not into gold-painted walls, take inspiration from this golden and white bedroom. Here, white and gray are the primary colors of the space. They send out an airy ambiance and a masculine feel.
Gold ceiling and floor lamp imbue the bedroom with sophistication. High back chair, sideboard, and candle holders lend intricate details to the interior. Meanwhile, mirrored four-poster bed carves a modern glam look.
Black accents infuse a bit of drama into space. The big windows let you enjoy jaw-dropping city views.
13. Cozy Golden and White Bedroom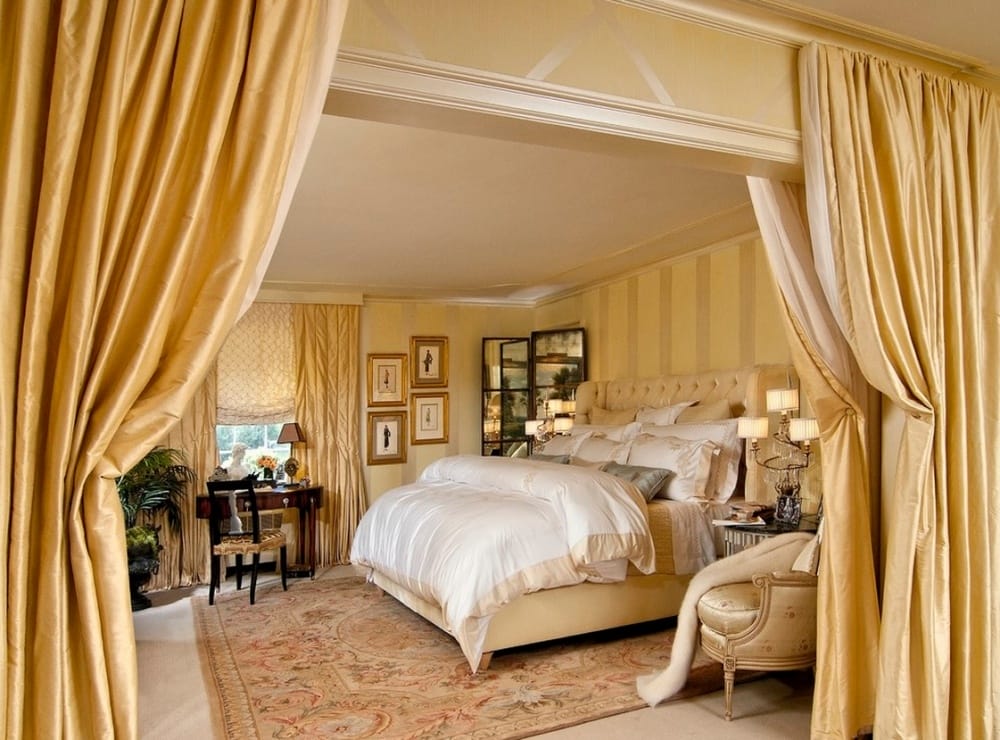 Incorporating varying gold tones into your bedroom could be an excellent idea. Here, curtains, comforter, armchair, and picture frames are obviously of different colors. They add a visual dimension to the interior.
The white ceiling keeps the bedroom feeling light. The table lamps and nightstands make space look both luxurious and elegant. Striped walls allow the golden framed artworks to be centerpieces.
Moreover, a king-sized bed conveys a sense of royal intimacy. The French country area rug tops beige carpet.
Meanwhile, potted houseplants prevent the space from being lifeless. Don't you want to sleep in this bedroom all day?
14. Golden and White Bedroom with Tufted Furnitures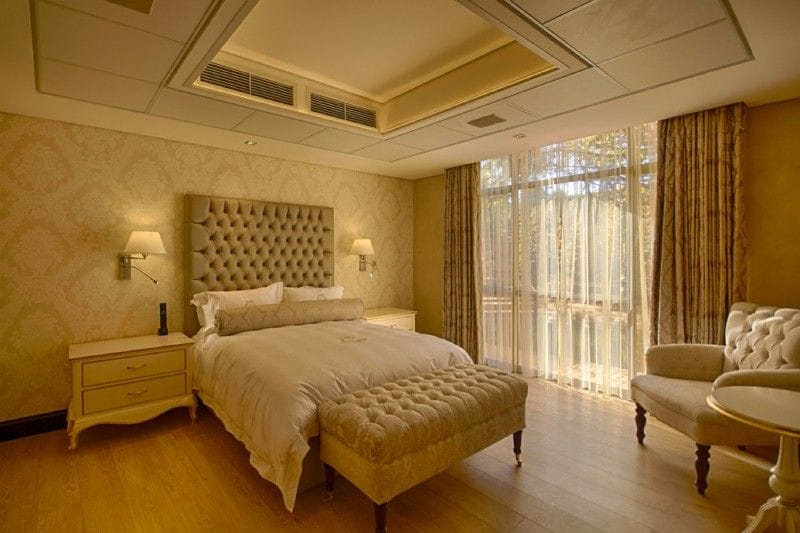 If you love all things gold, try this idea. The golden velvet bench, curtains, wall sconces, and drawer pulls give the bedroom a sophisticated look. Meanwhile, the wood floor instantly sets a homey ambiance.
Furthermore, tufted furniture units lend a classic appeal to the sleepy space. The tray ceiling makes the bedroom more stylish.
White comforter, ceiling, and throw pillow keep golden elements from overwhelming the bedroom. Sheer curtains add function as well as elegance to the interior.
15. White Bedroom with Golden Bench
Searching for modern golden and white bedroom ideas? Try this design. The four-poster bed, table lamps, and side tables make the sleepy space trendy.
Moreover, this space features a golden velvet bench. Even though the unit is not large, it changes the whole bedroom's look. Yellow curtains liven up the area.
Pure white ceiling, table lamps, and walls scream openness. Gray wall hanging, comforter, and throw pillows set a serene vibe.
16. Black, Golden, and White Bedroom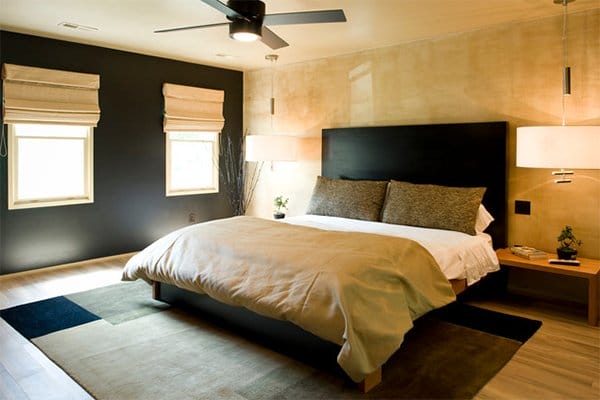 Talking about the interior design world, black and gold is such a powerful combination. Those two colors are truly bold. Furthermore, they ooze a strong appeal in no time.
In this case, the bedsheet and walls sport some gold hints. They create a sunny ambiance and classy appearance at once. The black headboard, wall, and area rug lend a good dose of drama to the interior.
17. Golden and White Bedroom Ideas with Vintage Items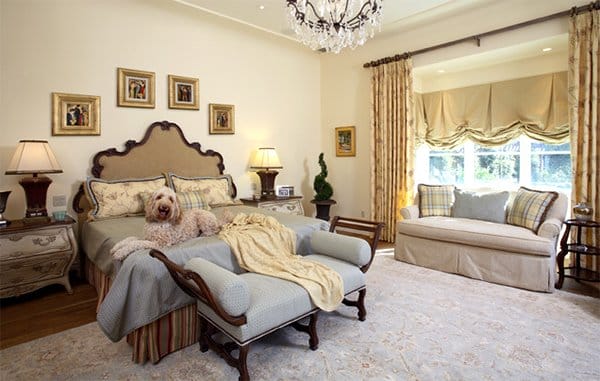 We guarantee you love this European French style bedroom. The off white two-seater sofa and walls make the homeowner feel calm.
Furthermore, the headboard, bench, table lamps, and nightstands generate a vintage flavor. Golden picture frames add beautiful grace to the bedroom.
The floral area rug delivers a cozy atmosphere to the sleepy space. The black and white crystal chandelier illuminates the room magnificently. Throw pillows tie the interior together.
18. White Bedroom with Golden Floral Wallpaper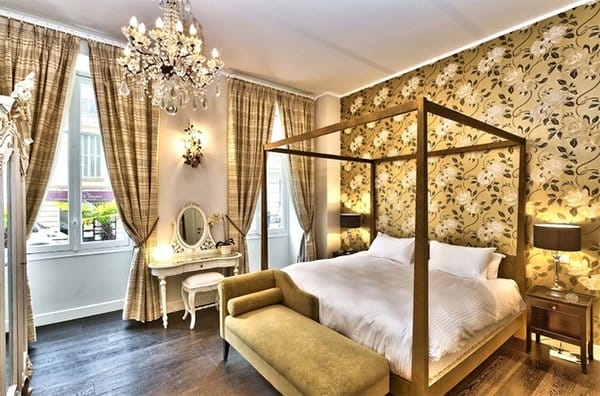 This golden and white bedroom is so dazzling. Windows let the homeowner enjoy fabulous outside views. The wooden floor develops an inviting scene. A crystal chandelier and wall sconce light up space at night.
The golden wallpaper boasts floral patterns. While the bench, four-poster bed, and nightstands have gold hints. They give the bedroom a glamorous ambiance.
Patterned curtains dress up plain windows. Stool and makeup vanity lends a regal look to the bedroom instantly. White ceiling and bedding balance golden elements out.
19. Blue, Golden, and White Bedroom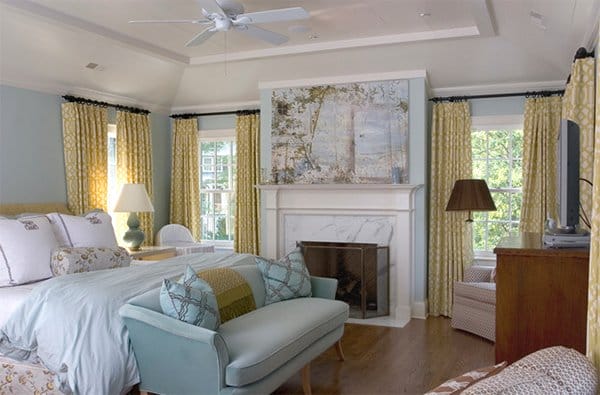 Gold is not the main player of this bedroom, but the color makes a big difference.
Here, golden patterned curtains bring more charm to space. They inject a contemporary flair into the area, while painting adorns the wall.
Light blue two-seater sofa, comforter, walls, and throw pillows exude spring vibes. They exhibit a light feeling.
A marble fireplace gives the bedroom an unmatched luxury. The wood floor sends out a warm atmosphere.
20. White and Gold Bedroom Set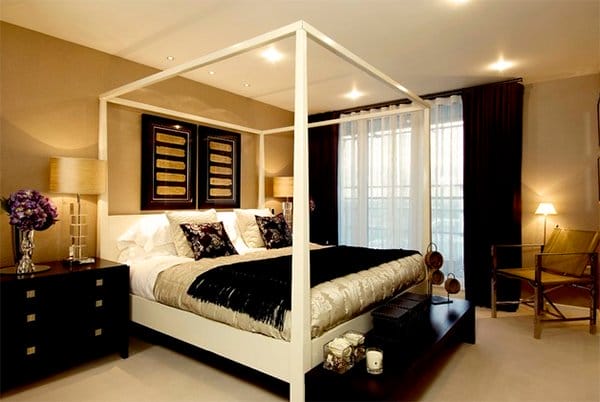 We are in love with this master bedroom. The smart use of black, white, and gold is undoubtedly timeless.
Furthermore, the color combination is stunning. Here, the golden wall, comforter, pillows, and table lamps produce a lavish look.
The white ceiling and four-poster bed open up the sleepy space. Meanwhile, black furniture set, blanket, and curtains ooze drama as well as sophistication. Floral throw pillows and wall hangings unify the interior.
21. Brown, Golden, and White Bedroom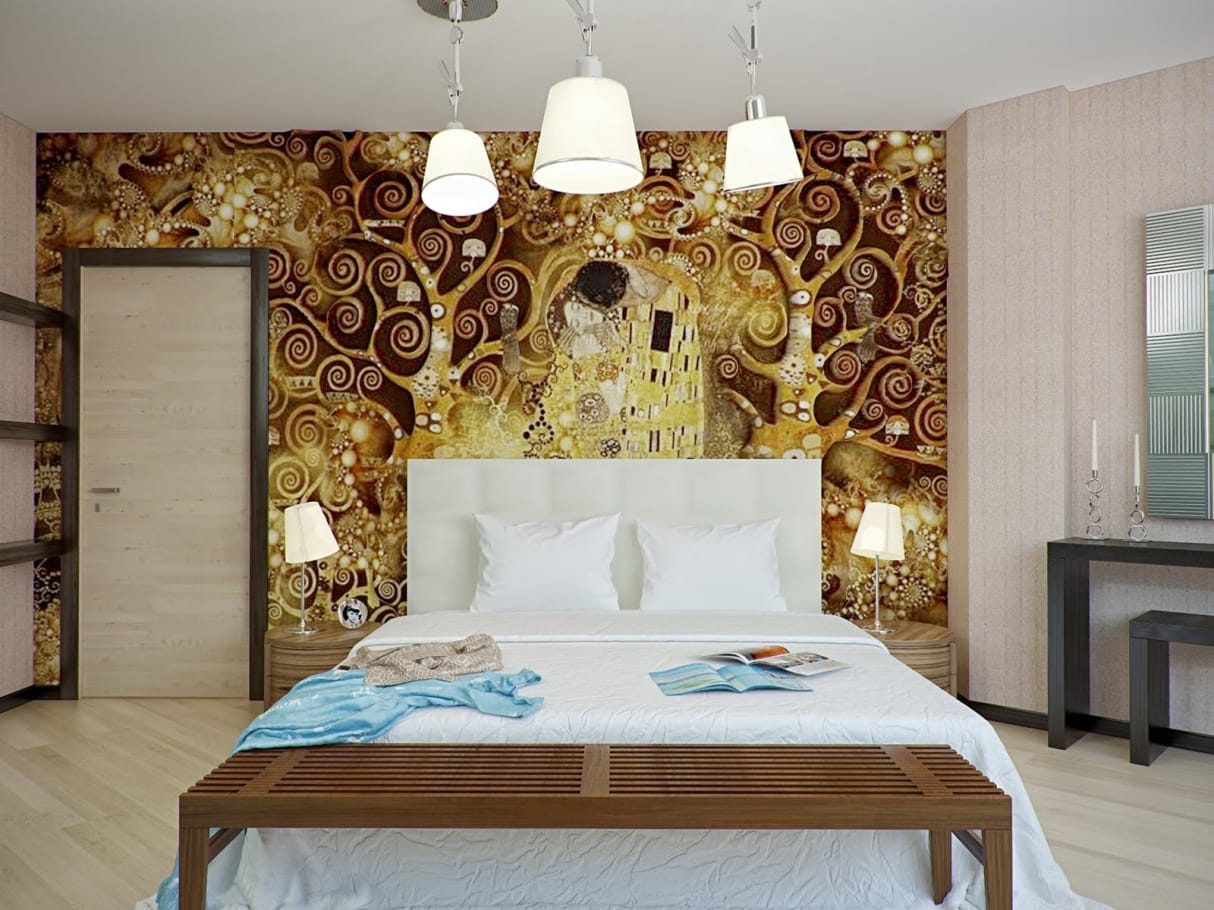 We knew you dream about sleeping in this minimalist bedroom. White ceiling, bedding, and light fixtures emanate an airy feeling. The black tables sport clean lines. They carve a sleek look.
The door, bench, floor, and nightstand wear different brown shades. Golden patterned wallpaper makes the bedroom sophisticated and appealing, while blue accents give off a refreshing feel.
With our golden and white bedroom ideas, you certainly get motivated to decorate yours using gold accents. Choose your favorite design and give the surroundings a layer of royalty.