No surprise, many people love turquoise room decorations. They are not only impressive but also offer remarkable results. However, picking the right greenish-blue ornamental items can be a pretty challenging job.
Turquoise screams happiness, fun, and excitement. It can also liven up any room in no time. Moreover, there are lots of decorative pieces that sport this vibrant and stunning color these days.
If you are looking to include turquoise in your interiors, luck is truly yours. We have gathered some room accessories and wall artworks. Our list also covers cool yet cheap projects, so check these out!
1. Turquoise Chevron Rug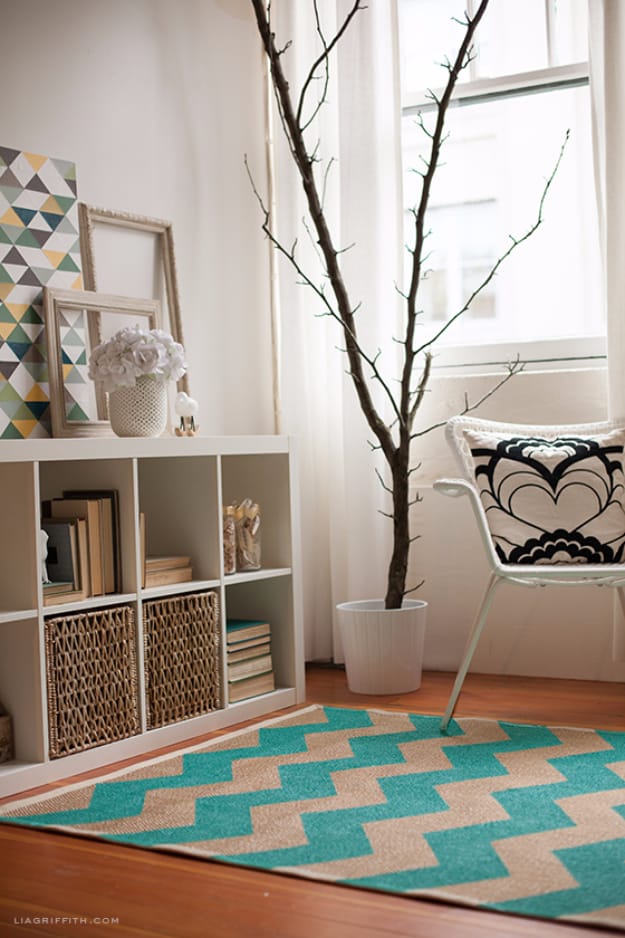 This is surely one of the most terrific turquoise room decorations. As you see, the graphic rug gives the space a bold look. Additionally, it is an absolutely incredible complement to any home office.
Furthermore, this decoration is both stylish and striking. You can make it yourself too.
No worries. The project won't be too expensive. Just prepare sisal rug, painters tape, tray, roller, chevron pattern prints, and turquoise enamel paint.
First of all, create a chevron pattern. After that, paint the sisal rug by hand. Although the project is quite time-consuming, it's totally worth the effort.
2. Turquoise Decorations for Living Room
We seriously can't take our eyes off these turquoise throw pillows. They instantly perk up the living room. That's the reason you should invest in them too.
Turquoise velvet pillows pop against the white sofa that serves as an excellent anchor. Moreover, they deliver a touch of fun to the living room. The light taupe walls accentuate them.
The butterfly patterned and colorful throw pillows along with artwork carve a happy vibe. Meanwhile, turquoise table lamp and ribbons unify the space.
3. Turquoise Room Decorations with DIY Bleached Curtains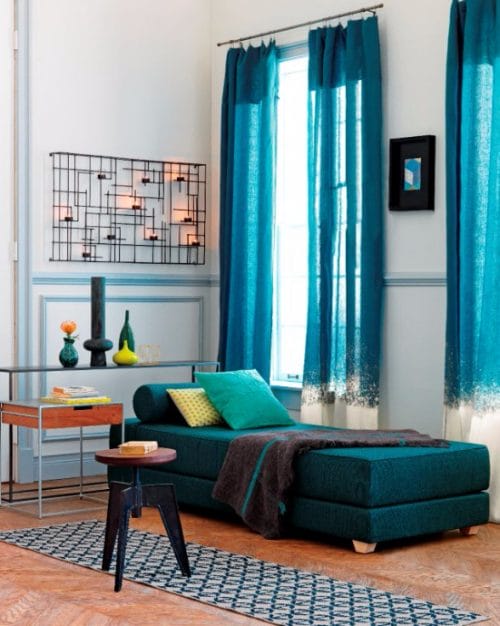 Looking for fabulous turquoise room decorations? Give these DIY bleached curtains a chance. Without a doubt, they let any space shine. The panels will also amaze your guests.
These turquoise curtain panels are super cool. Additionally, they carve a casual appearance effortlessly. Meanwhile, the bleached part carves a perfectly imperfect feeling.
This idea is a great way to customize linen curtain panels. It only requires a spray bottle, bleach solution, and a bit of your time.
Be sure you lay down the trash bags under the curtains first. They will protect the floor.
4. Turquoise Succulent Bowl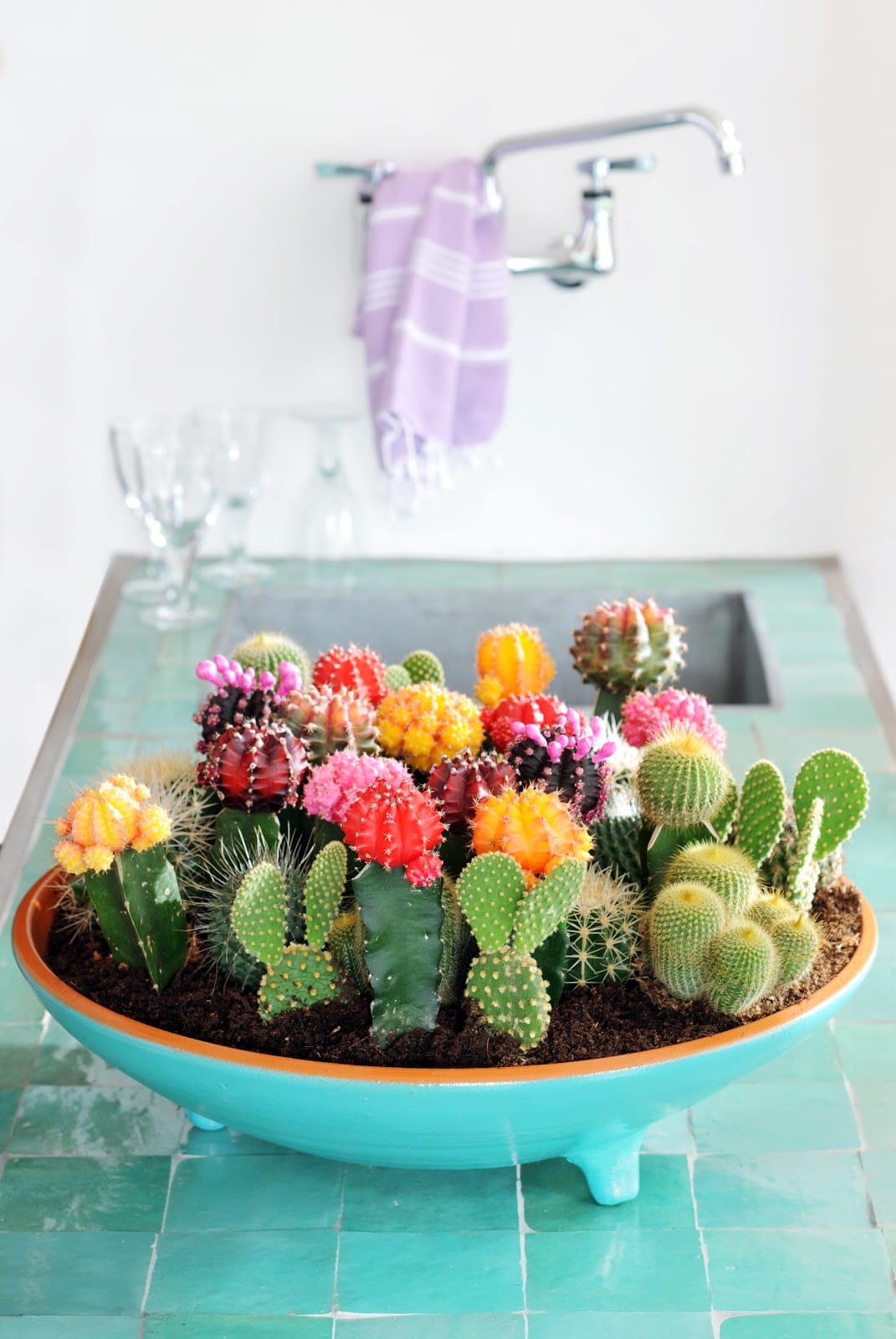 Are you a plant enthusiast? If so, this is one of the turquoise room decorations that certainly will spark your interest.
Here, the small terracotta succulent bowl wears incredible greenish-blue color.
Furthermore, this plant bowl livens up the room. It generates a positive mood as well. The unit also looks delightful on the turquoise countertop.
First of all, manually paint the terracotta bowl turquoise. Then, add some potting soil to it and plant different succulent varieties. Don't you love those colorful cute succulents?
5. Turquoise Daybed with Lovely Accents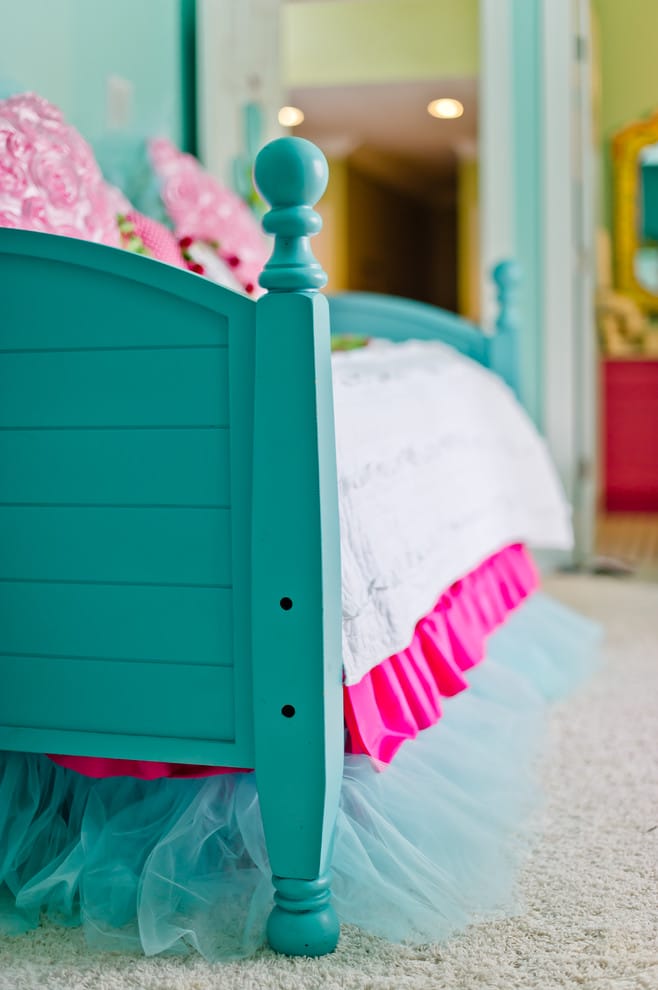 This girl's bedroom is dreamy as well as sweet. It boasts a turquoise daybed that allows her to take a short nap or enjoy a great book.
Meanwhile, pink pillows develop a feminine feel. They evoke a playful atmosphere too.
The tulle bed skirt comes in a lighter turquoise shade. It injects a calm feel and a touch of whimsy into the bedroom.
Moreover, the unit is such a nice chic accent to any little girl's sleeping space.
There is a light gray shag rug on the floor. It tones down turquoise and pink accents while providing optimum comfort.
6. Turquoise Room Decorations with Wire Memo Board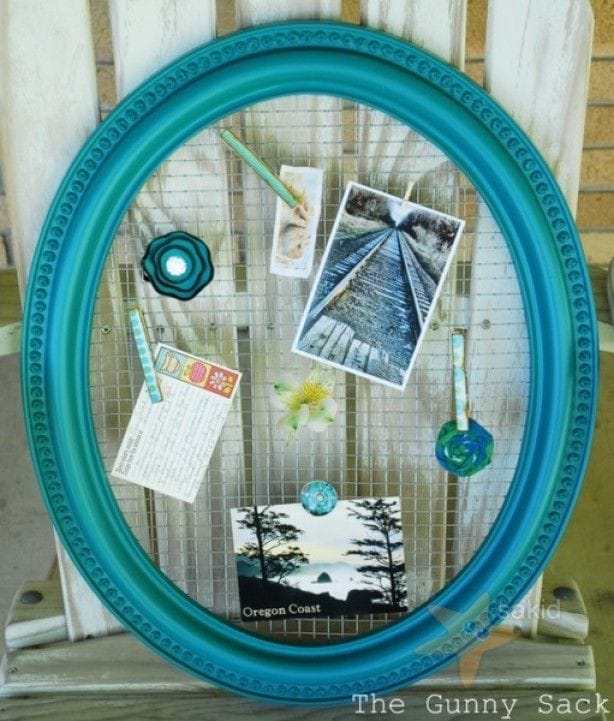 This is undoubtedly a cool way to incorporate some turquoise into your room. As the picture shows, the memo board features silver metal wire, a vintage mirror frame, and cute hairpins. It offers some visual appeal too.
You should look for an antique mirror frame at the local dollar stores first. After that, paint it in a vivid turquoise shade.
Furthermore, this DIY memo board brings functionality as well as aesthetics to any space. You can use it to display notes and photos.
7. Turquoise Chandelier for Dining Room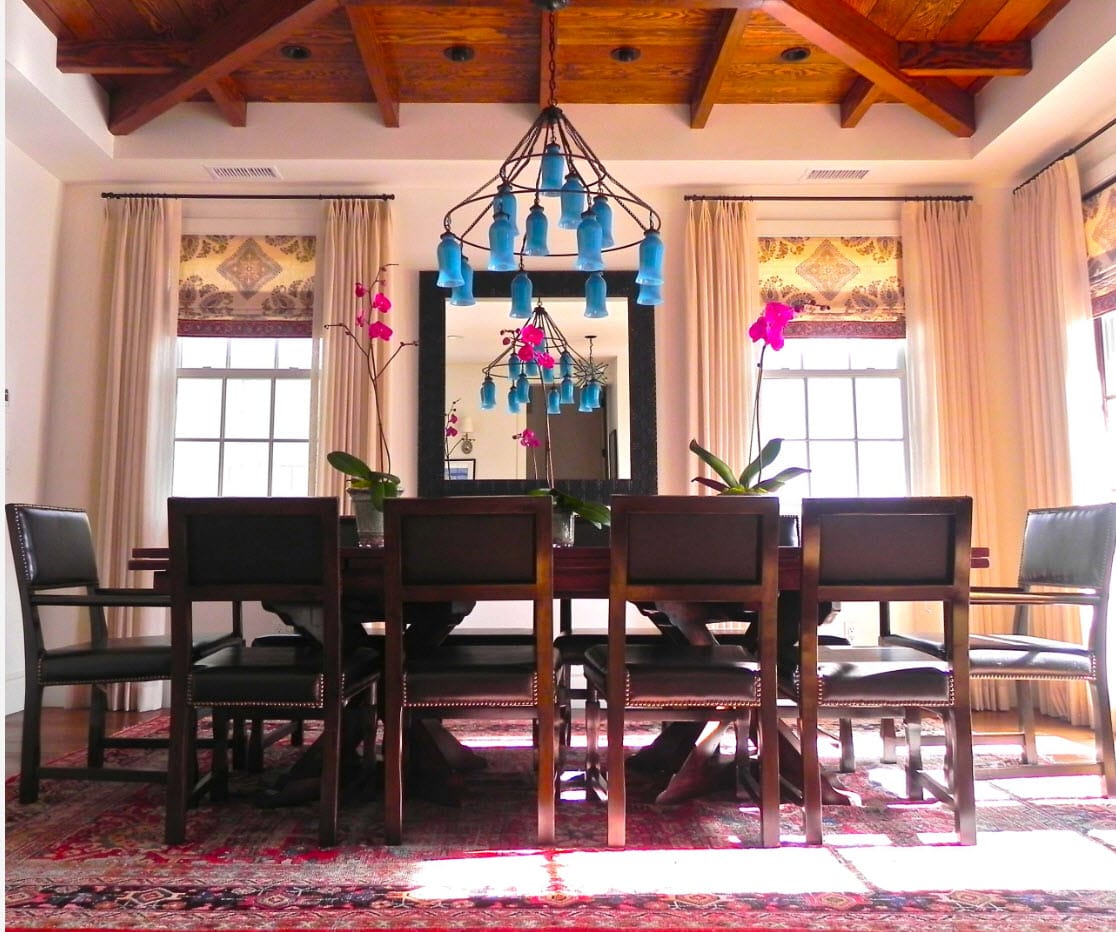 If you are into unique turquoise room decorations, give this chandelier a shot. It lends the large dining area an interesting visual contrast. The light fixture will draw the eye up instantly for sure.
Furthermore, this bright turquoise chandelier infuses fun and boldness into the room. Meanwhile, potted flowers give the space some more vibrancy.
You could also create your own turquoise light fixture using mason jars or recycled glass bottles. They make for a budget-friendly but beautiful chandelier.
8. Turquoise Carnivale Cushion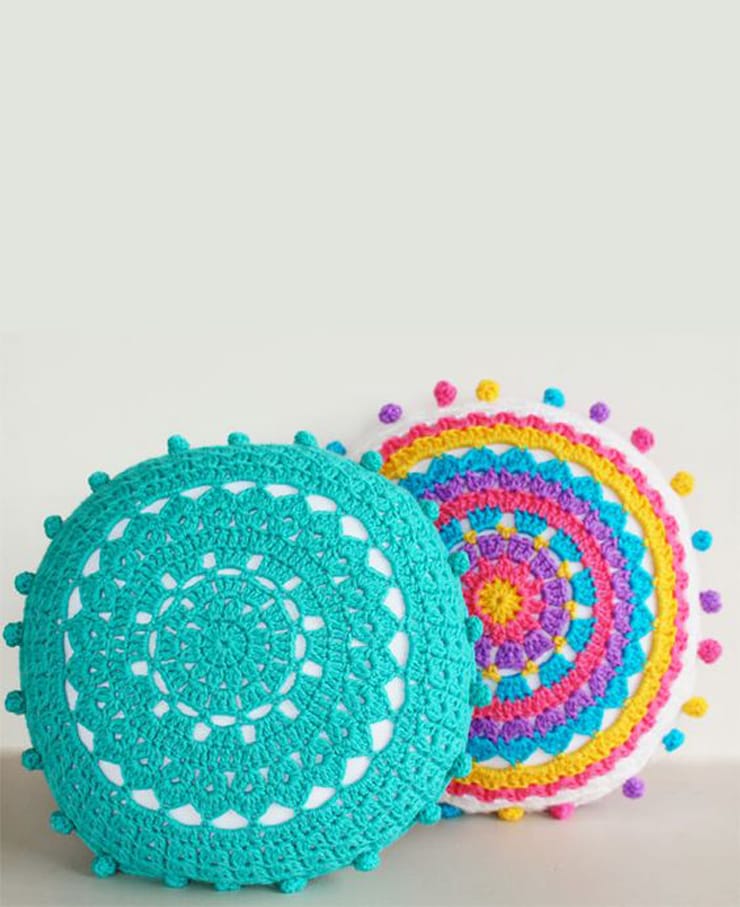 Love knitting? If yes, this is one of the turquoise decorations for bedroom you should apply. Making these Carnivale cushion pieces can be a tough job. However, it is a wonderful idea and will certainly pay off well.
Here, both Carnivale cushions wear turquoise. They emanate a happy mood instantly. We guarantee your guests can't stop looking at them.
All you need to craft these items are cushions, bean bag filling, hook, and yarn. We recommend decorating yours with pom poms. Although the pieces are little, they offer a fantastic effect.
9. Turquoise Decorations for Home with Paint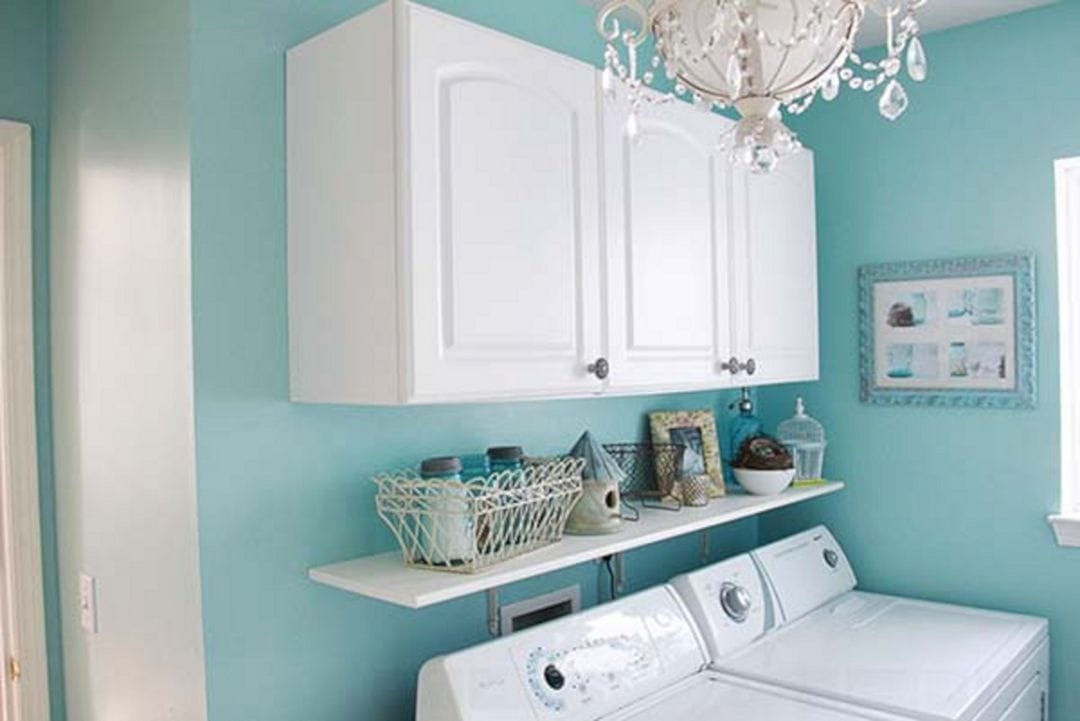 If you want to spice up your stark laundry room, consider turquoise painting. The color works particularly great for the space with lots of sunlight. This approach is amazing and definitely worth the time.
In this example, muted turquoise walls create a serene ambiance while bringing interest. The wall art and mason jars tie the laundry room together.
Furthermore, the walls provide a lovely background for a crisp white shelf, cabinets, and washing machine. Well, this is truly one of the spectacular turquoise room decorations.
10. Vintage Turquoise Room Decorations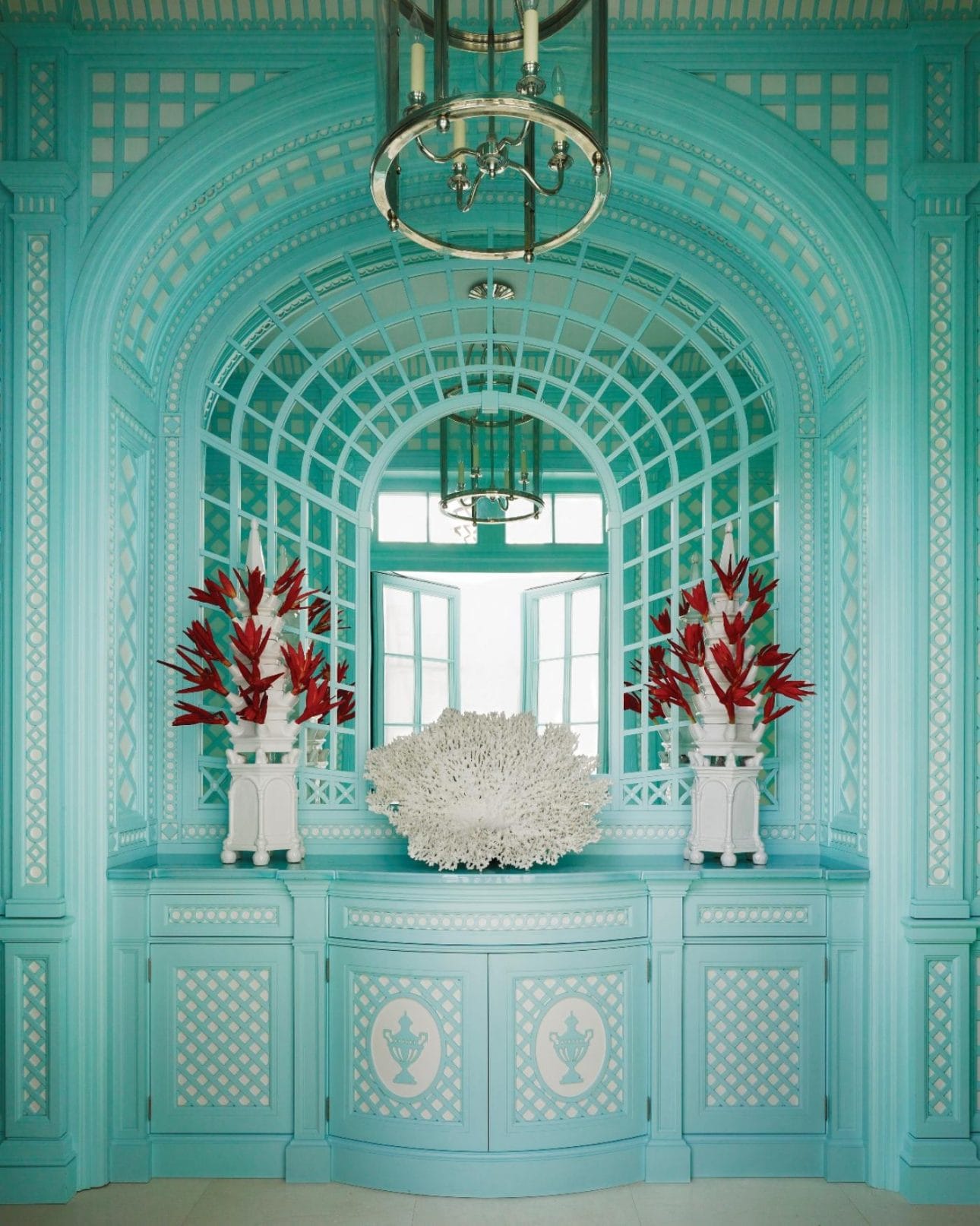 We really admire this room. As you see, it employs arch and vintage vanity. The homeowner painted them in alighter turquoise shade.
Moreover, the turquoise vanity sends out a peaceful atmosphere while making the room lively. It adds some terrific details to space as well.
The arch mirror and wall generate a classy look. The pale gray coral decor and floor keep turquoise room decorations from overwhelming the space. Meanwhile, pagoda statues elicit a sense of symmetry.
11. Turquoise Makeup Magnet Board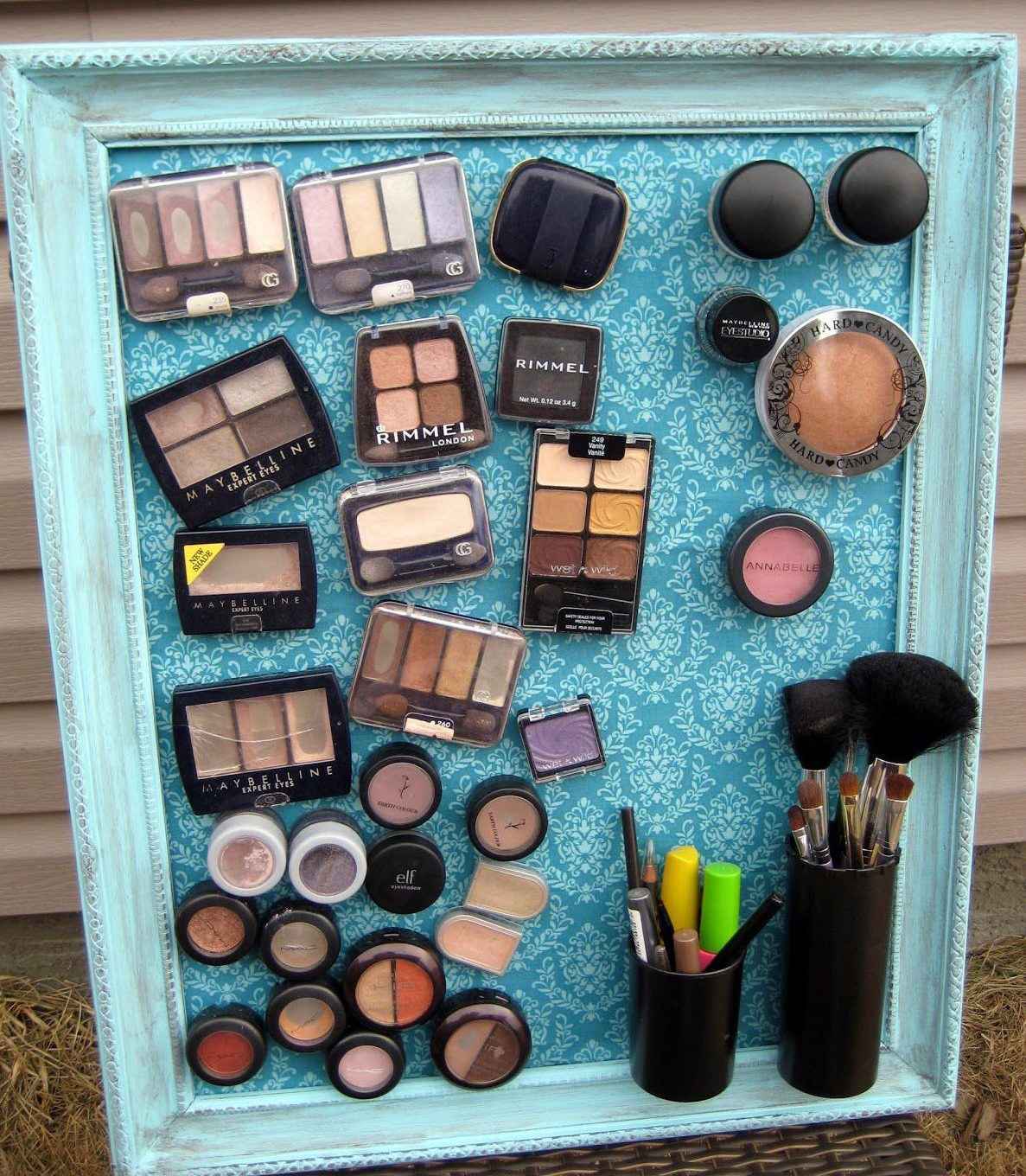 Do not let your makeup products clutter the room. You should craft a magnetic board, so the space looks tidy and welcoming. Prepare an old picture frame, hot glue, magnet, turquoise paint, some metal, and country fabric for the project.
First of all, paint the picture frame. Then, insert the metal in it. Next, attach the country fabric to the metallic surface. Glue one magnet to each eyeshadow's back. Lastly, display your cosmetics on the magnetic board.
This is definitely one of the creative turquoise decorations for bathroom. The magnetic board is practical but pretty. It also doubles as wall decor.
12. Turquoise Painting for Teenage Girl's Bedroom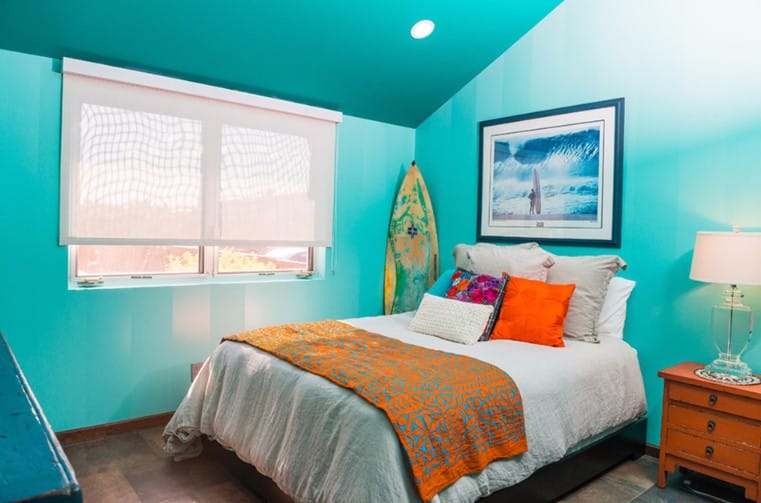 In this example, the vibrant turquoise shade covers the ceiling and walls of the teen bedroom. The color evokes a refreshing feel and a fun atmosphere at the same time. It produces a bold appearance as well.
The dark turquoise picture frame and furniture lend the bedroom a bit of drama. They bring the room to a whole new level. Moreover, white window shade and pillows offer a dreamy appeal.
Furthermore, the surfboard in the corner of the bedroom carves a beachy feeling. Meanwhile, orange accents give off a dynamic atmosphere.
13. Crochet Floor Poufs in Turquoise
If small pillows are not your thing, try making these crochet floor poufs. They look incredible and carry instant comfort to any room.
Be sure you add bean bag filling to turquoise floor poufs. Since these pieces are hard enough, they can support your feet.
Furthermore, these sitting pillows make gorgeous turquoise room decorations. You could include them in your bedroom or attic studio.
14. Turquoise Room Decorations with Hexagon Wall Art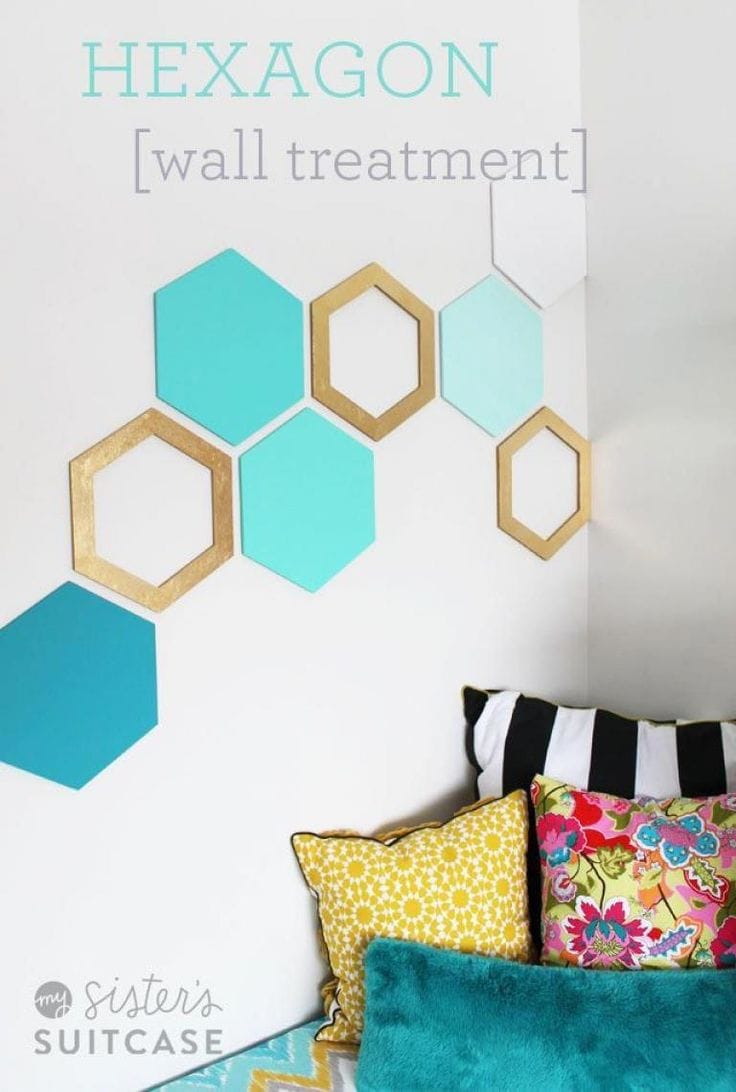 Everyone loves turquoise room decorations especially teenagers. If you want to decorate your girl's sleeping space, consider hanging this hexagon wall treatment. The geometric patterns create a modern vibe.
Furthermore, wall decor wears different shades of turquoise. It makes the bedroom more appealing and lively. The hexagon pieces stand out against a crisp white background. Meanwhile, gold accents scream glamor.
15. Pink and Turquoise Room Decorations
Turquoise room decorations give you nearly endless color combinations. This one looks so distinct. Moreover, it works especially wonderful for a teenage girl's bedroom.
The sleeping space features a light turquoise ceiling and walls. They emanate a youthful feel. Meanwhile, the daybed comes in a darker hue. It gracefully holds throw pillows.
There are turquoise room decorations on the wall and door. They produce a unified look. Hints of pink bring a girly touch to the bedroom, while green accents generate a fun appeal.
16. Turquoise Elephant Book Ends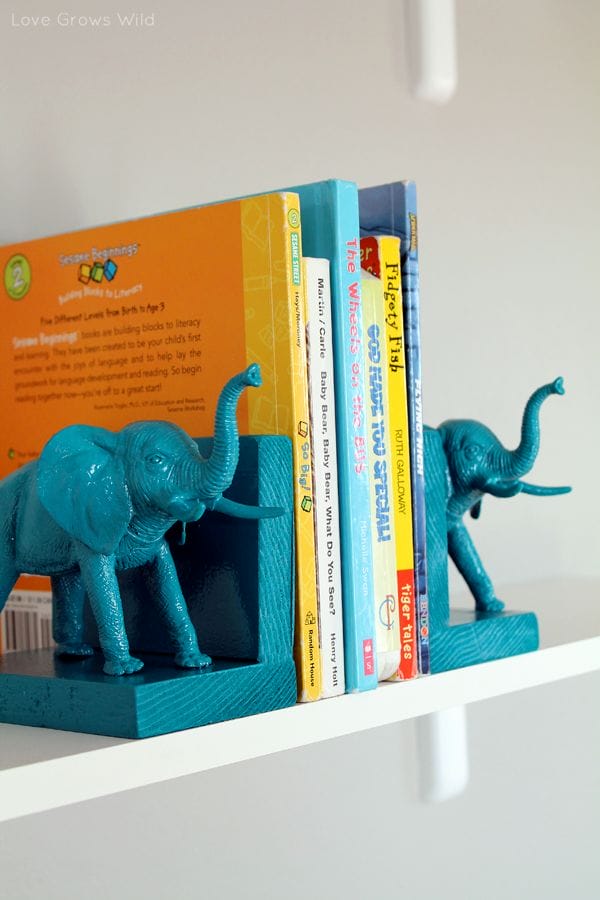 Without a doubt, these plastic elephant bookends are one of the most adorable turquoise room decorations. They are pretty simplistic. However, the pieces give your space some outstanding details.
Moreover, you could add these cute elephant books ends to the playroom or home library. The project won't cost a fortune as well.
This book ends to lend any space personality. To make them, you just need plastic elephants, spare wood pieces, strong glue, and spray paint. Feel free to use other lovely animals.
17. Turquoise Doors with Gold Accents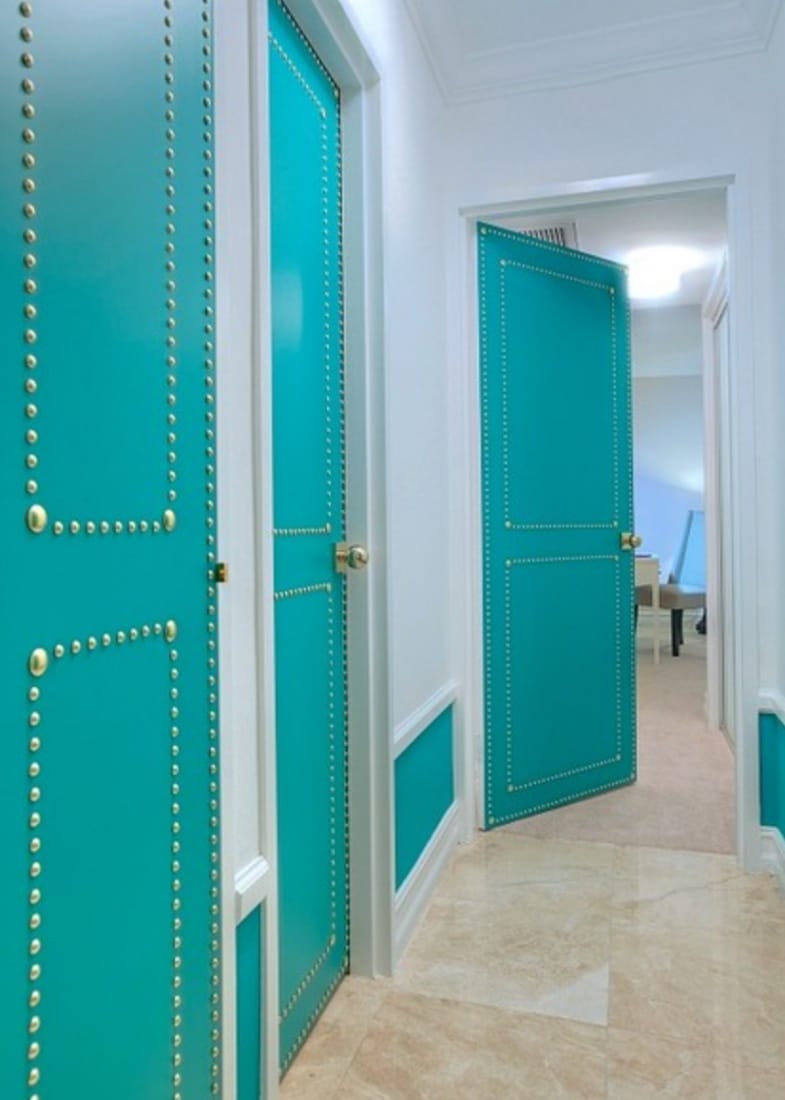 These bright turquoise doors look so visually pleasing. Moreover, they help jazz up the room's overall appeal and develop a playful atmosphere. In addition, the vibrant units bring your space to the next level.
Painting your doors turquoise is a great choice. This also allows you to have a stunning focal point. Make sure that the rest of the room is neutral or white. Meanwhile, gold pieces lend the area a lavish ambiance.
18. Turquoise Room Decorations with Bead Chandelier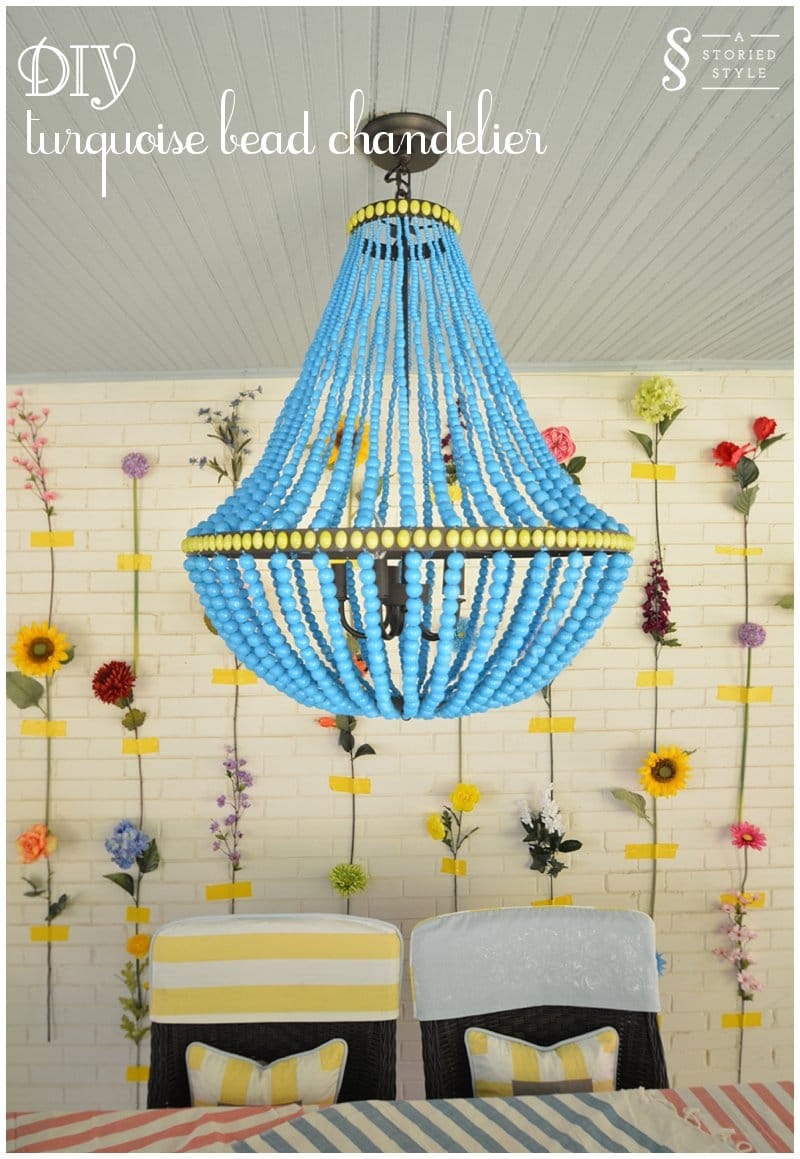 You should have an outstanding turquoise chandelier like this one. It will certainly spruce up the dining room in a flash. The light fixture also boasts yellow elements.
If you are into cool turquoise room decorations, this chandelier is a go-to choice for certain. Moreover, the unit injects a more rural appeal and a vintage flair into the dining area.
The turquoise bead chandelier makes a bold statement and sends out uplifting energy. Meanwhile, the yellow elements and faux flowers on the wall generate a summery look.
19. Media Room with Turquoise Decorations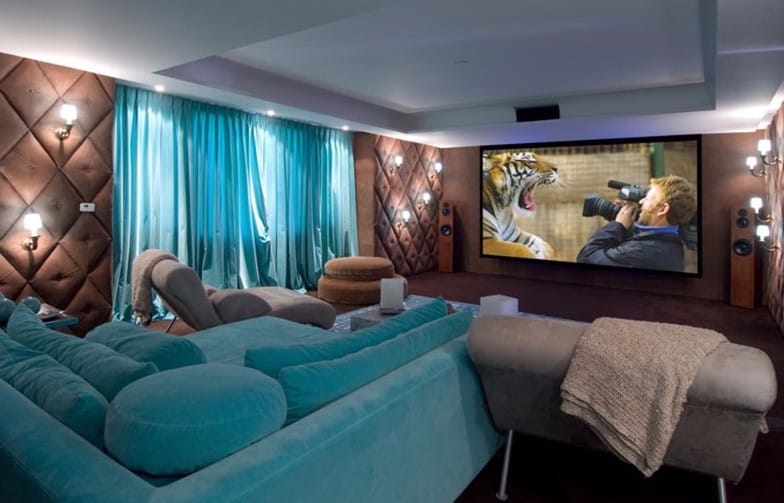 If you have a media room in your home, implement this idea. Here, an L-shaped sofa, curtains, and throw pillows come in turquoise. They are a perfect complement to the neutral space.
Both turquoise furniture and curtain panels encourage a cheerful mood without being overwhelming. They carry elegance as well as fun to the media room too.
The turquoise room decorations lend this space a sophisticated feel. Meanwhile, dark brown walls tone them down. They also emanate a warm ambiance.
20. Terrific Turquoise Side Table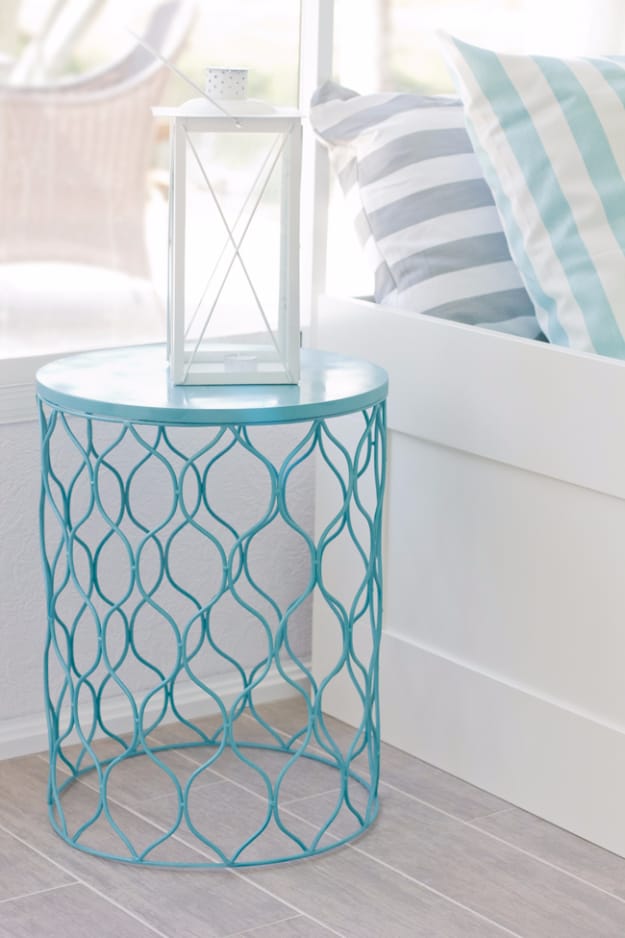 This side table is one of the most attractive turquoise room decorations. It carries a visual interest and a happy mood to the area. The arabesque pattern gives the space an exotic vibe.
Furthermore, the turquoise side table works as accent furniture. It holds a crisp white lantern too. Meanwhile, striped throw pillows inject fun into the living room.
Moreover, the light gray floor lets the bright turquoise side table draw the attention. The windows make the living room sunny and airy.
21. Turquoise Tiled Table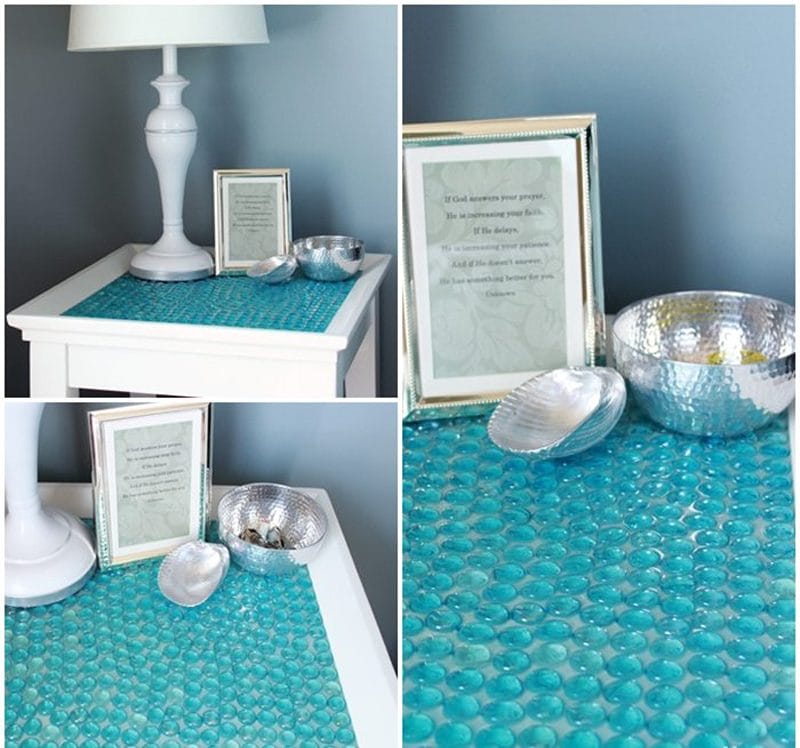 Are you a beach person? If so, this is one of the brilliant turquoise room decorations to steal. Here, the side table delivers a beachy atmosphere to space.
First of all, paint your side table pure white. Then, cover its top with turquoise glass gems using craft glue. Finally, place lamp, framed quote, silver bowl, and shell on the unit.
22. Turquoise Armoire with Black Glaze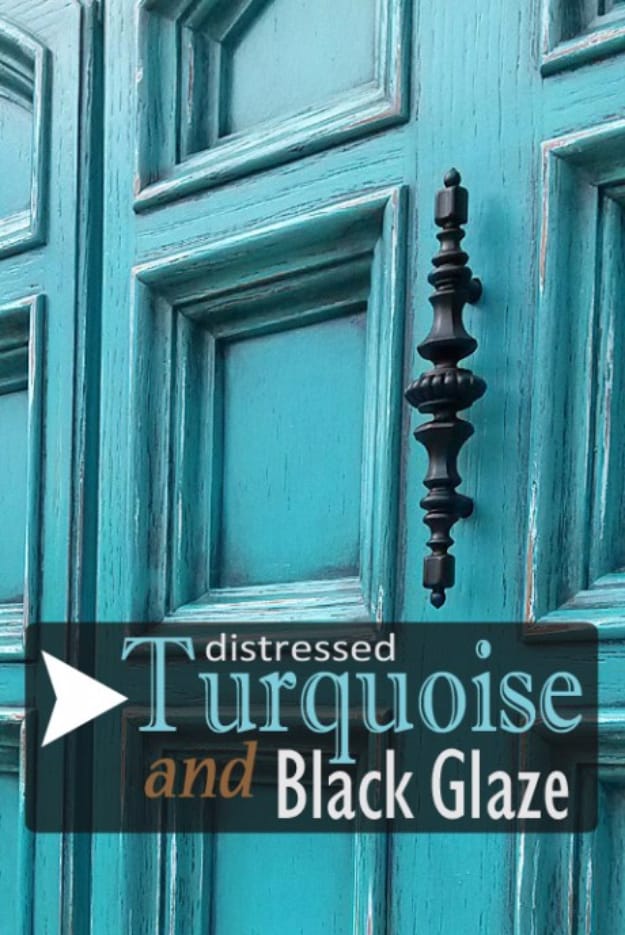 Turquoise is uplifting and refreshing. It lends life and a lot of character to any weary, vintage furniture. If you have an armoire, try playing with this color.
In this example, turquoise armoire doors exude a sense of fun. Meanwhile, the black glaze offers contrasting effects. The distressed finish gives the wooden furniture more dimension and depth.
Those turquoise room decorations do wonders in any space. They add instant boost, fun, and glam to your area. If you are on a tight budget, just try any of our crafty ideas. Happy decorating!