Speaking of remodeling a bathing area, there are various cool themes to select from. With our bamboo bathroom ideas, you can turn yours into a personal refuge. In addition, it will appear more inviting and stunning.
Furthermore, bamboo furniture pieces are booming nowadays. This is not only because people can get them easily, but also they can give any space an Asian feel. The items evoke a sense of peace as well.
Bathrooms with bamboo elements are striking. If you love them, take a look at our terrific bathing area designs. Some feature real bamboos, while others do not. Without further ado, let's check these awesome photos out.
1. Green Bamboo Bathroom Ideas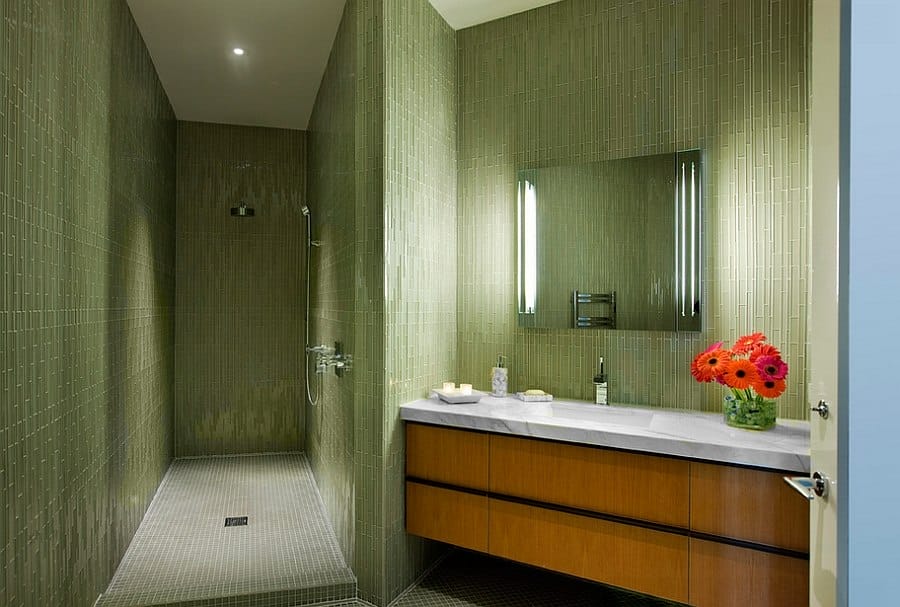 Incorporating actual bamboos into your bathroom seems impossible. Why not try this idea? Here, the bamboo-like tiles cover the walls. Since the pieces come in muted green, they lend the space a serene ambiance.
Moreover, bamboo-like tiles are both artful and gorgeous. Meanwhile, the white ceiling and light gray tiled floor keep the bathroom feeling airy.
The hardware-free wooden vanity exudes a minimalist vibe. Marble top oozes timeless glamor, while faux flowers brighten up the interior.
2. Candle Holders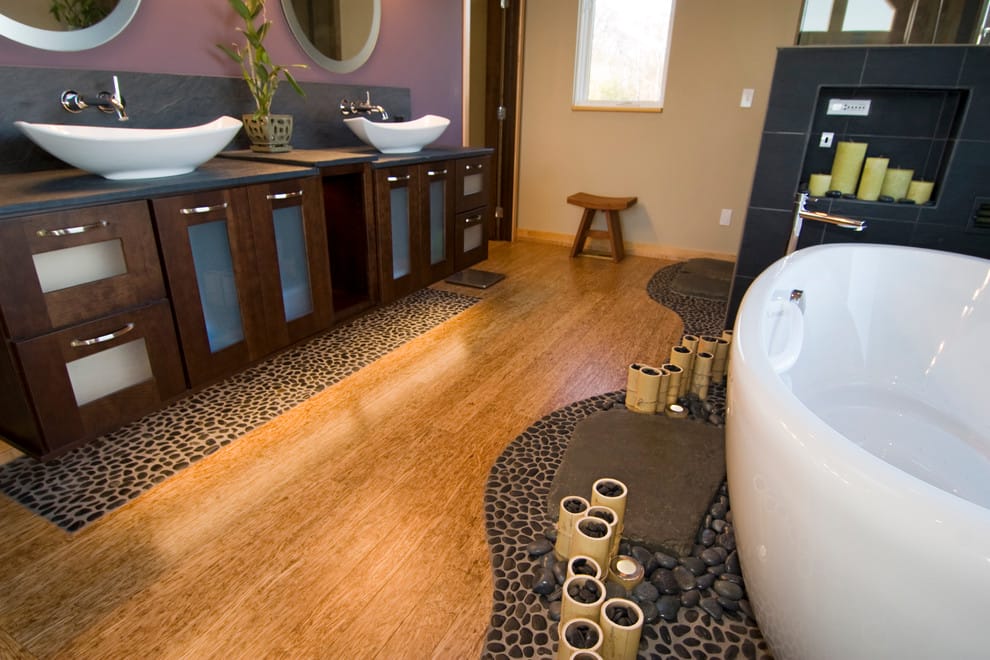 Searching for bamboo bathroom decorating ideas? If yes, give this design a go. As you see, the bathing space features river rocks, a wood floor, and stone vanity tops. They bring nature in and carve a spa-like ambiance.
Furthermore, the bathing space boasts bamboo vanities and candle holders. They inject an Asian feel into the bathroom immediately.
The vanities, round mirrors, vessel sinks, and potted plants generate a visual symmetry. White bathtub and windows keep the bathroom from being gloomy.
3. Bathroom with Jacuzzi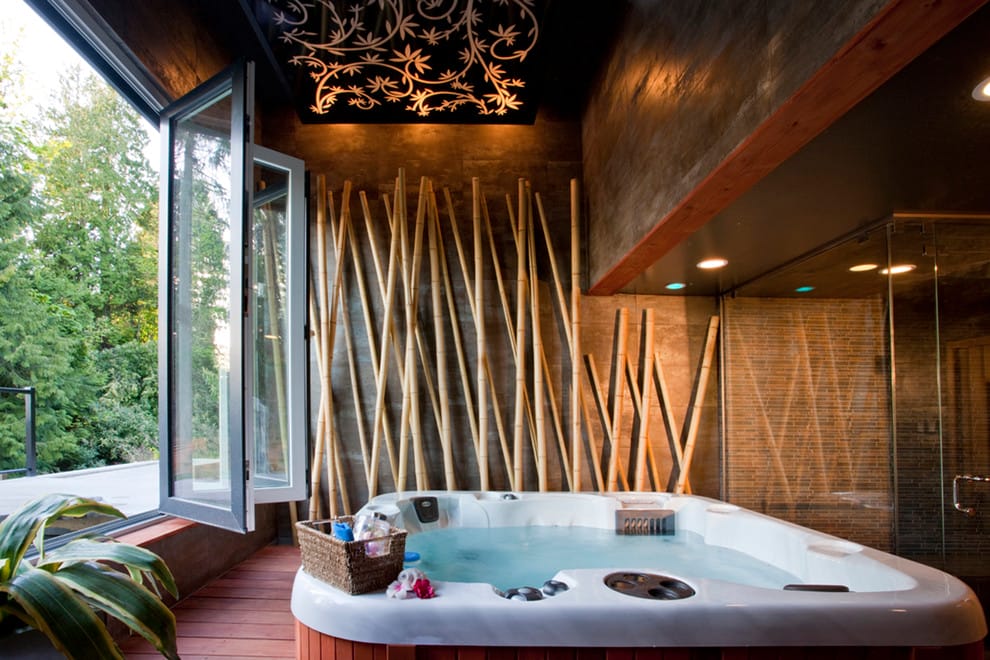 Who doesn't want to take a bath in this space? The jacuzzi lets you relax while enjoying wonderful outdoor views. It infuses an amazing feeling into the bathroom as well.
The bamboo sticks lean against the wall. They instantly evoke a zen-like atmosphere. Meanwhile, the plant and jute storage basket lends the space some elements of nature.
Moreover, the lighting produces a tranquil vibe. Meanwhile, the mesmerizing ceiling treatment draws the eye up.
4. Bamboo Bathroom Design Ideas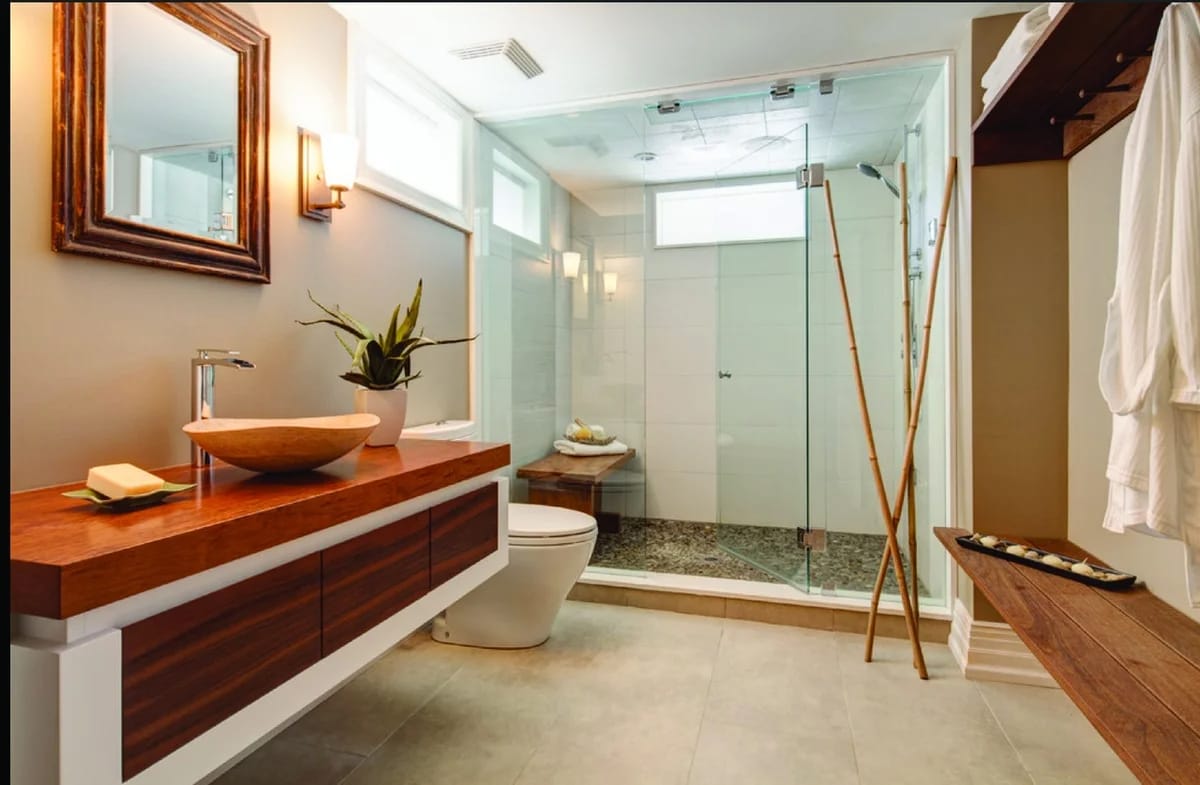 We love this bathroom so much. It is both stunning and stylish. The beige wall and floor tiles give the space an air of tranquility. Meanwhile, bamboo mirror and sticks add Asian touches to the interior.
The wooden vanity, bench and floating shelves have sharp edges as well as clear lines. In no time, they deliver a modern feel to the bathroom.
Glassdoor and windows develop an airy atmosphere. The wall sconces emit a relaxing glow. Lastly, a potted houseplant livens the bathroom up.
5. Bamboo Themed Bathroom with Freestanding Bathtub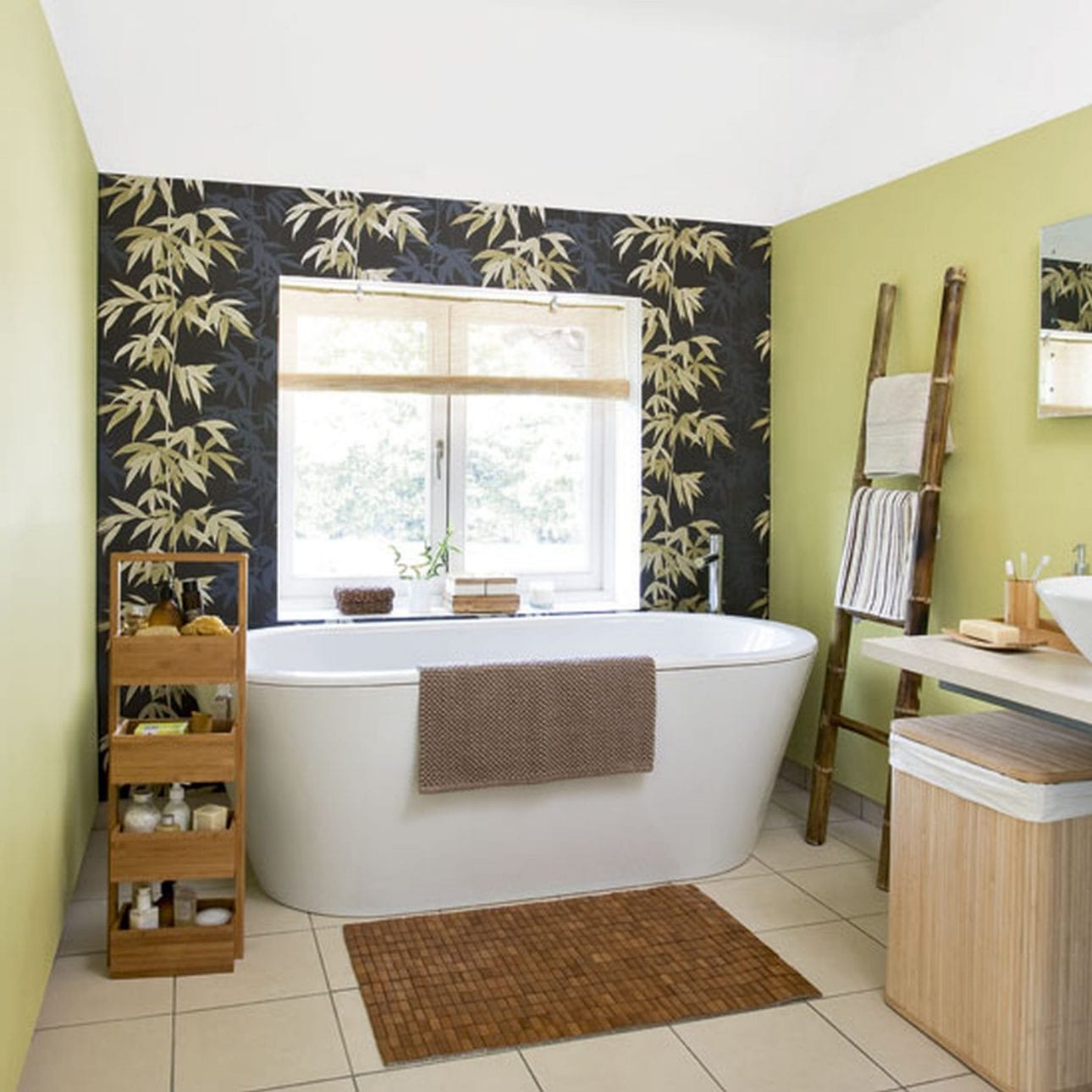 Talking about bamboo bathroom ideas, you should stick to neutral colors. They make your bathing area feel serene in no time. In this case, the space wears green, off-white, taupe, and brown.
The homeowner kept the furniture and decorations to a minimum. Wooden shelving unit houses small towels and toiletries.
Meanwhile, the contemporary white freestanding bathtub offers an amazing bathing experience.
The bamboo ladder works as a towel hanger. It looks captivating next to the large bathtub. The wallpaper with pictures of bamboo trees maximizes the Asian feel. Sheer curtains carry a touch of elegance to space.
6. Bamboo Bathroom Ideas for Small Spaces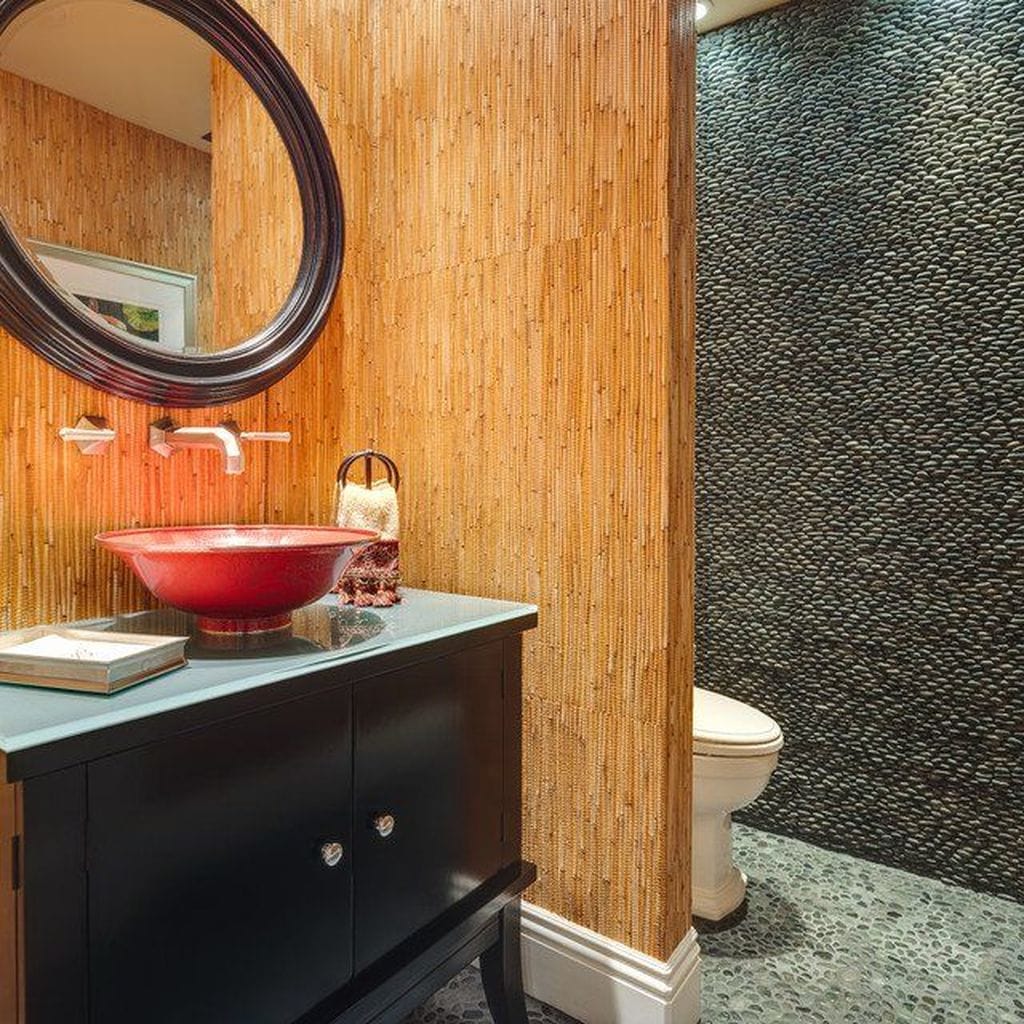 Do you have a pocket-sized bathing space? If yes, try this bathroom design. Here, it features abright white ceiling and molding. They produce an open ambiance. The mirror enlarges the area visually.
The river rock floor and dark gray stone wall send out an outdoorsy feel. Additionally, they deliver lovely details to the bathroom. In addition, the red vessel basin instantly carves a bold impression.
Black furniture infuses drama into space. Meanwhile, the bamboo wall doubles as a room divider. It separates the vanity from the toilet. Lastly, the metal faucet and knobs add an industrial twist to the bathroom.
7. Unconventional Bamboo Bathroom Ideas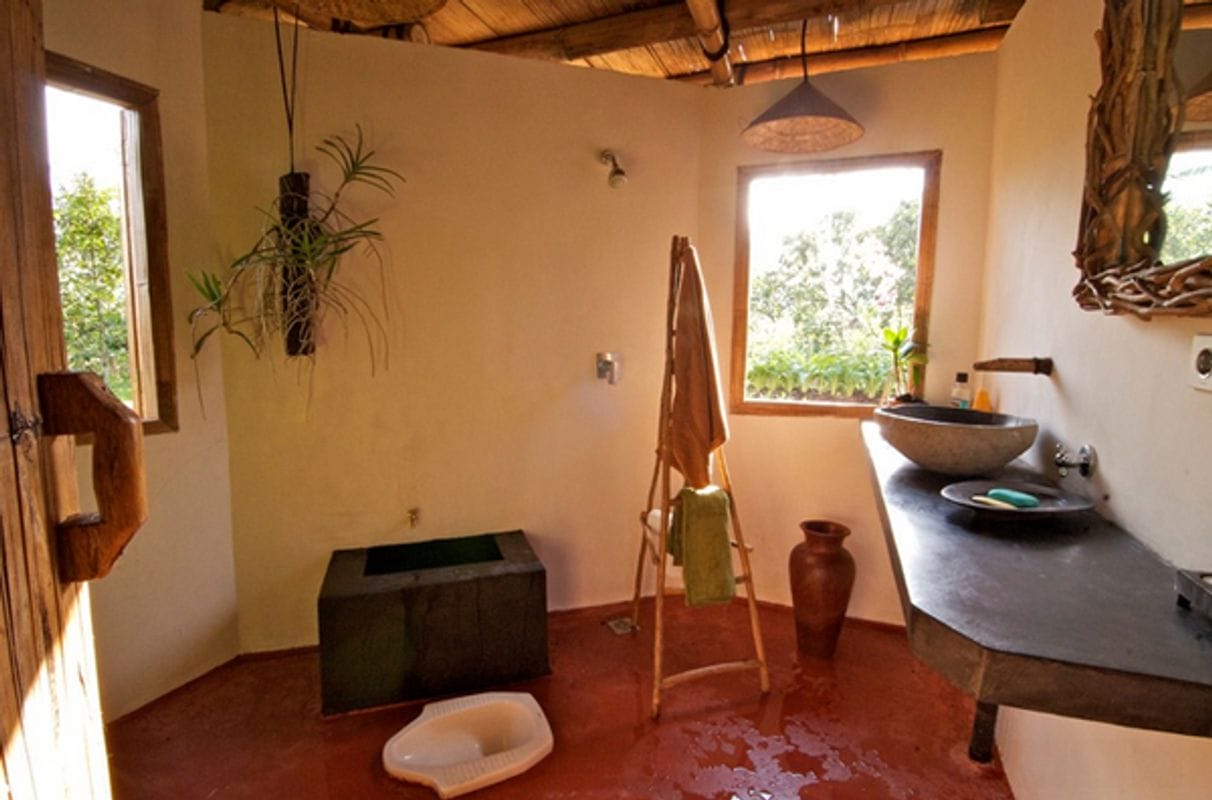 This is certainly one of the most fabulous bamboo bathroom ideas. The black tub and floating shelf develop a touch of drama to space. They also magnificently contrast with bright white walls.
The squat toilet, bamboo towel hanger, wicker pendant lamp, and hanging orchid emanate tropical vibes. Meanwhile, the windows bring lots of daylight into the bathroom.
Bamboo ceiling beams add an extra Asian feel to the interior. The mirror serves as the focal point of the bathroom. The wooden door evokes a rustic flavor, while the earth-toned floor and towels scream serenity.
8. Japanese Inspired Bamboo Bathroom Ideas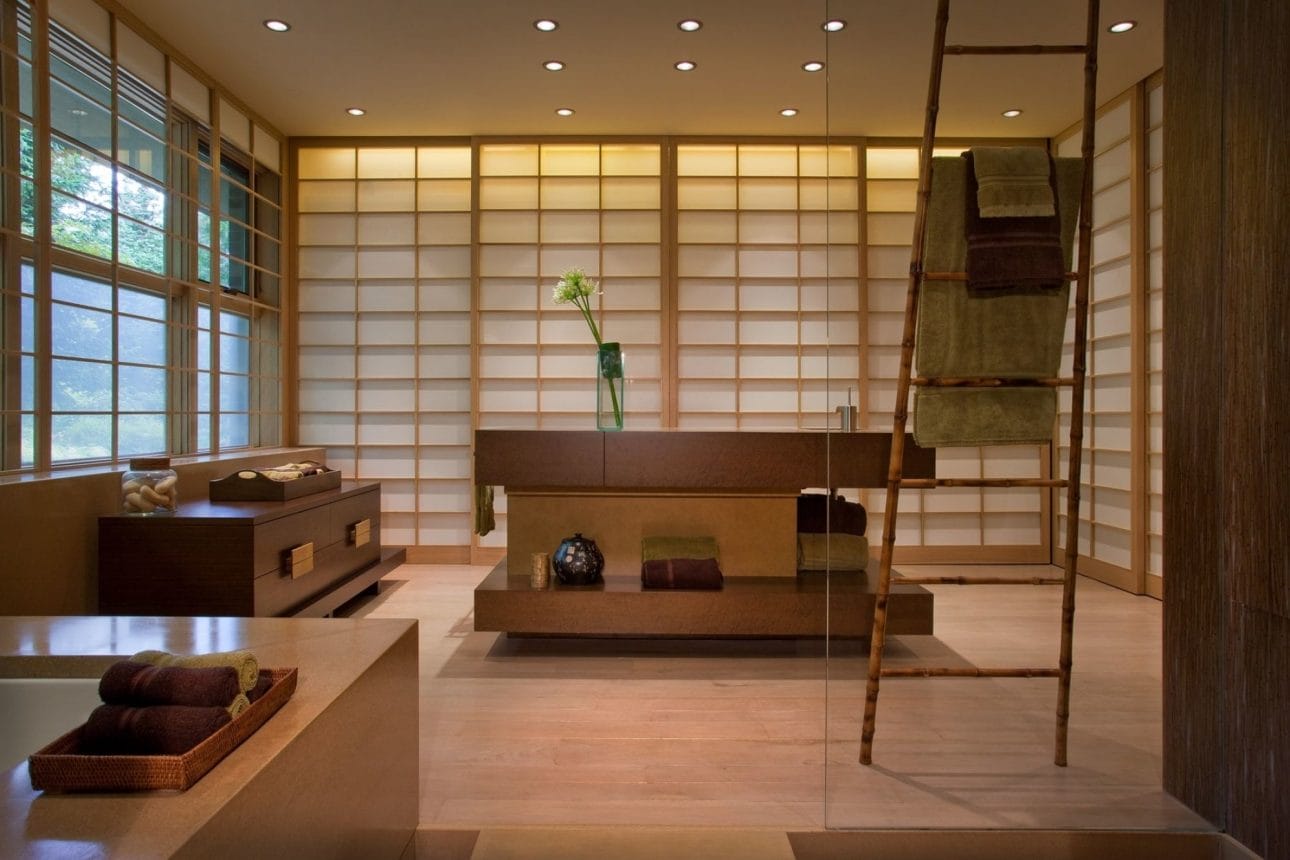 In this case, the bathroom boasts paper shoji screens. They do not only provide privacy but also carve Japanese vibes.
In addition, the units allow the light to pass through. The downlights tastefully illuminate the bathing space.
The light-toned wood floor creates a peaceful ambiance. The bathtub, vanity, and table have clean lines.
In no time, they reinsure the bathing area with a modern vibe. Meanwhile, windows ensure that the bathroom isn't dreary.
Moreover, a bamboo ladder lends style and function to the bathroom. It accommodates towels in shades of gray, green, and brown. The flowers in a blue glass vase instantly titivate the space.
9. Luxury Bamboo Bathroom Ideas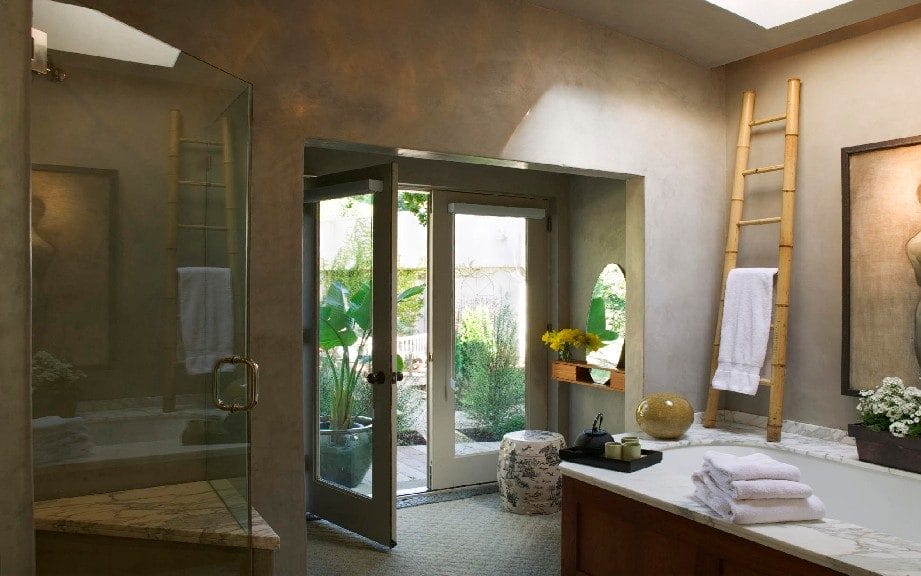 This bathroom employs a large vase by the French doors and a bamboo ladder. They infuse an Asian ambiance into space. The skylight and oval mirror make the bathing area brighter as well as lighter.
Marble tops for the vanity and built-in bench evoke a glamorous feel. Light gray ceiling and walls convey a feeling of peace. Furthermore, they allow other elements to shine.
Wooden vanity and floating shelf radiate warmth. Black accents lend the bathroom a dash of drama. Yellow and white flowers jazz the space up. The monochrome painting steals the show without looking out of place.
10. Bamboo Bathroom Ideas with A Tropical Twist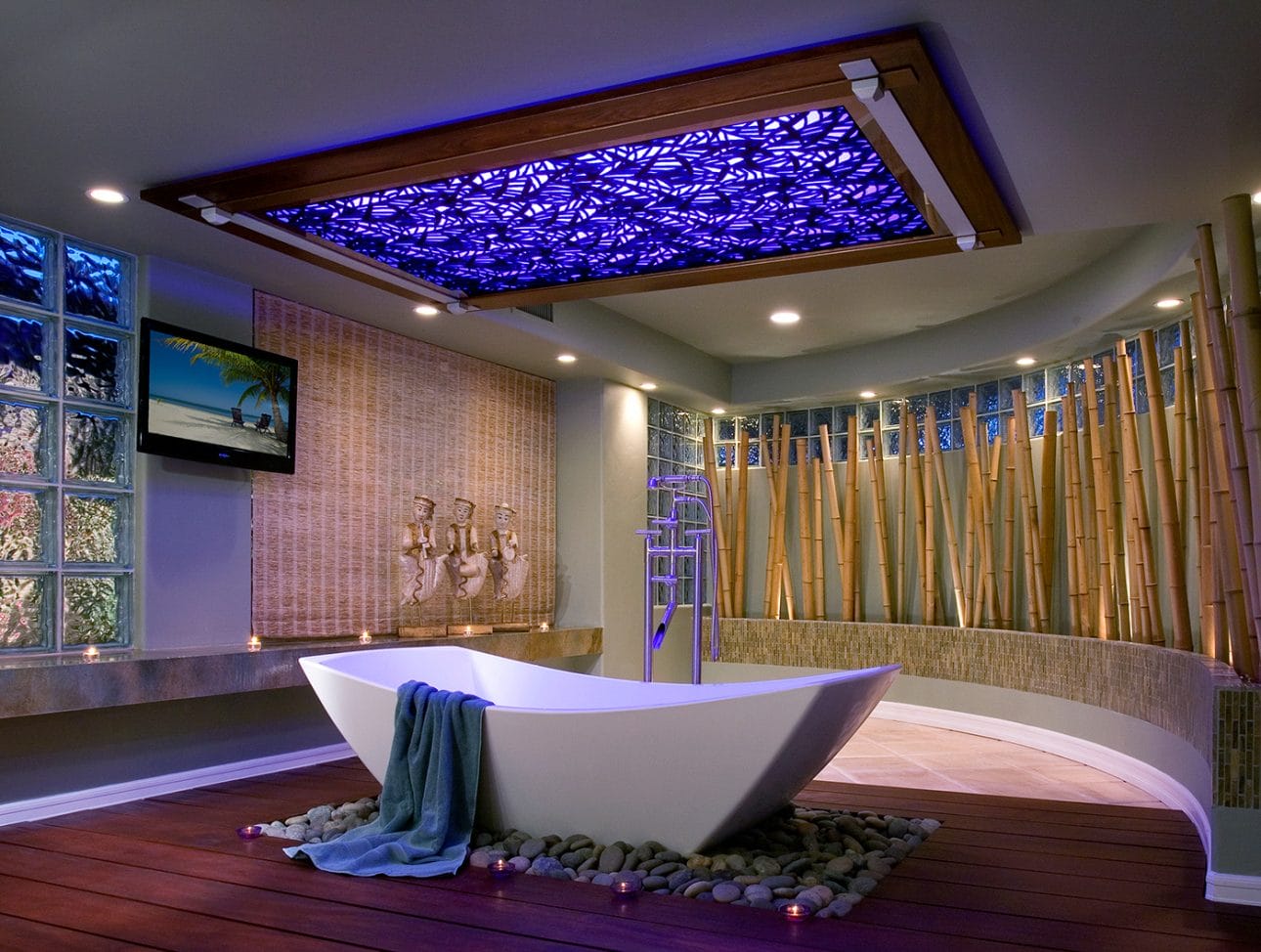 Looking for bamboo bathroom flooring ideas? If so, implement this design.
The limestone tiles and dark-toned wood floor bring the outdoors inside. Moreover, that space seems cozier and more attractive, thanks to the brilliant lighting.
Bamboo sticks quickly catch attention. They transform the bathroom into a tropical oasis in an instant, too. Meanwhile, the white freestanding bathtub oozes a stylish appeal.
Pale gray walls and white molding exhibit an open atmosphere. Glass blocks deliver an element of glamor to the bathroom. Since the pieces blur any images, they increase privacy.
11. Bamboo Bathroom Items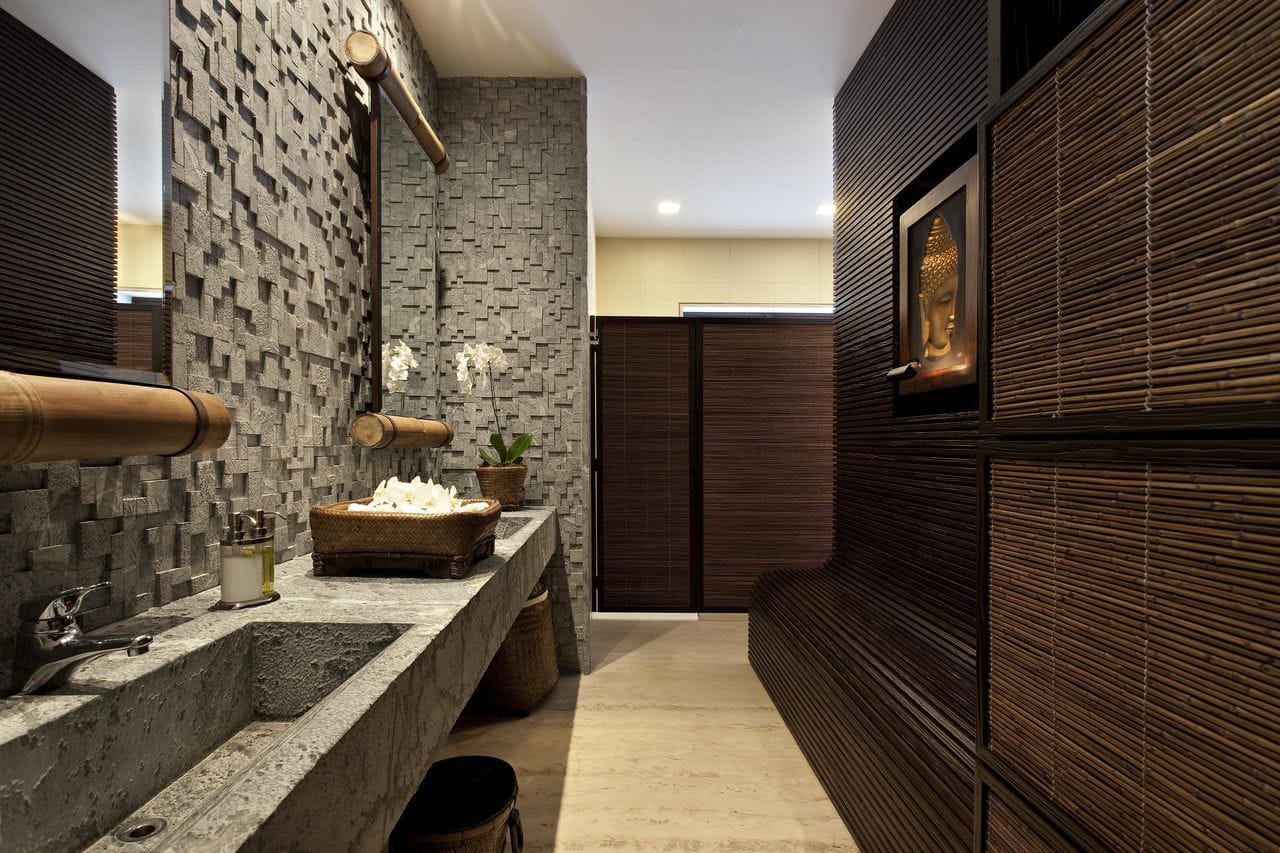 This is one of the delightful bamboo bathroom ideas. We really love its color scheme. Gray, brown, black, white, and cream come together in the space. They produce an inviting and serene bathing area.
Furthermore, stone and wood walls carry interesting textures to the bathroom. They add natural elements into space quickly too. The downlights keep the interior from becoming gloomy at night.
The polished concrete vanities, bamboo mirrors, and wooden tissue paper bowl generate symmetrical balance. Potted orchid enlivens the bathing area, while Buddha head artwork makes for a zen bathroom.
12. Bathroom with Window Treatment
We have some fantastic bamboo themed bathroom ideas and it is one of them. If you are a nature lover, this bathing space will surely win your heart. The huge windows provide magnificent outdoor views.
The pure white floor sends out an open atmosphere. It also conveys the feelings of simplicity and cleanliness. Balloon ceiling lights illuminate the entire bathing area during nighttime. Metal hardware carves an industrial feel.
This space only features a few white and wood furniture units. They create a clutter-free environment while tying the bathroom together. Lastly, bamboo window shades emanate a cozy ambiance.
13. Modern Bamboo Bathroom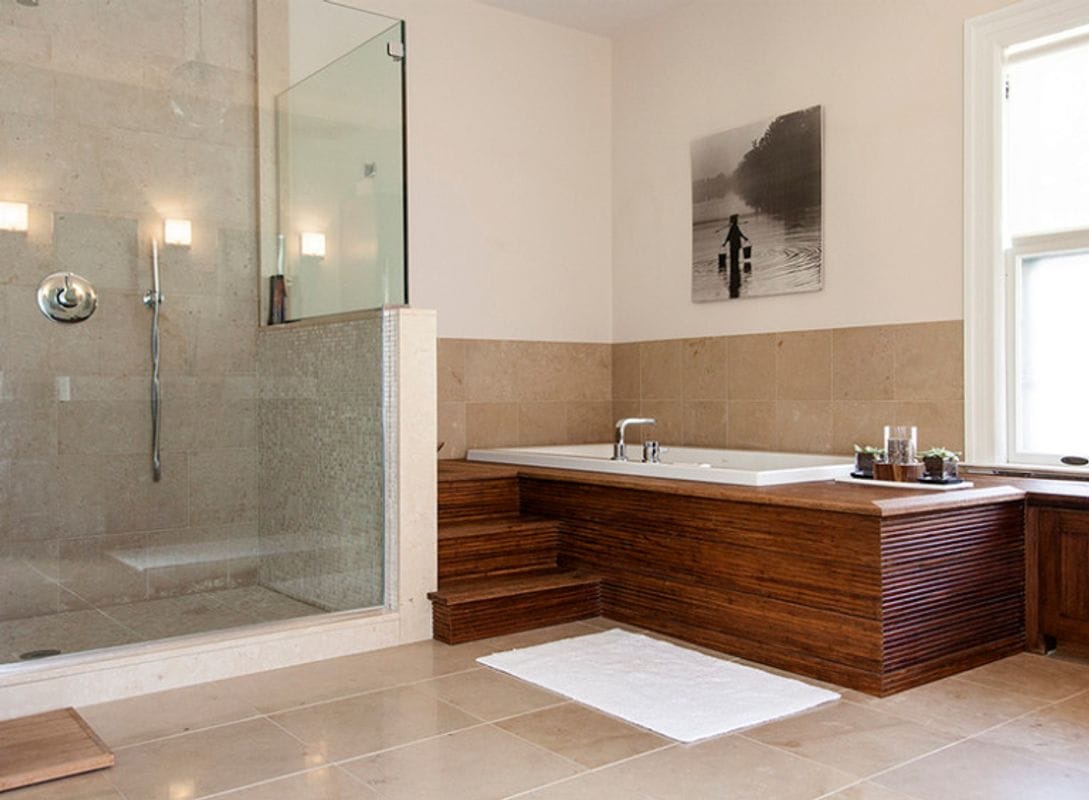 White and beige are the primary colors of this bathroom. They instill a peaceful vibe and a light feeling at once. Meanwhile, the double-hung windows let daylight enter the bathing area.
Bamboo beautifully covers the corner rectangular bathtub. It effortlessly converts the bathing space into a welcoming home spa. The built-in cabinet keeps toiletries and decorative items in place.
The wooden bath mat and shower glass enclosure have straight lines. In a jiffy, they inject a modern flair into the bathroom. The monochrome work of art looks excellent against the white background.
14. Faux Bamboo Bathroom Ideas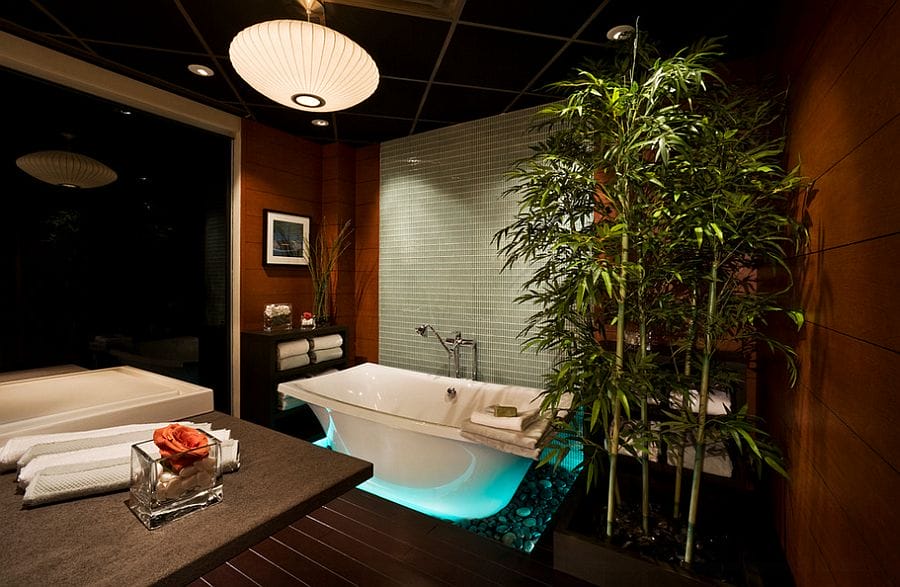 This is one of the bamboo bathroom ideas that we love. This space features a black ceiling. It does not only scream sophistication but also creates a mysterious feel. Bold red walls evoke a romantic atmosphere in a flash.
The artificial bamboo trees quickly make the bathroom feel Asian. They help bring out your inner peace as well. Meanwhile, the paper lantern ceiling provides a soothing illumination.
Wood floor and floating vanity along with tree branches develop a rustic charm. The black shelving unit holds towels and tissue rolls. Lastly, blue LED lighting underneath the bathtub produces a nighttime drama.
15. Bathroom with Japanese Soaking Tub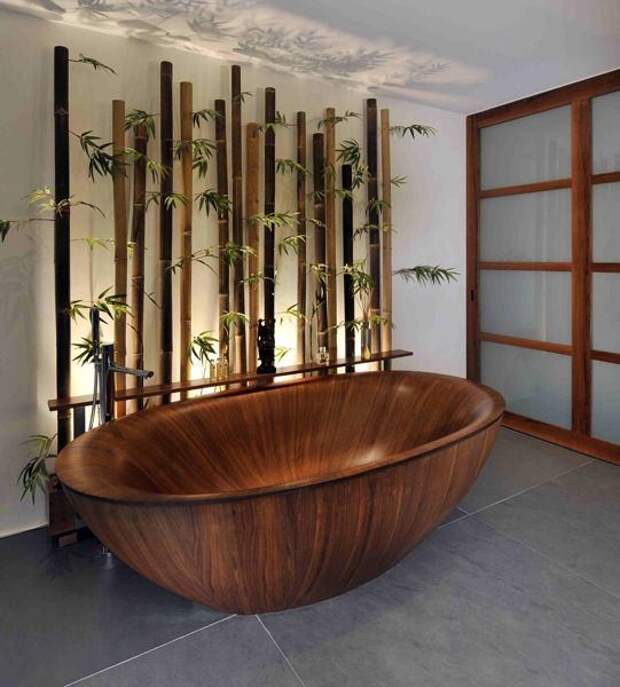 Bright ceiling and wall open up the bathroom. They immediately generate an airy feeling and make the bathing space bigger.
The wooden soaking tub imparts a warm ambiance. It takes the bathroom from bland to bodacious as well. Bamboo sticks in different tones infuse an Asian flair into the interior.
Moreover, the homeowner installed a shoji screen for her sliding bathroom door. Large gray stone floor tiles lend the space a natural element. Meanwhile, creative lighting exudes a sense of tranquility.
16. Bamboo Bathroom Ideas with Rainforest Wallpaper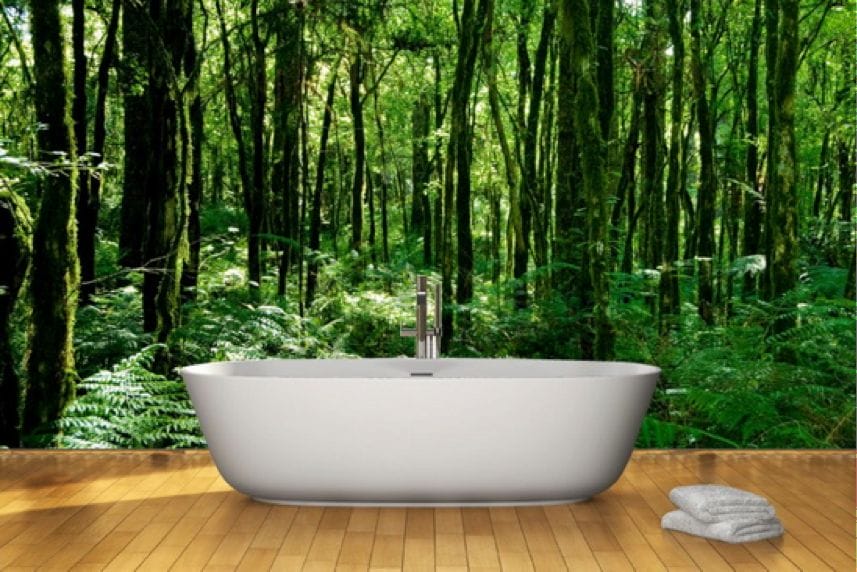 Speaking of bamboo bathroom ideas, you should keep bathroom furniture to a minimum. That way, space doesn't look stuffy and uninviting. In this case, the bathing area only features a freestanding white soaking tub.
Furthermore, bamboo-like tiles make terrific flooring. They help you to unleash your inner calm too. Meanwhile, Brazilian rainforest wallpaper develops a more appealing scheme. It quickly pampers your eyes as well.
17. Bamboo Bathroom Ideas with Green Tiles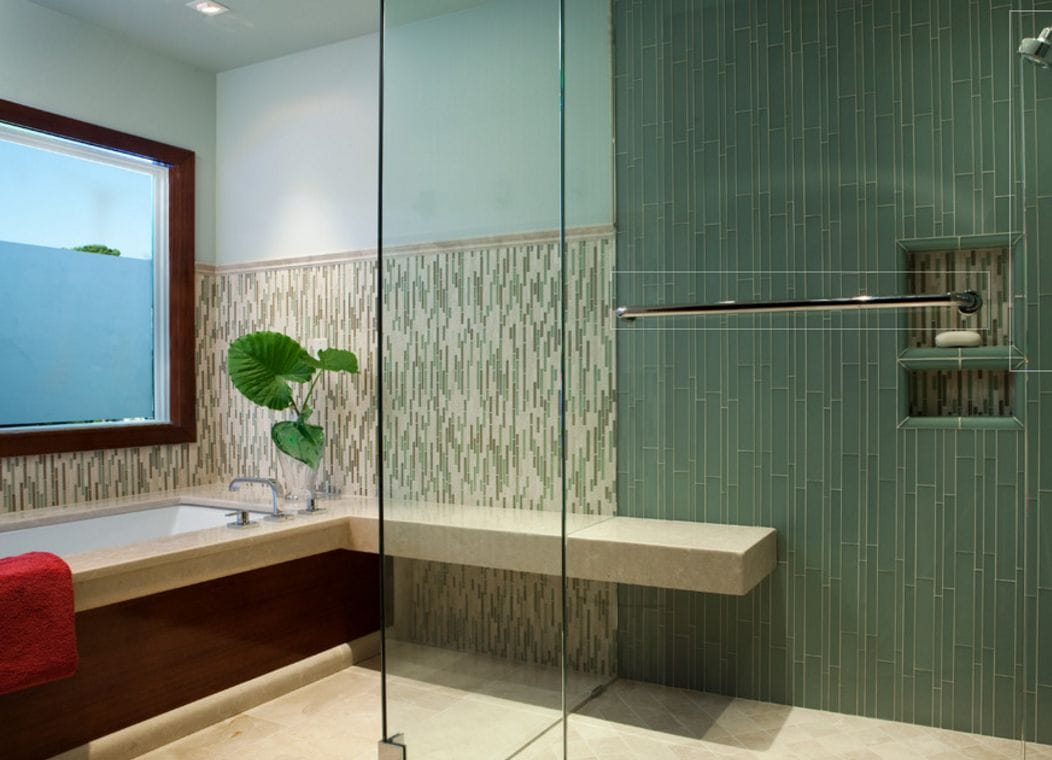 As you see, this bathroom boasts sage green rectangular subway tiles. They cover the shower walls in a vertical manner. Moreover, the pieces look like bamboo trees. This space looks more serene, thanks to them.
Whitewall, windows, and beige floor tiles make the bathroom feel open. Meanwhile, the greenery brings nature in. Dark toned wood tub and window frame exude a homey ambiance.
Red towel carries a bold touch to the bathroom. Metallic hardware carves an urban feel. Lastly, cream, green, and brown subway tiles develop a cohesive look.
18. Zen Bathroom with Bamboo Accents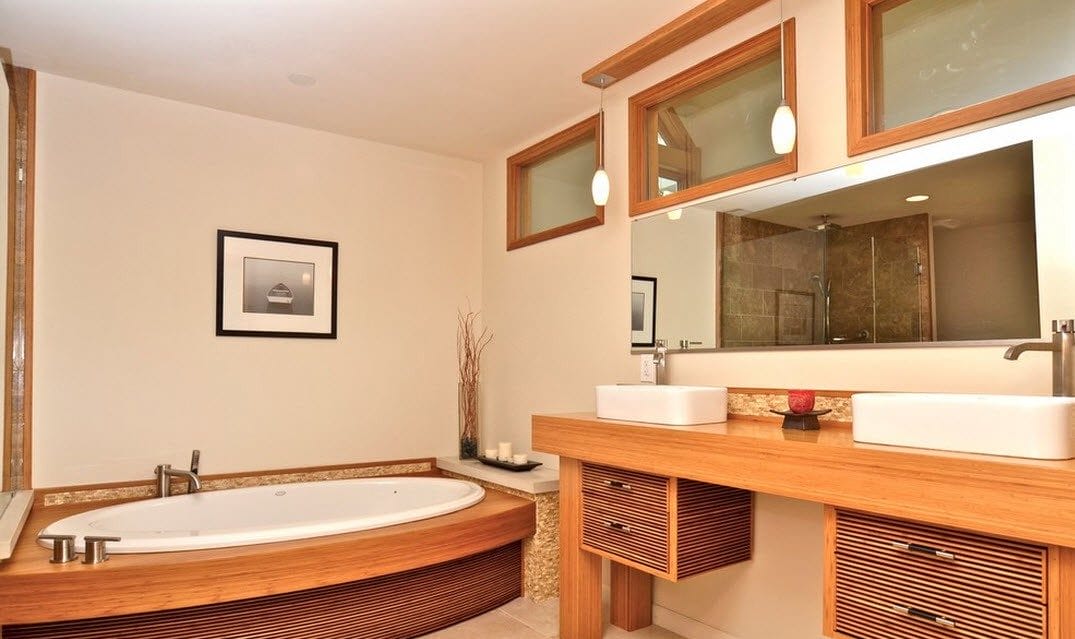 This bathroom features a white ceiling, oval tub, and walls. They instantly send out an airy feeling. The windows let any light get inside the bathing area. Limestone floor and tree branches in a vase bring the outside in.
The bamboo soaking tub frame and drawers instill a zen-like ambiance. Furthermore, they add mesmerizing details to the bathroom.
Vanities, vessel sinks, red decoration, and full-width mirror lend the interior visual symmetry. This bathroom is undoubtedly a great place to bathe as well as relax.
19. Trendy Bamboo Bathroom Ideas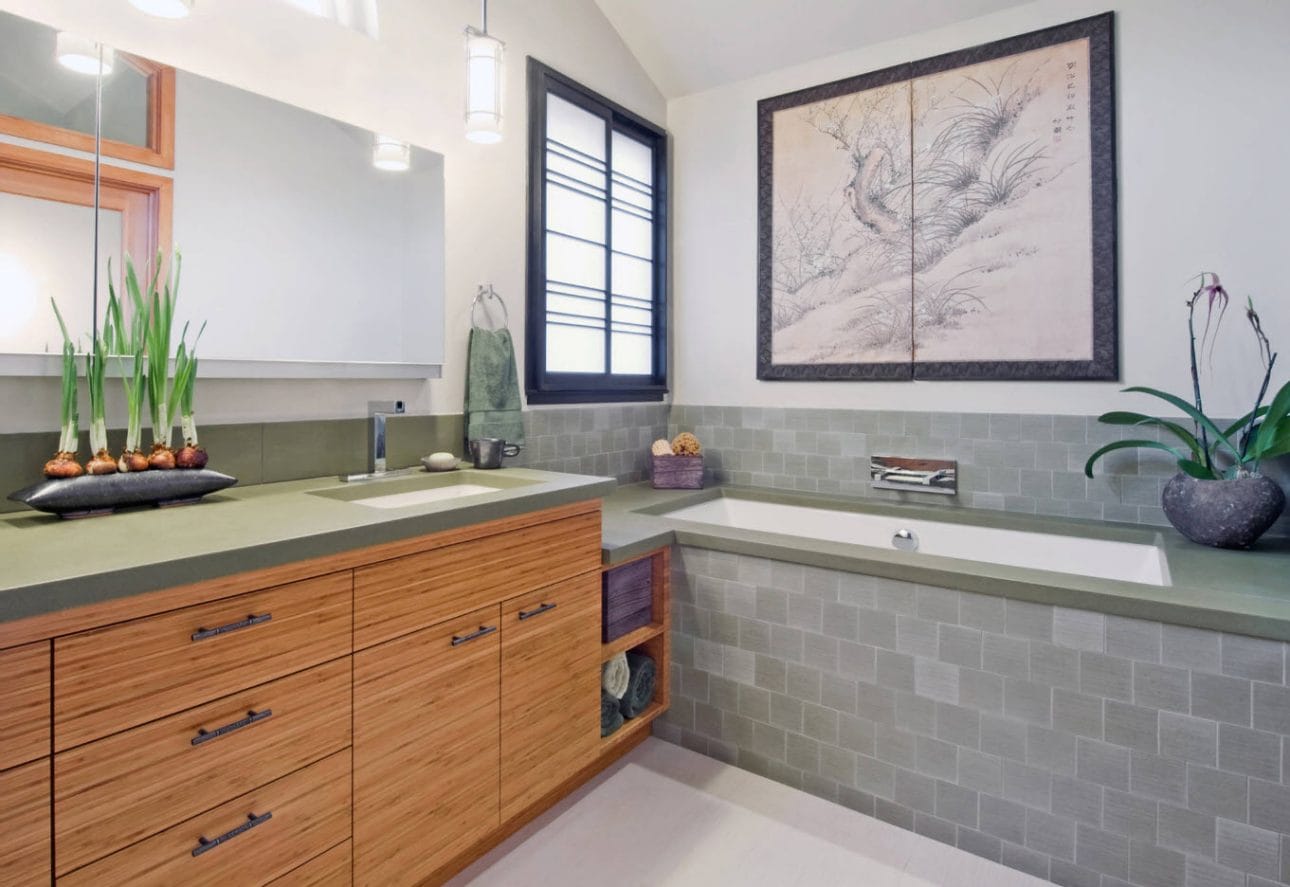 The bamboo vanity comes with drawers for storing personal items. It also boasts open cubbies. They display storage box and rolled towels. Black metal handles contrast wonderfully with the furniture unit.
A full-width mirror makes the bathroom larger. Meanwhile, the green vanity top and gray tub tiles assert a sense of peacefulness.
In addition, the artwork gives off an Asian feel, while indoor plants complete the bamboo themed bathing space.
20. Bamboo Bathroom with Brown Tiles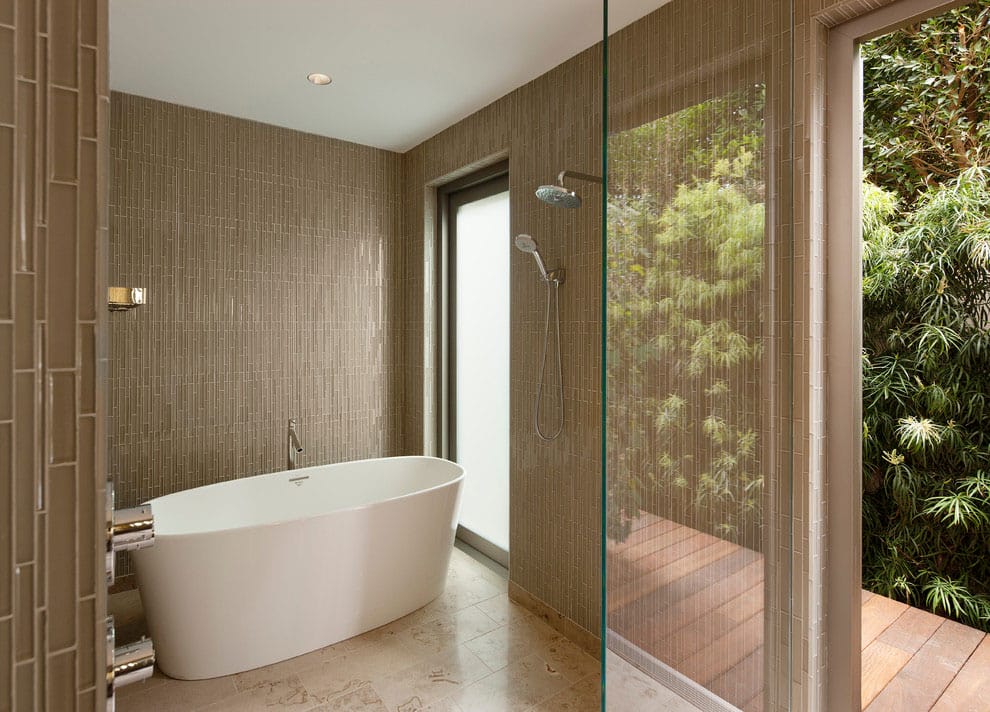 Light neutrals wrap this bathroom, from the ceiling to the floor. They carve a serene mood and an airy setting at once. The freestanding soaking tub brings style as well as comfort to the bathing area.
The brown subway tiles gracefully cover the bathroom walls. They remind us of bamboo trees. Moreover, the pieces go perfectly with the live plants in the outdoors. Meanwhile, the wooden planks make a ravishing flooring.
21. Indonesian Style Bamboo Bathroom Ideas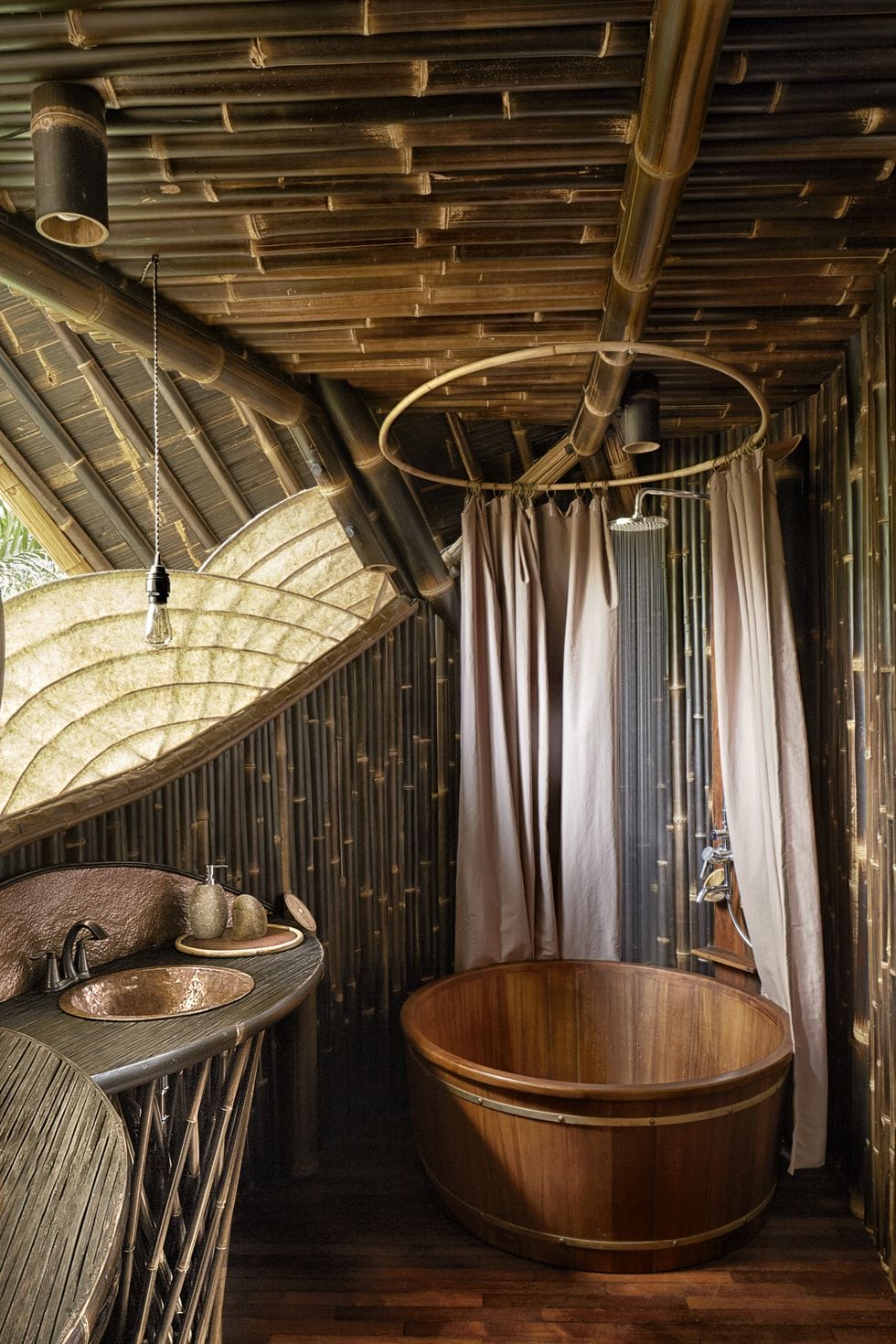 If you can't get enough of bamboos, then try this idea. The master bathing space belongs to the villa in Bali. It features a bamboo ceiling, vanity, beams, and walls.
The copper sink and wood soaking tub deliver visual warmth to this master bathroom. Meanwhile, the beige curtains exude elegance and provide privacy at once.
There you have it, our list of splendid bamboo bathroom ideas. Those bathrooms look both comfortable and pretty. Take inspiration from them and create a personal retreat at home. Pick the design that can fully cater to your needs.