Formerly, the staircase came with risers that connected each tread in your step's arrangement. However, since open stairs ideas enliven the mode, everything has been replaced with a more friendly design that prevents you from having a cramped interior.
In addition to all the standards you must meet so that this staircase model is child-friendly, it is also good to pay attention to the aesthetic aspect. That way, the presence of this stair can elevate your home.
Whether you place it in the middle of your living room or on the other side of the space attached to the wall, everything will be fine.
Moreover, you are free to choose the material you will later use to realize the open stairs ideas that match your dreams.
The ultimate keys that you must also remember are durability and the strength of the material to support everything on it.
Suppose today you decide to upgrade your old staircase to something more innovative. Here are thirty open stairs ideas that you can emulate.
1. Wood Open Staircase with Glass Railing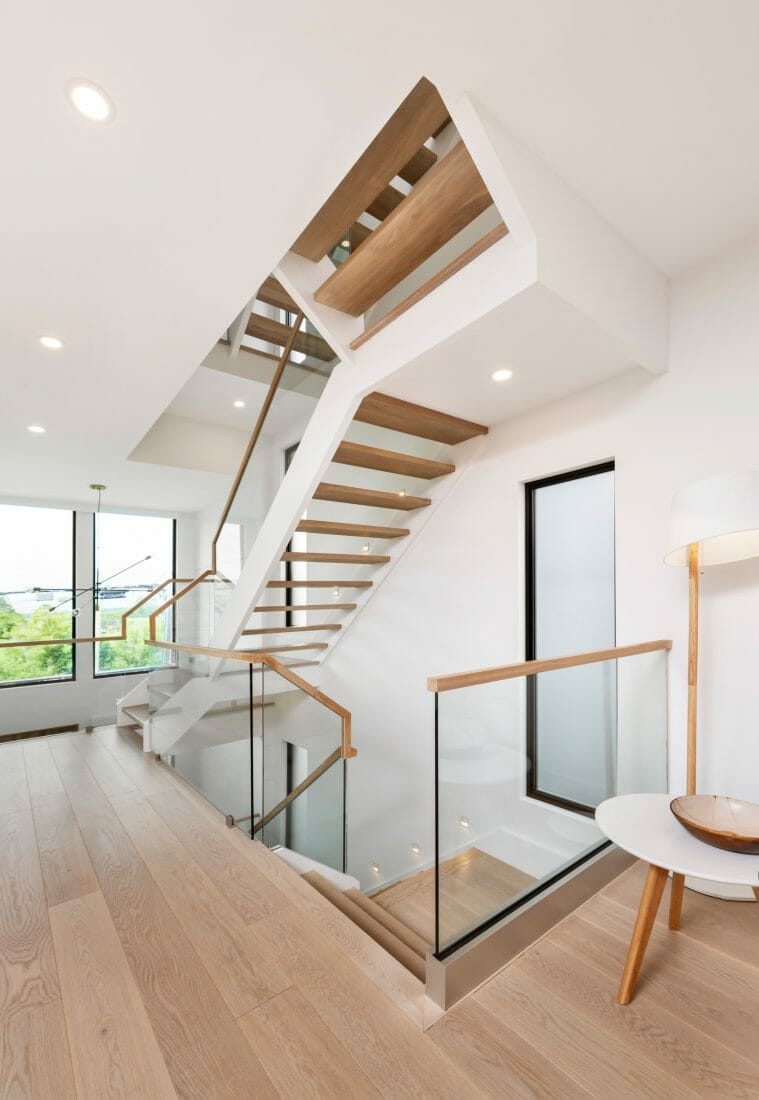 In a contemporary style interior design, you can combine the subtle wooden texture with the sleekness of the glass.
Without a doubt, open stairs ideas that adopt these two materials will succeed in giving an elegant and clean impression to your home.
Instead of choosing to go with a frameless glass railing, it's better to install wood bars on the edges of your glass.
That way, you can create the impression that the wooden bars are floating in the air. And become your magical railing system.
2. Spiral Open Stairs Ideas at The Center of The Room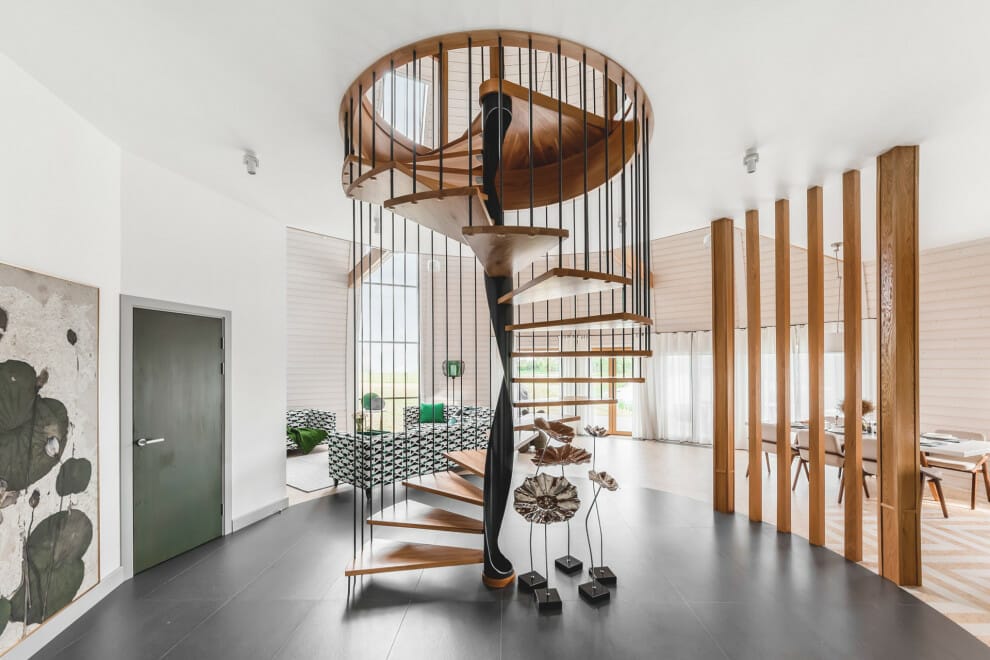 Open staircase in living room can be the perfect focal point if it also comes with a non-tacky design.
As in the picture above, to conjure up the stairway in the middle of your room, you can try to make it spiral with a vertical cable railing that resembles a cage.
And provide some unique floor sculptures to fill the space under it.
3. Circular Floating Staircase with Natural Look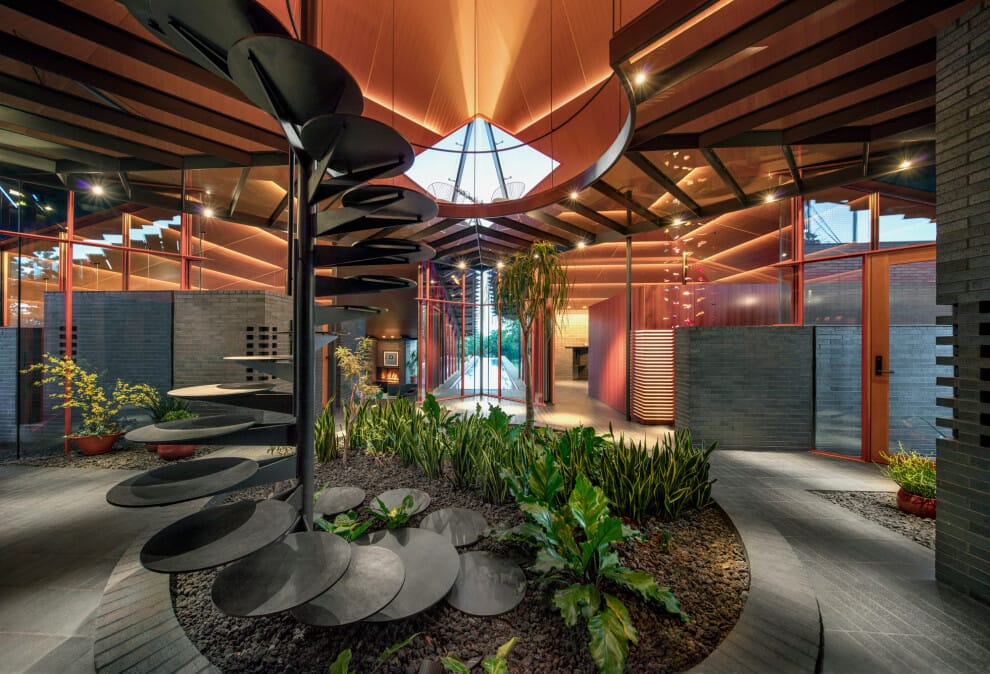 As with the standard staircase with rectangular steps, you can give it a different touch by adopting a circular style.
Next, applying black is the best way to camouflage with the pebbles scattered around it. And, go with decorative plants below to make it look more natural.
4. Steel Stairs with Horizontal Cable Railing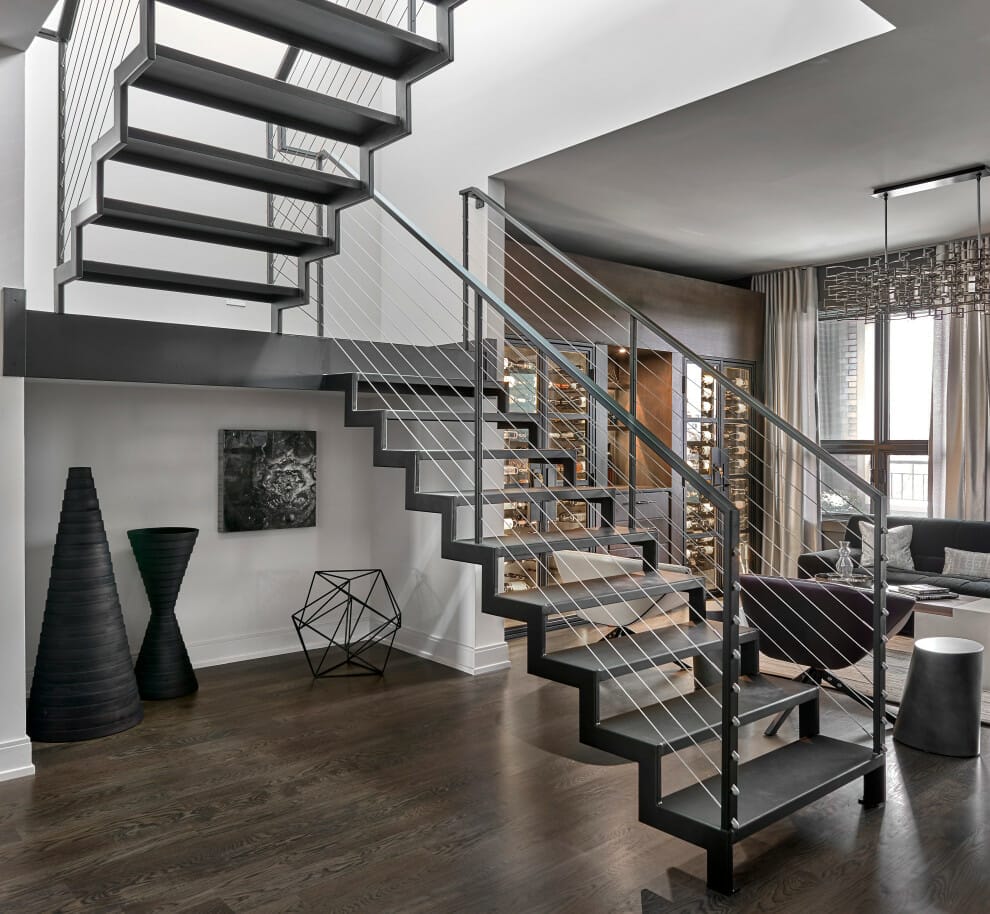 Open stairs ideas with steel will be suitable for installing in your industrial home. Its color and design are pretty stiff. Thus, you can balance the look by presenting a horizontal cable railing.
That way, this stairway will still give an impressive appearance even though it is only in a basic form.
5. Glazed Stairs with Dazzling Décor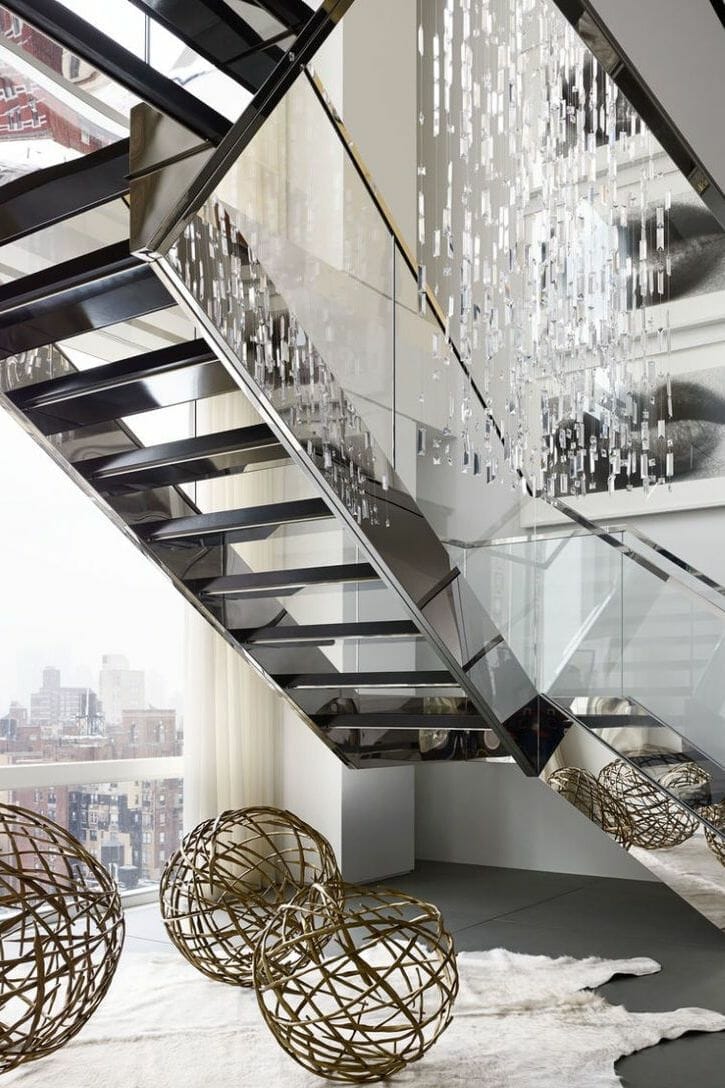 Presenting glazed furniture is indeed very practical to create depth into your home.
Now, what if you also give that multi-visual effect by presenting open stairs ideas with glazed steps? Wouldn't that be very interesting to have?
And you can also make it more gorgeous by hanging curtains made of artificial crystals on the ceiling near the stairway.
6. Vertical Cable Rails and Wooden Steps
Previously you came with a horizontal cable railing, and now you can upgrade the appearance of your stairway with a vertical one.
Undoubtedly, this arrangement will succeed in providing a broad and high visual impression of your interior layout.
Consider setting this vertical railing together with the rails system on your second floor. That way, it will look more natural and sleeker to adopt.
Because the presence of a cable railing is enough to give a powerful personality, it is better to set your steps in wood.
7. Classic One with Lights Under the Treads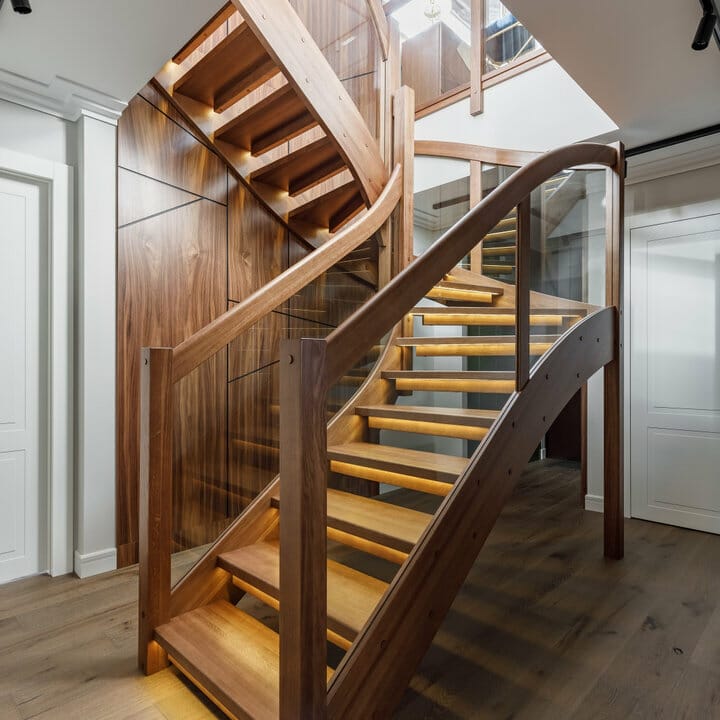 Open stairs ideas don't only show you what materials you should use in your staircase system. But it is also about additional ornaments that can liven up the appearance of your stairway.
It doesn't matter if you will stick with your classic wooden staircase. And, to take it to the next level, you better install lighting at each step. Sooner and later, this element has a dual function: accent lighting and alternative illumination when dark.
8. A Flight in Light Hardwood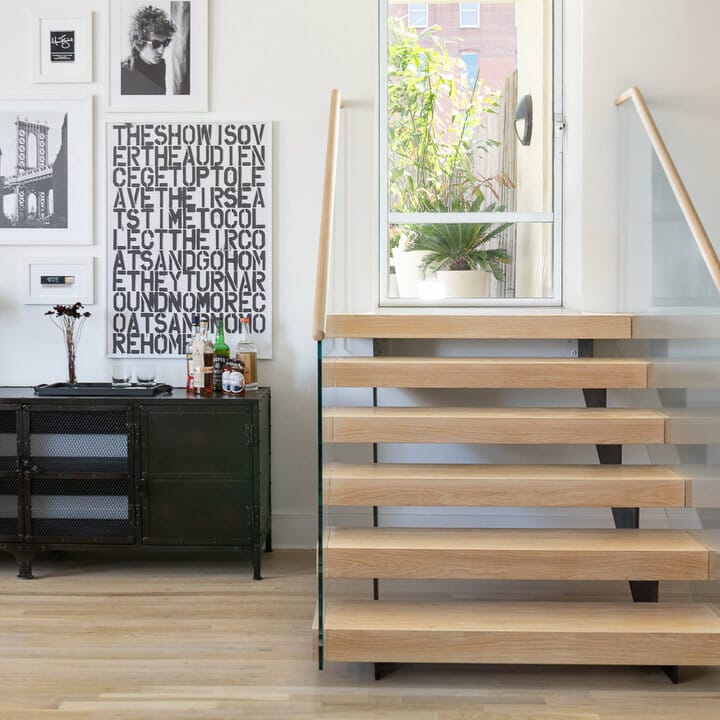 Open stairs ideas aren't only perfect to apply to high staircases with many steps. You can even adopt it on a flight in front of your entrance.
Opting for a go with light hardwood with glass handrails is the best step to take to give it an inviting and clean look.
9. Go Rustic with Half Open Staircase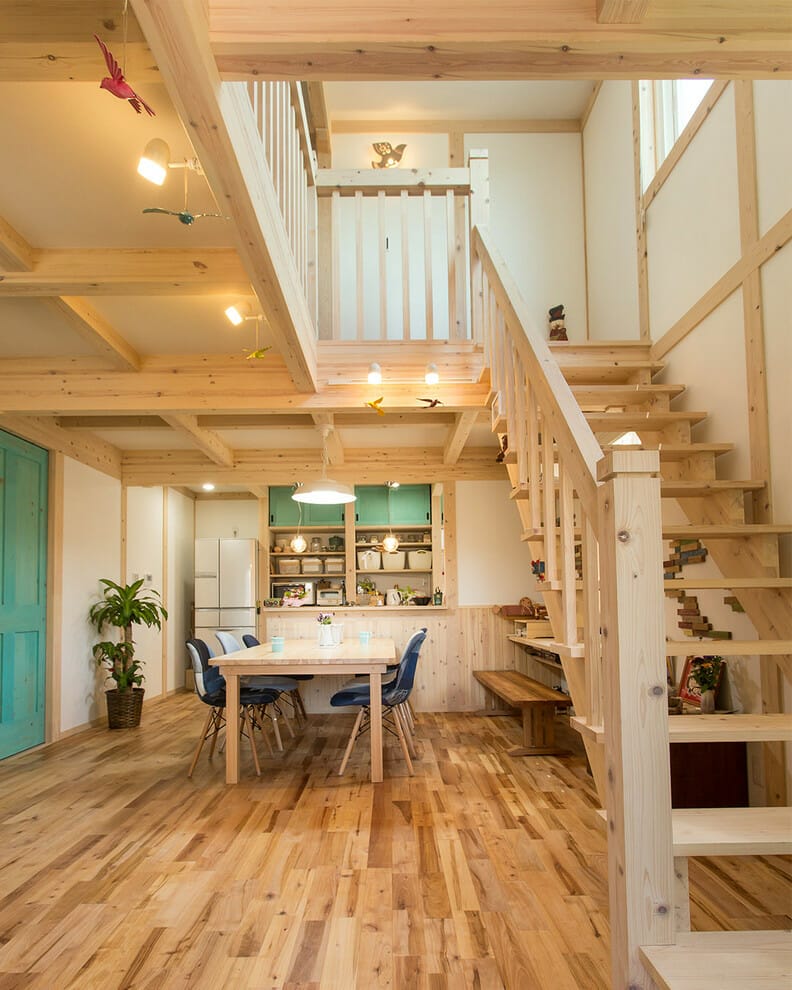 Suppose you do not have enough space to create a central stairway. In that case, you can confidently go with half open staircase ideas.
As in the design above, showing the roughness of the wood surface is a strategy to bring a robust, rustic vibe into your home.
10. Steel in Black as a Focal Point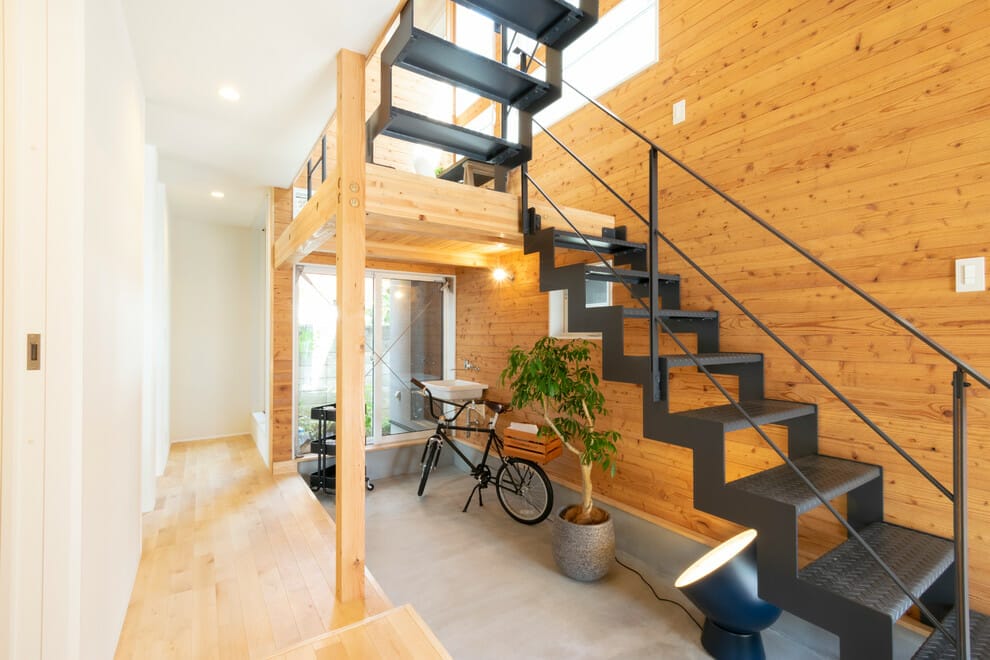 Most contemporary style lovers arrange wall paneling in their homes. A design with a light color requires a focal point powerful color, such as black.
Therefore, it is better to present open stairs ideas as the primary material of steel. And color them in black to make the staircase sturdier.
11. Semi Spiral Open Stairs Ideas to Save The Space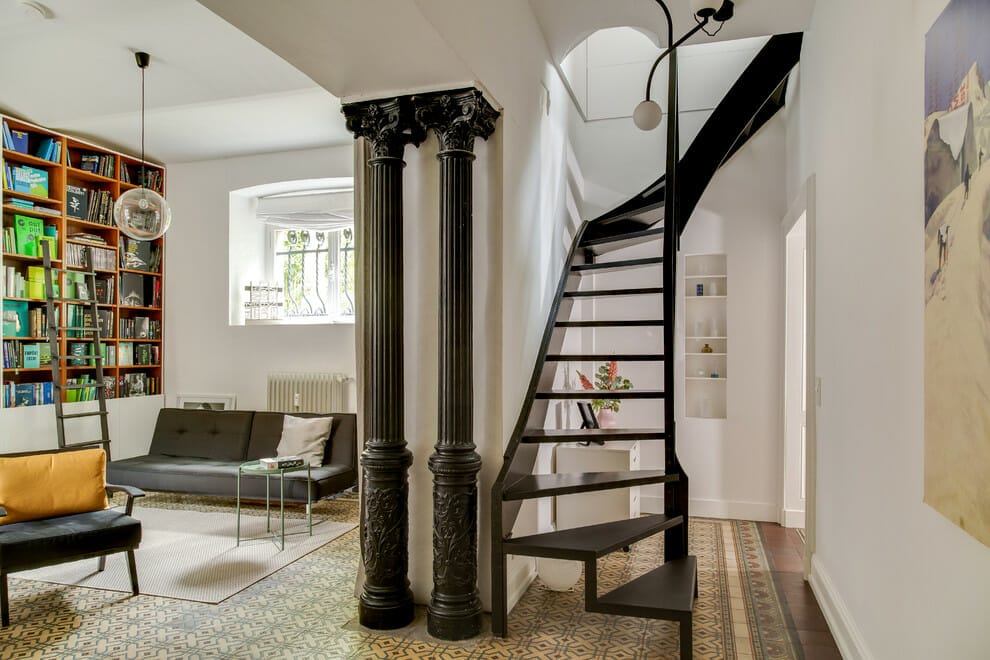 Limited space is often an obstacle for homeowners to have a standout staircase.
However, suppose you are in that position, don't give up in just one try. And, it is why open stairs ideas appear in front of you now.
Certainly, going with the semi-spiral stairs will save more space than with the L-shaped or other standard forms.
12. Castle-Like Spiral Stairs in White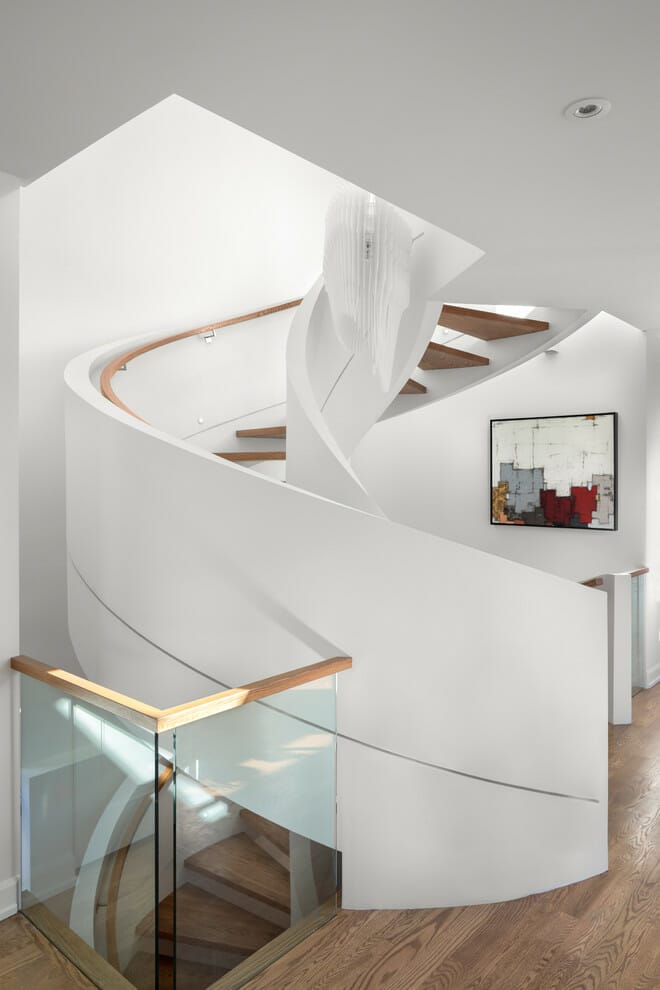 Well, suppose you have a house with considerable space. So, providing a grander spiral stairway is the best.
By simultaneously presenting hand railings from walls, glass, and wood, you will immediately get the incomparable splendor of the castle in your home.
13. Floating Steps with Cable Partition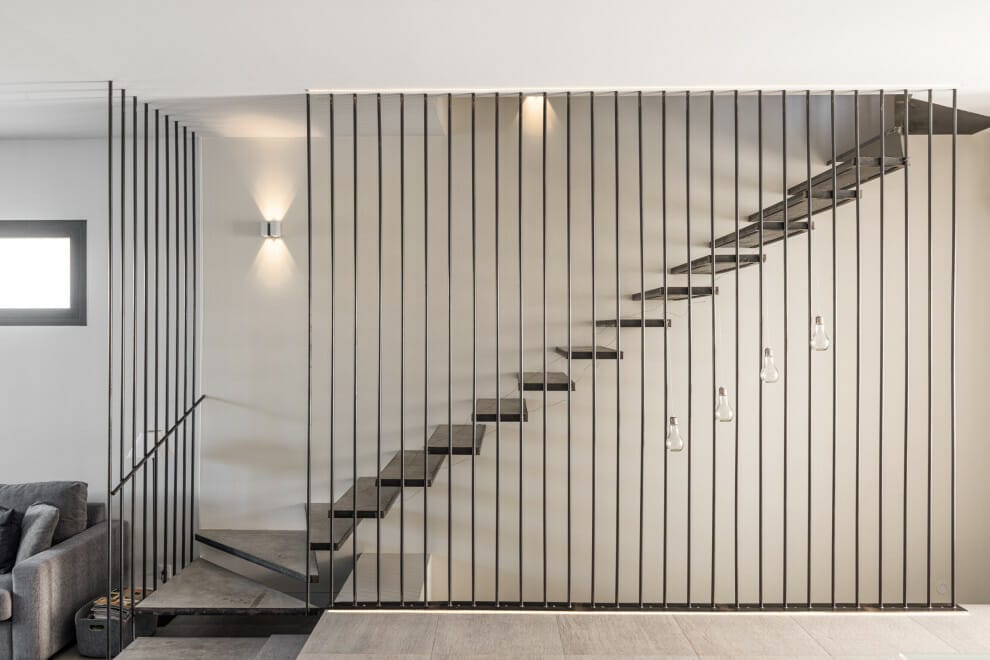 Wall-mounted open stairs ideas come to rescue those with minimal space problems.
Choosing to set your stairs close to the wall, you no longer need to worry about the final result that will make your house look cramped.
Next, suppose you want to add security to your staircase system. Then, it's good to provide a cable partition that doubles up as a hand railing.
14. Mediterranean Feel with Stone Wall and Landing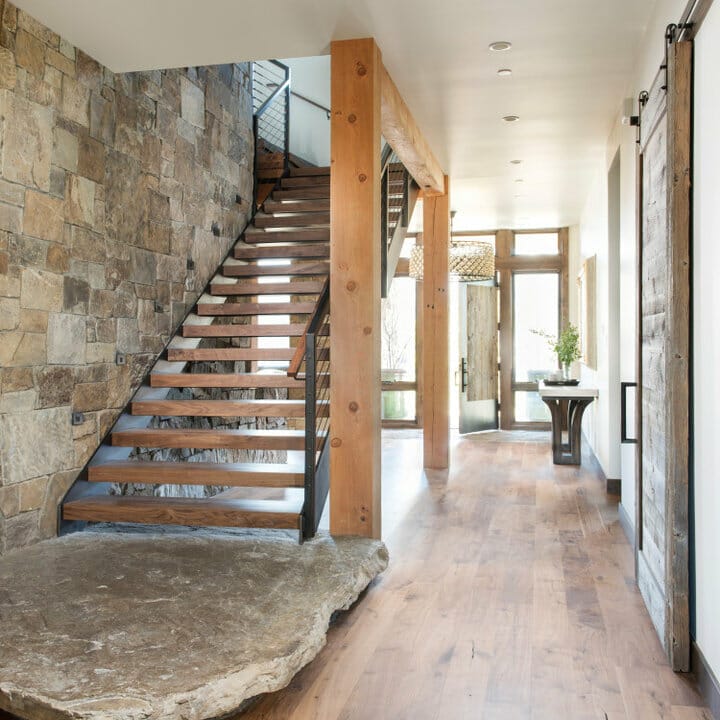 The stone walls and landing at the end of your open stairs are the most unusual objects to give a perfect Mediterranean vibe to your home.
Not only that, but you can also emphasize its presence by adding a large wooden pillar beside your staircase.
15. Simple Stairs Inside the Enclosure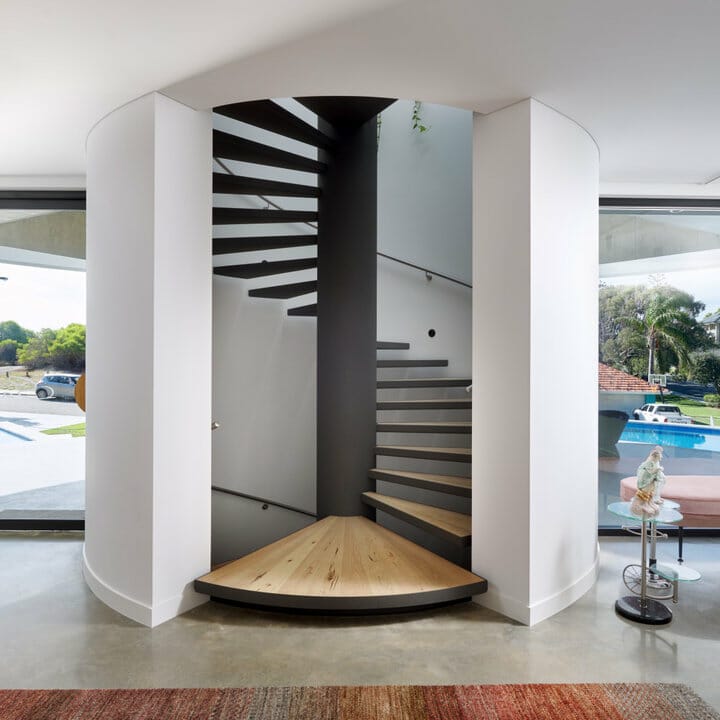 You can not only highlight the existence of open stairs in your living room by giving it decorative sculptures and the like. Instead, you can take the most straightforward way by providing a semi-circular wall enclosure.
Rather than intending to hide it, you can make it a focal point without much energy.
16. Wood Steps, Stainless Bar, and Glass Rails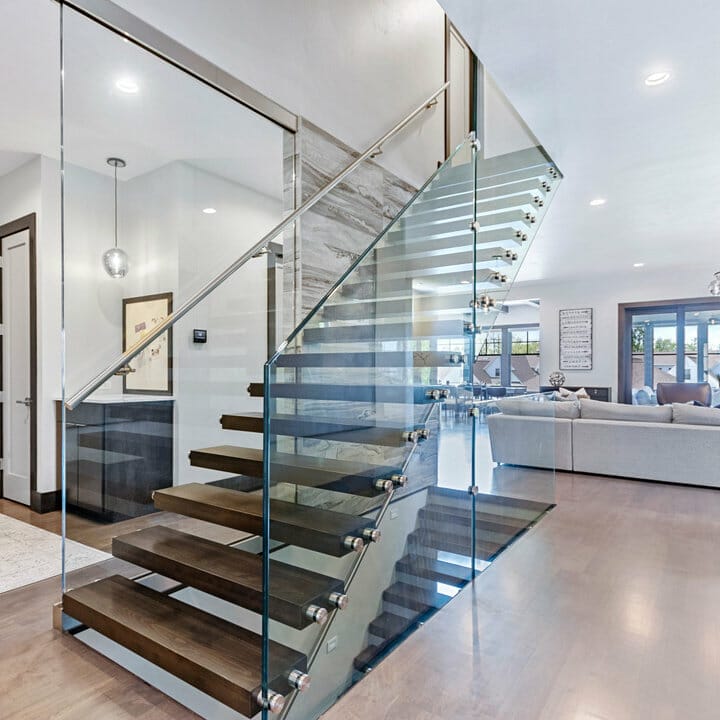 It is undeniable that open stairs ideas with hardwood steps are the most popular option among many people.
You can also have one without a doubt that it will have a dull look. To further upgrade the appearance of your main stairway, it is better to unite three materials at once.
Believe it or not, wood steps, glass railing, and stainless bars make a great combo when it comes to creating a standout staircase in your living room.
17. Create One as If Hung on The Ceiling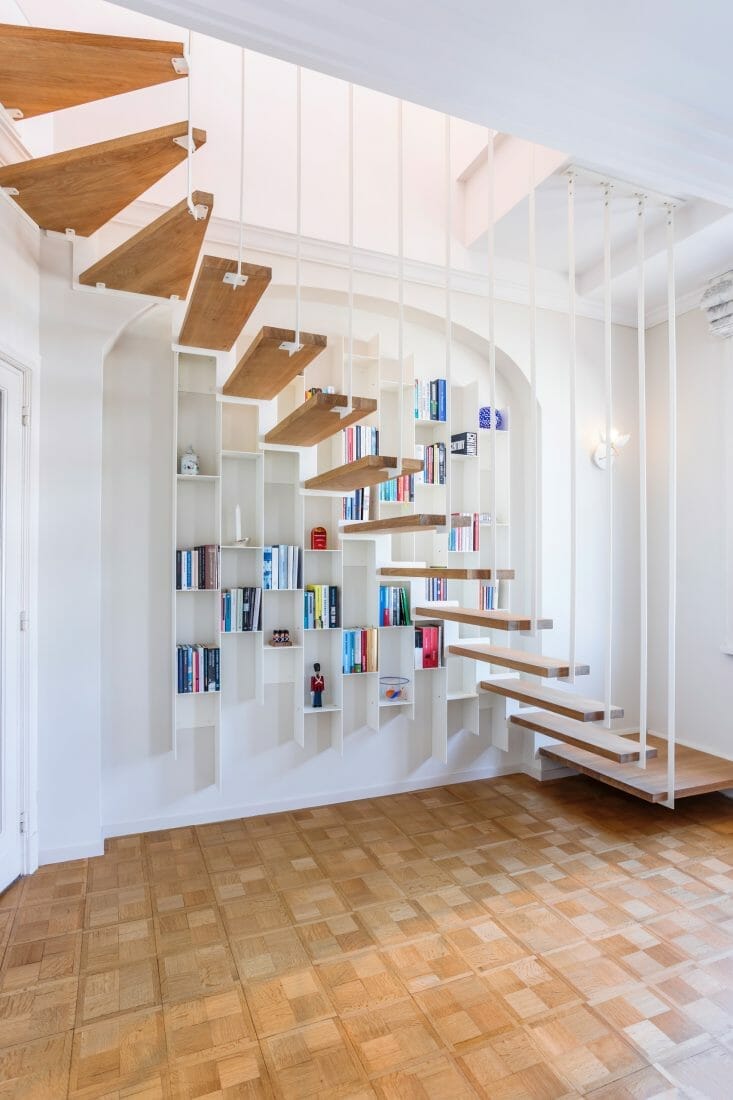 Are you planning to do an open staircase remodeling? If so, you can try to set it up with a unique design by providing a vertical rod in each of your floating steps.
Moreover, coloring it white made it look like a rope hanging from the ceiling. In addition, you can create more drama by bringing a built-in bookcase under your stairway.
18. Make it Sleek with Steel Grid in White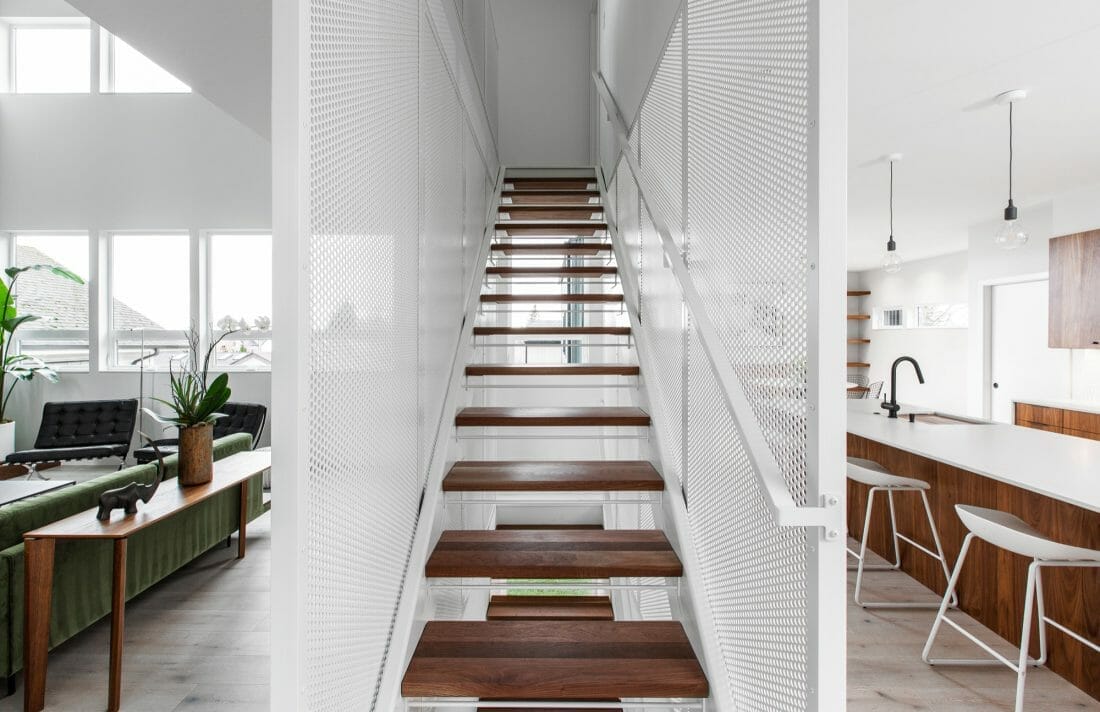 Open stairs ideas that also come with a steel grid will arrange the steps in your home to look more secure and kids-friendly.
Without much consideration, the open riser staircase with this model will be perfect for those of you who want to provide a barrier between your living room and the kitchen without fear of looking cramped.
19. Open Staircase with Landing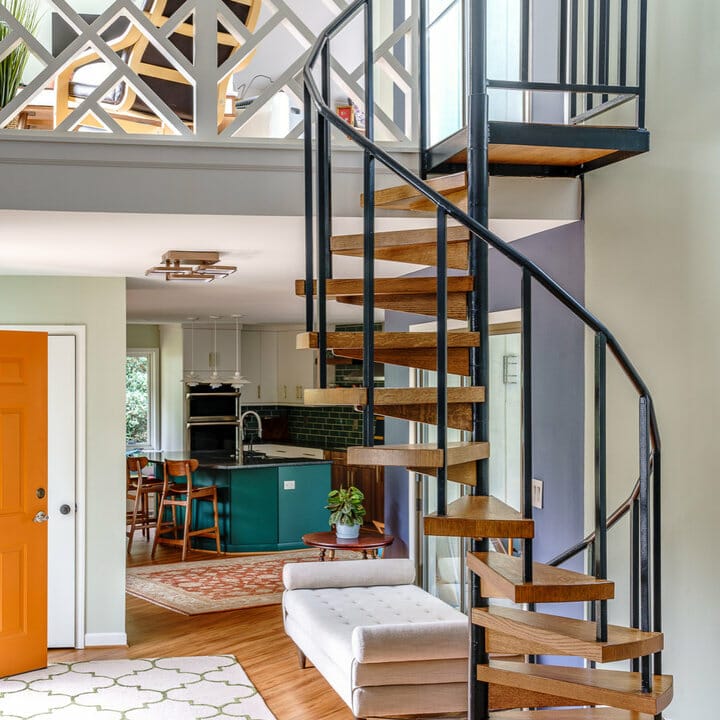 Who says you can't have a landing with open stairs ideas? On the contrary, it will be effortless to provide a landing without worrying about a too complicated design.
As a result, the landing before the first step will give you additional space, like a mini balcony in your home.
20. Open Riser Staircase with Carpet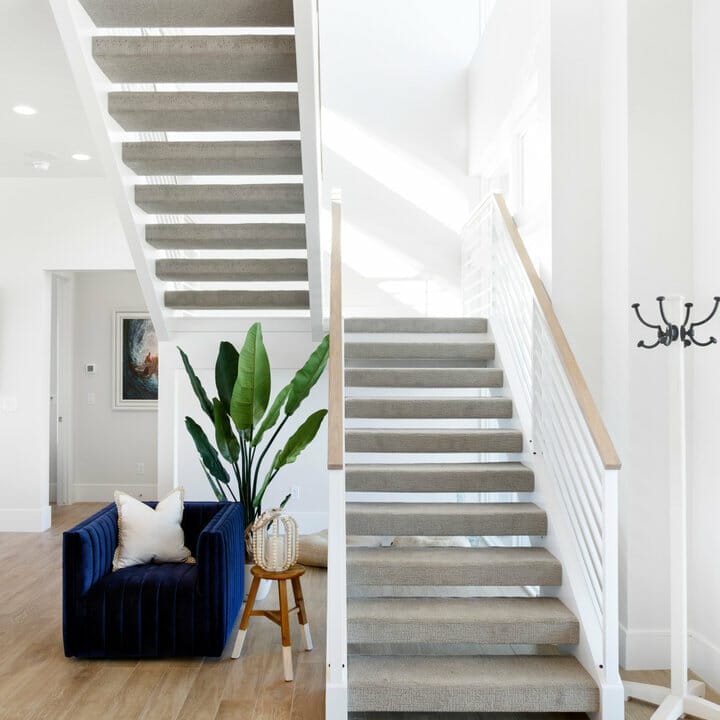 You will still be able to get a warm look on your open staircase by providing carpeting at every step.
Indeed, this will seem a bit labor-intensive. However, why don't you make it happen by doing a weekend DIY project? Of course, this will be a lot of fun.
21. Geometrical Railing in Black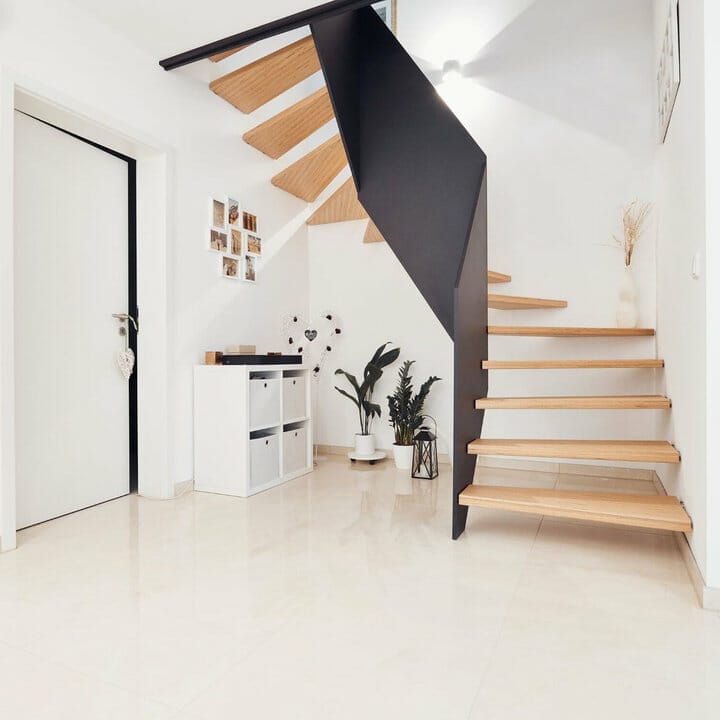 Have you ever thought about having a unique hand railing that comes with your open staircase? If so, and you crave the best, try with a geometrical form like above.
Of course, this won't be easy to implement. However, this will be worth the final result that you will get later.
With this geometric railing, you no longer need to add many decorative elements to make it an impressive focal point.
22. Set a Wall Art Between Two Flights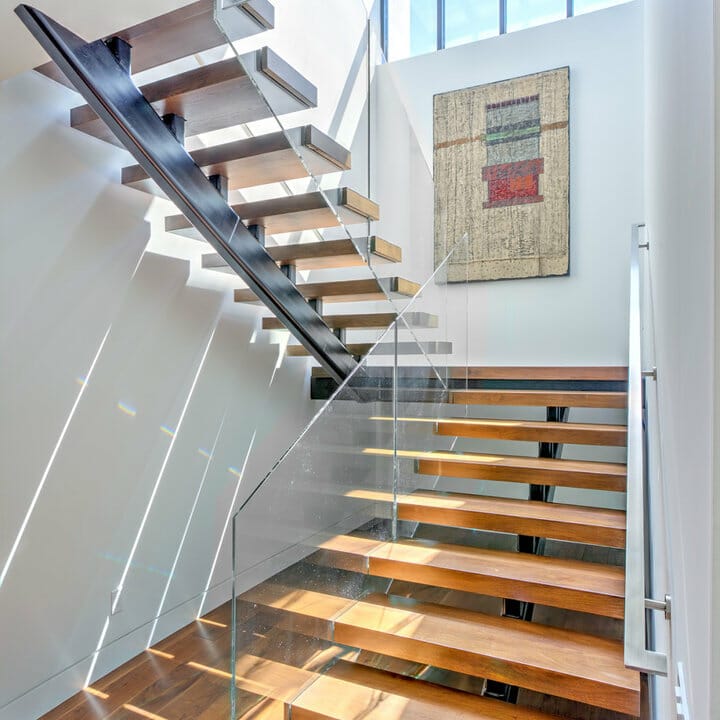 Having two flights and landing in the middle requires you to decorate the empty wall space there. It soon prevents your main stairway from looking dull. Therefore, it's good to display some wall art for entertainment purposes.
Of course, it would still be OK with a single wall decor. However, if that's your decision, it's better to choose a large size so that the final result is more powerful.
23. Separate Them Using Wood Partition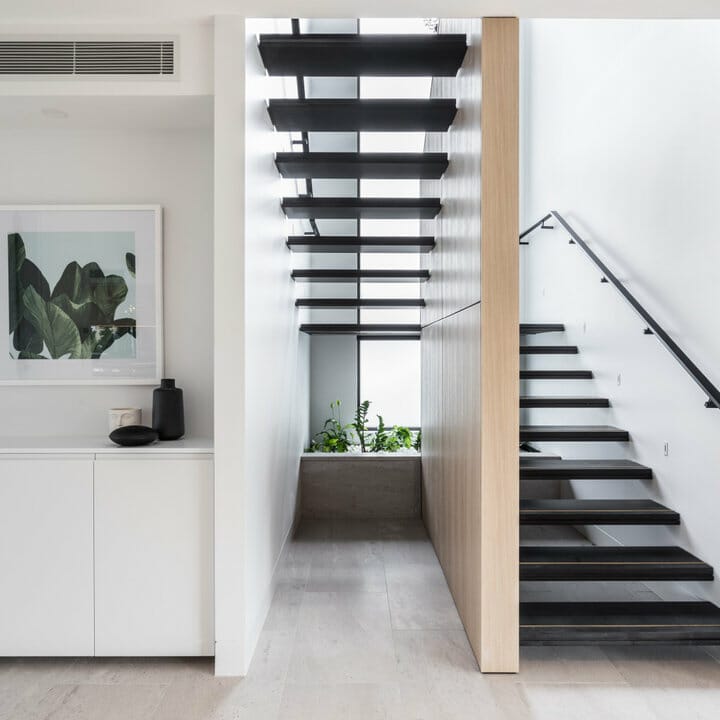 Suppose you want to adopt open stairs ideas and prioritize having wall-mounted handrails. In that case, you can provide a wall partition between the two flights.
Do not be afraid, because this will not make your house look cramped. Instead, you will have additional space to securely display your indoor plants under the stairs.
24. White Marble Steps with Accent Lighting on The Wall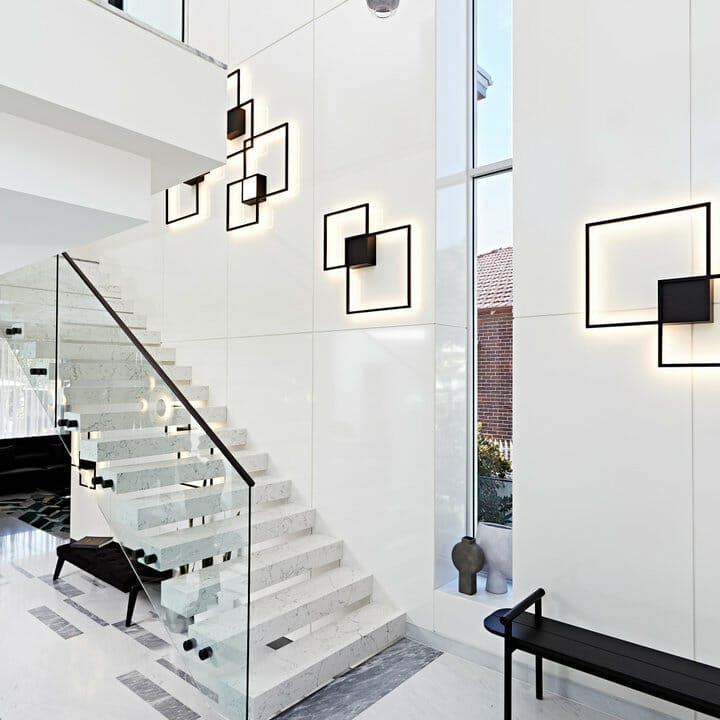 You will quickly get a magnificent theme in your main open staircase if you go with marble tiles for each step.
And, consider choosing white to give a clean impression simultaneously. You can also provide accent lighting on the walls along your stairway to add more drama.
25. Basic Black Open Stairs Ideas with Striking Décor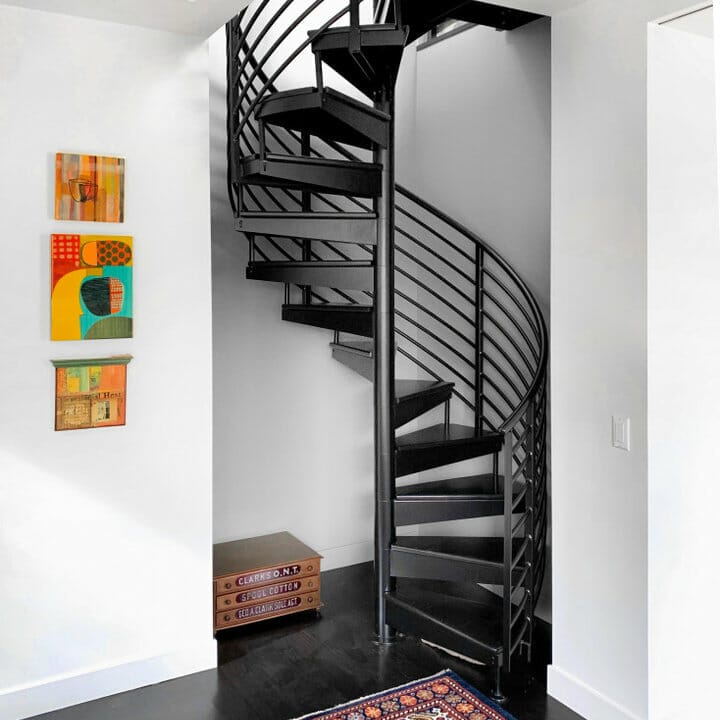 A Black open stairway made of steel is considered chiefly normal and not enough to give personality to your home.
You need to provide additional wall decor with striking colors to overcome that. For example, wall art brings the warmth of the twilight sky, which is dominated by the color orange.
26. All-White Theme with Indoor Plant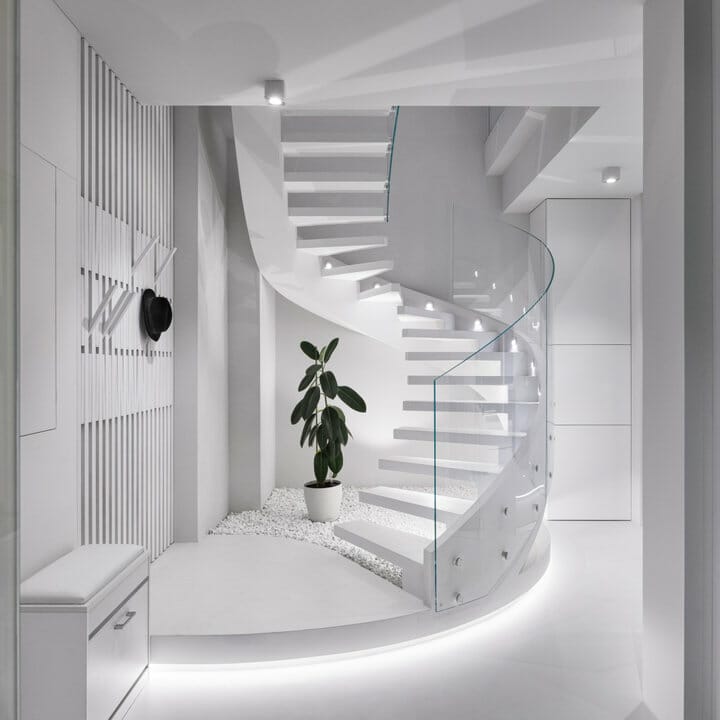 The spacious space with open stairs ideas with an all-white theme will provide an unmatched visual expansion.
Even so, at least you give it a little pop-up color to keep it from being dull. It's not complicated. Just bring a large indoor plant next to your stairway, and everything will be impressive again.
27. Set the Stairs Near the Window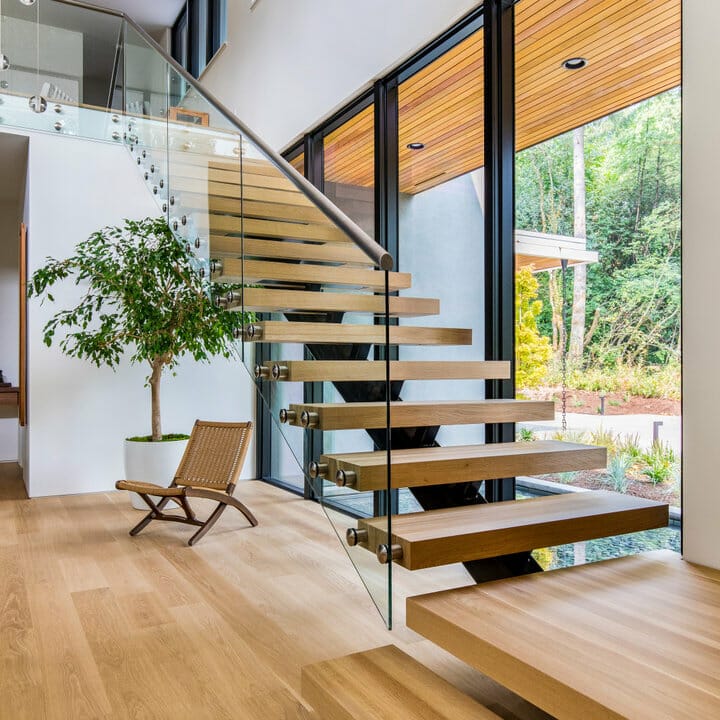 Another way you can add drama to your simple open staircase is to set it close to the large window. Effortlessly, you will soon get a natural landscape that only you have.
Moreover, you will efficiently emit earthy vibes with wooden steps with a glass railing like above. And of course, don't forget about indoor plants to bring natural freshness into your room.
28. Powerful Industrial Vibes with Metal Staircase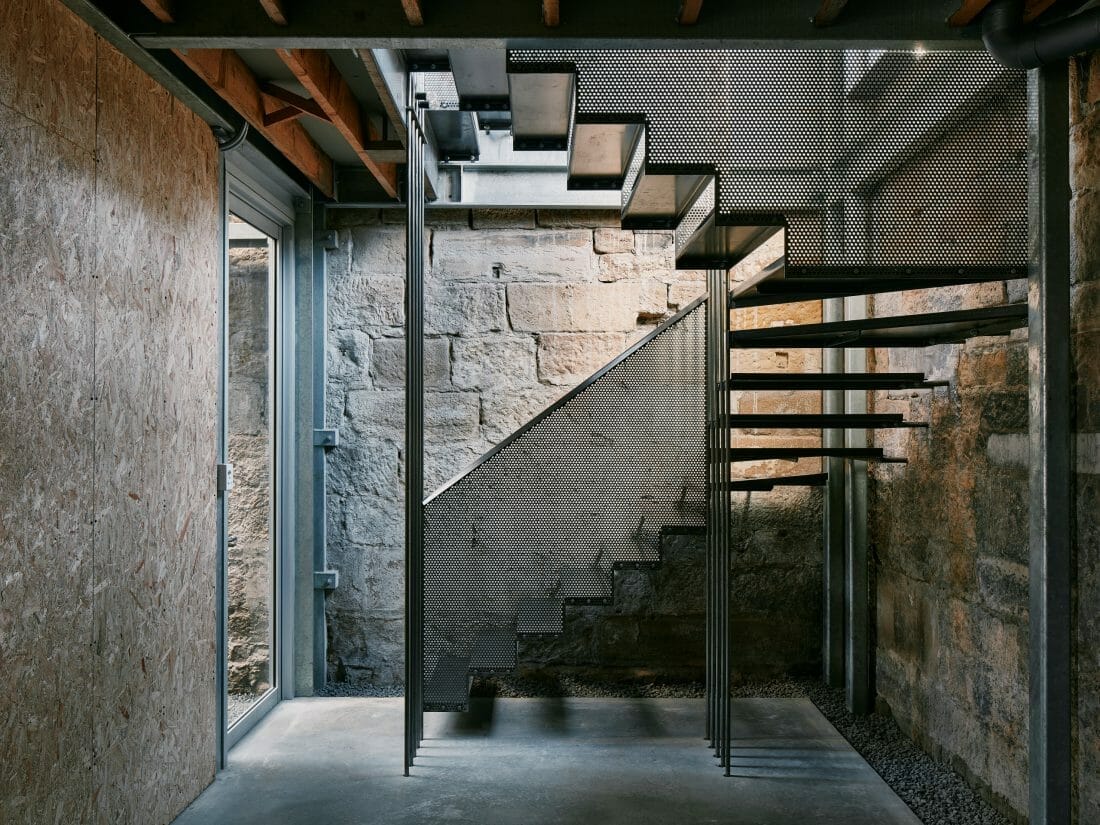 The metal open staircase with grid railing and stone walls gives a powerful industrial vibe.  Suppose you choose to adopt this theme. Then, it would be better to put it outdoors or in your basement.
29. Medium Size Landing with Bench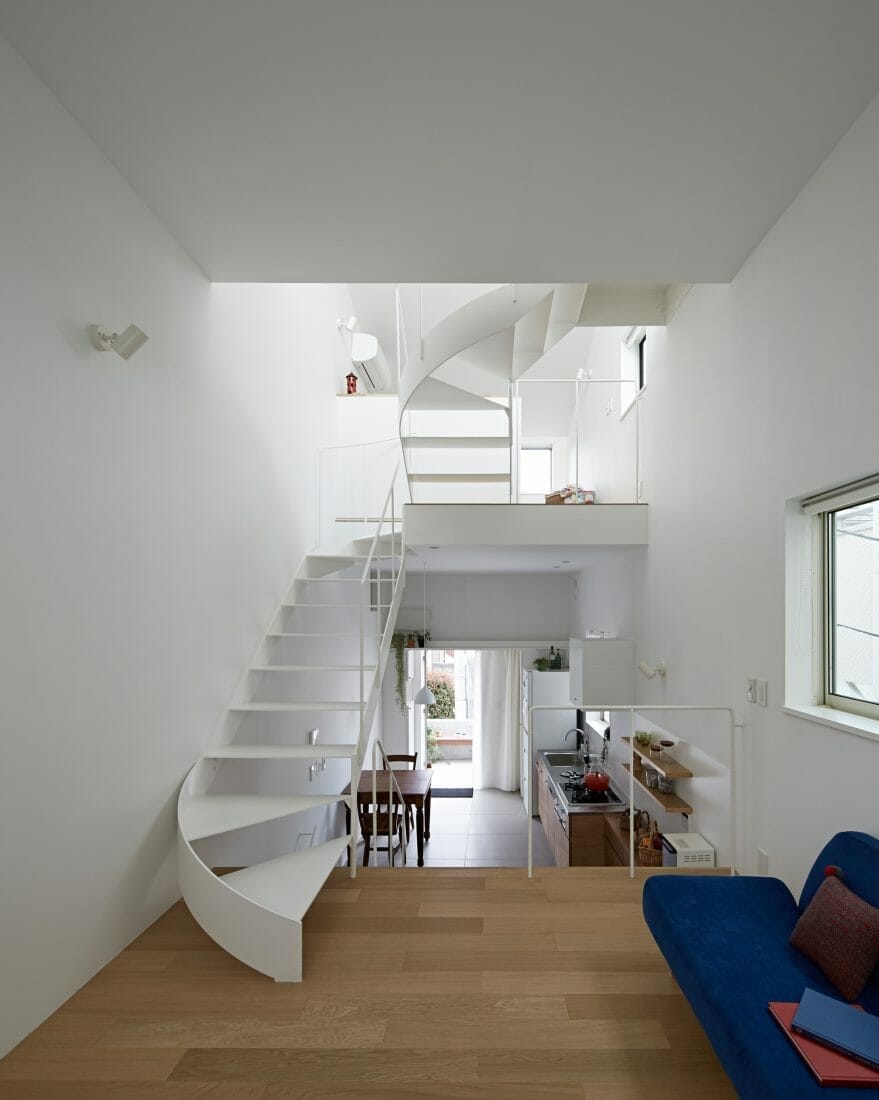 A wide landing between the two flights will be very useful for you. In addition, to give it an attractive wall decor, you can also put a bench in this space.
So, aren't open stairs ideas profitable enough to adopt?
30. Golden Lis Among the Black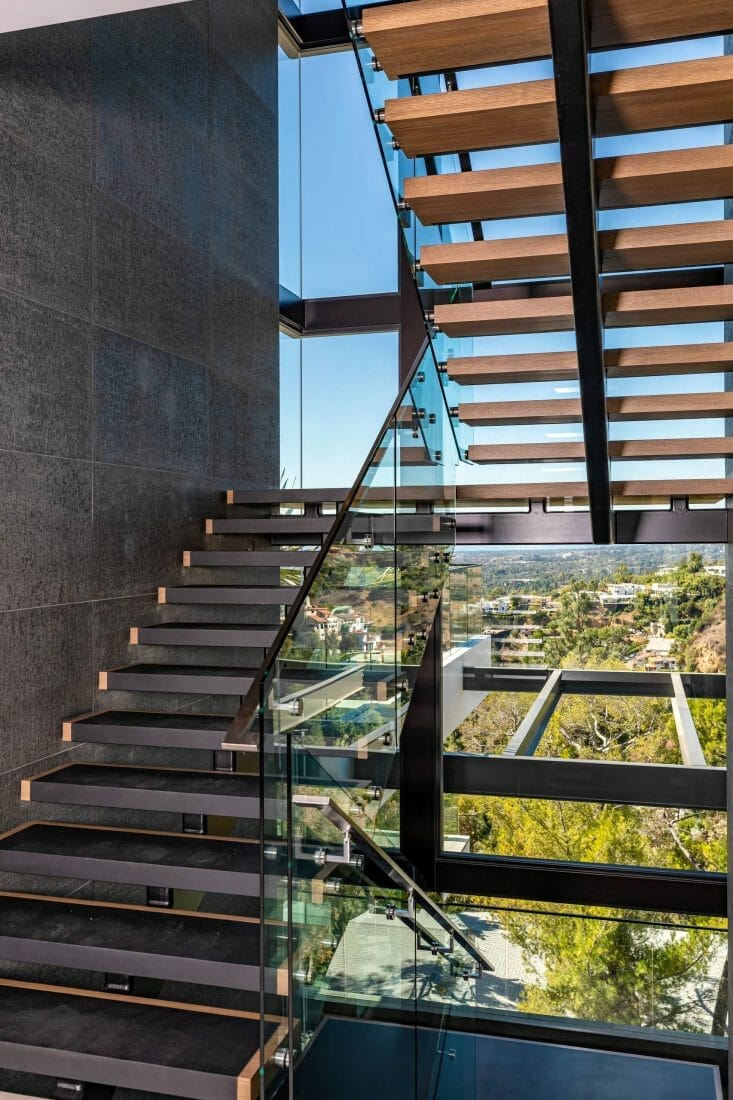 There have been so many open stairs that come in black. For that, give a standout personality by giving gold trim on the side close to the wall. Furthermore, glass railings are also the best to complement it all.
Those are the open stairs ideas that come with various materials and complementary elements. Perhaps you have already got the best one to suit your taste. Why not immediately implement it in your home?