Decorating the cooking area in a beach home seems challenging. Some homeowners simply coat their cabinetry with blue paints. However, there are other ways of embracing beachy vibes. I've curated a slew of coastal kitchens ideas for you.
Coastal-inspired interiors typically boast a minimal palette of subtle colors. Also, they capture images of the sea and sand. Furthermore, such spaces feature natural elements like rattan and wood. The design is suited to any open-plan home, too.
Here, I'll show you coastal kitchens in varying decorating styles. Additionally, they prove beach-themed interiors don't need to be elaborate. Let's dive into them!
1. Sky Blue Coastal Kitchen Cabinets
Need beach cottage kitchen ideas? Don't hesitate to copy this look. Sky blue cabinets lend the cooking area a carefree feel. They punch things up in the culinary space above, too.
The white ceiling and single-hung window ensure the coastal kitchen feels airy. Open shelves and glass-front cabinets lighten the atmosphere.
Wooden dining chairs and butcher block counters instill homeliness. Meanwhile, warm and cool glass accent pieces introduce visual cohesion.
2. Beach House Kitchens with White Cabinets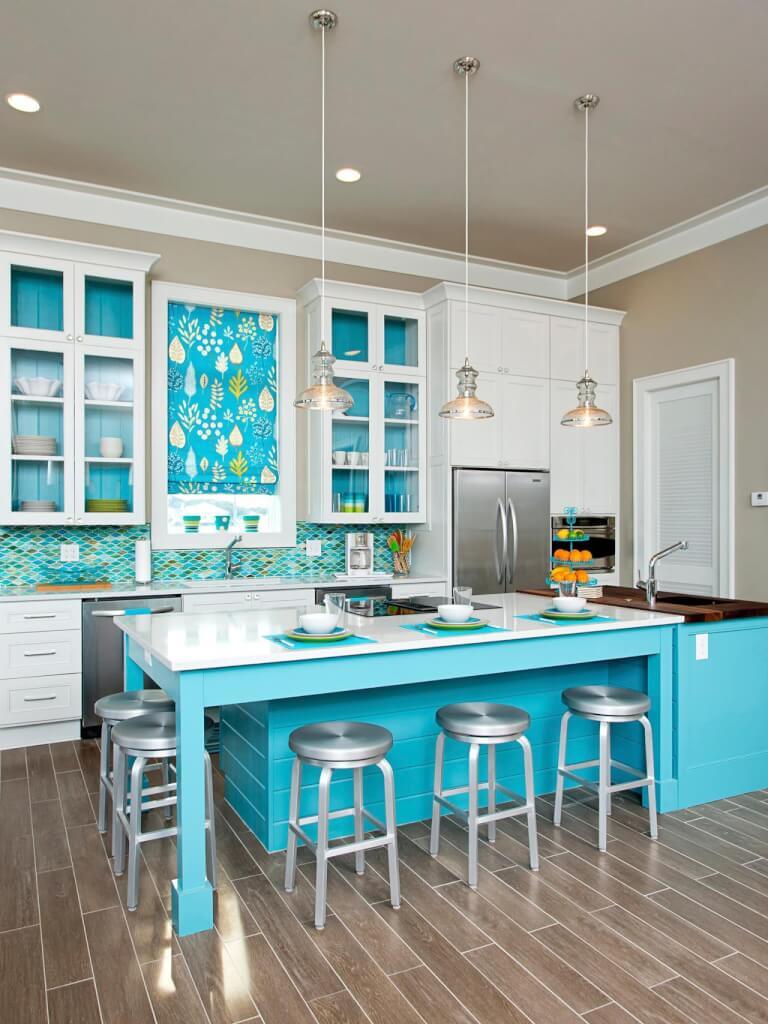 This is one of the coastal kitchens ideas you should replicate. Stark white cabinets and turquoise furniture pieces carry a carefree feel.
Since glass-front top cabinets sport different blue shades, they generate interest. Meanwhile, the taupe kitchen ceiling and walls produce a tranquil oasis effect.
Wood-look floor tiles accent metallic counter stools. Furthermore, the botanical window blind and vinyl backsplash tiles keep the room cohesive. Also, the rich-toned butcher block counter depicts warmth.
3. Minimalist Coastal Kitchens Ideas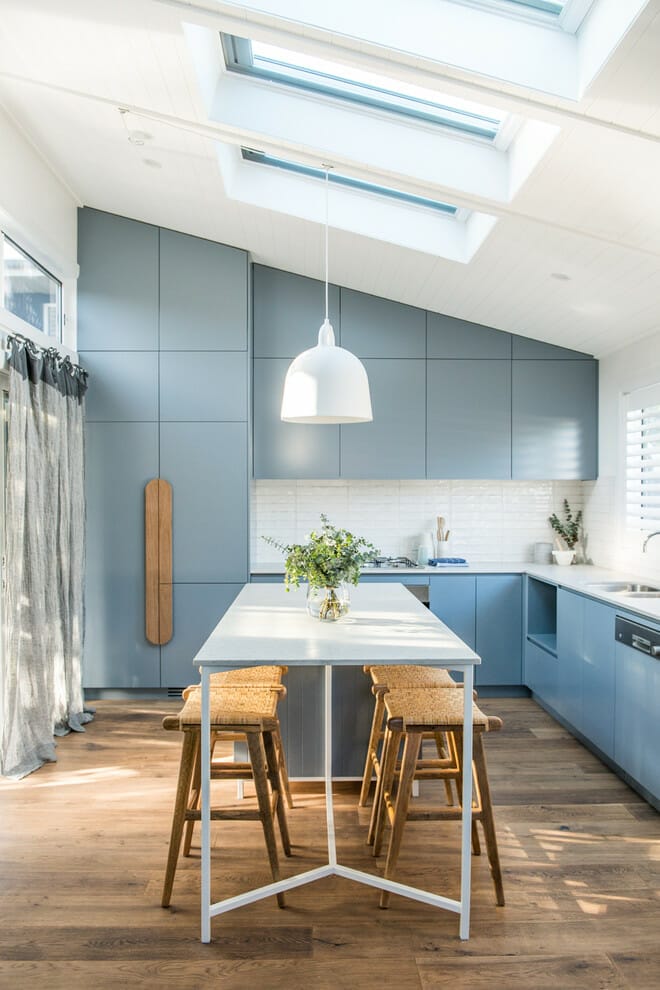 The clean white shiplap ceiling, skylights, and subway tiles generate a spacious feel. Meanwhile, modern coastal kitchen cabinets in a gray-blue shade boast no handles. Furthermore, they carry serene and minimalist vibes.
Here, the raw wood flooring and woven stools create an outdoorsy look. Also, the gray curtain mingles with minimalist cabinets. Moreover, the trendy white pendant leads the eye to the gorgeous greenery in a clear glass vase.
4. White Coastal Kitchens Ideas with Navy Touches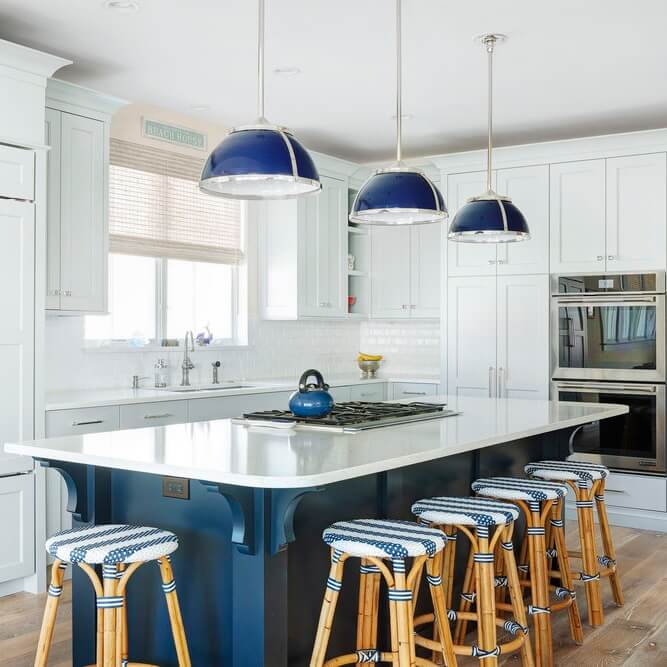 Speaking of beach kitchen colors, bright white and navy are your friends. The white cabinetry, ceiling, and counters portray cleanliness.
The intense navy island and pendants carve drama while instilling masculinity. Meanwhile, the bare wood flooring acts as a rustic decor element.
Windows let in abundant daylight, so navy units cannot overwhelm the kitchen. Furthermore, striped rattan counter stools don't look out of whack here. They're an eye-catching nod to the beach, too.
5. Coastal Kitchen Decor Ideas with Patterns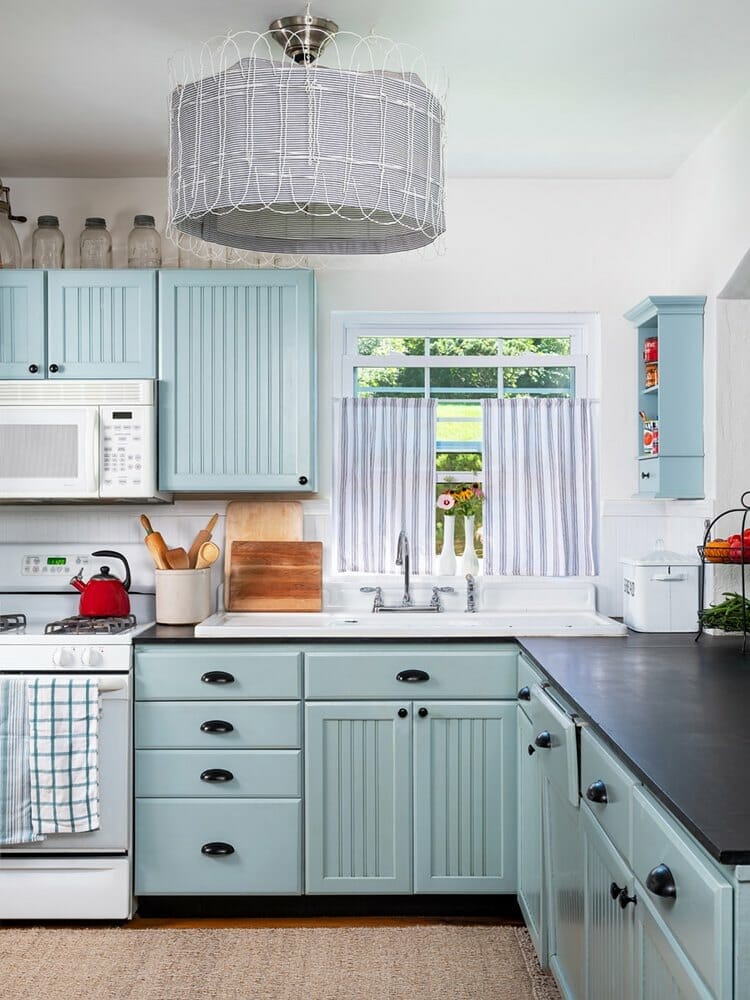 If you aren't big on bright hues, implement this idea. Here, the powder blue beadboard cabinets are easy on the eyes. However, they still deliver a touch of color.
The white wall, sink, ceiling, and kitchen appliances mingle with soft blue cabinets. Stripes and grids introduce other blue shades for a cohesive feel.
The black counter and cabinet hardware bring some depth. Meanwhile, the raw wood and red accent pieces temper chilly elements.
6. Eclectic Coastal Kitchens Ideas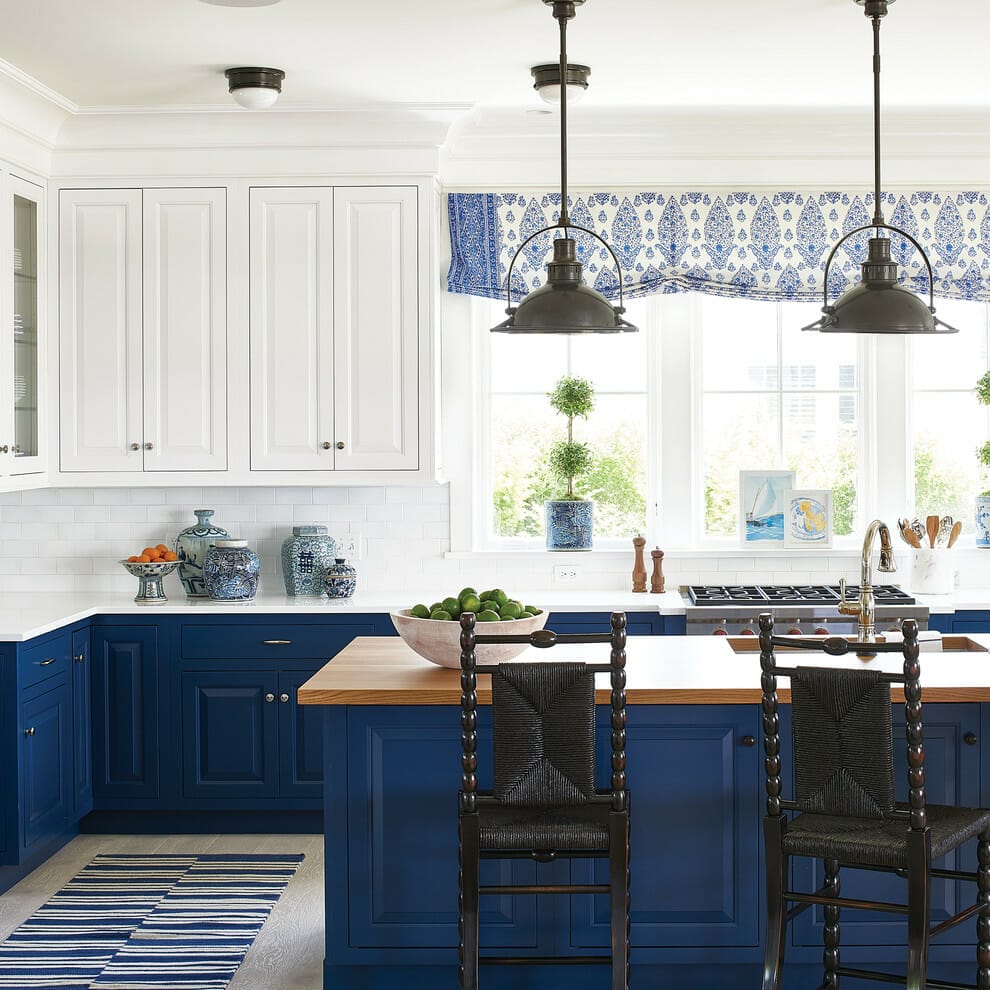 Speaking of coastal kitchen countertops, take cues from this space. The eclectic kitchen has a butcher block counter that offers a homey appeal.
The striped kitchen rug and two-tone cabinets capture a contemporary aesthetic while conveying cohesion. Meanwhile, printed window blinds and antique oriental jars provide some character.
Black vintage dining chairs and pendants provide some drama. Furthermore, artworks on the windowsill create a subtle coastal ambiance.
7. Wood Meets White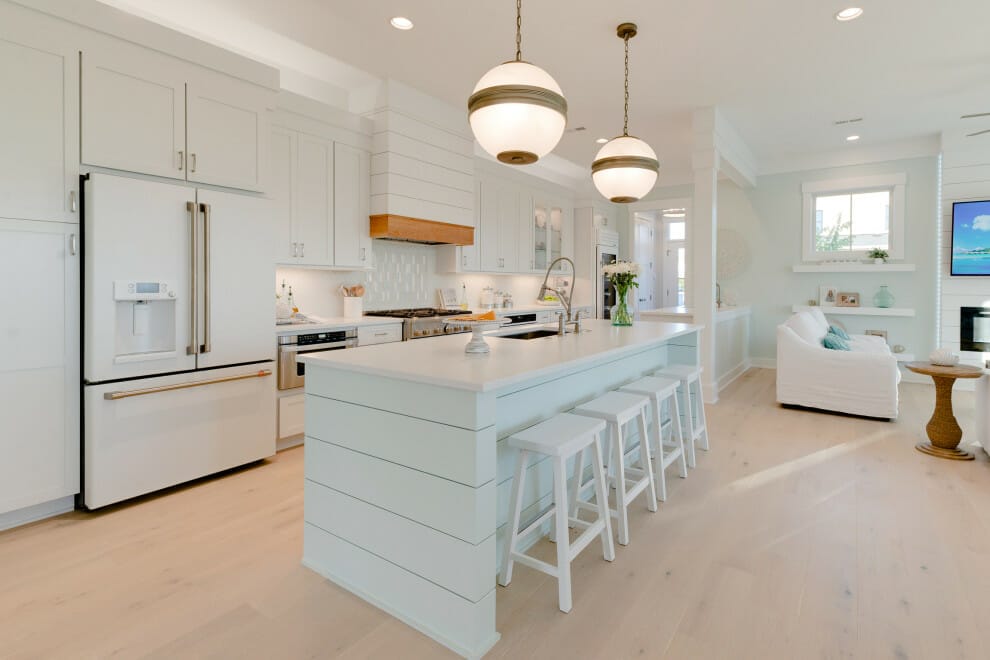 Talking about coastal kitchens ideas, go for shades of white. This open-plan space embraces them via the shiplap island, counters, stools, and cabinets.
Windows effortlessly reinforce the interior's light and airy feeling. Moreover, pale wood surfaces ensure the kitchen doesn't look cold.
Different kinds of metal lend the kitchen an updated feel. Additionally, globe pendants over the coastal island illuminate the eating area.
8. Coastal Farmhouse Kitchen Ideas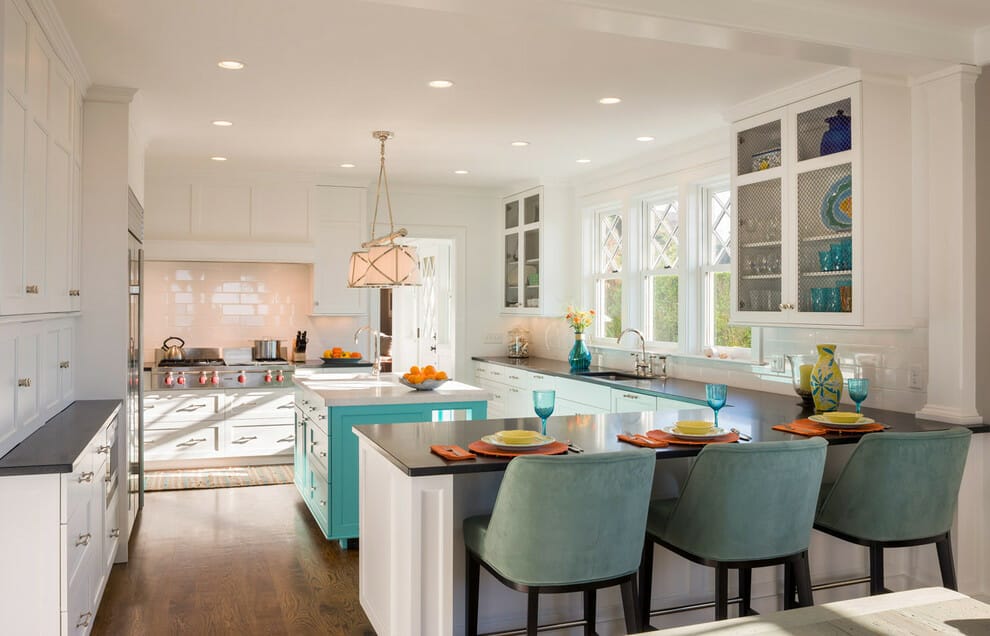 I admire how charming this kitchen is. The white cabinetry, ceiling, and gleaming subway tiles contribute to the interior's openness.
The bright blue island acts as a showstopper here. It produces a beachy look while offering extra workspace. Moreover, muted blue upholstered chairs portray tranquility and splendor.
Wire mesh upper cabinets create a farmhouse edge. Meanwhile, orange accents offset the blue glass vase and tableware perfectly.
9. Contemporary Coastal Kitchens Ideas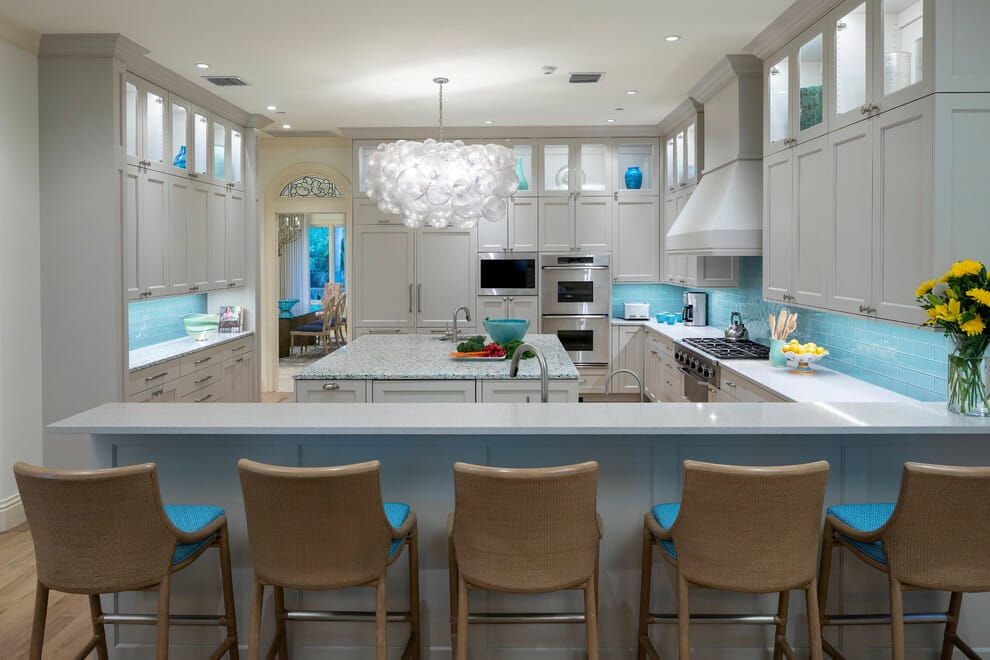 The long gray island and cabinets introduce a soothing oasis effect. Moreover, they frame blue glass subway tile backsplashes that carry a coastal flair.
Here, the cream-painted arch boasts ornate iron details for a timeless appeal. Meanwhile, white and granite counters offer ample workspace.
Ornaments of varying blue shades imbue the kitchen with interest. Furthermore, azure blue and pale wood counter chairs tie the area together. The bubble pendant maintains the room's contemporary look, while details of sunny yellow and orange instill happiness.
10. French Country Coastal Kitchen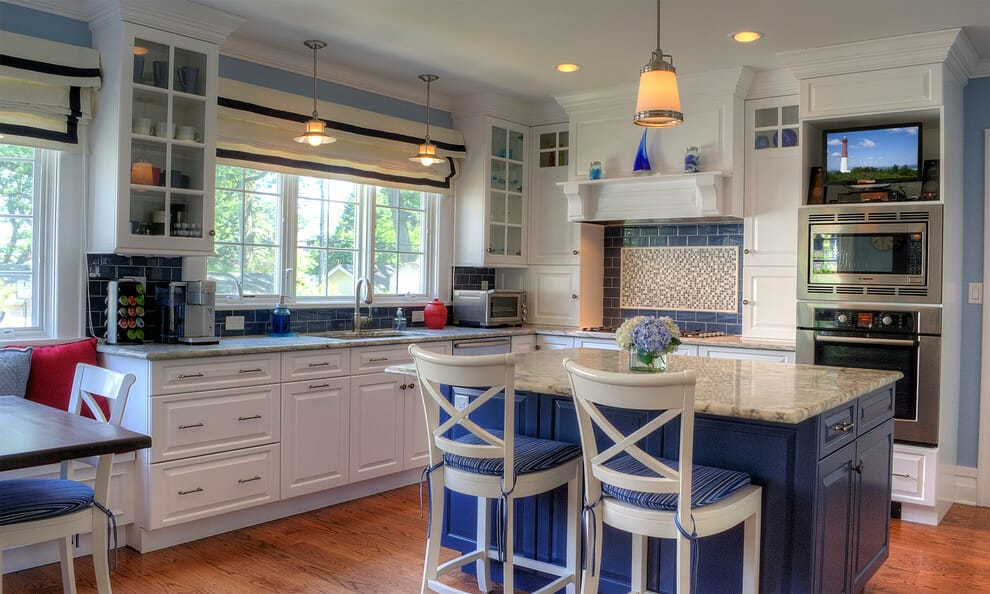 With countless coastal kitchens ideas, you might be overwhelmed. If French country design is your thing, copy this look. Here, the X-back dining chairs change the kitchen's tone. They add classic elegance and comfort, too.
Due to soft blue walls, crisp white cabinets get more noticeable. Furthermore, the marble top of the navy island houses a vase featuring white and blue blooms.
The homeowner married blue backsplash tiles with the marble counter. Wood and bold red elements keep things comfortable. Also, silver light fixtures and appliances produce a modern flair.
11. Small Coastal Kitchen Ideas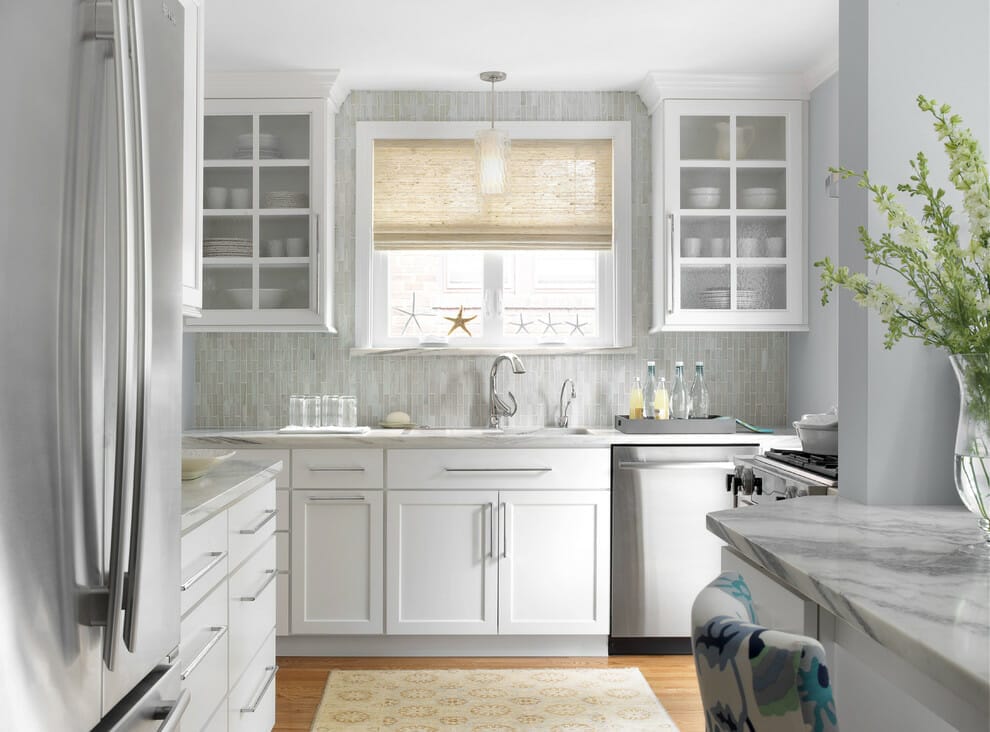 Thanks to white lower cabinets, this dainty kitchen seems more spacious. Meanwhile, the glass-front cabinets depict airiness. Skinny backsplash tiles introduce details.
The jute window blind and starfish ornaments deliver a subtle coastal atmosphere. Here, the printed rug lends the floor some coziness.
Marble counters add timeless beauty. Moreover, the abstract patterned dining chairs make things more striking and cohesive.
12. All About Details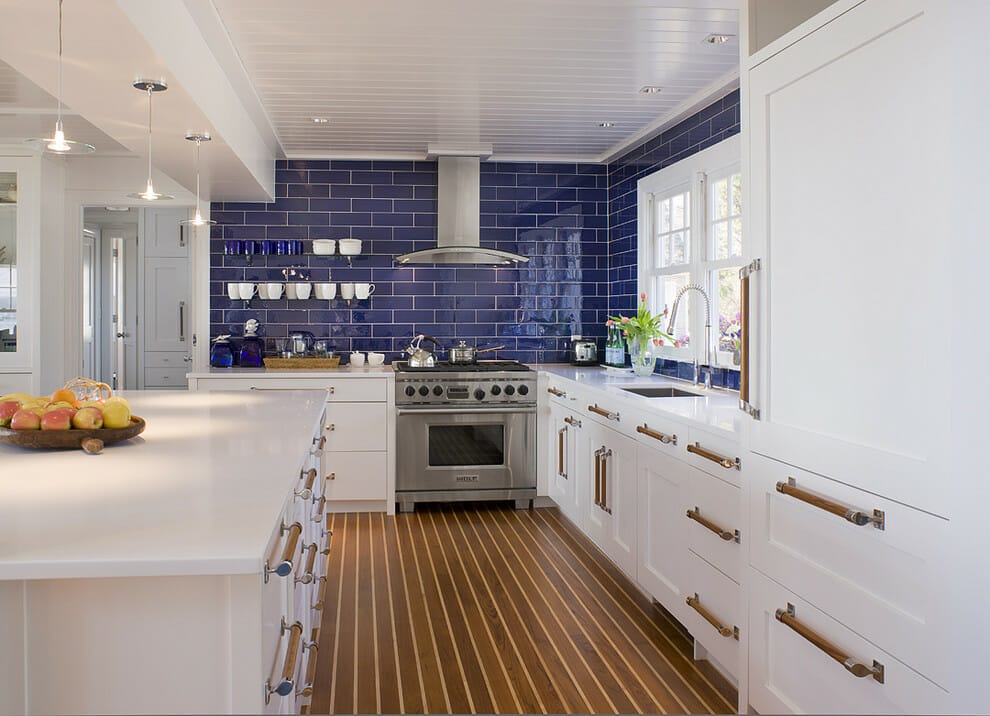 Not only do clean white furniture pieces embrace airiness, but also generate an uncluttered feel. Because of them, the interior appears wider too.
The intense navy subway tiles include a high-gloss finish. They titivate the coastal kitchen backsplash while carrying a statement.
The wooden flooring mimics the beadboard ceiling panel and imparts warmth. Meanwhile, the fake apples, blooms, and chic pendants make things complete.
13. Coastal Galley Kitchen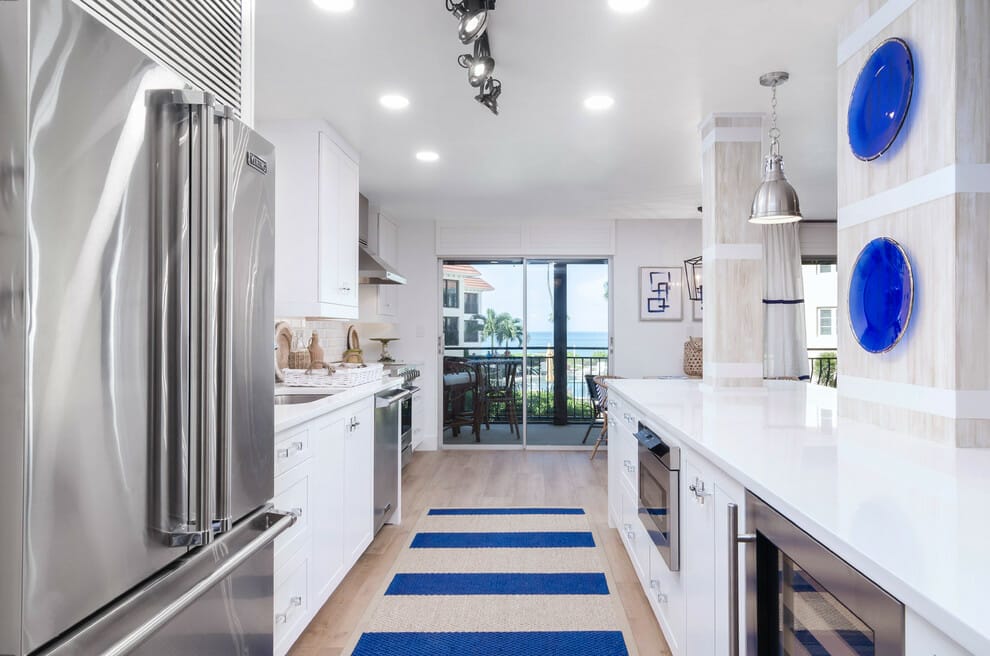 Coastal kitchens ideas aren't complete without white cabinets. Here, they lighten up the interior and meet the ceiling seamlessly.
This is one of the small beach house kitchens I adore. The pale wood floor ensures the galley culinary space stays comfortable.
The striped rug and azure decorative plates add other coastal notes. Meanwhile, wood-look pillars balance out the iron ceiling light and silver pendant. Lastly, glass doors heighten the connection between outdoors and in.
14. Masculine Coastal Kitchens Ideas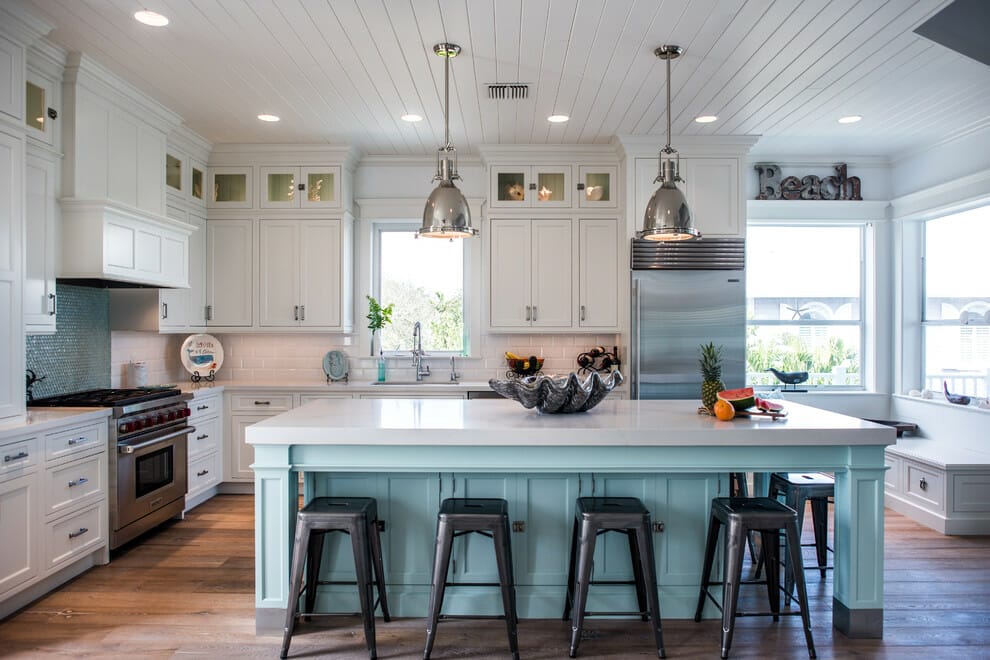 When in doubt, go for pastel blue and crisp white. Those two shades are reminiscent of summer beach days while generating an airy scene.
White subway tiles and blue mosaics infuse some personality. Metal chairs and pendants convey masculinity.
Meanwhile, the weathered beach sign, shiplap ceiling, and silver oyster bowl create a coastal appeal.
15. Casual and Charming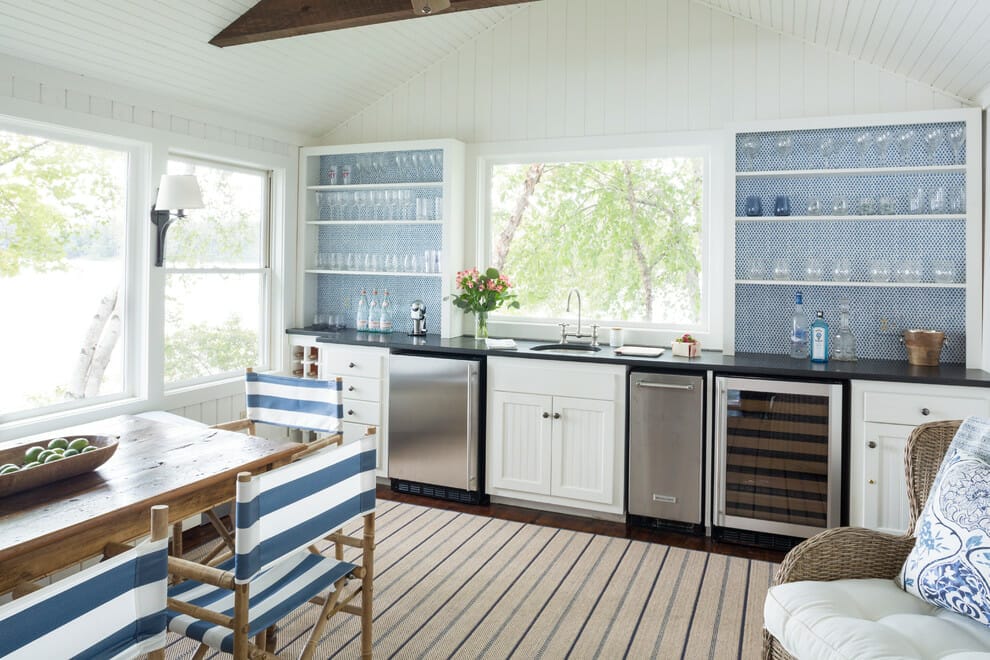 The vertical shiplap wall fits in with the beadboard cabinetry and ceiling. Thanks to rich wood elements, the whole room feels homey.
Wicker and sailor striped furniture units instill a coastal charm. White open shelves display neat arrangements of drinking glasses, while the rug and decorative pillows provide comfort.
16. Coastal Kitchens Ideas with Ample Seating
I admire the juxtaposition between the contemporary white cabinetry and the wood-planked floor. Meanwhile, geometric pendants define the granite-top, pale blue island.
Stools and chairs offer plenty of indoor seating. Moreover, the vintage seafood sign and shiplap feature wall represent coastal splendor. The antique wall clock, blooms, and lanterns round out the area.
17. Bodacious and Breezy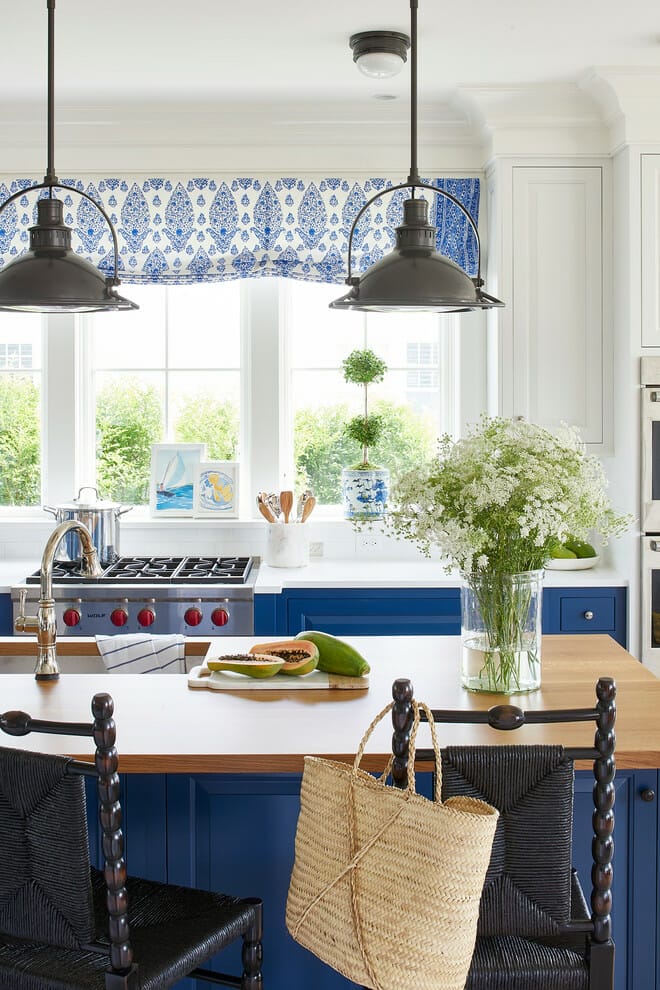 When people hear coastal kitchens ideas, they usually think of blue and white cabinets. This is why the homeowner included them in her cooking area.
Gorgeous window blinds adorn the otherwise basic windows. Meanwhile, the unique wood-top island accommodates black chairs. Also, the seagrass basket, paintings, and greenery elevate the coastal kitchen.
18. Spacious and Stylish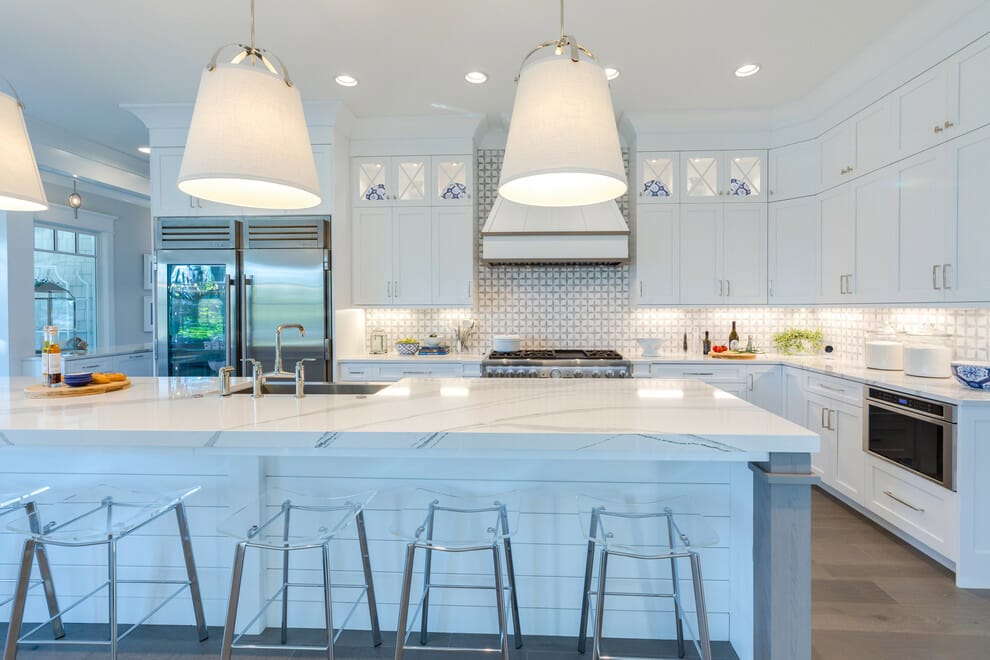 Due to opaque glass pendants and white cabinets, the kitchen seems enormous. Meanwhile, marble countertops keep things timelessly luxurious. The wooden floor inspires intimacy.
Acrylic stools under the shiplap island overhang preserve the room's airy look. The patterned backsplash and dinnerware grab attention.
19. Coastal Kitchens Ideas with Two-Tone Cabinets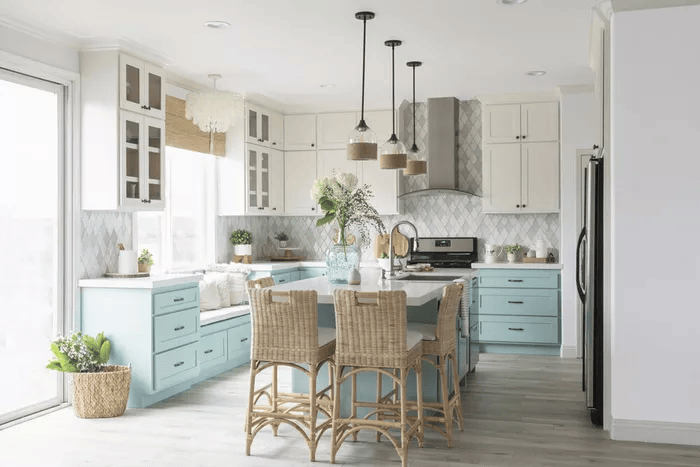 This kitchen is like a happy and airy oasis. Soft white and blue cabinets produce contrast while keeping the scene uncluttered.
The seagrass planter, capiz shell chandelier, and wicker chairs radiate coastal vibes. Moreover, the window seat adds function. Lastly, diagonal tiles and glass ceiling lights draw the eye.
20. The Darker, the Better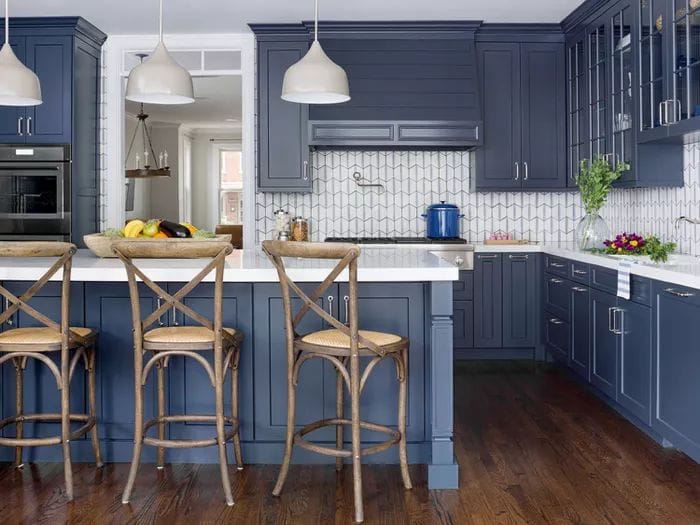 The midnight blue island and cabinets carve a moody coastal ambiance. Additionally, weathered wood dining chairs convey unpretentious warmth.
Thanks to the backsplash, the kitchen gets more appealing. White counters and pale gray pendants temper the intense blue furniture while injecting a timeless atmosphere.
21. Splendid Stripes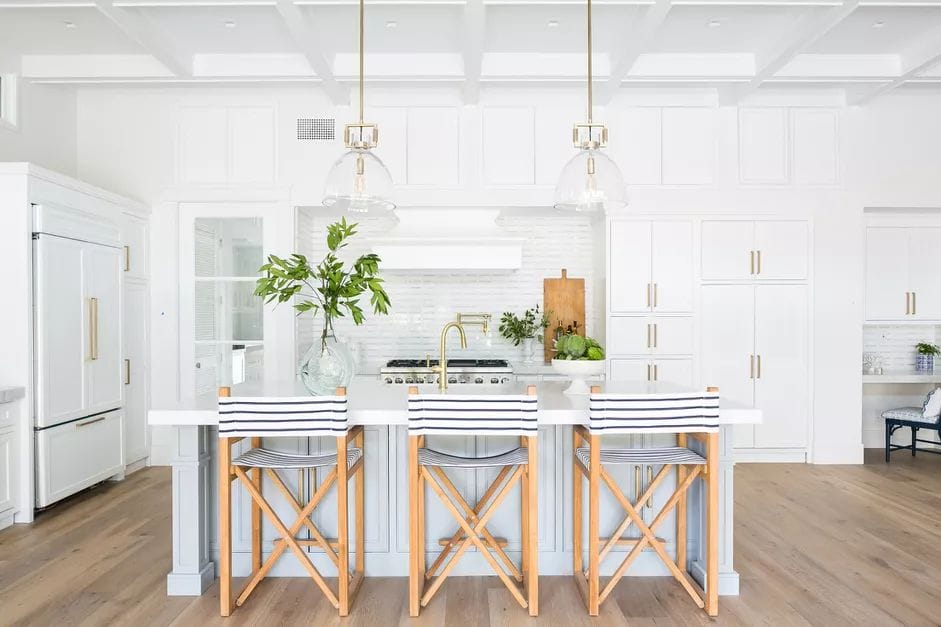 Talking about coastal kitchens ideas, wooden counter chairs are your best friends. Here, they boast fabrics with sailor stripes that carry a fun look.
White cabinets pair with glass pendants over the gray island. Meanwhile, wood and warm-toned metal balance them out. You can imitate this one in your tiny kitchen for sure.
22. Coastal Kitchens Ideas with Chevron Details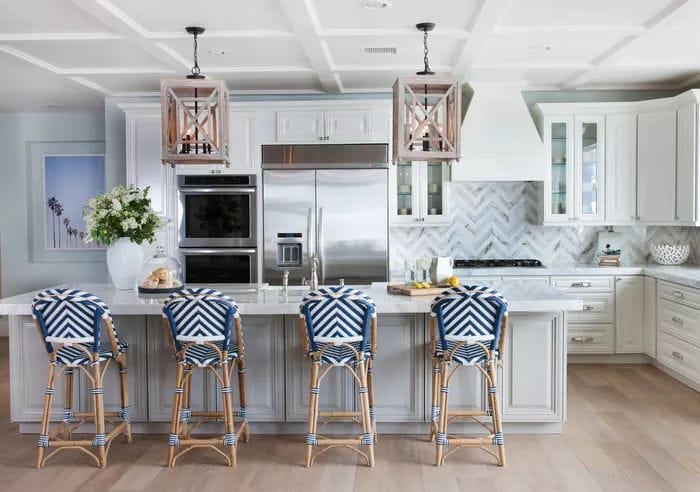 This trendy coastal culinary space wears a palette of crisp white, light gray, and navy. In addition, the floor offers a pale woodsy tone while tempering their chilliness.
The backsplash and rattan chairs deliver striking chevron details. Moreover, the white coral bowl, flowers, and wooden cube pendants finish things off.
23. Elegant Coastal Kitchen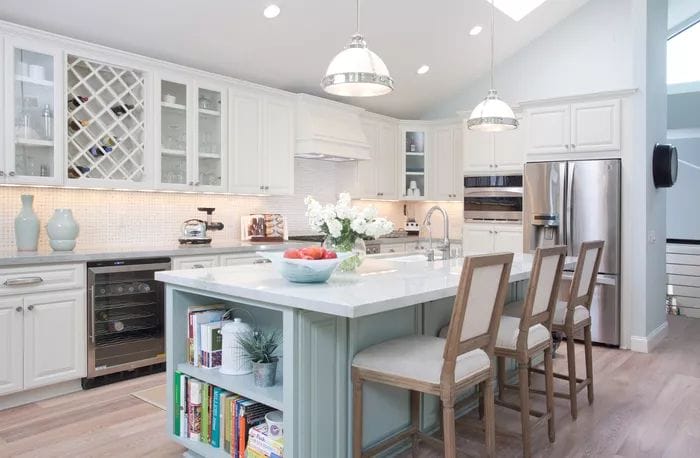 Despite its neutral scheme, this coastal kitchen is still worth admiring. French country-style counter chairs lend the interior some elegance.
White cabinets embrace openness while featuring bottle racks. Furthermore, the plant, white blooms, and vintage industrial pendants ensure the kitchen feels complete.
24. A Dose of Drama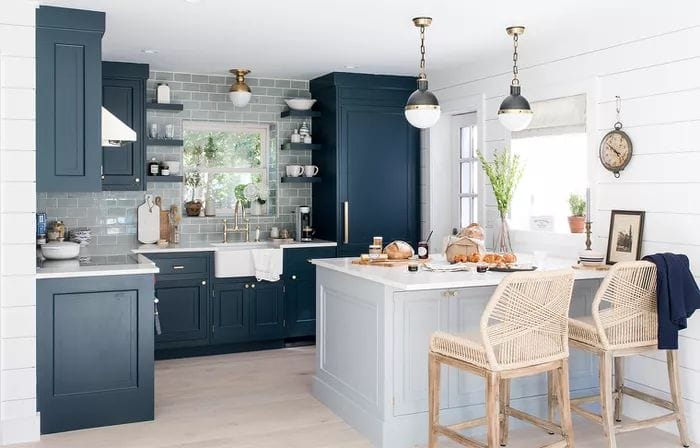 Into beach house kitchens? If so, simply emulate this look. Gray subway tiles and navy cabinets invite masculine vibes into the scene.
The blonde oak flooring, shiplap walls, and woven rope chairs capture a coastal feel. Meanwhile, globe pendants with metallic details represent cohesion.
25. Luxury Coastal Kitchens Ideas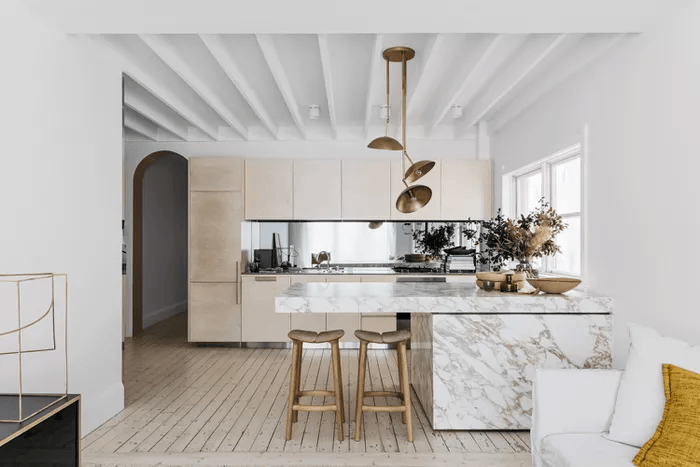 This coastal kitchen is undeniably remarkable. The homeowner doesn't stick to blues and whites. She incorporated golden and blonde wood tones instead.
The marble island and gleaming metal pendants portray opulence. Moreover, the arch, decorative beams, and reddish-green leaves of the houseplant elevate the space.
26. Fantastically Classic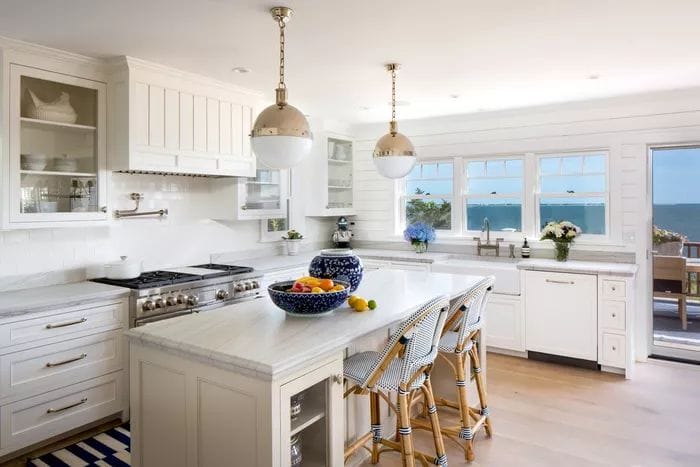 The glass door and windows offer views of the surrounding coast. Meanwhile, crisp white surfaces keep things understated and airy.
Glass-front cabinets introduce a classic appeal. Furthermore, French bistro chairs, patterned tableware pieces, blooms, and two-tone pendants produce a feeling of completion.
27. Shades of the Ocean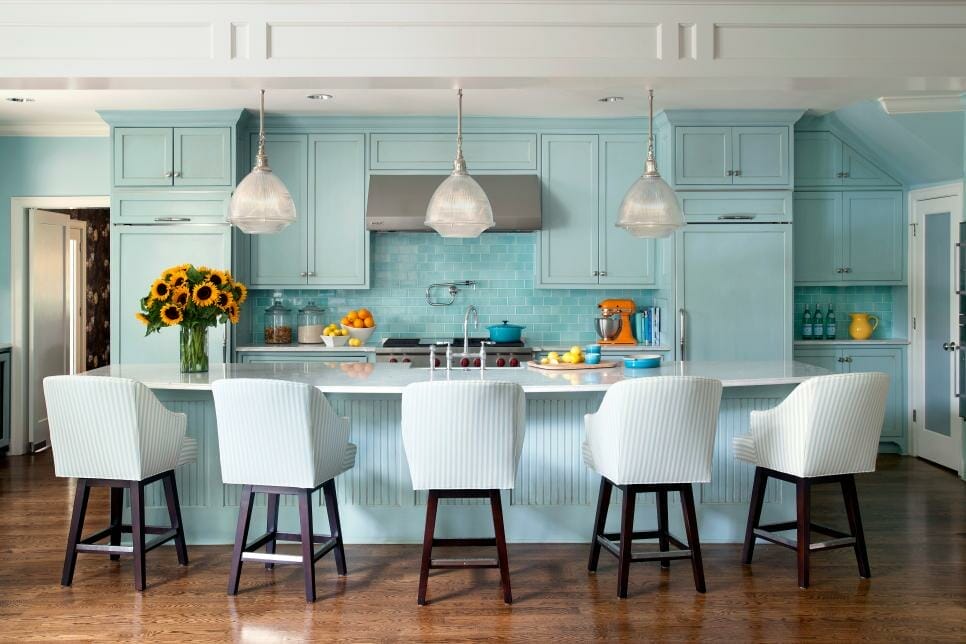 No coastal kitchens ideas are complete without sea shades. Here, white and sky blue dominate this culinary space while evoking images of the ocean.
The armchairs mimic the long beadboard island fabulously. Meanwhile, glass pendants let eyes focus on yellow, green, cyan, and orange details.
28. Crave for Visual Symmetry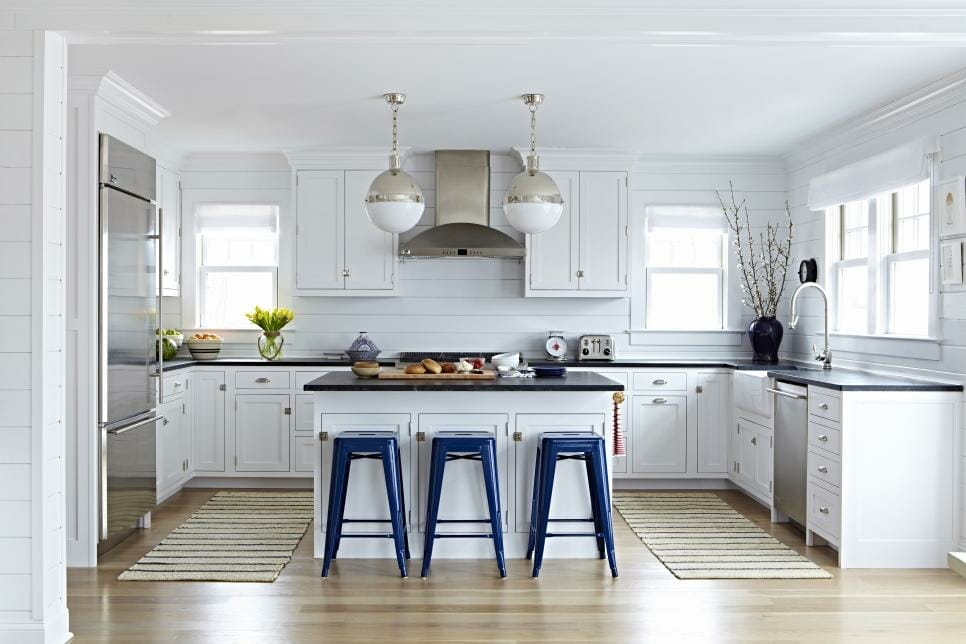 This is one of the black and white coastal kitchens that I love. Black counters and white furniture pieces introduce a drastic juxtaposition.
Navy stools, striped rugs, and globe pendants add symmetry. Windows maximize daylight, while the flooring tempers all things white and metallic.
29. Bright and Beautiful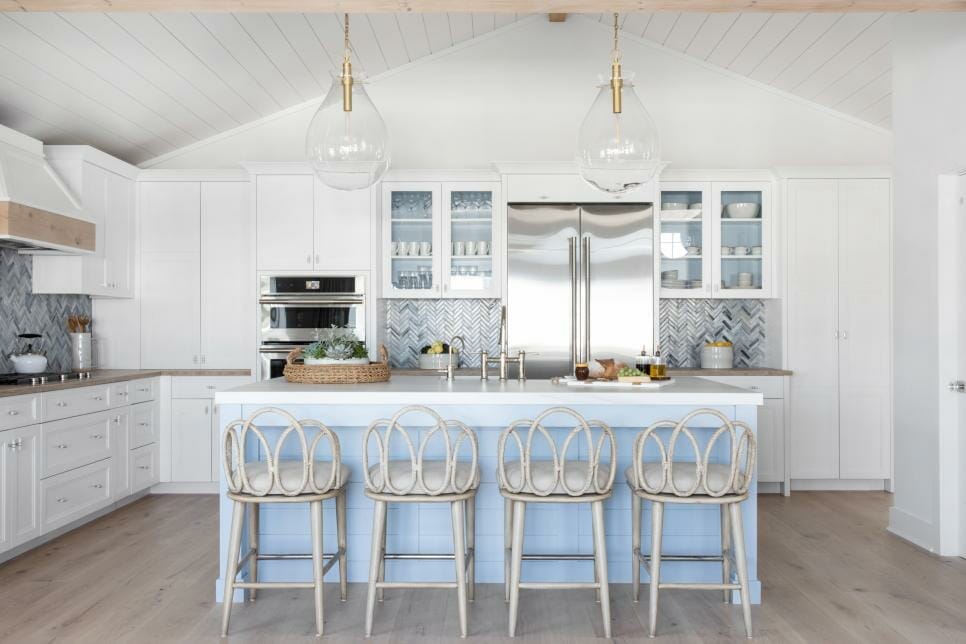 The shiplap vaulted ceiling and white cabinetry convey seamlessness. Because of slim chevron backsplash tiles, the kitchen feels trendy.
As you see, the pale blue island accommodates a wicker basket and light gray chairs. Meanwhile, glass-and-gold pendants add interest without making things seem heavy.
30. Dynamic Coastal Kitchens Ideas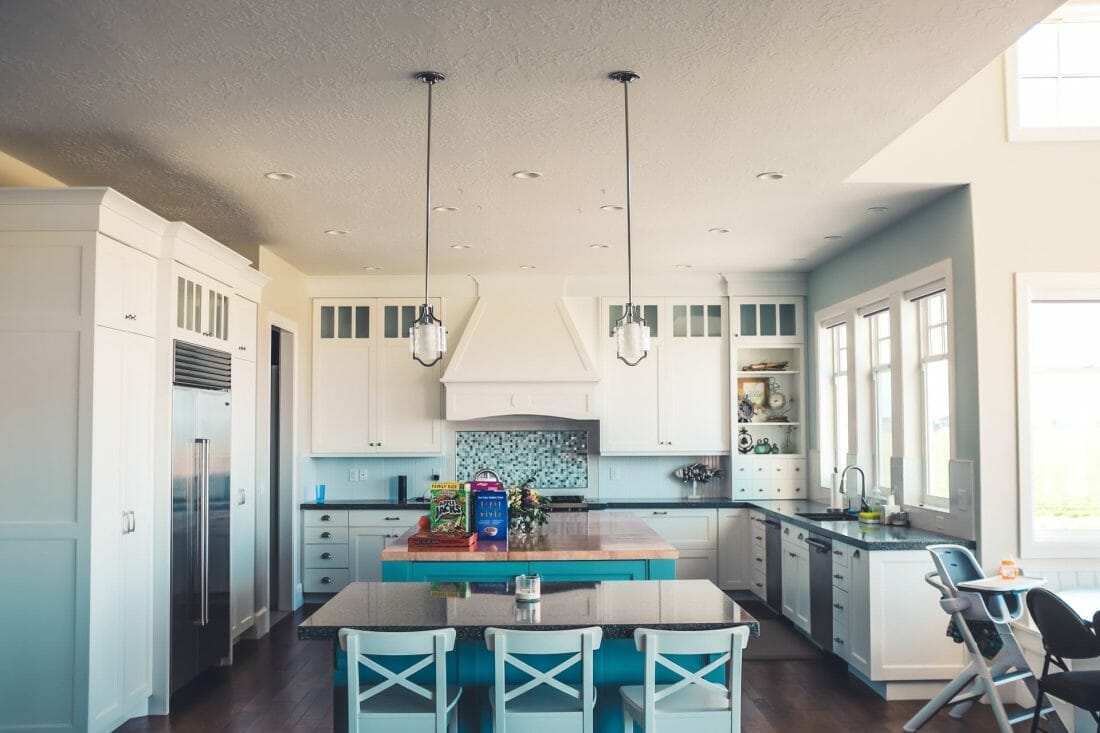 Here, the white range hood, textured ceiling, and cabinets lighten up the coastal kitchen. Also, light and dark woodsy shades emanate warmth.
Varying blue shades via mosaics and furniture units produce a beachy flavor. Additionally, sleek pendants emphasize the teal island.
31. Go Retro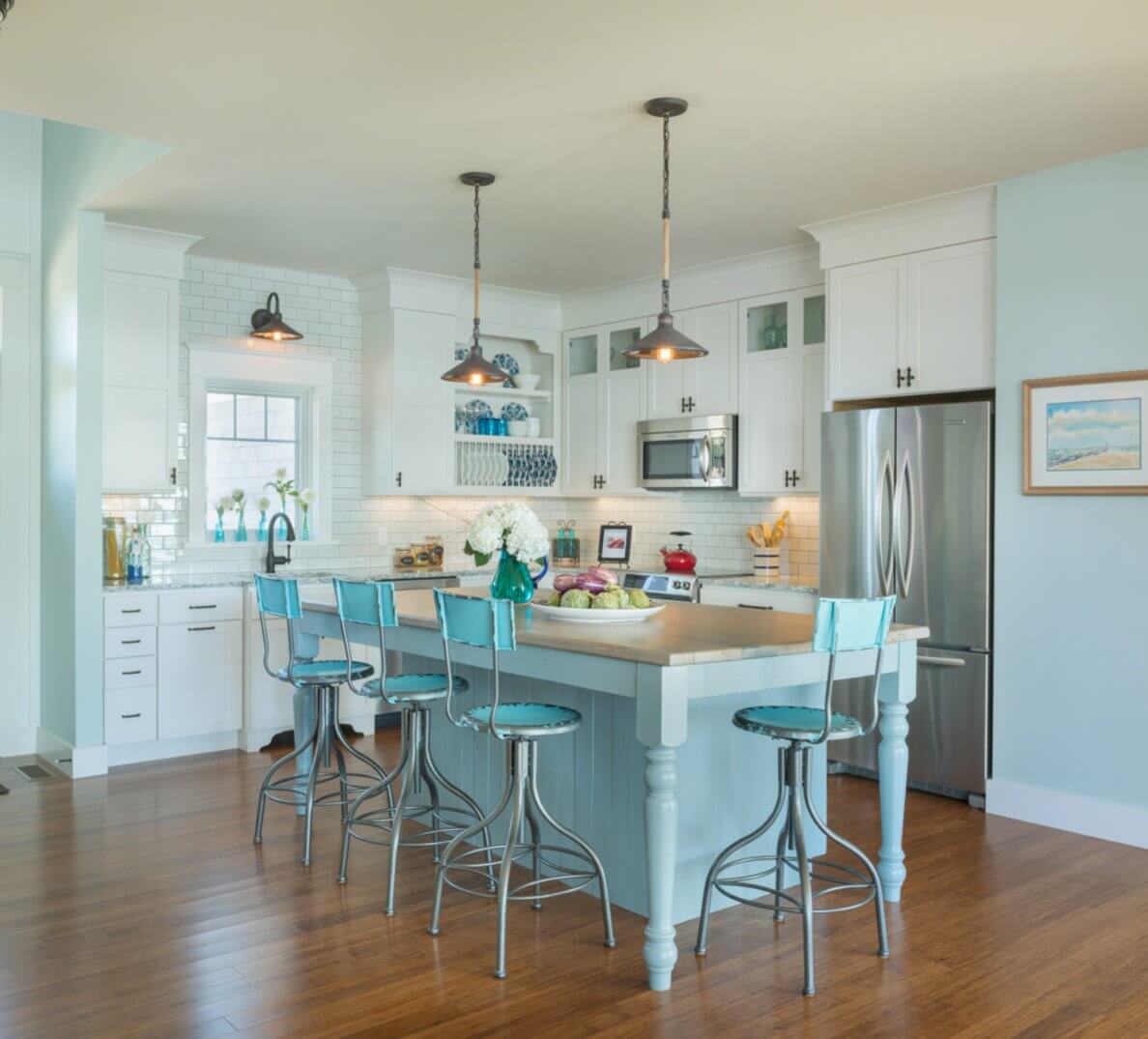 Coastal colors gather in this culinary space. Pale blue walls spectacularly coordinate with white kitchen cabinets and glossy subway tiles while producing a breezy nuance.
The light fixtures and weathered metal bar stools carve a retro coastal aesthetic. Meanwhile, wooden surfaces, silver appliances, and blue vases add balance.
The coastal kitchens ideas above undoubtedly provide fantastic versatility. As you see, they harmonize with other designs, from modern to retro to French country. Just duplicate any of them on your upcoming kitchen project.