There must be a reason why people name this particular design as the adjective form of rust. Whatever it might be, the style becomes a flawless match for the outside spaces, especially wet areas. Even though it is so unlikely according to most cultures and beliefs, here are twenty-seven rustic outdoor shower ideas.
The thought of having one for your private residence becomes questionable because most people would undress before setting a foot under the shower.
Yet, specific habitations, like waterfront, lakefront, beach cottages, and houses with a pool, need that kind of amenity around the building.
It serves functional purposes, such as pet washing, quick showering after surfing, or purely accentuating your open spaces.
Rough materials, like rocks, stones, logs, and weathered metals, will be visible a lot on these rustic outdoor shower ideas.
Some pictures will also show the involvement of leaves, bamboos, trees, and plants. Guaranteed, these off-trend shower spaces will leave your jaw dropped.
1. Rustic Outdoor Shower Idea at Patio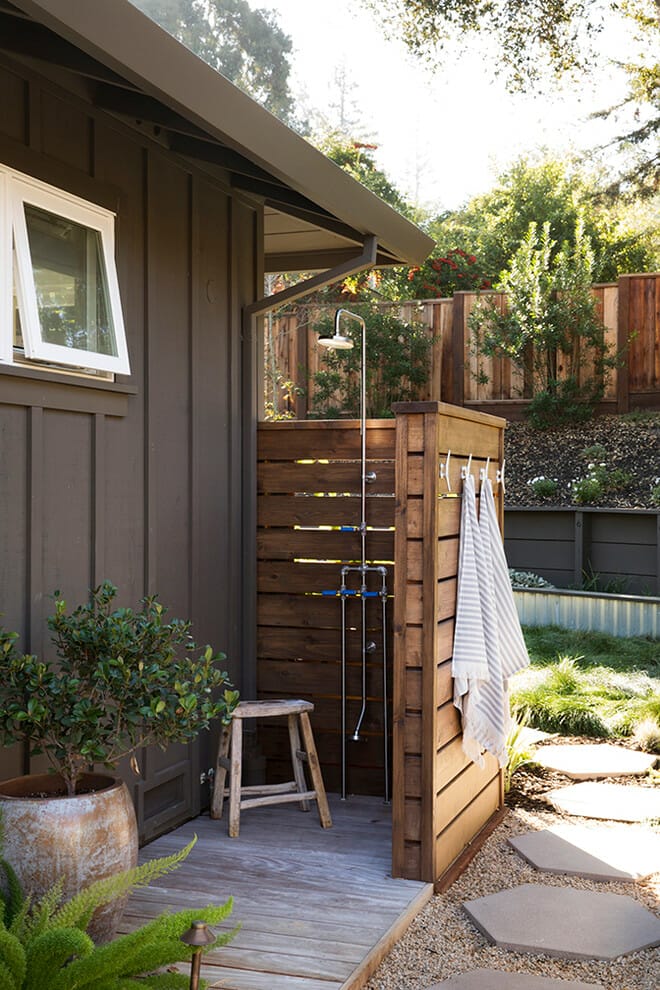 This is one of the rustic outdoor shower ideas that have a proper spot for showering, so this outdoor shower area utilizes a well-functioned wooden enclosure.
Small gaps between any two planks are visible to ensure enough space for the material to expand and shrink. Meanwhile, people can access this outdoor shower room by tracking the hexagon stepping stones.
The plants are also in the set to legitimate the close-to-nature concept. Lastly, the towel hooks are available outside to keep the fabrics dry.
2. Curved Stone Enclosure Idea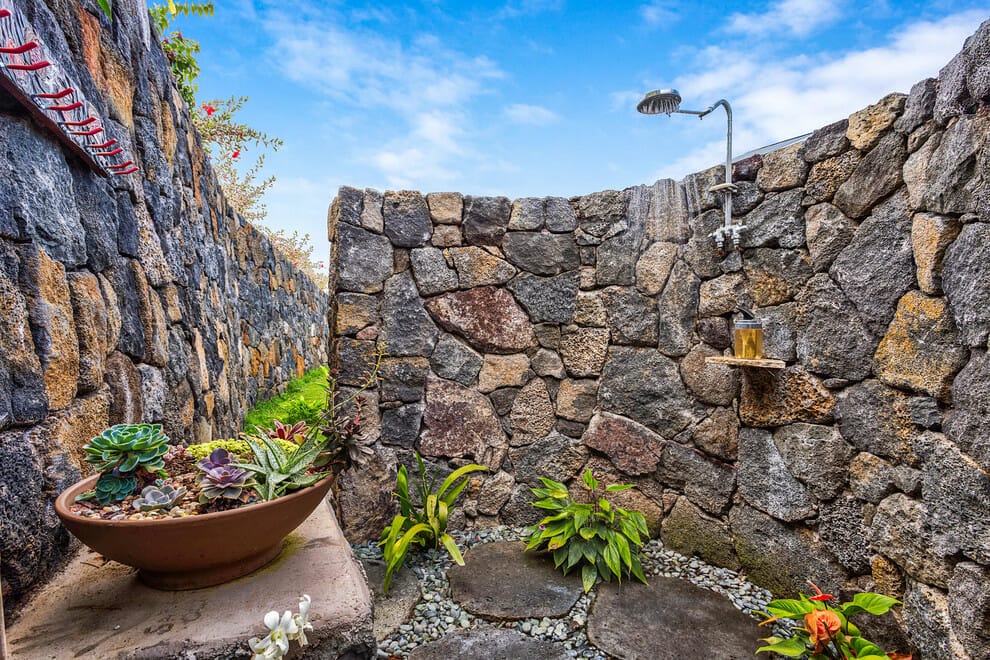 Building an outdoor shower enclosure should be the top priority in your open wet area plans. This picture shows you how to do it seriously.
Curving the wall shape and providing no gap between the rocks are ways to guarantee privacy. You should feel safe bathing there. Below the shower is a convenient wooden shelf to put some toiletries on.
The perk of having a roomy showering space is you could set the towel hooks inside but far enough from the water splashing. It also gives options to arrange some decorations, such as a bowl of succulents and water-demanded plants.
3. Two-Dimensional Shower Rooms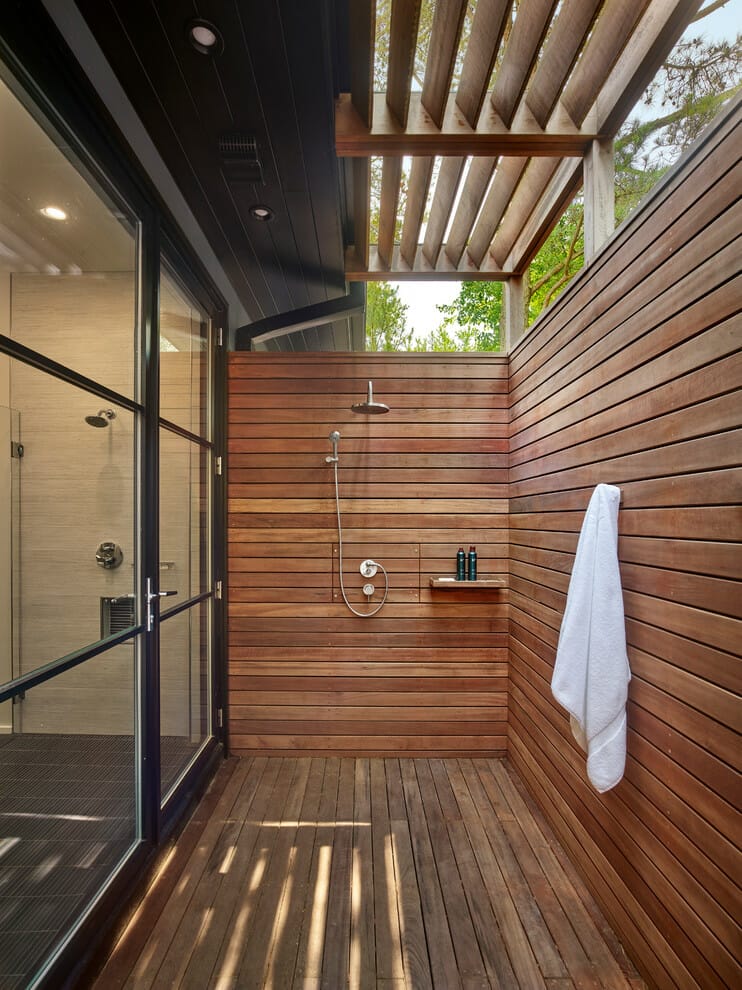 Now, let's see different rustic outdoor shower ideas. This is certainly for everyone who thinks that the outdoor showering area is out of sense but wants to experience it anyway.
There are two bathing spaces are in one line; each appears in a setting of its own. Moreover, the floorings, ceilings, walls, shower fixtures, materials, are different.
In addition, the outdoor shower room uses weatherproof materials while the indoor one does not. Between them is a wide glass opening that disappears when opened.
4. Outdoor Shower Door Idea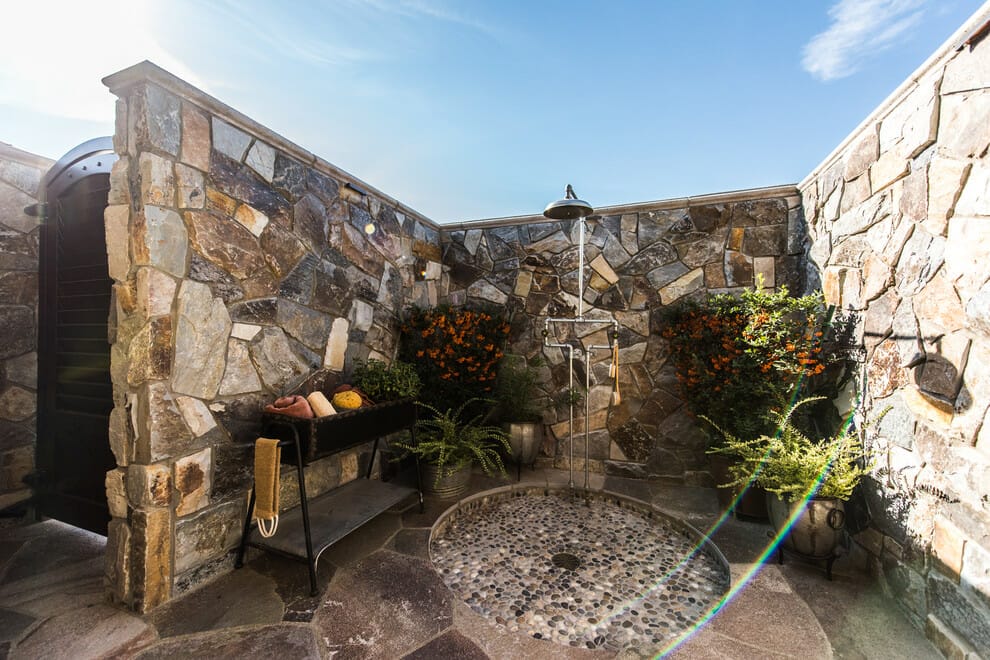 This one of the rustic outdoor shower ideas offers an idea for outdoor shower opening, whereas the thought of having a door for open concept areas itself is uncommon.
Thus, the deal is to install a door invisibly. It will keep the bathers' privacy in a secured place. However, it does not only have a door idea.
Note how the water hole is designable a level lower than the rest of the floor space. It also gives other insights for the stone walls, storage from metal tray table, plus decorative plants.
5. Cubicle Rustic Outdoor Shower Ideas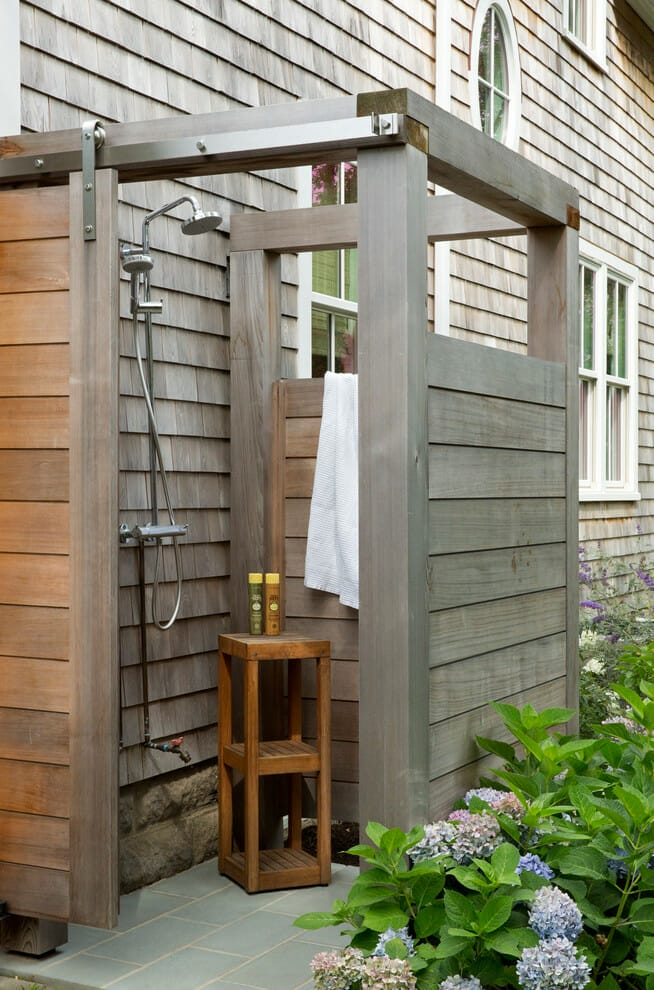 It is a classic idea where everything to have an enjoyable outdoor bathing experience is present inside a rustic square wet area. Certainly, one of the best rustic outdoor shower ideas.
Moreover, enclosure, storage, shower fixture, every requirement is there. What highlights the scene is the beautiful pinkish and bluish hydrangeas outside of the cubicle.
6. Heated Outdoor Shower with Rainforest View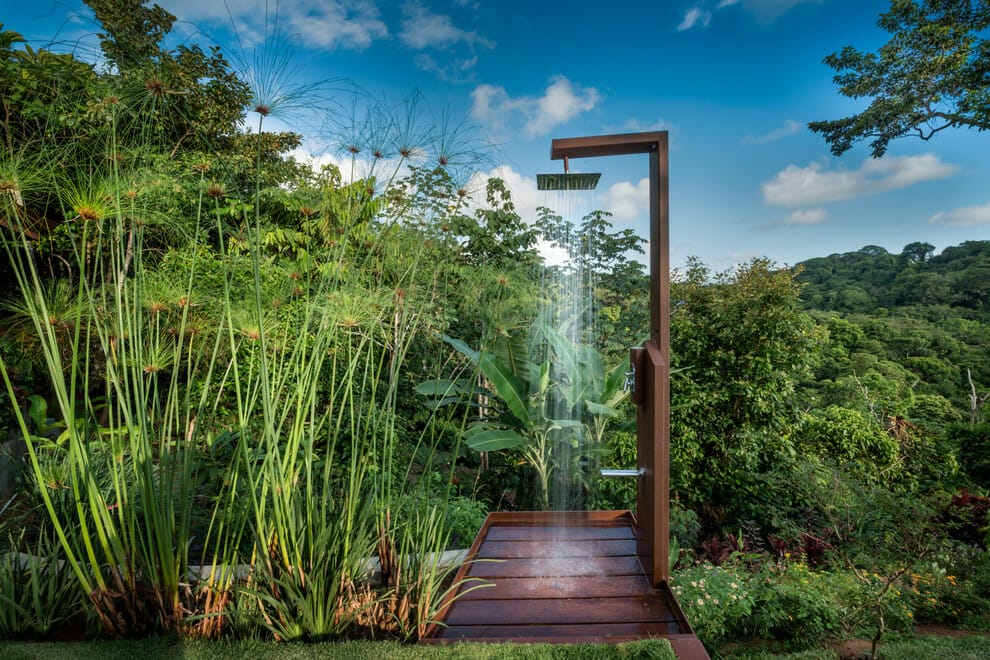 It is one of the holiday accommodation's amenities in Costa Rica. The main building is a single luxurious rental villa bounded by unlimited species of rainforest.
Thus, anyone who takes a shower here will get a safety guaranty even when it does not have an enclosure unless you call wildlife witnessing "a privacy invasion".
Anyway, the rainfall showerhead will let the bathers experience what it is like to get rained in the middle of the jungle.
7. Built-in Wall Benefitted Rustic Outdoor Shower Ideas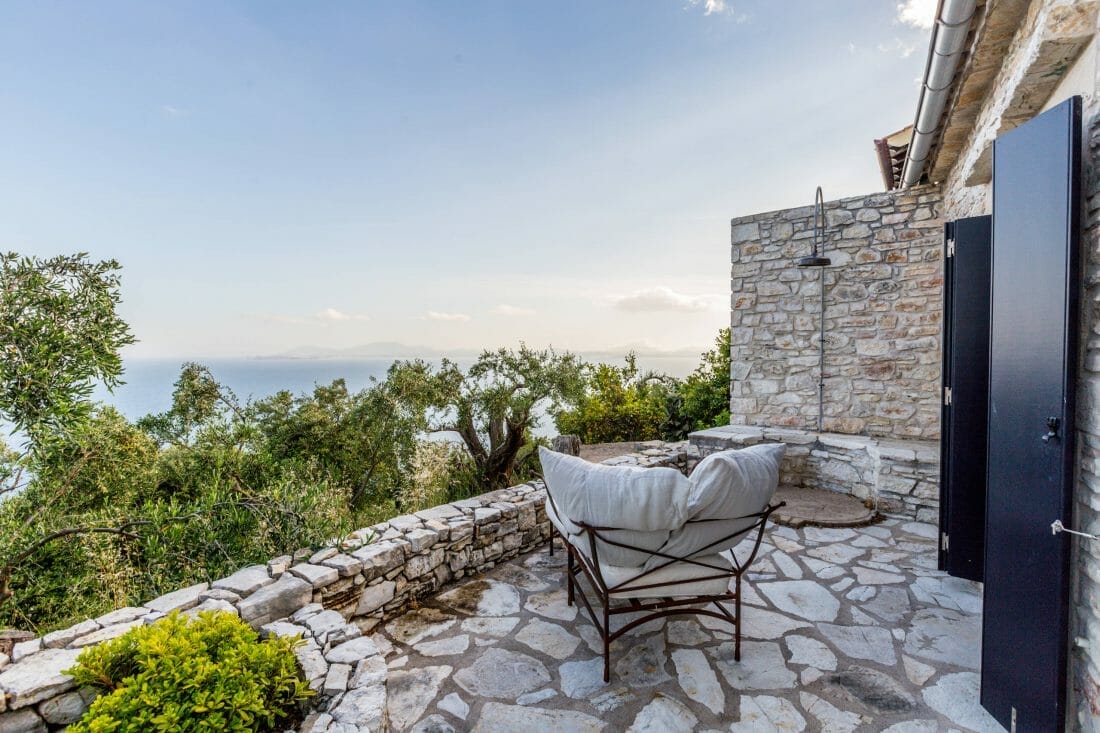 Ways to build an outdoor shower without building any enclosure is to let it has an open concept or to take advantage of the already built walls or doors.
This outside wet area, set in a Mediterranean patio, is a part of an old stone house in Houston, Texas, USA. You see a fantastic example of rustic outdoor shower ideas using Tuscan stone all over the surface. Imagine washing your body above there while admiring a breathtaking view provided by the universe.
8. Ingenious Vine Enclosure Idea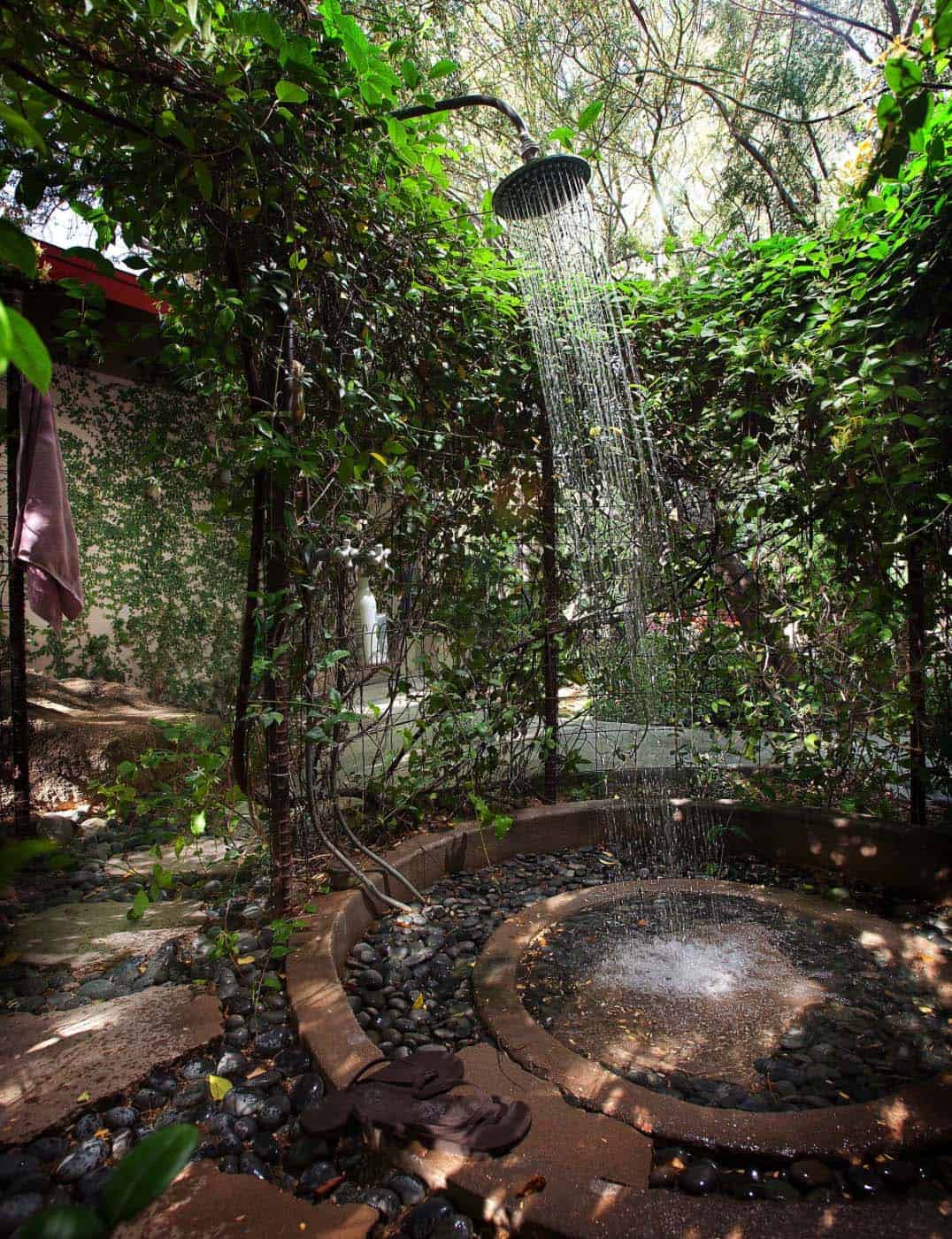 It is all beautiful and ingenious to let the creepers enclose your rustic outdoor shower ideas. Yet, it is going to take a while before anyone could use it because you have to wait until the plants all grow.
Besides, involving plants in your outside amenity like this means inviting bugs and other wild animals. Thorough measurements to prevent such encounters should be the top priority.
In other words, building one will be an energy-draining job. Yet, if the final look will be this gorgeous, it is worth your time and effort.
9. Outdoor Pool Shower Idea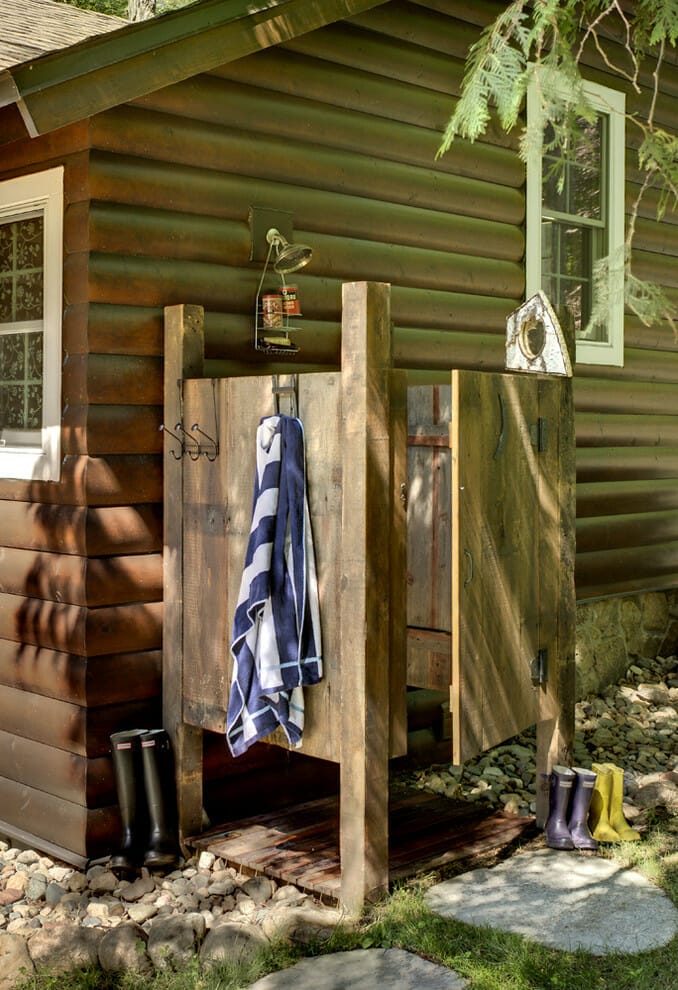 This design calls for quick showering. That is why it fits the idea of a pool shower. Most people do not want to spend a lot of time inside a public facility, especially if it is a wet area where other people before you have used it consecutively.
Even so, it is designable rustically with weathered wood as the main building material. Below the footing planks, rocks are present as the drainage system.
10. Rustic Outdoor Shower Ideas on a Deck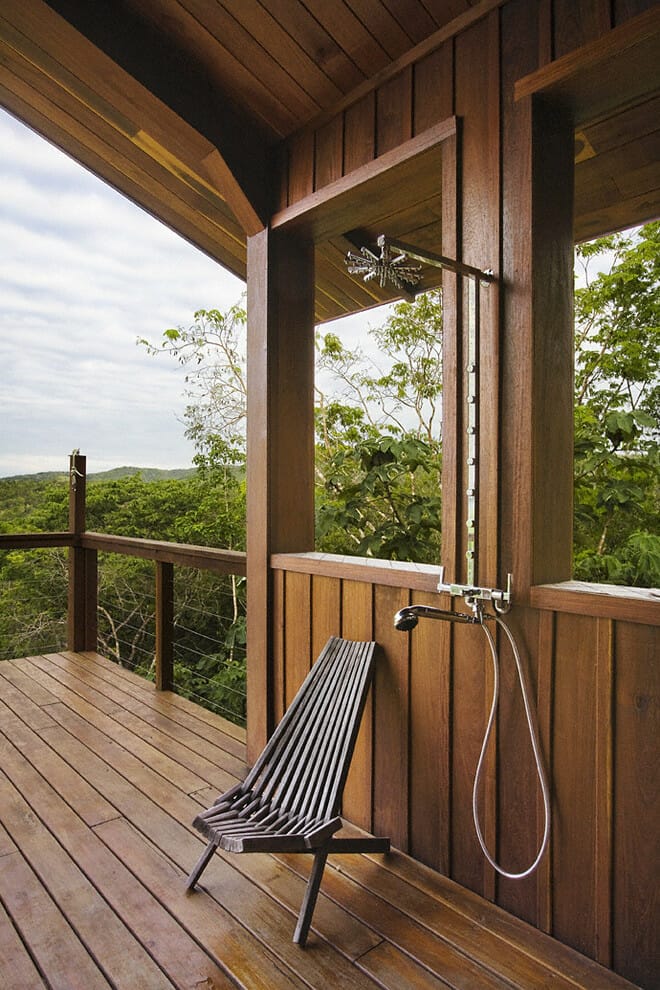 Usually, a deck is enough with only a water tap feature at one of the sides. Yet, it is not the case with this one.
The intention is to have a multifunction outdoor wet area using two types of fixtures, a showerhead, and a hand shower. It could be both a pet washing station and the pet-owner showering zone.
11. After-Surf Wash-Up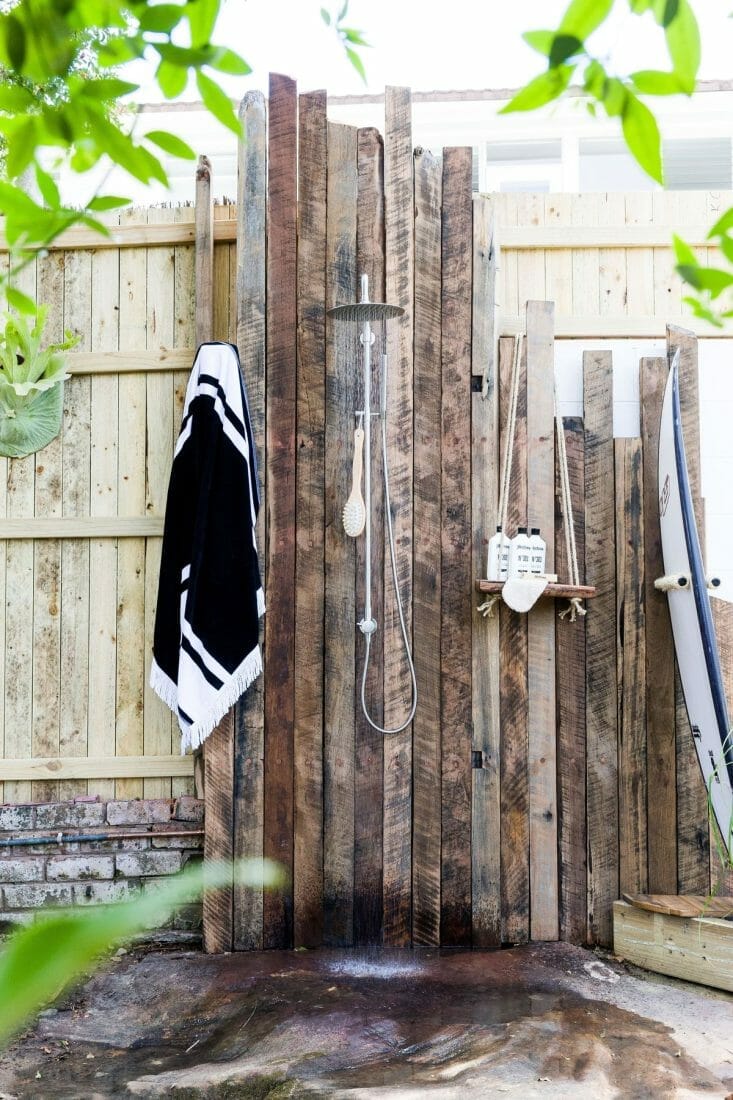 Washing your body up after surfing must be doable in the open. No wonder why the area is designable that way.
With some pieces of barn wood and a distribution line of water, you could make a showering station apparent. It even provides towel hooks and a hanging shelf from rope lines and a wood plank.
This wash-up station might not need drainage because the dropping water will go directly to the beach sand.
12. Exposed Brick, Concrete, Metal, and Wood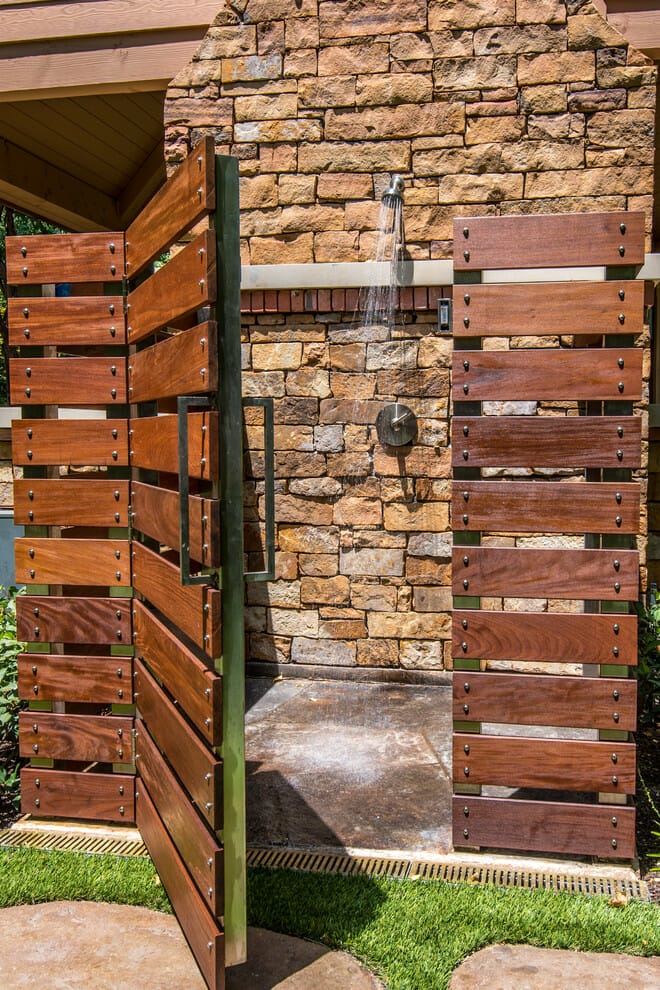 Just combine all rustic materials if you do not want to waste time deciding which one to use. This outdoor shower space has exemplified what it means.
It uses exposed bricks for the wall to install the shower fixture, concrete flooring, plus metal and wood as the opening.
13. Backyard Spice-Up Idea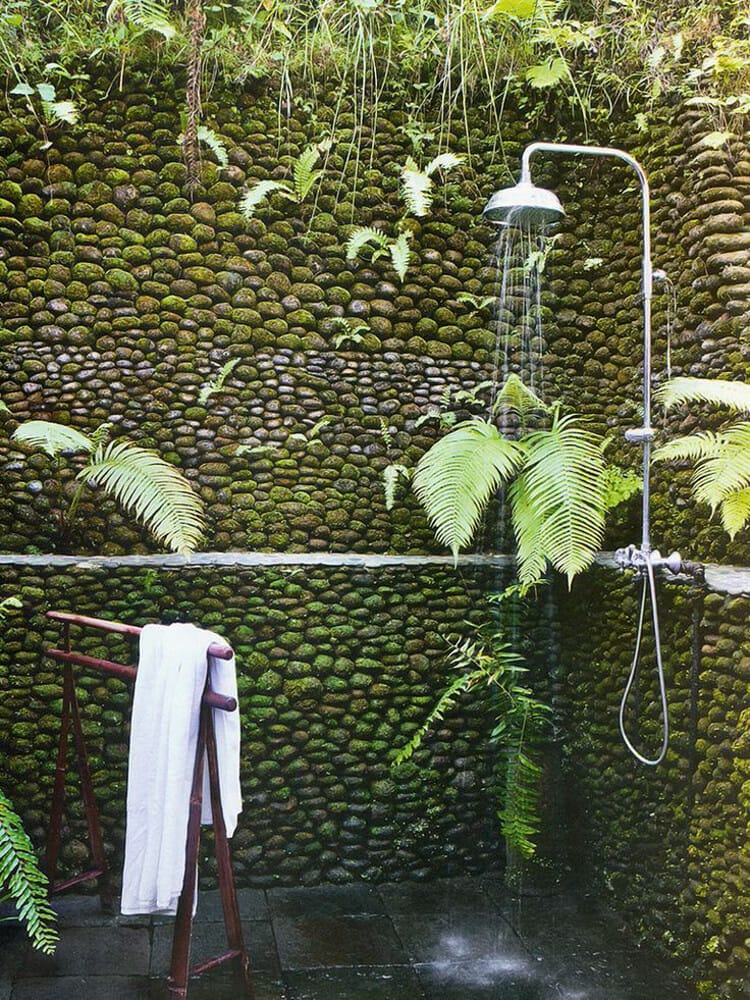 If a backyard swimming pool is still unaffordable, why do you not provide another similar amenity?
An outdoor showering area is more than enough to let you cool down when the summer heat strikes or let off routine steam. This picture could inspire you by benefitting a few corner spaces in your backyard.
14. Desert Elemental Outdoor Shower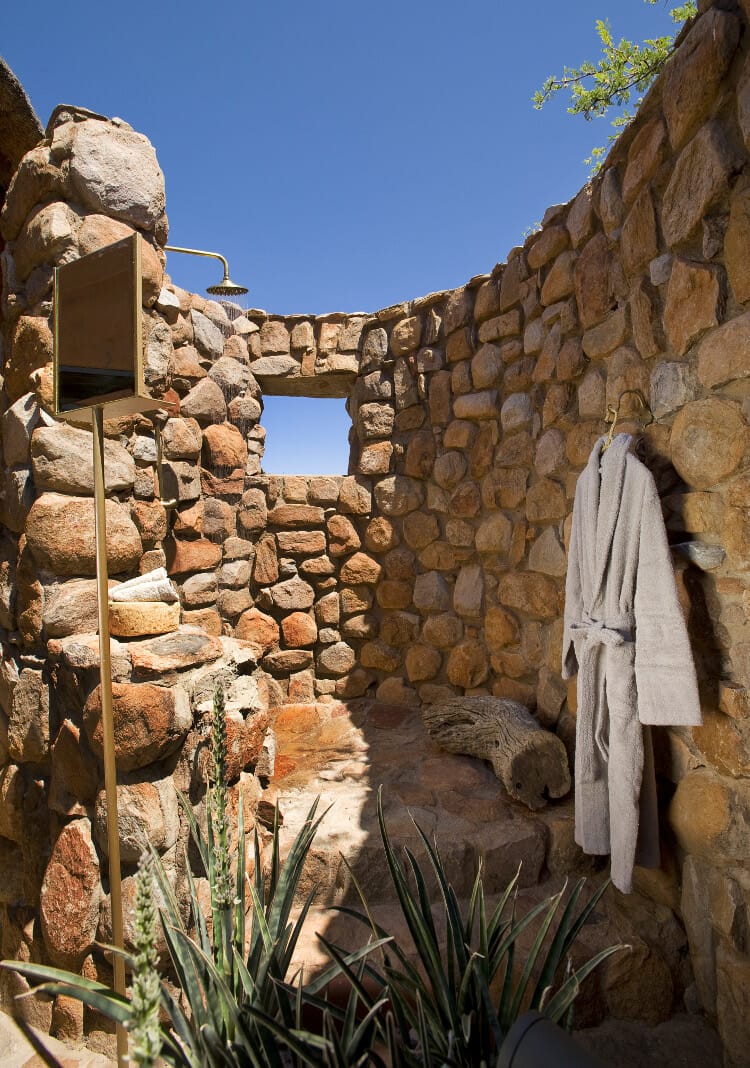 This outdoor shower is an amenity to a cottage in Kalahari Desert, South Africa. The wowing part is it uses the actual desert rocks to build everything instead of building stone materials as in previous examples.
They also utilize a piece of log to be the bench and do not forget to leave a square hole in the wall to frame the life of possible Serengeti.
15. Outdoor Shower Idea for Lake House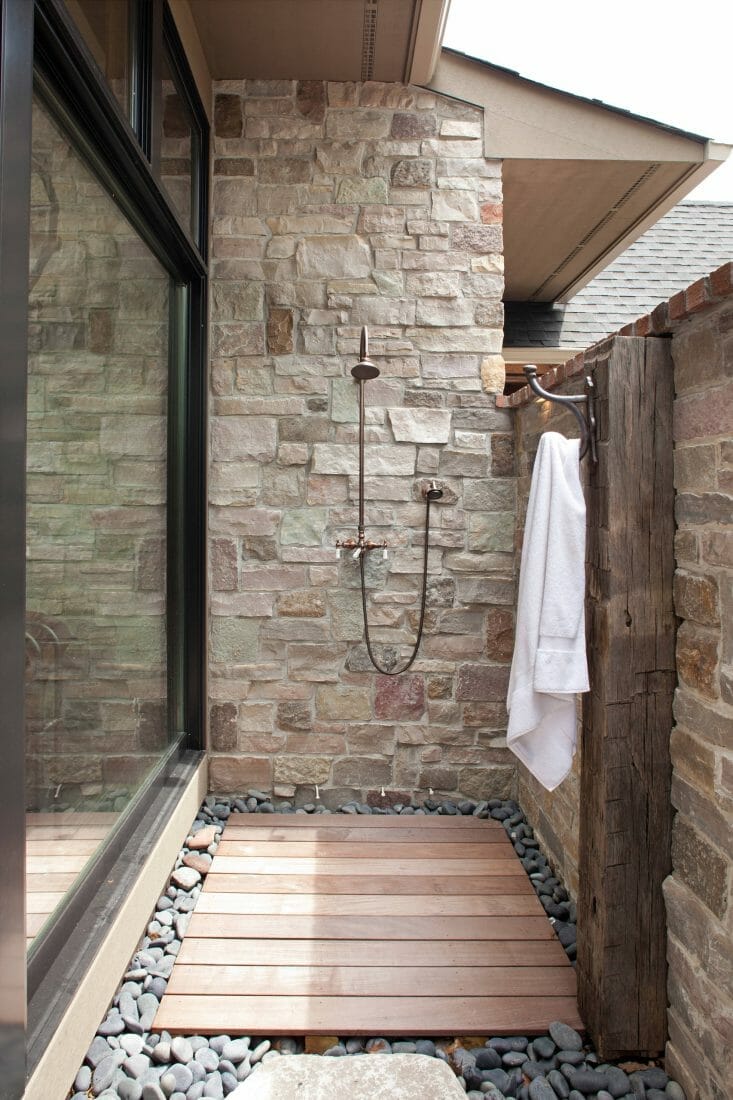 You see an alcove amenity of a lake house in Minnesota. As a result of a professional job, this outdoor shower has a neat design with stone, brick, and plank involvement.
Also present in the picture are two types of shower fixtures and drainage built with stone and planked platforms.
16. Rustic Outdoor Shower Fixtures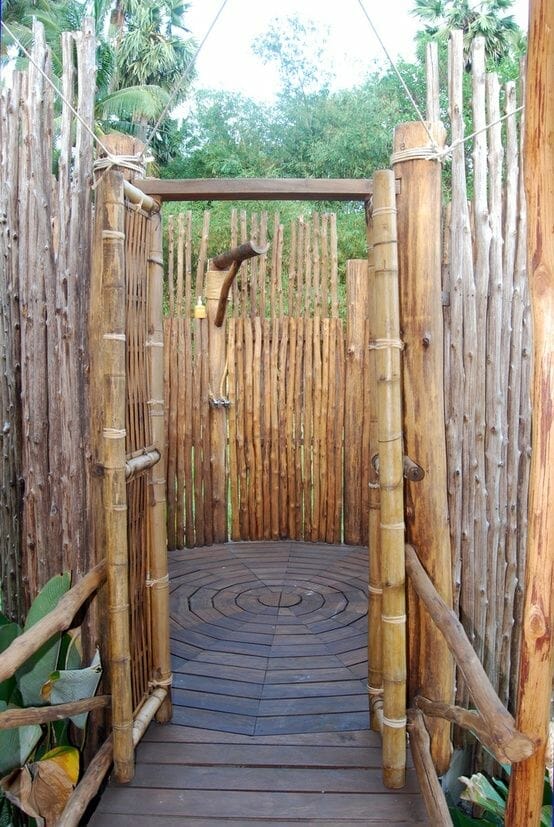 Exposed bamboos exude their beauty here. You get to know their positive traits as natural building materials from the handrails to the opening and even to the shower fixture.
Yet, this rustic outdoor shower does not only incorporate bamboo. It also involves wood planks to be the access and the drainage floor.
17. Featuring a Growing Native Species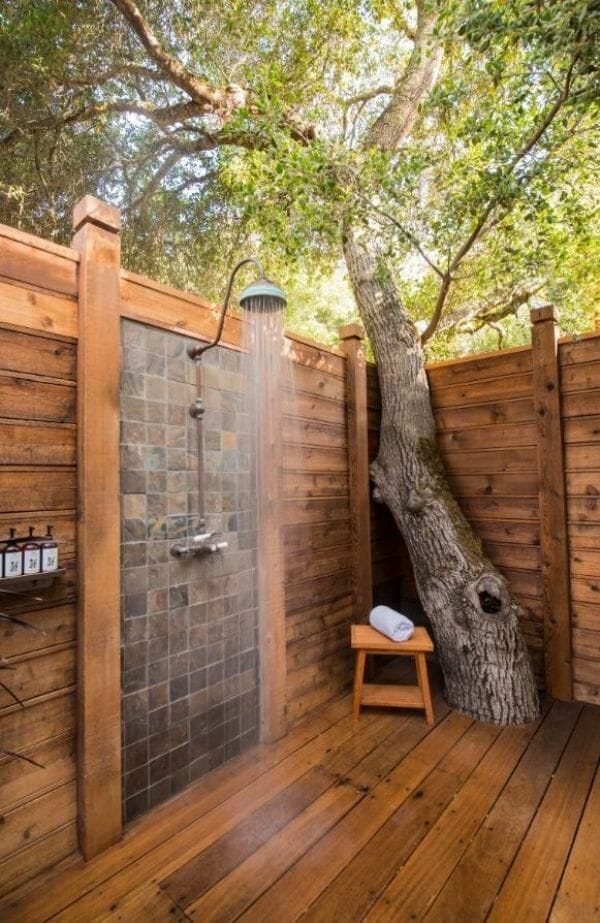 It is remarkable to see the natural feature inside these particular rustic outdoor shower ideas. Building outside amenities is supposed to encounter something native like this. Try not to consider it as a disturbance and let it live.
Other fascinating aspects here are the decorative protruding wooden posts and stone-tiled accent wall.
18. Rustic Outdoor Shower with Tropical Touch
Apart from the plants, the stones used to build the curved backdrop also give these rustic outdoor shower ideas a tropical vibe. The slabs here are Cambridge Chopped Stones, coming in varying options of sizes, shapes, and colors.
Quirkily, the wall is designable with three recessed storages to hold a candle, each as some illumination at night.
19. Outdoor Shower Curtain Idea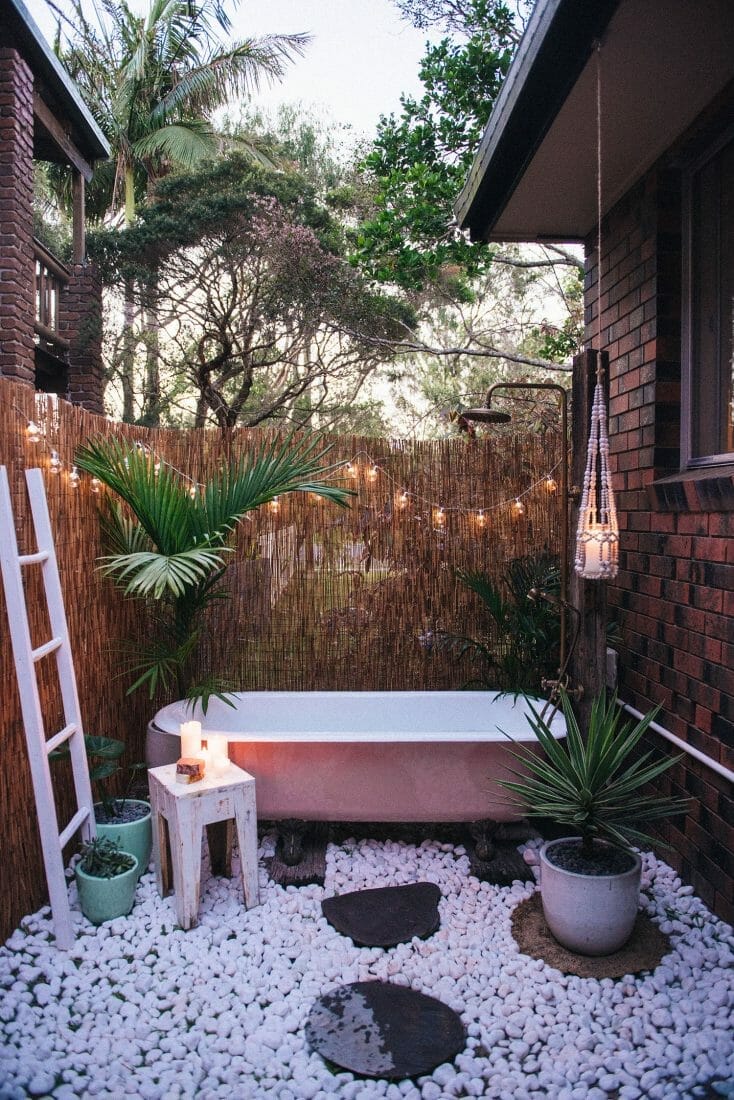 Enjoy your bath time in a tub outside with this dreamy bathroom idea. Romance, executed by the string lights, boho hanging lighting, and candles, is originally part of the plan. Meanwhile, reed fencing is usable as the curtain.
The white pebbles floor, stepping stones, tropical greeneries, plus stepladder as decoration and towel hanger become the other strengthening elements.
20. Farmhouse Rustic Outdoor Shower Idea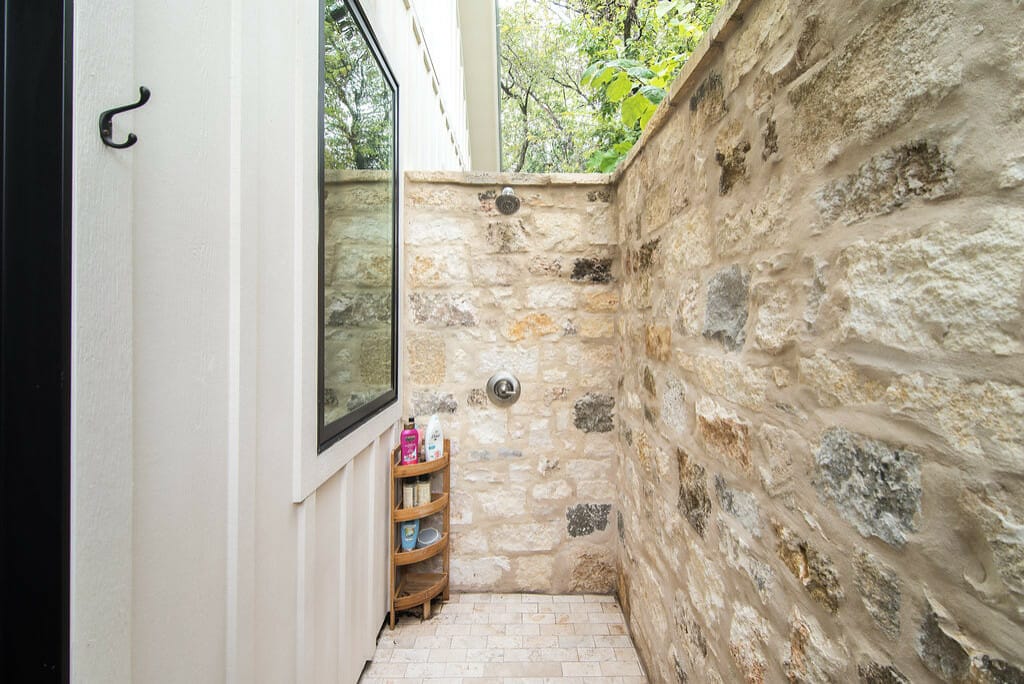 The beige concrete patio brings a calming atmosphere, and the showering fixture installed there raises the level.
Moreover, this outdoor shower area is a part of a farmhouse backyard inside an Austin house. It will be energizing to take a shower there during fatigued days.
21. Bamboo Fencing Enclosure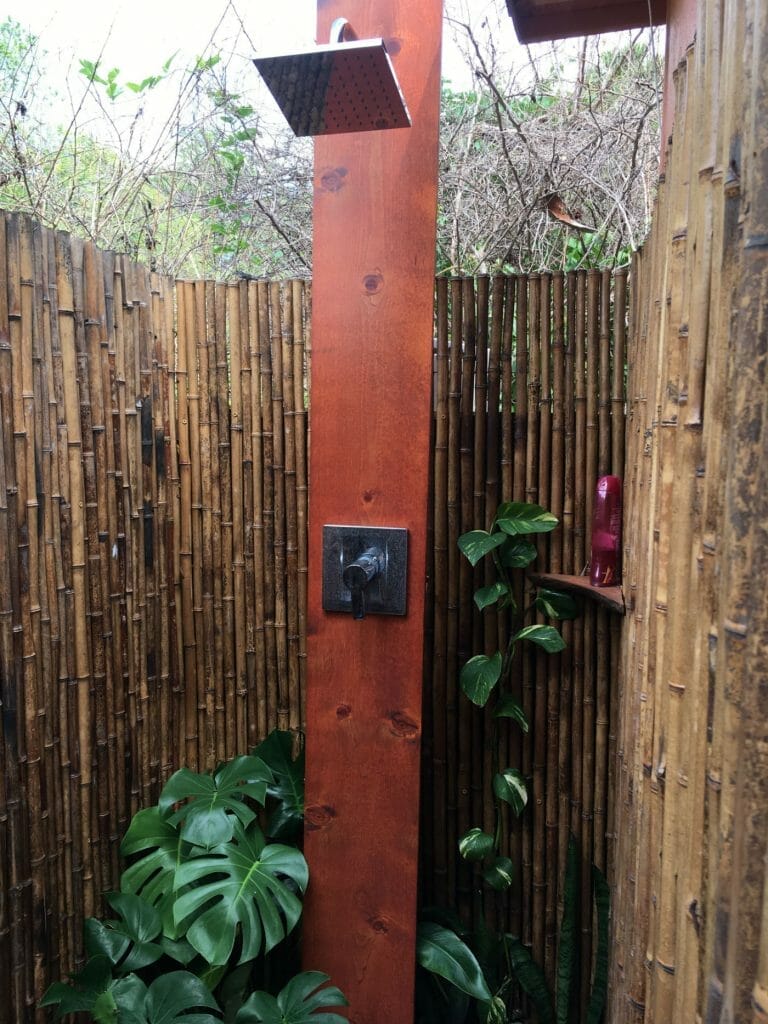 You will find this bamboo screened outdoor shower at holiday accommodation in Orlando, Florida, USA. Indeed, it gives you another idea of enclosing your own using bamboo fencing.
A climber benefits from the fence structure to creep up. Once it has all grown up, you might not see the fencing bottom part.
22. Rustic Outdoor Shower Ideas from a Safari Camp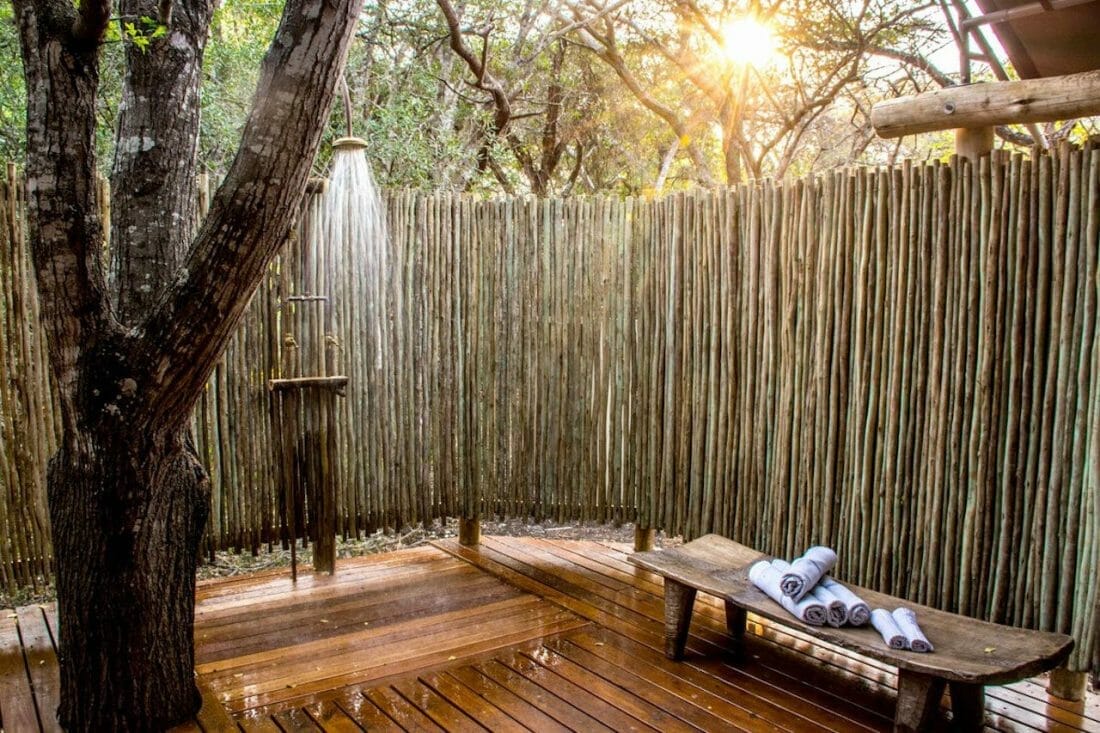 Wildlife is supposed to affect the design of this outdoor amenity since it is a part of a lodge in a safari camp.
Hence, you cannot agree more with how everything seems natural and native to nature, the bamboo enclosure, wooden board bench, flooring, growing tree feature, and the surrounding.
23. Covered Rustic Outdoor Shower Ideas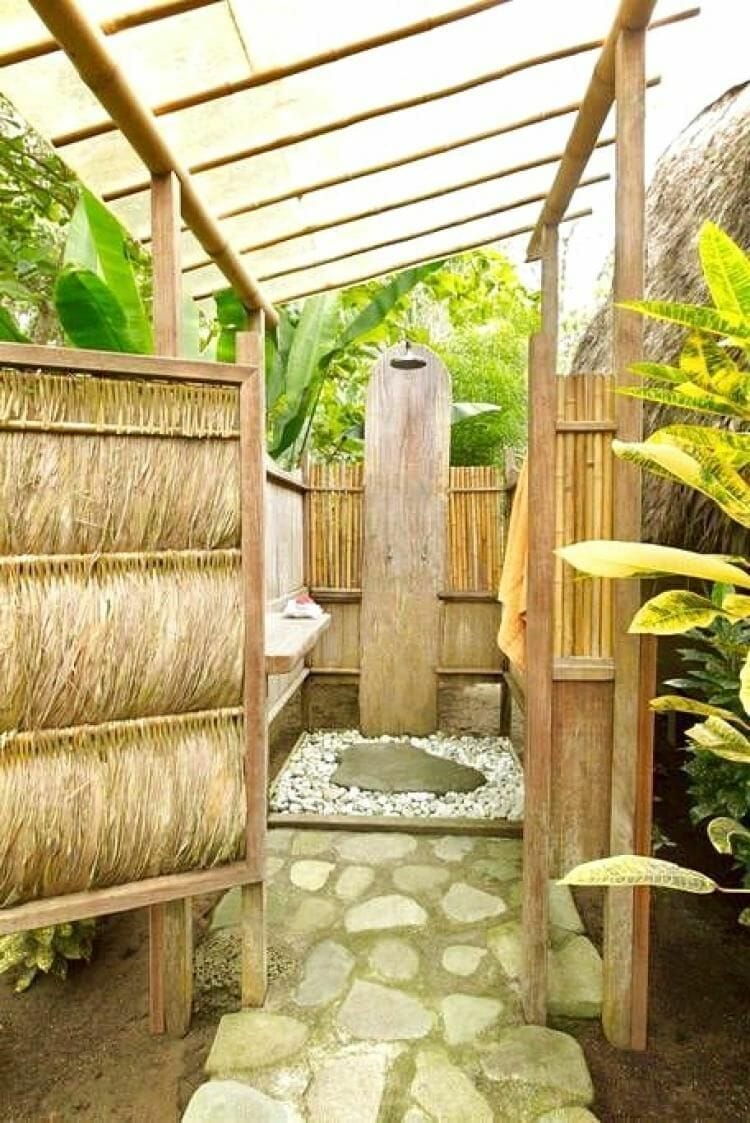 It is another idea of an outdoor shower using bamboo. The use of the material is visible on the screens and the roof frame.
Meanwhile, large stones are usable as the tracking access and white pebbles as the drainage floor. Over the smaller rocks, a flat and wide slab is present as the foothold.
24. Rustic Outdoor Shower Ideas Using Limitless Stones Elements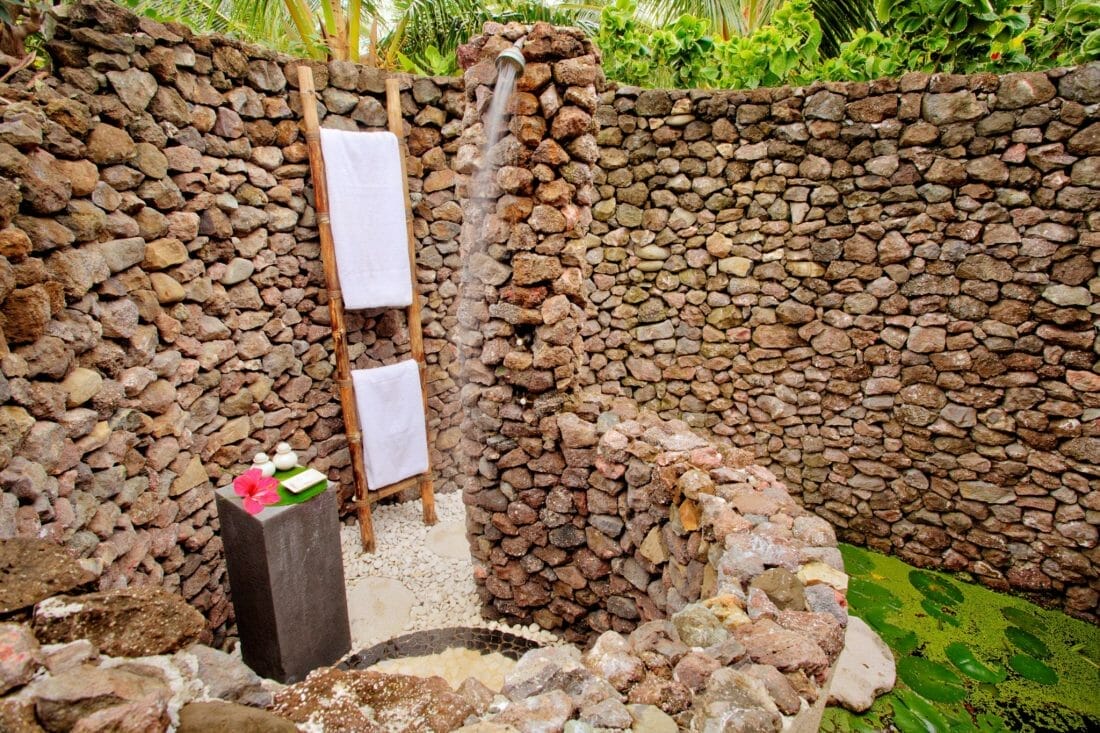 When it is safe and possible to travel everywhere without terms and conditions, go to an island resort located in Mamanuca Islands, Western Fiji, Fiji.
You will find these private rustic outdoor shower ideas built with incalculable stones there. Every element is buildable with them.
25. No-Wonder Jungle Shower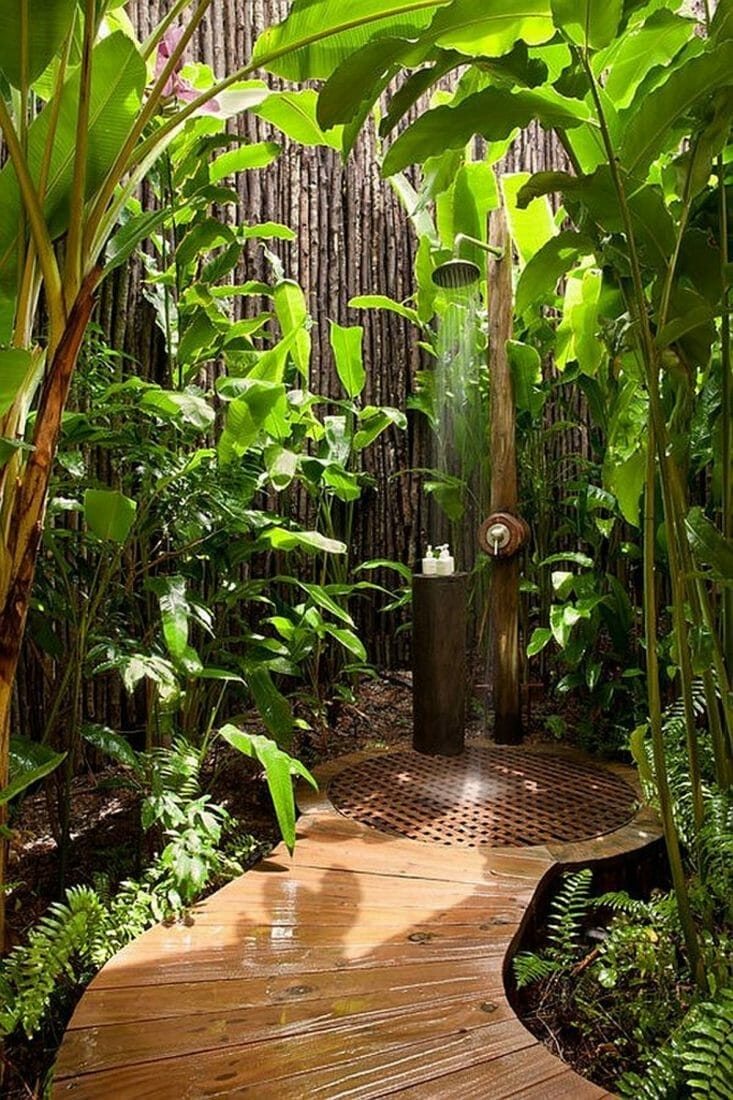 This picture becomes a cover for a purchasable perfume product called Jungle Shower on a marketplace.
Now, it is a sure thing, is not it, looking at how a shower exists in the middle of a jungle setting. Tropical plants are visible at the sides of the access inside, welcoming anyone to one of the rustic outdoor shower ideas.
26. Cedar Outdoor Shower Plan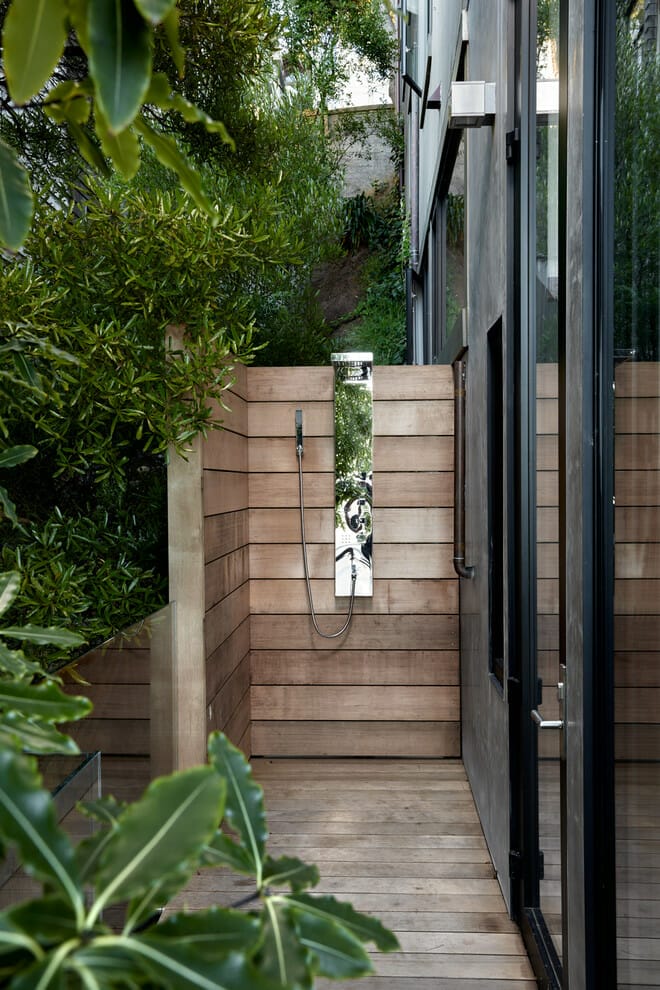 Do not forget your side yard as well. This picture could give you some insights into the matter. Cedar is likely the top choice of aesthetical material for outdoor use in the category of wood.
That is why this modern rustic shower area in San Francisco utilizes such a material.
27. Hawaiian Style Patio Outdoor Shower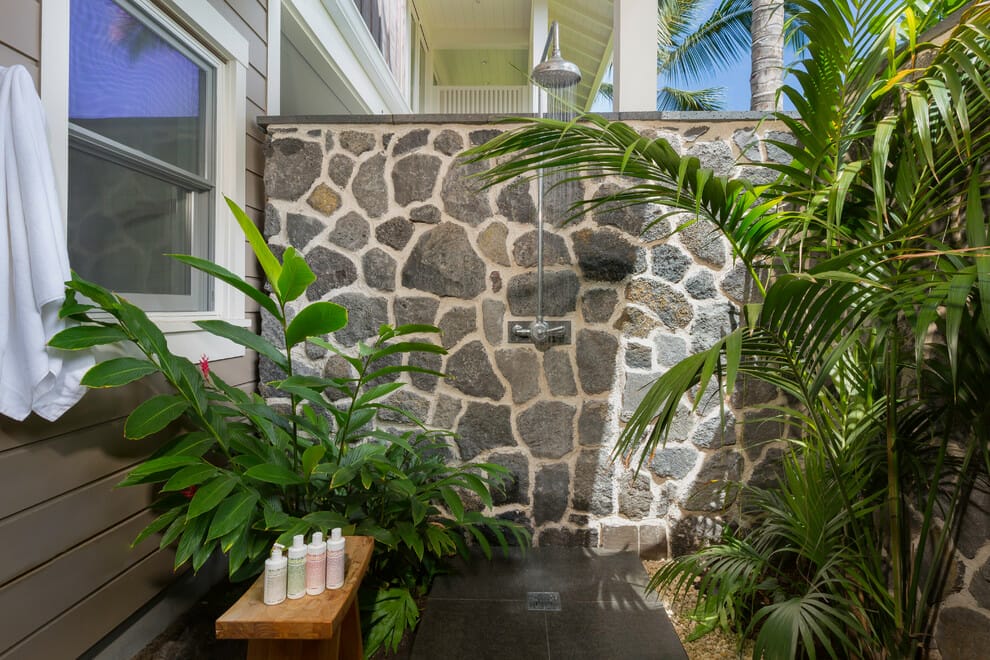 You could find a refreshing patio like this in Hawaii. It portrays what circumstances Hawaiians are in daily with areca palms on the right side and red ginger on the left.
Moreover, the scene is faultless then because the walls and the flooring use the perfect tiles for the style.
Those rustic outdoor shower ideas above could spice up your backyard, patio, side yard, or any open landscape you desire.
To make yours truly loyal to this style, remember to involve a lot of greeneries, stepping stones, wood, exoticism, informality, and sometimes exposed materials.