Front entries of the homes give visitors a first impression undoubtedly. That's why they need to be pleasant and inviting. There are plentiful ways to improve the appearance of the entrances. Fortunately, these front entrance ideas come to the rescue.
You can better the look of your front entry with handmade projects or easy updates. Moreover, these ideas for entrances feature landscaping and outdoor decor tips. I believe they'll enhance any abode's curb appeal and generate a welcoming impression.
1. Front Entrance Ideas for Small Houses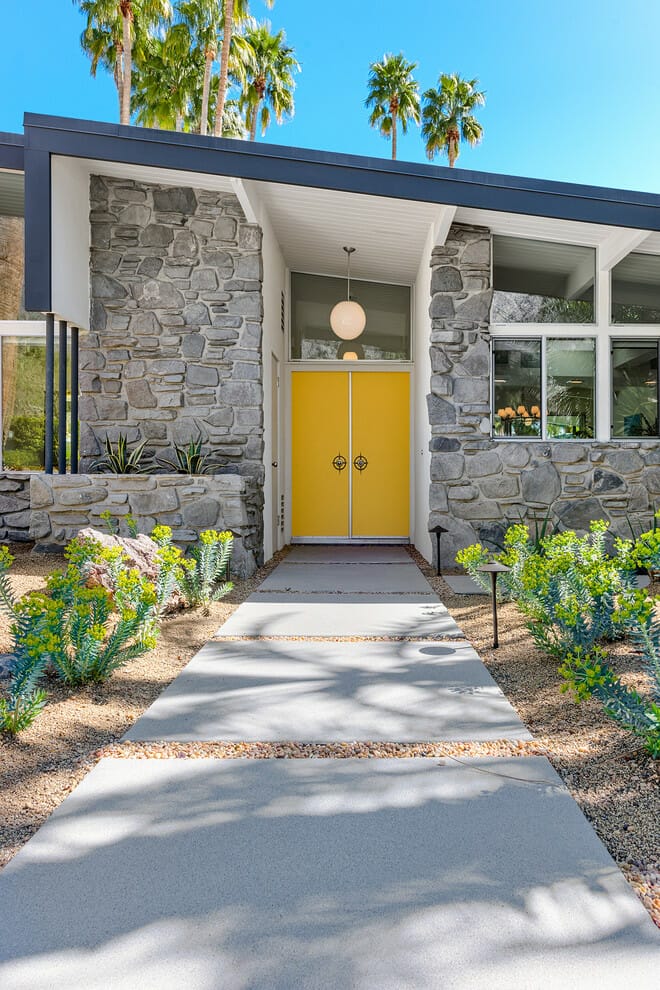 Revamp the front entrance by adding a burst of vibrant paint to the entry door. Here, sunny yellow doors clash with the rustic stone siding. Also, they guide guests to the entryway while carrying some cheer.
Although entry doors are closed, windows of different shapes welcome lots of daylight inside this tiny house. Meanwhile, the globe pendant brings style and convenience while emphasizing them.
Concrete stepping stones lead visitors from the driveway or street to the front entrance. Furthermore, gorgeous edging and snake plants produce a serious impact. Lastly, garden post lights provide general illumination.
2. Front Entry with Flower Containers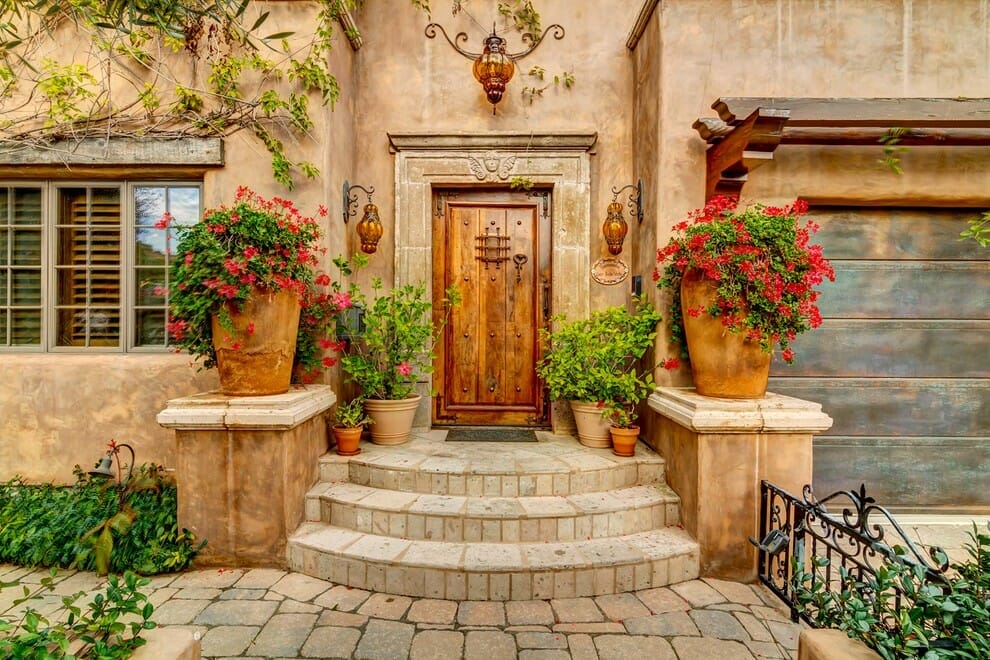 Here, natural stone front entry steps meet pavers smoothly while adding character. Meanwhile, the doormat lends the entrance a polished appearance.
The homeowners splurged on stunning decor features. They incorporated a vintage wooden door and brown glass wall lights for an inviting impression.
Flower containers of varying sizes offer the front entry visual symmetry. Moreover, they infuse striking bursts of color. Also, climbing plants spiff up the warm-toned home facade.
3. Japanese-Inspired Front Entrance Ideas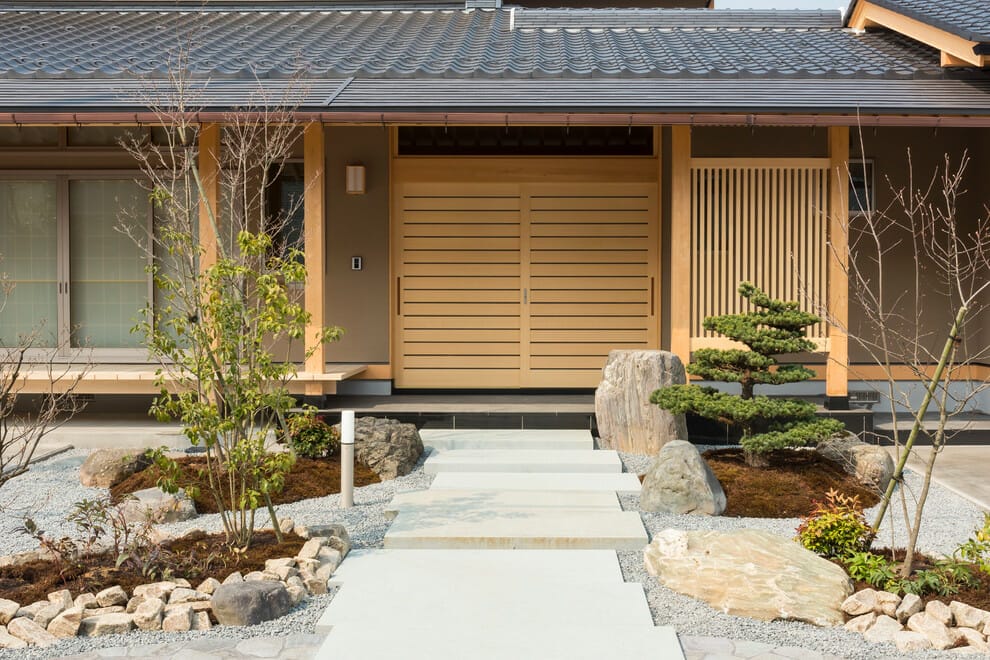 This is one of the house front entrance designs that I adore. The blonde wood entry door and pillars showcase simple lines. They imbue a modern flair and make visitors feel very welcome at once.
The taupe home facade bolsters the cozy factor. Furthermore, the staggered concrete path fits in with the front door and gravel while producing lots of interest.
Since there are bonsai and minimalist plants, the front yard seems lively. Meanwhile, boulders and rough stones epitomize tranquility. They provide natural texture and personality, too.
4. So Much Greenery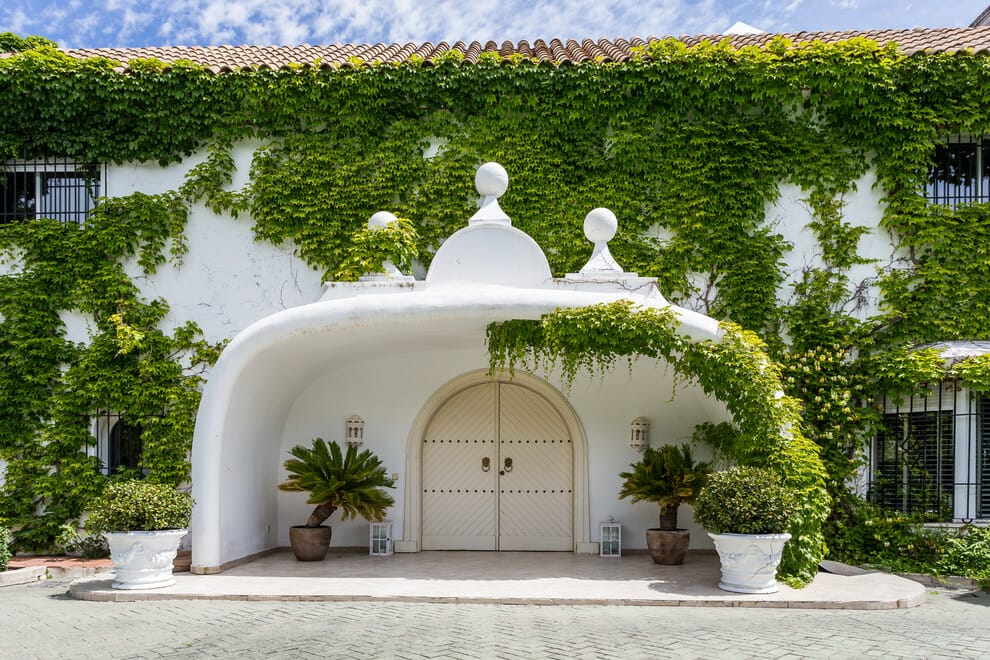 Need exciting front entrance ideas? If yes, duplicate this one. The white arch-shaped structure protects the guests from both sun and rain. Furthermore, the arched cream entry doors produce a subtle contrast while portraying cohesion.
Stark white vintage planters complement the home exterior. In addition, climbers, shrubs, and decorative palm trees bring this airy front entrance to life.
Lanterns, arched front doors, and wall lights please the eye. Meanwhile, subtle gray-toned stone pavers blend with the home facade magnificently.
5. Modern Front Entrance Ideas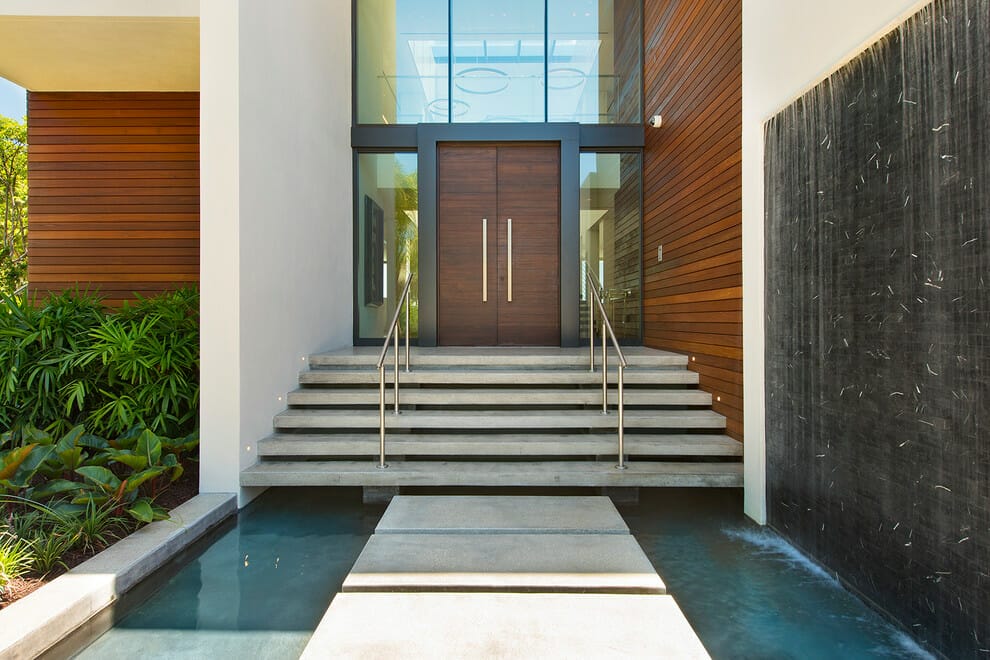 Concrete steps and stepping stones symbolize modern minimalism. Meanwhile, the rich-stained wooden siding and front doors temper them.
Streamlined metallic door handles and handrails make this front entrance appear up-to-date but still cohesive. There are massive glass panels that let in abundant sunlight too.
The front entry pond emanates an air of serenity. Here, outdoor plants coordinate with the horizontal wood siding while energizing the entrance.
6. Landscaping Ideas for Front Entrances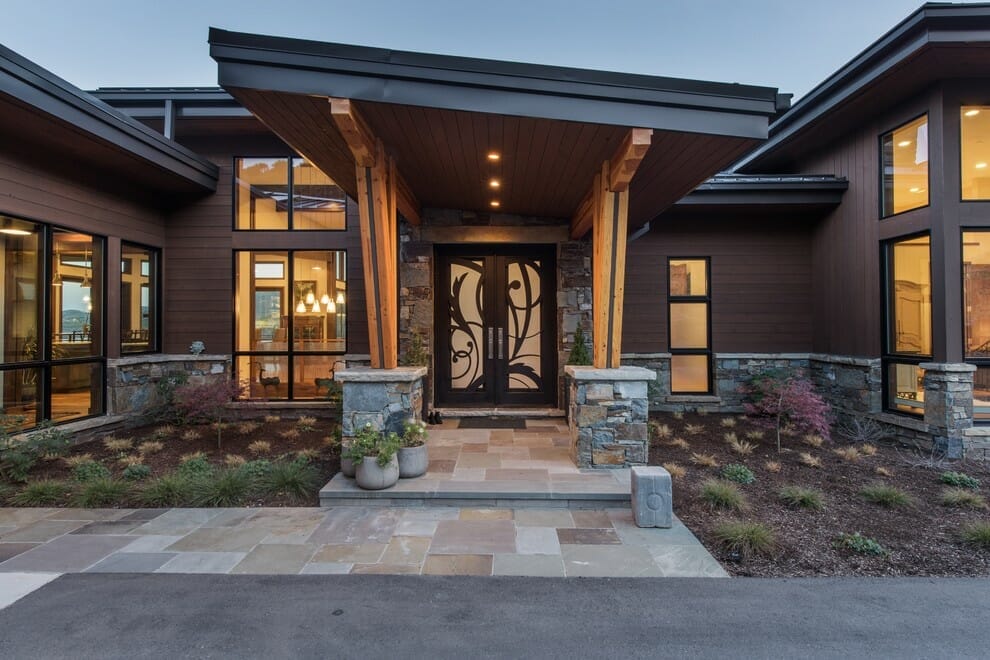 Talking about front entrance ideas, take landscaping into account. Here, ornamental grasses and pink flowering shrubs spiff up the landscape. Meanwhile, plants in concrete planters create order while imparting extra life.
Frosted glass exterior doors give the house a contemporary aesthetic. Because of their black-painted frames, they can go harmoniously with the intense brown siding.
Smooth multitone stone tiles bring interest. They highlight rustic stones, too. Furthermore, wooden architectural details infuse enough warmth.
7. Front Entrance Decorating Ideas with a Pergola Roof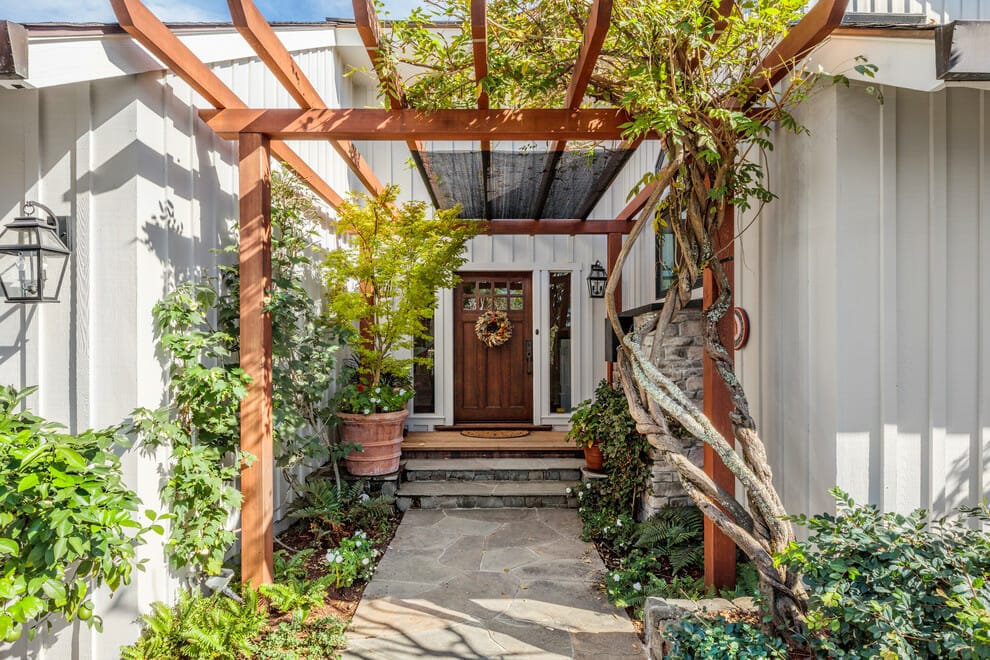 Despite being narrow, this entrance isn't lackluster at all. The long windows elongate the home's structure. Furthermore, the vertical siding and white trims allow the front entry to feel bigger than its.
The flagstone path and stone steps depict rusticity while leading visitors to the front door. Meanwhile, the wreath, doormat, and vintage wall lanterns produce a polished look.
Thanks to the pergola roof, climbers can steal the show here. Moreover, assorted outdoor plants and terracotta planters make the front entrance seem complete.
8. Cottage Front Entrance Ideas Exterior Doors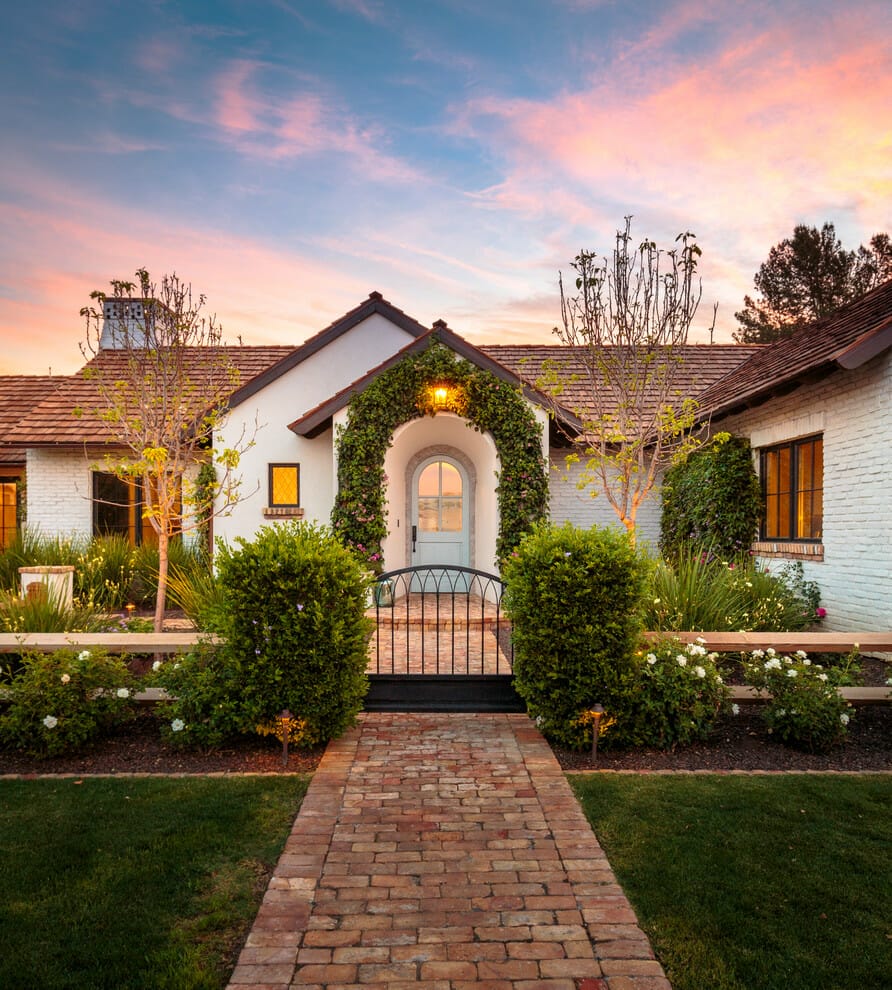 The brick path delivers personality and texture. It also meets the masonry edging while guiding homeowners' guests to the front entry.
Here, the iron gate, door handle, and window frames unify this front entrance. Moreover, the arched exterior door and vine-covered arch heighten the cohesive feeling.
The gate, flowering shrubs, sleek trees, and boxwoods carve visual symmetry. Meanwhile, the lights of the front yard add convenience.
9. Minimalist Front Entrance Ideas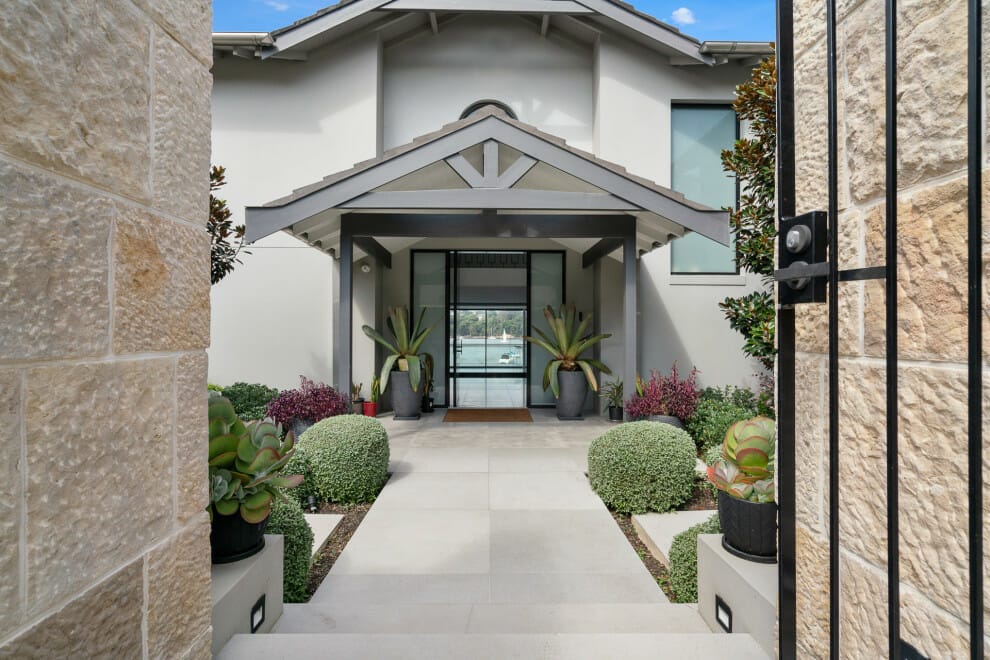 If you admire simple house entrance designs, try out this idea. Clean lines of the long front doors represent modern minimalism perfectly.
The brown doormat and gray planters with statement plants satisfy the eye. Also, they keep the front entry balanced. Moreover, the concrete pathway and steps fit in with minimalist exterior doors.
Shrubs, tall trees, potted succulents, and boxwoods give the front yard a sense of dynamism. Additionally, the gray-and-white roof over the entry door keeps weather elements off guests and homeowners.
10. Smart Tech for Front Entrances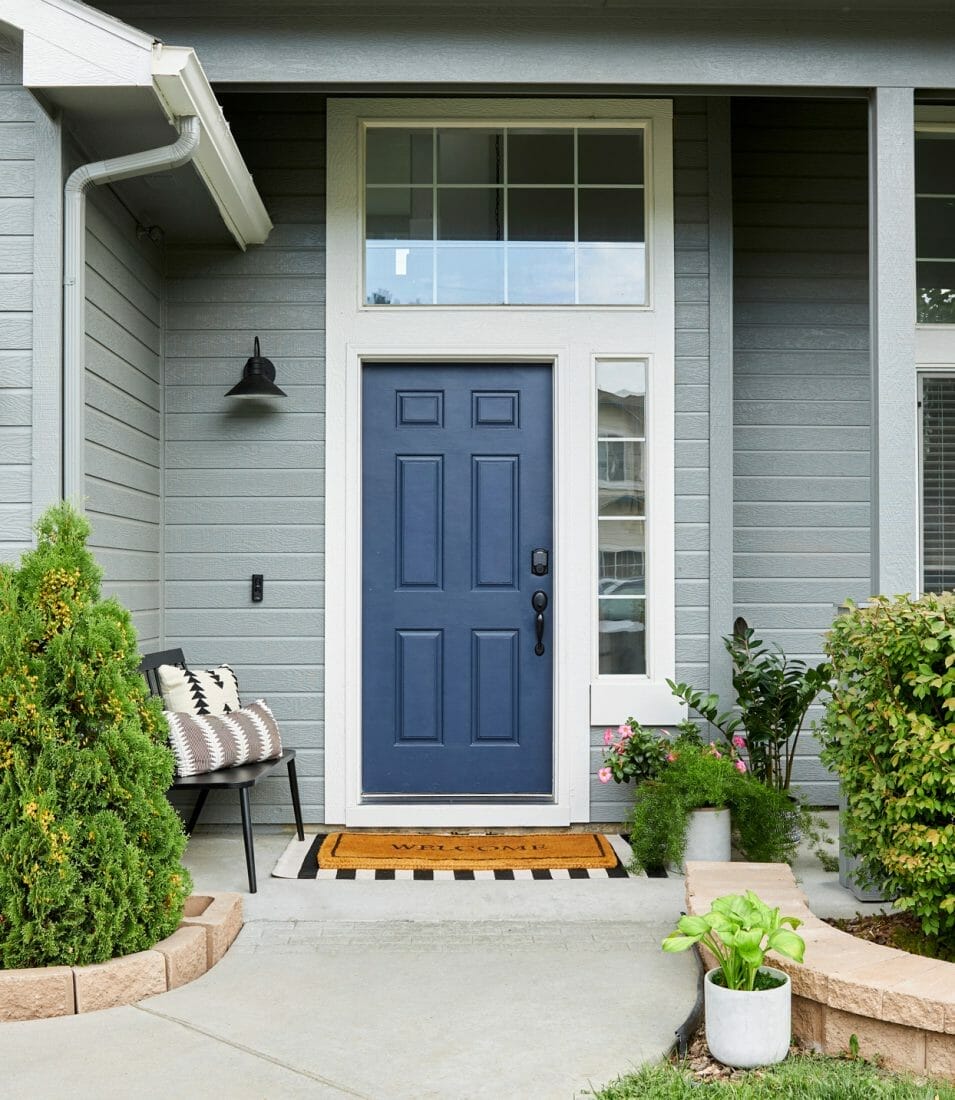 Speaking of front entrance ideas, try incorporating smart technology. Nowadays, doorbells also work as video cameras to help homeowners track their packages. Furthermore, some door hardware pieces require fingerprint entries.
Here, exterior smart technology units boast matte black finishes. The hardware, doorbell, and wall sconce introduce visual cohesion.
The gray-blue horizontal siding mingles with the muted navy front door. Meanwhile, the welcome mat, striped outdoor rug, geometric pillows, and assorted plants soften the look.
11. Rustic But Stylish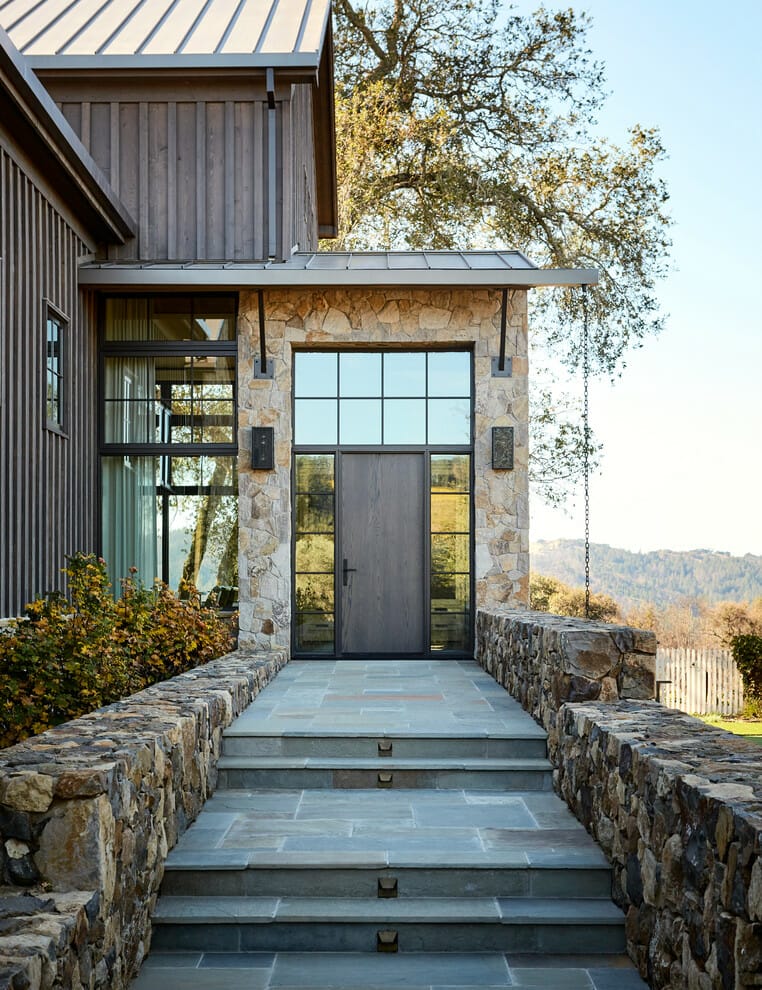 This is one of the outstanding house entrance design images. The rugged stone home facade and retaining walls imbue the front entry with rustic vibes.
Mirrored square windows frame the dark gray entry door. Furthermore, they expand the front entrance in an instant.
Built-in lights brighten stone steps of varying tones. Bushes deliver a dose of color, while trendy wall sconces illuminate the entry door during the nighttime.
12. Front Entrance Accessories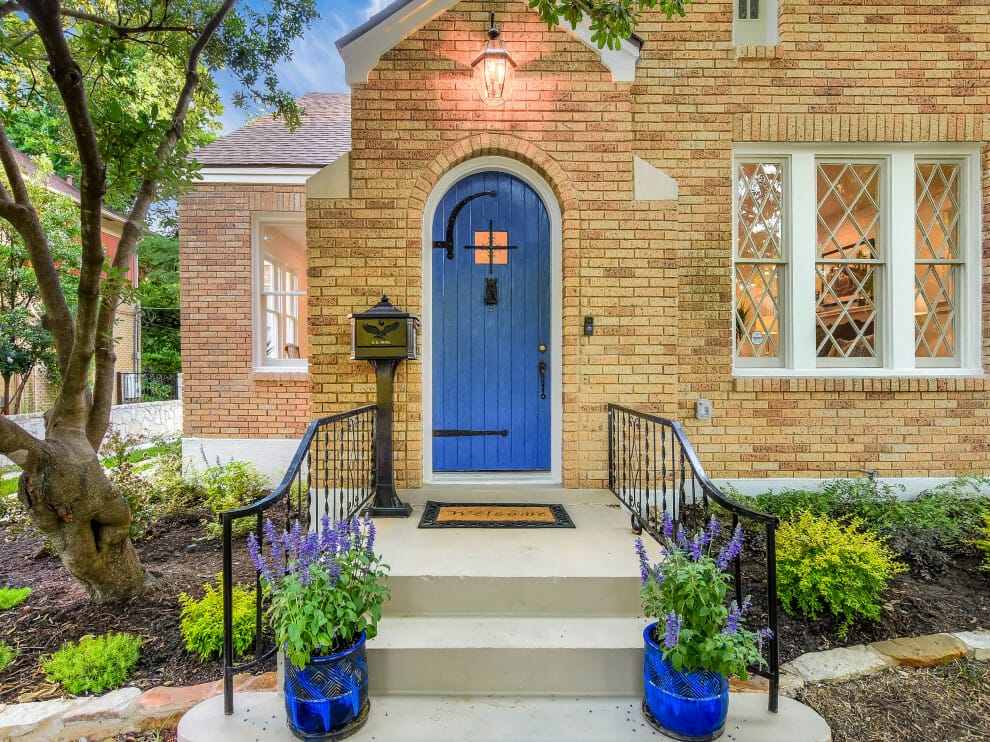 Give your front entrance a polished yet cohesive look by integrating exterior elements in the same finishes. Here, the vintage iron mailbox, wall sconce door hardware, and handrails tie accessories together.
The bright blue entry door, planters, and flowers elevate the front entrance. They unify the homeowner's front yard in seconds.
Diagonal window panes generate a whimsical appeal. In addition, the welcome mat, trees, and bushes balance out concrete steps.
13. Front Entrance Ideas with Touches of Red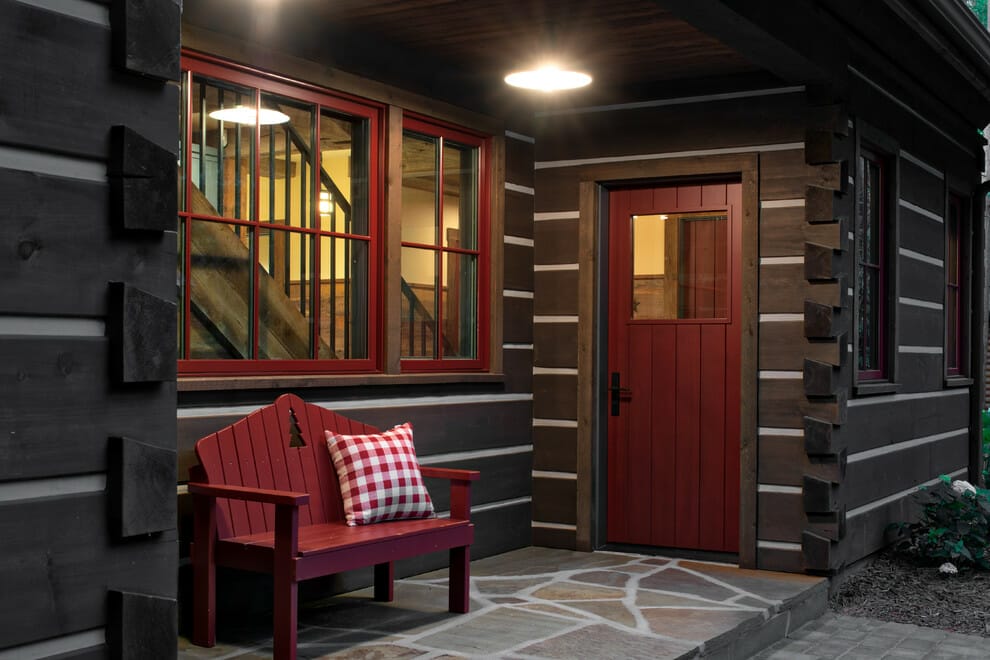 This front porch is an excellent spot to unwind outdoors. Moreover, the dark red entry door, bench, and window frames develop a welcoming impression.
The gingham pillow infuses a country flair. Meanwhile, the horizontal striped siding and multitone stone porch floor generate interest. Also, the glass panel of the front door lets in an extra dose of daylight.
14. Airy Meets Trendy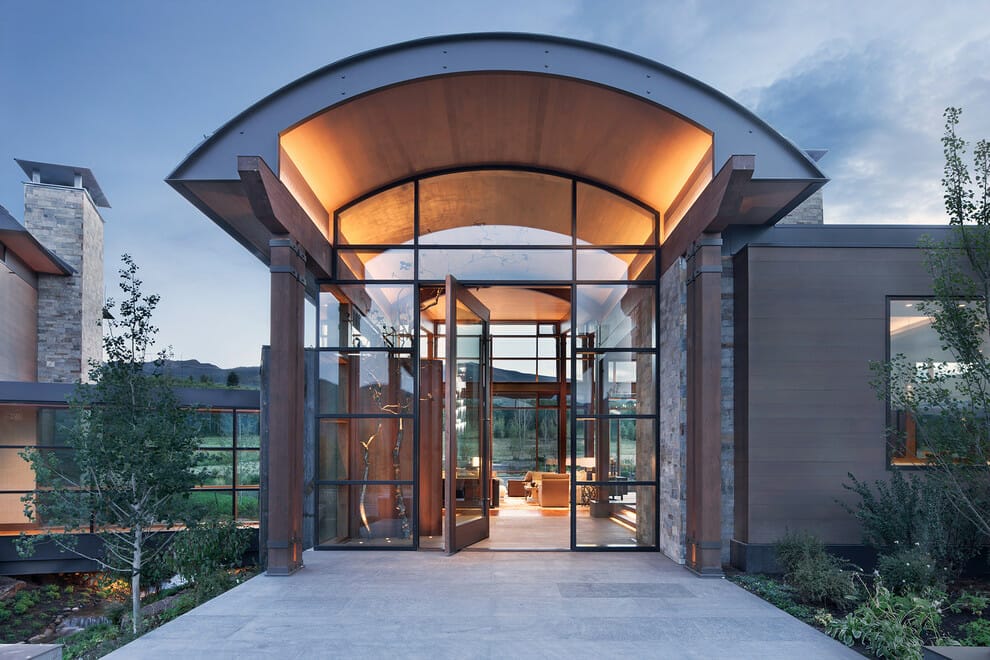 The homeowners married their concrete path with sleek iron window frames. Furthermore, the glass front door retains the sunroom's airy atmosphere.
Here, the curved roof over the entrance door protects visitors from sun or rain. Meanwhile, front yard plants balance out sharp corners.
15. Splendid Symmetry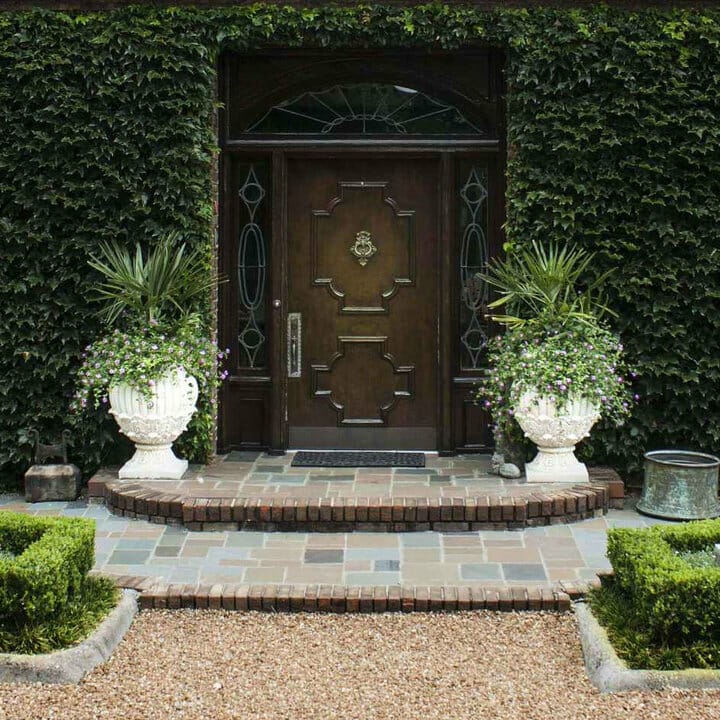 Need front entrance ideas? If so, this look is worth emulating. The vintage wooden entry door, windows, and white urn planters produce symmetry.
Climbing vines and hedges make for a lively front entry. Additionally, the curves of the entrance door and stone steps carve a cohesive atmosphere.
16. All-White Front Entrance Ideas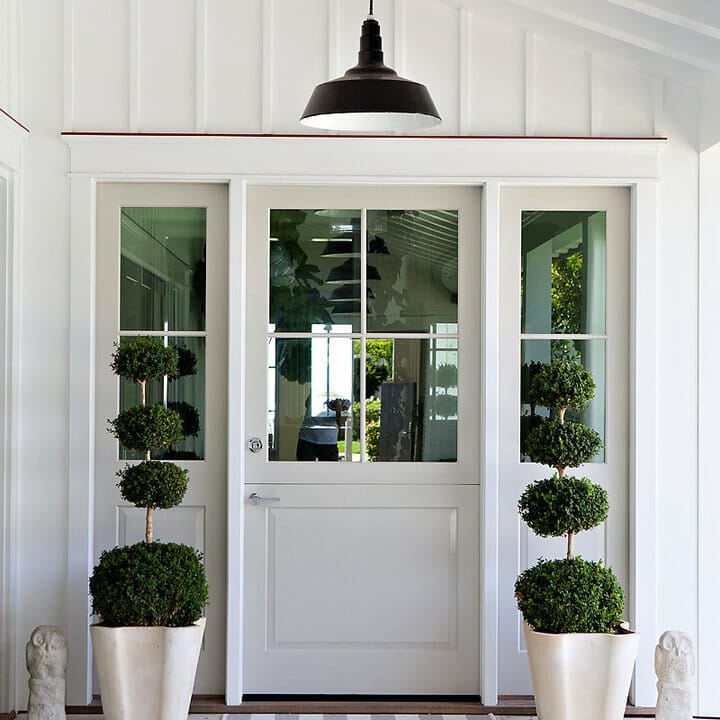 Here, the pale gray Dutch door is transformative. Not only does it ooze contemporary vibes but also welcomes loads of daylight.
Subtle gray window frames complement the Dutch door. Meanwhile, the black vintage pendant, statues, and topiary outdoors jazz up the front entrance.
17. Front Entry with Varied Plants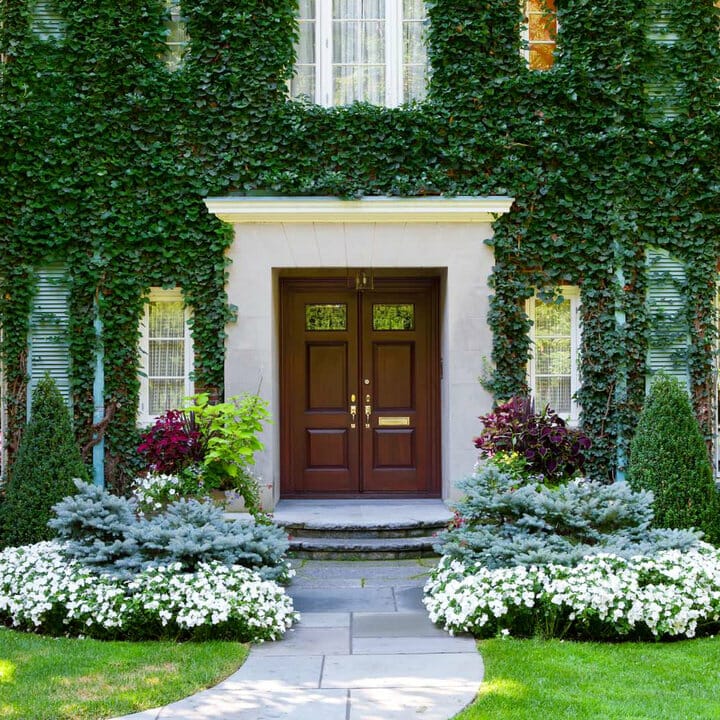 The front entry boasts a curved path and steps. Moreover, homeowners lined their edges with evergreens and different varieties of shrubs.
Vines adorn the otherwise bland white home facade. In addition, stained wooden entrance doors and gold hardware pieces keep the front entry inviting.
18. Red, White, and Gray Front Entry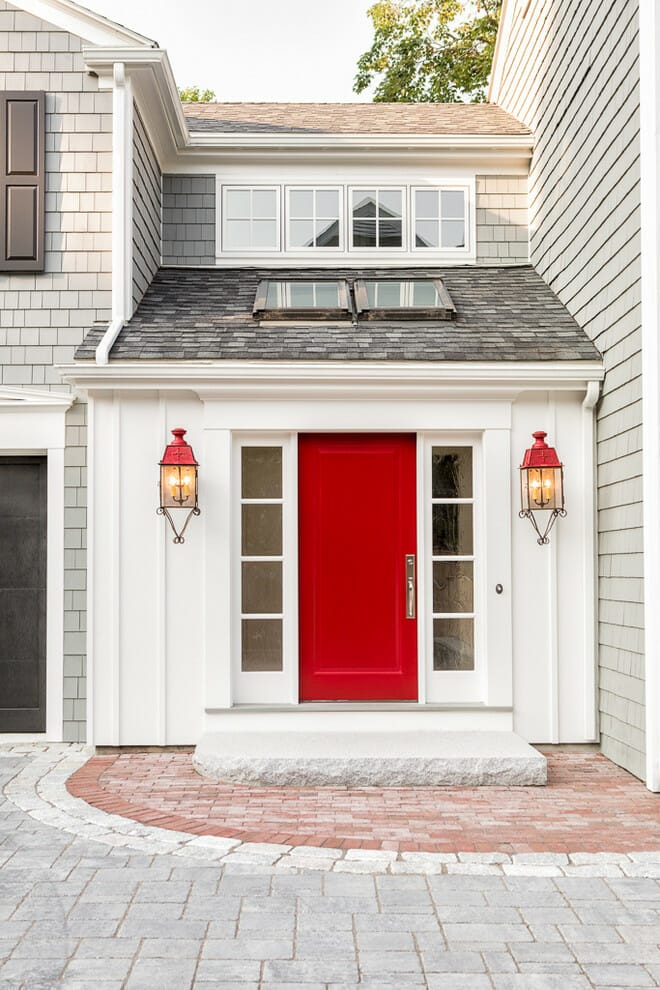 I adore the juxtaposition between red and white exterior elements here. Bright and muted red accents epitomize visual cohesion instantly.
A slab of stone complements the light gray paver walkway and shingle siding. Meanwhile, red-and-iron vintage wall sconces deliver personality.
19. All Things Rustic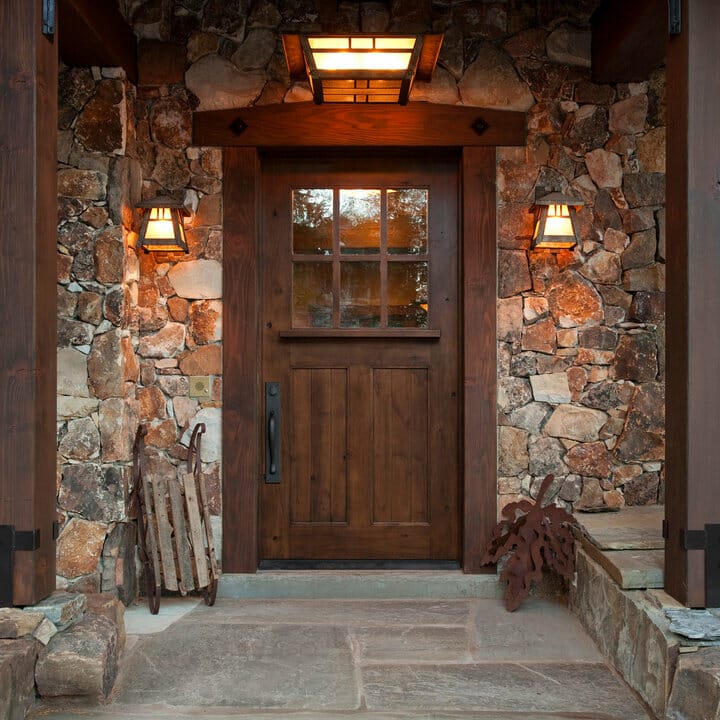 The rugged stone siding ensures the front entrance doesn't run out of rustic charm. Furthermore, weathered metal elements infuse an extra dose of rusticity.
Due to coordinating metal finishes, this front entry looks cohesive. Additionally, wall sconces brighten the entrance door while adding a vintage vibe.
20. Fall-Themed Front Entrance Ideas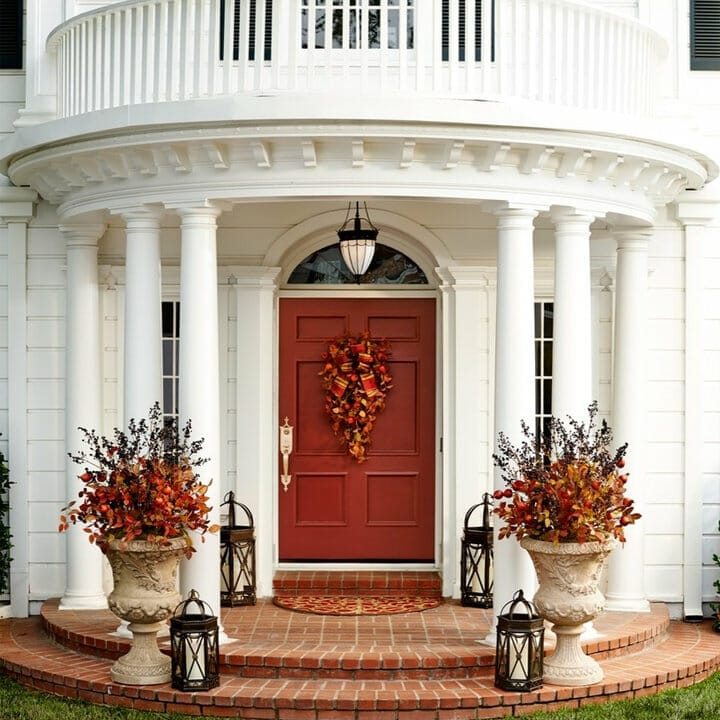 This front entrance features architectural details like columns and decorative brackets. Moreover, they make the home facade seem elegant and grand.
The arched window and curved brick steps tie the front entry together. Meanwhile, the burnt orange door, welcome mat, fall wreath, and floral arrangements warm things up.
21. Inviting and Up-To-Date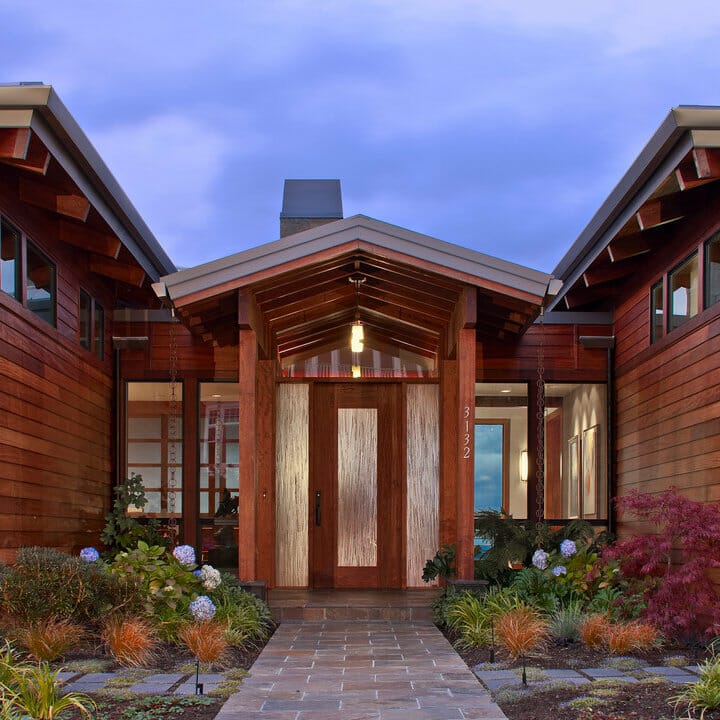 Speaking of front entrance ideas, try changing up the house facade's appearance by installing a new door. Here, the frosted glass door and windows keep things trendy.
The roof gives visitors protection against sun and rain. Gray-painted house numbers clash with the wooden pillar. Furthermore, assorted edging plants define the stone pathway.
22. Front Entrance Ideas with Two-Tone Planters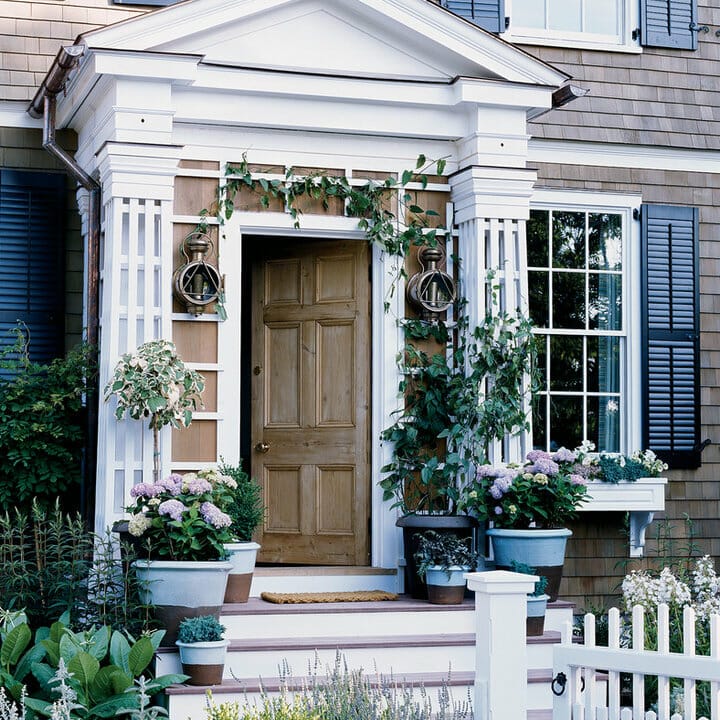 Stark white and bare wood never go out of trend. They make any home exterior welcoming and airy too.
The pillars support climbers, while the doormat and brass sconces develop a polished look. Meanwhile, two-tone containers of varying sizes hold gorgeous plants like hydrangeas.
23. Say Yes to Outdoor-Friendly Materials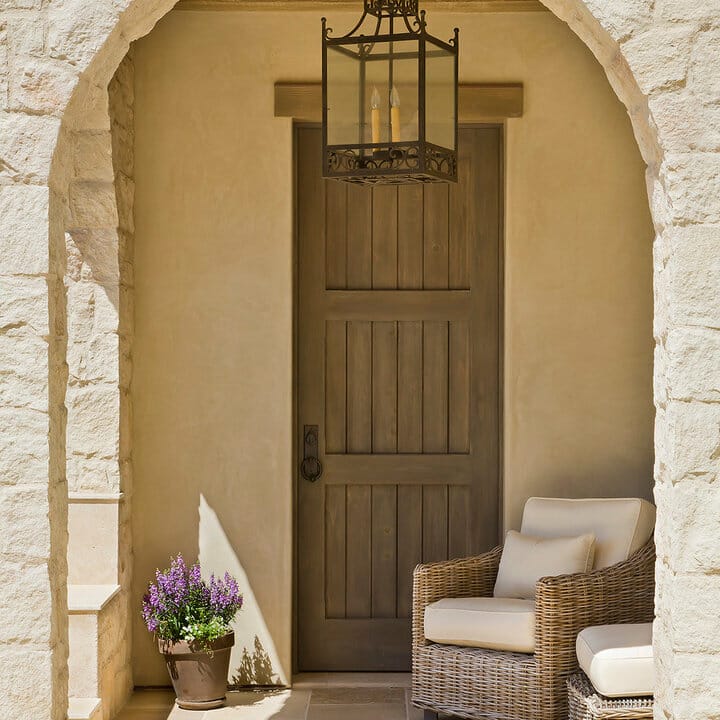 The taupe-painted front door matches with the vintage hardware and pendant. Also, the cream stone arch and siding deliver serene vibes.
Thick seat cushions and wicker furniture units offer so much comfort. Moreover, purple blooms instantly titivate the front entry.
24. A Pop of Yellow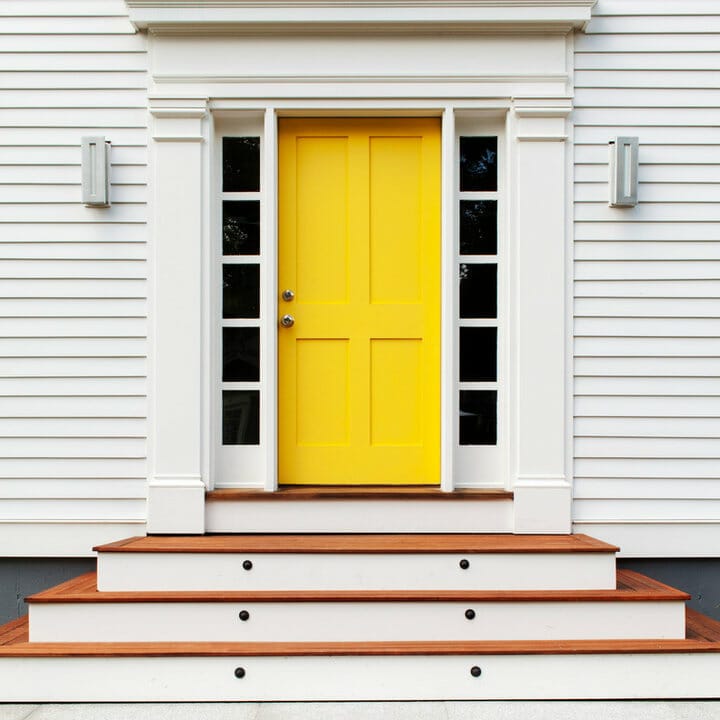 Here, a burst of yellow paint clashes with the horizontal siding and trims. Moreover, the entry door cheerfully guides guests inside.
Repeating rectangular shapes via the entrance door and windows create cohesion. Meanwhile, streamlined sconces and two-tone steps round out the front entry.
25. Front Entrance Ideas with Stained Glass Panes
This front entry receives lots of character from stained window panels. Meanwhile, concrete steps meet the flagstone siding in harmony.
The cream-painted roof delivers function and style. Furthermore, the iron pendant, mailbox, and lively plants depict a sense of completion.
26. Minimal But Marvelous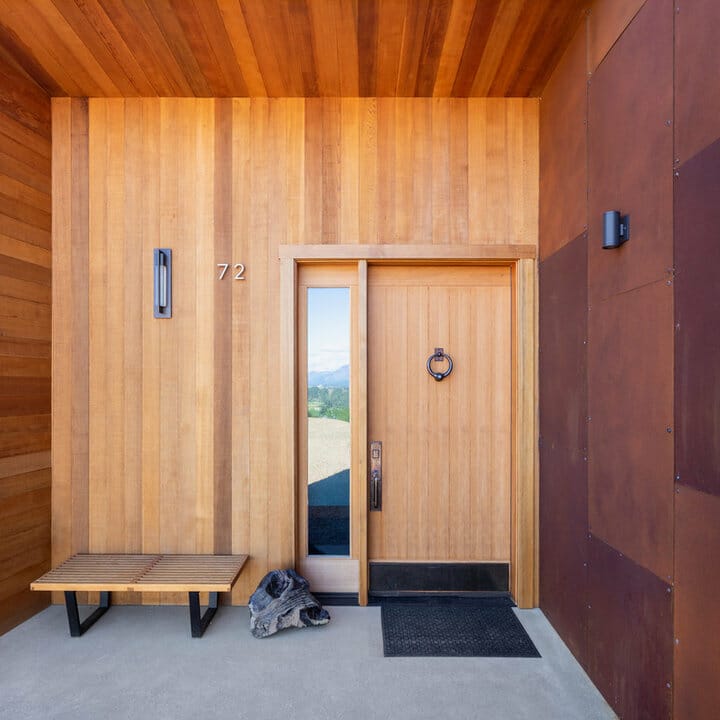 Horizontal and vertical blonde wood planks keep things minimal. Also, the concrete floor highlights a black welcome mat, an art piece, and a bench.
The mirrored window and metallic house numbers match with simple wall lights. Meanwhile, panels of warm tones complement wooden elements.
27. Front Entrance Landing Spot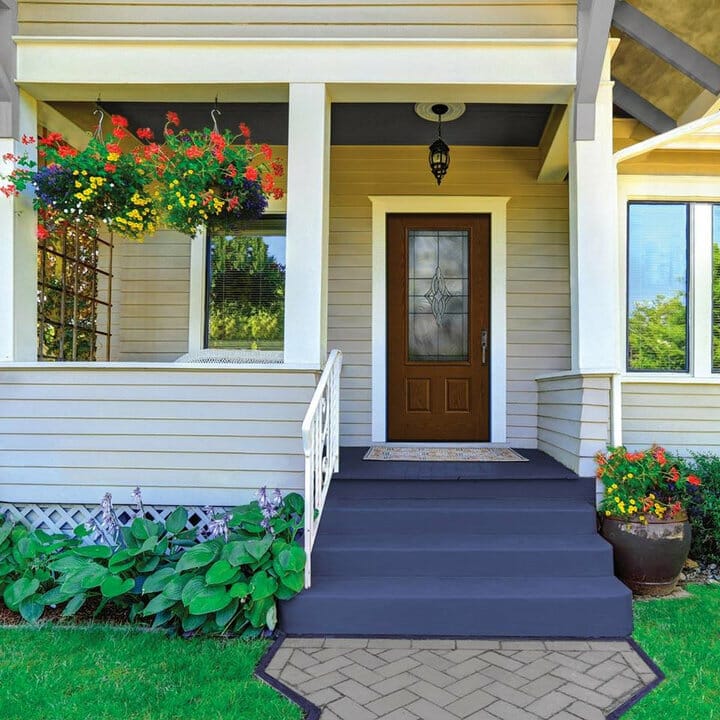 This is one of the awe-inspiring front entrance ideas for me. Varying gray tones let the home facade feel dynamic and appealing.
The stained glass entry door, herringbone stone walkway, outdoor rug, and lattice panel bring details. Furthermore, edging plants and flowers in hanging pots punch up the front entrance.
28. Entry Door Makeover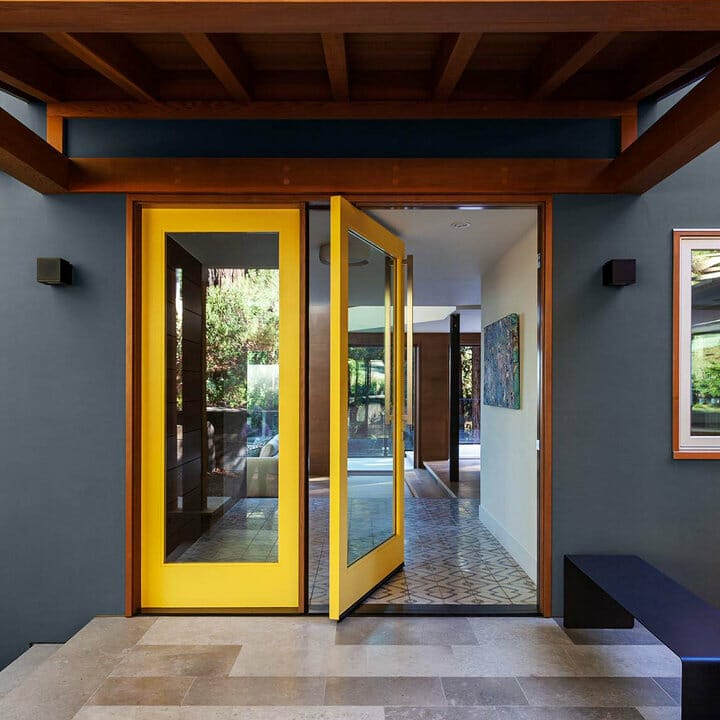 Need front entrance ideas interior designs? Take notes from this front entry. Bright yellow frames of the flat doors spruce up the gray siding.
The entryway employs a wall art piece and printed tiles. Stained wood elements offer warmth. Moreover, the black bench, mirrored window, and sleek sconces finish things off.
29. Natural Materials Are Welcome
Stone walls, blonde wood details, and marble steps let this contemporary abode mingle with nature. Meanwhile, white containers of different sizes accentuate the plants.
Glass panels ensure the entryway always feels airy. Furthermore, ornamental grasses soften the appearance of rough stone retaining walls.
30. Moroccan Front Entrance Ideas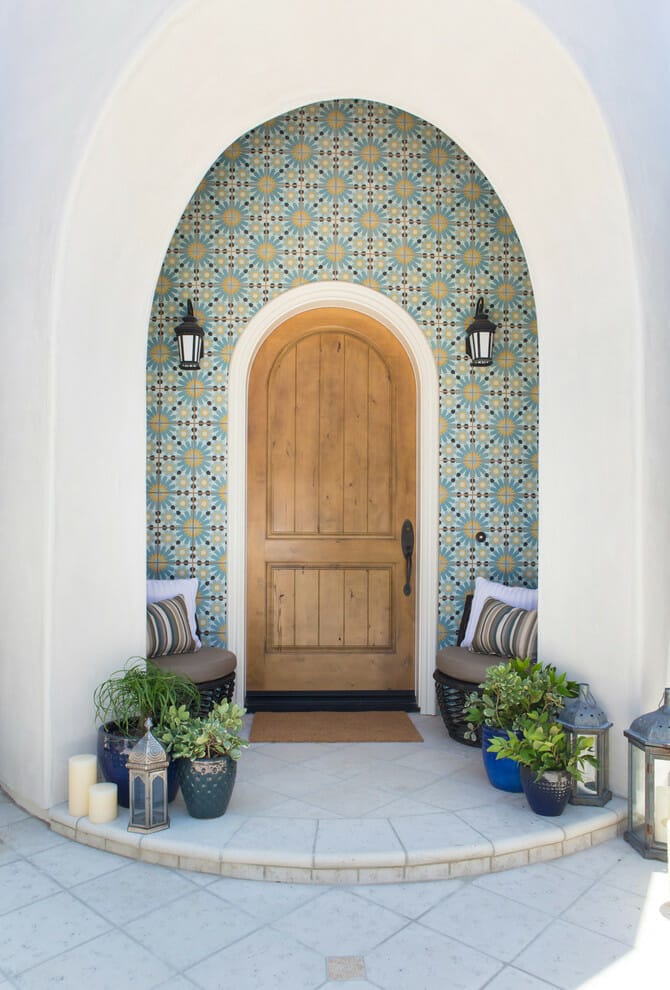 The white siding emphasizes magnificent Moroccan tiles. Furthermore, the jute doormat and blonde wood entry door warm it up.
Repeating curves and arches make the front entry appear cohesive. Pillows and cushions convey unparalleled comfort. Lastly, lanterns, candles, and mismatched planters become head-turning elements.
31. Graceful But Rustic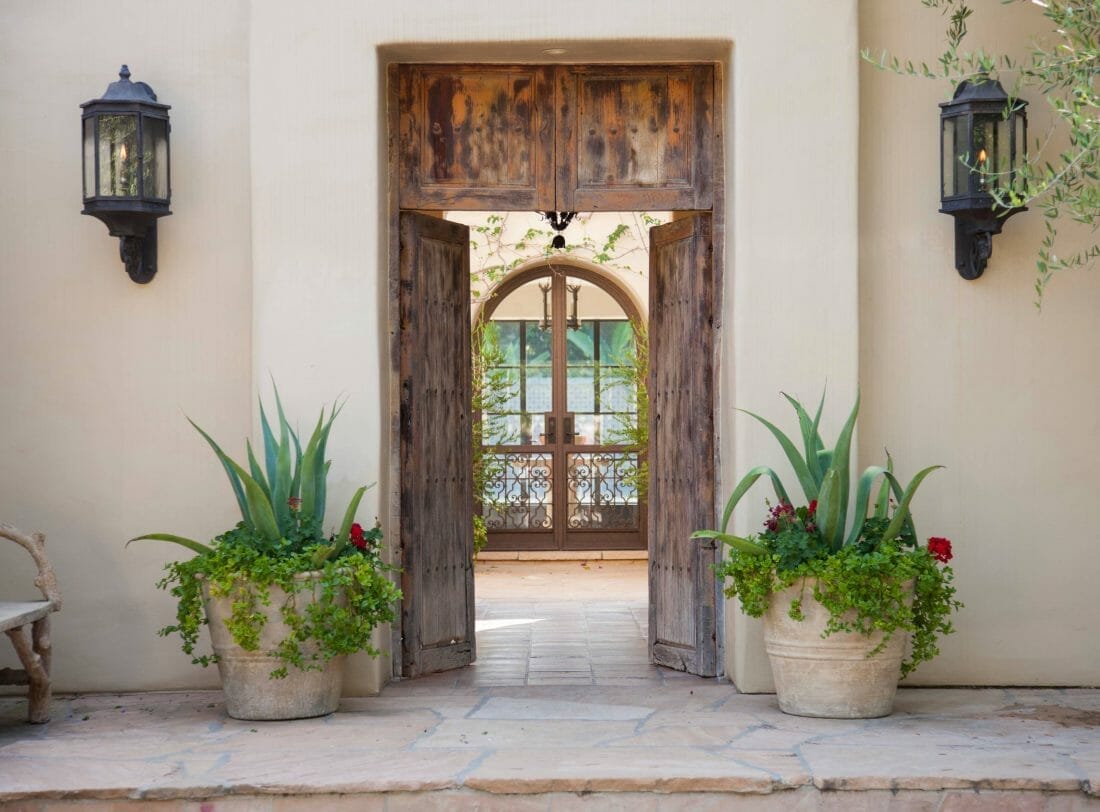 The pale stone flooring, tree branch armchair, and raw wood front gates speak of rusticity. Moreover, massive containers highlight superb plants.
Here, the gates lead visitors to Moroccan-style glass entry doors. Meanwhile, the iron pendant and traditional sconces carry personality.
Those front entrance ideas help homeowners elevate their home exteriors. Furthermore, copy any of them to wow potential property buyers. Whether you're into luxury projects or simple home updates, they undeniably come in handy.