Fireplaces epitomize timeless beauty, togetherness, and warmth. Furthermore, they vary in design. However, tiled models always stand out while mirroring homeowners' panache. If you plan an interior redesign, dive deep into these fireplace tile ideas modern surrounds.
Adding tiling to a bland fireplace is a brilliant choice since it delivers details and personality. Tiles undoubtedly can transform the schemes of the fireplaces. Also, they greet homeowners while grabbing visitors' attention.
Working or decorative, fireplaces can frame seating areas. If your fireplace requires an update, take notes from these pictures. Regardless of your style, I believe any of my modern tilings will wow you.
1. Fireplace Tile Ideas Modern Surrounds with Metallic Tiles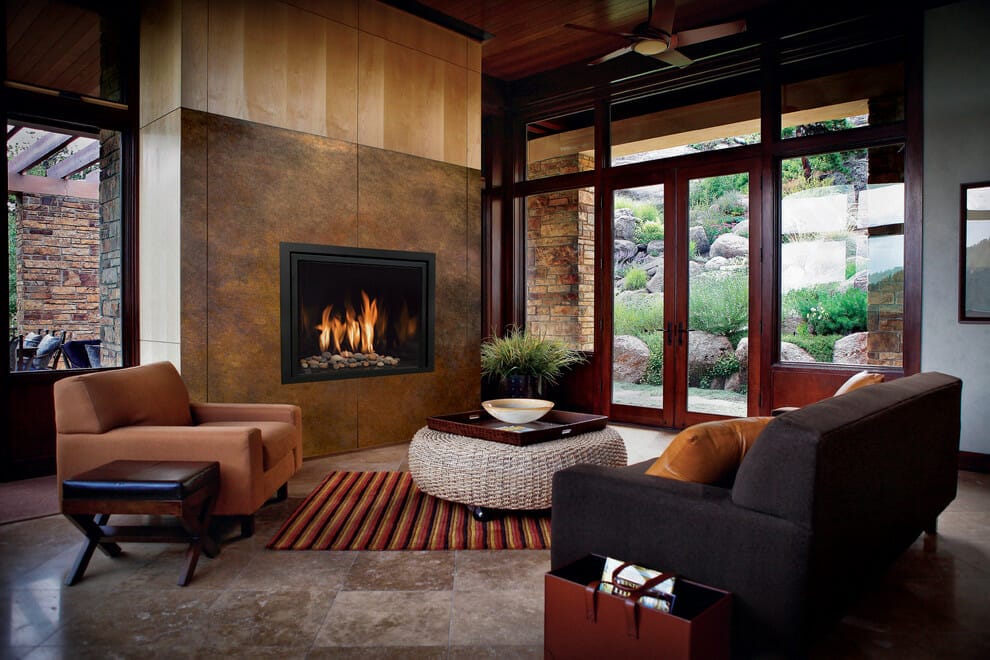 I admire the metallic porcelain tile-fireplace surround here. The oversized tiles lend warmth to the cabin-style living room while expanding it visually.
Since massive fireplace tiles sport warm tones, they match with dark and pale wood elements. Moreover, they highlight the black electric fireplace that contains river rocks.
The trendy fireplace tiles live happily with the brown polished natural stone tile flooring. Glass doors keep dark warm hues from being domineering.
2. Charcoal Gray Ceramic Fireplace Tiles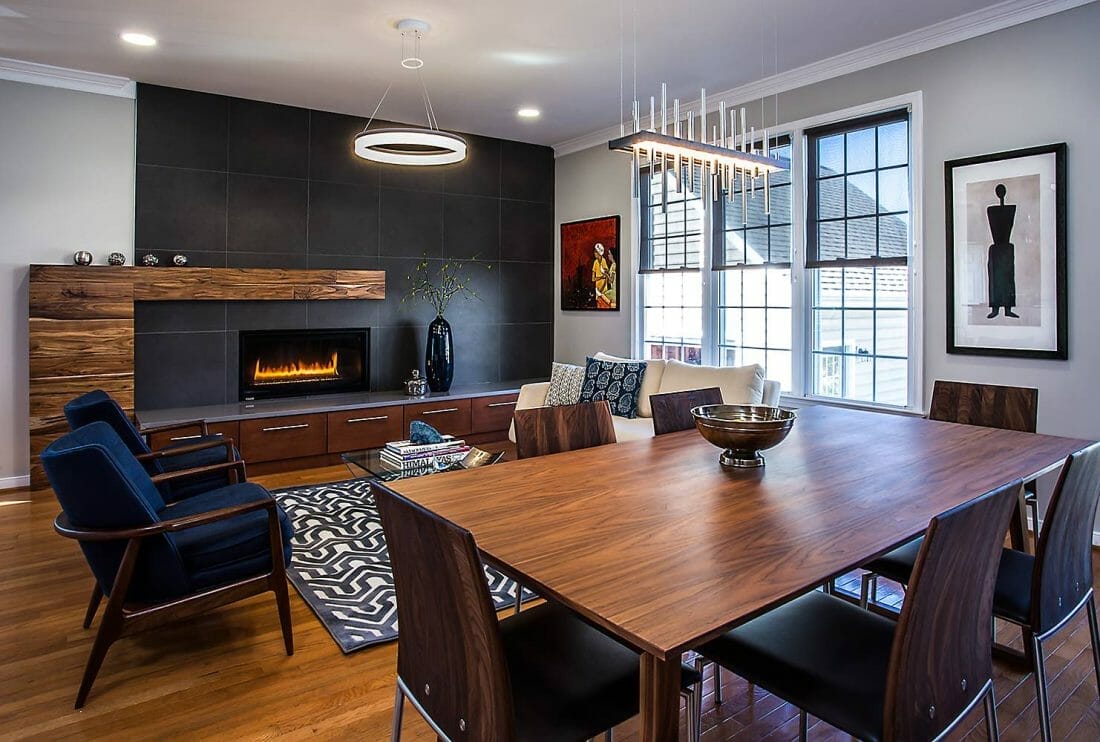 This is one of the most sophisticated tiled fireplaces I've seen. Charcoal gray ceramic tiles infuse loads of depth into the open-layout home. Also, their well-defined lines ensure the interior feels up-to-date.
The off-center wooden fireplace mantel and drawers provide ample storage space. Furthermore, they warm up charcoal gray tiles that frame the fireplace.
Here, the circular minimalistic chandelier and downlights illuminate dark tiles. In addition, the blue vase, navy armchairs, and black dining seats complement the fireplace.
3. Modern Fireplace Ideas with Marble Tiles
Speaking of fireplace tile ideas modern surrounds, consider marble. The marble tiles give this home office an elevated feel and a trendy appeal.
In addition to modernizing the home office, the marble facade also epitomizes unparalleled sophistication. Moreover, the floor tiles capture a seamless look due to the same flooring material.
Black elements radiate tons of depth. Meanwhile, the simple cowhide chair, orchid, and blonde wood units depict homeliness.
4. Modern Stone Tile Fireplace Ideas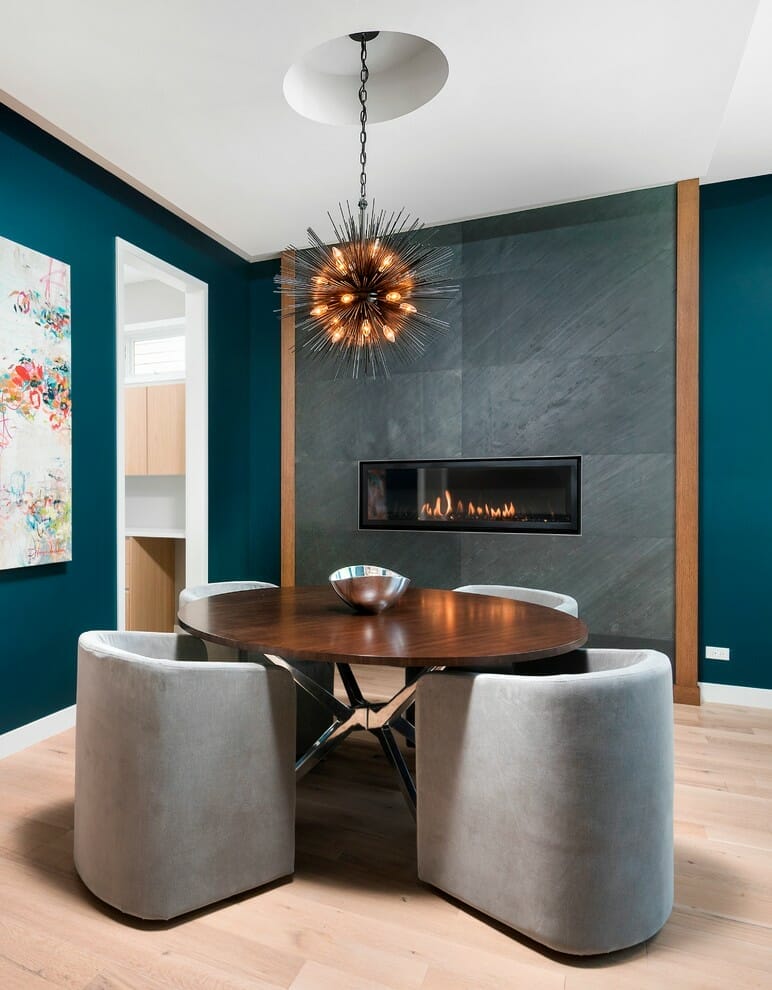 This stylish fireplace is transformative and superb. The gray natural stone tiles introduce subtle details while clashing with vertical wooden elements. Thanks to them, the dining room instantly looks taller and more sophisticated.
Dark teal walls lead the eyes to the gray fireplace tiles. Pale gray and silver units produce a cohesive feel. All things wood warm up the eating area.
The multicolored masterpiece brings the minimalistic dining space to life. Meanwhile, the sunburst chandelier adds some modern elegance.
5. Modern Farmhouse Fireplace Tile Ideas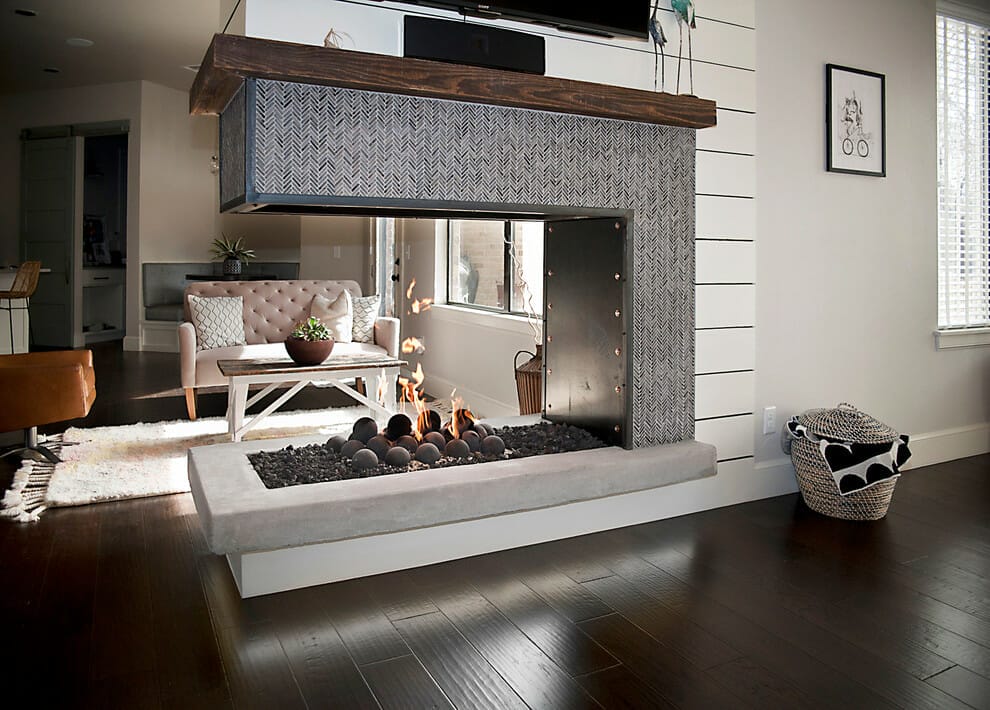 Talking about fireplace tile ideas modern surrounds, replicate this one. The concrete fireplace meets the horizontal shiplap and white base molding.
The working fireplace serves double duty. Apart from adding warmth, it's also a centerpiece. Herringbone-patterned gray tiles introduce tons of interest. They coordinate with fireballs and pebbles, too.
The wooden mantel, beige tufted sofa, and burnt orange armchair balance out slim gray fireplace tiles. Moreover, the hanging art and houseplants generate a finished feeling.
6. Floor-to-Ceiling Fireplace Tile Ideas with Splashes of Gray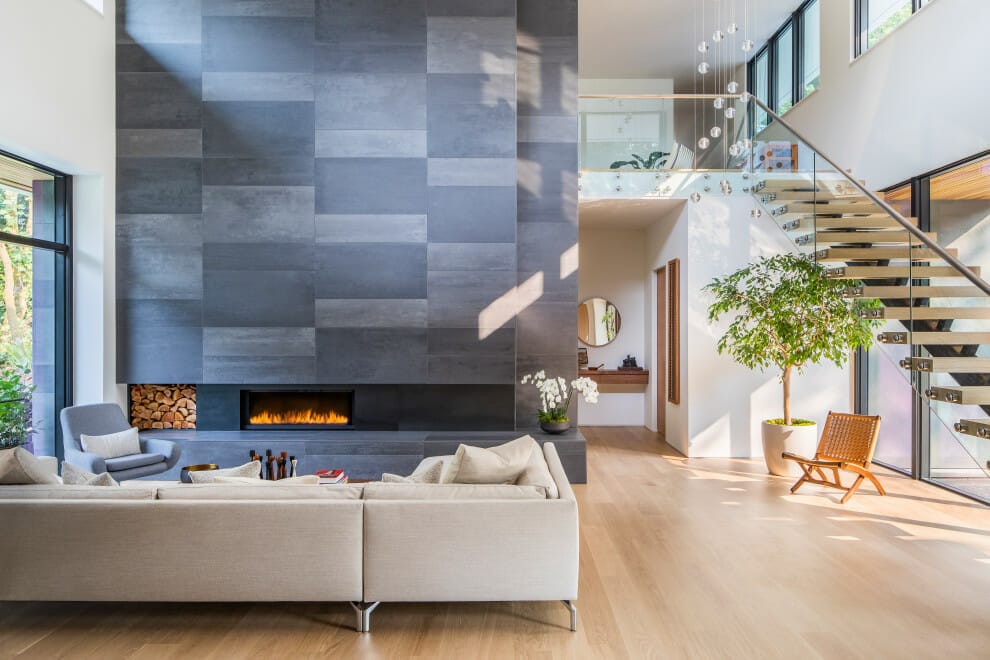 Who says fireplace tile ideas modern surrounds are rigid? You can still play with geometric shapes, shades, and sizes.
Here, the ceiling-to-floor fireplace ensures the ceilings feel soaring. Furthermore, it has matte ceramic tiles of varying shapes and gray tones. They impart dynamism and depth at once.
The matching fireplace hearth accommodates a potted white orchid. There's a small storage space for firewood too. Natural wood keeps gray shades from overwhelming the interior.
7. Modern Tile Fireplace with Steel Tiles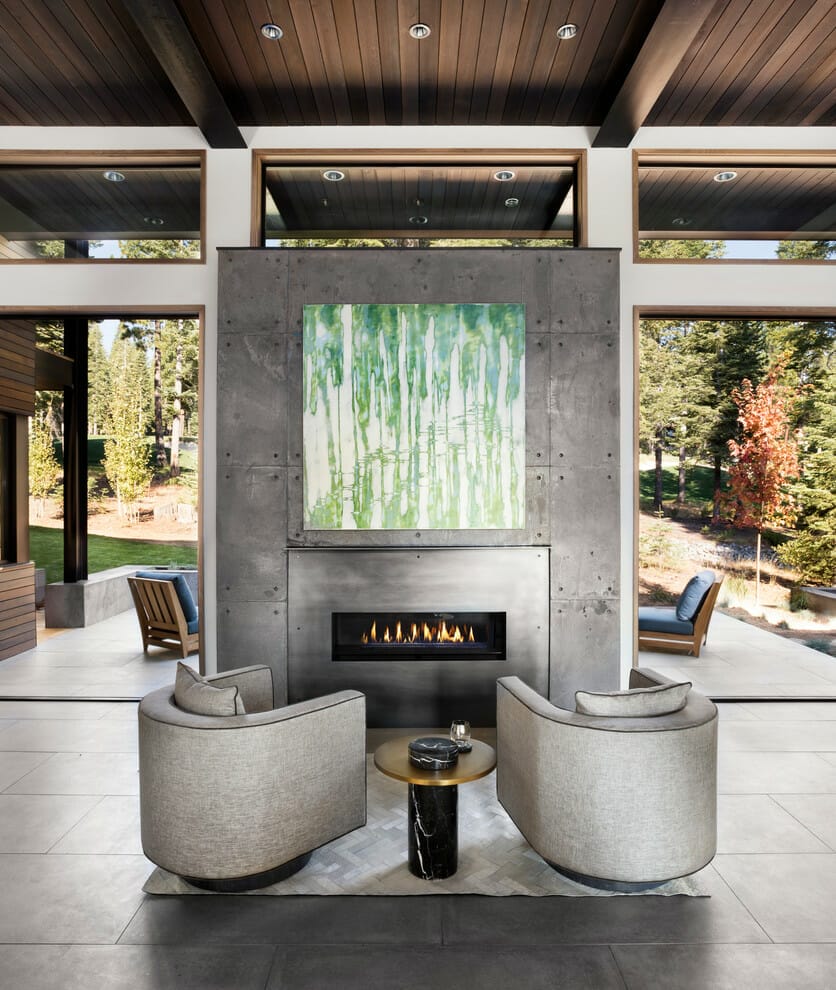 Speaking of fireplace tile ideas modern designs, you can't forget steel tiles. They're one of the stylish fireplace tile surround materials.
Undoubtedly, steel tiles look incredible in many interiors due to their various finishes. Here, they lend the indoor-outdoor living area an industrial look.
The steel fireplace tiles emphasize the perky artwork. Also, they blend with gray fabrics and concrete flooring. Furthermore, gold and wood keep chilliness out.
8. Fireplace Tile Ideas Modern Surrounds with Wood-Look Tiles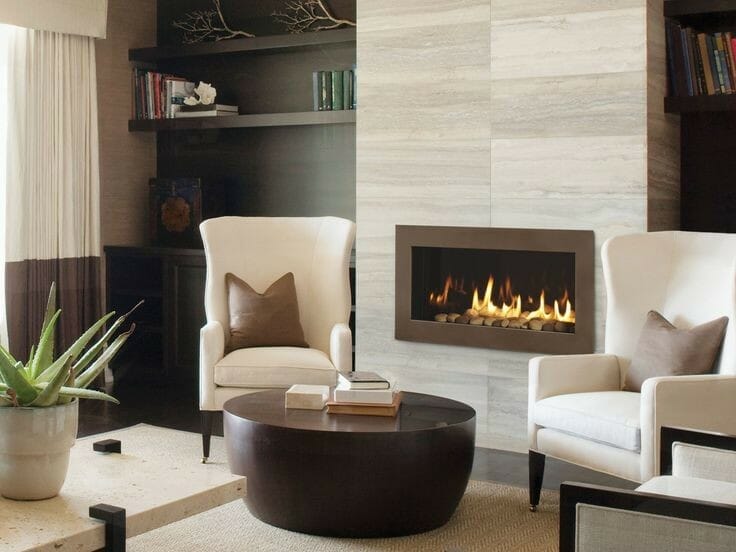 If you're into tranquil color schemes, try out this fireplace surround. Wood-look tiles add lots of interest without disrupting the peace.
Dark gray storage units frame light-colored, wood-look tiles. Meanwhile, the brown fireplace makes things look much more inviting.
The wood-look tile facade and soft white upholstery ensure the interior feels brighter. Also, thanks to the ombre curtains, they unify the space.
9. Think Outside the Box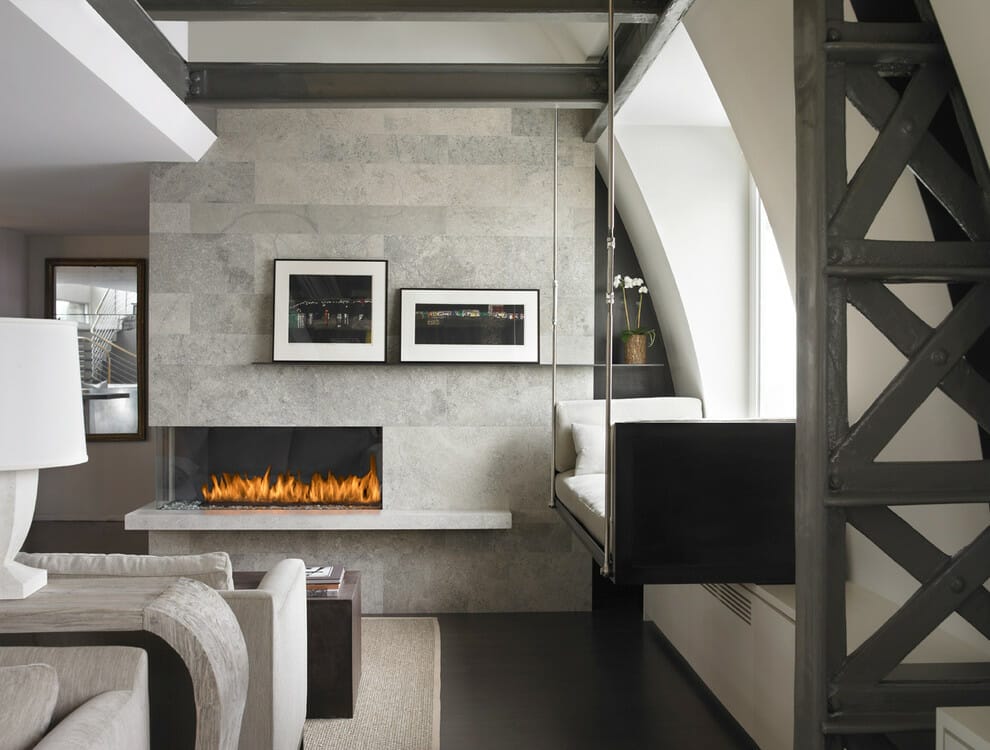 Clean lines offer a modern appeal to this room. However, unexpected curves keep the interior from looking monotonous.
The off-center fireplace is minimalistic but transformative. It imparts a dose of warmth as well. Meanwhile, the hanging window seat creates an airy feeling.
Also, there's an off-center streamlined fireplace mantel. Furthermore, it holds a potted orchid and mismatched sleek art frames.
10. Mixed Materials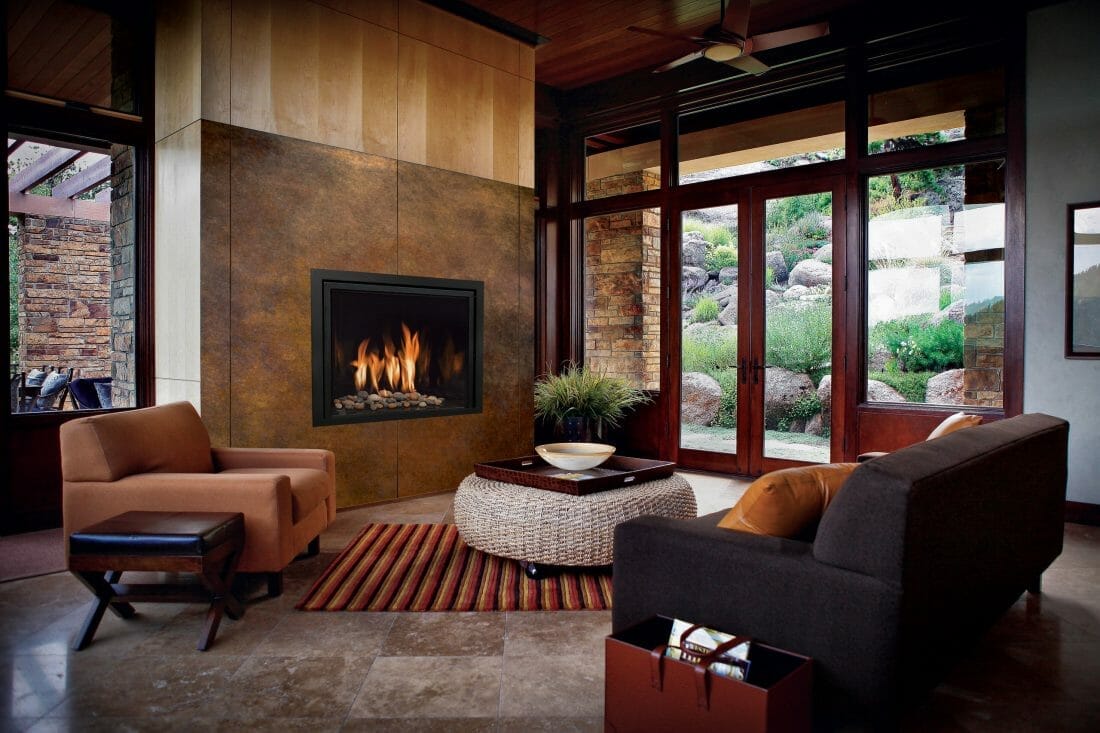 With plenty of fireplace tile ideas modern surrounds, people might be overwhelmed. Worry not! Try mixing materials. This option lets you incorporate lots of visual appeal and texture into your interior.
Bronze-toned fireplace tiles feature straight lines. In an instant, they make the abode feel welcoming and stylish.
Blonde wood tiles do not interrupt the peace. They tie in with other natural materials instead. The rectangular striped rug picks up different warm tones. Meanwhile, the sleek plant doesn't look out of whack.
11. Whitewashed Fireplace Tiles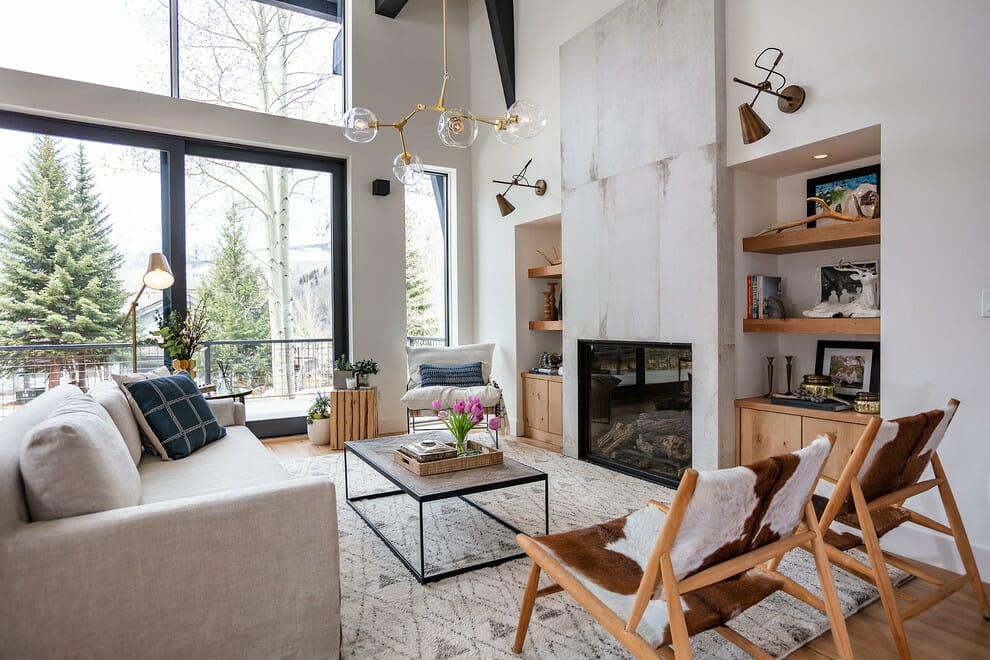 Need fireplace tile ideas modern surrounds? If so, emulate this fireplace facade. Oversized whitewashed tiles enlarge the space. They upgrade the room while going with simple white and window walls.
Recessed cabinets and shelves employ pale wood. They lend subtle warmth to the white fireplace facade in seconds.
The white fireplace lets the living area appear fresh. Moreover, the cowhide upholstery, patterned pillows, geometric rug, warm metals make visitors feel at home.
12. Cool Colors Are Welcome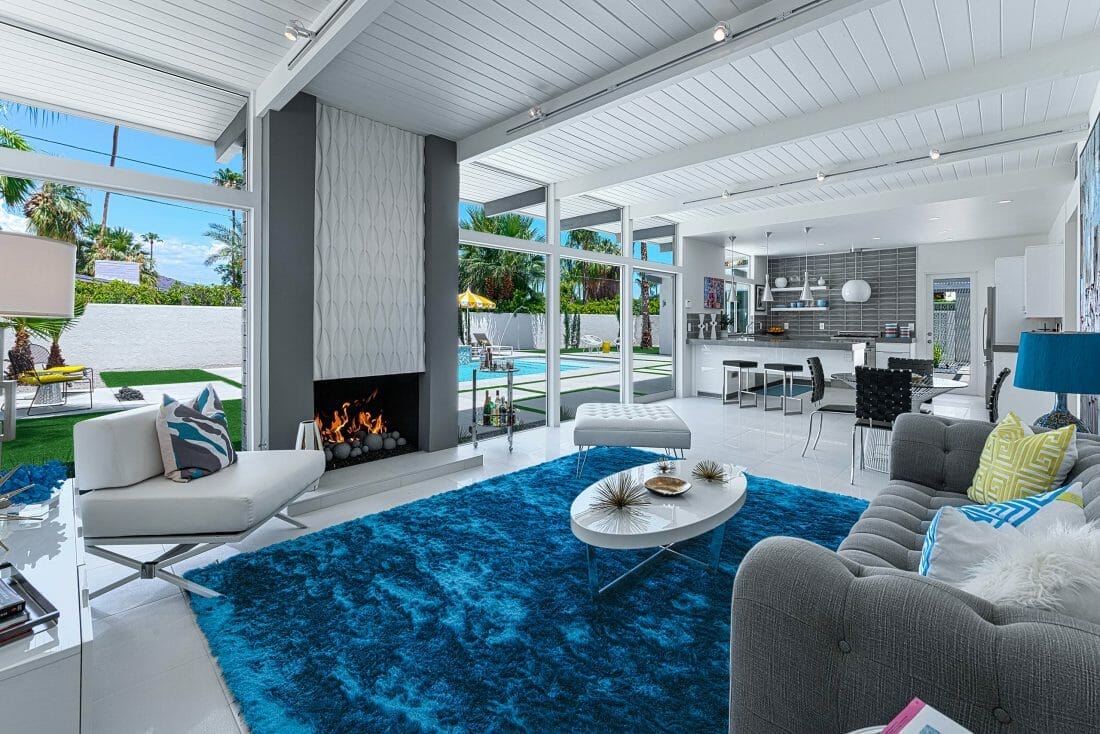 In this outdoor-indoor living space, shades of gray are dominant powers. They add visual dimension while epitomizing sophistication and cohesiveness.
The fireplace tiles are both elongated and unique. Moreover, they make the area feel taller. Lime green and blue accents carry additional cool elements. Lastly, warm metal details and fireballs temper gray tones that induce chilliness.
13. Fireplace Tile Ideas Modern Surrounds with TVs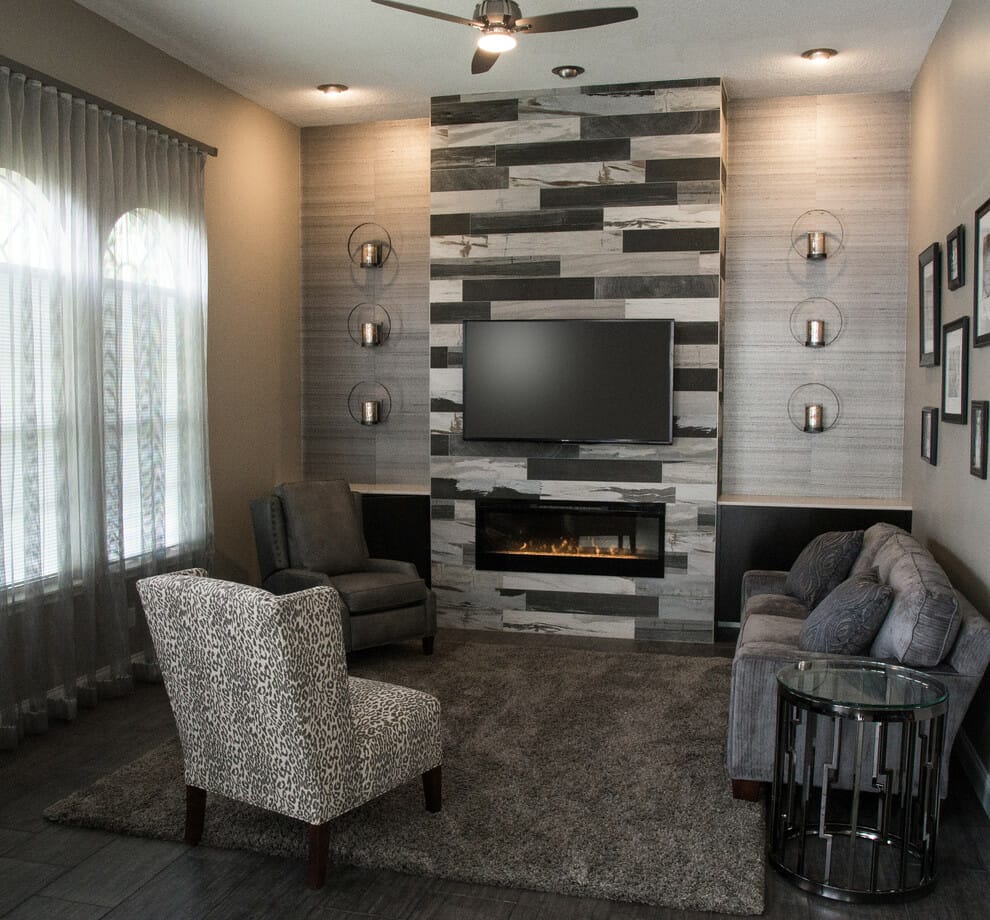 The fireplace tiles wear all gray tones in this family room. They offer a massive dose of personality while unifying the scene.
With the presence of the ceiling-to-floor fireplace, the space gets taller and cozier. Furthermore, the tiles deliver abstract patterns that imbue an artistic flair.
The fireplace and metallic adornments give the interior visual symmetry. Meanwhile, the gallery wall and modern cylindrical table produce a finished look.
14. When In Doubt, Choose Gray
There are ample fireplace tile ideas modern designs. This up-to-date yet eclectic seating area, for example, has steel-colored tiles. Instead of installing them in a basic horizontal direction, the homeowners opted for a herringbone pattern.
The white paint on the mantel and built-ins is a serious contrast to the intense gray herringbone tiles. Meanwhile, the gray pillow, rug, tiered coffee table, and accent chair epitomize cohesion.
Pale grays, bright whites, and square windows offset dark-toned elements. In addition, organic elements, gold details, and shades of pink spiff up the room.
15. Fireplace Tile Ideas Modern Surrounds with Granite Tiles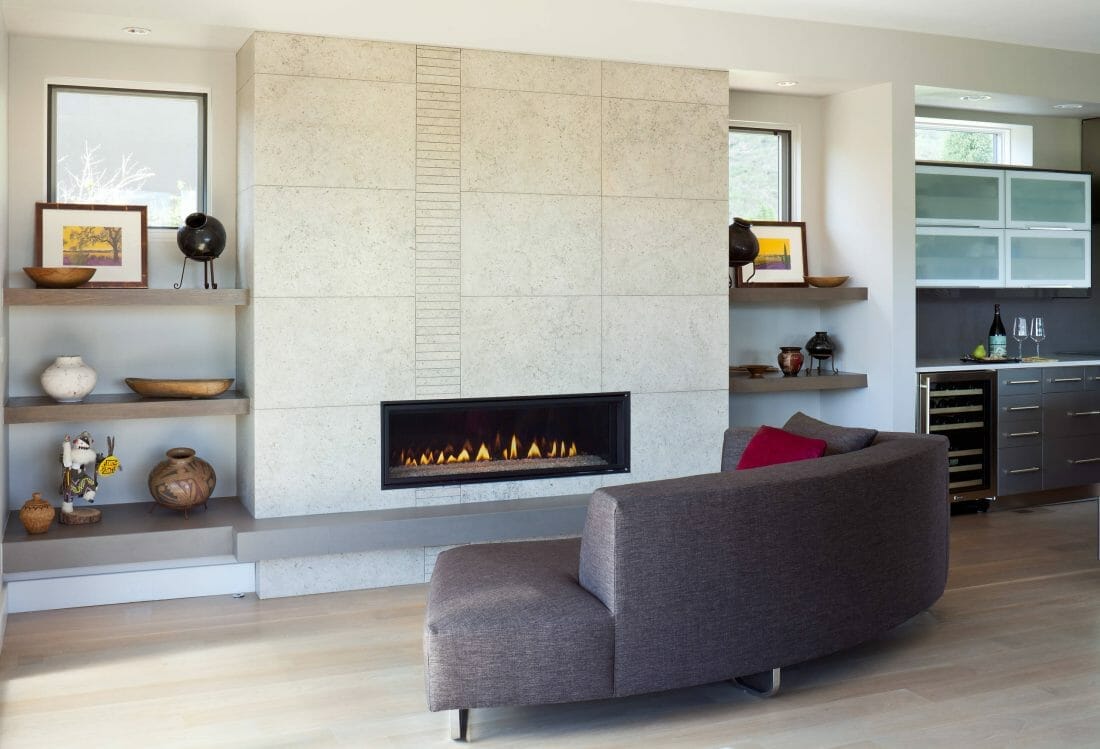 Fireplaces don't have to stand out. They can be centerpieces while blending seamlessly with the rest of the living spaces too.
Thin and oversized granite tiles imbue lasting elegance. Also, they live peacefully with the gray sofa and recessed shelving. Bare wood, red, and yellow details instill a sense of warmth.
16. Best Tile for Fireplace Hearths and Surrounds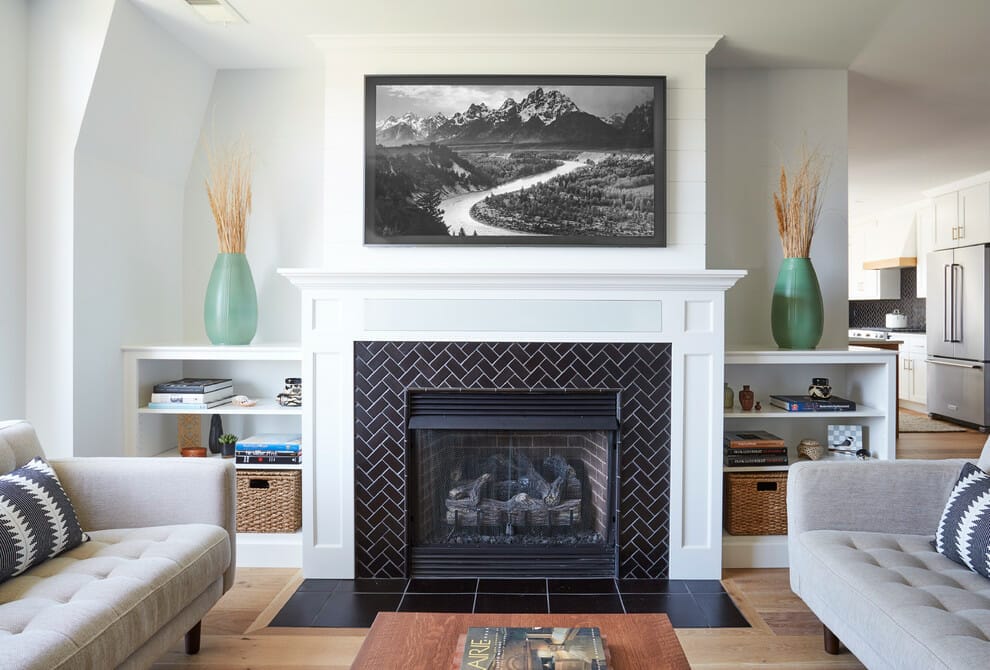 This living area is tidy, tranquil, and trendy. Here, herringbone black ceramic tiles become a true masterpiece due to white grout lines. The matching painting portrays continuity.
Black tiles and white grouts generate the appearance of an area rug. They infuse extra drama while pastel green vases and pretty pillows are crowning touches.
17. Full of Charm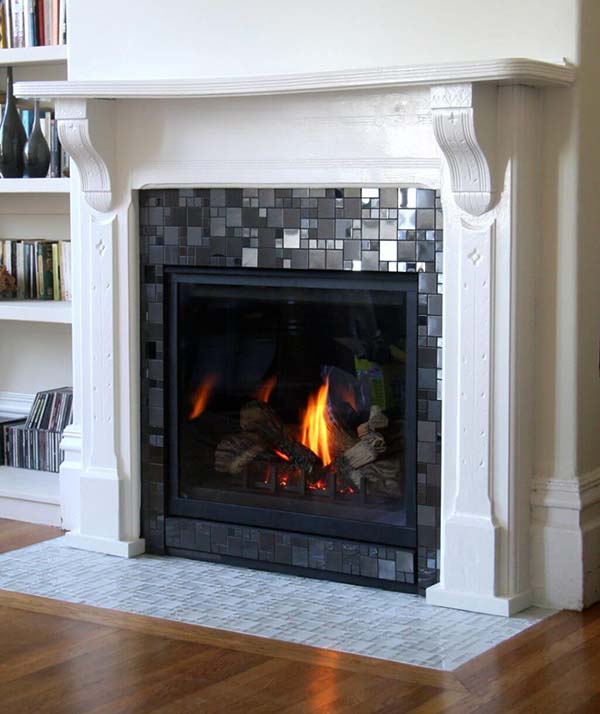 Need mosaic tile fireplace surround ideas? If so, use mosaics of different sizes and gray tones to embellish your bland fireplace.
These mosaic tiles develop character while infusing a bit of sparkle. Also, they clash with the traditional-style white mantel.
18. Fireplace Tile Ideas Modern Surrounds for Coastal Homes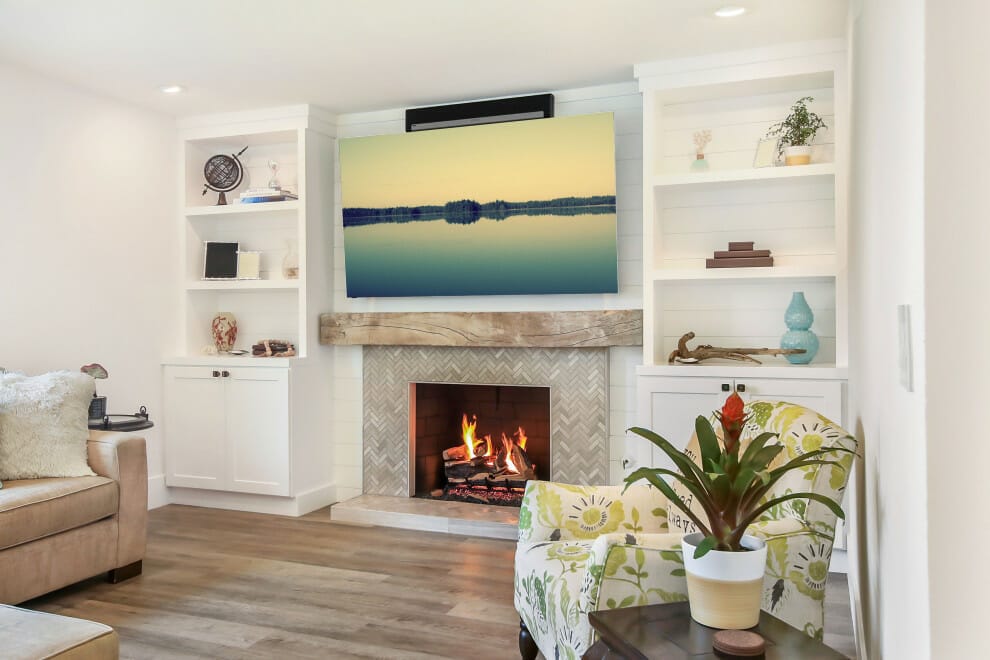 The horizontal shiplap and white storage pieces lighten up the scene. Additionally, the reclaimed wood mantel, driftwood, and blue details depict coastal splendor.
Dainty rectangular fireplace tiles of gray tones offer balance. Meanwhile, the botanical accent armchair, two-tone pot, and tropical plant spiff things up.
19. Minimal Layout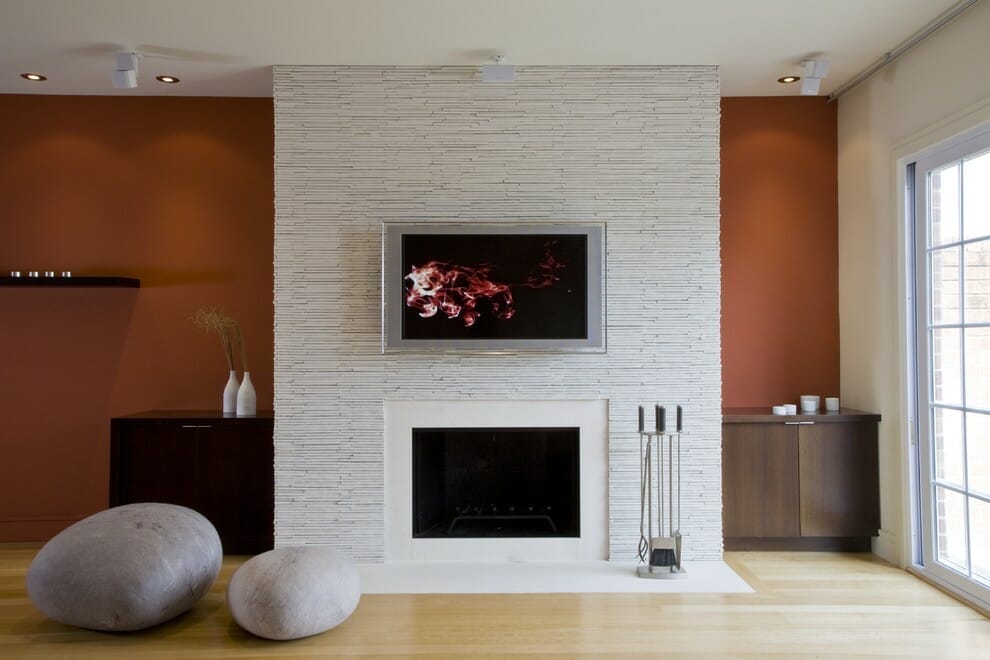 If you're a minimalist aficionado, I guarantee this layout grabs your attention. Thin tiles titivate the soaring fireplace in seconds.
Different woodsy tones and burnt orange walls temper skinny white fireplace tiles. Furthermore, plush gray seats remind me of smooth boulders.
20. Visual Drama Is A Must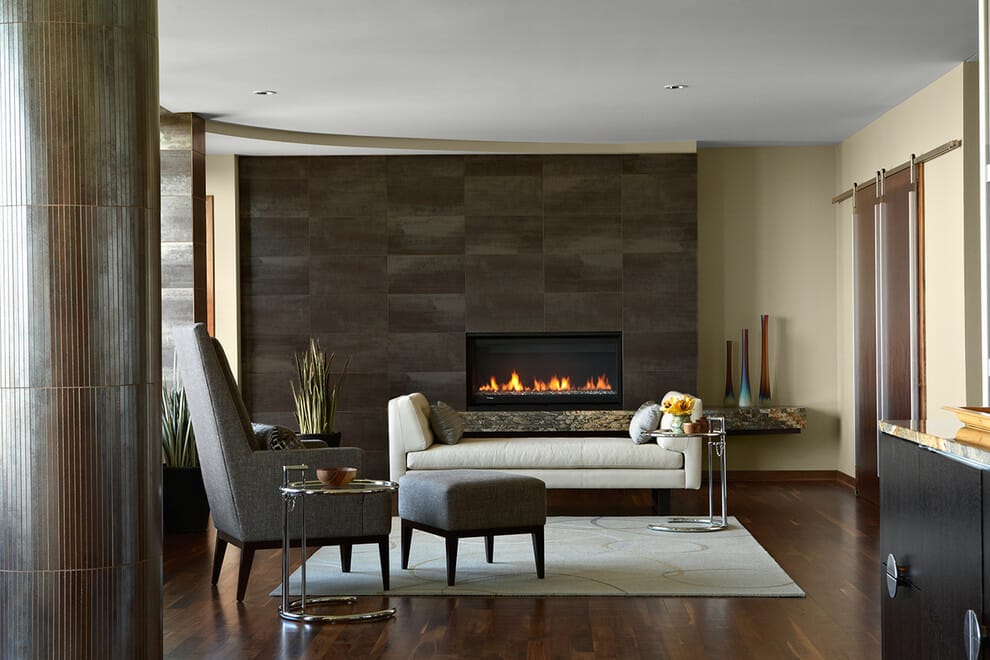 This is one of the impactful fireplace tile ideas modern surrounds. Rectangular slate tiles make the seating area feel wider while instilling drama.
The off-center natural stone mantel and electric fireplace introduce a visual surprise. Meanwhile, light-toned neutral hues and minimalist houseplants brighten things up.
21. Bodacious and Balanced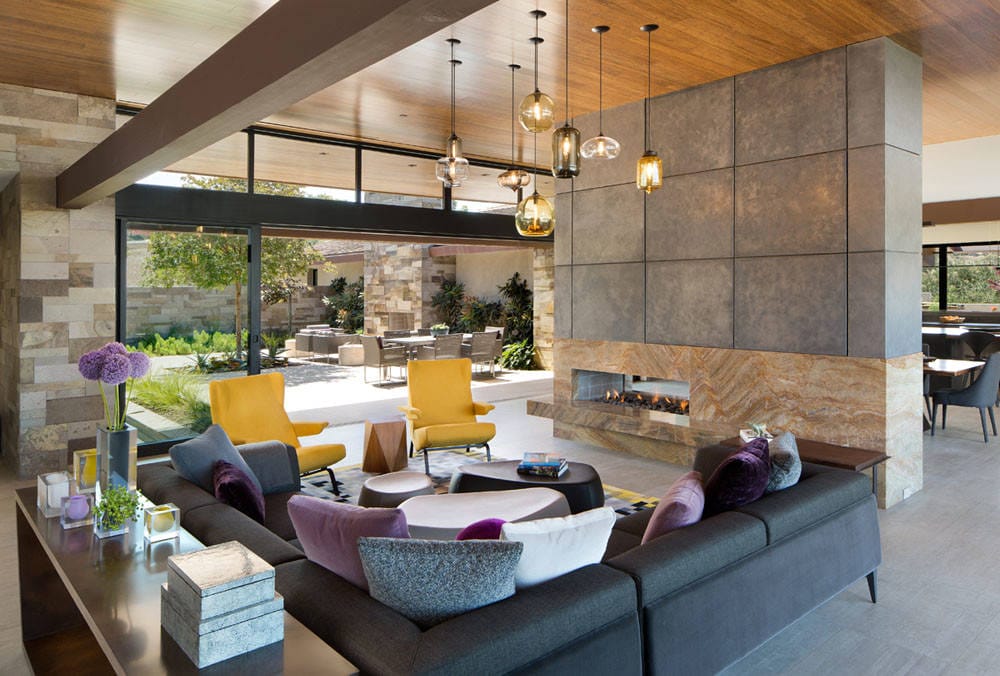 Just because you adore all things modern doesn't mean going matchy-matchy is a good call. Integrate clashing colors, mismatched glass pendants, and mixed materials instead.
The statement fireplace displays brown marble and oversized concrete tiles. Moreover, the gray sectional accentuates purple throw pillows and yellow accent chairs.
22. Textured Tile Fireplace with Stones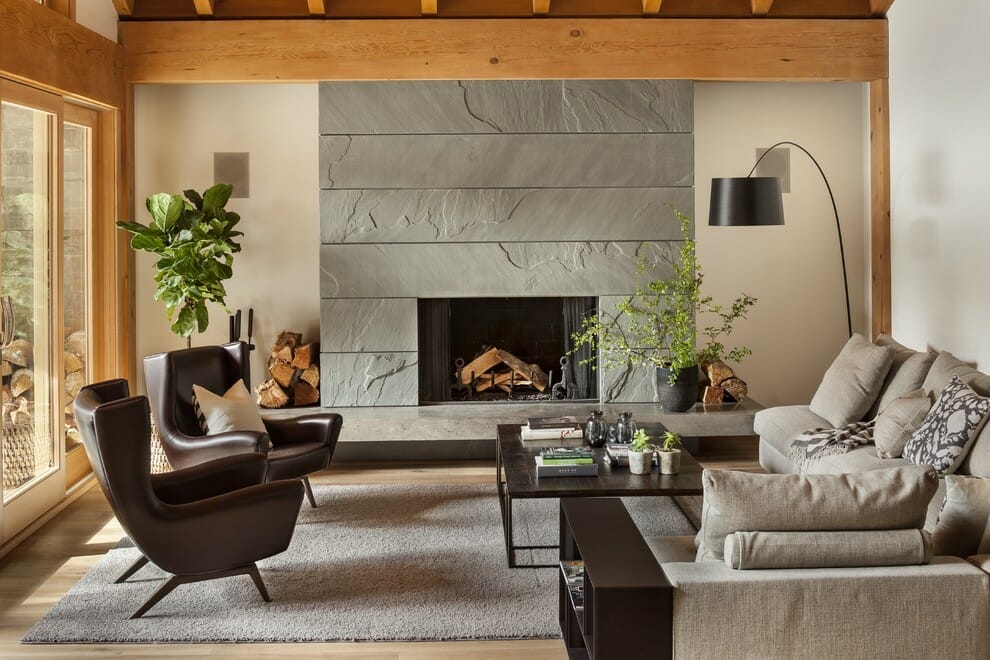 Into textured fireplace tile ideas modern designs? If yes, opt for stone tiles. Not only do they look timelessly magnificent but also epitomize rustic charm.
Rich brown leather armchairs and wooden surfaces balance out textured gray fireplace tiles. Houseplants of varying heights offer crowning details.
23. No Minor Interior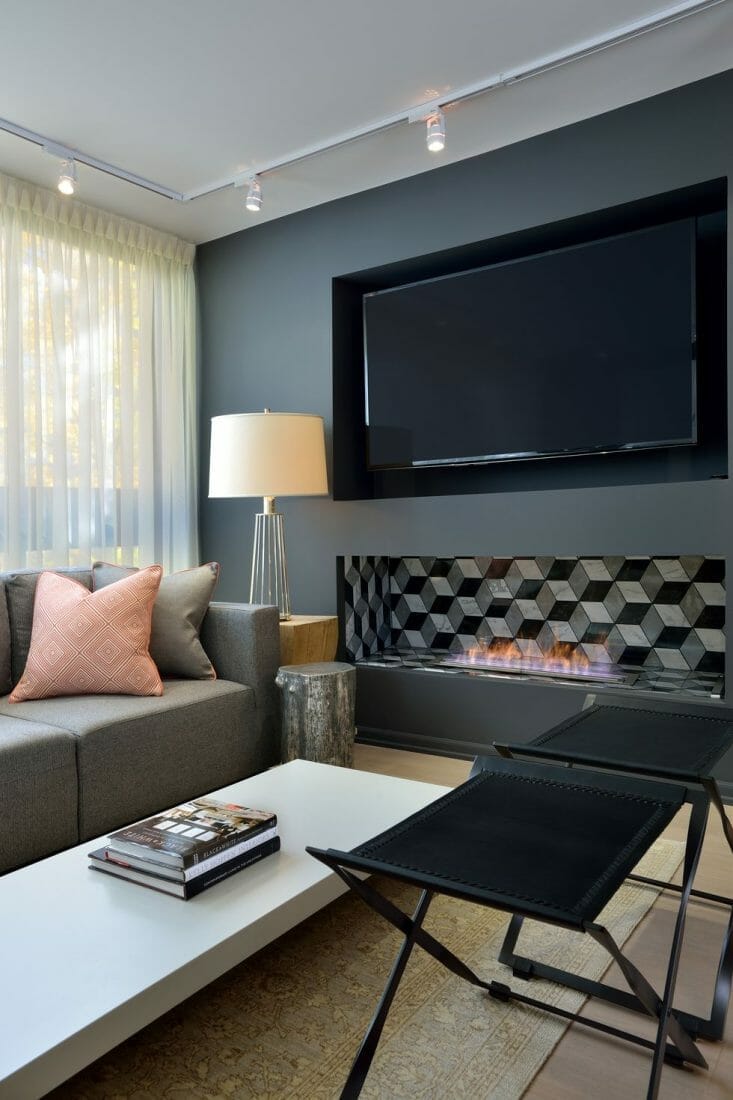 Geometric shapes and minimal layouts are always welcome in modern abodes. The hexagon tiles of varying gray tones adorn the fireplace's interior.
Here, hexagon fireplace tiles add dimension and order. Also, the blonde wood table and orange geometric pillow keep things cozy.
24. Fireplace Tile Ideas Modern Surrounds for Transitional Homes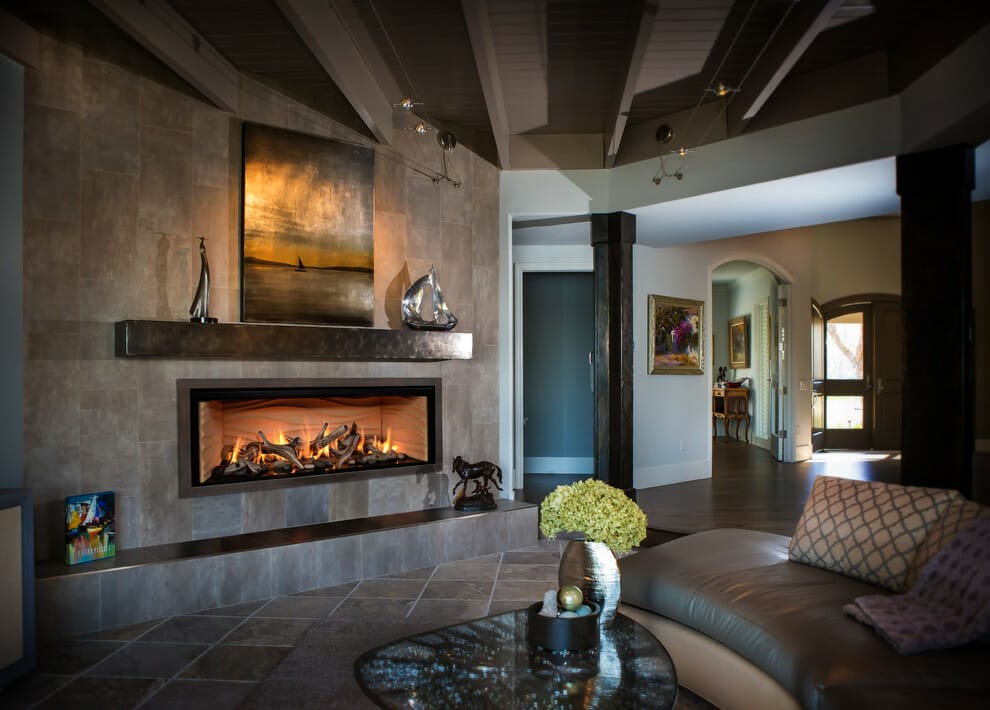 Polished stone tiles titivate the hearth and surround of the fireplace. They highlight the multicolored painting and sculptural embellishments, too.
The diagonal pattern of stone tiles keeps things from being unexciting. Meanwhile, printed fabrics and green hydrangeas draw visitors' eyes.
25. Simple Things Matter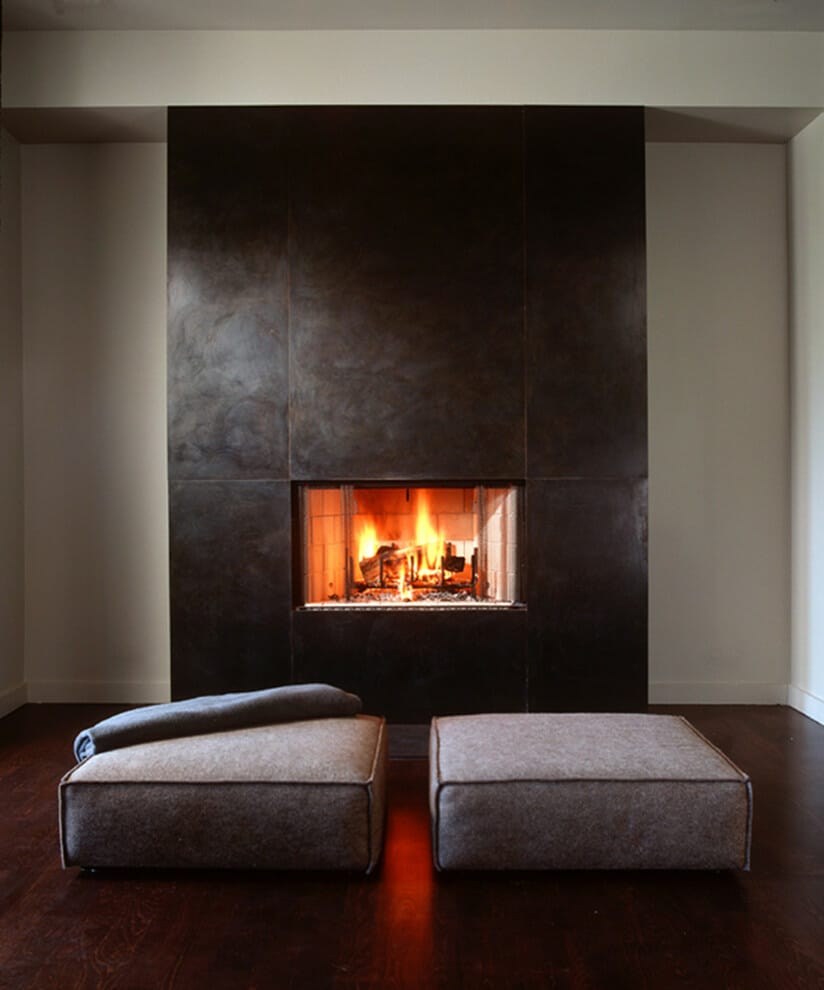 Giant metal tiles beautify the fireplace while infusing modern industrial charm. Moreover, their vertical direction makes the minimalistic room feel taller.
The homeowners angled their gray square poufs towards the modern fireplace. Also, the cozy blanket and rich-toned wood floor turn the space into an indoor sanctuary.
26. Fresh and Fabulous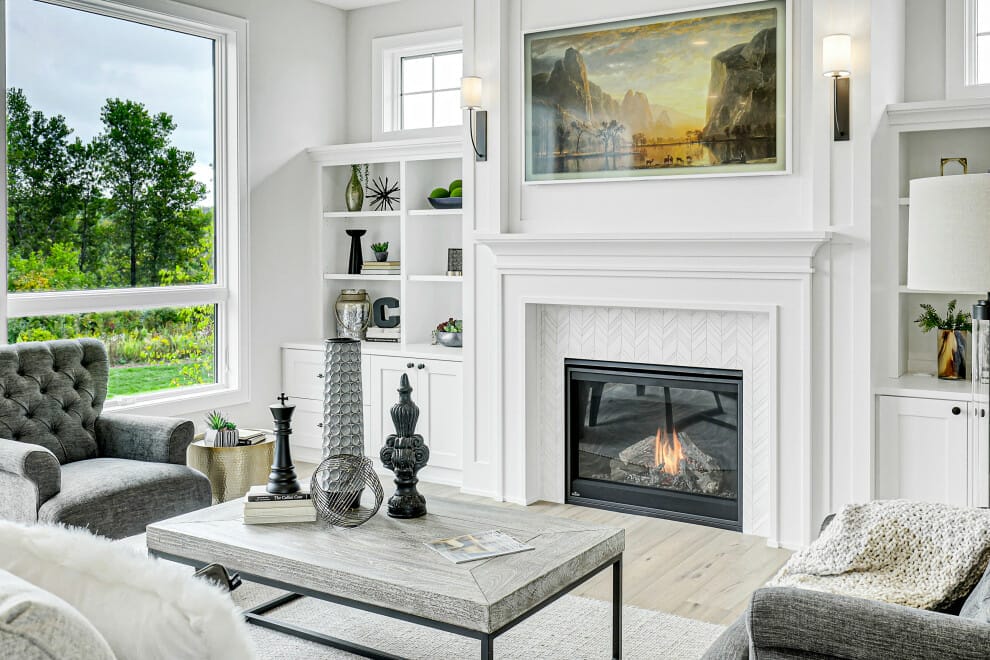 Since fireplace tile ideas modern surrounds are abundant, pick the right one. The white mantel, chevron tiles, and recessed units epitomize pure airiness.
Thanks to the airy scheme, the landscape painting, and shelf decorations stand out. Center table embellishments carry artistic elegance.
27. Modern Marble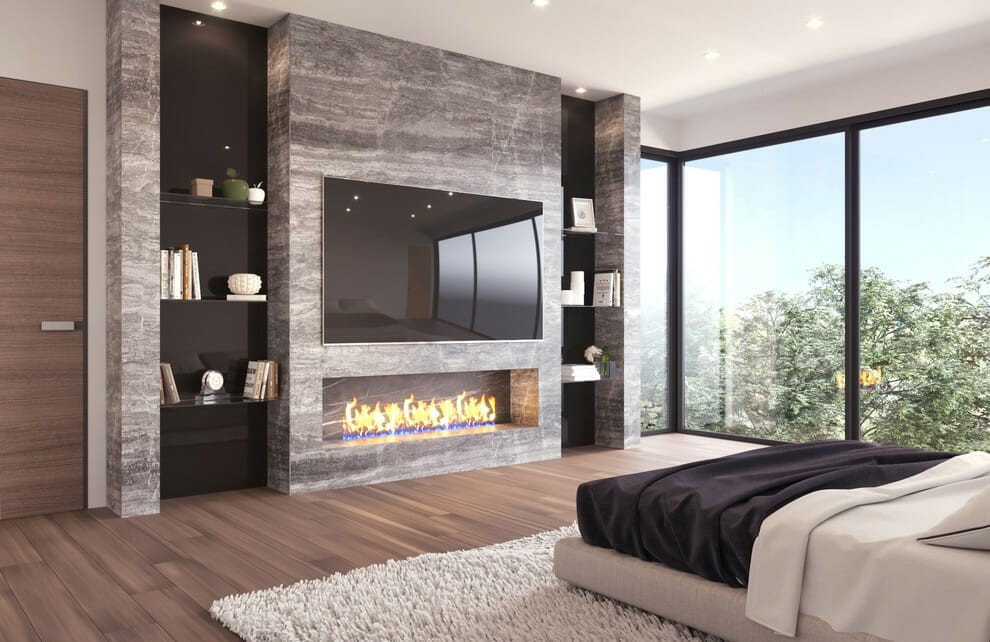 This master bedroom is everyone's dream sleeping space. Window walls allow homeowners to wake up to jaw-dropping views.
The gray marble fireplace facade and brown wood floor convey visual balance. Meanwhile, glass shelves support a chic assortment of decorations.
28. Fireplaces As Room Dividers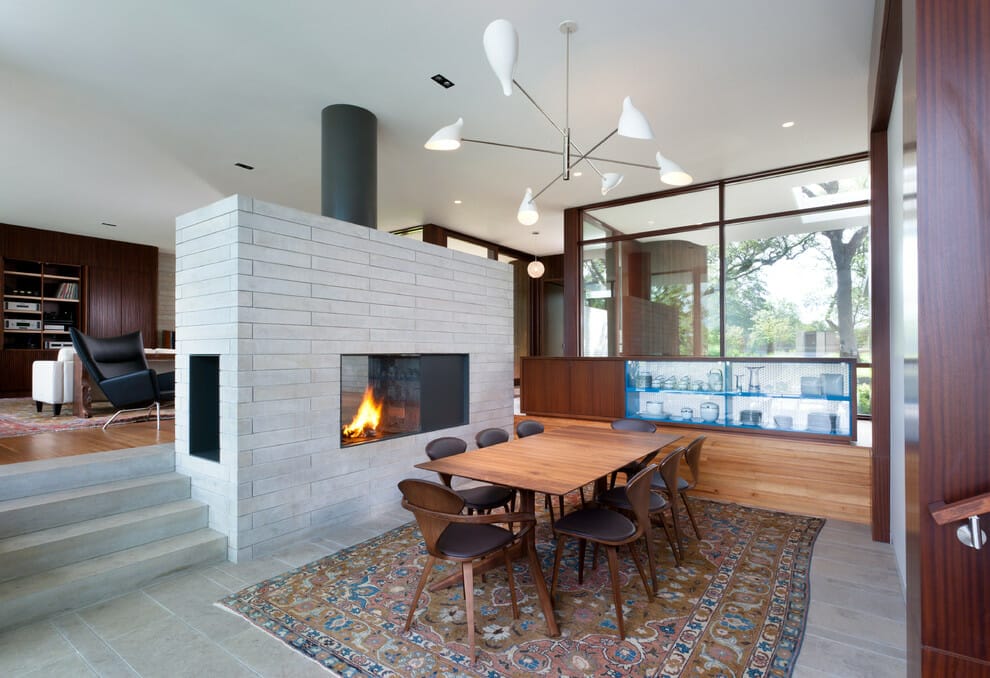 The working fireplace above doubles as a dividing wall. White rectangular tiles and concrete steps modernize the home's look.
Concrete and wooden floors lend the abode a balanced feel. Although the layout is minimal, the eating space provides ample seating. Lastly, the futuristic white light fixture emphasizes the vintage multitone dining area rug.
29. Marble Magic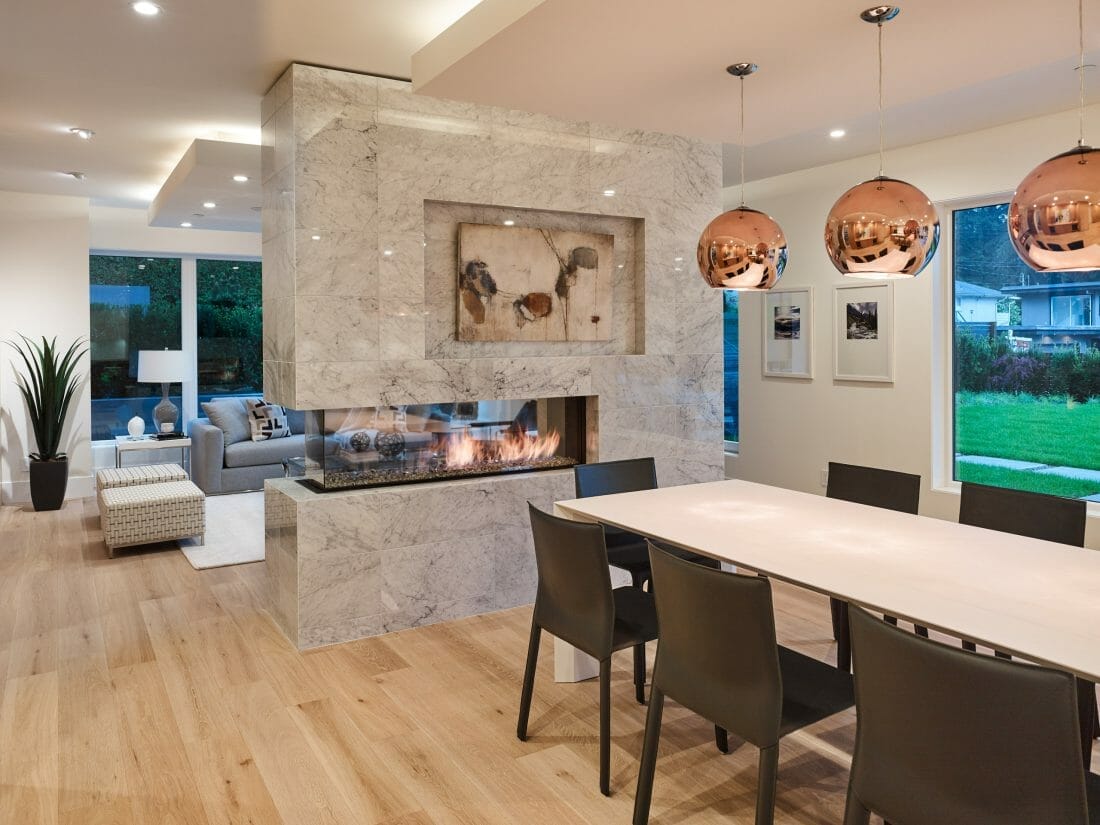 Marble tiles make for a luxe fireplace facade. Furthermore, they produce a modern, elevated look while framing the abstract work of art.
The marble fireplace generates a partition and delivers warmth throughout the open-layout interior. In addition, copper ball pendants spice up the stark white dining table.
30. Subtle Fireplace Tile Ideas Modern Surrounds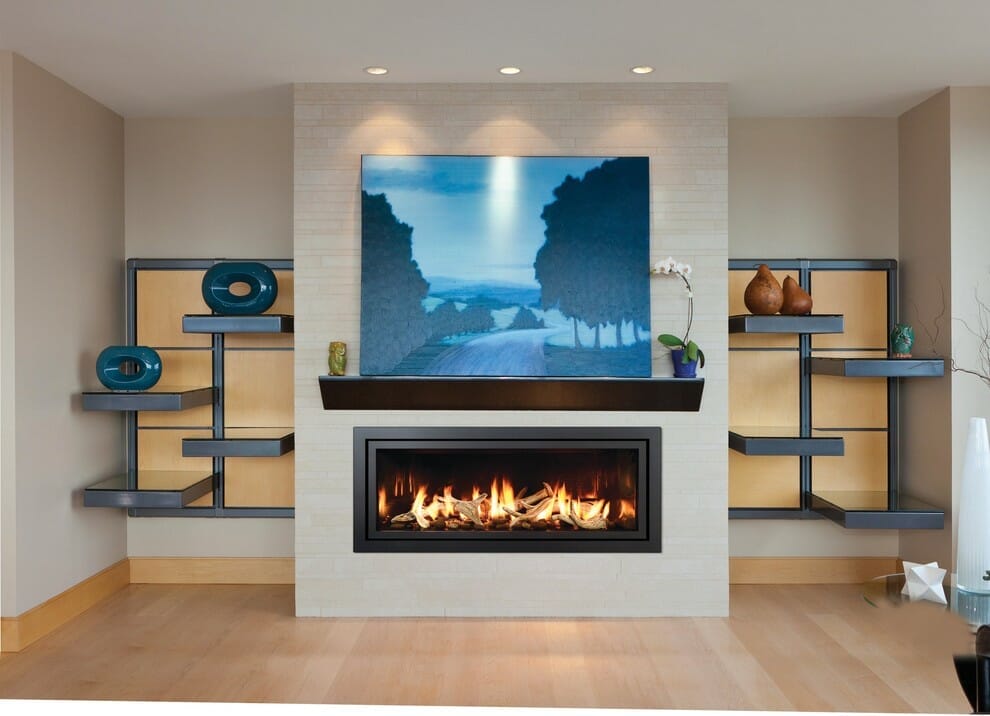 Creamy-white tiles of varying sizes give the fireplace facade a subtle interest. Moreover, they emphasize the monochromatic blue painting that is larger-than-life.
Alternating shelves wear dark gray. They provide display space for warm and cold adornments. Light woodsy tones meet beige walls while producing a minimal, modern appearance.
Hopefully, some fireplace tile ideas modern surrounds above induce you to do an interior makeover. They prove streamlined fireplaces carry tons of charm too. Whether your abode calls for concrete or marble tiles, the results must be enchanting.