The presence of open showers ideas provides many advantages for homeowners. Apart from making it easier for you to get there without a hitch when you're in a hurry, this concept also offers unrivaled spa-like comfort.
There are many ways to realize open showers ideas in your home. Whether you will leave all your bathroom parts exposed or give a little privacy by presenting a half wall and glass partition, it's all up to you.
As long as it makes it easier and gives you extra comfort in bathing, then everything is worth doing.
Now, assuming you want to meet the best open shower bathroom designs. Then, here are thirty-one open showers ideas that you can adopt to give your bathroom a new look.
1. Expand Look Open Showers Ideas with Loft Floor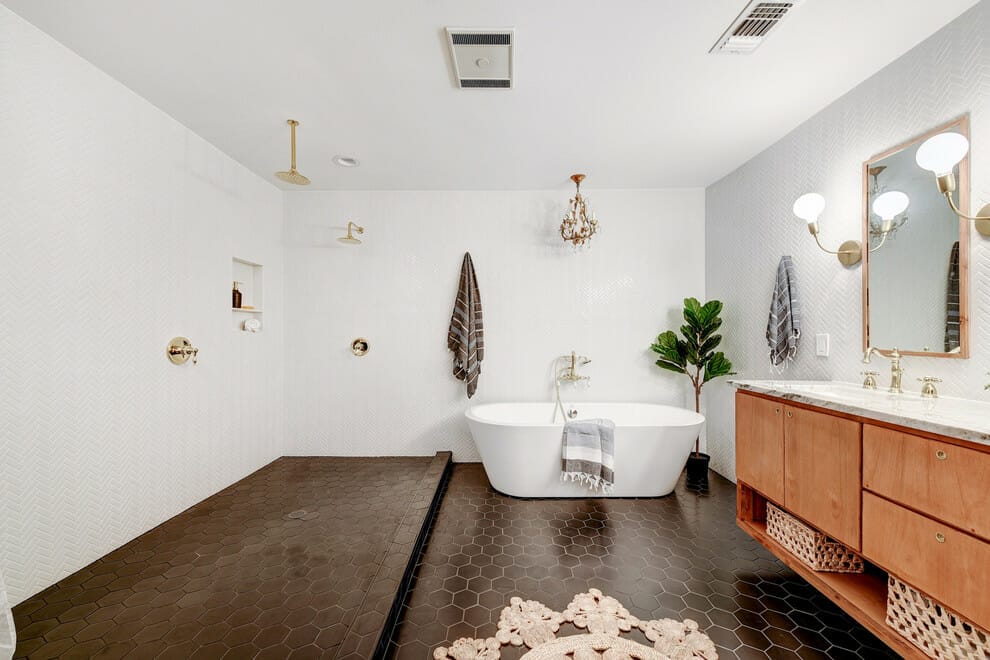 The primary open showers ideas you can borrow is to leave all the elements in your bathroom exposed. And to separate the space between the tub and the splash zone, you only need to provide a loft floor as above.
Regarding other decorations, you can make your walls and ceilings white. While for floor tiling, try the deep brown cement tiles with a honeycomb shape. That way, your bathroom can now appear wider.
2. State The Different Area with Distinctive Tiling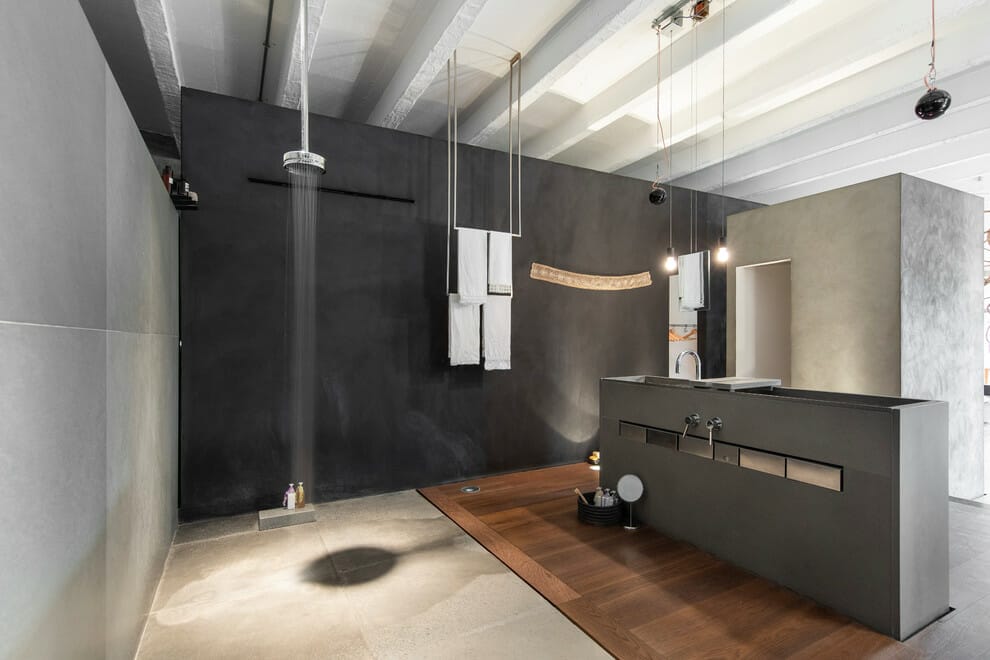 You can provide a different tiling system to distinguish the splash zone from the dry outer area in your walk-in shower.
However, wet floors should choose tiles with durable and humidity-resistant materials such as granite, ceramic, porcelain, etc. Meanwhile, you can go with hardwood floors with colors that match the rest of the interior design for the dry parts.
3. Asian Spa-Like with Built-in Tub and Wood Panels Background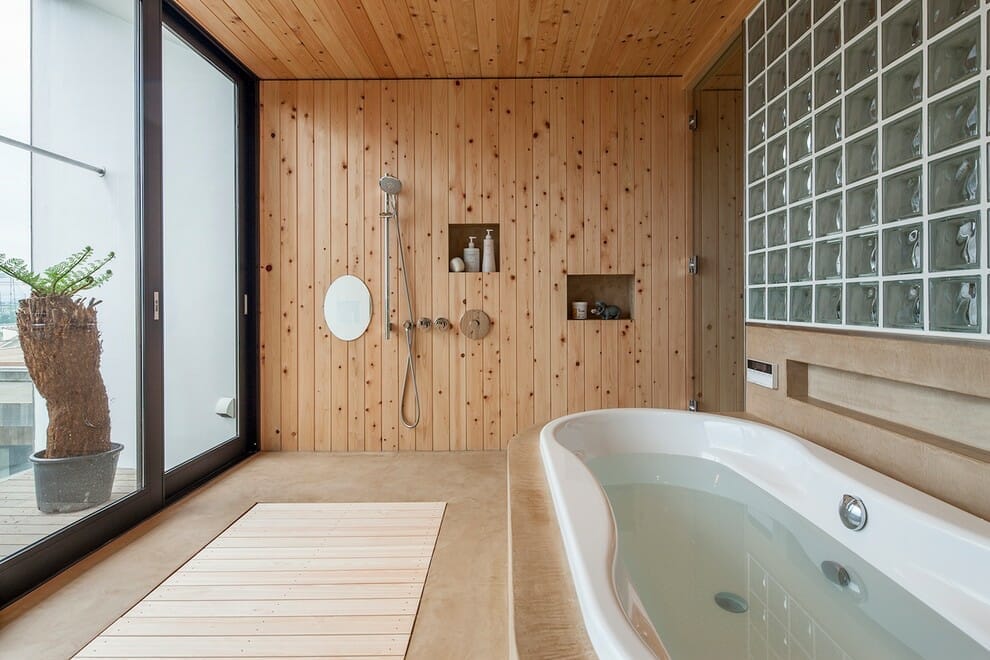 Open showers ideas are popular because of their practicality. Moreover, this space usually brings the comfort of the Asian spa-like concept.
Well, suppose you are interested in adopting this idea. Then, the first thing you need to do is provide wall paneling in your bathroom. Additionally, providing a built-in tub is more suitable to complete this look.
Even so, you can still go with a freestanding tub if that suits your preferences better.
4. Protect Your Vanity from Water Splashes with Glass Partition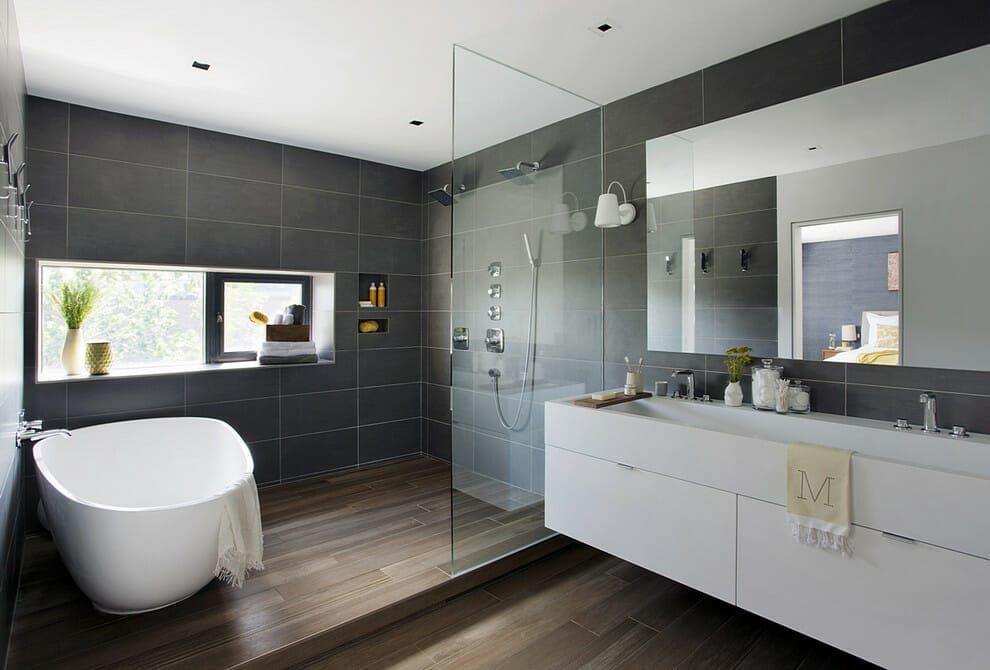 Do you want to keep the dresser away from the water splashes? So, try to consider providing a glass partition as above.
Without providing significant obstacles, you can quickly get in and out of your bathroom every day with this fashionable open concept bathroom shower.
5. Cover The Entire Wall with Wallpaper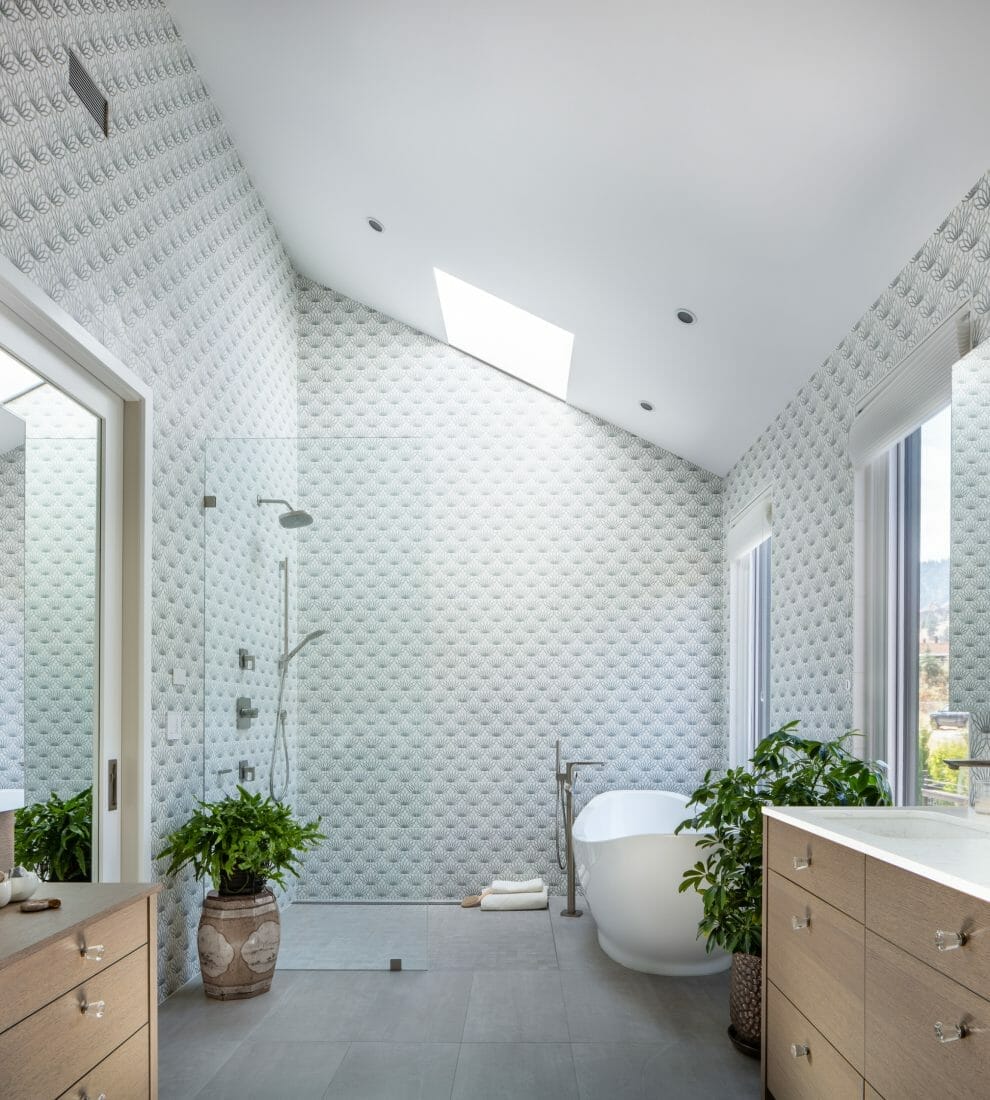 Giving personality to your open shower isn't only be done by adding accent tiles. Alternatively, you can use a more affordable project by installing removable waterproof wallpaper.
Besides being easy to install, wallpaper for the bathroom also comes with a large selection of patterns that you can adjust to your interior decor.
6. Wide and Elegant with Grey Marble Tiles and Large Round Mirror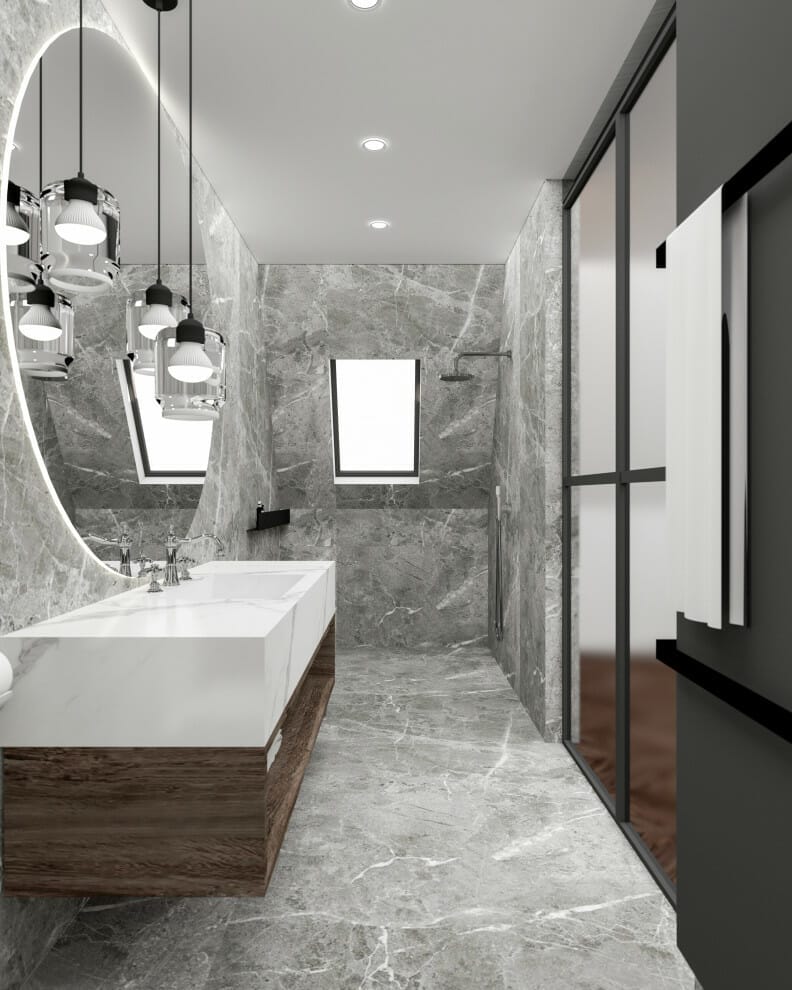 Applying impressive open showers ideas is not always about having ample space. You can even create a grander feel in a small bathroom by installing marble tiling throughout the room.
Because gray is a subtle color, you can set a bit of standout decoration, such as a large round frameless mirror above the vanity sink.
And, now your bathroom will have double visual impact better than usual.
7. Come with Space-Savvy Gold Mounted Towel Warmers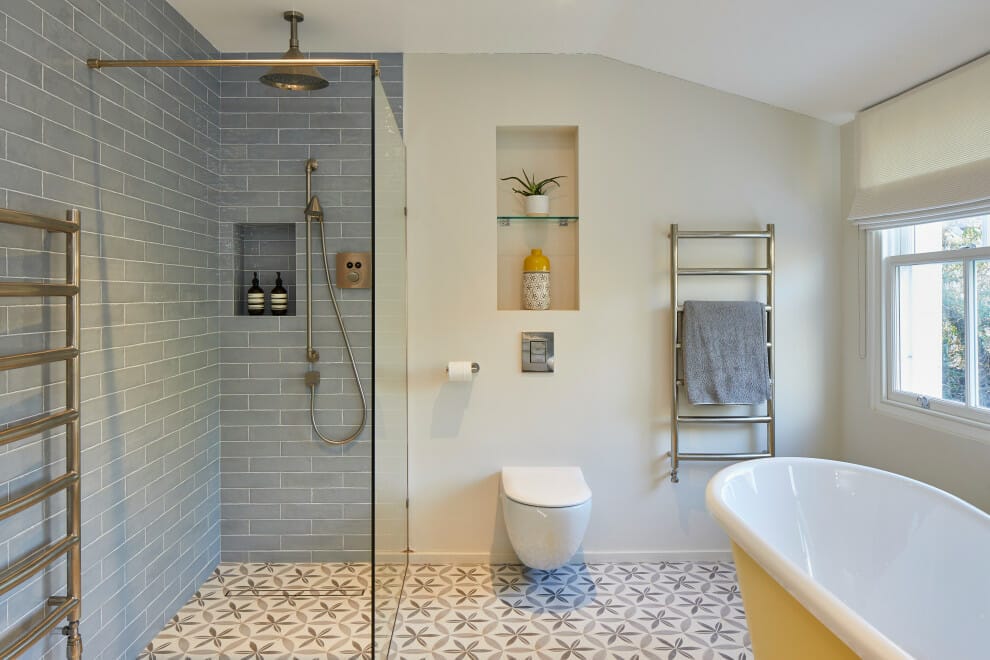 Open showers ideas are perfect for those with a small space who crave vast visuals. Therefore, you must also equip it with furniture that is also versatile and space-savvy. One that we recommend is to install a wall-mounted towel warmer.
This item will undoubtedly save your floor space better without having to lose any crucial elements in the bathroom.
However, you can choose some that have a touch of gold for aesthetic purposes. Hence, your open shower will still stand out and have a timeless design.
8. Open Shower Designs for Small Bathrooms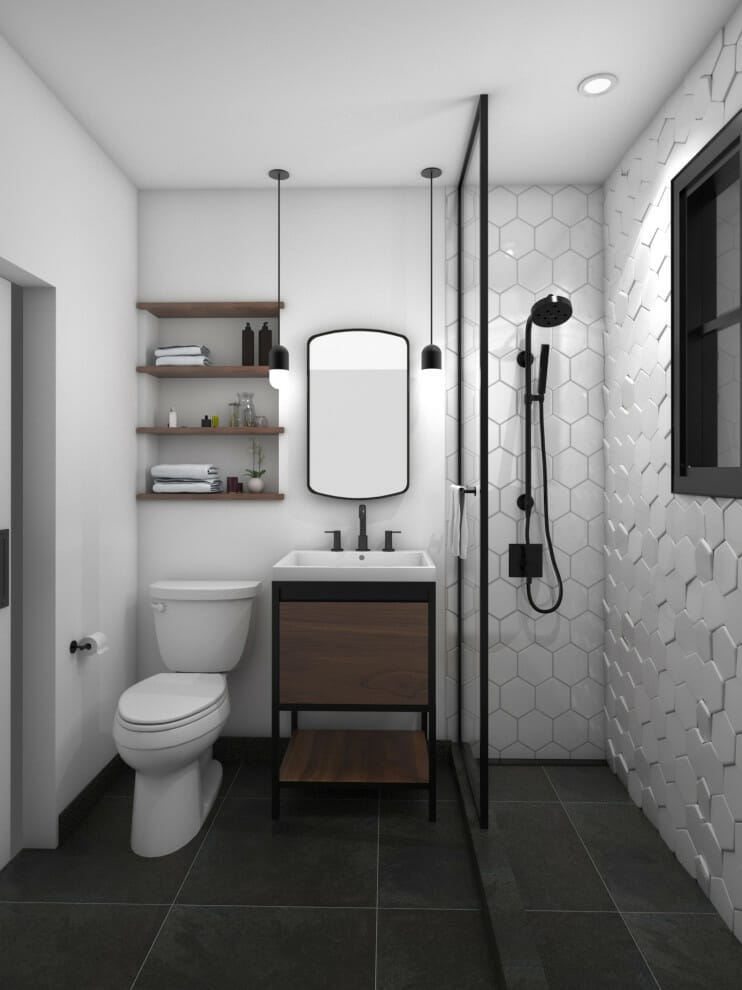 It's easy to conjure up your small bathroom into the place everyone dreams of most by adopting these open showers ideas.
As the initial step, it's better to go with neutral and solid colors like white and black for the central theme in your bath space. Then, consider giving a glass partition instead of a half wall to give a sleek impression.
And as a final touch, you can add personality to the bathroom by installing white embossed tiles on the wall like above.
9. Spotlight The Shower Space with Brick Tiles and Shade
Give texture to your open shower by setting out brick tiles on one side of your wall. And, assuming you have a large enough window next to your tub.
In that case, try to complement it with a shade to provide a little privacy. But don't worry. Because you are free to pull it up and down when needed.
10. Simple Open Showers Ideas with Half Wall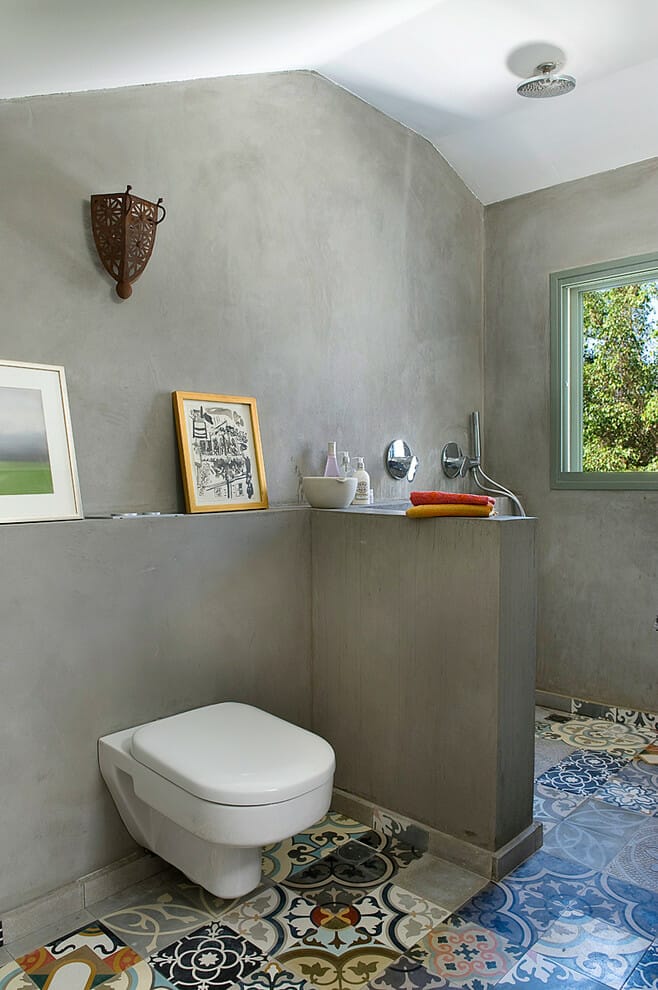 Open shower with half wall allows you to provide privacy without making your small bathroom look crowded.
Perhaps you are only looking for a simple one, then it would be good to adopt the concept above. Don't forget to provide decorative elements to further increase your bathroom's aesthetic value.
11. Bring The Nature In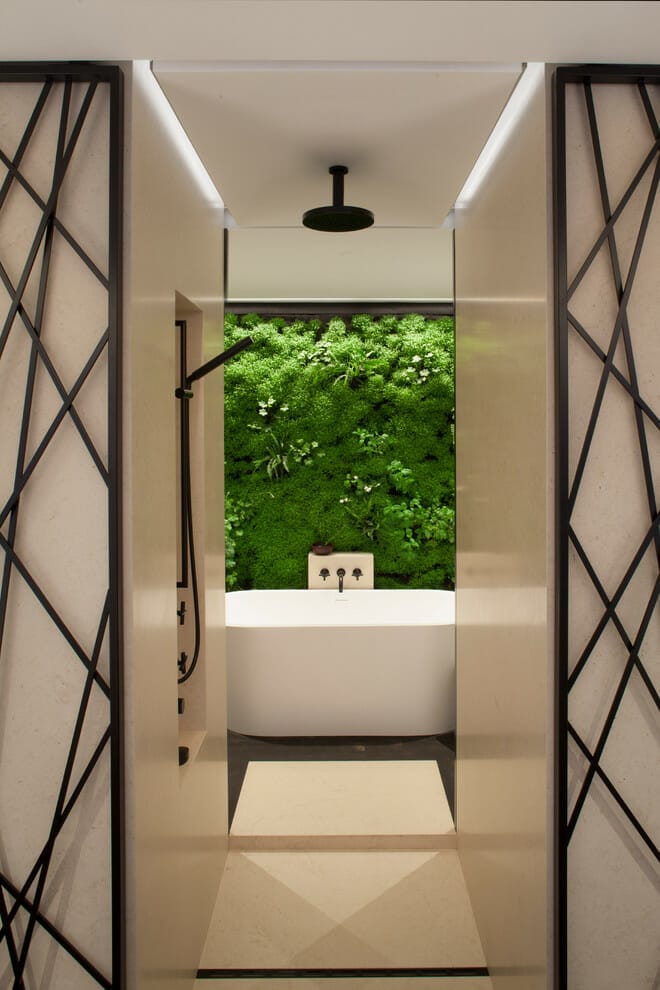 Look, how impressive are the open showers ideas that invite the greenery and set it as a natural wall background.
Without needing to add a lot of different decors, your small bathroom now has the tranquility of the rainforest. It's so refreshing, indeed!
12. Coastal Theme in White and Aquamarine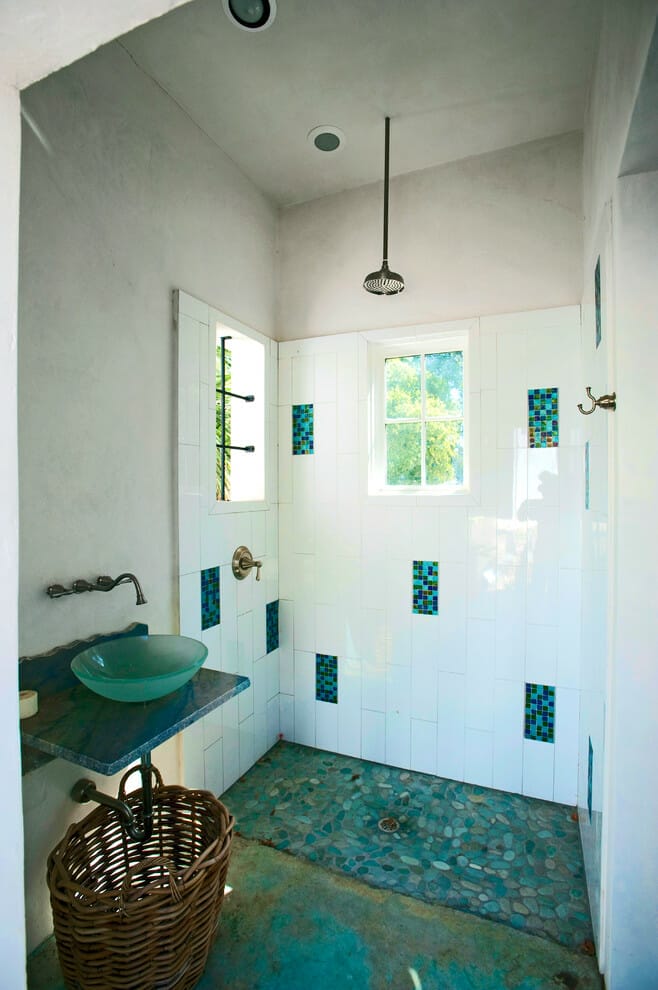 Assuming you dream of the serenity of coastal vibes. Hence, you can adopt open showers ideas with a few touches of aquamarine.
Instead of giving an all-blue decor, it's better to use white tiles as your wall backdrop. Then get creative with mosaic and pebble tiles in aquamarine colors.
Also, don't forget the glass washbasin and wicker basket to complete your bathroom arrangement.
13. Reduce Stiffness with Curves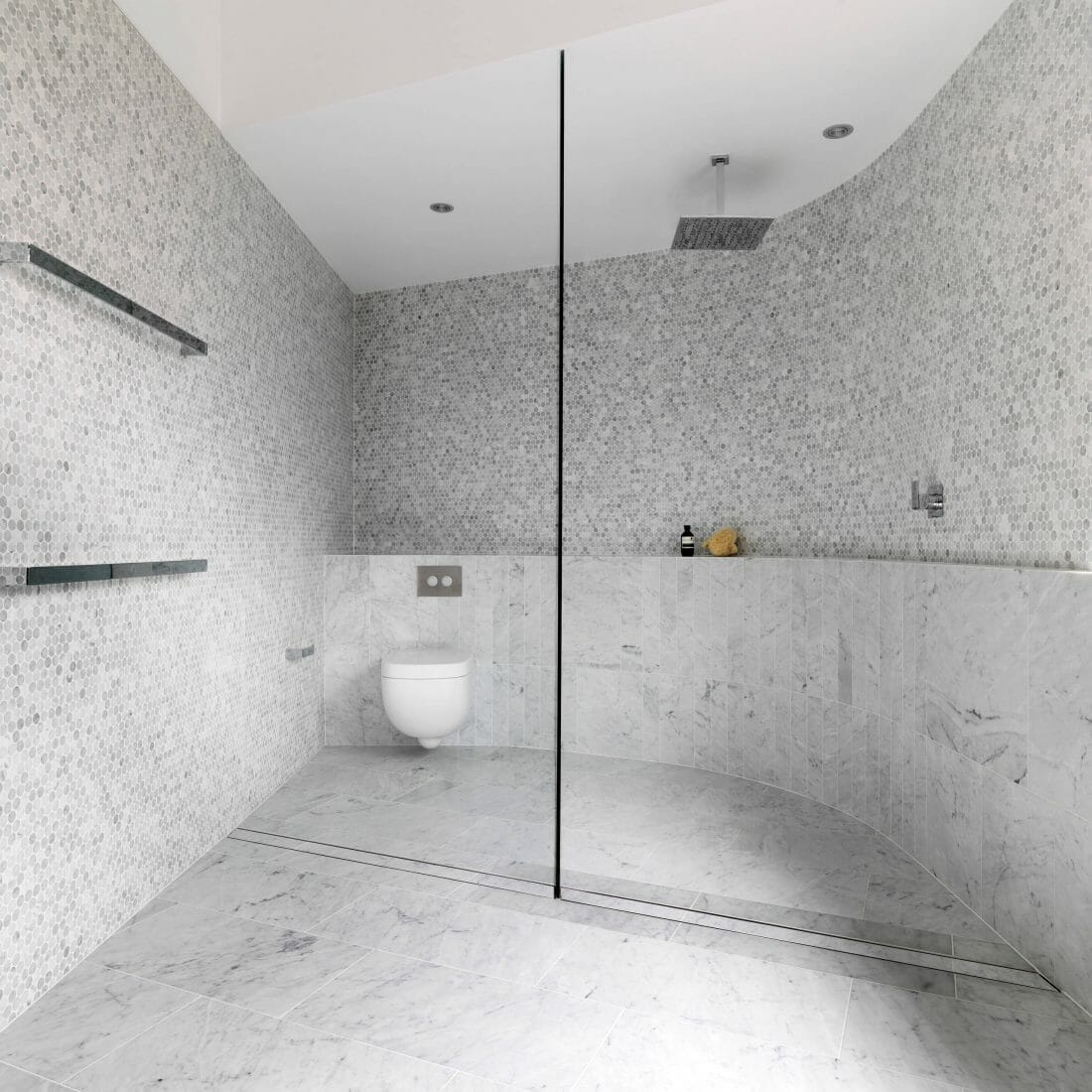 Nothing is impossible in creating a standout bathroom interior. You can even choose to set up your shower space with a curved wall instead of the usual angle to balance the appearance.
Additionally, this curved wall effectively maximizes space and makes your open shower look wider.
14. Liven Up the White Walk-In Shower with Hanging Plants and Minty Glass Cabinet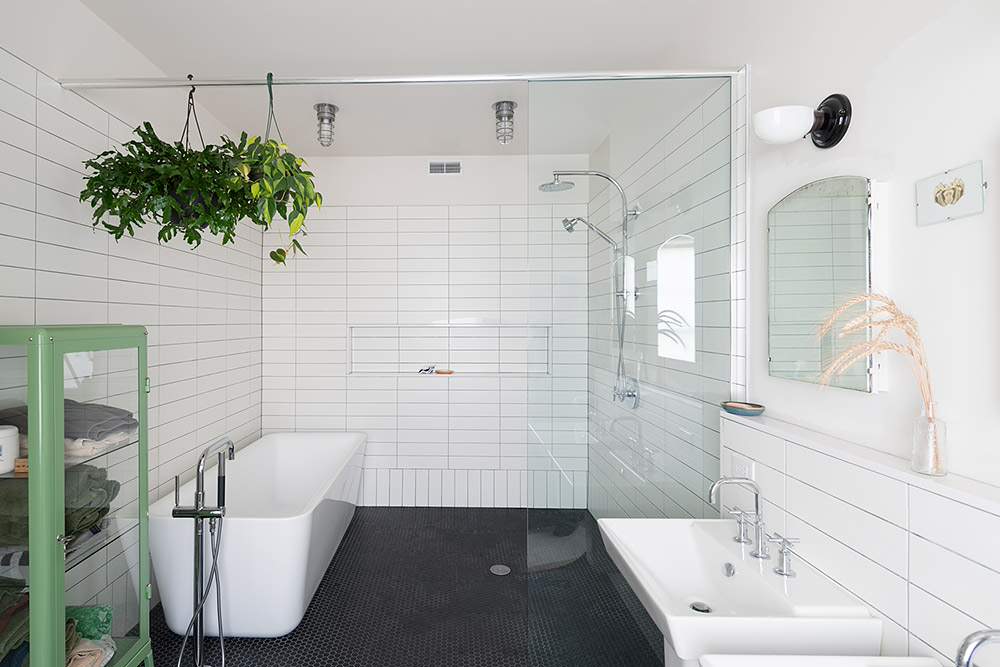 Although it can give a clean impression, an open shower with an all-white theme will make your bathroom looks dull.
Therefore, you need to provide additional decorations with contrasting colors to provide an impressive focal point.
Additionally, hanging greenery and providing a standing glass cupboard in minty color is the next option that you should try. Of course, this concept will give unmatched freshness inside the bathroom.
15. Create The Mediterranean Vibes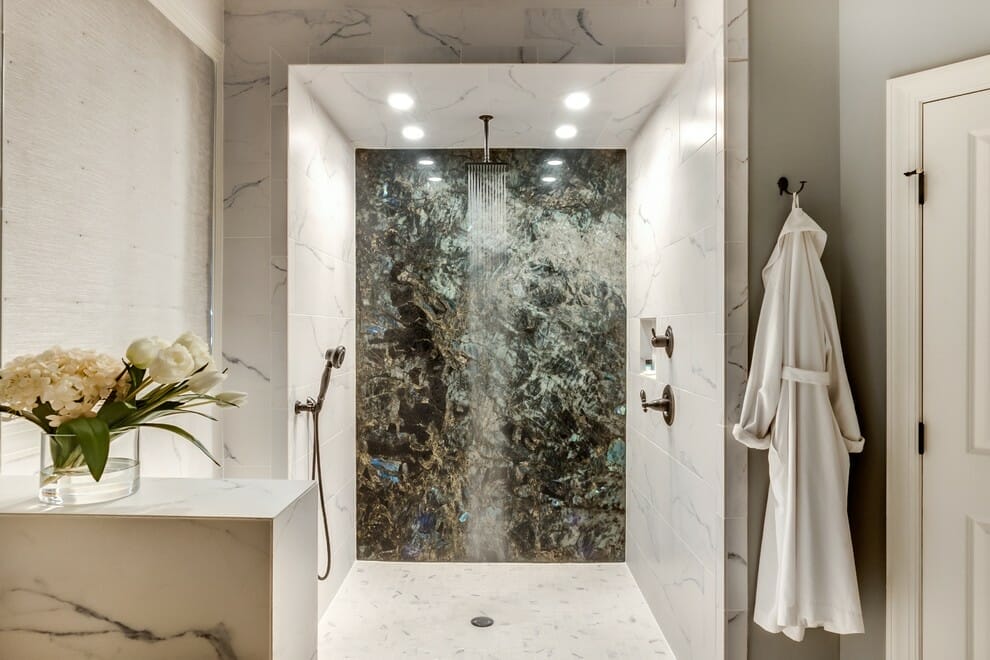 Suppose you are looking for open showers ideas with a timeless theme and unique characteristics but still fit many people's tastes. In that case, you can consider this Mediterranean concept.
But there's not much you need to present in your small bathroom. Because you are enough with a half wall with stone tiles in dominant cream color. And a vanity sinks with a wood frame mirror. Then everything is set.
16. Matte Granite Tiles in Black and White Marble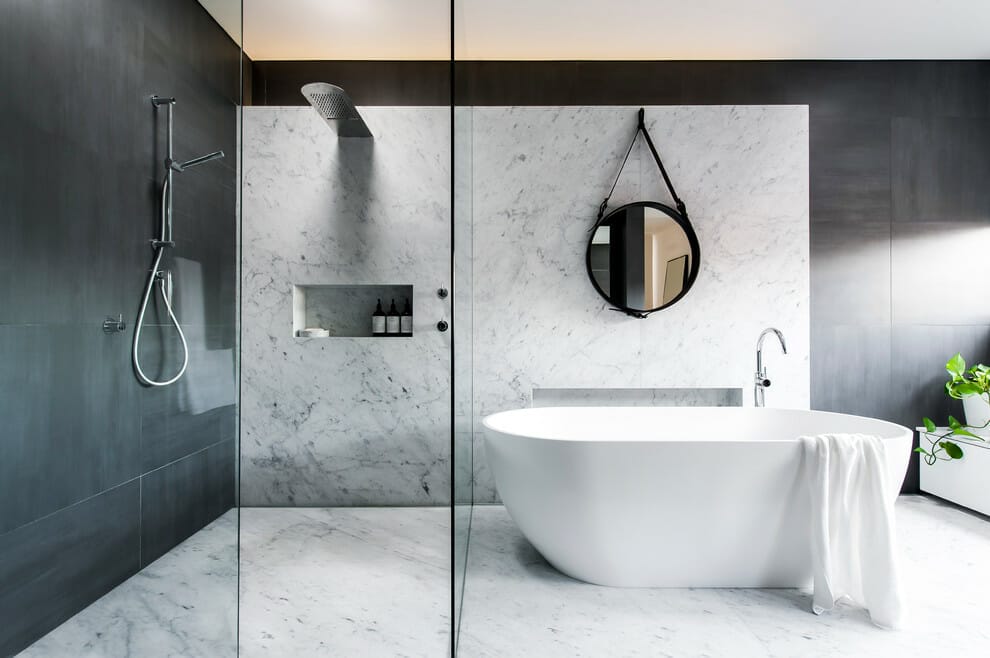 Presenting two tiles in one bathroom is the ultimate step to creating an elegant and fashionable shower area.
But you know that marble tiles generally come at a high price. Thus, you are better off using them on a smaller surface.
As for your entire wall tiling, consider going with granite tiles in a matte finish.
17. Two Showerheads, Double Entrances, and Black Marble Background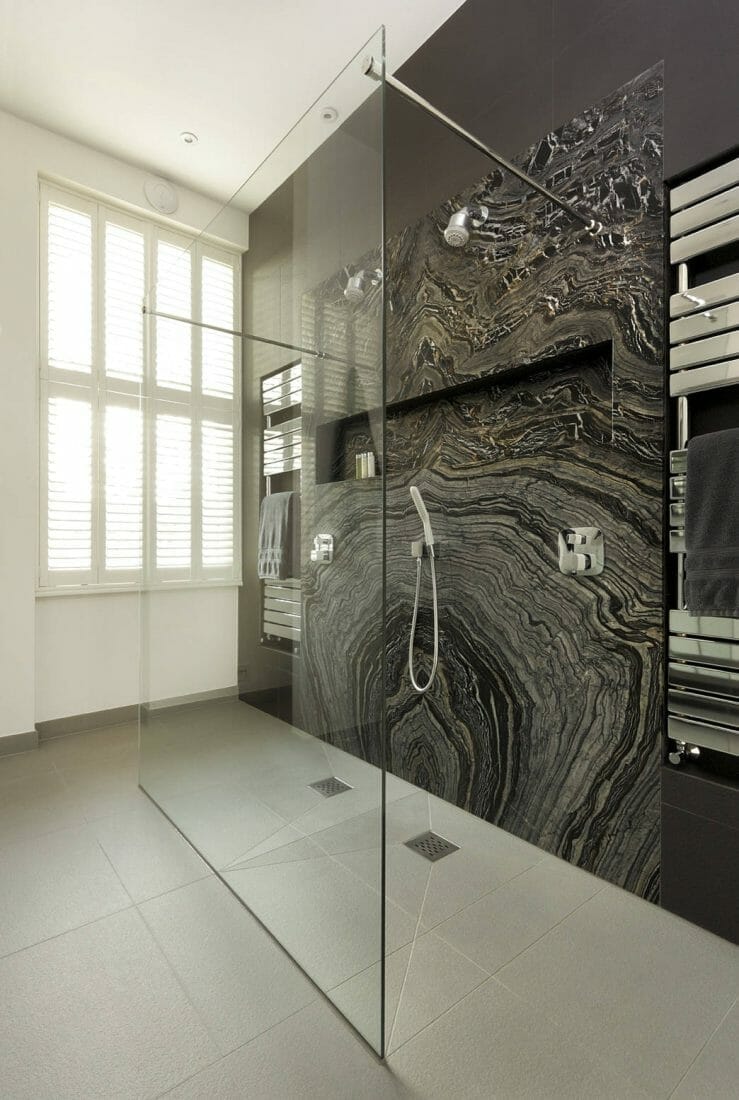 Besides providing convenience, it is true that open showers ideas also provide combos in terms of aesthetics.
With the large open shower design above, you can simultaneously present two shower spots in one glass enclosure without doors on both sides.
This design aims to make it easier for you to get in and out without a hitch. As for decoration, try to focus on black marble tiles on the wall behind your shower to give a powerful drama.
18. Mirror with The Same Size as Window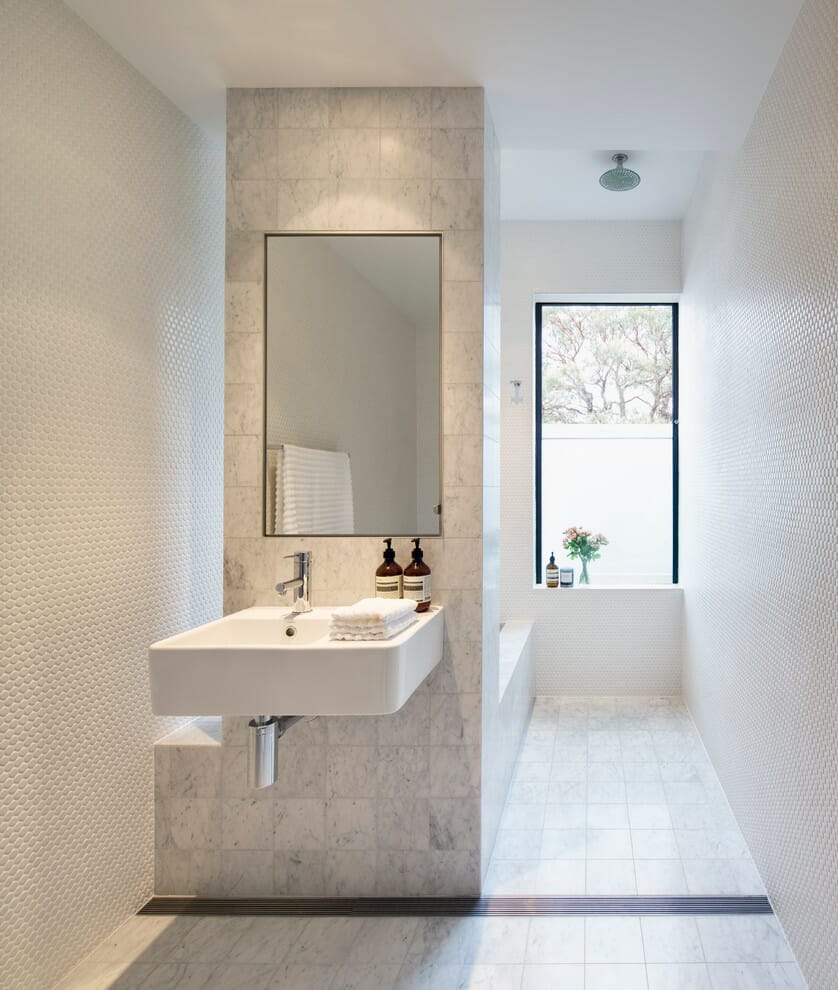 Thoroughly, open showers ideas provide a trick for you to give a double visual effect that keeps your bathroom from being cramped.
Additionally, here is the presence of a rectangular mirror that has the same size as the window. By placing it right on the partition opposite the window, you will get a maximum reflection in the bathroom.
19. Give a Strong Personality with Accent Tiles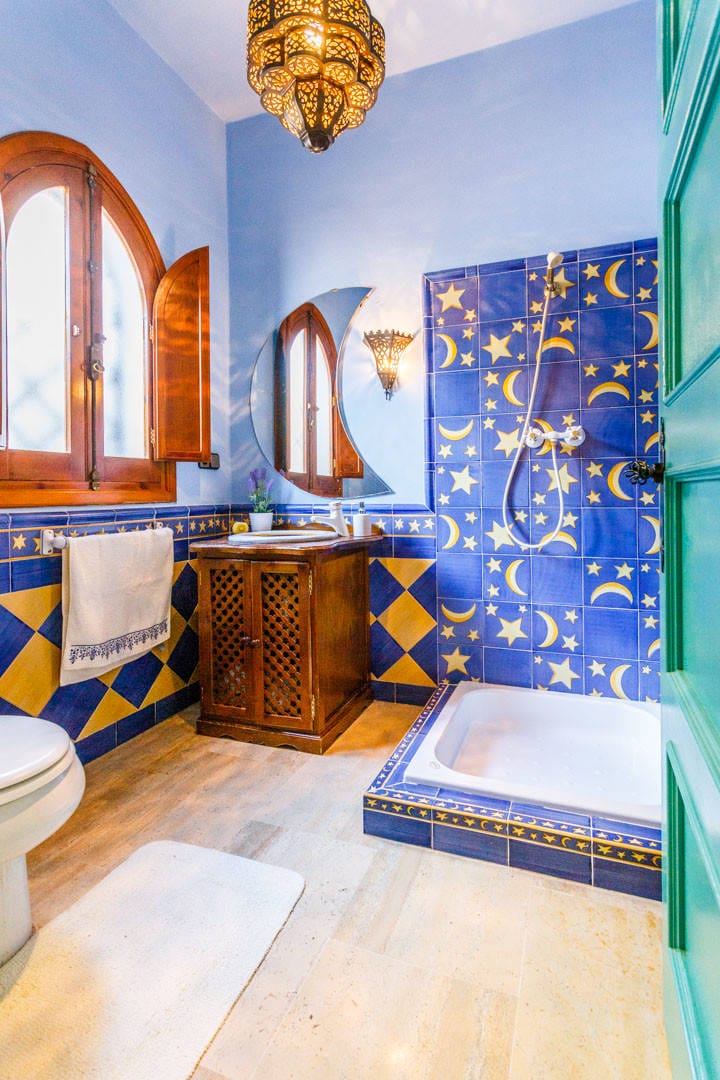 Next, you can add personality to the bathroom by presenting eccentric colors and accents that not many people have.
Likewise, you can go bold with a mix of plain blue paint with accent tiles dominated by geometrical and celestial objects that appear in yellow.
20. Stone Walls to Add More Drama
Perhaps you prefer an interior with an earthy vibe but still bring an elegant impression. Therefore, you can install stone tiles in deep brown to describe the naturalness of your open shower.
Further, you can balance the look with a white wall complete with built-in vertical storage to accommodate all your bath necessities.
21. Floral Wallpaper as Focal Point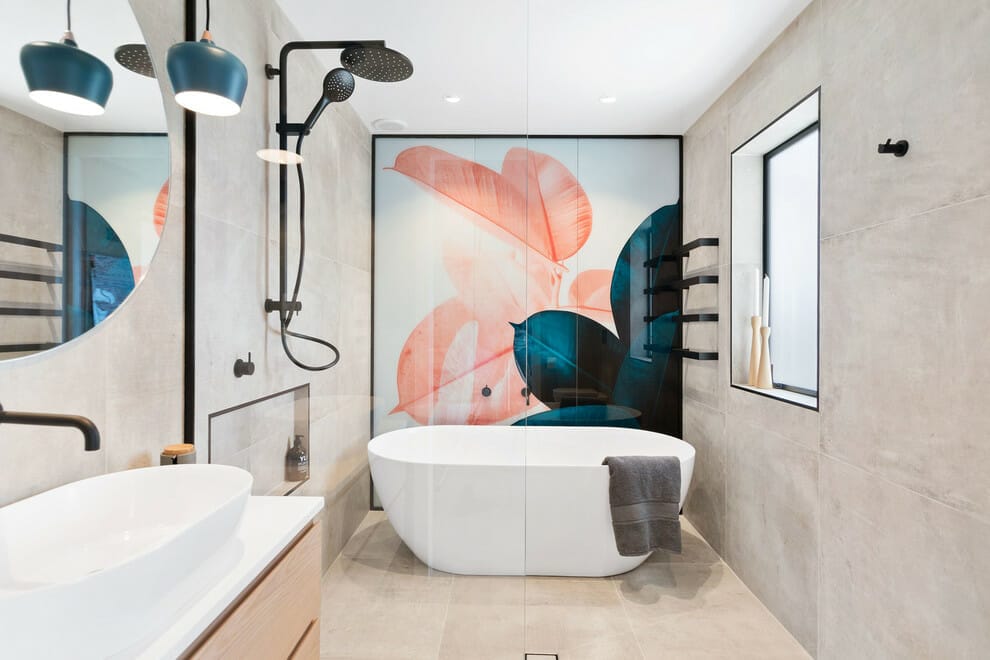 Coming with a large accent wallpaper is the most effective step in expanding your open bathroom. Then, you can start with calmer colors that harmonize with the existing interior design without many colors.
But be sure to go with water-resistant wallpaper so that this decor set can last a long time in your bathroom.
22. Multi-Color Tiles for Flooring
In open showers ideas, you can not only add more energy through wall tiling. Alternatively, you can also freely express your creativity by providing a flooring system in your bathroom.
Without the need to precisely imitate the design above, the most important thing is that you present a mix of colors in your flooring system. Everything follows your tastes, whether with neon color tiles or the basic one.
23. Two Shower Space with Glass Partition
After the previous points, you created two shower zones in one area. Now another option appears with a glass partition.
This concept aims to make it more comfortable for you to enjoy your own bath time without disturbing your partner's relaxing time.
24. Twin Vanity Sinks with Corner Shower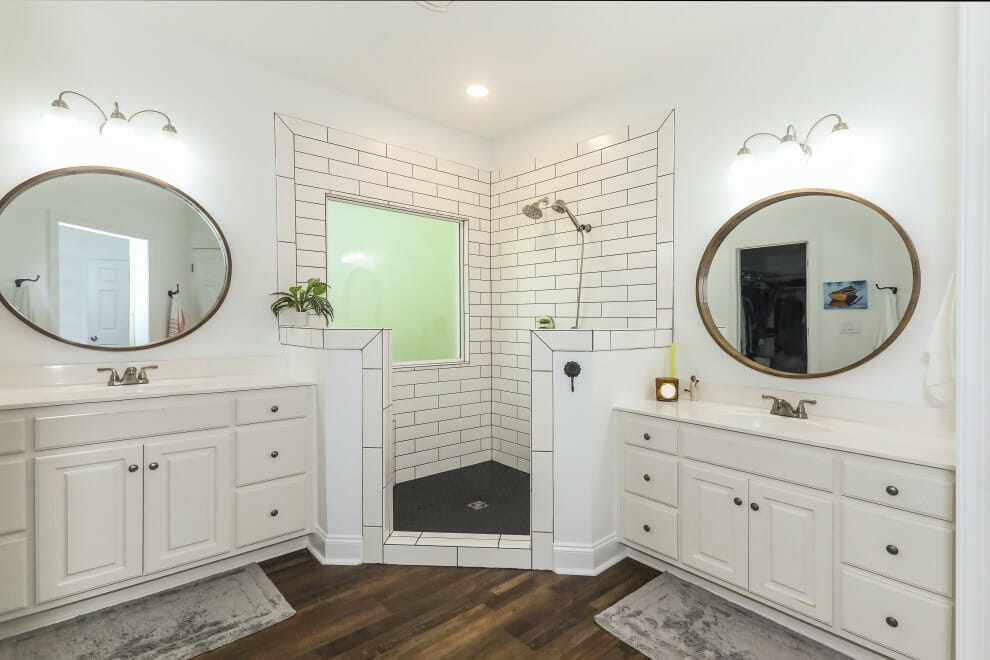 Indeed, the corner shower is not as popular as the standard one's which generally takes place in the middle or on the other side of the bathroom.
Apart from that, this open shower corner concept is highly recommended because it can help you take advantage of every available space.
However, this concept is unique. Instead of two shower spaces, it presents two vanity sinks on different sides to add depth to the bathroom.
25. Open Gate Shower Space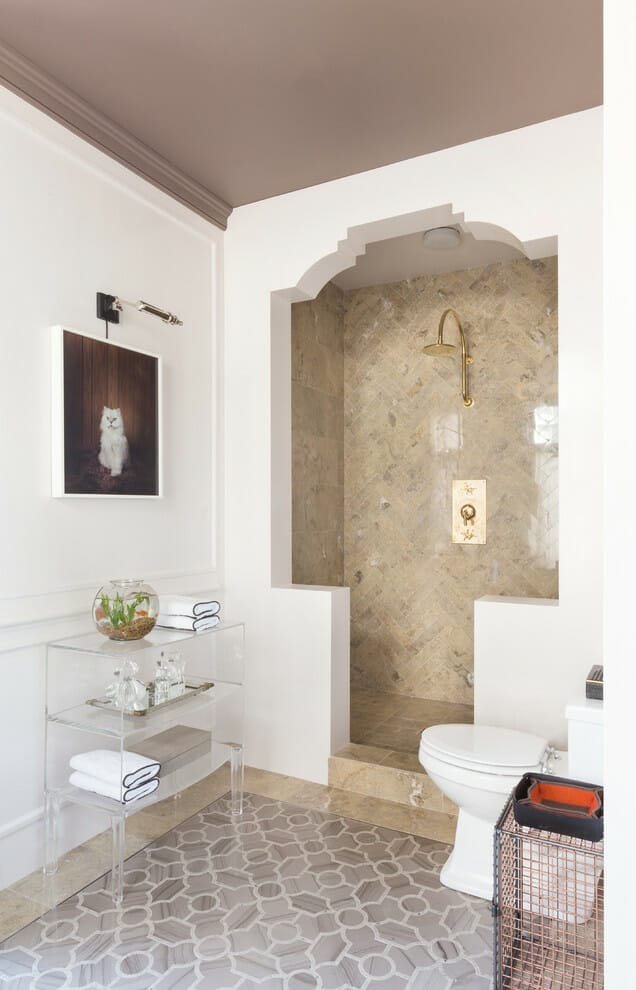 Providing an attractive doorless entrance is one way to welcome anyone who will enter your splash zone.
Through design like this, you have succeeded in creating an elegant impression as if this is a royal bathroom.
26. Contemporary Open Showers Ideas with Freestanding Faucet for Tub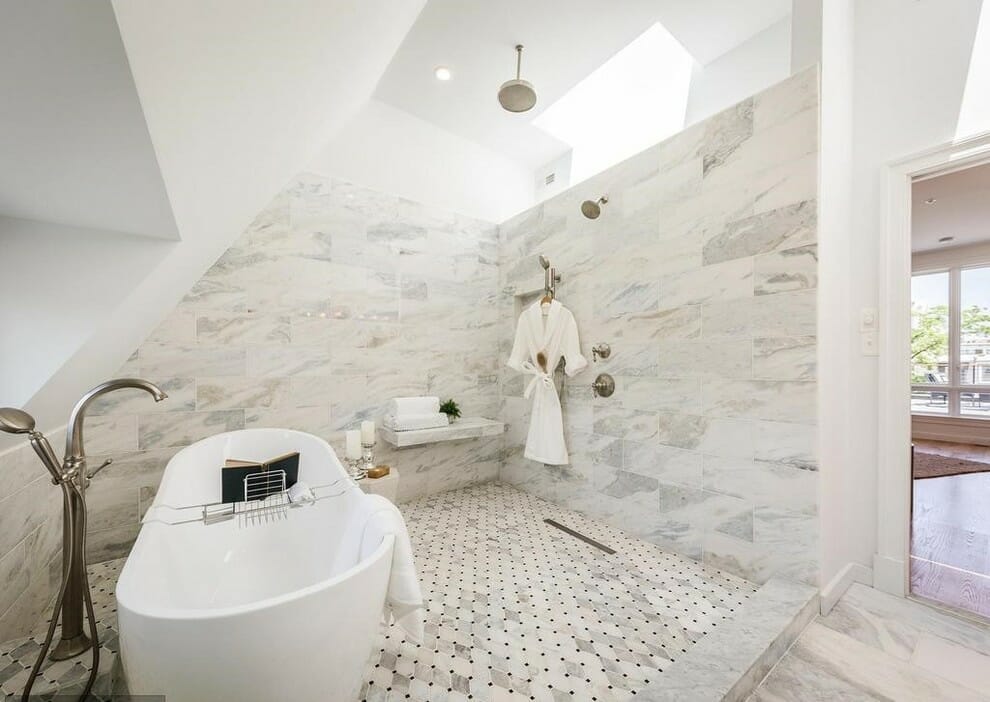 No less attractive, an open shower with a freestanding tub and faucet will give a magnificent image of your main bathroom.
Even better, if you also go with a warm tiling system in beige, which is then given a final touch in the form of gold on some elements.
27. Set a Remarkable Viewpoint Behind The Rain Showerhead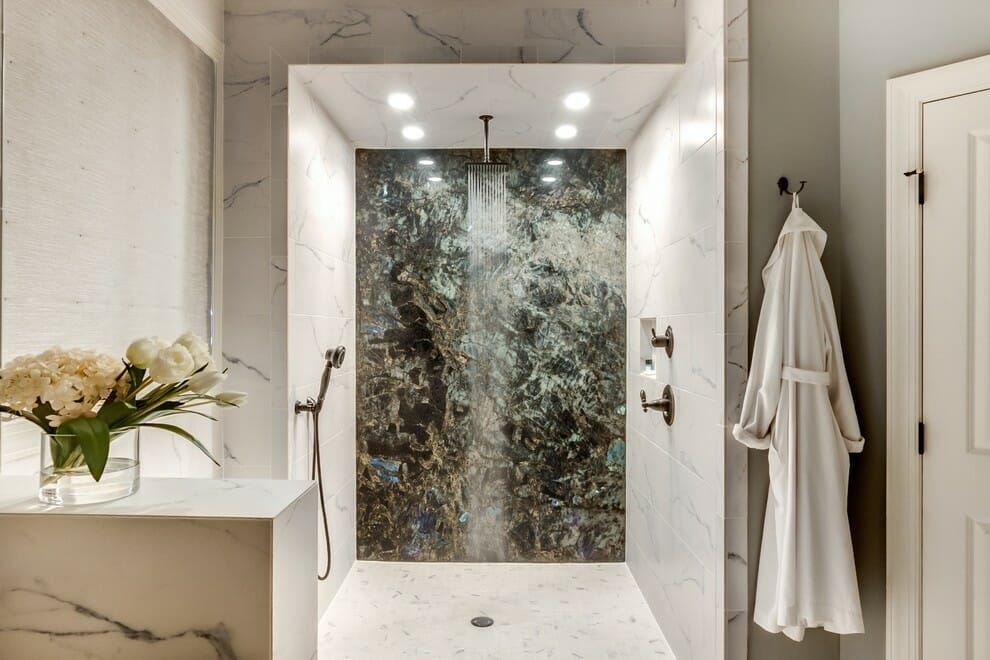 The wall behind the rain showerhead is the proper spot to show personality in your open shower. However, there is no need to go with complicated elements that will only make your bathroom look stuffy.
Alternatively, merely install marble tiles in deep green to refresh your bathroom.
28. Wood Panels Ceiling and Large Roof light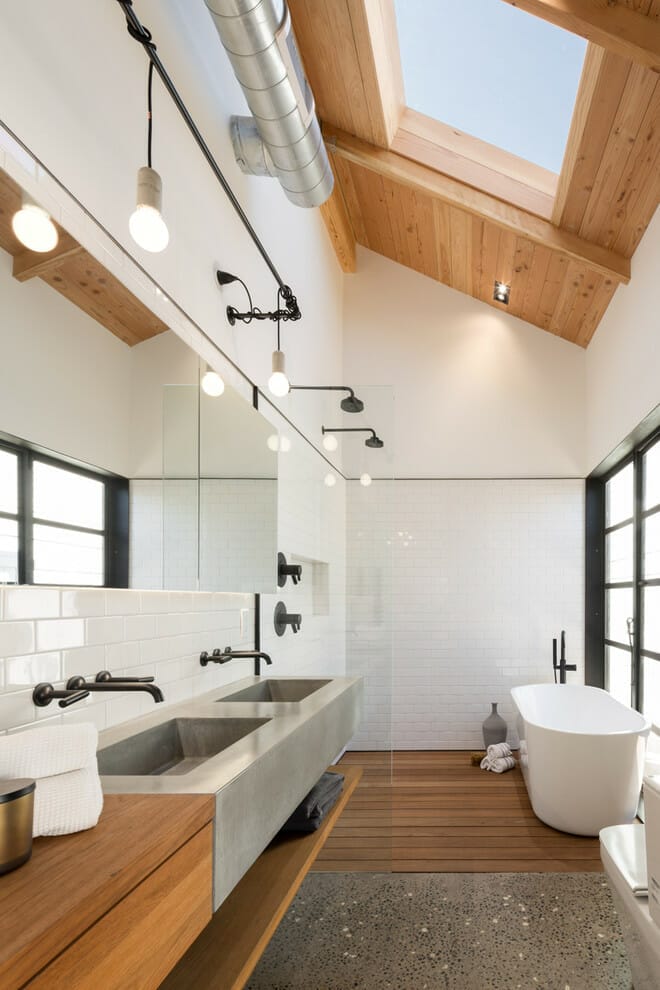 Many people are now starting to complement their bathrooms with roof lights or skylights.
Well, suppose you are also interested in these open showers ideas. Hence, you can install a wood panel ceiling with one ample roof light without hesitation.
Besides providing natural lighting during the day, this structure can also provide good ventilation for your bathroom.
29. Open Showers Ideas with Beautiful Landscape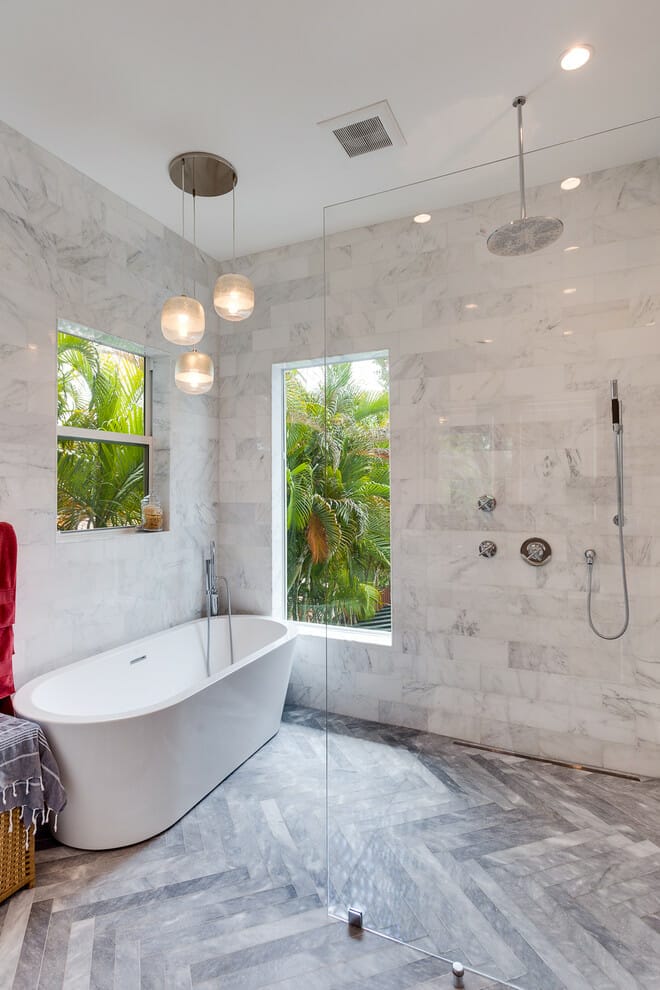 Of course, serenity during bathing time is the main goal to achieve at the end of your tiring day. Therefore, it would be better if you could also present an impressive landscape that shows the tranquility of the forest in your bathroom.
Instead of using nature paintings that look so artificial, you prefer to provide the window as an original canvas that showcases the greenery behind your house.
30. Accessible Shower Area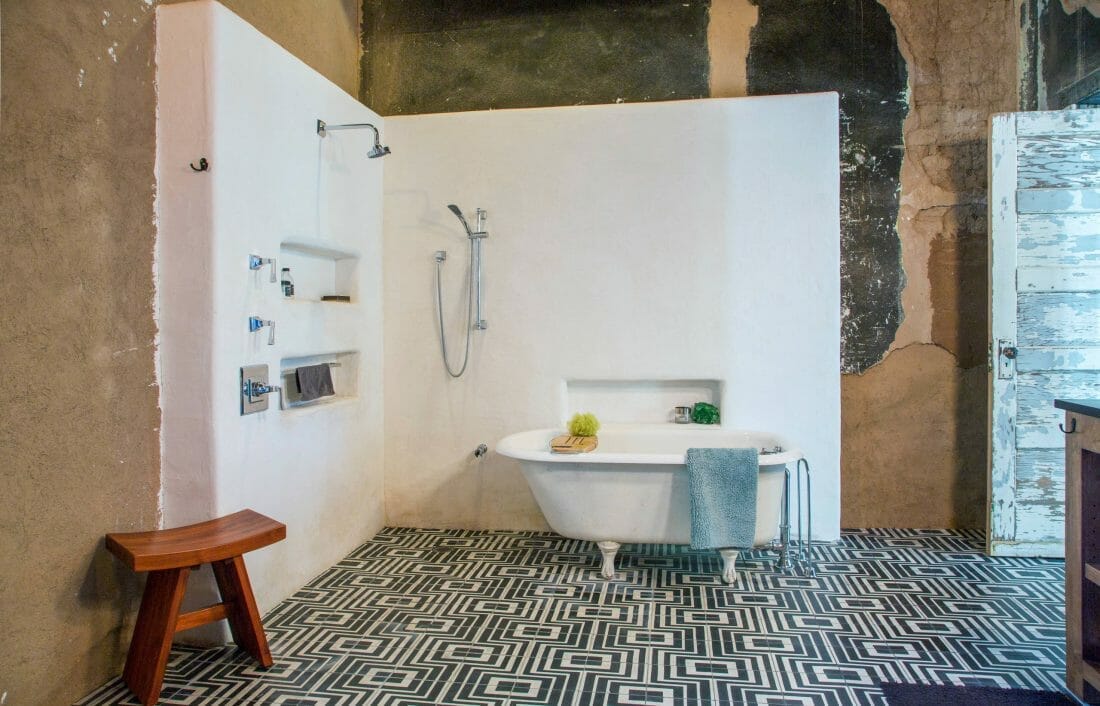 The most straightforward open showers ideas you can adopt is to give a wide corner false wall as above.
Later, the presence of this false wall aims to showcase your shower spot better. Therefore, it does not need to come with striking colors. On the contrary, it's a good idea to go white and let your accented floor tiles make a statement.
31. Semi Shower Enclosure
Suppose you feel that the presence of a shower enclosure is too restrictive for you and cannot help relax your mind optimally during bathing time. In that case, you can try to conjure it into a semi-closed one.
However, you need to present a half wall on one side of your shower space and set the glass partition on the other side to realize this concept. Then, everything is all set.
How's that? Did you manage to get inspiration from the open showers ideas above? Well, suppose you've found one that matches your preferences perfectly. Don't hesitate to do some remodeling right away. And, good luck!