Are you bored with the same design of the bath space? And, have you planned to replace it with more exciting decor? If it said so, here come modern shower tile ideas to provoke you to do a bathroom remodeling immediately.
And, the foremost step you need to take is to adopt modern shower tile ideas. Because indirectly, tiles become the central element in emitting a comfortable vibe in the bathroom.
Either you will go with the plain or the accented one. Everything is equally fashionable as long as you make the proper settings.
So, never again let questions like "is accent tile in shower outdated?" hinder your decision to be creative.
Alright, without further ado, here are thirty-one modern shower tile ideas that are ready to modernize your bathroom.
1. Exclusive Black Granite Tile in Matte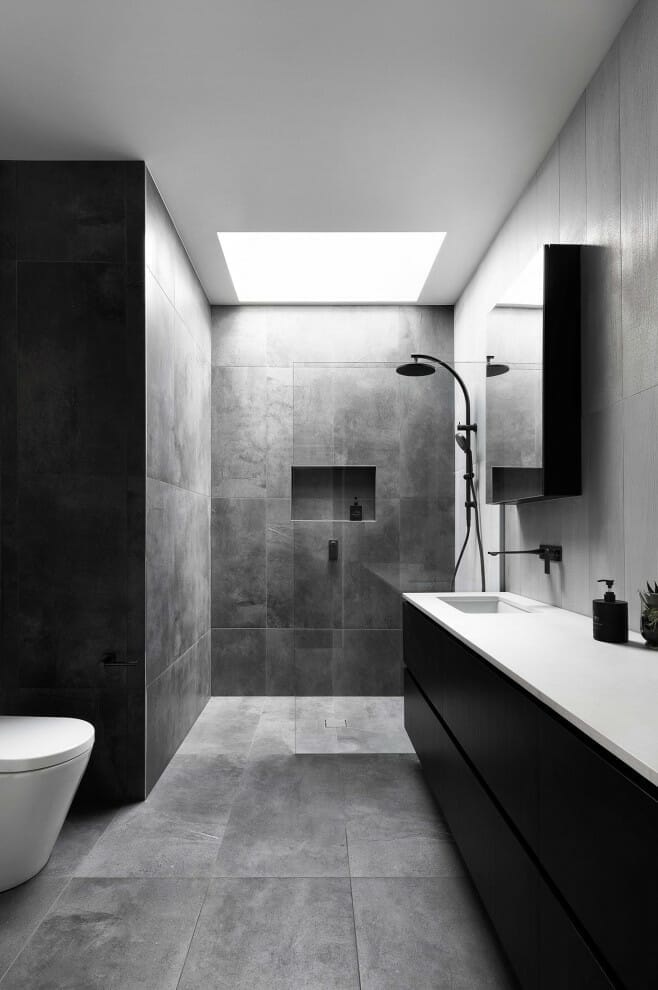 Indeed, to get an exclusive impression, many professionals suggest using modern shower tile ideas that use marble. However, if you are burdened with costs, you can take an alternative by using granite tiles.
By choosing a black color that resembles the original stone, and accompanied by sufficient lighting, soon your bathroom will turn into a classier space.
2. Constellation Tile Shower among The White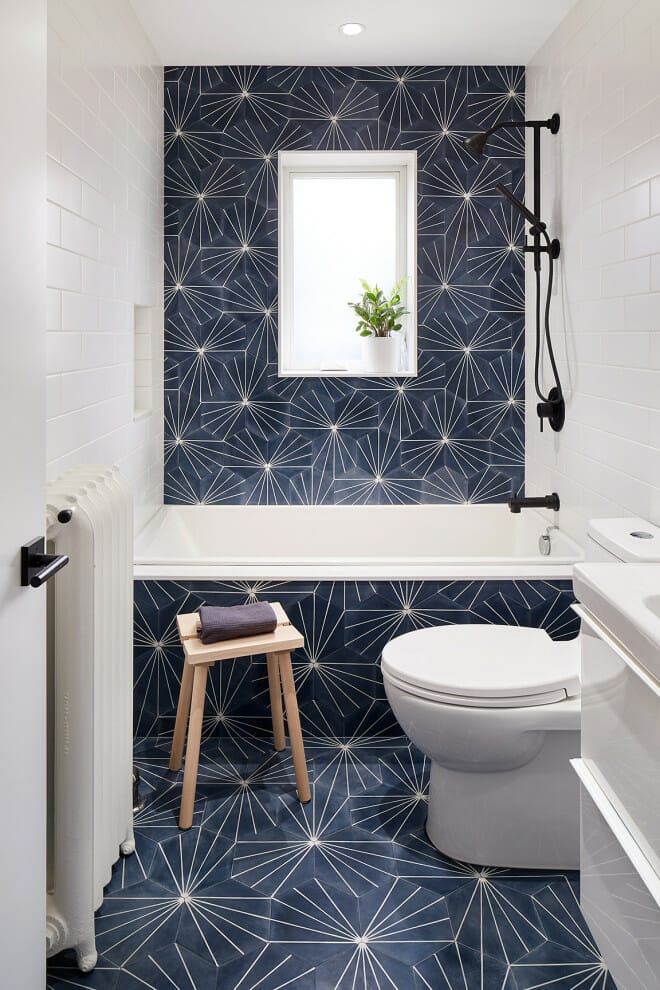 Giving personality to the bathroom is not so difficult. Suppose you already have a white tiling system in your shower. In that case, you need to add a few accent tiles with royal blue color.
Further, you can consider taking a constellation pattern like the one above for your wall flooring at certain spots to create a unique outer space theme in your bathroom.
3. White Marble to Add Textures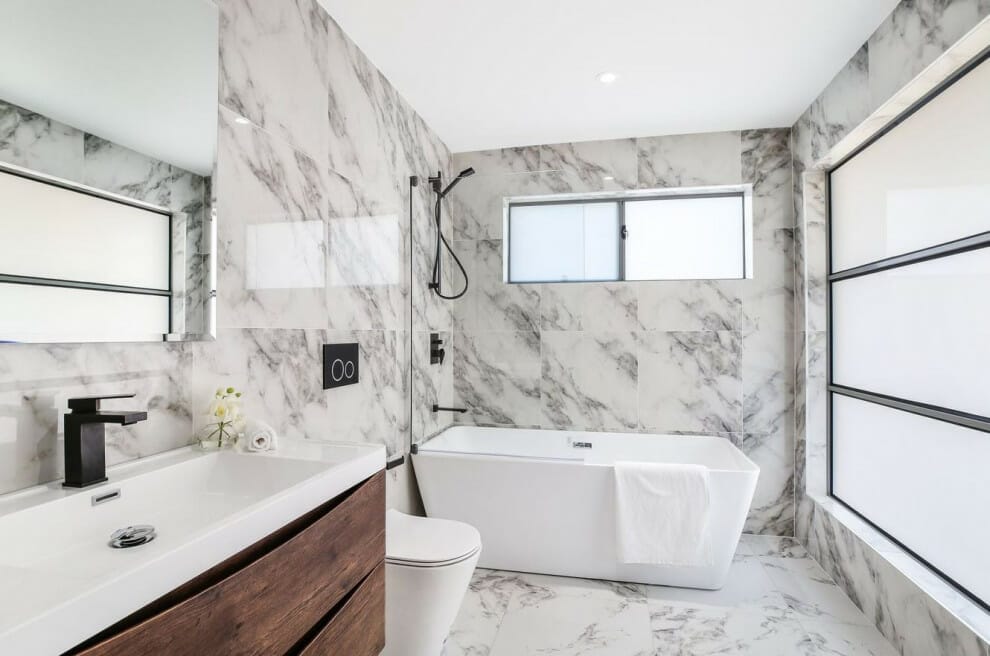 It's undeniable that modern shower tile ideas with marble are indeed able to take your bathroom to the next level.
Moreover, having one with a dominant white with a dark-colored stain effect will give more drama to your bath area ideally.
4. Embossed Porcelain Tiles for Bathroom Wall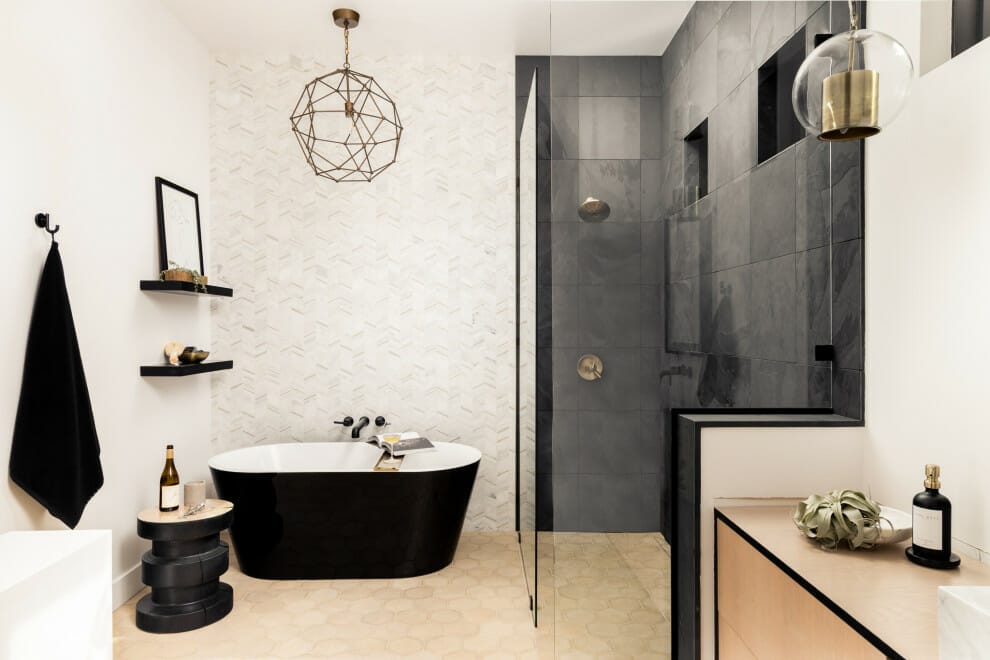 Extruded tiles can be an alternative option if you are getting bored with your bathroom's existing accented tile system.
Without many accents, the presence of these embossed surface tiles has succeeded in giving texture to your bathroom. Even if you decide to go with the plain ones, everything will be fine.
5. Modern Shower Tile Ideas with Granite Tiling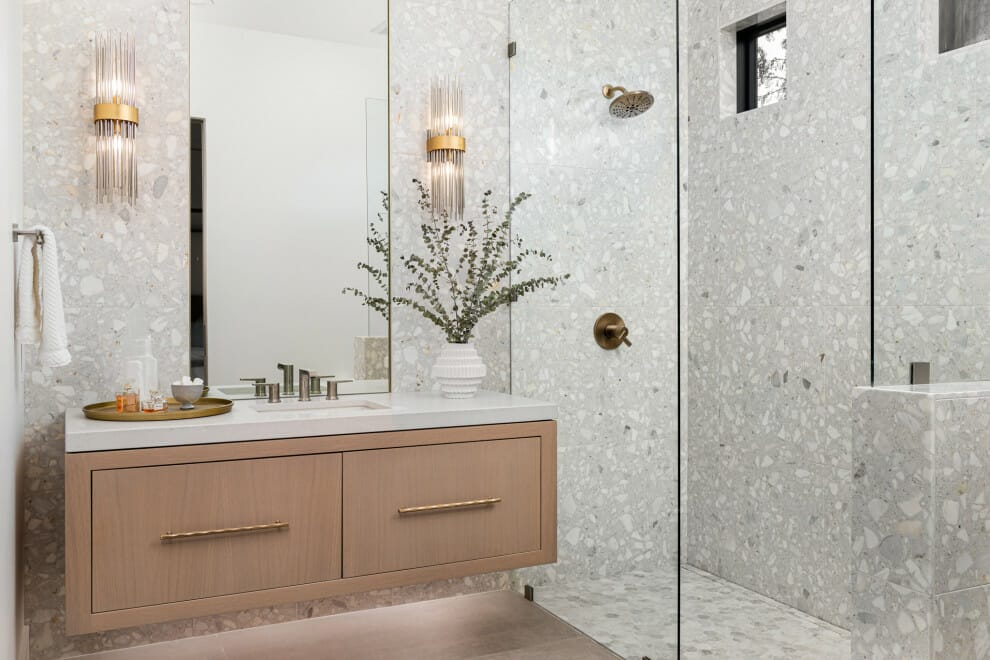 Granite tiling does seem to have taken over the popularity of marble, although not completely.
Even though these tiles come at a lower price, it has an exclusive final look as the marble tiles do. For that, you can calmly go with this type of tiles anytime for any place.
But the good news is these tiles also come in various options. As above, granite tiles with pebble-like texture will turn your main bathroom into a luxurious Mediterranean space.
6. Black and White for Wall Tiling and Flooring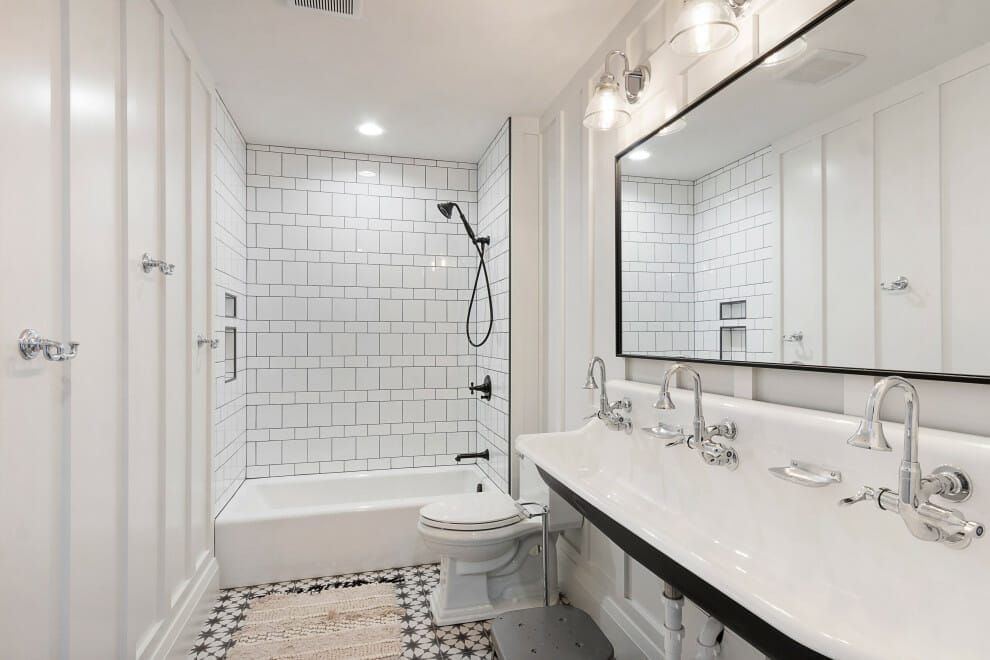 Desire about beautiful tile showers doesn't require you to go with expensive ones.
Instead, you can still apply impressive modern shower tile ideas at affordable prices, for example, is by using these ceramic subway tiles.
But you can still make your bathroom look stunning in the black and white concept. Even better, if you add accented tiles with the same color for your flooring.
7. Granite Tiles in Beige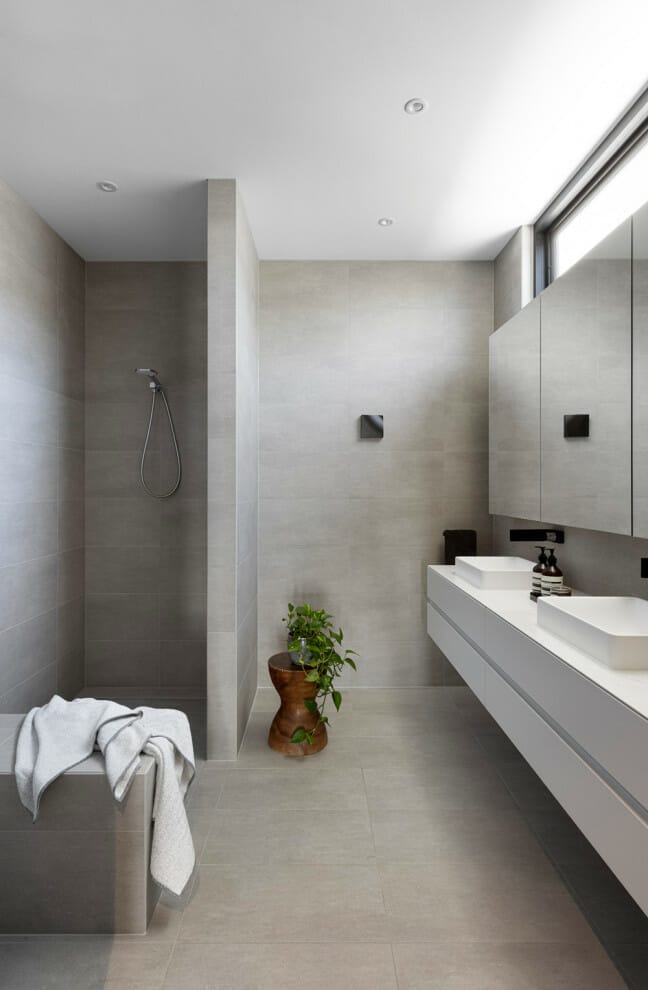 Again, granite tiles have enlivened the modern shower tile ideas in this article. However, this time it comes in a warmer color, like beige.
Assuming you have a modern farmhouse interior concept. Then, this design will be suitable for you to apply to your main bathroom.
Without a doubt, you can apply beige granite tiling throughout your bathroom. And, you only need to give it indoor plants to provide freshness further.
8. Abstract Marble Tiling for Wall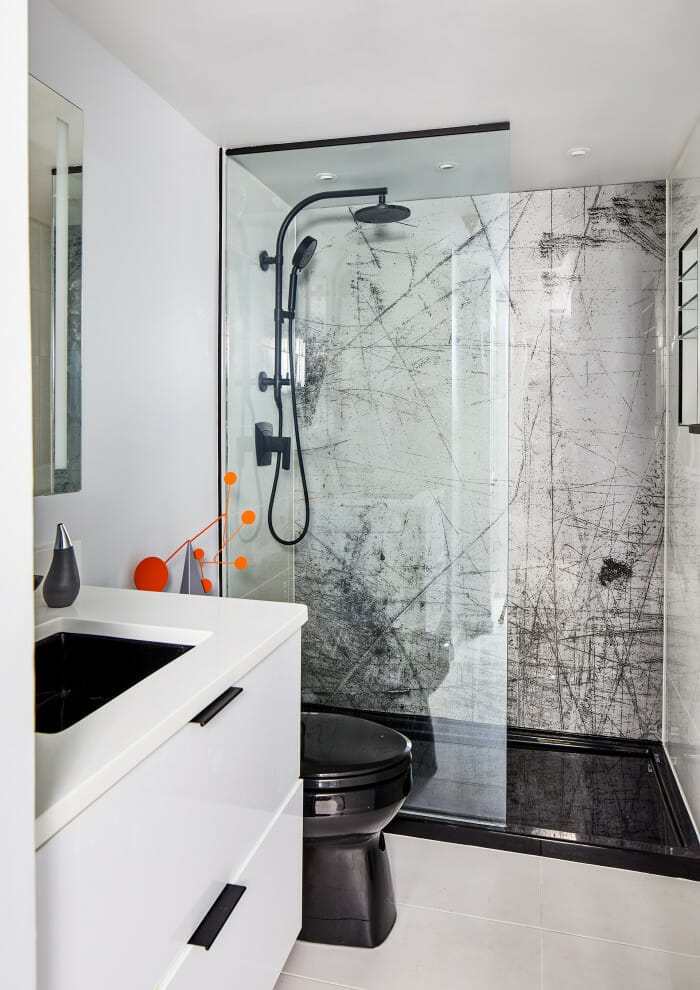 Marble tiles generally have a slippery surface, so they will not be suitable if used as flooring in your splash zone. Alternatively, you can set it as a bathroom wall tiling.
And, suppose you are looking for timeless small bathroom shower tile ideas. In that case, you can choose marble with a solid abstract motif as above.
9. Cement Tiles in Chevron Pattern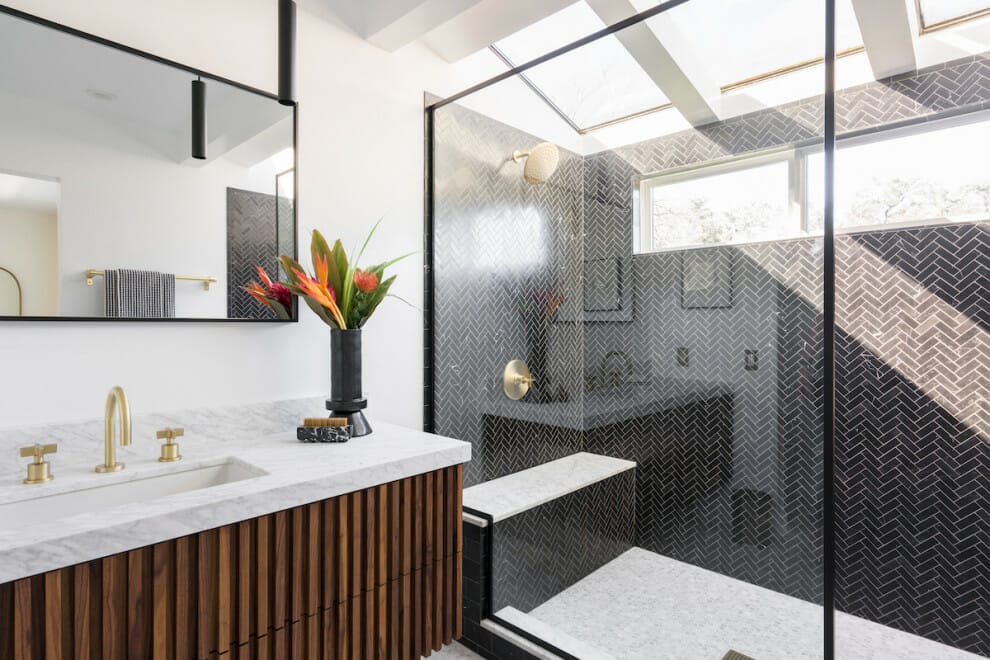 Cement tiles have been popular for a long time. It comes with various options that you can choose according to your taste.
To give a strong impression of modernity in your bathroom, you should give the walls of your shower space black cement tiles with a chevron-like motif. Meanwhile, you have to leave it white for some other spots.
10. Distressed Patterned Tiles to Add Drama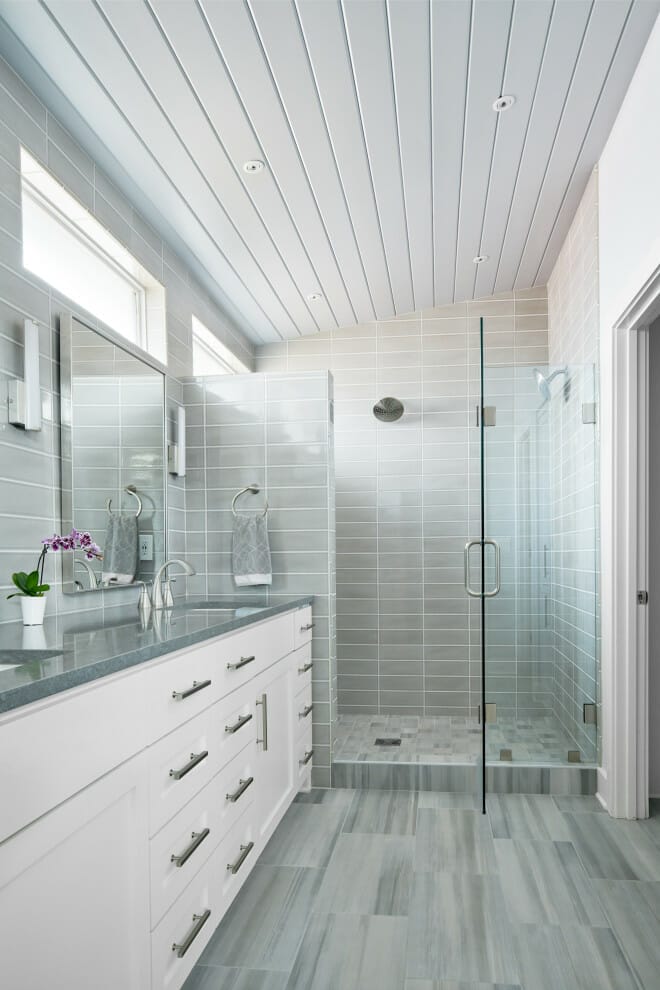 You can say that distress pattern tiles are also the ultimate option recommended in this modern shower tiles ideas article.
This tiling system can state your bathroom without giving it a striking final look. So, you can stay calm to provide other decorative elements without worrying about being stuffy.
11. Multiple Accent Tiles in One Space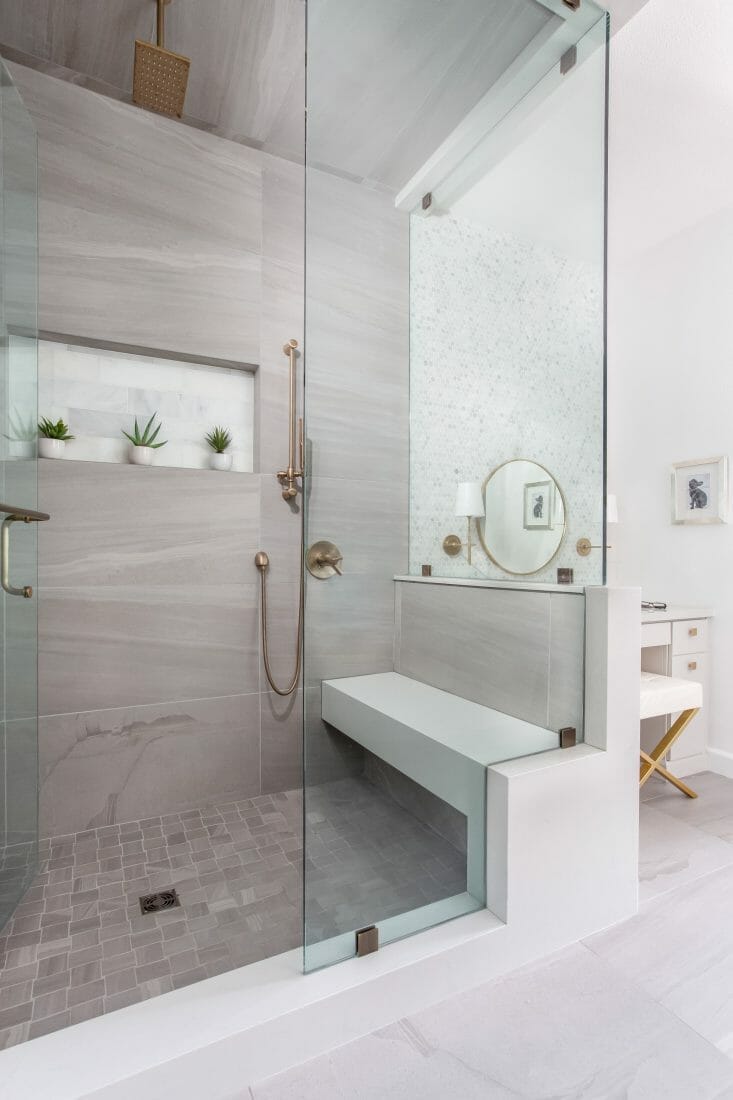 That's very clear. Nothing forbids you from presenting multi-pattern tiles in your main bathroom.
As long as you guarantee the harmony of all these motifs, with neutral colors and never made an eyesore, then all is well.
12. Marmoreal Mosaic Tiles to Highlight the Walk-In Shower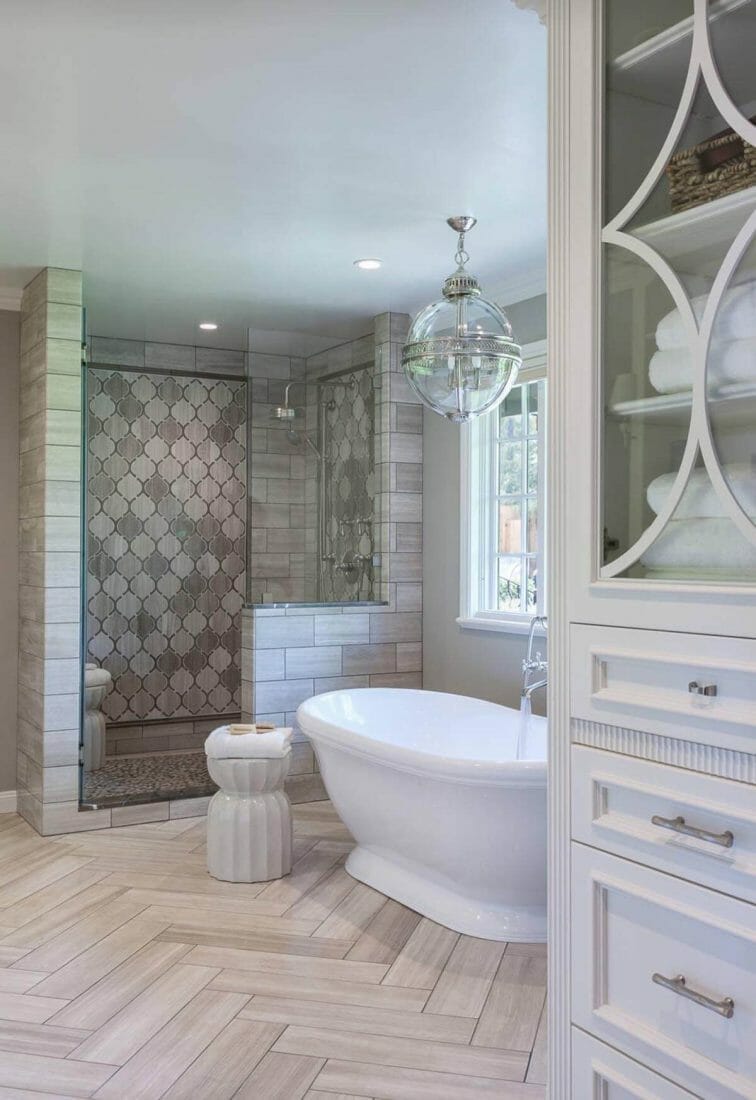 Perhaps you have installed extensive chevron tiling for your bathroom floor. In that case, you may decide to go with another accent to highlight your shower space.
One of them is to provide marmoreal mosaic tiles as above. Although it comes in the same color, your shower enclosure will be more spotlighted than other areas with a tighter symmetrical pattern.
13. Marble Tiles with Wood Structure Accent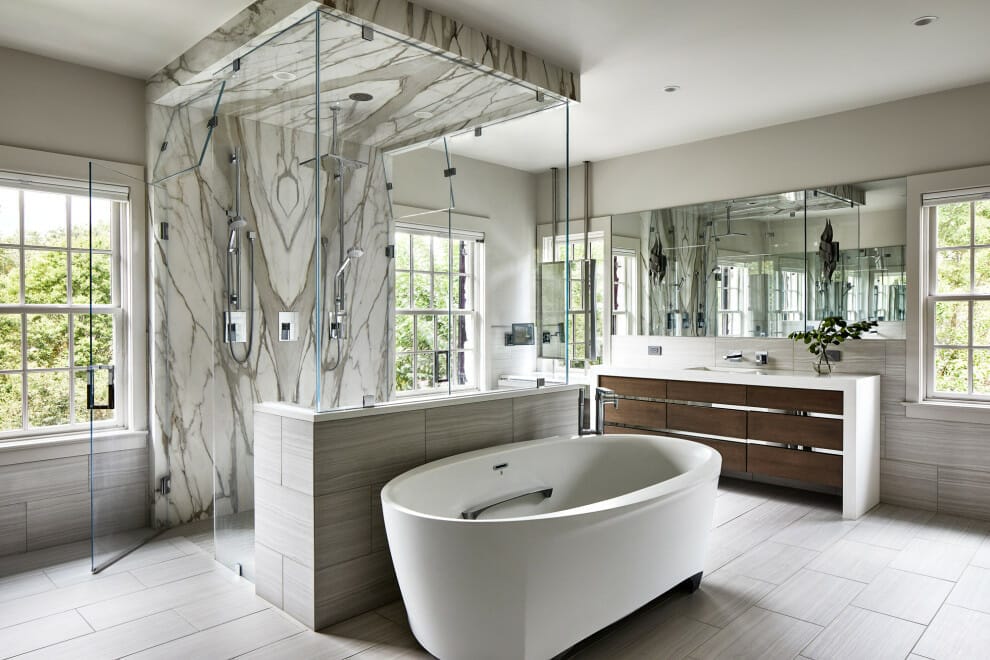 Look how magnificent the modern shower tile ideas above are. Even without presenting a lot of large furniture to the main bathroom, you have now succeeded in making a solid statement by installing marble tiles with a wood structure accent as above.
And it becomes even grander because you install the marble tiles to reach the false ceiling inside the enclosure.
14. Multi-shaped Cement Tiling in Matching Color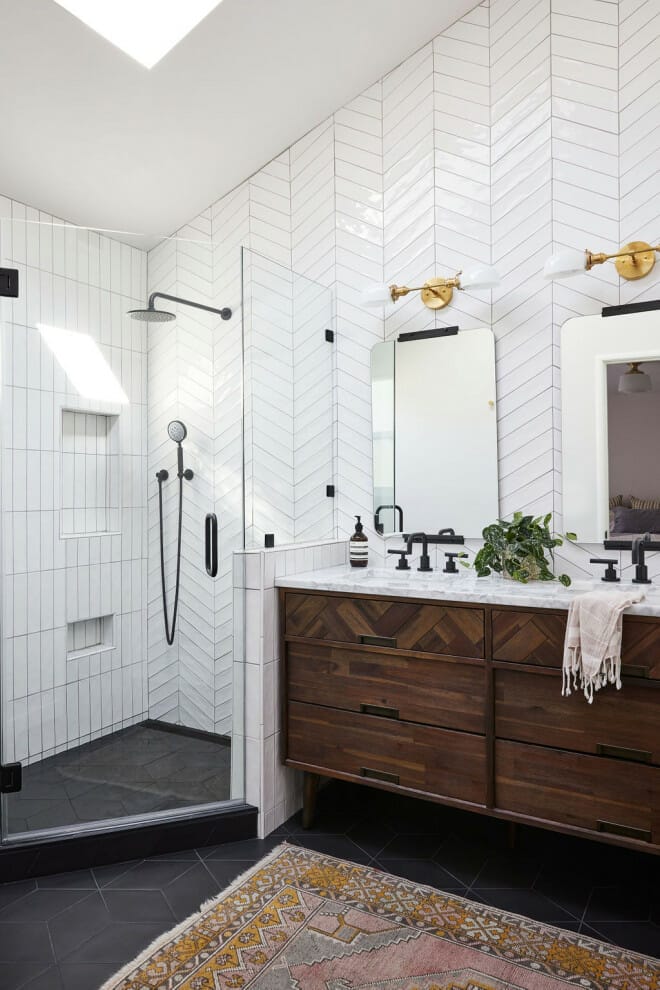 The multi-shaped tiling system in the bathroom is an alternative option if you want to give your bathroom personality without going with striking colors.
Following the design above, you can freely install chevron tiling and vertical rectangular tiles in white. Furthermore, you can also bring honeycomb tiles in black to create a balance inside the bathroom.
15. Modern Shower Tile Ideas with Glazed Tiles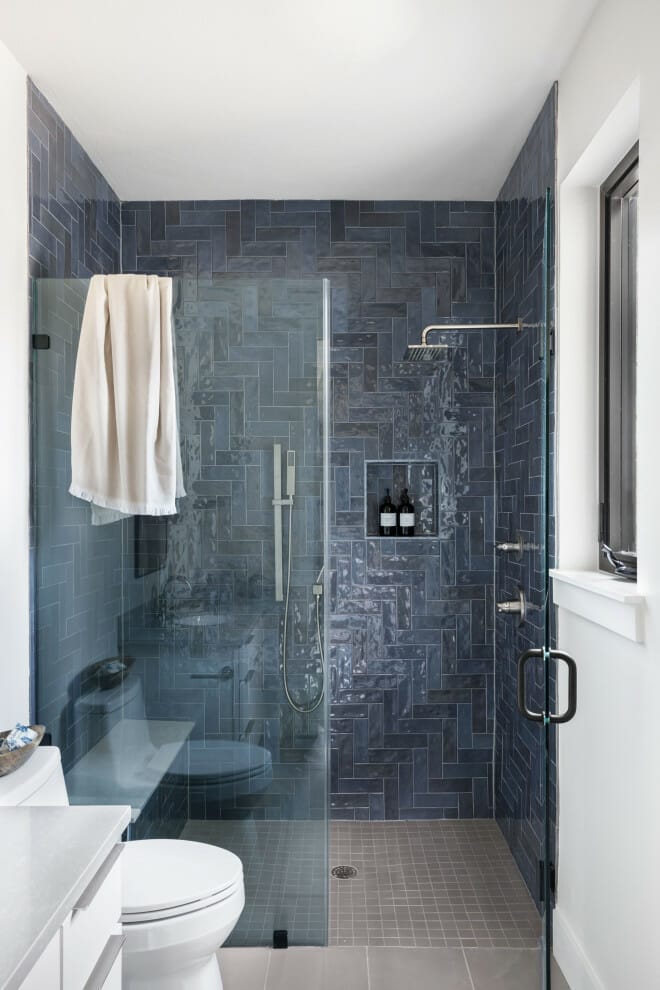 Modern shower tile ideas with glazed tiles are the top way you can take to give a spacious impression in your enclosure. It happens because glazed tiles can reflect any object in front of it, even with the darkest color.
As in the design above, glazed tiles also come with many options. So, you can freely determine according to your preferences.
16. Blue Cement Tiles to Create Coastal Vibes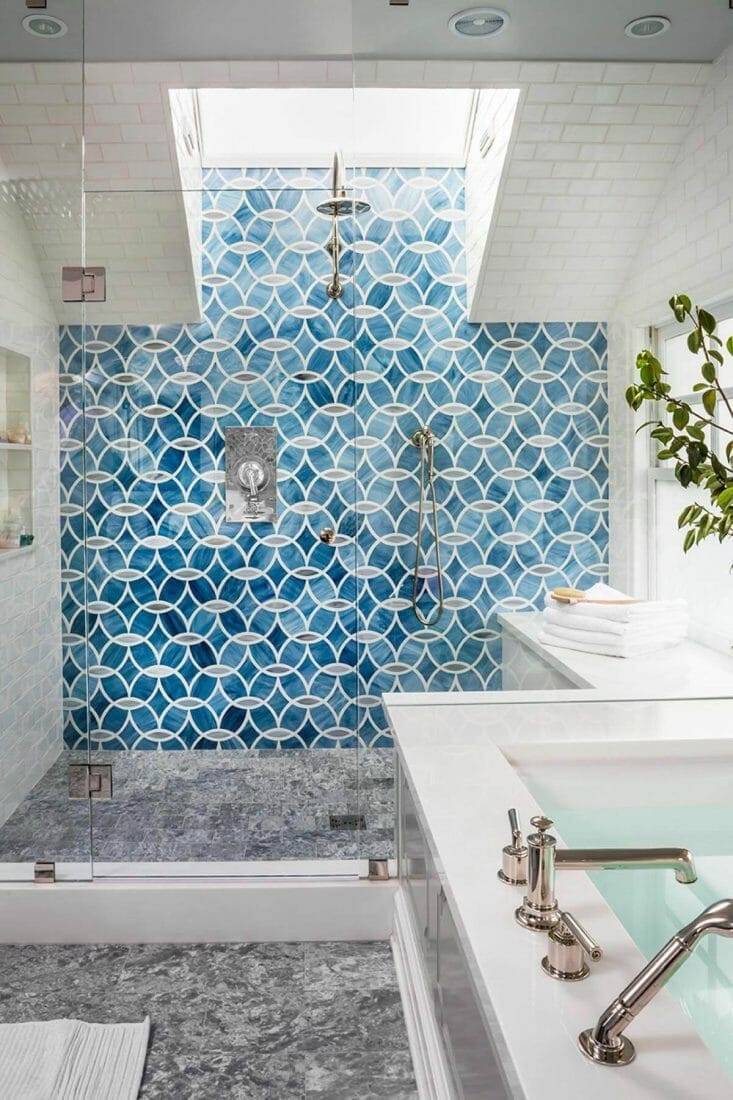 The freshness of the coastal vibe will immediately come into your wet room just by implementing modern shower tile ideas with blue accent ones as above.
Instead of installing it as flooring, it's good to turn it into a background in your shower space.
Furthermore, to give an elegant impression, you can provide a little touch of gold or metal to some spots that you want to highlight.
17. Earthy Marble Tiling with Indoor Plants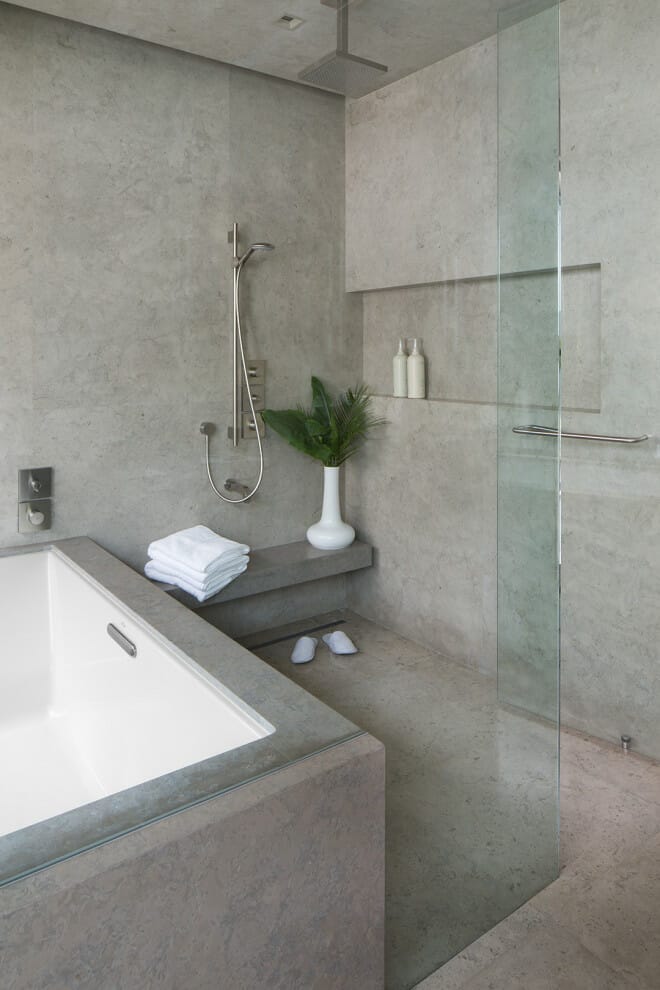 Marble tiles come in various color options. Hence, the beige one will help you create an earthy vibe in your bathroom.
Well, to give it a little life, you can undoubtedly put an indoor plant in the corner of the room. As a result, your bathroom no longer looks dull.
18. Level Up the Retro Style with Large Geometric Tiles
Never hesitate to spill out all your creativity in applying modern shower tile ideas into your main bathroom.
Suppose you are a retro-style lover but still don't want to get rid of the modernity inside the bathroom. In that case, you are better off going with geometric tiles as above.
Then, complete it with a frameless round mirror and an iconic light fixture.
19. Porcelain and Marble Come Together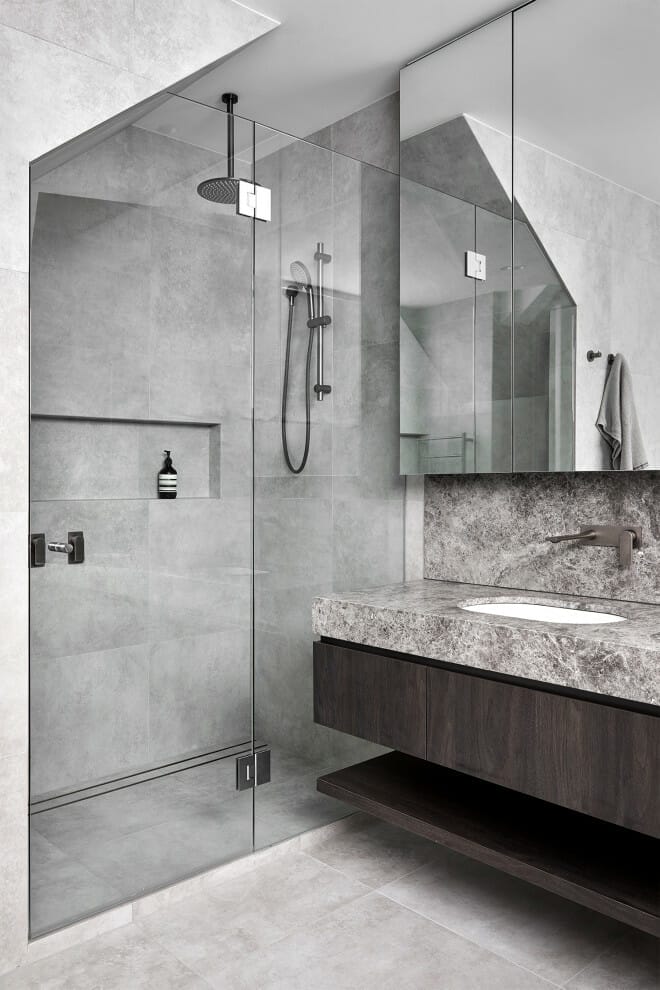 Presenting porcelain tiles with marble together in the bathroom will not make the space overwhelming, indeed.
Even better, if they come in a harmonious color. However, marble is a bit pricier than porcelain. In that case, you can install it for the countertop in your vanity sink and leave the others with porcelain tiles.
20. Large Square Porcelain Tiles for Spa-Like Bathroom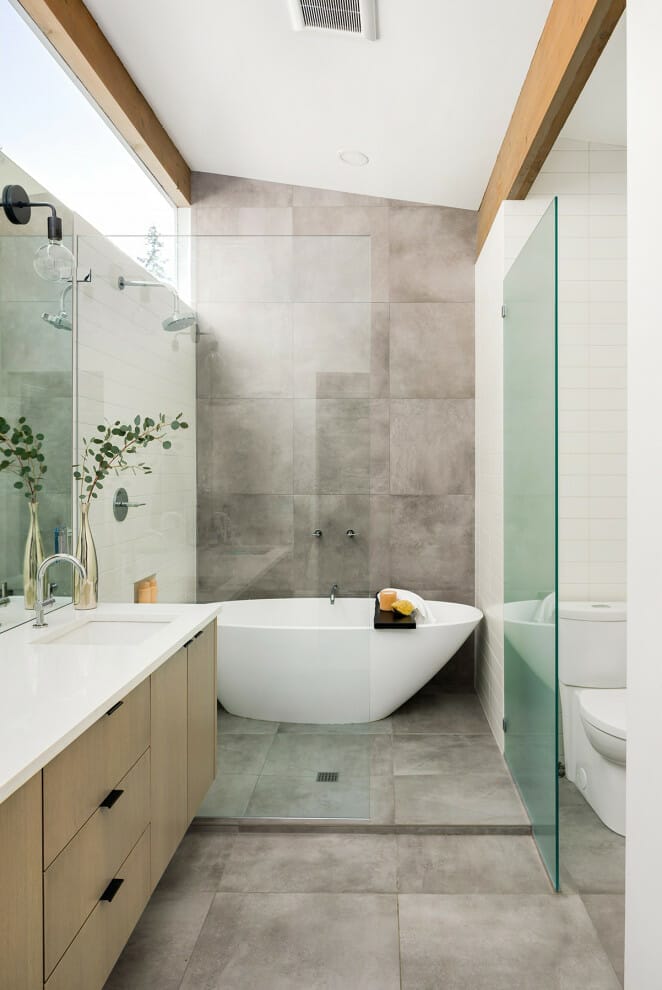 Have you ever thought it's possible to have a bathroom with a spa-like ambiance just by implementing modern shower tile ideas in your shower space? If so, then you are right.
But you don't have to put much effort to make it happen. Instead, you only need to set large square tiles that resemble the stone texture for wall tiling and flooring.
And complete it with white subway tiles for the opposite wall. Then everything is a wrap. Additionally, inviting the greenery and earthy tone cabinetries in it will be more refreshing.
21. Zig Zag Tiling in Yellow Tone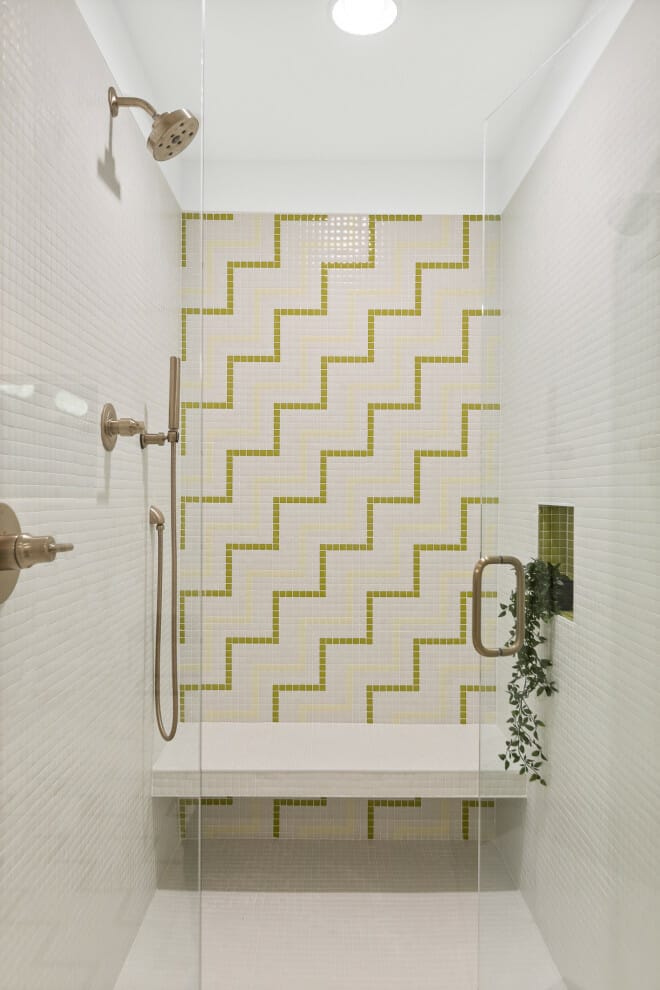 Giving personality through modern shower tile ideas doesn't always come with busy and colorful motifs. Other than that, you can be more relaxed by bringing up a geometric accent such as zig-zag tiles.
However, consider accentuating this motif with a striking color to make it stand out among other white tiles.
22. Accent Tiles with Touch of Gold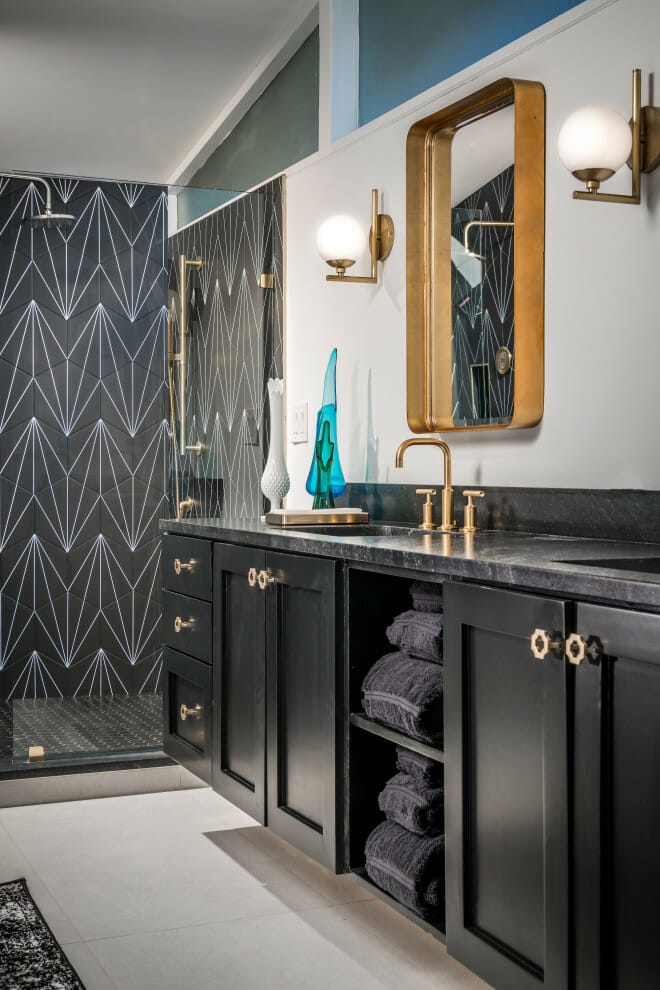 Suppose you choose a black and white theme for your wall tiles and flooring. In that case, you merely need to give some stand-out finishing touches to some items.
As in the design above, modern constellation tiles that resemble chevrons will go well with black checked tiles for splash zone flooring.
Moreover, putting large white square marble for the outer area and a bit of gold in sink faucets, showerheads, and cabinet pulls will be perfect.
23. Brick-Like Granite Tiles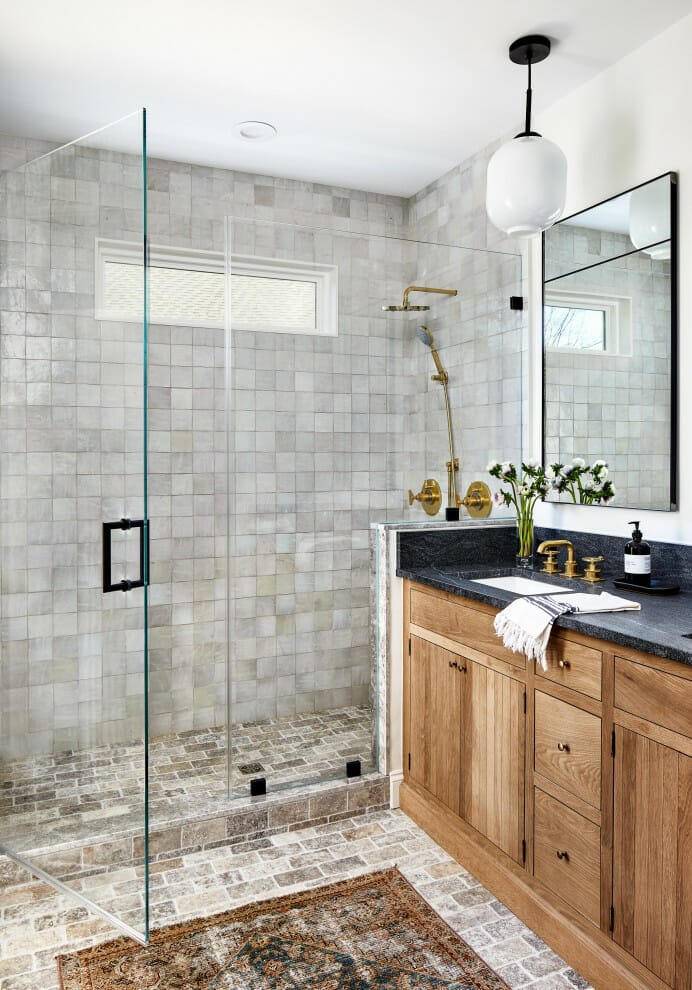 Suppose you want to give a solid rustic feel to your main bathroom without losing its modernity.
Therefore, you can go with granite tiles with bricks accent for flooring in both the splash zone and outer area.
24. Strong Abstract Tiles to Add More Energy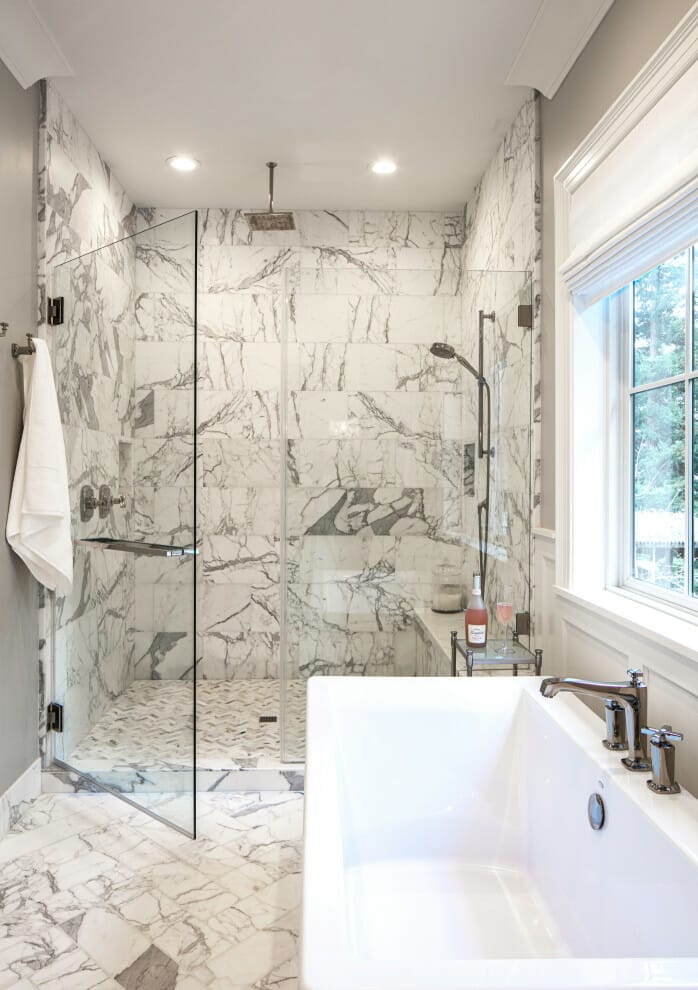 Abstract tiles, especially those made of marble, are never wrong in giving texture to your bathroom.
To get the maximum final result, you don't have to go with complicated modern shower tile ideas. Instead, you can display the abstract one with a dominant color of white and gray. Then everything is perfect.
25. All-White Tiles for Super Clean Finish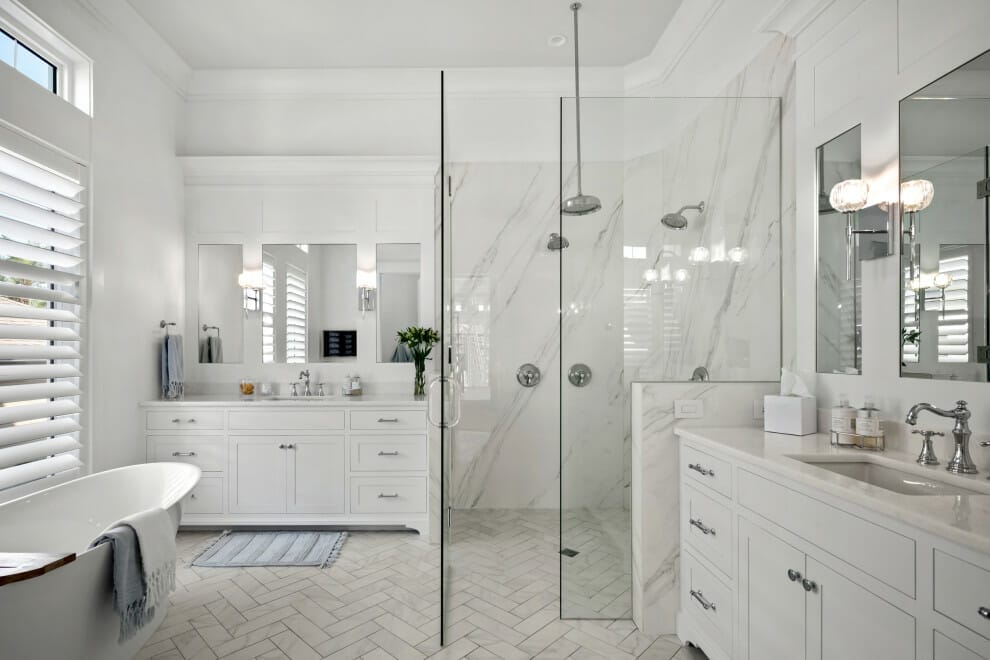 There is nothing wrong with an all-white theme in your bathroom. Later, this concept will make your bathroom settings more spacious and cleaner.
However, don't forget to give it a little texture, for example, marble tiles for the splash zone wall tiling and geometric tiles for the flooring to create depth in the bathroom further.
26. Long Mosaic Tiling to Highlight Built-In Storage
Presenting blue mosaic tiles on one side of your bathroom wall near the shower enclosure is the best way to highlight your wet room.
Furthermore, you can also try to provide similar tiles along your built-in shelf. And leave the rest in white. These modern shower tile ideas are the best for giving personality without looking too overwhelming.
27. Modern Shower Tile Ideas with Rustic Serenity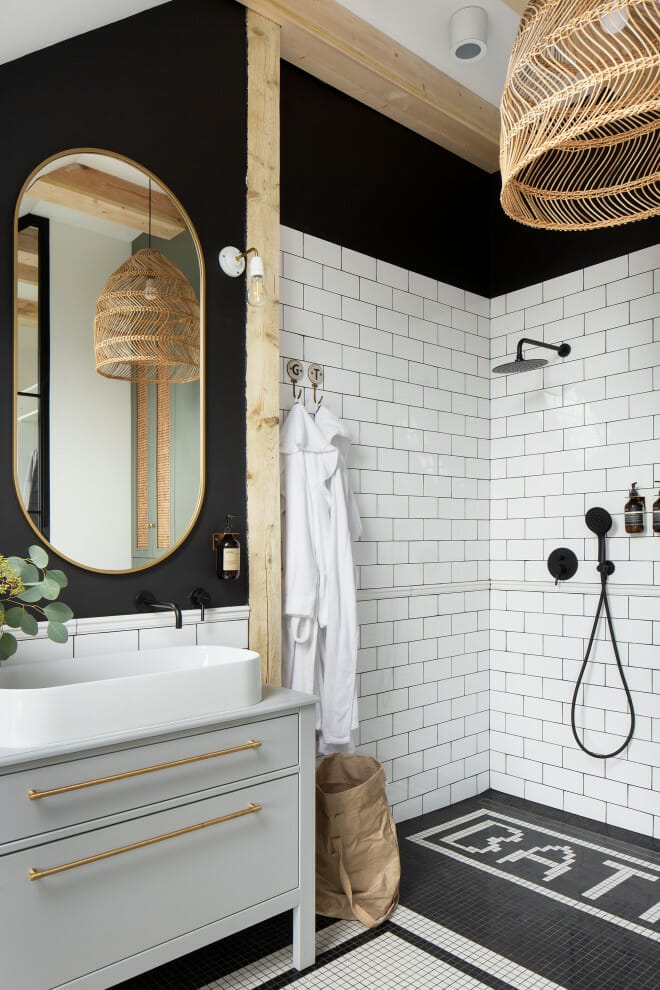 Who says modern shower tile ideas can't give you perfect warmth in your bathroom?
On the contrary, you will quickly get it just by completing your white subway tiling arrangement with some more earthy furniture, such as wicker lampshades, wooden supports, mirrors with wooden frames, and greenery on the vanity desk.
28. Aqua Green for Refreshing Feel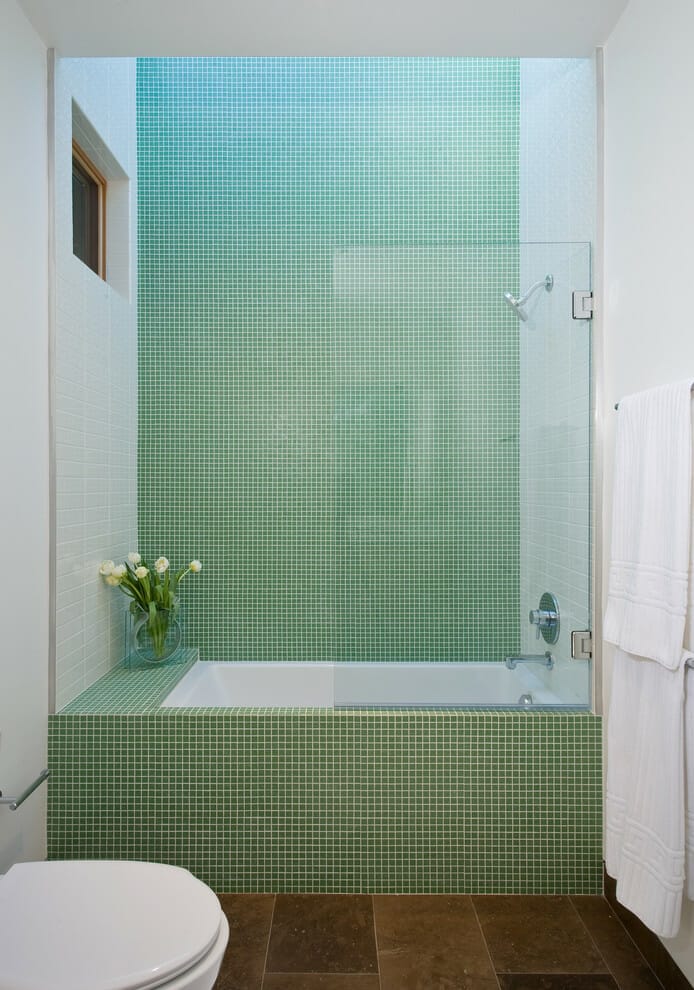 Have you ever dreamed of bringing the tranquility of nature into your bathroom? If so, then don't hesitate to get checked tiles in aqua green to complement your wall and floor tiles.
Instead of changing the whole bathroom decor, it would be better to only install these green tiles on the built-in tub as well as one side of your wall.
29. Wavy Wall Tiling and Bright Checked Flooring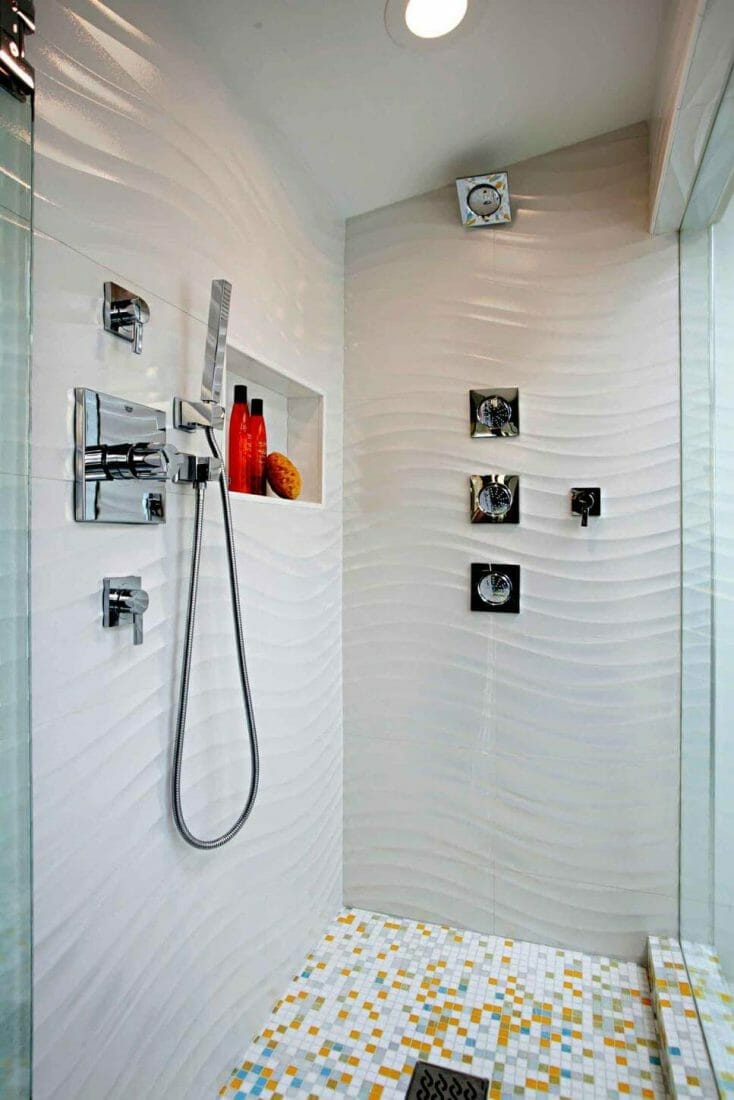 Embossed tiles in a wavy pattern will give a strong personality to your bathroom.
Interestingly, these modern shower tiles ideas will successfully create a water representation without displaying a bold result.
Furthermore, to make your bathroom look brighter, you can consider adding colorful mosaic tiles as above.
30. Combining The Earthy Tone Tile Shower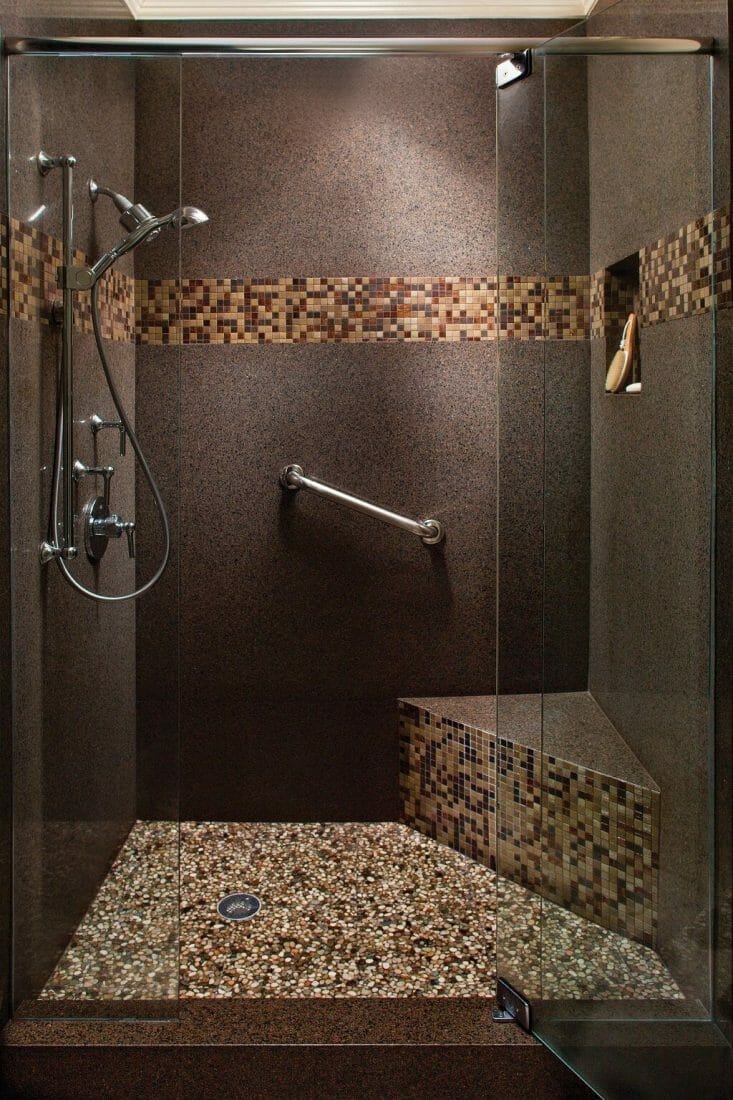 Why don't you bring the brown color palette to the bathroom? Don't be afraid to make it look gloomy because you can get around that by providing adequate lighting.
To further prevent you from a dull impression, you can undoubtedly present deep brown granite, pebble, and mosaic tiles in one room.
31. Luxurious Theme with Resin and Mosaic Tiles in Metallic Finish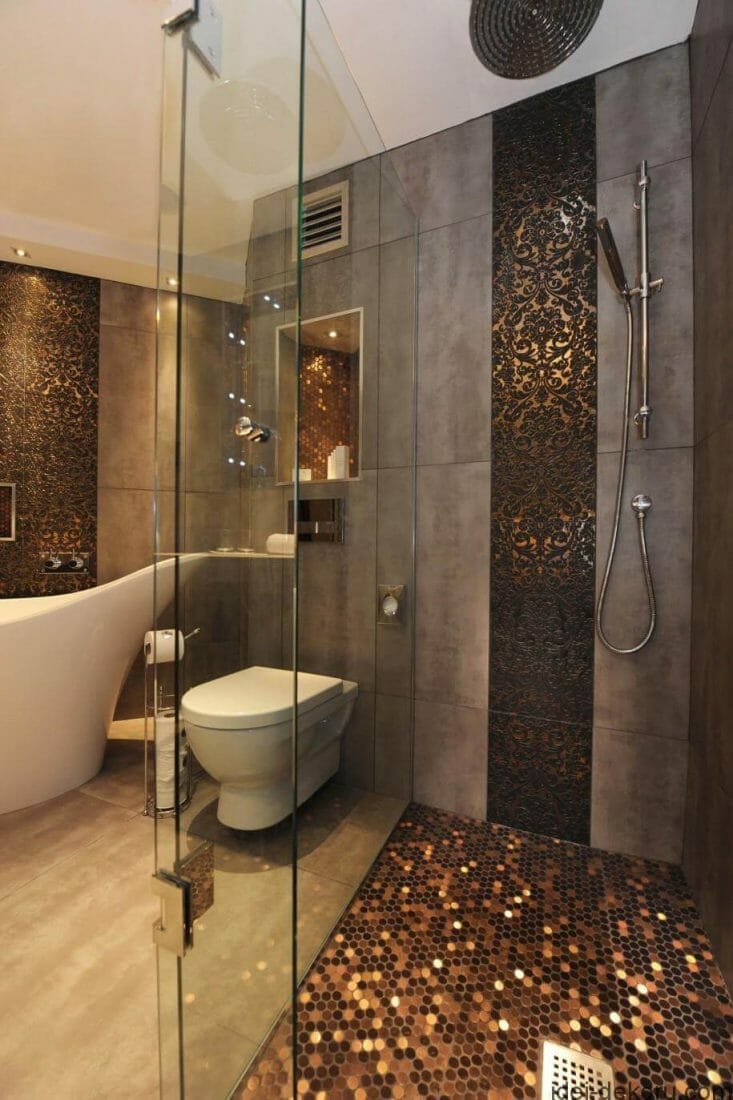 To create extreme luxury in the bathroom, you can use modern shower tile ideas that bring a grandeur touch of gold and metal.
Without needing to overdo it, you can first come up with matte granite tiles instead of the glazed ones. Next, start to give a touch of gold and metallic accent by using resin tiles and mosaics.
And, finally, which one stole your interest the most from all the modern shower tile ideas above? After you are done with all the considerations, immediately ask for professional help to realize your dream bathroom.