Small laundry room ideas with sink will come in handy when you do not know how to outsmart your compact washing area with a washbasin.
The problems lie in the small laundry room layout and ways to set the amenities so that the washing room, at least, does not look any more cramped or messier.
Relax, the answer is among the following thirty small laundry room ideas with sink, so read on.
1. White Laundry Room Sink Idea, with Black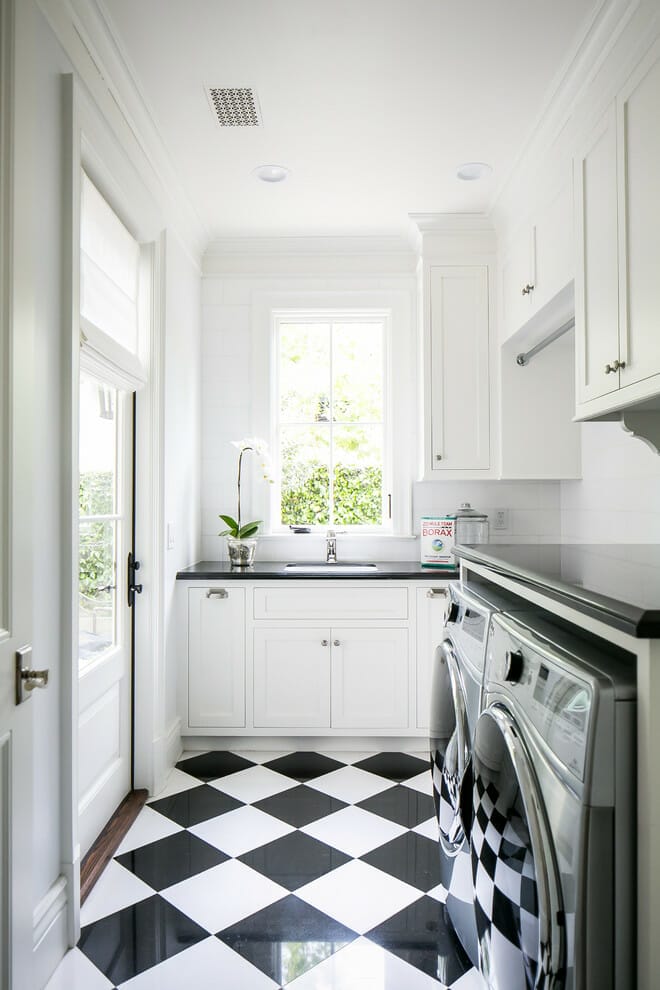 This laundry room has a rectangular layout where the width sides are longer than the length. So, it is impossible to put everything in one line of the long sides. Thus, the owner builds a freestanding counter for the washing machines.
Aside from any other small laundry room ideas with sink, this one applies white in most surfaces for a brighter look and airier feel. Then, black comes to accentuate the scheme.
Hence, that is how the harlequin checkerboard floor appears in the scene. The dark tone is also visible on the top of both counters in a glossy appearance.
2. L-Shaped Laundry Room with Sink Layout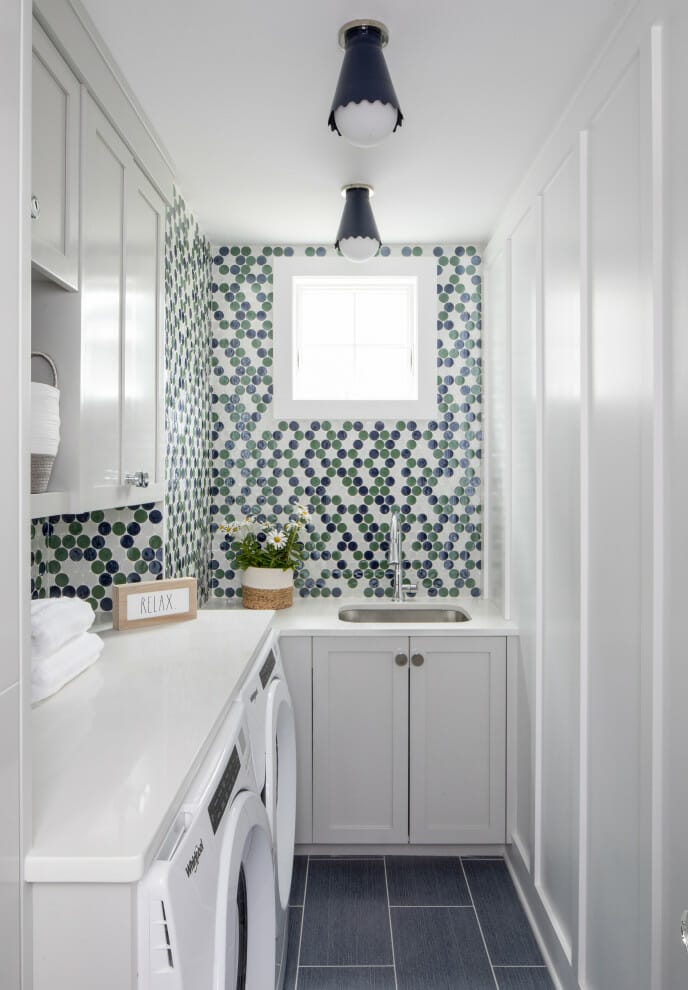 These small laundry room ideas with sink have a unique feature. It uses penny tiles of blue, green, and white to color this mostly whitewashing area.
That would be a clever way to suppress the decorating need and reduce the decoration cost because you do not need any décor with this kind of backsplash. Also, this laundry room uses black vertical tiles on the floor for a longer space impression.
3. Very Small Laundry Room Idea with Freestanding Sink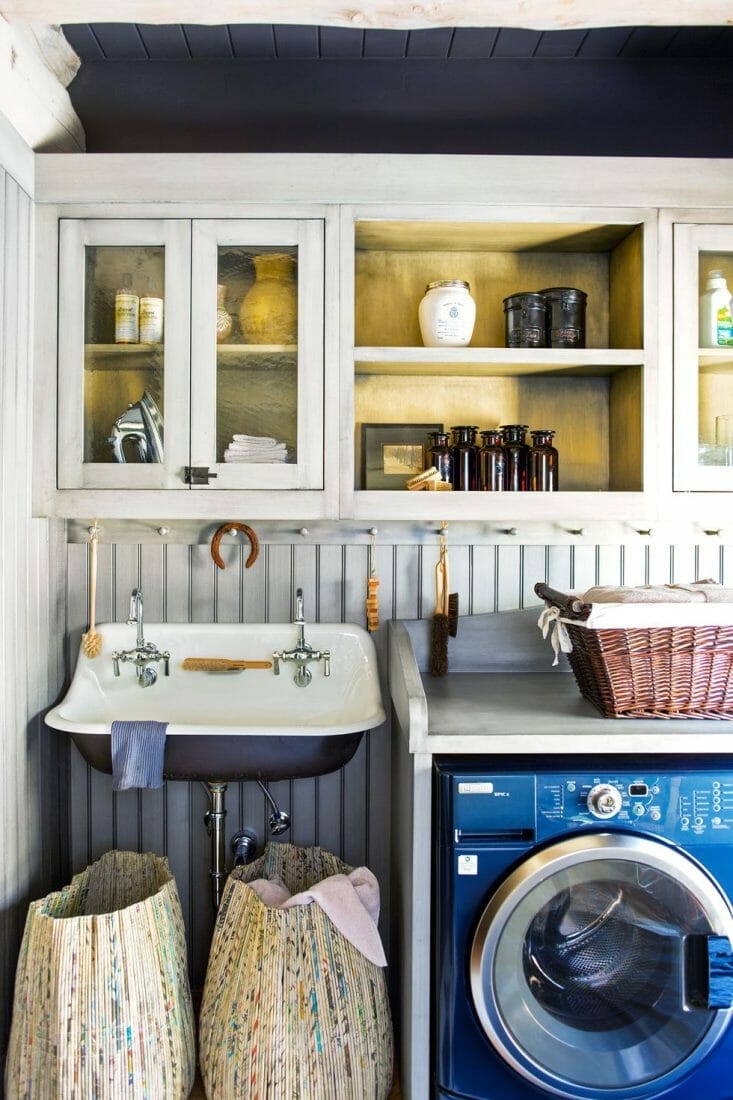 This laundry room utilizes a double-tap head freestanding sink and a concrete counter for a combo washing machine.
In short, it has all of the amenities in one line, including the upper cabinet.
4. Across Wall-Mounted Sink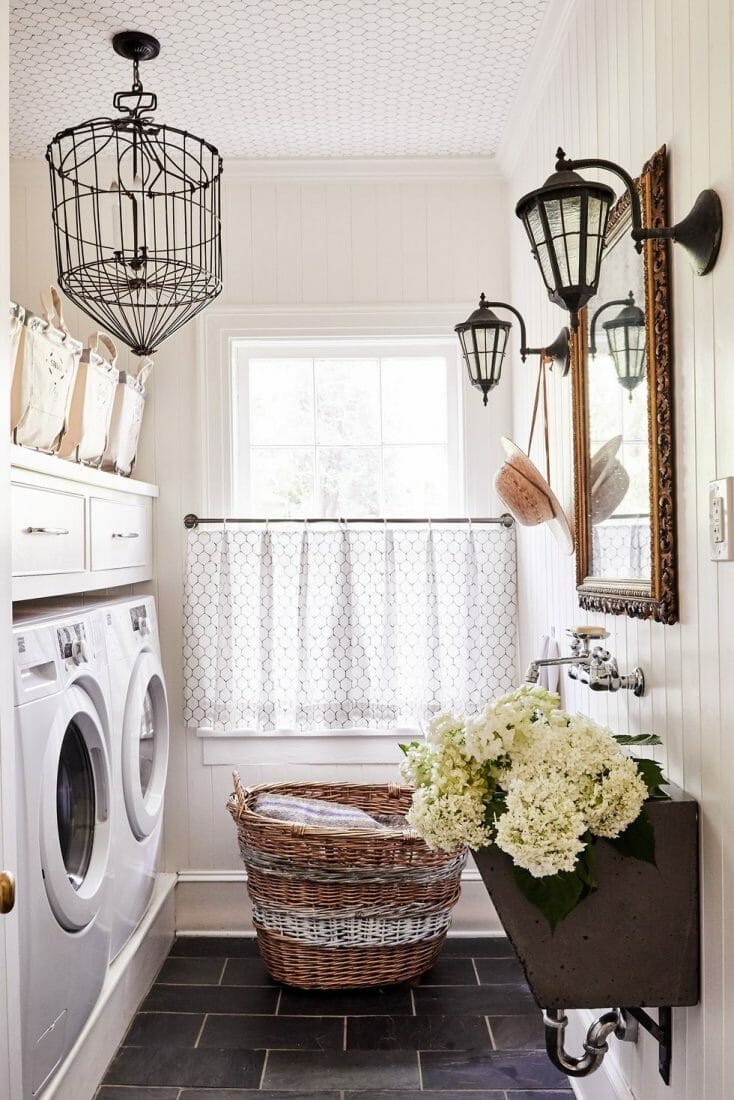 This laundry room features a concrete double-tap wall-mounted sink for space-saving. Indeed, more visible floor surfaces mean a roomier feel.
It places the washbasin across the washing machine station. This position allows for a seamless transition as you do not need to take steps back and forth in each unit.
In the mostly light tone laundry room, the dark shade comes into view to be the accents.
5. Stackable Washer and Dryer
An idea comes from this small laundry room sink with cabinet. For limited space, a stackable washer and dryer would be the best option. Yet, to have the set, you need a strong base and a quite high ceiling.
This washing area puts all the stations in one line and maximizes the space by building the white cabinet above without leaving any gaps under the ceiling.
6. Attic Small Laundry Room Ideas with Sink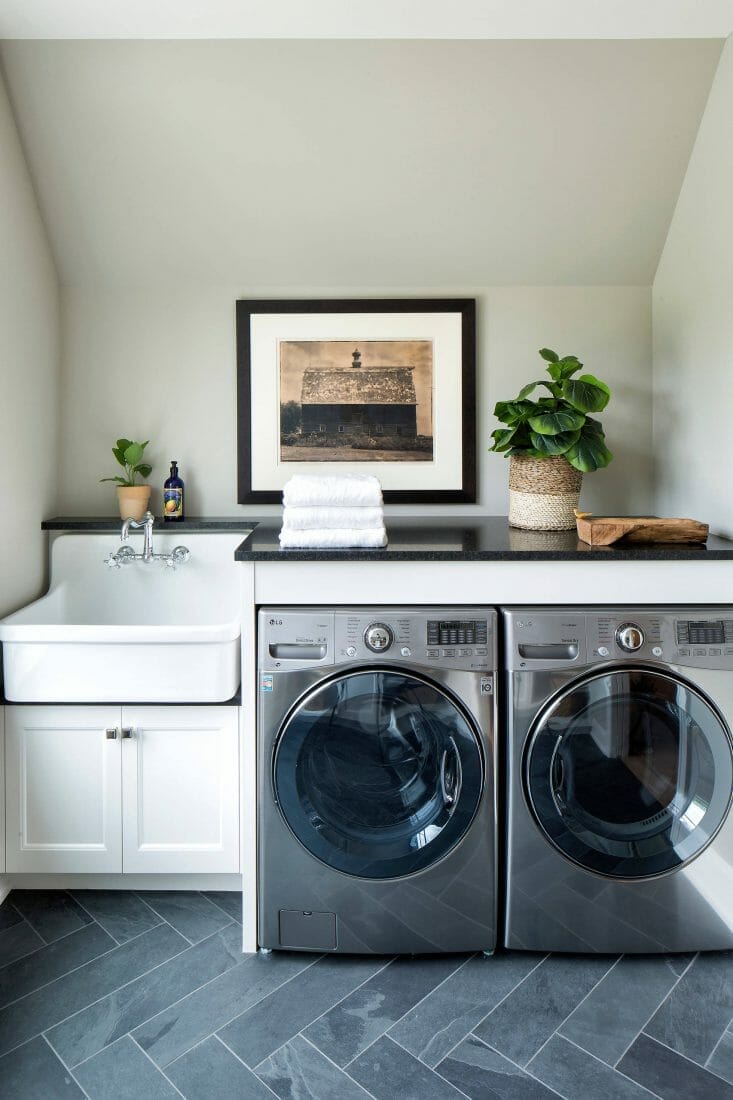 It is presumably a part of the attic area, looking at the vaulted ceiling above the laundry units. Consequently, you cannot have an upper cabinet and need to depend only on a space below the sink to store the washing supplies.
Differ from other small laundry room ideas with sink, this laundry room features a farmhouse double-tap sink. It also stands on the same line as the washing machines.
7. Paper the Walls with Newspaper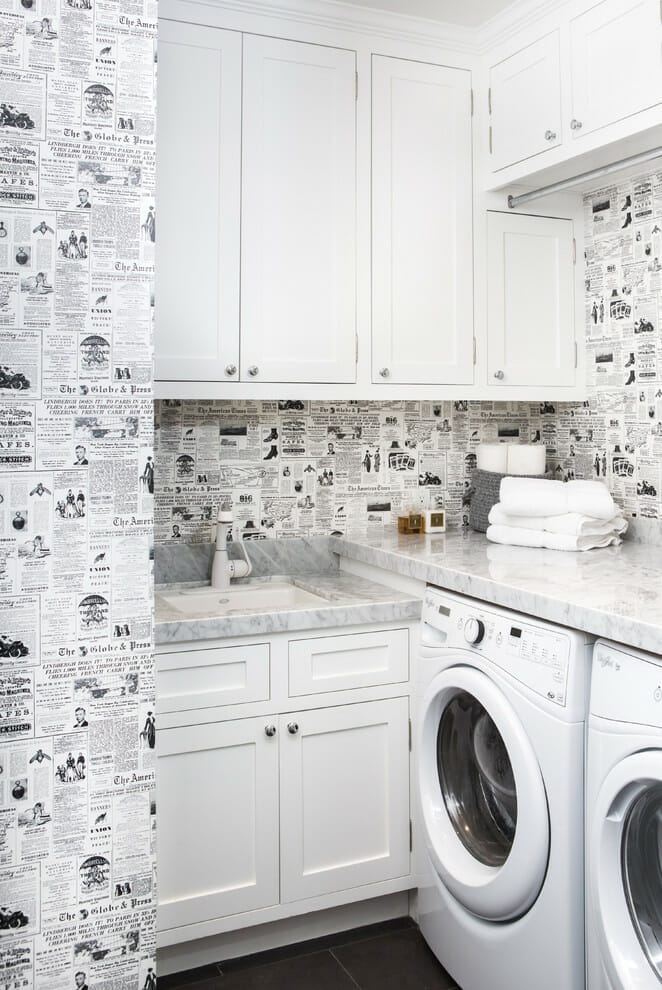 No, it is not the real newspaper but deceptive enough. It is a peel-and-stick wallpaper and a part of an updated aesthetic, at least on Instagram.
In a bright L-shaped laundry room like this one, black and white patterned walls and backsplash are pleasant to see.
8. Wall Mountable Tumble Dryer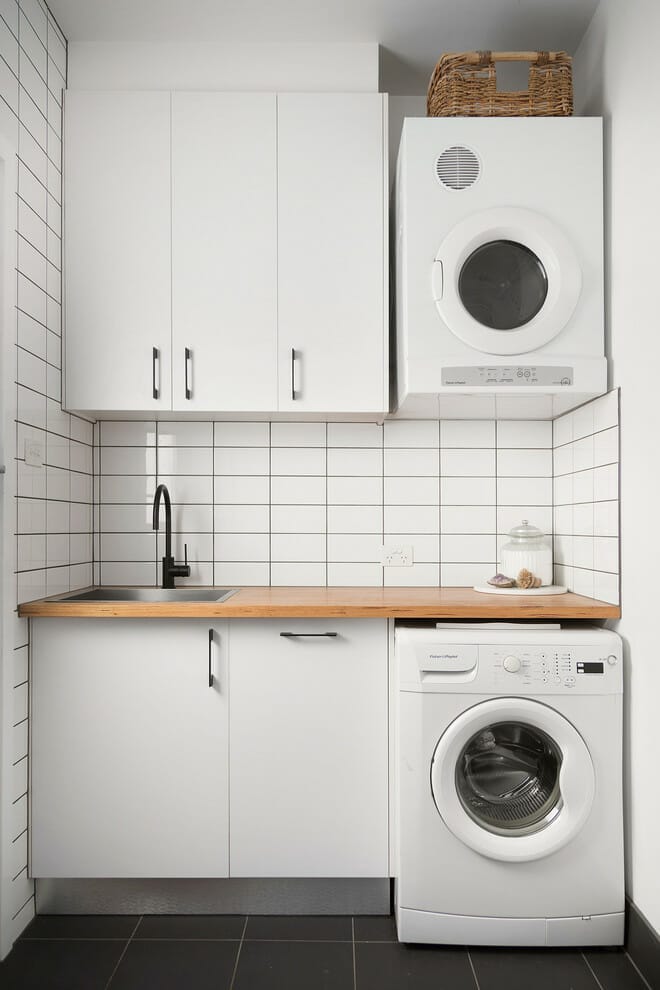 The manufacturer claims that this innovative wall-mountable tumble dryer is a part of the modern lifestyle. Conclusively, it is neat, resilient, and compact.
With those traits, it helps in saving the small space of your laundry room. In other words, it allows for a vertical arrangement like how this washing area looks.
9. Balcony Laundry Area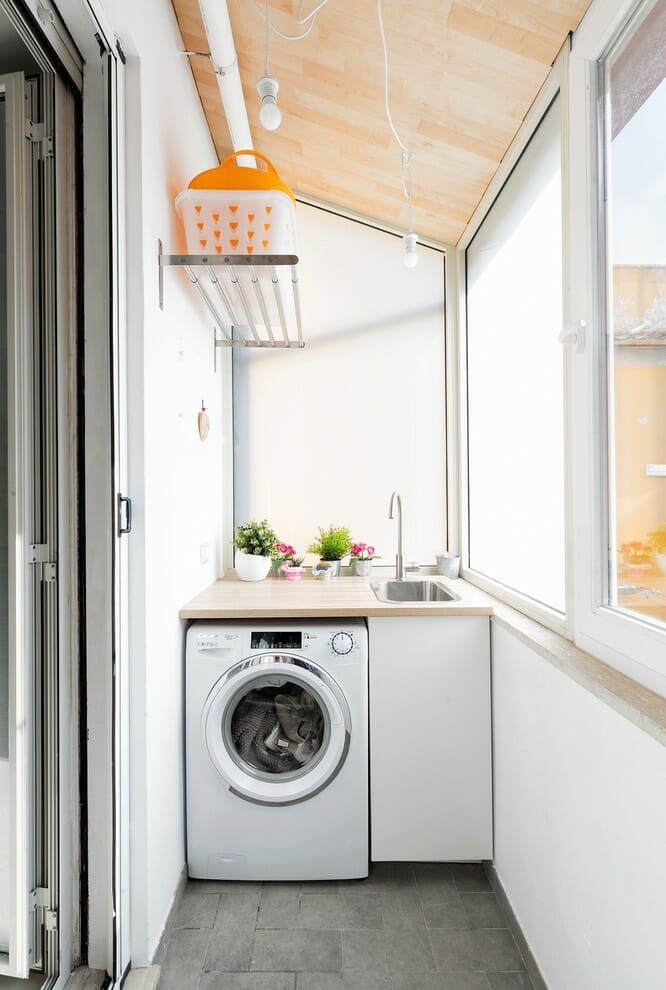 It is a way to save your indoor space and make use of your balcony effectively at the same time.
These small laundry room ideas with sink call for relaxed clothes washing agenda since you could multitask it with sightseeing.
To illustrate, it is as simple as opening the window. Equally important, the wood countertop and ceiling are all for the appearance.
10. Between the Machines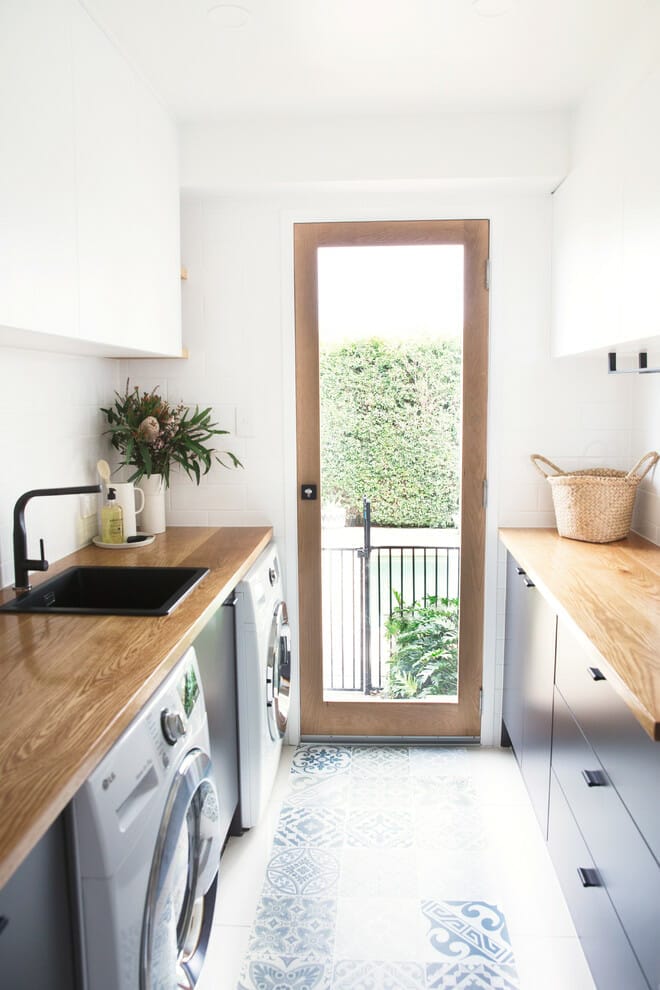 Let us learn about small laundry room ideas with sink here. This galley washing area features parallel counters with upper cabinetry for each counter as storage.
On the left side, stays a dryer and a washer with a washbasin in between. Such a formation is rare, but you could do some slides to stand in front of each unit.
Anyway, just as how black sink calls for a statement in the mix of upper white, middle wood tone, and lower bluish-gray, patterned tiles are a good idea too.
11. At a Little Corner
This setting only takes a little corner space of a room, be it a bathroom, utility room, or even the outdoor area, like the backyard patio and balcony.
However, you need to minimize the laundry activity and focus only on washing. Post-washing routines, namely hang drying, folding, or ironing the clothes, must be doable outside.
12. Tile Design for Small Laundry Room Ideas with Sink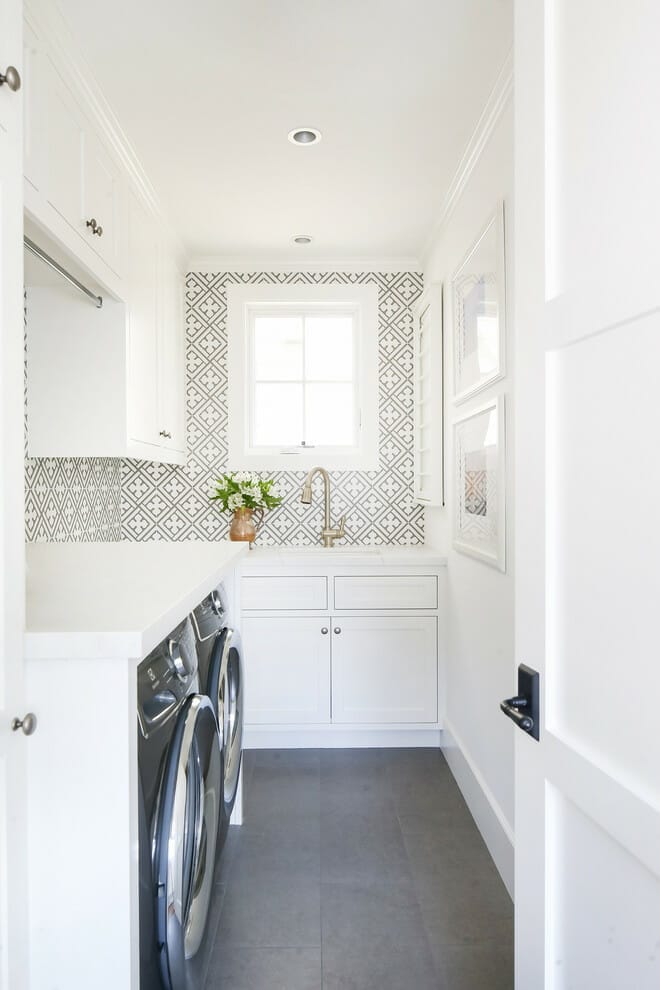 This layout is similar to the aforementioned small laundry room ideas with sink that uses a freestanding counter for the machines and all.
Only, it takes place on the left side. What catches attention is, of course, the patterned tile. Surprisingly, this floor tile makes a good backsplash.
13. Transitional, Narrow, Galley Laundry Room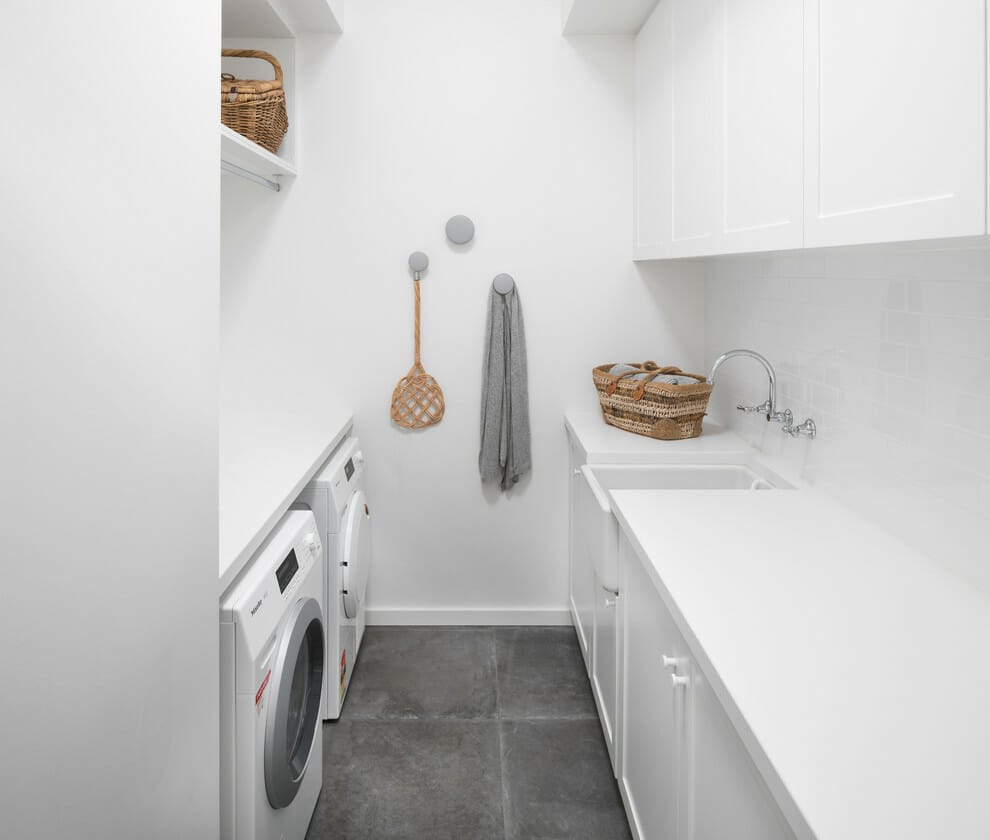 It is perfect to be a utility room as it has a lot of storage space. The all-white concept brings a blither vibe to a narrow layout.
Also featured in this transitional galley laundry area are an open shelving, metal clothes rod, wide counter space, three unique round hooks, a farmhouse double-tap sink, and gray floor
14. Drop-in Sink in Laundry Closet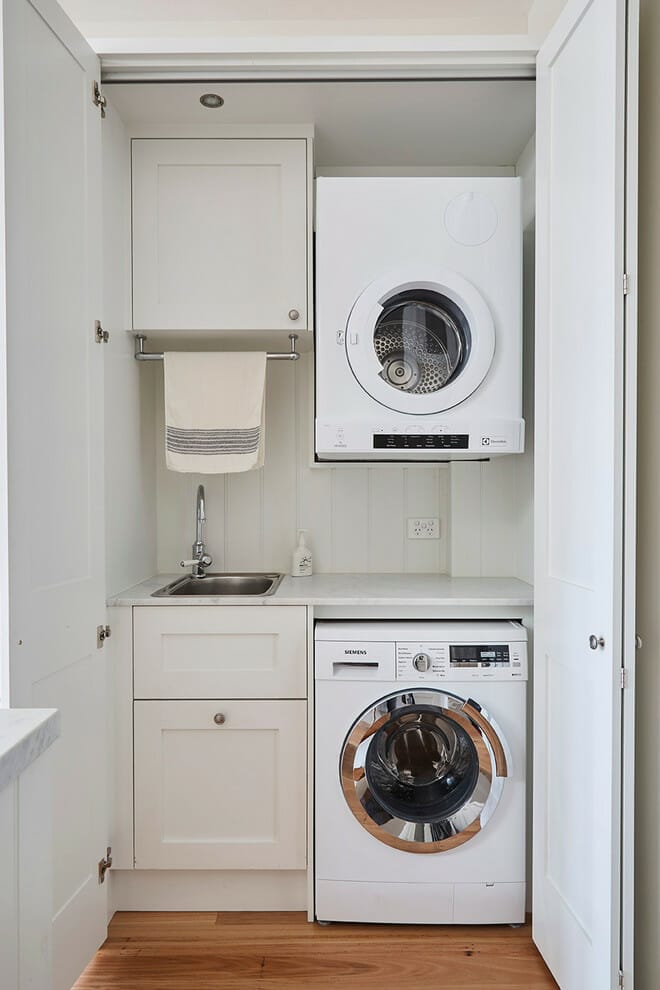 In apparent, it does not have to be room to launder because a closet would do. Take this washing area for example. It features a minimalist yet functional design.
A pair of cupboards for storage, a drop-in sink, a white porcelain backsplash, a set of a washing machine with a wall-mountable tumble dryer, and medium tone wooden floor are all for a nice and clean launder. Further, it relies on a single recessed light for illumination.
15. Stainless Steel Sink and Wood Benchtop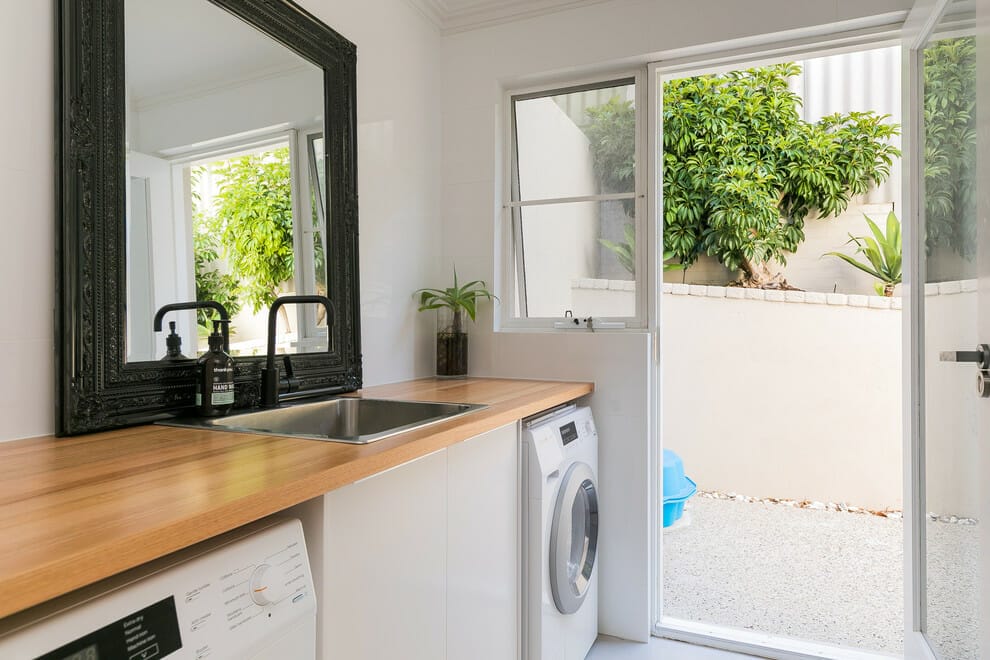 Stainless steel sink offers inexpensive price, long-lasting, and easy cleaning. Meanwhile, the wood benchtop comes with various patterns of grain and charms you with its natural tone.
When the two features are in your small laundry room ideas with sink, you know that you own the best setting.
16. Tiled Backsplash in Laundry Room
A broken white and gray laundry room with an L shape layout features a decorative backsplash. It uses patterned tiles, products of Moroccan Mosaic and Tile House.
Then, the backsplash becomes a backdrop for the laundry cabinet, streetlamp-like wall sconces, and the machines station.
17. Black Floor Laundry Room with Double Sinks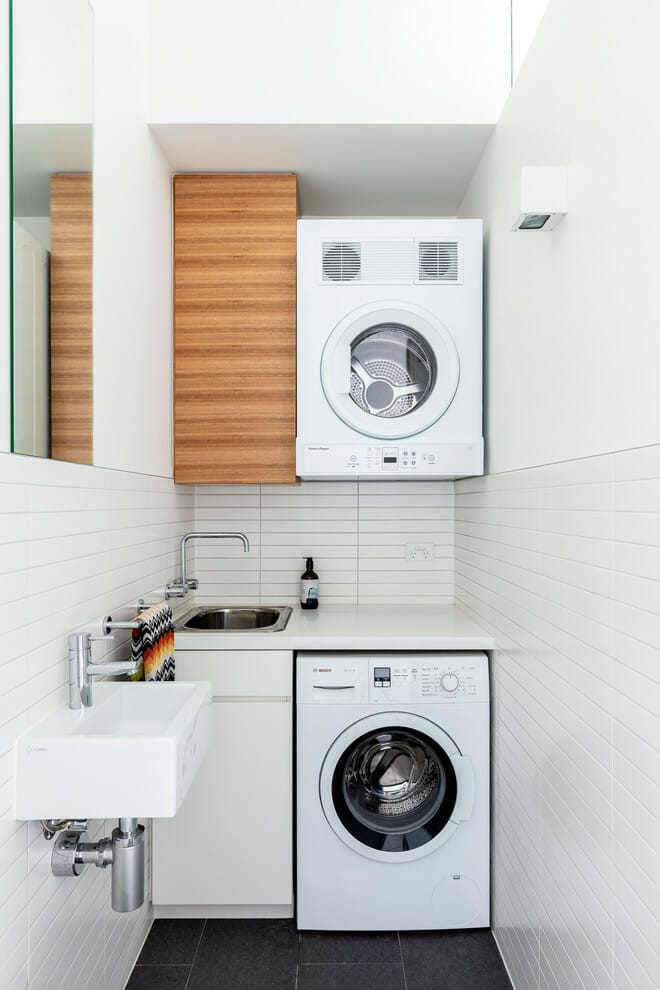 This coverless washing room has a black floor to contrast the whole scheme.
Further, it uses two different types of sinks, each with a specific setting. The stainless steel drop-in basin is installable on a counter with double taps for hot and cold water options. In terms of function, it is a place to pre-wash the clothes.
Meanwhile, the farmhouse white washbasin is mountable separately from the other amenities. It serves as a hand washer.
18. Just the Right Amount of Patterns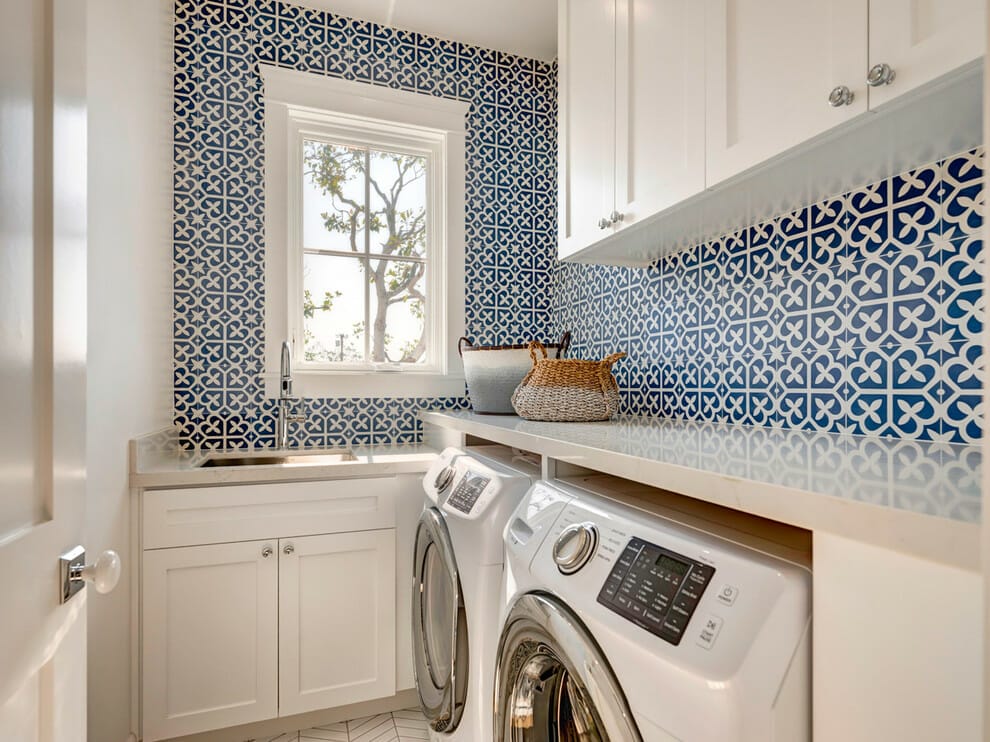 Coming through, another idea of tiling the laundry backsplash with patterns! The blue and white combination makes a good accent for a crisp whitewashing room.
Yet, it is not the only part with patterns inside this L-shaped laundry area because it also uses small chevron tile flooring.
19. Metal Penny Tiles in Country Laundry Room
These small laundry room ideas with sink go for country style. It is visible from the use of a lot of wood for the interior.
Specifically, the ceiling applies the same design and material as the walls. Meanwhile, the floor uses different types, tones, and patterns.
On the other hand, the metal penny tile backsplash is what catches attention the most.
20. Hexagonal Terracotta Tile Flooring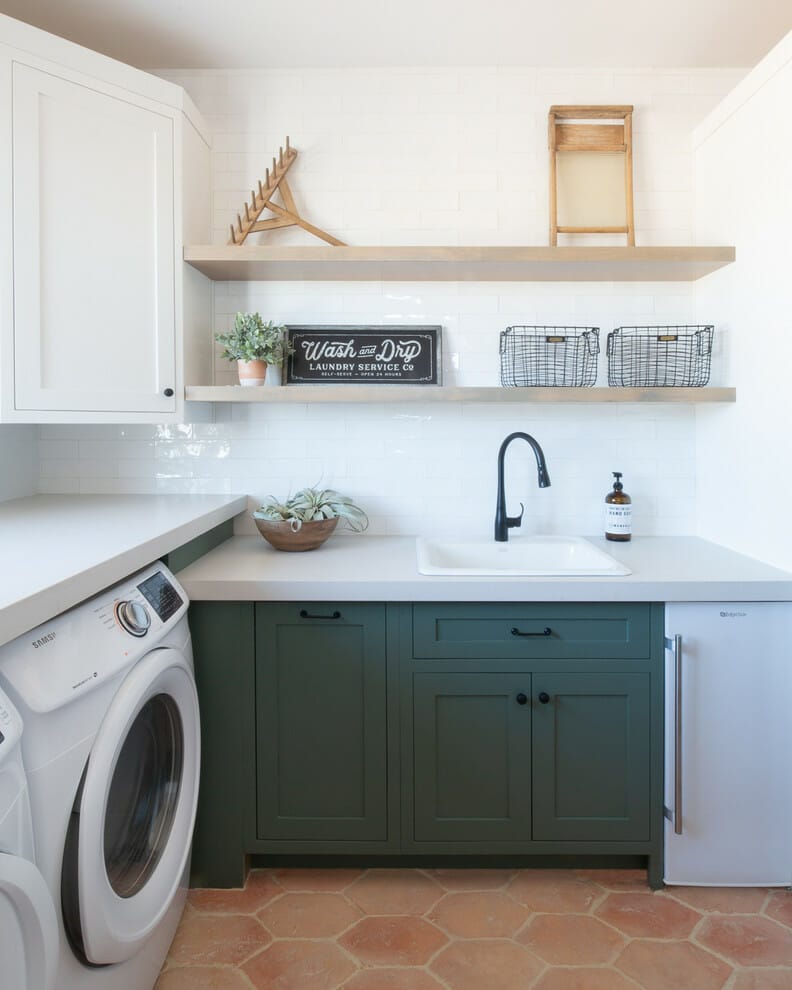 The next indoor small laundry room ideas with sink feel like outdoor due to the hexagonal terracotta flooring it features. Hence, it seems pretty similar to the pathways at the parks, right.
The cabinet is paintable in the right shade of green, contrasting yet also harmonizing the white scheme.
21. Eclectic Small Laundry Room Ideas with Sink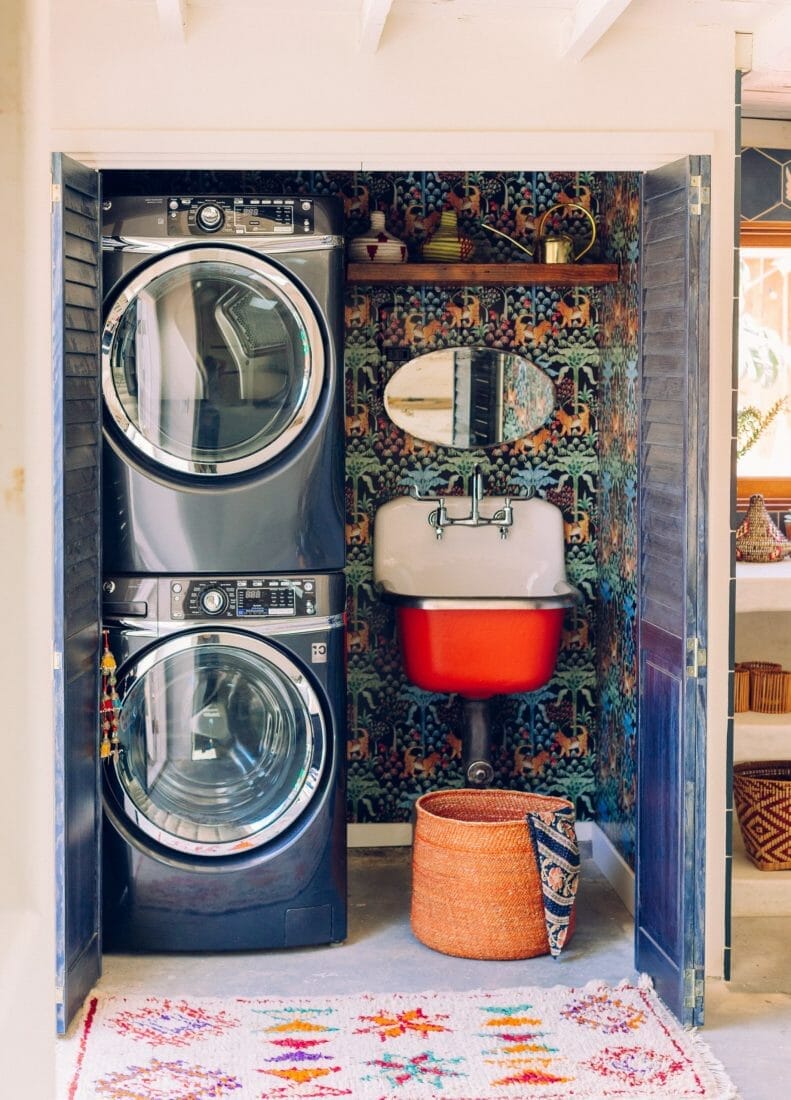 If you are into eclectic style, these small laundry room ideas with sink offered here are executable. The deal is to have a bold main color and also contrasting accents.
Later, throw the combination as the backdrop and continue the flow to the rest of the setting.
22. Contemporary Small Laundry Room Ideas with Sink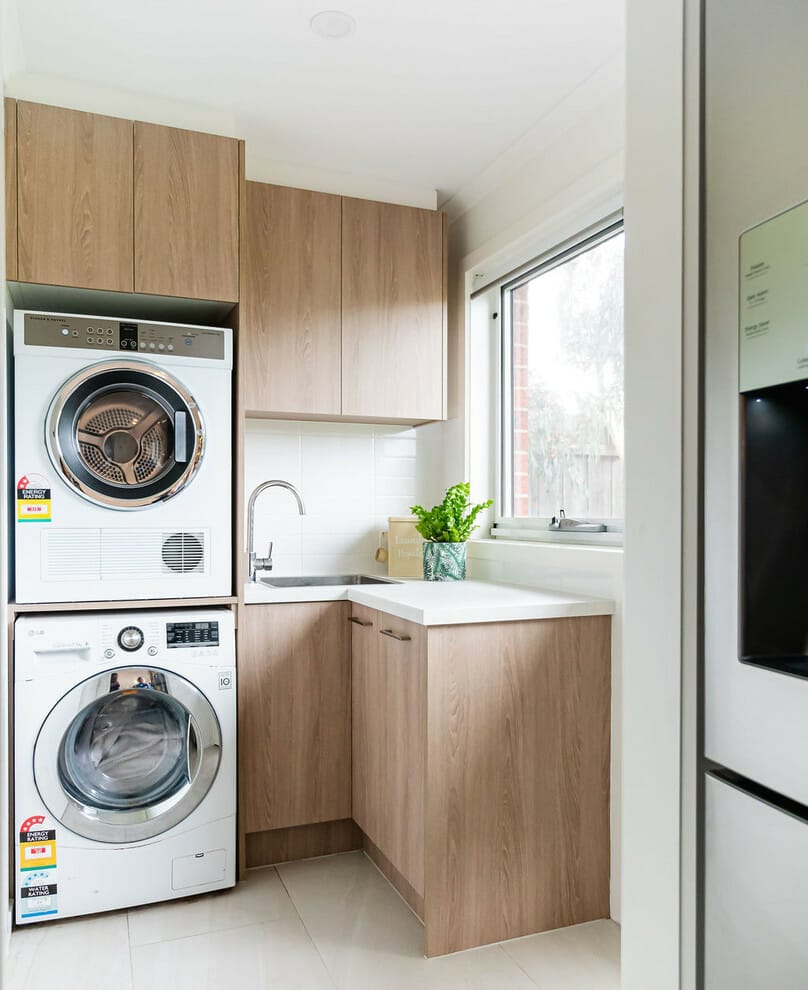 Contemporary is the style this laundry room heads to. It benefits from the sweet combination of white and light tone wood.
When illuminated by natural light, the matte surfaces from the wooden cabinet and the glossy look of the tile backsplash appear blameless together.
23. Light Tone Wood Farmhouse Laundry Room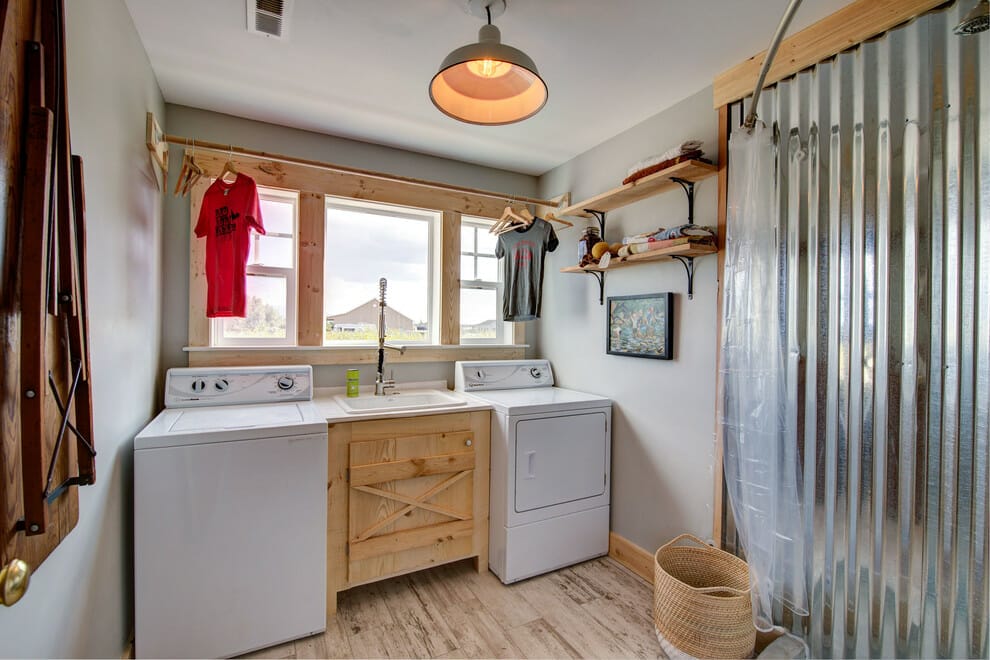 With light tone wood, a farmhouse washing room looks pleasant. It colors the trim of the openings, the shelves, vanity front, flooring, and even the laundry basket.
To conceal the surface, at last, the rest of the space takes white and light gray.
24. Single-Wall Laundry Room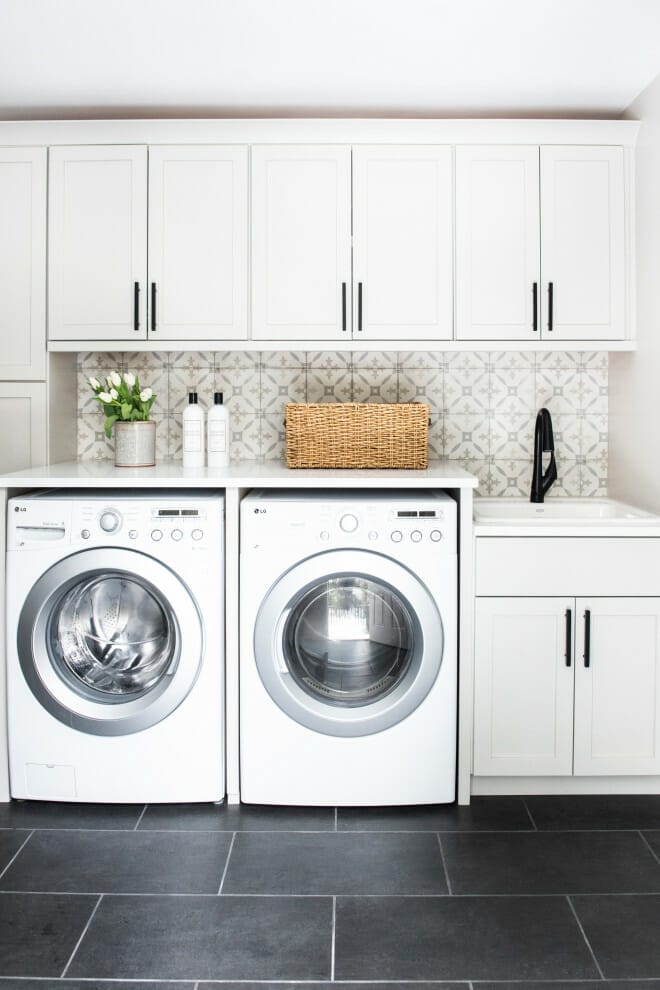 The amenities in this laundry room are settable alongside a single wall. All-white furniture above the black flooring makes a nice view.
Furthermore, it becomes way lovelier with the patterned backdrop and black details. Horizontal tiles with white grouts are present for a wider space impression.
25. White and Gray Laundry Room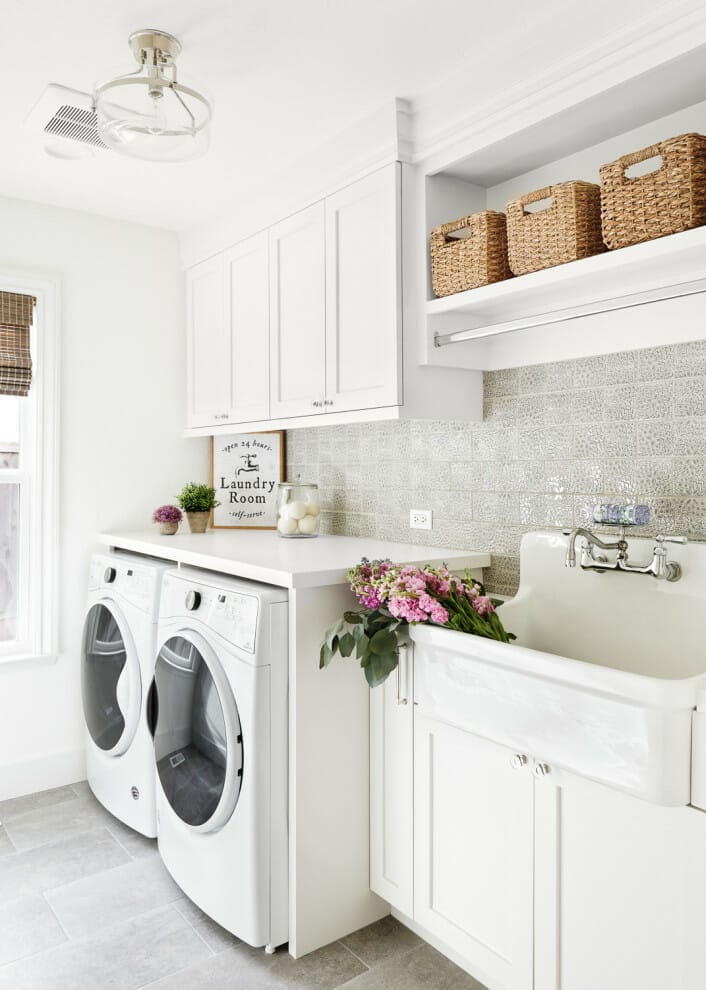 White represents cleanliness and brightness while gray or paler signifies calmness and warmth. So, when the two colors make a combination, your laundry room will be matchless.
For this washing area, white is visible all over the place while the other color only accentuates the space. Despite that, gray does that with style. It makes the backsplash sparkle through the glazed grid tiles.
26. Gray Small Laundry Room Ideas with Sink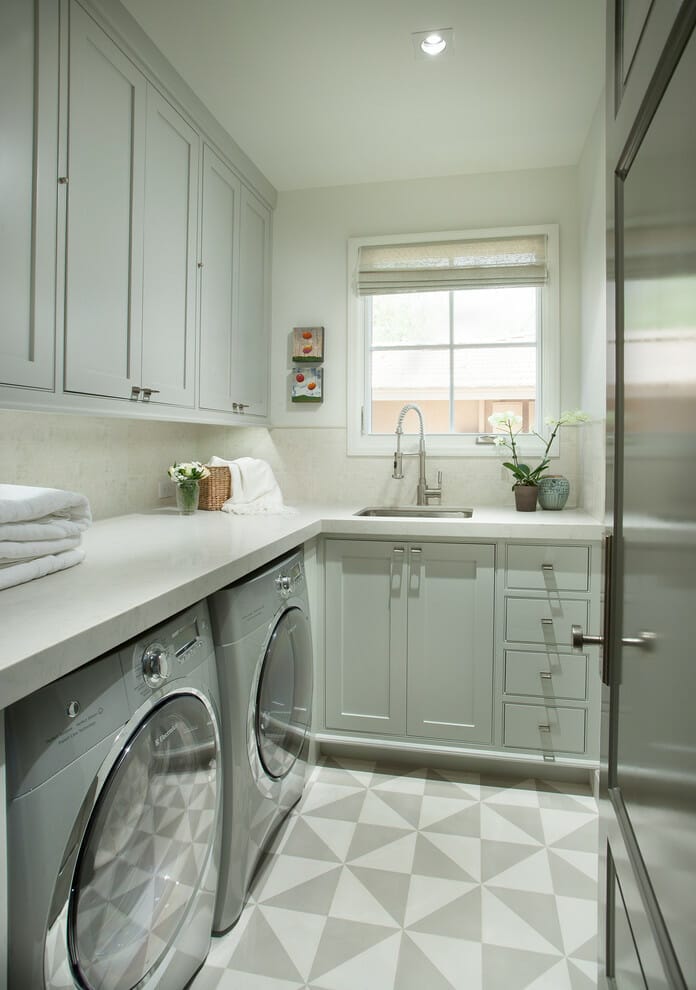 Previously, white dominates while gray accentuates. Now, the case is the other way around. This scheme makes the room feels inviting, but only when you know how to play. The deal is to have a certain outstanding part. In this case, the floor takes the role.
Using Tugboat Featherstone/White Handcrafted Cement Tile, the floor becomes the reason why you could launder with pleasure.
27. Aesthetically Functional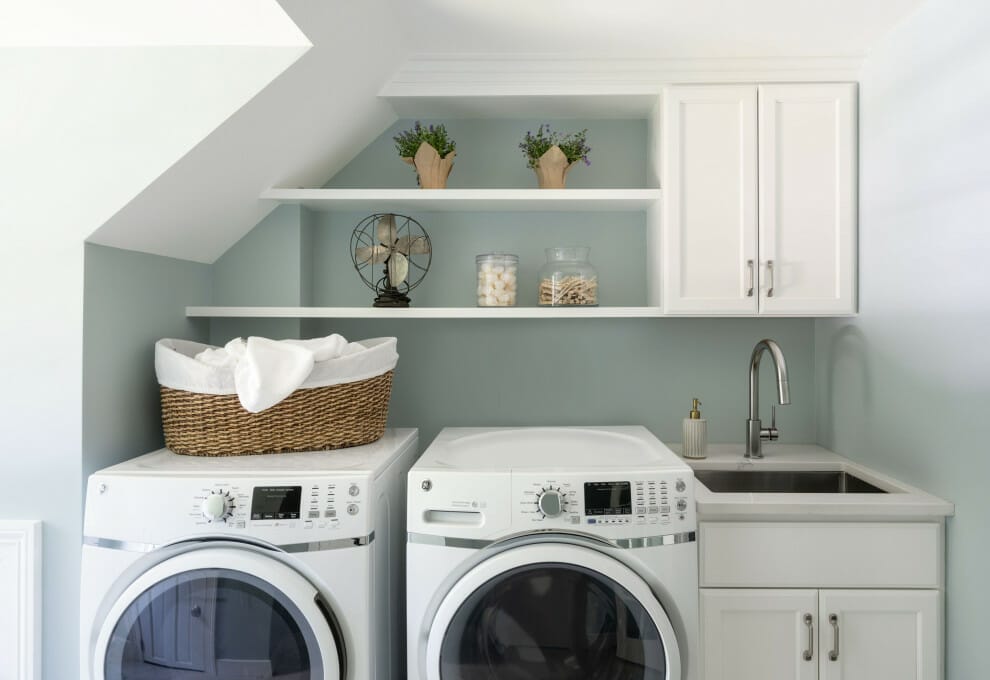 Crisp white is not like bright yellow that could pop up with whichever color it pairs. Yet, it is what happens here.
Somehow, all-white furniture in this single-wall laundry room seems brighter than usual. The strongest assumption might be because of the pale blue backdrop.
28. The Classic Subway Tiles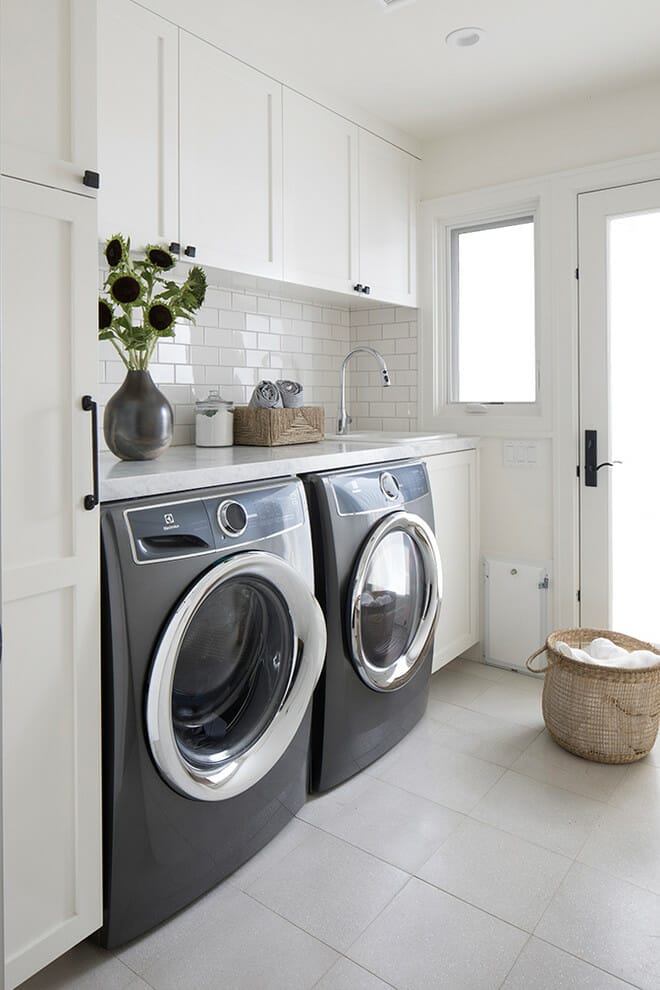 In terms of classic backsplash, nothing beats subway tile. It becomes a statement in the middle of the plain scheme. Further, this timeless tile fits nearly all concepts.
Similarly, that is how it works in this laundry room. With mostly white appliances and gray machines in a farmhouse washing space, the subway tile backsplash over there appears as an attention drawer.
29. Utility Room Layout Idea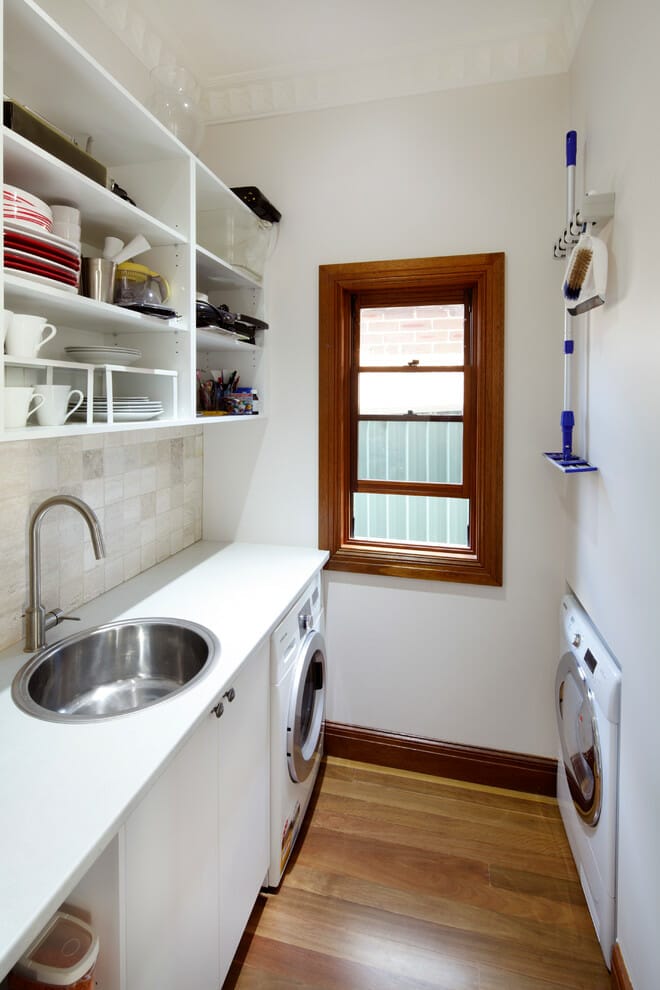 This kind of layout is rarely visible. Of course, it is not the usual laundry room, but a utility room that serves pretty similarly with an attached warehouse.
Even so, this space still functions daily. Thus, you could not let the interior be perfunctory. Let us take a look at small laundry room ideas with sink shown here.
Using medium tone wood on the floor and the window trim is a way for this utility room to embellish its white interior.
Further, since nearly all of the surfaces are matte, a Stainless steel sink and silver tap appear to give a little bit of gloss.
30. Two-Tone Utility Sink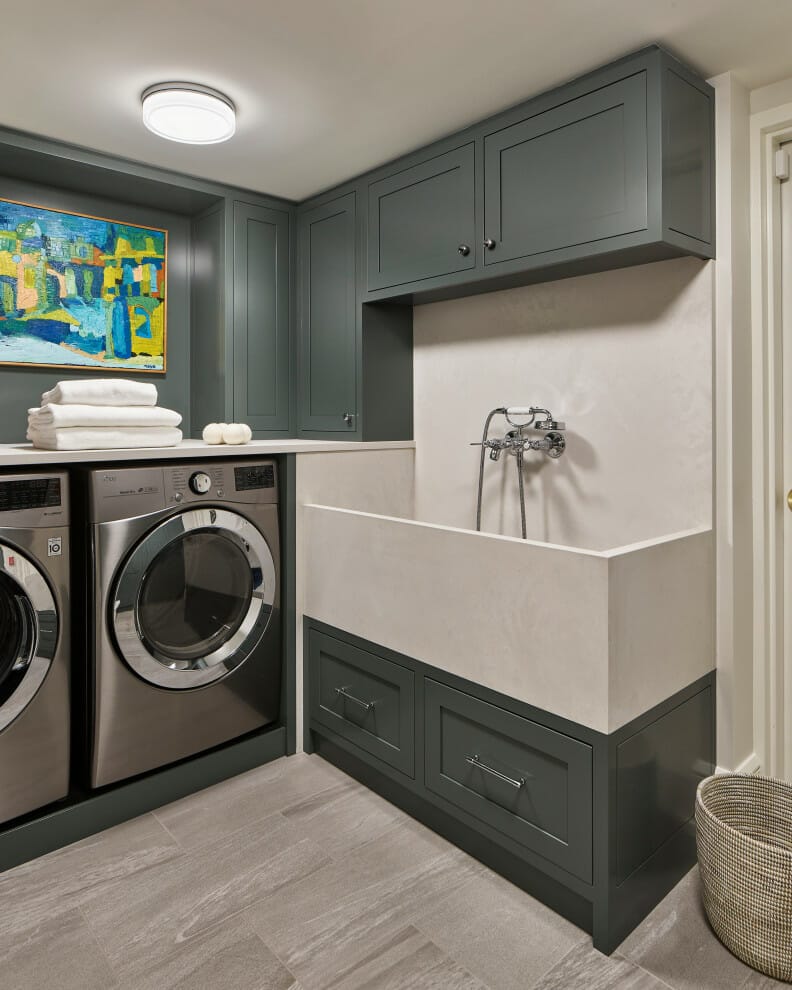 People call it a utility sink. Due to its signature bulky design, most small laundry room does not afford a place to have this.
Well, if you need it within your space, these small laundry room ideas with sink might help. Building one is better than installing a store-bought product. That way, you could adjust the size to fit your place.
Next, apply the two-tone concept for a stylish result. The combination would depend on your preference, but beige-deep green or beige-dark gray is the most up-to-the-minute duo.
Finally, you have scanned all of the small laundry room ideas with sink. Now, according to you, which one is the best laundry room sink?