Room dividers undeniably can transform living spaces. Moreover, they produce a sense of seclusion while bringing order and dimension. If you're looking to partition your interior, these superb dividing wall ideas come in handy.
Walls make fantastic room dividers. In addition to introducing an illusion of privacy, they provide some character, textures, and even splashes of colors. They're simply ideal for strategic layouts due to their multifunctionality.
Here, you will see a bunch of mesmerizing dividing walls. Some of them are sleek, while others feature pretty intricate details. Keep scrolling!
1. Living Room Dividing Wall Ideas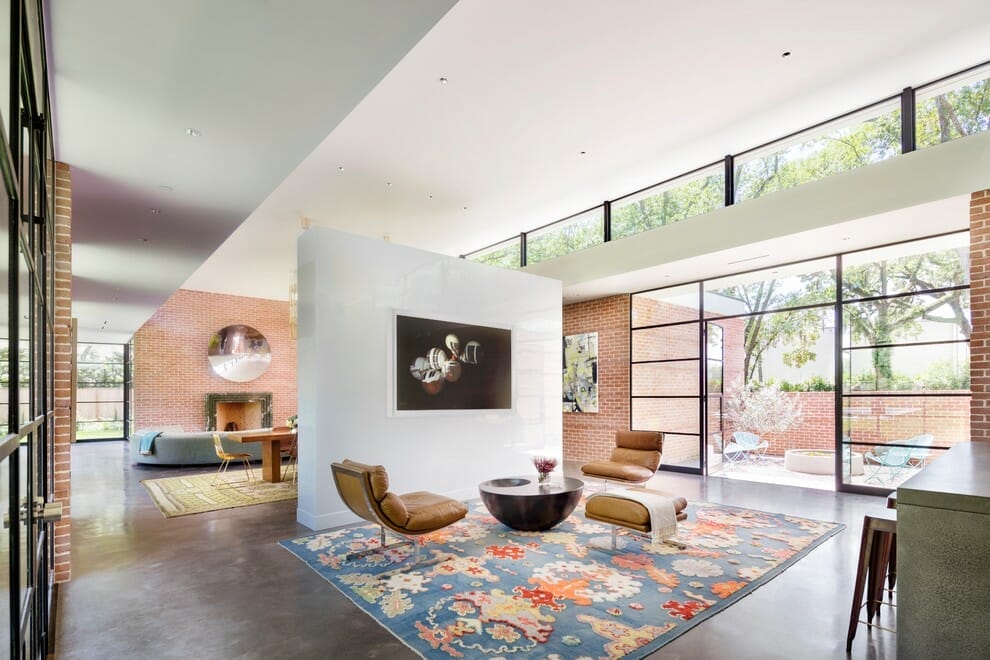 Without a doubt, this open-layout home speaks of urban minimalism. You can spot the polished concrete flooring, metal-framed windows, and red brick walls.
The partition wall demarcates the formal seating area from the casual family room. Apart from creating visual separation, it boasts built-in storage for a TV.
Here, the white dividing wall matches with the ceiling. Moreover, it ensures the eyes focus on the striking rug that anchors trendy neutral furniture items.
2. Dividing Wall Ideas with Lamps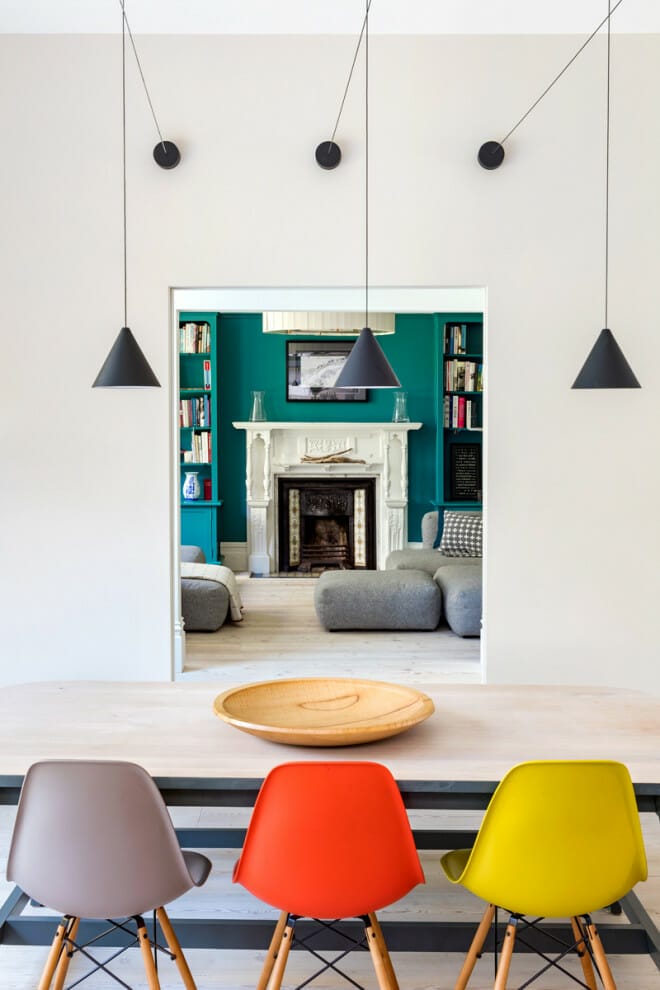 You can use interior dividing wall ideas to separate the rooms with different decor styles. This partition wall, for example, distinguishes a mid-century modern eating area from a transitional family room.
The dividing wall employs a rectangular arch that generates a sense of flow. Furthermore, it accents charcoal gray conical lamps.
As you see, the soft white partition wall mingles with the pale wood dining table and flooring. Meanwhile, the teal wall and colorful chairs keep the interior from feeling one-dimensional.
3. Dividing Walls with Artworks
This is one of the magnificent wall division designs. White partition walls don't appear out of whack. Also, they cooperate with the ceiling, flooring, and window walls excellently.
The incredibly brilliant design of the partition walls ensures the all-white home doesn't feel flat. In addition, they introduce a sense of definition without messing with existing decor.
As you see, the dividing walls display large-scale artworks. Not only do they impart an artistic flair but also fill the room with bursts of color.
4. Bedroom Dividing Wall Ideas
Speaking of glamorous room divider ideas, take this gold separation wall into account. It has a built-in fireplace that helps the homeowners create an intimate scene.
The partition wall features gold tiles. They imbue an air of luxury while adding some textural intrigue. Furthermore, the black structure lends open-plan bedrooms extra depth.
This deluxe room divider marvelously separates the glam sleeping areas with tray ceilings. Moreover, the adjacent bookcase keeps all the books under control.
5. Dividing Half Wall Ideas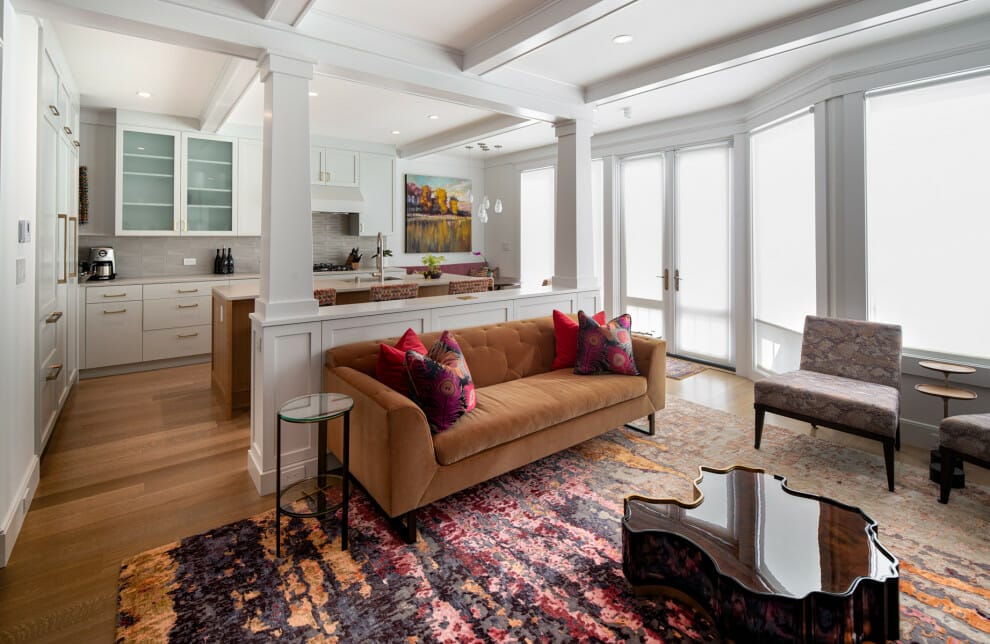 In open-layout homes, creating visual separation is crucial. By doing so, the interior feels more intimate, welcoming, and private, of course.
Windows and glass doors make the open-concept room stay airy. Furthermore, the half wall maintains the interior's consistent flow.
Since the half wall boasts pillars, it injects some architectural interest. Apart from demarcating the culinary space from the living room, it gracefully highlights terrific and multicolored objects.
6. Dividing Wall Ideas for Contemporary Homes
Crisp white surfaces tell visitors how airy the home is. Due to them, the open-plan interior feels lighter and bigger at once.
The stark white separation wall produces a sense of movement while conveying cleanliness. Furthermore, the wooden flooring tempers its chilliness.
The homeowner secured the abstract neutral painting to the partition wall. It instantly ties the contemporary dining area and living room together without becoming domineering.
7. Rustic Meets Modern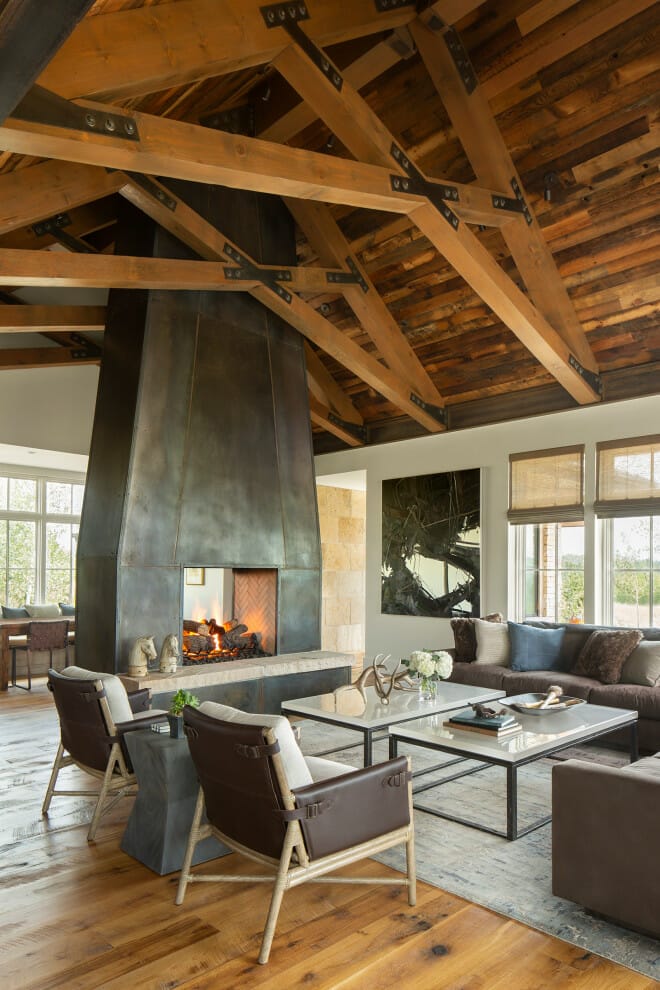 This modern rustic home is admirable. The massive yet sleek metal fireplace acts as a separation wall. It distinguishes the casual dining nook from the formal seating area.
In this space, the metal fireplace, concrete end table, and iron coffee tables portray modernity. It accentuates horse statues and herringbone tiles, too.
Not only does the weathered metal fireplace create separation but also embraces the vaulted ceiling. It harmonizes with the ironwork as well. Meanwhile, all things raw wood and rattan offset its coldness.
8. Partition Wall with Shelving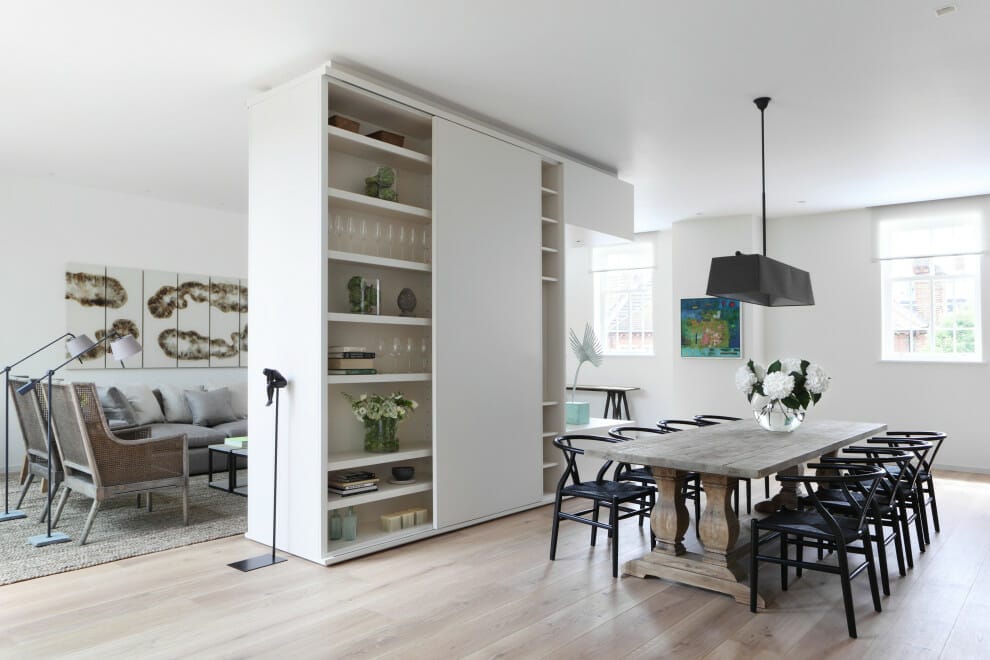 Need terrific dividing wall ideas? If so, take notes from this open-layout home. The partition wall doesn't spoil the interior's aesthetic. Also, it goes perfectly with existing walls, thanks to the bright white paint.
The tall separation wall comes with open shelving. Apart from breaking up the room, it offers ample display space for glassware, books, and embellishments.
Because of its stylishly plain look, the partition wall lets hanging art pieces become highlights. Furthermore, dark furnishings and flowers keep flatness at bay.
9. Modern Dividing Wall Ideas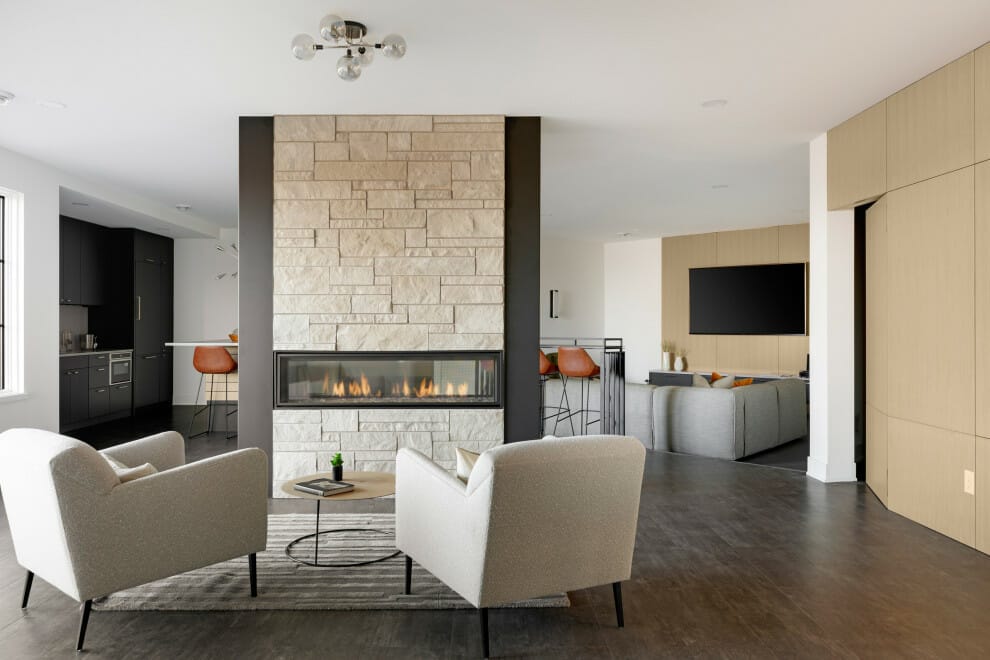 This separation wall represents rusticity and trendiness. Moreover, the contrast between the black structure and cream stone bricks is simply breathtaking.
The partition wall houses an electric fireplace, so the space stays snuggly, especially on chilly winter nights. Not only does it produce gorgeous flames but also keeps things minimal.
Here, the homeowner angled soft white upholstered armchairs towards the partition wall. The layout encourages cozy conversation and guides the eye to the built-in fireplace.
10. Airy and Up-To-Date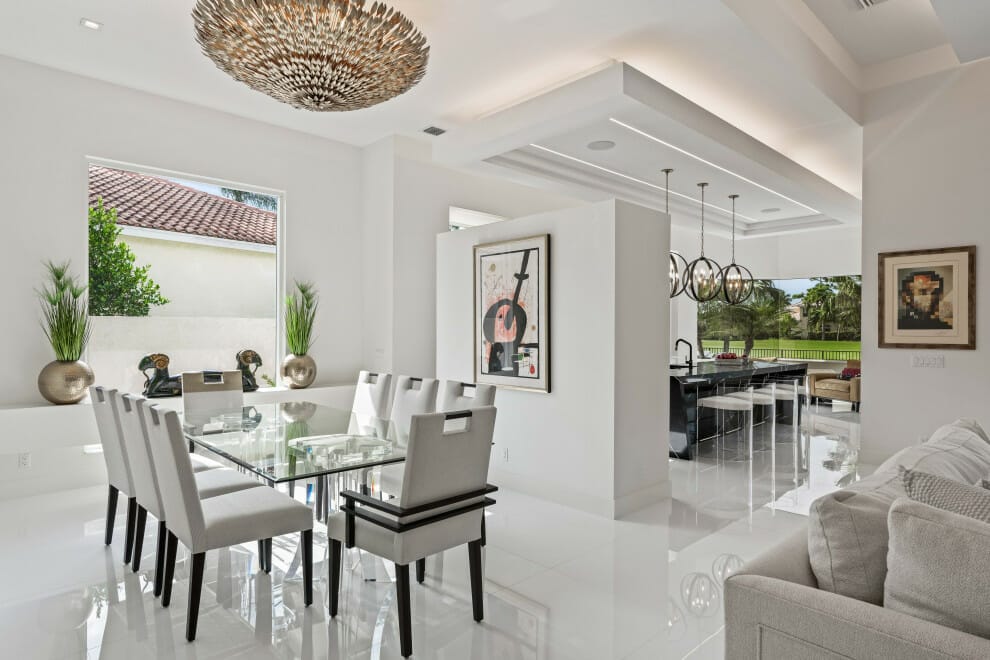 Do not let an open-layout home lack visual cohesion. Here, the glass dining table, acrylic chairs, and window walls bring the abode together. Furthermore, they speak of airiness while balancing out chunky furnishings.
Since white dominates the scene, the space needs a partition wall. The room divider may seem stark, but it makes the abode feel intimate and accentuates the multitone artwork. Lastly, metallic orb planters and statement light fixtures carry some grandeur.
11. Double Duty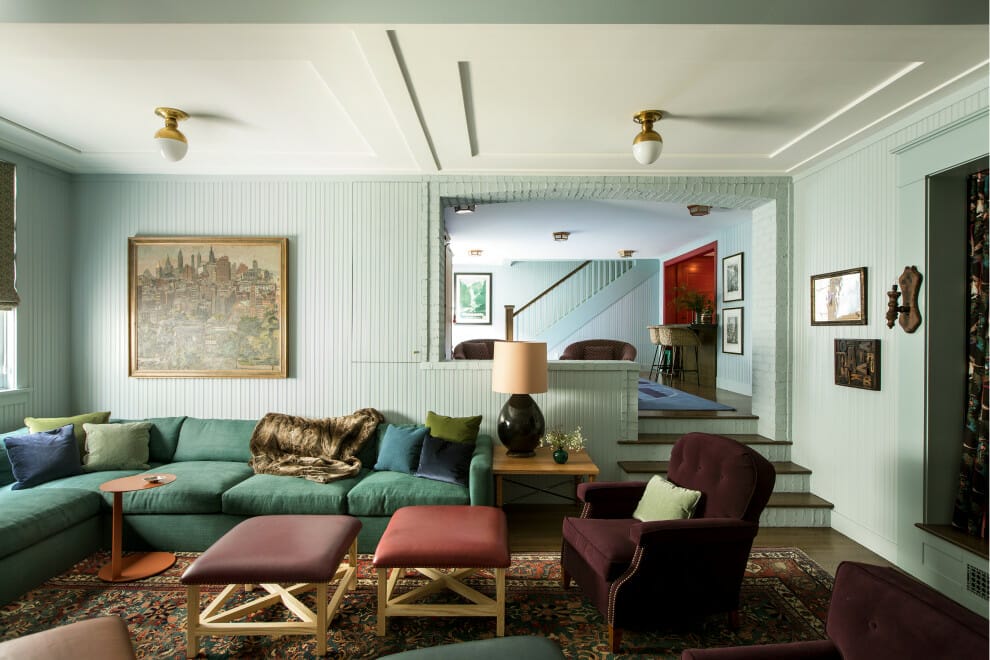 If you need half wall room divider ideas, this interior is worth learning. Pops of pastel hues and laid-back materials make the space a family room.
The mint green half wall distinguishes the family room from the dining area while offering a fresh ambiance. Additionally, it employs a tiny but cozy breakfast bar to entertain visitors.
Brown upholstered chairs complete the breakfast bar. Meanwhile, mint green and dark wood steps produce a feeling of continuity.
12. Bathroom Dividing Wall Ideas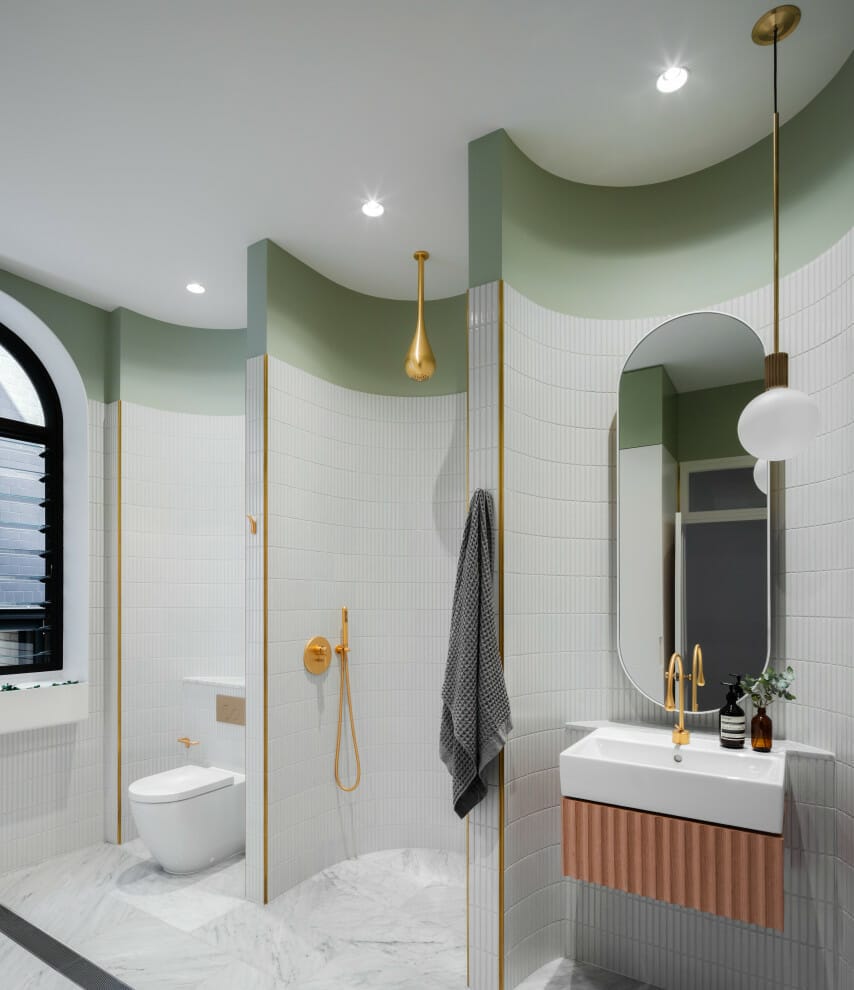 Don't hesitate to play with architectural quirks. This bathroom, for example, boasts a few curved partition walls.
They divide the space into a shower room, a toilet, and a vanity area. Moreover, their soft curves lend the interior simple elegance.
Due to white elongated tiles, the separation walls make the ceiling feel higher. Also, their gold accents deliver a feeling of glamor. Furthermore, the arch, oval mirror, and pastel shades provide an extra punch of personality.
13. Dividing Wall Ideas with Tiles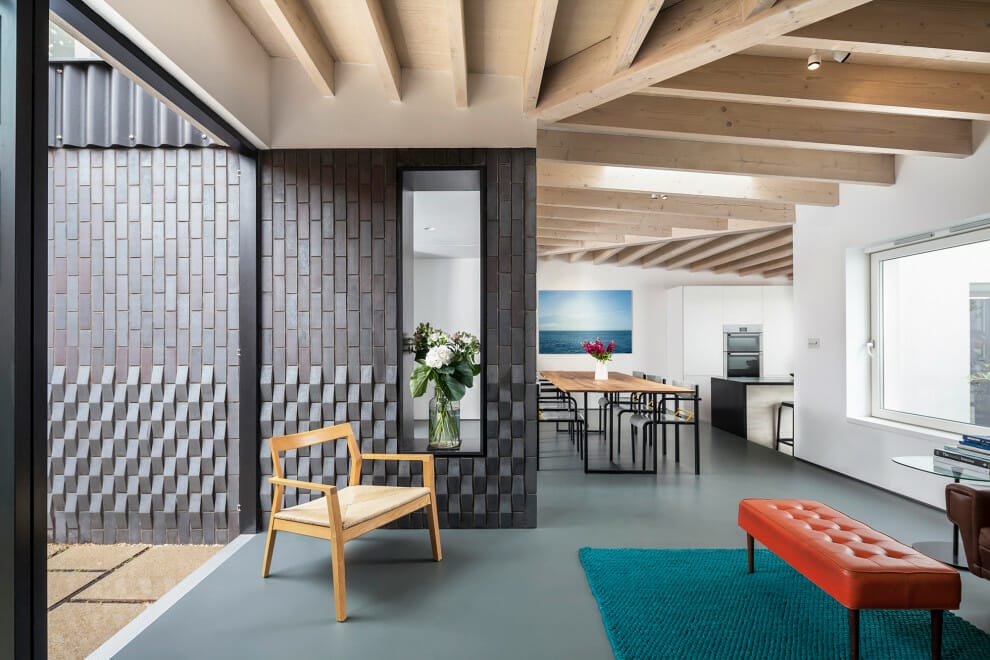 Who says minimalism can't be exciting? This space is minimalist but not meh. Here, the gray separation wall, flooring, and dining chairs create cohesion.
As you see, the partition wall features two kinds of dark gray tiles. They develop visual depth and textural intrigue.
The separation wall does double duty. It holds a massive glass vase full of assorted cut flowers. Moreover, the tangerine-colored tufted bench, teal rug, painting, and red blooms let the space have fun with colors.
14. Soaring and Stylish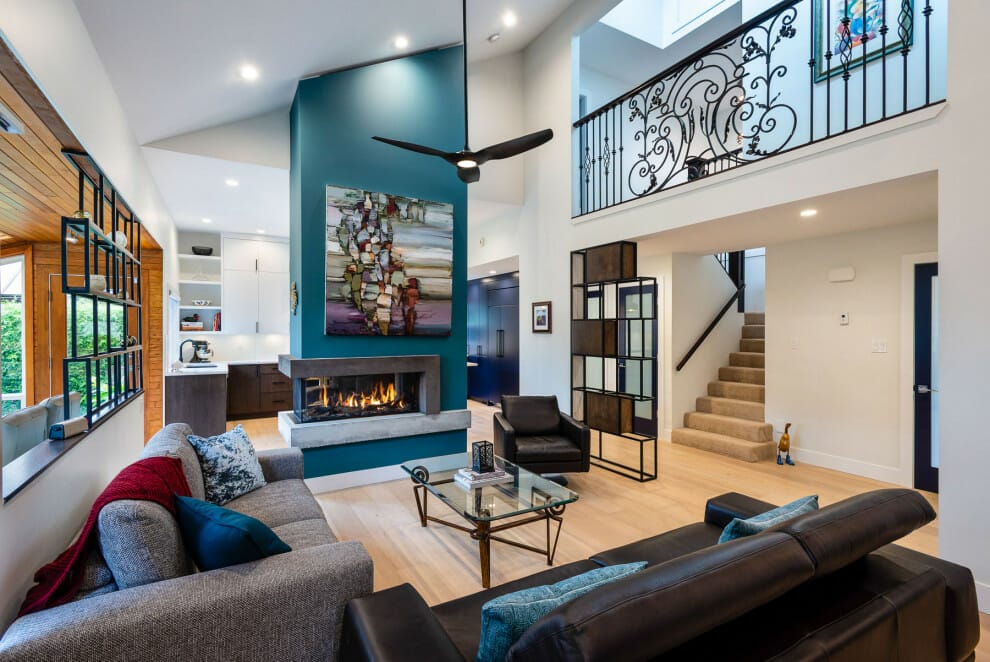 The muted blue fireplace emphasizes the high ceiling. Moreover, it separates the contemporary kitchen from the transitional seating area.
Here, the blue separation wall showcases a larger-than-life, multitone artwork. Meanwhile, sleek metal room dividers deliver an extra feeling of intimacy.
15. Dividing Wall Ideas for Lake Houses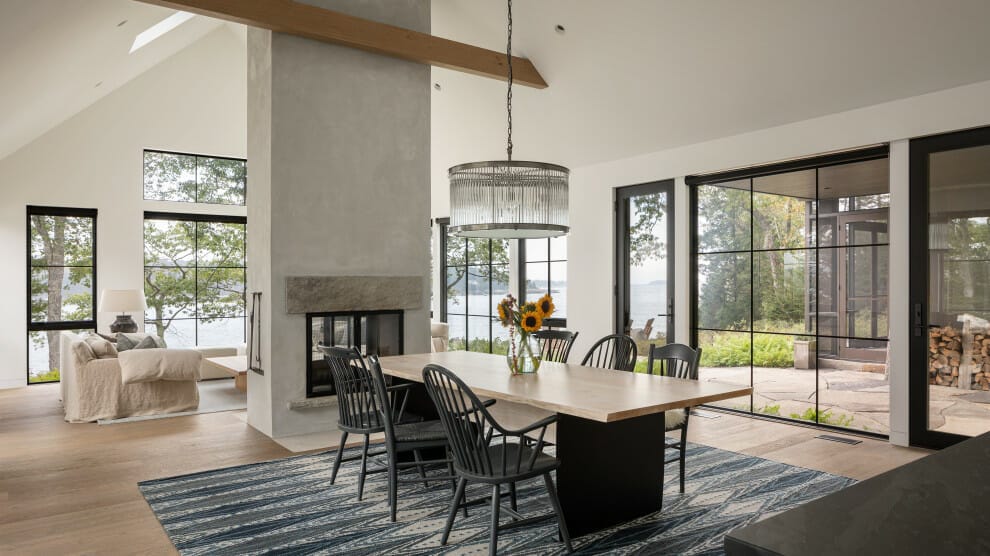 Some dividing wall ideas boast fireplaces, and this layout too. The clean white paint, modern furniture, and window walls make things peacefully airy.
The soaring concrete fireplace doubles as a partition wall. It draws attention to the modern rustic lakeside dining area. Furthermore, sunflowers and wood surfaces ooze warmth.
16. Partition Walls for Dining Nooks
This massive space becomes multifunctional because of a dining nook. Furthermore, the casual eating area has a built-in banquet, an oval table, and mismatched throw pillows.
The half-wall delivers visual separation and provides some backrest. Meanwhile, the industrial chandelier emphasizes the lively moss centerpiece.
17. Slatted Partition Wall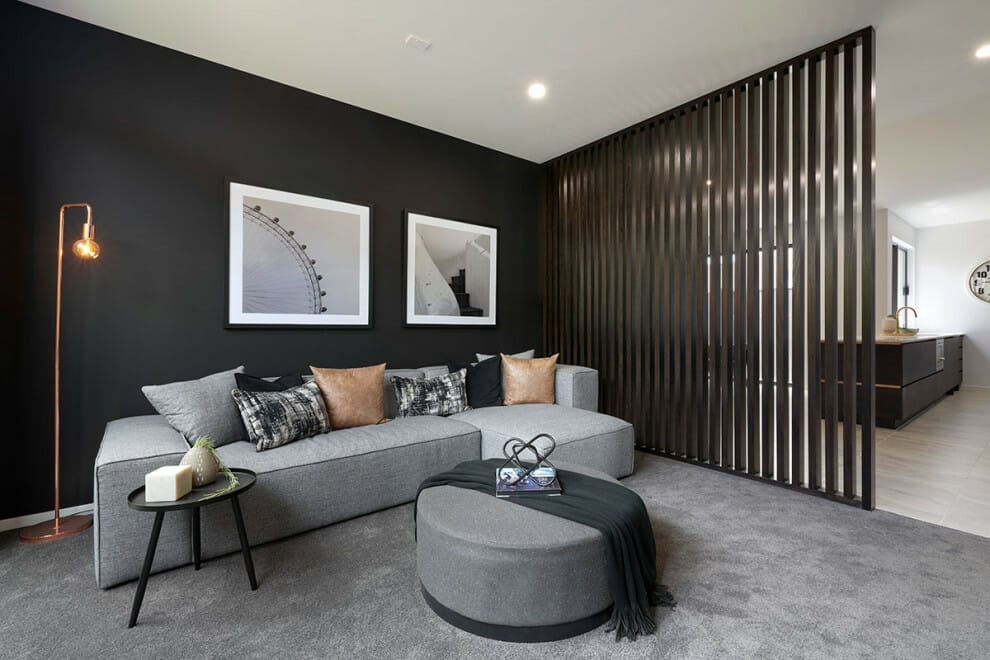 If you're into dividing wall ideas, duplicate this room divider design. As you see, it showcases metal slats that embrace an urban look.
The room divider generates sections and brings extra depth. Meanwhile, the copper floor lamp and light brown leather decorative pillows create enough warmth.
18. Warm Tones Never Go Wrong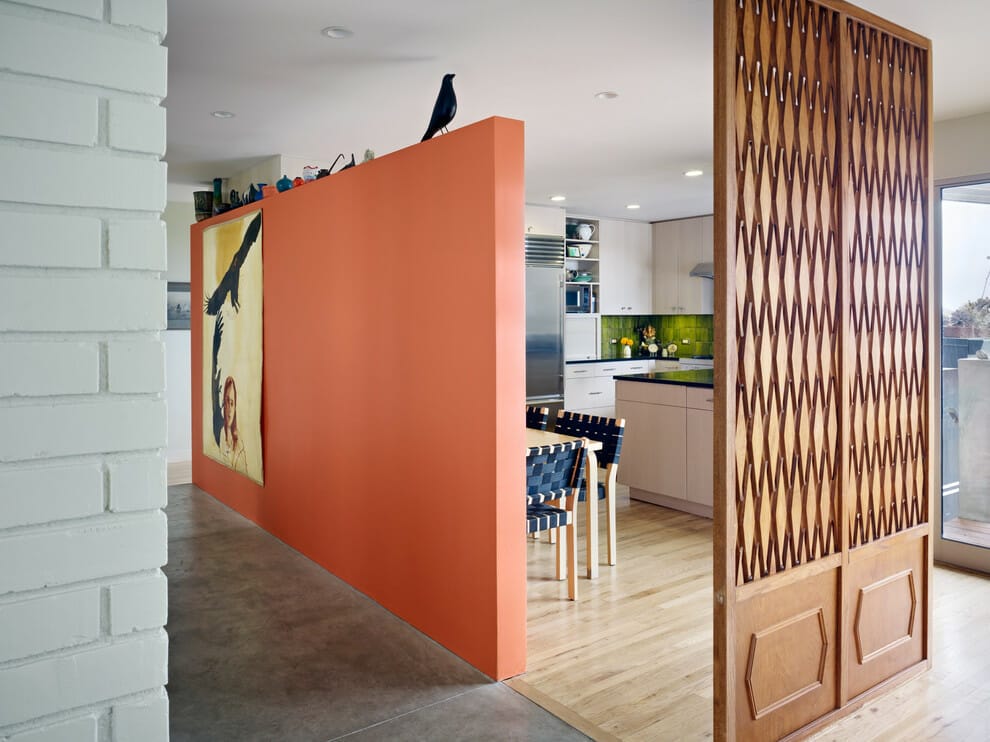 This home features a wooden screen and a muted orange partition wall. Apart from dividing the interior into multiple areas, they exude warmth.
The wooden screen carries pops of patterns. Meanwhile, the orange-painted separation wall perfectly accentuates the oversized artwork.
19. Slats of Wood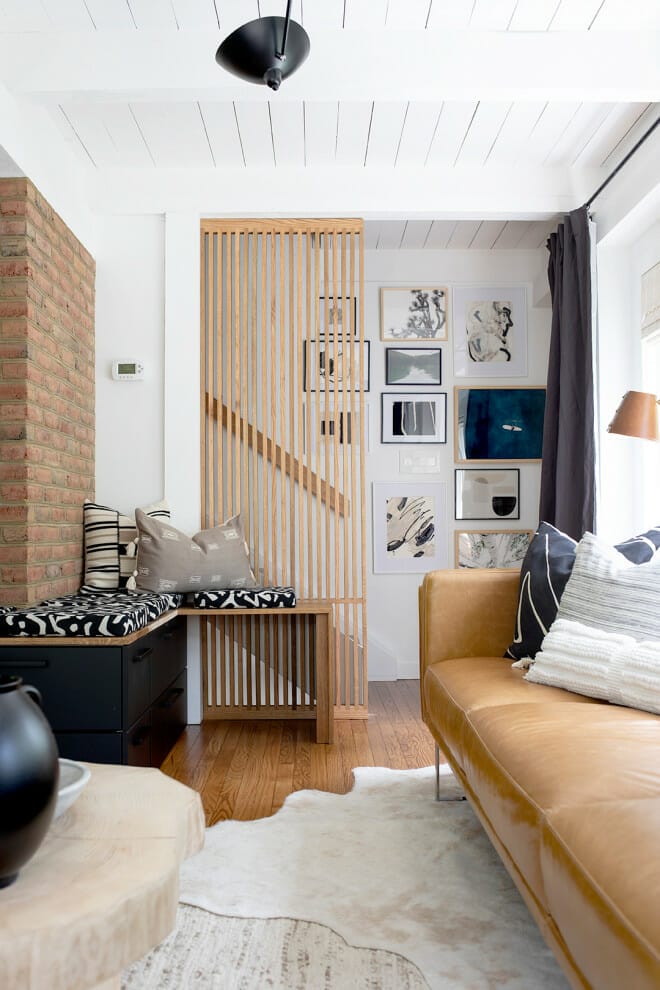 Speaking of dividing wall ideas, consider wooden slats. They separate the seating area from the stairwell while infusing a modern rustic charm.
If your home is tiny, using wooden slats as a partition wall is a good call. Unlike solid screens, they make the space seem very airy.
20. Black Is Beautiful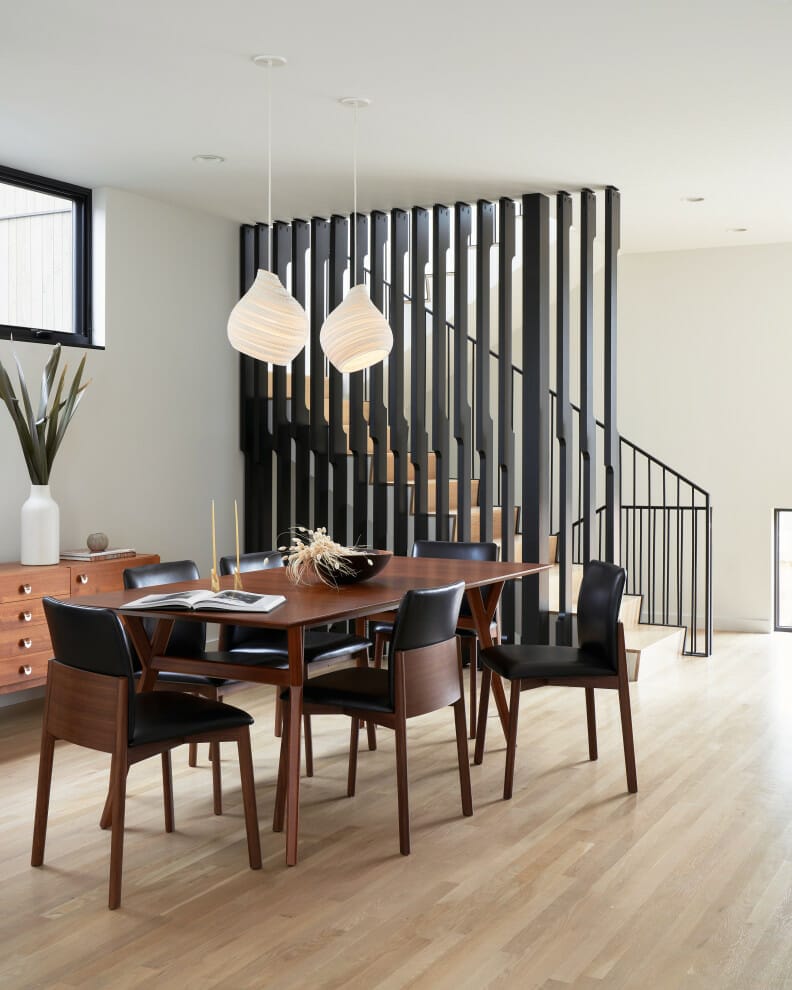 This is another separation wall that employs stylish wooden slats. Due to the black paint, they can infuse some drama and intimacy in seconds.
Here, the black wooden partition wall produces a sense of flow. Furthermore, the window frame and leather dining chairs echo its inky color.
21. The Best of Both Worlds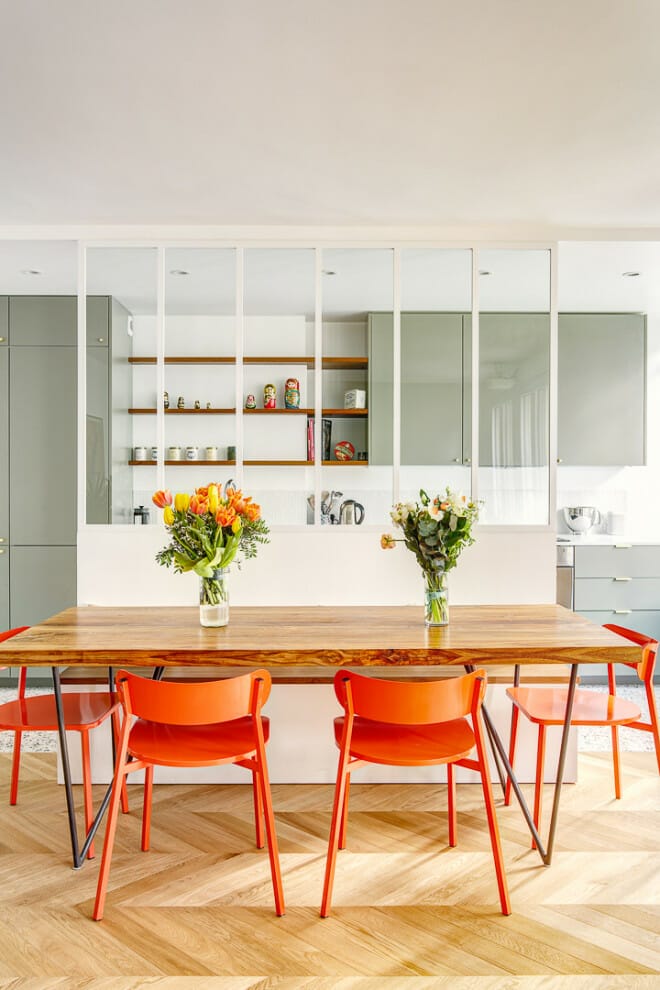 If you're after a contemporary eclectic look, this is one of the dividing wall ideas to emulate. The separation wall divides the space while preserving its airy setting.
This partition wall calls attention to colorful flower arrangements and Russian nesting dolls. Meanwhile, raw wood and orange furnishings elements temper gray cabinetry.
22. Cozy Factor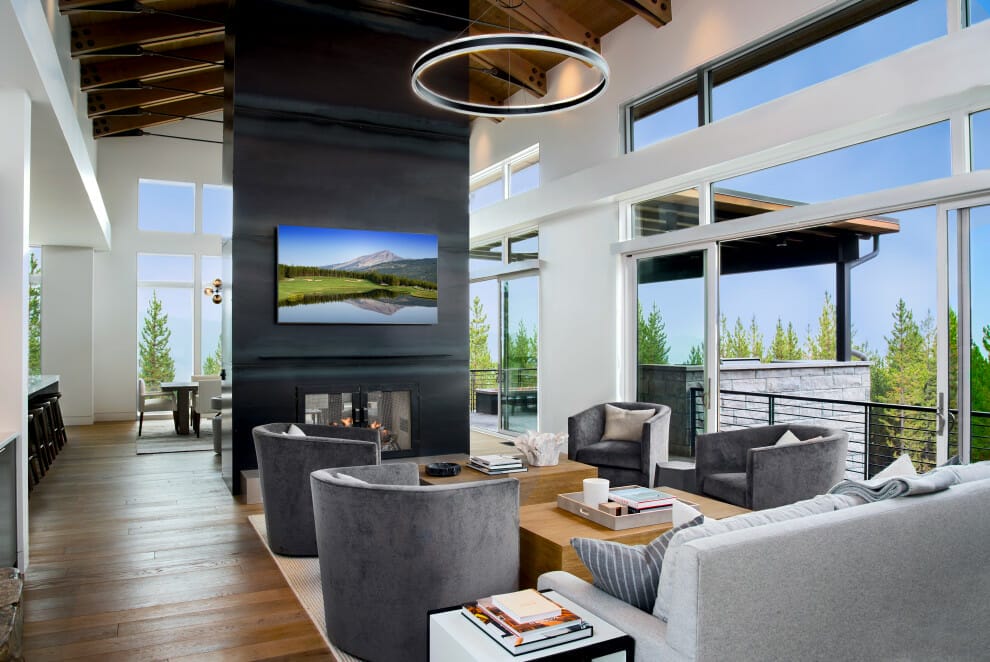 This mountainside home boasts giant window walls. They let in abundant light while offering unbelievable views.
The charcoal gray fireplace becomes a partition wall. Not only does it accommodate the frame TV but also adds depth and a punch of character.
23. Wooden Dividing Wall Ideas
I admire the wooden separation wall here. Apart from delivering visual details, it accommodates the TV and boasts concealed sliding doors.
The contrast between the wooden room divider and white lines is simply terrific. Meanwhile, multiple colors via the focal wall and furnishings enliven the space.
24. Blonde Wood Partition Wall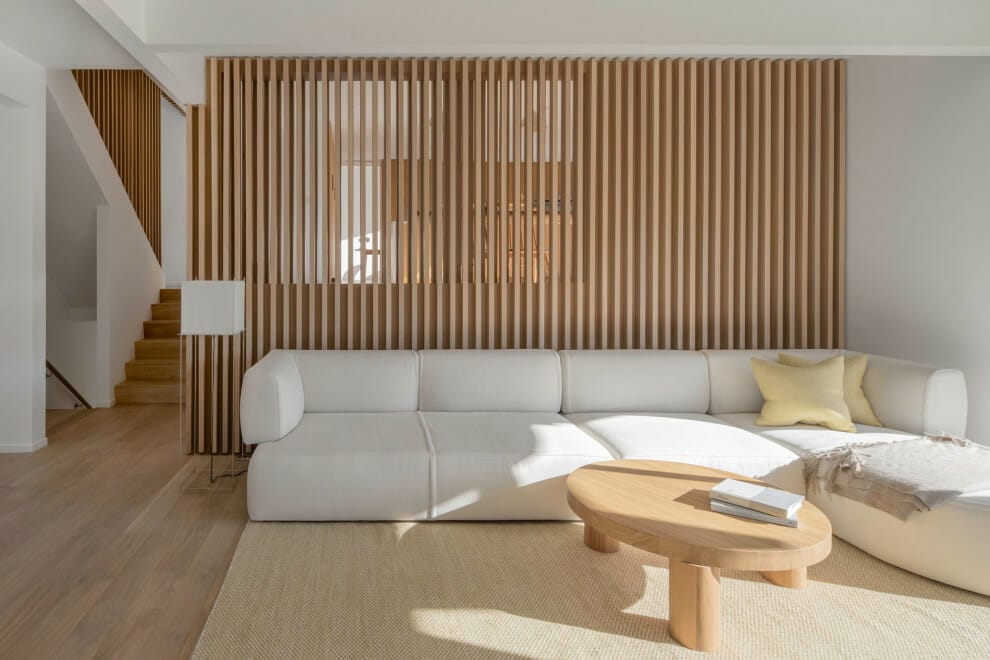 This photo proves simplicity can't be synonymous with starkness. The pale wood slats make an awe-inspiring modern rustic partition wall.
Varying neutral shades lend the home some character. Furthermore, natural materials raise the cozy factor, while the oval table softens the look.
25. Cohesive and Characterful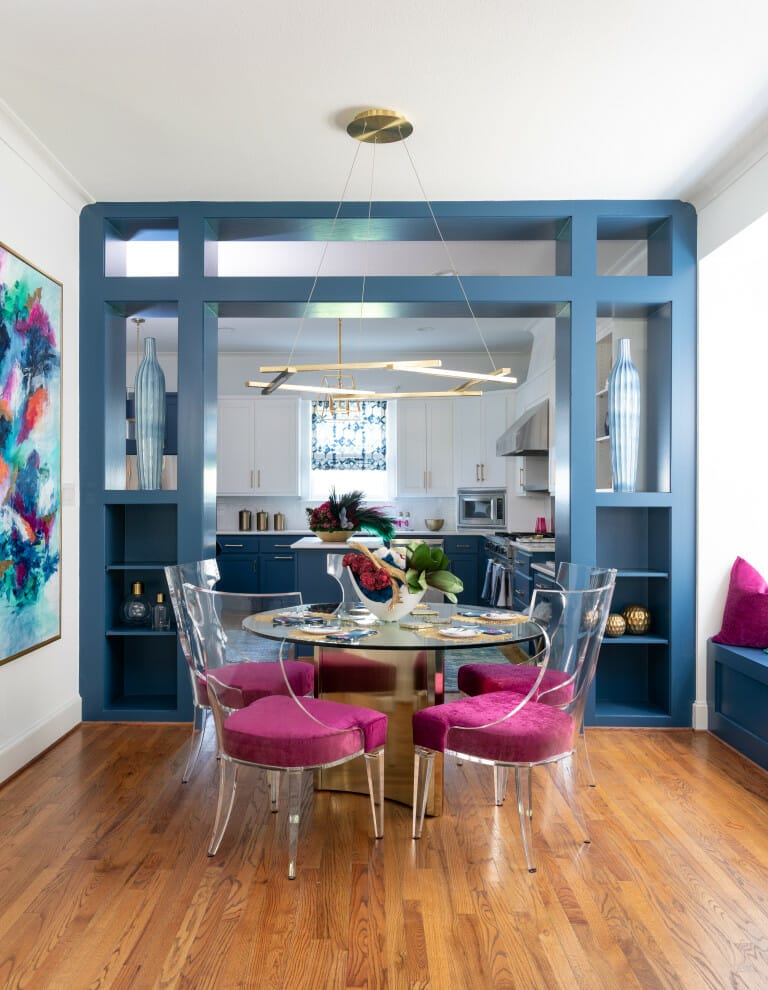 Here, the oversized abstract artwork dictates the color palette of the home. Pink throw pillows and seat cushions convey excitement instantly.
The muted blue custom partition wall features open shelves. Moreover, they hold tall vases, bottles, and gold ornaments.
26. Chic and Multifunctional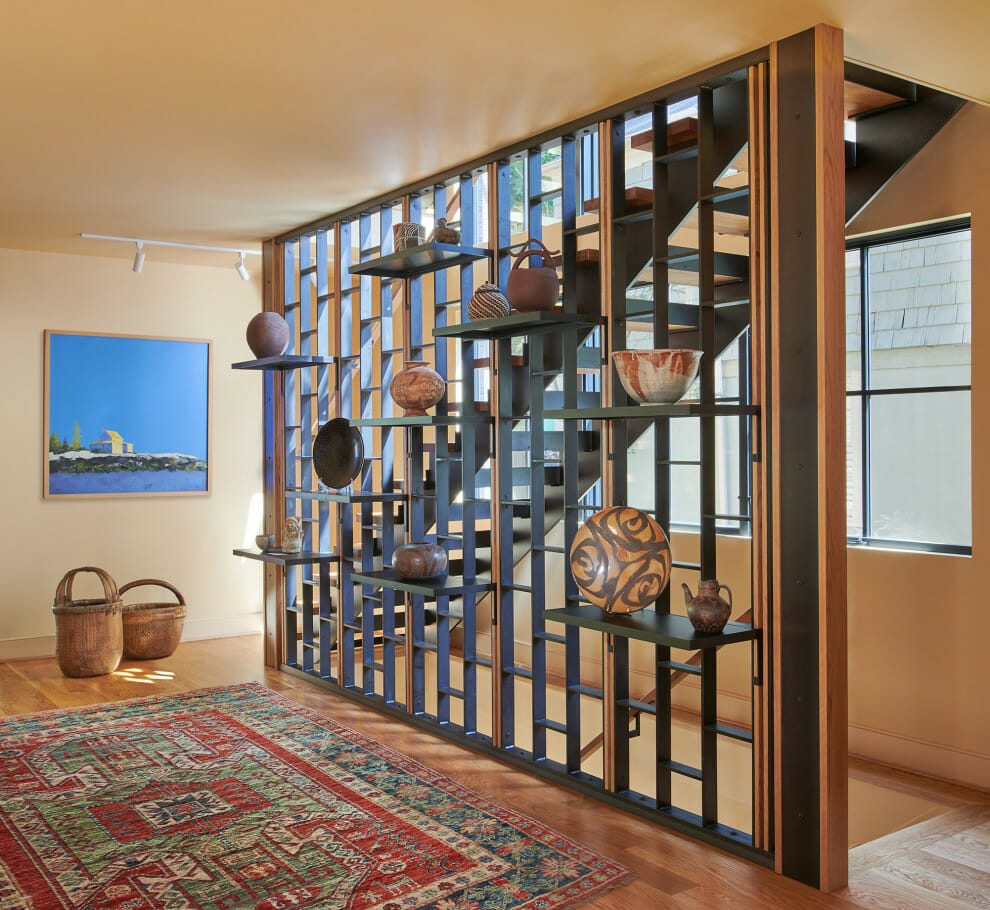 Talking about dividing wall ideas, consider room dividers that do double duty. This ceiling-to-floor screen, for example, employs open shelves for ornate ornaments.
Here, black and wood elements produce a timelessly stunning contrast. Meanwhile, the painting, rug, and wooden baskets define the seating area.
27. Create Contrasts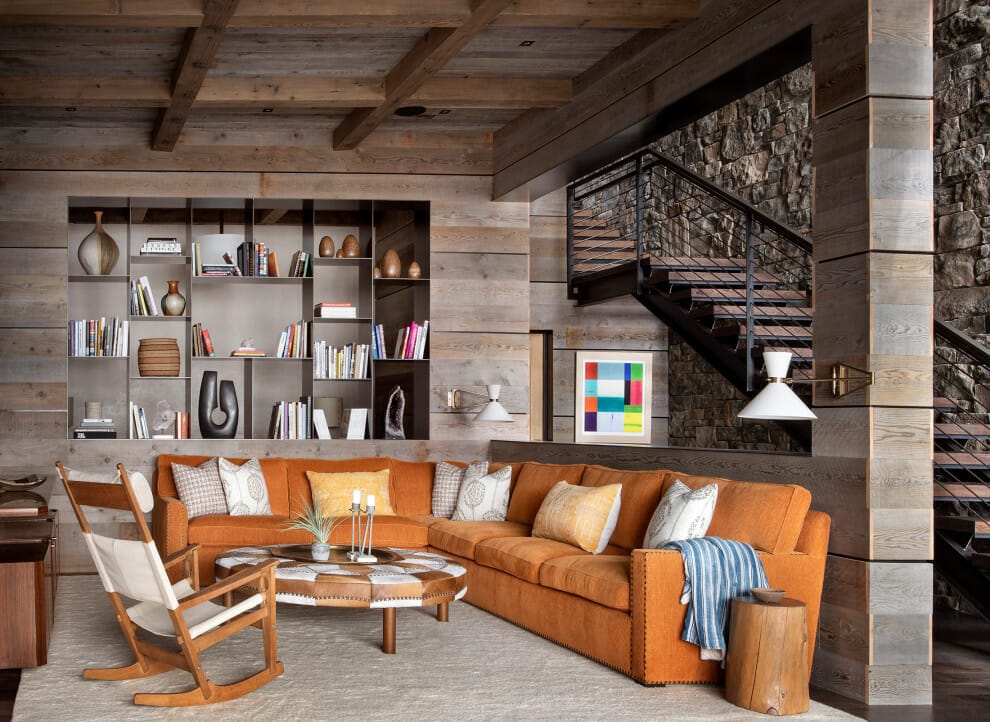 This seating area doubles as a family room. The half-wall demarcates it from the stairwell stylishly. Moreover, wood-look tiles cover it while injecting personality.
The muted orange sofa offsets sleek gray shelves. Furthermore, the rocking chair, striped throw blanket, upholstered coffee table, wall lights, and mismatched pillows become highlights.
28. White for the Win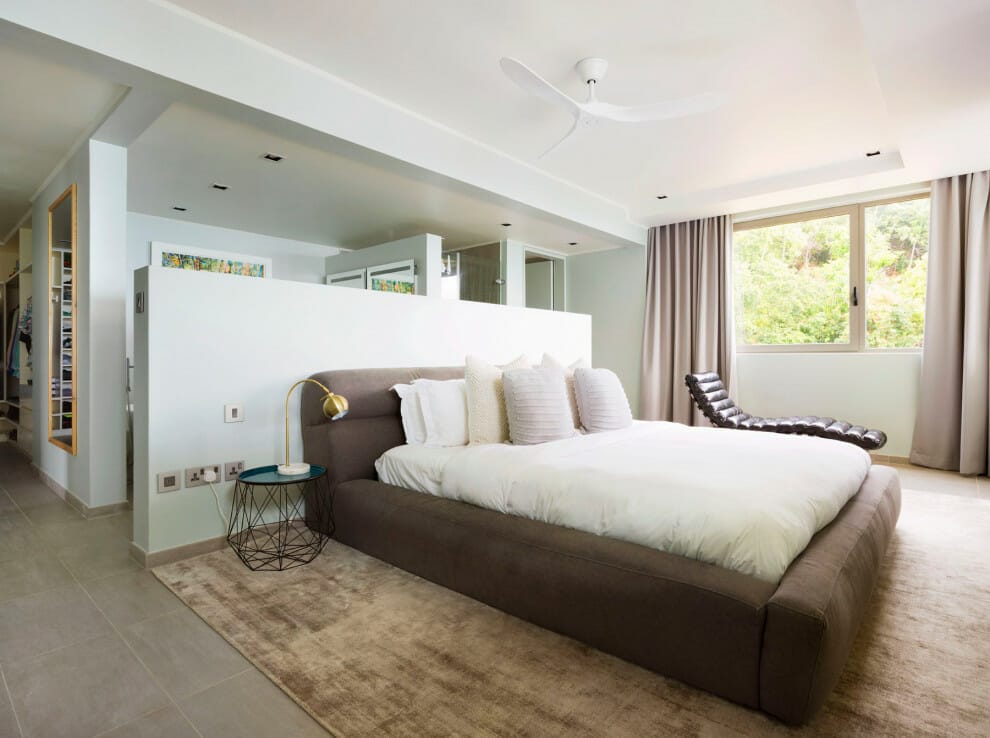 Need dividing wall ideas for bedrooms? If yes, emulate this layout. The dark taupe bed, brown area rug, pillows, and beige curtains make the home characterful.
The bright white wall divides the space into a few areas. There are also tall separation walls that provide a sense of movement.
29. Partition Wall with Wooden Cubes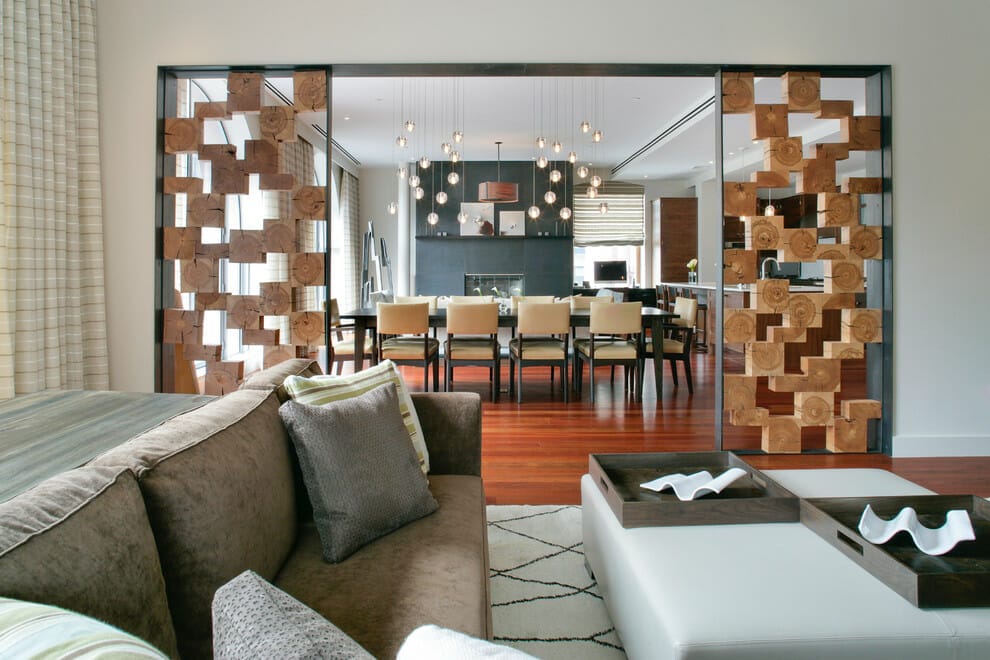 I love this contemporary, open-layout home. The separation wall boasts metal frames and wooden cubes for visual balance.
Striped and geometric fabrics make the house seem more trendy. Meanwhile, simple white curves and small globe pendants temper clean lines effortlessly.
30. Master Bathroom Partition Wall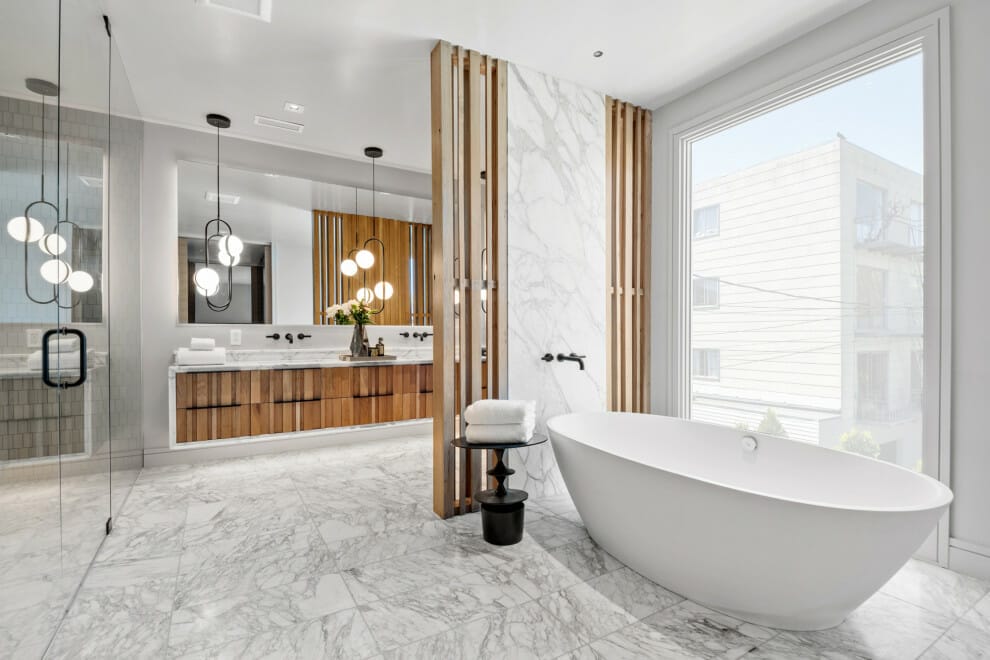 This master bathroom is equal parts upscale and airy. The freestanding tub infuses a spa-like ambiance and clashes with black elements. Moreover, fascinating light fixtures emphasize gorgeous blooms.
Here, the marble-and-wood dividing wall produces a balanced look and visual separation. Additionally, it brings this glam master bathroom together. Lastly, the modern rustic wooden vanity ensures the space doesn't feel stark.
In conclusion, partition walls are both transformative and functional. They carry some personality and privacy too.
Whether you're into a strategic arrangement or need an approachable small-space solution, just rely on those dividing wall ideas.