Never feel intimidated by a small bedroom that has a short roof. Because today there are many loft bed ideas for low ceilings that are ready to save you from all the crowds.
Instead of worrying about the standard height to have a loft bed, it would be better for you to focus on maximizing the use of vertical space. Further, it can save more on your floor space.
But, if you are so curious about it, loft bed ideas for low ceilings usually come with a minimum size of 50 to 60 inches to get proper headroom for an 8-foot room. So, you can still sit on your mattress in relax without hitting the ceiling.
Meanwhile, you can freely arrange the space underneath with extra storage to accommodate all the stuff, from the cabinet, desk, to kitchen bar.
Now, let's explore twenty-eight loft bed ideas for low ceilings that are perfect both for children and adults. So, get inspired!
1. White Heavy-Duty Loft Bed with Desks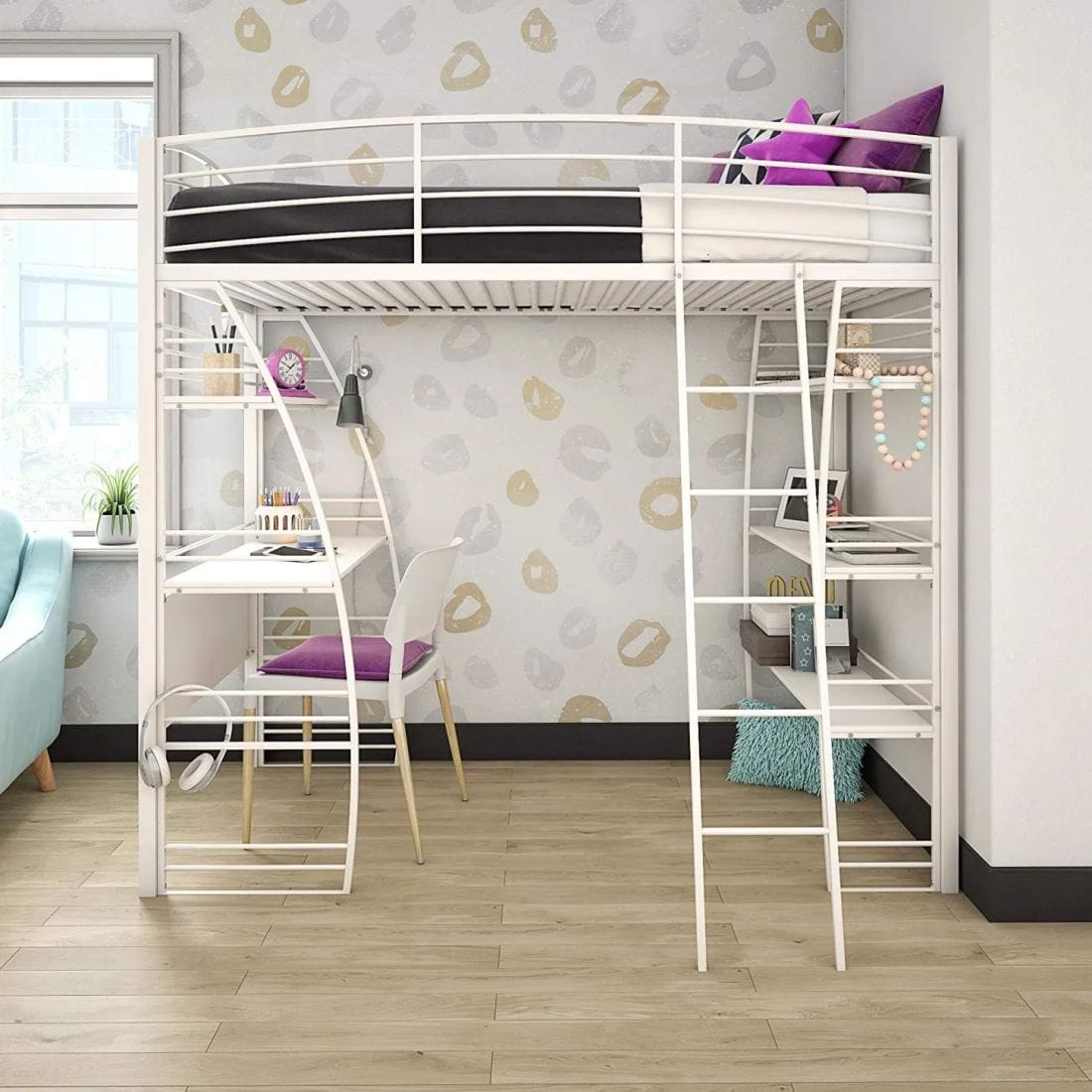 Loft bed ideas for low ceilings always successfully captivate the hearts of many people with their compact and versatile designs—especially the one made of metal in white.
Further, it can show you a clean arrangement of bedroom.
There's not much that you need to reconstruct the room. You merely need to raise your bed and set the desk underneath to create the new work spot.
And now, you've subsequently saved space by still having a complete desk set with a shelving system for working and storing lots of stuff.
2. Cozy Loft Bed Ideas for Low Ceiling with Built-in Shelves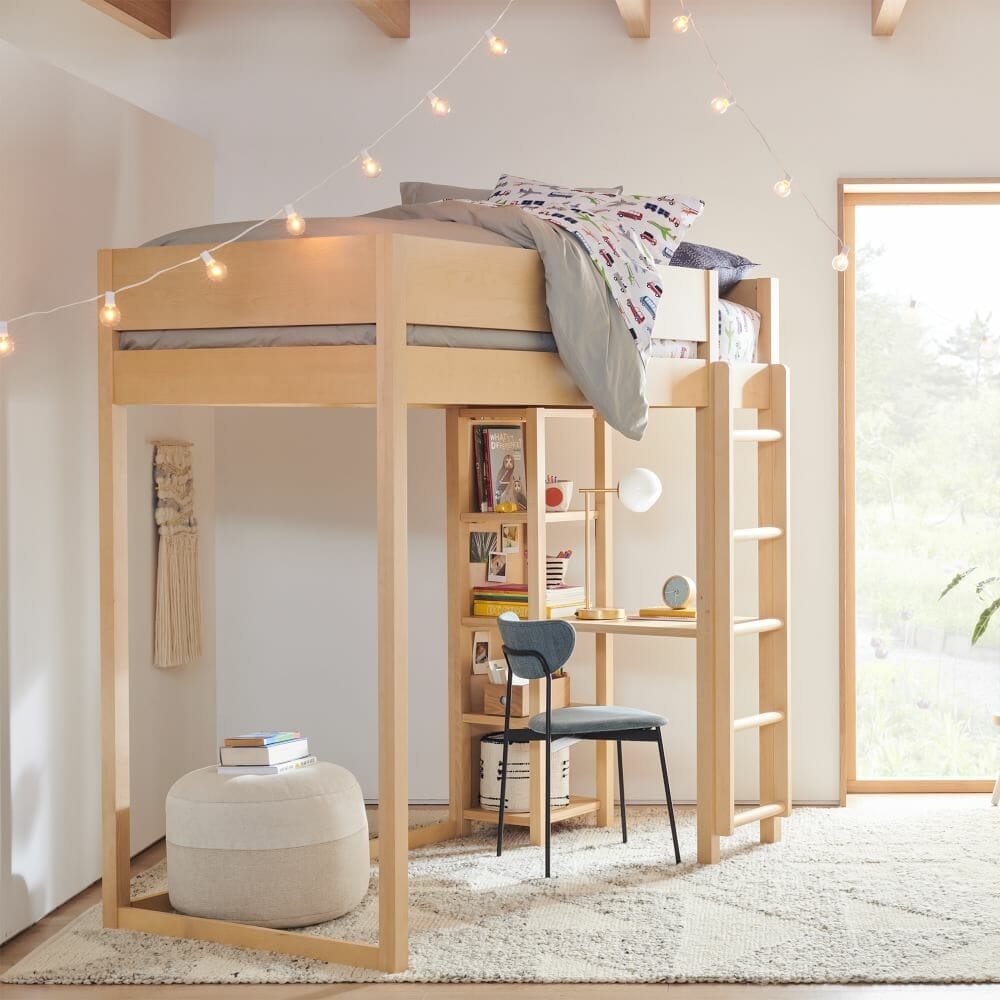 Conjure up your raised bed into the coziest space ever by presenting a built-in bookcase underneath. In addition to displaying all your textbook collections, you can also set up a sitting space where you get rid of all fatigue and enjoy your reading.
To create an ambiance like this, you can go with a basic full-size loft bed for a low ceiling that displays the simplicity of nature. For example, a unit with the original wood structure without adding paint or varnish.
As a final touch, you can confidently hang a string light with a warm shade to further amplify the farmhouse vibe in your bedroom.
3. Straightforward Raised-Bed in Navy Blue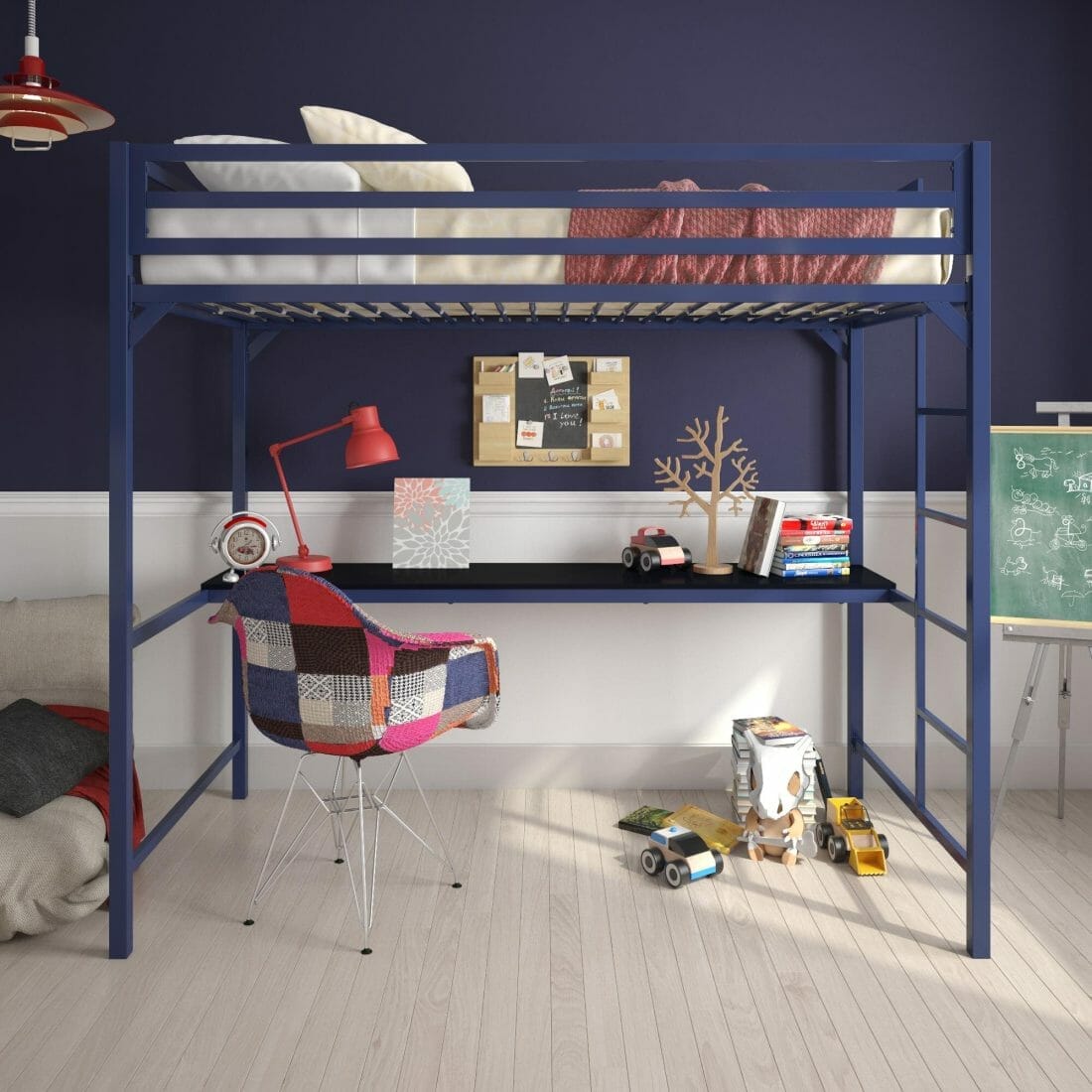 After previously going with an earthy concept, now is the time for you to be bolder in performing bold colors on your loft bed.
Of course, a color option like this will give a strong personality to your bedroom.
Not only with a navy-colored loft bed, but you can also add a slight accent by displaying a retro multi-colored chair underneath.
4. Let Star String Lights and Bean Bag Chair take Over the View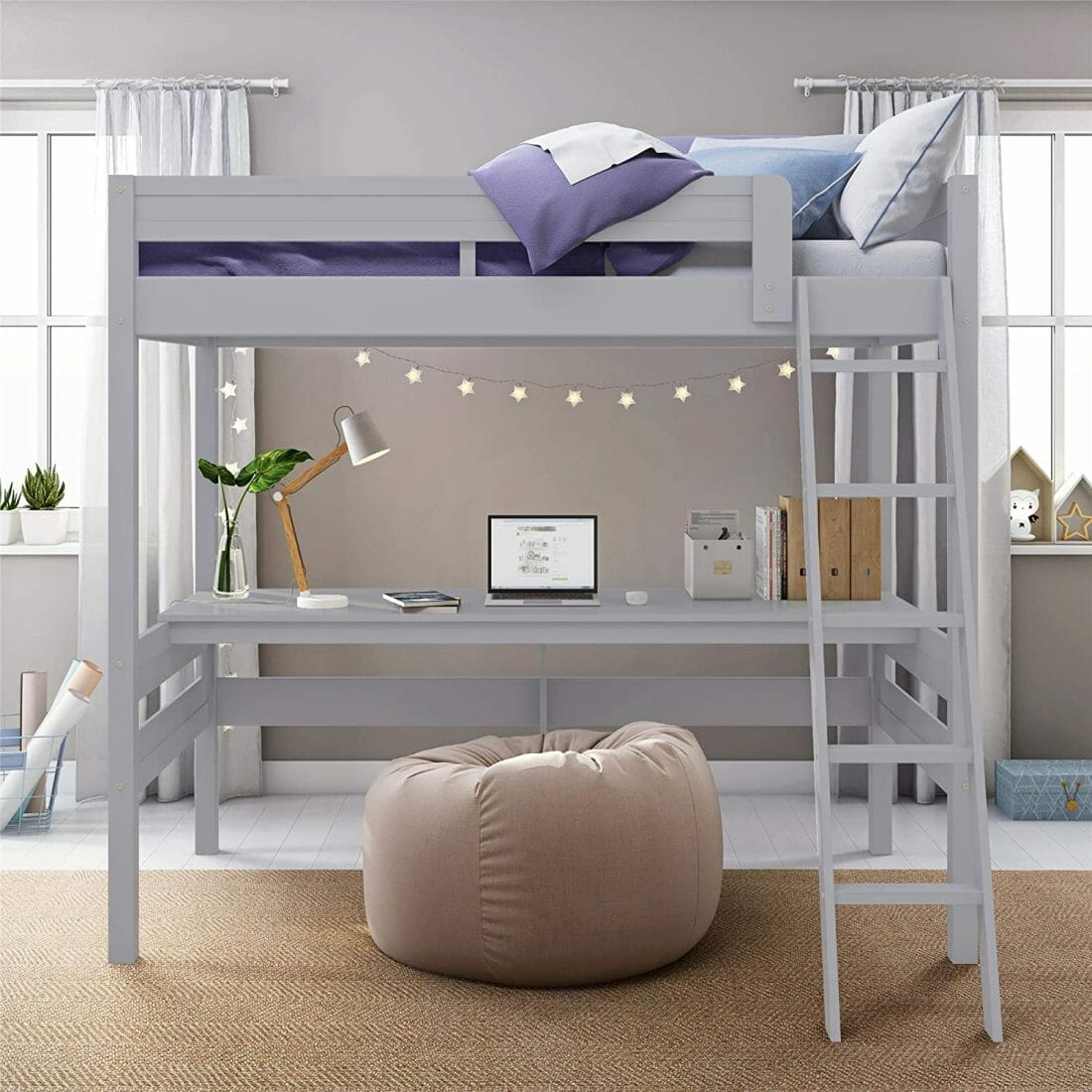 There are times when a wooden loft bed has a solid and dull appearance. Therefore, you need to provide an additional touch that soothes the eyes.
For example, you can go by hanging star string lights on the wall right in front of the desk. And also, bring the convenience of a bean bag to replace all the stiffness of the office chair.
5. Basic One with Couch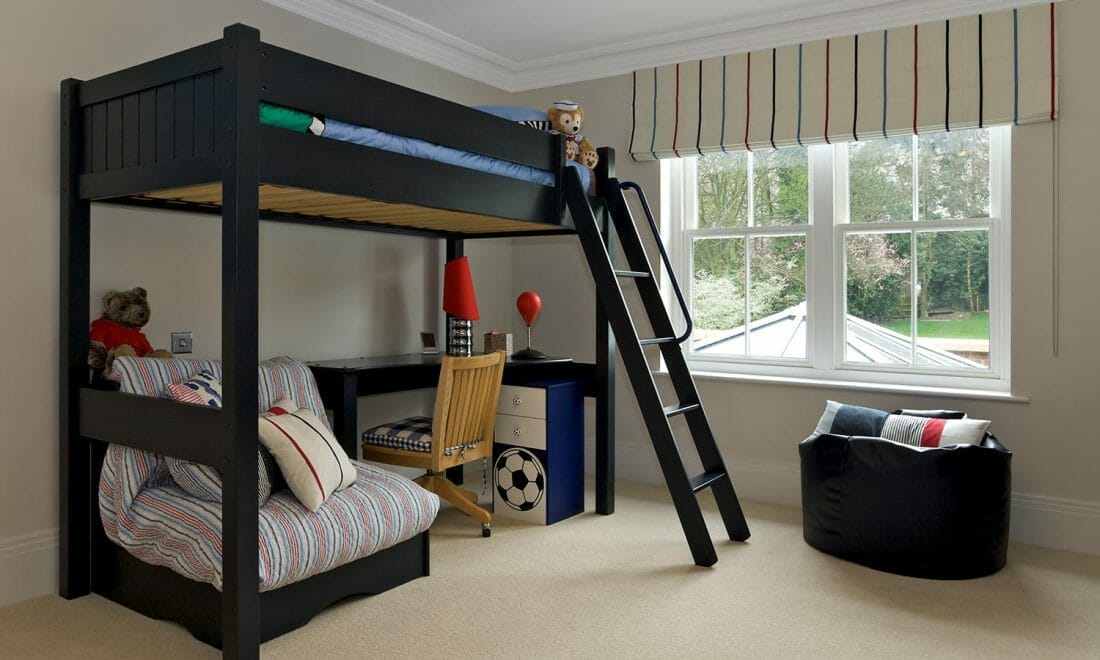 One thing you must remember from the many loft bed ideas for low ceilings. The most important thing to consider is the comfort zone in the bedroom itself.
One way is to provide a couch next to your desk that has a matching pattern with your interior concept. Hence, you can spend all day long there with a more relaxed feeling.
6. Set the Kitchen Bar Under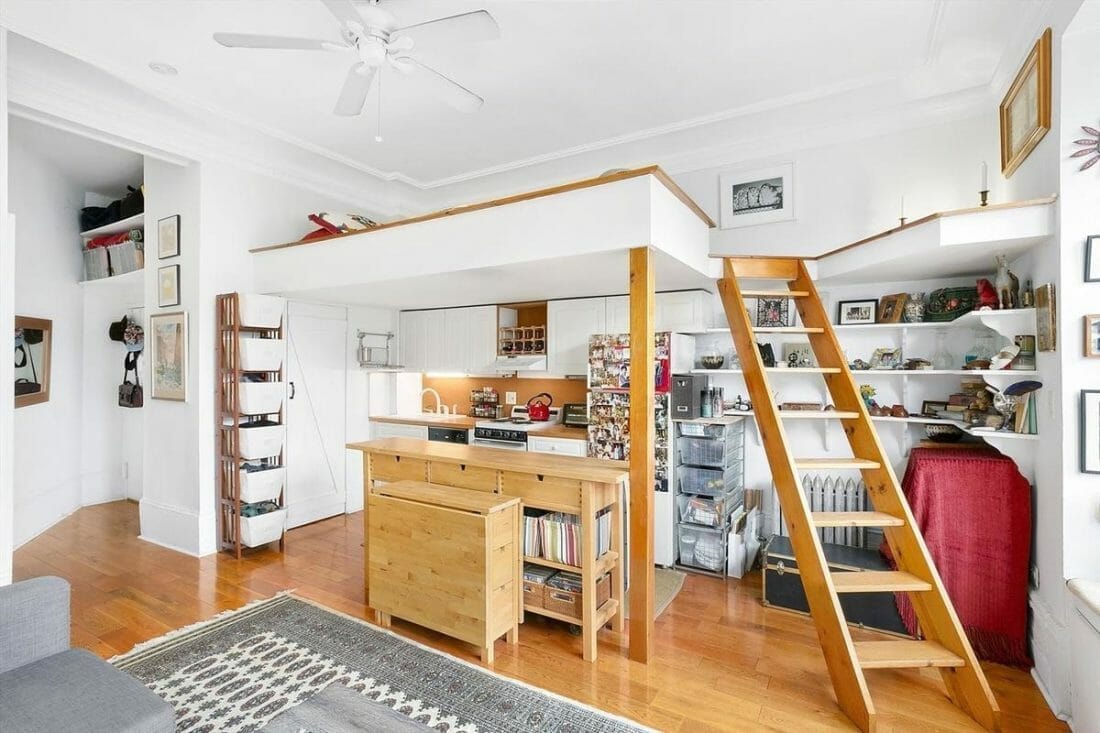 Not only does it feature a shelving arrangement, but loft bed ideas for low ceilings also allow you to set the kitchen bar underneath! Undeniable, this concept is very suitable for those who live in small apartments.
By utilizing vertical space, you now have more floor space left. Further, it also makes your room more comprehensive and fresher.
7. Come with Complete Workplace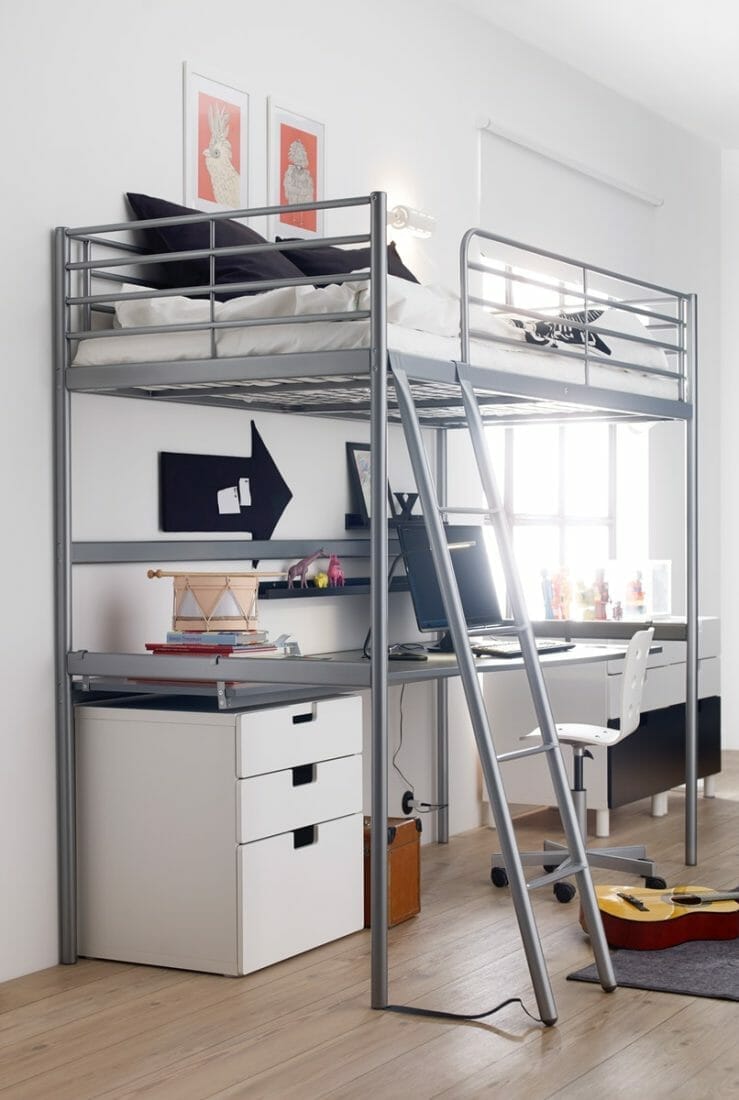 Nothing is impossible in this world. You can still have a good home office you always dream of in a small room.
It is, indeed, effortless to make it genuine. You only need to change your standard bed into the loft one. Then, fill the bottom space of your bed with a heavy-duty desk with drawers and an office chair on wheels.
8. Floating Bed with Wall-Mounted Ladder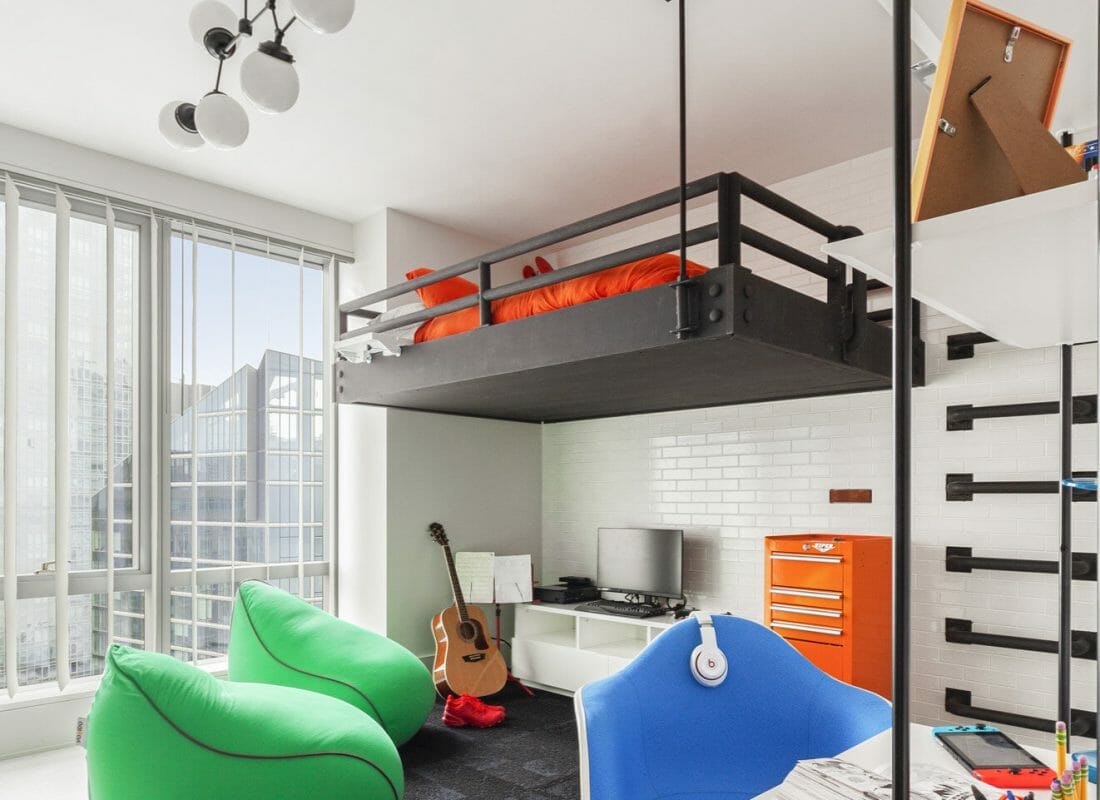 It is undeniable that many people are still hesitant to apply loft bed ideas for low ceilings because they think that the ladder owned by this unit often steals significant floor spots.
However, now you don't have to worry anymore, because you can choose to go with a "floating" bed complete with a ladder mounted on the wall.
As a result, you can freely use the entire floor space of your bedroom for organizing other crucial furniture.
9. Take Over the Attic Space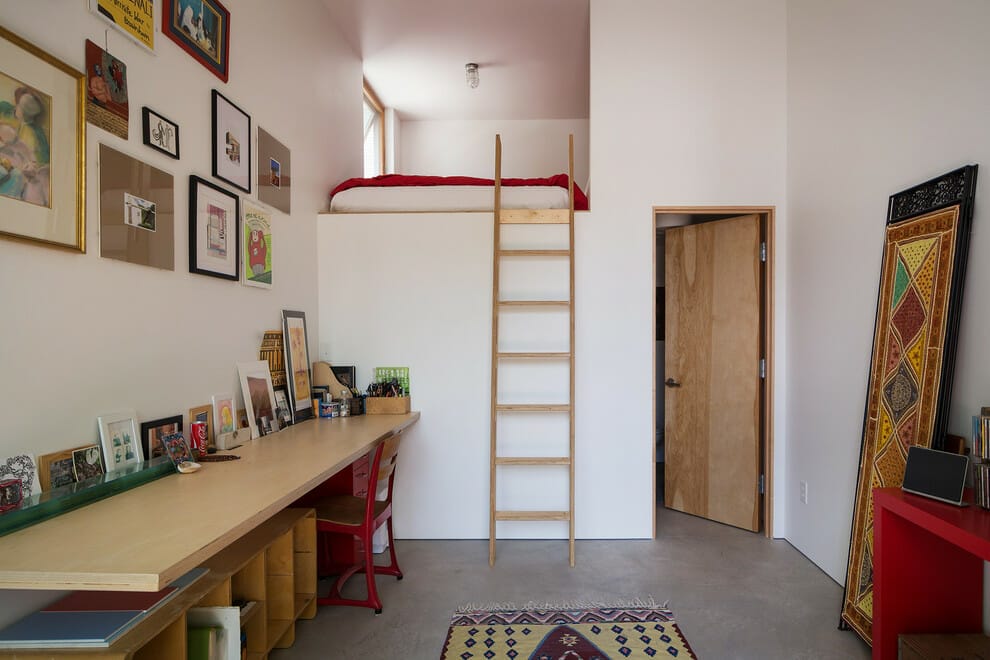 Suppose a freestanding loft bed still gives a crampy impression in your room. Then, you can decide to take over your attic space and turn it into a comfortable bedroom.
So, instead of having the under bed filled with various furniture and storage, you can leave it clean by simply presenting a blank wall.
10. Built-in Shelves Under the Staircase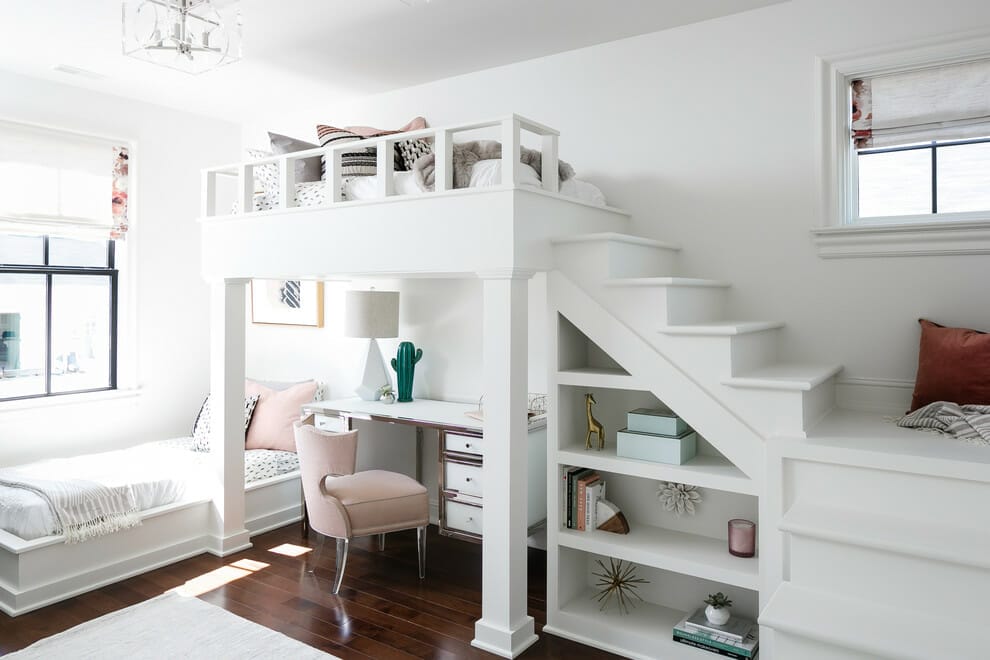 Extra storage undoubtedly becomes the main goal for anyone who adopts loft bed ideas for low ceilings.
Later, it is expected to store a lot of stuff without taking up much existing floor space. That's why building a shelving system under the staircase has become a popular solution lately.
11. Farmhouse Loft Bed Ideas for Low Ceiling with Twin Mattress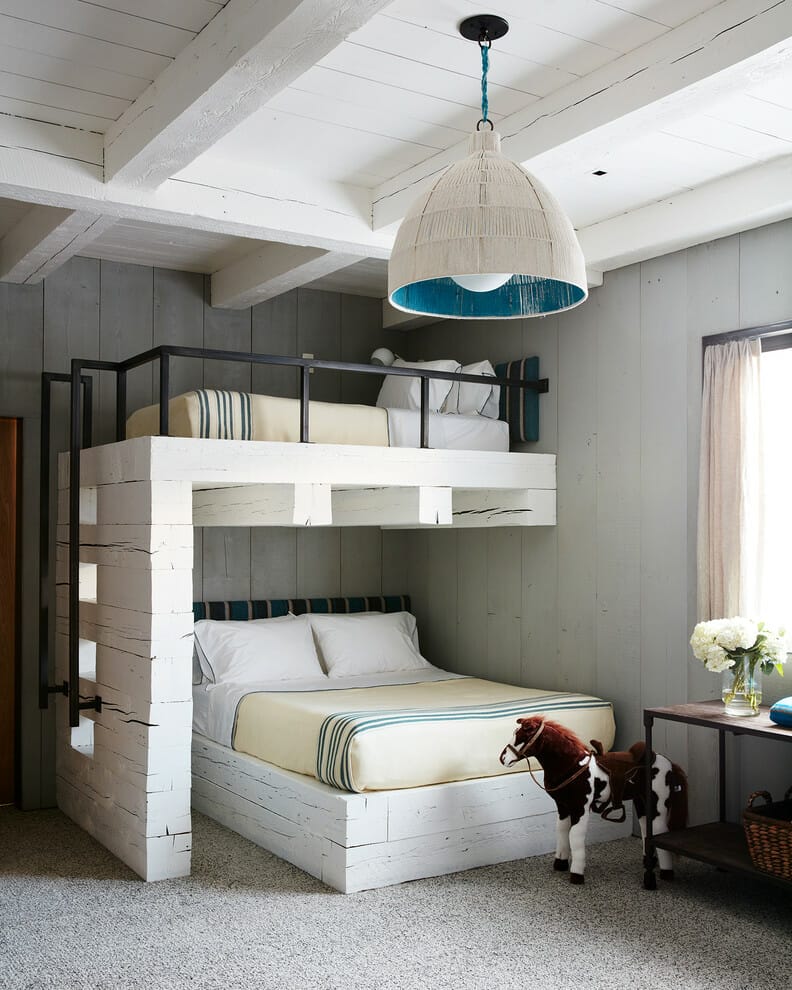 Indeed, the farmhouse concept never fails to bring warmth to your bedroom. You can easily apply loft bed ideas for low ceilings by using barn wood.
Although you certainly still need professional help to realize this bunk bed arrangement, at least you have saved enough expenses without the need to buy a new unit.
12. Extra Drawers on The Stairs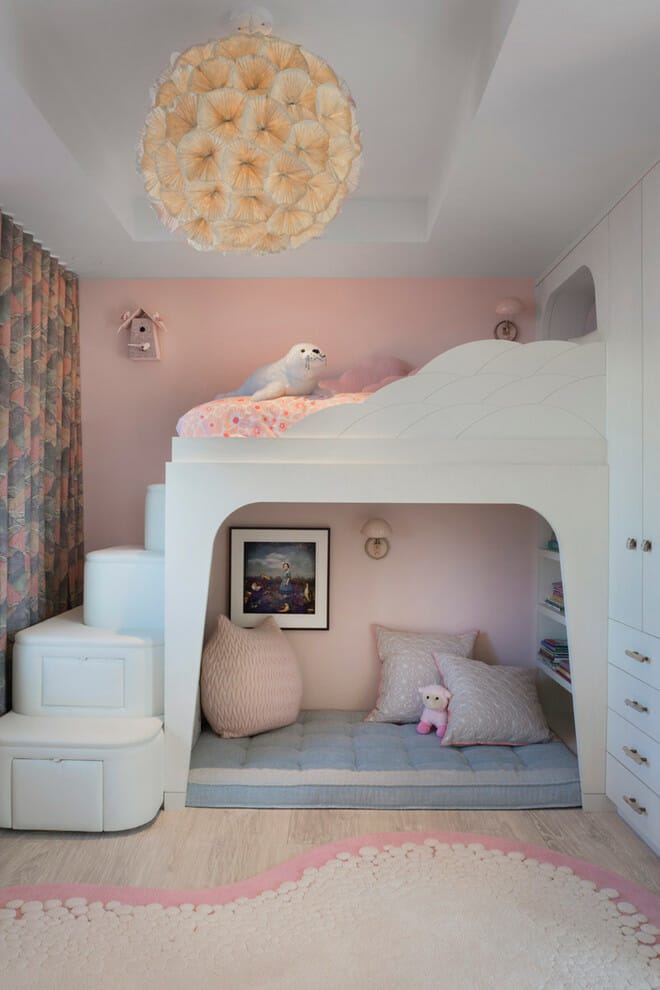 After previously having a shelving system under the stairs, now it's drawers' turn to take up the most of your storage strategy.
Without a doubt, you can hide all the clutter in your bedroom in the blink with this accessible storage system.
13. Industrial Style with Sliding Ladder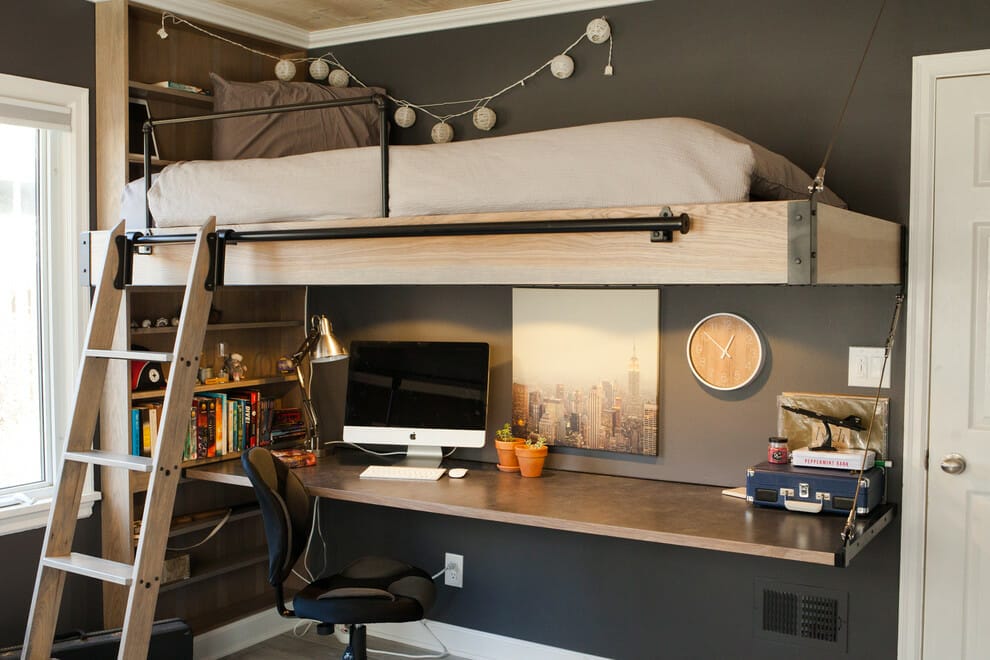 Another thing that makes these loft bed ideas for low ceilings impressive is the sliding ladder!
With this removable unit, you no longer need to be grumpy with stairs that always take up any floor space in your room.
14. Glass Windows to Catch the Landscape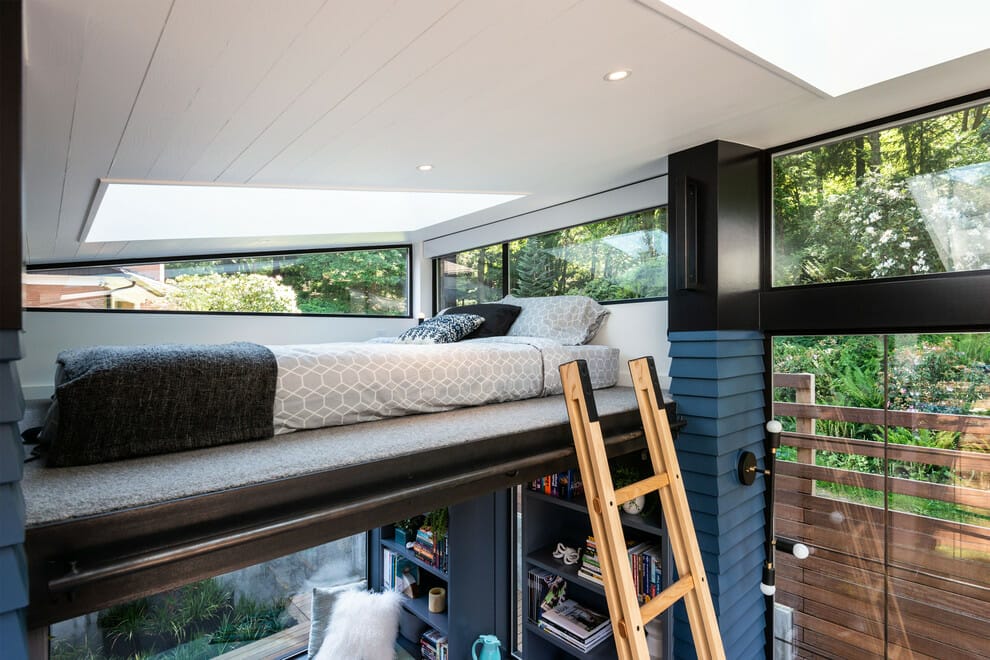 Beds in the attic space can sometimes be stifling because of the lack of incoming sunlight. Therefore, you are better off providing a series of glass windows to provide natural lighting during the day.
What's more, you will peacefully spend time in your room with an unmatched stunning landscape.
15. Three Beds in One Room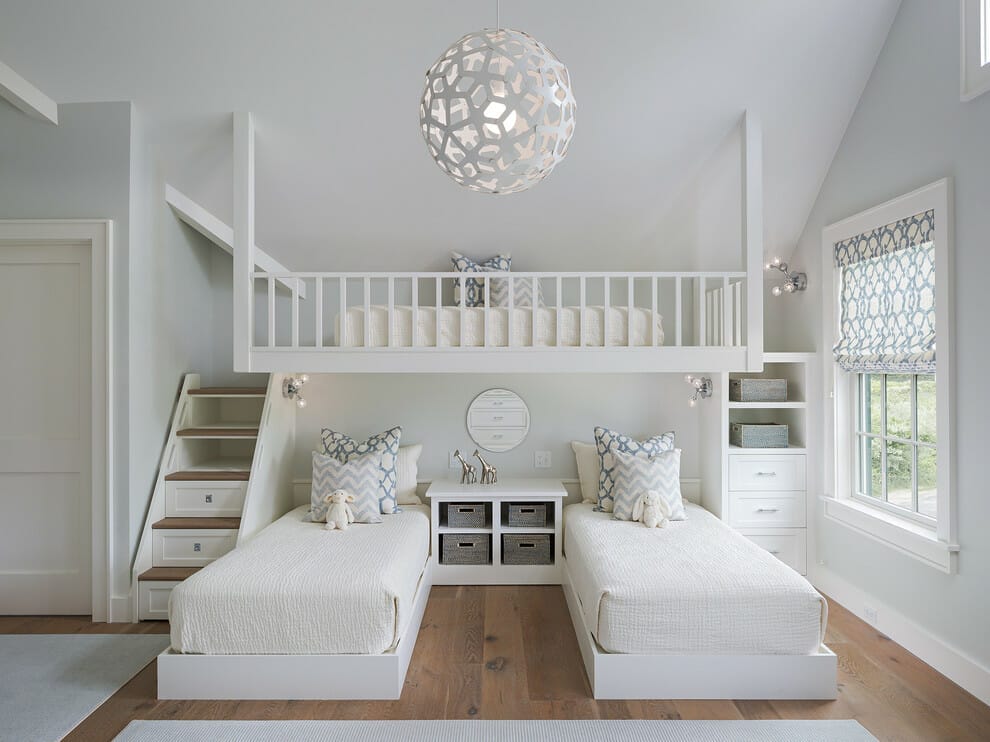 Loft bed ideas for low ceilings are not only about one bed in one room. Instead, you can also have three in the same area.
And indeed, loft bed designs like these will be suitable for your twin bedrooms. You can save more space for later conversion into your extra storage by leaving two beds on the floor and lifting the rest.
16. Mount the LED Lights Under the Loft Bed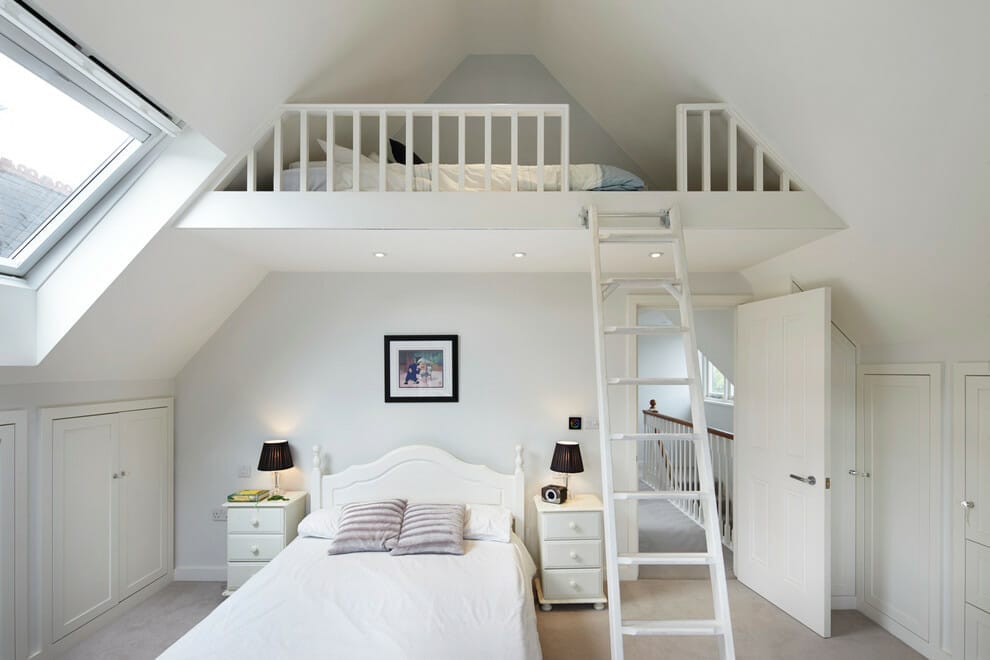 An attic bedroom with a loft bed does not prevent you from having adequate lighting. It will be effortless for you to provide extra lighting simply by installing the bulbs under your raised bed.
As in the picture above, it is installing LED bulbs will be much better because it has bright lighting at a low monthly cost.
17. Complete Railing and Solid Staircase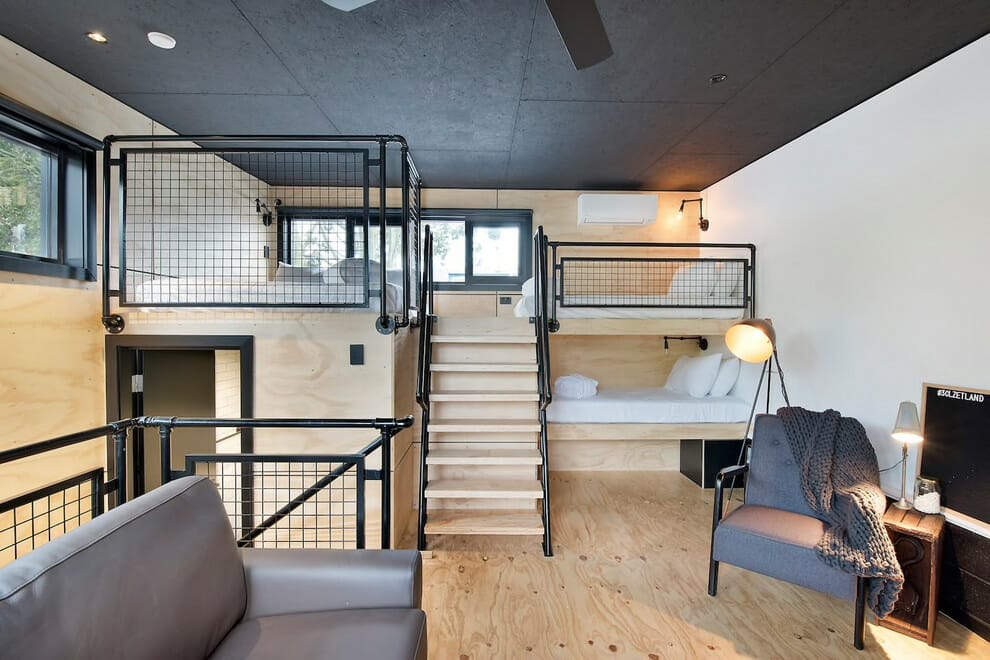 Many loft bed ideas for low ceilings also provide complete railing around the mattress. Not without reason, one with solid metal rails will help you feel secure and keep you from falling while sleeping.
Additionally, a design like this gives a strong statement on the served industrial ambiance. Suppose you like this concept, don't hesitate to create it in a hurry!
18. Hidden Wardrobe under The Bed
Have you ever thought that you would meet a wardrobe full of clothes behind that mirror? I think it seems so. And, instead of showing the clutters under the loft bed, you can safely provide a sliding door with a large mirror to hide everything in it.
Interestingly, these modern loft bed ideas for adults will soon be able to give an overall impression of your narrow bedroom.
Even better, it will also provide a trendy and fresh look by combining green and deep blue as the wall background.
19. Conjure Up the Entire Wall into The Black Board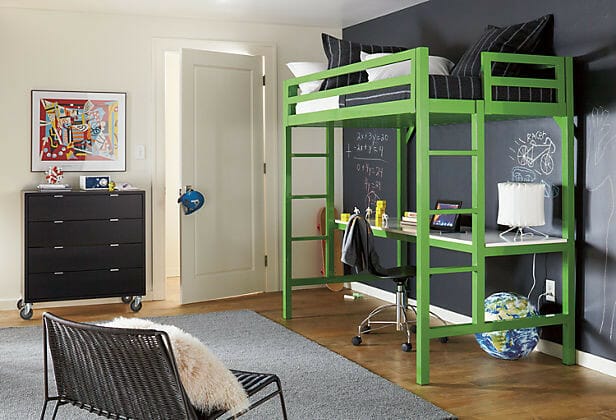 A standard full-size loft bed for a low ceiling can be very dull once set for prolonged periods without redecoration. Therefore, you can consider redecorating now.
You can take one step ahead by painting one side of the wall close to the loft bed unit in solid black. Next, you can freely fill it with to-do lists, sayings, or illustrations with colorful chalk.
20. Clothes Rod and Shelter for Bicycle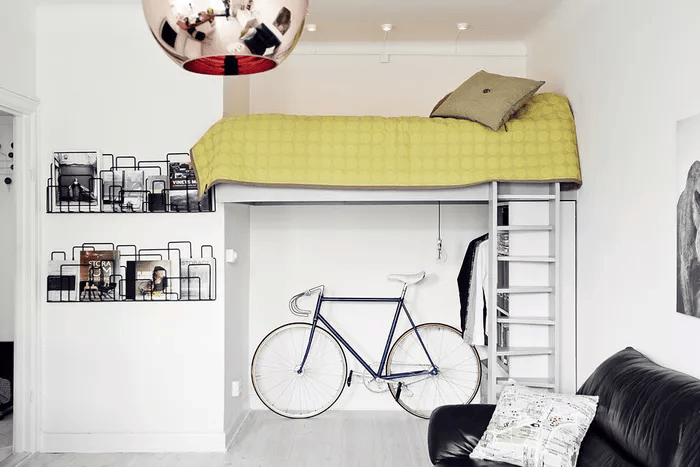 Nothing compares to the versatility of loft bed ideas for low ceilings. There is no need for you to have complex storage to store all your needs. You can freely even use it as a shelter for your bike.
Then, look at the corner of the room. You can also build a clothes rod under the bed without looking messy.
21. Secret Room Inside the Wall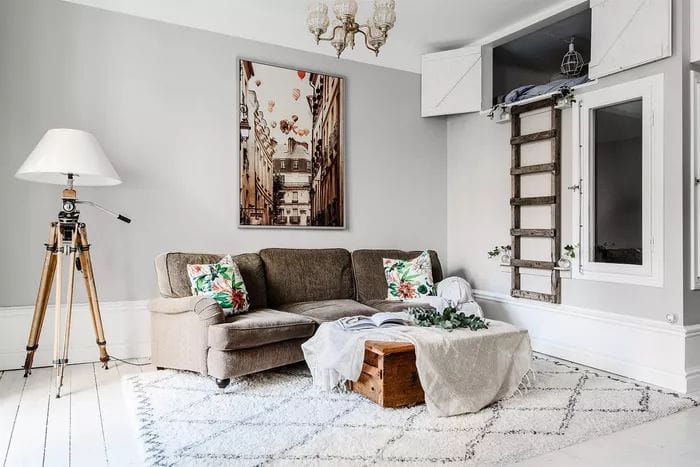 Have you ever thought about having a hidden nest inside the walls? All right, even though it looks like it doesn't get much light, these loft bed ideas for low ceilings are worth having.
You can provide a light fixture with sufficient lighting to get around it all. Alternatively, you could also go with a more aesthetic item like light strings.
22. Cheerful Loft Bed Ideas for Low Ceiling in Colorful Design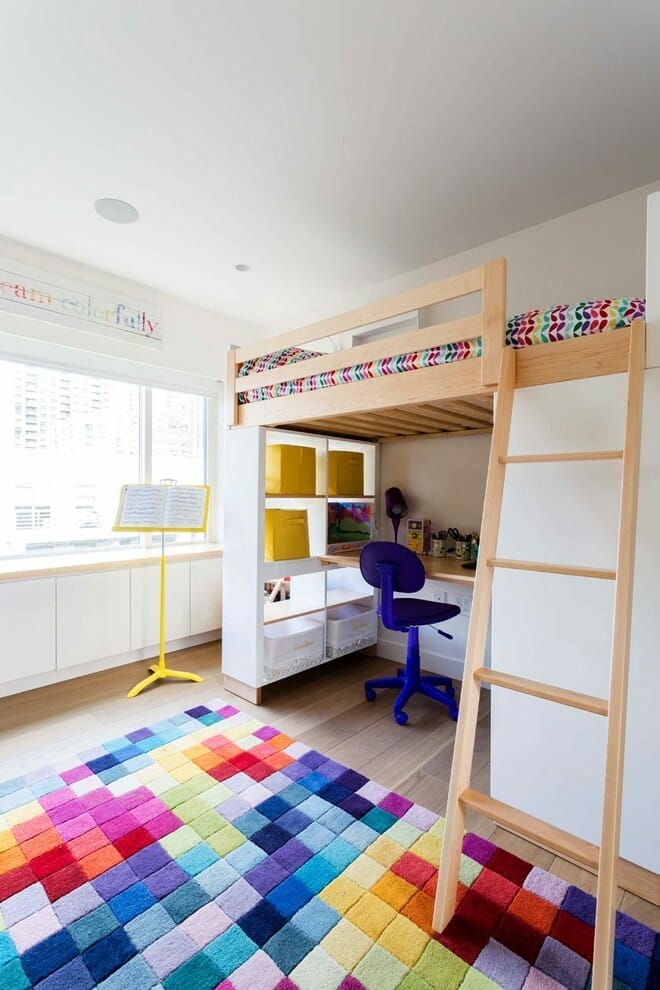 To get a brighter and cheerful vibe, you can try to give a touch of colors to your bedding.
Moreover, to increase the aesthetic value of your room with a basic loft bed theme, you can place large multicolor rugs right in the middle of the room.
23. Transform the Ceiling into A Focal Point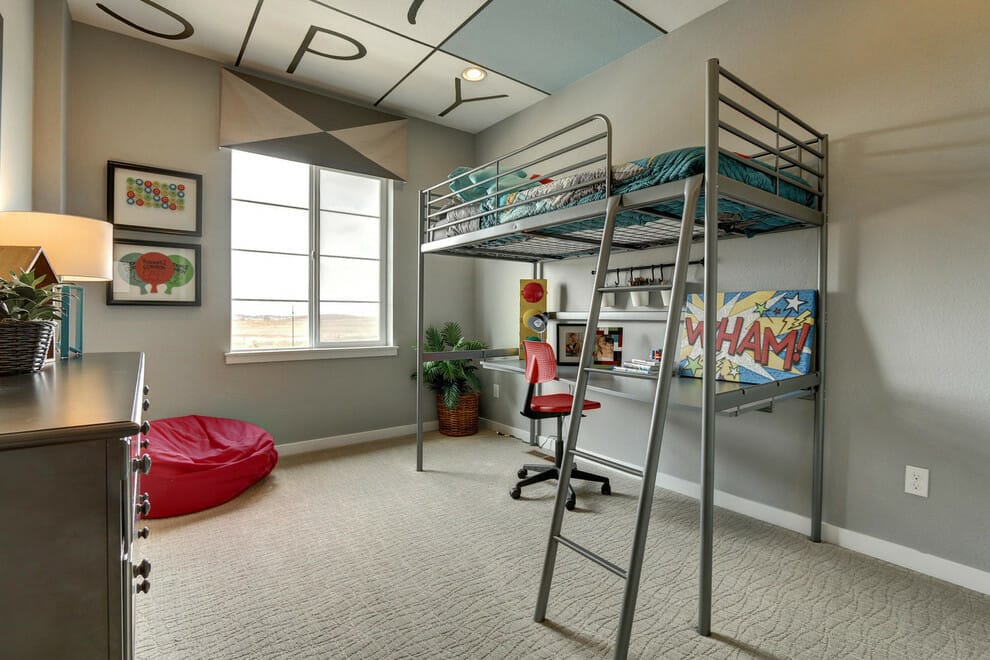 Spilling out all your creativity to get anti-mainstream loft bed ideas for low ceilings is, of course, a brilliant choice.
In addition to providing striking wall decorations, you can also add lettering designs to your roof. But, don't be afraid. It will not make your bedroom narrow at all. So, keep going!
24. Loft Bed Design for Kids with Playroom Underneath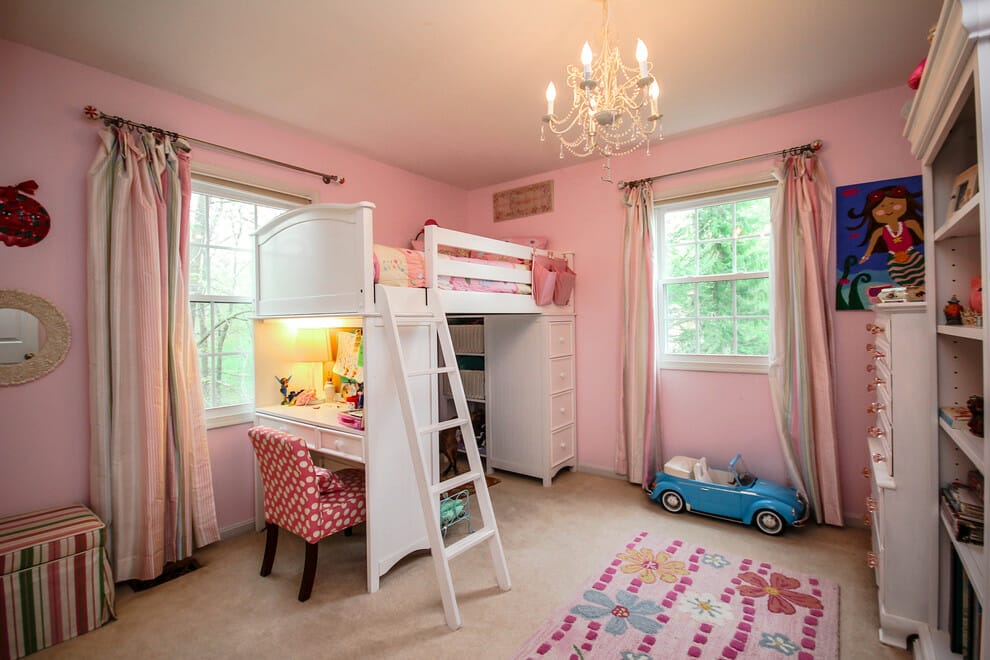 Suppose you are looking for loft bed ideas for low ceilings for your kids. In that case, you can try to design a complete one with a study desk and a playing spot for the children.
As a result, you don't need additional space for the playroom anymore.
25. Hide Everything Under the Bed with Curtains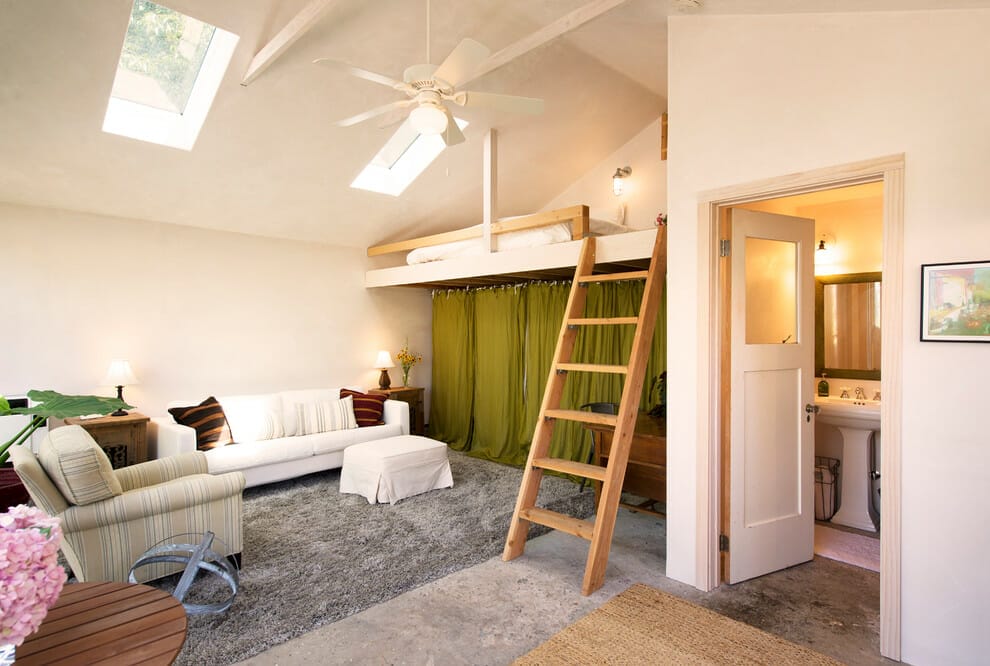 If you have met mirror sliding doors in your previous idea, you can now apply an alternative option by using curtains.
To simultaneously make a statement on your loft bed, it's a good idea to go with curtains that have striking colors. Green as above will be very suitable for small coastal themed apartments.
26. Save The Space with Versatile Unit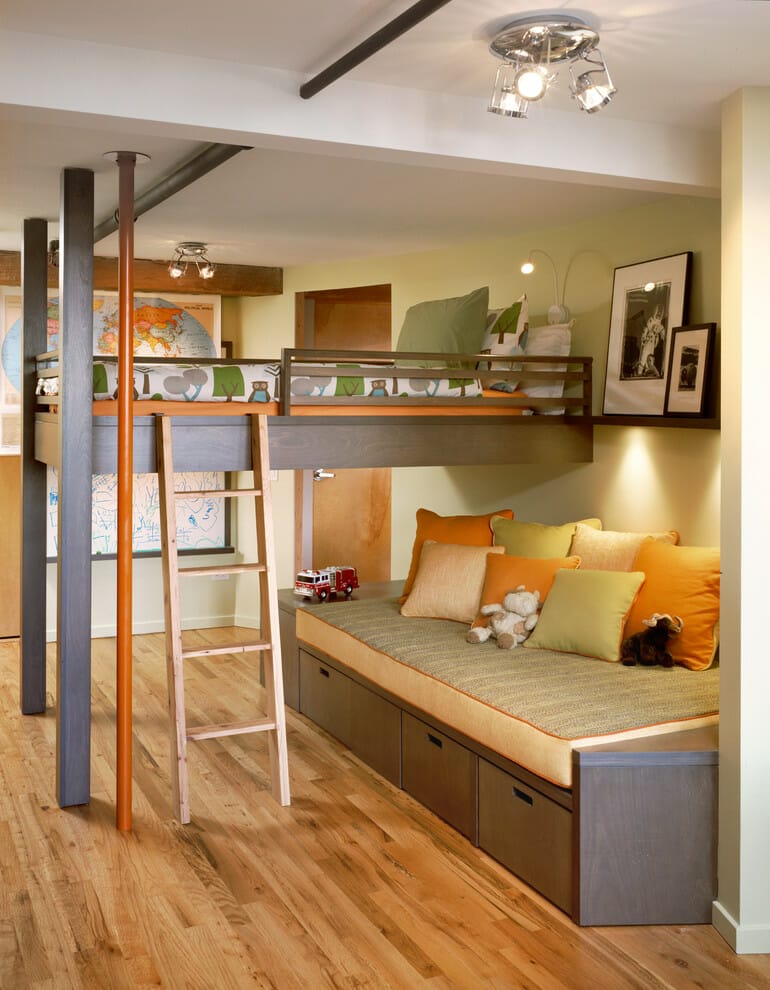 Indeed, a daybed couch placed under the loft bed will benefit you in every aspect. Even better if it is also equipped with extra storage underneath.
Through the presence of these pieces of furniture, you will stay away from all the space issues. And finally, able to store a lot of stuff even in a limited area.
27. Open Shelves at The End of the Bed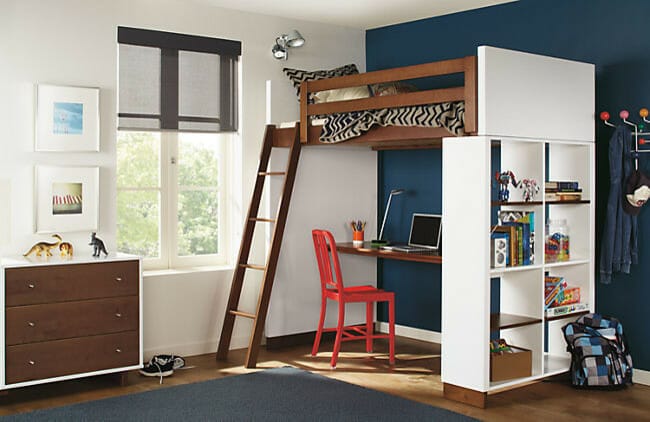 Shelving systems are one of the most accessible strategies you can bring along with a loft bed.
Especially with the open design, this unit will be the perfect spot to display your book collection and other decorative elements.
28. Add More Privacy with Wooden Railing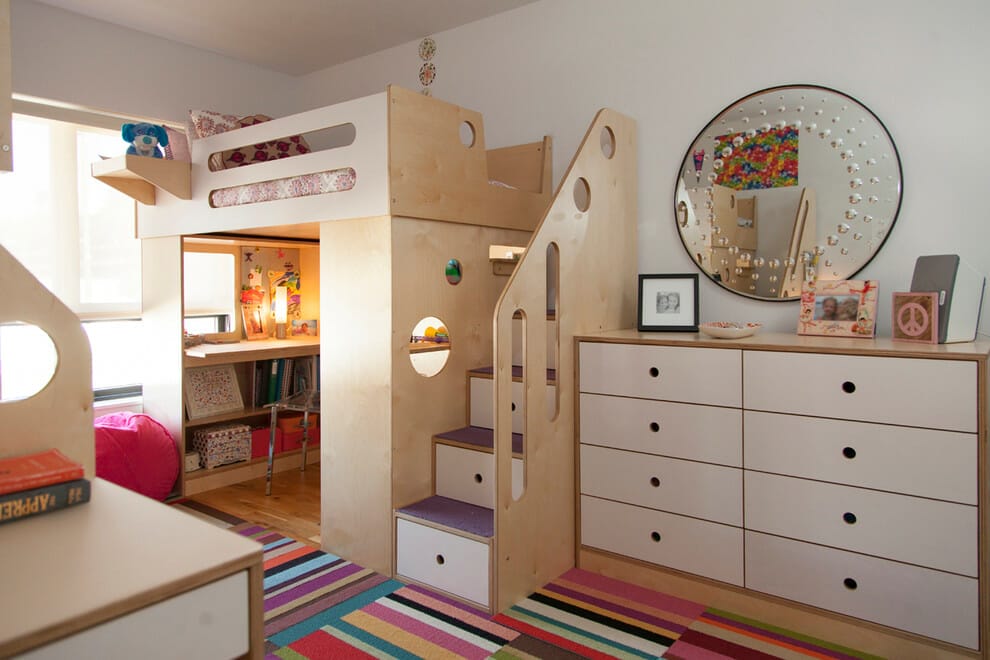 Who says loft bed ideas for low ceilings don't allow you to have more privacy? On the contrary, it will care for you better, especially with full wooden railings.
Above all, exploring loft bed ideas for low ceilings will not be enough. It is your time to realize it into your bedroom immediately. Hence, be prepared to get a personal space that is comfortable and free from overcrowding!