Green speaks of freshness, harmony, and revival. Furthermore, this hue instantly rejuvenates any culinary space. No wonder many designers opt for it when designing kitchens. If you're looking to vivify your cooking area, take my green kitchen paint color ideas into account.
Here, you'll discover fabulous ways to integrate shades of green into kitchens. This post will show 30 green kitchen color palettes. Below are cooking spaces with green walls, cabinets, tiles, or seats. Check them out!
1. Two-Tone Green Kitchen Ideas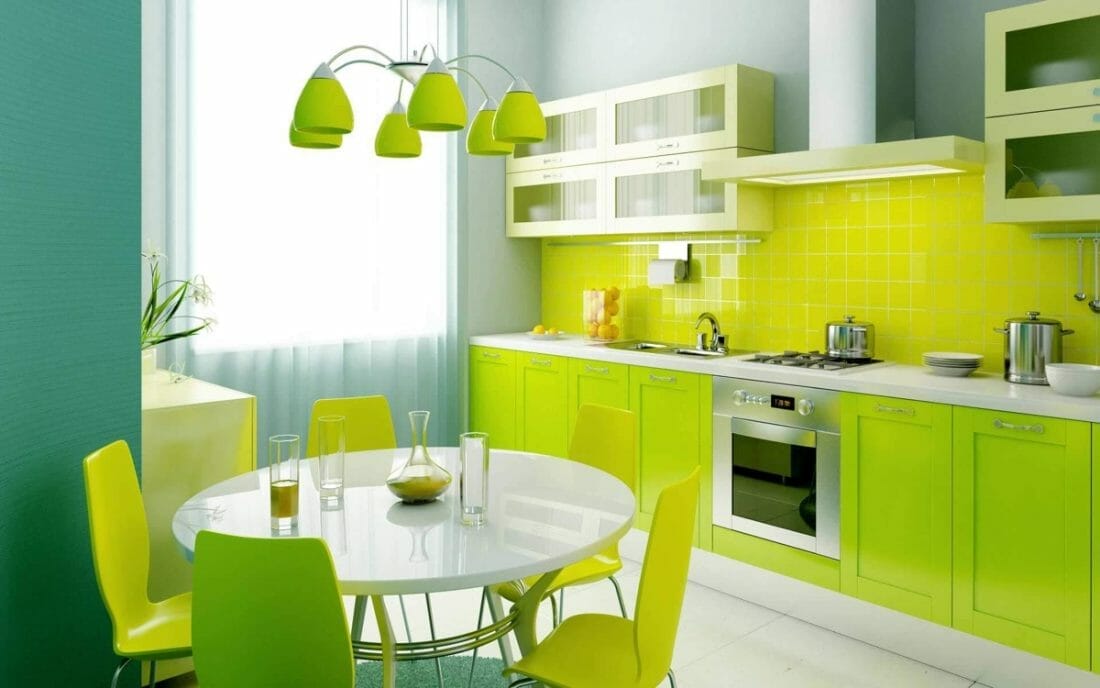 Bright lime is an uncommon option for a cooking area. However, if you admire its vibrancy, why not use it in your kitchen?
Here, lime green kitchen cabinets brighten and revive the interior in an instant. Moreover, backsplash tiles, dining chairs, and retro pendants repeat the hue for some additional cheer.
The jungle green wall delivers visual interest while embracing dynamism. Also, it gives enough contrast to lime green and stark white elements.
2. Muted Green Kitchen Walls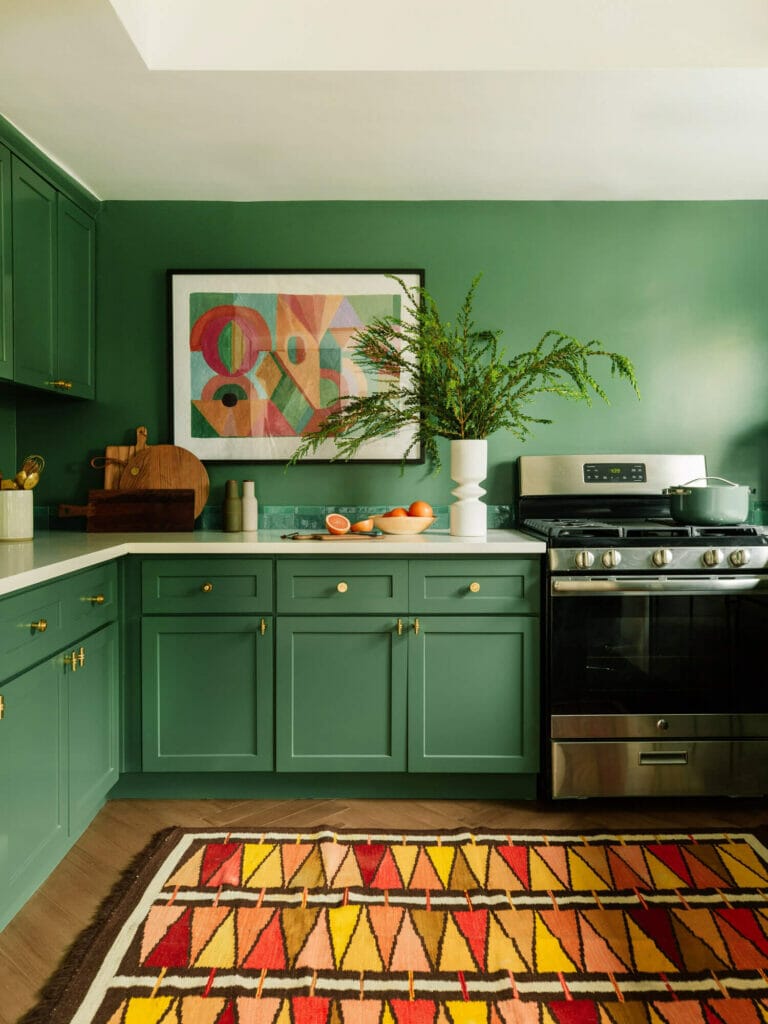 Need subtle green kitchen paint color ideas? If yes, incorporate this gentle green shade into your beloved cooking space.
The muted green paint delivers serene charm to the kitchen cabinetry and walls. In addition, it emphasizes gold and natural wood elements.
In addition, the white tray ceiling, counter, and accessories lighten up the cooking area. Meanwhile, the trendy rug employs varying soft pastels. It improves the interior's style factor. Lastly, the artwork ties different green and pastel shades together.
3. Pops of Pastel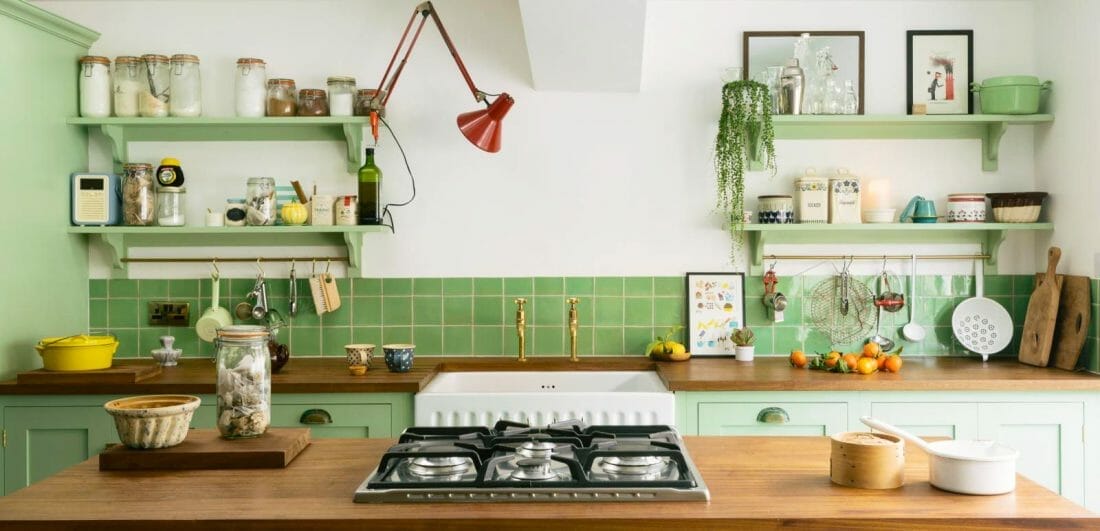 This is one of the terrific pastel green kitchens. The cooking area confidently embraces lots of gentle shades and woodsy tones.
The pastel green grid backsplash, cabinets, and wall shelves define this retro culinary space. Moreover, they balance out splashes of crisp white. Meanwhile, the gold hardware generates an appealing contrast.
Different woodsy hues embody a sense of warmth. Vivid bursts of color imbue the space with an additional breath of fresh air.
4. Pine Green Kitchen Paint Color Ideas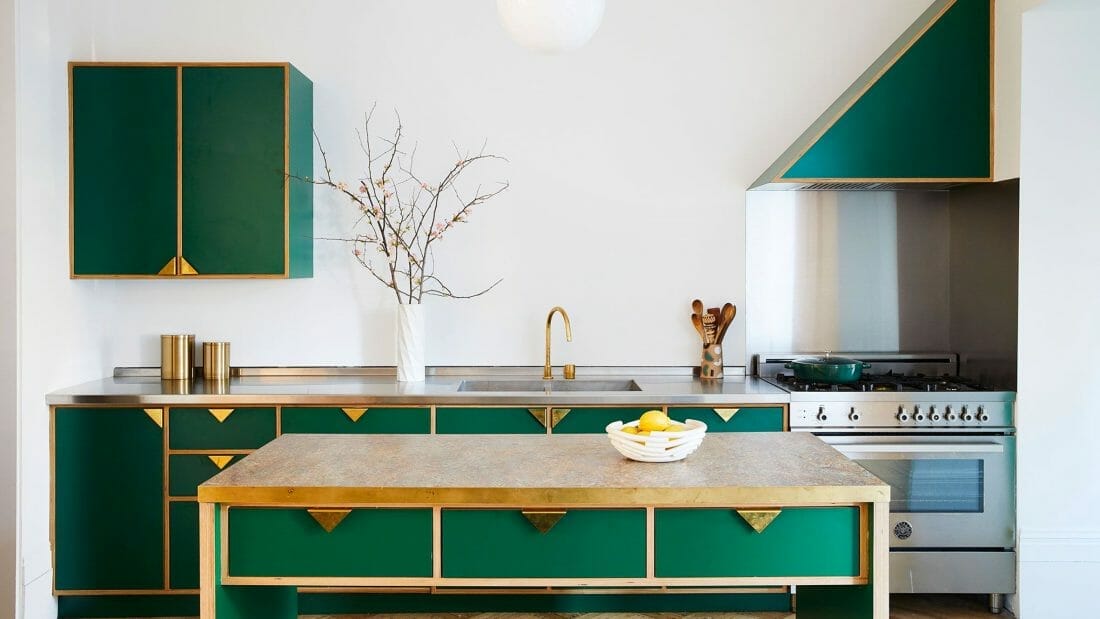 Pine green is possibly the best green for kitchen cabinets. Here, it revives the streamlined island and cabinetry.
The head-turning green units perk up white walls and accessories. Meanwhile, stainless-steel touches via the backsplash, counter, and stove strike an urban feel.
Varying geometric shapes infuse this striking kitchen with a modern flavor. Furthermore, the rustic tree branch decor and glam gold details exude a feeling of completion.
5. One Is Not Enough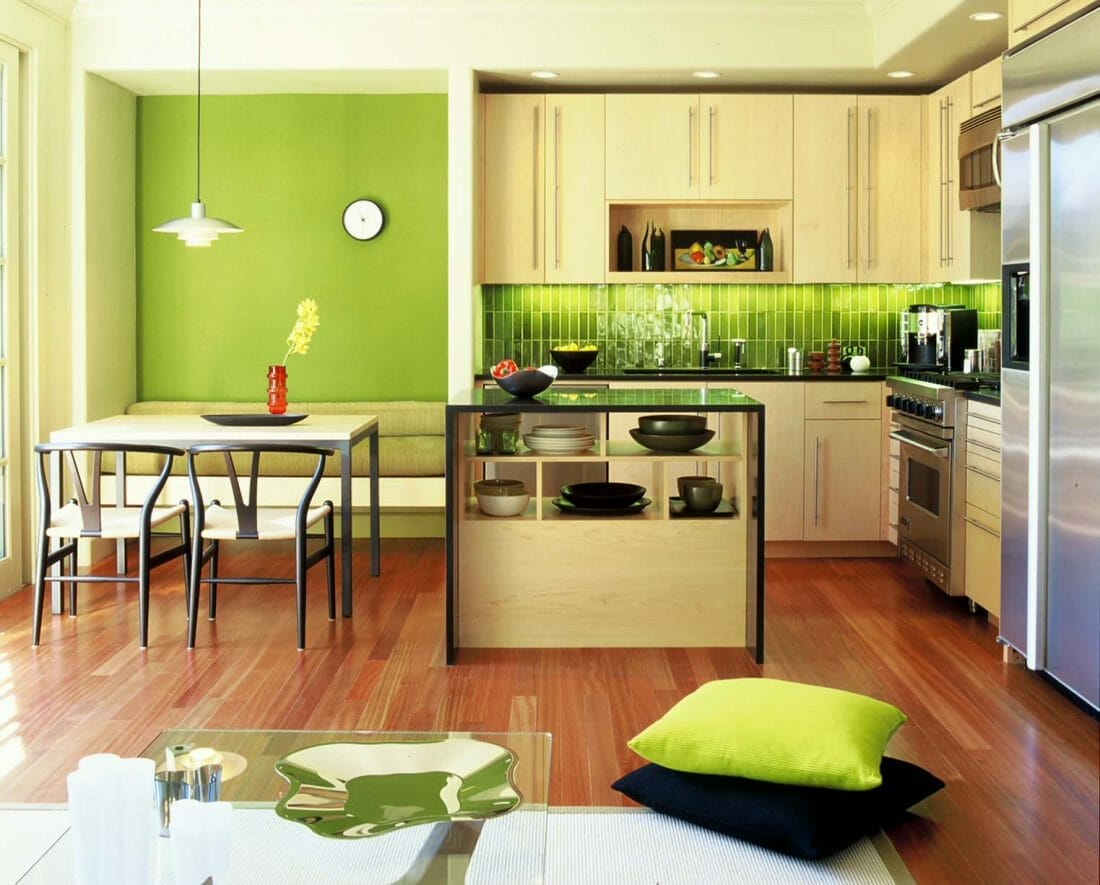 Numerous green kitchen paint color ideas may overwhelm you. So why not include layers of green in your culinary space? Varied green shades offer visual appeal and dimension.
Here, different green shades energize almost everything, from glossy backsplash tiles to the focal wall to the decorative pillow. Thanks to them, the kitchen seems vigorous.
Muted yellow surfaces carve a gentle contrast in this space. Meanwhile, woodsy tones temper bright green hues. Lastly, red accents tie the cooking area and dining nook together.
6. Eclectic Green Kitchen Paint Color Ideas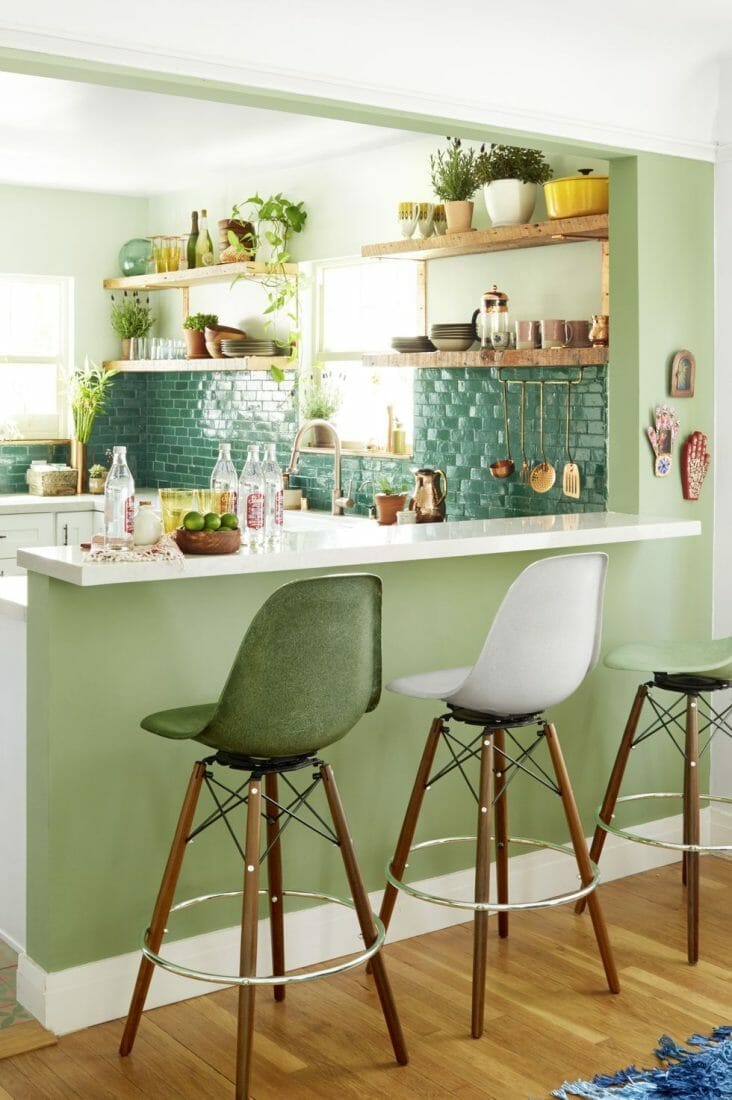 Want to play safe? Consider using subtle green shades instead of daring ones. Here, the tiered island, walls, and Scandinavian-style dining chairs wear understated green hues. Moreover, they portray simple elegance.
Pastel green shades temper pops of white magnificently. In addition, they lend the eat-in kitchen tons of visual interest in seconds.
The emerald green tiles make for a show-stopping backsplash. Meanwhile, plain wood open shelving and varied house plants bring nature indoors.
7. Serene But Superb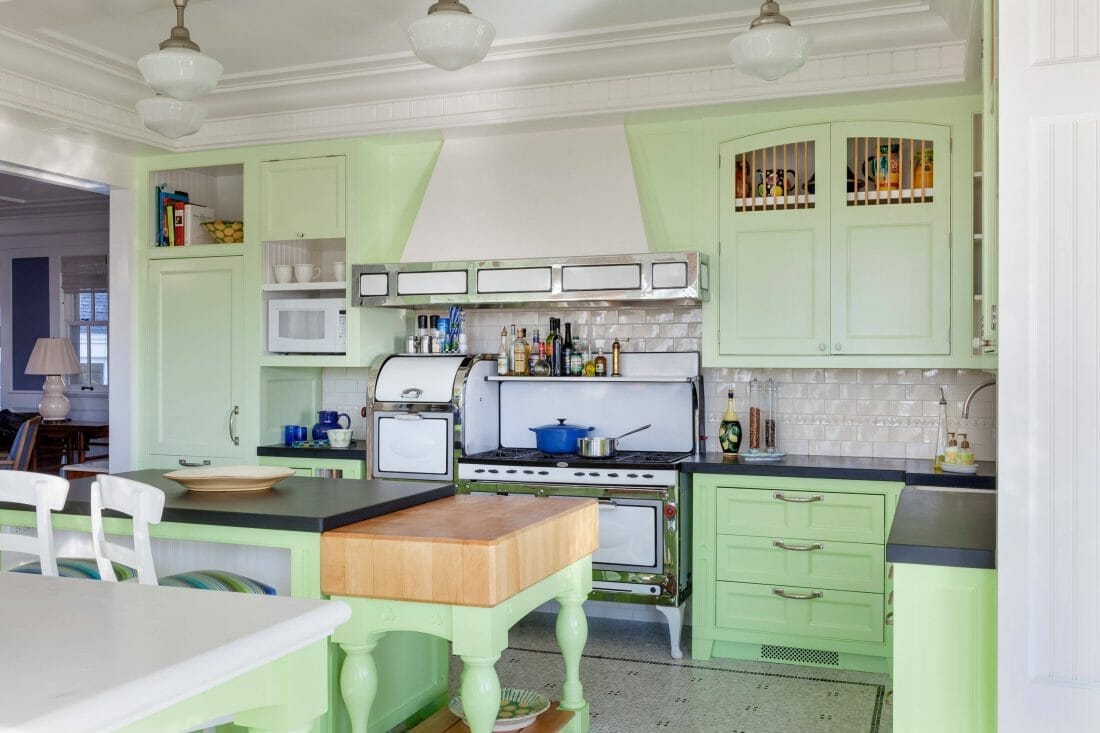 Some homeowners are after tranquil kitchens. If you're like them, coat your cabinets with two different pastel green paint colors. They add subtle dynamism while still lending this vintage culinary space a cohesive look.
Light pastel green cabinets contrast with crisp white appliances here. Meanwhile, pale taupe, bare wood, and cream details add understated warmth.
Accent pieces of bright blue spruce things up. Dark gray counters produce enough depth, while striped dining chair cushions symbolize cohesion.
8. Bold Green Kitchen Paint Color Ideas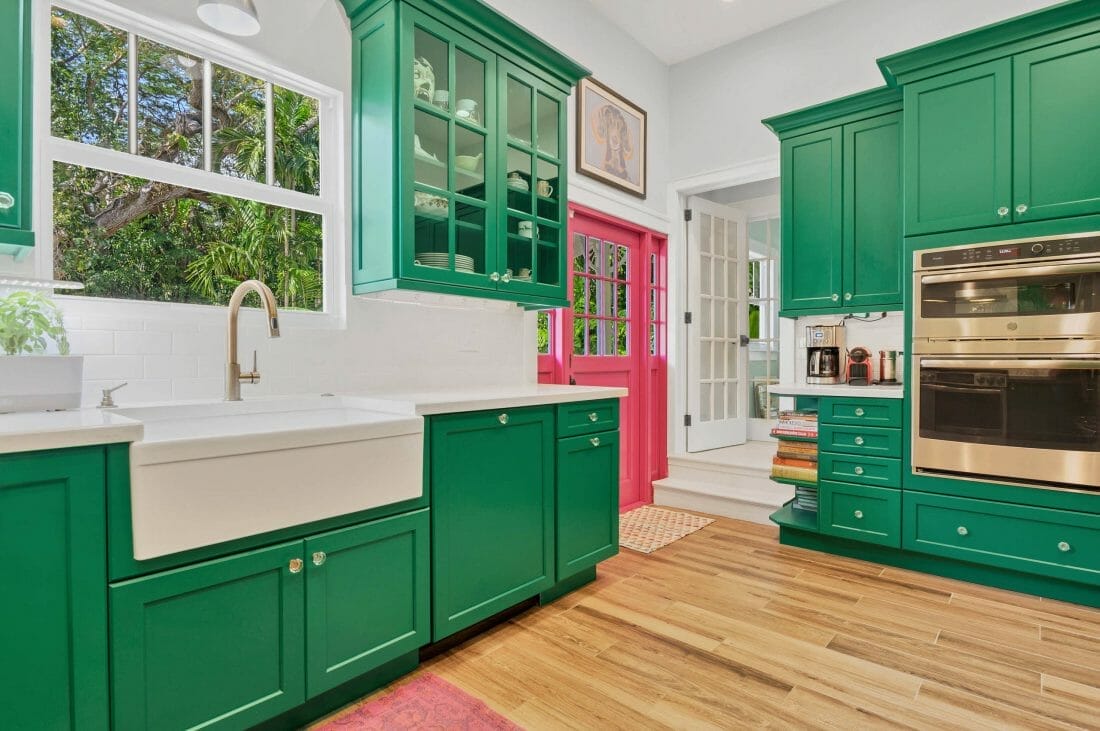 This farmhouse kitchen is captivating. Although the space doesn't employ lots of adornments, it doesn't look lackluster. The emerald green cabinets invigorate the interior while accentuating crystal knobs. It boasts glass panels and shelves for homeowners' cookbooks, too.
Bright pink Dutch doors give the cooking area an extra bold appeal while being a focal point.
Moreover, the wood floor, white apron-front sink, and pale gray walls lend bold elements a sense of balance. Showstopping rugs raise the kitchen's wow factor.
9. Dark Green Kitchen Cabinets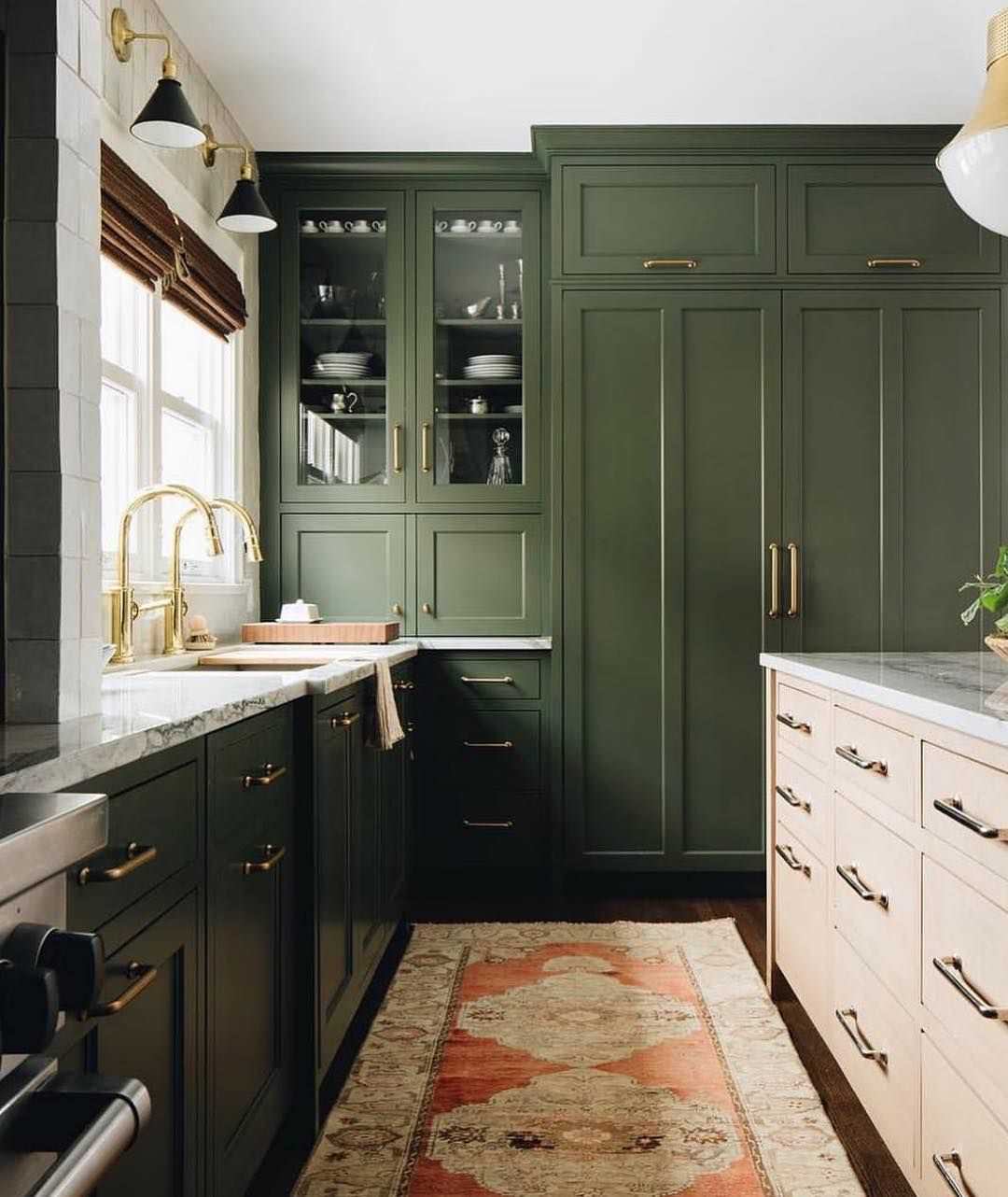 Some green kitchen paint color ideas encourage homeowners to experiment with rich hues. This cooking area seems sophisticated, thanks to dark army green cabinets. They feature brass accents. Also, their glass panels display metallic and ceramic dinnerware.
The deep green cabinetry complements black wall sconces. Meanwhile, windows, subtle gray tiles, and beige drawers offer an airy ambiance.
Gold accent pieces and white marble counters brighten up intense green cabinets. Moreover, they embody a sense of glam.
The dark brown flooring and window blind certainly create enough warmth. Furthermore, the peach-colored printed rug acts as a centerpiece.
10. Say Yes to Analogous Colors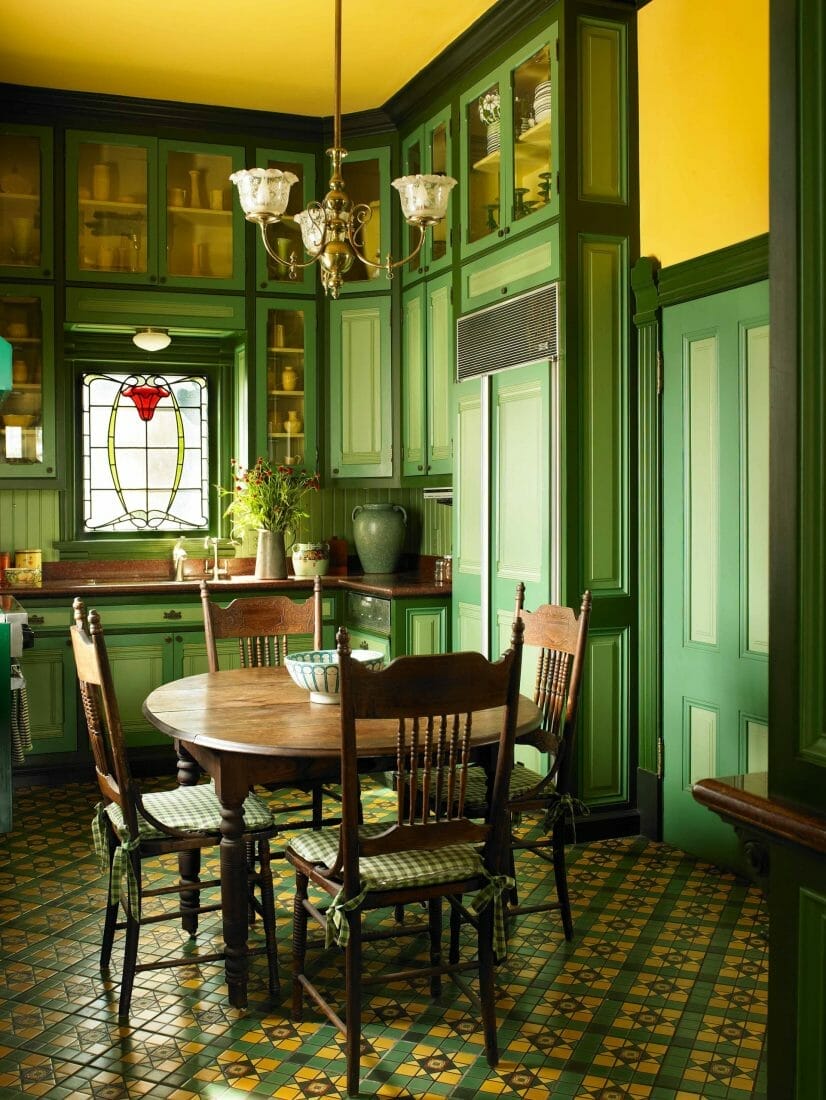 Speaking of green kitchen paint color ideas, try marrying shades of green with yellow tones. Since they both are analogous colors, they share similarities.
Here, traditional-style cabinets display varying green tones. Apart from imbuing personality, they depict elegance and deliver dimension. The jug, door, and gingham chair cushions continue embracing green hues.
Varied yellow shades make this country kitchen more cheerful. Meanwhile, the wooden dining set and reddish-brown counters embrace pure warmth.
Multicolored vintage tiles successfully unify the kitchen. Then, the classic chandelier and stained-glass window symbolize grandeur.
11. Custom Green Kitchen Paint Color Ideas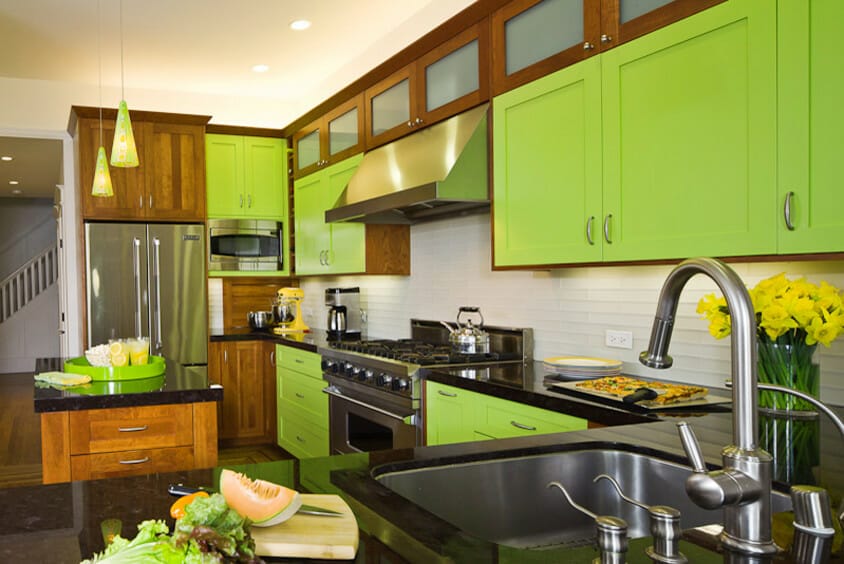 When in doubt, choose lime green. This shade will effortlessly refresh any cooking area while evoking an air of dynamism.
Here, homeowners mostly painted their cabinets lime green. The tray and conical pendants wear the same custom shade for visual cohesion.
Meanwhile, the maple-stained wood cabinetry and white backsplash offset lime green cabinets. Yellow accents are evocative of summer days. Furthermore, black granite countertops carry a decent dose of drama.
12. Dark Yet Delightful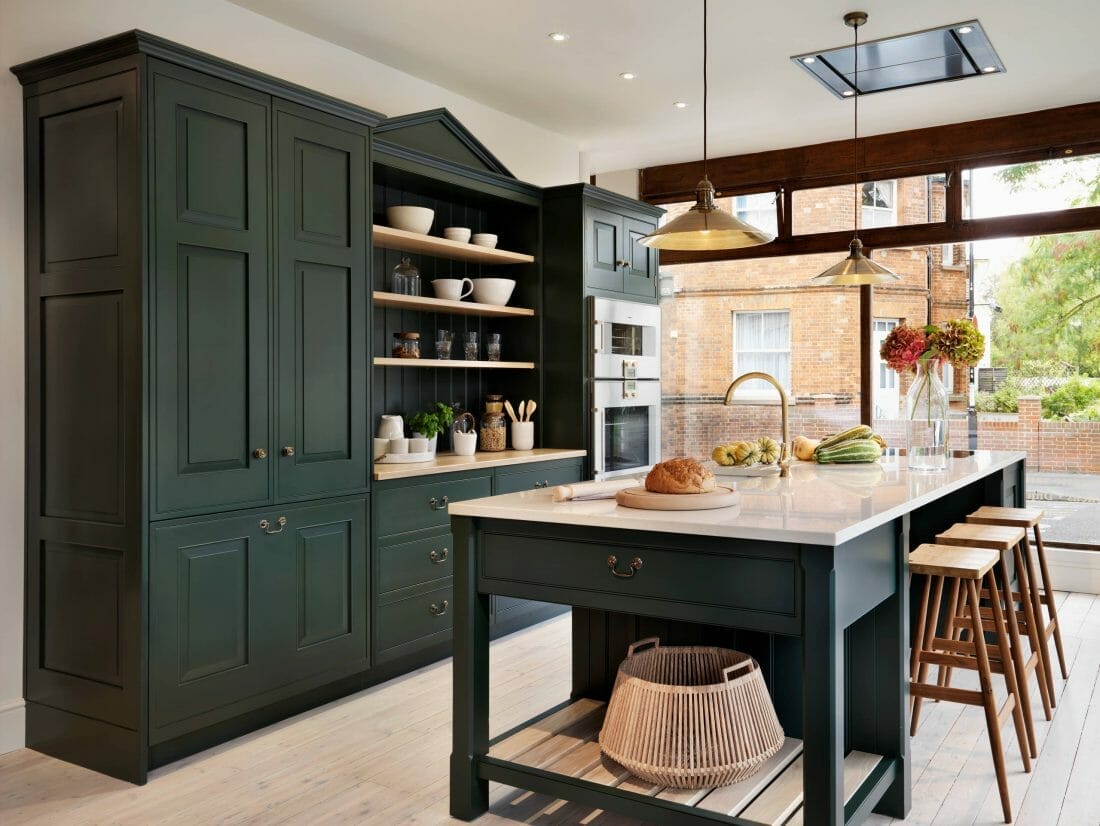 The dark emerald green island and cabinetry are dramatic. Due to them, this contemporary kitchen doesn't run out of sophistication and visual depth.
Here, the deep emerald green cabinets highlight soft white shelves. The open shelving features an assortment of dinnerware. Meanwhile, window walls balance out their intense hue.
The matching island accommodates a slatted shelf, a drawer, and three wooden stools. Two sleek and shiny pendants brighten the white counter.
13. Stunning Green Kitchen Paint Color Ideas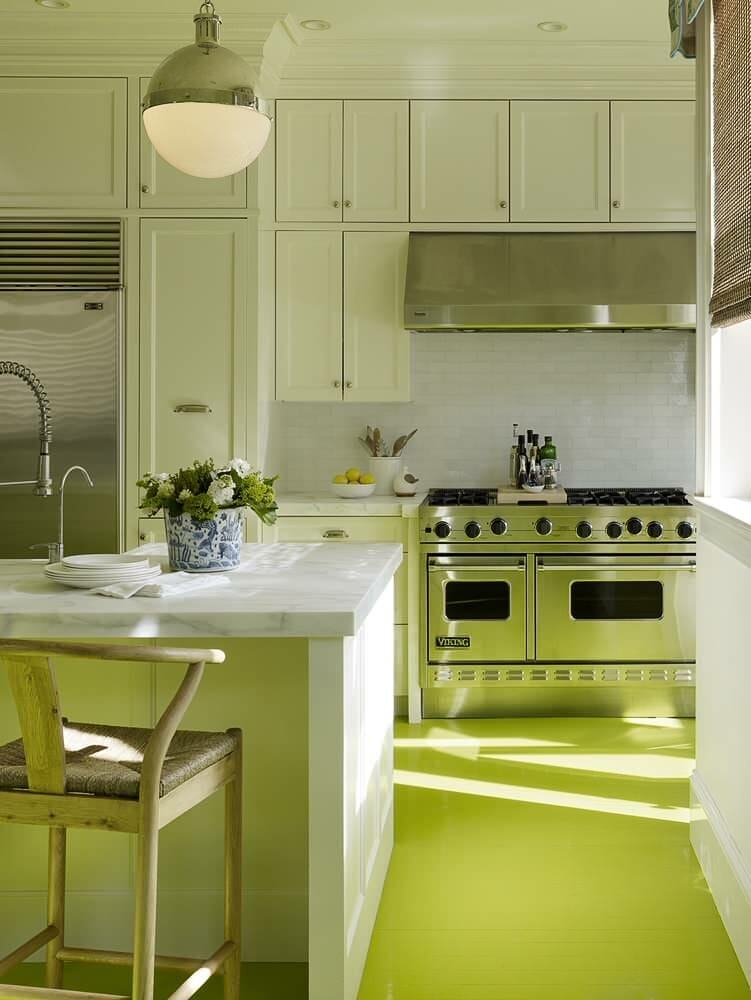 The mellow green cabinets set the kitchen's tone. Furthermore, they mingle with white marble counters and subtle tiles, so the scene stays airy.
In this room, the pale green-painted cabinetry delivers an exquisite contrast to the lime green flooring. Moreover, metallic appliances symbolize industrial modernism. Meanwhile, the china flower vase and woven dining chairs provide so much personality.
14. Create Visual Contrasts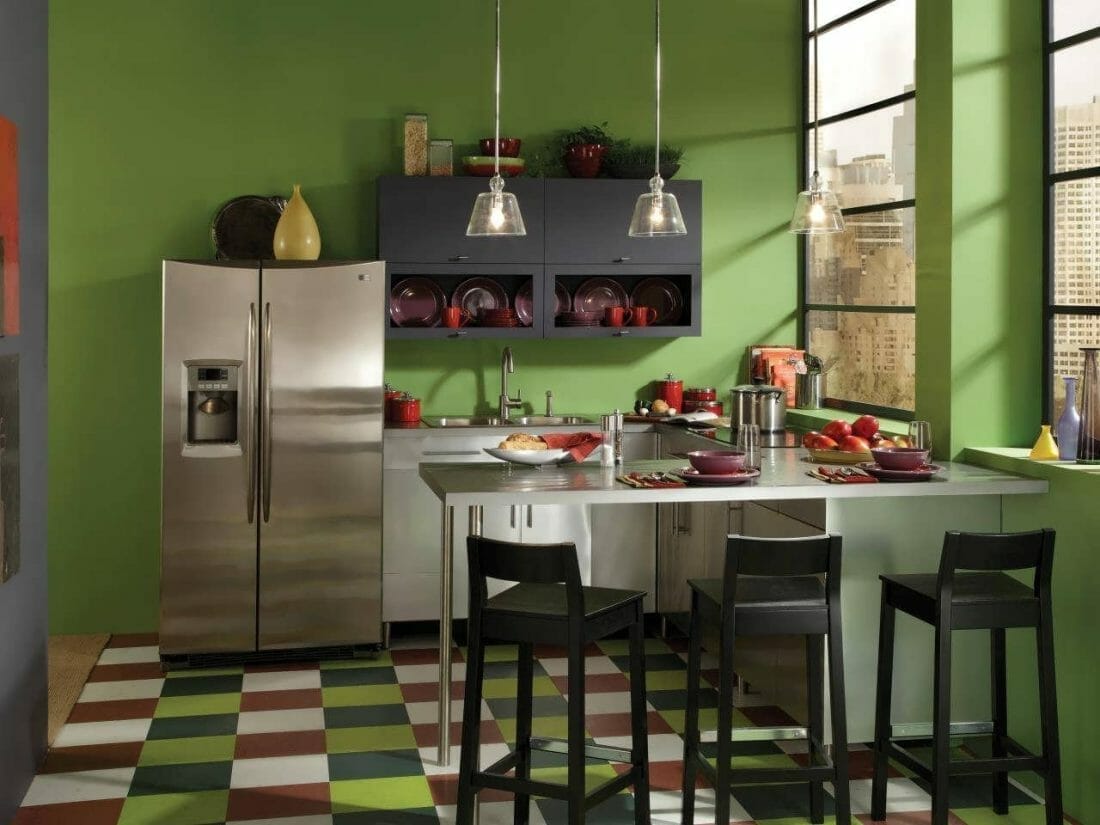 Subtle green kitchen paint color ideas are all the rage. Here, soft green walls revive the culinary space without being domineering. Two-tone gray cabinets deliver interest while accentuating yellow and red accents.
Charcoal gray dining chairs and glass pendants create balance. Meanwhile, retro-style tiles bring all the shades of this kitchen together.
15. Turquoise Green Kitchen Paint Color Ideas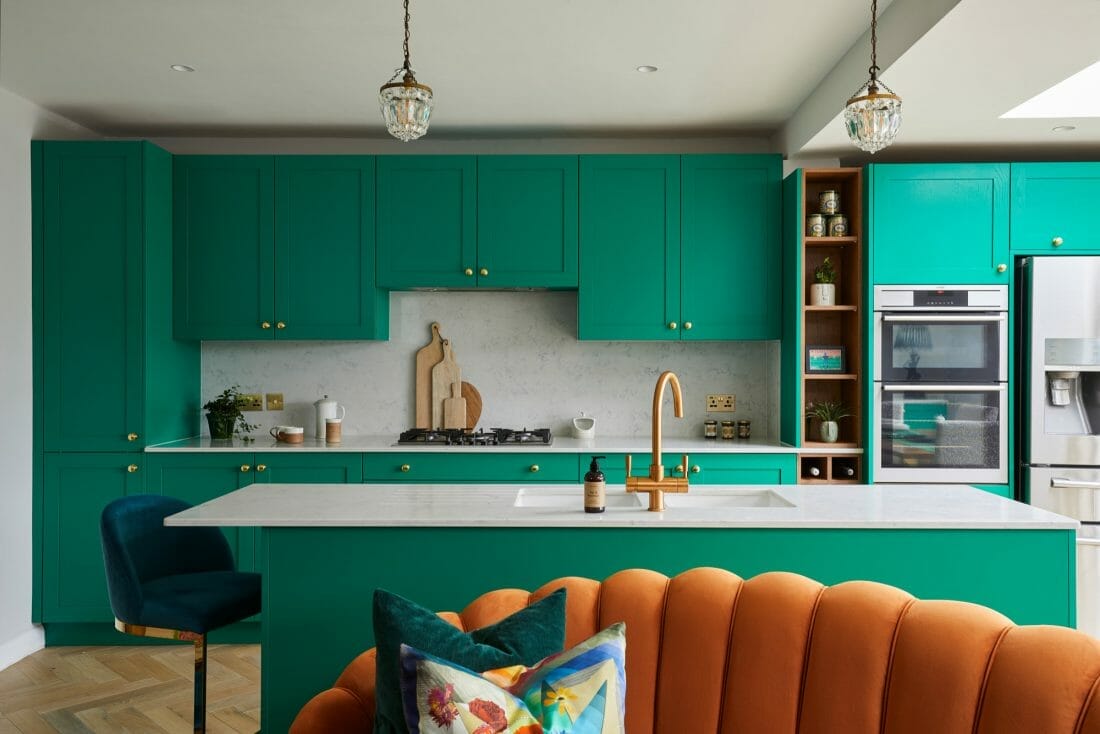 Daring green hues aren't for faint-hearted homeowners. If you're fearless, integrate turquoise green units into your kitchen. They make this culinary space feel like a jewel box.
The teal dining chair and emerald green pillow lend the kitchen extra jewel tones. Meanwhile, the burnt orange seashell sofa and warm metal finishes offset cool tones instantly.
16. Sage Green Kitchen Color Scheme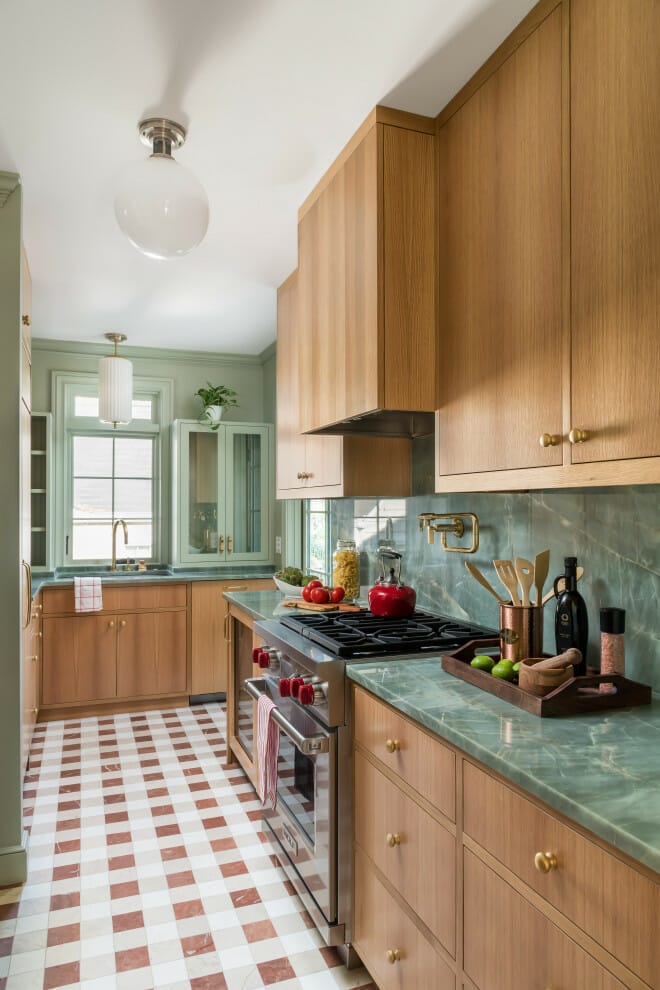 If you're into sage green kitchen paint color ideas, try this interior layout. Sage green upper cabinets and walls speak of serenity. Mismatched two-tone ceiling lights grab attention.
The gray-green marble backsplash and counter make the kitchen color-coordinated. Furthermore, touches of bare wood, gold, copper, and red keep the color scheme balanced.
17. White and Subtle Green Kitchen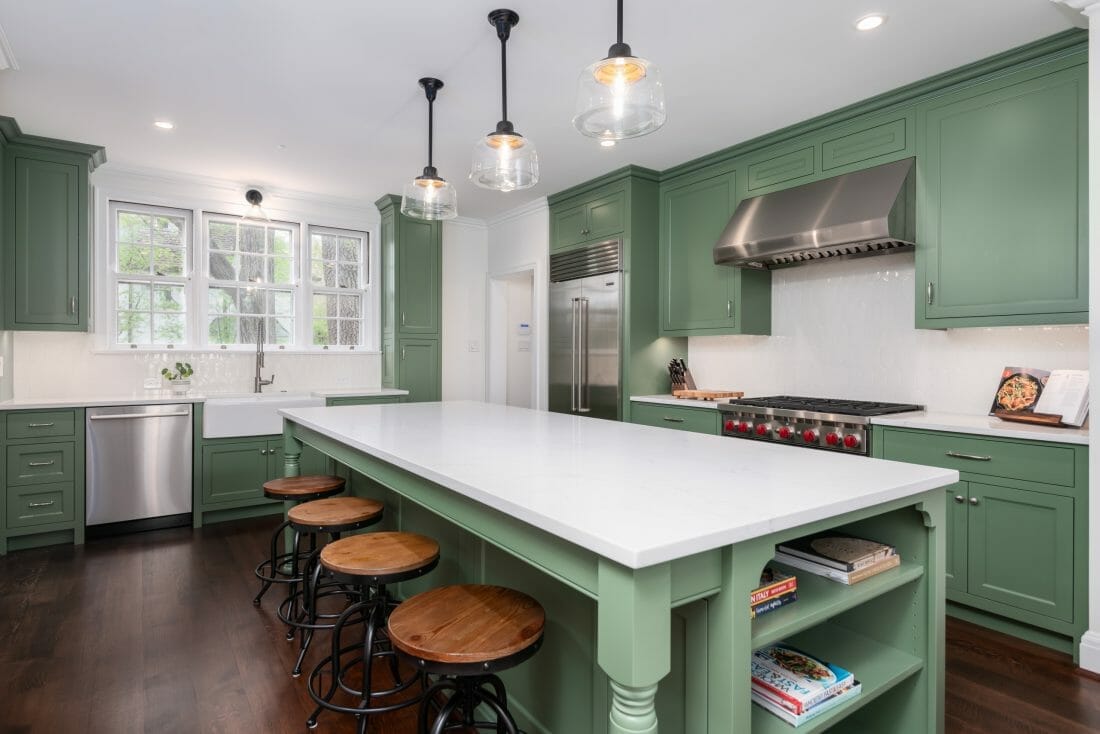 Russian green spices up the chunky island and Shaker-style cabinets here. Moreover, they speak of tranquility and elegance at once.
Glass lampshades, white counters, and windows retain the kitchen's light feeling. Meanwhile, varied woodsy tones lend unmatched warmth to mellow green pieces of furniture.
18. Marvelous Mint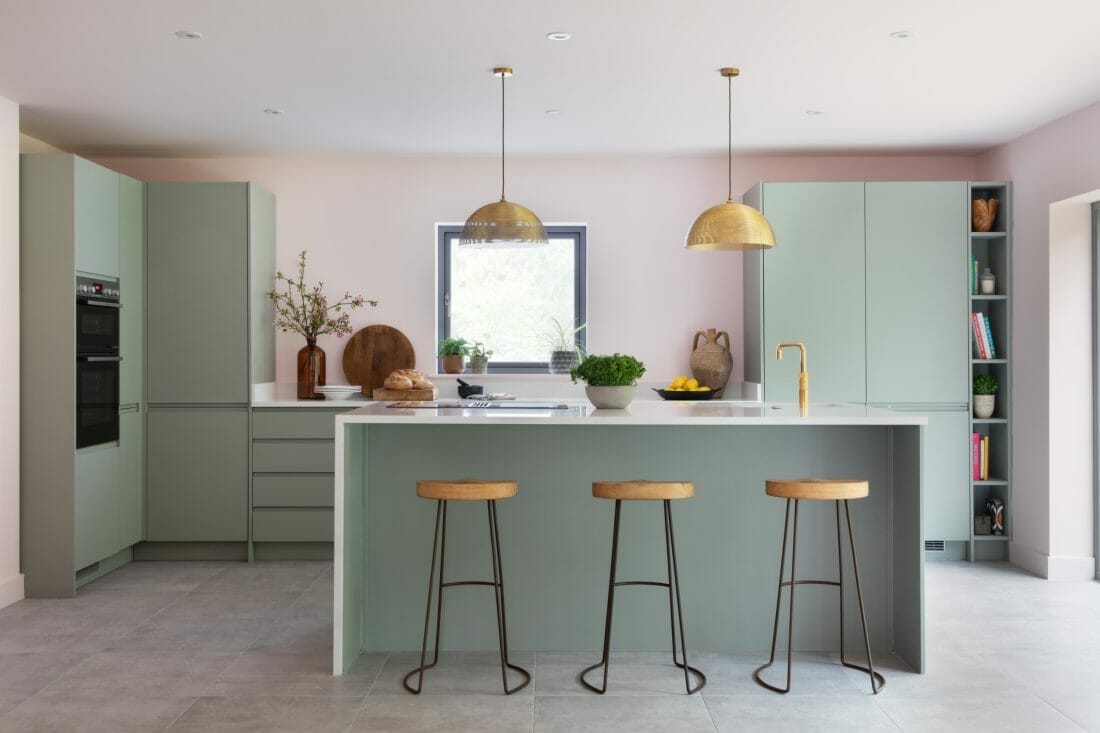 If you adore light green kitchen paint color ideas, luck is completely yours. Since cabinets are hardware-free, a few coats of muted mint green come to the rescue.
Despite their minimalist nature, the cabinets still rejuvenate the room while featuring narrow shelves. Meanwhile, circular wooden stools and dome gold pendants temper crisp lines.
19. Stylish and Glam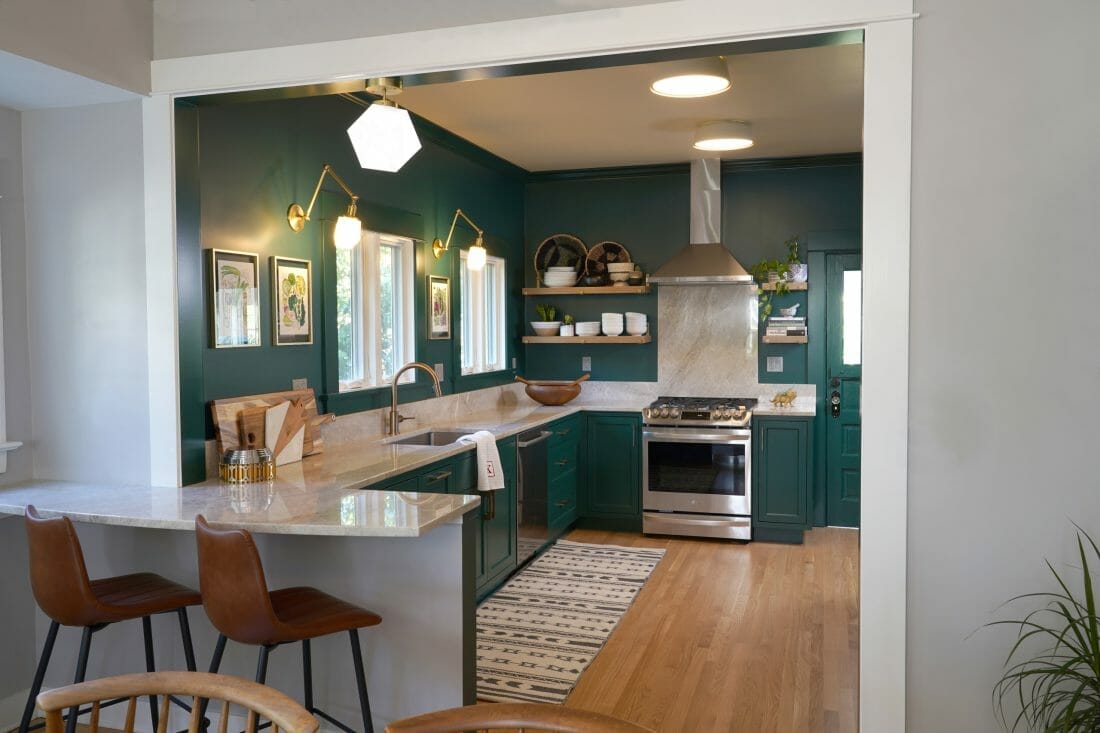 Mallard green trims, base cabinets, and walls carve a statement. Also, they guide eyes to gold sconces, dinnerware, marble surfaces, and art pieces.
Homeowners swapped top cabinets for open shelving. Brown leather bar stools and wooden floors balance out the cold-toned cabinetry.
20. Splashes of Subdued Green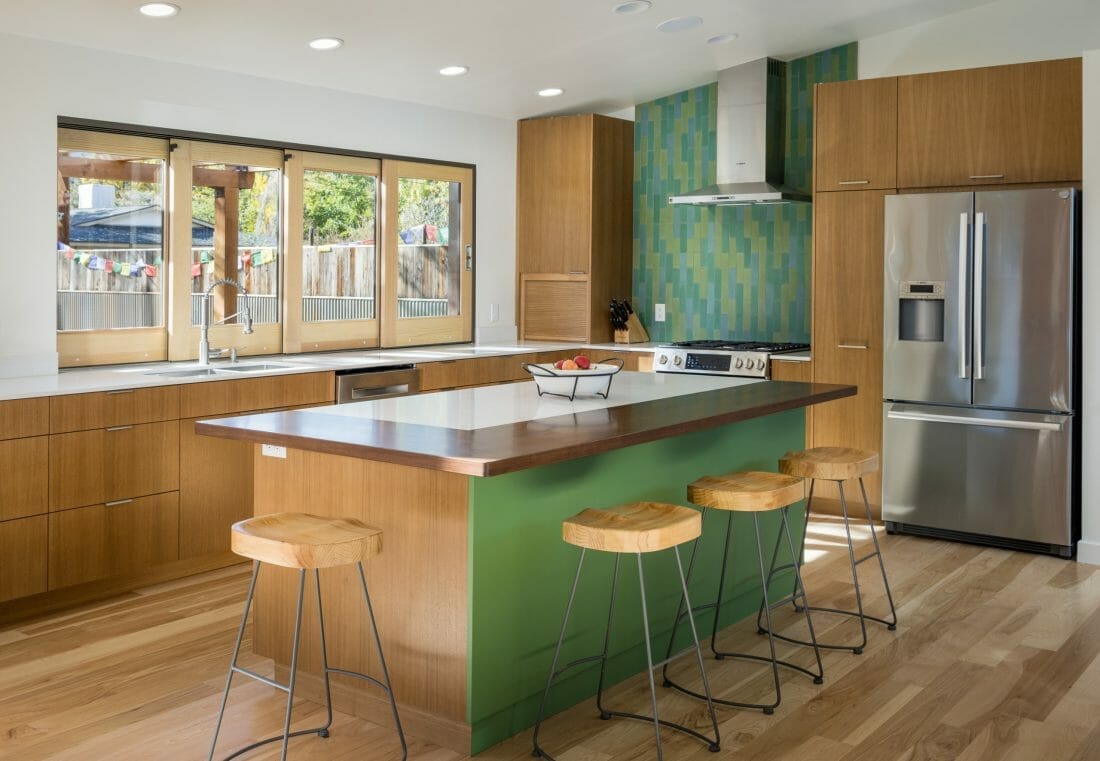 In this modern kitchen, green isn't dominant. The subtle green-and-wood island houses sleek bar stools while carrying dimension.
The flooring, cabinets, and window frames repeat woodsy hues for a cohesive feeling. Furthermore, the focal wall showcases multiple muted green shades that generate a dynamic appeal.
21. Enough Eclecticism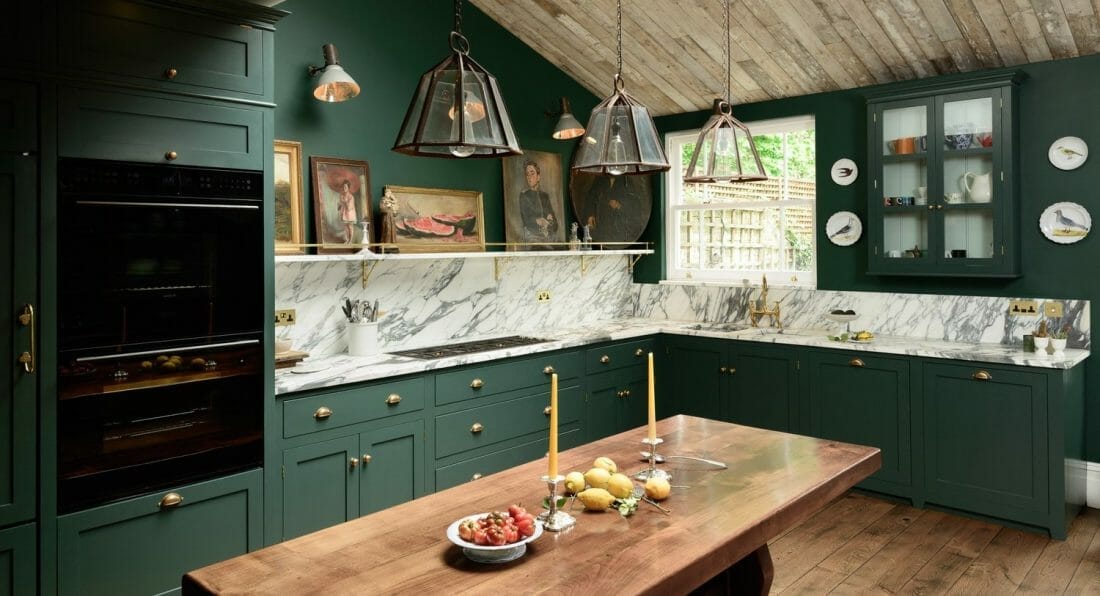 If you lean towards deep green kitchen paint color ideas, steal this look. Hunter green cabinets imbue sophistication and drama. The extra-long wooden table offers them contrast.
As you see, rich green cabinets draw attention to the marble counter and backsplash. Framed artworks line the open shelf, while decorative plates flank the glass-front cabinet.
22. Kelly Green and Gray Kitchen Ideas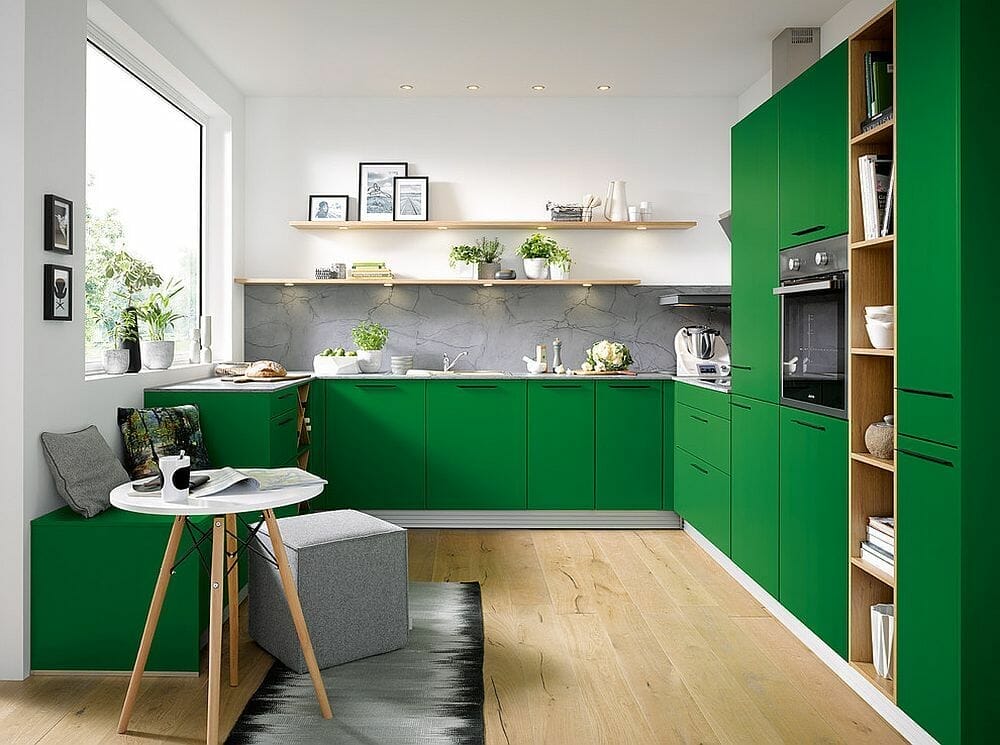 Here, the Kelly green bench and cabinets pose as focal points. Furthermore, they revitalize the otherwise uninviting kitchen.
Bright white walls, gray furnishings, and lots of open shelving epitomize airiness. Meanwhile, the round Scandinavian table and houseplants soften the angular pieces' look.
23. Color-Coordinated
Since the kitchen is enormous, homeowners need a custom paint color to unify it. The subtle green cabinetry and island imbue a sense of continuity.
High-gloss square tiles of muted green and gray generate so much interest. Moreover, gold details and stained wood elements offset white furnishings.
24. Olive Green and White Kitchen Cabinets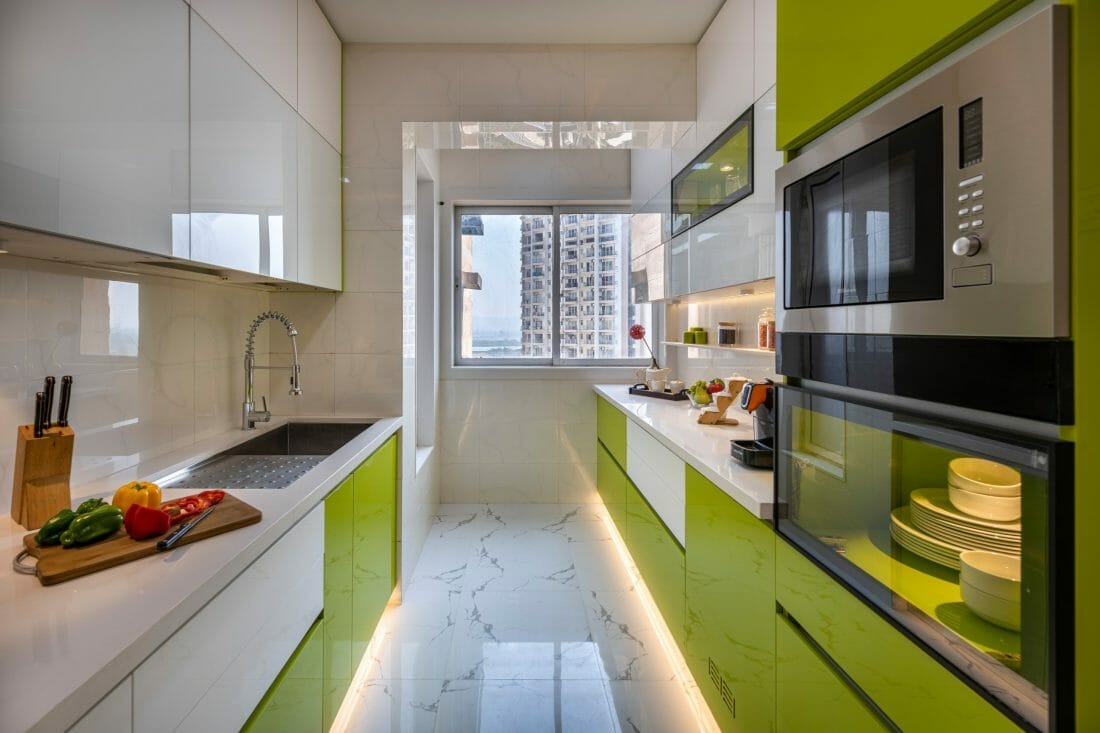 This galley kitchen is trendy and energetic. Custom streamlined cabinets wear olive green. They embody urban minimalism while bringing the space to life, too.
White cabinets and countertops ensure this pocket-sized kitchen seems airy. Marble tiles carry some glam to the apartment cooking area.
25. Colors of Nature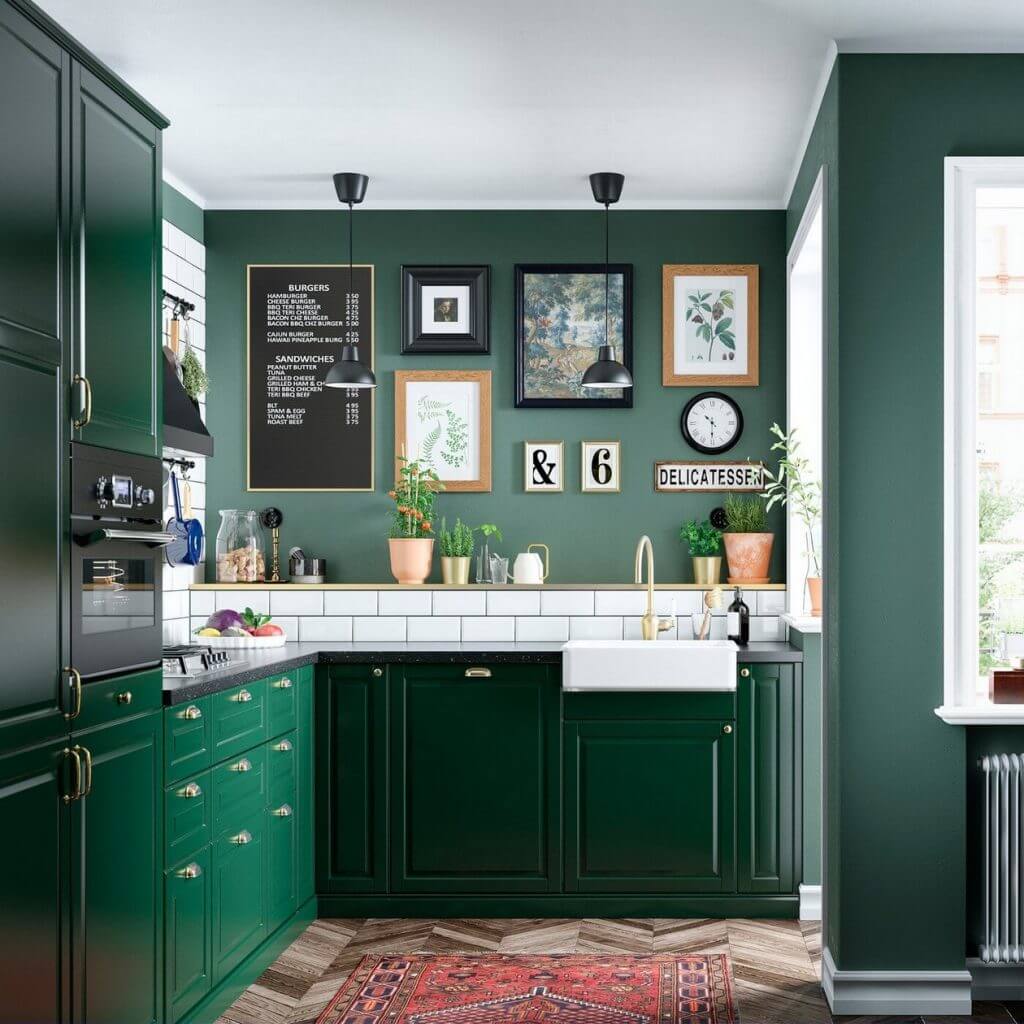 If two-tone green kitchen paint color ideas wow you, replicate this space. Forest green cabinets establish a statement while lending the silver hardware a bold contrast.
Earth toned-green walls generate the tranquility of the outdoors. Moreover, the gallery wall and pastel accent pieces brighten them up.
26. A Sense of Visual Balance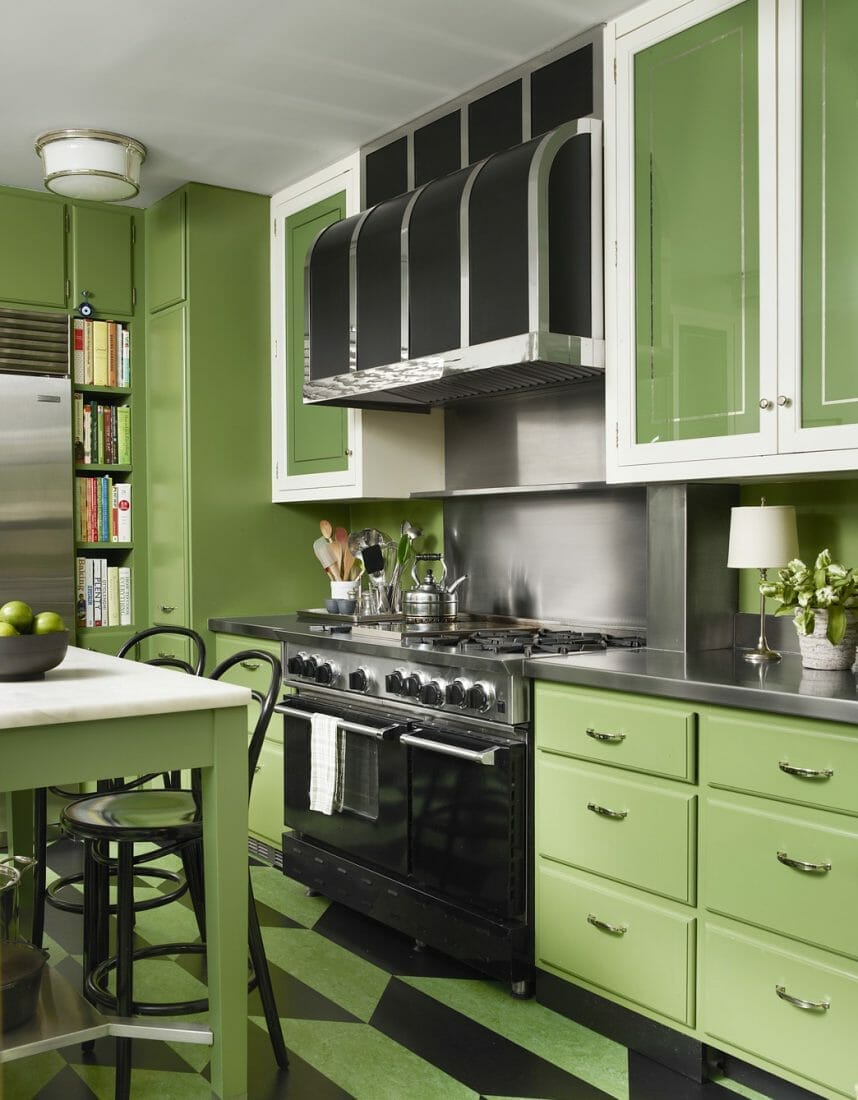 This kitchen employs varied shades of muted green. Although the hues are understated, they still carve some subtle dimensions. Also, the narrow corner bookshelf keeps cookbooks under control.
The two-tone island and upper cabinets catch the eye. Meanwhile, trapezoid floor tiles boast black and soft green, so the vintage culinary space looks cohesive.
27. Pretty in Pastels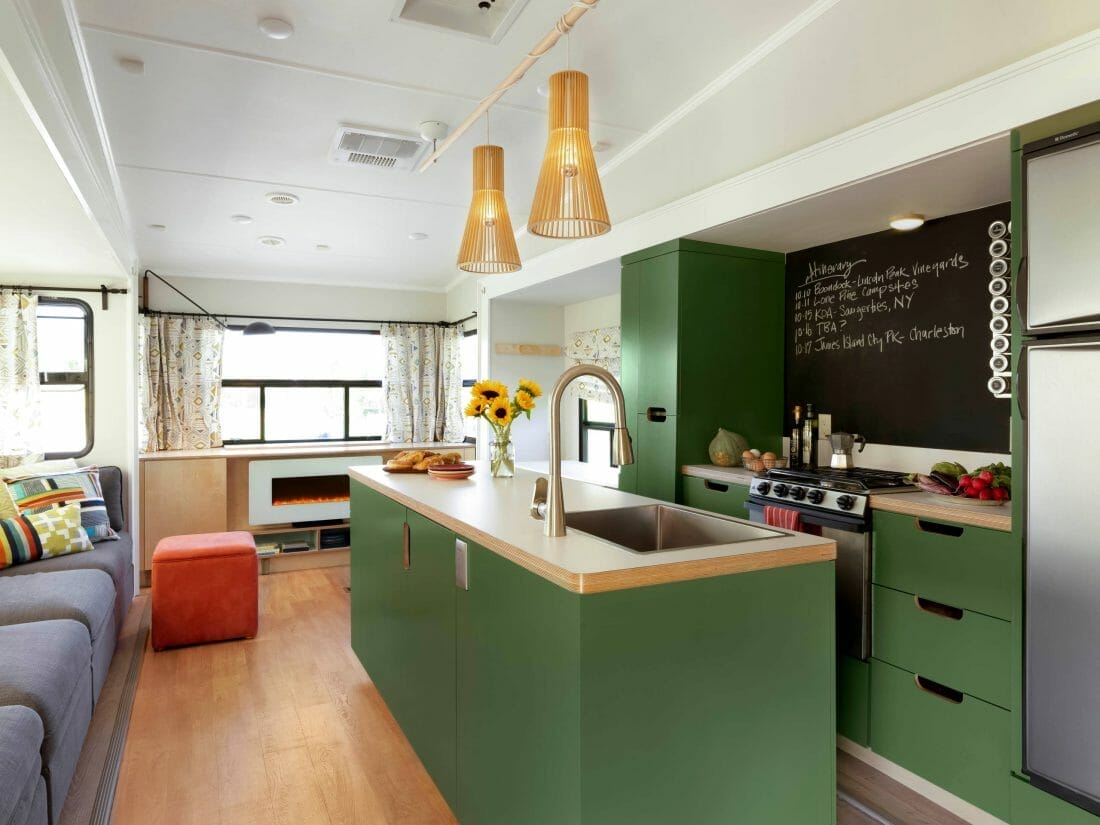 Green kitchen paint color ideas aren't complete without soft pastels. Here, the pastel green cutout cabinetry and island add some life while mingling with bamboo pendants.
The stool, sofa, and accent pillows come in varied pastel hues. Also, there's a chalkboard to write down the homeowners' itinerary or favorite recipe.
28. All About Intensities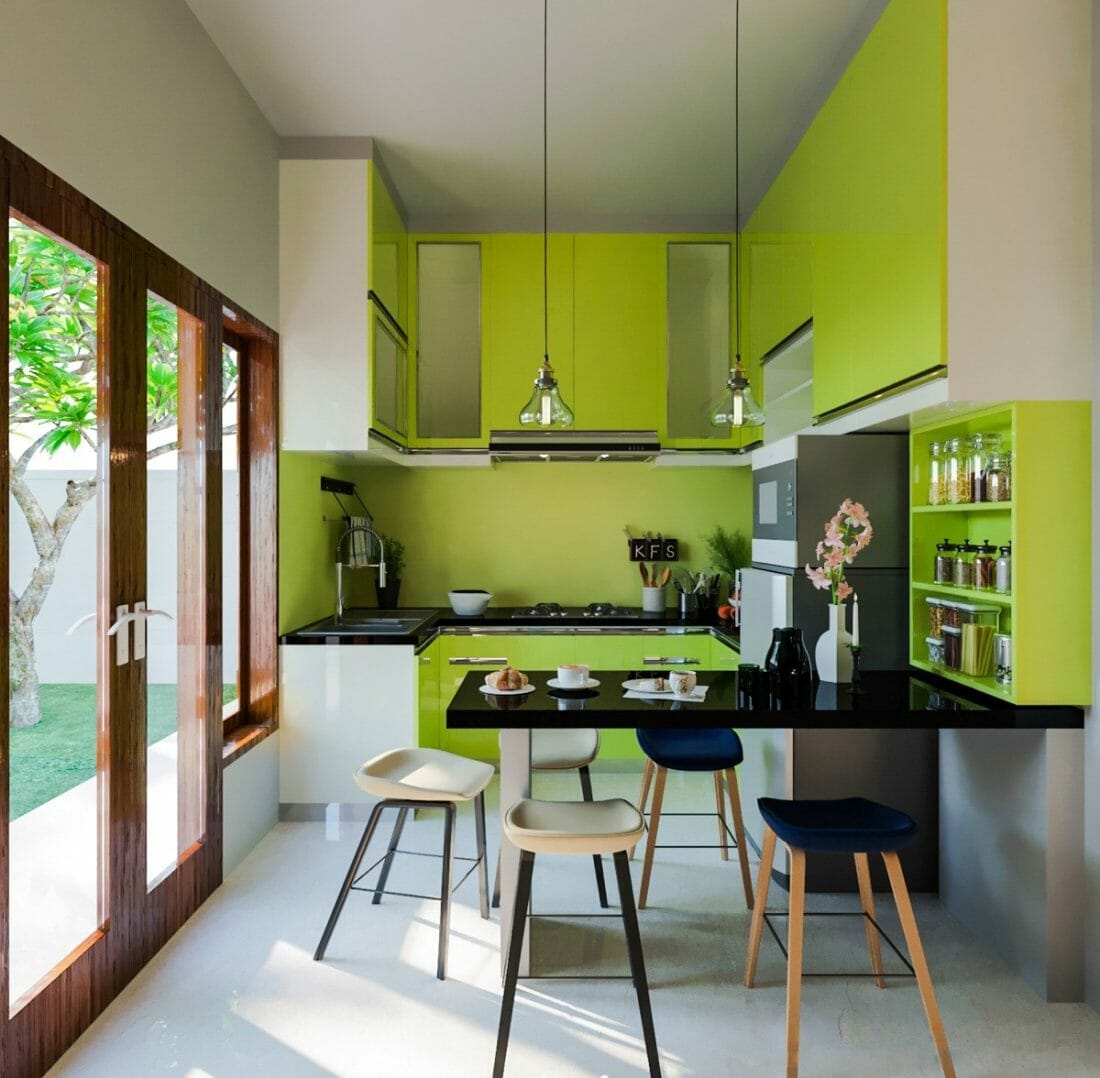 Sleek shelves and cabinets feature lime green confidently. They let this Scandinavian-style kitchen become energized and show-stopping, too.
Homeowners painted the backsplash in a more subdued lime green. Dining stools in shades of beige and navy introduce some character. Lastly, rich and pale woodsy tones add balance.
29. Dark Emerald Green Kitchen Paint Color Ideas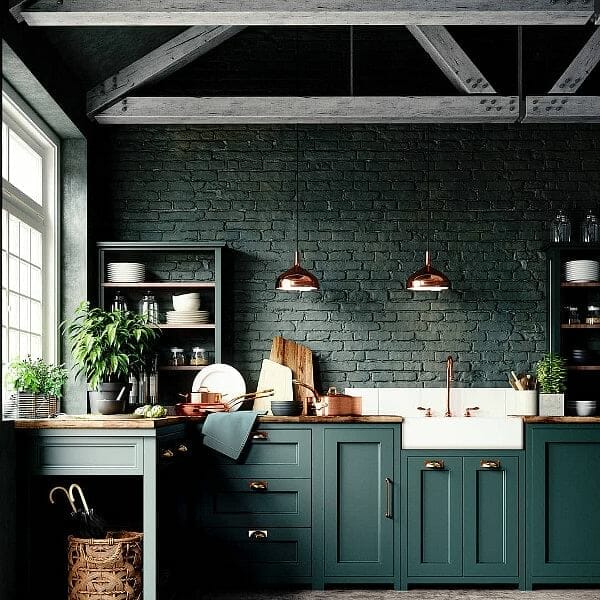 Here, rich emerald green base cabinets and bricks offer depth. Meanwhile, the copper hardware, pots, and pans deliver a glam contrast.
Windows and pops of bright white balance out dark emerald green elements. Meanwhile, natural and organic accent pieces revive the kitchen.
30. Country Farmhouse Kitchen with Green Accents
The kid's stool, beam shelf, and lower cabinets wear lime green. Meanwhile, the chair, jugs, and decorative backsplash tiles impart other green shades.
Neutral patterned tiles, whitewashed beams, and wooden units introduce a balanced look. Yellow and red details create a scheme evocative of summer.
Undeniably, those green culinary spaces are full of life. Furthermore, they prove green kitchen paint color ideas offer so much versatility. Integrate the hue that works for your cooking area. I believe it will feel rejuvenated instantly.