A relaxing hot bath helps ease stress. No surprise, hot tubs are regulars in backyards nowadays. However, they can become an eyesore. If you admire such luxury features, consider my hot tub surround ideas below.
The right surround allows any hot tub to be in tune with the backyard scheme gorgeously. There are numberless ways to titivate hot tubs.
You can opt for paving, patio covers, or landscaping plants. Also, these elements won't spoil the atmospheres of outdoor spaces.
Hot tub surrounds are not only about looks. They offer any property practicality and style as well. Some provide easy access, accommodate a drink, or let people enjoy the bubbles better. Check these ideas out!
1. Backyard Hot Tub Surround Ideas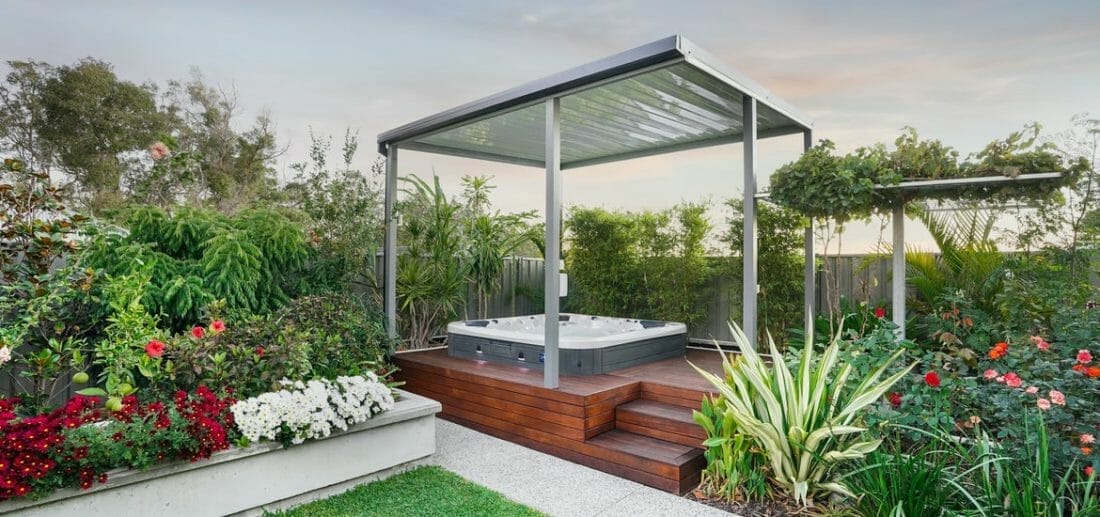 Undoubtedly, hot tub surround ideas help homeowners elevate their backyard gardens. Let's start with decking.
Whether you're into composite or hardwood decks, they give any plot levels. They provide an excellent base for furniture pieces as well.
Installing a non-slip deck is a safe bet. Apart from making an incredible hot tub surround, it ups the practicality factor due to its multiple heights.
You should also take overhead structures into account. Here, the polycarbonate pergola roof gives protection from rain while letting in sunlight.
Stunning blooms beckon pollinators over. Meanwhile, climbers and other privacy plants finish things off.
2. Hot Tub Surround Ideas for Raised Decks
Need square hot tub surround ideas? Simply copy this idea. The richly-stained composite deck ensures the outdoor space doesn't look cold.
This composite raised deck also lends the hot tub surround furniture a practical yet sturdy base. It accommodates a contemporary-style dining set. There's a burnt orange-and-black lounge chair too.
Here, the raised deck lets you and your visitors enjoy surrounding views better. Furthermore, the square hot tub mingles seamlessly with it. The tall planter and metal deck railing complete the scene.
3. Outdoor Hot Tub Landscaping Ideas for Patios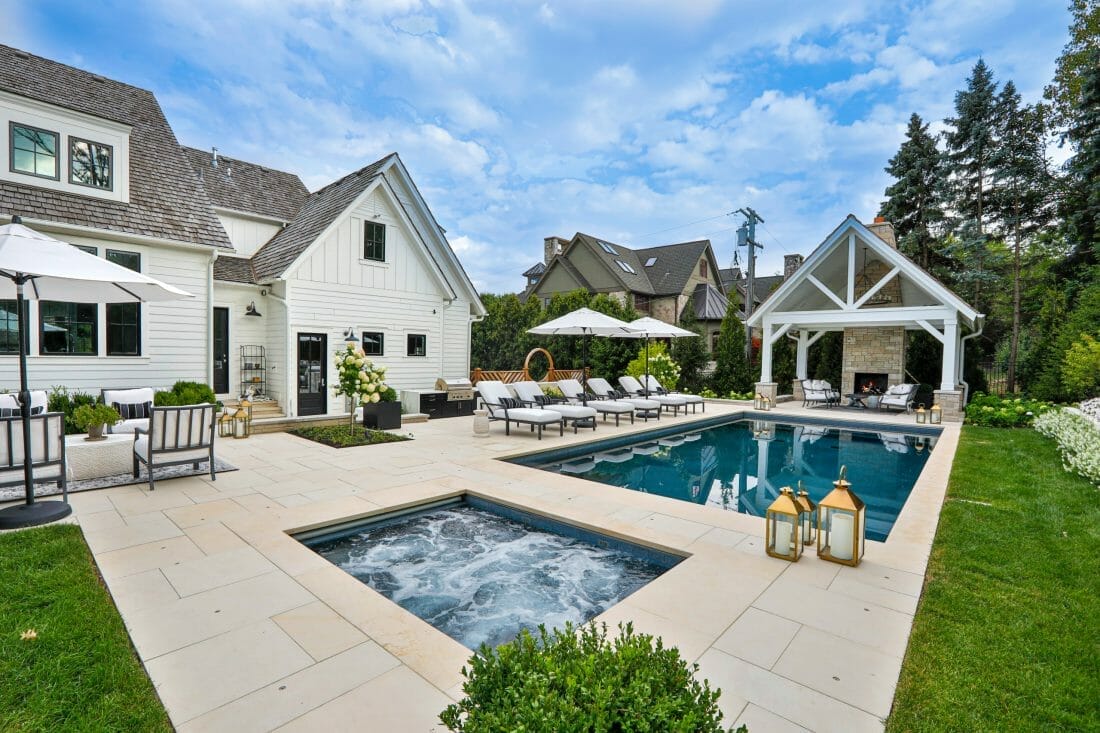 Integrating a hot tub into a patio will boost the wow factor of the property. Moreover, the sleek paving won't hinder the view. Remember, hot tubs are typically bulky.
This modern patio is suitable for lounging and entertaining. Light neutral pavers accentuate the pool, hot tub, lawn, annual flowers, shrubs, and metallic lanterns. Meanwhile, lounge chairs and patio umbrellas provide so much convenience.
Blue tiles unify the sleek hot tub and pool while imbuing splashes of color. Furthermore, the fireplace and backyard pavilion enhance the patio's cozy factor.
4. Cheap Hot Tub Surrounds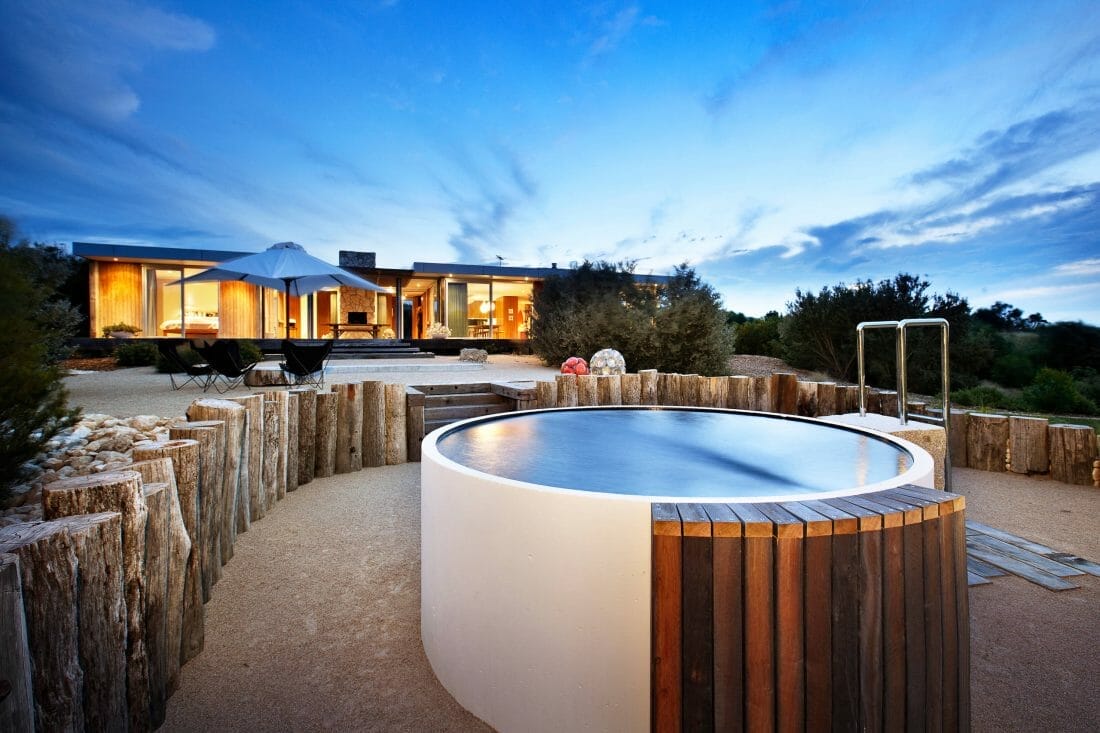 The steps bridge the casual patio seating area and the bright white-painted hot tub. Dark-toned vertical planks keep the round hot tub from being too chilly. Meanwhile, the matching ledge keeps drinks and small outdoor essentials close at hand.
Speaking of rustic round hot tub surround ideas, consider timber logs. They're a low-cost yet remarkable material. Moreover, they keep the backyard scheme rustic.
The timber log surround complements the nearby hot tub while adding timeless charm. Due to wood logs, the setup seems more pleasant and naturalistic. Meanwhile, the stainless-steel ladder lets you get in and out with ease.
5. Indoor Hot Tub Surround Ideas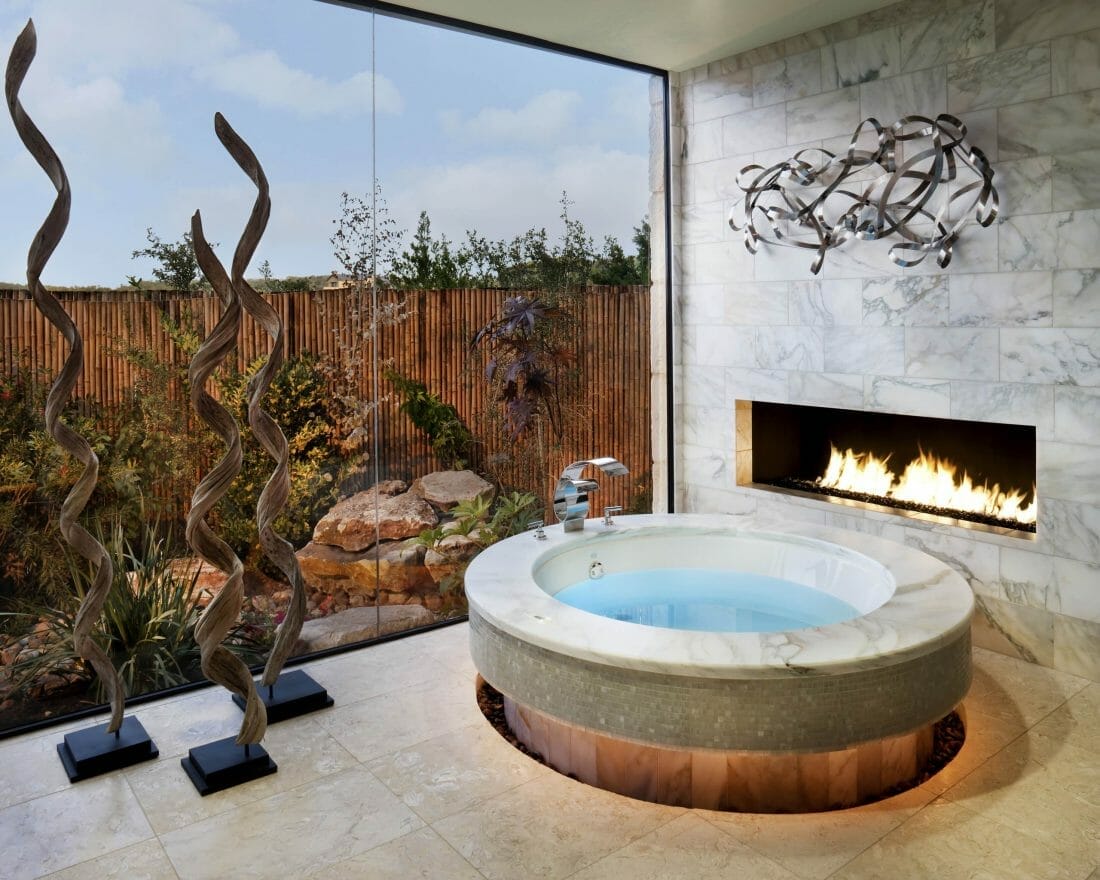 This private sanctuary is undoubtedly a work of art. The marble hot tub surround and fireplace tiles offer a glam effect. Meanwhile, the gray mosaics and soft white floor tiles let you relax in total tranquility.
Since the round hot tub is indoors, it enables you to have a soothing soak year-round. Window walls shelter you from weather elements while welcoming the sunlight.
The free-form wall decor and wood sculptures add some aesthetic appeal. Moreover, the bamboo fencing exudes a sense of privacy. Boulders, varying garden plants, and stones convey a feeling of completion.
6. Hot Tub Surround with Boxwood Shrubs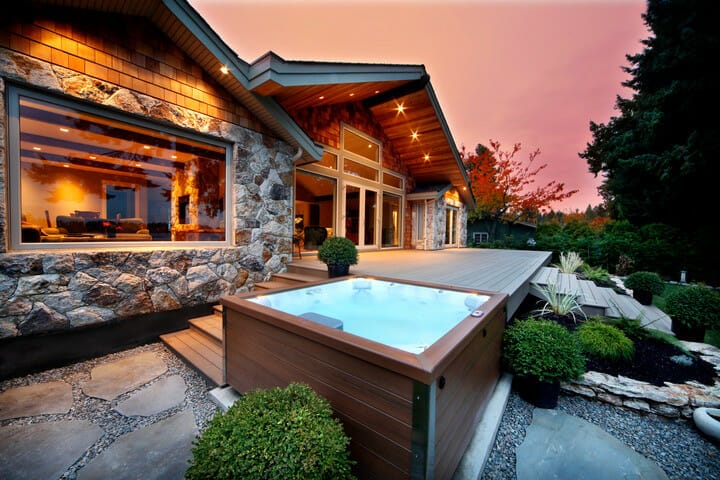 I drool over the juxtaposition between the gray deck and the brown laminate hot tub. Flagstone stepping stones generate a primitive but effective look. Furthermore, they introduce unparalleled charm to the yard.
Laminate deck steps let everyone have easy access to the square hot tub. Meanwhile, potted boxwood shrubs and ornamental grasses soften the overall look.
The gravel fills the gaps between stepping stones. Also, thanks to LED lights, they enable homeowners to enjoy their hot tub when night falls.
7. Plenty of Plants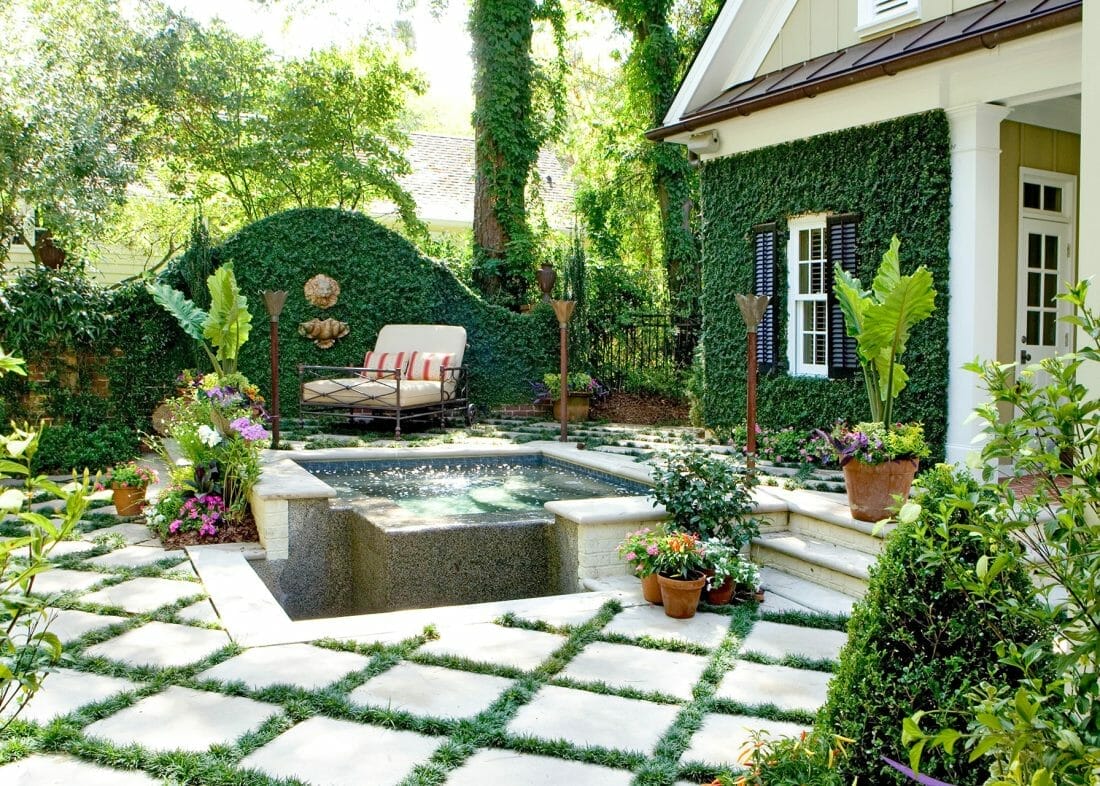 This outdoor space is a true botanical haven. The hot tub with blue tiling allows you to sit back while appreciating nature. Furthermore, red-and-cream accents enliven the lounge chair.
Concrete pavers are a mesmerizing complement to this modern garden. Meanwhile, the dwarf mondo grass tempers their crisp lines.
Vines cover the brick wall, siding, and tall trees. Moreover, they soften the boundaries. An assortment of garden plants spiff up the yard, thanks to their splashes of color.
8. Let Nature Inspire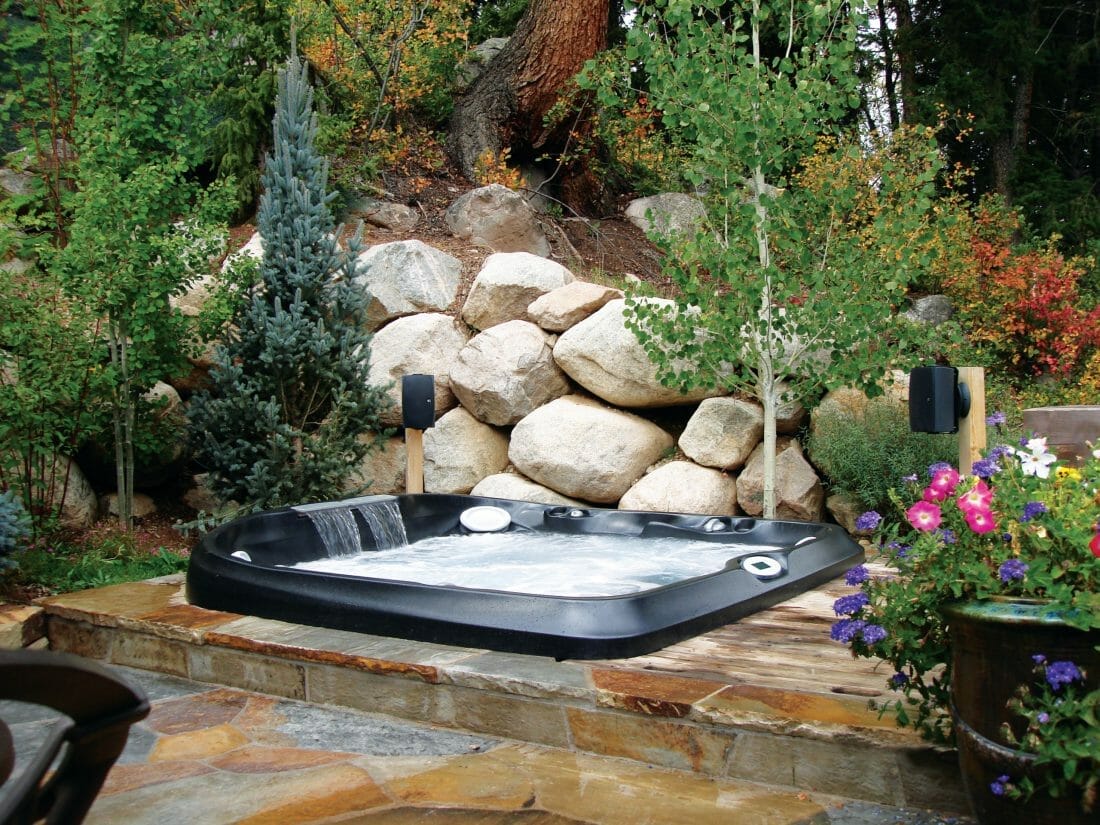 The deck above is worth admiring. It combines multitone stones with bare wood planks. Since it's low, you can step into your hot tub with ease.
In addition to flagstones, some boulders make a charming retaining wall. They ensure the outdoor retreat appears cohesive while adding privacy.
The black hot tub creates drama while boasting a water feature. Evergreens and tall trees spice up bare boulders. They help boost your privacy as well. Meanwhile, vivid flowering plants carve a stunning scene.
9. Bursts of Color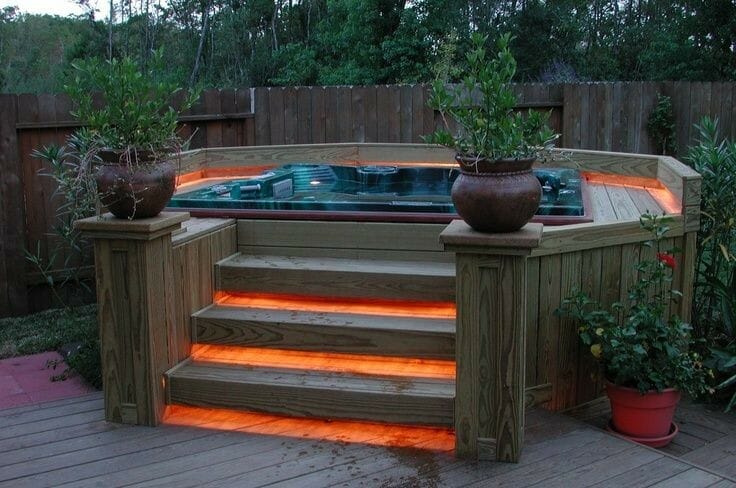 No wooden hot tub surround ideas are complete without raw wood fencing. Apart from keeping unwanted attention out, the fence enables the setup to be in sync with the tree-covered area.
The wooden steps, pillars, and potted plants on top introduce symmetry. A pop of bright orange makes the wooden hot tub deck exciting and dynamic. In addition, the muted red planter and tiling deliver some extra energy.
10. Hot Tub Enclosure Ideas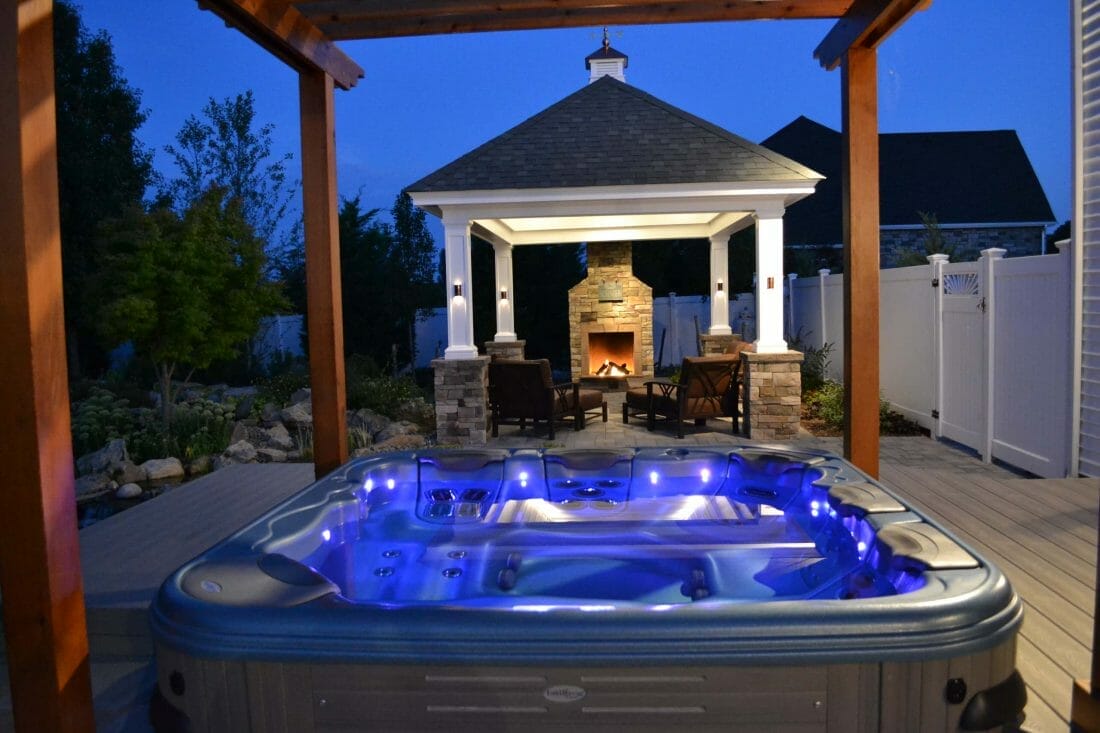 The hot tub allows you to stay warm during winter. Apart from adding comfort, it poses as a thing of luxury in this backyard. It goes perfectly with the composite deck too.
Here, the warm-toned wooden pergola makes a superb hot tub enclosure. In addition to giving some shade, it lends the silver-gray hot tub a sense of balance.
Landscaping stones and rough stone structures develop a natural feel. Tall trees soften the yard's look. The white fencing ensures the hot tub stays protected, while the fireplace improves the comfort factor.
11. Hot Tub Lighting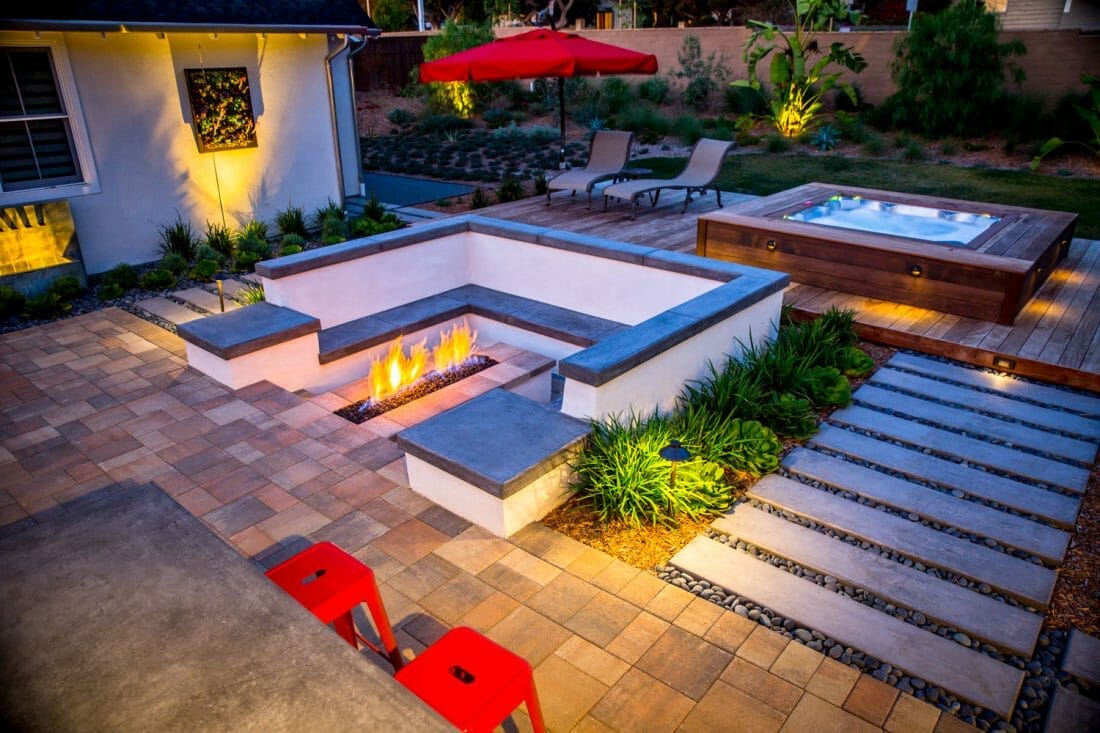 Into contemporary hot tub surround ideas? If yes, outfit the decking with LEDs. Since the homeowners positioned the lights strategically, they can use their hot tub during nighttime.
The outdoor lights emphasize the hot tub, pathway, ornamental plants, and seating areas. While, the fireplace and exuberant red pieces make the backyard scheme toasty.
12. Mediterranean Flair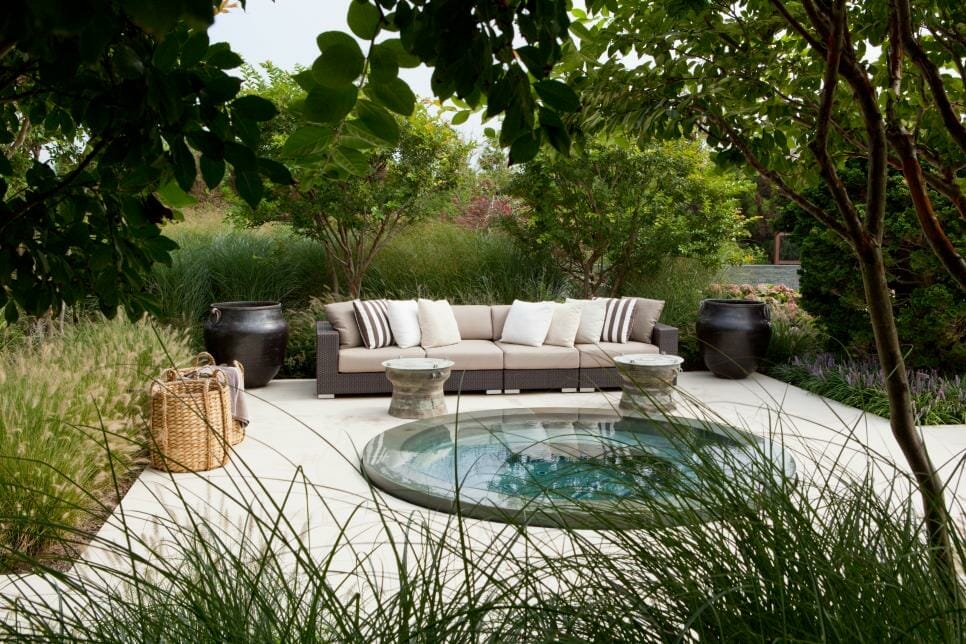 This Mediterranean-inspired patio employs a sleek round hot tub. Moreover, natural stone walls and assorted ornamental grasses surround the hot tub marvelously.
The pale patio flooring, light neutral furniture, and fabrics transport the patio to sunnier climes. Meanwhile, rustic tables, wicker baskets, and massive black planters infuse a feeling of completion.
13. Hot Tub with a Shower
Talking about hot tub deck surround ideas, give slatted walls a go. Here, they accommodate outdoor lights while protecting homeowners' privacy.
LEDs provide a soothing after-dark glow. The metal hanging chair, bicycle, blankets, plants, and pillows generate a whimsical appeal. Furthermore, the outdoor shower space lets you escape into Mama nature.
14. Hot Tub Surround Ideas with Slatted Walls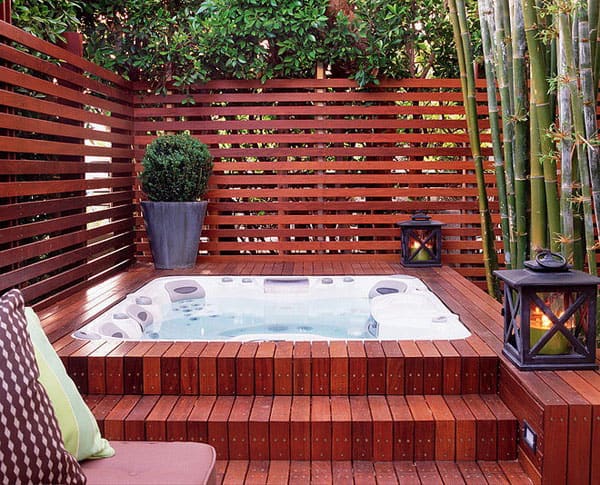 Hot tub surround ideas aren't complete without slatted walls. Furthermore, the matching deck houses vintage black lanterns that introduce a nighttime glow.
The nearby muted red seat cushion holds mismatched pillows. Meanwhile, privacy plants like boxwood shrubs and bamboo trees enhance homeowners' privacy.
15. Hot Tub Wall Ideas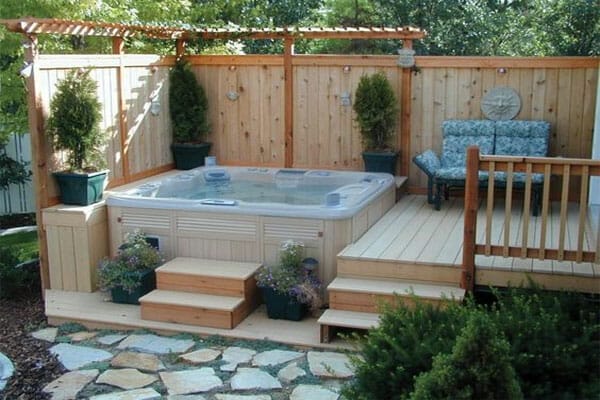 Multitone flagstone stepping stones make a timelessly rustic path. Meanwhile, blonde wood privacy walls highlight teal planters with shrubs and blooming plants.
The pale deck lets the vintage furniture be a focal point. Furthermore, the pergola roof employs vines that soften the look and improve privacy.
16. Spillover Spa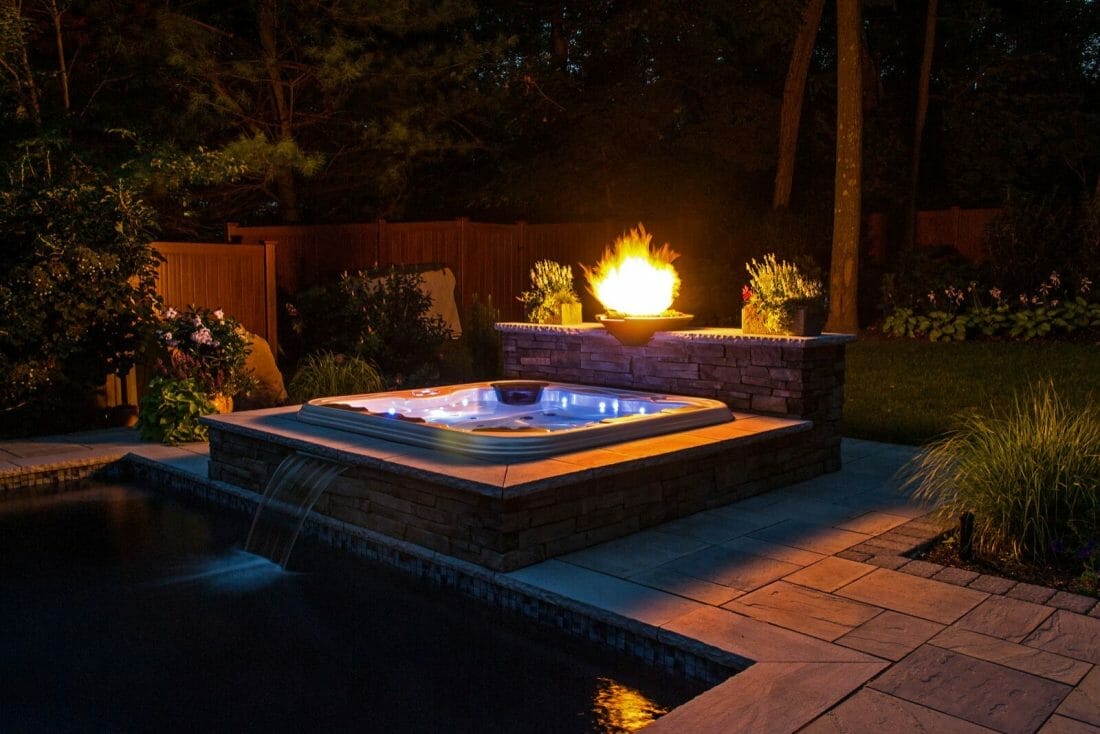 Talking about genius hot tub surround ideas, consider merging two features. Here, the spillover generates a relaxing sound while obscuring traffic noise.
The slate deck floor mingles with the stone hot tub. Furthermore, the fire pit and raised garden beds produce an incredible backdrop at night.
17. Hot Tub Surround Ideas for Sloped Yards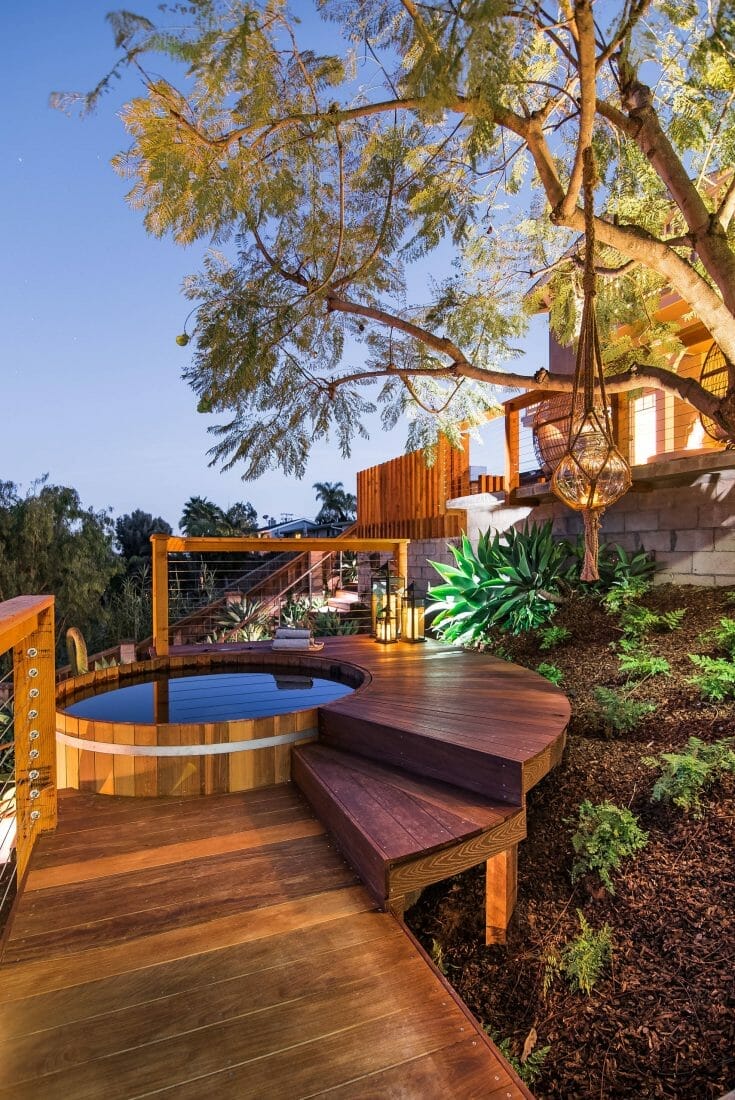 If your decking belongs to a sloped yard, recreate this look. The multiple heights provide marvelous practicality. Moreover, the curved deck can accommodate a towel holder and candle lanterns.
The ornamental plants like ferns accompany the round hot tub. Meanwhile, the rope and glass pendant introduce a timelessly eclectic vibe.
18. Simple Stunner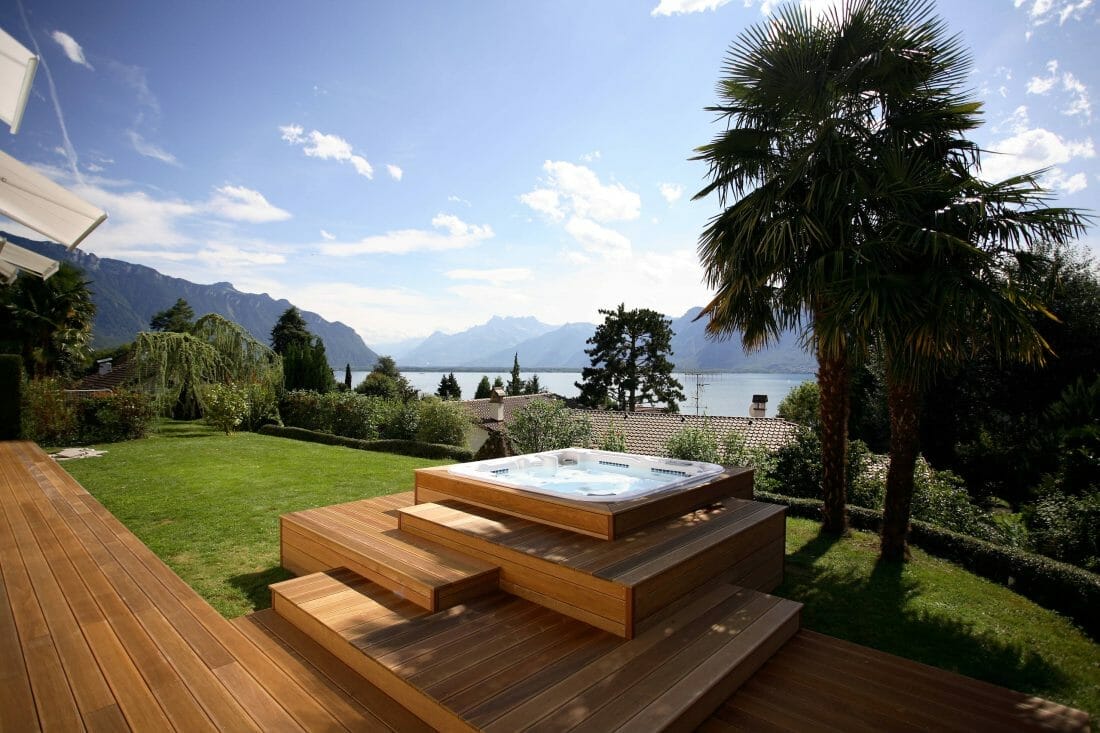 Sink the square hot tub into the non-slip decking. Furthermore, keep things simple, so eyes only focus on enticing lakeside views.
Despite its simplicity, the decking adds lots of interest, thanks to alternating steps. In addition, white awnings generate a subtle contrast and provide some shade.
19. Hot Tub Surround Ideas with Fireplaces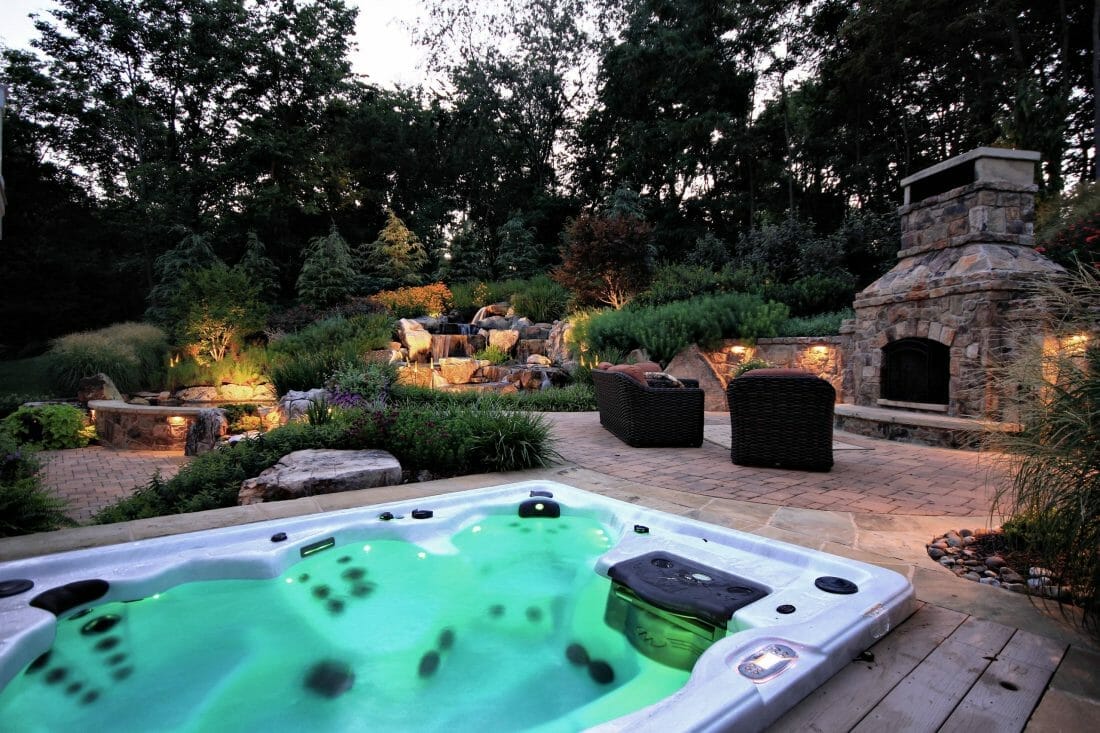 Some spectacular hot tub surround ideas boast natural stones. Apart from imbuing timeless charm, they let the setup harmonize with the surroundings.
The backyard waterfall and hot tub carve a tranquil vibe. Moreover, the fireplace, outdoor furniture, stone bench, and varied landscaping plants make the area complete.
20. Hot Tub with A Grill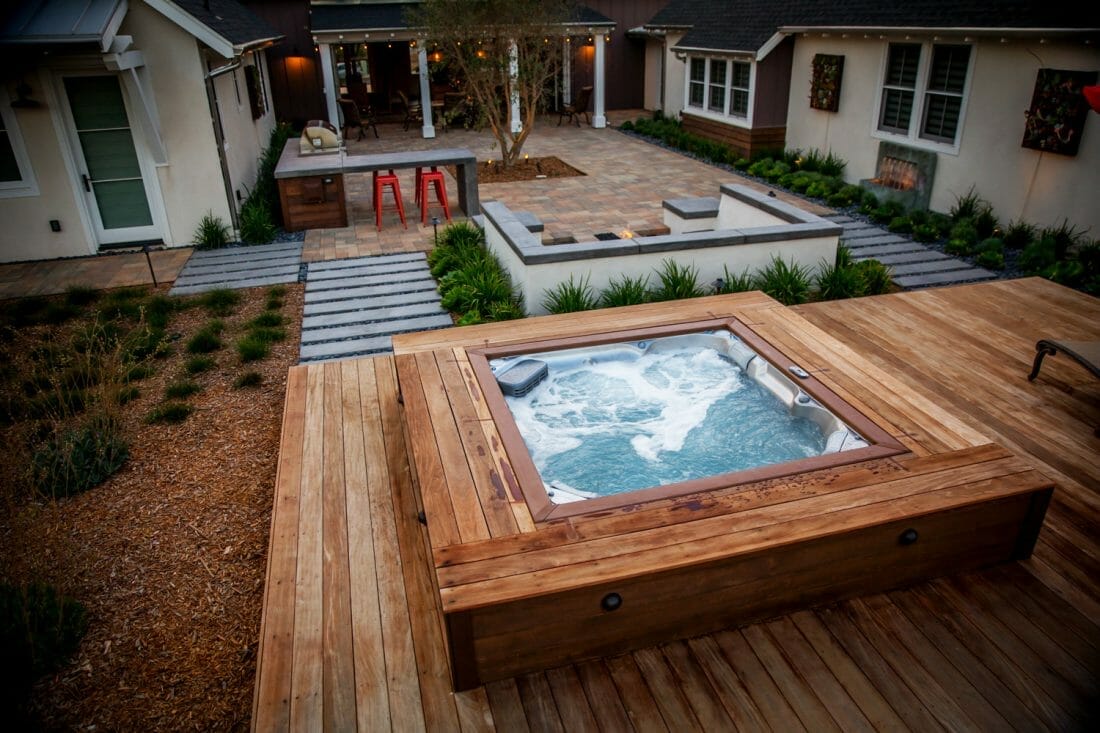 The timber decking and concrete walkways give the backyard scheme a balanced feel. Also, there's a super cozy hot tub to help ease tension.
Here, the fire feature, pebbles, and dwarf ornamental grasses up the yard's cozy factor. Moreover, statement red stools complement the built-in grill.
21. Hot Tub Surround Ideas with Flowerbeds
If round and square hot tubs don't interest you, try out a custom design. This free-form hot tub employs blue tiles. They match with the nearby boulders and pavers.
Flowerbeds surround the free-form hot tub and soften the look. Meanwhile, the wooden fences boast a lovely latticework.
22. Shipshape and Stylish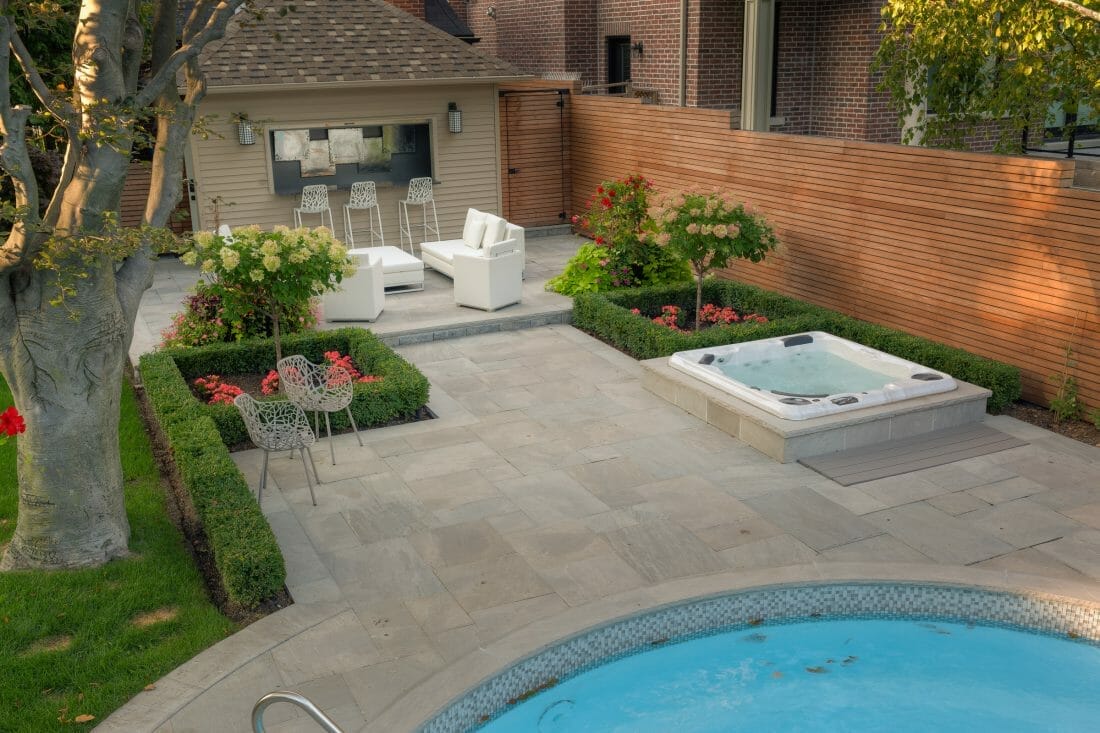 The tiered slatted timber fence and sand-painted siding develop an inviting look. Moreover, pale stone patio flooring blends seamlessly with the hot tub.
Mosaic tiles lend the pool an artisan feel. Streamlined white furniture pieces, artistic armchairs, hedges, and colorful blooms imbue some characters.
23. Sensory Appeal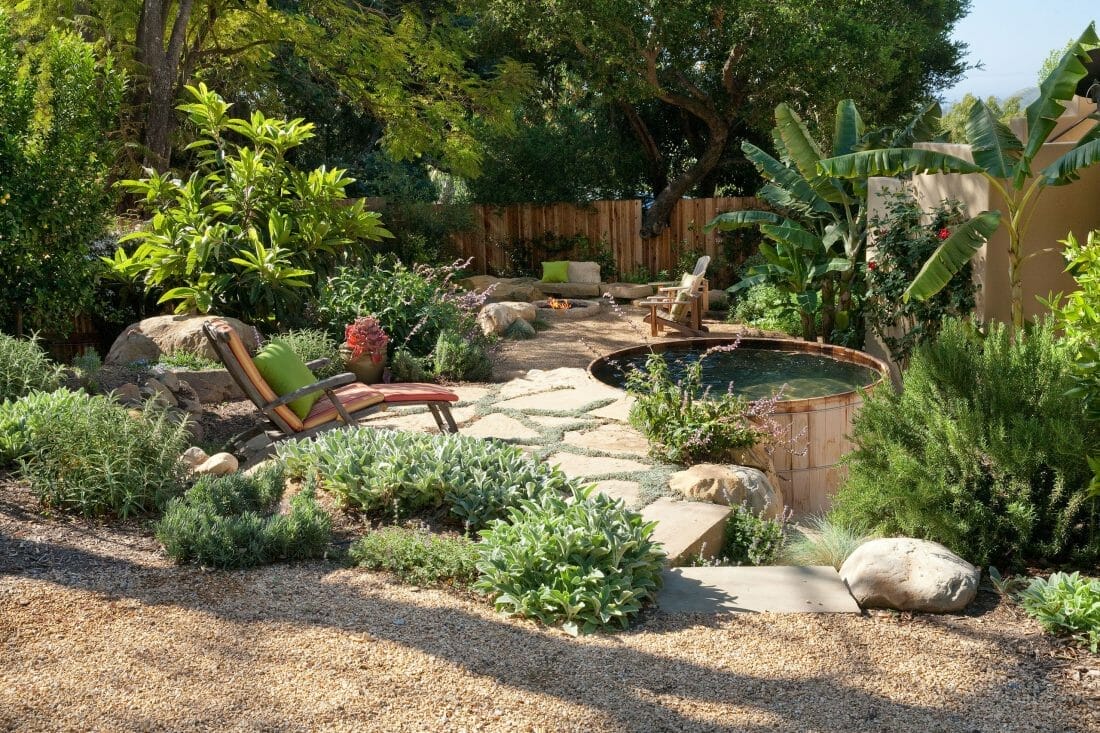 Speaking of hot tub surround ideas, consider sympathetic planting since it can soothe the senses. You can grow fragrant herbs such as thyme, sage, and lavender.
The round hot tub and herbs offer ultimate relaxation. Moreover, the rustic seating, fire pit, wooden fence, and tall trees make the yard a snuggly private oasis.
24. Mixed Materials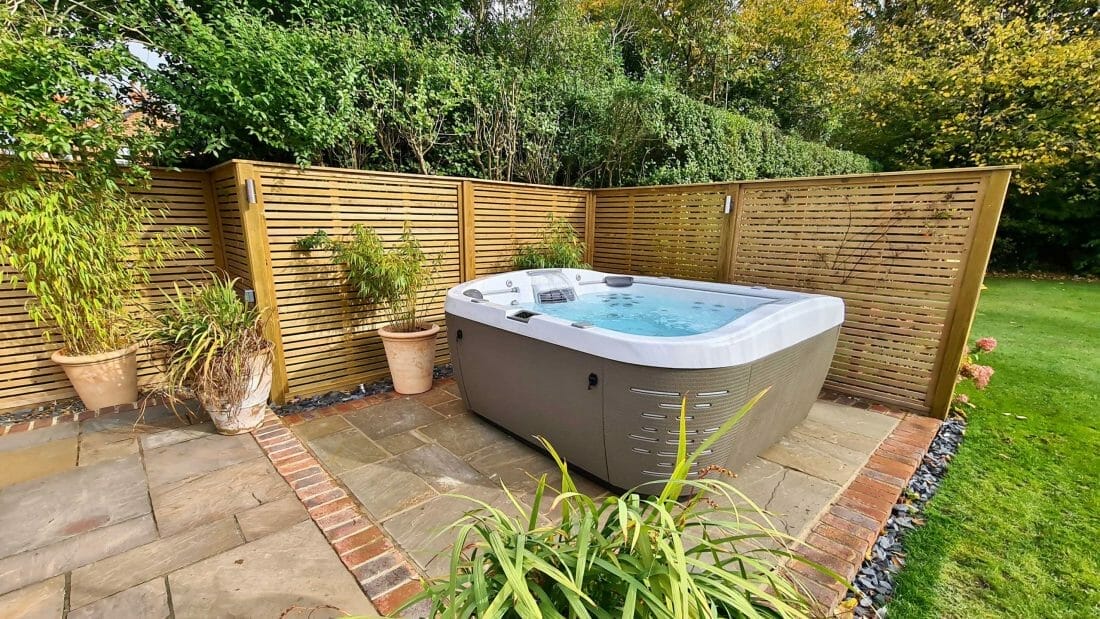 Don't stick to a particular material! You can include different materials such as timber, brick, and natural stone. Also, use coordinating edging.
Here, the wooden slatted fence perfectly highlights massive terracotta planters around the hot tub. Furthermore, various plants improve privacy and temper sharp edges.
25. Stone Meets Steel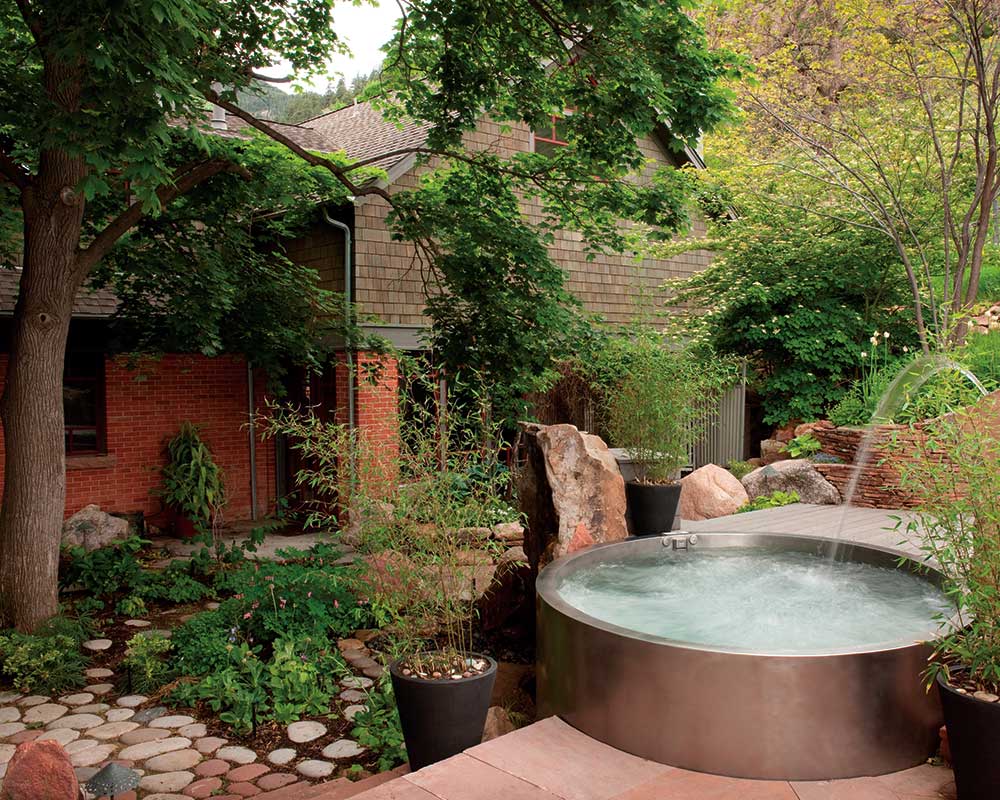 Need stainless steel hot tub surround ideas? Try out this setup. The warm-toned stone and composite decks flank the industrial-style hot tub.
Dark gray planters are sleek yet dramatic. Meanwhile, the round stone pathway, boulders, and plants generate an aesthetically pleasing look.
26. Southwestern-Style Hot Tub Surround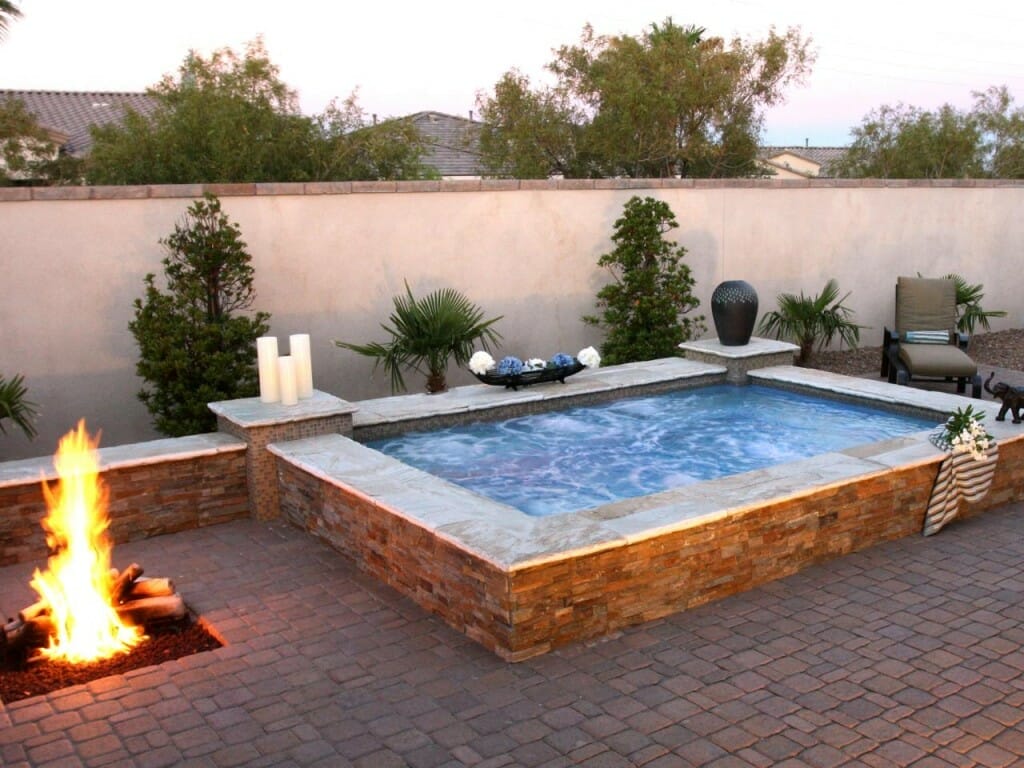 The stucco walls block out nosy neighbors while imparting a Southwestern ambiance. Also, they make shrubs and palm trees focal points.
Here, the hot tub boasts marble tiling and flagstone bricks for a natural vibe. Moreover, the in-ground fire pit keeps homeowners' feet warm.
27. Hot Tub with Bulb String Lights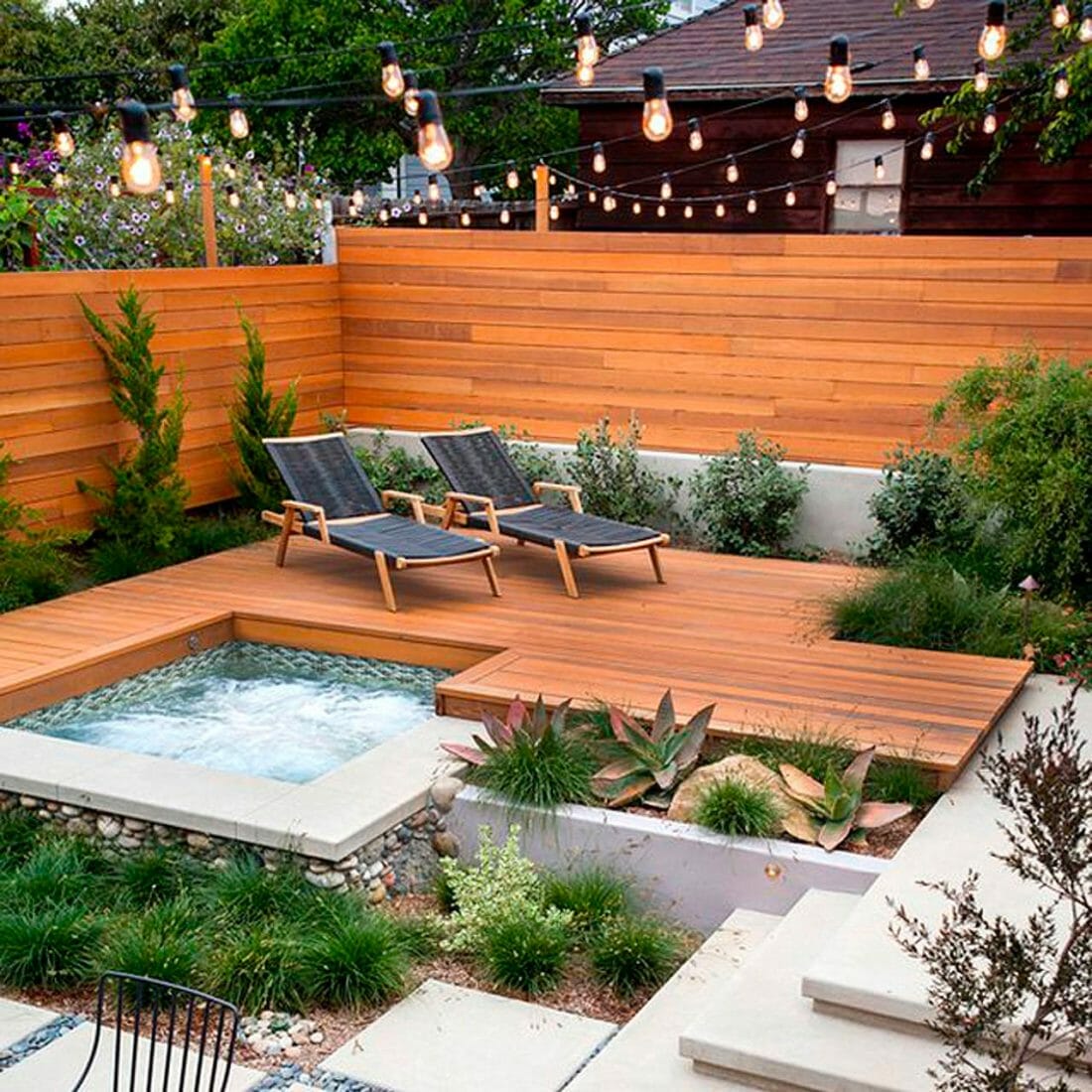 The timber walls and decking define this backyard retreat. They balance out the minimalist concrete hot tub, path, and steps.
Rocks and stones instill a primitive feel, while bulb string lights create a cozy, after-dark glow. Organic elements like dwarf ornamental grasses and succulents make the hot tub deck more inviting.
28. Urban Vibes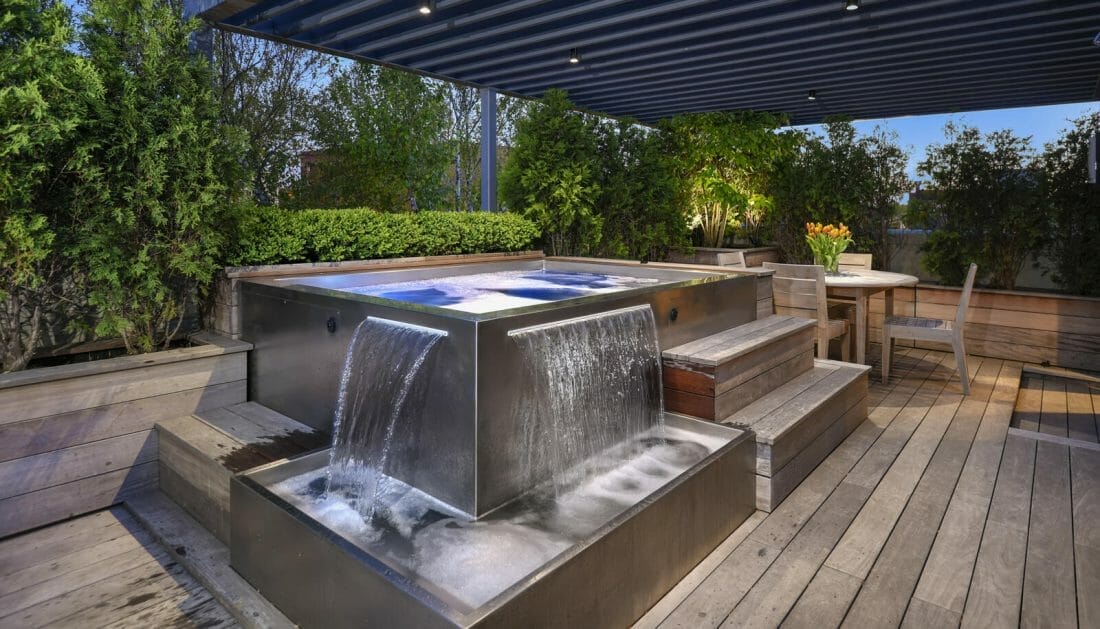 The stainless-steel hot tub embodies industrial modernism. Moreover, it employs two waterfalls that develop a soothing sound as you have a hot bath.
Pale composite steps, chairs, and decking go with the urban-style hot tub. The overhead structure, fence, and nearby plants maintain homeowners' privacy.
29. Neutral Vs. Vibrant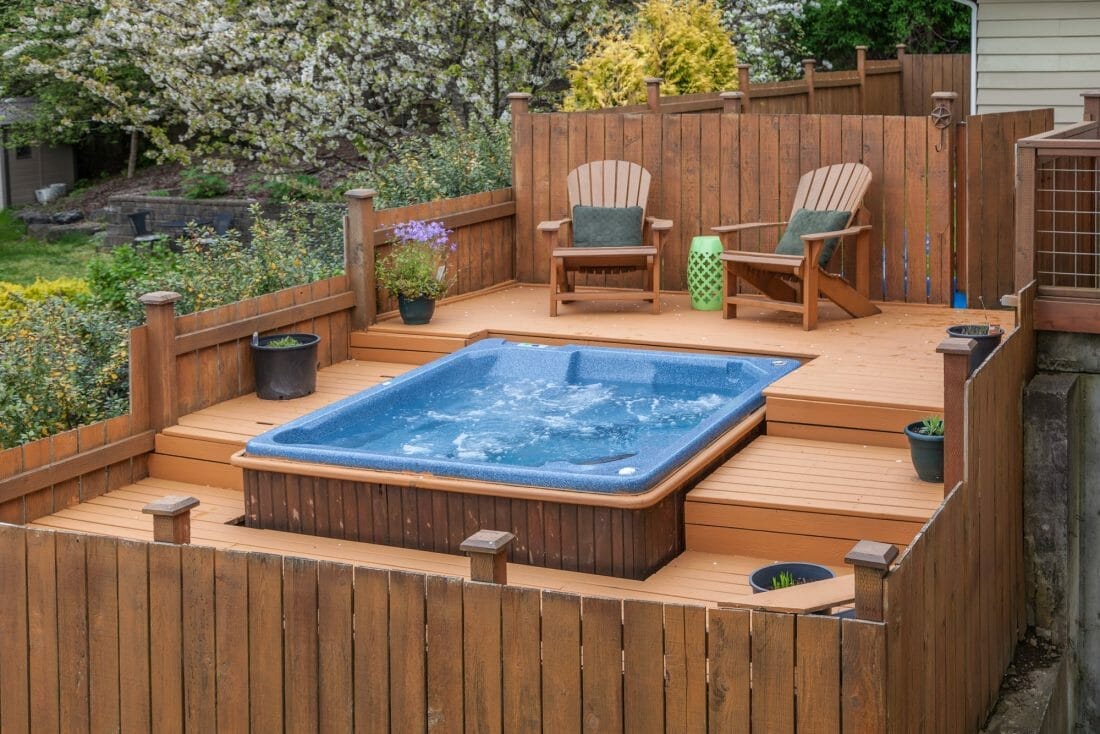 This compact backyard deck combines composite deck steps with tiered hardwood fencing. Furthermore, they frame the statement hot tub.
Potted plants, bushes, and trees give hard edges a sense of balance. Meanwhile, the green garden stool and hardwood Adirondack chairs make the deck seem complete.
The surrounds of hot tubs can improve any spa experience. They should be trendy and appealing while providing comfort. Don't hesitate to give those hot tub surround ideas a chance. I believe you can construct your dream oasis.