The house will feel homey if the owner infuses her/his personality into it. You must choose a style and color scheme that truly reflects your character. To create a strong statement, try any of our captivating wall mural ideas.
Decorating your room with a wall mural is surely a brilliant choice. You do not need to install sticky and frustrating wallpaper anymore.
Nowadays, murals have convenient designs. They also give the space lots of charm without the fuss.
Currently, wall mural designs typically utilize removable vinyl decals. They ensure precise placement on the walls. Whether you want to update a kid's bedroom or hallway, there must be something that really blows your mind.
Some wall mural designs wear muted colors. Meanwhile, the others feature monochromatic hues.
Not only are they gender-neutral, but also fit into almost any decor seamlessly. Furthermore, murals offer an easy installation.
Moreover, the wall murals range greatly from abstract art to outdoor scenes. The color can be bold or neutral.
Regardless of your choice, turning the room into a personal oasis couldn't be easier. Check these terrific options out!
1. Contemporary Wall Mural Ideas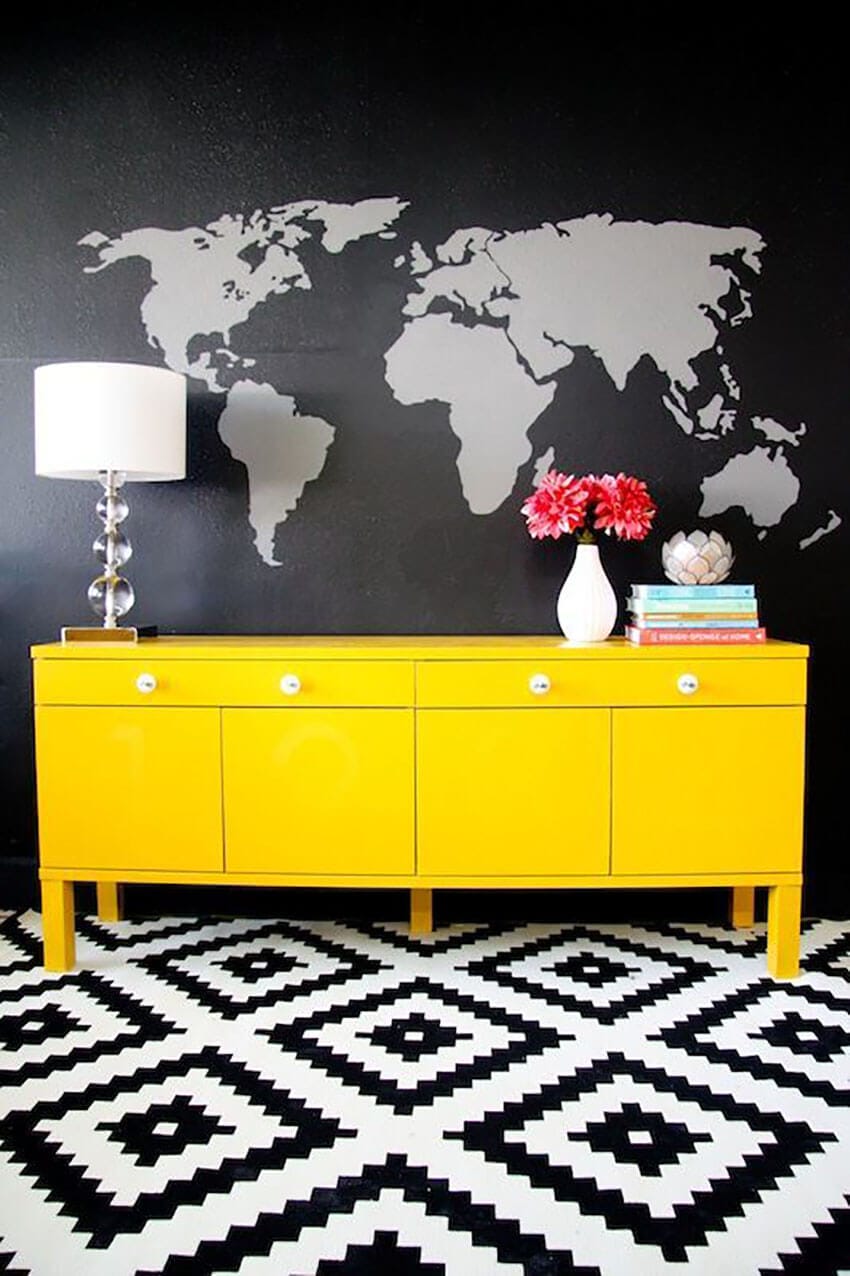 This map wall mural will undoubtedly steal any world traveler's heart. It's a nice way to share your adventures with the guests. You can show them all great destinations, from weekend getaways to road trips.
Moreover, this vinyl wall decal exudes a modern flair. It would work great in the city loft or home office, too.
When hosting a party, the homeowner certainly doesn't need an ice breaker anymore. This oversized artwork serves as an interactive piece. The conversations will revolve around the places you've traveled to.
2. Classic Floral Wall Mural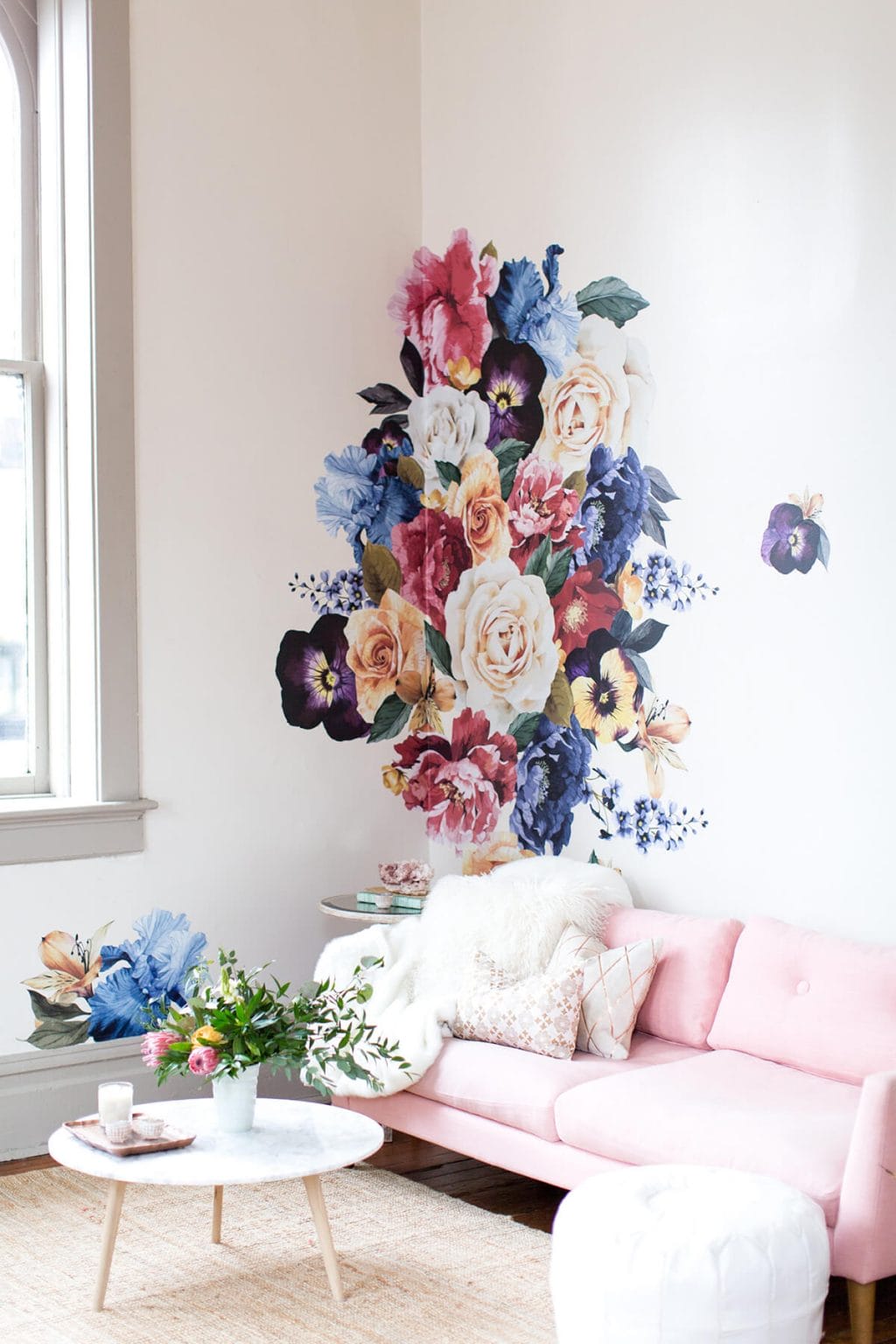 Here, the traditional wall mural features a huge flower bouquet. The classic floral arrangement boasts various flowers, from roses to peonies. It effortlessly spruces the room up as much as real blooms in the vase.
The giant flower bouquet mural resides within the living room corner's nook. Moreover, it adds a warm climate no matter what the season outdoors. This is an incredible way to breathe a feminine feel into space.
3. Monochromatic Wall Mural Ideas for Nursery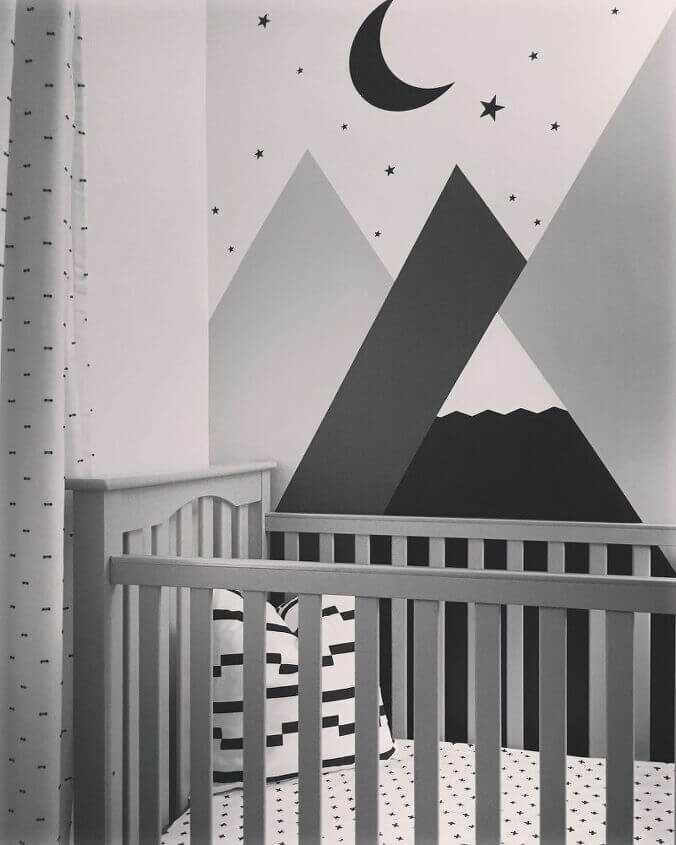 The sleeping space for your baby should be functional. However, that doesn't mean you have to sacrifice style. Create a stylish and cozy nursery with this contemporary starry night wall mural.
Furthermore, this wall mural is a fabulous addition to the nursery. During their first months, baby girls and boys normally will enjoy the monochromatic color motif. Remember, such colors appeal to them.
This black, gray, and white wall mural works wonderfully in baby sleeping spaces. You can change it as your kid grows. Moreover, its simplicity would win the minimalist's heart. The unit provides style with only little fluff.
4. Kaleidoscope Inspired Sunset Wall Mural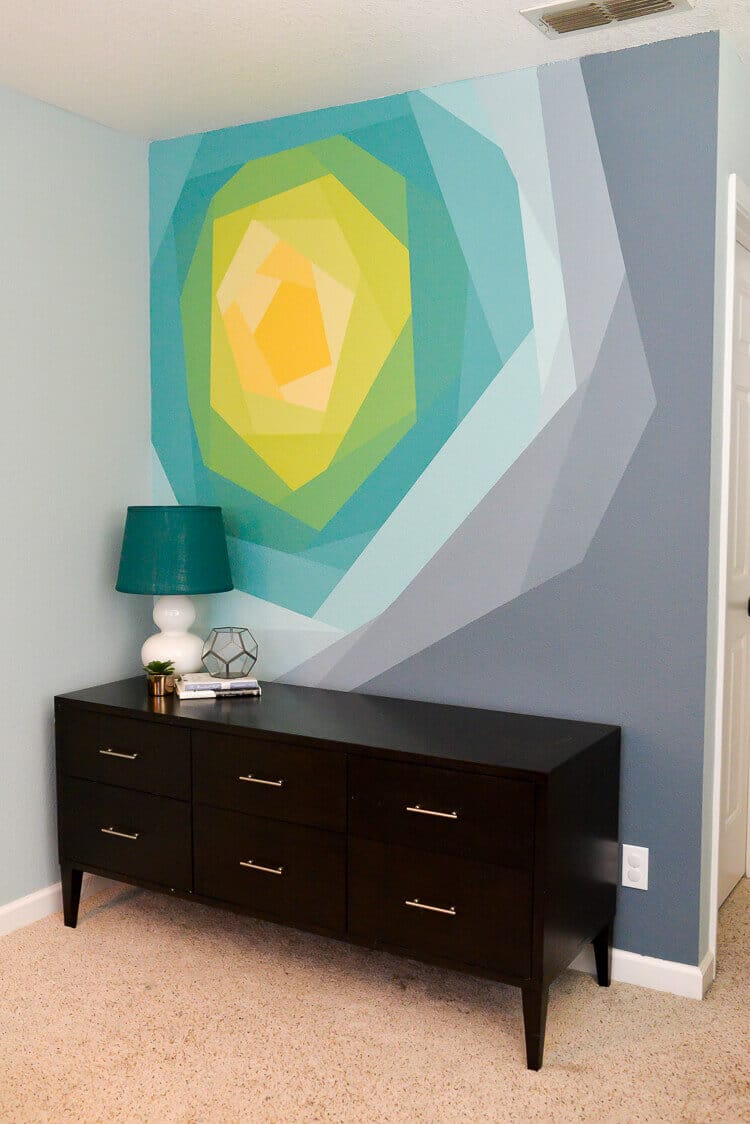 If you love abstract art, this is one of the mesmerizing wall mural ideas to try. Here is a modern twist on the timeless outdoor scene. Moreover, the sunset's unmatched beauty decorates the room in an interesting geometric way.
The shades of gray, yellow, and blue warm up the otherwise plain room. This sunset wall mural is an easy way to enliven small spaces like half bathroom or entryway.
Moreover, you can use this design in a beach house or a modern apartment. The kaleidoscope effect generates a brilliant optical illusion on your wall.
5. Vibrant Lemon Wall Mural Ideas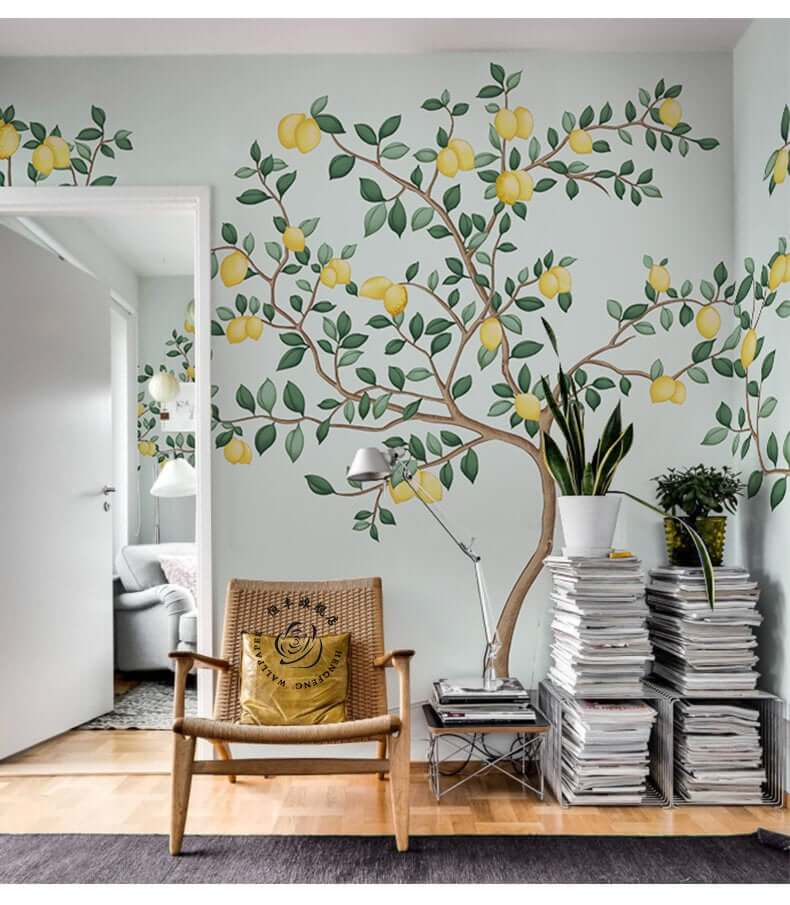 Looking for gorgeous wall mural ideas? If yes, then try this design. The decor certainly reminds the guests of summertime. Having a lemon tree in the home isn't always possible. However, that shouldn't stop you.
Adorn your space with this wall mural. As the picture shows, it features a bright yellow lemon tree. You can arrange the branches to extend beautifully from one living room wall to another. What an intriguing decor!
6. Ink Bedroom Wall Mural Ideas
This ink patterned wall mural displays abstract art. It sports varying green shades as well. Moreover, the unit spices the urban pad up quickly.
Furthermore, this ombre wall mural brings a contemporary vibe and an artistic touch to the bedroom. In addition, it injects genius watercolor into a functional living space.
The ink texture definitely works great in any modern interior designer's eye. You can include it in your living room. Another option is placing it behind the bed in a master bedroom.
7. Whimsical Wall Mural Ideas for Child's Bedroom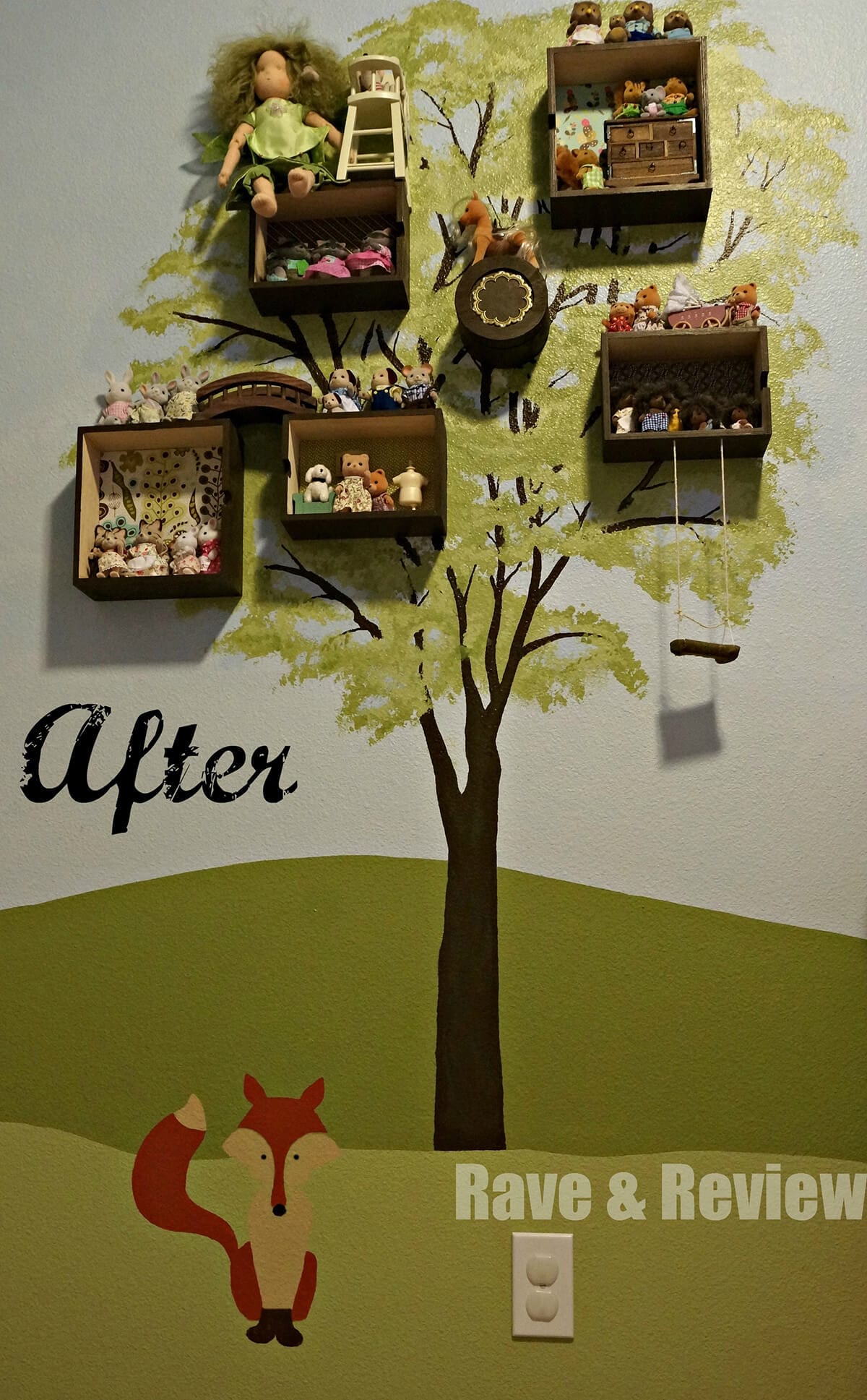 The wall mural lends the space a touch of whimsy. It provides a wonderful backdrop to a baby's nursery or kid's bedroom. Furthermore, the decor displays a large tree and a cute fox.
Moreover, the open shelves hold mini stuffed woodland critters. They accompany the adorable fox perfectly.
The wall mural amazingly nestles in an organized nursery. The fox might be your little kid's first friend since he/she never leaves the room. You could incorporate a throw blanket or houseplant to round out the look.
8. Tropical Wall Mural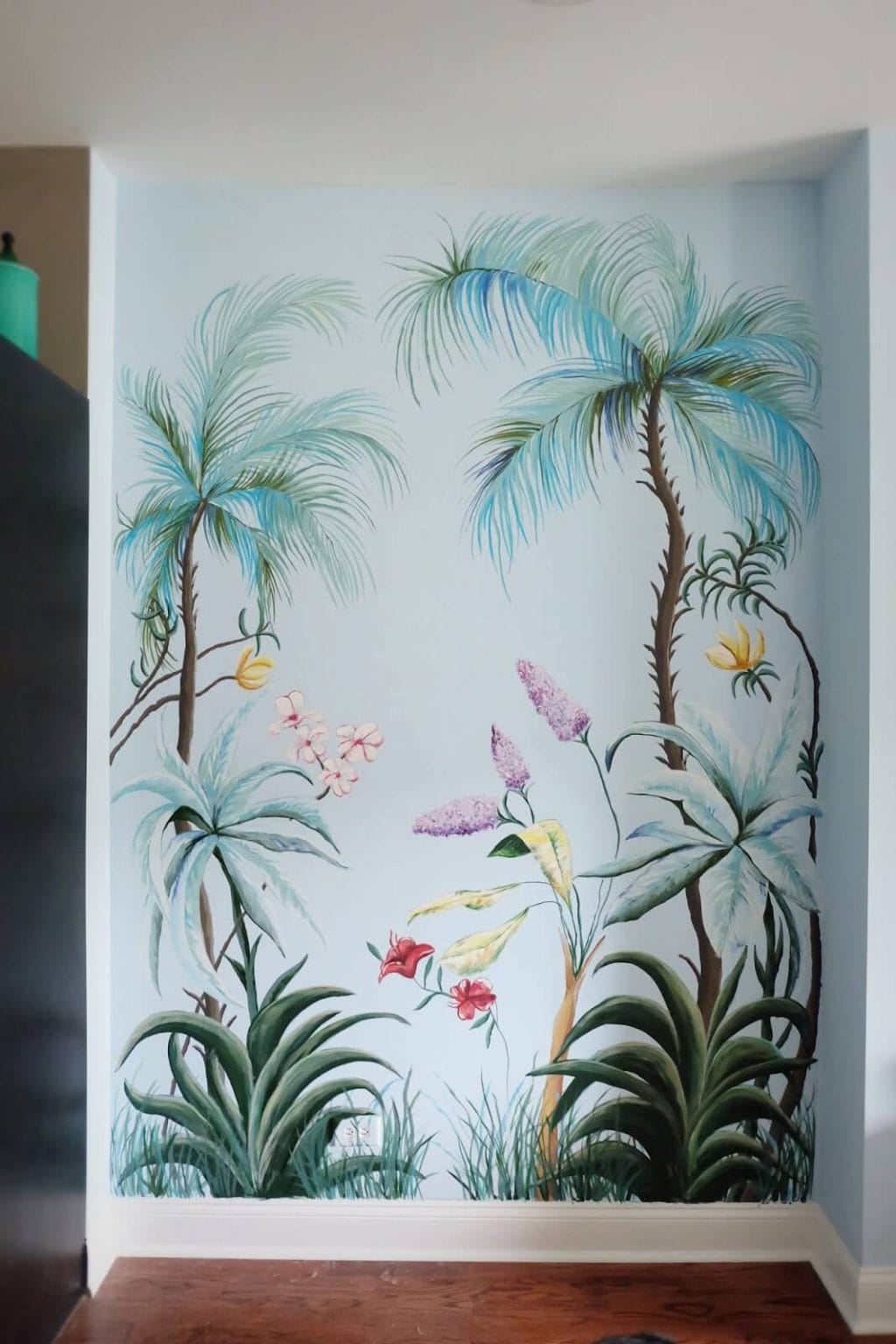 Searching for fabulous wall mural ideas? If so, steal this look. The decor showcases a tropical scene full of exotic flora. It's perfect for you who want to bring out your inner hippie or include greenery in the space.
This tropical wall mural offers a breathtaking backdrop for the entryway or small bathroom. It blends really well into your established design. The decor doesn't overpower the humble space, too.
The lush and bold greens reinsure the interior with tropical warmth. Furthermore, this stunning wall mural features soft-toned plants.
9. Map Grid Wall Mural Ideas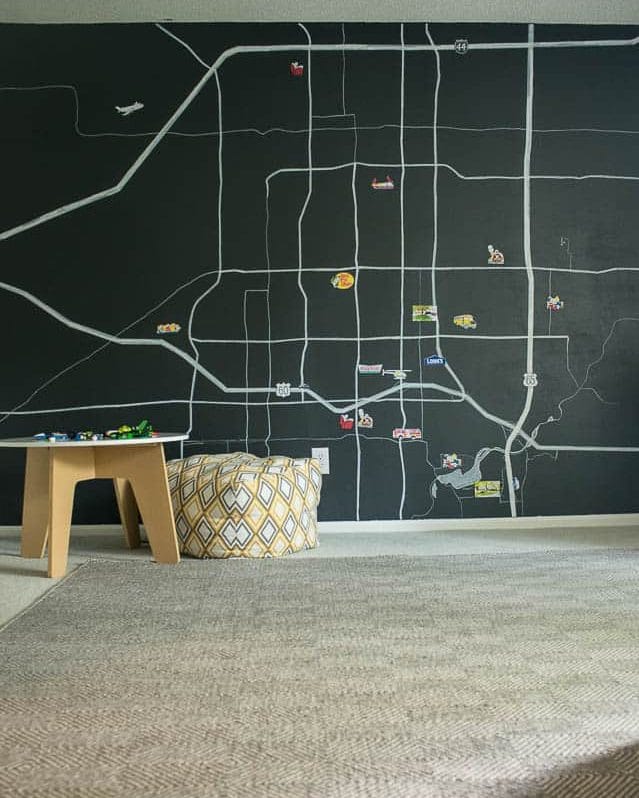 The map grid wall mural boasts a destination intersection. It is a delightful complement to the playroom. Moreover, the unit lets your kids have fun. They can build their games and towns in this conversation map grid.
Furthermore, this mural features a customizable town. The item allows for several landmarks. Additionally, it allows you to teach your children about destination intersection.
This mural could be a great educational resource in the classroom or at home. The kids will learn how to properly write directions as well as follow them. We recommend placing a map rug on the floor for optimum comfort.
10. Abstract Terrazzo Wall Mural Ideas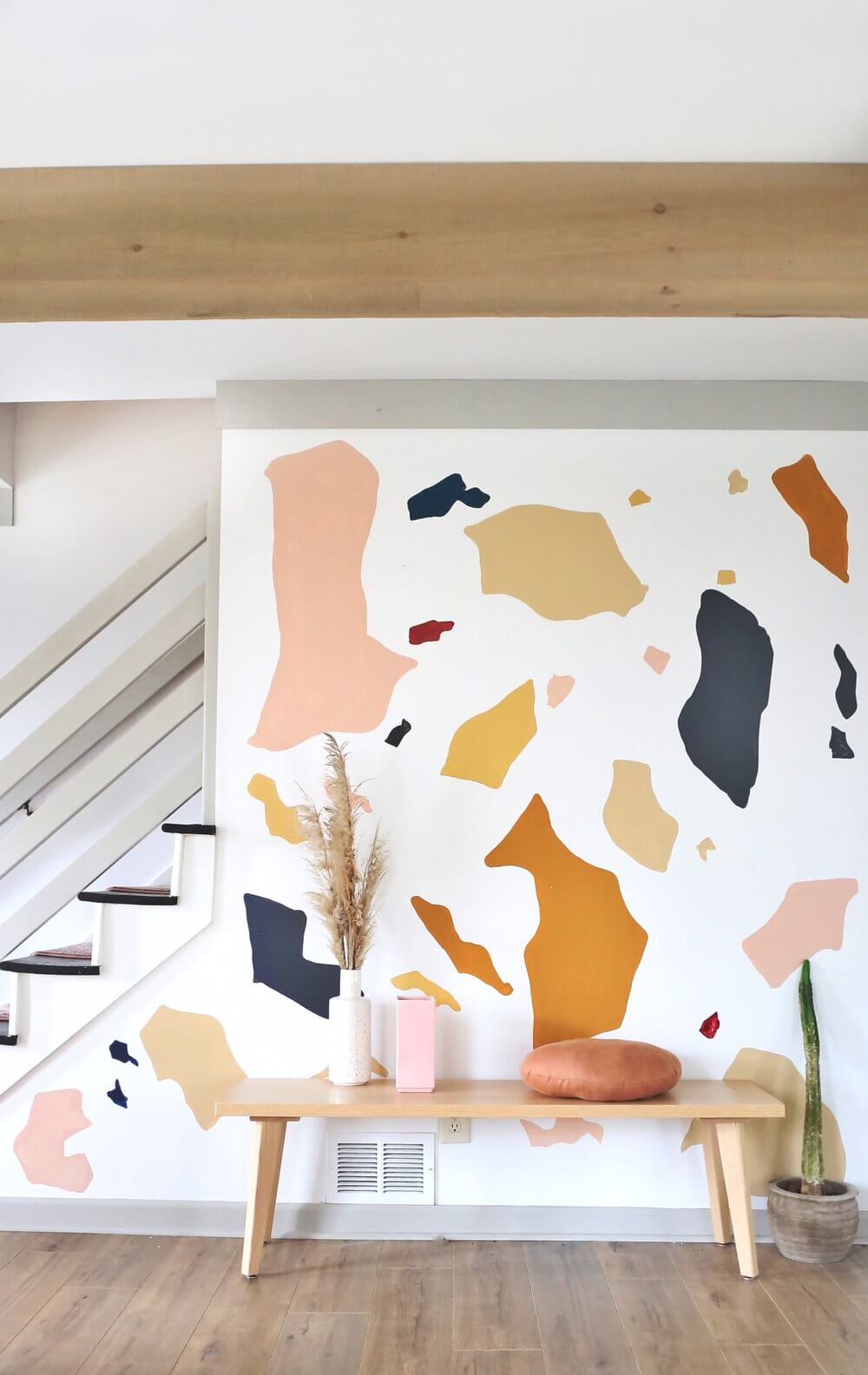 This abstract terrazzo mural boasts various sizes as well as shapes. Furthermore, it comes in a gorgeous metallic and muted color scheme.
Moreover, this mural includes bold red, gold, timeless black, tan, and rose.  The palette develops a warm and welcoming modern dining area or hallway. Additionally, pastel hues send out a serene ambiance.
The abstract terrazzo wall mural gives your space visual interest. However, it just requires minimal effort.
11. Sea and Mountain Landscape Wall Mural
Talking about outdoor wall mural ideas, consider installing this one. It works great for a 20-something's bedroom. The landscape themed decor also helps any hipster liven up his drab office.
The mural features a mountain range that beautifully encloses the sea. It lends the room instant visual dimension. Furthermore, the monochromatic color scheme doesn't overwhelm the space.
In addition, the distressed leather accent chair or rustic wood headboard would complement this landscape wall mural.
Additionally, the design itself allows for simple ornaments. It perks up the owner's home without breaking the bank.
12. Mid-Century Modern Garden Wall Mural Ideas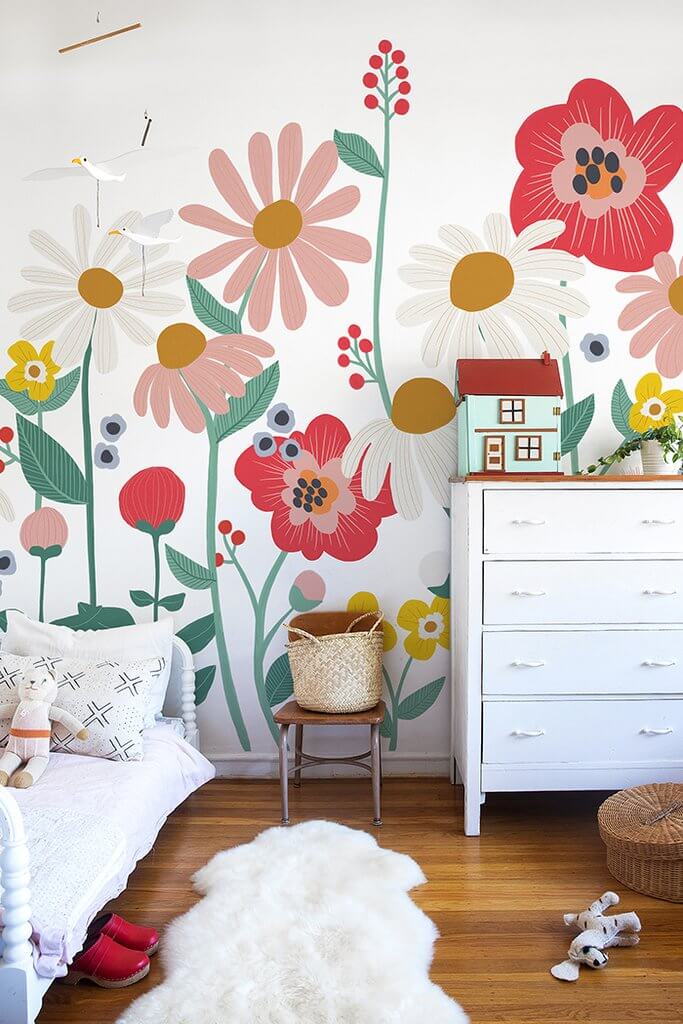 This '70's inspired wall mural brings the outdoor garden's beauty indoors. It magnificently extends from the base molding to the ceiling.
Moreover, the pink, yellow, and red flowers immediately titivate the space. They keep your wall space from feeling unnoticed. The motif itself is ideal for a dining area or girl's bedroom. It surely brightens the interior up.
The wall mural delivers a vivid blast of colors to the room. In addition, it fills the otherwise blank walls with garden beauties.
13. Vintage Sky Wall Mural with Clouds
Here, the gorgeous gray-blue sky mural exhibits a peaceful atmosphere. It allows you to relax in the serenity. The unit does not only lend the space visual depth but also turns the bedroom into a private oasis.
The sky's muted color produces a vintage feel. Furthermore, the wall mural's design is truly kid-friendly. You could meditate and light the candle, too. Well, this is a happy place.
14. Cloud and Birds Wall Mural
This is one of the charming wall mural ideas. The huge work of art on the wall displays a simplistic scene featuring blackbirds and watercolor clouds.
Moreover, black stripes provide a lovely design element. They bring the whole wall together. Meanwhile, the serene watercolor clouds offer a splendid background for the entryway or spare bedroom.
The wall mural has a universal design. It appeals to women and men. Furthermore, the neutral color palette makes the item work in most rooms.
15. Scandinavian Style Foliage Wall Mural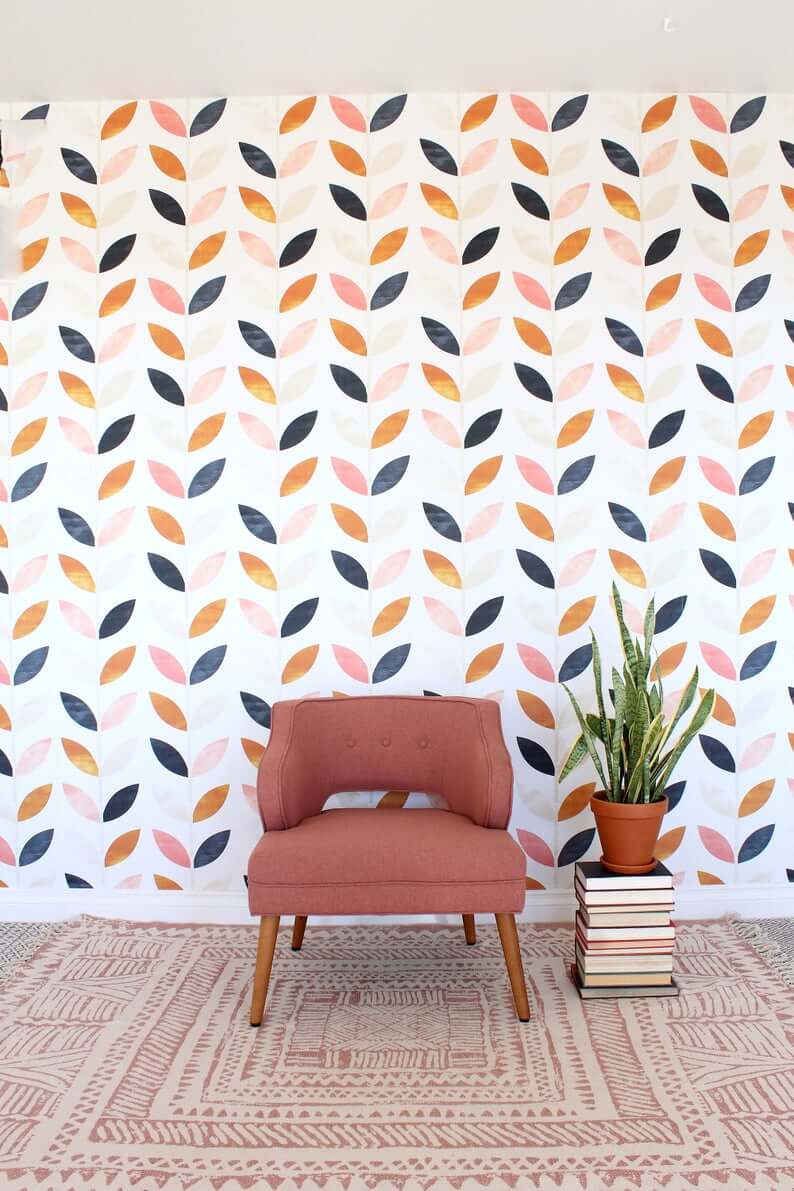 In 2019, IKEA Group had over 400 stores worldwide. Here, the colorful Scandinavian leaf print seems to embrace this famous store's European flair.
This wall mural flows delightfully in most homes since it sports a subtle-colored vine and leaf print. It doesn't overpower the eye at all. Shades of muted red, black, and rusty orange give the dramatic pattern a vintage appeal.
You can use this Scandinavian style mural as your accent wall. It makes the bathroom or living room more lively, too. The pattern itself is sure to spark intimate conversation.
16. Painted Wall Mural Ideas for Living Room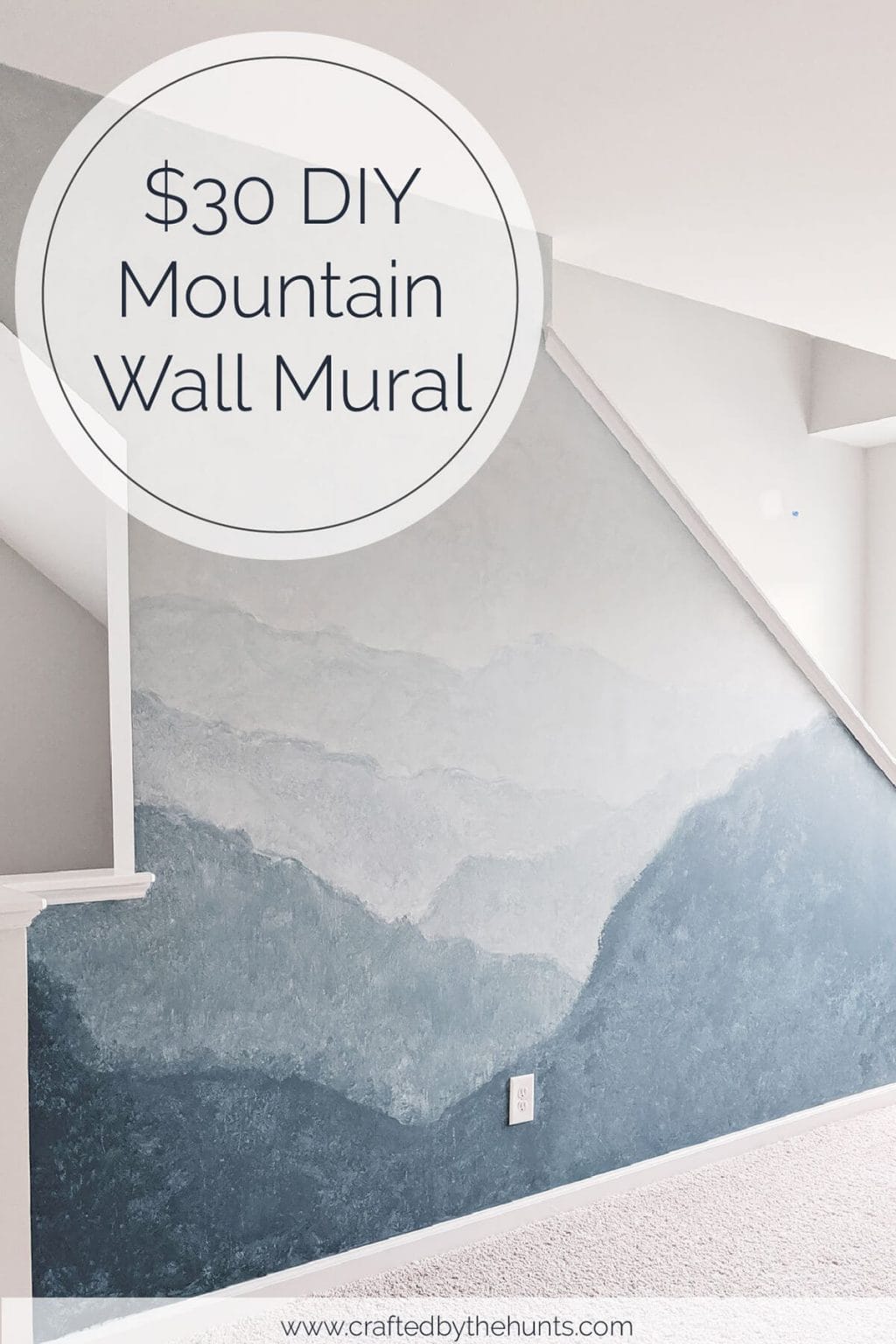 When shopping for paint shade, you probably couldn't decide between the three colors on the sample. Fear not, just try this DIY mountain wall mural using the sponge painting technique. The project costs about $30.
The ombre mountain range wall mural employs your favorite shade's varying hues. It lends visual depth to space effortlessly.
This wall mural would work great in the modern living room or teenage kid's bedroom. Furthermore, it is a lovely complement to the baby's nursery.
17. Bird and Fox Wall Mural Ideas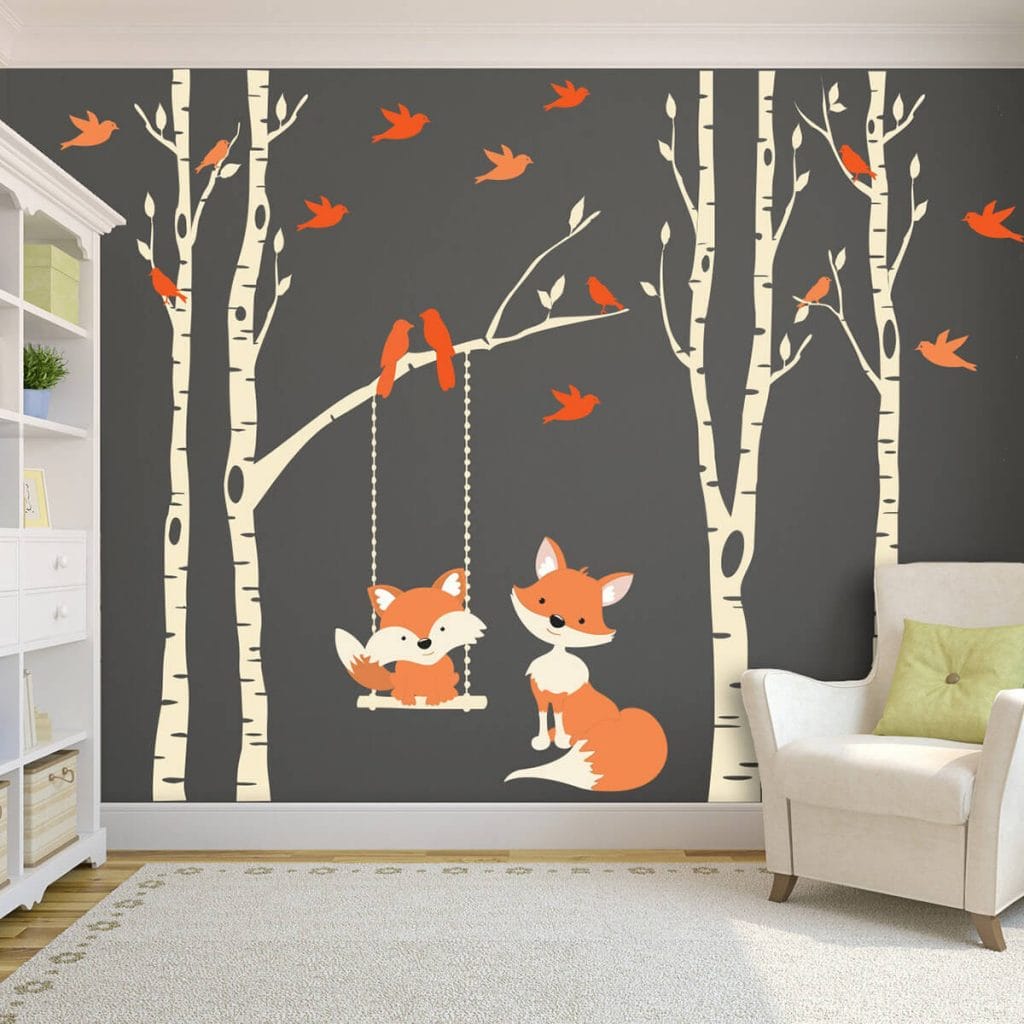 Speaking of wall mural ideas, consider this artwork. It showcases birch trees, foxes, and birds. The piece is not only friendly and fun but also brings a dash of whimsy to the kid's bedroom.
Moreover, this wall mural takes any space from plain to pretty. It also generates a comfortable ambiance, thanks to timeless birches as well as cute foxes.
You can definitely recognize the white bark of paper birch easily. Without the fuss and mess, it instantly delivers a nice textural element to the bedroom's design.
18. Chalkboard Robot Themed Wall Mural
This is certainly one of the most marvelous DIY wall mural ideas. It lets your children's creativity shine.
The decor also allows their wildest imaginations to run free since they envision and turn the robot town into reality.
Furthermore, this chalkboard wall mural is complete with DIY stars, robots, and a city skyline. Without a doubt, it will become the kid's favorite at any playdates.
The mural will surely win the hearts of any children due to its uniqueness. It combines futuristic motifs and space age. Moreover, the decor transforms the bedroom into a fun indoor playground.
19. Gold and Black Windy Tree Wall Mural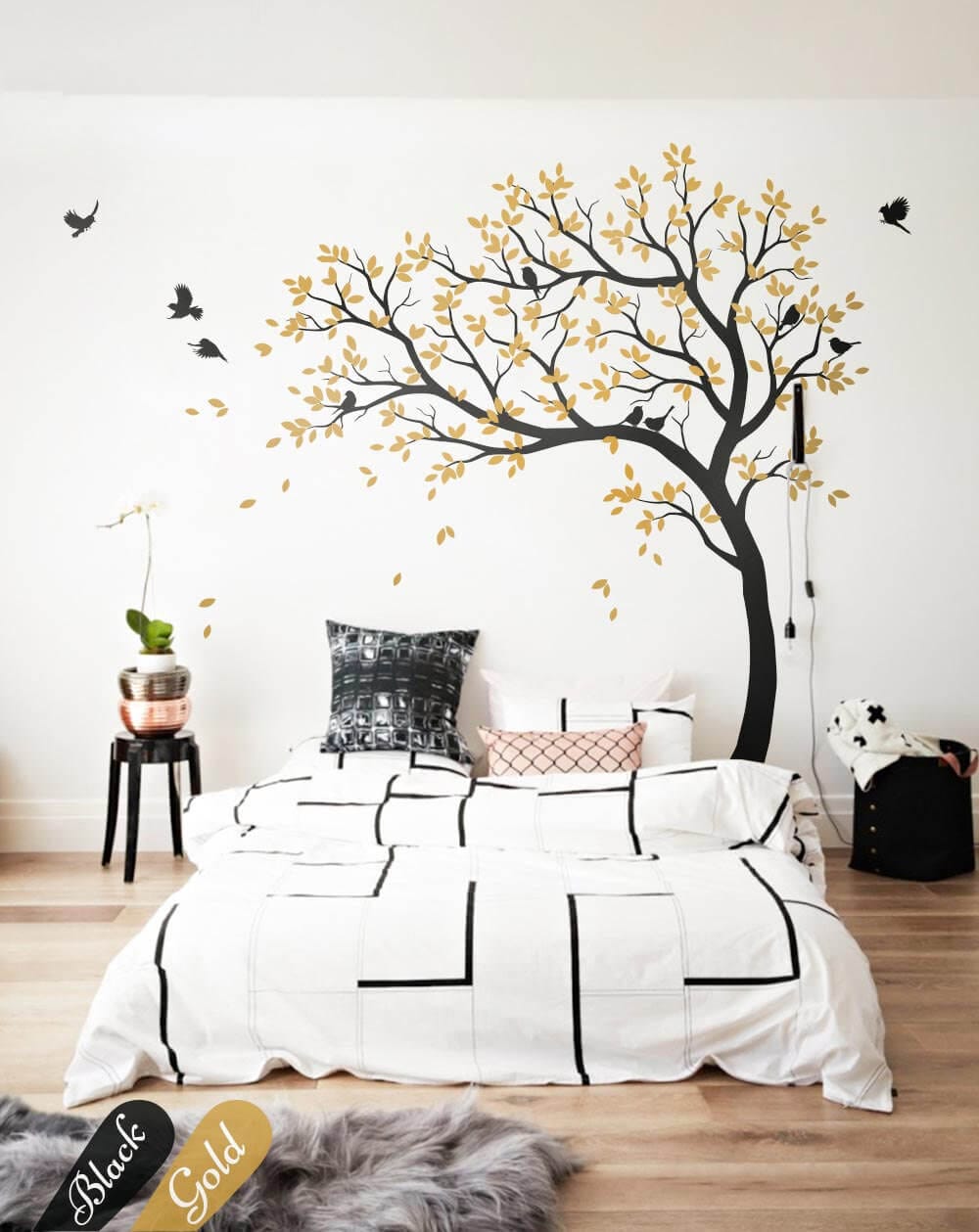 In this case, the gold and black wall mural boast a timeless windy tree scene with falling leaves and little tweeting birds. It brings a touch of nature and beauty to the bedroom.
This bedroom is perfect for cuddling up with a great book in your comfy chair. The foliage seems to beautifully glide from the tree's branches to the floor. Additionally, the wall mural exudes fall vibes.
20. Campfire and Animal Wall Mural Ideas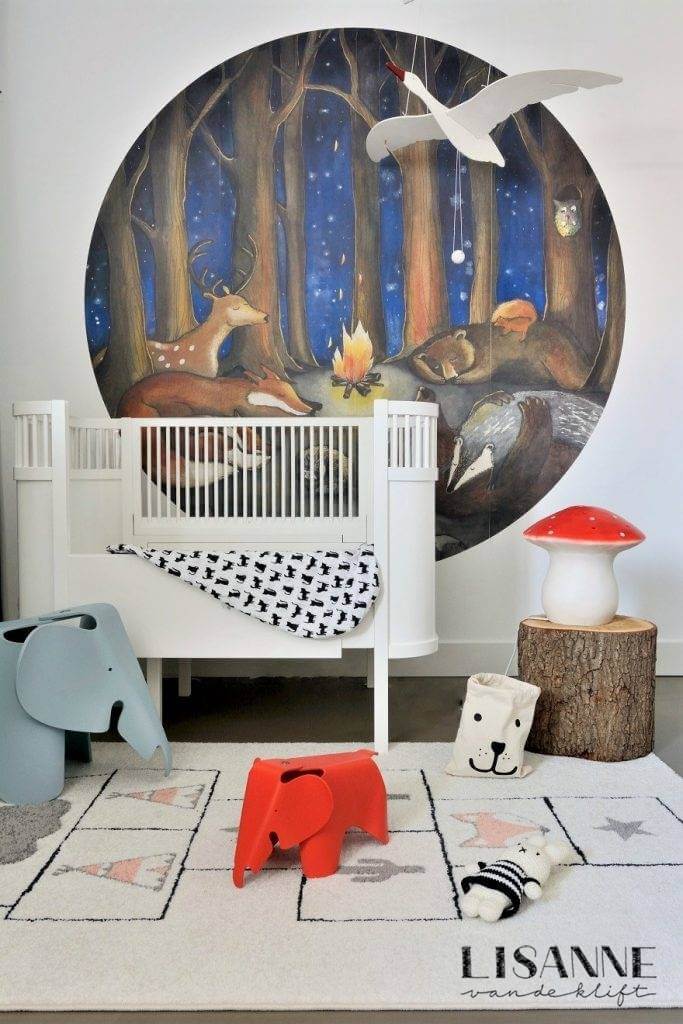 This round vinyl wall decal makes the baby's nursery warm and inviting. It features a sparkling campfire and woodland creatures. Moreover, the smaller critters cuddle up with the bears.
The deer and fox cozy up to the campfire. Meanwhile, the adorable owl nicely nestles in a tree. This nighttime outdoor scene quickly injects the nursery with a touch of nature.
21. DIY Constellation Wall Mural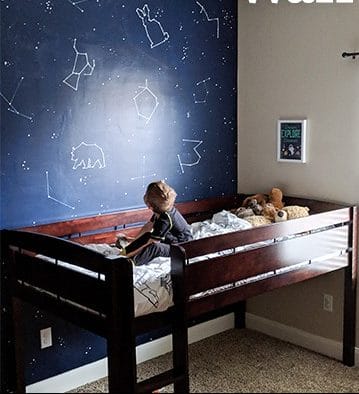 Your child loves space, why not adding this DIY constellation mural to his or her bedroom. It allows a kid's imagination to run free.
This kit allows your kid to locate constellations and make his/her stories within the stars. It combines function and design, too. She or he will definitely fall asleep under the stars.
Wallpapers are pretty, but offer lots of hard work. That's not the case with vinyl murals. They also can handle any look, from contemporary loft to the modern farmhouse. Implement our wall mural ideas for a lived-in home.