Talking about celebrating fall, many people focus on centerpieces. But, decorations are equally important. If you want to bring a holiday flair to your dining area, have a look at our Thanksgiving sign ideas.
Furthermore, handmade Thanksgiving signs remind your visitors what the holiday season is all about.
You can pick either a simple, inviting sign or conversation piece. We also recommend choosing fall shades like gold, copper, and scarlet.
Before getting started, set the project's time commitment into your consideration. Wooden Thanksgiving signs are typically long-lasting. However, if you have limited lime, simply opt for the paper decorations.
In case you need some inspiration to let your creativity shine, check these Thanksgiving signs out. They will certainly leave the guests speechless.
1. Thanksgiving Sign Ideas with Vintage Platter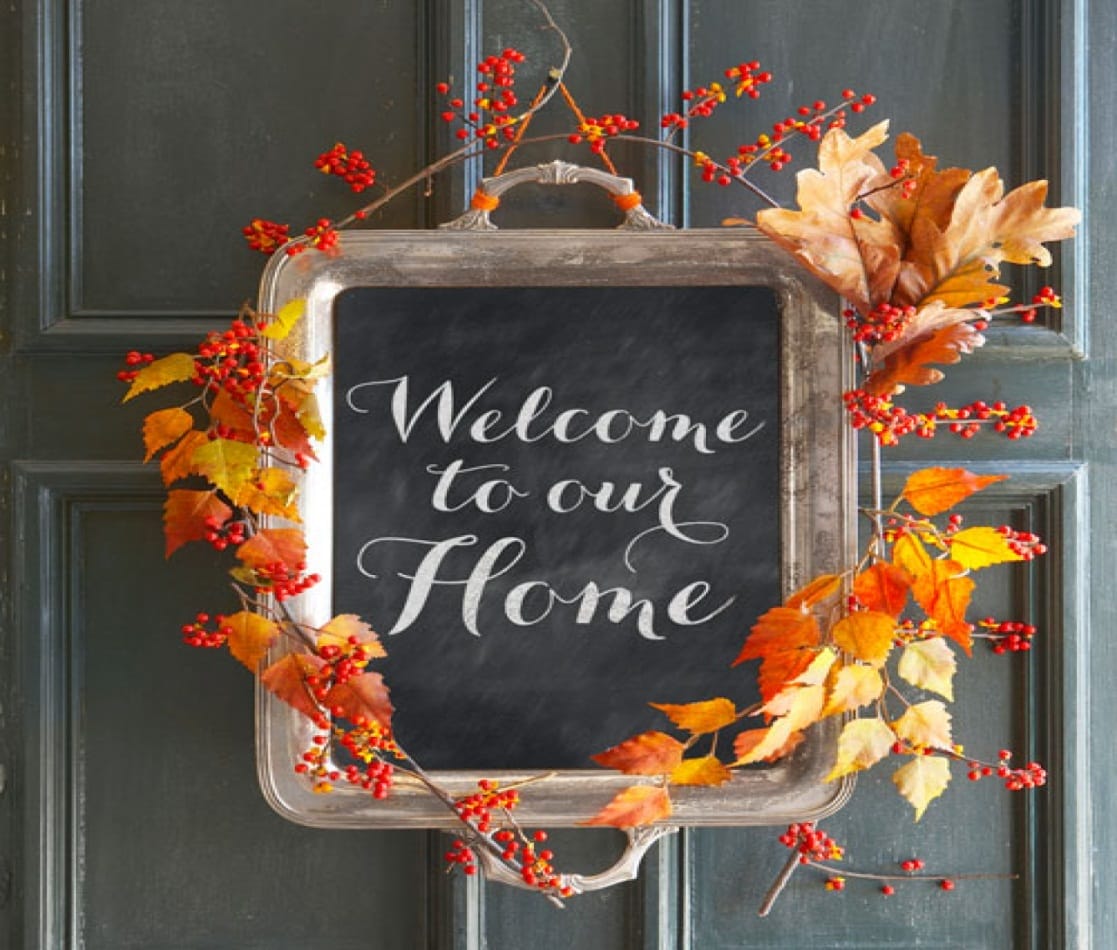 This is certainly one of the creative Thanksgiving sign ideas. The homeowner shows off her hospitality with a charming display. She transformed an old tray into a chalkboard and hung it on the front door.
Without a doubt, this Thanksgiving sign will elegantly greet visitors. It is such an astonishing option to the regular fall wreath, too. Moreover, the project is both easy and budget-friendly.
First of all, coat the inner part of the vintage platter with chalkboard paint. Next, add bittersweet berries and autumn foliage.
They give the sign a nice seasonal finish. You could swap them for holly and evergreen during the holidays.
2. DIY Thankful Thanksgiving Sign Decor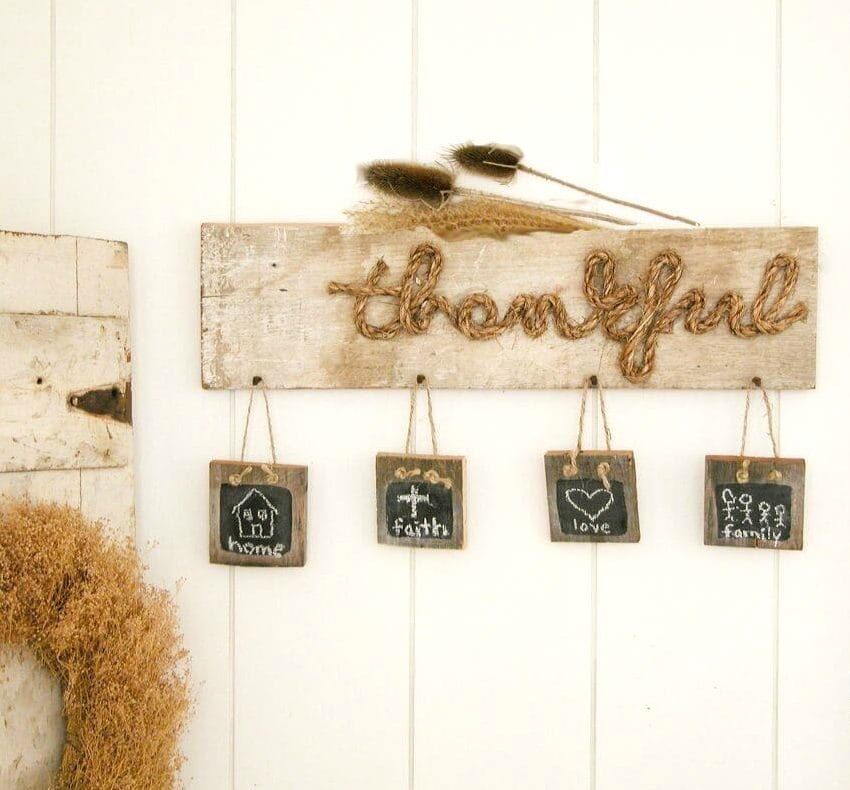 We love this Thanksgiving-themed wall hanging. It employs cute mini chalkboard signs. The decor makes an interactive piece as well.
For sure, the item encourages your relatives and associates to ponder on the goods in their days.
This handmade Thanksgiving sign is fun. Furthermore, since the decor boasts some rope and wood, it lends the room a rustic appeal. Adorn the wooden board with blessings you're truly thankful for.
You can craft this sign using reclaimed timber or new wood. The small signs give it a unique feel. Additionally, the project is versatile. Feel free to change the words up.
3. Chalkboard Thanksgiving Sign Ideas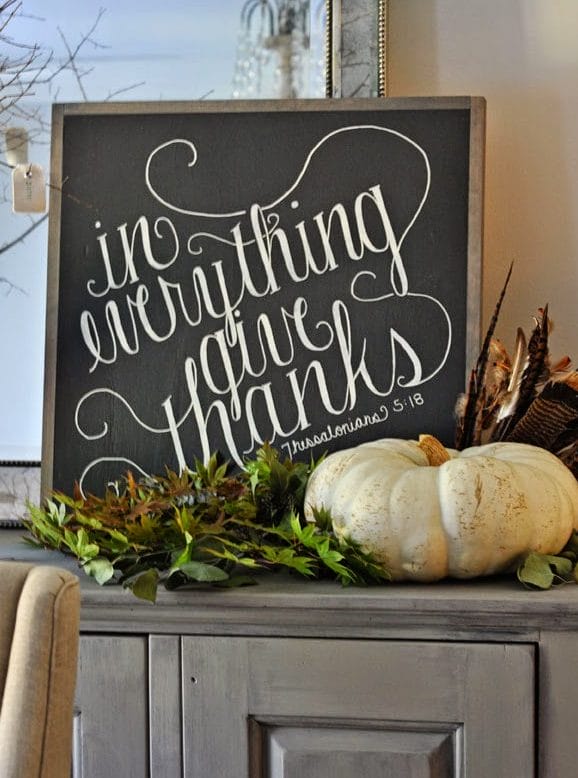 If you are looking for great Thanksgiving sign sayings, try making this display. Here, the framed chalkboard wall art says "in everything give thanks". The project is not only simple and easy but also fits your bill.
Furthermore, this Thanksgiving sign is a fabulous addition to your dining area. It matches excellently with the ivory pumpkin and faux leaves. The unit serves as a conversation piece as well.
4. Thanksgiving Sign Boards with Burlap and Lace Accents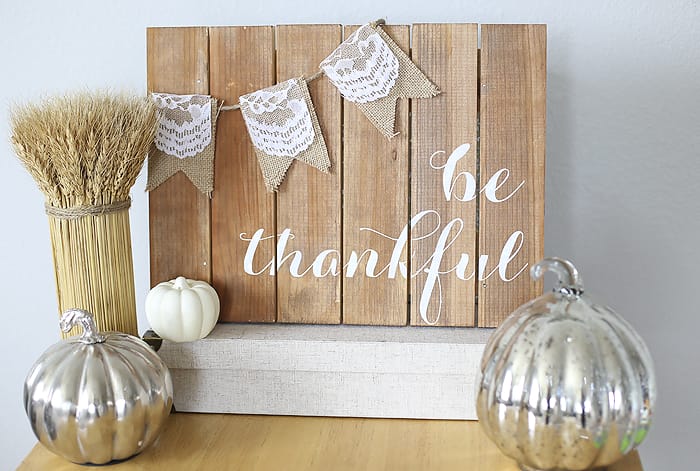 Speaking of Thanksgiving sign ideas, consider crafting this thankful sign. It features a wood sideboard with burlap and lace ornaments.
Also, the item will remind you and your guests to perpetually expose appreciation for the goods.
The bright white lettering contrasts with the unfinished wood background nicely. Moreover, the sign exhibits a homey atmosphere.
Lace overlaps the pennant shaped burlap beautifully. Furthermore, these two materials make a striking banner that adorns the wooden sideboard. Both faux pumpkins and dried white stalks tastefully complement the sign.
5. Thanksgiving Sign Ideas for Side Tables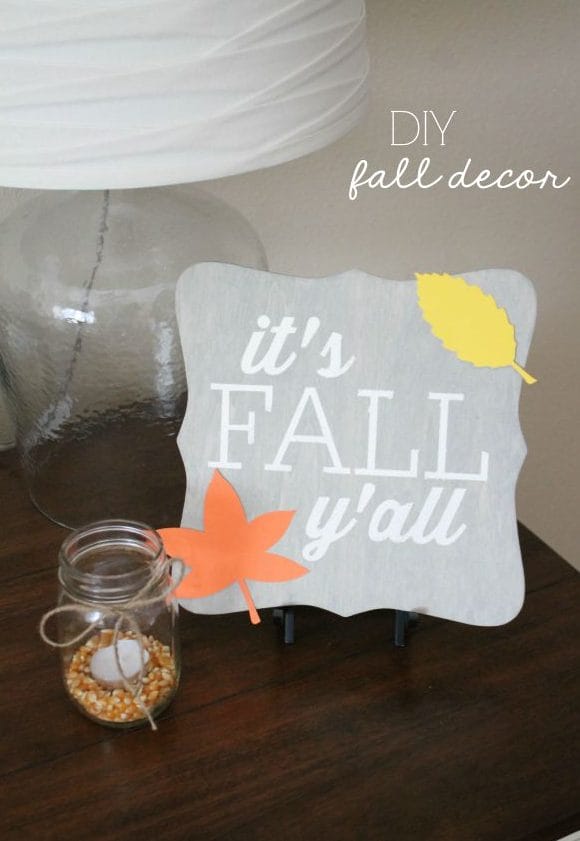 This Thanksgiving sign may be small, but it generates a big impression. Furthermore, the project utilizes stencil and wooden plaque. You have to use a weathered oak finish to stain the tiny wood board.
For lettering, we recommend using acrylic craft paint. In addition, you should apply your adhesive vinyl to the wood plaque carefully.
Moreover, this mini sign lends the room a quirky look and vintage flair. It sits on the end table and goes well with the mason jar votive. Meanwhile, the paper leaves around the unit out.
6. Thanksgiving Ombre String Art Sign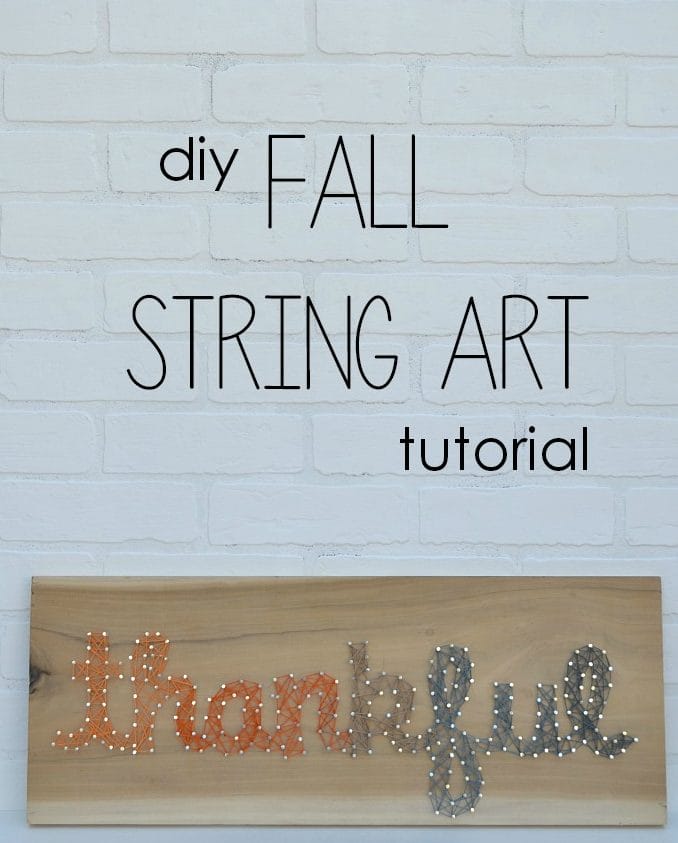 Talking about Thanksgiving sign ideas, you should make this ombre string art yourself. It's such a nice reminder to be always thankful for your daily blessings. Moreover, the project is extremely simple and modest.
This sign is a perfect complement to your fall decor. It carves modern vibes as well. The colorful string art words stand out against the wooden board.
Furthermore, the words blend nicely from one shade to another. Well, this idea truly provides endless styling possibilities.
7. Pumpkin Pallet Sign for Thanksgiving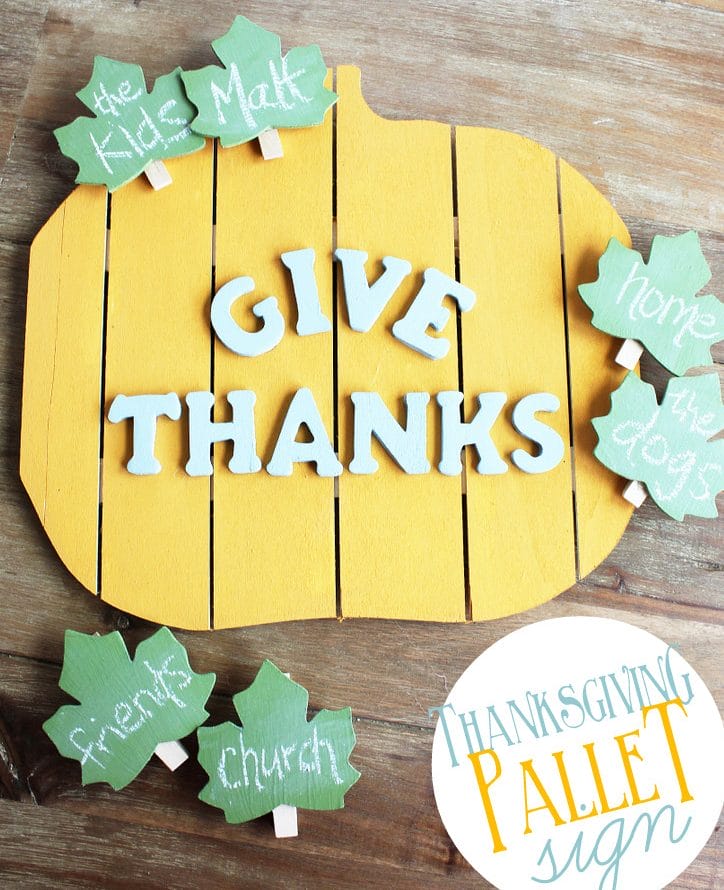 This is certainly one of the stunning DIY Thanksgiving signs. Here, the sign boasts wooden pumpkin and chalkboard leaf cutouts. The leaves showcase the places, people, and things you're really thankful for.
Furthermore, the orange painted wooden pumpkin contrasts gorgeously with wood letters. You can use hot glue for attaching each one to your sign.
Moreover, you could place this pumpkin pallet sign on the fireplace mantel or hang it on the wall.
The green chalkboard leaves are not only pretty but also spruce the unit up. They infuse fall vibes into any space of your house, too.
8. Narrow Thanksgiving Sign Ideas for Entryways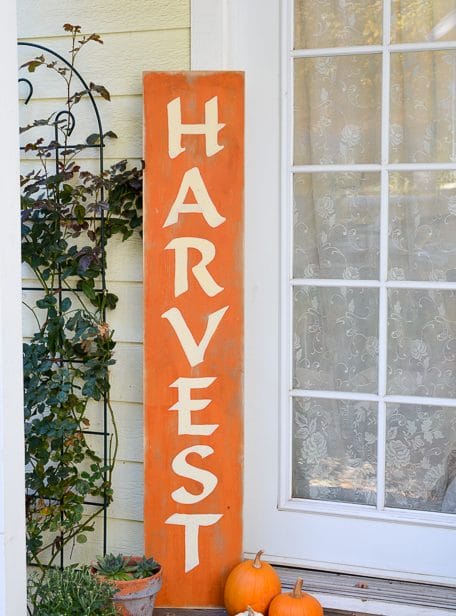 Searching for Thanksgiving sign ideas? If yes, give this narrow wooden sign a shot. It seems not to compel you to own a stencil or cutting machine. Painting the letters by hand is more budget-friendly and easier for certain.
This fall harvest sign is beyond beautiful. It lends a rustic flair to any space as well. Additionally, the unit looks fabulous on the porch or in the entryway.
Furthermore, this harvest Thanksgiving sign offers an old barn wood appearance, thanks to a great distressing method. The white and orange pumpkins on the porch floor keep things cohesive.
9. Thanksgiving Sign Ideas with Acorns and Leaves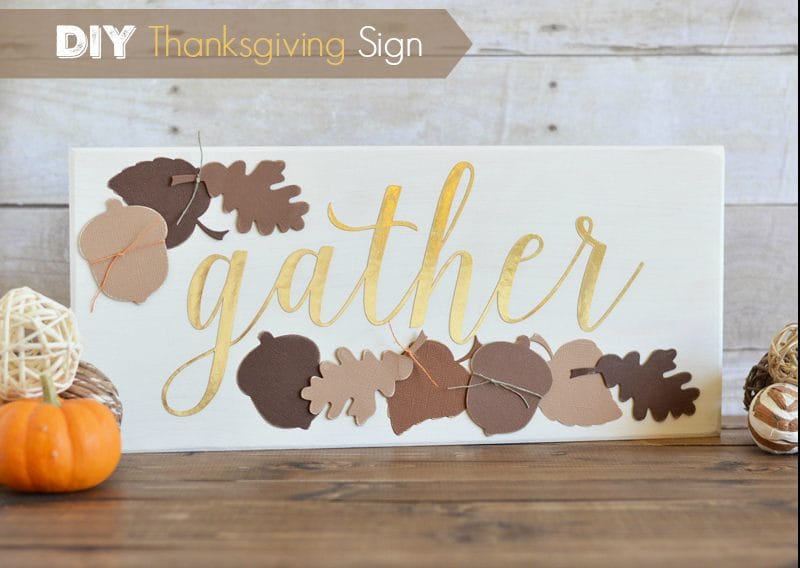 Are you into a neutral color scheme? If yes, choose ivory rather than crisp white since it can make your sign appear too wintry. In this example, the decor features warm-toned wooden plaque as well as die-cut elements.
The plan is not only entertaining but also manageable. Furthermore, this "gather" Thanksgiving sign coordinates nicely with the wooden tabletop and tiny embellishments. Gold lettering lends it a glamorous touch.
We suggest placing some acorns and leaves on the wooden board, under the "gather". You could stick a few pieces to the sign directly as well. The decor is certainly appropriate for the fall season.
10. Rustic Thanksgiving Sign for Front Porch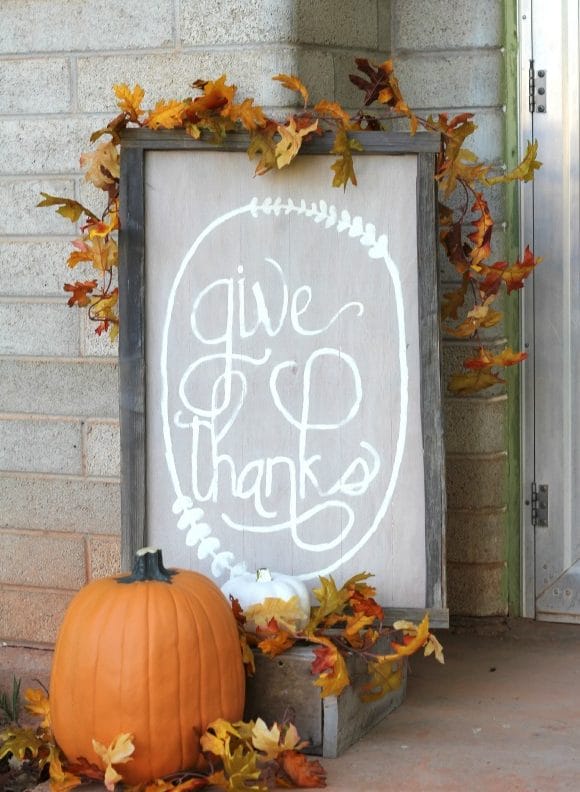 We really admire this welcome Thanksgiving sign. It takes the front porch from pathetic to pretty in no time. Moreover, the hand-painted decor gives the space a personal touch.
This Thanksgiving sign evokes a festive vibe in an instant. Furthermore, the barn wood makes it look so rustic. Meanwhile, the faux pumpkins and foliage carry pops of color to the front porch.
For a smooth finish, you can use some sandpapers on the wooden sign. In addition, affix the frame to your plywood with a few screws as well as wood glue.
11. Thanksgiving Sign Ideas with Printable Vinyl Sheet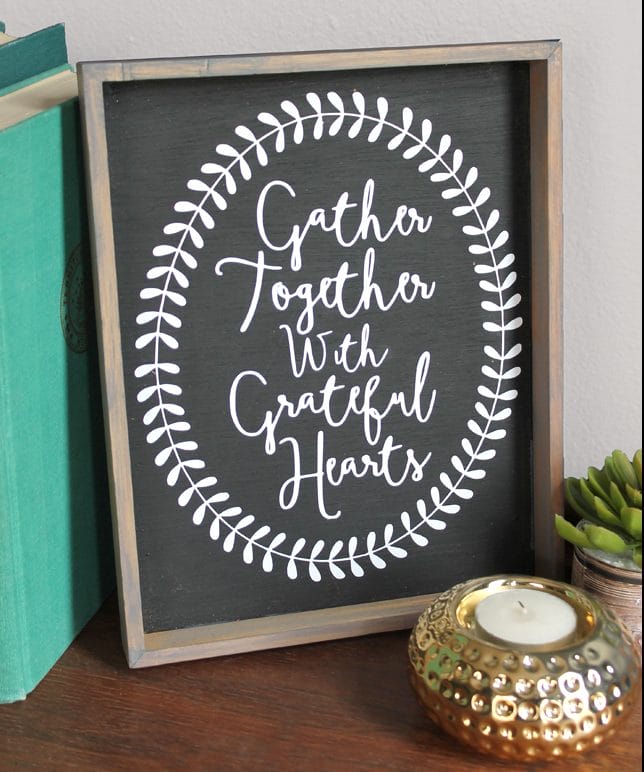 We love this DIY wooden framed Thanksgiving sign. It makes visitors feel completely welcome. Furthermore, the item reinsures your room with a rustic farmhouse vibe and comfortable ambiance.
For this project, you can purchase an unfinished wooden sign or build it yourself first. It requires a Silhouette cut file as well. Use your old gift card to rub the white vinyl onto the wood.
This printable Thanksgiving sign looks so cute. It reminds you and your family to express gratitude every day. Moreover, white lettering and black background develop an impressive contrast.
12. Thanksgiving Sign Ideas with Wood Slice Plaque
Here, we show you a tree slice thankful sign. It features a black background and golden hand-lettering. Moreover, the decor is durable enough to use for several years.
This thankful sign utilizes the wood slice from the actual tree. That means no two slices are the same. You can use the item as your furniture centerpiece or dangle it on the wall.
Moreover, since this sign is handmade, it lends your room a one-of-a-kind flair. The gold paint evokes a sumptuous feel.
This sign makes excellent decor for the holiday season or any occasion. If you don't fancy that sentence, then consider to customize it.
13. Thanksgiving Sign Ideas with Printable Banner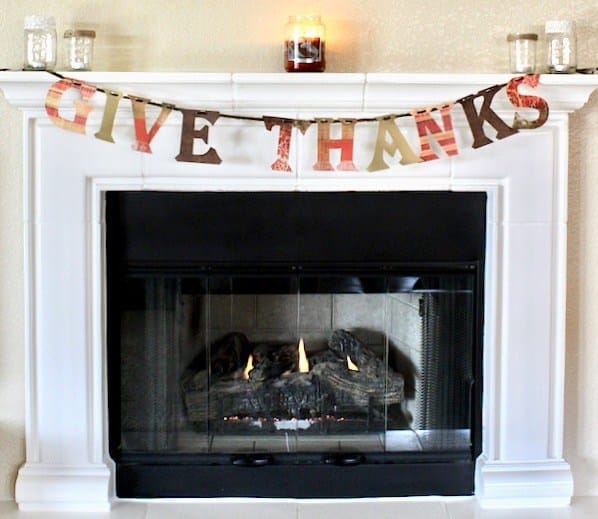 Short on time? If so, this is certainly one of the mesmerizing Thanksgiving sign ideas to try.
The natural kraft cardstock banner is such a quick and simple project. It also lets you have more free time preparing for your visitors.
You can hang this Thanksgiving banner on your fireplace. The project requires less than 15 minutes. Moreover, it is cheap to make. The unit gives fall gatherings a festive touch as well.
The white and red baker's twine matches nicely with kraft paper. However, you could use ribbon or twine for this project.
14. Reclaimed Wood Thanksgiving Sign with Rope Script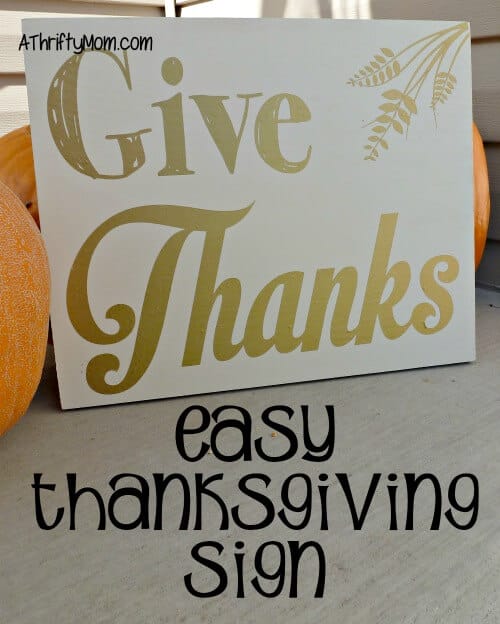 Looking for captivating Thanksgiving sign ideas? If yes, try this design. Here, the reclaimed wood piece boasts rope script. The gold lettering gives it warmth and timeless glamor at once.
This Thanksgiving sign is such an easy and fun fall project. First of all, you need to choose the right size for the wooden board.
We recommend painting it pure white. The clean paint brings out the gold lettering's glamor.
Moreover, the gold text looks so classy. It also stands out marvelously against the white background. This sign will surely infuse a touch of festivity into your space.
15. Thanksgiving Sign Ideas with Foliage Wreath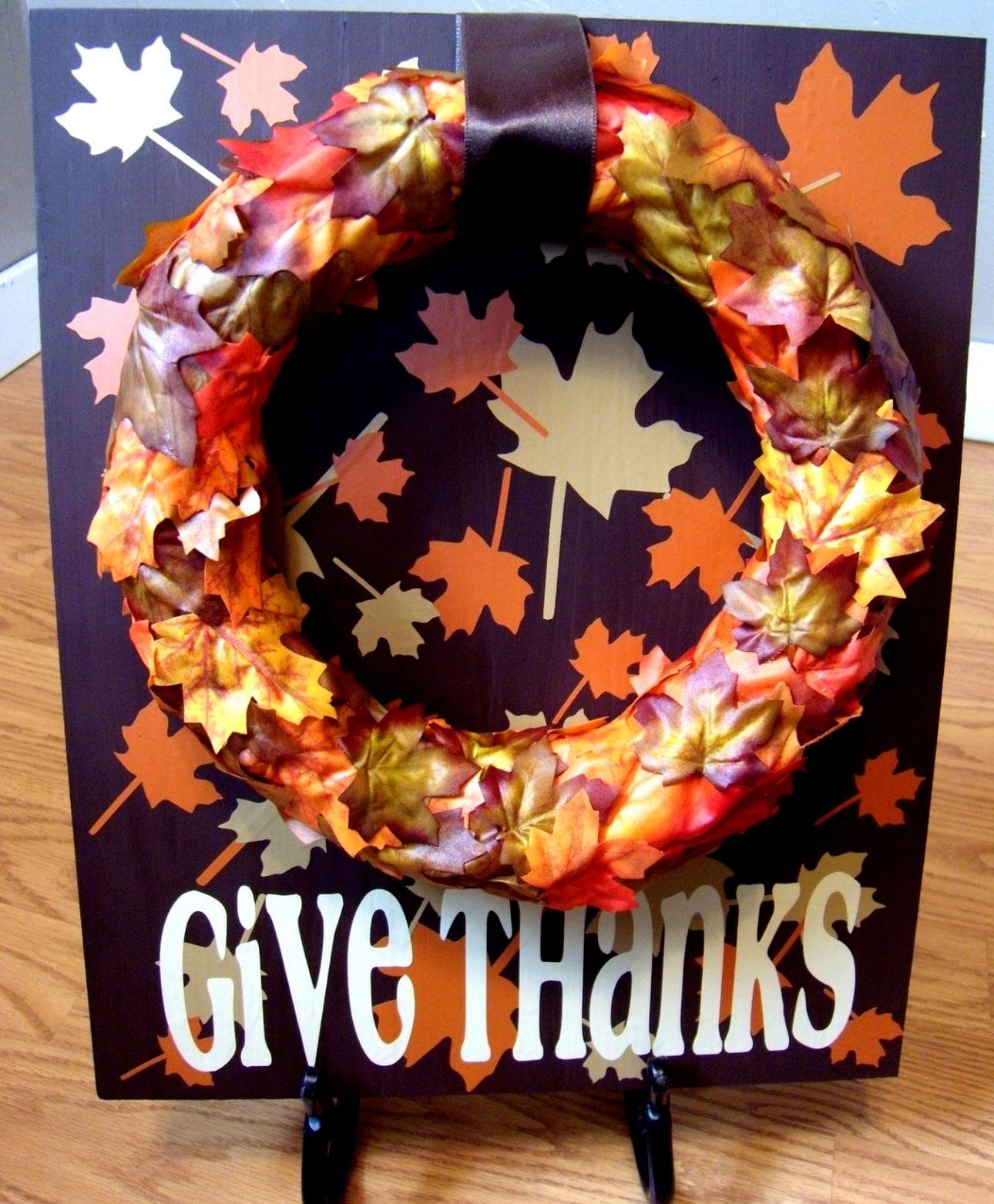 Speaking of Thanksgiving sign ideas, consider this DIY "give thanks" sign. It features an artificial foliage wreath. The decor piece reminds guests to be always grateful for many things in life.
The leaves come in warm colors. They send out a welcoming ambiance quickly. Meanwhile, the black background lets them catch the eye.
We recommend placing the leaves randomly. You should mix the angles and colors, too. The dark brown satin ribbon spices the wreath up.
Furthermore, the vinyl words "give thanks" look perfect on the board's bottom.
16. Thanksgiving Sign Ideas with Working Lights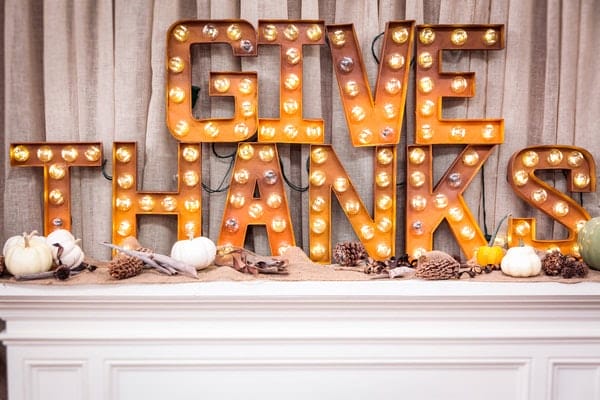 This Marquee style fireplace mantel employs custom metal letters with working lights. They make an appealing Thanksgiving sign. Moreover, the pieces lend the space a vintage feel in a jiffy.
Furthermore, this Thanksgiving sign perks up the otherwise plain fireplace mantel. It is also such a cool way to remind you and your visitors what fall is all about.
The burlap and taupe curtain cozy up the interior. Meanwhile, the faux pumpkins, acorns, and pine cones complement the Thanksgiving sign. They amplify the festive vibes as well.
17. Simple Thanksgiving Slat Sign Ideas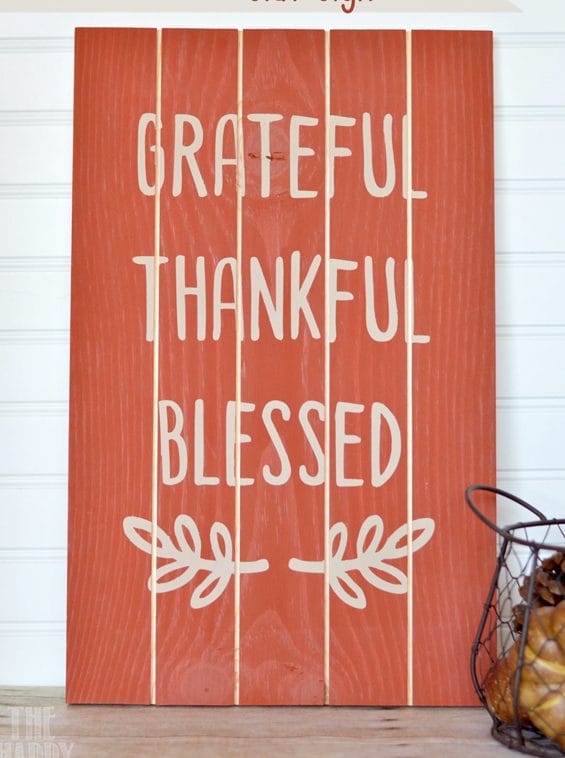 This simple wooden Thanksgiving decoration features gorgeous hand lettering. To build it, you need a huge slat sign. Then, paint its face orange. The color instantly exudes fall vibes.
We recommend leaving the sign's edges unpainted to show the beauty of the raw wood. However, you could coat them with paint.
Basically, this project is easy as well as quick. The trickiest part is designing the vinyl. For the lettering, we suggest choosing warm ivory, so your sign doesn't seem too wintry.
18. Thanksgiving Sign Ideas with Chalk Lettering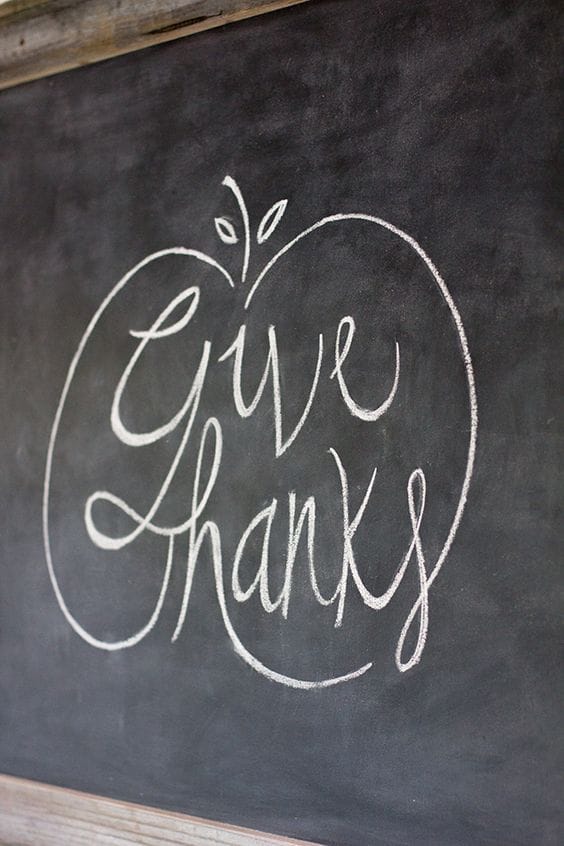 If you love chalkboard, then this is one of the Thanksgiving sign ideas to apply. Here, the seasonal decor boasts pumpkin-shaped lettering using white chalk.
Furthermore, a chalkboard is truly lovely on its own. When you display the unit inside your large reclaimed wood frame, it looks more wonderful.
Do not use cheap white chalk since it won't work at all. Take the one that holds a richer residue. Moreover, strokes can be thin or thick. This relies on your particular decision.
19. Weathered Wood Thanksgiving Sign Ideas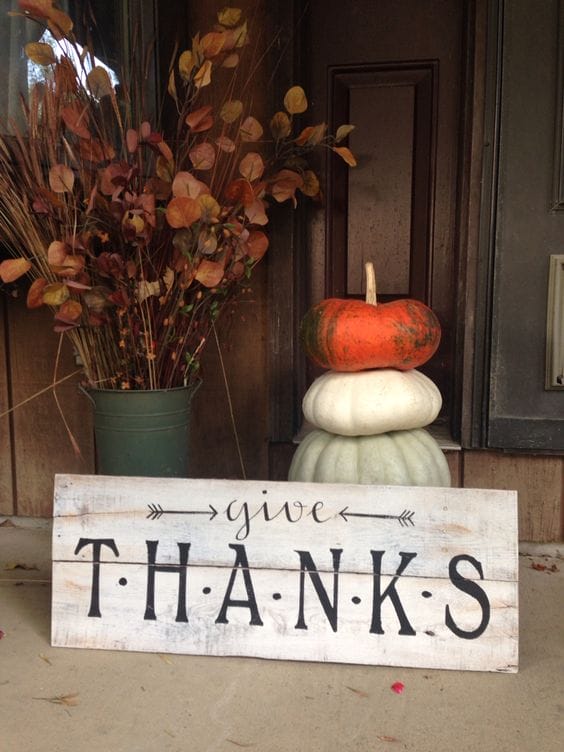 This Thanksgiving sign is definitely a fabulous decoration. It looks outstanding on any porch as well.
To craft the unit, you need two pieces of weathered wood. The item encourages visitors to share things they are grateful for.
Furthermore, this wooden Thanksgiving sign is more sturdy than the paper display. The distressed white paint lends a rustic charm to it.
20. Happy Thanksgiving Sign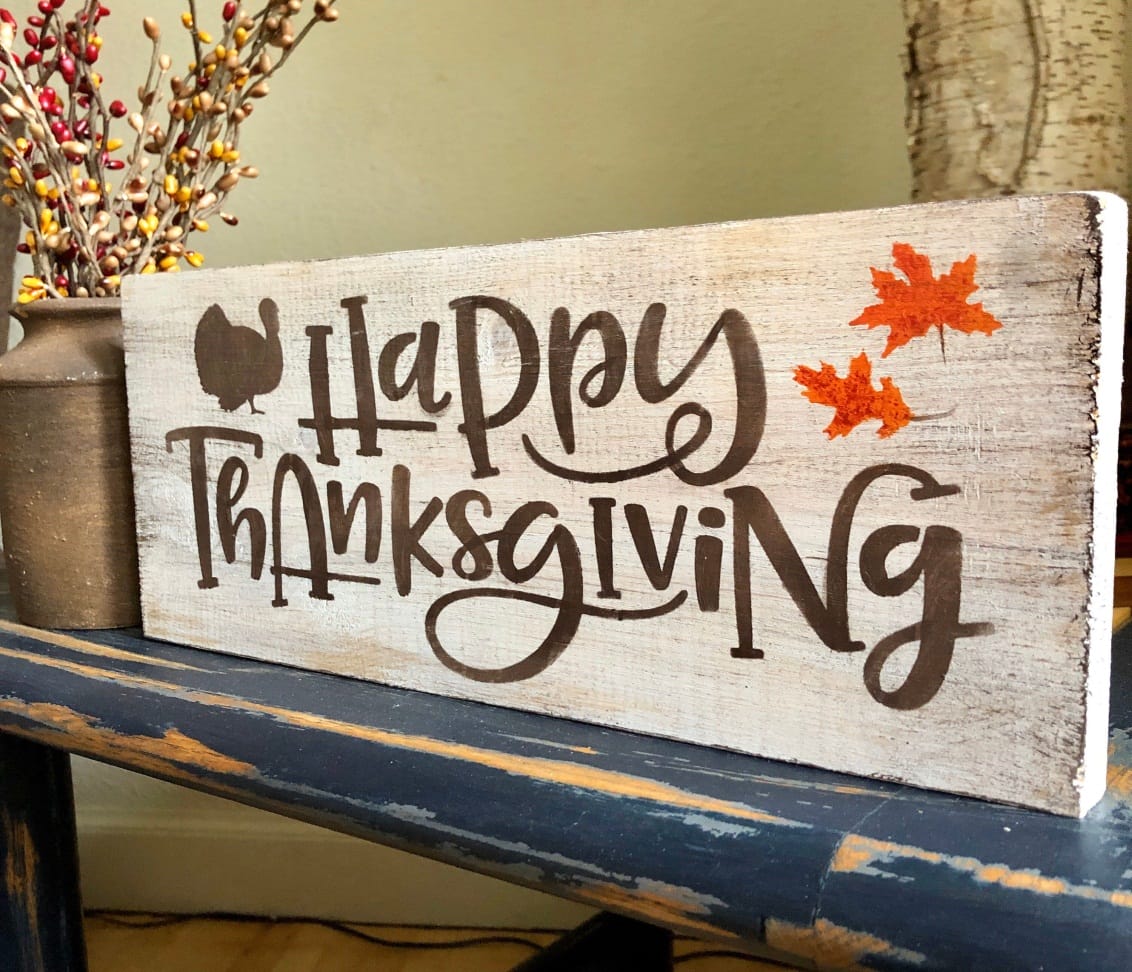 If a neutral color palette is your thing, pick ivory rather than pure white. The hue helps you stick to the fall theme.
Moreover, the orange maple foliage and turkey accents jazz up this "Happy Thanksgiving" sign. Meanwhile, faux dried stems in the vintage jug keep the design elements feeling cohesive.
Fall is definitely the season of gratitude. Those Thanksgiving sign ideas will make you thankful for the dirty dishes and holiday season. Create one, eat nice food, and spend quality time with your loved ones.