There are tons of closet doors ideas that you can find on the internet. Indeed, it is not without reason.
So far, we know that not many people have paid full attention to this part in a bedroom. Most of them will feel safe by only leaving their cabinet shuts in the plain white color.
However, did you know that this corner can be an attractive focal point for your personal space? For that reason, you need to read this article to the end.
In this article, you can immediately find some interesting, unique, creative closet doors ideas that are easy to apply.
Besides, there are also some closet door ideas DIY that you can try without spending many budgets.
Are you already curious about all of them? Here are seventeen best closet doors ideas that will upgrade your bedroom appearance!
1. Kids-friendly Chalkboard Painted Closet Door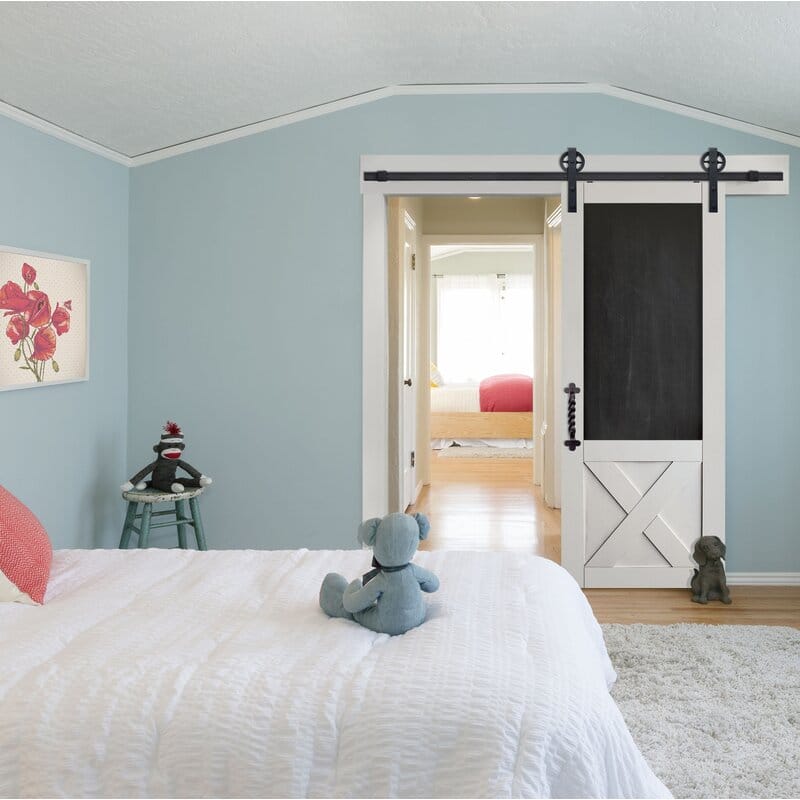 The first concept of closet doors ideas introduces you to a cabinet shut with chalkboard paint. In general, this design is suitable for your little one's room who likes to scribble on walls.
Instead of letting your partition become full of masterpieces by your kids, it's better to immediately transform their closet doors into the perfect medium for them to draw on.
It doesn't need to spend a fortune to have this kind of closet door. Just by painting it with Rust-Oleum-like chalkboard paint, then everything is clear.
Besides being child-friendly, the chalkboard painted closet door concept is also suitable for teenagers. They can use it as a place to make daily reminder notes or motivation quotes for their encouragement.
2. Get Some Cute Vinyl Wall Decals as the Easy-to-Refresh Closet Doors Ideas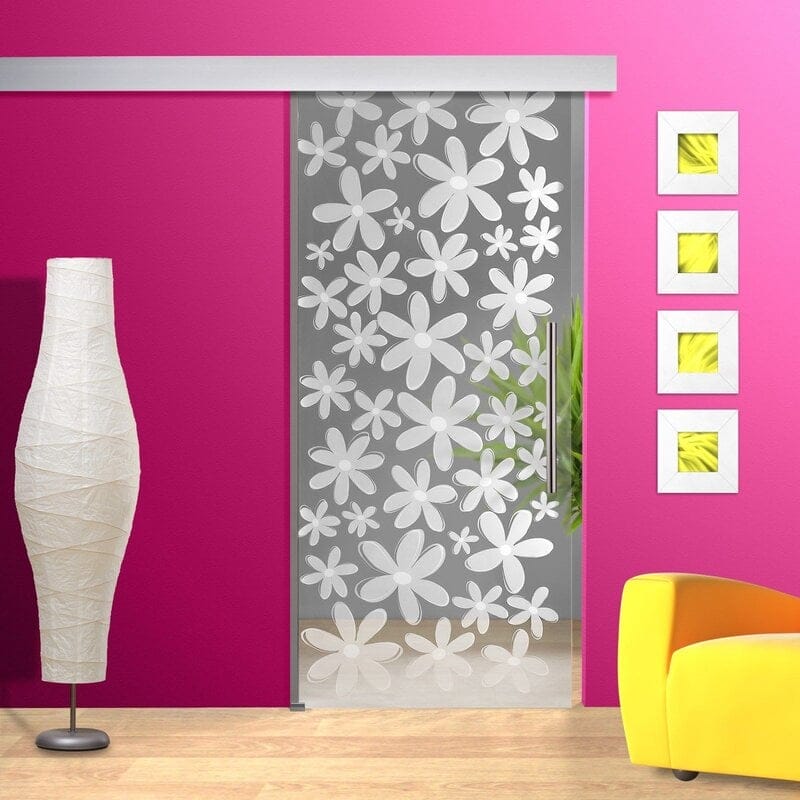 If you often have questions like "How can I improve my closet doors?" then the best answer is to stick some wall decals on it.
Many wall decals designs can fit your taste and interior design, from those in flowers, animals, and abstracts pattern. Just choose the one you like.
Besides being cheap and easy to get, you can give your cabinet shut a texture through these vinyl wall decals.
Moreover, you can also quickly get it a refresh with another pattern once you get bored. Merely peel it off when you want to return your closet door to its original appearance.
3. Minimalist White Sliding Closet Doors for Bedrooms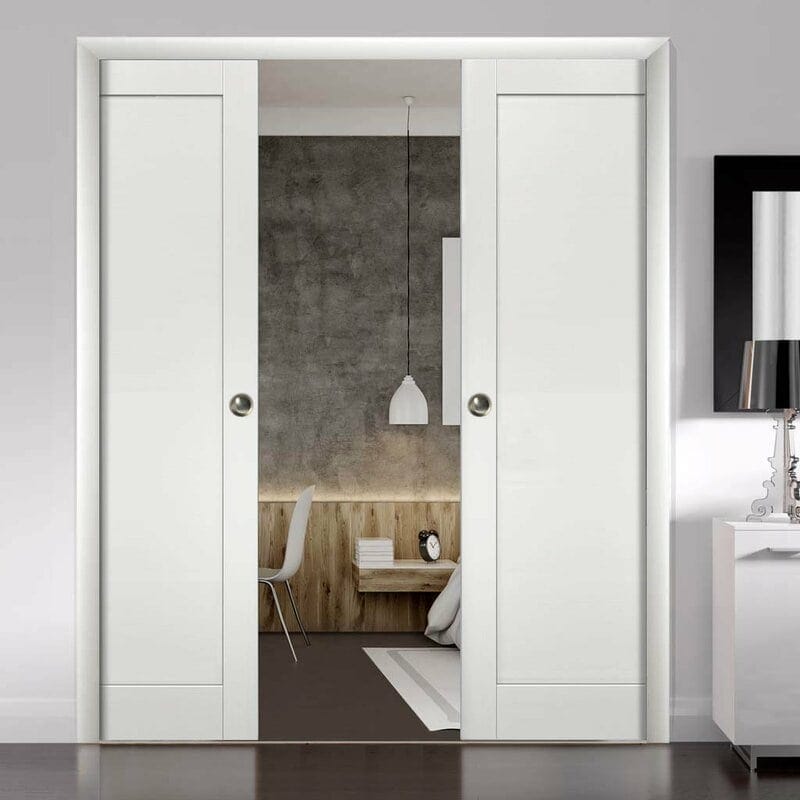 Another design from many most common and space-saving closet doors ideas is the sliding pocket door.
Besides, this design is also famous as one of many best closet door ideas for large openings.
In this concept, you can consider installing a sliding door on both sides or only on one side. Just adjust it to your preferences.
As for color, you are also free to choose according to your liking. However, for the best recommendations that can make your room looks more spacious and cleaner, white is much better.
Talking about the knob, choose one made of metal to give it an elegant minimalist vibe.
Keep in mind that installing sliding pocket doors requires intricate work inside the wall. Therefore, you will need a professional to finish it. And of course, preparing more budget will be needed.
it's also a great idea as the door for walk-in closets.
4. Stylish Indoor Hanging Round Hoop Wreath to Match Your Every Design Interior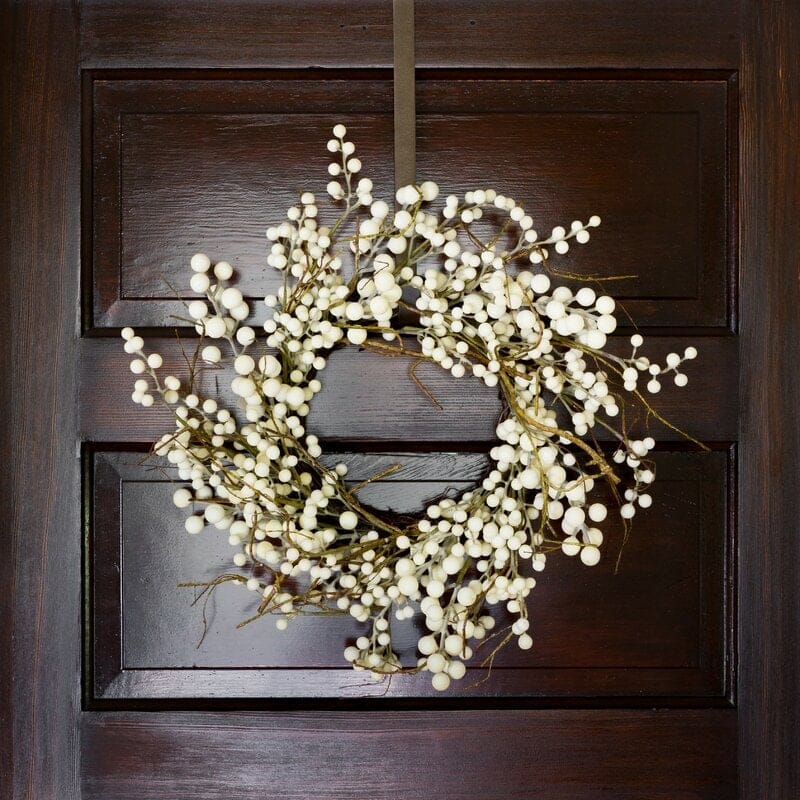 Who says wreaths are only suitable for outdoor design? Factually, this decorative item is also perfect for beautifying closet doors in your bedroom.
Coming with many variations, such as flowers, faux cotton, and leaves, wreath give you an effective solution among many closet doors ideas existed.
You can freely decide to use any model that suits your bedroom interior design. In general, wreath goes well with almost any home theme, from bohemian, minimalist, to farmhouse.
Moreover, suppose you like to change the decor every season. In that case, a seasonal wreath will also help you refresh your personal space with just one touch on your closet doors.
5. Give the Trim Contrasting Colors and Unique Designs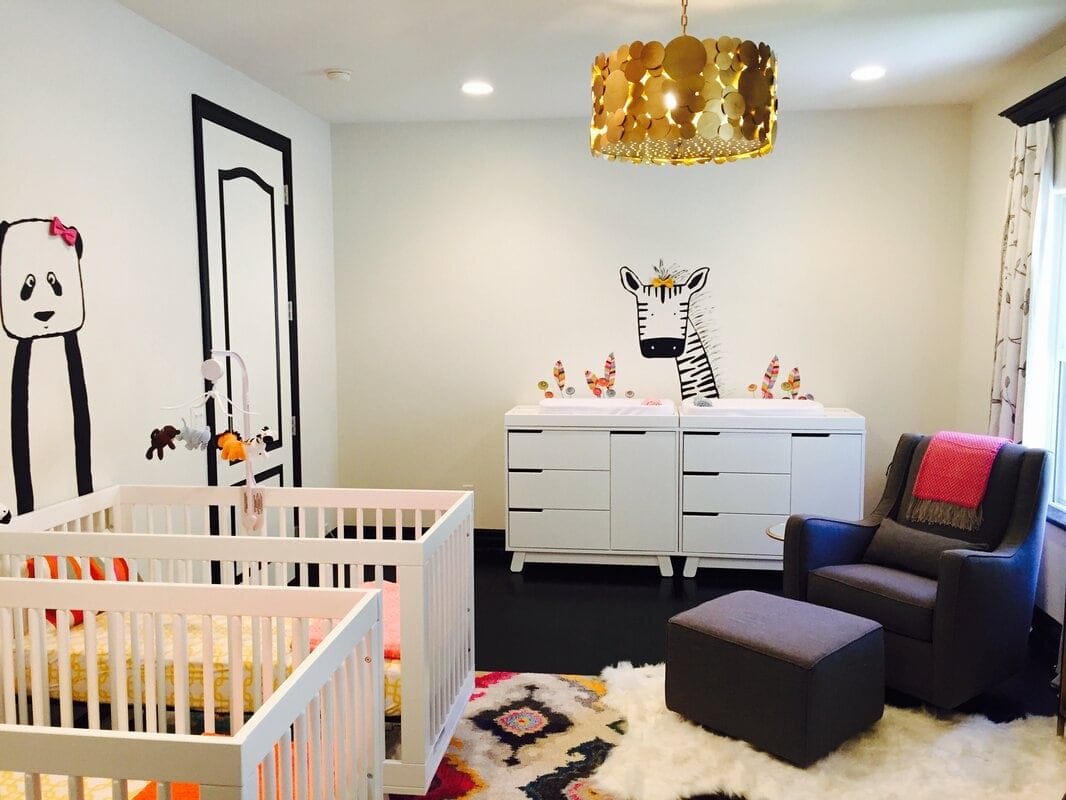 There are lots of cheap closet doors ideas out there. However, one of the unique things you can try at home is to paint your cabinet shut's trim with a color that contrasts with your room walls.
Look at the picture above. A room theme like this will be very suitable for your nursery room. By combining black and white colors, as well as some cute murals, now your children's room has gone up to an impressive level.
To further enhance the room's appearance, you can equip it with an upholstered seat and ottoman in dark gray or purple. Next, consider setting a faux fur rug with a colorful geometric pattern.
The selection of designs that are equipped with animal characters will suit both your son or daughter. Isn't it attractive?
6. Exposed Closet Doors Ideas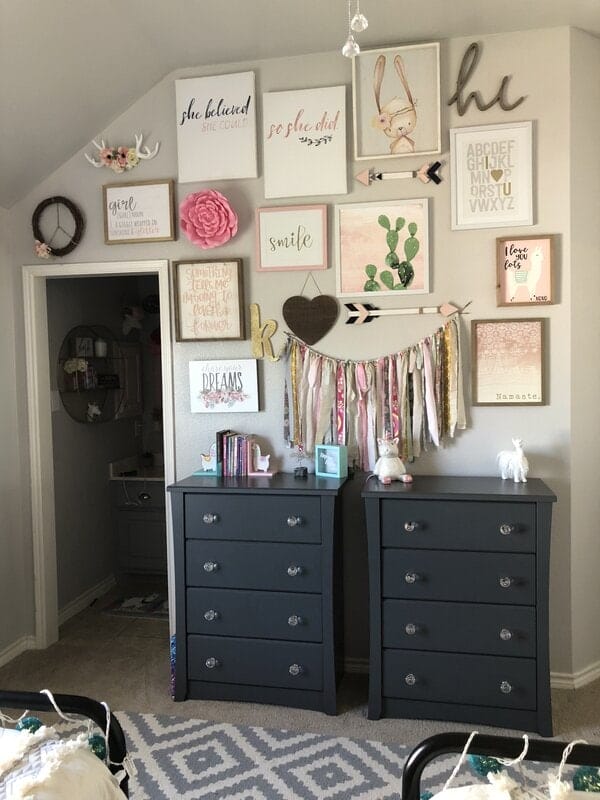 Maybe sometimes you wonder, are closet doors necessary? So, the answer is yes.
But if you feel that you will have difficulty updating it, it's also good to remove it at once.
Don't worry. It won't interfere with your bedroom interior design either.
Yet, you have to redecorate the wall around the closet with several wall decors such as framed photos, motivational quotes, illustrations, and other ornaments like the one above.
You can also consider setting your dresser near your closet doorway. That way, this doorless shelf can look as if it is part of the gallery you created.
7. Mini Gallery Spot as the Alternative Closet Doors Ideas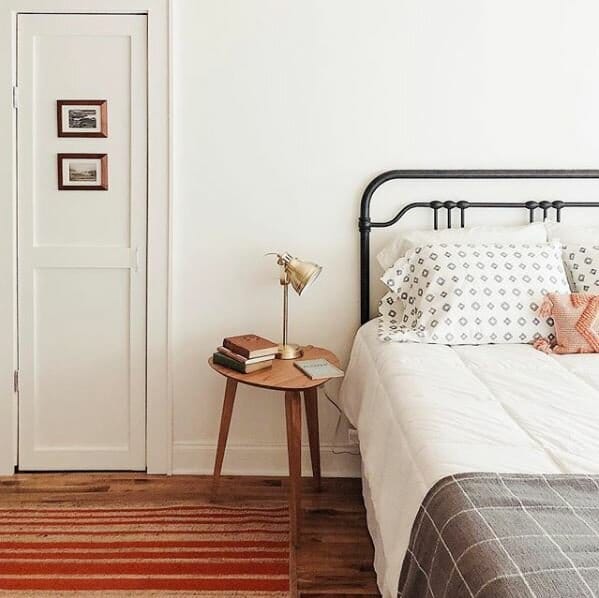 After a long time searching for exciting closet door ideas, but you haven't found one that is simple, attractive, and easy to do without having to repaint or install new ones, then try hanging your framed photos there.
Only by arranging a few photo frames on your white closet door, now you have made that part an impressive focal point.
However, don't ever try to hang loads of ornaments on that spot because it will only make your room unaesthetic. Two to three frames will suffice for that.
Decorating a closet door with this method is perfect for those who have a personal space with a minimalist or industrial design.
8. Adopt the Eye-popping Sliding Closet Door Ideas with Bright Colors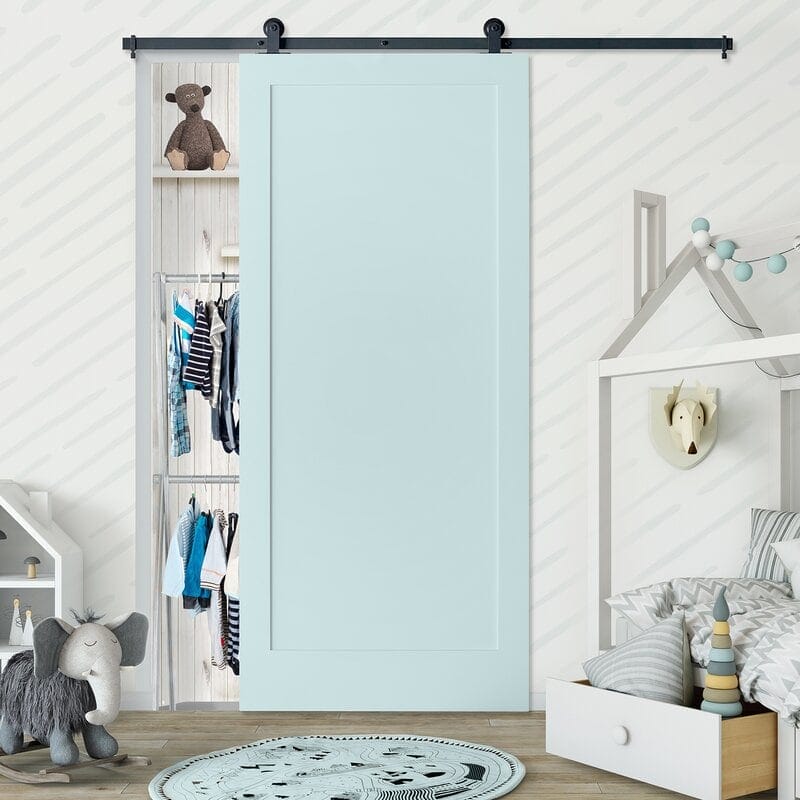 The next closet doors ideas introduce you to a technique that you can do yourself at home without experts' help.
Moreover, this method is also known to be cheap. Do you want to know what technique it is? Yup, painting.
Although it's easy, you can't just paint your closet door carelessly. Instead of making it stunning, choosing the wrong color and concept will only hurt the eyes.
You can use bright colors such as duck egg green, light blue, pastel yellow, or pink for the best recommendation.
Meanwhile, you can apply the paint blocking for the painting method that gives your room an attractive pop-up color.
As an alternative, you can also consider giving it a multi-colored or cute hand-drawn mural as a detail.
9. Bi-Fold Doors and Shiplap will Give You a Perfect Combination.
Instead of decorating your cabinet shuts with a few ornaments, some closet doors ideas also lead you to install shiplap on the surrounding walls to give a statement on your closet door's part.
This concept is perfect for you who have a farmhouse or coastal vibe and still want to maintain your bi-fold closet doors' original color.
There is nothing wrong with a classic white closet door when combined with a shiplap with contrasting colors such as sea blue or other bright colors.
10. An Engraved Gold Knob for Classic French Closet Doors Ideas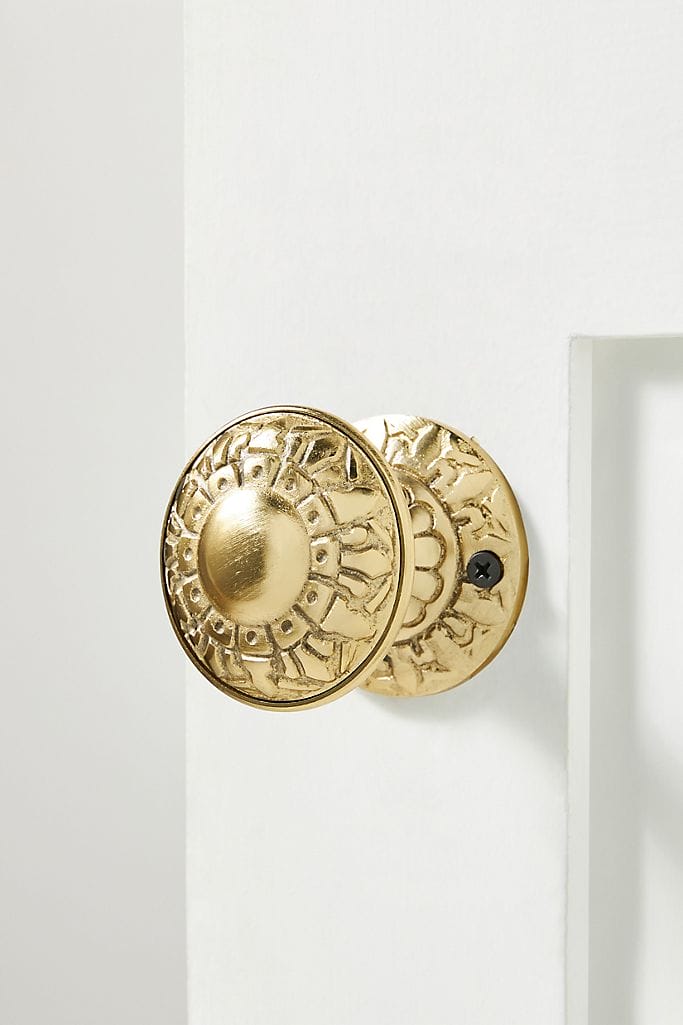 If you are a classic lover, then considering detailing your closet doorknob is an awe-inspiring idea.
Indeed, not many people focus on this door handle when decorating a room. But who would have thought that providing even the smallest details would be very important to strengthen the vintage feel in your room?
Choosing one with engraving and gold color will be the most suitable design for your classic French-themed bedroom.
Apart from that, you can also choose knobs with various cute characters for a private space that has a more relaxed theme.
11. Colorful Curtain for More Cheerful Closet Doors Ideas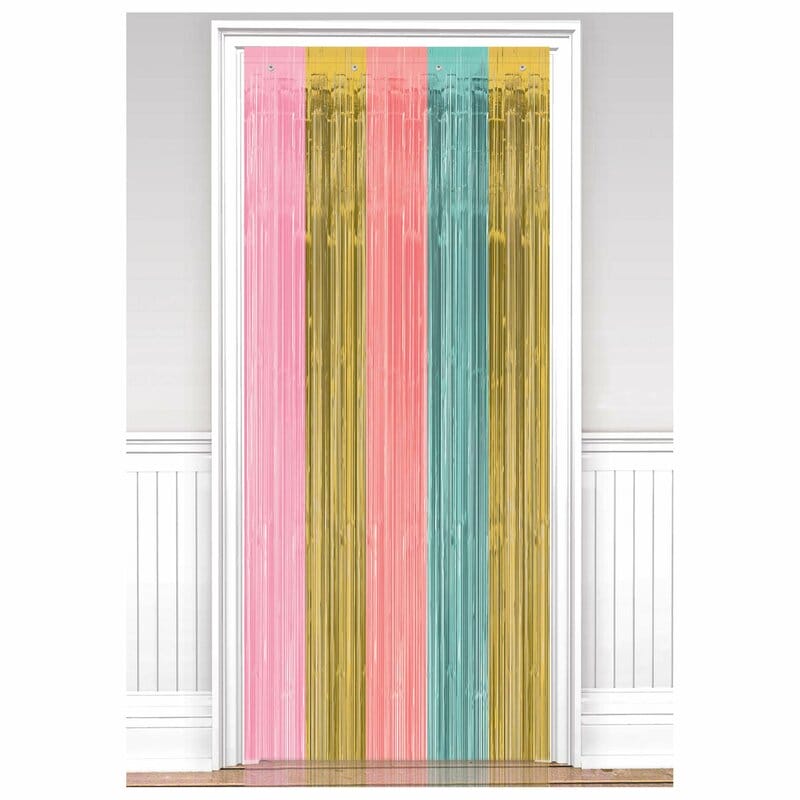 Suppose you are looking for a way how to cover a closet without doors. In that case, try to use the curtain as your alternative option.
There are two ways you can decorate your closet door with this item. The first is to hang a macramé or beaded curtain over the trim and let it fray cover your closet's original door.
Meanwhile, the second way, you can simultaneously remove the door and let the curtain be the only thing covering your doorway closet from sight.
If you browse on the internet, there are tons of DIY macramé curtains that you can follow. Make one with a colorful concept like the picture above to make your room's atmosphere more cheerful.
12. Shabby Chic Looks from White Frosted Window Closet Doors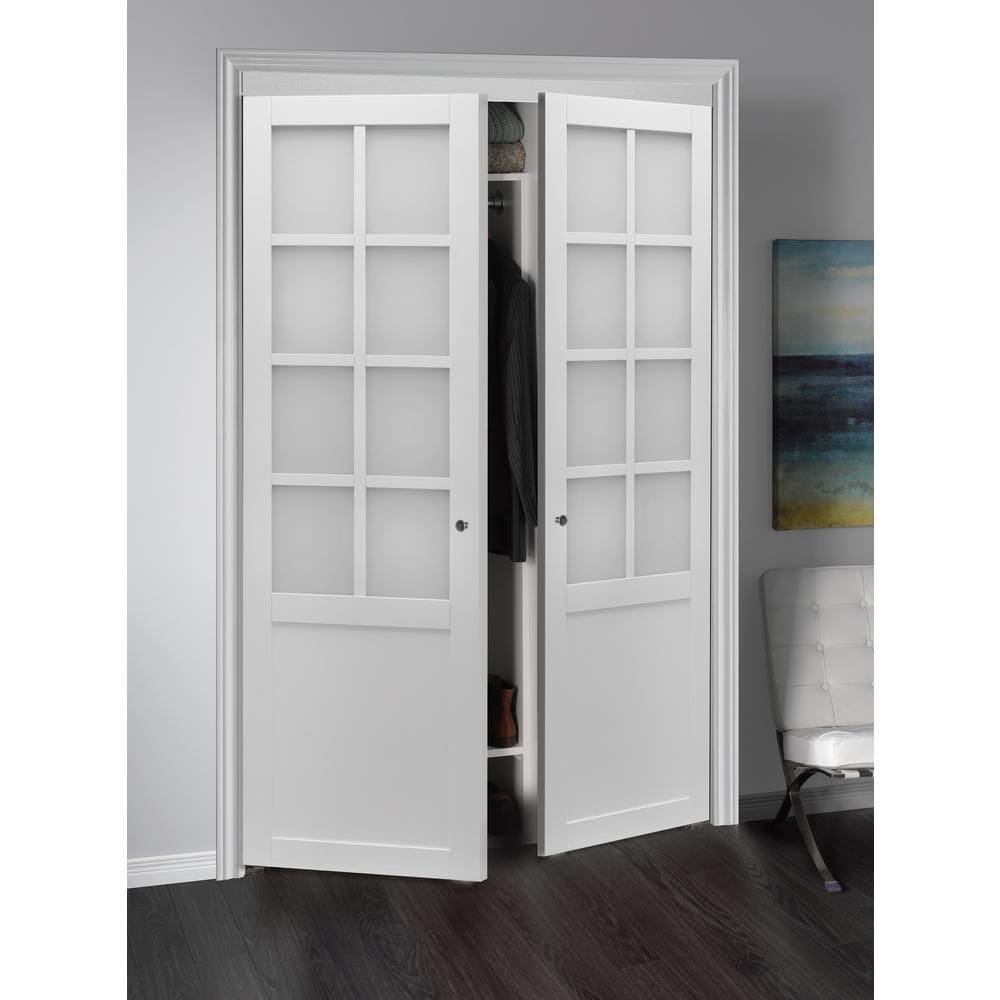 Another way among many recommended closet doors ideas is the frosted window door.
This design is suitable for those who can't keep the closet neat but want to bring the classic window appearance into the room. Frosted glass attached to the closet door will help disguise the riot inside.
If you have a house with a farmhouse or coastal theme, frosted window closet doors will look great in white. Are you interested in this?
13. Striped Accent on the Traditional Sliding Closet Doors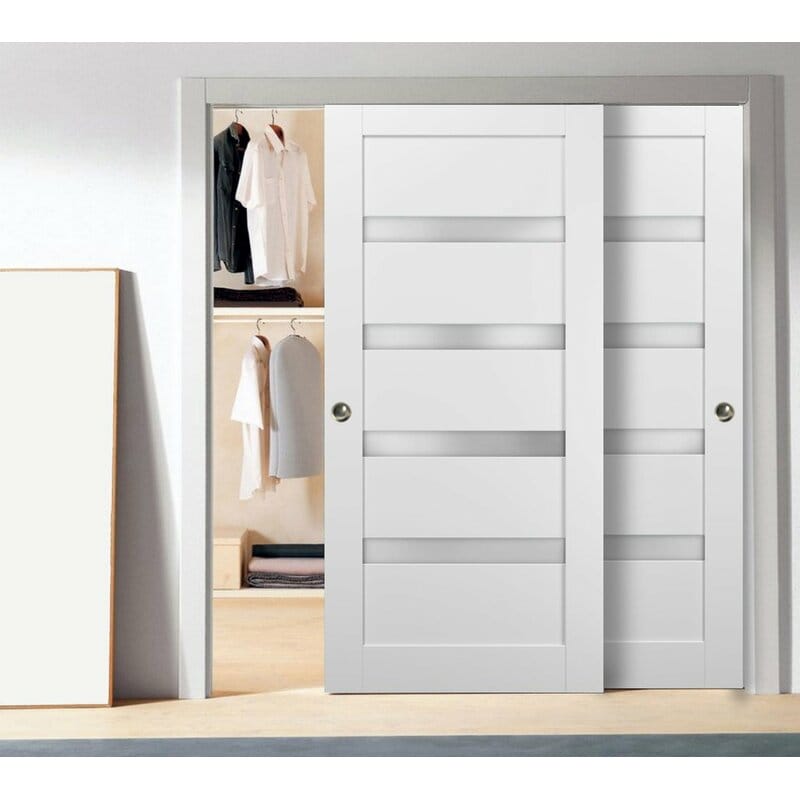 Who says traditional sliders are no longer a trend? On the contrary, this cabinet cover model will be up to date by giving it a few stripes accents like the one above.
You don't need to be worry that it will look unsightly. Try experimenting with mixing and match colors to make your closet doors look stunning.
Alternatively, if you want other closet doors ideas with safe stripes design, then combine white and gray as the picture is shown.
14. Closet Doors with Jewelry Display Racks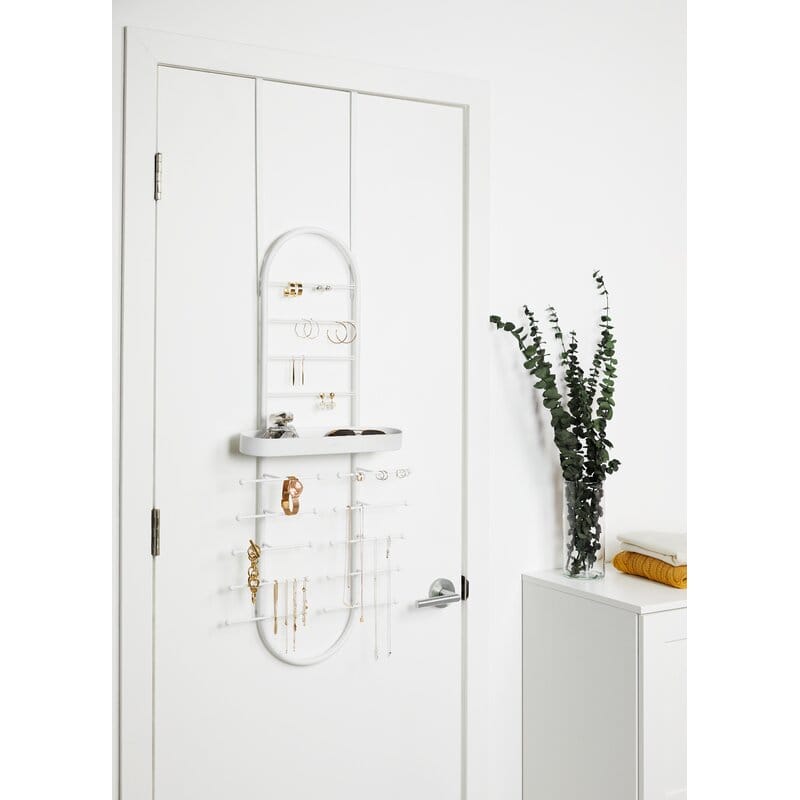 One way to save space in your bedroom is to use closet doors as a place to store your tools. The image above is one of the many closet doors ideas that you can apply.
Besides making your cabinet shuts more attractive and functional, you can finally display your jewelry in a more impressive, neat, and easy-to-reach way.
Apart from being your spot for storing jewelry, you can also consider installing hooks or hangers on the closet doors to store your bag or hat. Make sure to keep it organized so that your room is free from clutter.
15. Mirror on the Closet Doors to Give You Impressive Reflection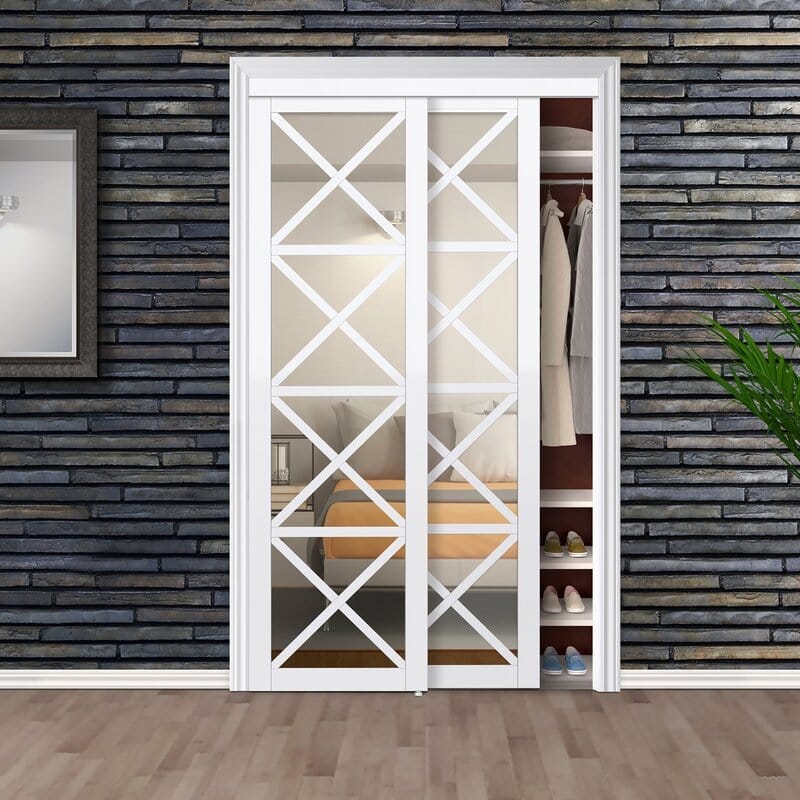 Again, multifunctional furniture is a lifesaver for a small bedroom. And this is where closet doors come into play.
Attaching mirrors with a size that matches your cabinet shuts is one technique over millions closet doors ideas that is worth to try.
By the existence of a mirror, it will make it easier for you to check your appearance immediately after changing clothes.
Another best point is, now you can utilize other empty areas on your wall for other decorative ornaments.
Suppose your closet doors were equipped with mirrors. In that case, you can add trim around or over them in a sculptural or straightforward style to make it look more impressive.
16. Set A Decorative Item Over the Closet Door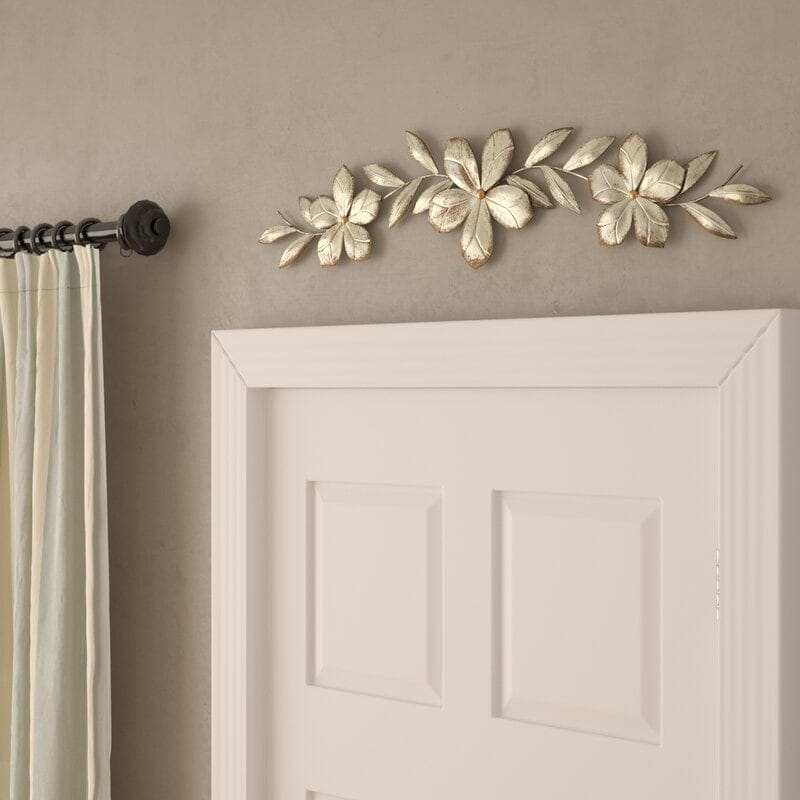 Most of the closet doors ideas mentioned above lead you to the technique of painting, reinstalling, or decorating cabinet shuts with a few ornaments. But what if you would instead leave it blank and straightforward as it is?
So, it's a good idea if you try to install decorative items above your closet door trim as the focal point.
There are lots of attractive models that you can choose from those in the form of flowers, leaves, etc.—and made of various materials too like steel, metal, or aluminum.
You can freely pick one that suits your preferences. However, if you want something more cost-saving, you can make your decorative items by doing a DIY project.
17. All-Time Barn Wood Closet Doors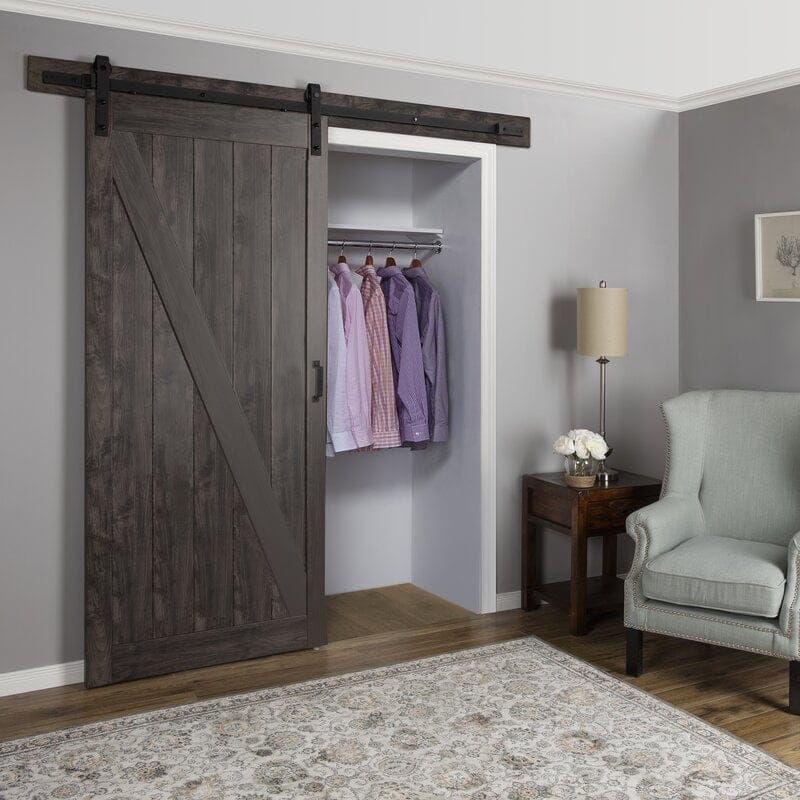 If you want other closet doors ideas that can last you all the time, then Barn Wood Sliding Doors is one of the best answers.
With its simple, robust, yet impressive design, this door style will perfectly suit all decoration themes, from the rustic, farmhouse, coastal, and modern.
Final Thought
If you can transform your closet doors to be more attractive, functional and free up your personal space from being boring, why should you leave it bare?
Whether it's repainting, reinstallation, or DIY projects, you can try applying some of the closet doors ideas recommended in this article to upgrade your wardrobe coverings beautifully.