Not all homeowners have extra underground room. If you are the lucky one, consider remodeling the basement into an entertainment hub. To get inspired, take a look at some insanely charming basement home theater ideas below.
Choosing the basement for your home movie theater location is a brilliant option. This helps optimize available space. The room itself normally features a concrete floor and foundation wall which effectively reduce noise levels.
Unlike other areas of the home, the basement doesn't allow the sound to escape. That way, your neighbors won't get disturbed by the action movies at peak volume.
Important Things to Examine Before the Basement Remodel
Even though the basement offers some advantages, you have to check whether the area is theater ready or not. Put these 7 factors into your consideration. By doing so, you don't need to deal with home theater-related issues later on.
Basement Lighting
Typically, basements are ill-lit. However, some of them probably employ a small glass window. It enables the sunlight to shine through, but your home theater still requires appropriate illumination.
With proper lighting, you can prevent unwanted accidents in your basement home cinema. Additionally, this allows for easy and safe movement before the movie.
In case the basement includes a small window, you should add curtains or blinds to the room. They offer an enjoyable theater experience especially if you watch movies in the daytime.
If you install the light fixtures, do not forget to set up dimmers. The units provide full control over home theater lighting. Moreover, they can be adjusted to your needs.
WiFi Signals
Needless to say, WiFi is seriously vital for streaming movies. You can get streaming services from Pay TV, Hulu, Netflix, or Youtube.
The strength of the WiFi signal depends on your home's size. Since the basement is a hard-to-reach spot, you probably can't easily stream media.
Even though the average signals of WiFi do not reach the underground room, creating a basement home theater seems possible. Utilize the best signal booster for a better internet connection.
Basement Dampness
Water can cause severe damage to your electronics and gadgets. Furthermore, the basement is moister than in other areas. That's the reason it is more susceptible to seepage.
The basement usually boasts many water pipes that run through it. Over the years, they can leak and flood especially during heavy rains. To prevent those cases and make the home theater last for a long period, you should be well-prepared.
If you have no water issues, the humidifier will do the trick. It gets rid of dampness in your basement with ease.
On the other hand, if the basement features a great number of water pipes, seal them the right way. The French drains as well as sump pumps are deemed necessary if the room floods.
Wiring
When it comes to basement remodel, you shouldn't overlook wiring. Some wires already exist in your underground space. The others come from other rooms.
Protect your family and guests from the dangerous wires by taking care of them. You can run the electrical wires through PVC pipes. Those coverings add more interest to the wiring, too.
The next step is connecting your technology gadgets to wiring. Use PVC pipes to cover all the wires from other house parts. Another option is running them through your basement walls in case they shield the wiring system.
Wiring your gadgets is seriously important. That's the reason you need to choose the perfectly thick wires. For the underground room, 10 or 12 gauge wires are a great addition.
Basement's Size
Regardless of the home theater location, you should pay true attention to the available space. The tools and equipment from sound to video are determined by it.
Do not include a 100-inch screen in your pocket-sized bathroom. If you insist on doing that, the unit will offer a terrible visual experience for certain.
The wider movie screen requires a bigger space between seating and home theater gadgets for maximal viewing. In general, the elements are dependent on the size of your basement.
Moreover, the recommended viewing distance between screen and front seating is about 10-15 feet. You shouldn't incorporate a very big screen in your small basement space.
Talking about basement home cinema, most people prefer a rectangle-shaped space. The ideal dimension for the underground theater is 20' long, 12' wide, and 8 feet high. If yours is bigger than the size mentioned above, it is surely a plus.
Just because you have a small basement, doesn't mean creating a home theater is impossible. For a tiny room, you can outfit it with space-saving furniture units and smaller movie screen.
Flooring
As we stated earlier, basement floors are typically made of concrete. Compared to their wood counterparts, they provide better acoustics. You can enhance them even more by topping the floor with carpets.
Both soft area rugs and carpets help absorb basement sound from footsteps as well as other noises. Furthermore, the dark-colored carpet develops a more home cinema atmosphere. They also minimize the screen light reflection.
Before carpeting, make sure your basement floor is waterproof. Keep in mind water can leak through your floor because of extreme temperature changes. This will damage both electronics, gadgets, and carpet.
If you see the water seeping through the floor, put tiles on it instead. Before the installation, do not forget to arrange waterproof underlayment beneath them.
Basement Walls and Ceiling
Generally, basements boast exposed pipes and wires. They have plain walls and ceiling as well. The home theater cannot feature those. Additionally, bare electric wires and water pipe leaks cause safety hazards.
For water pipes, all you have to do is sealing them. Meanwhile, the wires should be shielded with PVC electrical pipes. However, the basement still appears unfinished.
To make your basement look proper, the basic walls and ceiling must be covered nicely. You probably think about carpeting the room walls, too. This does not only complete the interior but also gives off great acoustics in the theater.
Once those 7 details are well-handled, you can integrate electronics and technology gadgets into your basement home cinema. On the contrary, if you fail to notice one of those factors, there must be an actual disaster.
Basement Home Cinema Ideas
A basement is truly an incredible spot for a home office, hangout, children's game room, or even kitchenette. The idea that beats those concepts is the magnificent home theater. It is a perfect fit for the basement's atmosphere.
Whether you desire a lavish home theater or an uncomplicated media room, a remote basement is a superb location for an exclusive amusement center. Without further ado, let's check these remarkable ideas out!
Also check another ideas like this one here, Basement Bathroom Ideas That Leave you Austounded
1. Open Basement Home Theater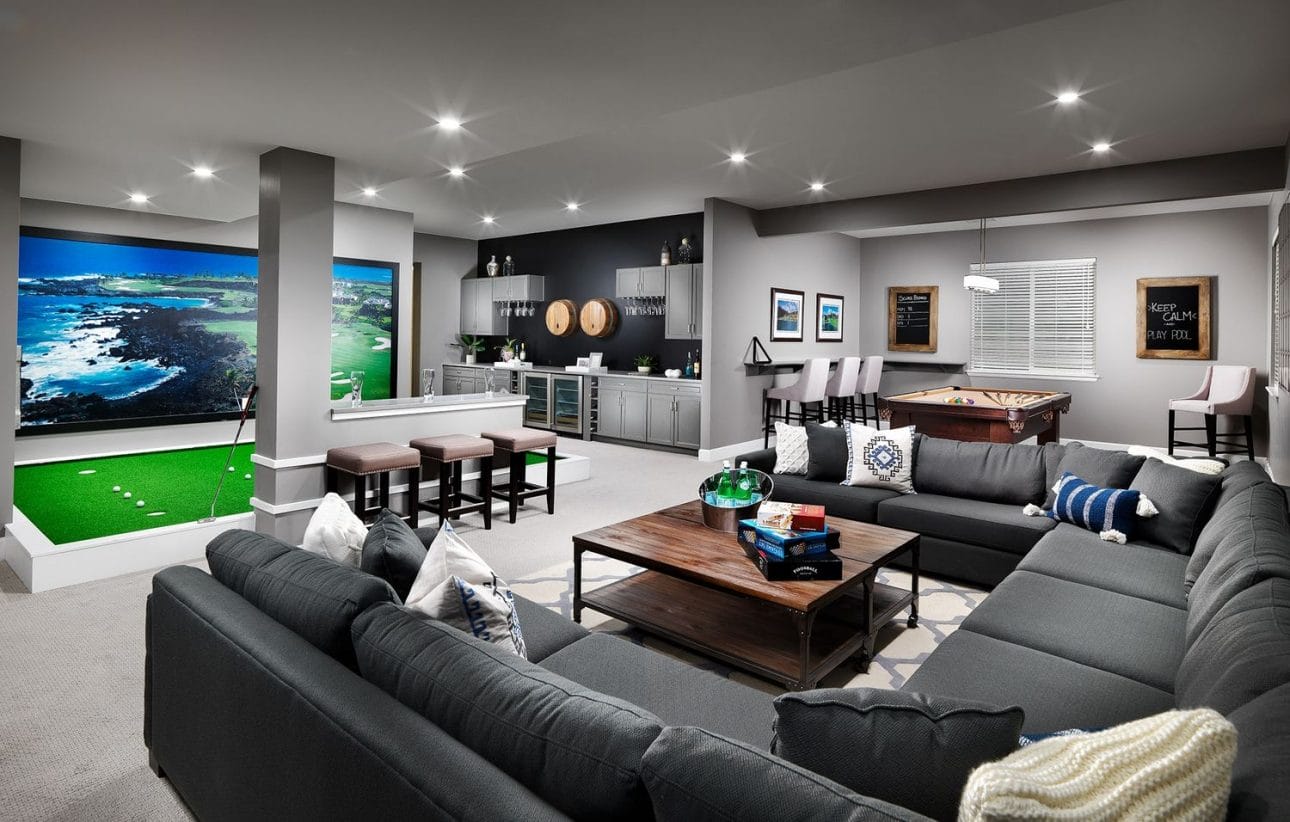 This basement residence theater can host many friends and family gatherings that surpass only movies. The multifunctional space also includes a kitchenette, breakfast nook, home bar, and indoor golf area.
Moreover, furniture units produce an open environment. Black accents bring visual drama to space. Since the color scheme is simple, it doesn't cause a visual mess and fragmentation.
The carpet infuses the interior with comfort and appeal. Downlights illuminate the whole room. This low ceiling improves the overall acoustics and sets a cozy mood.
2. Small Basement Home Theater Ideas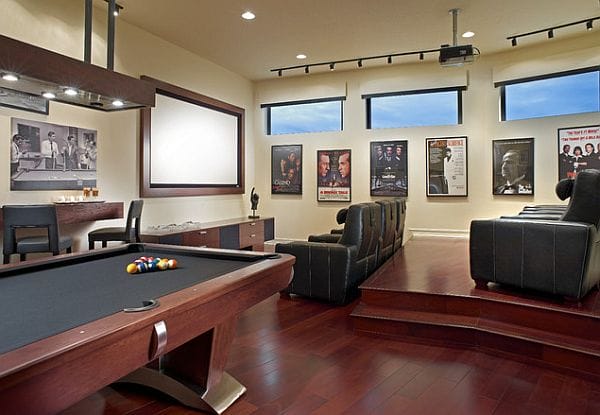 If your basement is small, steal this idea. The seating configuration with an additional step gives the space a true home theater ambiance.
Black and dark brown dominate the room. Those deep neutrals carve an enjoyable atmosphere. That off-white walls allow movie posters to be the focus of attention.
Moreover, the home theater features a breakfast nook and a game room with a pool table. Cabinet keeps things from visually cluttering the already small space. Smart lighting complements the theater's decorating style.
3. Basement Home Theater in Light Color Palette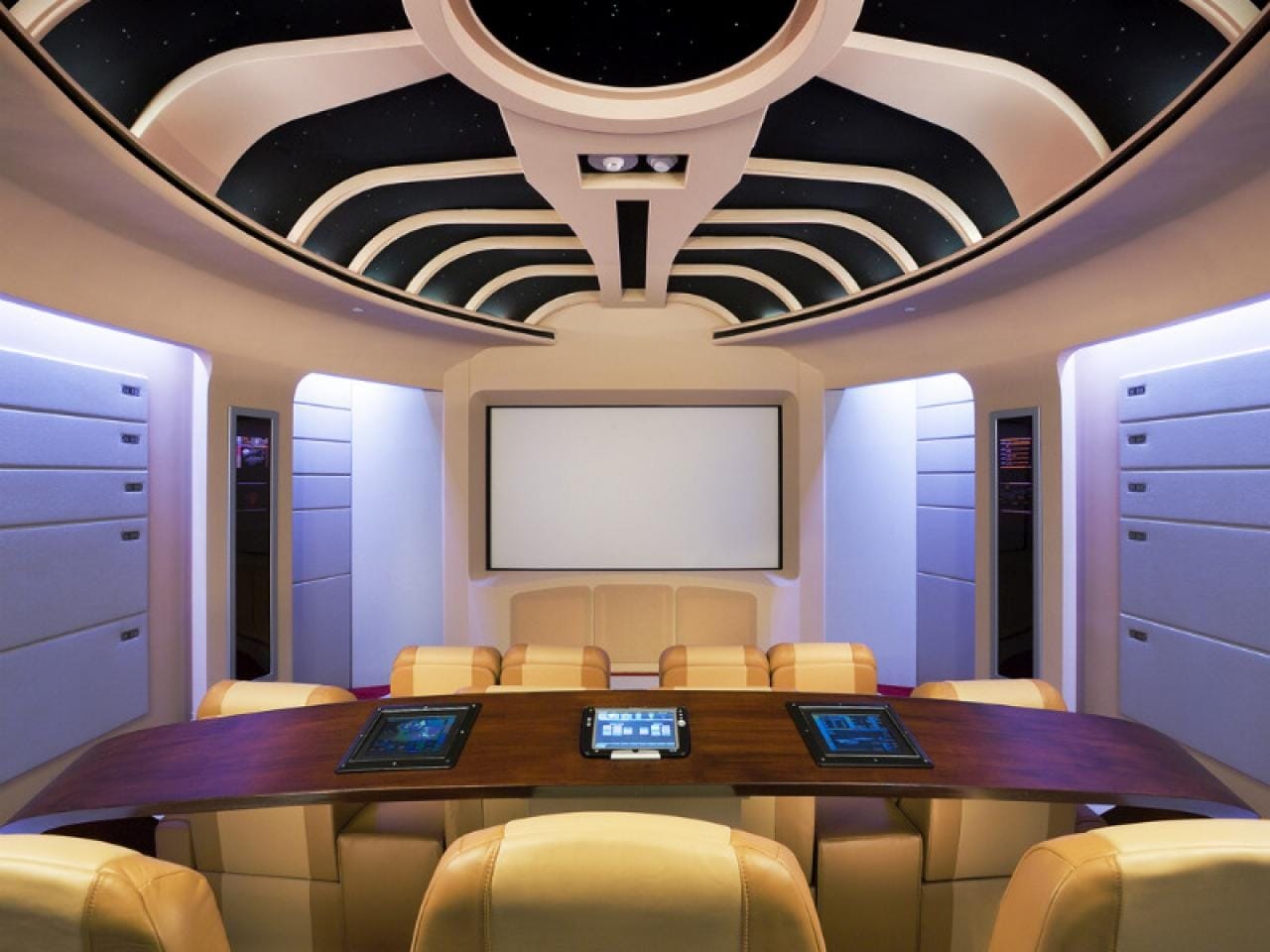 Most home theater ideas boast a dark color scheme because homeowners want to get a real cinema experience. Additionally, deep shades provide more desirable lighting conditions.
Here, light colors evoke an airy feeling. The stunning ambient lighting and impressive screen wall let them virtually glow even more.
Furthermore, the ceiling serves as a showstopper. Dark-toned wood accents deliver warmth to the scene.
4. Log Cabin-Inspired Basement Home Theater Setup
As you see, the homeowner converted his small basement into a home theater and game room. The unfinished wood ceiling and walls lend the space rustic charm. Black and metallic light fixtures assert a sense of masculinity.
The curtain works as a room divider. That arcade machine and pool table make the space more entertaining. Red accents enliven the interior. Both framed artworks and cinema-themed ornaments fill the blank wall.
5. Basement Home Theater Ceiling Color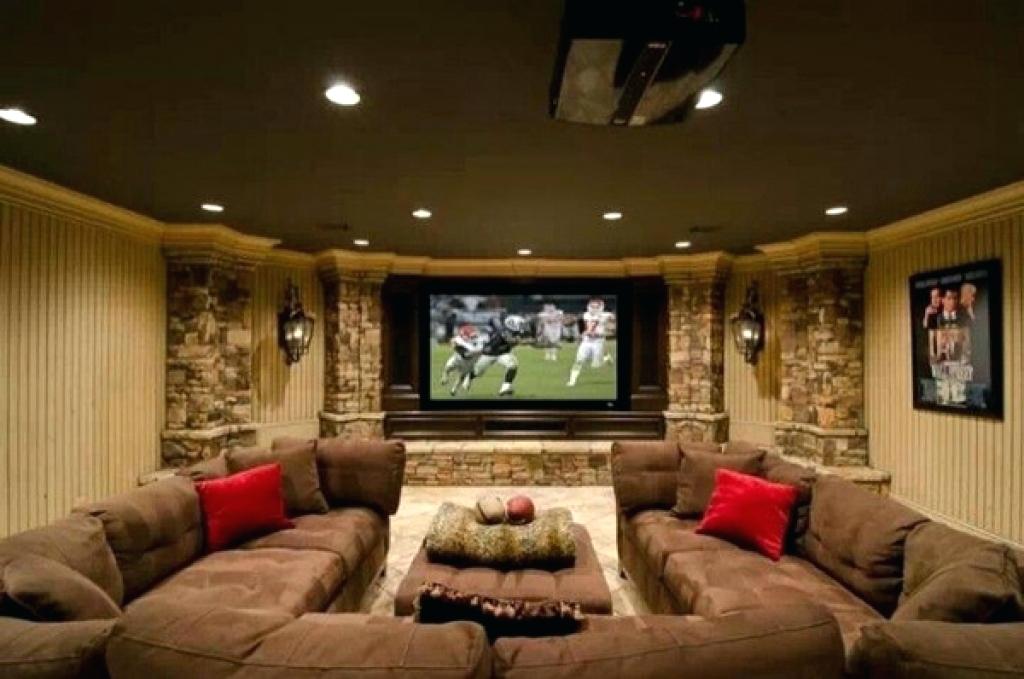 This basement residence theater employs stone flooring and rugged columns. Not only do they commemorate nature's raw beauty, but also introduce a textural contrast.
The ceiling was painted dark brown for better illumination conditions. Beadboard walls and vintage sconces add grandeur to the room.
Moreover, a brown U-shaped sofa offers maximum convenience. Red throw pillows pop against it and imbue the home theater with energy.
6. Basement Home Theater Paint Color Schemes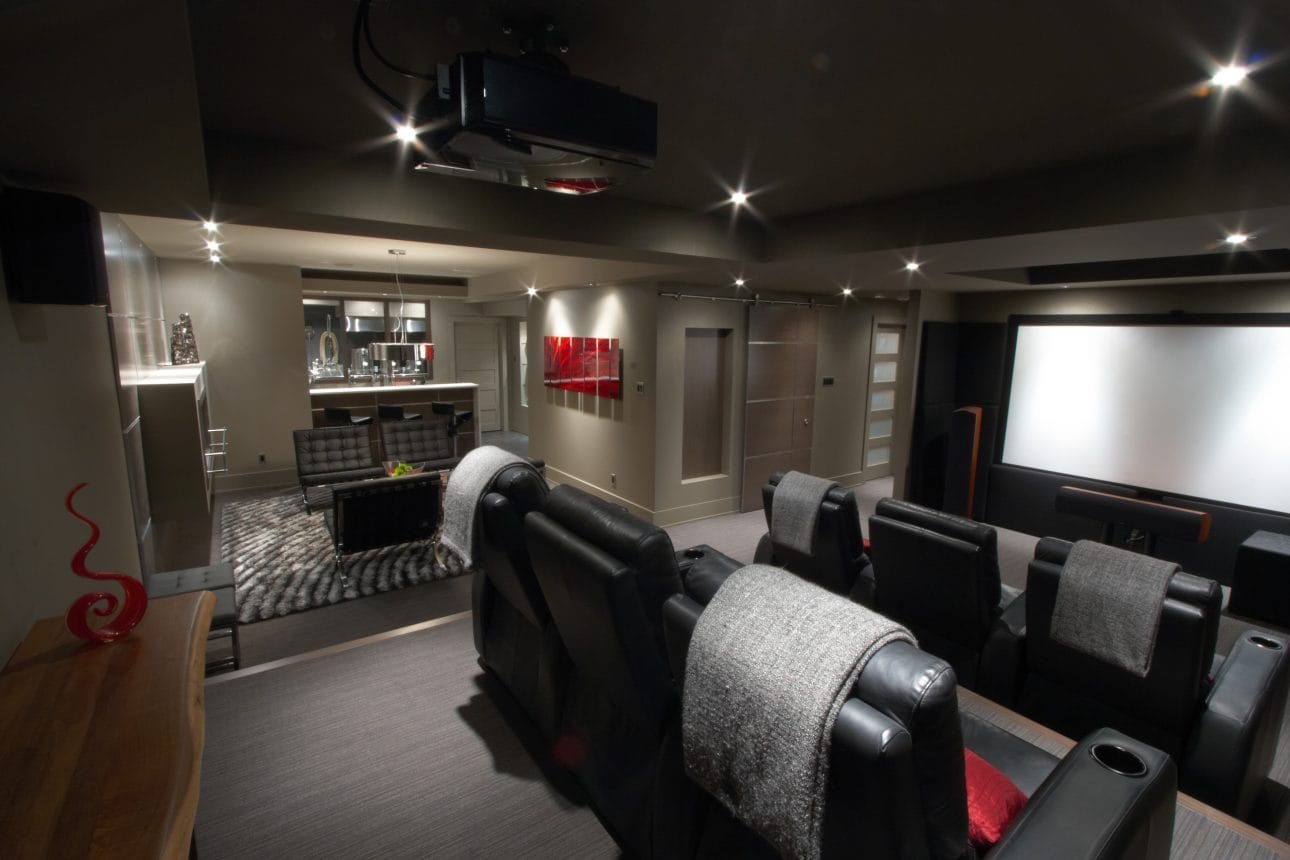 The home theater pictured above has a dark color scheme. It brings sophistication and visual depth to the interior. Furthermore, the deep palette allows the lighting to be spot on.
Black leather seating generates a refined look. The red accents create a dynamic statement. Light gray carpet reinsures the theater with comfort. There are also a home bar and family room in the basement.
7. Dual Purpose of Room in Basement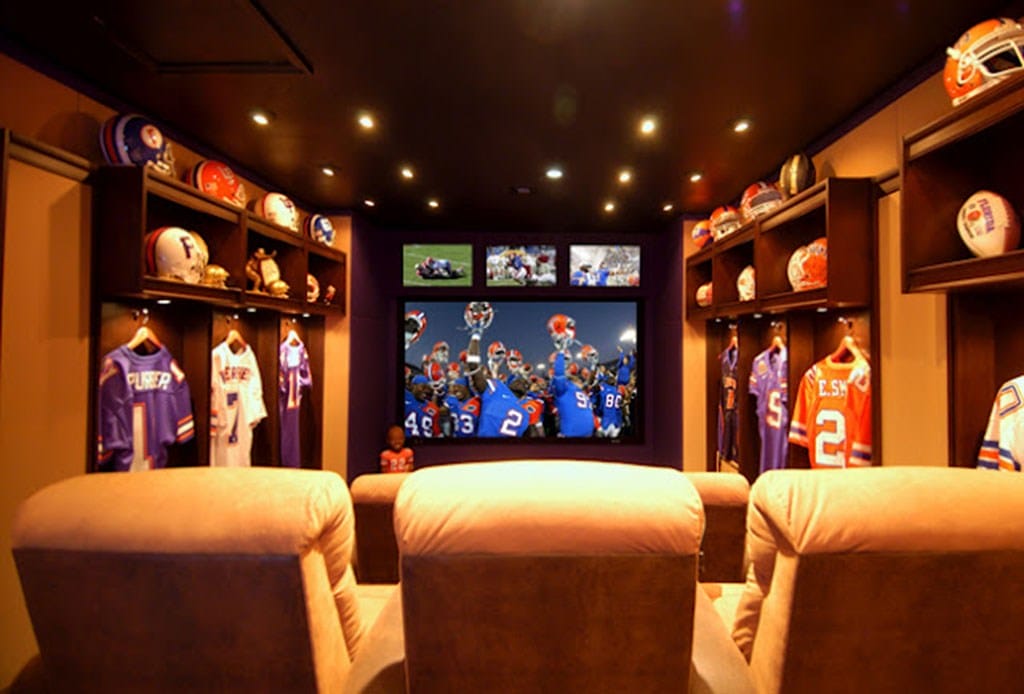 This basement remodel transforms the underground room into a home theater. The space doubles as a hangout spot and man's cave, too. Both family and guests can mingle together.
That black ceiling and downlight develop a dramatic visual effect. Rugby jerseys and helmets jazz up the room. They give the space a manly vibe as well. The seating sends out a comfortable atmosphere.
This idea will barely consume any added room. It also enables you to have a cool social spot that goes beyond the big movie screen.
8. Brilliant Use of Room Under the Floor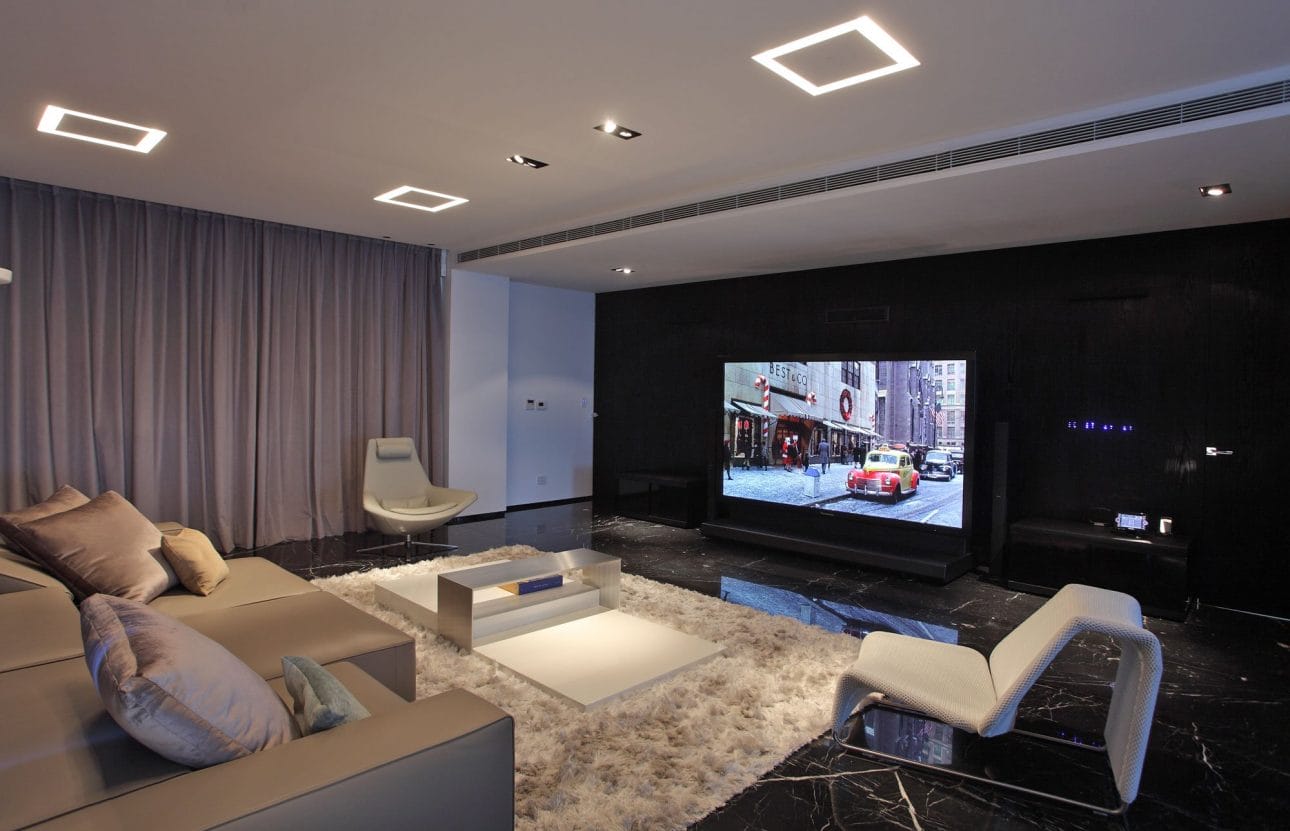 You'll love this basement home theater. Not only is it chic, but also luxurious and welcoming. Black marble flooring and long, gray curtains carry elegance to the room, while reduced ceiling exudes an air of coziness.
The seating and metallic coffee table make for a family room. There is still plenty of space to incorporate extra seating shortly.
Lighting lends the basement residence theater a modern flair. That off-white shag rug sets a homey vibe and contrasts with the black floor.
9. Basement Home Cinema with Pool Table and Bar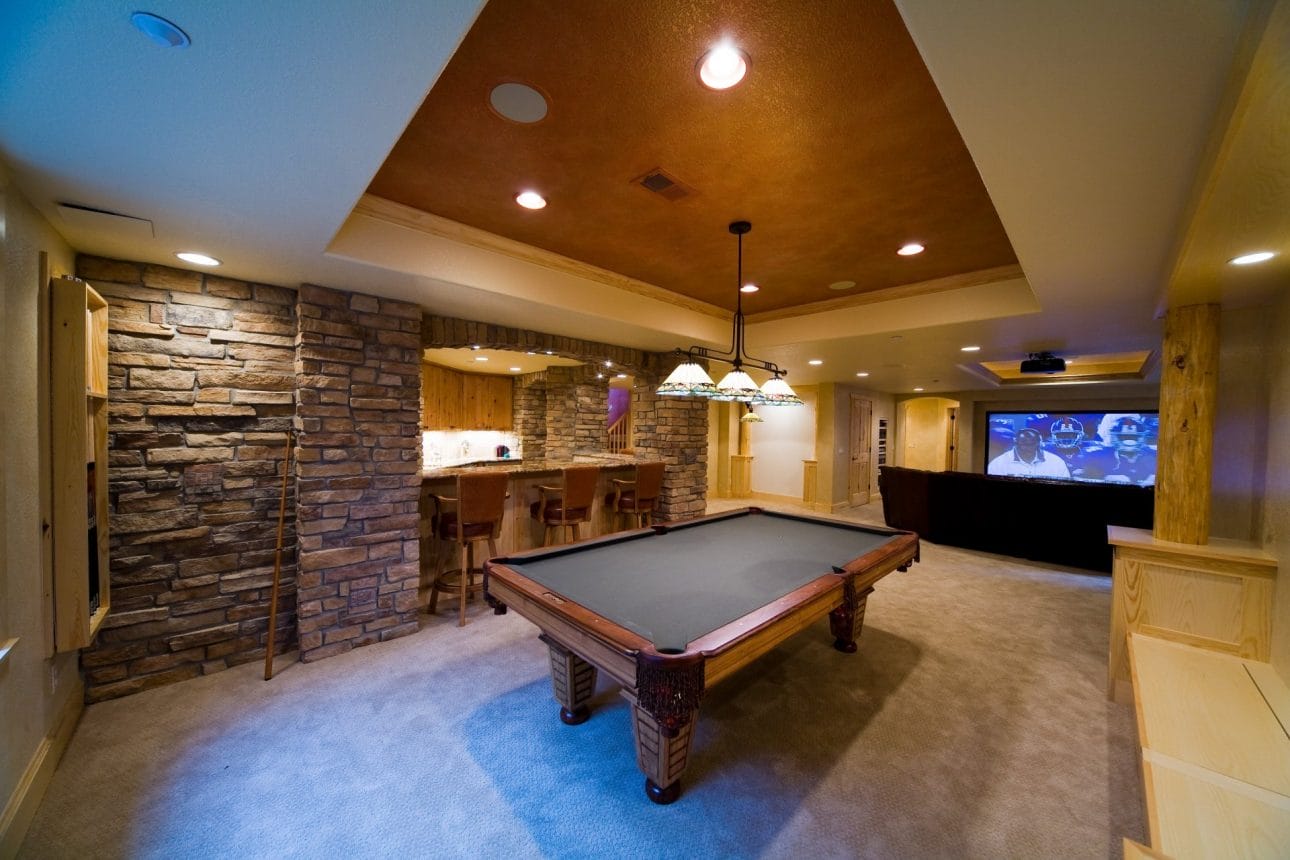 This basement can host numerous weekend breaks. It was outfitted with a custom-designed table and high chairs. Those furniture pieces create a small house bar. Wood and stone elements inject rustic appeal into the room.
The tray ceiling matches the shape of the rectangular billiard table. Pendant lamps and downlights marvelously illuminate the space. Meanwhile, the pale gray carpet completes the interior and offers comfort underfoot.
10. Contemporary Movie Room At Home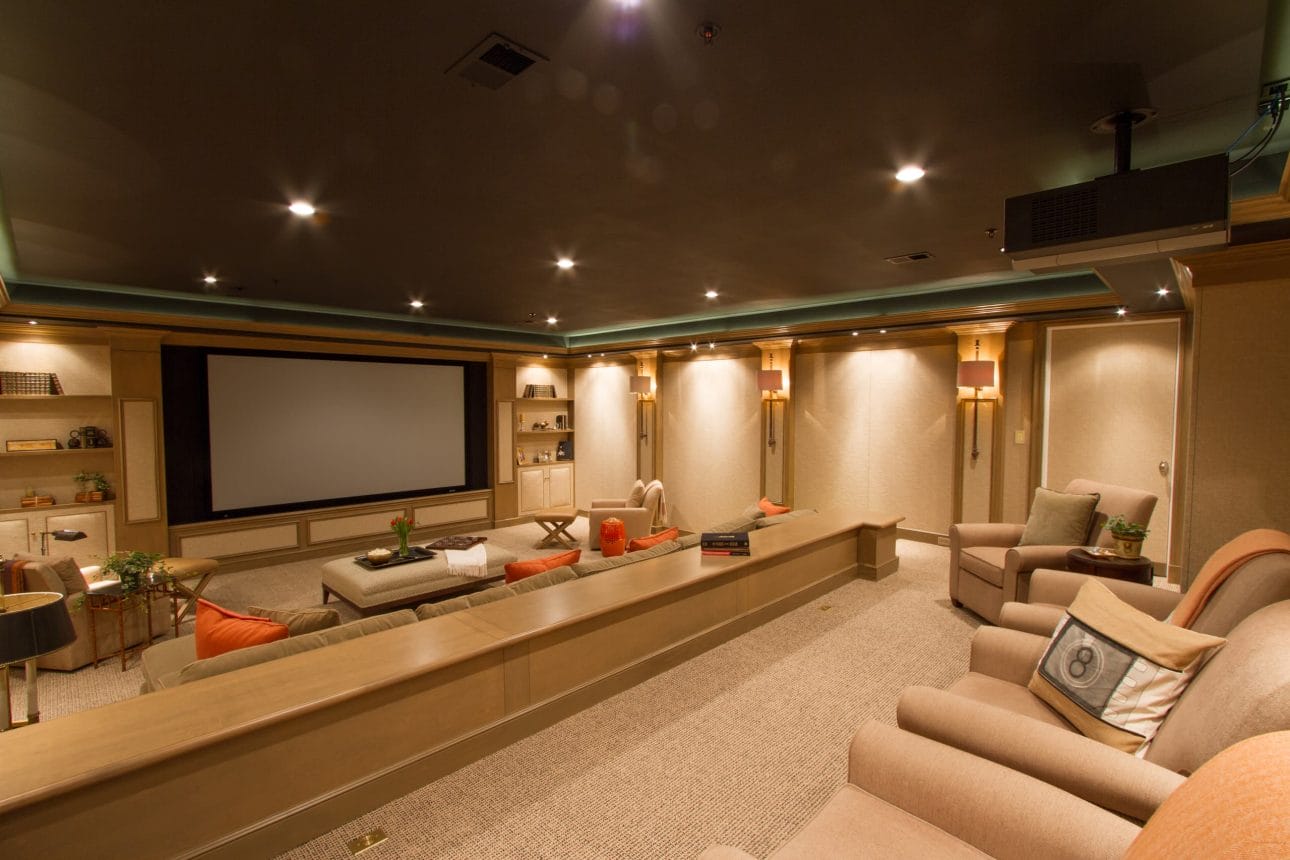 This sumptuous room is a perfect place to enjoy movie time with the loved ones. It was decorated in a neutral color palette with beige setting the tone for a laid-back environment.
The step as well as long table separate home theater and family room. Black ceiling delightfully accentuates the light fixtures, while the open shelves display room decorations.
Furthermore, orange accents keep the basement home theater from becoming dull. The upholstered seating and carpet emanate a snug atmosphere.
Converting a Basement into Home Theater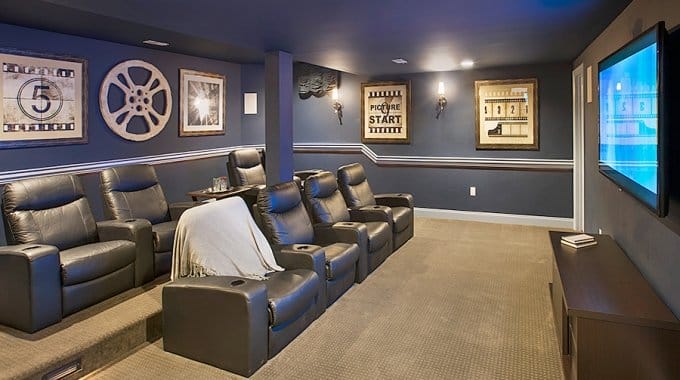 Bear in mind, the basement remodeling is not an easy job. If you need a house theater and want to maximize the area, then planning a basement conversion is a good choice.
Do You Have Budget and Enough Available Space?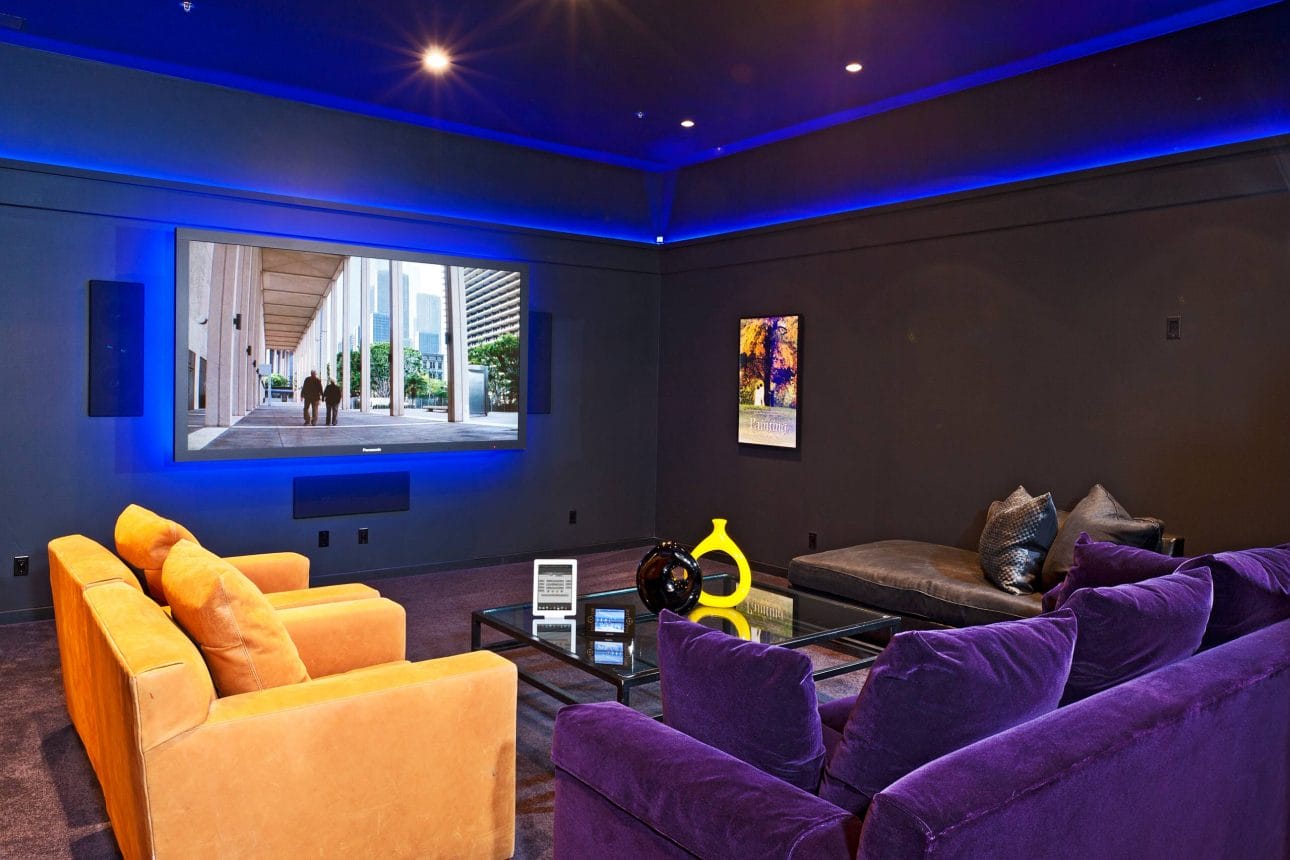 Before altering the basement into a house theater, you should count the prospective costs. By having a budgeting plan, you can accomplish this project precisely.
Moreover, the basement room should fit furniture, tools, and various individuals. Make sure you have adequate space to build a home theater.
In short, basement transformation is such a big job. It certainly requires meticulous planning. If you are looking to embrace your underground room, try any of those basement home theater ideas above.