Every girl is certainly a princess. Moreover, there is a moment when they dream of wearing a long ball gown. If you have a daughter or two, take a gander at our stunning princess bedroom ideas below.
Sleeping in a very gorgeous pink princess-themed bedroom is every little lady's fantasy. However, not all girls have their dream bedrooms. Here, we show you some mesmerizing sleeping spaces for young ladies.
The princess bedroom comes in various styles. Although these bedrooms do not look the same, they still give off royalty vibes. Without further ado, check this gallery out!
1. Disney Princess Bedroom Ideas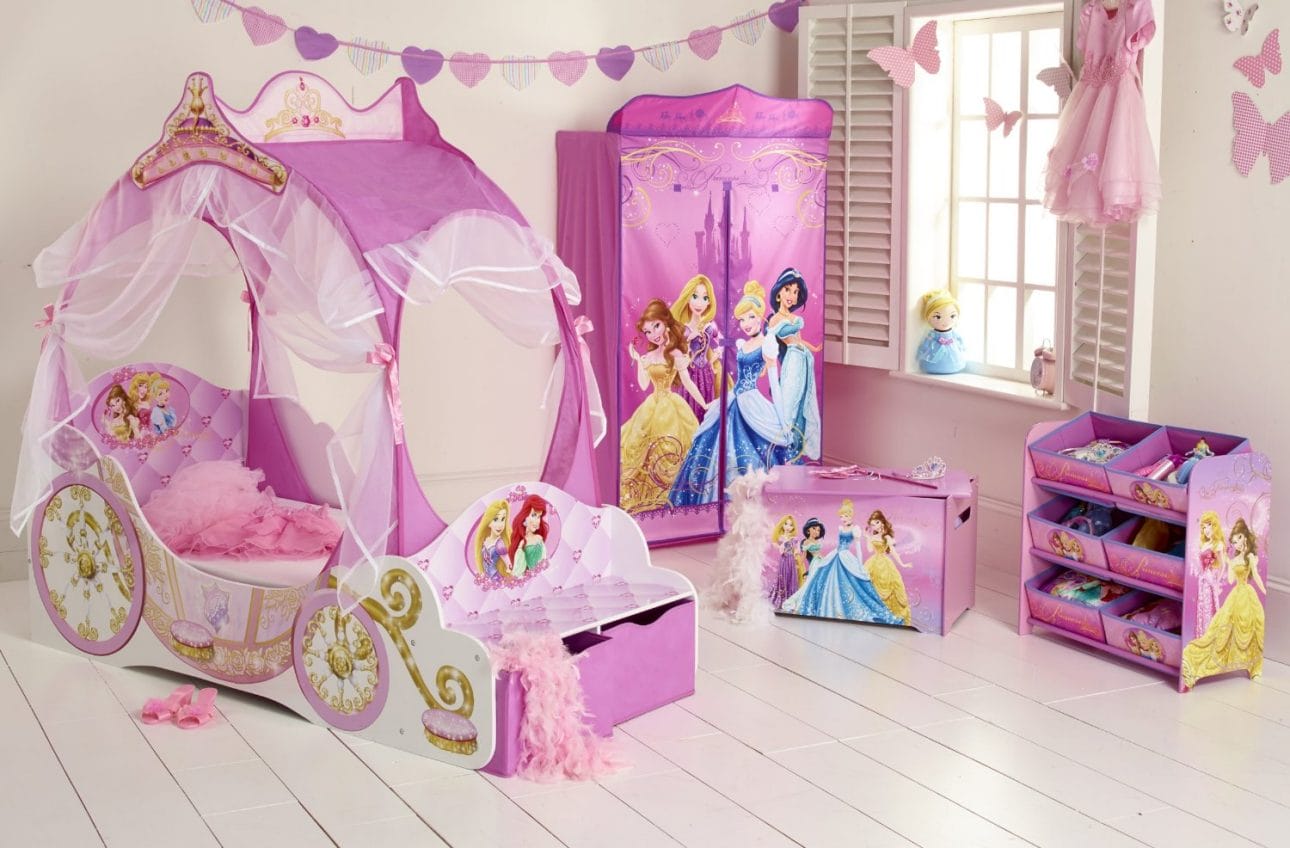 If your kid is a big fan of Disney Princess, implement this idea. We guarantee she would be happy having a gorgeous bedroom. Here, space boasts a light pink wall and window shutters. They carve a dreamy appeal.
The bedroom employs a carriage bed, storage box, cupboard, and multi-bin organizer for a princess feel. They feature Disney Princesses such as Jasmine, Cinderella, Aurora, Belle, and Ariel.
2. Princess Themed Nursery
Are you expecting a baby girl? If so, then this is one of the most amazing princess bedroom ideas for toddler to try. The Cinderella ceiling and murals convert the sleeping space into your little lady's kingdom.
Light purple bedsheet, bed canopy, and curtains lend the bedroom a girly touch. Meanwhile, the brown area carpet sets a tranquil ambiance.
Vintage chandelier and table lamps inject a glamorous feel into the space. We believe your loved one feels like a true princess in this bedroom.
3. All-Pink Princess Bedroom Ideas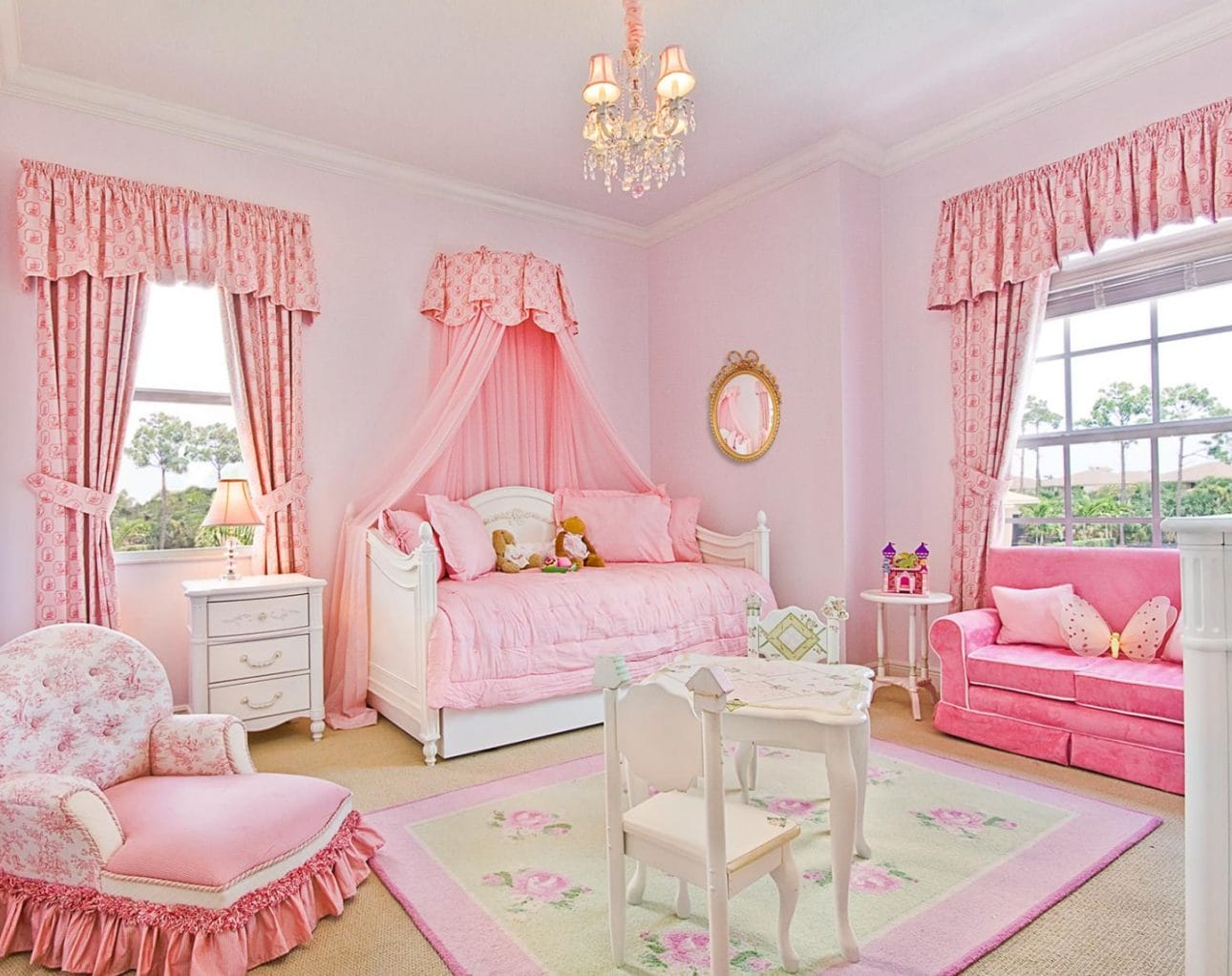 Speaking of princess bedroom ideas, people usually think about pink color palette. In this case, the color wraps the sleeping space, from walls to area rug.
Furthermore, this bedroom includes varying pink shades. They do not only brighten up the space, but also carry a touch of dynamism to the scene.
The bed, tufted armchair, nightstand, table, and chair showcase ornate details. Meanwhile, bed canopy, gold mirror, and crystal chandelier instantly create a completely princess-like atmosphere.
4. Princess Bedroom for Little Girl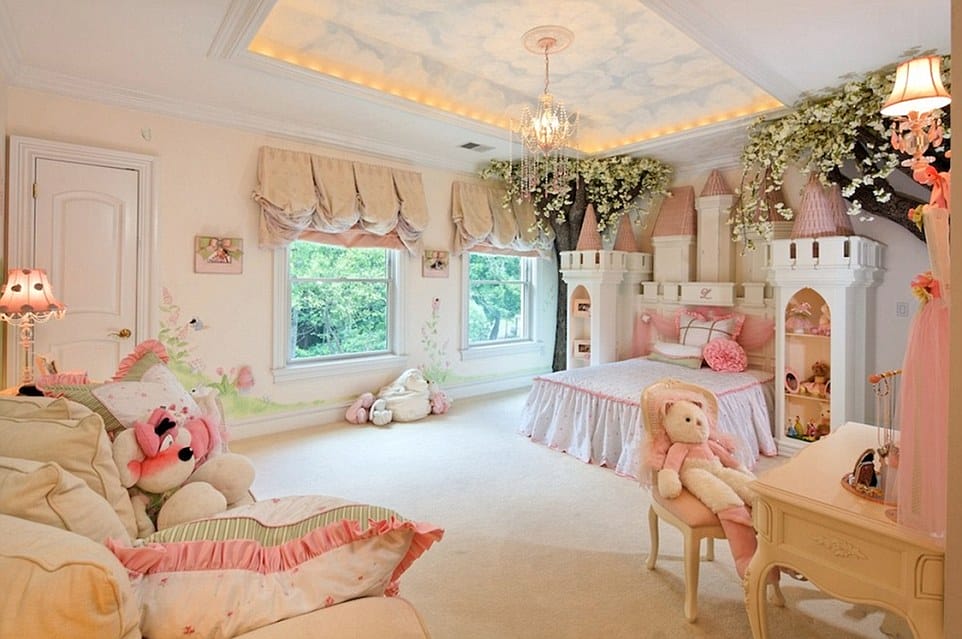 This little girl's bedroom is beyond impressive. It features a striking castle headboard. The unit delivers royalty hints to the sleeping space.
Moreover, two castle-shaped open cubbies sit nicely on both sides of the headboard. They house plush toys and decorative items.
The cloud ceiling mural draws the focus upward. Pure whites, light pinks, and creams open up the space.
5. Purple Princess Bedroom
If your girl is not into pink, we suggest decorating her bedroom with purple. Here, the space boasts a brilliant lighting and delightful bed.
Dark purple pillows and curtain panels make a huge, bold statement. Meanwhile, tufted armchair and metallic chair generate a royal bedroom look.
The oversized artwork poses as a focal point. Furthermore, window and pale gray area carpet keep the space light.
6. Princess Themed Bedroom Ideas with Different Patterns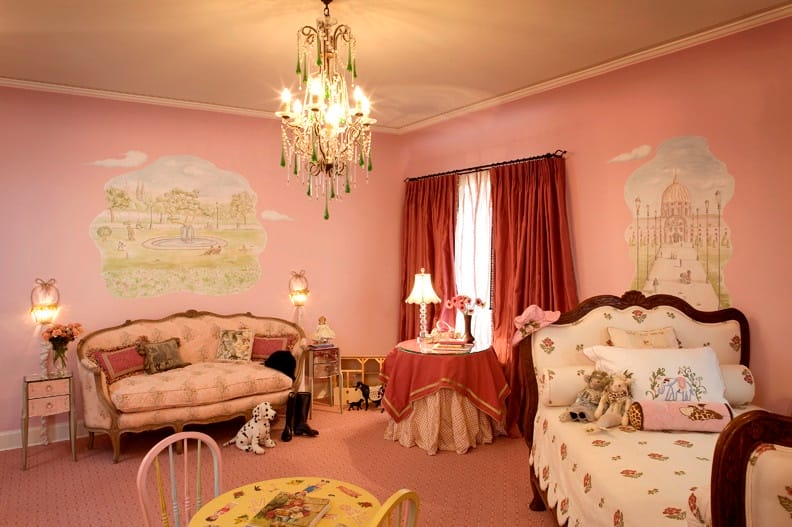 As you see, there are much intricate patterns in this bedroom. However, it looks so graceful, thanks to wall murals and crystal chandelier. The bed, sofa, table lamp, and sconces exhibit fairy tale vibes.
Light pink walls provide a splendid background for furniture units. Small chairs and round table bring some fun to the kid's bedroom. Meanwhile, the red satin curtains evoke a luxurious feel.
7. Brave Inspired Girl's Bedroom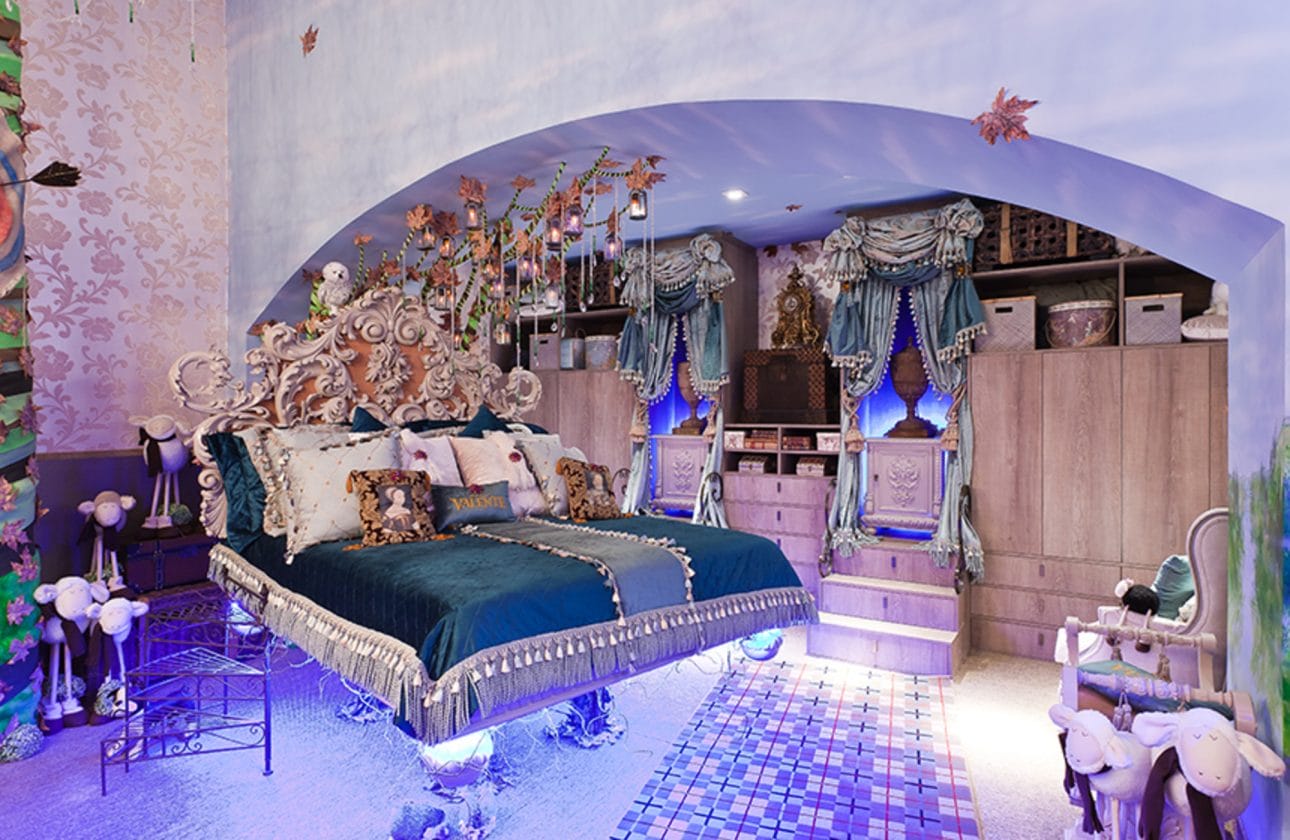 This is undoubtedly one of the most unique princess bedroom ideas. The homeowner took the inspiration from Disney movie Brave.
Furthermore, this space is certainly different from other little girls' bedrooms you've ever seen. The beautiful details make your kid feel like she's in the Brave's movie scene.
The pink headboard, floral wallpaper, chandelier, and curtains produce a regal feel. Creative lighting completes the scene.
8. Disney Frozen-Inspired Princess Bedroom Ideas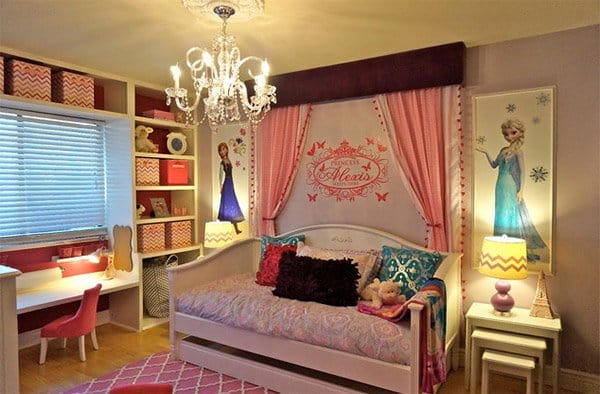 This princess bedroom is so special. We guarantee you can't take your eyes off the design. It has an awesome combination of colors and patterns.
The framed wall hangings feature Disney Frozen characters, Elsa and Anna.
Light purple background lets pink wall mural and curtains stand out. Two table lamps on white wooden nightstands bring in modern vibe.
The built in shelves hold patterned storage boxes. Crystal chandelier and pink rug set a regal ambiance. Plush throw pillows complement the bed perfectly.
9. Princess Bedroom Ideas for Teenage Girl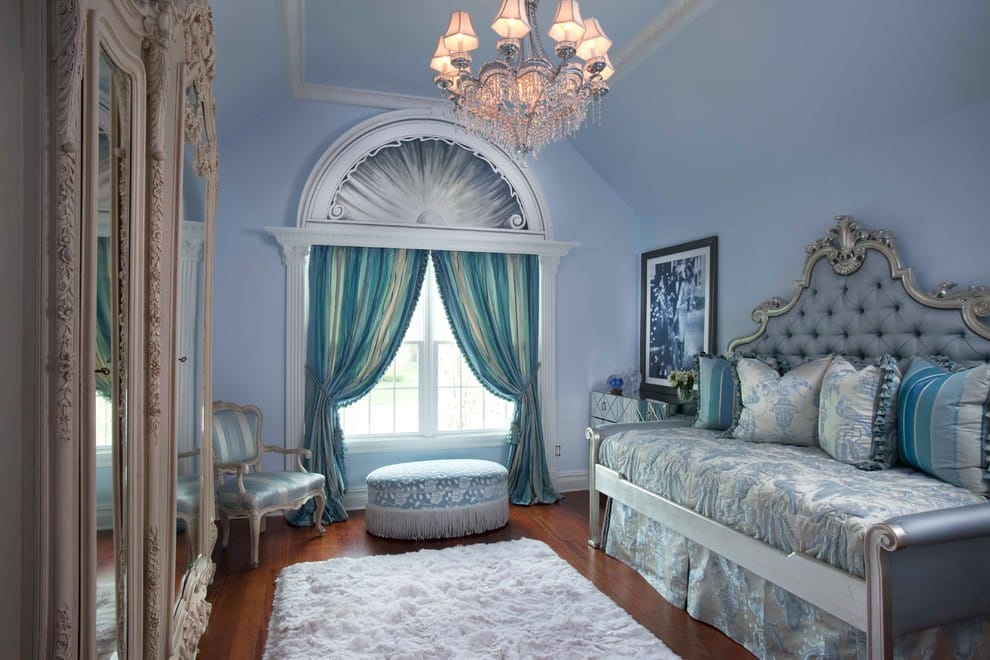 Princess themed bedroom is normally associated with pink color scheme. However, it isn't always the case. In this example, the ceiling and walls sport light blue. They emanate a youthful ambiance.
Floral brocade bedding, tufted headboard, chandelier, and cupboard generate a sumptuous look.
These intricate details make the bedroom a perfect fit for the true teenage princess. White wool rug and blue curtains set a comfortable vibe.
10. Princess Bedroom with Charming Bunk Beds
This is certainly one of the most marvelous princess bedroom ideas. Here, the sleeping space features white ceiling and pink walls. They lend a sweet appeal to the interior, while huge arched window lets the natural light in.
Moreover, the bunk bed provides a comfy space for sleeping. It accommodates plush toys as well. We guarantee your little princess will love this one. The unit also boasts a nature theme.
Sheer curtains and balloon window shades scream elegance. Bright white furniture pieces exude a royal ambiance, while table lamp ties the bedroom together.
11. Tuscan Style Princess Bedroom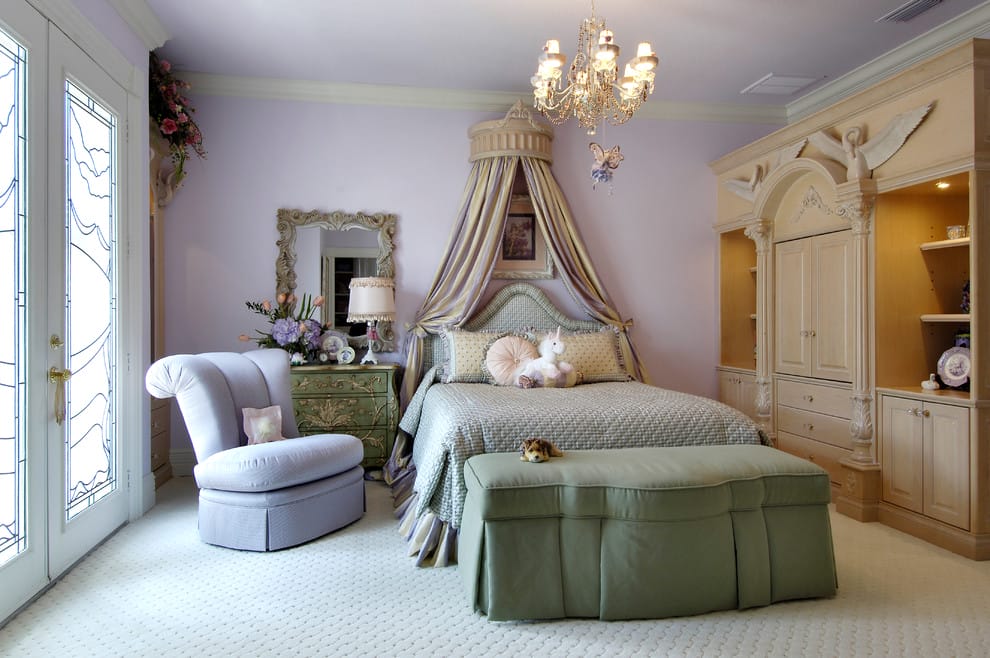 Whether you have a Tuscan style house or not, this idea surely deserves a try. Moreover, this princess themed bedroom could fit to any teenage girls, little ladies, infants, and even adults.
This bedroom employs pale purple ceiling and wall. They send out a feminine feel. Meanwhile, bed canopy, decorative mirror, chandelier, and nightstand lend a princess feel to the space.
The end bench and curved back chair provide cozy seating areas. Additionally, they go well with the light gray bed.
12. Princess Bedroom Accessories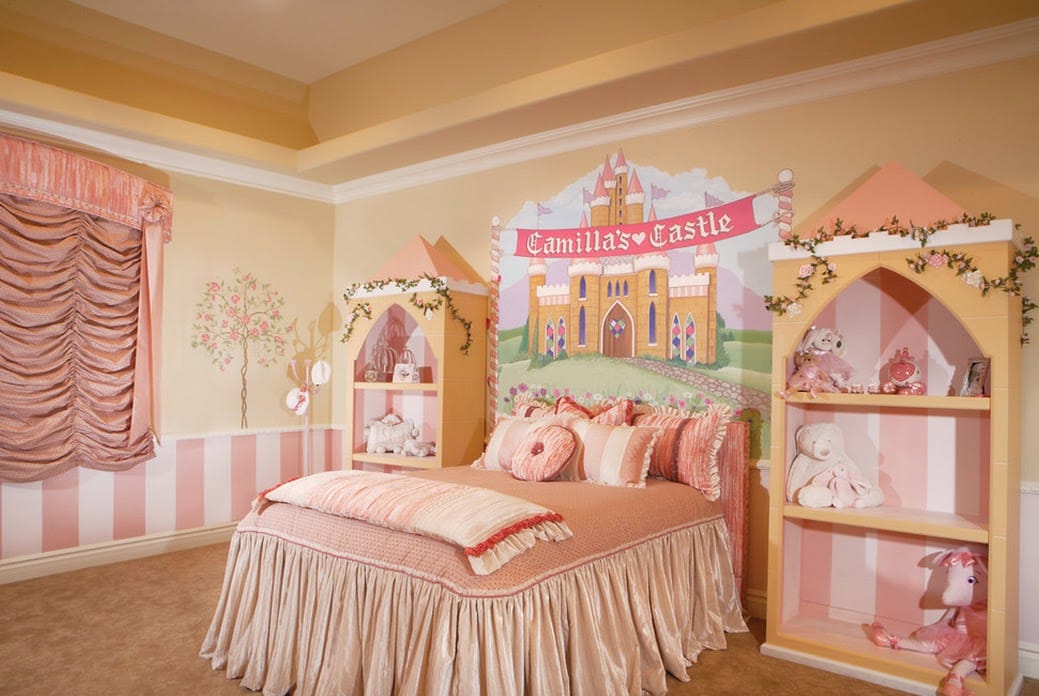 As the picture shows, this bedroom belongs to Camilla. She would be so pleased to own a sleeping space like this.
We also love the idea of incorporating castle-shaped shelves into the bedroom. They nicely frame the wall mural.
The false ceiling makes the area seem bigger. Satin curtain and bed skirt add chic luxury to the bedroom. Pink and white stripes imbue the space with a girly vibe, while brown area carpet pampers her little feet.
13. Lovely Princess Bedroom Ideas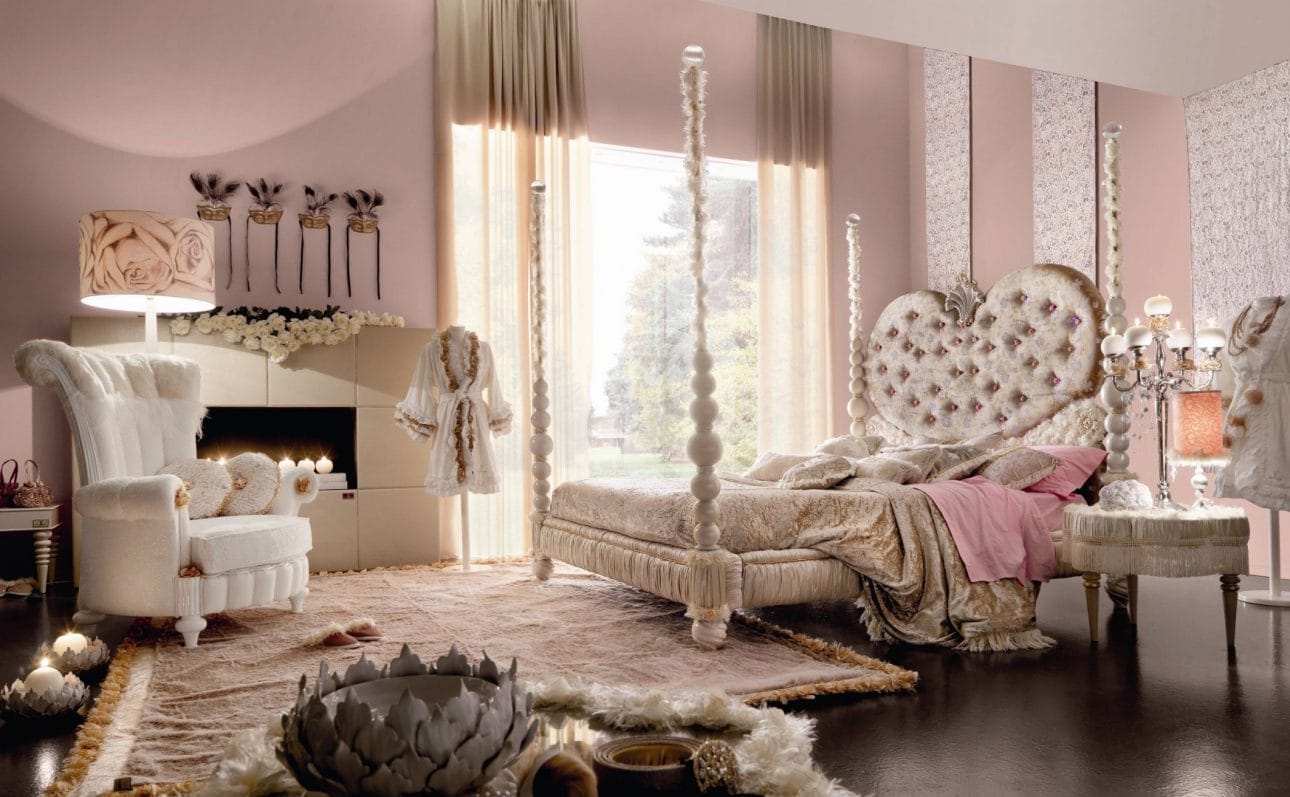 Searching for amazing princess bedroom ideas? Just steal this look from Alta Moda. Not all homeowners would like the space since it seems a tad crowded. However, the design definitely appeals to any girls.
The heart-shaped headboard, four-poster bed, and curved back armchair give this bedroom a touch of glamor. They develop a regal feel as well.
Giant window allows in morning light. The multicolored area rug elegantly dresses up the wooden floor, while extra tall curtains make the ceiling higher than it is.
14. Hot Pink Princess Bedroom Decor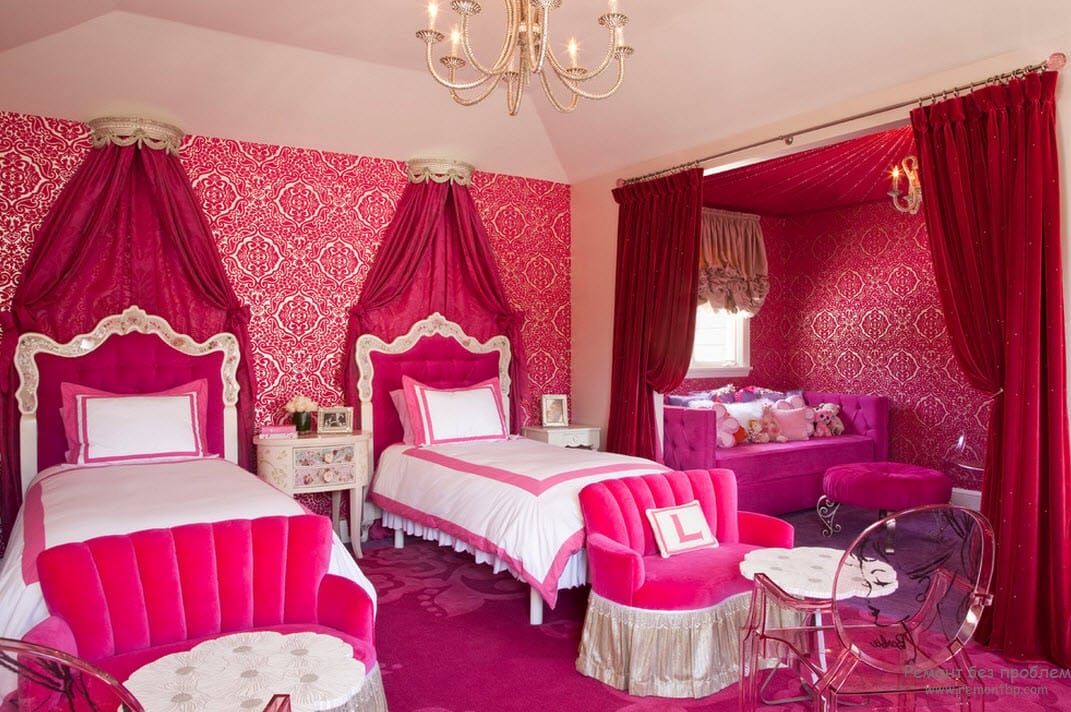 Do you have two daughters? If so, take inspiration from this bedroom in Denise Richards Residence. The space undoubtedly will be great for them. It makes them feel like they are true princesses as well.
Hot pink area carpet, curtains, and bed canopies create a bold appearance. The chandeliers, patterned wallpapers, and headboards exude a luxurious feel. Fuchsia sofa and shell chairs offer ultimate comfort.
15. Frog-Tiana Princess Bedroom Decor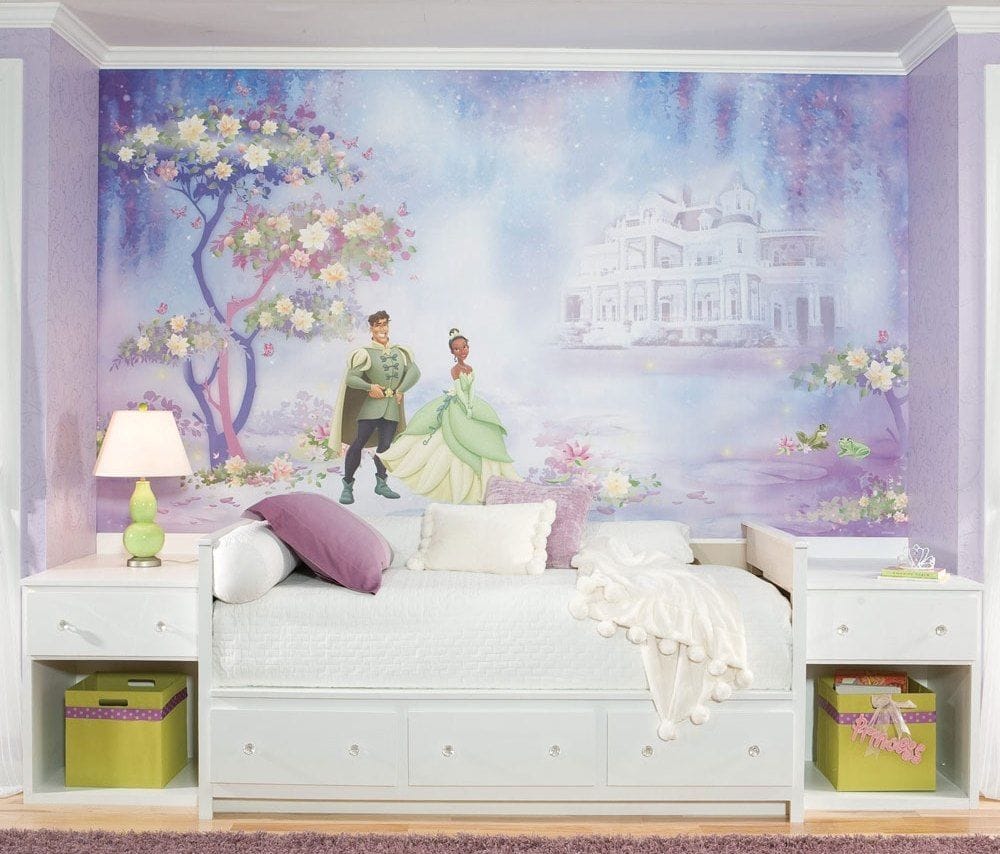 Your little lady loves Tiana. Without a doubt, this sleeping space would be totally perfect for her. As you see, the delightful wall mural is such an excellent addition to the bedroom.
Moreover, the bedside tables come with open cubbies. They house green storage boxes. The daybed features three drawers for storing her personal items.
The pom pom blanket and throw pillow bring in fun vibes. Meanwhile, the white-and-green table lamp lends a cohesive feel to the bedroom.
16. Fairy Princess Bedroom Ideas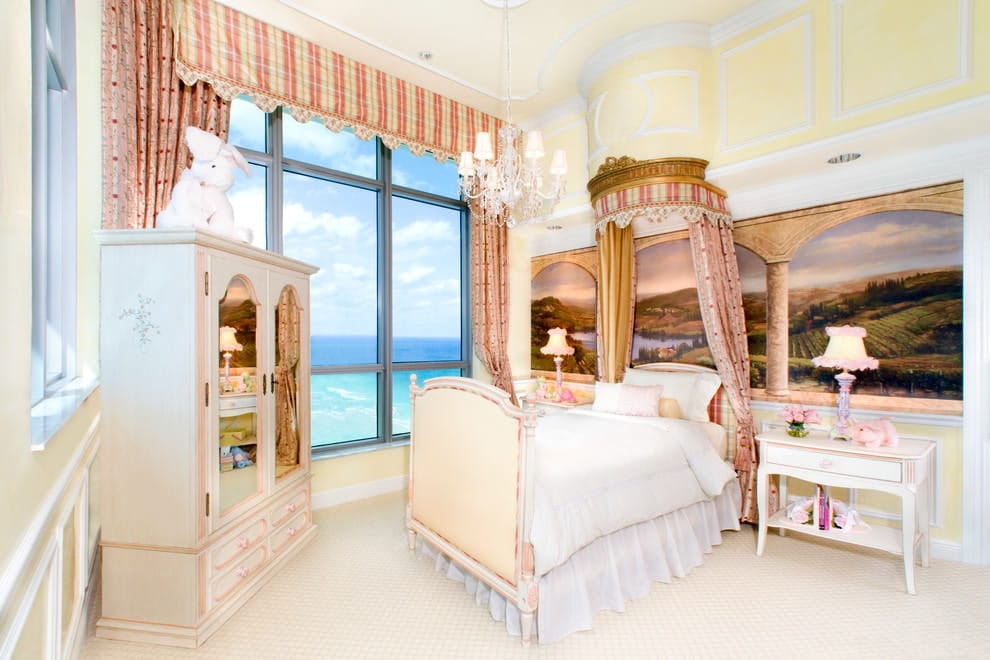 This lovely bedroom belongs to the home in Hollywood Beach, Florida. The white chandelier and gold bed canopy give the space a regal ambiance. Meanwhile, bed skirt, vintage cupboard, and plush toy ooze sweet appeal.
Large windows capture breathtaking beach views. Both valance and curtains dress them up. The bedside tables and table lamps provide symmetry. Pale yellow walls inject a cheerful atmosphere into the space.
17. Pink Princess Bedroom Ideas with A Vintage Feel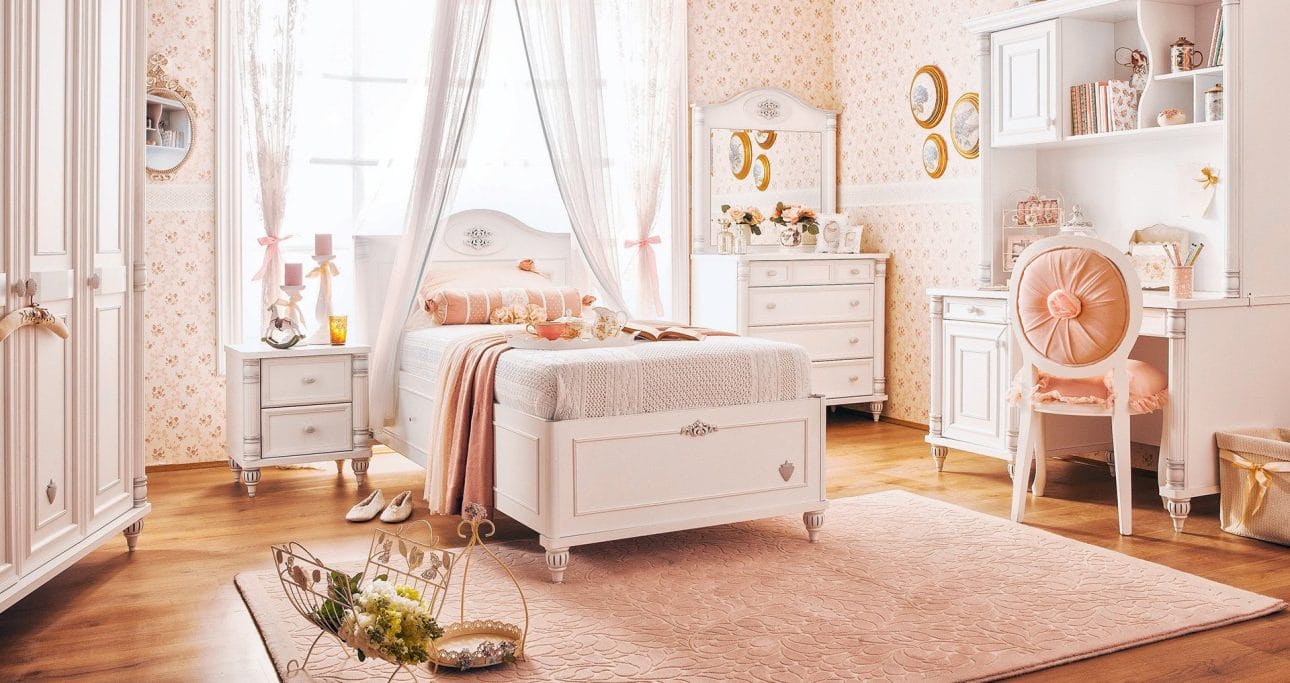 If your daughter likes all things vintage, give this look a go. Here, the teenage girl's bedroom boasts antique bed frame, nightstands, dresser, study desk, chair, and cupboard. They carry a vintage flair to the space.
White ceiling, bed canopy, and sheer curtains produce a fresh, clean appearance. Pink wallpaper, area rug, bolster pillow, and blanket scream elegance.
Gold accents set a princess feel, while wooden floor keeps the bedroom warm.
18. Fantasy Bedroom Ideas for Kids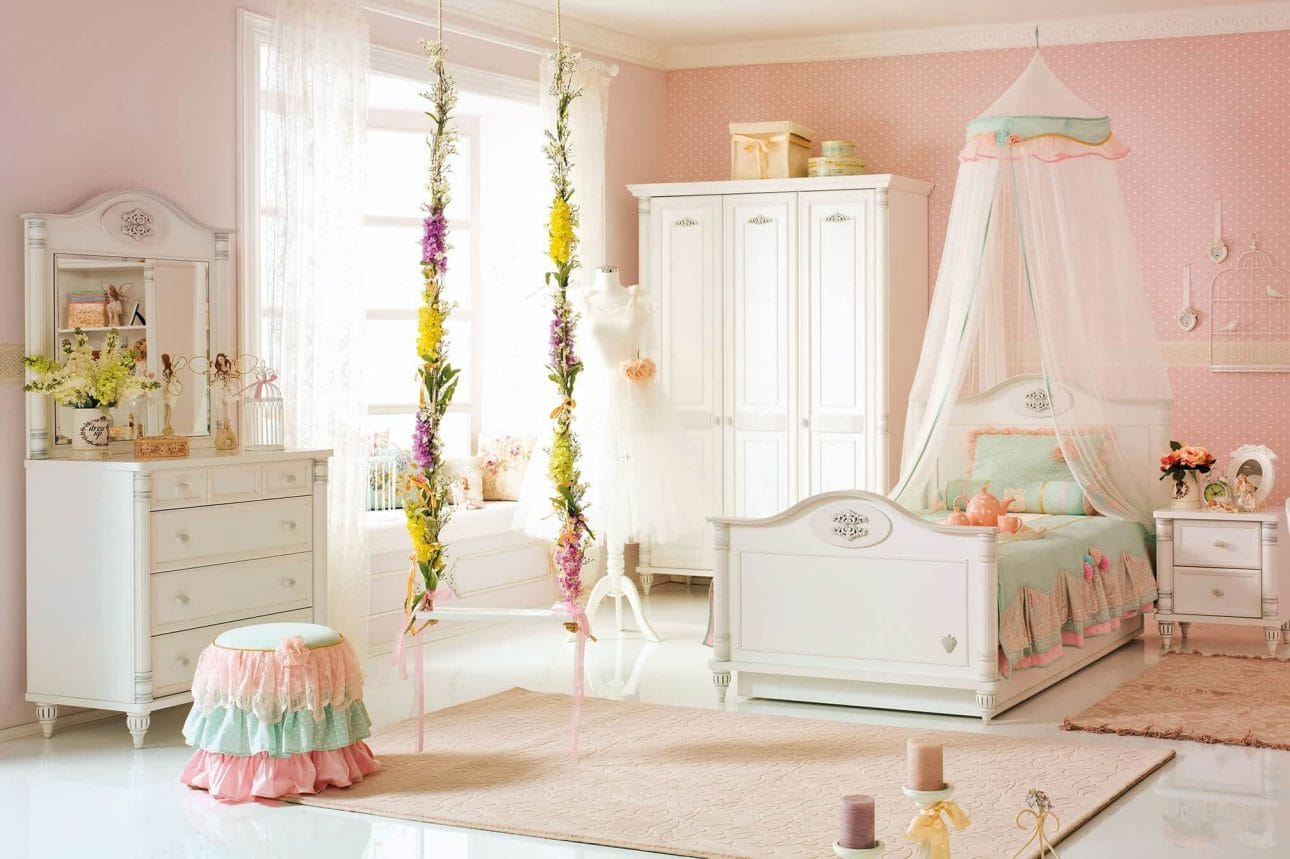 We believe your daughter would love this princess-themed bedroom. It definitely brings her fantasy into reality. The sleeping space is beyond charming. Take a look at the bed and other elements.
Purple and pink wallpapered walls infuse a girly touch into the bedroom. The bed canopy, dresser, chair, and soft rugs emanate a princess-like ambiance.
Meanwhile, ruffled stool, bedsheet, and pillow unify the entire space.
19. Lilac Princess Bedroom Ideas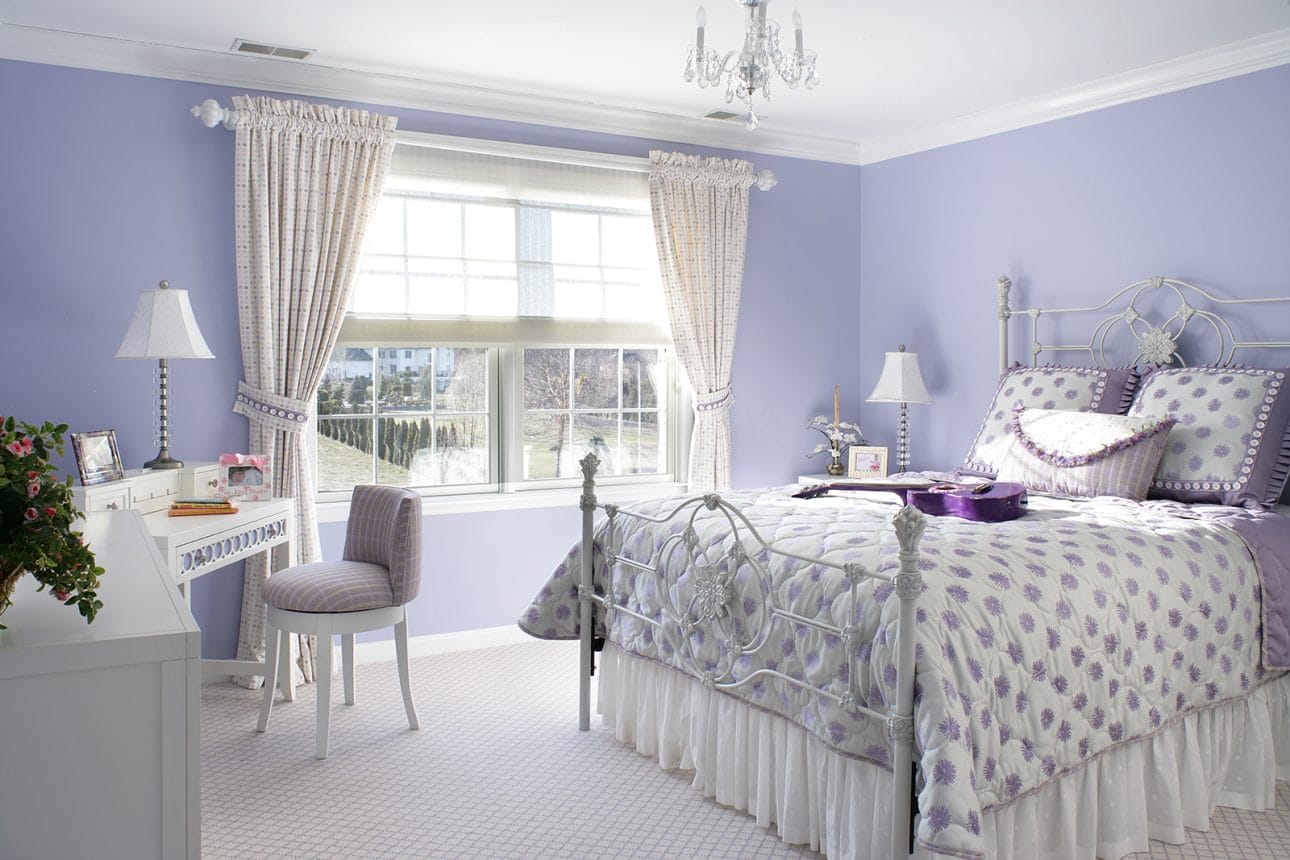 The princesses love certain colors such as lilac, sugar rose, ballet, and petal. You should pick the right one for your girl's bedroom.
This lavender princess-themed bedroom looks super lovely. The bed frame, white vanity table, and crystal chandelier develop a lavish ambiance.
Furthermore, polka dot bedding carries a playful vibe to the space. Meanwhile, the small dark purple guitar lends the bedroom a bit of boldness.
20. Pink and Blue Princess Bedroom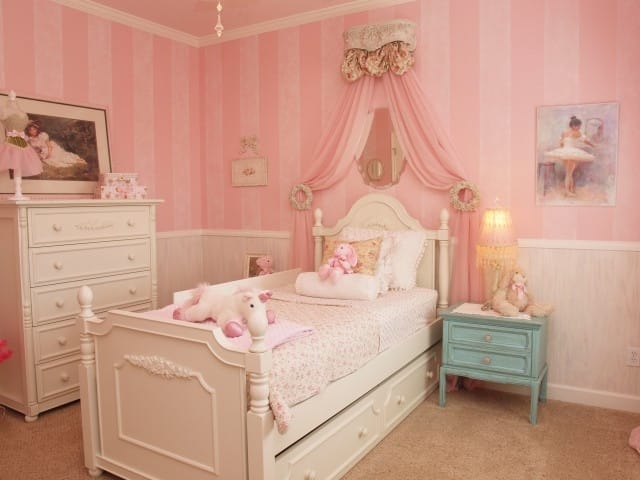 Speaking of princess bedroom ideas for small spaces, consider this design. Here, the vintage bed comes with a drawer underneath. It will hold your little girl's favorite books, toys, and knick-knacks.
Moreover, the tall dresser accommodates her clothes. The blue bedside table fits well into this predominantly pink bedroom.
Bed canopy and artworks exhibit a royal feel, while vertical striped wallpapers make the ceiling higher.
21. Princess Bedroom Ideas on A Budget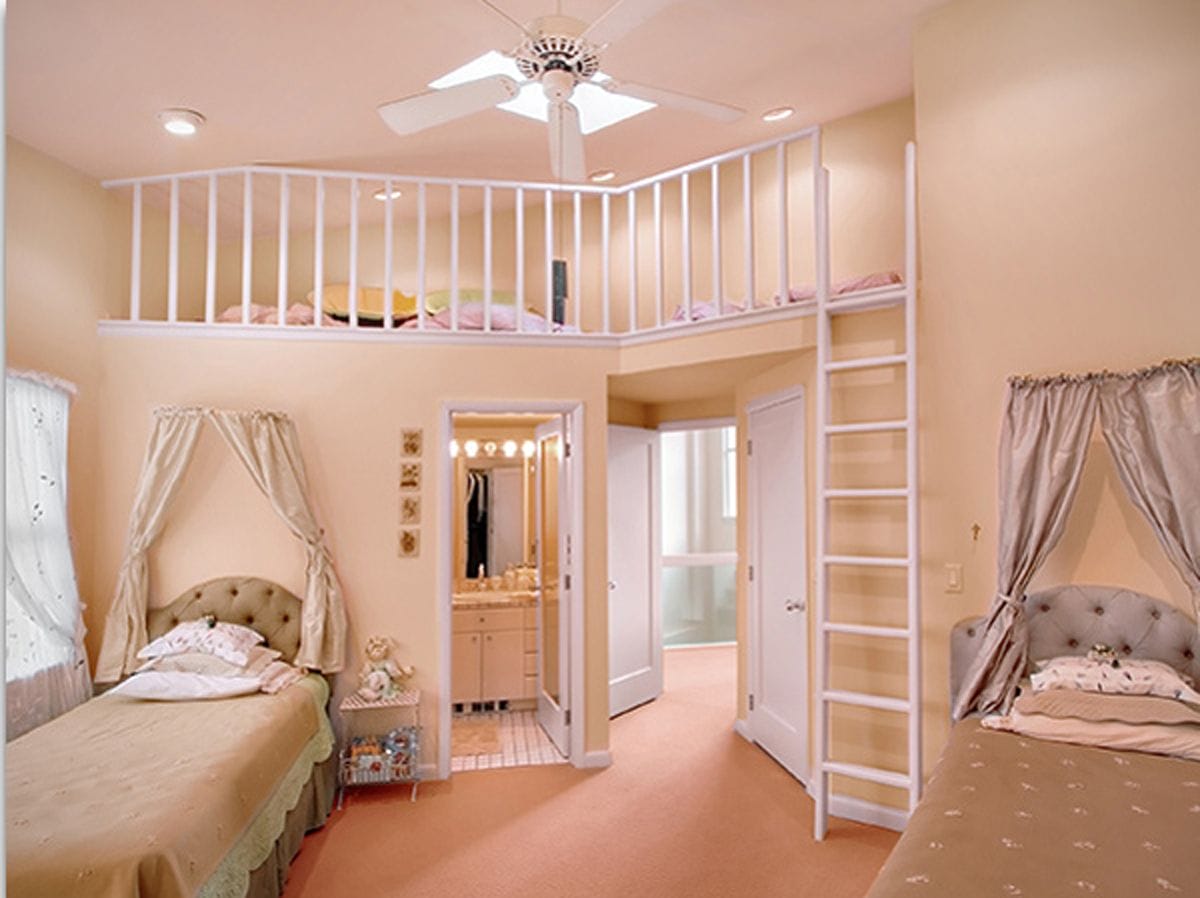 If your budget is limited, this is undoubtedly one of the coolest princess bedroom ideas to try. As you see, there are two small beds with matching headboards and curtains. They turn the space into little girls' kingdoms.
The peachy pink walls convey a sense of tenderness. Moreover, the bedroom features bathroom and indoor play area. Meanwhile, the skylight and window let plenty of sunlight to pass through.
22. Custom Castle Bookshelves for Girl's Bedroom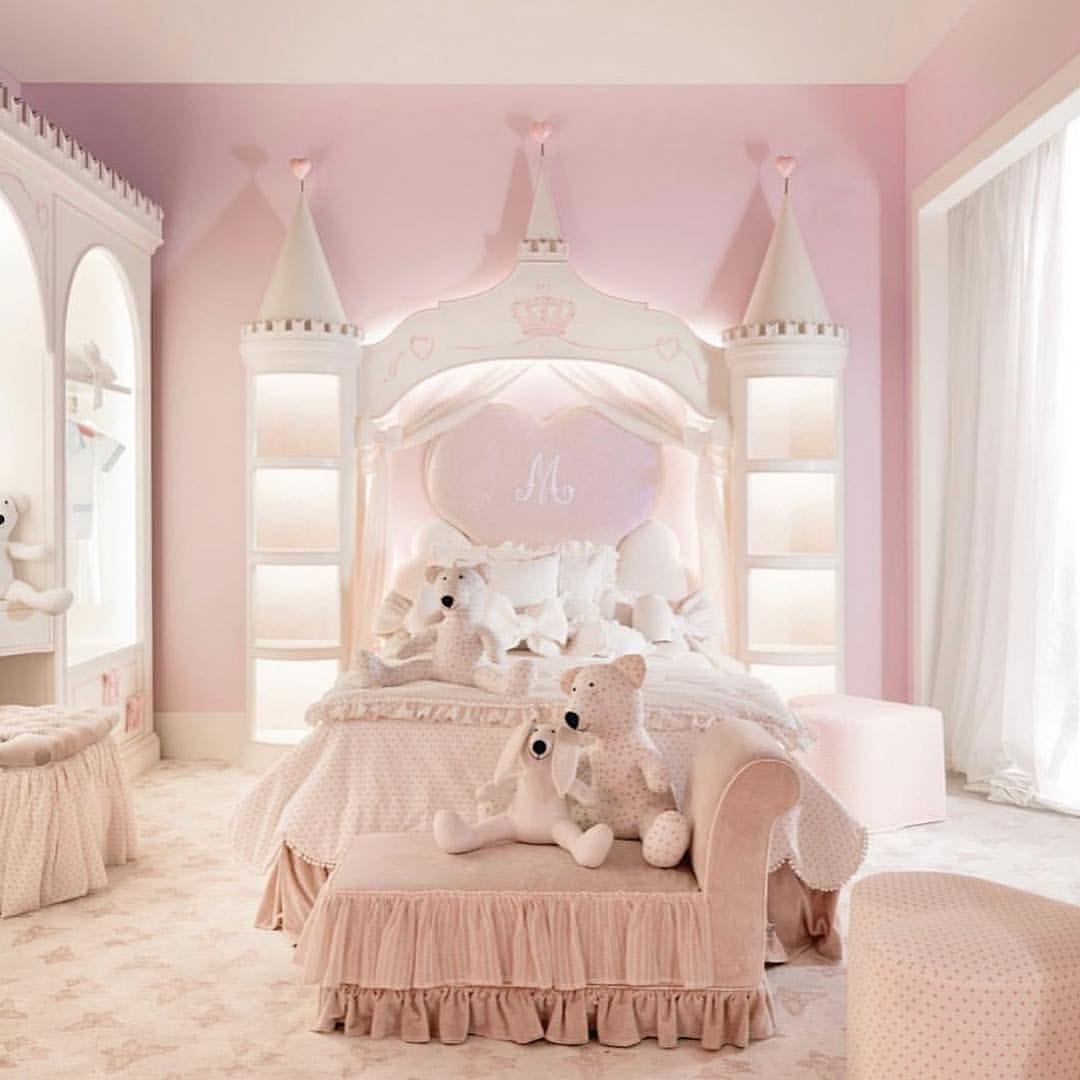 This adorable pink bedroom is certainly any little lady's dream. The sleeping space features custom-made backlit castle bookshelves. They do not only give off a princess feel, but also house some great books.
There's also a heart-shaped initial headboard. Light pink walls imbue the bedroom with a girly ambiance. The stool, curved lounge chair, and stuffed animals generate a cozy atmosphere instantly.
23. Princess Bedroom Ideas Pinterest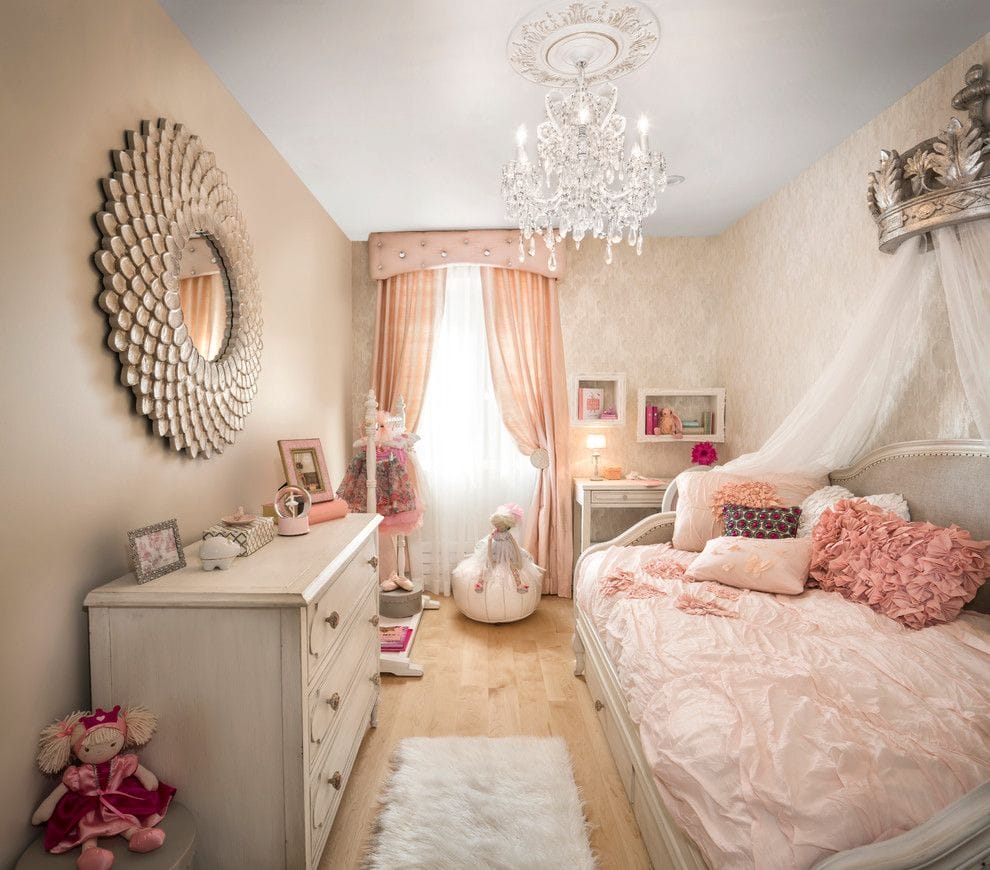 Well, this bedroom may not be large. However, it looks just enchanting. The silver crown canopy, crystal chandelier, and decorative mirror ooze unmatched luxury.
Varying pink shades evoke a girly feel. Meanwhile, long dresser and drawers underneath the daybed keep the space organized. Lastly, white shag rug adorns wooden floor and sets a welcoming vibe.
24. Princess Themed Bedroom for Twin Girls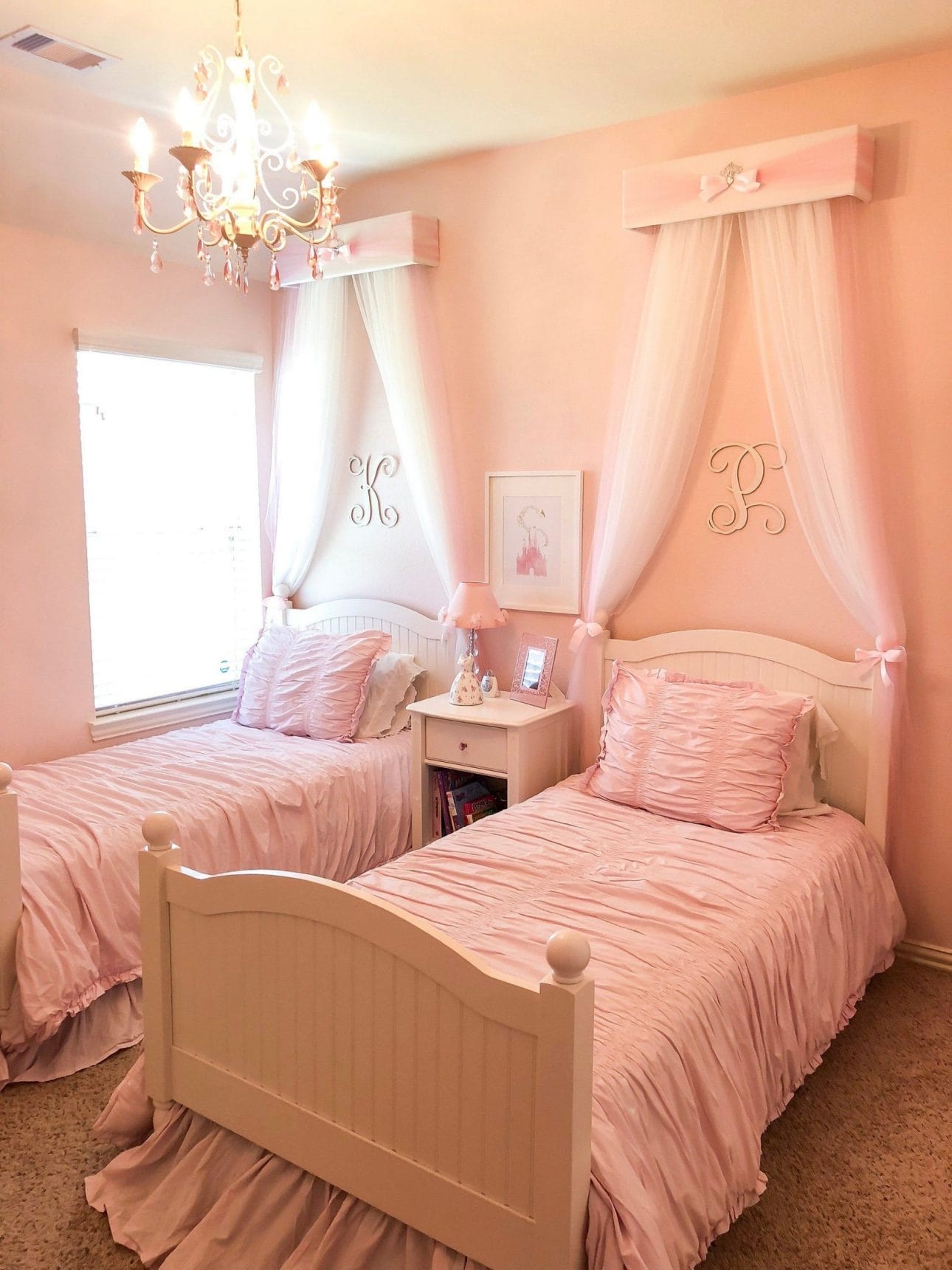 Do you have twin little girls? If yes, steal this look. The bedroom boasts two white bed frames. They provide great support for pink ruffled bedding sets. Sheer bed canopies, ribbons, and chandelier emanate a royal atmosphere.
Furthermore, the slim bedside table comes with a drawer and an open cubby. The light pink walls are a lovely contrast to white ceiling. Lastly, initial name signs and framed artwork embellish the wall.
25. Pink Bedroom Ideas with A Large Headboard
Your girl definitely can't say no this princess-themed bedroom. Different pink shades wrap the interior from study chair to wall. They infuse a girly touch and a dynamic feel into the space.
The crystal chandelier and ornamental mirrors elicit a sense of royalty. Meanwhile, hot pink velvet tall headboard carves a sumptuous look.
We are sure our wonderful princess bedroom ideas above left you inspired. Apply any of those. Remember, it is never too late to give your beloved daughter her dream sleeping space. Happy decorating!