When you need to have a vacation but you cannot go anywhere, then just bring the relaxing vibes to your home with these backyard hammock ideas.
1. Bohemian Backyard Hammock Ideas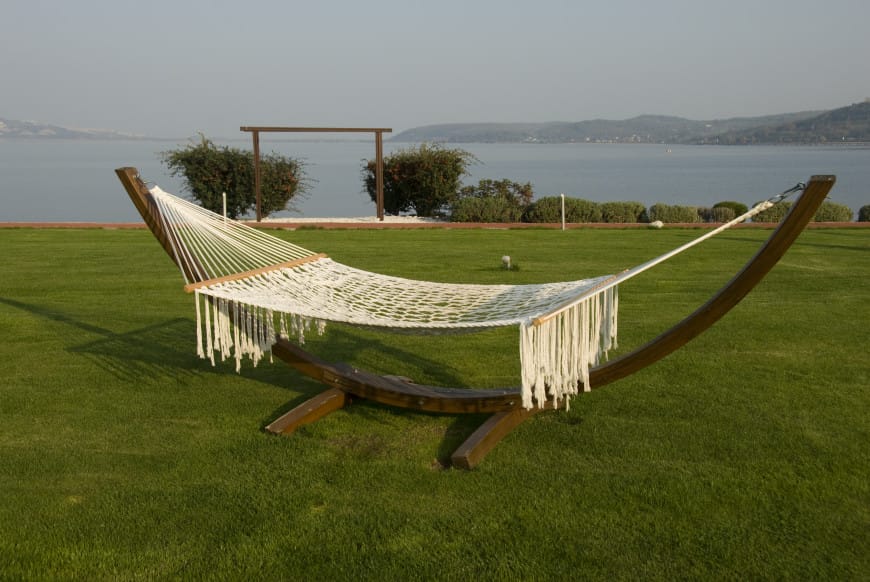 Many people think that the Bohemian style lacks structure. Well, it is not always true. In fact, it is the style of freedom, particularly for those who are socially unconventional and fond of arts.
This style is rich in textures and patterns. Neutral tones, like white and tan, are the typical color palette of Bohemian furniture.
You will also find that people who are fond of Boho chic tend to embellish the interior design with handmade pieces of art.
Apparently, the Bohemian style is not only for interior design. You can also bring a few elements of Boho chic in your backyard by investing in this hand-woven hammock.
This hammock represents Bohemian style immensely. It features a loose weave that allows the breeze to make you stay cool. The design resembles a macramé that you may typically find as wall art of this style.
If you have two sturdy trees or posts, you could dangle the bunk bed among them. But, you could also consider purchasing a stand.
2. Swing-Like Hammock for Outdoors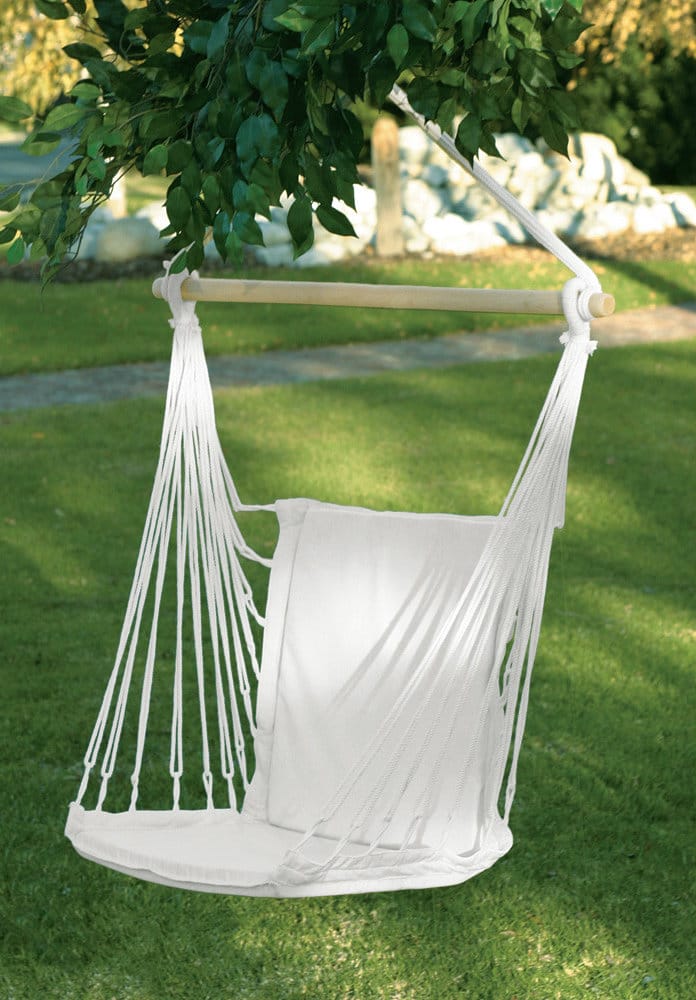 This one is not like the typical hammocks that you usually find. You cannot lie and stretch your legs on it, but you can lounge on this hanging chair comfortably.
You can get this tassel hammock chair in a store. But if you are a DIY addict who always wants to take on a new challenge, try making it yourself.
To make a hammock chair, you will need to create pockets on both the right and left sides of the plain canvas so that the ropes can slide through them.
Next, make a mark 2" and 4" in both ends of an 11/4" x 3' oak dowel, then drill through them. Thread your rope through the dowel and canvas, tie a knot, and hang it from a sturdy tree or a pergola.
3. Nylon Woven Hammock Idea
This Backyard hammock idea is suitable for those who want to get nothing but a relaxing day. The spreader bar is not fancy whatsoever. However, it offers you a perfect place to lounge.
It features a loose weave that ensures air circulation, making you feel more relax and cool during a hot day.
4. Backyard Hammock with Earthy Tones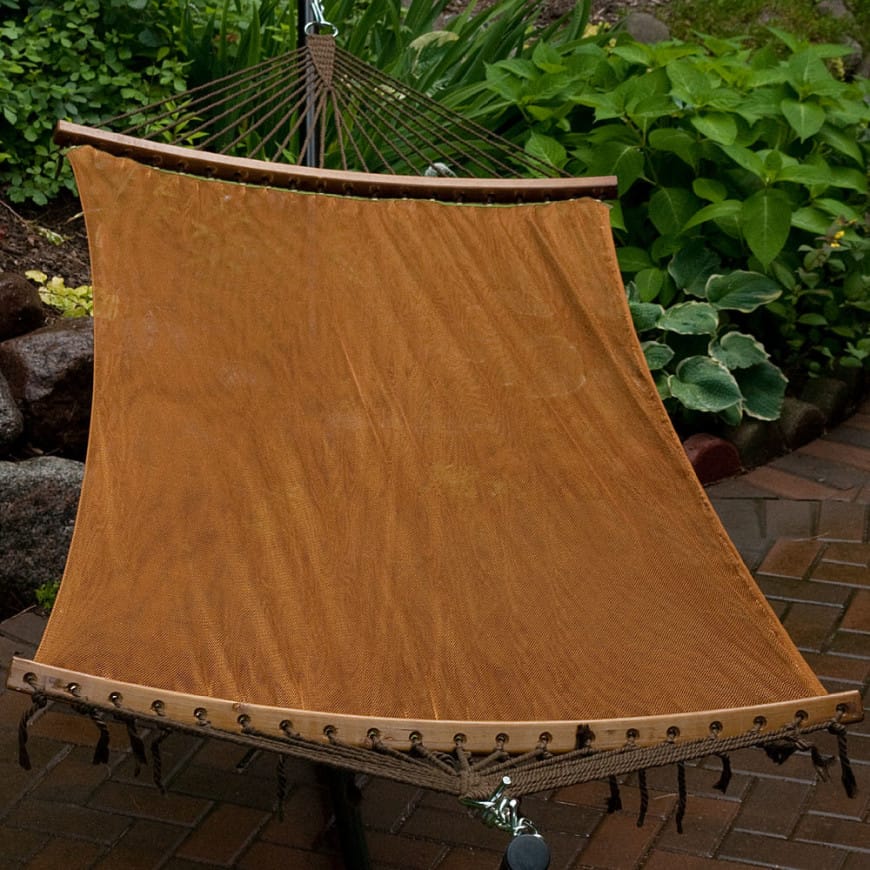 This backyard hammock idea is suitable for those who want to add subtle nuance to space without drawing too much attention.
Instead of coming in various colors that may cheer up your backyard, this hammock has an earthy color tone that complements the reddish pavers immensely while keeping being outstanding among the greenery.
5. A Spacious Hammock
Who says that a spectacular backyard requires a lot of maintenance? You can make a fun one if you provide all the things you and your family need to relax and spend the time together.
You can cover the ground with mulch instead of a lawn that requires you to do regular maintenance. But if you would like to have a lush, green carpet in your backyard without the hassle, opt for artificial turf.
Try adding some stepping-stones with an imprinted number on each of them. Your kids will enjoy hopping on them.
You can also purchase a chalkboard, so they can doodle. While your kids are enjoying playing outdoors, you can lie on a hammock.
6. Colorful Backyard Hammock Ideas
This backyard hammock idea will make your garden look more stunning. It comes in a stripped colorful pattern that matches the beautiful flowers in your backyard.
You just need to install two posts among the flowers and hang the hammock there. Consider laying some steps that guide you to this relaxing area so that you will not walk on the plants.
Bear in mind that the ultimate goal of investing in a hammock is to enjoy the exquisite landscaping while stretching out your legs. It is no use if you wreak havoc in the flower garden.
7. Tan Hammock with Pillow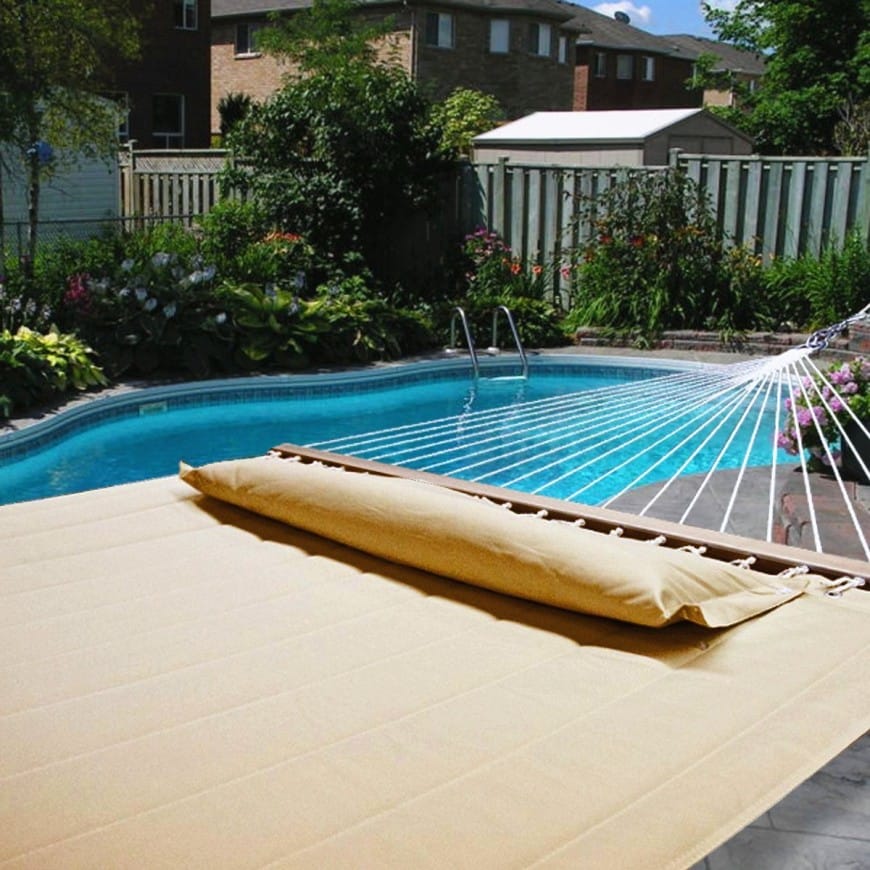 Hanging a hammock by a pool has always been a good idea. You can enjoy lounging on it while basking under the sun.
This hammock comes in a beautiful tan color with a quilted accent that adds a textural element. It has a quite large size that allows it to accommodate two people at once.
You can also find a pillow that enhances your comfort.
8. Three Hammocks in a Row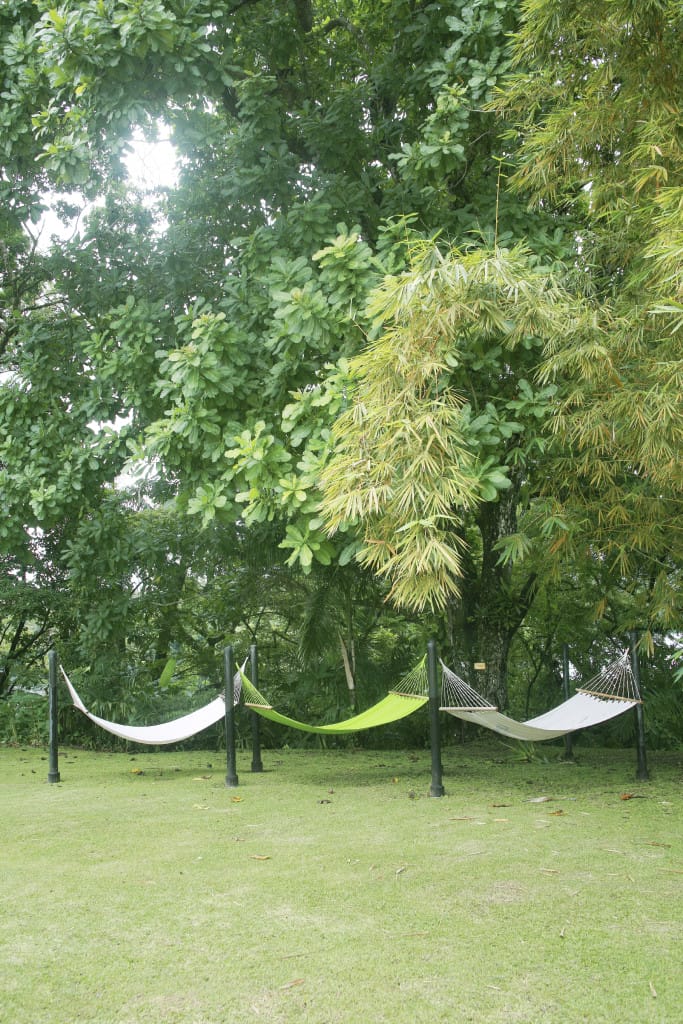 Relaxing in a hanging chair by reading a book or playing a video game is a fun thing to do. But it will be better if you can enjoy your leisure time together with friends or family.
Therefore, you should give this backyard hammock idea a try. Instead of hanging only one hammock that can accommodate one person, you can invest in three spreader-bars and arrange them in a row.
Now, you can catch up with your family while lying down in your backyard. More importantly, your kids will not quarrel due to a single hammock anymore.
9. Cushions on a Hammock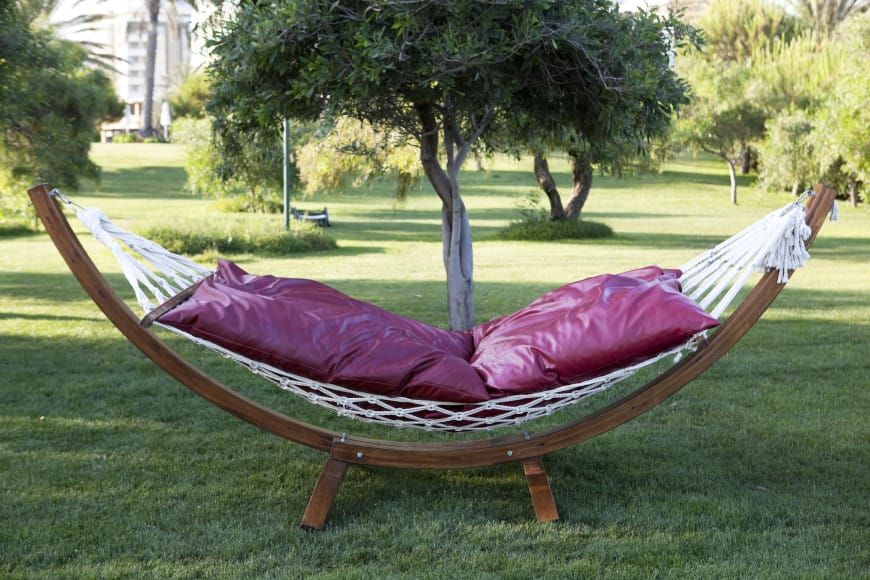 The primary thing that you need to care about when investing in a hammock is whether it can give you the ultimate comfort.
If it does not meet your requirement well, do not throw it away. Adding a twist will make a notable impression.
Try laying a cushion on your hammock to enhance your comfort. By doing this, you will feel as if you were lying on a comfortable bed. You might eventually fall asleep.
10. Wooden Hammock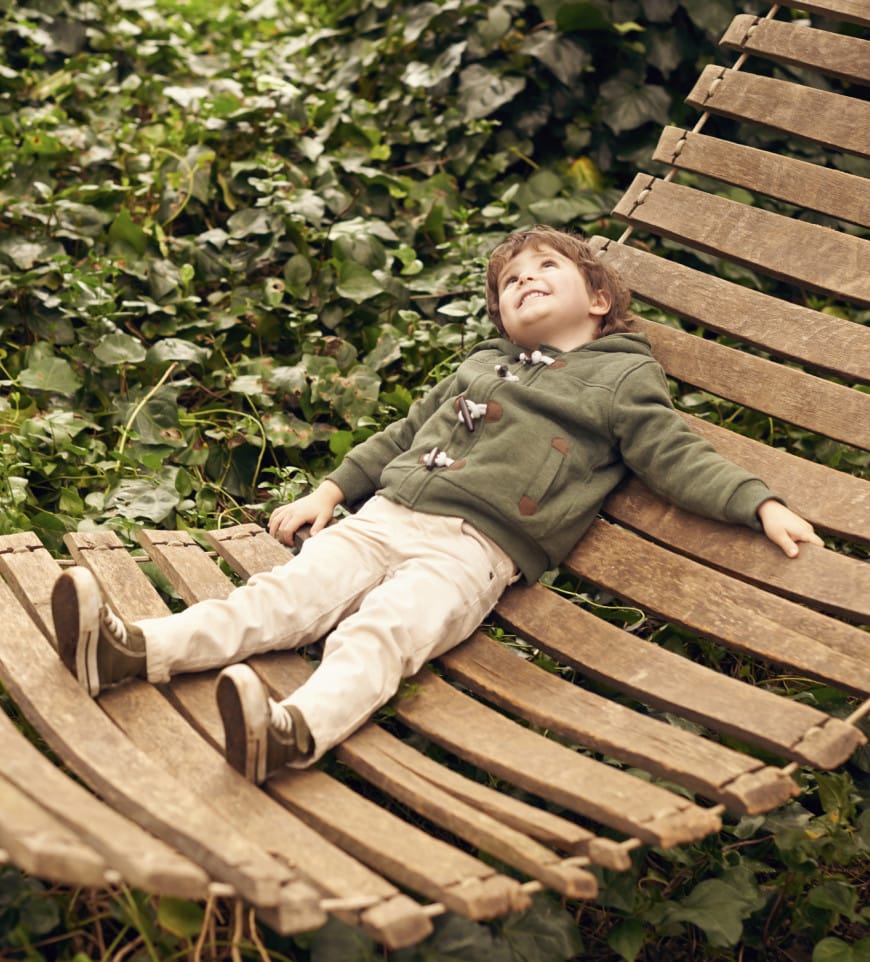 This hammock is unusual. Unlike its counterparts which are made of nylon, fabric, rope, or netting, this one features wood planks as the primary material.
It is more like a bridge rather than a hammock because rope thread to each wood plank to assemble them.
This hammock is eminently sturdy. However, it may be a bit uncomfortable because it is not flexible at all. To enhance the ultimate comfort, you can top it with a cushion.
11. Tropical Backyard Hammock Ideas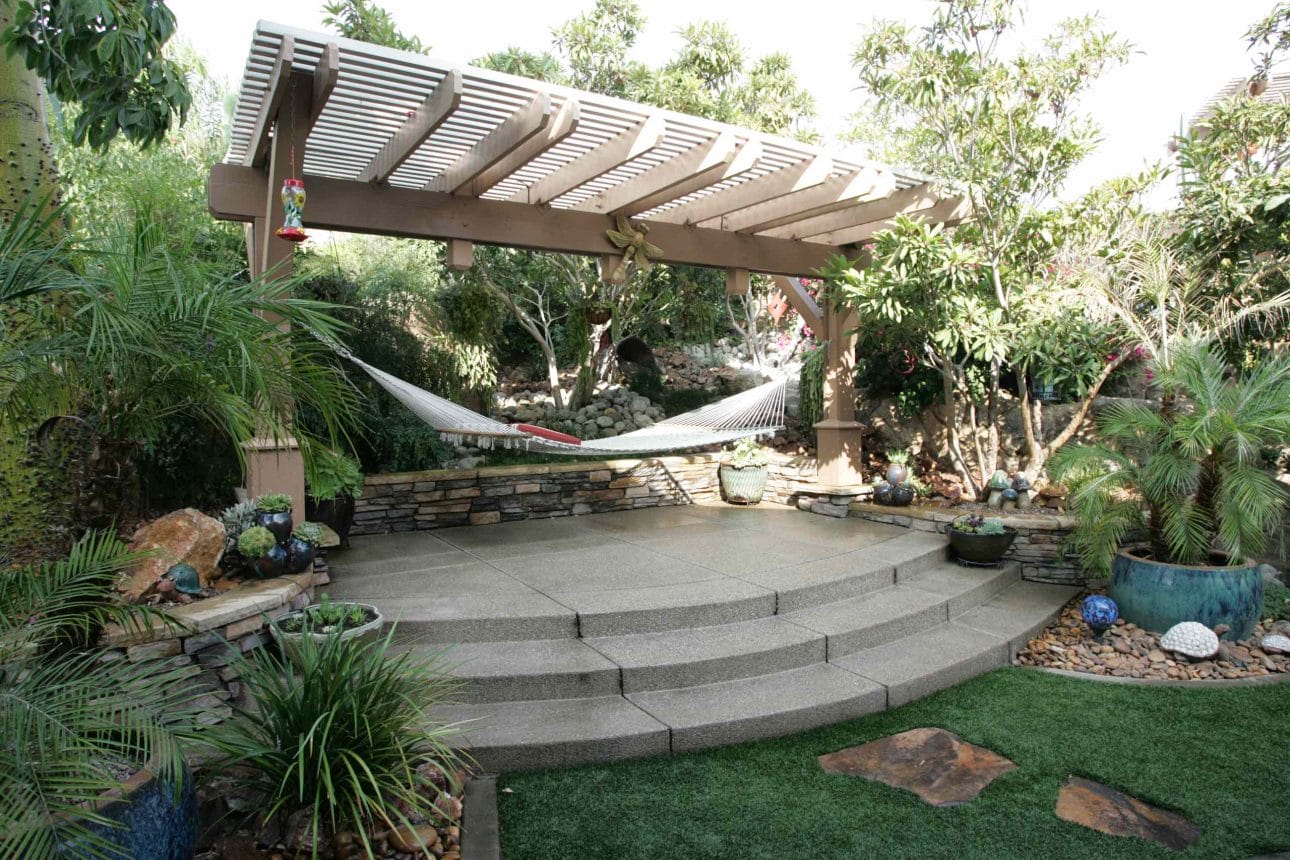 Having a trip to Bali or Hawaii sounds exhilarating. Nevertheless, it is doubtful to occur shortly. So, bringing in the tropical vibes to your backyard is your best bet.
This backyard is full of dense, green vegetation, such as palms, ferns, and succulents, which offer tropical vibes. To perfect the nuance, you can hang a hammock on your patio so that you can relax whenever you want.
12. Multi-Colored Mayan Hammock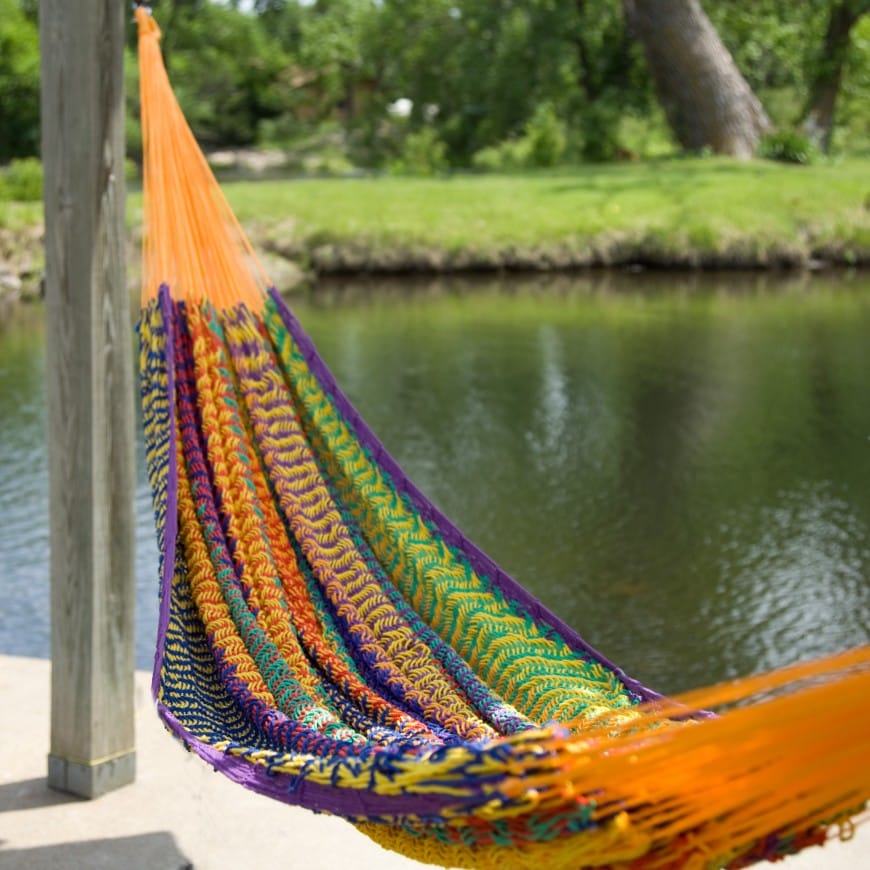 This Mayan hammock incorporates more pattern and texture in your pool deck or patio. It is made of 100% fine cotton that will hold your body well while allowing it to breathe, including in hot conditions.
Another good thing about this hammock is the large size that can accommodate two people at the same time. Do not worry about breaking it because the nylon extensions are durable and strong.
The extensions can hold up to 550 pounds if you hang them at 12 or 13 feet as the minimum distance.
13. Nicaraguan Hammock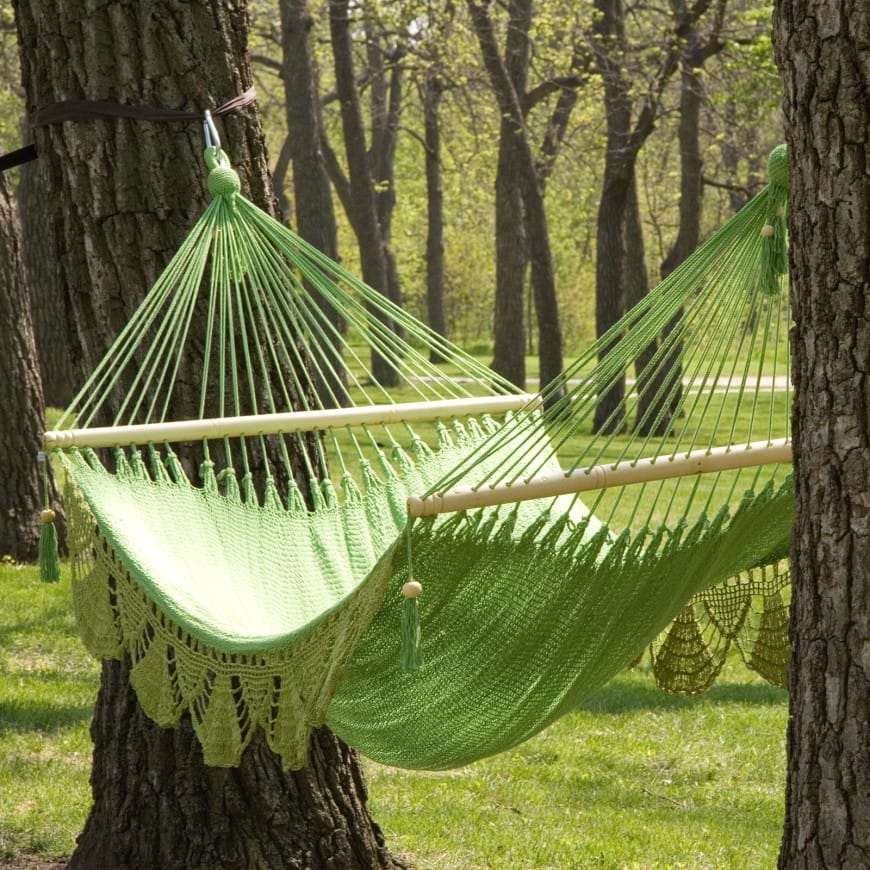 Nicaraguan hammock is one of the most popular types. It is renowned for its durability because it is usually made of nylon or cotton string woven meticulously to form a strong net without trapping heat.
If you are longing for comfort and luxury, you can try the Nicaraguan backyard hammock idea. It comes in green that will match your lawn immensely.
It also features crocheted accents and tassels on both fronts to earn a more fashionable look.
14. Multiple Hammocks with DIY Stand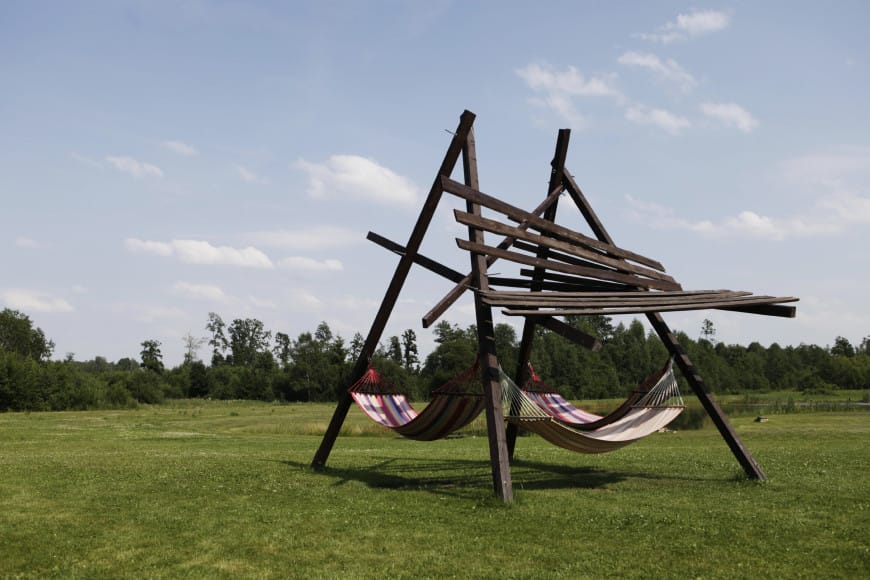 Backyard hammock ideas are always thrilling. Yet, it can be complex when it comes to fitting it in the correct spot. If you cannot find the appropriate trees or posts to hang it, you can always make stands yourself.
This backyard hammock idea has shown you that making a stand does not have to be arduous. You can use some leftover that you can find in your garage. Just make certain it is firm enough to sustain the weight.
With your imagination and creativity, you can make an unusual stand that can accommodate three hammocks at once.
15. Backyard Hammock Idea with Crocheted Edges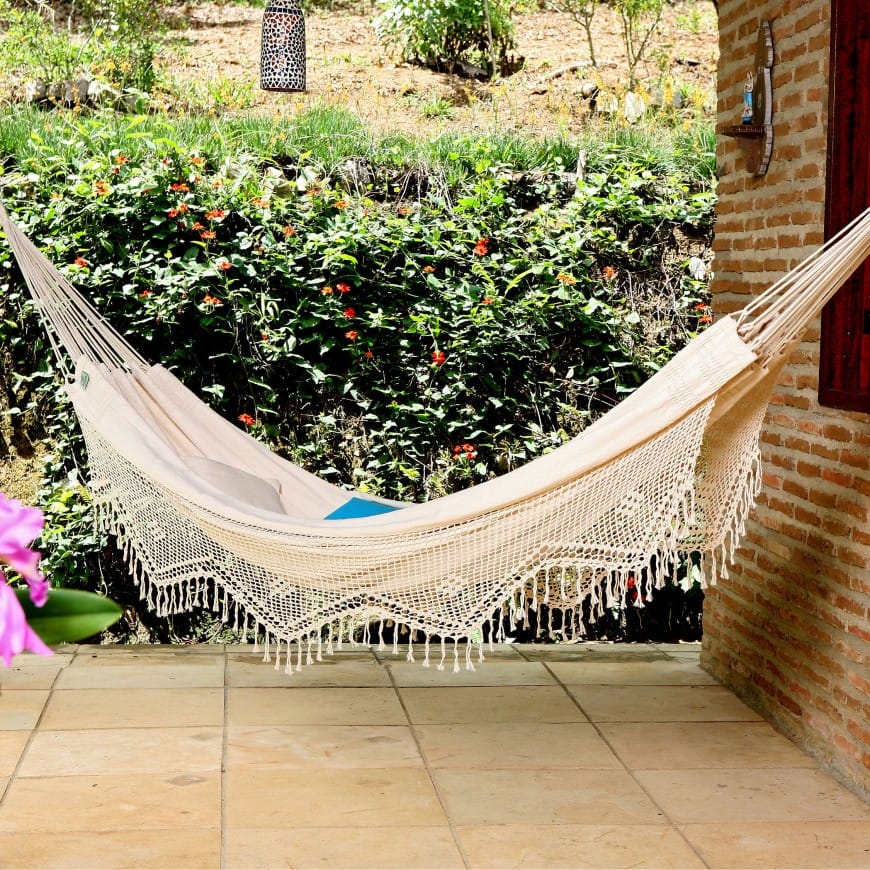 For some people, choosing the best hammock is not only about finding the most comfortable one. They also want to get a stylish one that can jazz up their backyards, just like the one you see in this picture.
This hammock comes in an off-white that matches the tiles nicely. Since the primary material of it is cotton, it offers you the ultimate comfort and does not trap the air.
Another great thing about this hammock is the crocheted accent that you can find on the right and left sides of it. The combination of the embellishment and color has made it a good addition to Bohemian style.
16. Modern Backyard Hammock Idea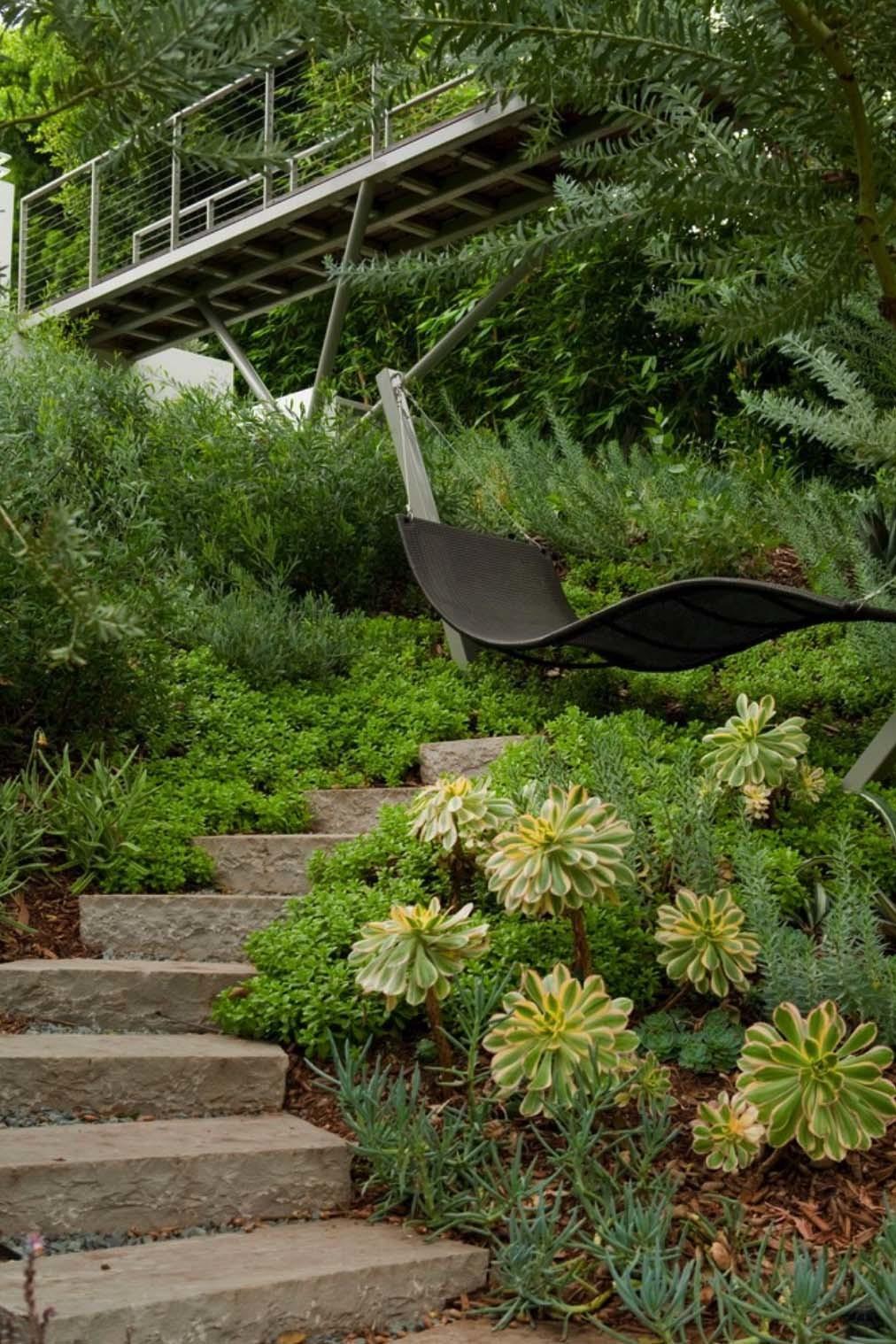 If you are looking for a backyard hammock idea that can complement your modern exterior design, you can opt for this one.
The sleek design of this hammock embodies the simplicity of modern flair. This type usually features a steel structure that ensures sturdiness and durability.
Although it is not as flexible and portable as the common hammocks made of cotton or rope, it can still give comfort when you sit back and relax.
17. A Small Hammock by the Pool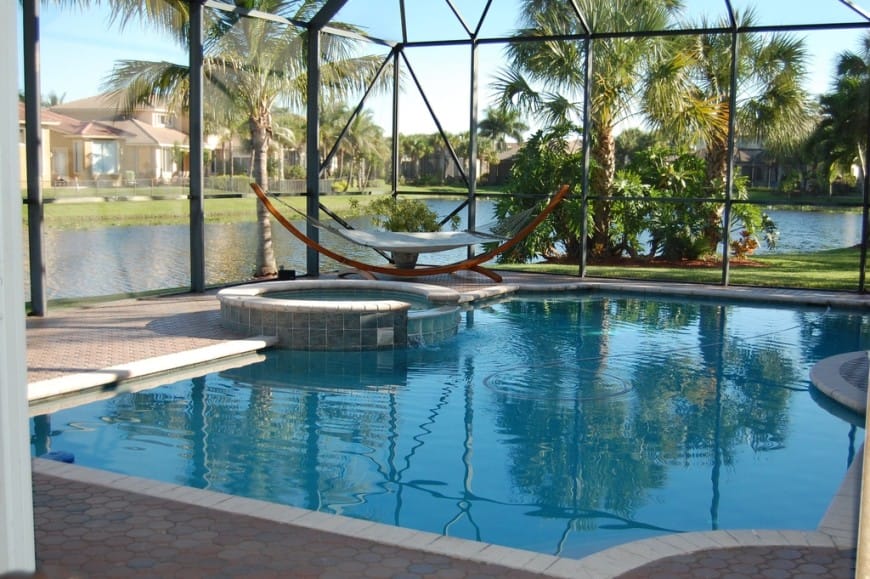 This hammock is not as large as the aforementioned ones. Still, it provides ample space for you to lounge on by the swimming pool. If you cannot find any trees or posts to hang it, you can always purchase a stand.
18. Flat Woven Hammock with Red Stand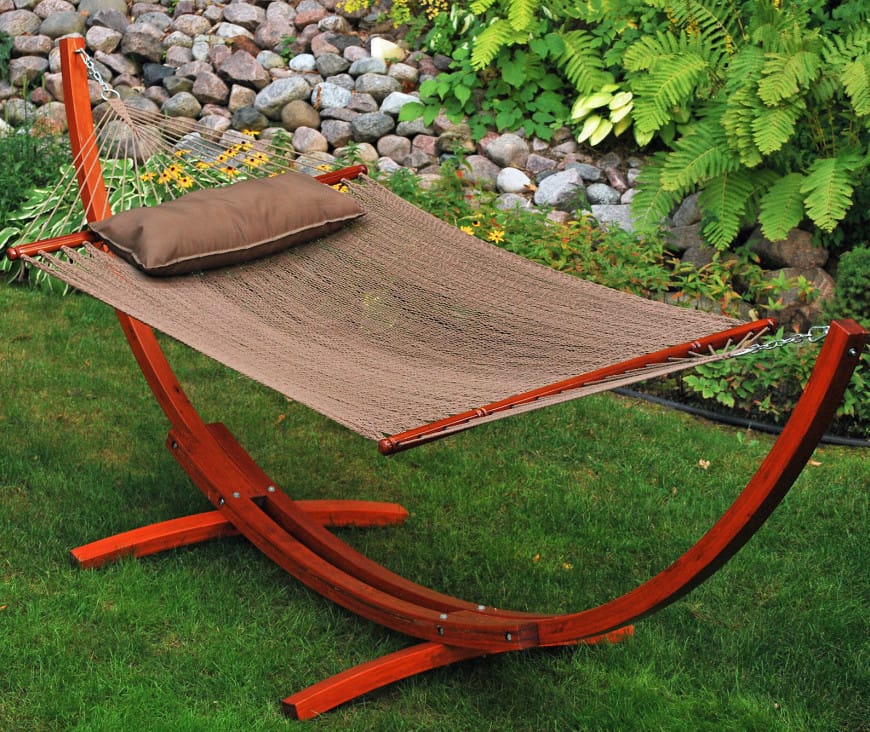 This sheer hammock is rather small, which is perfect for your kid. The loose weave allows good air circulation, making your kid feel comfortable and cool.
It even features a small pillow that comes in the same hue as the spreader bar.
A stand holds the hammock in place. It is not only sturdy but also striking with its red cedar finish.
19. Traditional Backyard Hammock Idea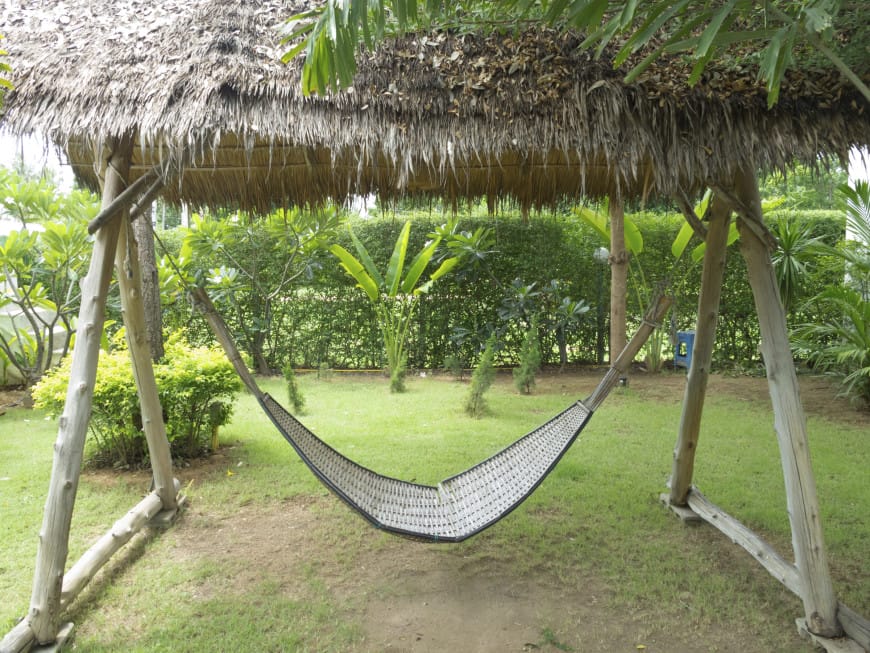 Are you looking for an epic backyard hammock idea? This one will be worth the try.
The most conspicuous thing about this hammock is the stand. Unlike the usual stands that come in a half-circle, it is made of wood posts that form two triangles flanking the hammock.
Above the hammock is a thatch roof that makes this stand looks like a hut, which lends a traditional ambiance to your backyard.
20. Hammock Chairs with Built-In Foot Rest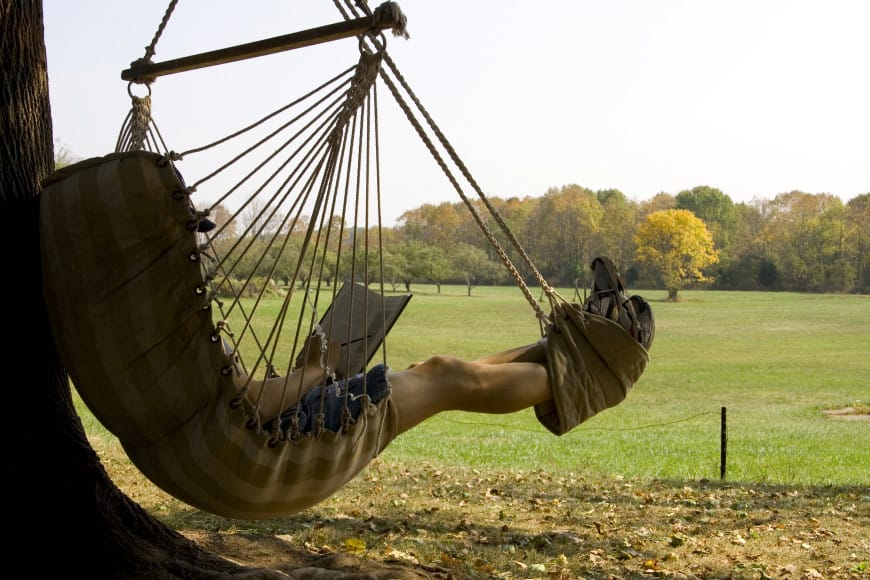 The benefit of a hanging chair compared to a hammock is it does not gobble up much space. You do not need two trees or posts to hang it. One will be enough.
However, the drawback of a hanging chair is it lets your legs dangle, which can be tiring and not comfortable at all.
Therefore, you may need to consider installing a footrest that will allow you to stretch your legs comfortably without taking up much space.
21. DIY Swinging Hammock Chair
These chairs are quite different from common hammocks. The great idea is you can make them yourself.
You just need to get two wood boards and pierce four openings in each nook. Thread the rope through each hole, and tie a knot to secure it. You can also use dowels to reinforce it. Finally, hang the chair.
22. Incorporate More Seating
It's the backyard hammock ideas will incorporate additional seating when you invite your friends to come over for dinner or lunch. Four ropes suspend each corner from a pergola, which makes it more spacious.
23. Modern Hammock Stand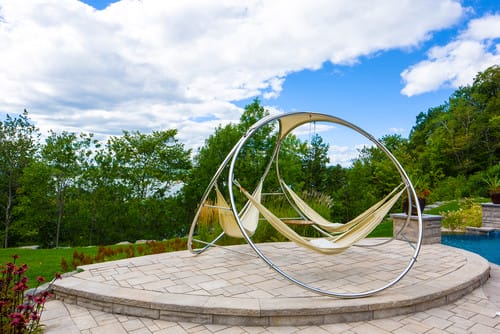 This backyard hammock idea will add a futuristic look to your patio. The distinctive stand can hold three spreader bars at once without taking up a lot of space.
24. Multiple Hammocks with Pergola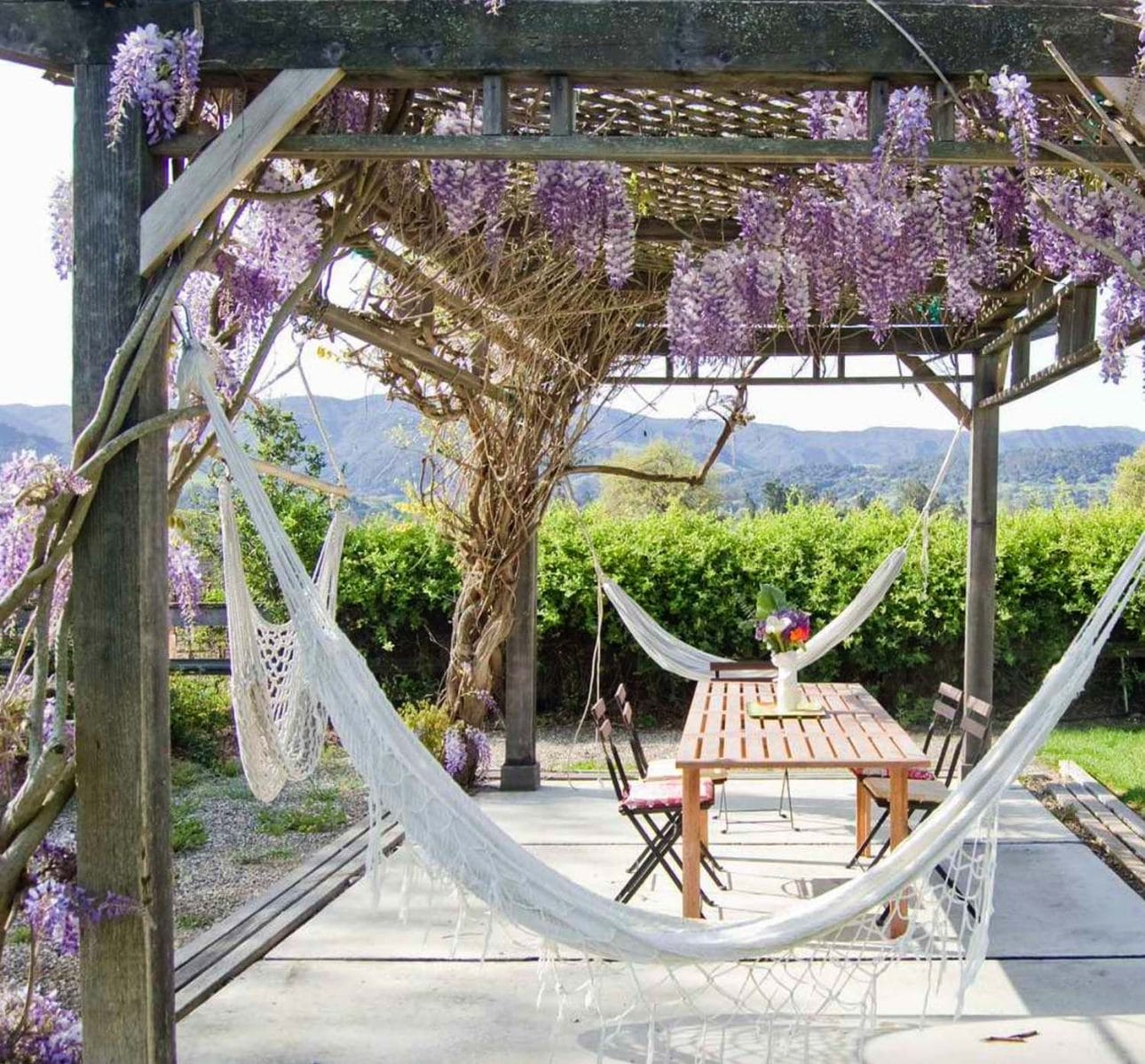 Adding a pergola as your patio shade is a terrific idea because it allows you to explore your creativity. You can hang mason jars or climbing plants from the roof. Try hanging hammocks between two posts for the extra charm.
25. A Hammock by the Lake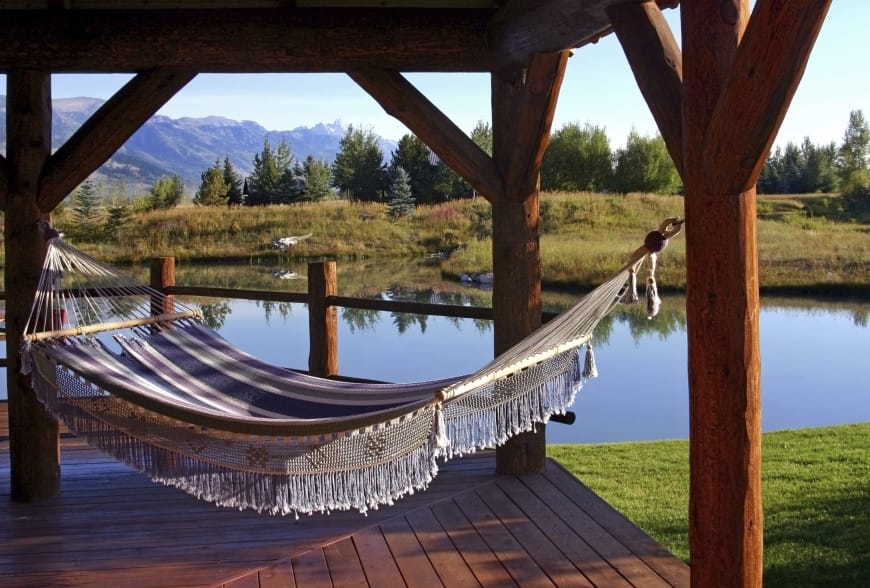 Lounging on a hammock while looking at a lake or river is amazing. Why don't you make this idea tangible by creating a deck to host a spreader bar? Do not forget to install shade to protect from the sun.
Those are several backyard hammock ideas that can bring in the vacation vibes to your home. Although you cannot go to the beach, lounging on a spreader bar will do in a pinch.