If you currently see towels and bath essentials on the floor, it means it is the right time to clean up your bathing space. You can use a closet to cut down clutter. Lucky you, I rounded up some of remarkable bathroom closet ideas.
These storage options will make your life much easier and transform the bathroom into a tidy, peaceful oasis. Surely, your linens and beauty products won't be pure chaos anymore. Filter through to pick the right choice.
1. Built-In Linen Closet in Bathroom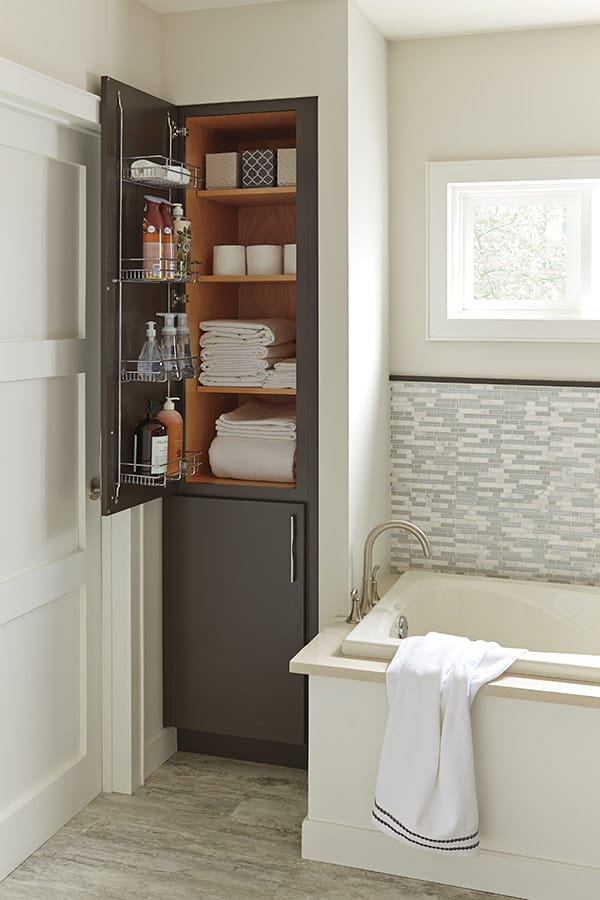 The homeowner incorporated painted built-in closet in her bathroom. It accommodates washcloths and spare towels.
Moreover, metal racks on the upper closet's door hold cleaning supplies. Taupe, off white, and gray calm the senses.
2. Bathroom Closet with Doors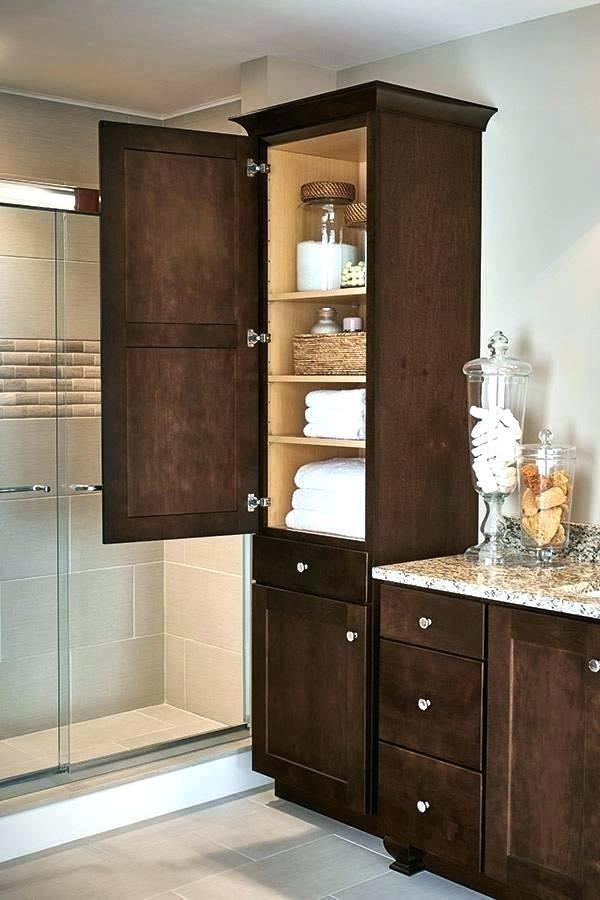 Light gray subway tiles on shower walls stamp contemporary style. Along with glass enclosure, they generate a stylish look.
The dark-toned wood closet tower comes with doors. It warms up the area and keeps the items out of sight.
3. Bathroom Closet with Deep Shelves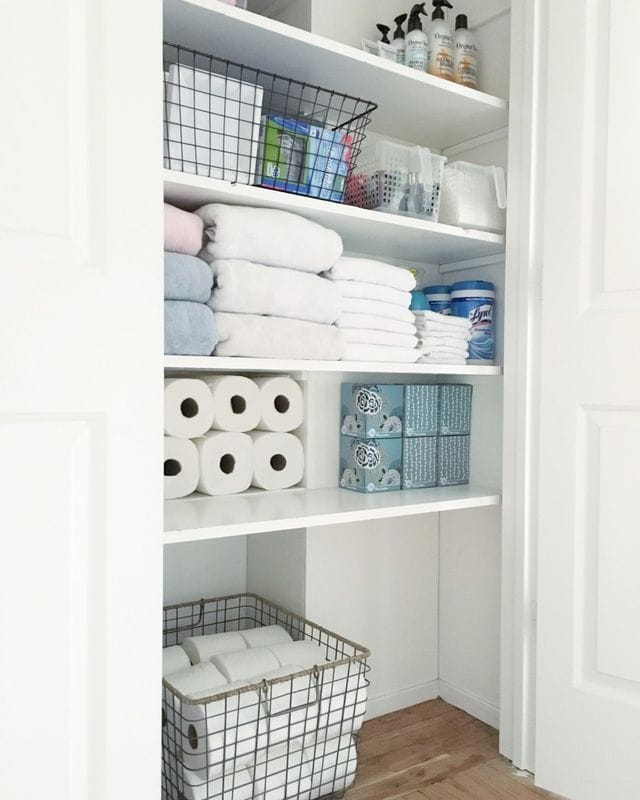 Here is another built-in closet. A fresh coat of white paint on it makes the bathroom feel open and bright.
Deep, long shelves provide ample storage space for towels, linens, and household products. Wire mesh baskets house toilet paper rolls and baby wipes.
4. Over-the-Toilet Bathroom Closet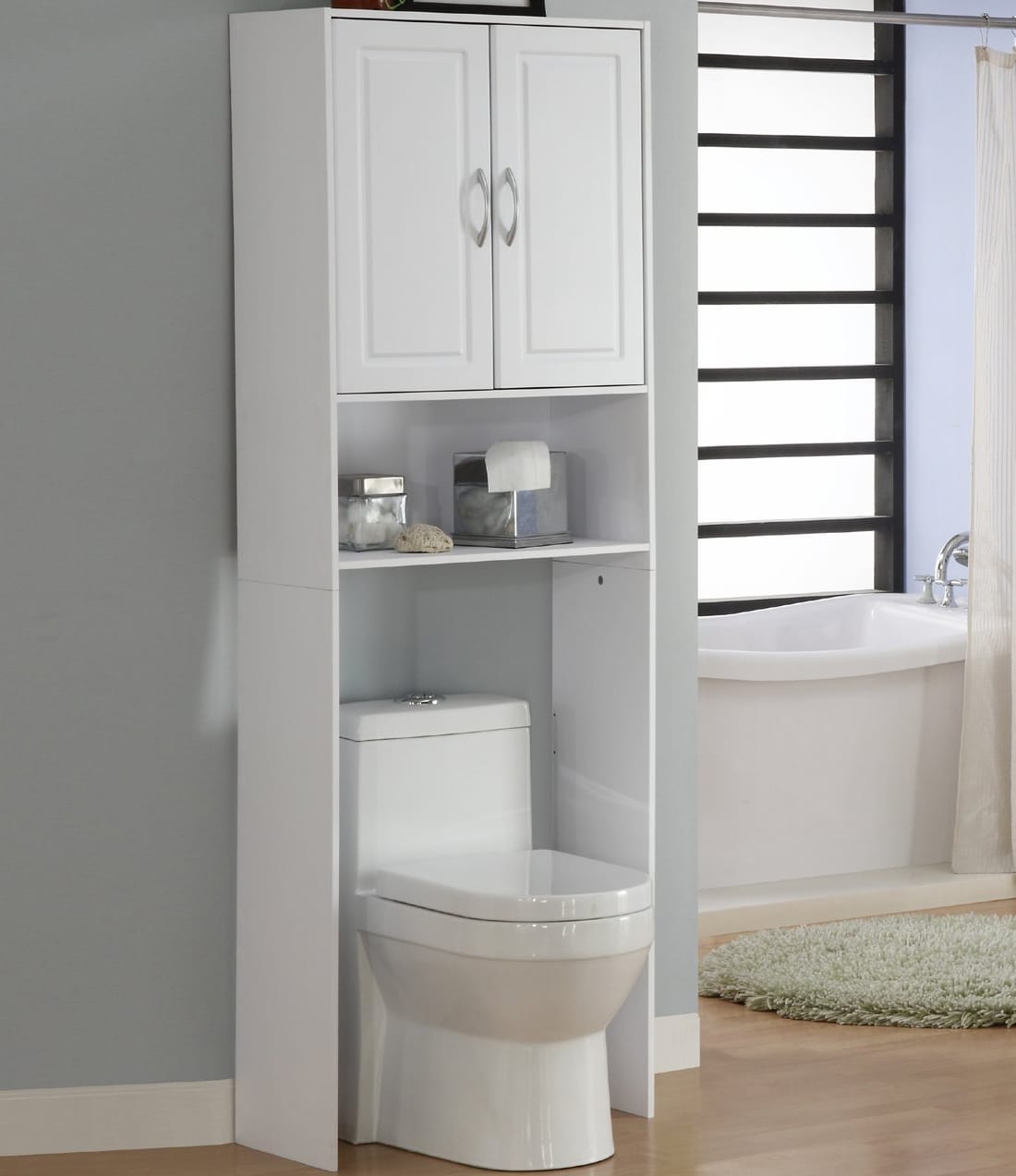 I love how serene this whole bathroom is. The light gray walls, white sanitary ware, and bathtub offer a relaxing effect.
A white-painted closet straddles the toilet. Its open shelf displays tissue box and jarred cotton balls.
5. Bathroom Closet Combo Ideas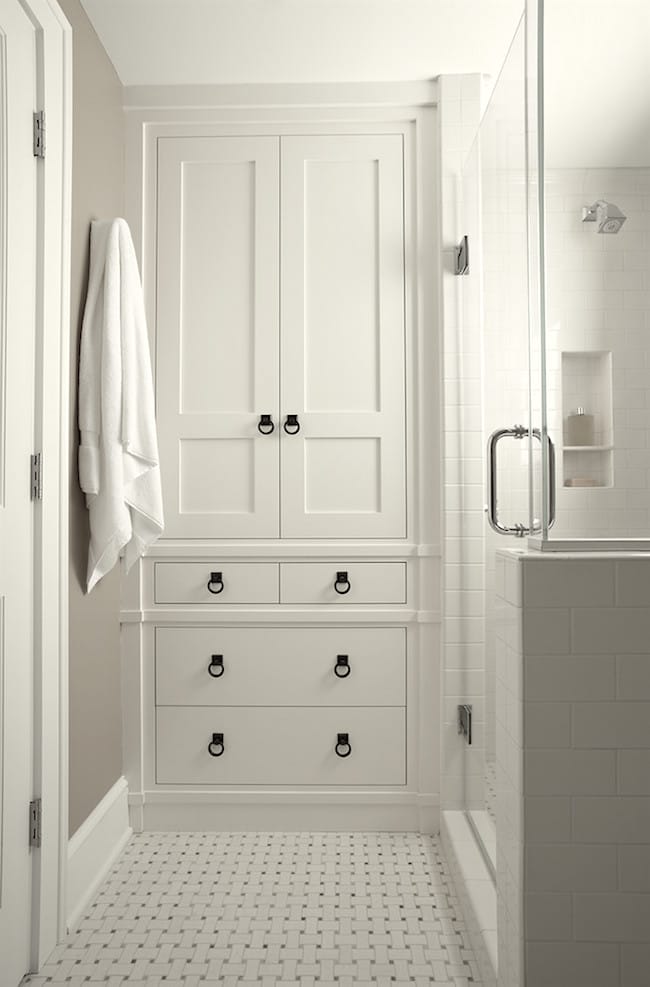 The white color scheme makes this tiny bathroom appear more expansive than it is. Basketweave floor tiles adorn the space.
A built-in closet has doors and drawers. It allows the wrought iron pulls to take the center stage.
6. Rustic Closet Organizer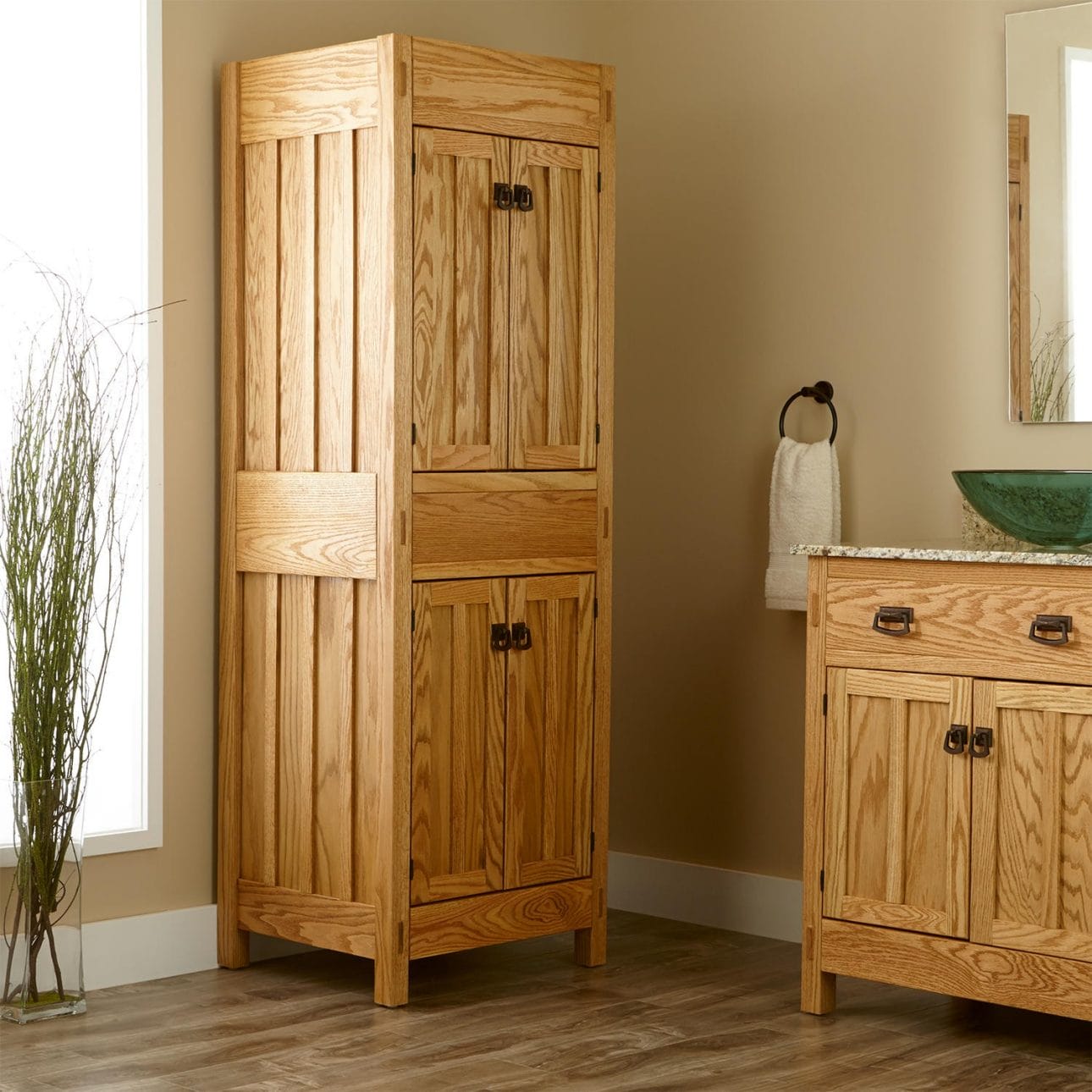 As you can see, the walls are dipped in beige paint. They develop a soothing atmosphere.
An unfinished wood closet and cabinet lend the bathroom a rustic appearance. Cast iron pulls infuse the space with country charm.
7. Bathroom Closet Designs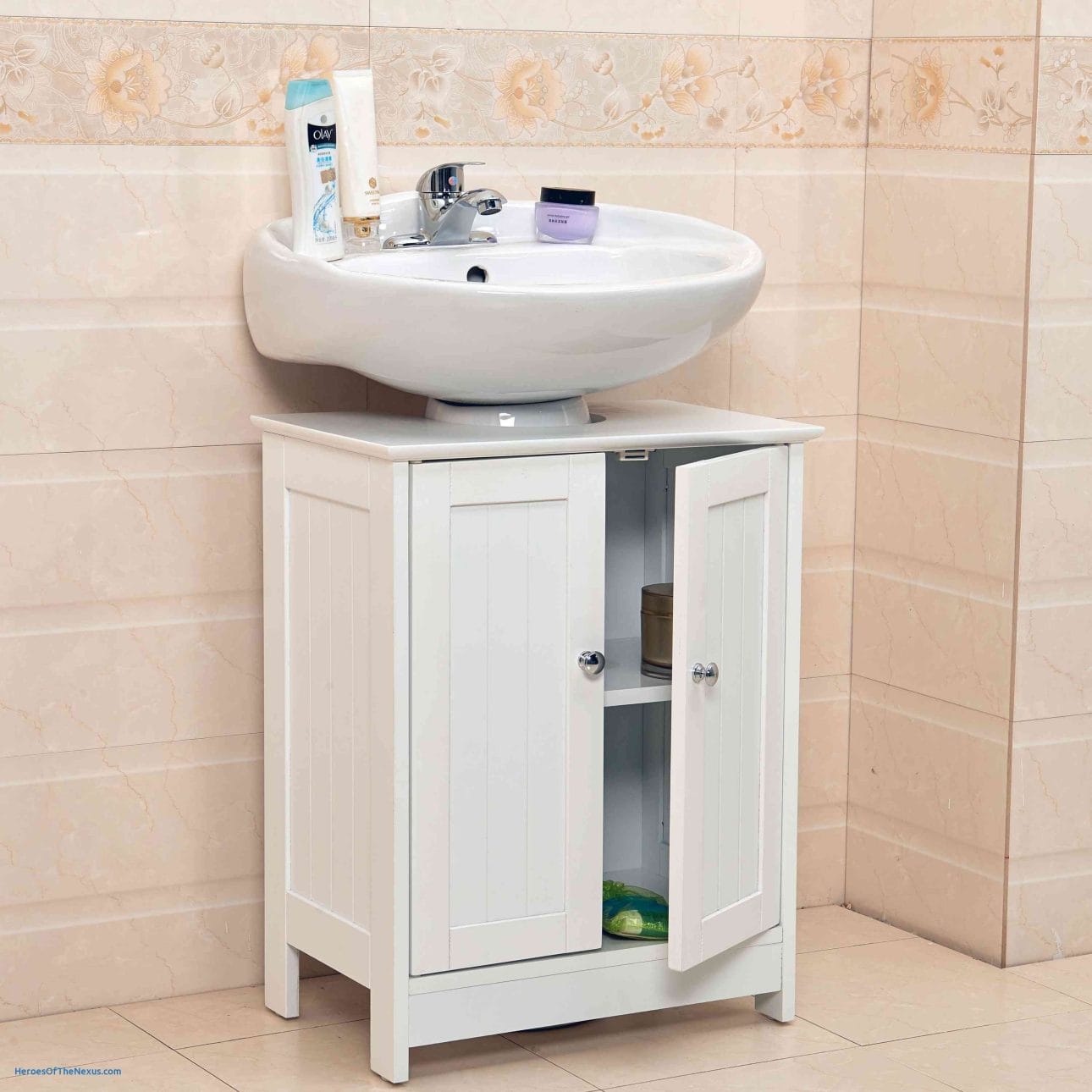 This washroom features beige floor tiles and walls. In a flash, they exude a feeling of softness. Floral trim titivates the area.
A white closet under the sink keeps cleaning supplies off the floor. Meanwhile, the toiletries sit on the sink.
8. Custom Linen Closet Doors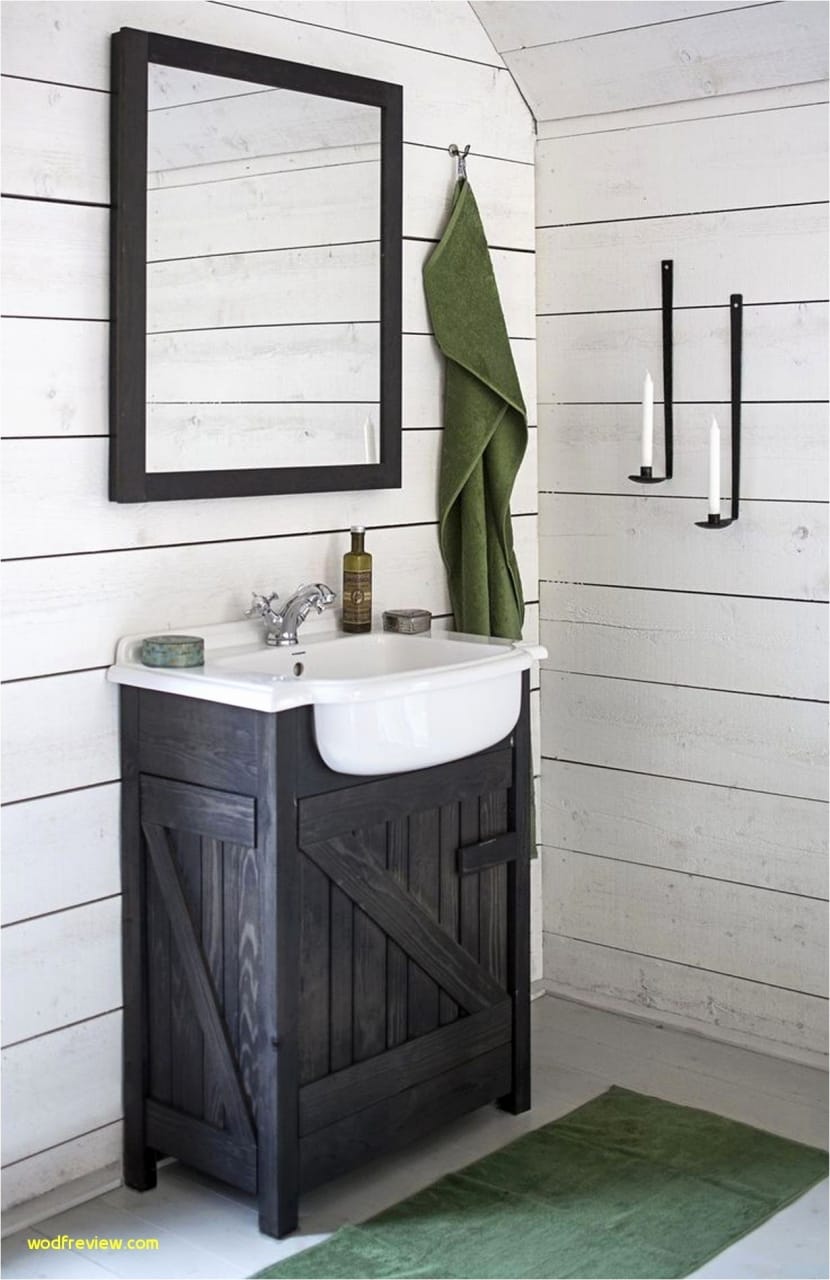 Here, white shiplap walls carry farmhouse feel to the bathroom. They also let green towel, black-framed mirror, and candle sconces stand out.
Black custom-made closet doors cover the shelves inside. The under-sink closet itself is perfect for storing linens and toiletries.
9. Modern Bathroom Closet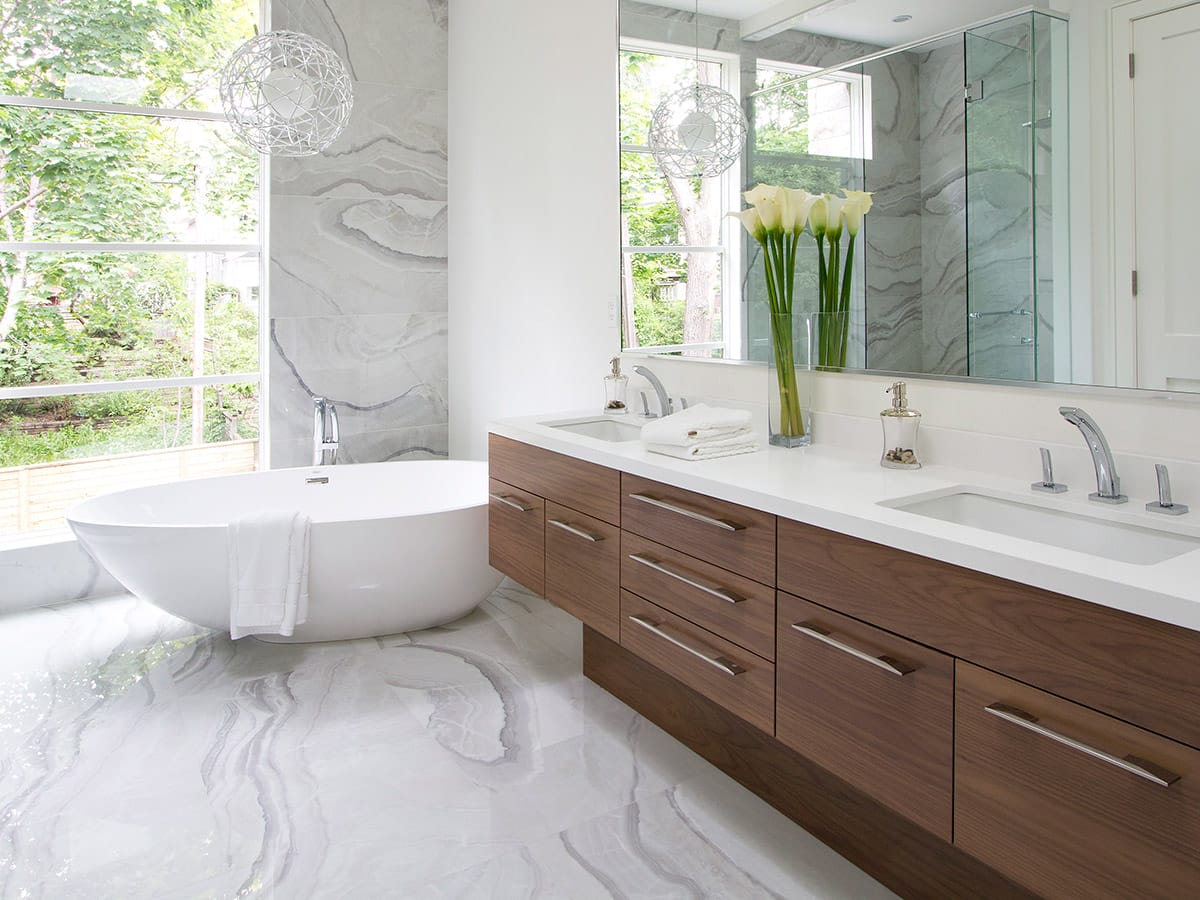 Large window maximizes natural light and outdoor view. The orb chandelier, floor, and accent wall add a touch of interest to the bathroom.
Raised panel wooden closet renders coziness and elegance. Streamline drawer pulls celebrate modern design.
10. Bathroom Closet Door Ideas
White base molding and bathtub along with light blue walls evoke a cottage ambiance. The dark gray floor tiles convey a sense of depth.
Raw wood door racks take the closet to its full potential. A wicker basket, single drawer, and black storage containers keep things in place.
11. Walk-In Closet Connected to Bathroom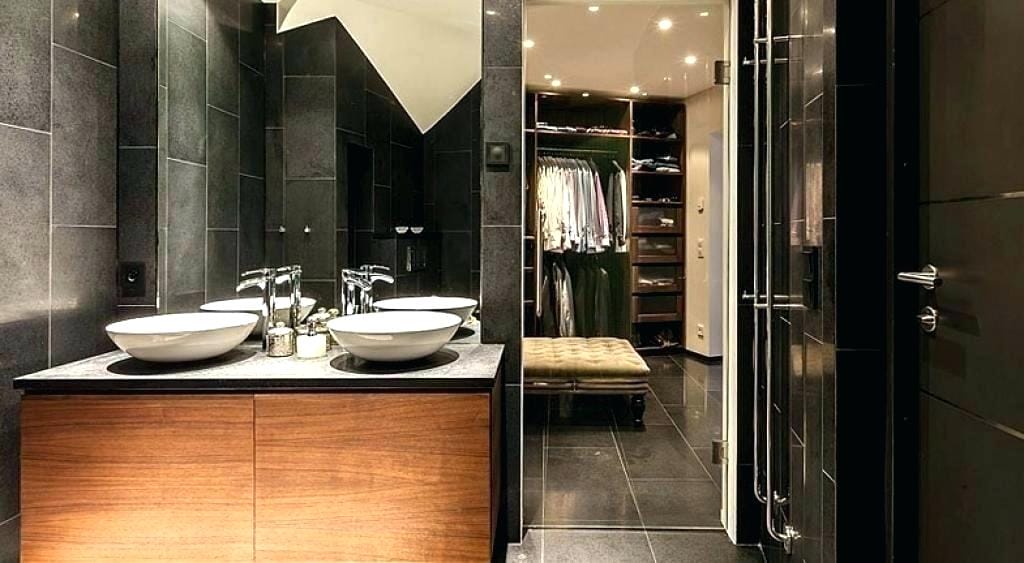 Black works well in this bathroom. This inky color brings drama, timeless appeal, and sophistication to the area.
The dark wood walk-in closet provides space for clothes and accessories. Moreover, it allows you to grab the stuff in a hurry.
12. Master Bathroom Toilet Closet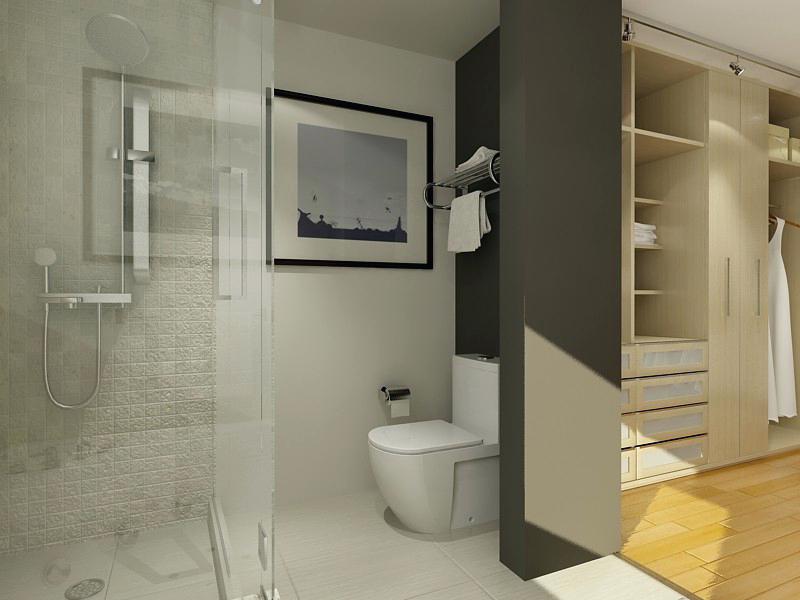 The glass-enclosed shower projects a clean, airy environment. Meanwhile, black-framed artwork spruces up the blank wall.
Light wood closet next to toilet produces a rustic look. It is equipped with storage boxes and hangers too.
13. Corner Closet Organizer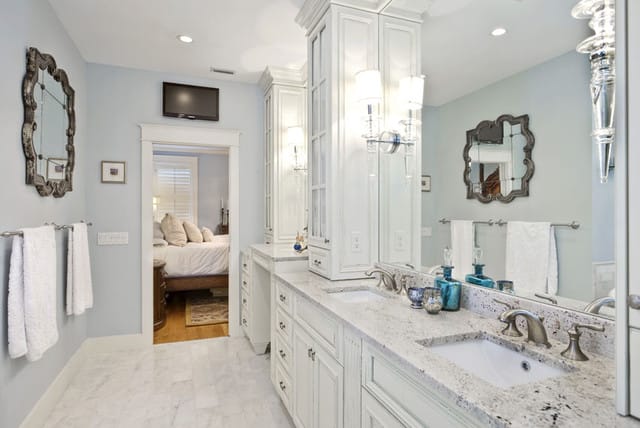 Pale blue and white dominate this bathroom. They deliver a coastal vibe to the bathing space, while decorative mirrors exemplify country chic style.
Glass-faced closet towers and under-sink-cabinetry house linens. Thanks to them, the bathroom turns into an organized retreat.
14. Bathroom with Closet Floor Plans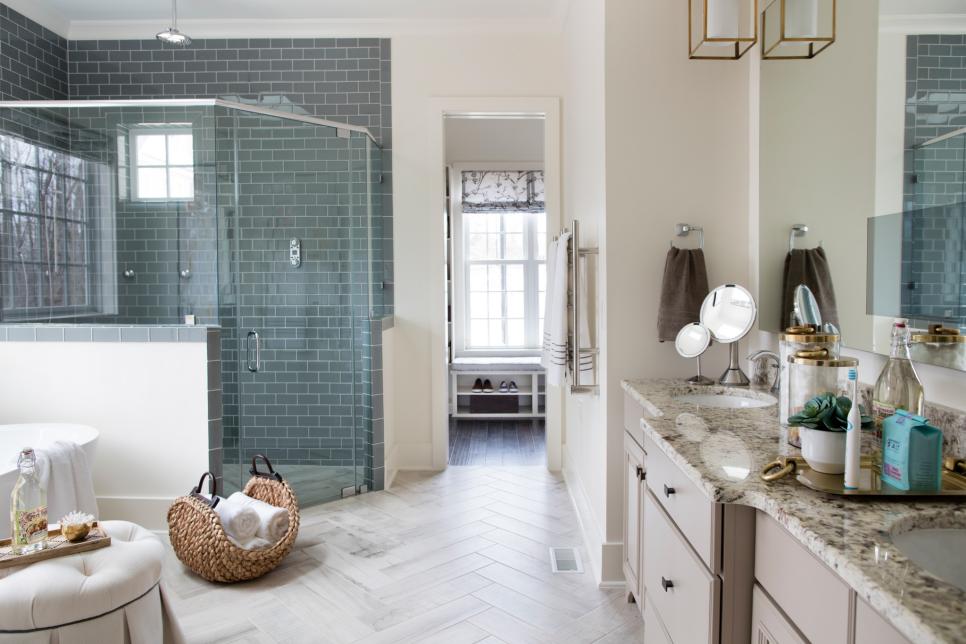 White ceiling, bathtub, and walls create a bright bathroom. The gold accents infuse a dash of luxury into the space.
Light taupe closet hides the miscellaneous toiletries away from plain sight. A wicker basket accommodates rolled towels.
15. Linen Closet Organization Baskets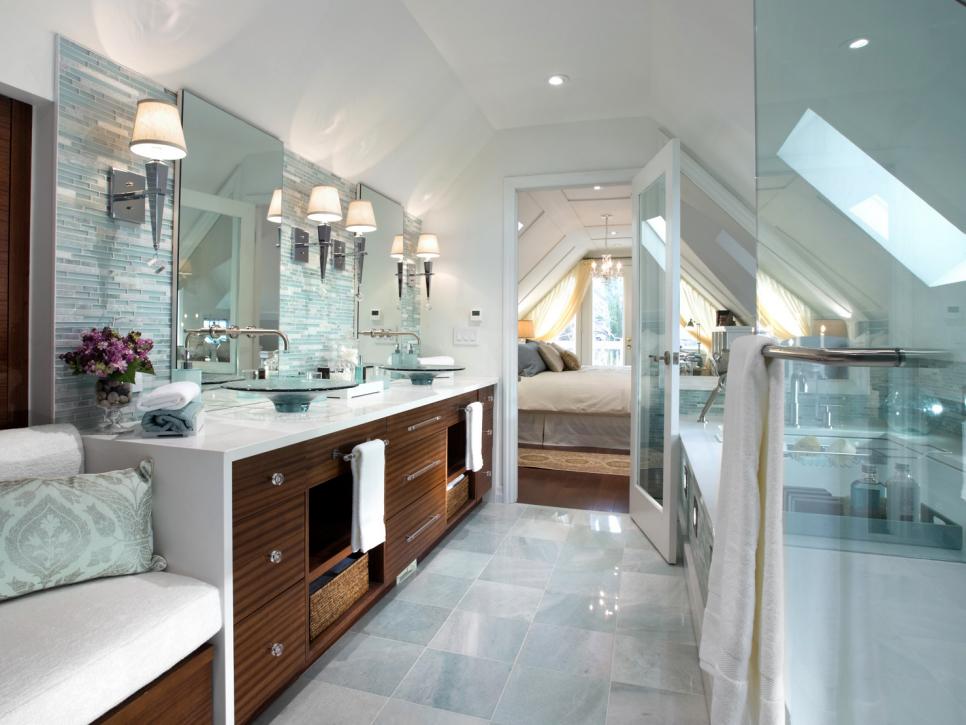 As you can see, the bedroom and bathing space are located in the attic. White color palette and skylights preserve an open area.
Wooden closet features crystal knobs and streamline drawer pulls. The sea grass baskets on its open shelves store small items.
16. Floating Closet System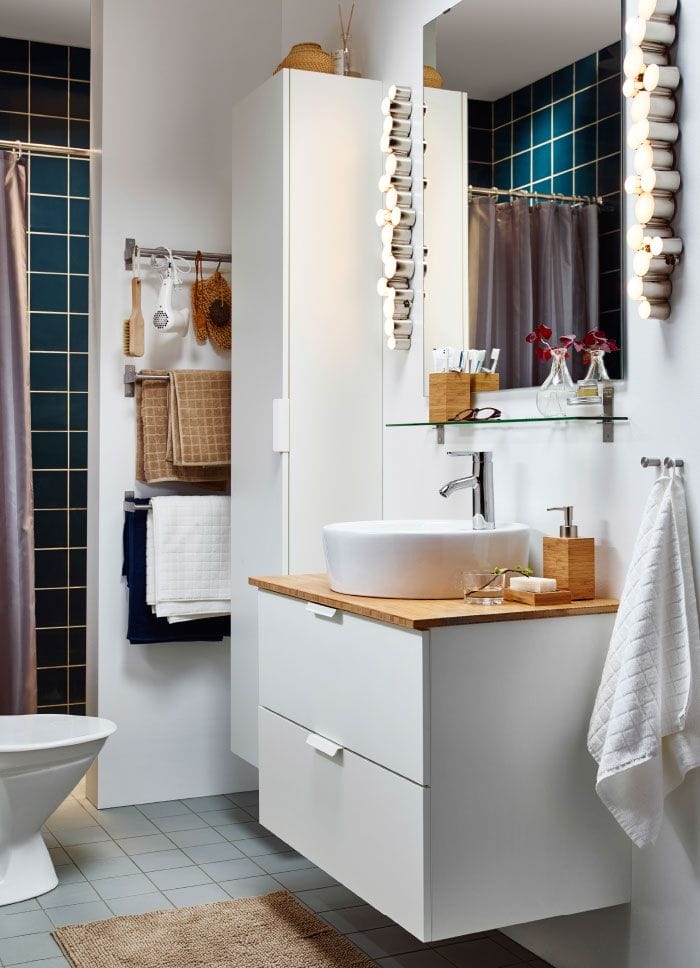 Gray square floor tiles generate a grid look. Meanwhile, deep teal subway tiles on the accent wall bring dimension to the bathroom.
There is a floating slender closet next to vanity. On top of the closet, the dweller put basket and ornament. The rods highlight towels and bath supplies.
17. Linen Closet IKEA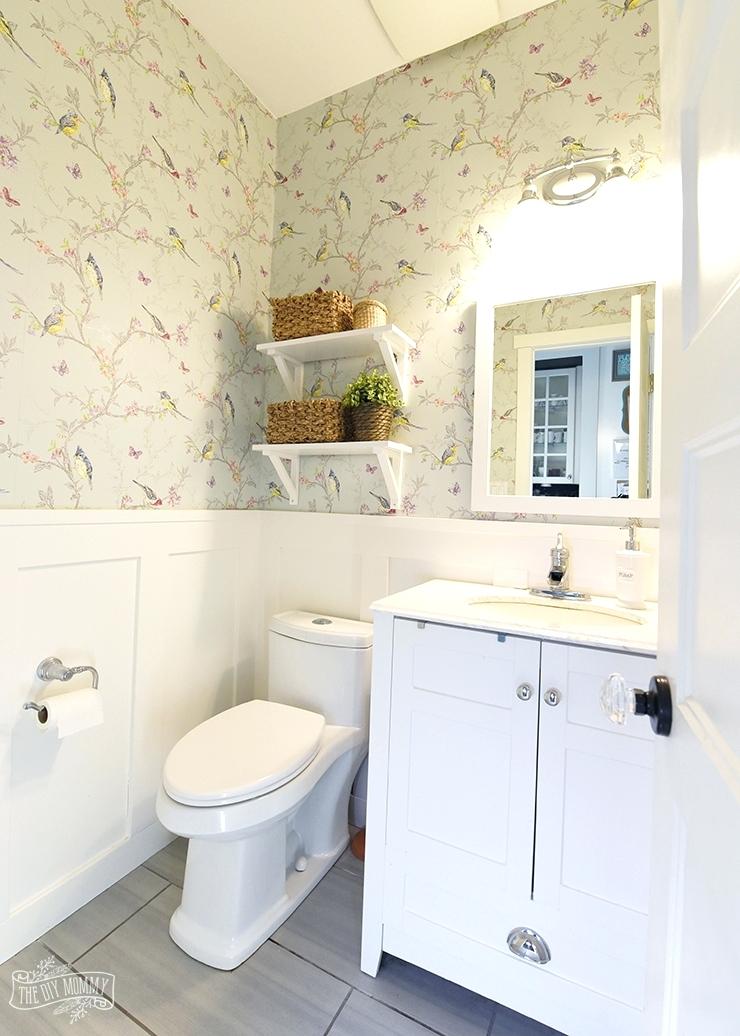 This small half bathroom mostly comes in white. The mirror helps expand the space. As the result, it seems bigger.
Wallpaper elevates the design. An under-sink closet hides away linens, while the open shelves support potted plant and wicker baskets.
18. Contemporary Linen Closet Ideas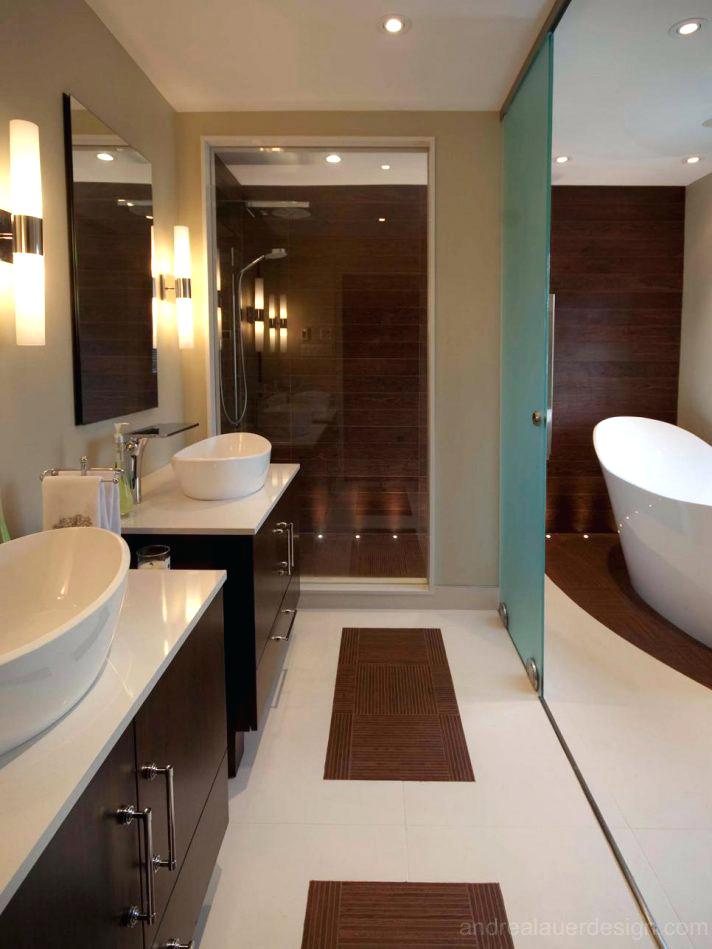 As you can see, this bathing space is outfitted with raised panel wooden closets. Those furniture units are the homes for toiletries and towels.
Two soft brown rugs pamper bare feet. Saber wall sconces cast a relaxing glow. Claw-foot tub is a perfect place to take a hot bath.
19. Bathroom Closet Shelving
Cream marble tiles lead to a Zen-inspired bathroom. Along with crystal chandelier, they elicit the feelings of opulence and splendor.
The mink gray glass-front closet features shelves. It shows off bulky white linens. Its drawers keep knickknacks from visually cluttering the space.
20. Small Bathroom Closet Door Ideas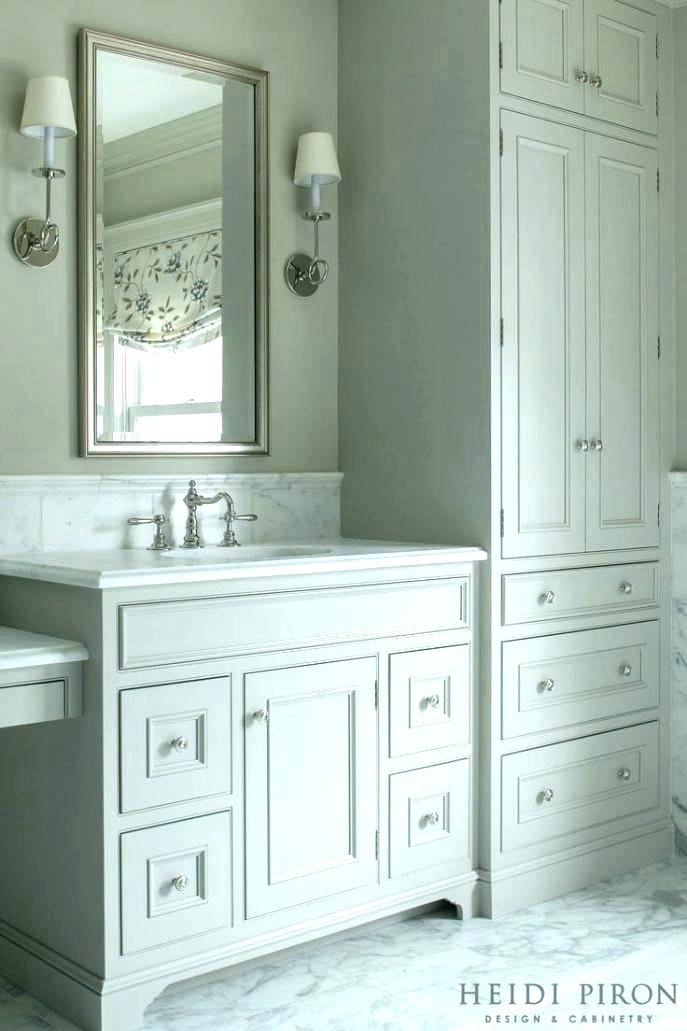 Here is a bathroom with marble floor tiles and traditional vanity. The floral short curtain and wall sconces ooze country appeal.
Floor-to-ceiling built in closet adds a sense of height to the room. Metallic drawer knobs inject a pop of polish. Trim on the closet's doors exudes elegance.
21. Small Corner Closet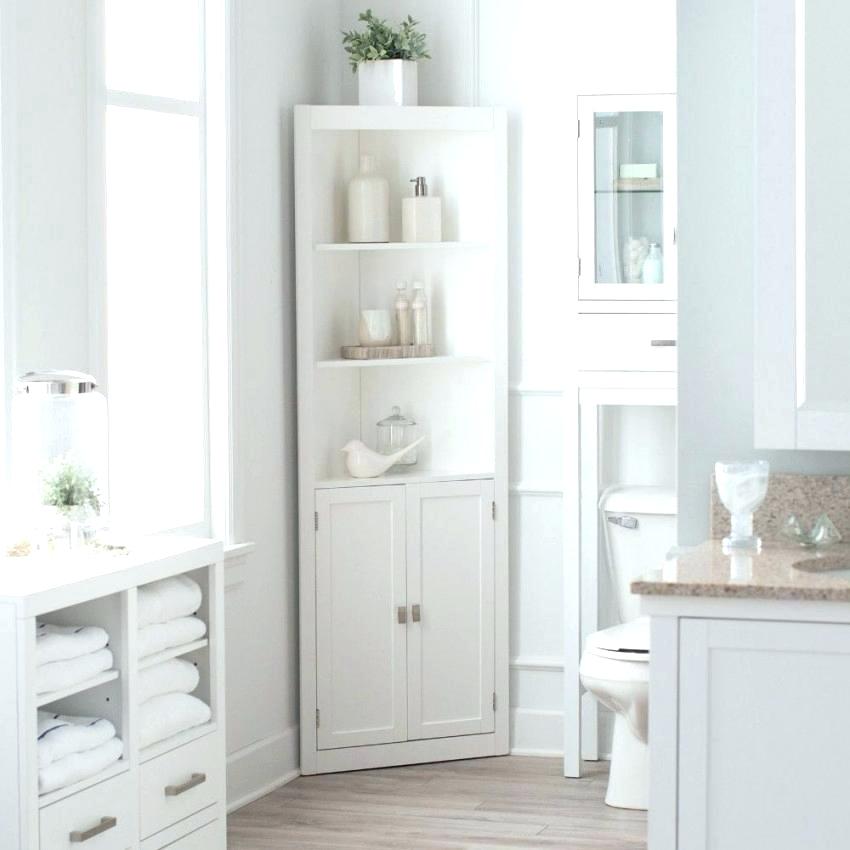 The off-white corner closet saves space that would otherwise be wasted. Freestanding closet houses white linens.
Another white closet occupies space above the toilet. The houseplants perk up the predominantly white bathroom.
Even though not fancy, closets improve the comfort and functionality of your living space. So, do not hesitate to invest in a closet organizer. Anyway, do you like those bathroom closet ideas?