Rectangular pool landscaping ideas offer you a wide array of inspiration to tackle the mundane shape in your backyard.
From ultra-modern vibes to tropical retreat, you can find them all here. So, keep scrolling to find out some best rectangle pool designs.
1. Modern Rectangular Pool Designs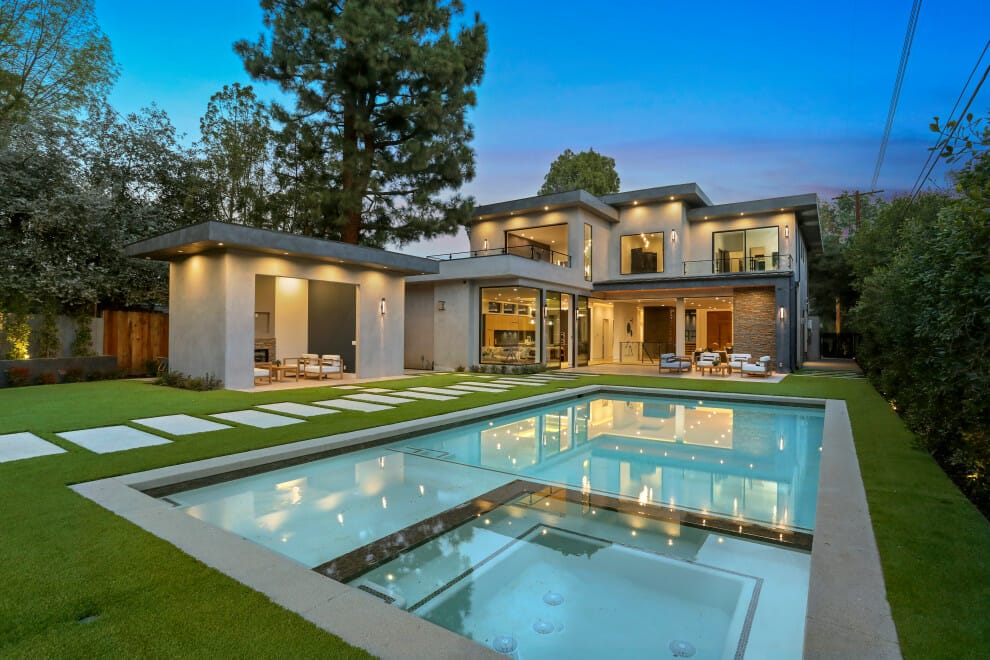 You can have a ball in this swimming pool because it packs various functions in one spot.
These rectangular pool landscaping ideas feature a sun shield that allows you to partially submerge your body under the water while enjoying the warm sunlight.
In addition to a sun shield, this swimming pool also contains a small built-in hot tub. Since it is located inside the pool, you can try installing different tiles to create a border.
A manicured lawn surrounds the swimming pool nicely, creating a lavish green carpet that improves the curb appeal.
Also, you can find a pathway that will escort you to the patio located opposite the house. Besides, the rectangular stones match the pool immensely.
2. Stay Calm and Relaxed with a Spa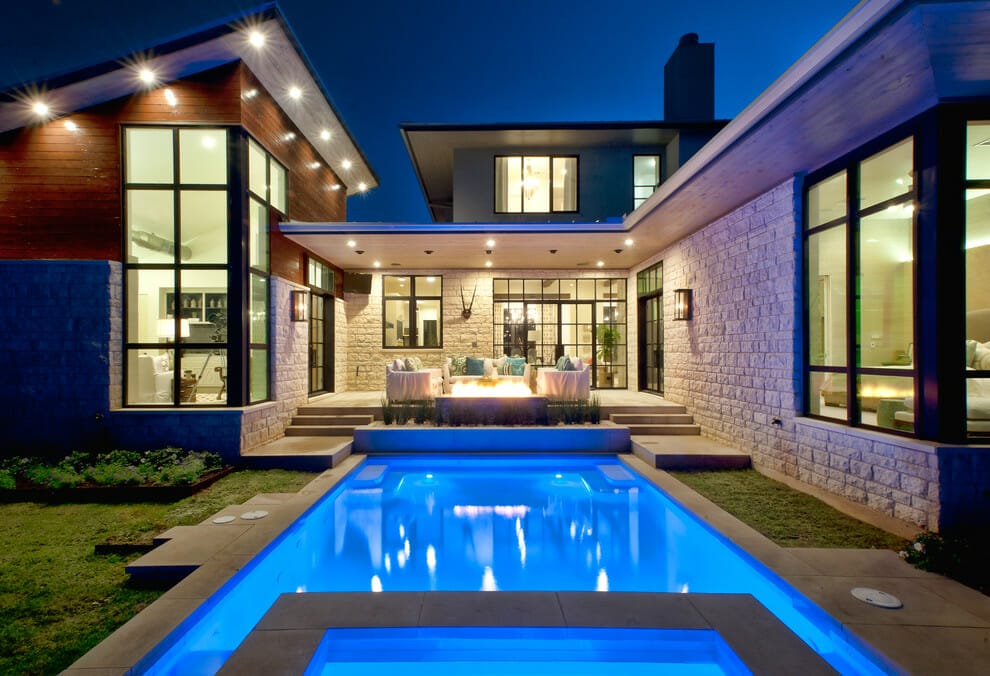 One of the most common features found in a swimming pool is a spa. It provides a relaxing effect especially if you want to escape the hurly-burly of city life.
At a glimpse, you will find many shapes of a spa. One of the most typical structures is around a hot tub.
However, for rectangular pool landscaping ideas, a square spa would be your safe bet because it matches the pool's straight lines.
Moreover, you feel that at the same level as the pool, be able to add some visual interest to that mundane rectangular shape.
3. Add an Outdoor Living Area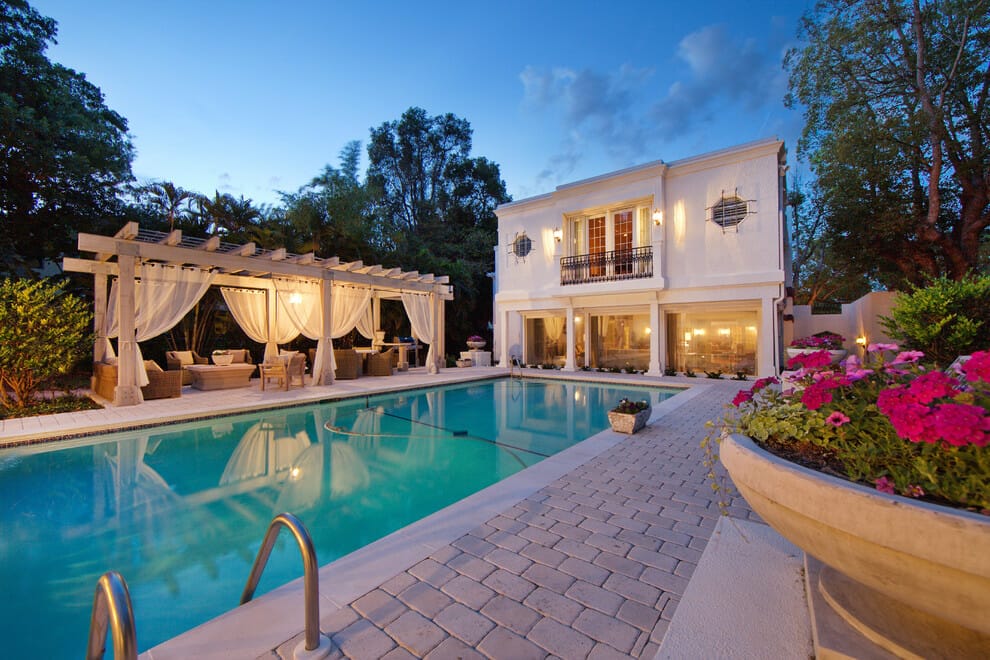 Spending some time by the pool although you do not feel like swimming is a terrific idea. Even better, you can invite some friends or relatives to join you.
Of course, you have to build a pergola or a gazebo next to your pool. Consider installing shade on top of it to alleviate the glaring sun.
Investing in some comfortable seats is a must. You can also try building an outdoor kitchen in it. If privacy does matter, you should hang some curtains to block the view.
4. Consider Building a Sun Shelf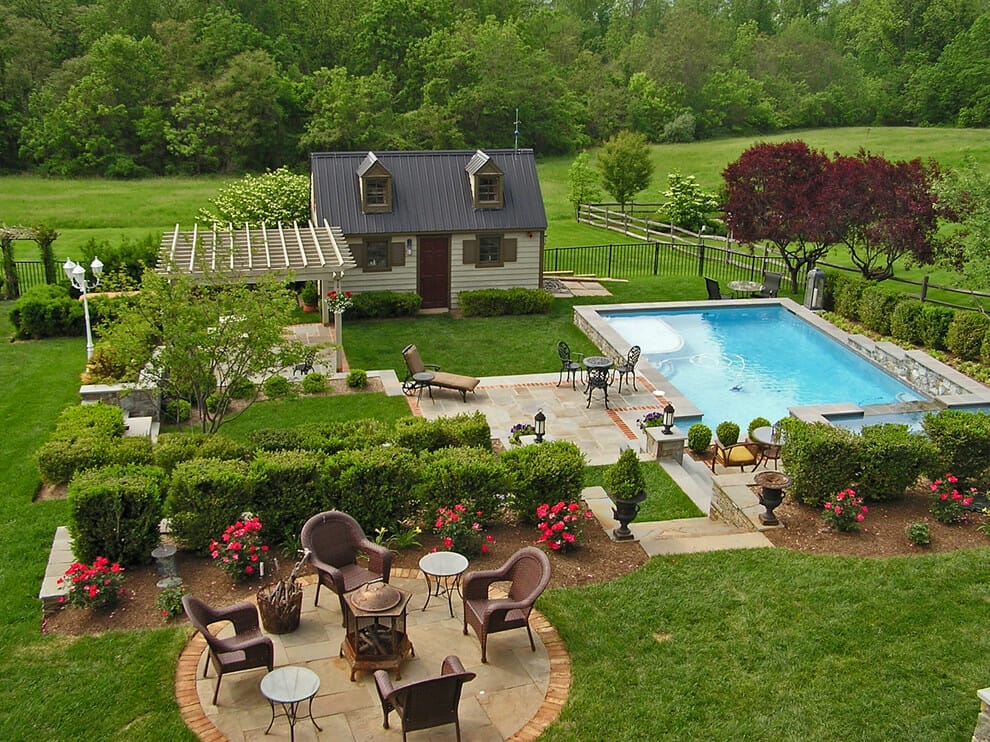 A sun shelf or tanning ledge should be on the list of rectangular pool landscaping ideas.
This kind of segment suggests a bunch of usefulness. One of which is become a great focal point that tackles the tedious look of a rectangular pool.
Although a sun shelf is a part of the pool, you need to design the ledge, so it will look standout and different from the remaining area simultaneously.
You can carry this concept to a higher level by implanting it in bubbler fountains. The bubbling water will create a mesmerizing effect and draw the eyes in no time.
5. Build a Raised Wall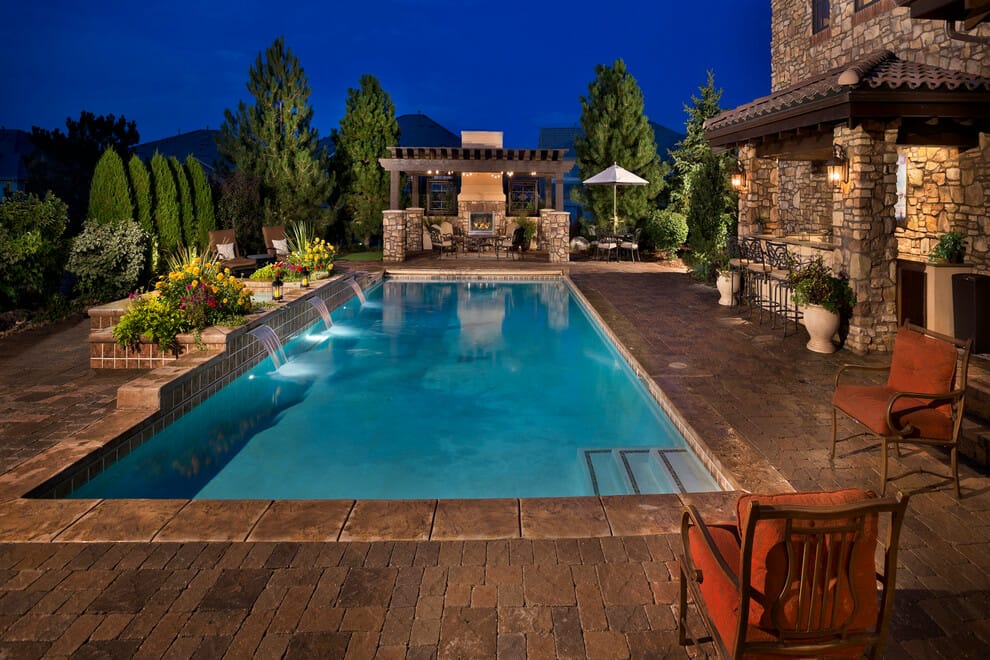 A flat in a ground rectangular pool can be boring. Thus, it requires something that sparks some sort of interest, like this raised bond beam.
A raised wall next to the pool usually functions as a small or major retaining wall.
In this case, the wall makes a great raised bed that houses some beautiful flowers. Even better, it also features faux waterfalls that add a stunning look.
6. Include a bit of Curvy Edges will not be Hurtful
Although you want to maintain the minimalist look through the use of clean-lined and straight edges, which can be a bit dull, adding a few of curvy details would be awesome.
It will not ruin the minimalist look, though. You just need to bear in mind that you should not go overboard.
7. Embrace the Seamless Look with Infinity Edge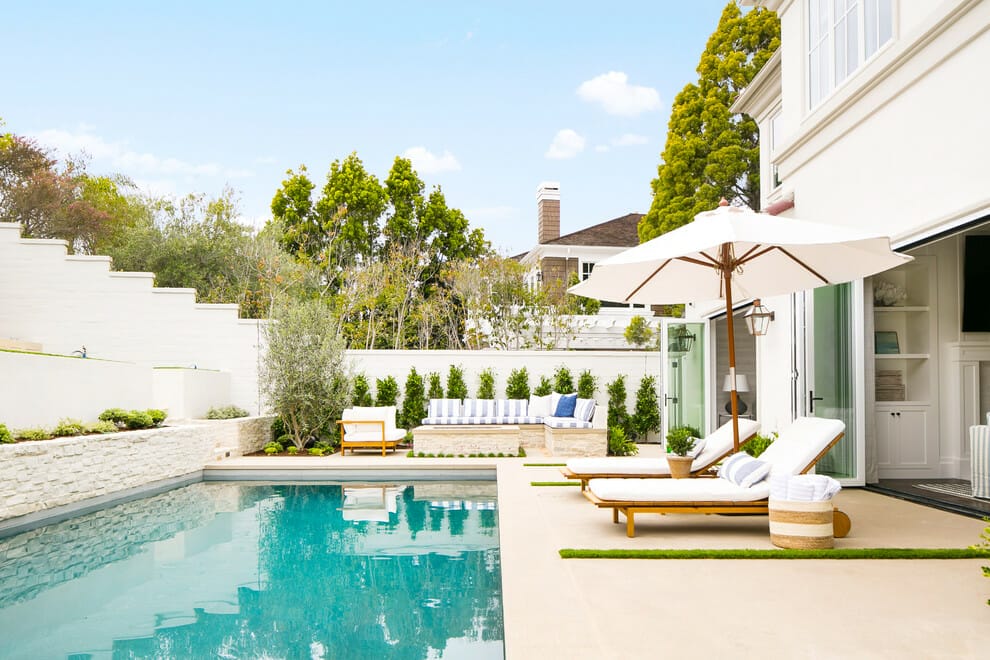 An infinity pool creates a seamless look that blends with the backyard horizon. This way, the land, and water will look united.
The infinity-edge usually spans the full length of the pool, which is usually the longer sides. Designing an infinity-edge will add a glamorous look to your rectangular pool landscaping ideas.
8. A lot of Seat for More Guests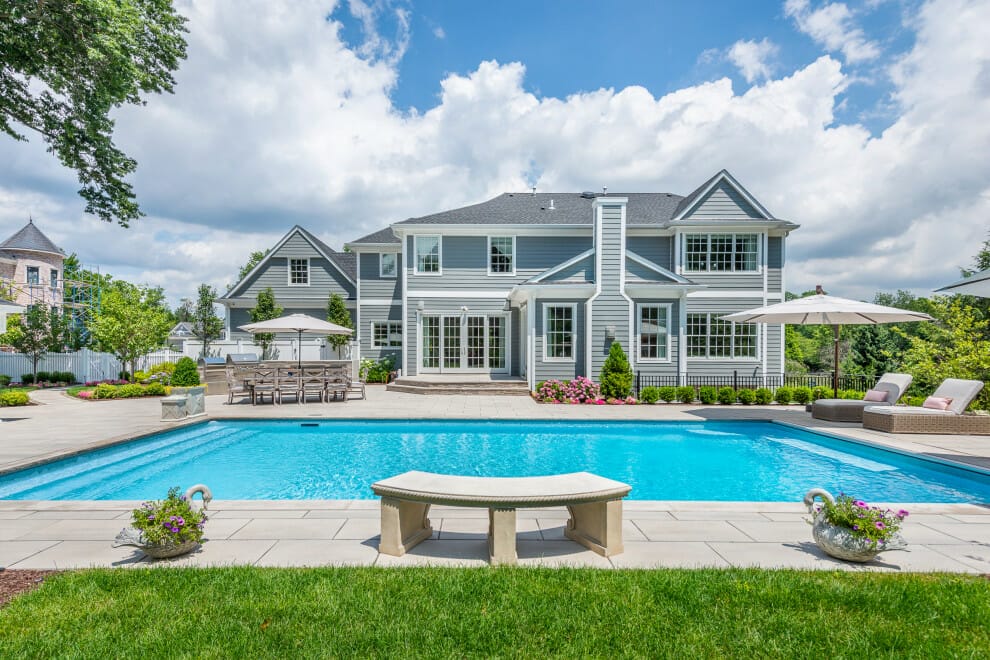 Some people may want to spend some time by the pool without being wet. Therefore, investing in a lot of seats is your greatest bet.
These rectangular pool landscaping ideas feature a bench that helps you have an intimate conversation. If you invite your relatives to have lunch together, you can find a spacious dining area opposite the bench.
Last, but not least, are two pool chairs with a huge umbrella that allow you to lounge on while enjoying the spectacular scenery.
9. Slick and Shiny with Ceramic Tiles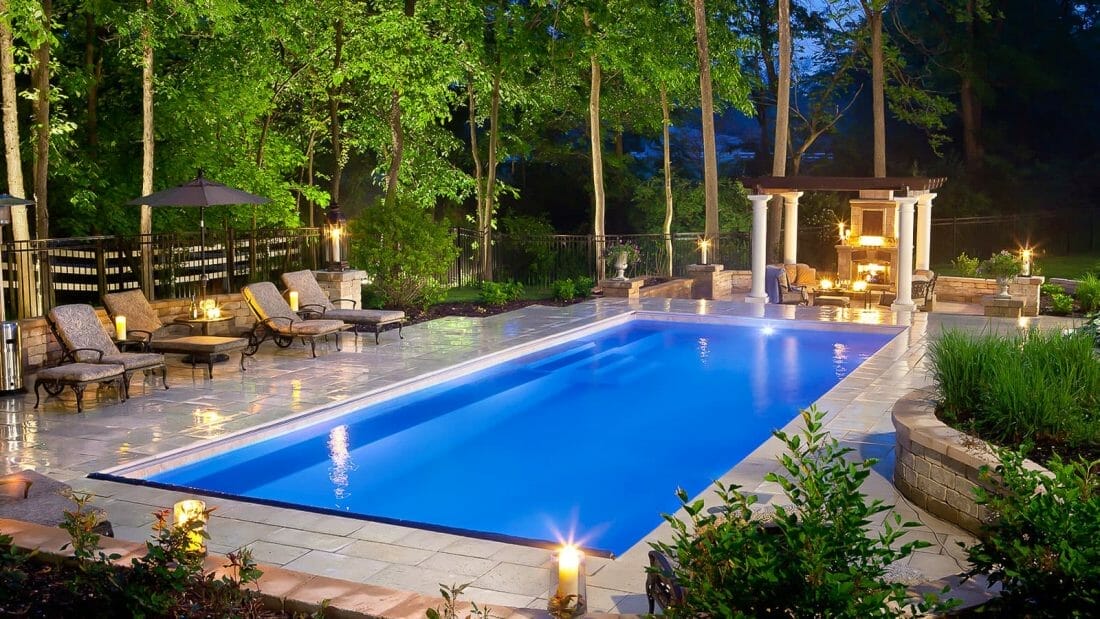 Ceramic tiles give a high-end look to this backyard. Their sleek surface even reflects light, creating a mesmerizing ambiance.
Although ceramic tiles look great in this pool deck, they also have some drawbacks you need to take into consideration.
Ceramic flooring can be slick when they are soaked. Thus, consider installing travertine for a better grip, instead.
10. Small Rectangle Pool Designs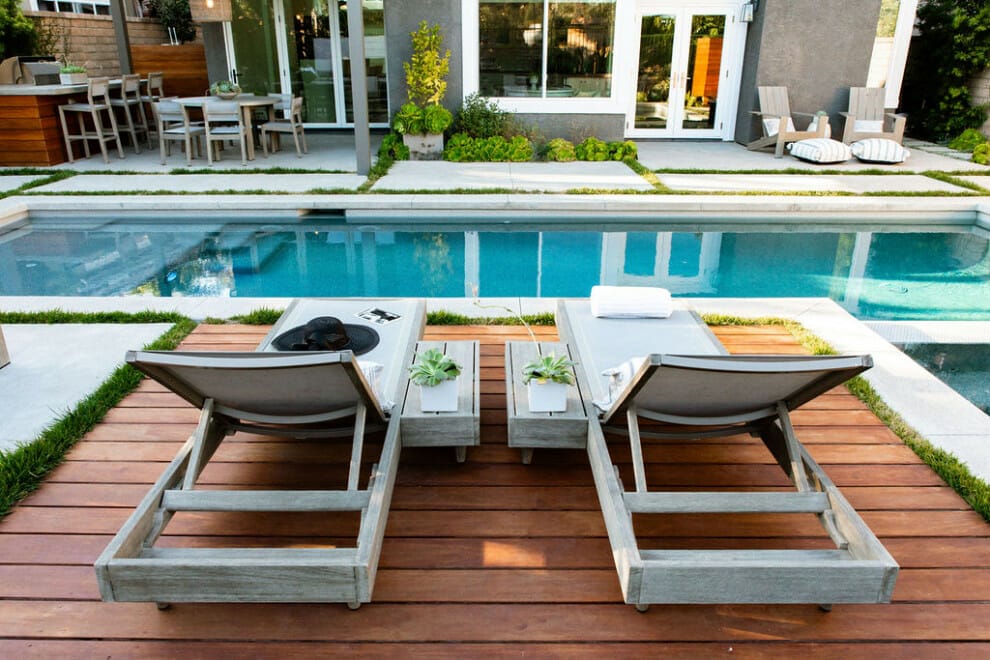 Although this backyard is not spacious, it offers you a lot of fun. Besides a small rectangular pool in the middle, it also has an outdoor kitchen and dining area.
You can also find two pool chairs highlighted with wooden planks that become the center of attention.
11. Rectangular Pool Landscaping Ideas with a Hot Tub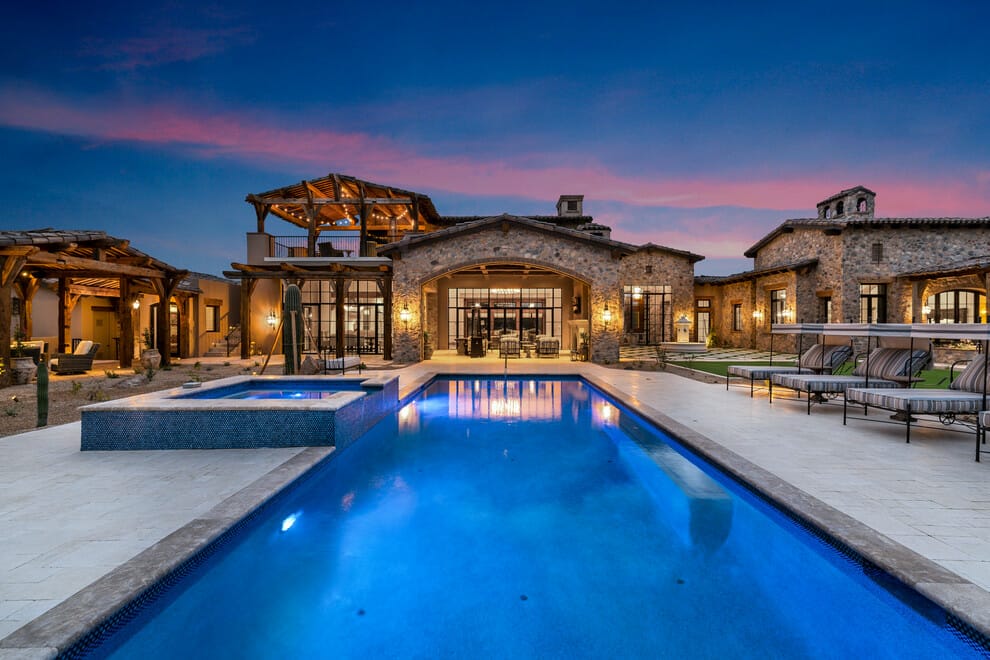 Adding a hot tub to your existing swimming pool has always been a great idea. It not only enhances the pool appearance but also allows you to feel more relaxed.
Some hot tubs are inside swimming pools. However, this one is a bit different.
This hot tub sits side by side with the pool. It is not at the exact deck as the pool. Instead, it features raised walls covered with mosaic tiles.
12. Bring in Tropical Retreat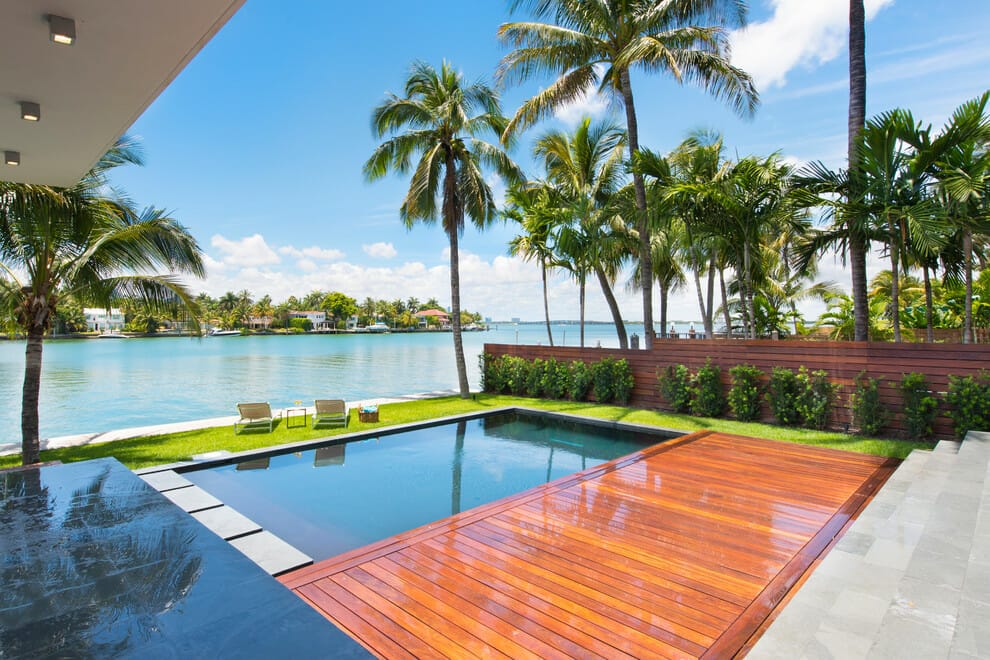 These rectangular pool landscaping ideas offer a breathtaking view. You can see the beautiful bay from here.
You can also find many coconut trees and palm trees around the pool, which creates tropical vibes.
Besides, the wooden pool deck rounds out the green lawn, enriching the tropical retreat in this backyard.
13. Border the Pool with Lush, Green Grass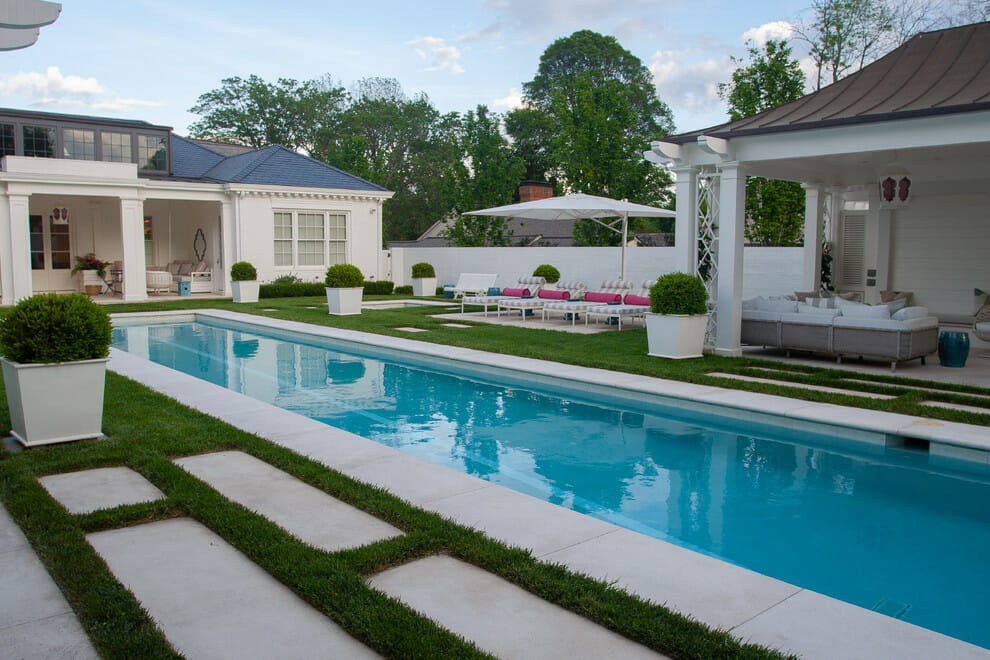 No one can restrain themselves from adoring a green, manicured lawn because it always carves out a luxurious look to any contemporary house.
Nonetheless, you ought to do an additional effort to earn that beautiful look. You have to mow and water it regularly, which may take some of your time.
If you love the luxurious look of a lawn but loathe the maintenance, you can opt for artificial turf.
14. Luxurious Rectangular Pool Landscaping Ideas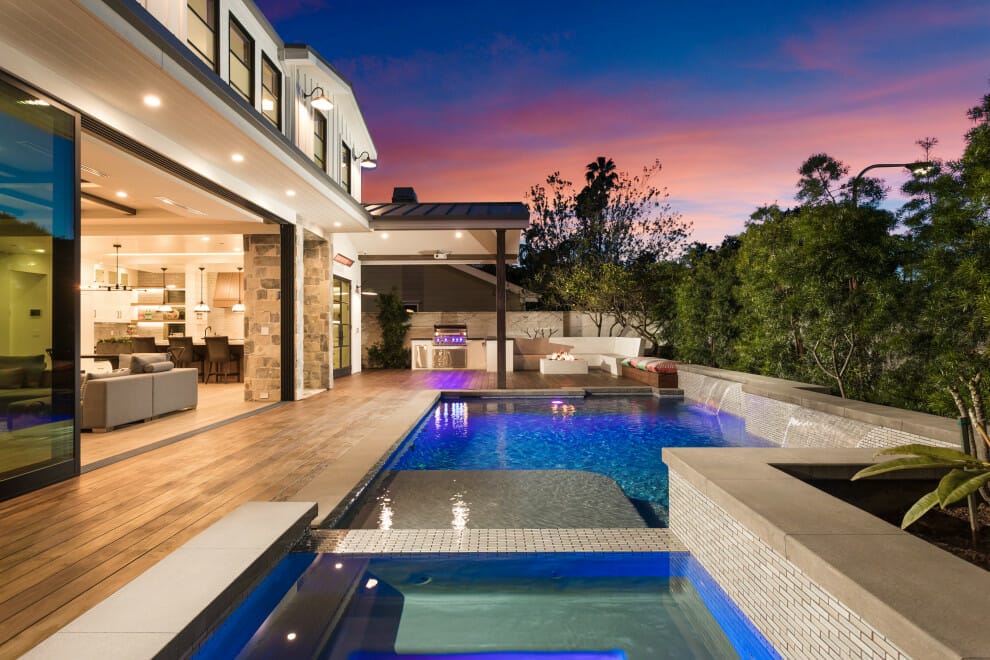 You can find all rectangular pool landscaping ideas here, which results in a luxurious look.
There is a hot tub next to the swimming pool that will help you relax. You can also find a sun shield that adds luxury to the pool.
The raised wall creates a clear border for the swimming pool. Besides, it also has a water feature that makes the pool look more mesmerizing.
15. Keep It Balanced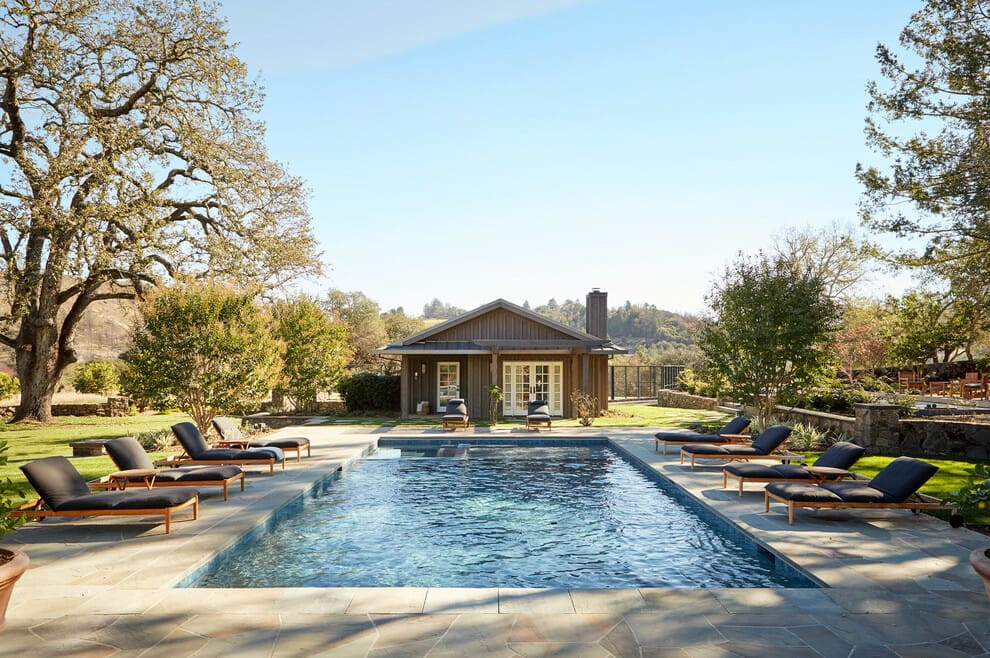 A symmetrical look is still a thing. You can gain this look by balancing your rectangular pool landscaping ideas.
Here, you have a pool shed in the middle that acts as a focal point. Then, you can see the swimming pool divided the deck into two.
To create a symmetrical look, you can place four pool chairs on each side of the pool. This way, you carve out a balance.
16. Mosaic Raised Wall with Mesmerizing Water Feature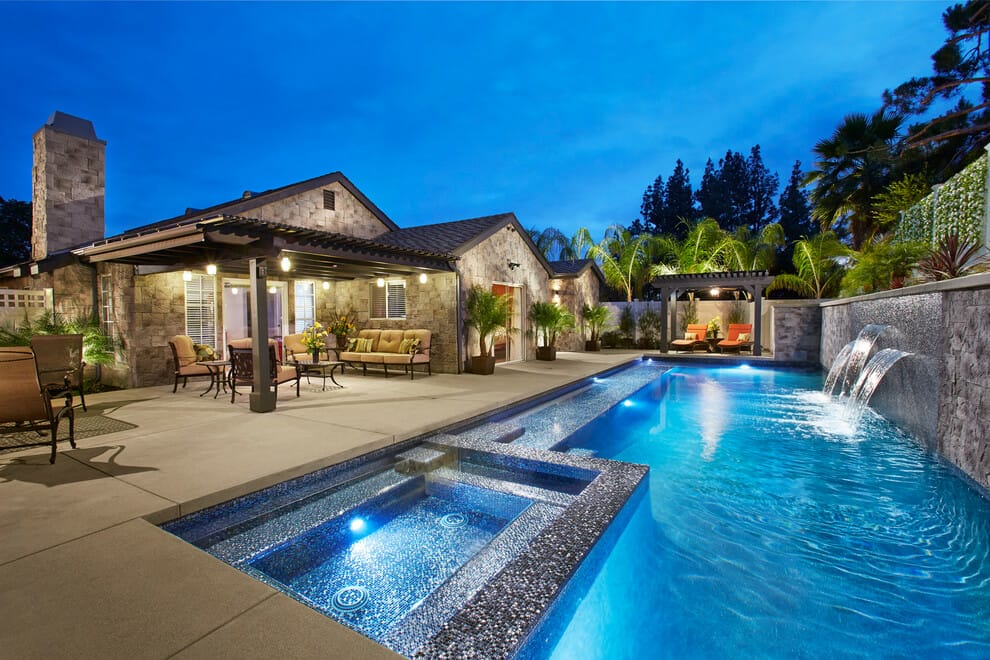 There are numerous methods to add some appeal to your pool. One of which is adding distinctive patterns and textures, like mosaic tiles.
These rectangular pool landscaping ideas feature a hot tub and raised wall.  To distinguish the tub from the pool, you can use mosaic tiles for the edges. This way, it will look bolder.
You can also find mosaic tiles in the sun shield and raised wall. Since they come in a different color, they look stunning. Furthermore, the water feature highlights the glittering tiles.
17. Contemporary Rectangular Pool Landscaping Ideas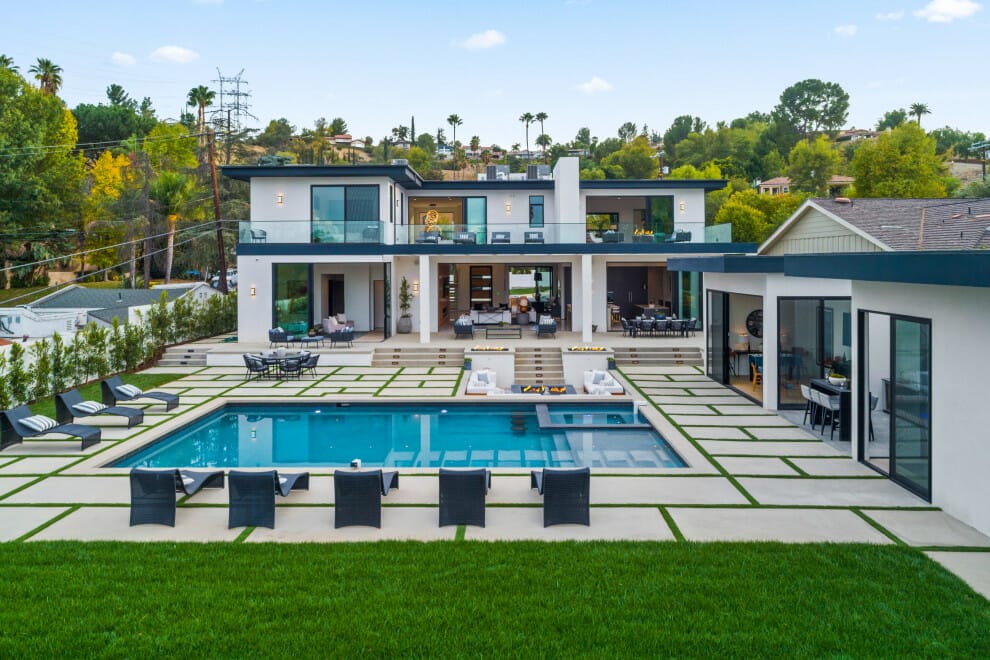 This contemporary backyard epically combines soft scape and hardscape. You can find a green lawn and concrete pool deck with grass as the grout.
Next to the pool is a sunken outdoor living room with fire pits, which makes a perfect place for hanging out.
You can also find two other fire pits flanking the stair. They act as a gate that welcomes any visitor who wants to spend some time in this outdoor living space.
18. Low-Maintenance Rectangular Pool Landscaping Ideas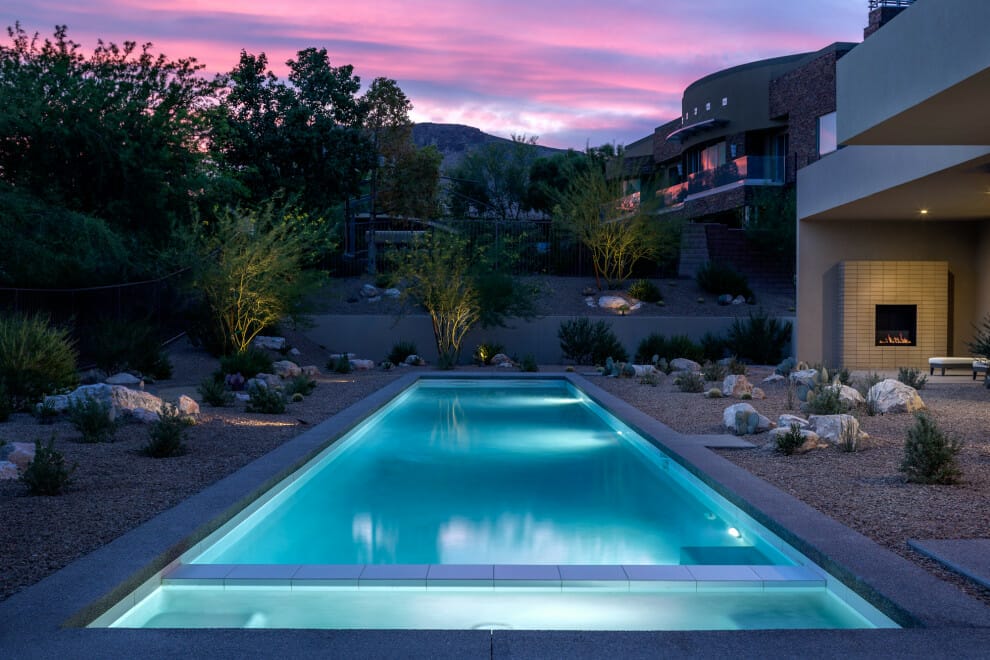 Green lawns can result in a striking backyard. Your neighbors will envy you. However, mowing and watering it can be frustrating, especially if you are busy at work.
Instead of growing grass to cover the soil, you can opt for mulch or fine gravel. They offer the same charm as a green lawn, but they will not cause you too much trouble.
19. Indoor Swimming Pool Ideas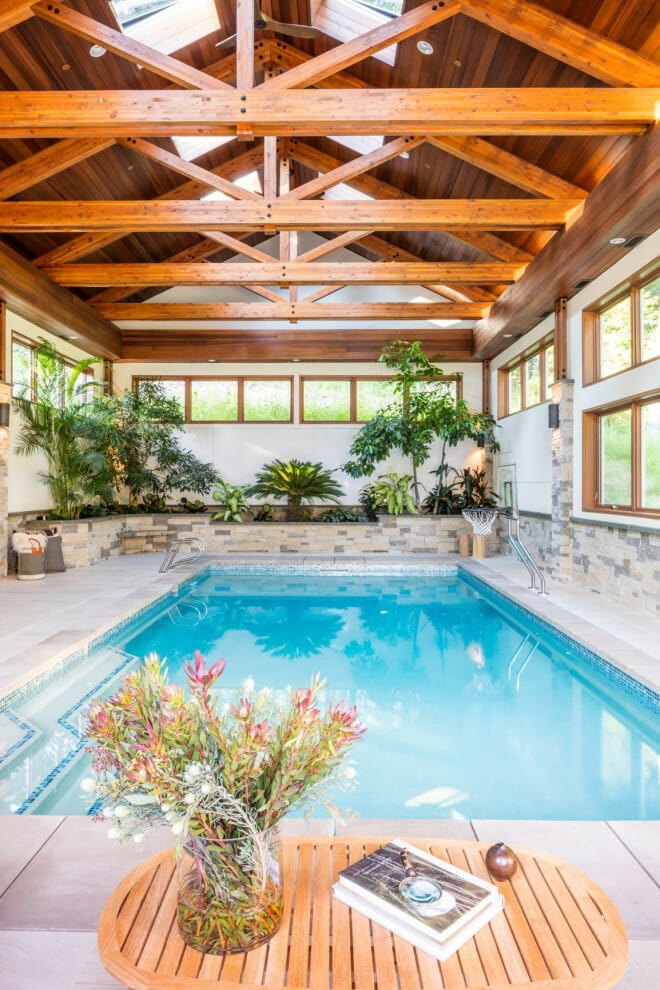 Rectangular pool landscaping ideas are not only for outdoor areas but also for the ones indoors.
Since an indoor swimming pool does not get any direct sunlight, you do not need to include a sun shield in your rectangular pool landscaping ideas. You can work on a pattern, instead.
Installing mosaic tiles around the pool can add some interest to it. You can also grow some plants to spruce up the space.
20. Expand Your Hardscape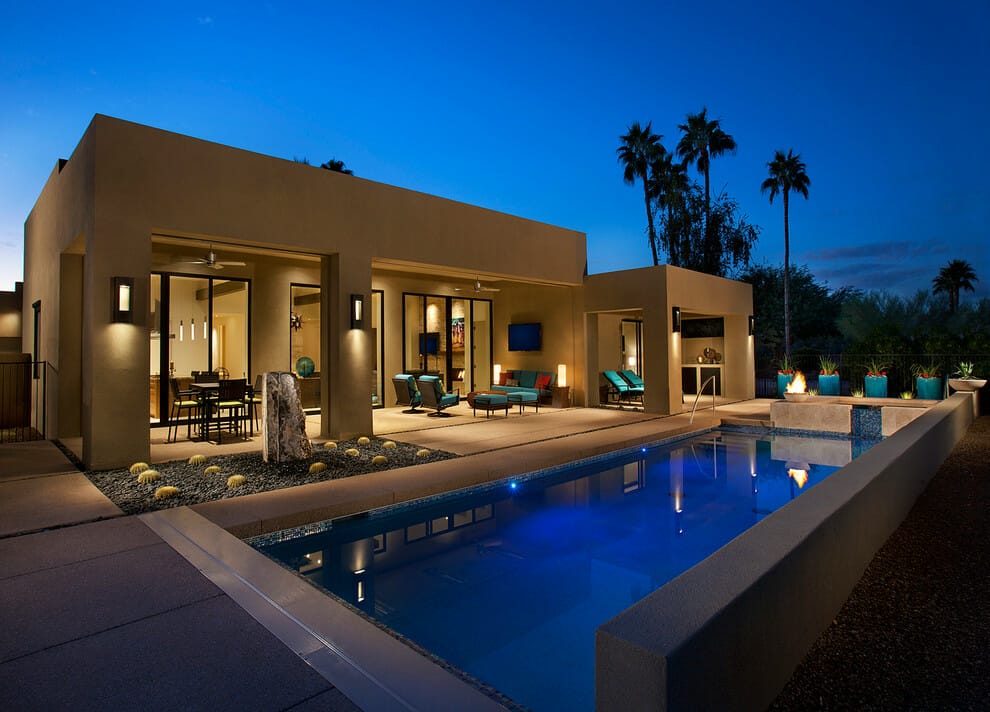 If you want to style your backyard without the hassle, these rectangular pool landscaping ideas should be on your list.
Expanding the hardscape is the best way to carve out beauty without spending more money and time on maintenance.
Simply build a concrete pool deck. Additionally, you can add a few low-maintenance plants like succulents.
21. Accentuate It with Mosaic Tiles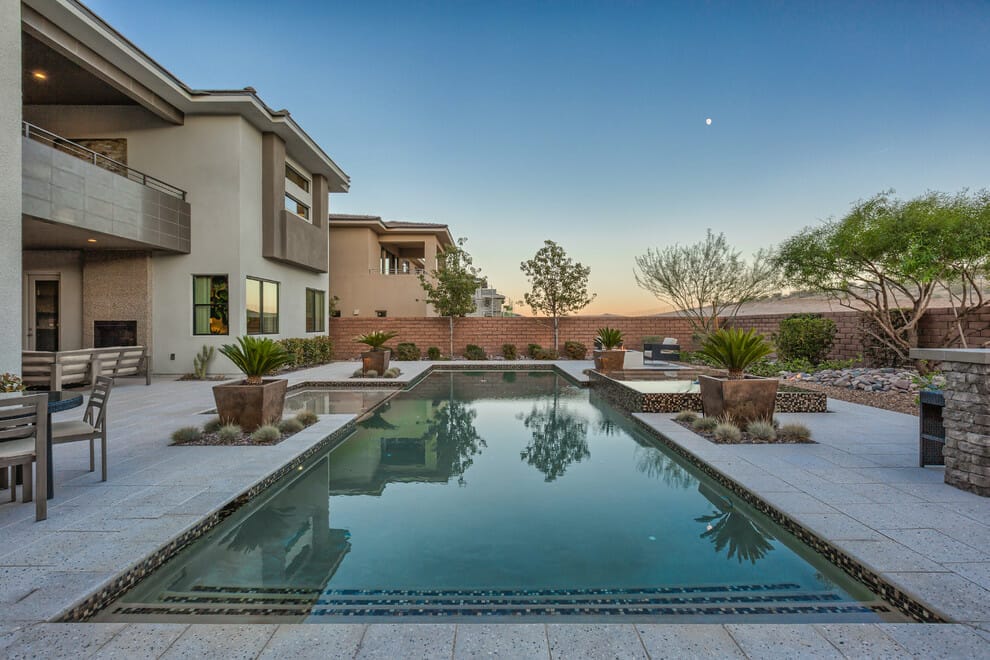 A rectangular pool can be mundane because you can only see straight lines. Well, it is not necessarily true. Installing mosaic tiles along the pool can give a significant impact on it.
Adding square copper planters on both sides of the pool can also add some interest.
22. Stone Tiled Pool Deck
There are many materials used as a pool deck. However, if you want a durable one that also helps you create a luxurious look, you had better opt for stone tiles.
Look at how the stone tiles carve out a bit of luxury in this backyard. The different sizes also enrich the appearance.
23. Use Fence for Peace of Mind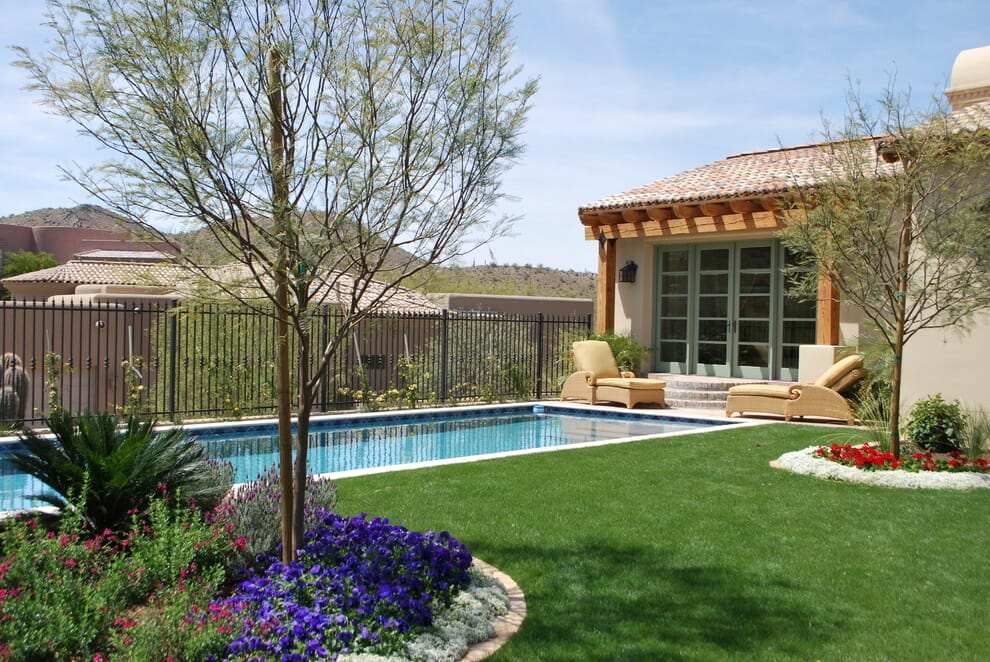 If your pool is in a high place, consider installing a fence. Besides, it can make a perfect border while accentuating the swimming pool.
24. Embrace More Colors with Tiles and Plants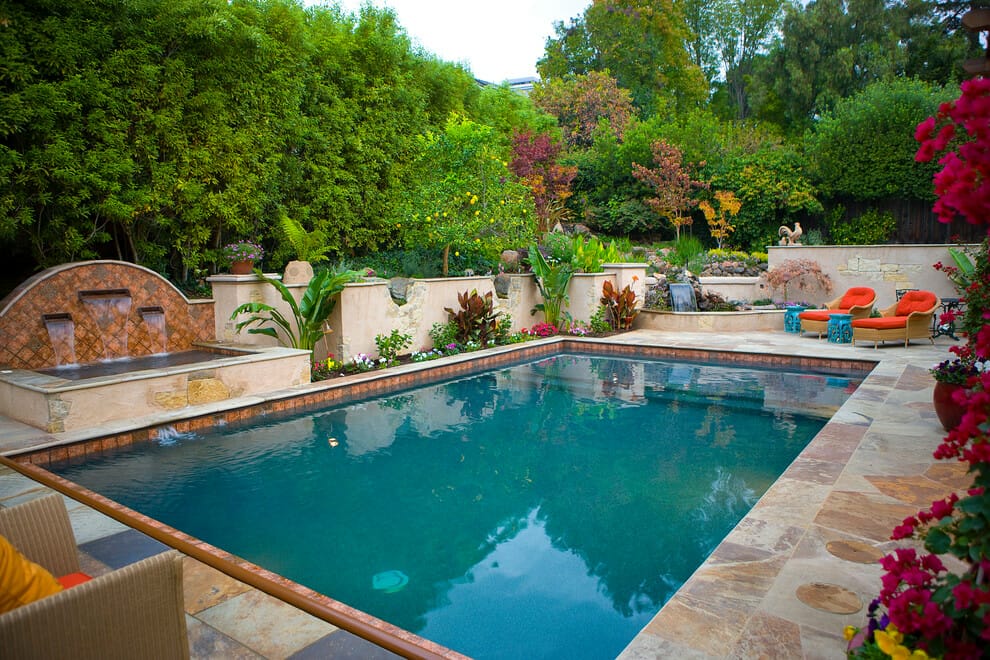 These rectangular pool landscaping ideas have shown you that incorporating more colors can enrich the appearance of your backyard.
The most effortless way is to paint the walls bold colors. However, growing some colorful plants will also work like a charm, not to mention the pleasing shapes and fragrances that the flowers produce.
25. Manicured Lawn with Stone Pathway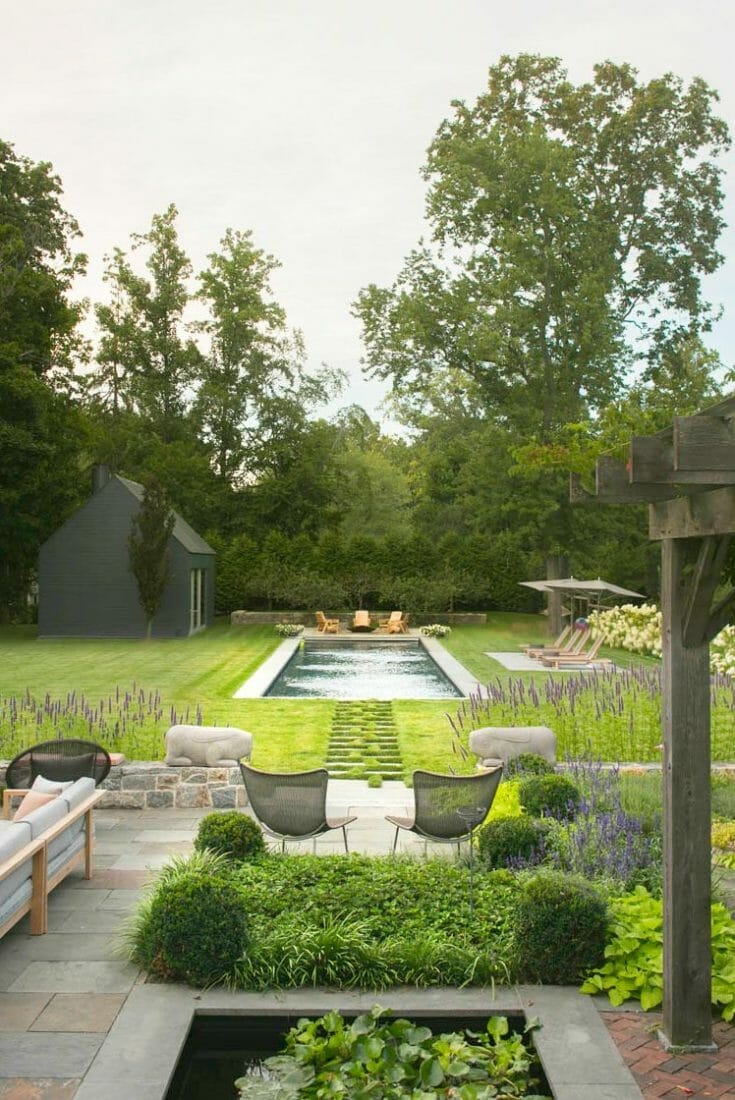 A pathway not only beefs up your backyard but also guides you to another place, like this rectangular pool. The pathway will also protect your feet from the mud when you have a short trip to the pool.
26. Minimalist Backyard with a Rectangular Swimming Pool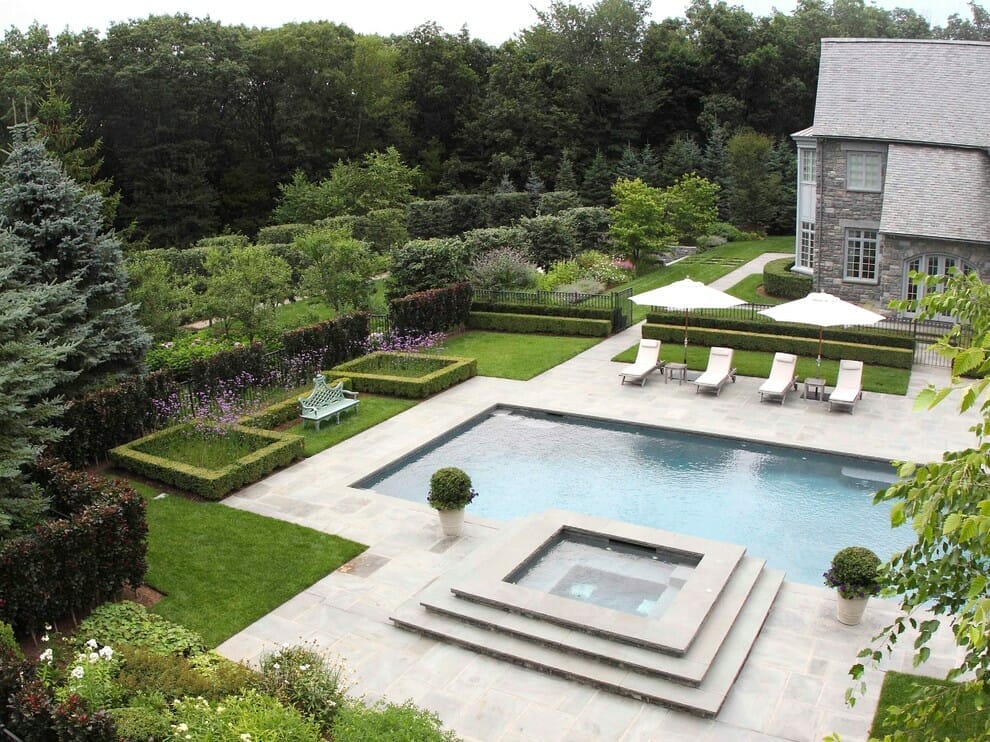 A spacious backyard is such a blessing. You can do many things with it.
Green grass covers the entire soil in this backyard but the area around the pool. It also has a square hot tub that rounds out the pool well.
27. Invest in Mulch for Effortless Landscaping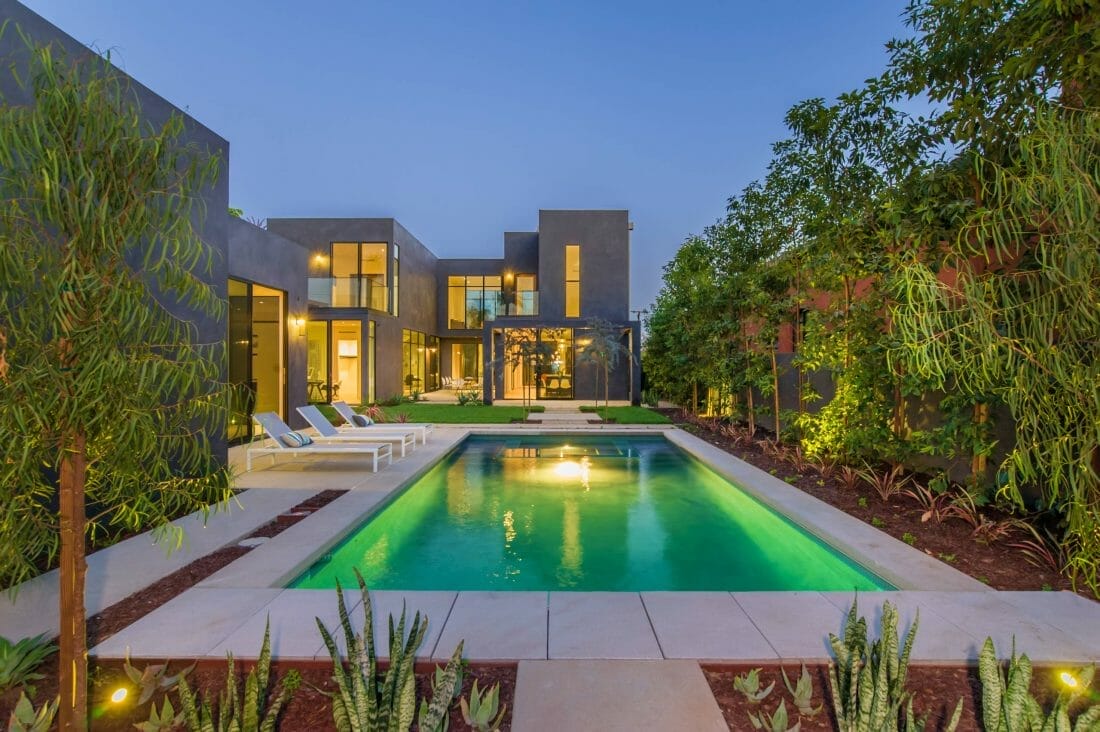 If you do not have a green thumb but are eager to improve your backyard's appearance, you can try these rectangular pool landscaping ideas.
Instead of green grass, this backyard uses mulch to cover the area around the pool. It is a smart way to carve out beauty without the hassle.
28. Battery-Operated Candles for a More Romantic Look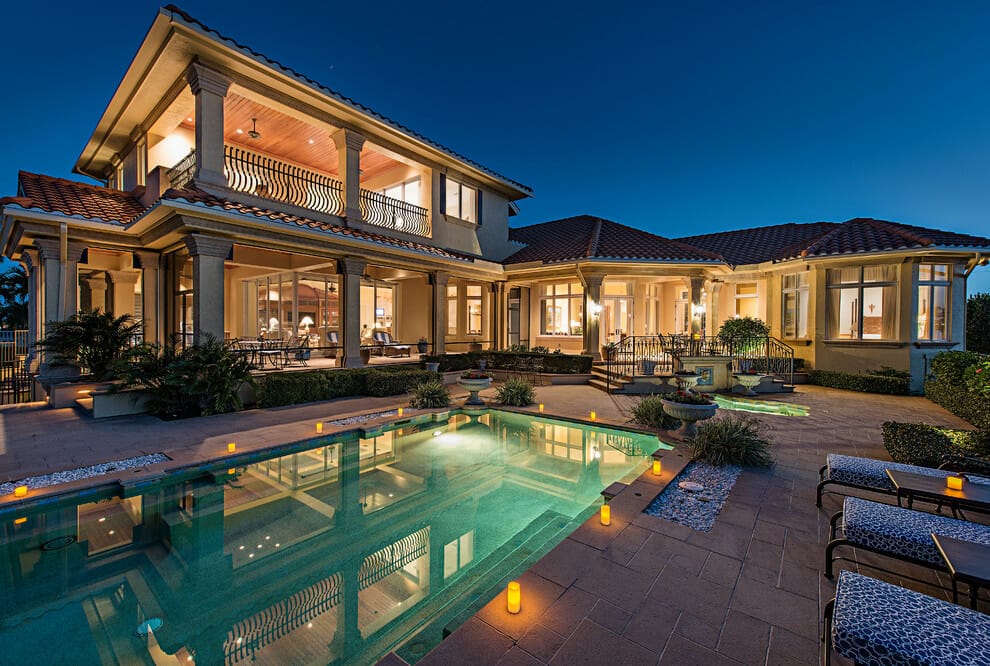 Do you want to add a more romantic ambiance? It is easy. You just need to place battery-operated candles around your pool. And you are good to go.
29. Put Some Pool Chairs to Lounge on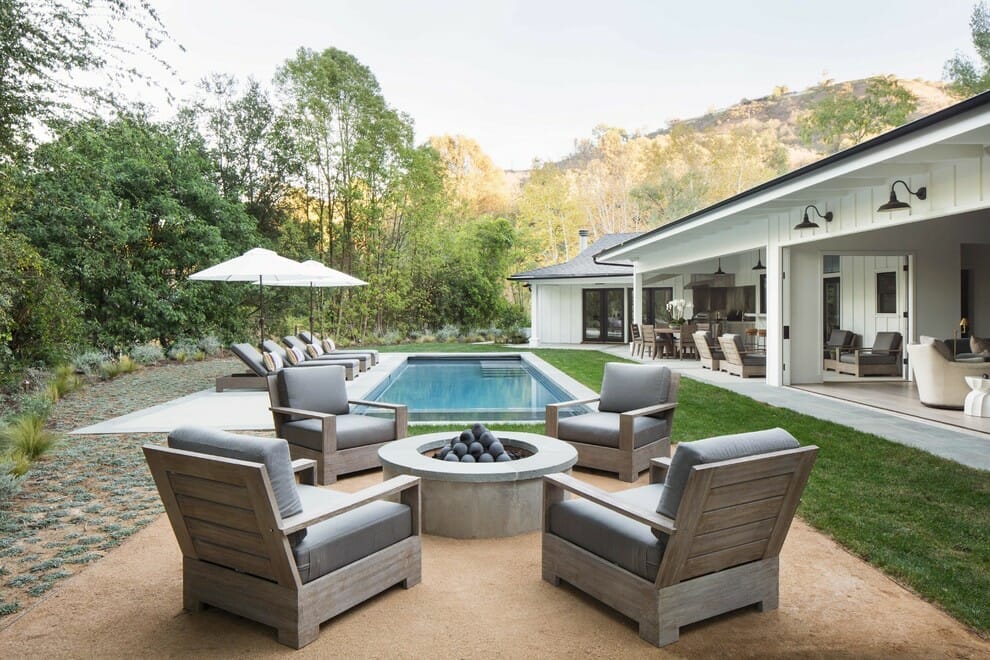 Sometimes, people do not feel like swimming. They go to the pool only to enjoy the beautiful sunny day.
If that applies to you, then better put a few chairs along with the pool. As a result, you can lounge on comfortably and linger over the nice weather.
Those are some spectacular rectangular pool landscaping ideas that will inspire you to carve out beauty. You can copy them or add a twist to meet your need.