People presume that the front entrance of a house represents the entire dwelling place itself. So, the first step to impress the guests is by building a stylish entranceway. Nonetheless, aesthetics should not be the only aspect you think of. Here, we have got tiled entryway ideas collected for you.
This page contains thirty insights into entryway tile designs. Each idea offers a trendy, durable, and easy-to-clean tiling floor, be it comes from slate, ceramic, or porcelain.
Also included on this page are examples of popular color use, pattern infuses, and vibe rules both for an expansive hallway or a compact entranceway.
Hence, invest in one of our tiled entryway ideas below, and you will get it ready to wow anyone.
1. 1:2 Matte Porcelain Tile Entryway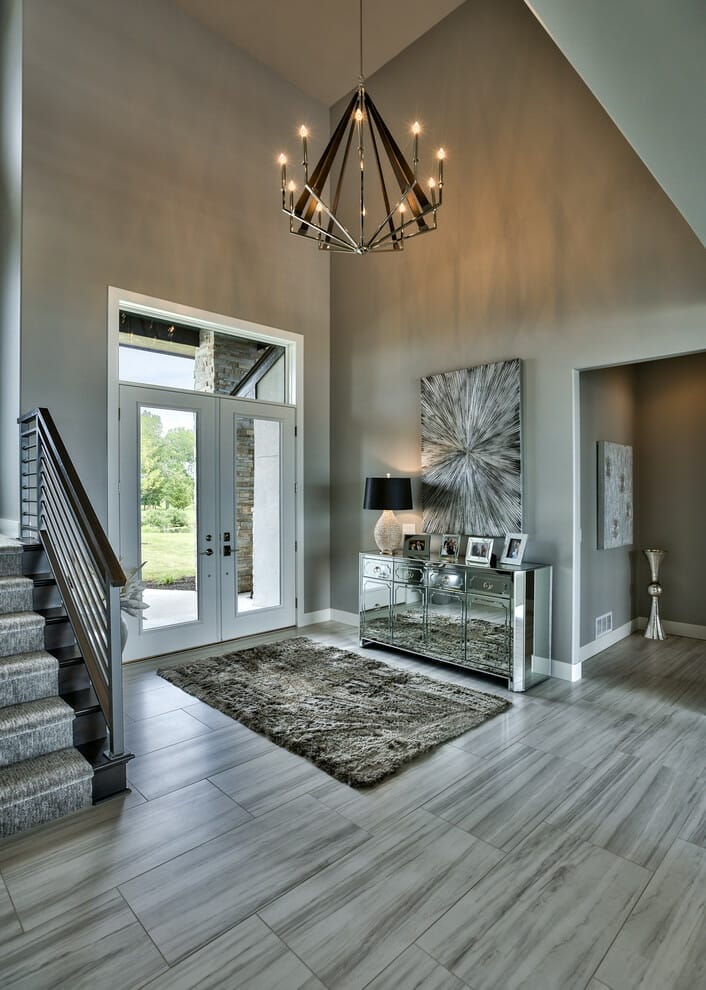 This front entrance uses 12×24 matte porcelain tile in a creamy white base with black and gray long linear veins.
Such tiled entryway ideas agreeably create the feel of luxury if settable with light tone openings, gray walls, mirrored cabinets, brown shag rug, and sunburst wall art.
2. Herringbone Pattern Tile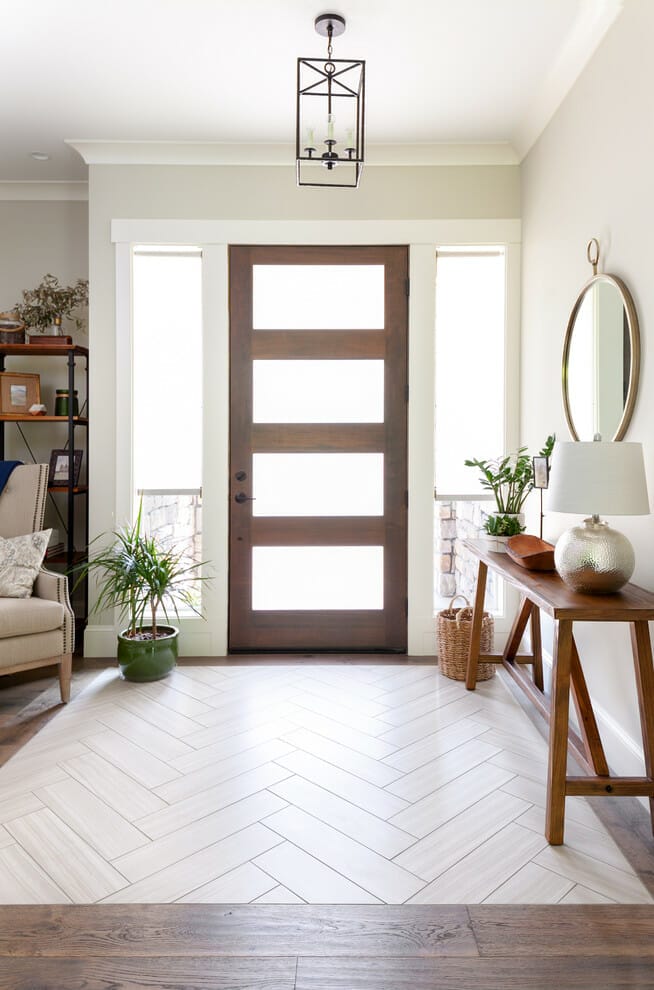 Bordered with horizontal medium tone wood, that herringbone pattern tiles make a stunning contrast. Moreover, the glass panel door along with vertical sidelights over there allow the natural sunlight to shine down on the floor, making an unintentional luster.
In a neutral-scheme space like this one, you need a few greens for contrast and decoration. Thus, setting some potted houseplants in the scene will be more than nice.
3. Luxury Stone Pattern Vinyl Flooring
Indeed, natural stones are all for a high-end look while vinyl is a delightful addition to your house with an attractive design.
So, when your entryway floor is coverable with natural stone pattern vinyl tiles, you will surely get the most sophisticated and charming entranceway.
Here, it even looks additionally expensive with the involvement of gold, yellow, and brown on all of the surface.
4. Gray and White Harlequin Tile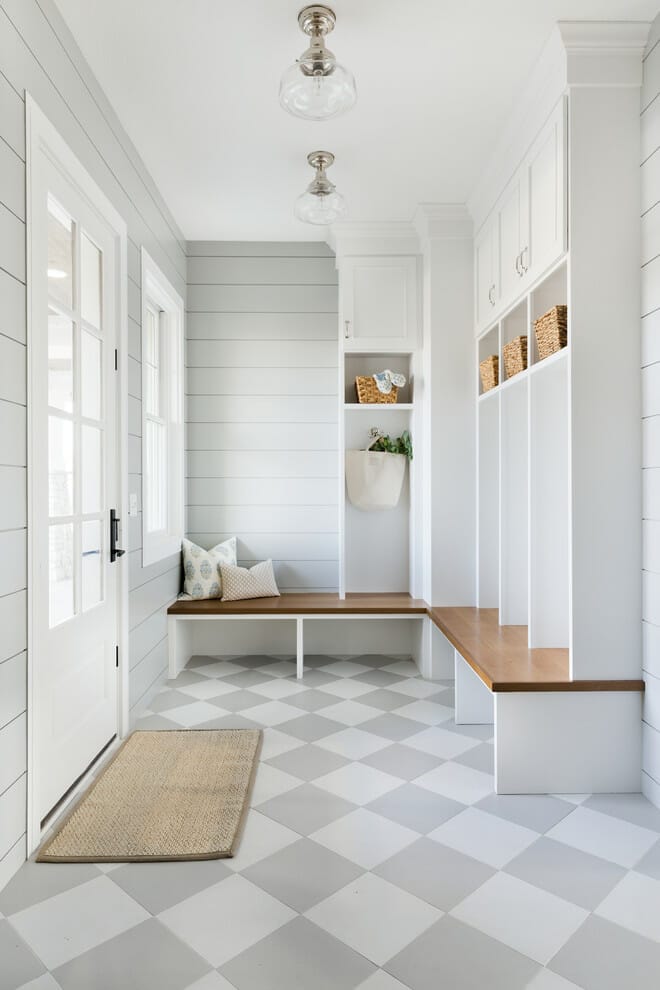 Similar to the checkerboard, the harlequin also applies two-tone tiles by turns. Only, it rather takes a shape of rhombus for every tile than a square.
In the picture, you see a sweet disagreement between the harlequin floor and the shiplap walls. Accentuated by medium light tone wood on the woven mat, benchtop, wicker baskets, and lighting fixtures, the entryway even looks more gorgeous.
5. Black and White Cement Tile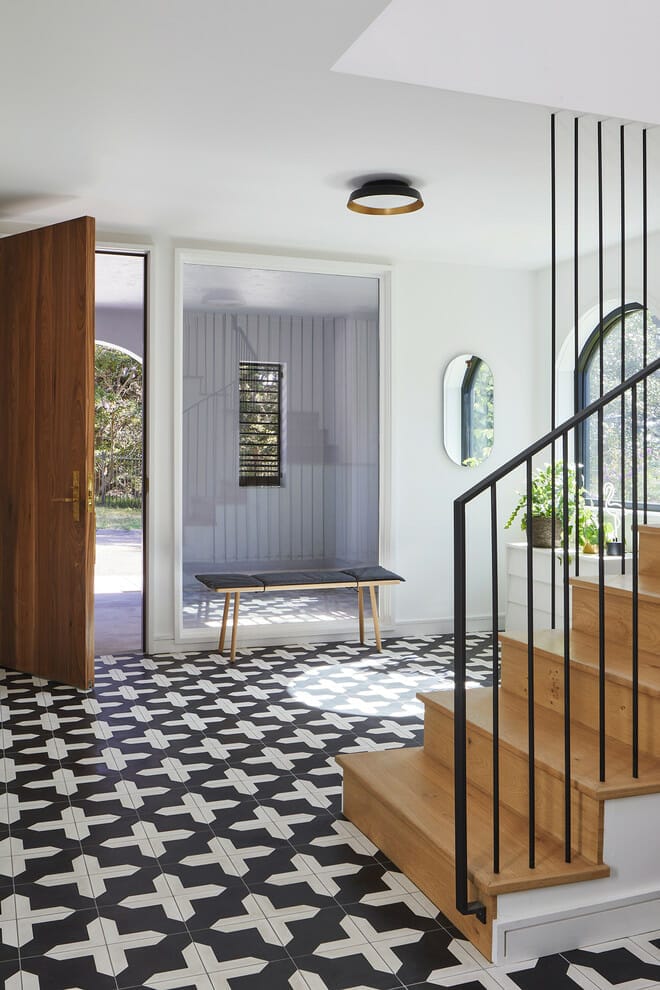 Black and white pattern tiled entryway ideas never fail to take the breath of the first glimpser. It is like stepping inside a different world.
Here, the multicolored floor entranceway captivatingly is the base of the bright interior with a little bit of dark and light tone wood accents.
6. Small Entryway Flooring Ideas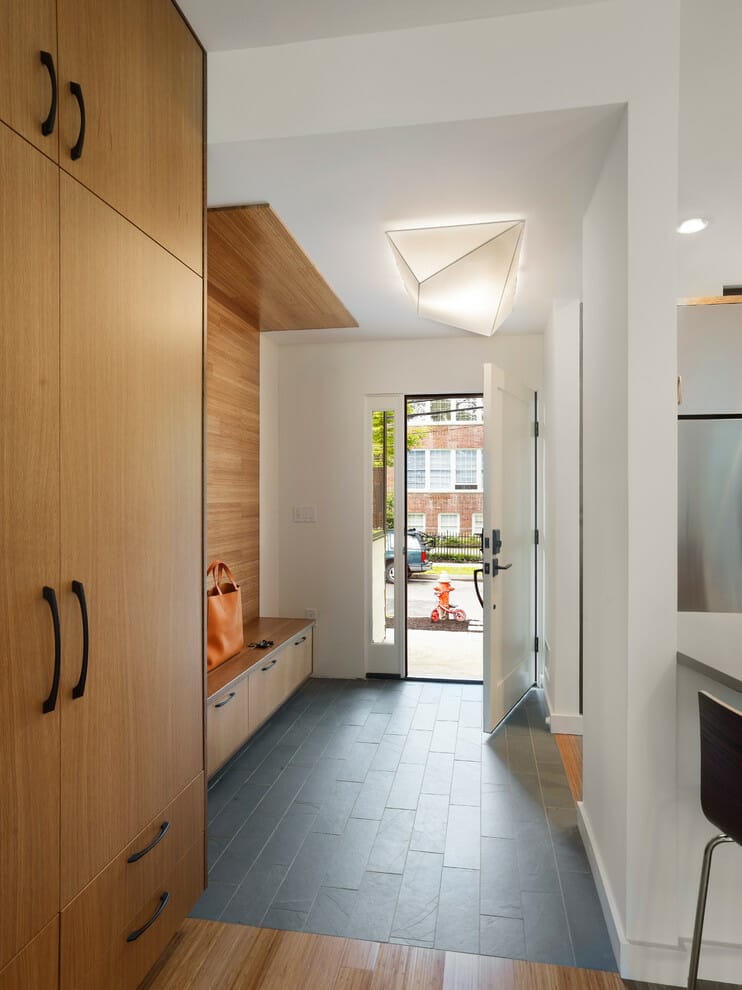 Well, tiled entryway ideas executed here involve matte gray tiles derivable from either slate or concrete. Then, they are settable vertically for a more elongated space impression.
Further, when gray flooring bases white walls and ceilings, the set brings warmth and calmness. Hence, it is perfect to tone down anyone's high fatigue level.
7. Brown Shades Multicolor Tiles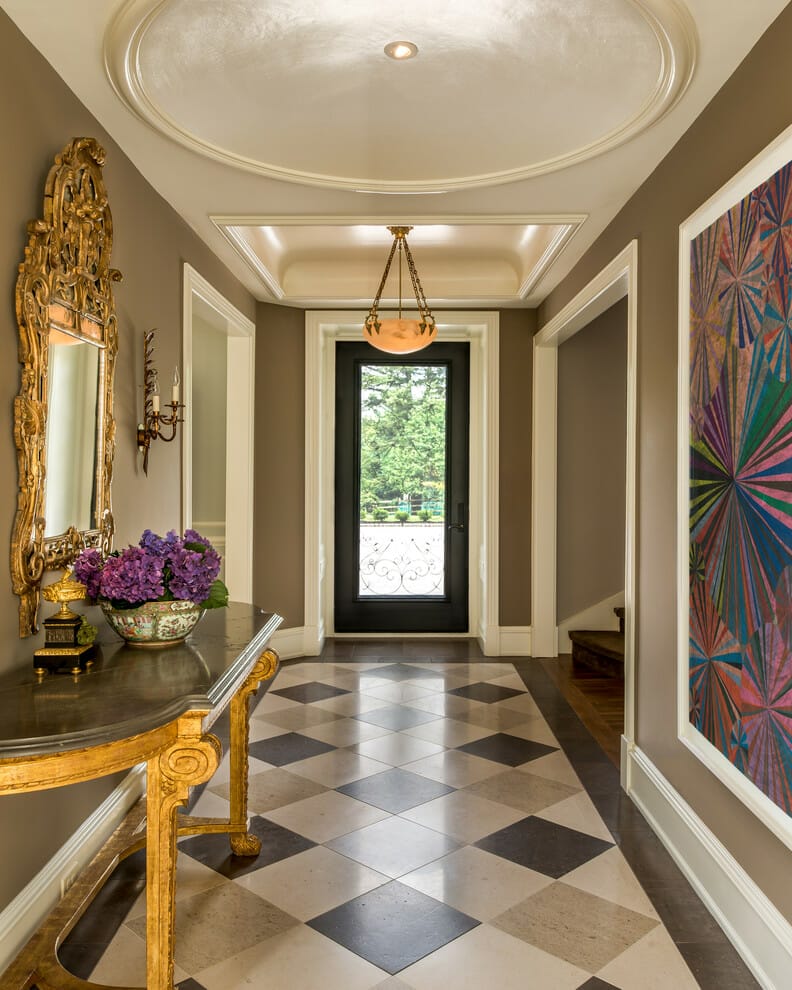 This foyer provides some tiled entryway ideas using tiles in three brown shades. They are installable in a harlequin way with a border of the darkest shade from the three.
Further, the idea of incorporating a glass front door shows that the owners are confident enough to exhibit their entranceway to the outside.
Nevertheless, you have to admit that the attention snatchers are the purple details. Yes, the potted flower plant and the fireworks paintings are there for the look.
8. Front Door Entry Tile Ideas
Well, the applied ideas here are to use slim rectangular tiles of black and brown, arrange them vertically, and get the darker tiles to border the herringbone pattern in the middle.
Both of the two types use white grout. While it pops up in black arrangement, it does not clearly show in the other setting.
Anyway, for mostly smooth and glossy surfaces, there must be at least one element that is present for texture. In this case, the whitewashed wall does the honor.
9. Natural Stone and Wood Floor in Extravagant Estates Hallway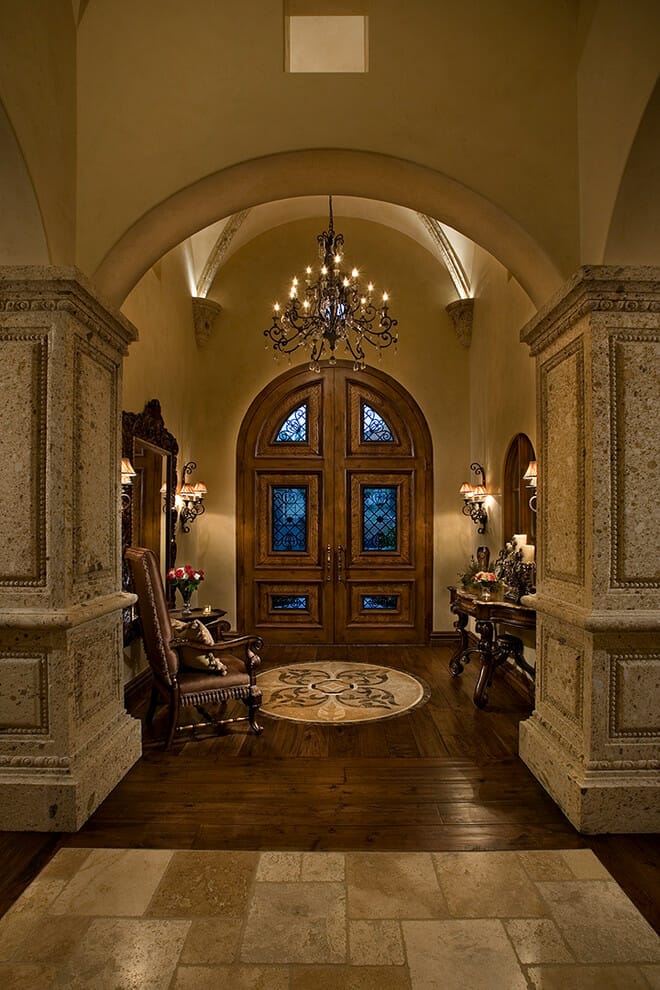 Apparently, it is the front part of a hallway that belongs to an extravagant estate in Italy. Its design gives you hints of what Mediterranean tiled entryway ideas are.
With a combination of brown shades and medium tone wood, this entranceway boosts energy to whoever steps in.
By the way, what makes this front entrance shines is its good illumination fixtures coming from the huge chandelier, the corner uplight, the wall sconces, and the candles as well.
10. Blue Pattern Tiles in Mediterranean Entryway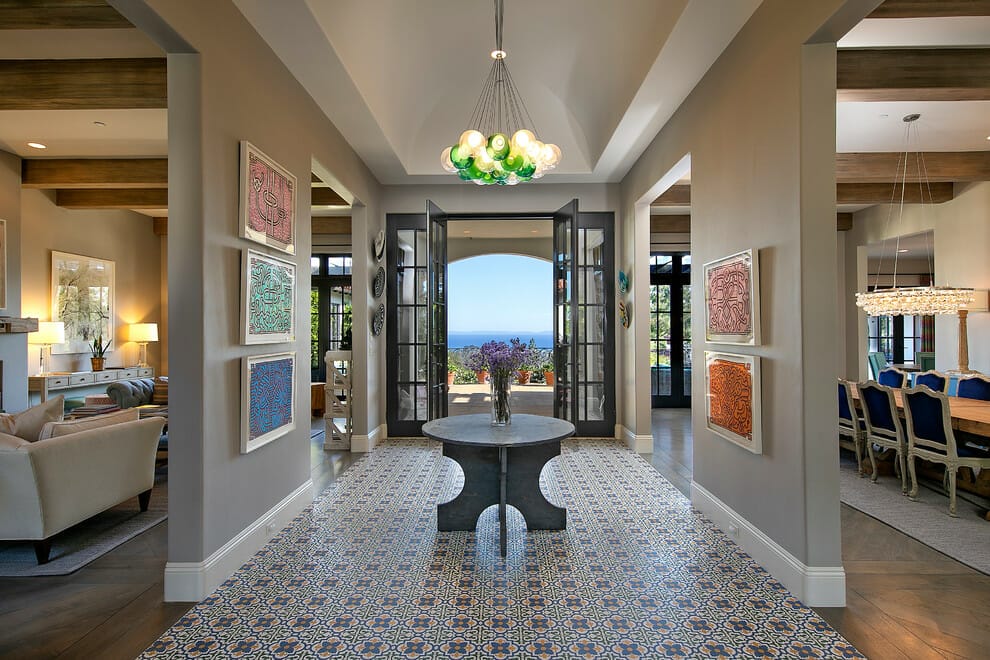 Multicolor tiled entryway ideas always result in wow, and it also applies to this Mediterranean entranceway. Blue patterns mark the entrance, as it is distinguishable from the rooms' flooring on both sides. Then, five colored wall arts complement to complete the hospitable set.
11. Gray-Shade Tiles for Clutter-Free and Spotless Entryway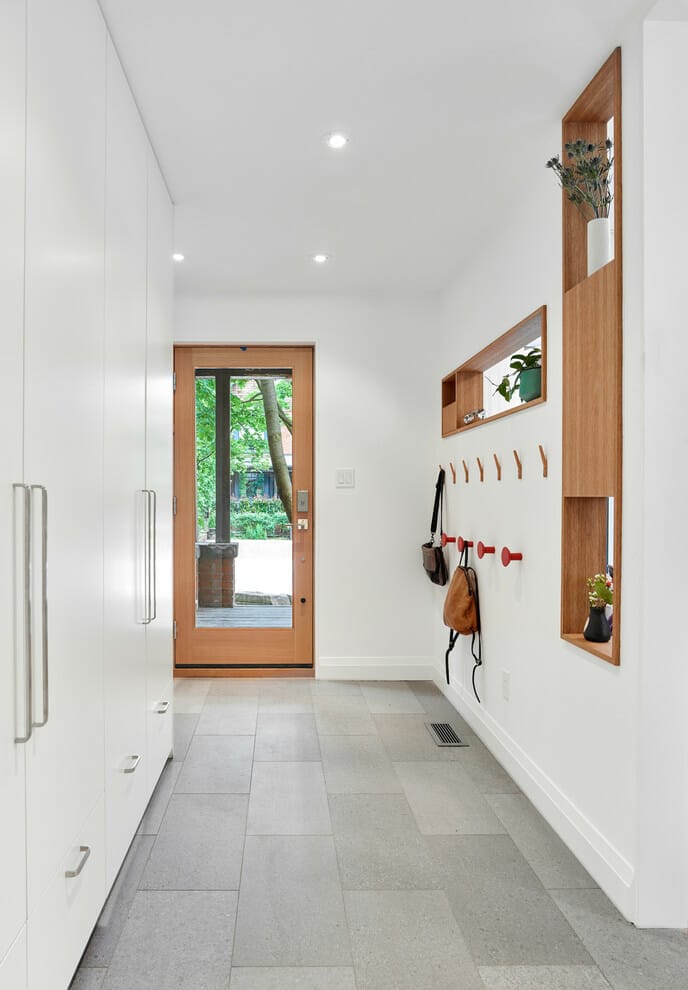 To make an entranceway neat and free from clutter, someone mixes tiled entryway ideas and decluttering arts.
Specifically, gray tiles are installable vertically to be the base of the white interior. Such flooring is obtainable through limestone, porphyry, rose granite, Trieste marble, or slate slabs.
Then, wall hooks and knobs are settable on the front wall to prevent everybody from throwing their traveling apparel and hang them tidily instead. Ceiling-height storages on the other side then complete the self-declutter methods.
12. Black and White Checkered Marble Floor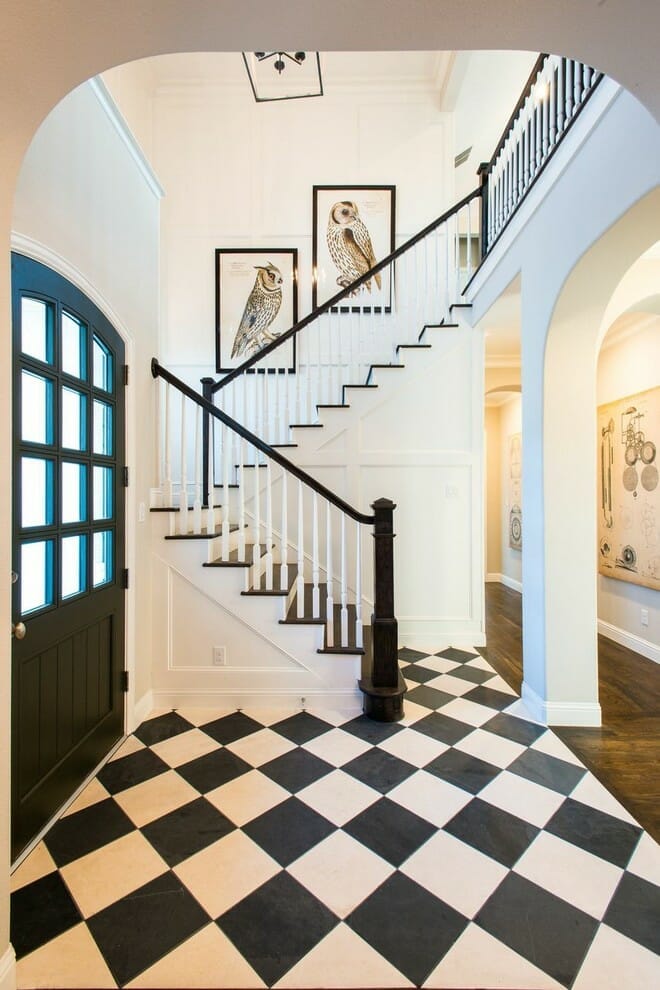 By turns, black and white marble tiles are installable to finish this entranceway floor, adding one more insight to the long list of checkered tiled entryway ideas.
Then, the monochrome concept flows to the staircase for continuity.
13. Front Entryway Floor Ideas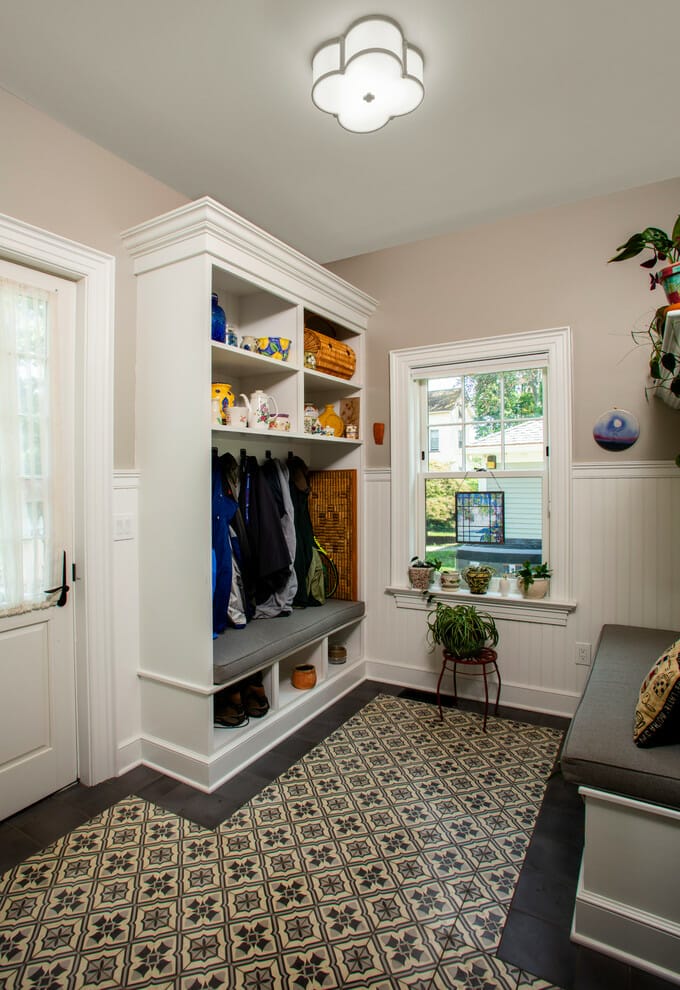 Tiled entryway ideas to come are from this black and cream floor of a mudroom. Bordered with black square tiles, the flooring gives rise to a traditional base.
However, what happens above it is far from old fashion. With a bench and open storage, this transitional space is perfect for letting off the outside outfit before taking a brief rest.
14. Floor with Tiles Border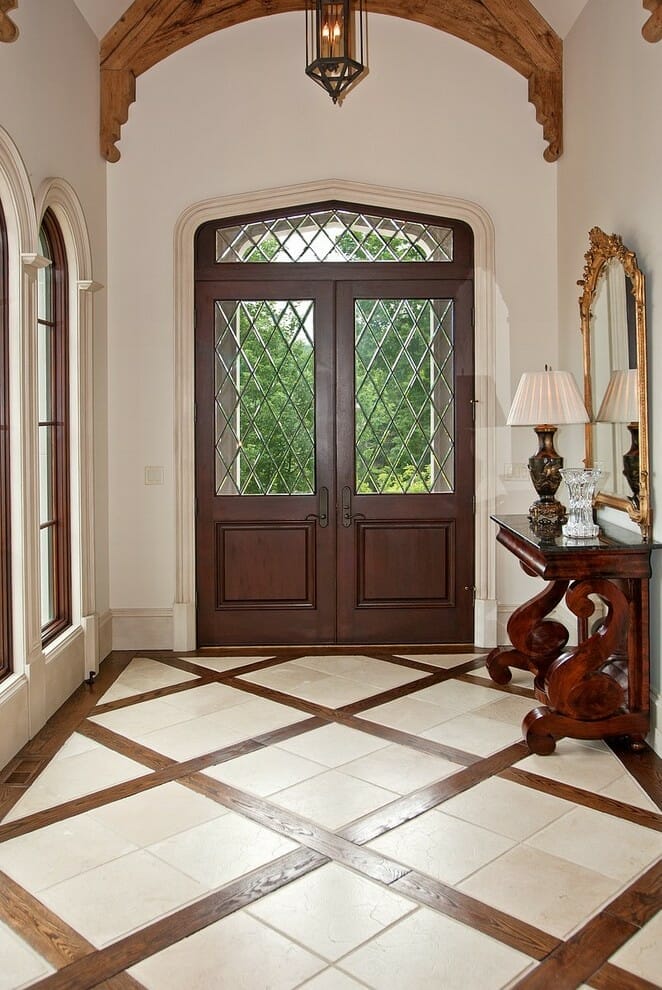 Dark tone wood and beige tiles floor seen here make a combination for traditional tiled entryway ideas.
Hence, the style then continues on the design of the double doors, ceiling lamp, windows, classic console with mirror, table lamp, and even the glass key bowl.
15. Modern Entryway Tile Ideas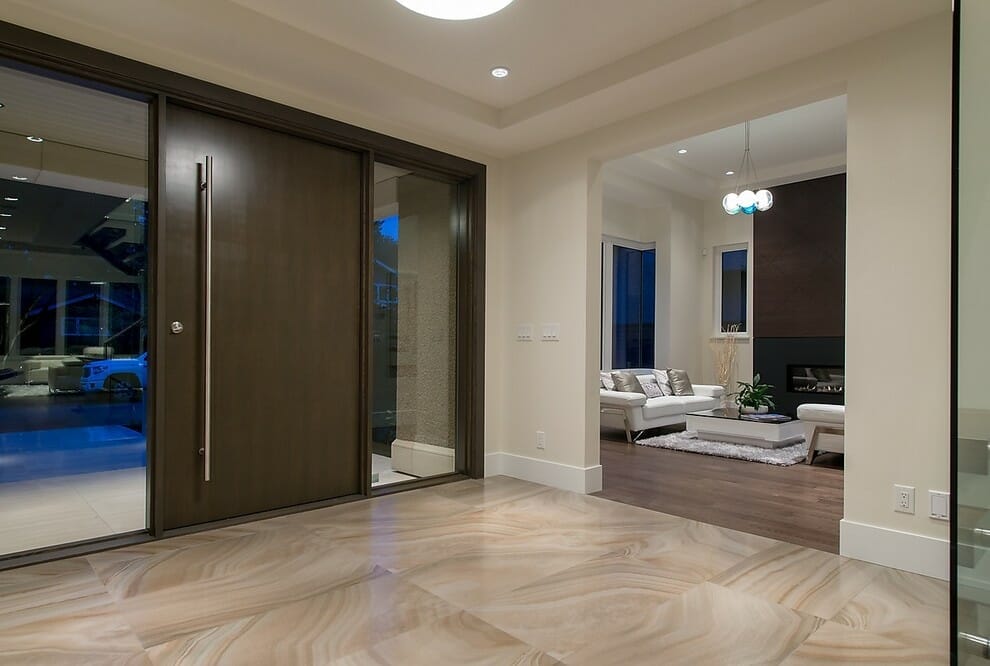 Marble flooring for a large transitional entranceway makes a modern tiled idea.
If you also want to have the most recent look for your foyer, the options consist of onyx caramel beige, crema Marfil, and vivid beige. All three types have a similar tone and vibe.
16. Rusty Color Slate with Medium Tone Wood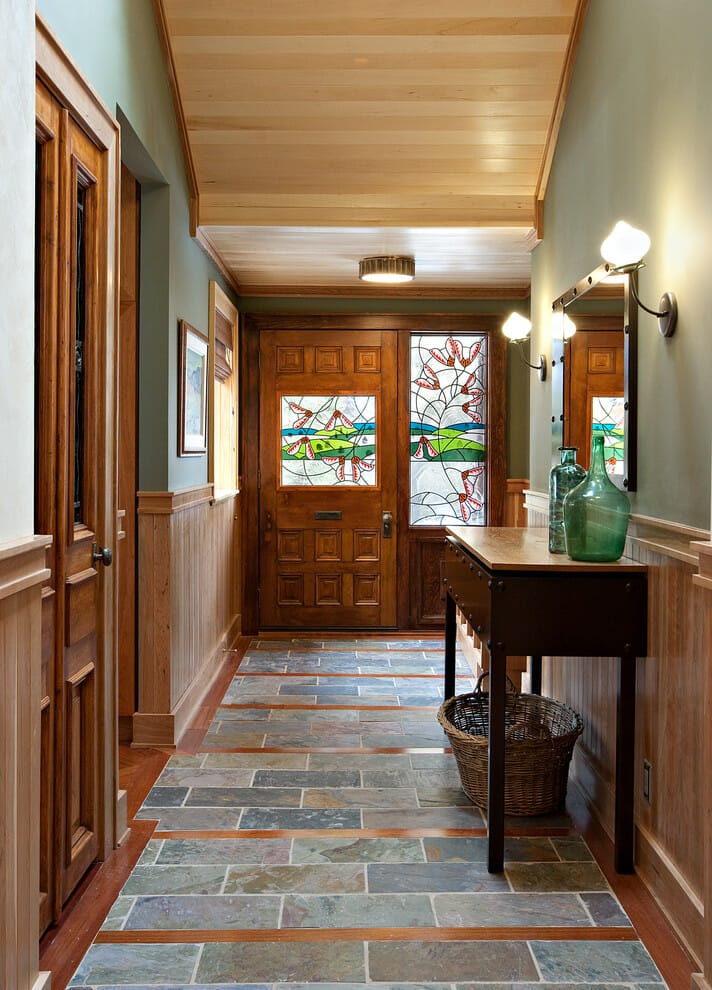 Eclectic is the most proper word to describe the combination of slate and wood. In this picture, you see a mishmash of rusty color and medium tone.
Yet, other stone types could make a similar eclectic look. They are modern peacock five stone, slabs of India, multicolor natural slate, and gray-green slate.
17. Travertine Floor Tiles in Versailles Pattern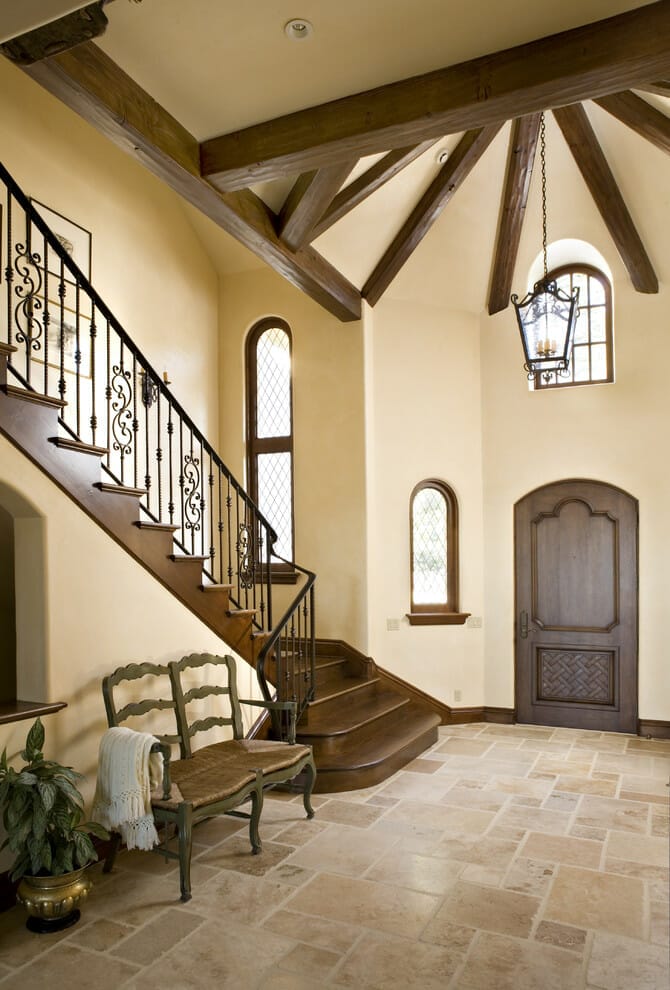 An arched door lends any house a royal feel, and this humble foyer has such a sense given by the wooden main portal. Let alone, the glass sidelight over the staircase increases it.
However, contemporary style is also visible through the travertine tiles installed in the Versailles pattern. They provide striking beige base color for this entryway.
18. Transitional Vestibule Porcelain Tile
This transitional vestibule has tiled entryway ideas for you. First, it uses gray porcelain tiles to cover the floor. Each tiling features slight strips of different tones.
And, it recommends 60×60 cm dimensions to trick a rather small entrance.
19. Herringbone Brick for Classic Traditional Mudroom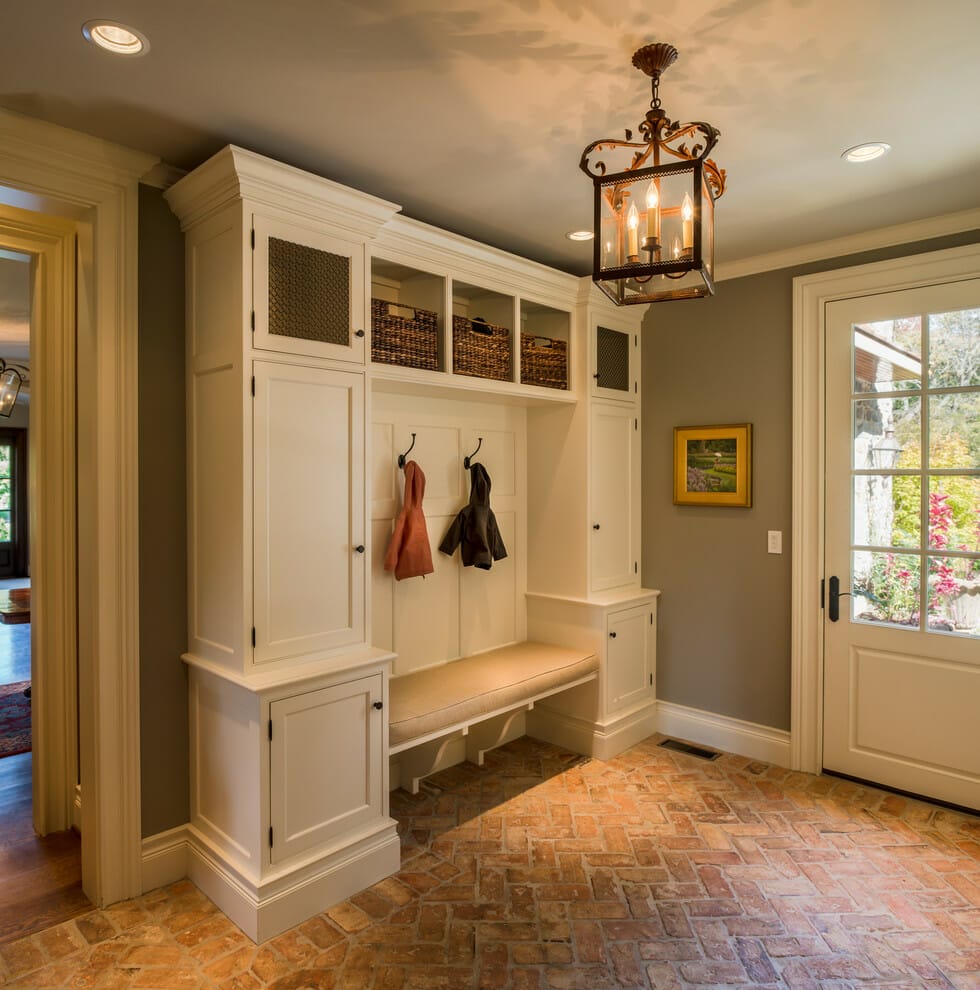 Bricks as entranceway flooring is not a new thing in tiled entryway ideas. Many people also apply these materials to base their mudroom.
Here, you see one of them. The tiles are installable in herringbone design with concrete grouts.
20. French Country Foyer Tile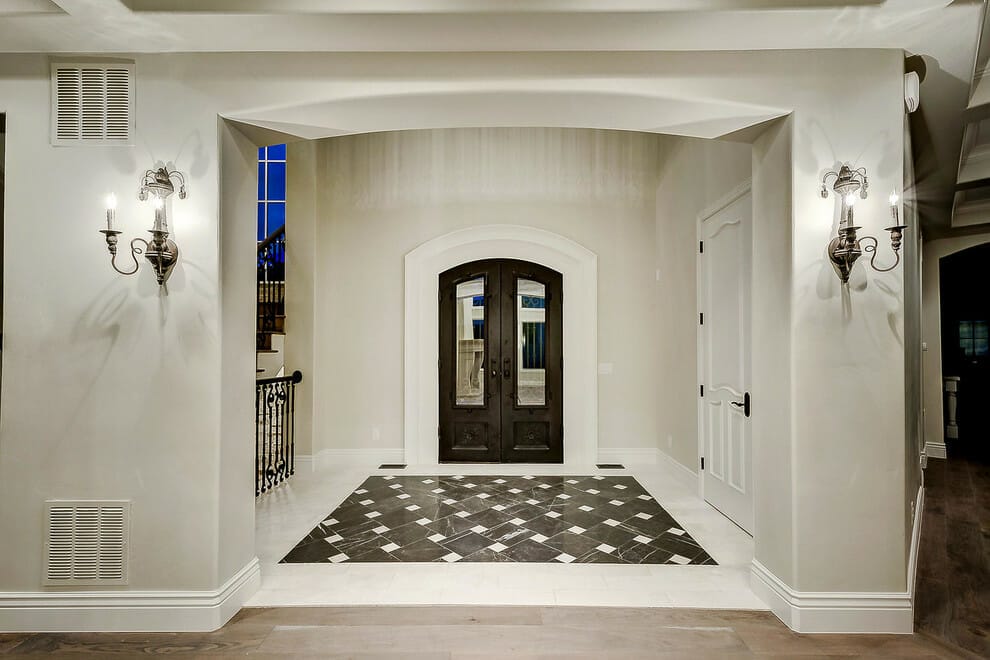 A French country foyer features tiled entryway ideas and combines three types of ceramic tiles with different colors and sizes.
So, the first one is the white rectangular as the multilayer borders, the second is the black square with white stripes, and the last is the smallest white square.
21. Ceramic Meets Laminate Hardwood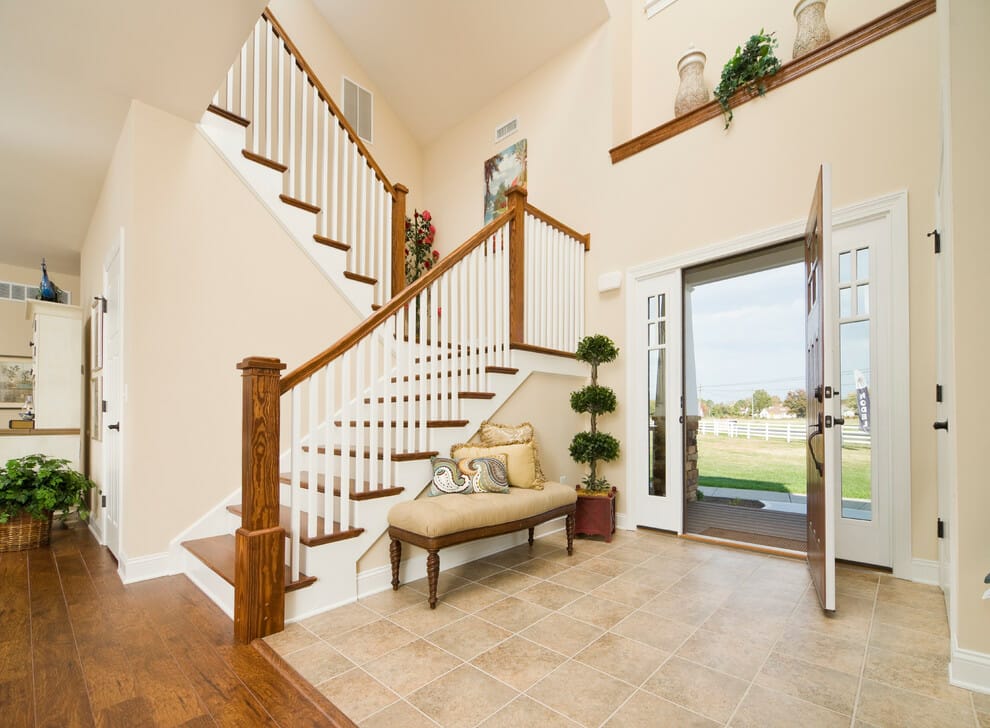 Even though this main foyer has an open concept, it makes a clear division by using ceramic tile floor to tell its area. It is as if this entryway wants to say that the laminate hardwood it meets is in a different room.
Well, it develops more insight for tiled entryway ideas of how to insulate two areas without any walls.
22. Wooden Floor-Ceramic Tile Combination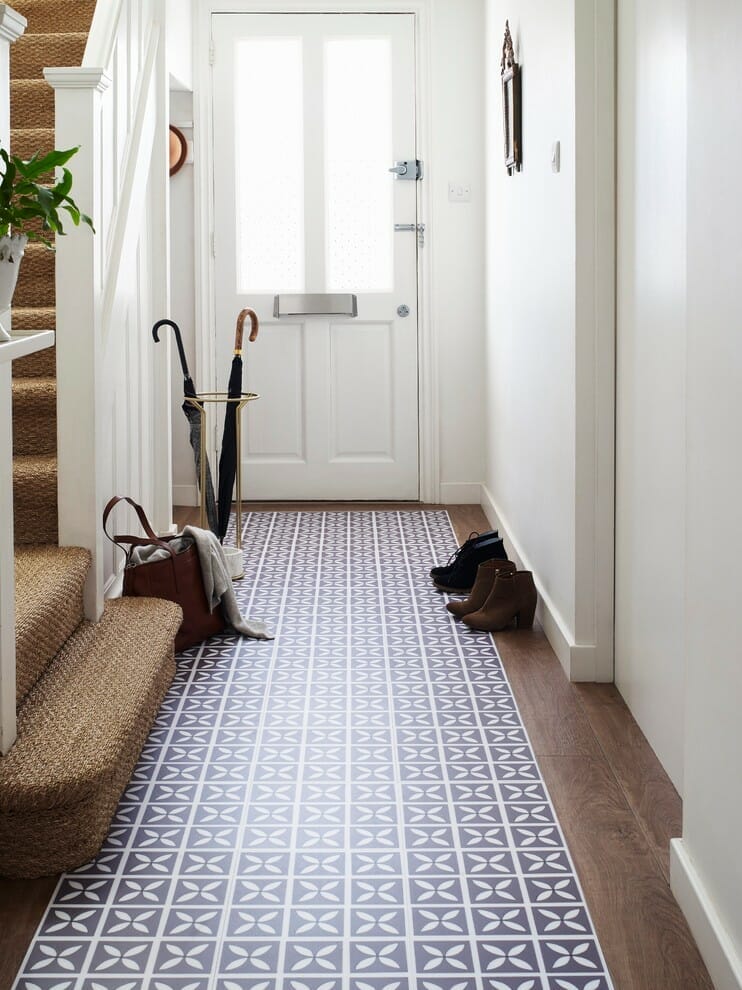 You have seen some combination tiled entryway ideas by now, and here is another suggestion. Specifically, this hallway trusts the wooden floor to border the gray ceramic tile in the middle.
The matte-finished tiles come with a classic pattern, contrasting the whole scheme yet. In addition, the jute carpeted staircase could do for some textures.
23. Tiled Entryway Ideas with Horizontal Line Tiles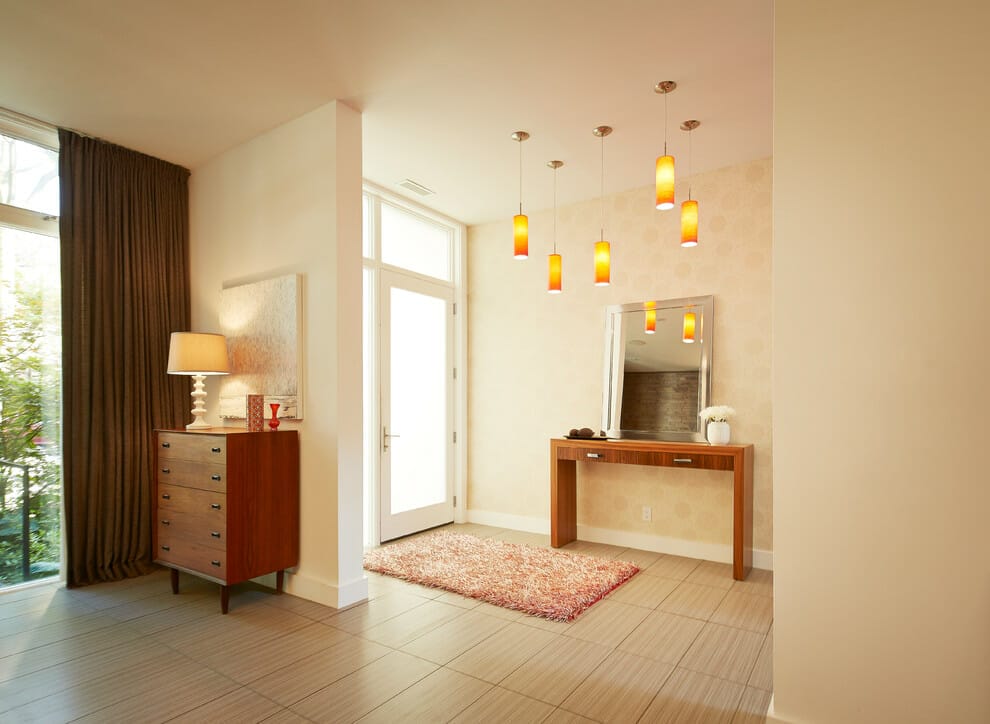 The rectangle tiles in this entranceway are presumably porcelains in crème linen shade with matte finishing.
Each tiling comes with identical horizontal lines, inspired by the flow of fabrics. When applied horizontally in a compact entrance, they give an impression of wider space. It is one of the small entryway tile floor ideas that you could steal.
Besides the horizontal lines on each tile, the contrasting grouts also distinguish the tiling from the rest of the space.
24. Hexagon Tile Entryway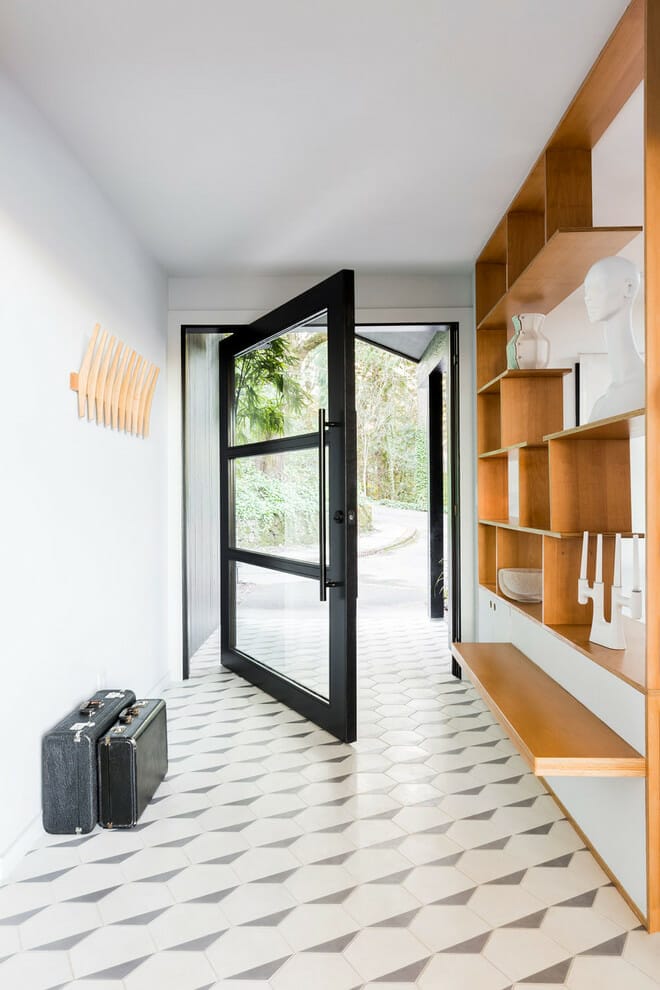 It is a combination of white pentagon tiles and gray triangle ones. However, the closer the tile to the open door, the more the gray color disappears. Surprisingly, hexagon tiles then come into view.
Anyway, since most parts of the interior play with muted shades, light tone wood enter the stage as some accents on the wall partition and the hook rack.
25. Concrete Paving Tiles in French Pattern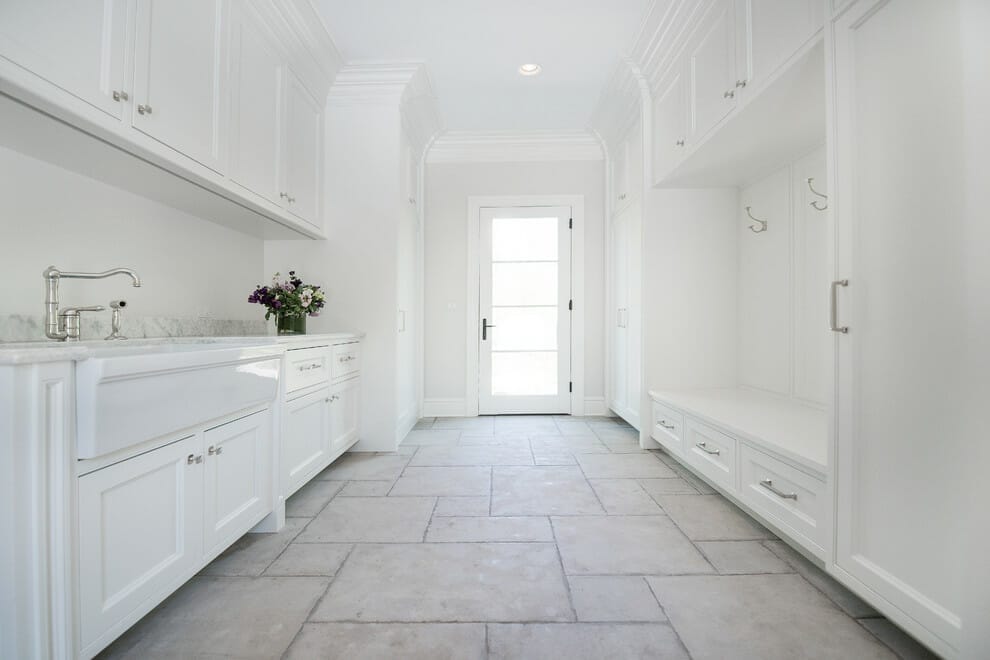 This space is an entrance model of a home improvement store named Lancaster Custom Cabinets & Closets Inc. But it is seemingly just someone's back foyer that hints us at several tiled entryway ideas using concrete paving tiles in French patterns.
Unambiguously, the gray base floor comes to give a little bit of color bump in an all-white space interior. Also, the grouts indicate pattern and texture in a smooth space surface.
26. Modern Foyer with Ivory White Walls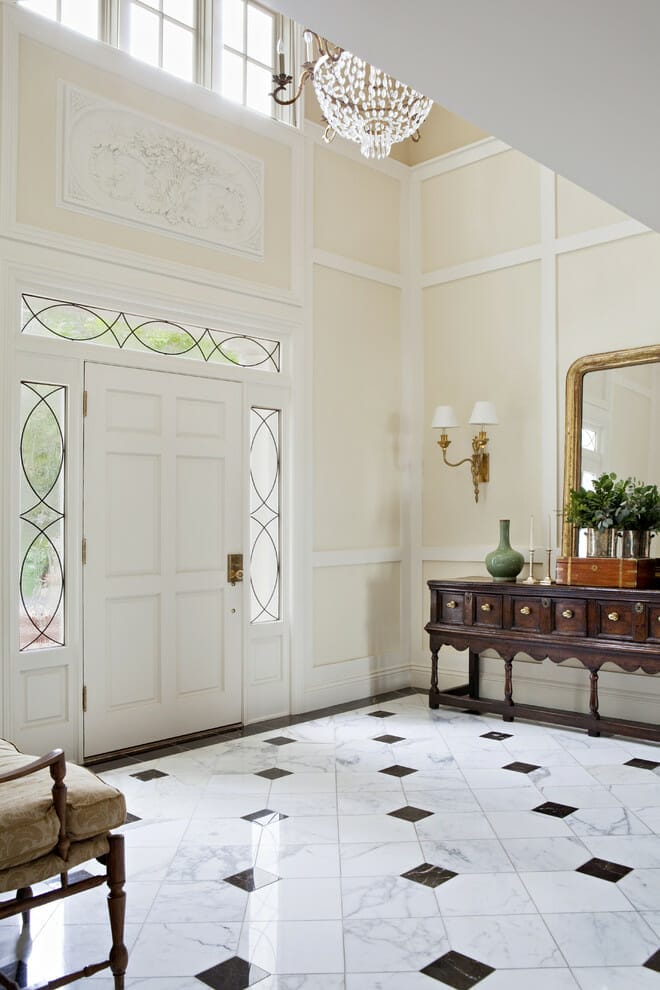 A modern foyer features tile flooring with black veins for default decoration. As if it is not enough, black blocks also come to give patterns.
Concluded, that wraps the base of the space. Meanwhile, the ivory-painted walls come with white moldings to glam up this entryway.
27. Gray Luxury Vinyl Tiled Entryway Ideas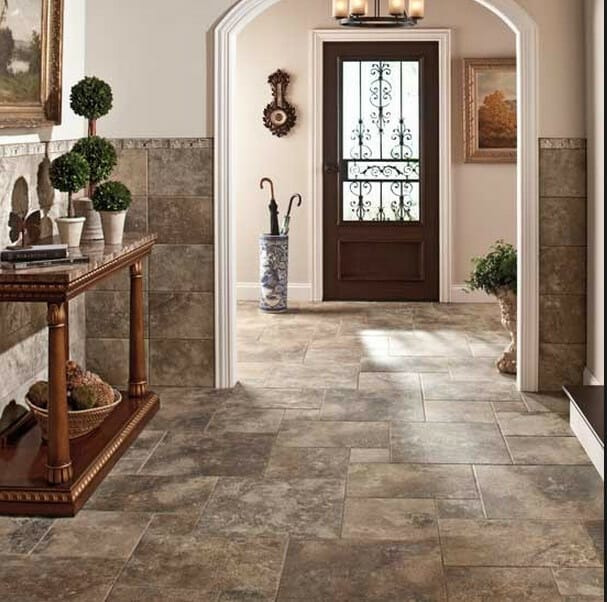 Luxury vinyl makes an appearance once again here, but this one appears in gray shades.
The options to have such flooring within your entryway are Congoleum, Levaro by Daltile, harbor slate, and Natural Clay by Achim Tivoli.
28. Contemporary Foyer with Gray Horizontal Tiles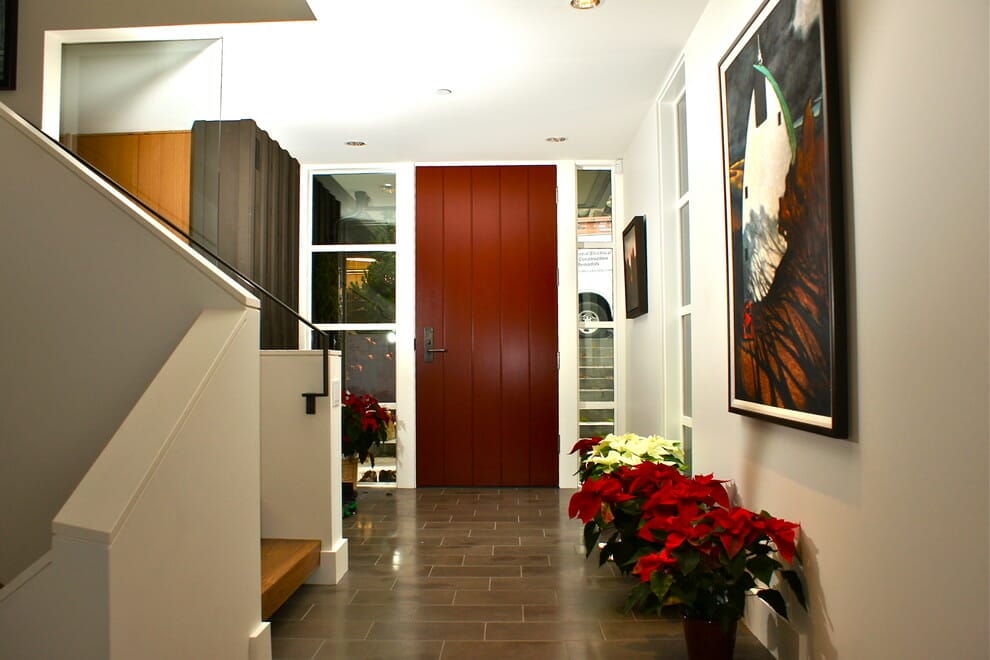 Horizontal tiles are perfect for narrow entrance application as they stamp wider space imprint, especially when the grouts are in contrasting color, as demonstrated in the picture.
However, here, the impression is not only about the flooring but also the whole contemporary design, including the red front door, paneled sidelights, red and white houseplants, wooden staircase, and even the artworks.
29. Natural Cracks on Hexagon Tiles Flooring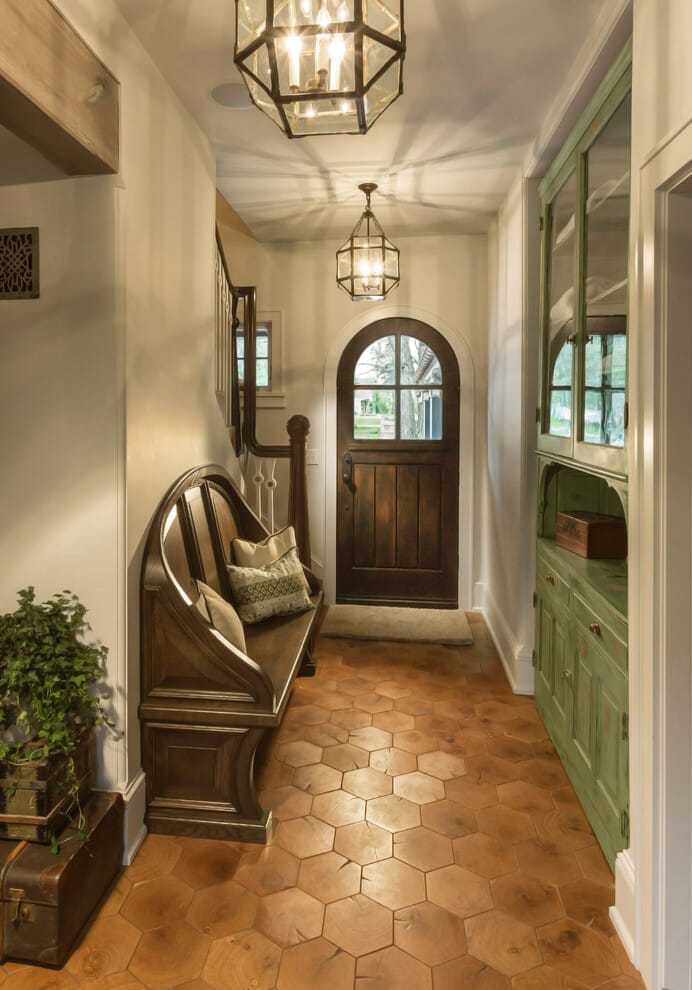 These terracotta tiles show some natural cracks to sign the old fashion style. But, no one could resist their eclectic charm in an entryway.
The flair then flows to the designs of the 3-light ceiling lightings, wooden stair railing, bench, green cabinet, and suitcase stand.
30. Black Floor Entryway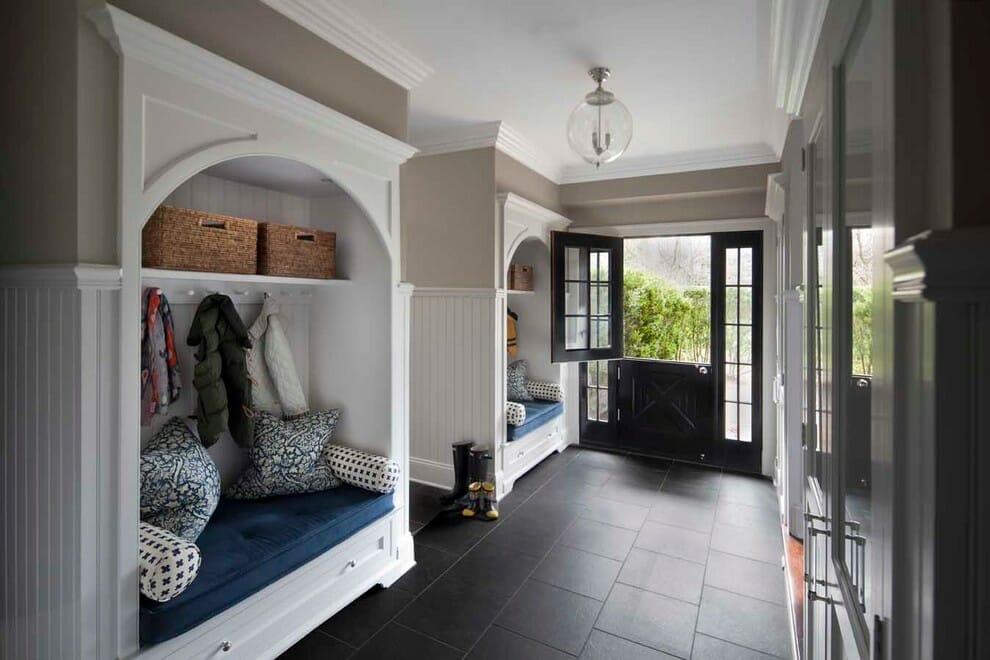 Gloomy yet gallant is what the black flooring here wants to show. Accompanied by the two-tone walls, those intentions are accomplishable.
The key is to have neutral enclosures without getting intimidated by the base. So, that is why brown and white are selectable.
Well, the tiled entryway ideas above tell you that large-format tiles are the trendiest nowadays, but selecting smaller tiling is also okay. Further, the wood-look appearance is warming and durable, but natural stone is timeless.
In conclusion, the methods to create any of these excellent tiled entryway ideas are limitless. You just have to find the right ones and impress everyone.