There are times when you and your partner have to work under the same workstation at home. Therefore, having a cozy and stylish home office with two desks arrangement will help you efficiently deal with everything in it.
Deciding to have a home office with two desks does not necessarily mean that you two finally find a spot to work together.
More than that, you also have to think about some crucial functions, such as the utilization of versatile furniture, its capability to save space, etc.
Further, you also need to consider the design with your partner. That way, these two desks in one office arrangement become cohesive and stunning at once.
Suppose you are looking for some inspiration. Here are about twenty-eight recommendations for a home office with two desks that you can adopt immediately.
1. Bright Workstation with One Side Computer Arrangement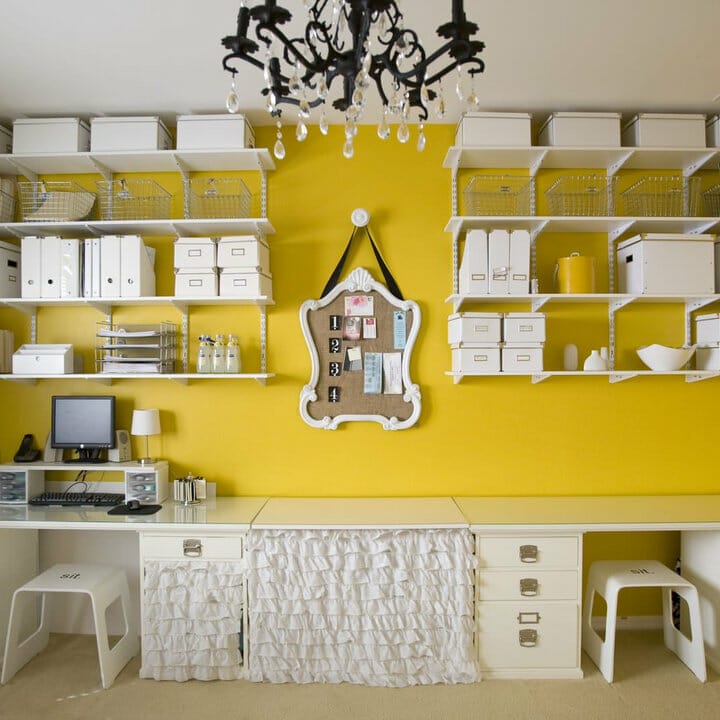 Having a large working area makes setting up a home office with two desks easier. Just by providing two workbench and chairs with a harmonious shape, size, and color, then placing them parallel to the wall, and it's all done.
Moreover, it is a good idea to arrange computer equipment on only one side of the table. That way, you have enough space to do other work on another desk without bothering your partner.
Meanwhile, adding a cupboard in the middle and two separate shelving systems on both sides will help you store individual work needs in order and well-organized.
2. Contemporary Home Office with 2 Person Corner Desk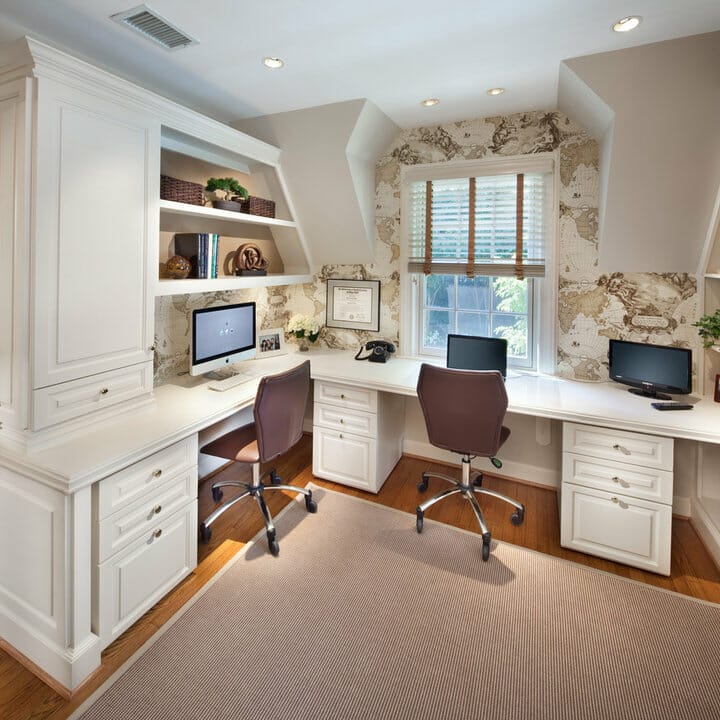 Suppose the parallel arrangement doesn't interest you. In that case, implementing a two-person corner desk in your workspace would be better.
Besides being space-savvy, this concept allows you and your partner to keep within reach and easily interact with each other.
In addition, choosing to combine shades of white and brown is the best way to create warmth in your workspace.
3. A Long 2 Person Workstation Desk with Moveable Wooden Chairs
Who says you can't get a home office with two desks by the window?
In fact, with the presence of this kind of two-person desk, with its long, medium-high, and sleek design, you can get your favorite spot to work without fear of blocking your window treatment.
Therefore, you can go with shades or blinds instead of curtains to be on the safe side. As a result, it will make your workspace look tremendous and tidy.
In addition, choose chairs with wheels to accompany this home office desk. That way, you can freely move anywhere at any time.
4. Floating Corner Workstation for Small Space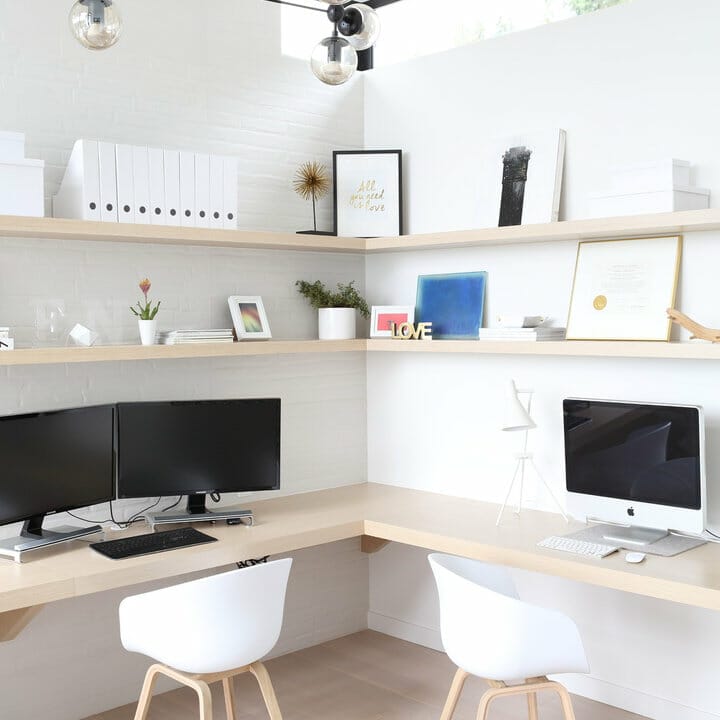 You no longer need to be confused about how to arrange two desks in a small office. Because if you put two different workbenches in that tiny room, then your workspace will, indeed, look stuffy.
Alternatively, try to work around this by installing a corner floating shared desk as above. That way, you can carry out everything with your partner there in peace.
5. Rustic Large Built-in Workbench for Two People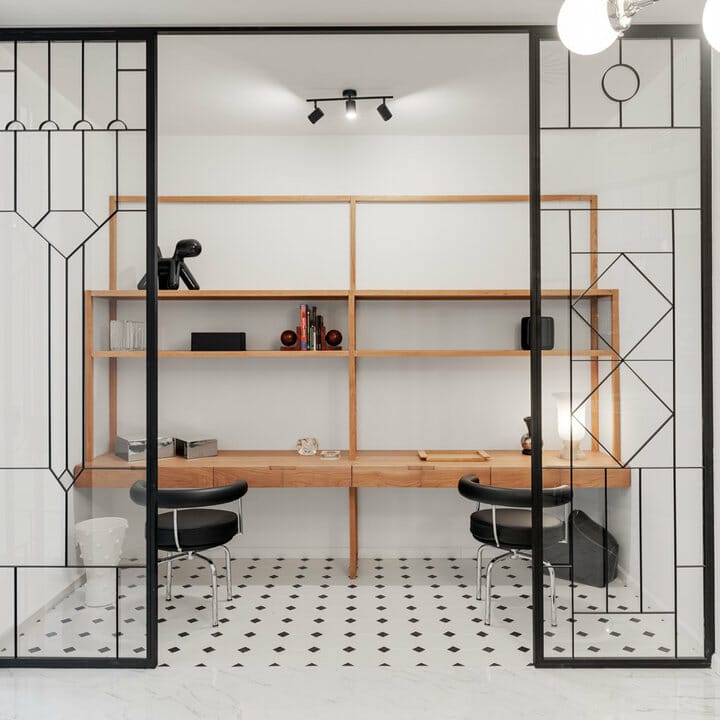 It doesn't matter if you decide to combine the concept of a rustic built-in workbench with your dominantly modern interior design. It is the true definition of contemporary style freedom.
There is nothing wrong with setting everything in place if all the designs and furniture are under your needs and preferences.
6. Put a Focal Point on Minimalist Home Office with Two Desks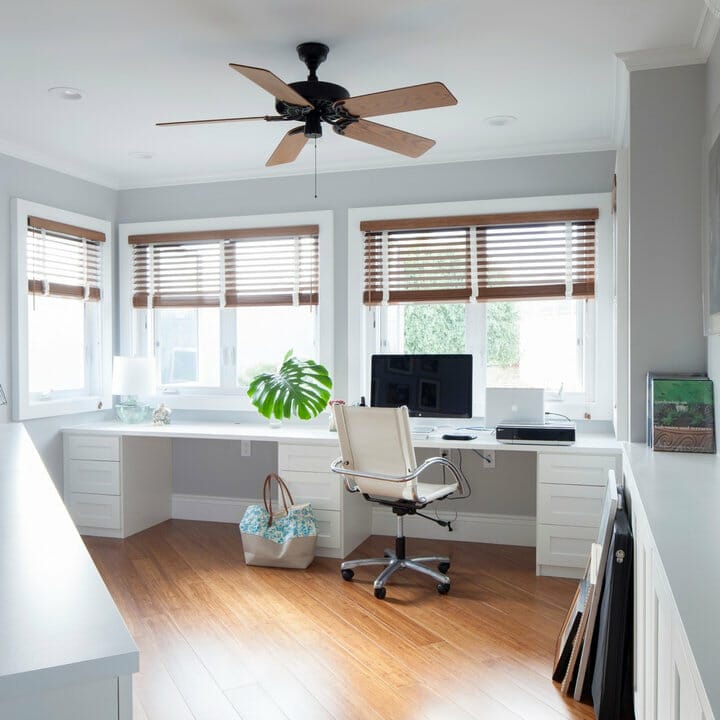 Having a work desk for two that is well-organized is undoubtedly a must. But, don't forget to put some greenery in the middle of the table, so that both of you can still get freshness in a busy working atmosphere.
7. Traditional Warm White Built-in Shared Desk Set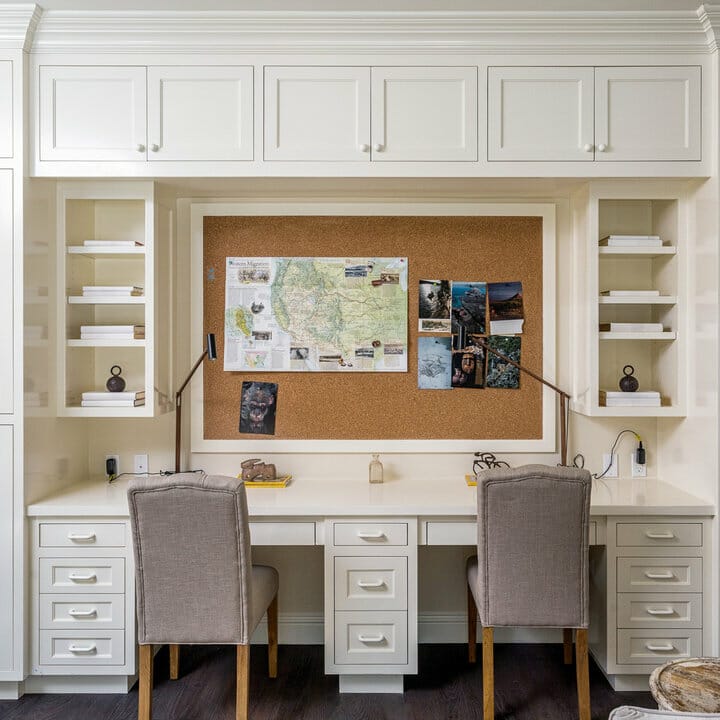 There are many shared home office ideas that you can apply in your workspace. One of them carries a traditional theme with its signature built-in furniture.
As most people know, the built-in workbench always comes with a set of storage bins that can hold stuff. You can customize yours by giving an empty spot in the middle—also, a separate shelving system on both sides.
Because the center part is empty, you can use that spot as a shared to-do list board at once.
8. Different Style Workstations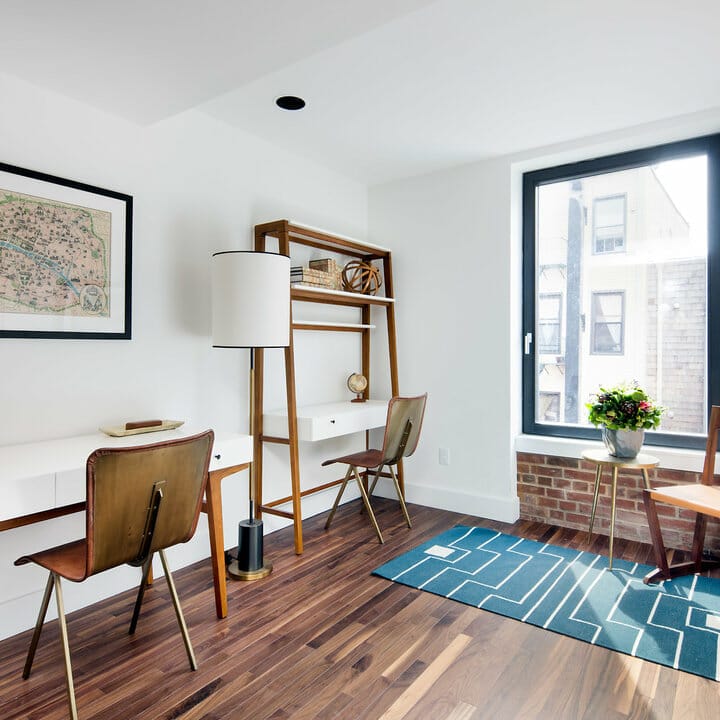 Having good harmony in applying the concept of a home office with two desks is, indeed, a must. As a result, your workspace will be pleasing to the eye every time.
However, it doesn't mean you can't go with workbenches with a different model. Everything is just fine as long as they have the same tone and color.
9. Industrial Long Built-in Workstation for Shared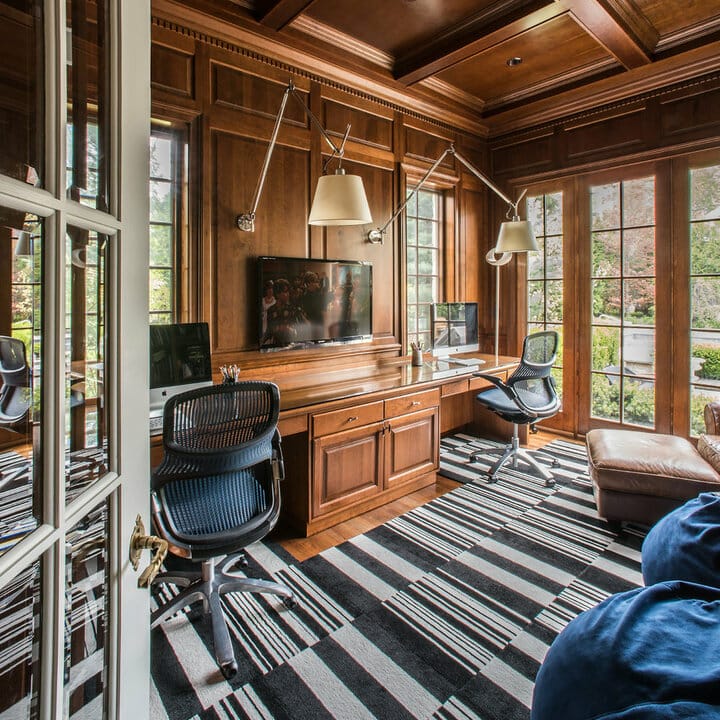 You can easily apply the industrial style in your workspace only by presenting a built-in workstation desk for two, made entirely of wood. Then complete it with an Ergotech office chair that is easy to move.
You can also equip it with a pair of adjustable metal wall task lights over the table. That way, you will get sufficient lighting while working.
10. Renewable Home Office with Two Desks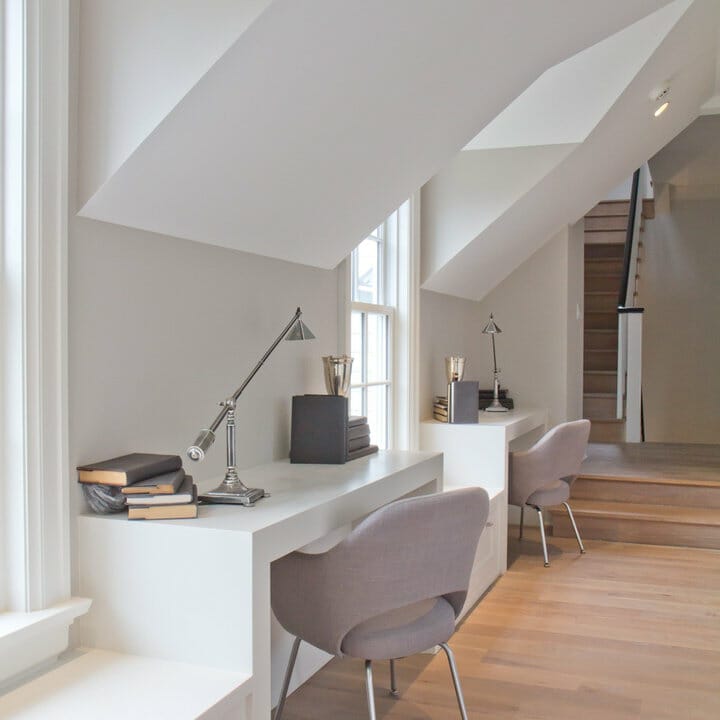 Working in the same room with your partner does not mean that you have to share a large-long table forever. Instead, the two of you can have a separate table yet still connect one another.
As the design above shows, you can see a cabinet with a smaller size that comes in the center part as a separator for the two work desks.
With the "separate but still connected" table concept like this, you can more freely provide table decorations that suit each of your wishes.
11. Different To-do List Board for the Two of You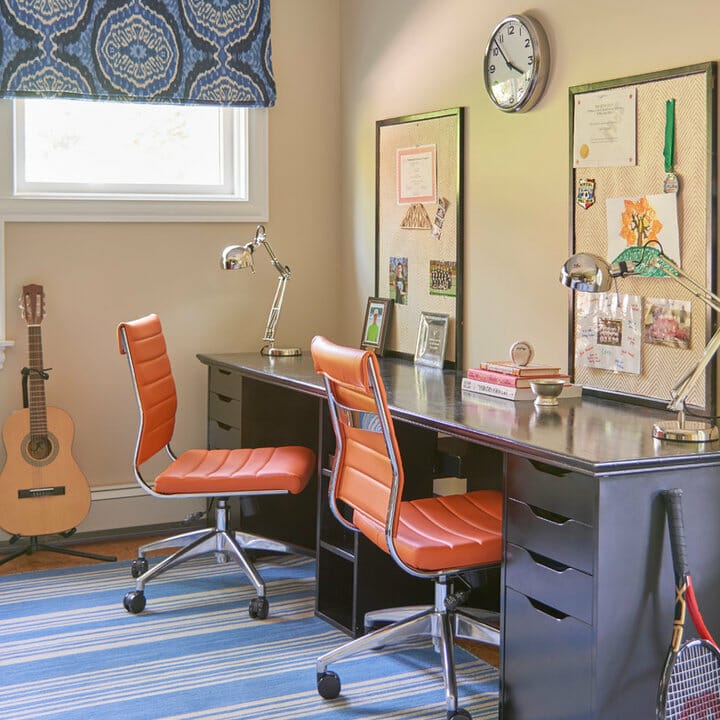 The arrangement of a home office with two desks encourages you to provide different work spots, storage, and a reminder board hanging on the wall as well.
But of course, you don't want all your notes to be mixed up with your partner's, do you?
Therefore, it would be better to provide two to-do list boards to keep things more organized.
12. Simple Shared Home Office Desk with Eye-Catching Décor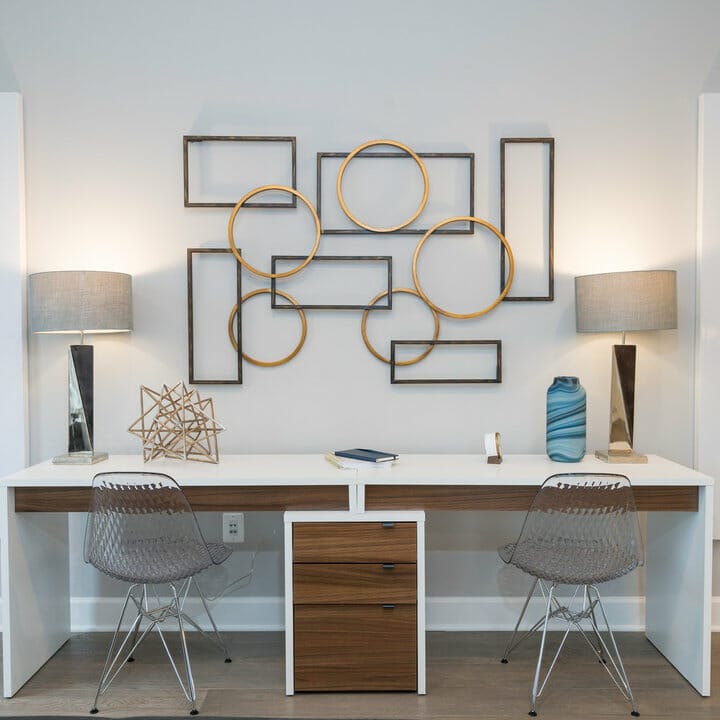 Once you have done with all the functional aspects. Now it's your turn to give an attractive decoration to your home office with a two desks arrangement.
Factually, the work spot will still be fine even without the presence of a to-do list board. Instead, you can install a wall art decor that suits your preferences and that of your partner.
Since it is a shared desk, make it a priority to choose typical but still stunning decorations. If you want to give some personality touch, it's better to arrange it right above your work spot.
13. Modern Home Office Desk with Large Surface and Deep Storages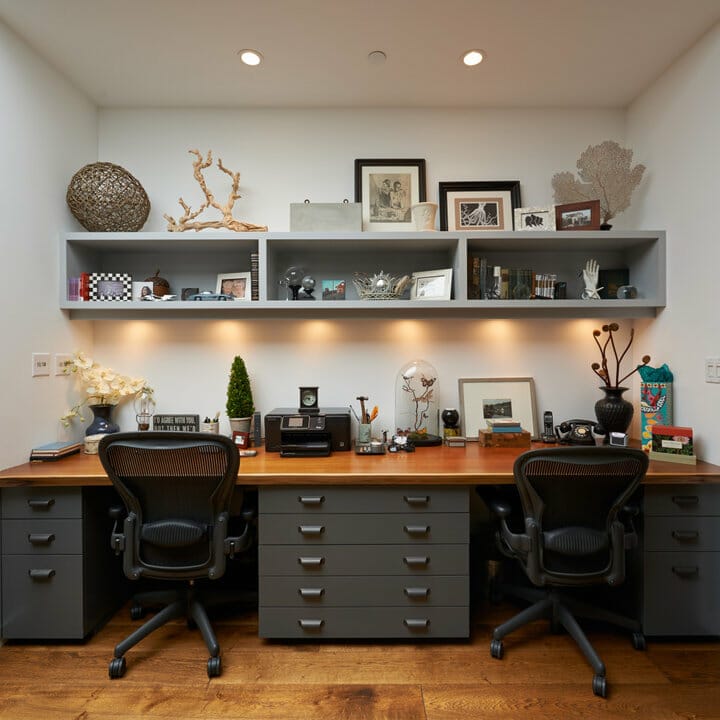 Suppose you and your partner have enough working essentials. In that case, you should consider choosing a workstation desk for two that is quite spacious and has deep storage.
You can also pick one with lots of drawers. Moreover, adding a doorless cabinet mounting on the wall can also help you store some decorative elements.
Some accessories with natural nuances can liven up the atmosphere of your workspace.
14. White and Green Combination for Relaxing Atmosphere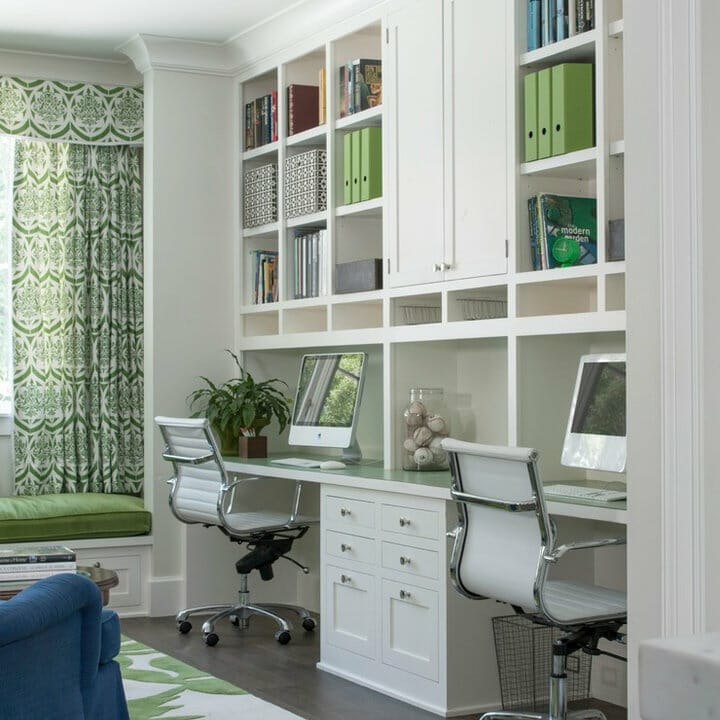 The amount of work to do sometimes makes you not have enough time to meet the fresh air outside. Therefore, you have to give a touch of green to the furniture in your workspace. It could be on the table surface, couch, and even your filing storage.
Just like this home office with two desks introduces you to the natural concept.
In addition, you can put greenery on the side of the table.
15. Maximize the Space by Installing Task Lamp Under Shelving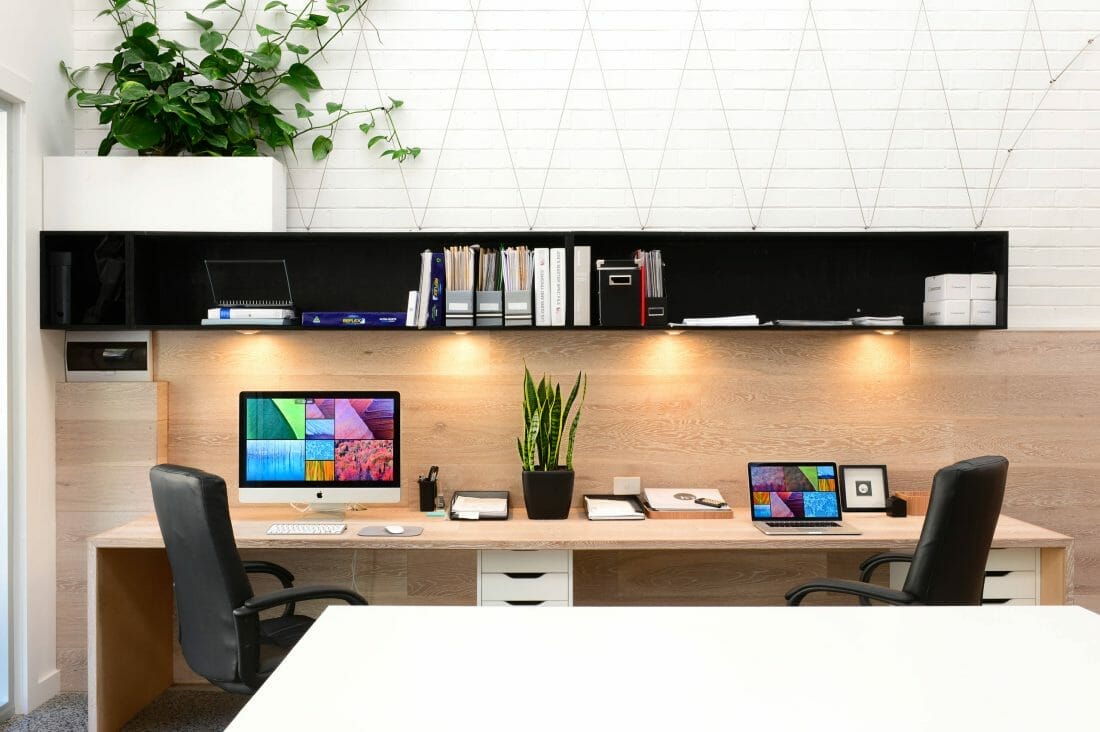 The number of items on the desk makes your workspace feel cramped. It even happens when you already used a home office with two desks arrangement, though.
But don't worry, you can install the task lamp under the existing shelving system to work around this.
Believe it or not, this concept can better make your work spot look more expansive than using a table task lamp.
16. Inspiring Aquamarine Home Office with Two Desks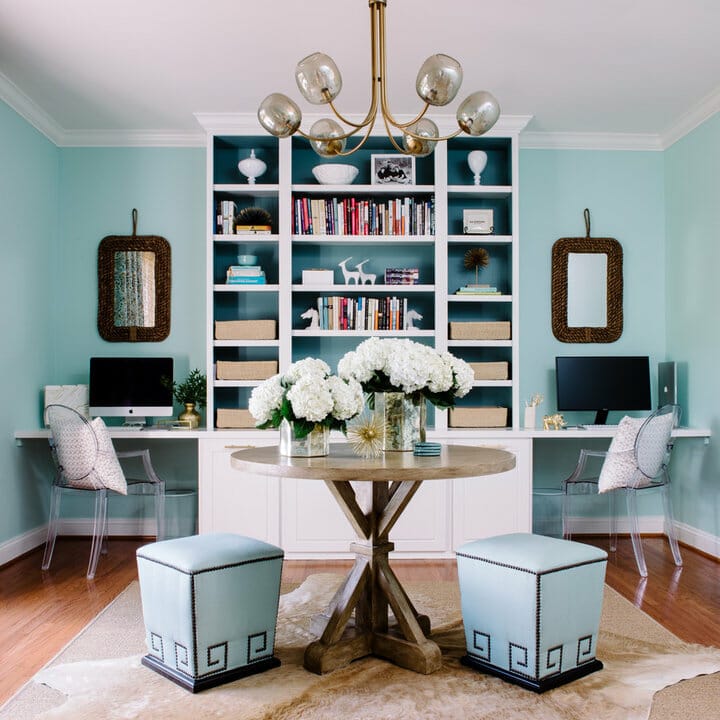 There's nothing wrong with adding a touch of your favorite color to your shared workspace. But you need to make sure that you have discussed this interior design with your partner before.
It is an open secret that giving a bright color to the workspace can help boost your mood and productivity during work.
Arranging the working desks as far as possible makes you more focused on each work.
And, the presence of a small table in the middle of the room will make it easier for you and your partner to talk in your spare time.
17. Sleek Coastal Plywood Corner Desk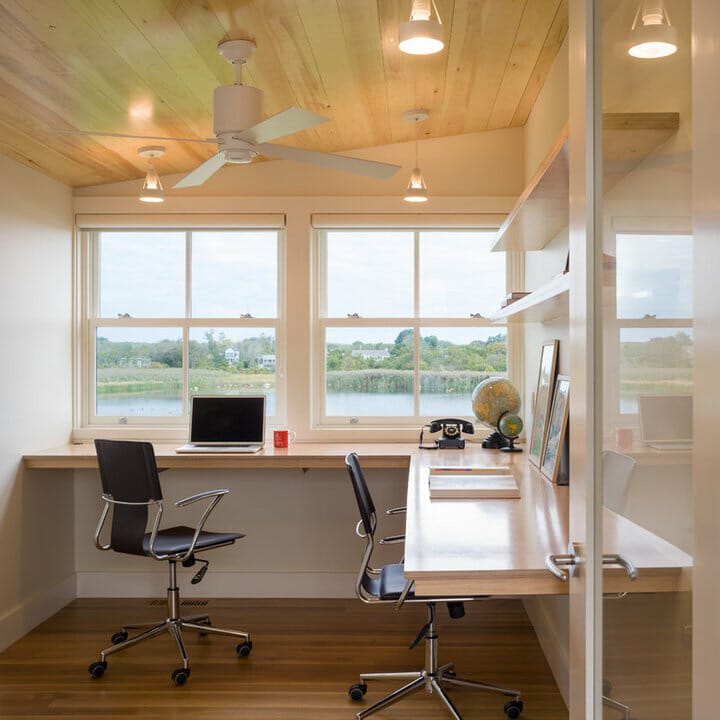 Suppose you're looking for a home office arrangement for two desks in a small space. Then, here you'll find the answer, namely by installing a floating corner desk made of plywood.
Plus, consider setting a ceiling fan over your working area instead of the table or the floor version.
Also, it is an advantage for you who don't have a lot of working essentials as you don't need to set a lot of shelving systems inside. It is the critical point to make your working space looks more spacious.
18. Vintage Workstation with Mirror Cabinet Above
It is a home office with two desks that carries a warm and earthy vintage theme. There is nothing that distinguishes the arrangement of this workspace from the others mentioned above. Only a row of cabinets with mirrored glass makes it different.
The use of mirror material here is not without reason. Indeed, it acts to give an overall impression with the reflection of the object in front of them. While the rest, the mirror cabinets will make your workspace more aesthetic.
19. Two Desks in One Line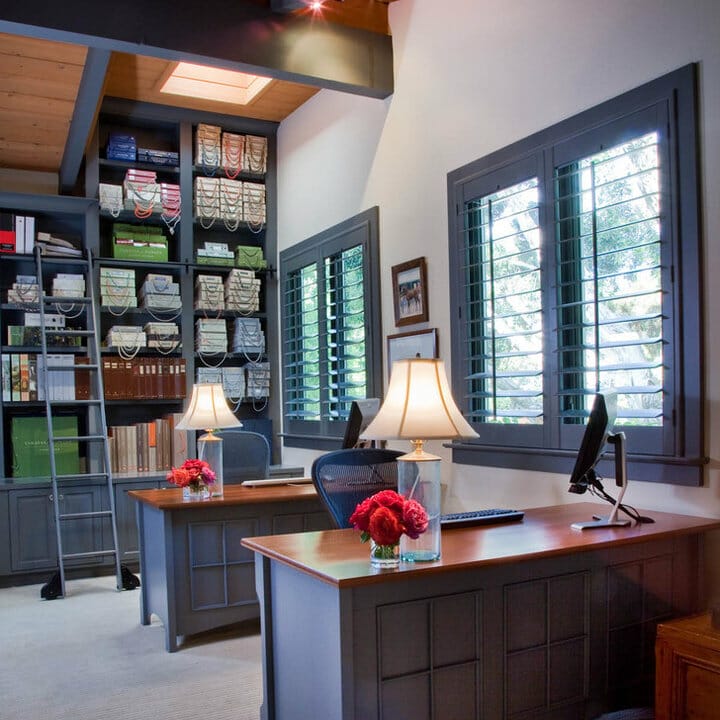 You can generally find a working desk arrangement like this in the offices. However, there's nothing wrong with adopting this style at home, right?
Of course, you have to keep giving other touches to put energy into your workstation. You can start with a red flower vase on the side of each table.
20. All Around Built-in Working Desk in Minimalist Style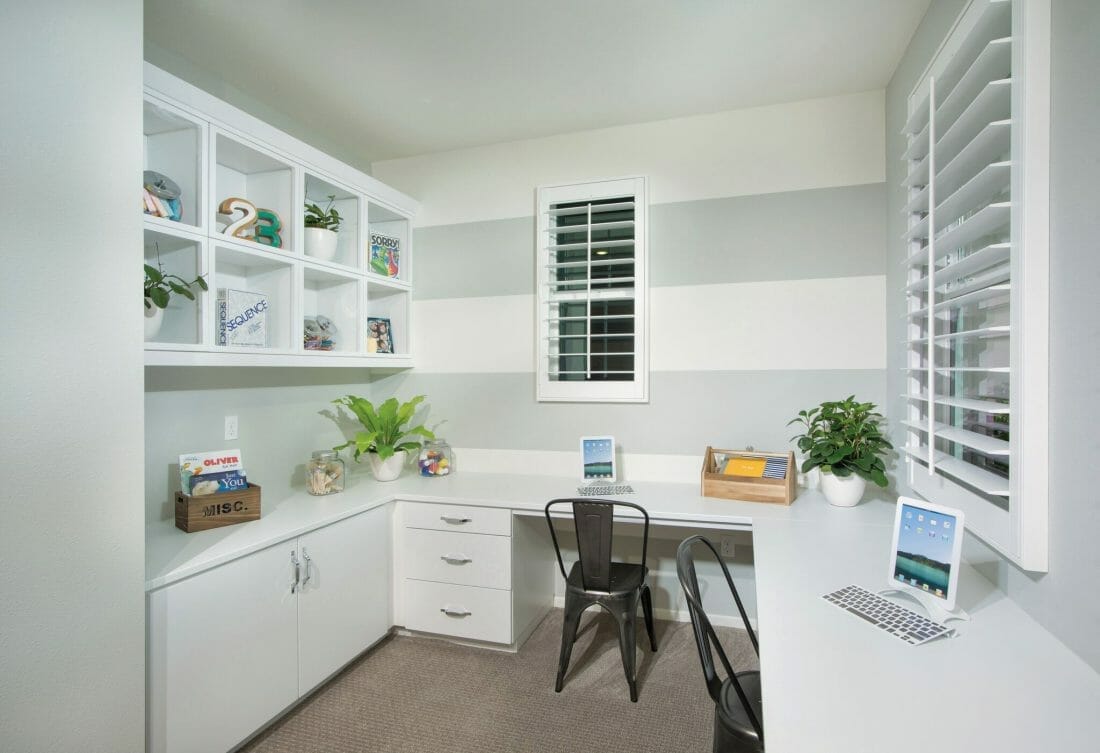 You have applied a workstation desk with a corner style. And, now, it is the time to try to make your desk mounted around the walls of the room.
Also, complete this design with the presence of cabinets, floating shelving, and also drawers. Then, give this room white and light gray paint as a final touch. That way, everything seems to come together in attractive simplicity.
21. Bring Out the Luxurious Vibes with Gold Accents and Some Patterns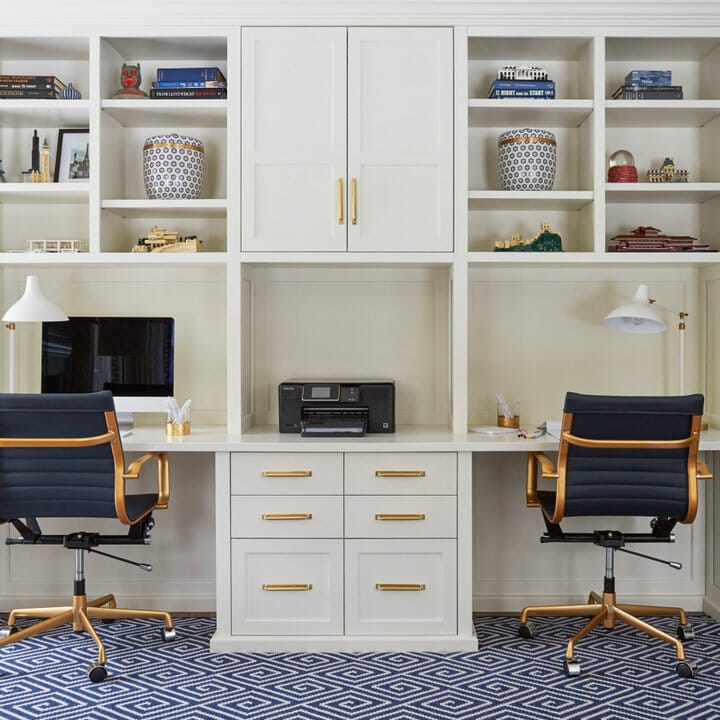 An excellent home office with two desks arrangement comes from all the elements accompanying it. It also includes the flooring system and other knick-knacks that give this space a statement.
To bring out the luxuries in your workspace, try combining your dark patterned flooring with light-colored furniture with some gold accents as above.
22. Black and White Home Office with L-Shaped Desk for Two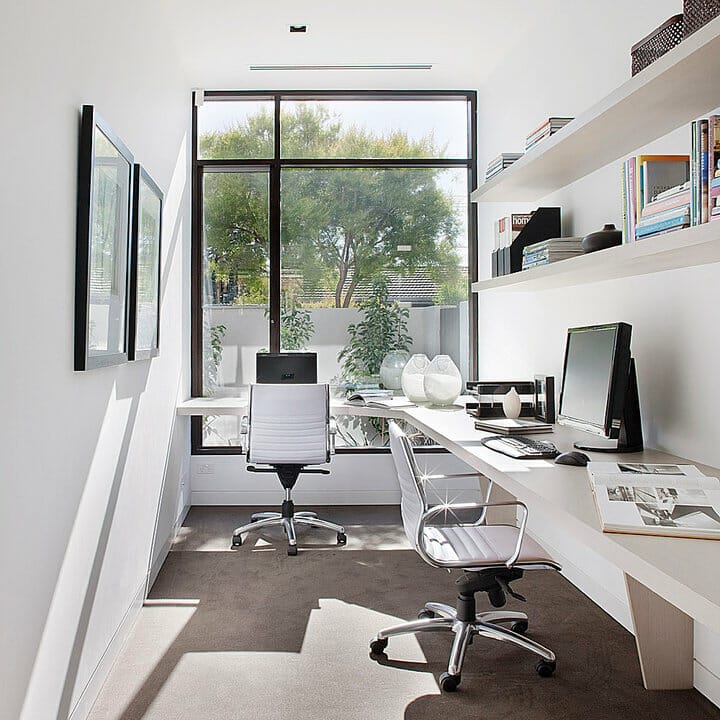 The work desk resembles the letter L helps you have a long working spot in a narrow space.
In a small setting like this, adding multicolor and patterned elements will only make it seem cramped. Instead, it will be safer to play with black and white to make the room look more spacious.
23. Built-in Floating Table and Shelving Set with Cabinet on Wheels in The Center
You can apply the Home Office with Two Desks setting not only to adult workspaces. But it is also suitable for children's study rooms with a brighter and colorful theme.
By presenting a cabinet with wheels right between the two desks, your child will be more focused on working on their respective tasks.
24. Polished Wood Working Desk with Bright Organizer
The home office with two desk setup adopts an eclectic style allowing you to play with any color you want. Even when you combine it with a standard wooden workbench with a dark shade, everything will still be pleasing with the proper arrangement of every element.
25. Back-to-back Work Desks Settings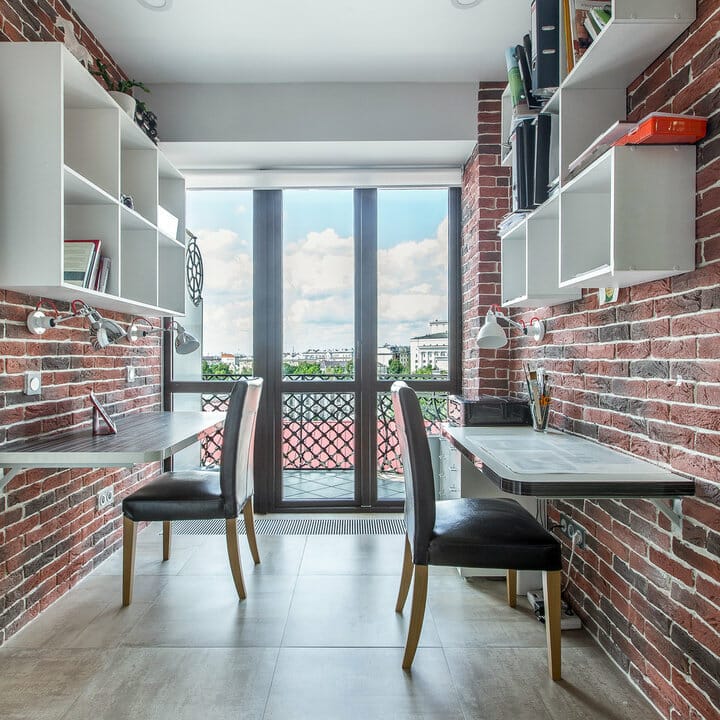 Suppose you are a person who is easily distracted during work. Then, a home office with two desks arrangement suitable for you is a back-to-back setting.
And, if your workspace is not big enough, it's a good idea to install it zigzag way so that there is still a path in the middle of the space to get through.
26. Two Large Desks and Corner Shelving in Autumn Vibes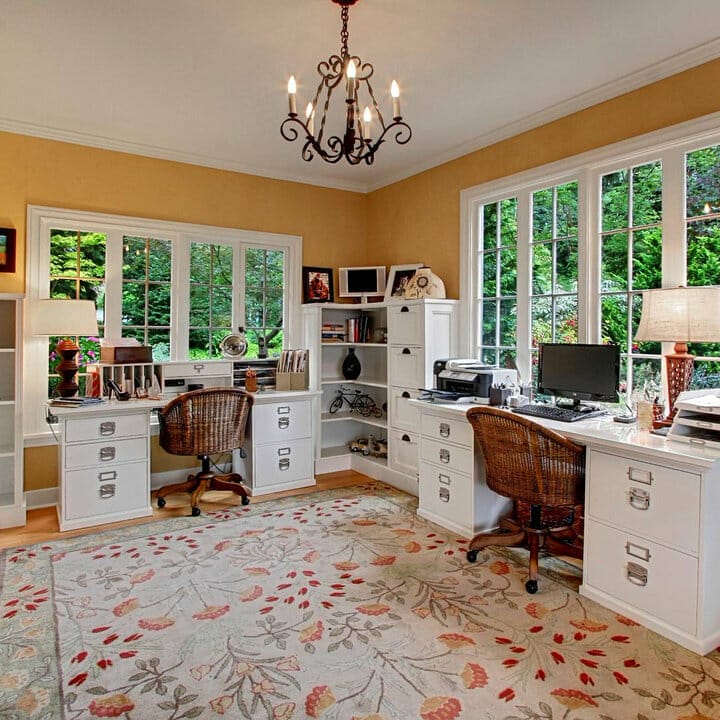 In large workspaces, corner desk settings rarely apply. Instead, many people choose to put corner shelving.
Meanwhile, they place the desks on different sides facing the different window views.
The aesthetic value of a home office with two desks like this lies in the neatly arranged tables set in front of each window. It would be more pleasing once it had natural textured work chairs that are in harmony with the atmosphere of the working area.
27. Farmhouse Workstation in Turquoise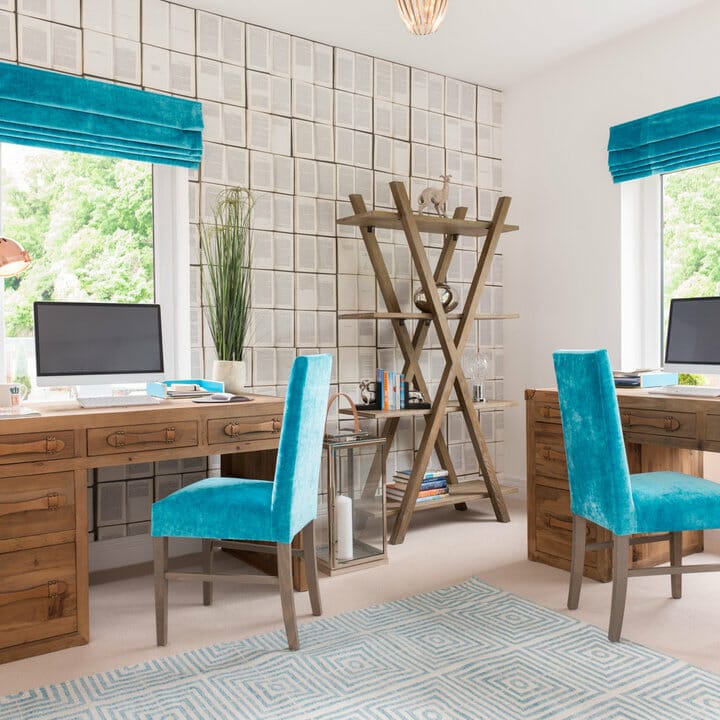 You can get other inspiration from a home office with two desks through the vibrant feel like in the picture above. The application of turquoise color can state the rough-textured farmhouse furniture you have.
28. Face to Face Twin Working Desks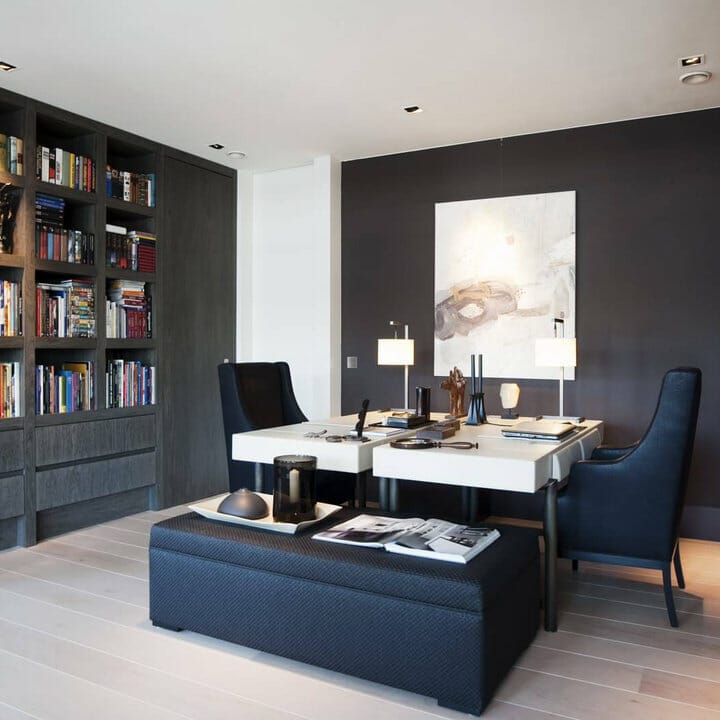 Here is the final recommendation from a home office with two desks ideas.
The placement of twin desks in a head-to-head position makes it easier for you to discuss with your partner while working. Arrangements like this are generally able to strengthen the bond between one another.
After seeing all the recommendations for setting up a home office with two desks, do you already have an idea of what to do with your shared working space?