Blank space in the sitting room would be very dull to look at. Therefore, you need to bring some living room large wall decor ideas to elevate the appearance of your home.
At least, by having striking wall decor in the living room, you will be more comfortable spending time there with your family.
Moreover, when you successfully implement unique living room large wall decor ideas, of course, your guests will be amazed by it.
Besides the living room, you can also bring these ideas to the main bedroom and the dining room.
And, from hundreds of designs, these are the thirty-one living room large wall decor ideas that we recommend the most.
1. Liven Up the Space with Botanical Wall Décor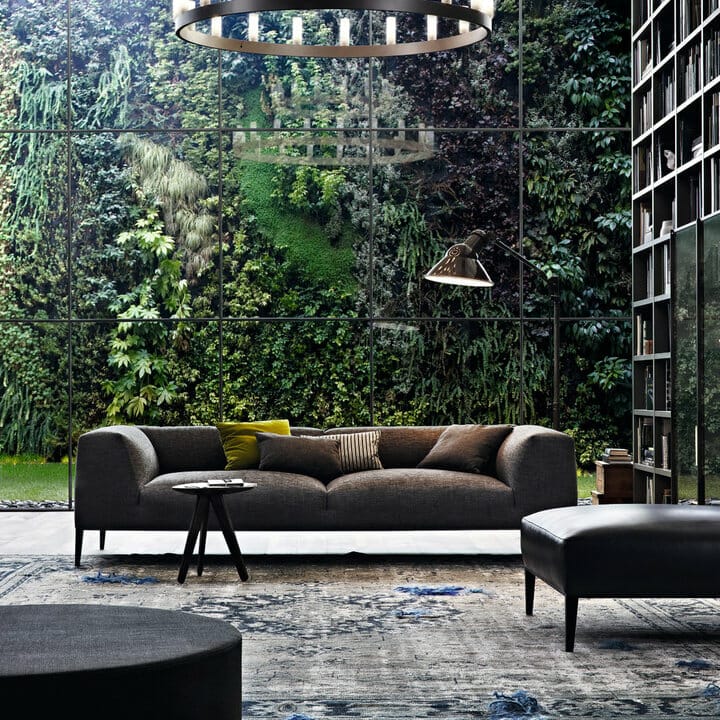 Suppose you are confused about what to do with an empty wall in living room. In that case, you can consider completely redecorating it.
To create a fresh look, you can go with huge wall plants like the one above. Next, you can give a glass border to give a classier impression.
Alternatively, you can also use nature-themed wallpapers for a more affordable cost.
2. Large Wall Art in Contrasting Color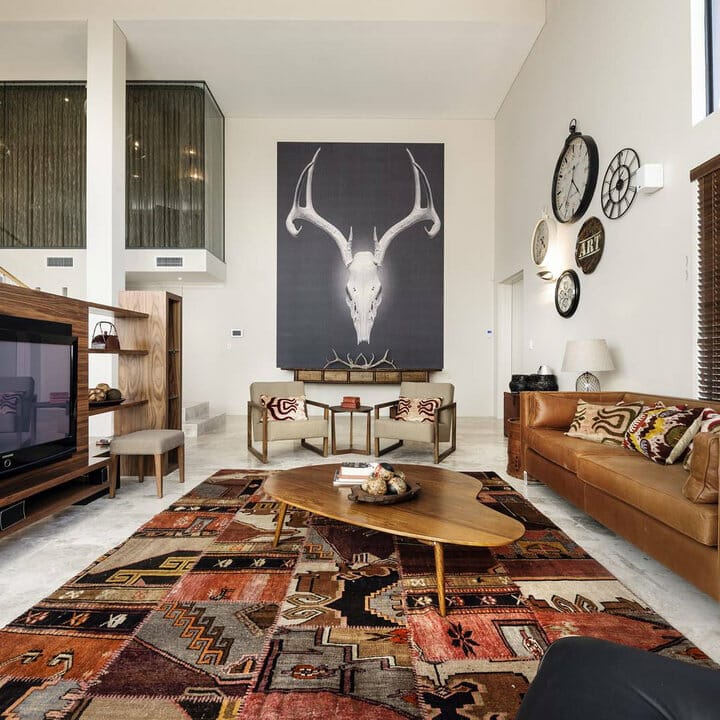 Living room large wall decor ideas reach many decorative objects such as illustrations, portraits, and others. And in choosing this wall art decor, you have to consider color harmony.
If you have a white-themed wall, it's a good idea to take a vast wall art with contrasting colors. Indeed, Black with a deer's head painting can provide an attractive and timeless focal point.
3. Living Room Large Wall Decor Ideas with Sculpture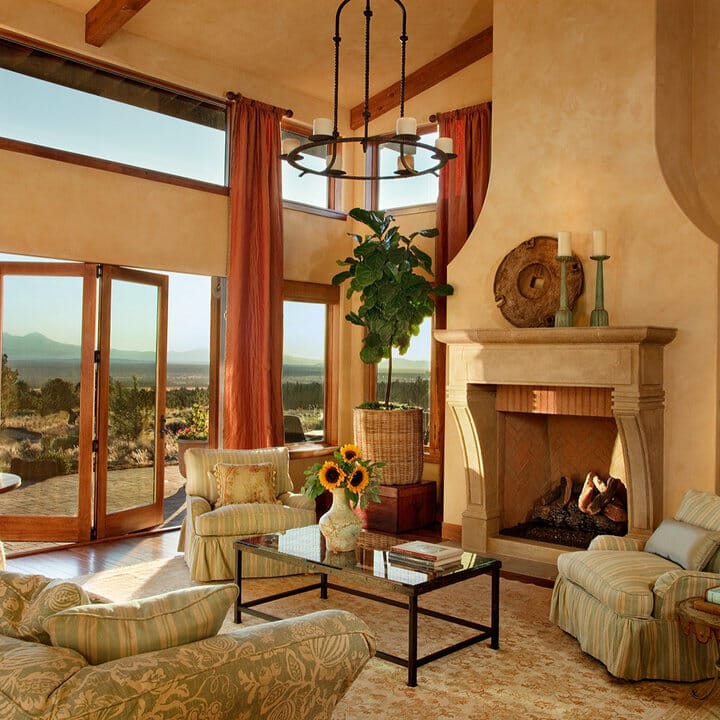 Apart from 2D decorations, you can also choose sculptures to make a statement on your plain walls. Not only by hanging, but you can put it on the mantel-shelf of the fireplace.
To further enhance the appearance, add a tall antique candle holder. That way, the Mediterranean-style look that you dream of has come true.
4. Long Abstract Painting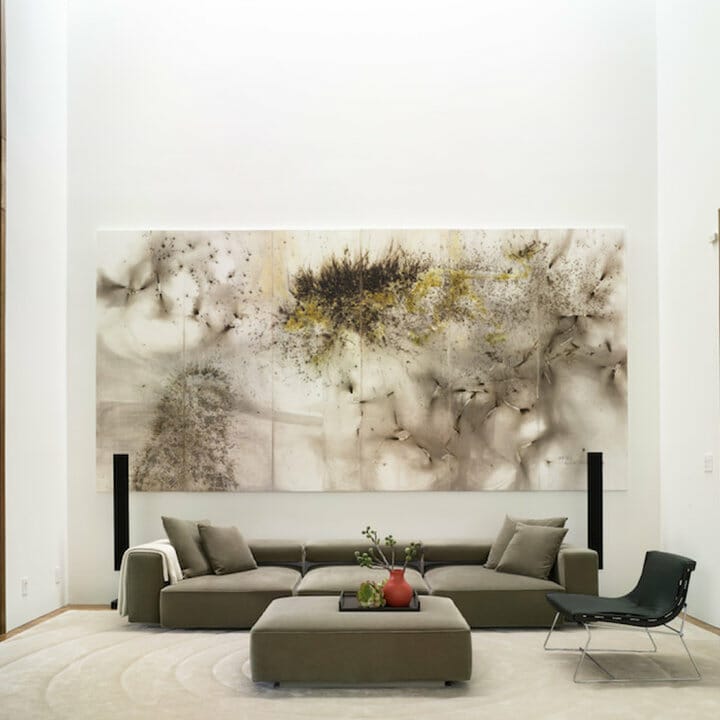 Abstract painting with a white base and a touch of gold will successfully turn a dull, blank space in your living room into a highlight that many people love.
Suppose you want to make your sitting room look wider. Then try to choose wall art that is installed horizontally. However, to make your space look higher, it would be best to choose a vertical one.
5. Eye-Catching Wall Mirror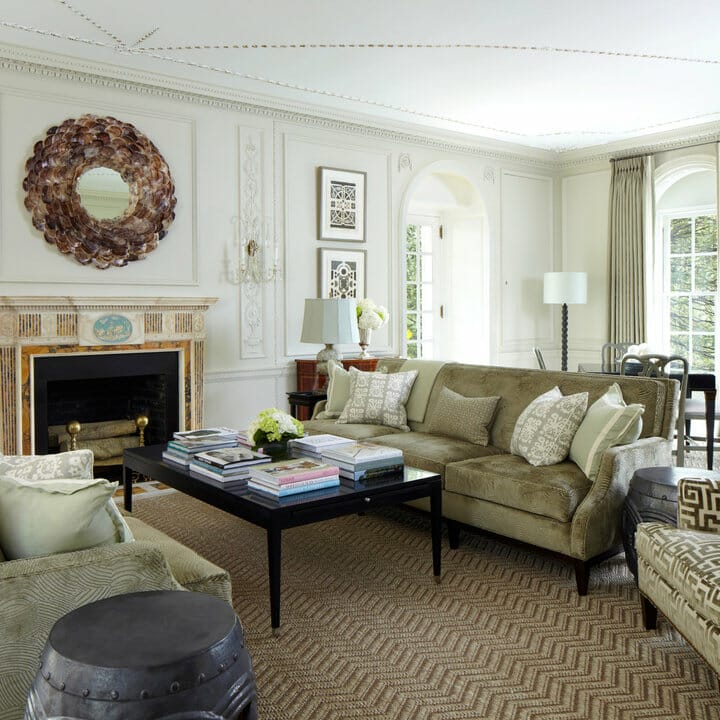 Instead of bringing a standard-looking glass, it would be best to adopt living room large wall decor ideas with a mirror with shells around the edge.
You can get it quickly in the marketplace. Or you transform your primary mirror with a more cost-effective DIY project.
6. Large Clock to Create Focal Point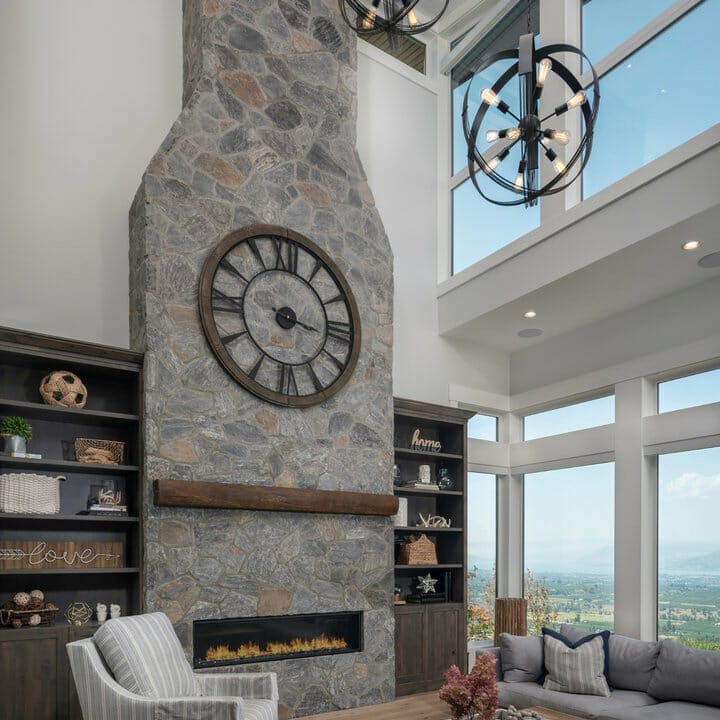 No matter what interior theme you have, be it farmhouse, rustic, industrial, or modern, bringing a grand clock is the best decision to elevate the blank space in your living room.
Furthermore, you can also install a light fixture with large size to express the existence of your sitting space.
7. Set a TV Wall In the Centre Part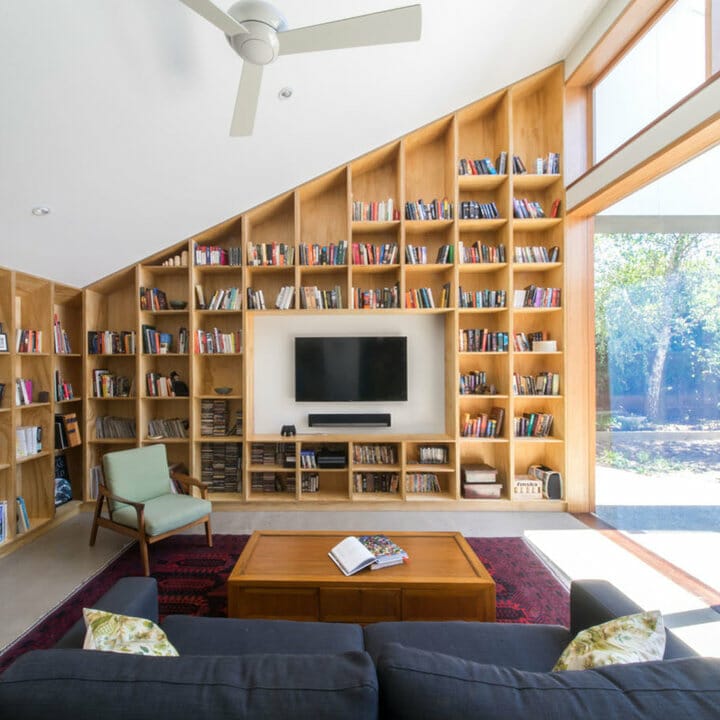 Living room large wall decor ideas with bookcases have become something common. However, it does not mean that this strategy will make your gathering space outdated.
You can create other interesting designs with irregular shapes. Additionally, you can also be creative by providing a TV wall in the center of the shelving system.
8. Simple Piece of Canvas Art and Tiny Windows
Wall decoration ideas for living rooms don't just stop at the use of wall art. Alternatively, you can even provide tiny twin windows on both sides of your room. And, it doesn't need to be complicated.
The important thing is that it has an aesthetic value that goes well with your interior design.
Besides elevating the value of a blank wall in your living room, this window also allows light to shine through your sitting room well during the day.
9. Striking Color of Wall with Painting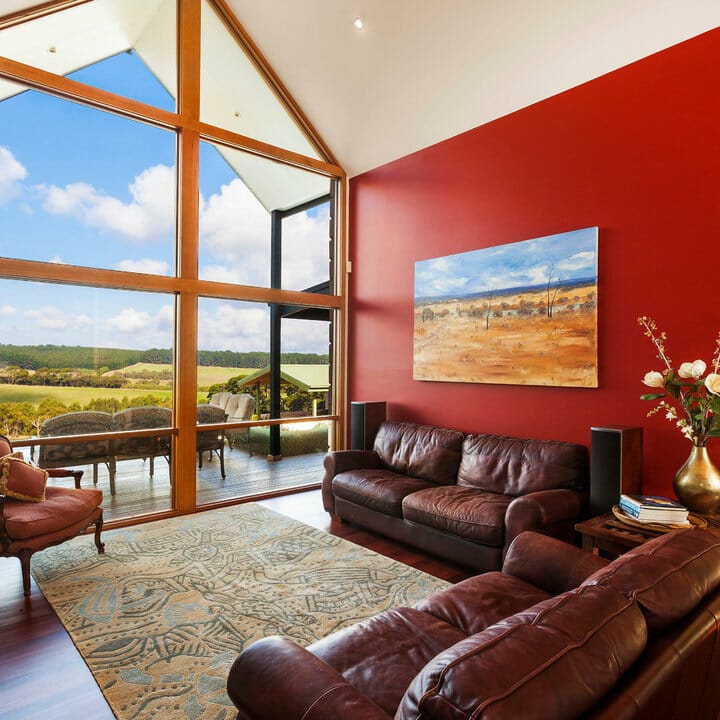 Giving a red tone to one side of your sitting room wall is a bold move. Furthermore, it can also give personality to previously dull spots.
After knowing this strategy, you know that living room large wall decor ideas are not only about grand display objects. But it's also about giving an eye-catching accent wall even without a lot of ornamental elements.
10. Spotlight the Ceiling and Light Fixture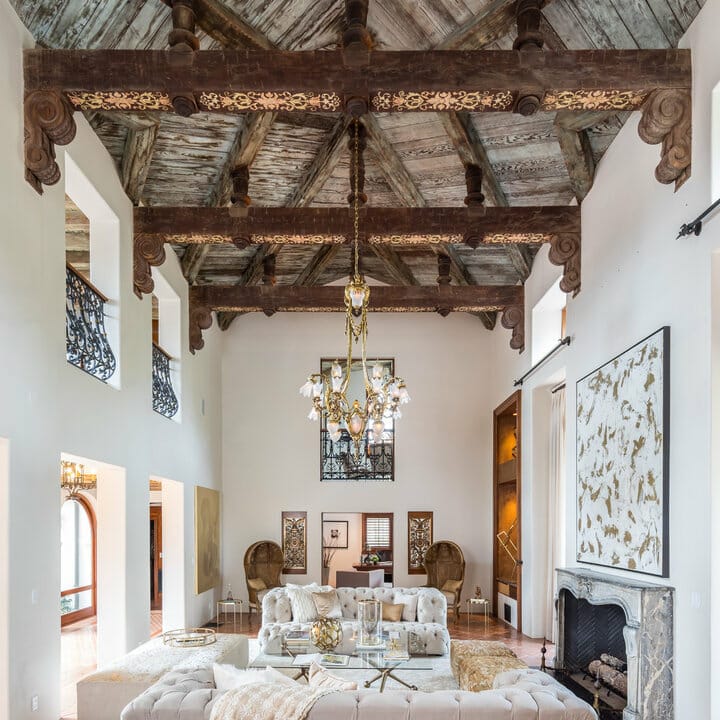 You can leave your white walls blank. However, consider shifting the focal point to another spot, such as the ceiling and light fixture.
Choose a ceiling that has carvings or go with large, textured pillars. That way, the arrangement of your gathering space will still be pleasant to look at.
11. Huge Floor Mirror to Reflect Objects in Front of It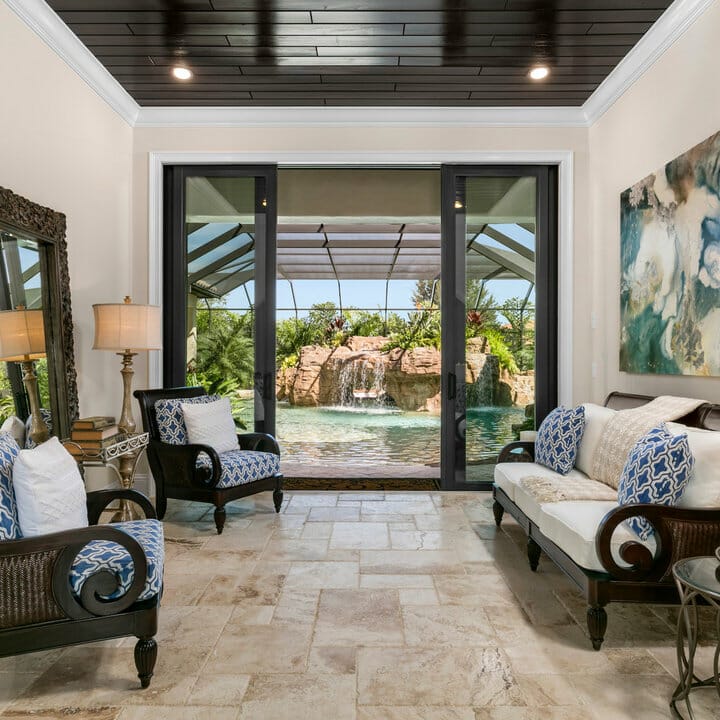 Again, the living room large wall decor ideas suggest you use looking glass. It is not the hanging mirror but the standing one instead.
As in the picture above, once you present a floor mirror with a carved frame, it will strengthen the vintage vibe in your sitting room. Moreover, this furniture can also reflect all objects in front of it and make your room look wider.
12. Mounted Sculpture on Wooden Wall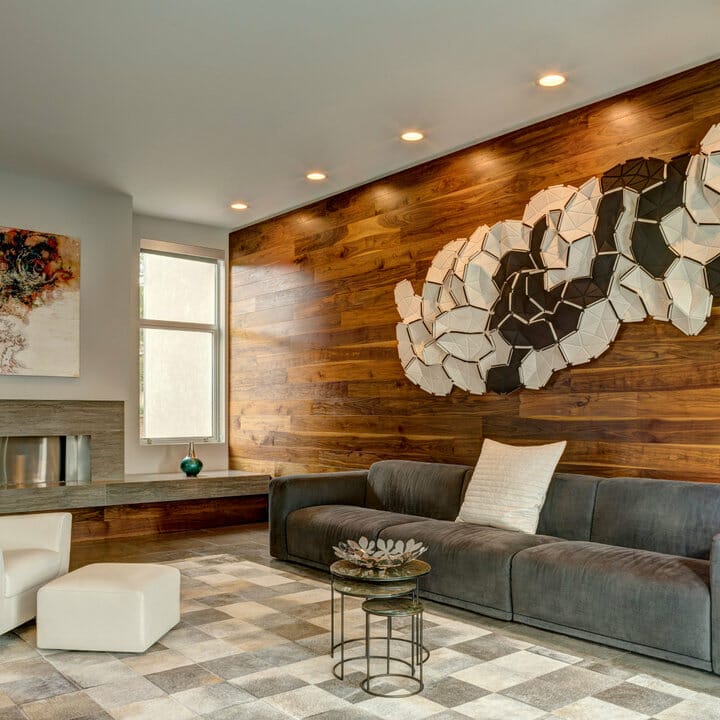 Have you ever thought about how do you decorate a huge wall for the next season? Sometimes, there is nothing wrong if you consider giving a fresh look to welcome every season in your living room. As long as you have sufficient funds, then why not?
Well, once you seek inspiration and put interest in earthy design. In that case, you can fill one side of your blank wall with wooden paneling.
Then, hang a large sculpture on it. Believe it or not, this will become everyone's favorite decoration.
13. Industrial Living Room Large Wall Decor Ideas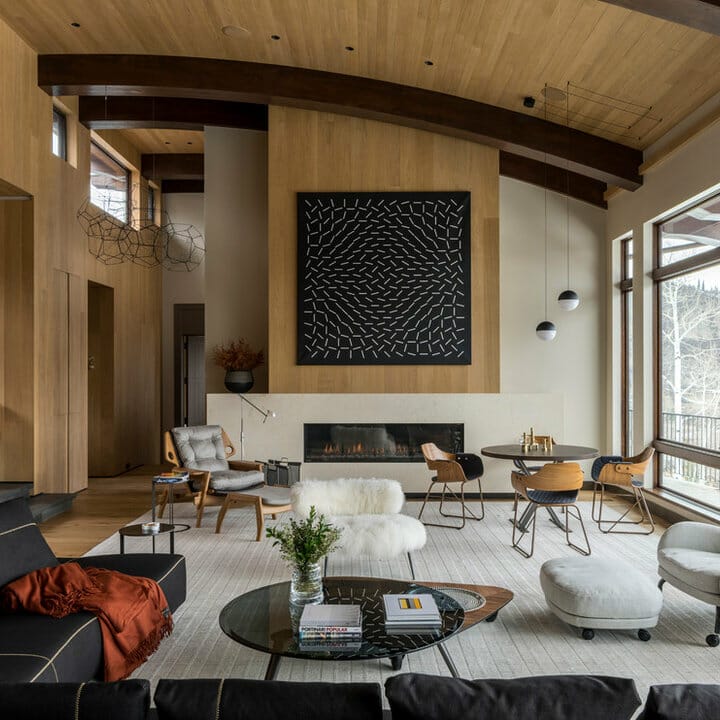 Industrial design is currently booming among many people. It happens because most people think this is a fairly straightforward concept and doesn't require complicated furniture.
Even in terms of wall art, it would be better to feature a monochrome nuance with abstract illustrations.
14. Traditional Book Case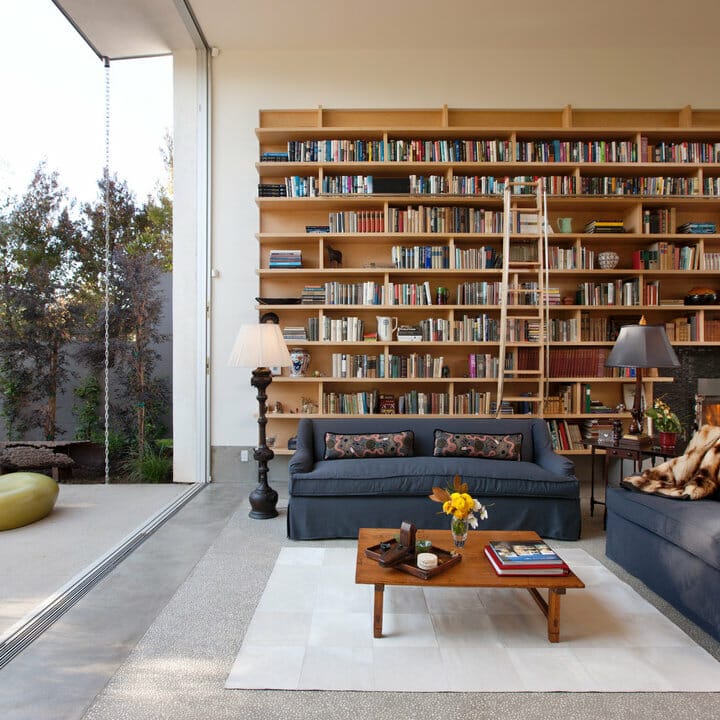 Not much different from the previous living room large wall decor ideas. Indeed, presenting a bookcase is the most practical step to increase your home's aesthetic value and versatility simultaneously.
You no longer need to worry about the walls being too monotonous by providing a bookshelf. Even better if you also complete the shelving set with a portable ladder.
15. Textured Wall Panels with Matching Artwork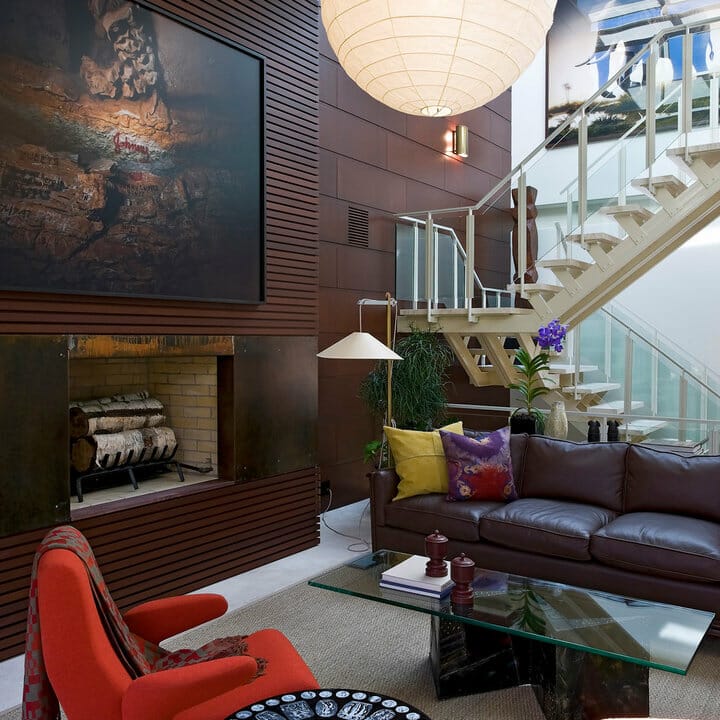 Previously, you already brought the wall panels concept that reveals the wood structure. Now is the time for you to implement modern large wall decor ideas for the living room by giving earthy colored wall panels and textures.
For example, you can go with one with an embossed design in horizontal stripes or one that is wavy. Furthermore, you can also hang the framed painting in matching colors.
16. Put Two Frames in One Spot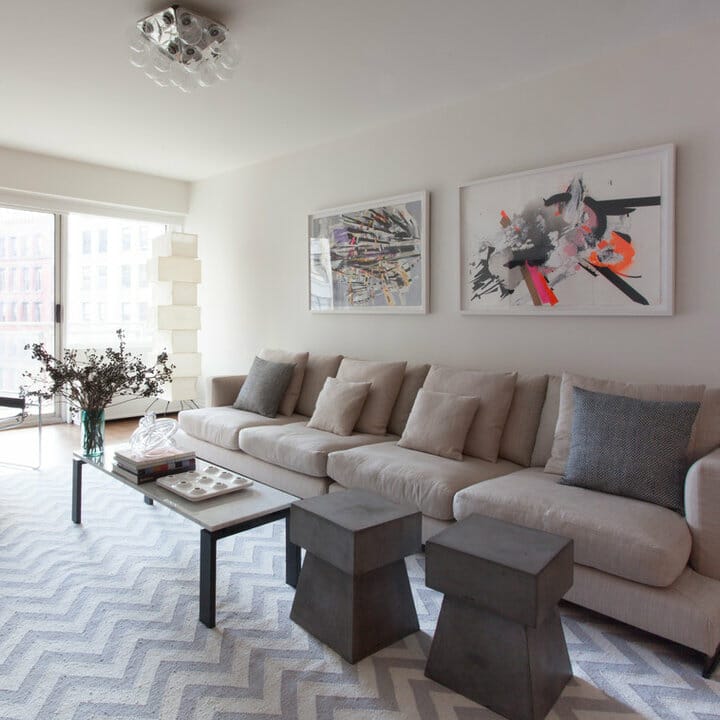 No one will blame you for displaying two art frames at once in one spot as long as they have the same level of coherence.
Then, everything will be perfect to increase the aesthetic value of the walls in your living room.
17. Bold Floral Wallpaper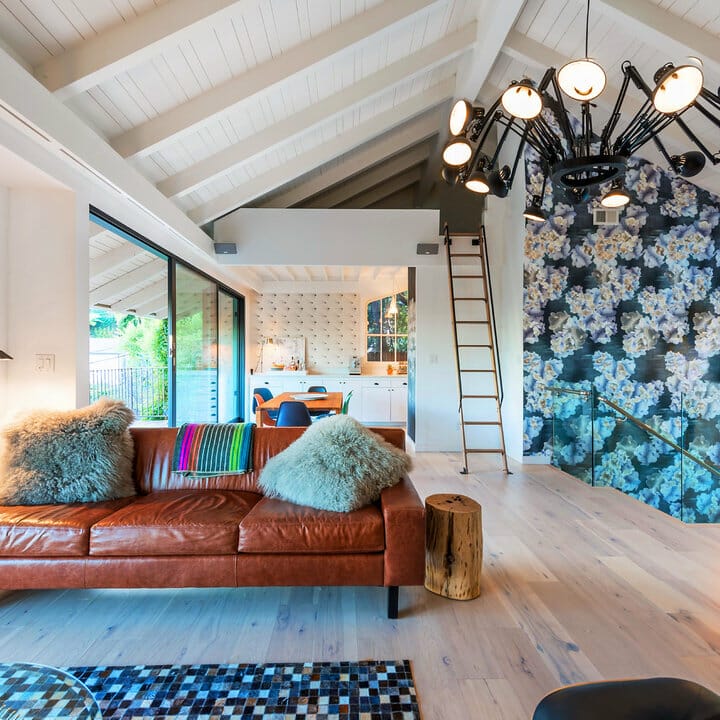 Of the many living room large wall decor ideas, using wallpaper to cover the emptiness of your home is, indeed, a brilliant decision.
As a result, you can now have a look that varies from season to season for a reasonable fee and is easy to install.
18. A masterpiece in Classic Gold Frames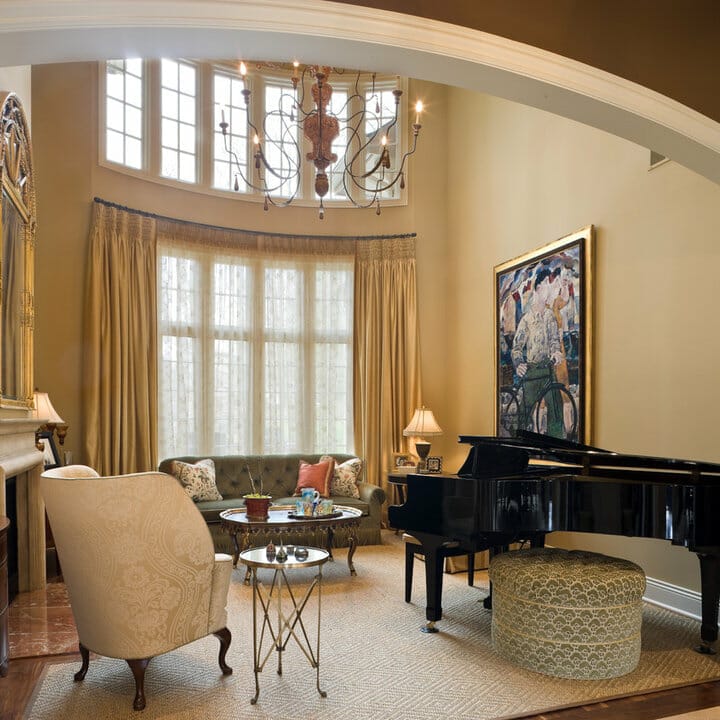 Paintings and portraits certainly never go wrong in leveling up a plain living room.
Suppose you have a classic-style interior design. Then it's good to go with gold-framed colossal wall art.
Even better, this concept will be no less magnificent than the homes of the royal families.
19. Fading Landscape Wallpaper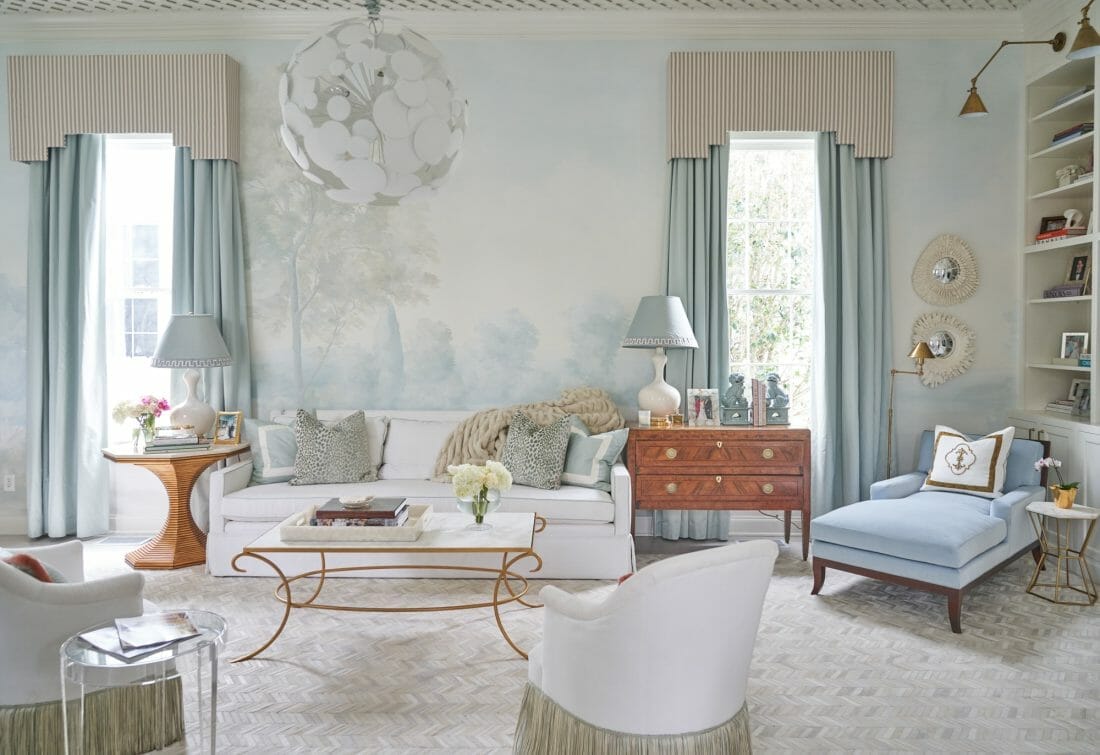 Suppose you have previously been recommended to install bold wallpaper. So, now is the time to try a more welcoming and warmer vibe.
Try to replace your bold wallpaper with pastel colors as the initial step. Or, you can also give one with a landscaping theme with faded images like the one above. Believe me. And all eyes will be amazed at this design.
20. Old Hanging Map and Large Indoor Plants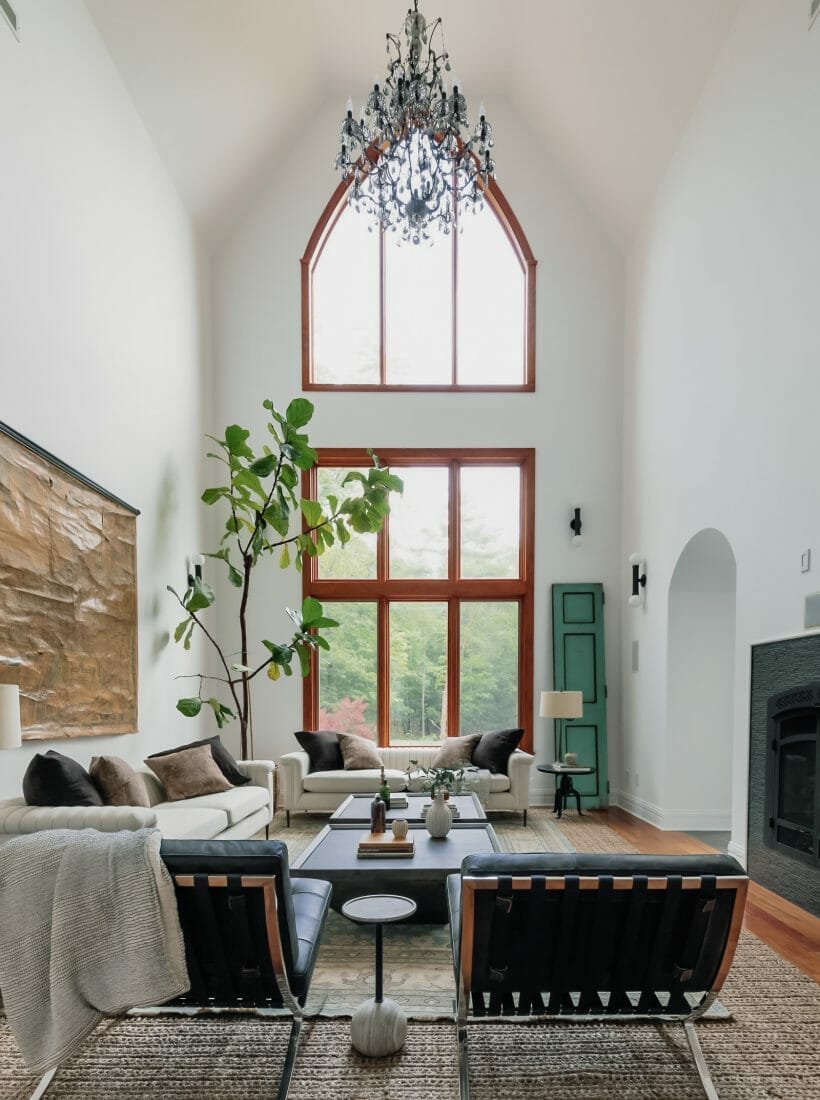 Living room large wall decor ideas don't require expensive frames with masterpiece paintings. On the contrary, you can use your old hanging map to bring back its charm.
If you often look for pirate deck-style themes, hanging this object in your blank space can be a choice. As a final touch, you can also add large indoor plants to further refresh your sitting room's appearance.
21. Multiple Sizes of Mirror and Printable Wall Décor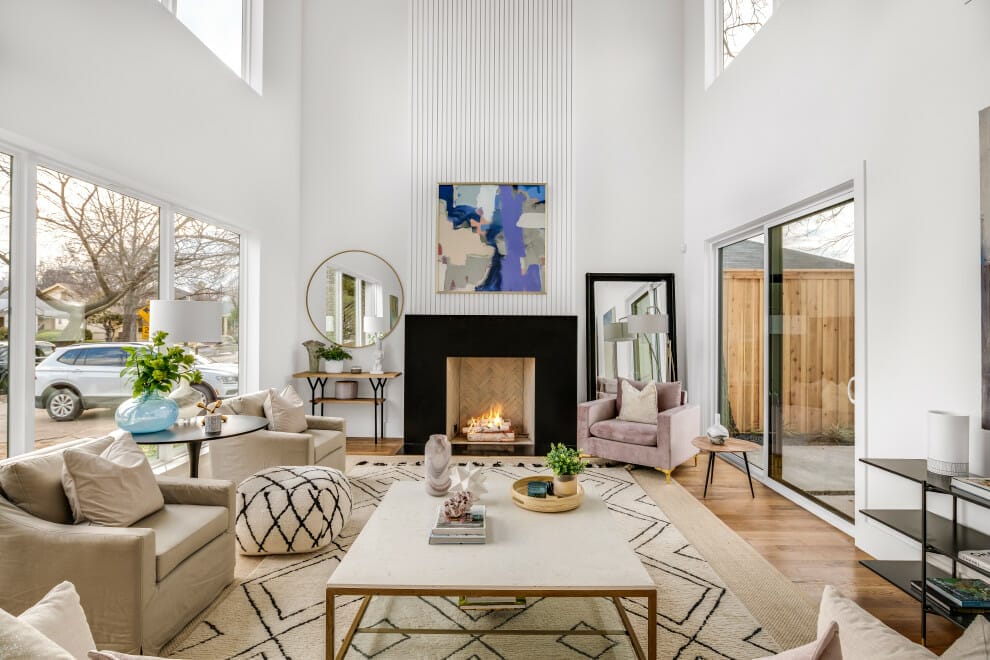 Being creative and expressive is the best way to give personality to your empty wall. Therefore, never hesitate to present various forms of mirrors in one spot.
Indeed, it will later be able to provide a unique focal point. In addition, you can also add printable wall art in the center part to accompany your looking glasses. That way, you'll get classy decor without spending much money.
22. Picture to Reach the Ceiling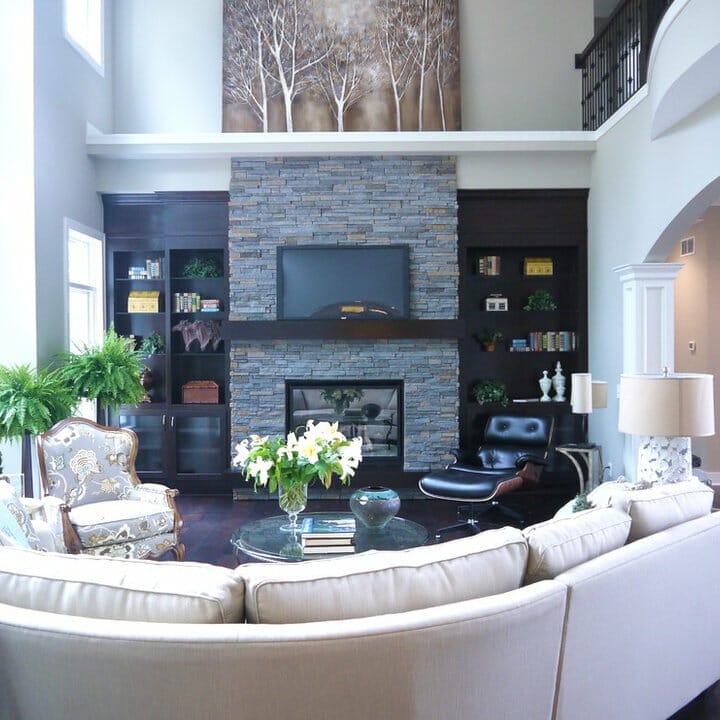 The empty spot above the fireplace is often the most annoying of all areas in your living room. Even more, if it is close to the second-floor railing.
Thus, you need to present a piece of art to enhance this wall further.
23. Transform the Wall into A Huge Window System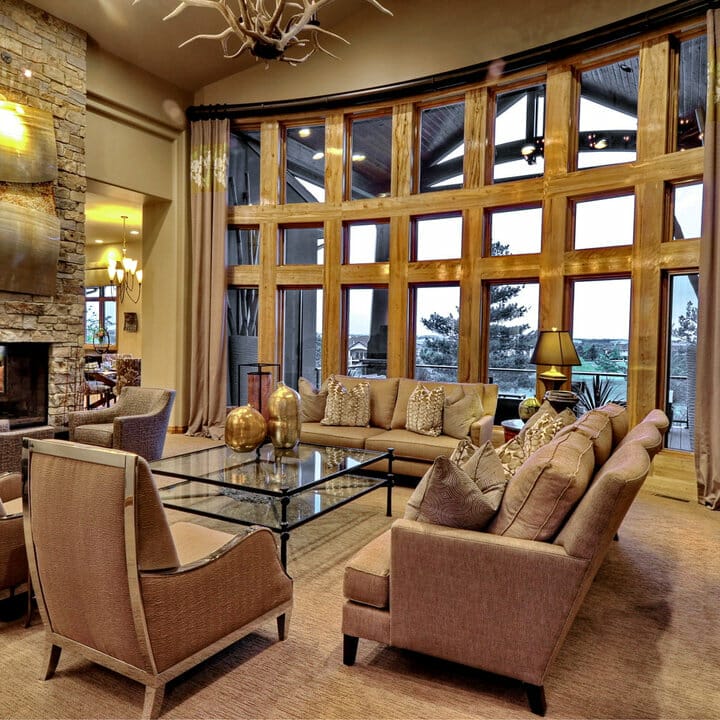 As stated earlier, living room large wall decor ideas can appear in many ways. One of them is to reconstruct your partition and transform it into a series of grand windows.
Indeed, this concept will be perfect for any interior theme, even for a small house. The existence of many windows will help give an overall impression of your tiny home.
24. Vintage Living Room Large Wall Decor Ideas with Hanging Plates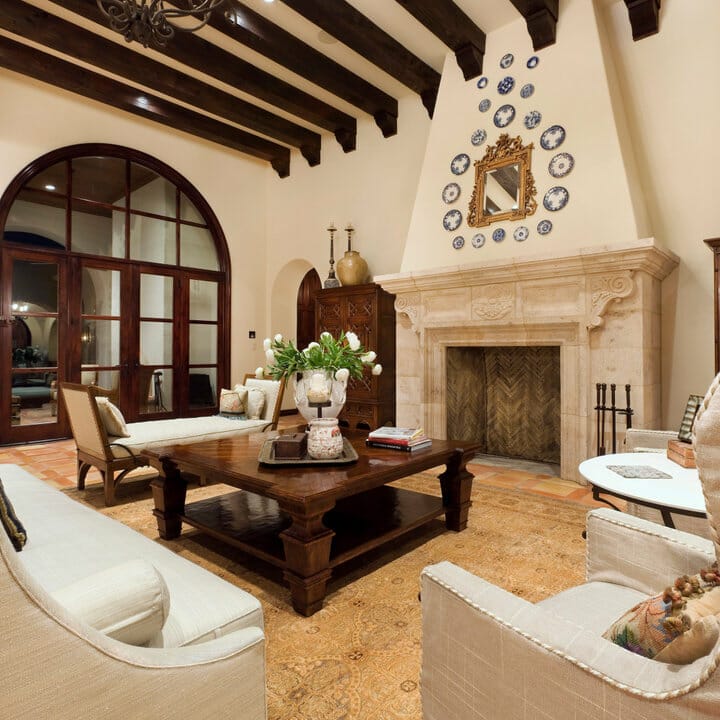 Many people will always love vintage style due to the many unique decorative elements, such as these antique plates.
Instead of putting it on a display case, you can consider hanging it on an empty wall spot. Or else, you can also set it around your clock. Never be hesitate in doing this as everything follows your preferences.
25. High Wall Mirrors in Two Sides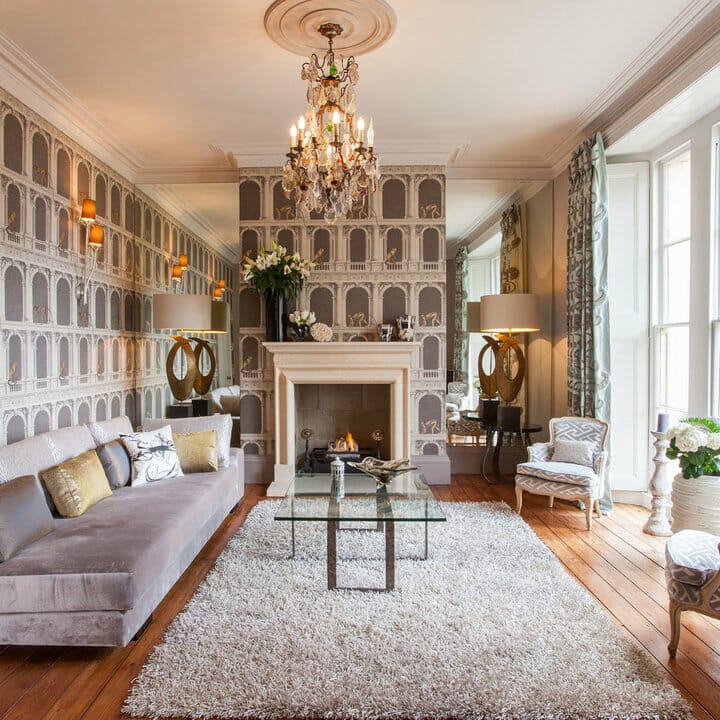 Installing high vertical mirrors on the right and left of your fireplace is a great strategy to fill in the empty walls.
Furthermore, it will be able to reflect all the spots and furniture well, so that your sitting room looks more spacious than before.
26. Vague Canvas Painting and Natural Landscape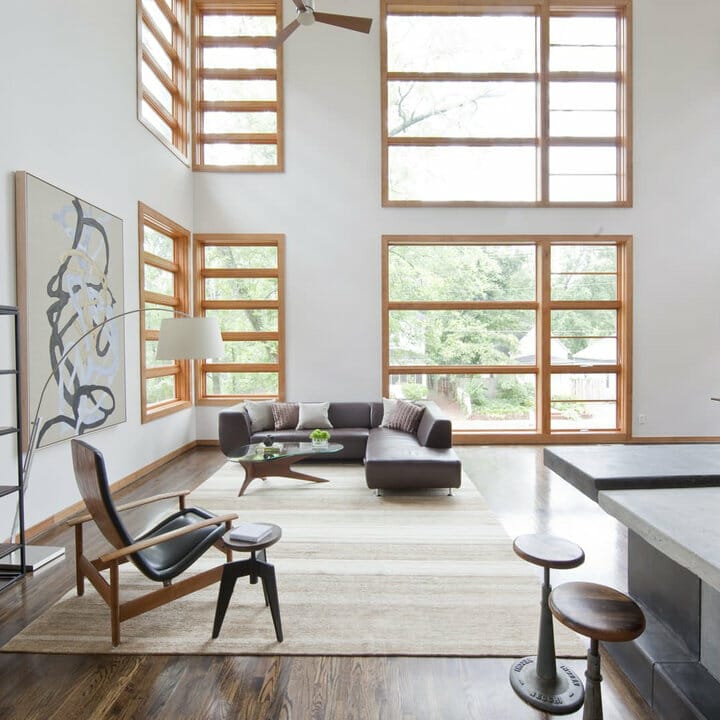 Believe it or not, the presence of windows is indeed a savior for an empty wall. It is because they can display the natural landscape of your front garden.
Along with this living room large wall decor ideas, you can also hang simple canvas art with various vague objects.
27. Shows Many Shapes in One Area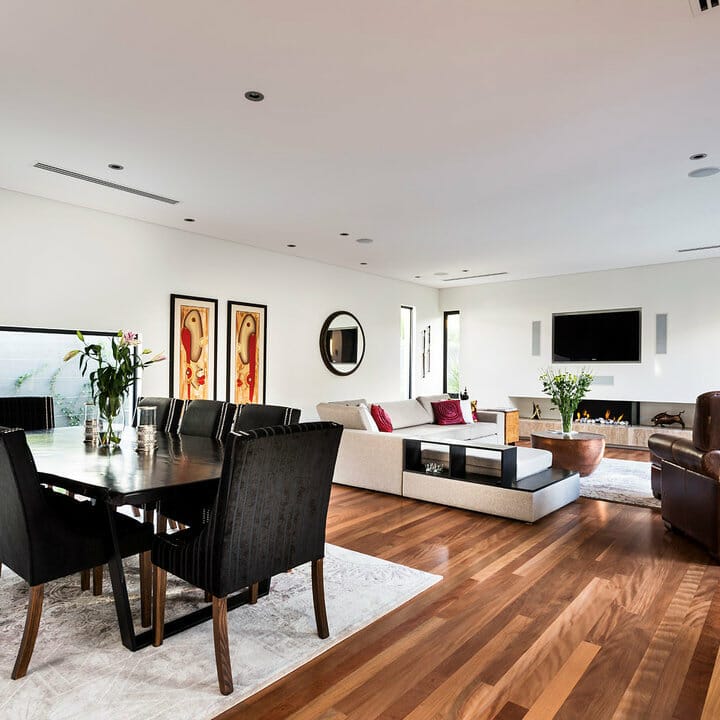 In an extended partition, living room large wall decor ideas encourage you to dare to play with various object shapes. Therefore, you can display galleries of art with different frames or even hanging mirrors.
28. Iconic Light Fixtures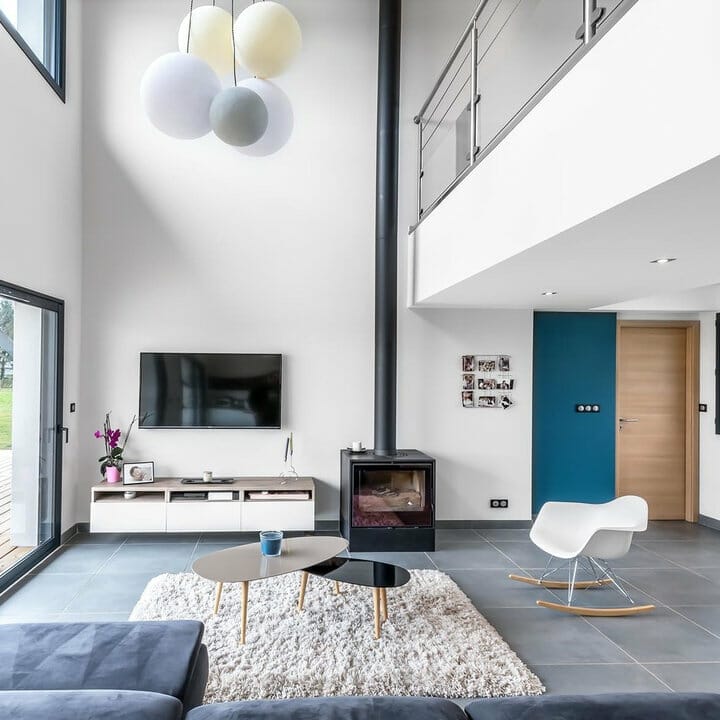 It is undeniable that light fixtures also have an essential role in filling the void of the walls in your living room.
With iconic shapes, such as round, triangle, or square, those items certainly can give a trendy personality and never fail.
29. One-Sided Built-in Shelving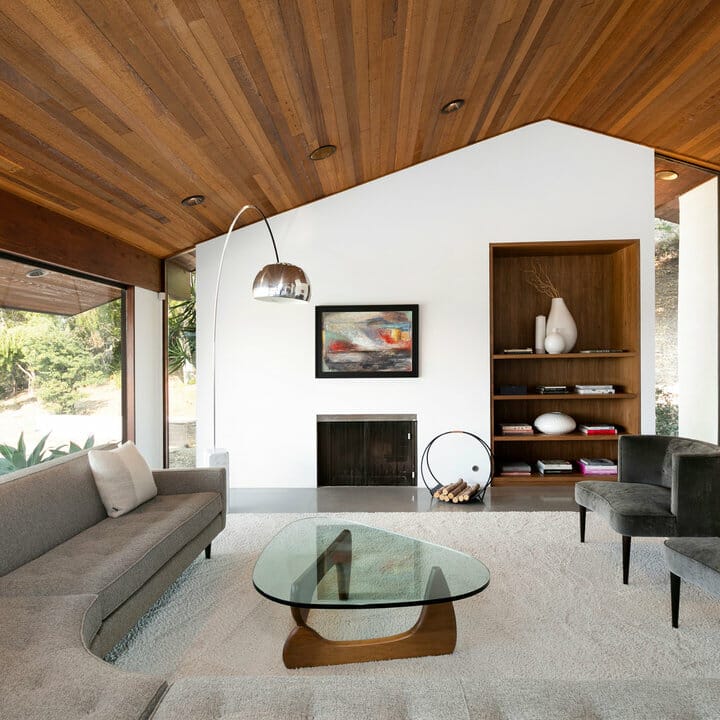 Suppose you are not enough to hang a framed painting. In that case, you can also provide built-in shelving near your fireplace.
It doesn't need to be significant if you're only going to use it as a display case. Merely go with a unique and eye-catching design, then all will be fine.
30. Post-Modern LED Sconces for Wall Décor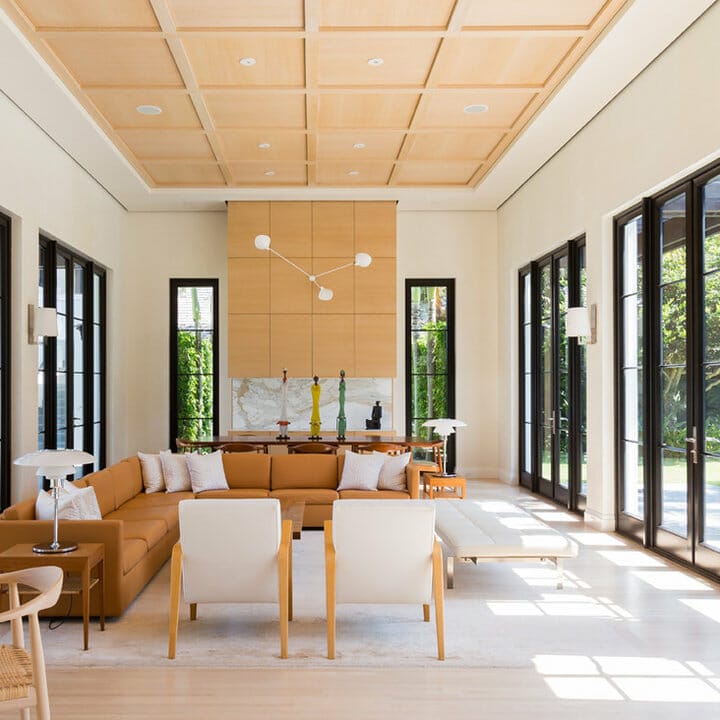 Lately, light fixtures have come in attractive forms and many advantages. For example, accent lighting that resembles a constellation like this.
Besides being useful for providing illumination, this unit also significantly adds a high aesthetic value to your sitting room.
Therefore, this concept becomes the best living room large wall decor ideas worth trying.
31. Simple Basic Bookcase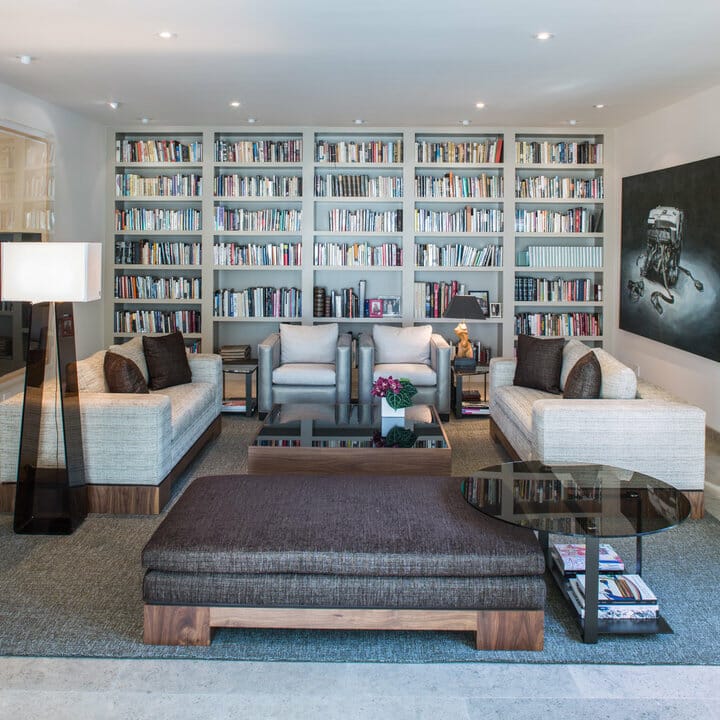 You can confidently display the standard bookcase as above without feeling intimidated by all the living room large wall decor ideas mentioned earlier.
Indeed, this idea is not only about beauty but also the versatility of an object.
Of all the living room large wall decor ideas mentioned above, now you know that the key to all of these concepts is not just choosing a large object. Instead, you can arrange even small ones to create the perfect gallery. Then, are you interested in trying one?