Without a doubt, outdoor areas and gardens are homeowners' sanctuaries. However, sometimes, the annoying passerby and neighbors can interrupt the peace. Luck is yours! These fence covering ideas do not only create privacy but also titivate fences.
Coverings for fences are truly crucial because they serve double duty. They can hide unsightly exteriors, define outdoor spaces, and add style, of course.
When picking the fence coverings, homeowners should take a few things like maintenance and durability into account. Additionally, it's important to know your budget limits and taste. Without further ado, here's a bunch of screening ideas for fences that'll astonish you.
1. Backyard Fence Covering Ideas with Italian Cypress Trees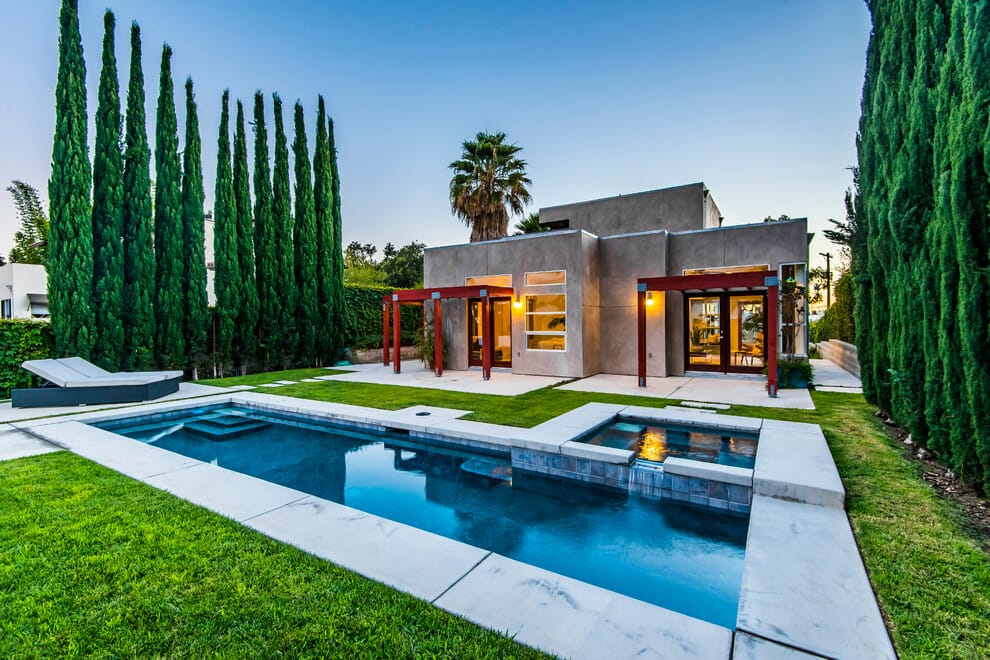 Living fences offer some privacy and bring any backyard to life. Furthermore, they produce a striking natural barrier. As you see, they mingle with the shipshape lawn here.
The climbing vine wall and hedge screens let the homeowner border her yard that features an inground pool. Also, evergreen hedges introduce a sophisticated feel.
Italian cypress trees add height while oozing elegance and accompanying living fences instantly. Moreover, they're fast-growing and withstand drought. Furthermore, their narrow silhouette complements the modern lines of the pool, water feature, and lounge chairs.
2. Lots of Visual Interest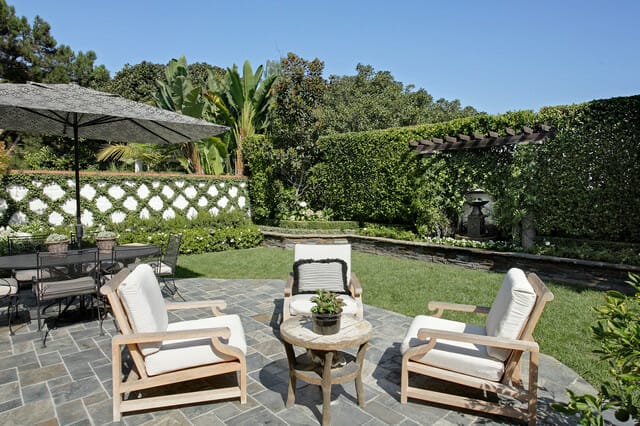 If you need outdoor fence covering ideas, take notes from this picture. Here, the living walls boast hedges that create boundaries.
The white-and-wood privacy fence showcases climbing vines. They infuse a touch of stunning greenery and lend the yard a splash of pattern.
Here, vines provide so much texture and complement adjacent shrubs. Meanwhile, palms and ornamental banana trees spruce living fences up. Lastly, the patterned patio umbrella defines an eating area with wicker planters.
3. Garden Fence Covering Ideas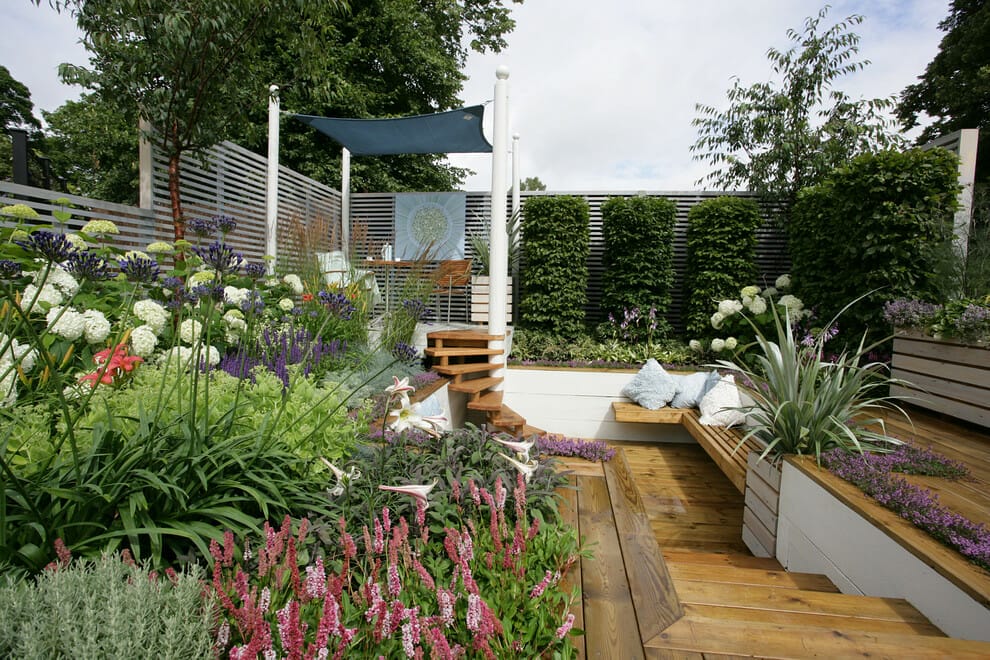 White slatted fences look super trendy. Apart from delivering a sense of privacy, they coordinate with slim pillars that accommodate a fabric shade.
The horizontal timber screens support creeping vines while introducing a spectacular partition. They blend with the decking as well.
Here, the square decorative panel elevates the white wooden fence in this garden. Blooming plants and ornamental grasses in containers bring plenty of textures. Those pretties accompany outdoor throw pillows that temper wooden slats, too.
4. Fake Trees for Fence Coverings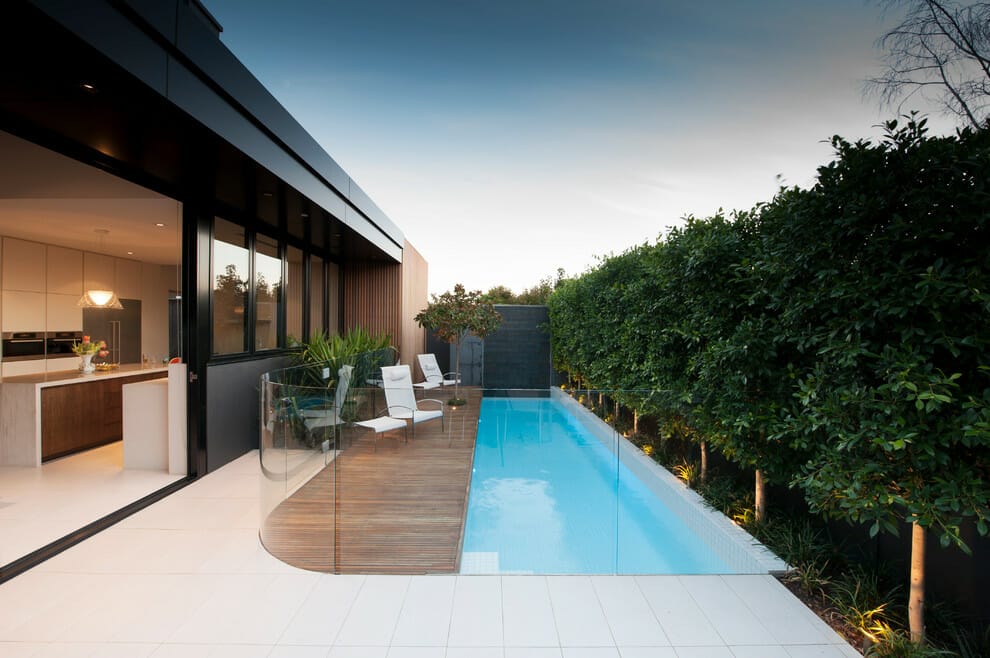 Speaking of how to cover a fence quickly, take artificial plants into account. These fake trees make the yard more private. However, they require no regular maintenance.
Here, faux trees help the homeowner cover her dull fences around the pool. Since the items are of high quality, they lend the backyard an authentic impression.
You can pair your fake trees with other ornamental plants. In the photo above, they impart splashes of color. Meanwhile, the all-glass pool fencing and minimalist outdoor furniture let them draw attention.
5. Concrete Fence Covering Ideas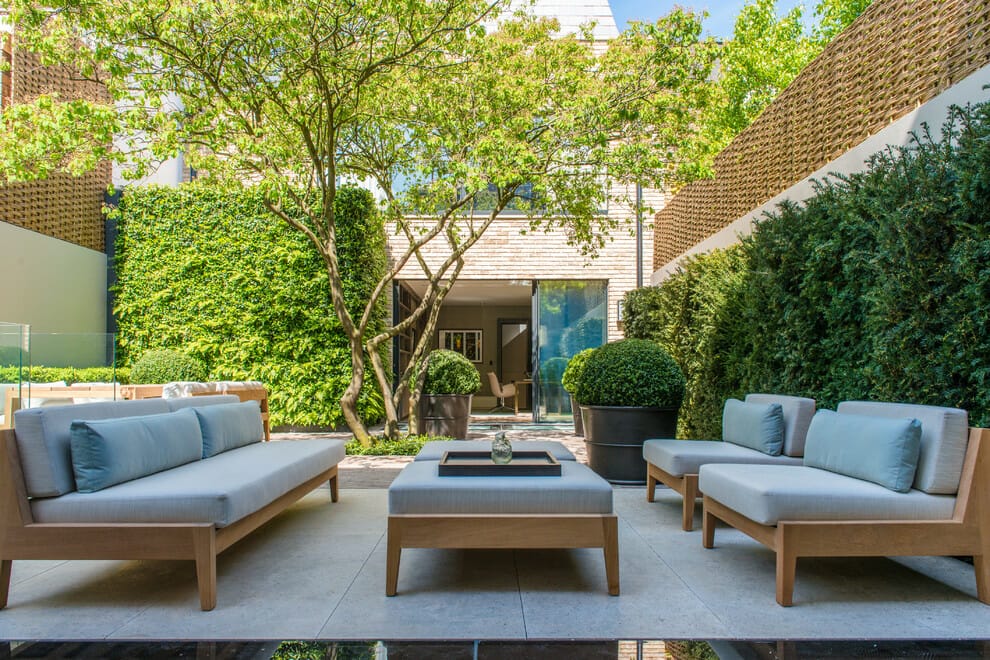 If you need foolproof methods on how to cover a boring fence, consider living walls. In this photo, they emanate sophistication while adorning plain concrete fences.
The homeowner coupled living walls with woven fence panels for a natural look. Meanwhile, round boxwood shrubs in giant metal planters balance out straight lines.
In addition, the sculptural tree introduces textural intrigue and height. Its beauty diverts attention away from clear glass panels and urban-style seating areas, too.
6. Bare Wood Fence Covering Ideas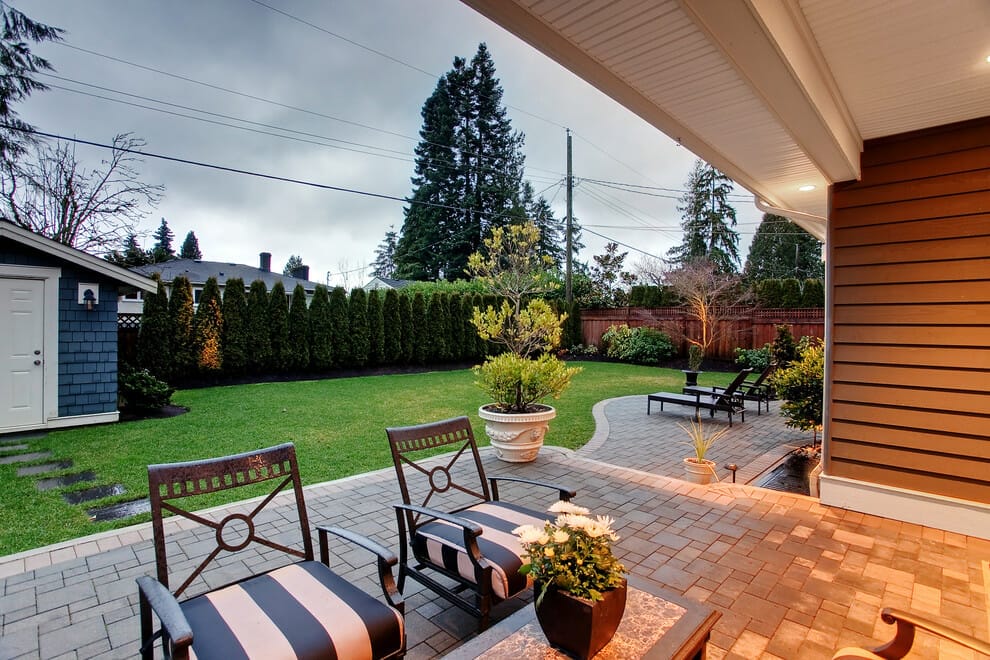 This yard is enormous. However, that surely means nothing without privacy screens. The bare wood fences come to the rescue here.
Italian cypress trees bring rhythm and height to the spacious backyard. Since they're fast-growing, they provide beauty and privacy quickly.
Different kinds of shrubs complement the plain wood fence and potted plants. Also, they lend extra textures to the yard with two seating areas.
7. Landscaping Ideas to Hide Fences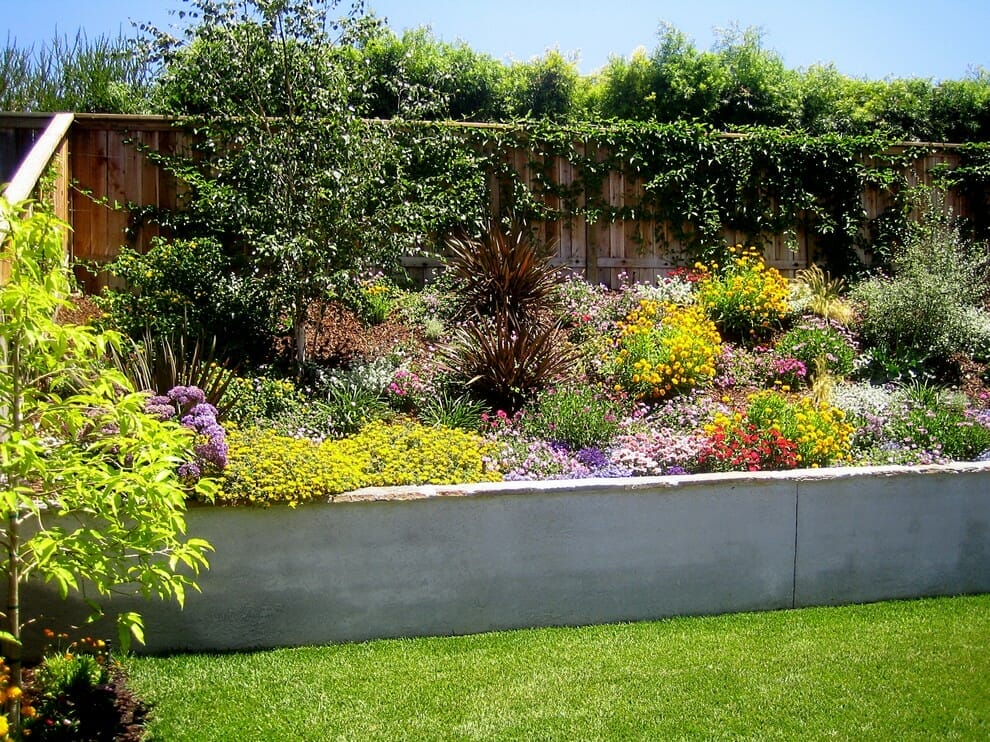 Talking about fence covering ideas, replicate this landscape. The natural wood fences keep out pesky neighbors. Apart from allowing for a partition, they give creeping vines sturdy support.
Here, bare wood fences accentuate a stunning arrangement of plants. You can spot bushes and colorful annuals that spice them up too.
Fence covering plants lend the backyard instant visual appeal, dimension, and tons of texture. Meanwhile, the concrete retaining wall demarcates the lawn from them.
8. Neat and Welcoming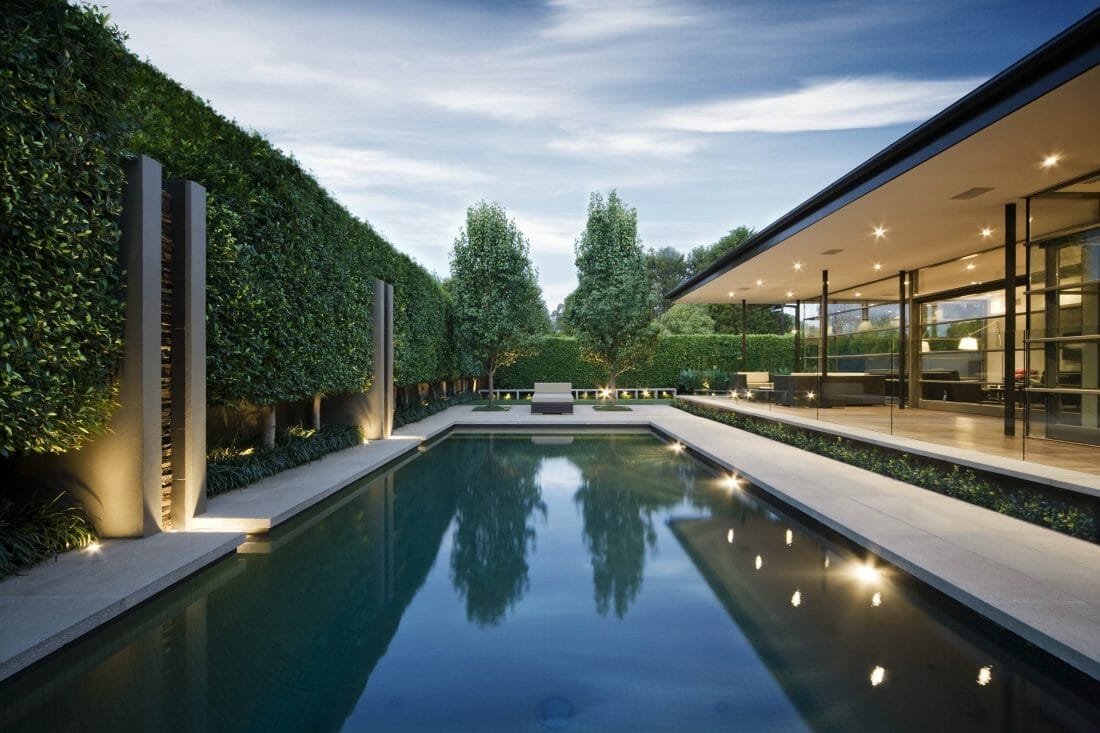 This is one of the superb fence covering ideas for large backyards. Here, the homeowner embellished the fences with fake living walls. They keep things shipshape and inviting.
The artificial living walls fit in with the rest of this expansive backyard. Moreover, outdoor lights accentuate them and illuminate the massive swimming pool.
With fake living plants, you can get fence coverings that are maintenance-free yet functional and fabulous.
Furthermore, the lounge chair and two outdoor trees produce visual symmetry. Lastly, low-growing plants complete the yard.
9. Cheap Fence Covering Ideas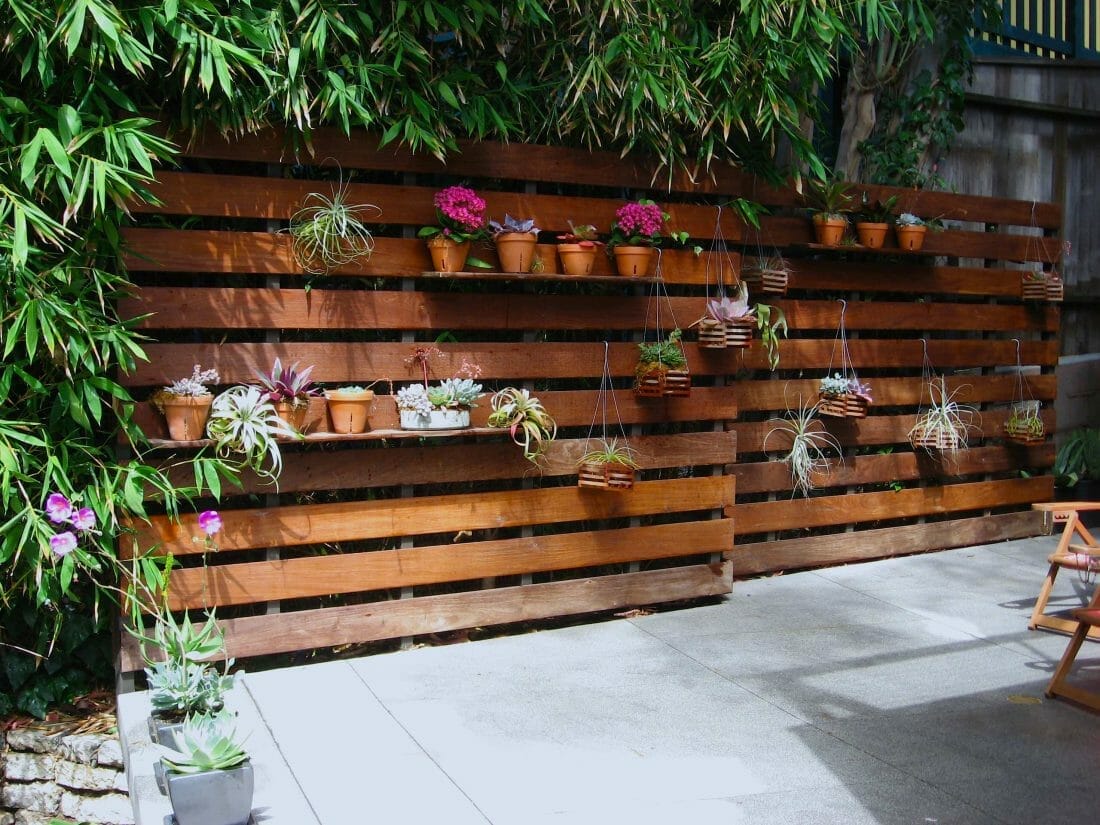 Horizontal wooden slats make striking and functional fences here. They give this backyard seating area a sense of intimacy. Also, they ensure bare wood outdoor furniture pieces don't seem out of whack.
The homeowner secured a few wooden shelves to backyard fences. Moreover, she added some tiny terracotta pots and hung wooden slatted planters.
Vibrant annuals, succulents, and air plants titivate wooden fences while delivering so much texture. In addition, bamboo trees and succulents in silver pots accompany them.
10. All Things Natural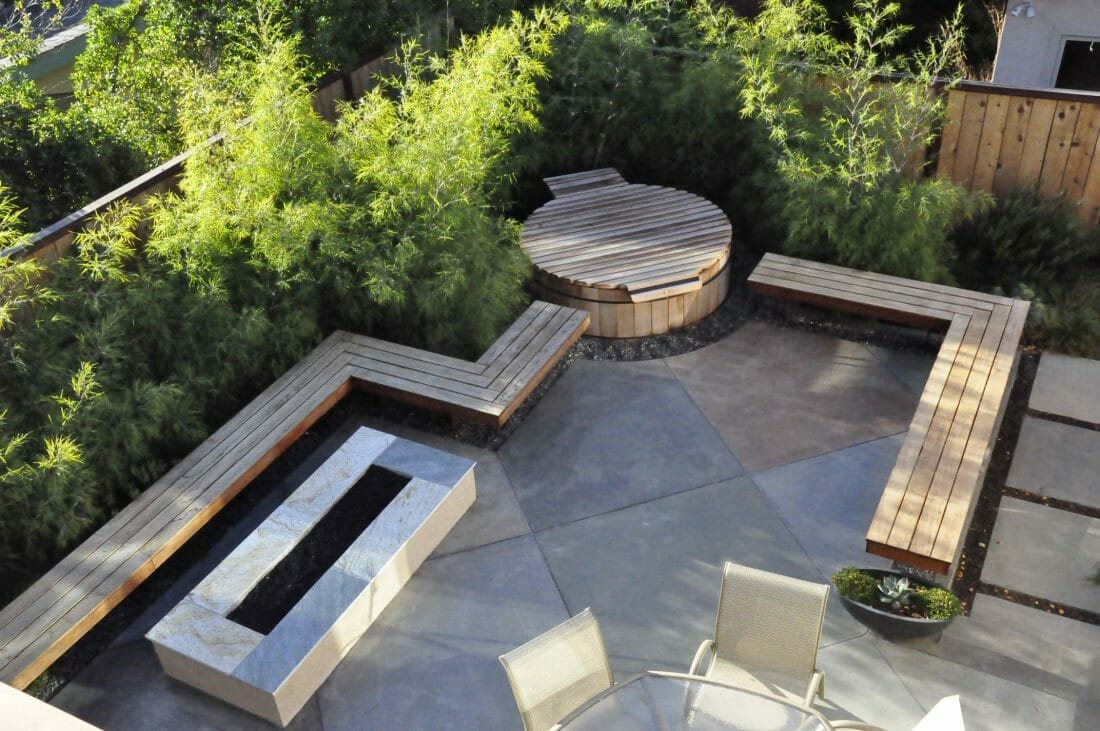 This backyard reminds me a bit of a maze. Have a look at those angular benches. They tie in perfectly with the fence since it employs vertical wooden planks. The multitone patio flooring and marble fire pit introduce another visual appeal.
Shrubs and bamboo trees are such terrific fence covering plants. Here, they jazz up the unpainted wooden privacy fence and offer texture. Meanwhile, an oval planter and dainty decorative plants perfect the patio.
11. How to Cover a Boring Fence with Vines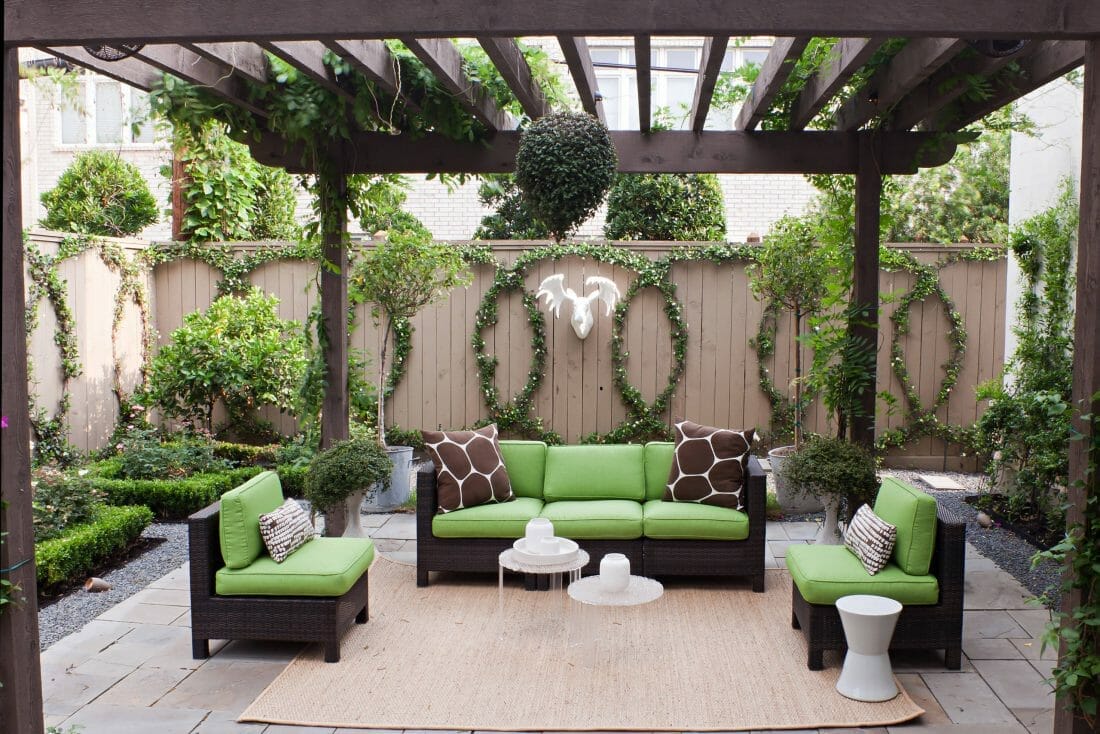 Brown and green are dominant powers in this backyard patio. Additionally, they dictate the color palette of the fencing and seating.
As you see, the pastel brown-painted fence features vertical wooden planks. Not only does it protect the homeowner from the outside world but also supports climbing vines. The climbers provide texture and a pop of pattern.
The dark brown pergola roof gives the patio some inviting shade. Furthermore, the hanging boxwood ball and climbing plants enliven it. Also, the animal head wall decor, green seat cushions, and giraffe patterned throw pillows capture visual cohesion.
12. Multifunctional and Snuggly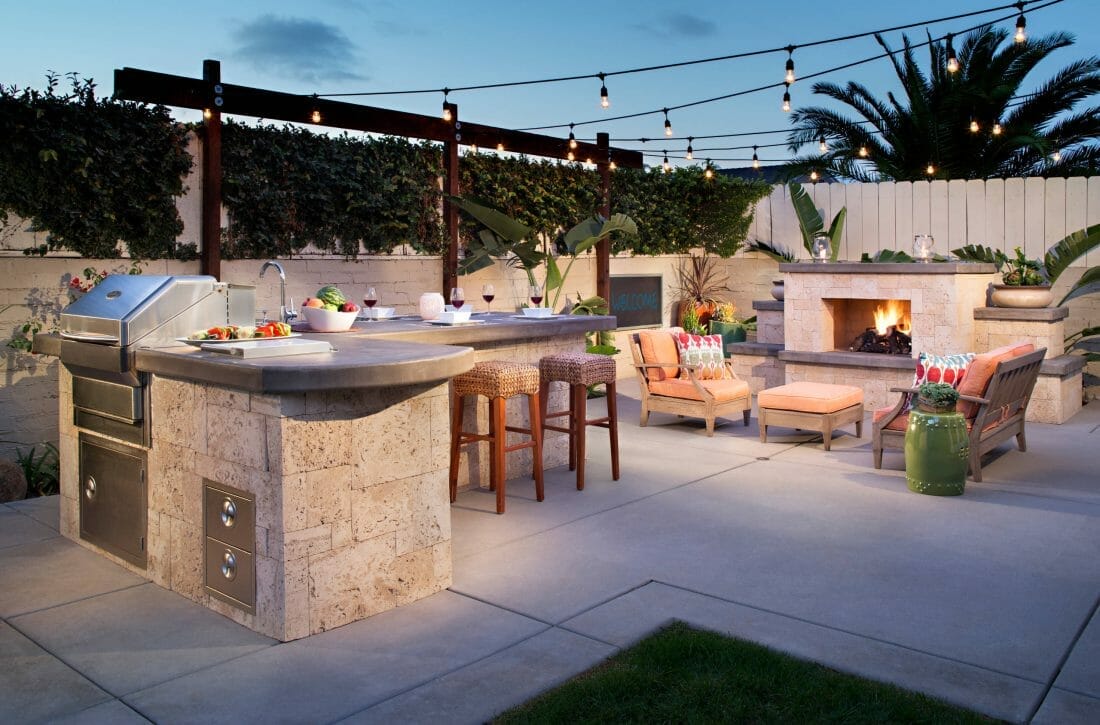 If you're into marvelous fence covering ideas, simply take notes from this eclectic outdoor space. Vertical bright white timber planks make an airy fence. Furthermore, they epitomize sophistication, cleanliness, and summertime charm.
Here, climbing vines prevent the pure white timber fence from looking stark. They carry nature-inspired texture, too.
In addition to climbers, the backyard also has ornamental banana trees. As you see, they lend the white fence a breathtaking cover and height.
13. Fence Covering Ideas for Horizontal Wooden Screens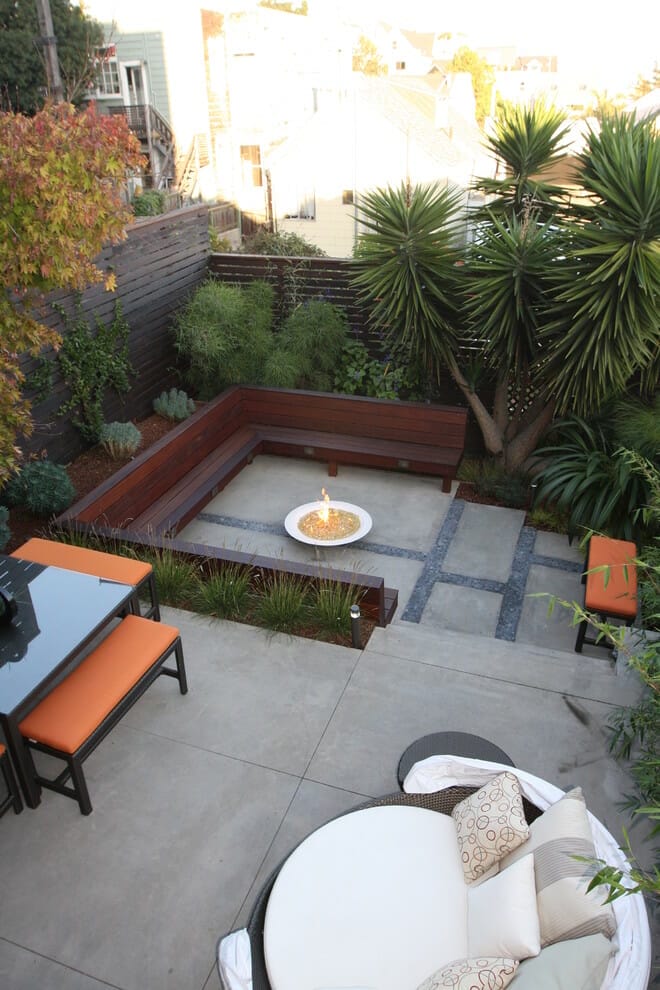 Apart from keeping the outside world away, the horizontal timber screening accommodates climbing plants and lets daylight in. Moreover, the privacy screens tie in excellently with the dark wood patio bench.
Statement plants, shrubs, and bushes cover unappealing horizontal wooden screens. They impart touches of color while introducing dimension.
Ornamental grasses marvelously accompany fence covering plants. Meanwhile, the round fire pit, mismatched decorative pillows, and orange seat cushions make visitors feel truly welcome.
14. Green Screen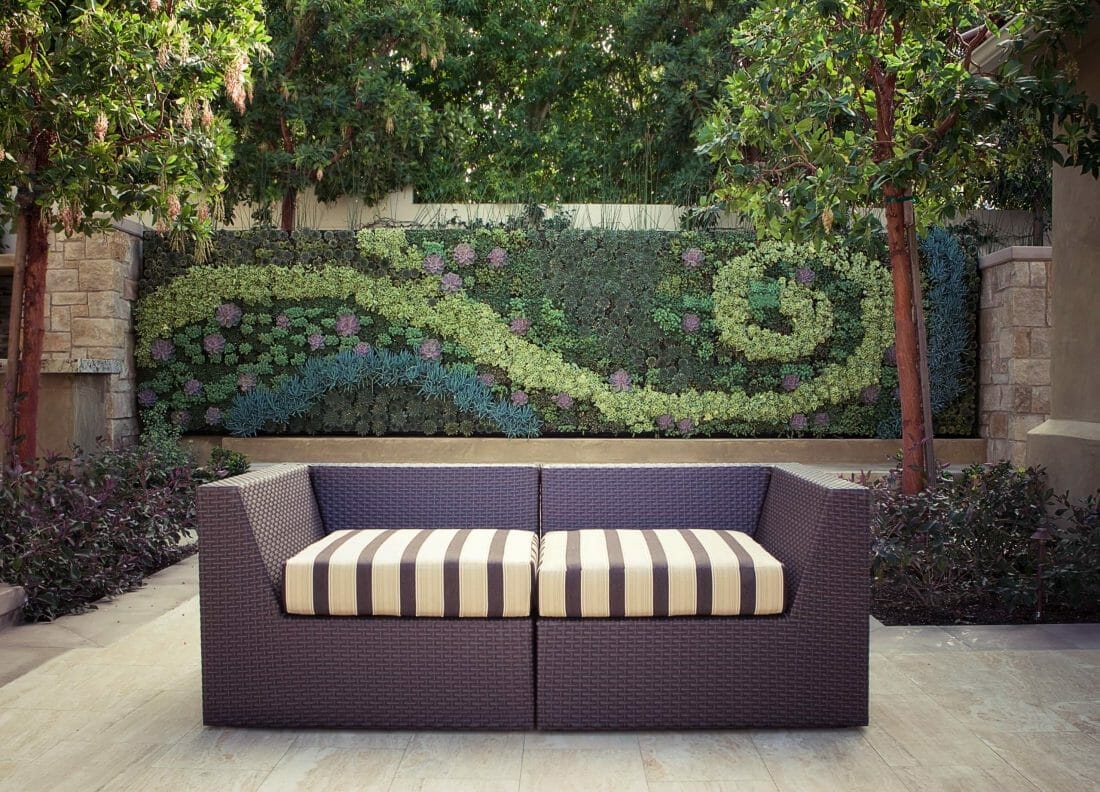 Speaking of stunning fence covering ideas, constructing living walls is a good call. They let homeowners put their ornamental plants to use.
This green screen, for example, showcases succulents of varying types and colors. Moreover, they bring the otherwise lusterless fence to life.
The living wall is like a masterpiece here. Furthermore, it blends with adjacent dark purple bushes and tall trees. Lastly, striped cushions tie the patio together.
15. Fence Covering Ideas for Side Entrances
This side entrance is a true outdoor sanctuary. As you see, evergreen hedges adorn the fences. Without a doubt, they're one of the remarkable garden boundary options. Furthermore, they make the area feel both private and personalized.
The hedge screens evoke organic sophistication. In addition, they make robust living walls while injecting lots of texture.
Perennial shrubs, bushes, and boxwoods complement evergreen hedge screens. Moreover, the masonry edging and concrete pathway update the country cottage home's look.
16. Decorative Panels for Fences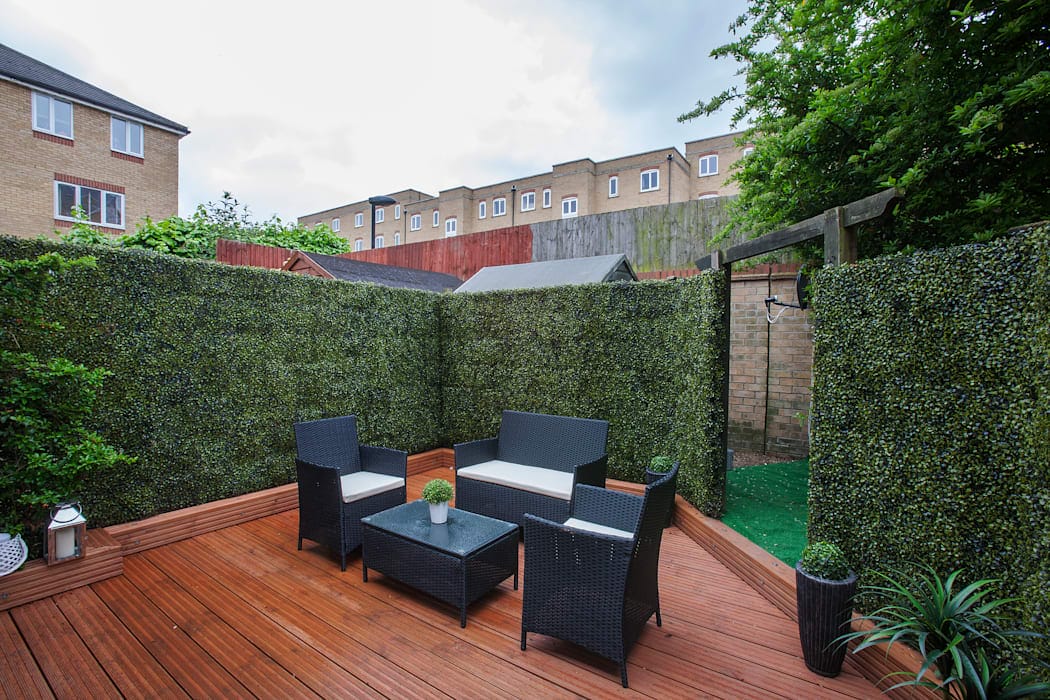 With numerous fence covering ideas, you may feel overwhelmed. Fret not! Just install decorative panels.
Fake plant or trellis panels help you conceal ugly fences or walls. Consider integrating some real climbing plants to make them seem natural. Here, they go with other faux plants and black planters perfectly.
17. Tiny Yet Inviting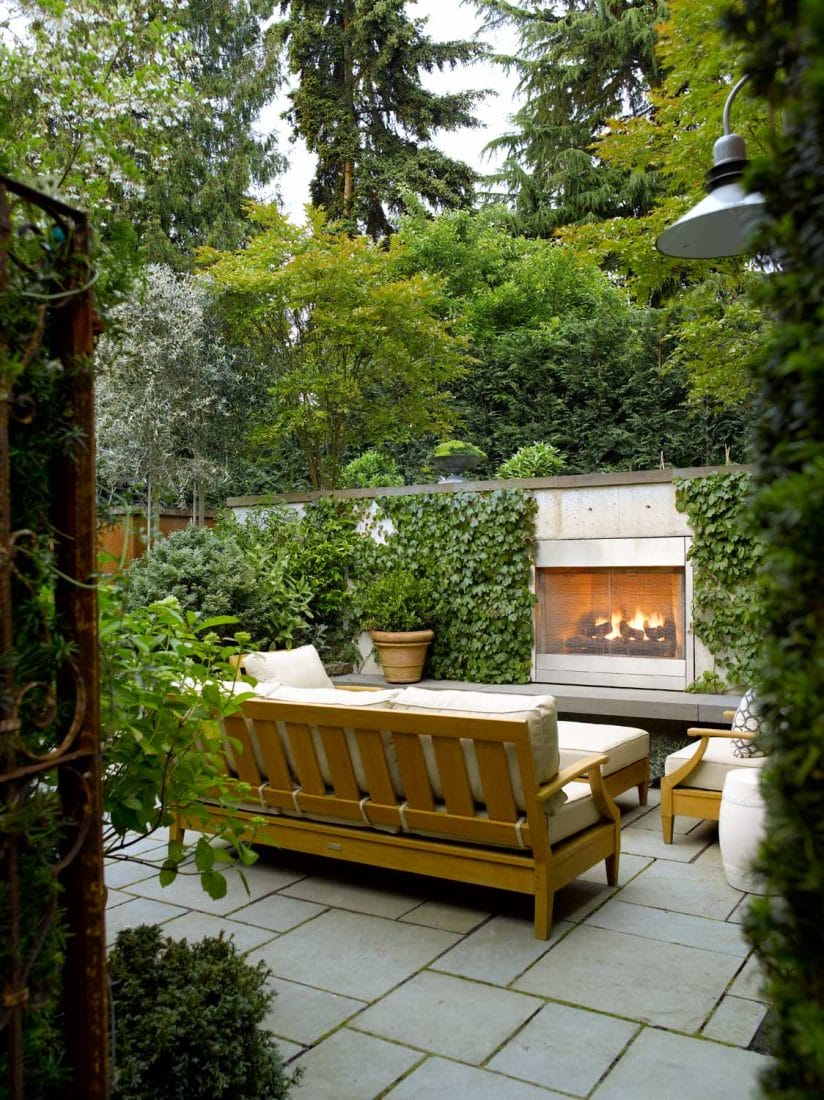 This compact backyard patio is admirable. Look at those climbing plants. They introduce a touch of greenery without consuming any additional space.
Here, climbers flank the stainless steel fireplace. Meanwhile, shrubs and trees enhance the cozy factor. Furthermore, concrete slabs of different sizes and shapes modernize the patio.
18. Zen Zone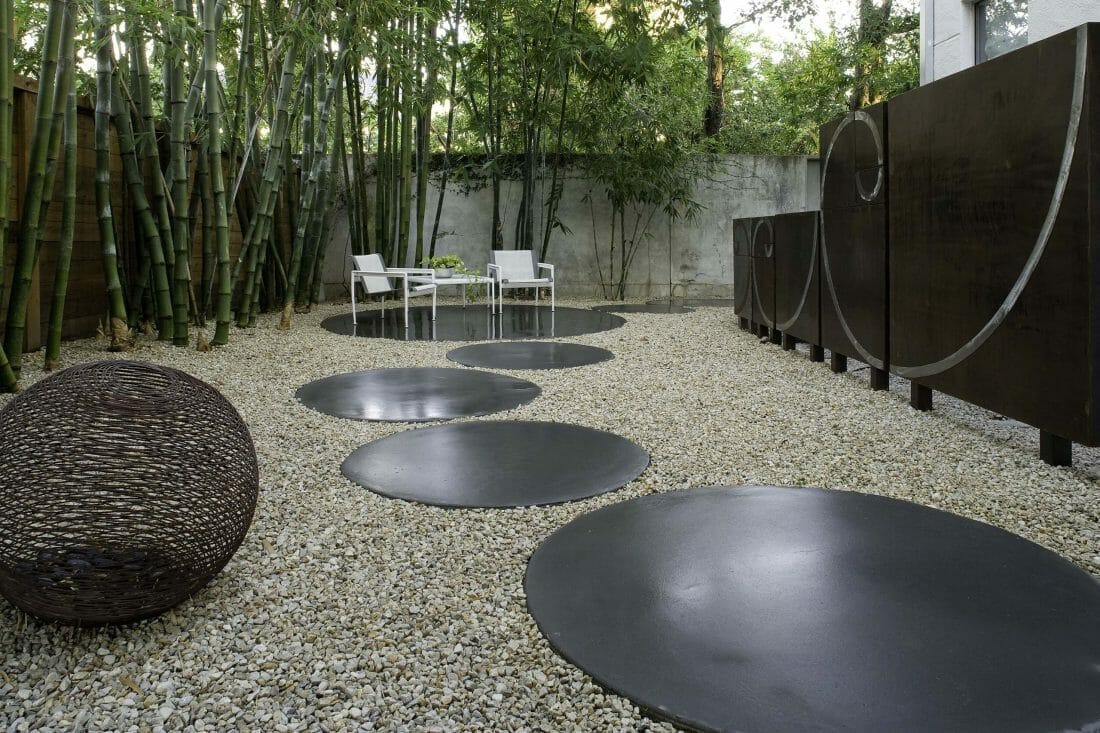 If you want some privacy and peace, copy this idea. Tall bamboo trees epitomize tranquility while keeping out pesky neighbors.
These bamboo trees adorn white concrete and wooden walls. They harmonize with river rocks, too. Furthermore, the metal garden orb, sleek chairs, dark-toned panels, and black circular stepping stones round things out.
19. Say Yes to Faux Bamboo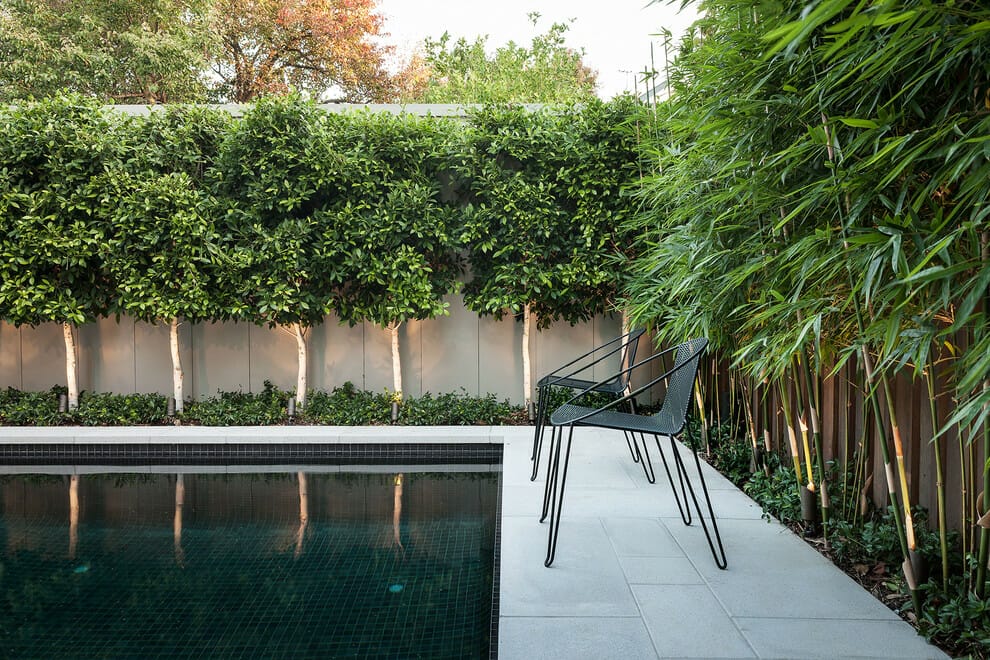 Talking about fence covering ideas, artificial bamboo plants are your friends. They give some elegance and cover to the otherwise blah fences.
Faux trees complement fake bamboo plants marvelously. Moreover, contemporary black chairs bring depth to the backyard.
20. Terrific Meets Trendy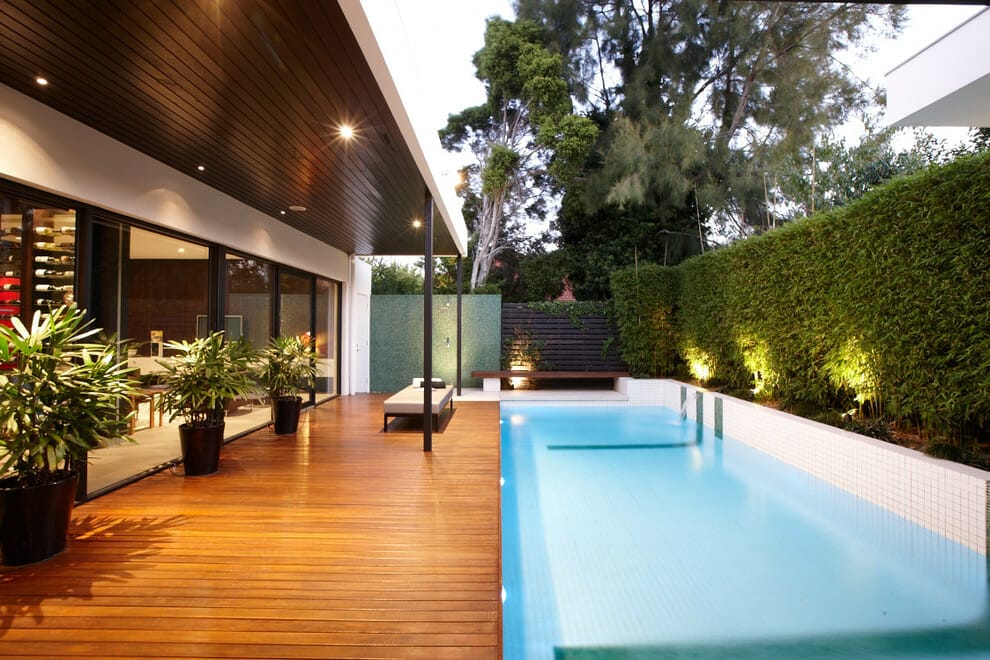 This backyard employs a pool with white square tiles. Meanwhile, the stained wood flooring accents potted plants while emphasizing the bench.
Due to evergreen hedges, the fence seems lively and sophisticated. Additionally, the slatted fence lets in plenty of fresh air and accommodates climbers.
21. Fence Coverings with Assorted Plants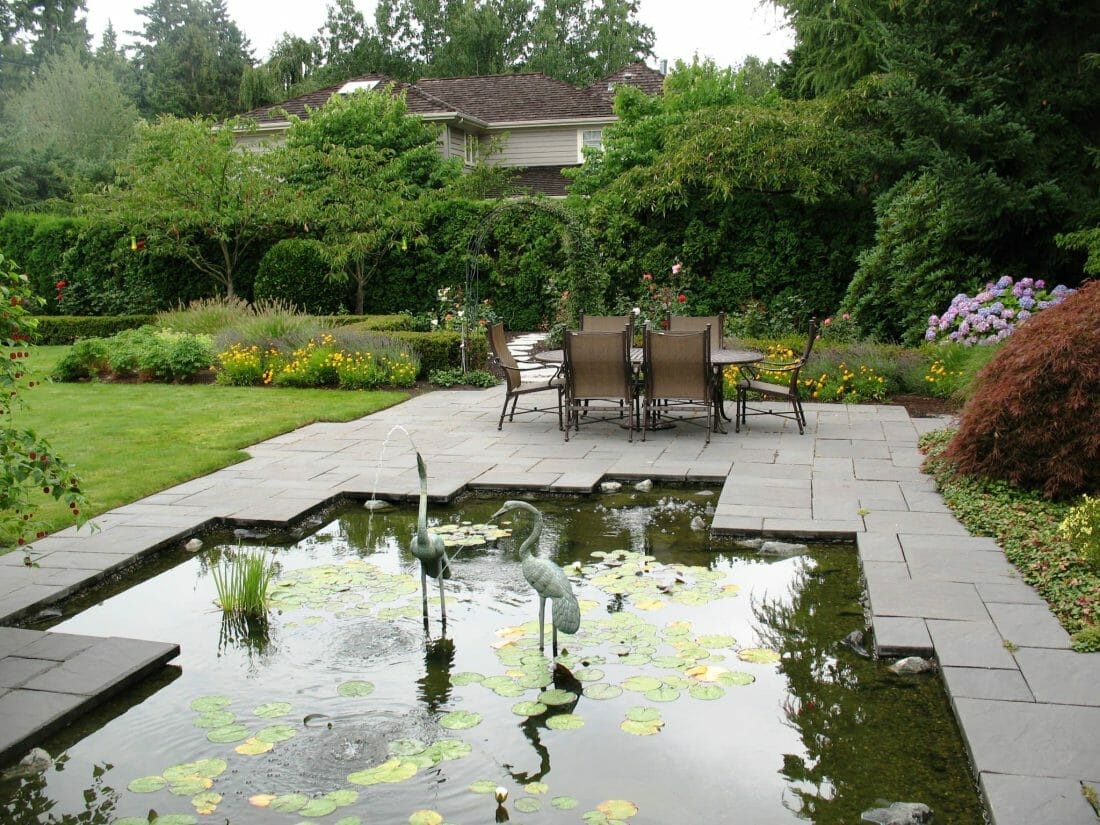 Here is an astonishing backyard. The pond boasts a couple of white flamingo water fountains. Furthermore, the vine arch and stepping stones guide visitors to the outdoor dining area.
Trees, evergreen hedges, flowering plants, and bushes beautifully highlight the fencing. Meanwhile, various concrete slabs make the outdoor eating area more trendy.
22. Fence Coverings for Modern Rustic Backyards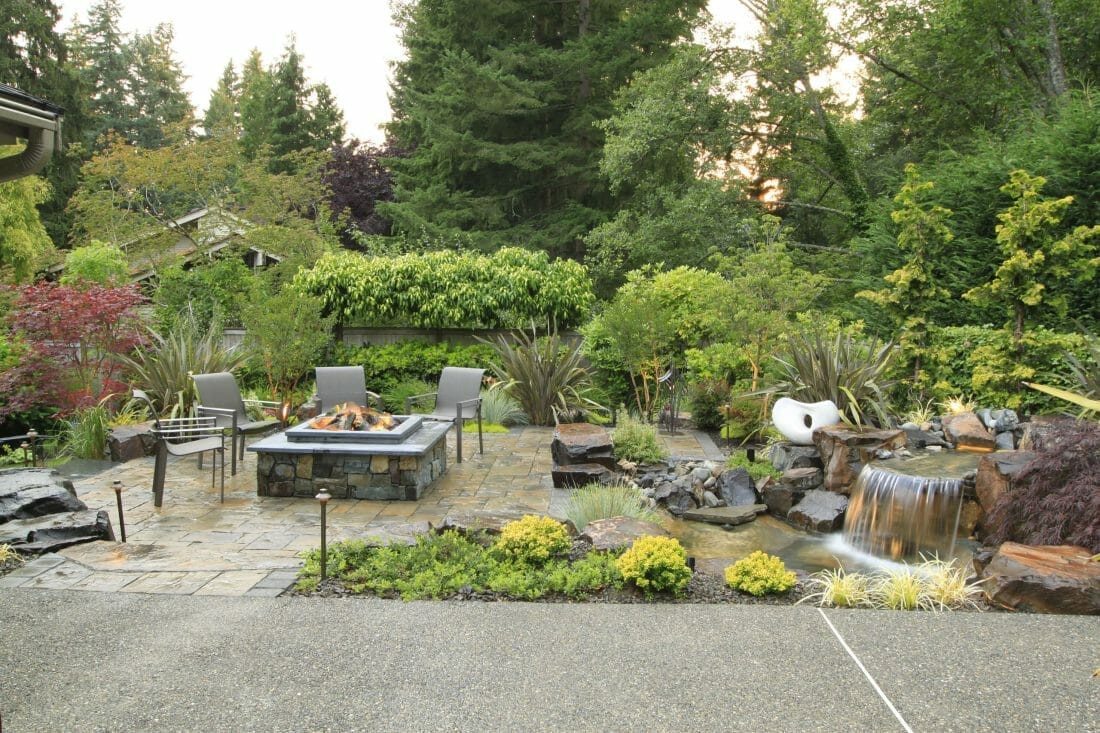 If you love nature, this is one of the fence covering ideas to implement. Moreover, a mix of plants instantly carries so much texture.
Bushes, vines, and ornamental grasses decorate the gray wooden fence. Furthermore, they mingle with the stone water fountain, fire pit, and patio flooring.
23. Charming Combos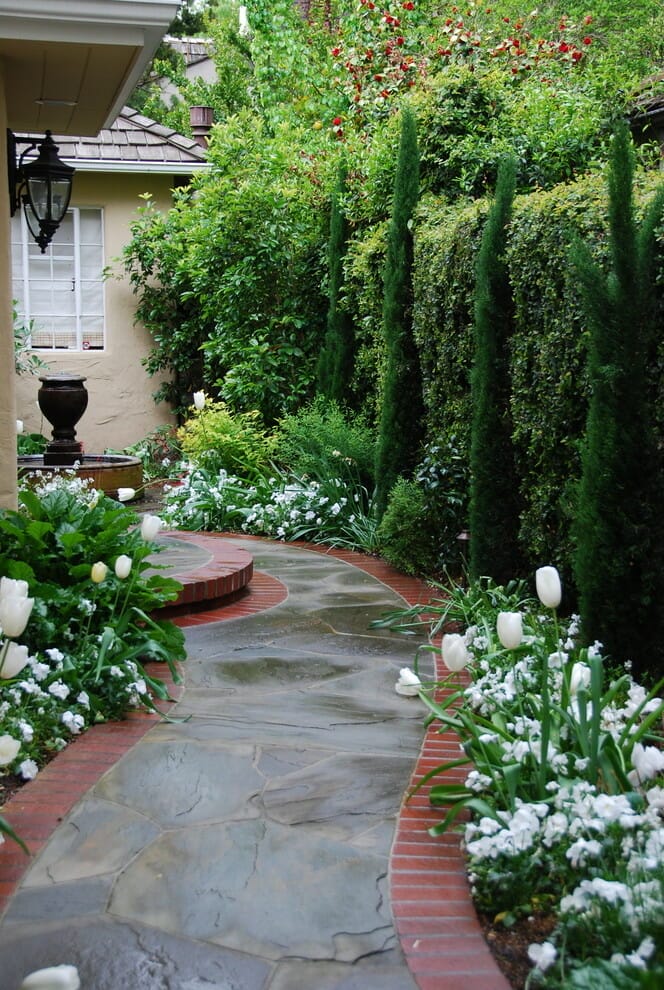 This living wall does not only enliven the existing fence but also brings dimension. Here, evergreen hedges, bushes, and Italian cypress trees keep out the nosy passerby.
White blooms deliver a sense of elegance to the patio. Meanwhile, red bricks warm flagstones up. Lastly, the water fountain completes the yard.
24. Tons of Appeal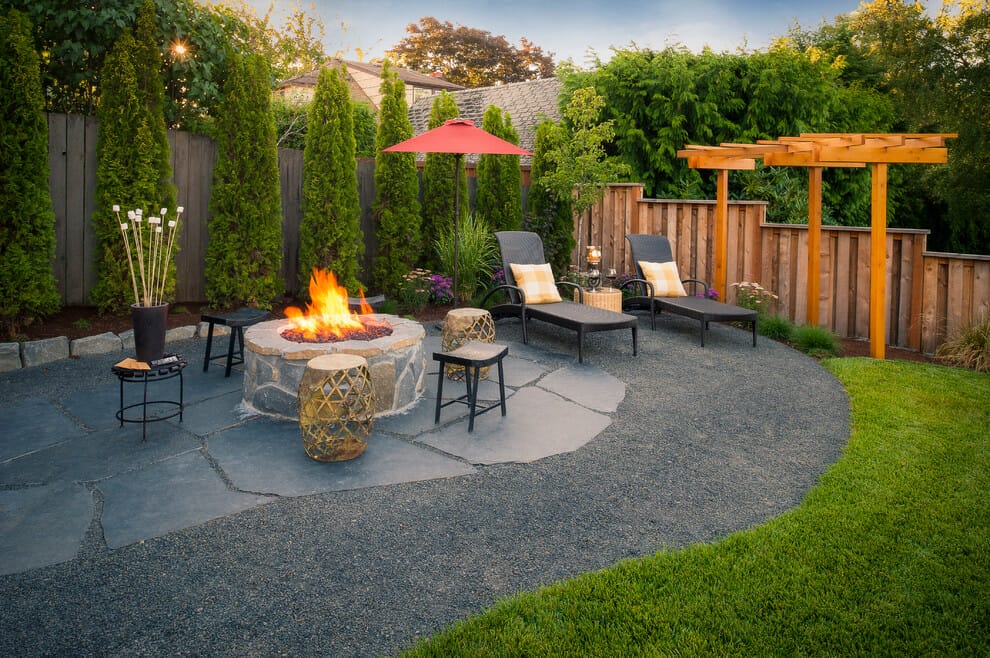 Speaking of contemporary fence covering ideas, try growing Italian cypress trees. In Italy, most landscapes feature them due to their elegant look and excellent drought tolerance.
Here, Italian cypress trees distract attention away from the lackluster gray fence. Meanwhile, the tiered fence delivers some fun and function. Furthermore, the red patio umbrella, fire pit, printed pillows, and geometric stools finish things off.
25. Bamboo Trees for the Win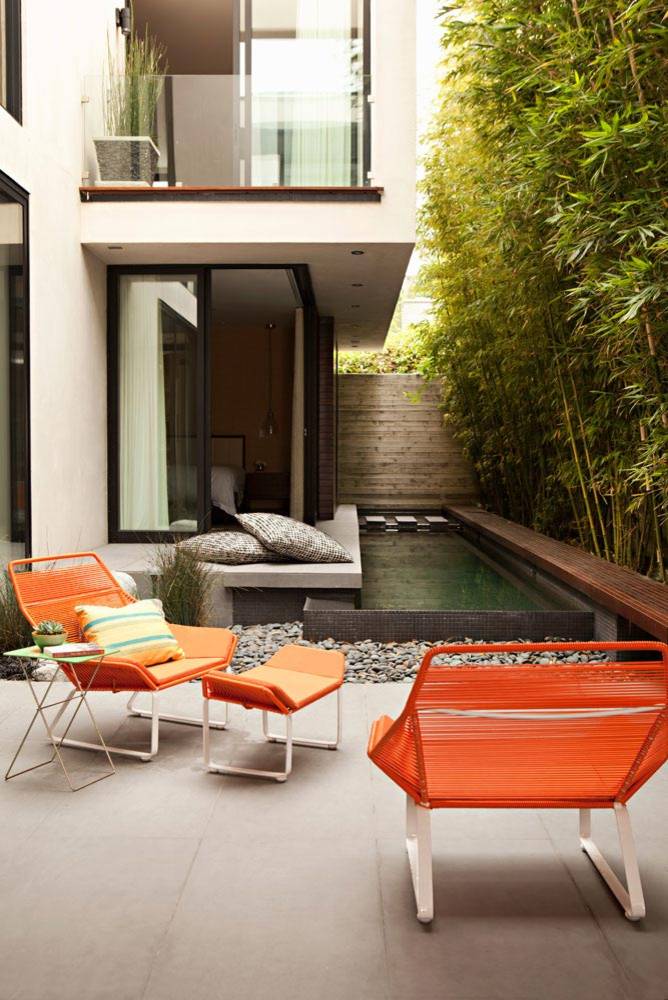 If you're into natural fence covering ideas, take bamboo trees into account. Apart from adding a level of privacy, they impart a peaceful vibe.
Marry bamboo trees with river rocks and wooden elements. Also, incorporate a few orange-colored outdoor furniture pieces for an inviting scene.
26. Close to Nature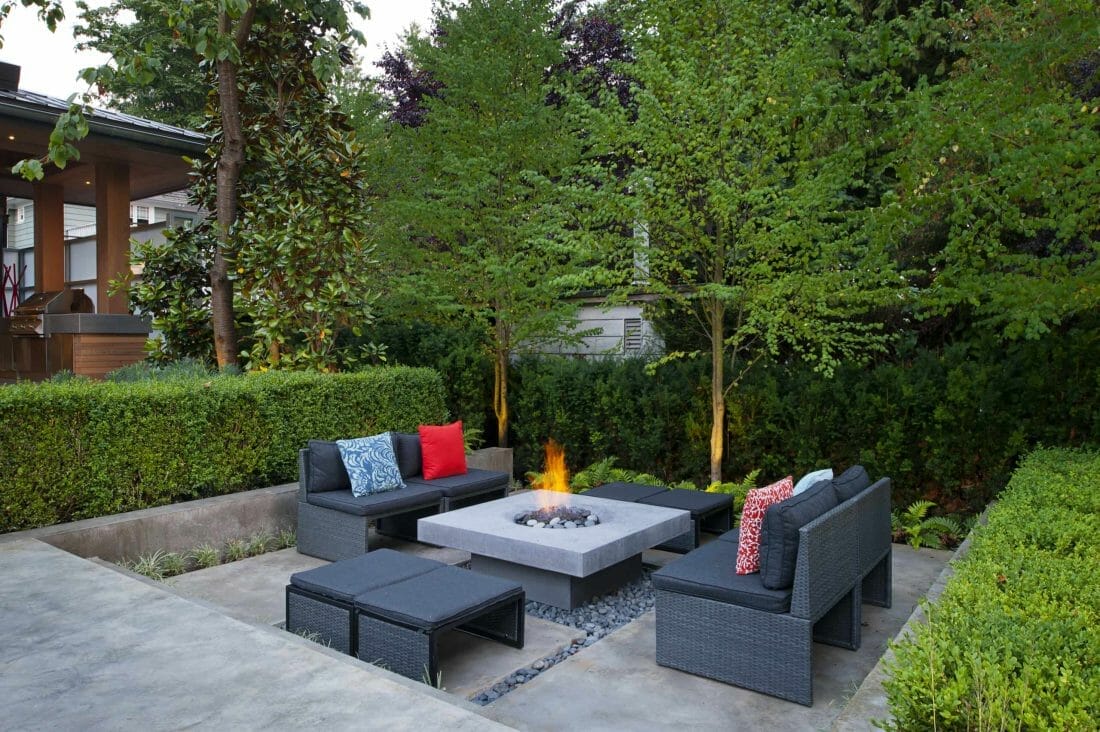 Instead of sticking to regular privacy fences, consider growing evergreen shrubs and trees. They help you border your backyard patio and enjoy gorgeous views.
Hedges, river rocks, and ferns complement the natural fence covering. Meanwhile, dark gray resin wicker seats let blue and red throw pillows sing.
27. Evergreen Shrubs to the Rescue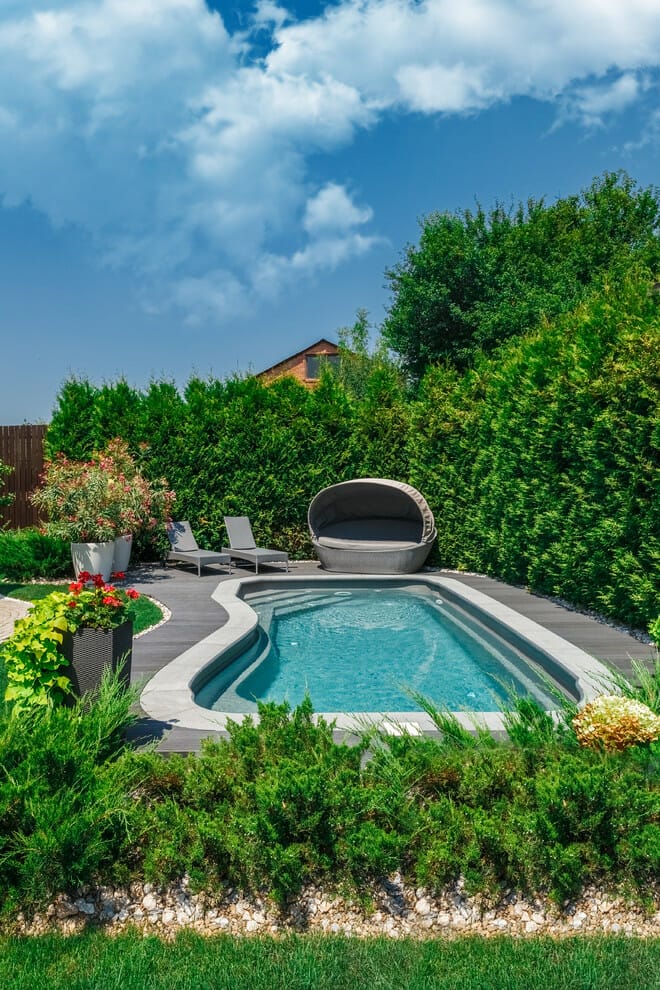 Evergreen shrubs screen the homeowner and her family from the outside world. Furthermore, they naturally adorn the rich brown wooden fence.
Here, the evergreen shrubs accentuate the gray outdoor daybed and lounge chairs. In addition, the odd-shaped swimming pool, vines, and colorful flowers elevate the backyard.
28. Hedges Meet Palms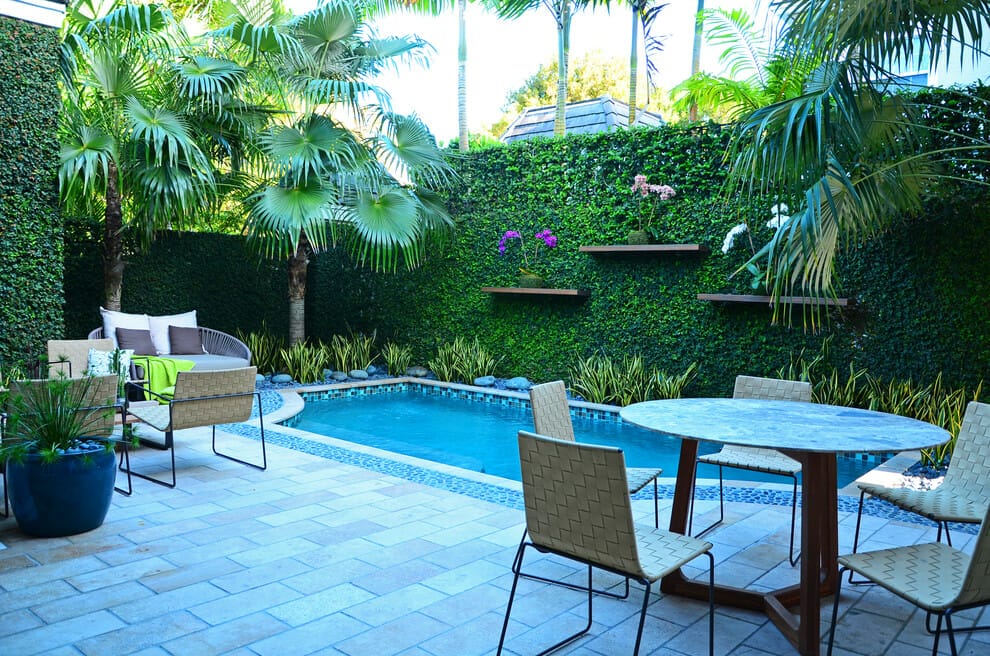 Faux hedges hide unpleasant fences and protect the homeowner's privacy. Moreover, they showcase three dark wood open shelves with artificial orchids.
Giant fake palm trees and snake plants accompany hedge screens. Meanwhile, mosaics, patterned chairs, and river rocks add alluring details.
Those fence covering ideas allow homeowners to make the most of their outdoor sanctuaries. Not only do they produce a high degree of privacy but also carry style. So select any of the coverings above that fit your budget and fences.