Every room needs a focal point that works more than just a color pop. It must be a design that leads anyone to ask, should work as an art piece, does not cost a lot, and could be a hack of simple renovation. Yet, is there something as qualifying? Oh, here are twenty-nine wall coloring ideas.
1. Classic Texture Paint: Color Wash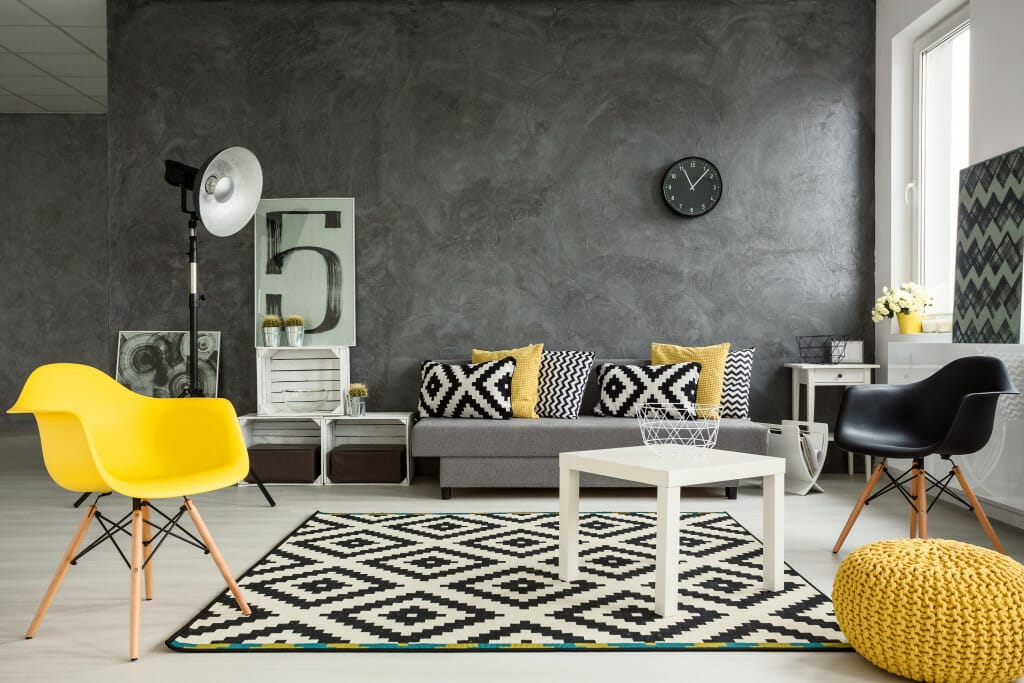 If there are effective yet effortless wall coloring ideas in creating textures, one of them must be a color wash. Here, you see a living room interior with one.
Black becomes the chosen shade to escalate the soothing level of the room by many steps higher. To make it feel less intimidating, white, yellow, and geometric patterns are also present in the mix.
2. Attention-Grabbing Living Room Wall Color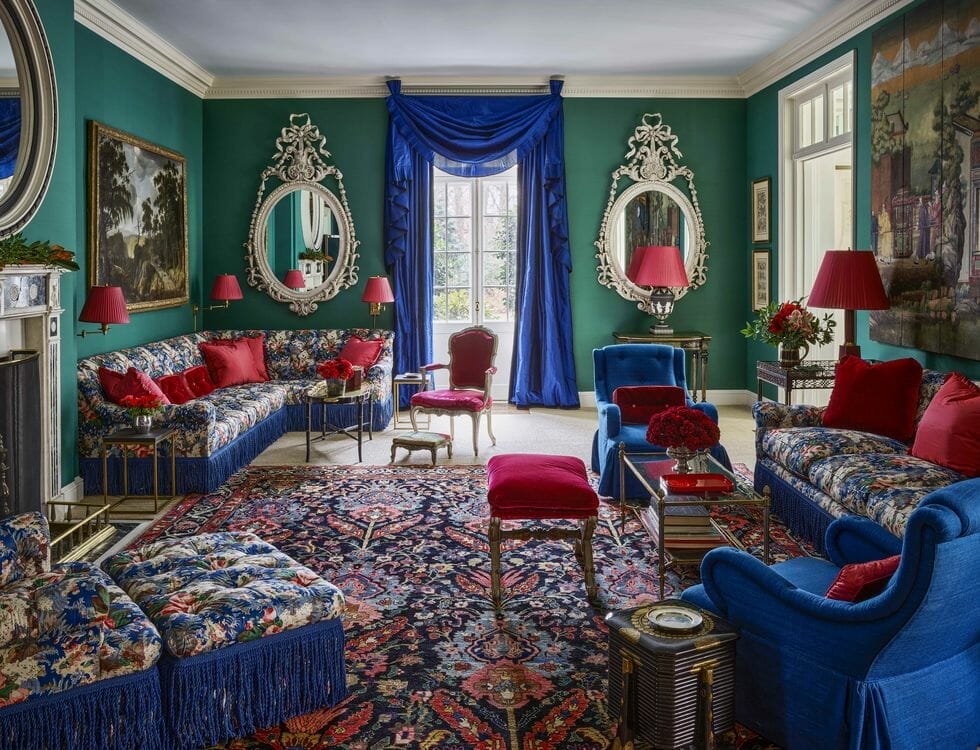 You can be the ordinary version of yourself inside this living space because the room itself is extraordinary. Undoubtedly, it is because of the blue and red accents, pattern abundance, as well as Victorian style.
However, the biggest influencer is absolutely the wall color. It is presumably due to the lighting when someone took this picture, but this is so doubtful.
Among the list of possibilities, teal, turquoise, dark green, Behr Sparkling Emerald, and Benjamin Moore Beau Green are the closest.
3. Green Stripes Wall Painting Design for Bedroom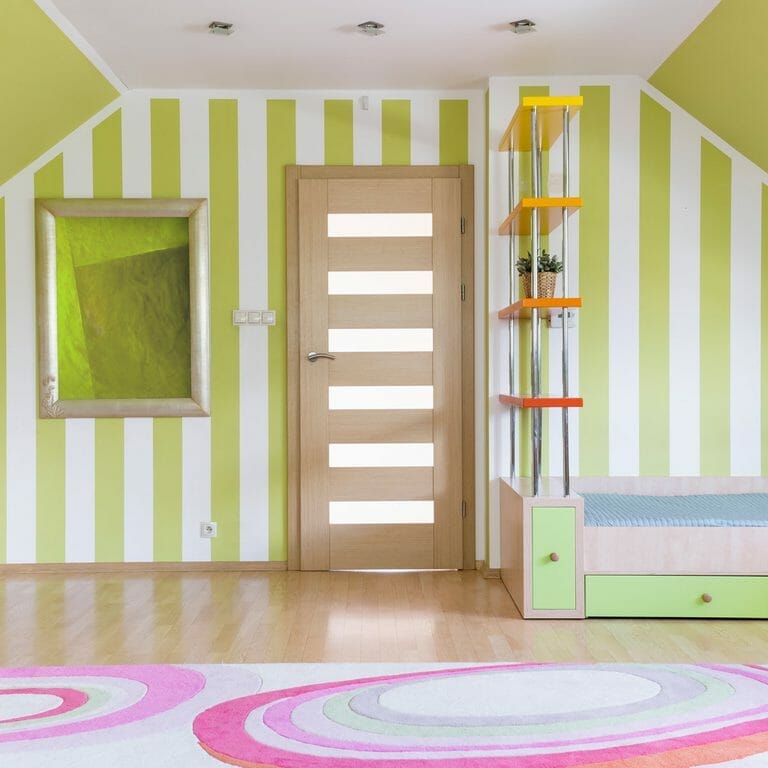 Presumably, it is an attic space turned kid's bedroom, looking at the vaulted ceiling and the bright color selection. Due to the low ceiling, you need an idea to make it appear higher.
Inside, vertical stripes are the tricks to have the required impression. On top of that, apple green, crisp white, and light tone wood become the upbeat interior shades.
4. Beautiful Light Pink Combination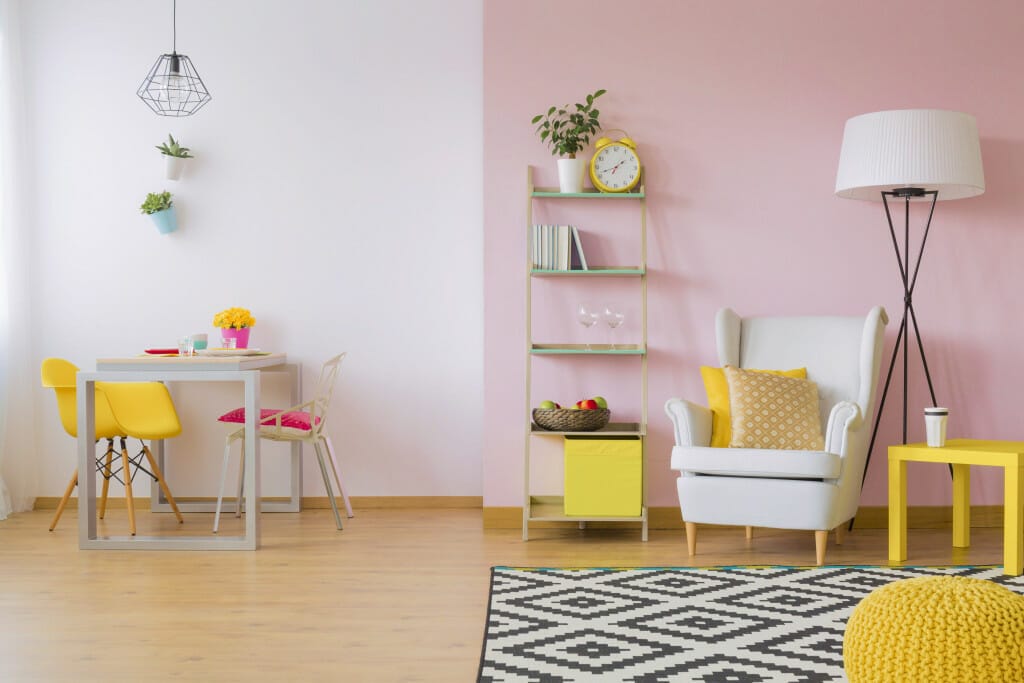 The wall coloring ideas shown in this room are for the fans of pastel pink. But, the deal is to pair it with white for a beautiful color combination.
From here, you could turn the space into a summer haven by throwing yellows in the palette.
Inside this multifunctional room, the game-changer is on the dining chair, storage box, cushions, side table, pouf ottoman, and other decorations.
5. A Great Base Off White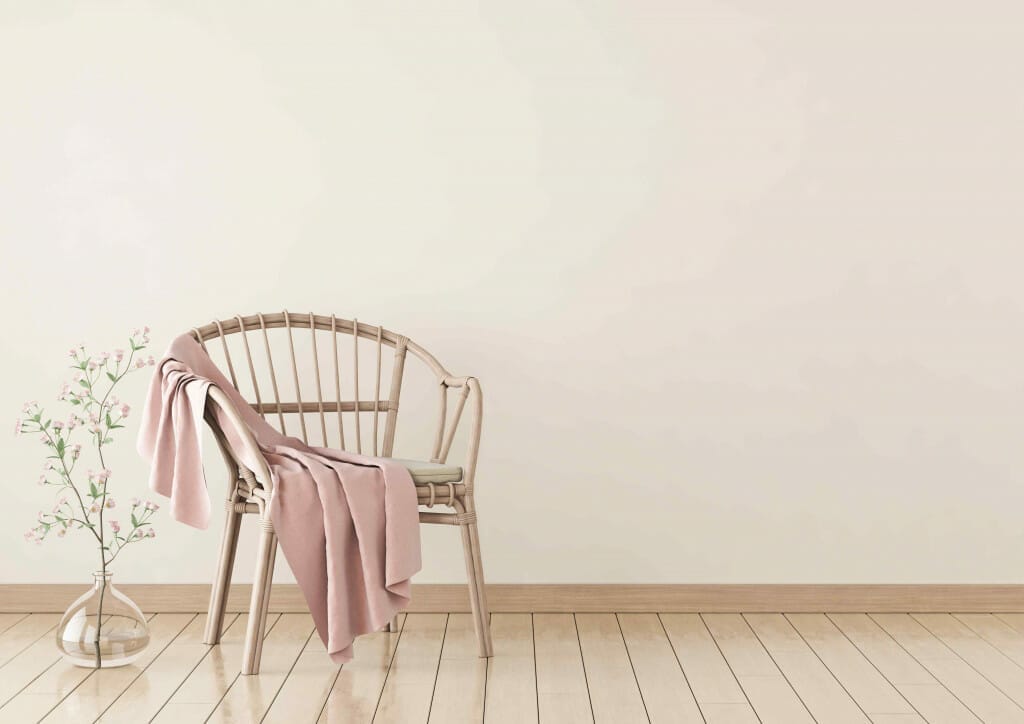 Next, you have the classic off-white Champlain by Fusion Mineral Paint. Whether adaptive or deceptive, this color is so clever in basing anything in front of it.
At first, some people believed it is one of the rosy shades due to the rattan chair, throw blanket, and decorative flower plant. But, once they knew the truth, it gets whiter the more they see.
6. Crispy, Purely, White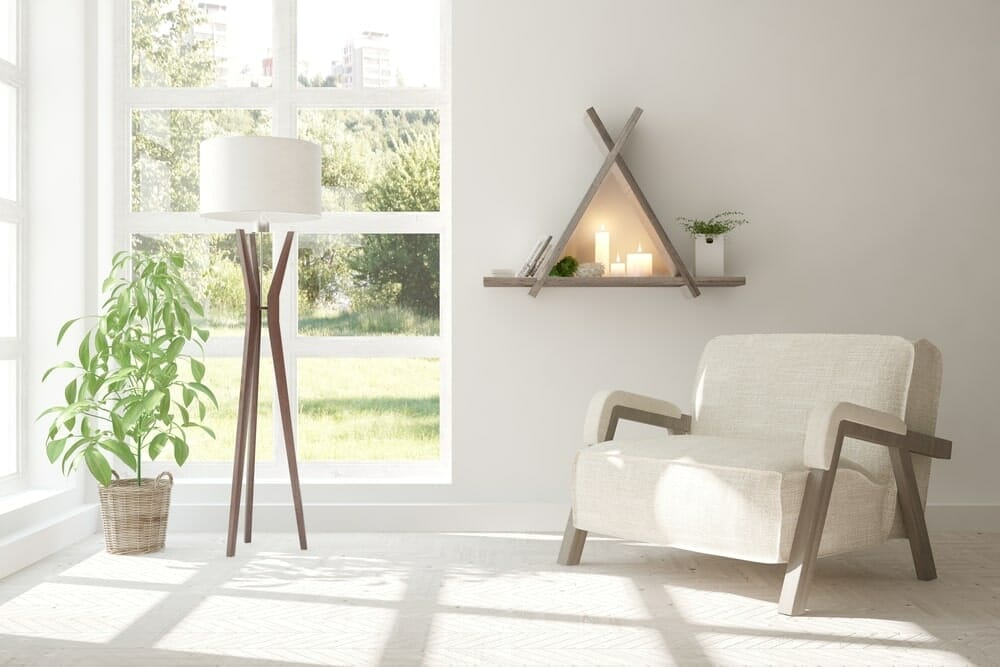 White shades turn out to be the most favored wall color of all time. Its neutrality is matchless, thus well-paired with any wall coloring ideas.
In this case, it pairs benignly with ashy tone wood furniture. They result in a calming and serene atmosphere.
Not to mention, the flickering candle flames ignited from the wood triangle shelf also give their share in creating such a nuance.
7. Adorable Pastel Green Nursery
For nursery or playing room, pastel wall coloring ideas are the most appropriate since such shades exude cuteness, cheerfulness, and babyish charm.
In this area, soft green is selectable to do the honor. The other shades with similar aura are mint green and pale green.
Among the existing wall paint on the market, you could choose pastel tone from one of these: Pratt & Lambert Glacial Green, Mythic Paint Soft Green, Valspar Timid Absinthe, Behr Celery Ice, Farrow & Ball Arsenic, Sherwin-Williams Eco Green, and Kelly-Moore Green Jeans.
8. Soothing Teal Blue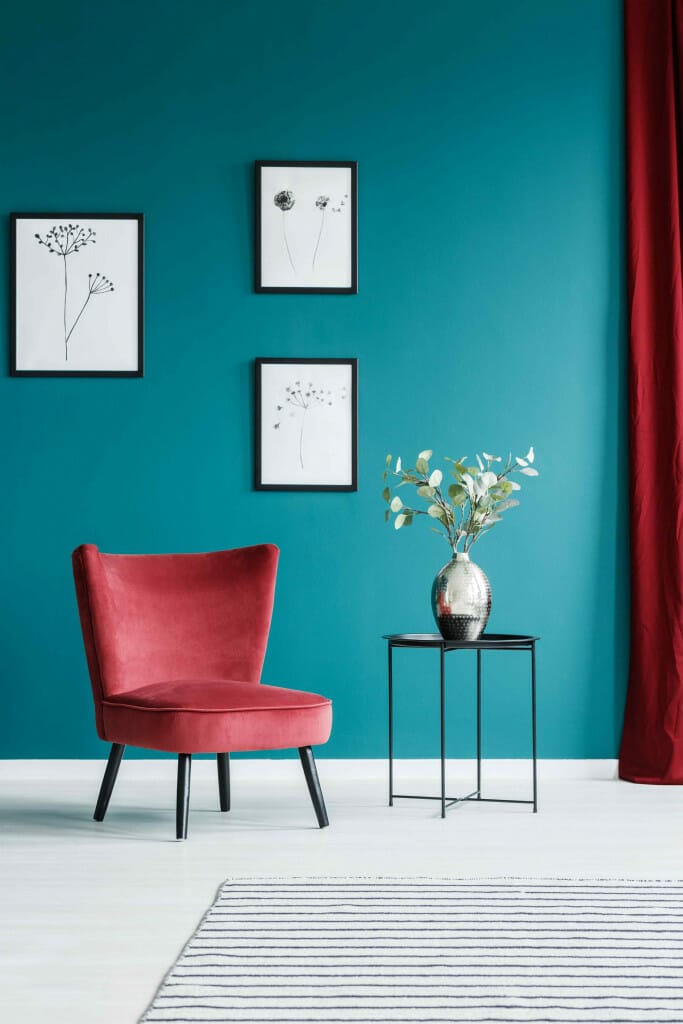 There is always a reason to contrast bold red with soothing teal, and wall coloring ideas cover one of them. For example, your bloodshot furniture gradually feels less intriguing, and you want to do something about it.
The common method is to replace them, but the economical way says it is better to teal-paint the wall and feel something new.
9. Bold Yellow Kid's Room Wall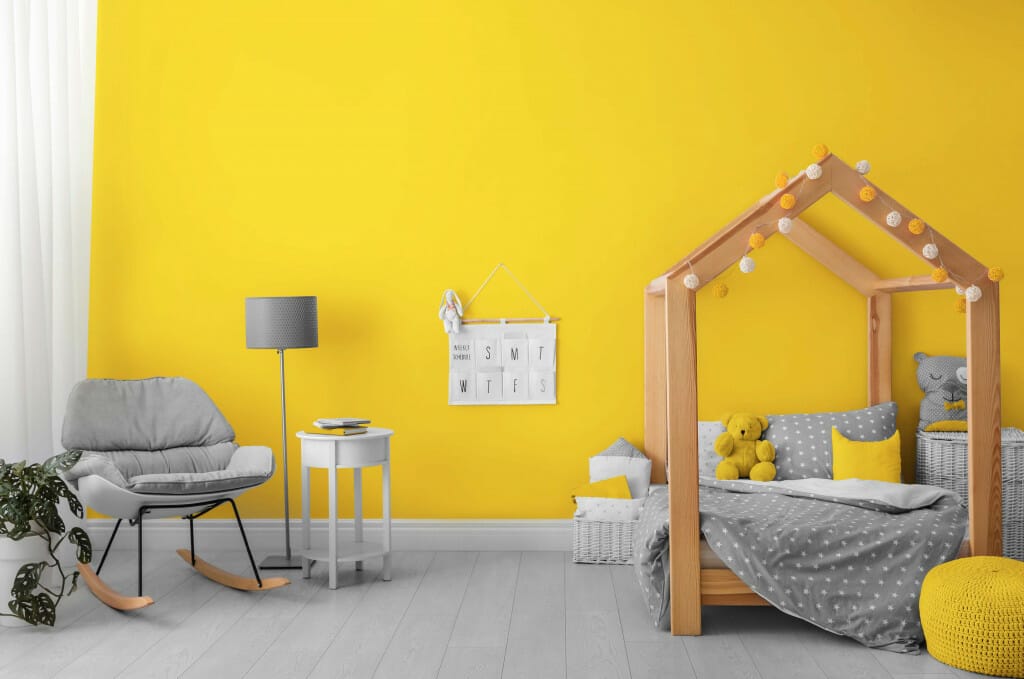 This kid's bedroom has an unrivaled duality. It is brightening yet dimming at the same time. But, that is how balance works.
If you want to imitate the concept, start by picking one of these Dulux yellow wall coloring ideas: Delhi Bazaar 4, Spring Breeze 1, Sunny Savannah 4, and Sweet Citrus.
Wait, it does not stop there because you also have to throw grays into the scheme. As seen, the color occupies the floor, kid's armchair, floor lamp, bed sheet set, and the other details.
10. Stylish, Minimalist, Yellow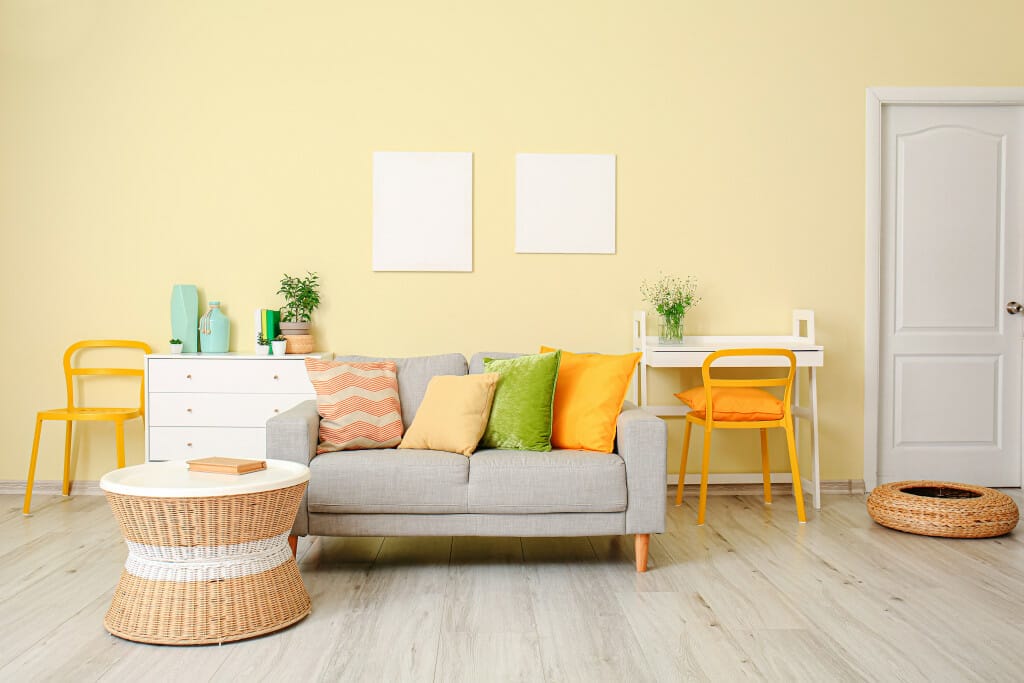 Pale wall coloring ideas charm people in their way. The ground and highlight the other tones very well without being overwhelmed.
For instance, this living room occupies insipid yellow as the background to highpoint the single cool grey sofa and fresh white furniture. Yet, it still feels dominant.
You could pick one from Dulux Straw Bale, Homebase Lemon Souffle, and Dulux Sun Dust 4 if you want to have similar wall paint.
11. Vivid Teal Blue with White Molding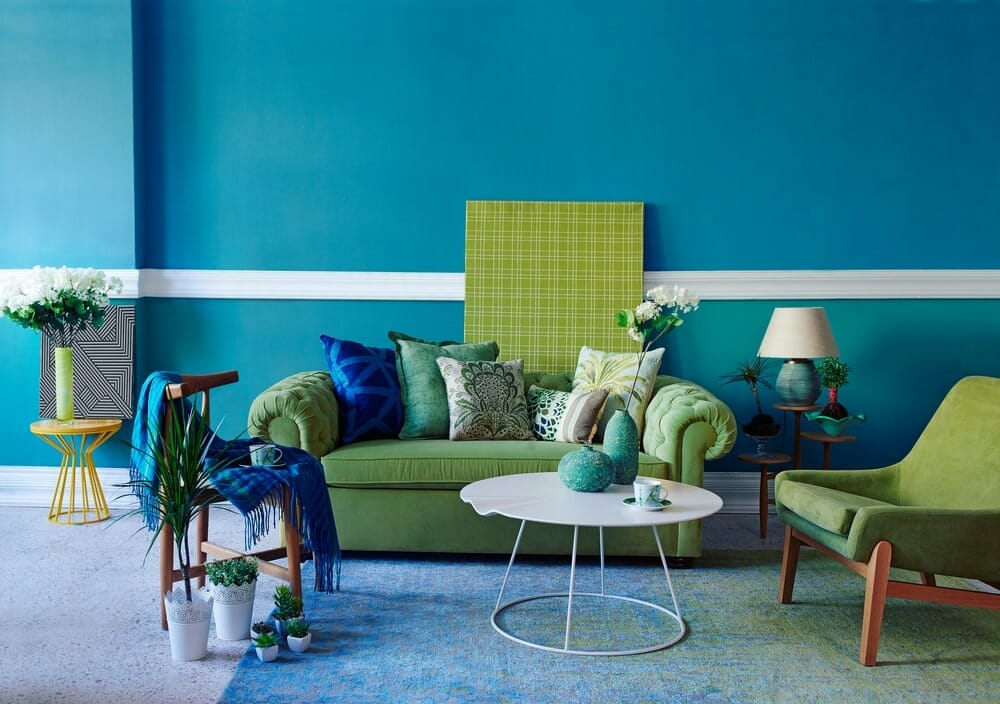 This living room makes the list of teal blue wall coloring ideas longer by installing white molding at two-fifths wall height.
Further, this color also snaps a reality that it specializes in instant contrast. After diverging red, it marks another appealing contradiction with moss green furniture.
Also, note that white is present on the rest of the elements to balance the scheme in the middle part of the room.
12. Sunset Ombre Study Room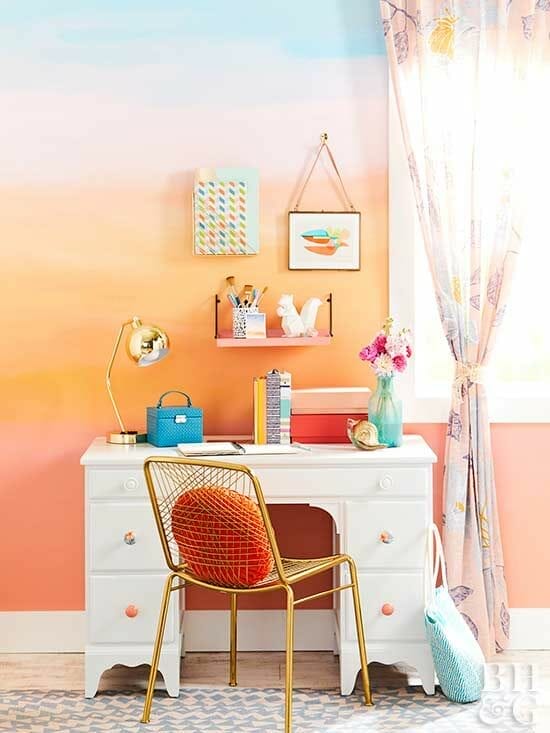 Sunset is a daily happening. Even so, it never failed to amaze even once. With wall coloring ideas, you could pour the beautiful palette into your room background.
There are many sunset palettes, one of which is exemplifiable by this room. You could mimic it or find another fitter set.
We suggest the Desert Sunset palette by Pantone. It involves Sunset Gold, Emberglow, Hot Pink, Poinciana, Muskmelon, Ultra Violet, Bougainvillea, and Copper.
13. Fresh and Tranquil Pink Reading Corner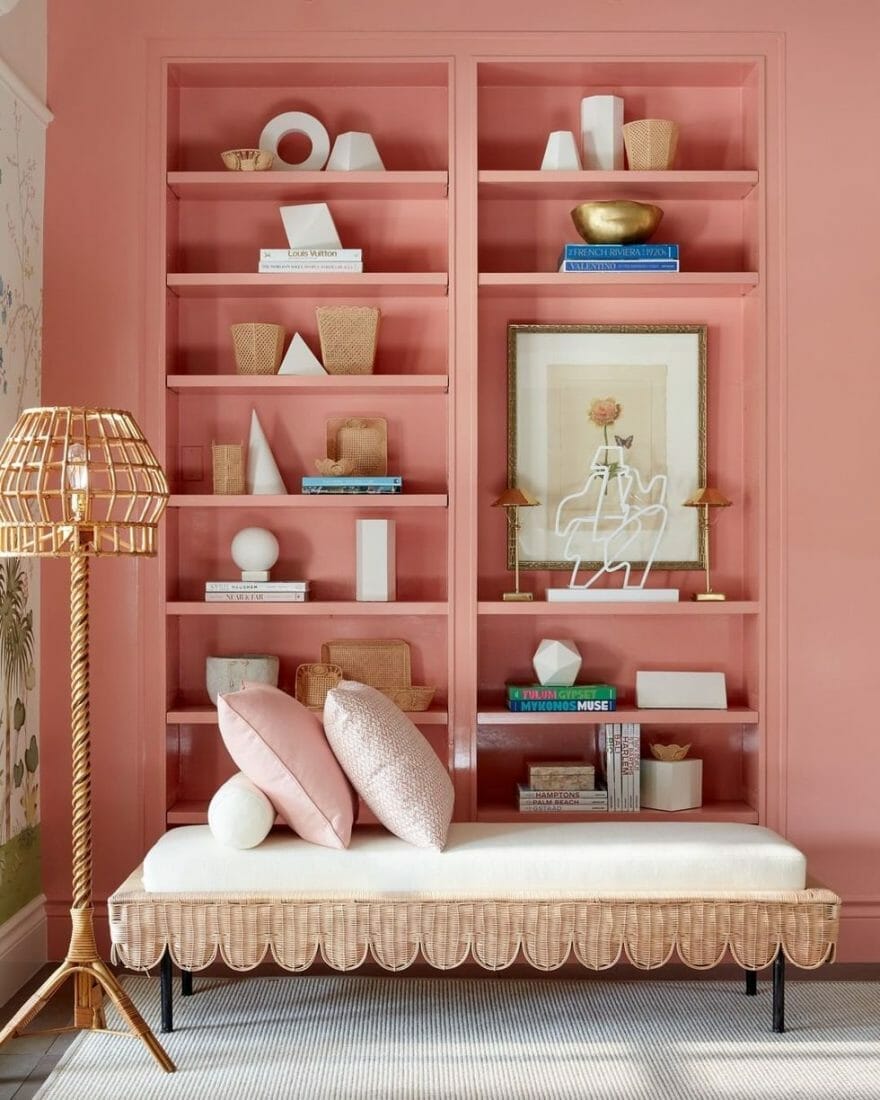 A tranquil environment is necessary for reading activities. Sometimes, it depends on the location or the crowd. But, mostly, the interior of where you read holds an influence.
Sherwin-Williams have a palette consisting of coral pink wall coloring ideas. They are Dishy Coral, Coral Bells, Coral Reef, Coral Bead, Begonia, Charisma, and Grenadine, from which you can pick one to create a peaceful reading nook.
14. Chalk Paint for Blue Ombre Bathroom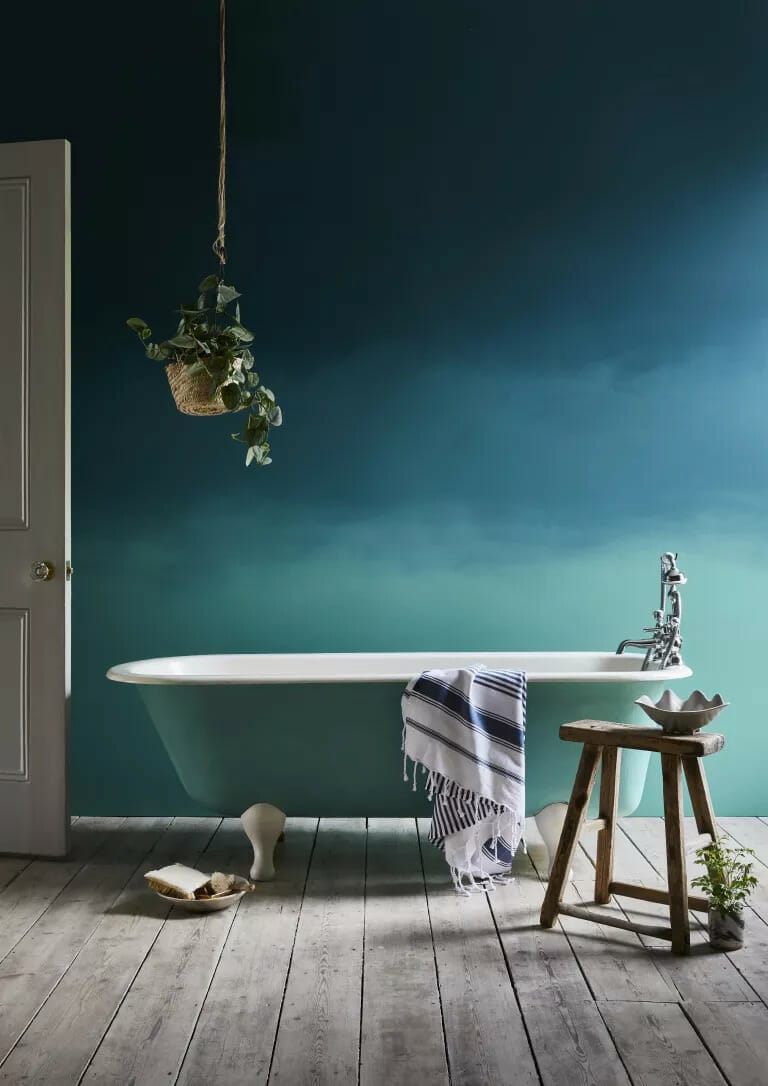 Smooth finishing, as well as chalky and matte appearance, become the characteristics of chalk paint. Such a surface is rarely visible in bathrooms or other wet areas due to the direct water contact.
However, after looking at one with ombre technique, chalk paint bathroom wall coloring ideas feel naturally appropriate.
This bathtub wall uses a palette of teal, pale turquoise, and something between the two shades, such as aqua or aquamarine.
15. Aqua Blue Ombre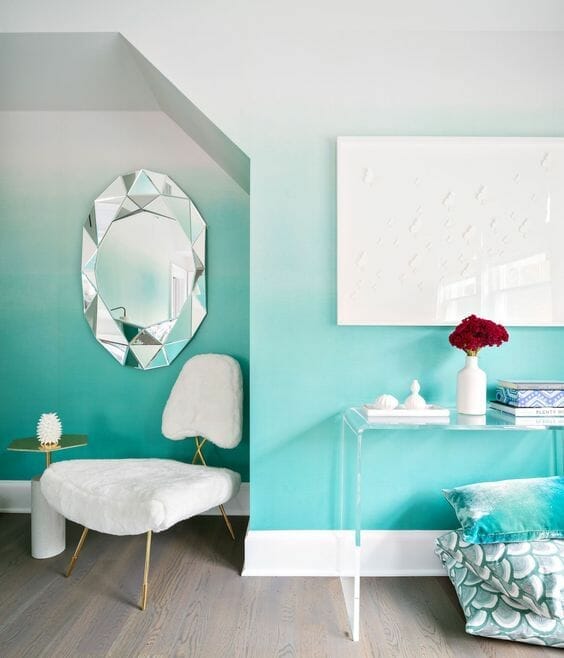 Ombre wall coloring ideas are surely on trend, looking at how many you have seen so far. Gradient colors they add to the room make an instant focal point.
This space, for example, features an aqua blue ombre wall that hints people of where to drop their gaze.
It represents the view of the sky when the weather is nice. By applying such a scheme, the bright vibe will resonate and affect your mood.
16. Dazzling Yellow with Little White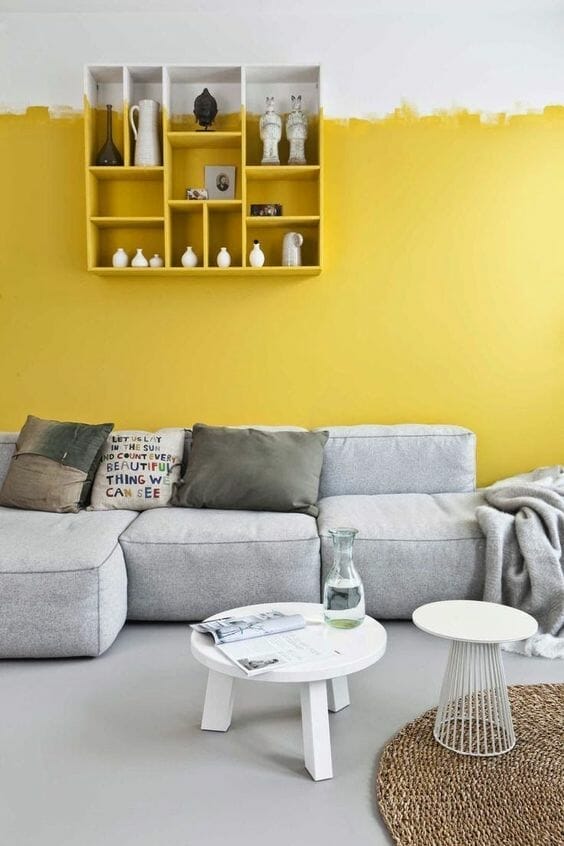 It looks unfinished, but it is intentional. An about four-fifth portion of the wall is paintable in yellow while the rest of it is in white.
The unique part is there is no clear separation line between the two colors. It is like starting an ombre wall but without blending the shades.
17. Orange Hall Room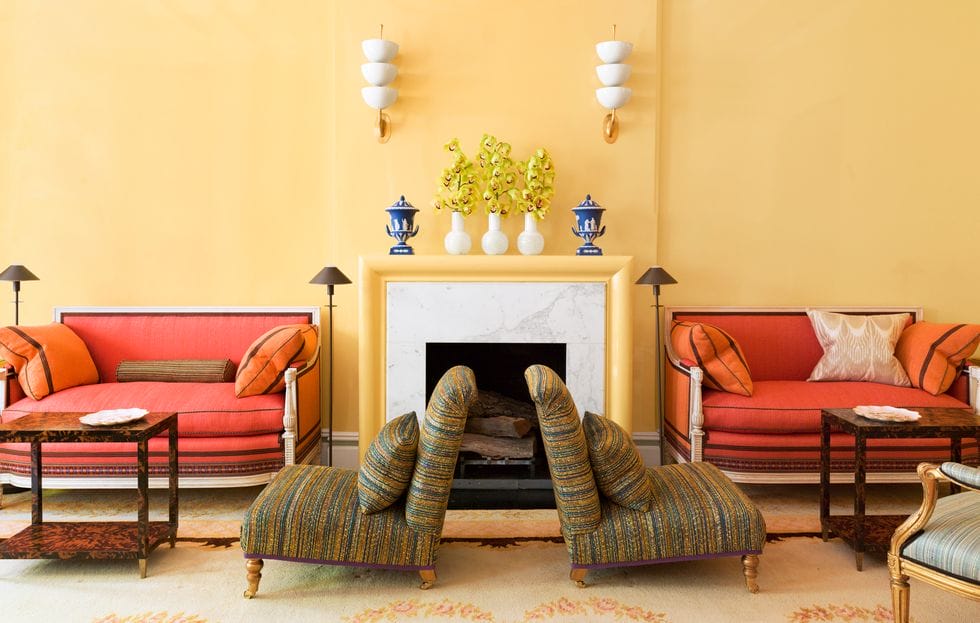 With orange wall coloring ideas, you will get a beaming, chic, and fresh hall room. It works well in inviting people to chat inside.
By the way, this space has given an example of using such color and pairing it with bolder shades and thin stripes.
18. Charmed Yellow for High Ceiling Living Room
Yellow wall coloring ideas are on a role. The shades are so popular, especially for living rooms which intend brightness as their main nuance.
Moreover, this space uses a shade that is very similar to PPG Tuscan Sun and Pantone Dusky Citron.
19. Mountains Mural for Hallway Wall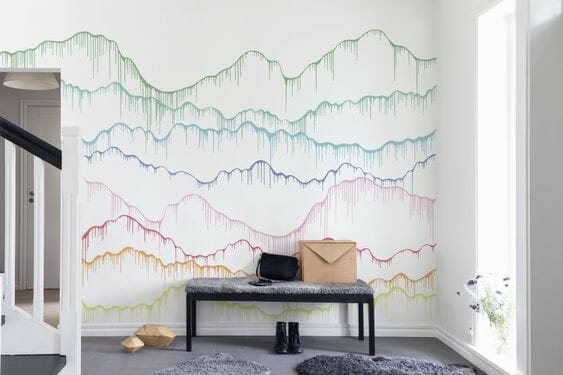 Outstanding and vibrant are the adjectives that best describe this modernized form of the mountains fresco.
It belongs to the list of creative wall coloring ideas using acrylic paint in several shades and large syringes to get the dripping effect.
20. Classic Bedroom Paint Colors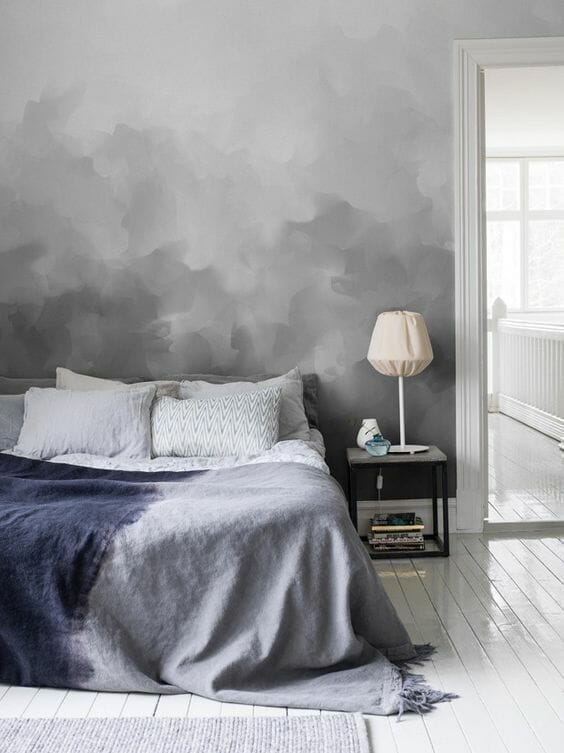 A classic and basic gray wall could as well be exhilarating and exclusive using blended wall coloring ideas. With two gray shades, let the darker tone occupies the wall lower part while the lighter color fills in the upper.
Further, the cloud-like outcome is achievable by bold-stroking the middle portion very fast.
21. Bedroom Red Wall Coloring Ideas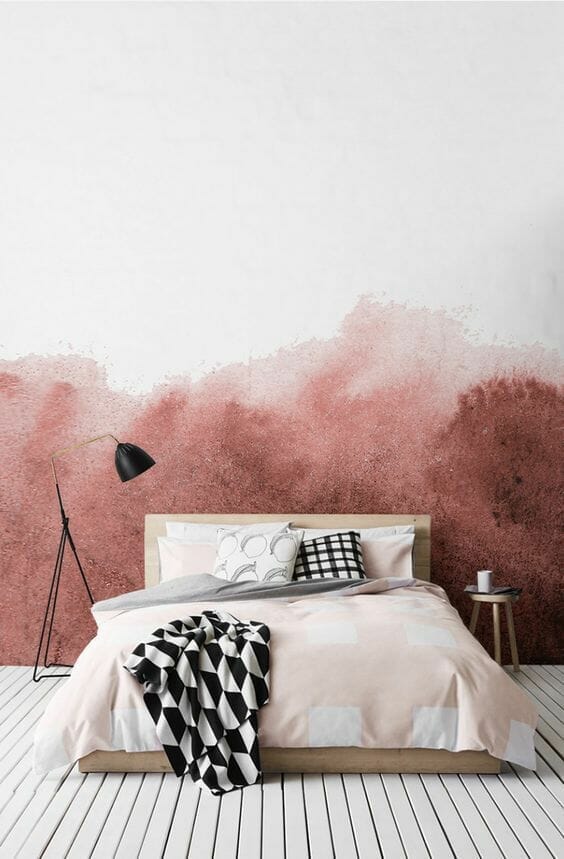 This bedroom gets tense, enthralling, and astonishing accent wall with grunge effect and rust finish. It is such a splendid technique to interrupt the faultless neatness of the up-to-the-minute interiors.
To create the result of grungy, you should squeeze a damp towel into the recently painted part.
22. Violet Living Room Wall as Mood Booster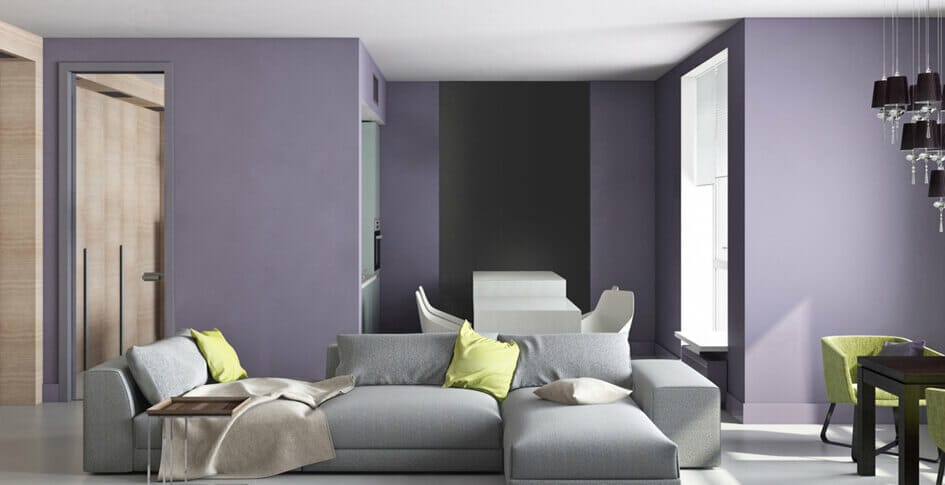 This living room combines Berger Marquis all over the walls and Berger Wisteria Way on the details to create a mood-boosting space.
It mostly appears in a distinctive shade of violet which makes a harmonious combination with nearly all colors.
23. Simple Wall Painting Designs for Living Room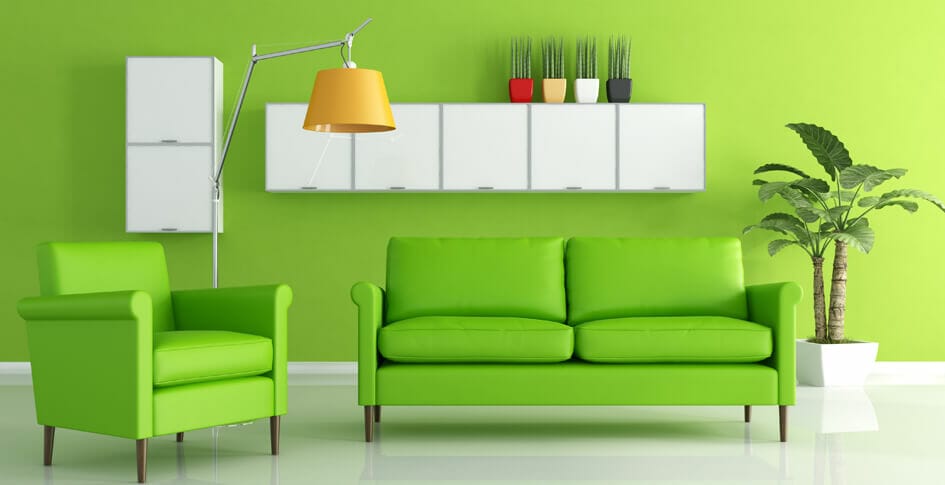 If you feel stressed lately and could only heal at home, enhance a big amount of peaceful green to your house, particularly to room walls where you frequently occupy.
As seen, the color is reassuring and tranquil to the eyes, thus relieving your stress.
24. Comforting Pink for Bedroom Wall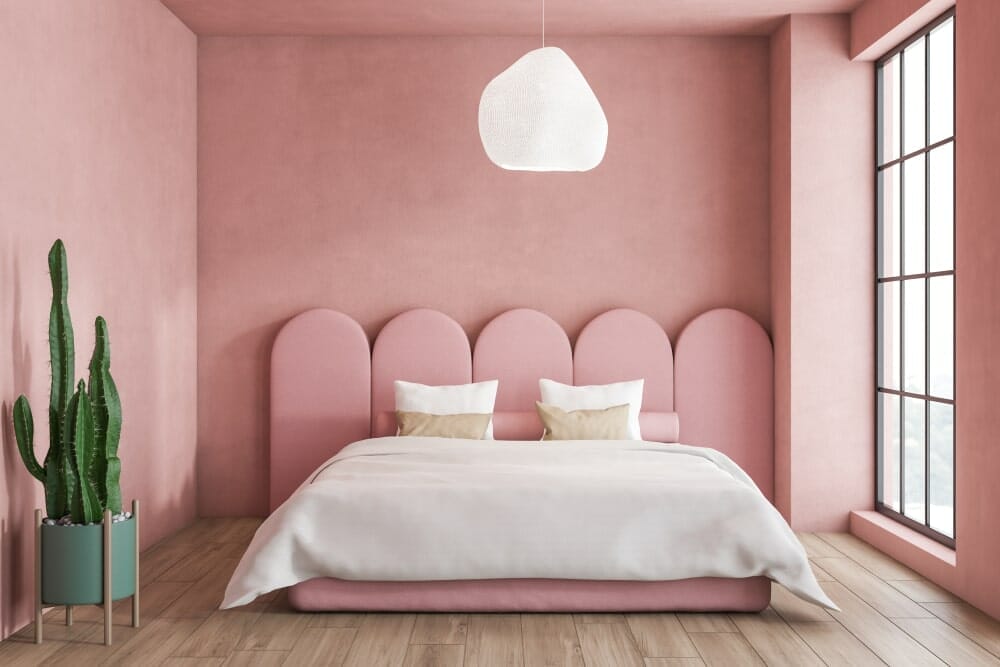 A girlish and contemporary bedroom could only be obtainable through a pink wall. It becomes an unwritten rule everywhere.
Well, Sanderson has a series of comforting rosy colors, like French Rose, Light Amethyst, Moss Phlox, Orchid Smoke, Raspberry Cream, and Cherry Glow. You could pick one from there.
25. Amazing Blue and Yellow Arrangement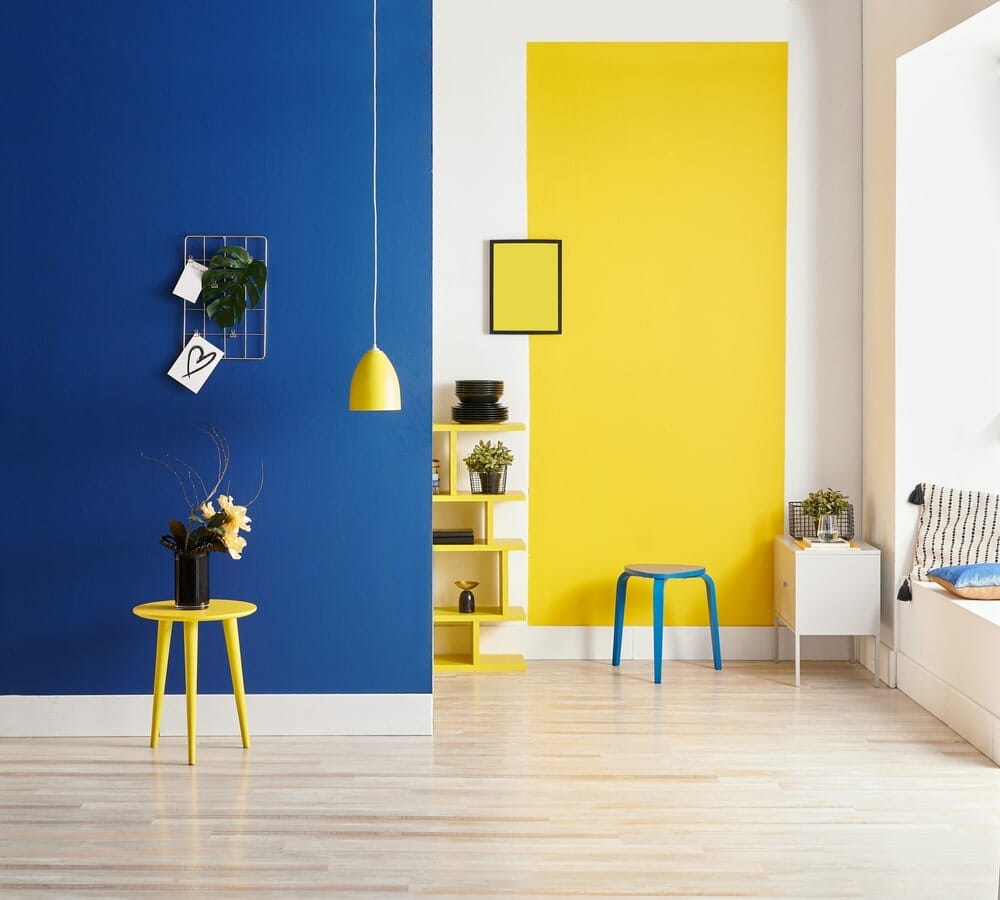 Cobalt blue and marigold yellow appear in unison, resembling the magnificent sunshine and deep-sea that balance each other on a lively and unclouded day.
They make a nice team in a living room, as seen in the picture, or in other spaces where people make a lot of interactions.
26. Pastel Orange Wall Coloring Ideas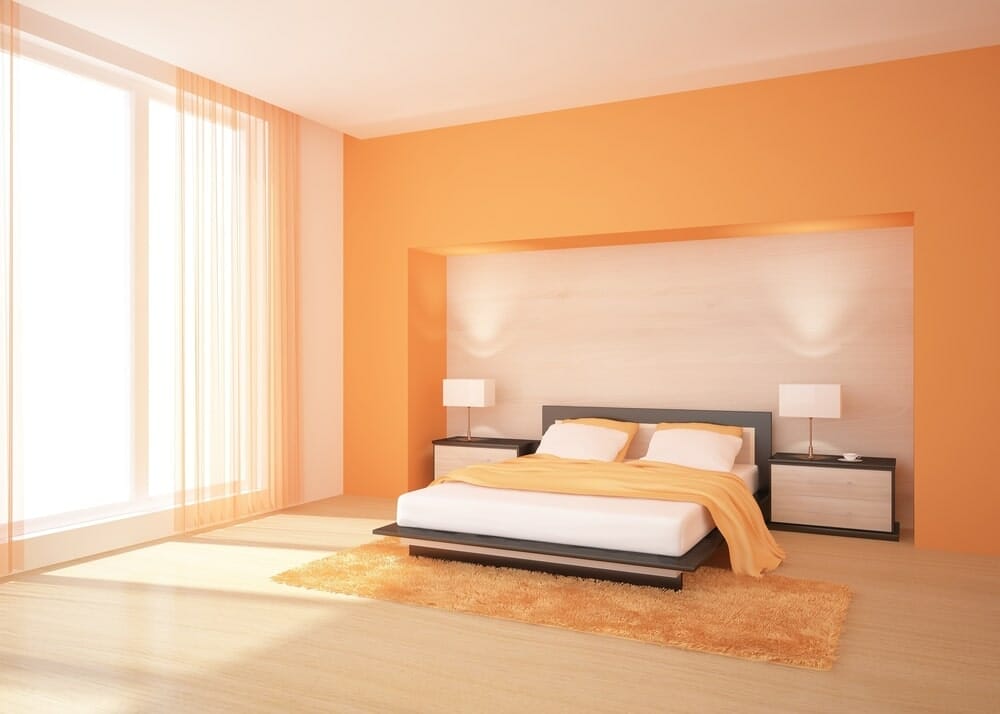 The two colors are used to generate a necessary mood of relaxing and serene within a bedroom. In the picture, you see orange becoming the central point.
You could get a similar calming vibe by applying one of Dulux Pale Orange, Glidden Pale Orange, and Pittsburgh Paints Orange Marmalade.
27. Orangey Red for Living Room Wall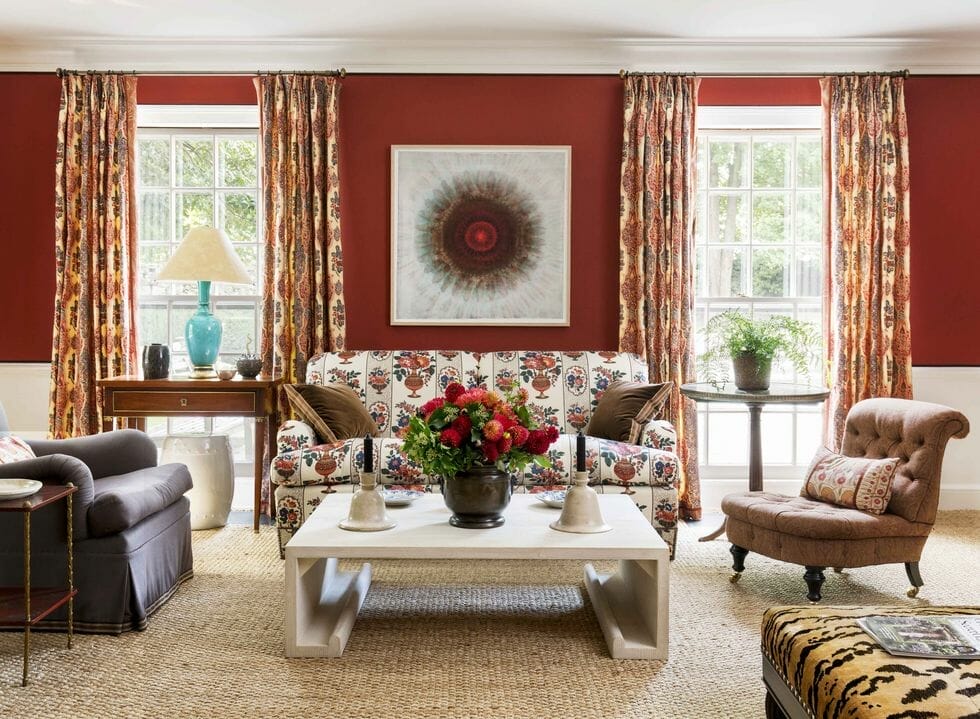 It is not a paint but a terracotta cashmere fabric for a wall. However, the color gives you an idea that such a tawny red looks fabulous in the living room.
The wall paint versions of terracotta also exist, created by some manufacturers, such as Behr, Dixie Belle Paint, Benjamin Moore, Sherwin Williams, and Glidden.
28. Elegant Dark Green Wall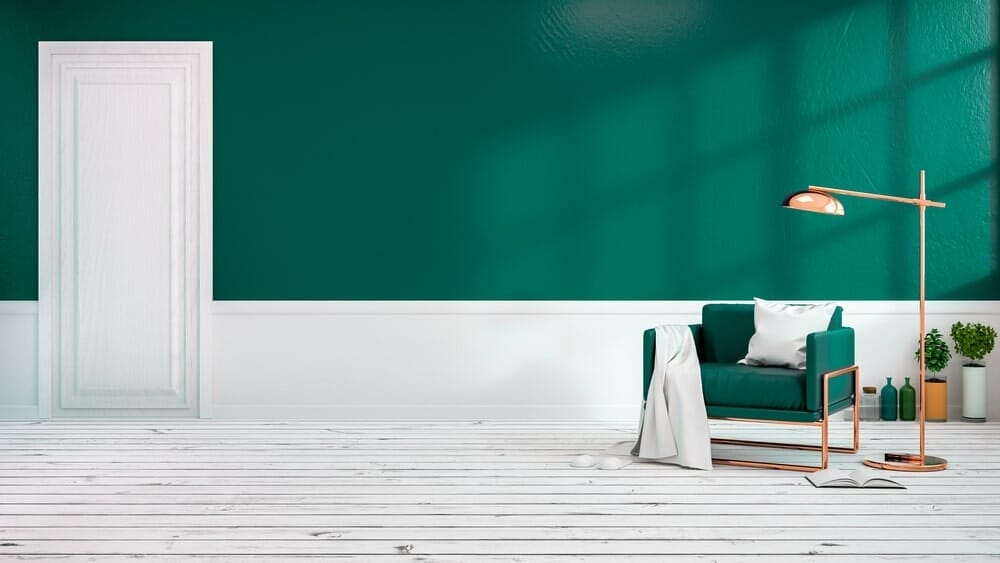 Elegance is not only about natural stones and such but also minimalism and color selection. At least, that is what this room wants to tell.
Specifically, dark green and bright white dually adorn the space. They are on the wall together but stain the furniture and the other details separately.
29. Deep Red for Modern Living Room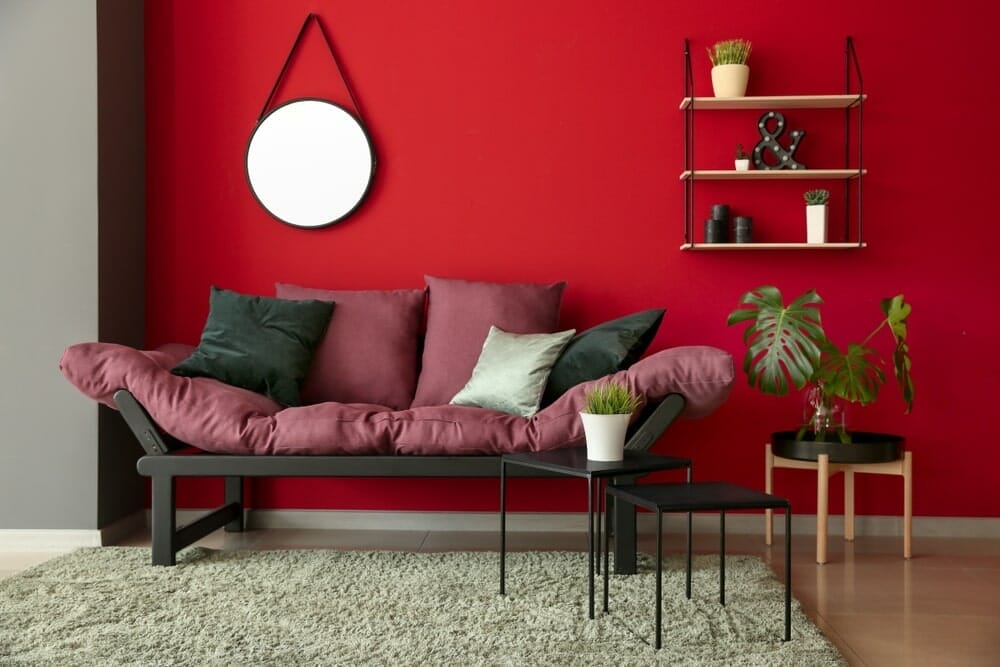 Red points to vigor and buoyancy. In terms of interior paint, this shade makes an instant statement, thus perfect as an accent wall. Also, it offers brashness without being overpowering to anyone who sees it.
Anyway, this deep flaming color has so many shades. They project a similar image to the room where they belong. Among the list, you could pick cherry, rose, crimson, ruby, scarlet, apple, blood, berry, currant, and lipstick.
If we are to conclude it, whether it is a single or multicolor, bold or soft, modern or classic, your wall should fulfill satisfying criteria of your own.
No need to please anyone in the matter or follow the happening trend whatsoever. As long as you feel contented with the result, then it is more than enough.
Now, stand up and start executing, because it is time for you to renovate the rooms in your house with wall coloring ideas above!