Why should you go with an expensive light fixture? While today, there have been many ideas for LED light strips that are more affordable and unique.
They also come with many attractive color choices other than white, for example, yellow, orange, blue, and even violet.
Besides transforming your room into an aesthetics one, ideas for LED light strips also efficiently help you deal with space problems.
Moreover, the presence of adhesives or clips owned by this lighting set makes it easy for you to put it wherever you want.
Without further ado, here are thirty ideas for LED light strips that can instantly beautify any space in your home.
1. Best Ideas for LED Light Strips in a Small Kitchen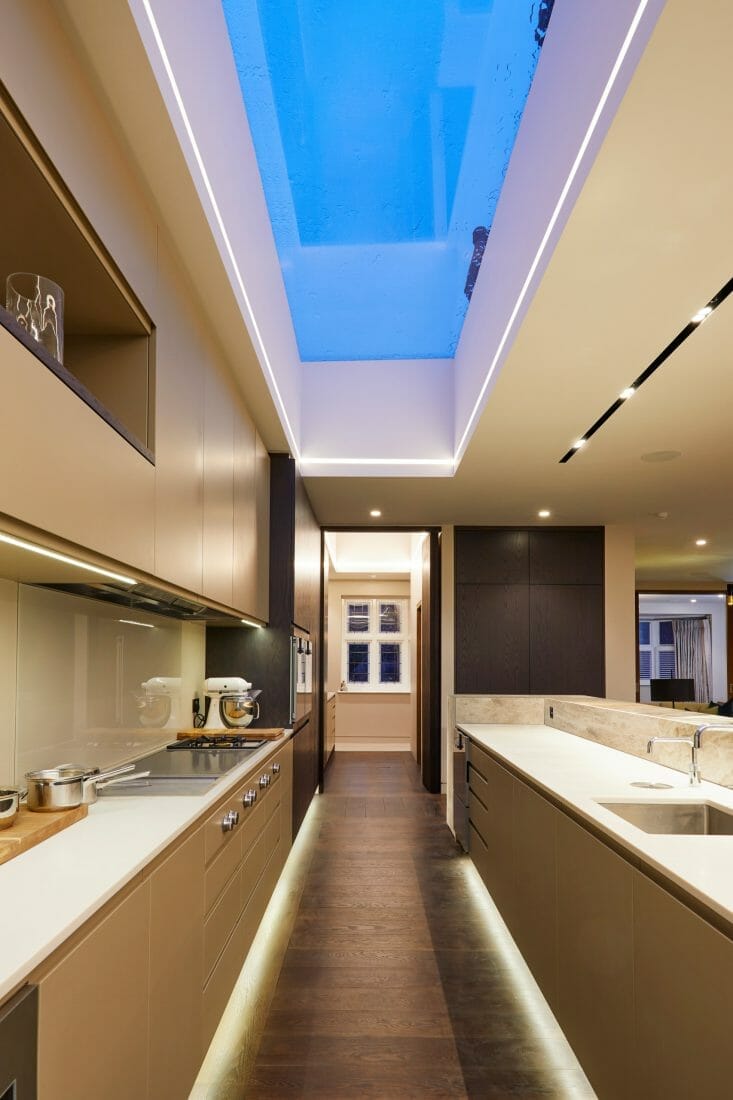 Suppose you have a kitchen that is not too wide. So, you can overcome that by installing LED strip lights in several spots. First, you can put them at the bottom of your kitchen cabinet.
This position can create an overall impression on your floor. Furthermore, you can also place it around your wall or false ceiling. That way, your kitchen will look higher than before.
Indeed, from that installation, you know that LED light strips are the best option to solve your space issues.
2. Enlighten the Patio with LED Strip Lights Here and There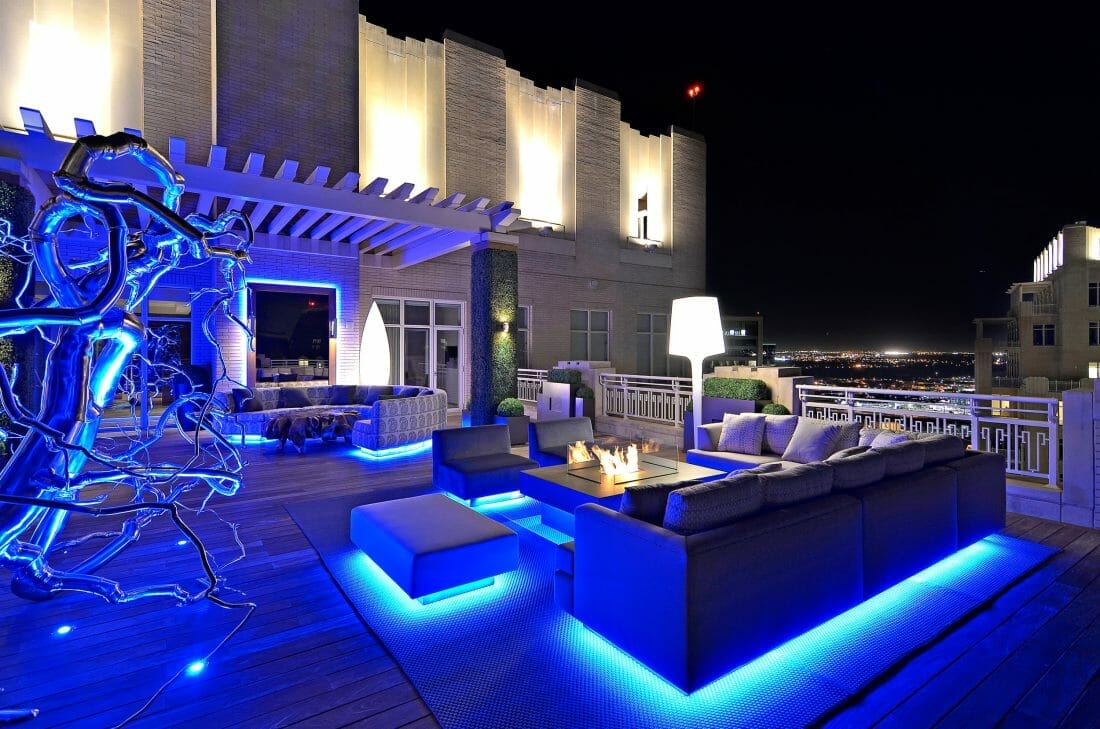 Well, besides functioning to expand the appearance of your room, LED light strips can also be an additional ornament for your exterior space, like this patio.
Instead of just installing it on the fence, you can try to put the LED light strips under your sofa set. And look, you have now succeeded in creating as if your furniture was floating above the illumination.
3. Put It Under the Shelving System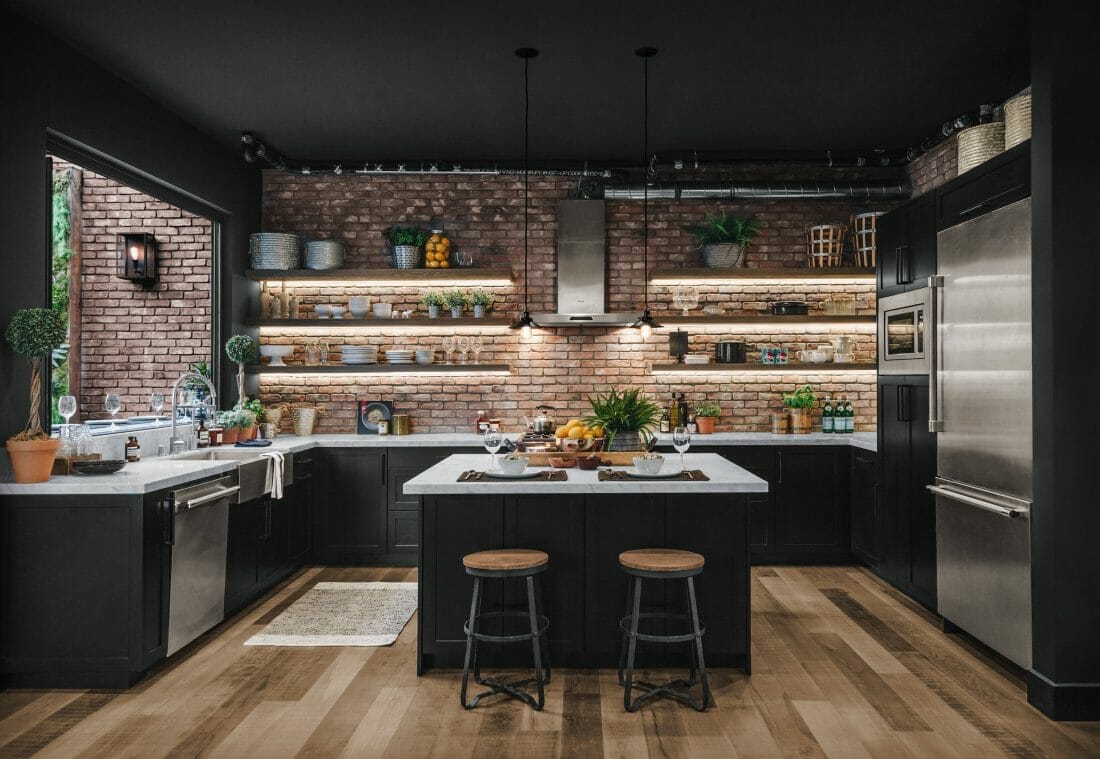 Setting up some LED light strips under the shelving system can never go wrong. Plus, you know that white would be perfect for this spot.
Once you put this lighting under the shelves, it soon acts as the accent lamp to highlight all the decorative ornaments you have.
4. Color Changing Govee LED Strip Lights in the Bedroom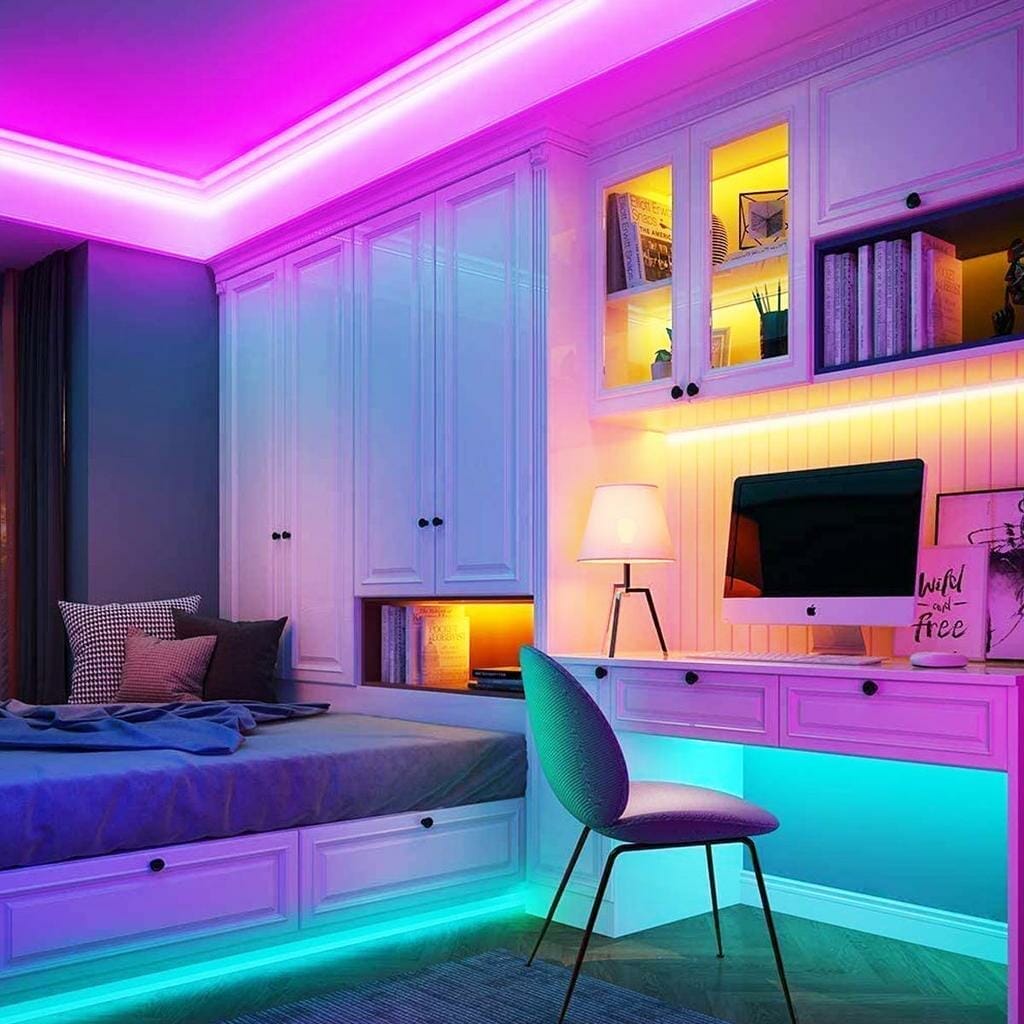 Suppose you are looking for unique ideas for LED light strips in the bedroom. In that case, you can try to use Govee LED. It is popular that this type of lamp comes out in many colors.
Additionally, you can also cut it according to your needs, and this lighting will still work well. Plus, if you don't want to bother with the manual color setting, you can go with the smart one.
That way, it will be easier for you to change the colors of the lights according to your wishes just by setting it through the application on your phone.
5. Cozy Dining Space with Strip Lights as Focal Point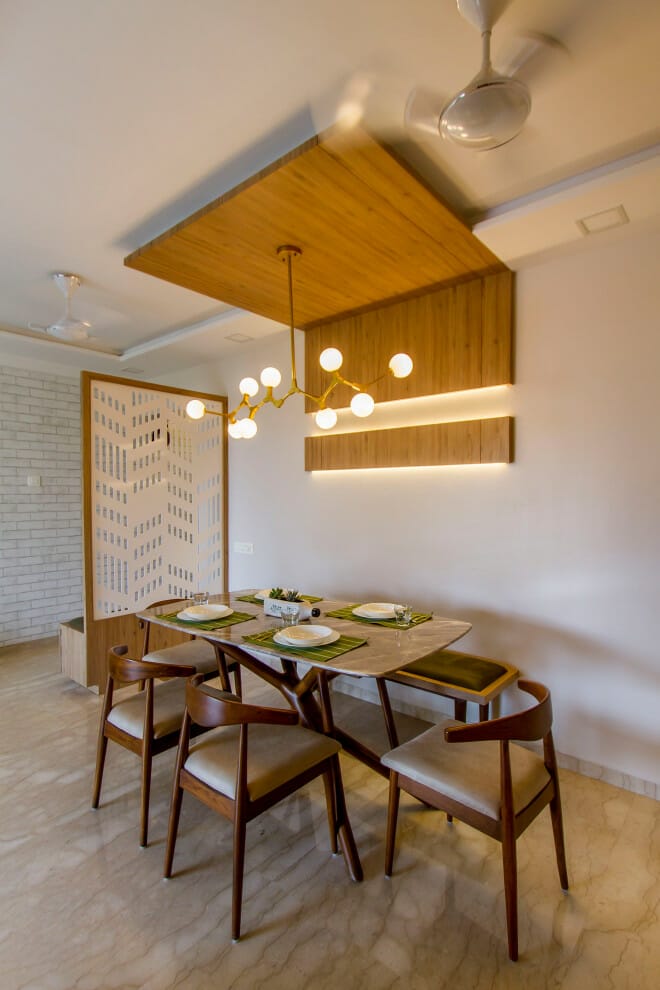 Installing led light strips, indeed, is not always about functionality. However, it is also about increasing the aesthetic value in your room. And, you can start from your dining room first.
To avoid boring interior designs, you can try to put warm white led strip lights on the partition along with your other wall decor. Isn't it elegant?
6. Stylish Kitchen Island with Blue Strip Lights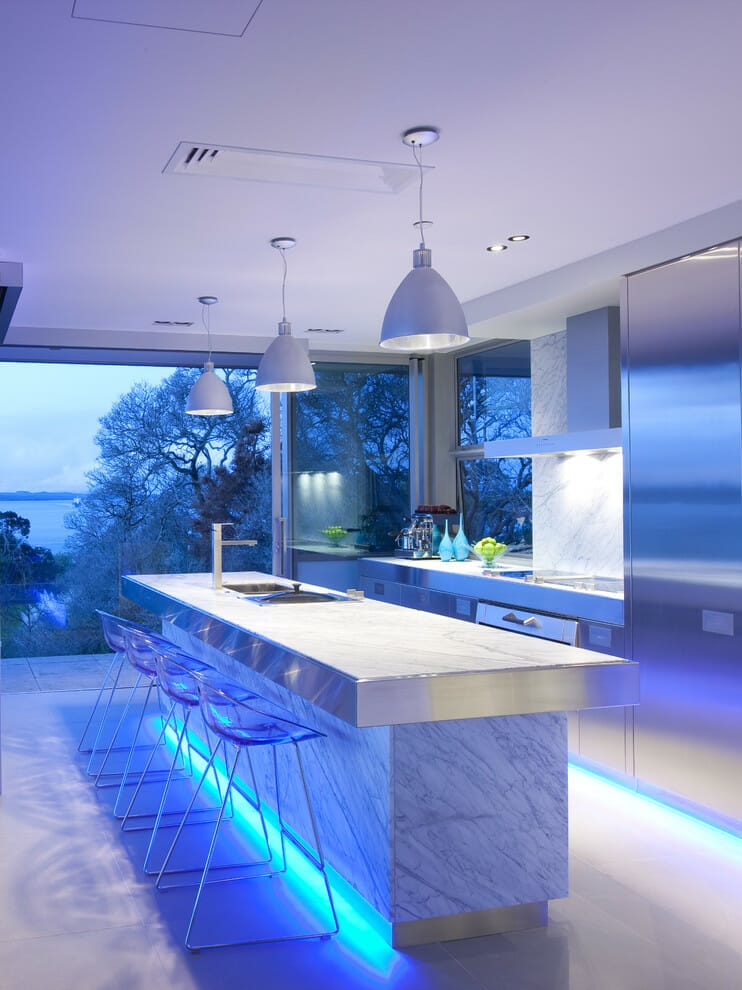 Implementing ideas for LED light strips in your home will undoubtedly be far from outdated. Instead, it will create a unique comfort, especially if it comes in blue for your kitchen bar.
Believe it or not, everyone will admit your high taste in interior design.
7. Come with Warm Strip Light Inside the Wardrobe
You can either consider putting the LED strip lights inside your wardrobe. At the same time, choosing some in white is perfect for helping you find your favorite clothes quickly in the middle of a hurry.
8. Turn Your Basic Bookcase into A Highlight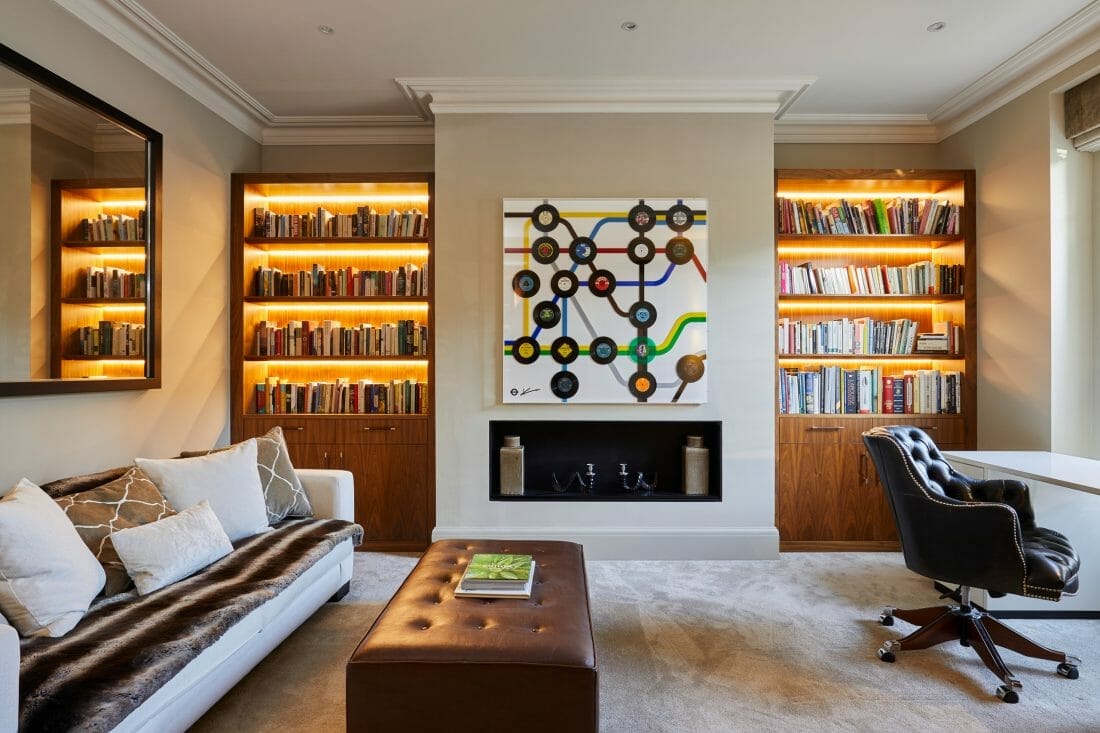 Do you have a boring bookcase in your living room? If so, try to update it by giving some light strips with yellow shades as backlighting for your book collection.
Once it is complete, everything has become a slick focal point, right?
9. Set the LED Strip Lights on the Ceiling Trim and Above the Screen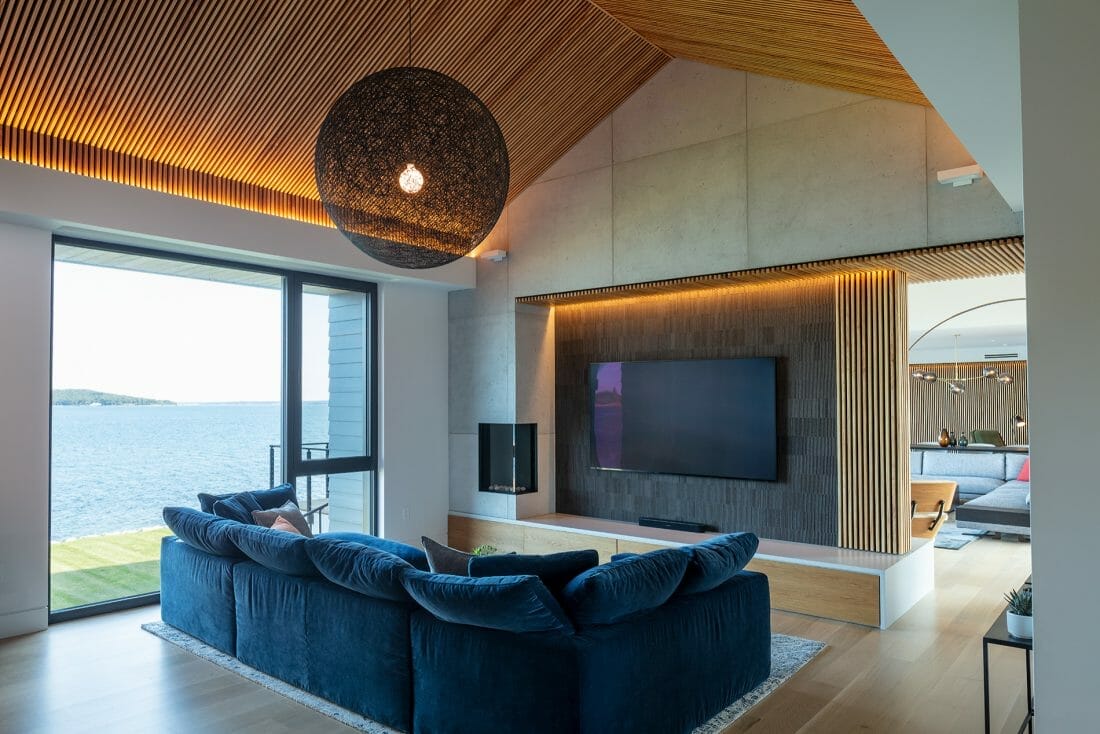 "Where to put LED strips in a room?" is a question that many people have asked recently. Therefore, this article provides exciting ideas for LED light strips that you can implement quickly and on a low budget.
Some of them are by installing the light strip along with your ceiling trim.
Moreover, you can also put it in the built-in space above your screen. Later, it acts to illuminate the TV perfectly and make an eye-catching decor.
10. Create Contemporary Vibes on Your Backsplash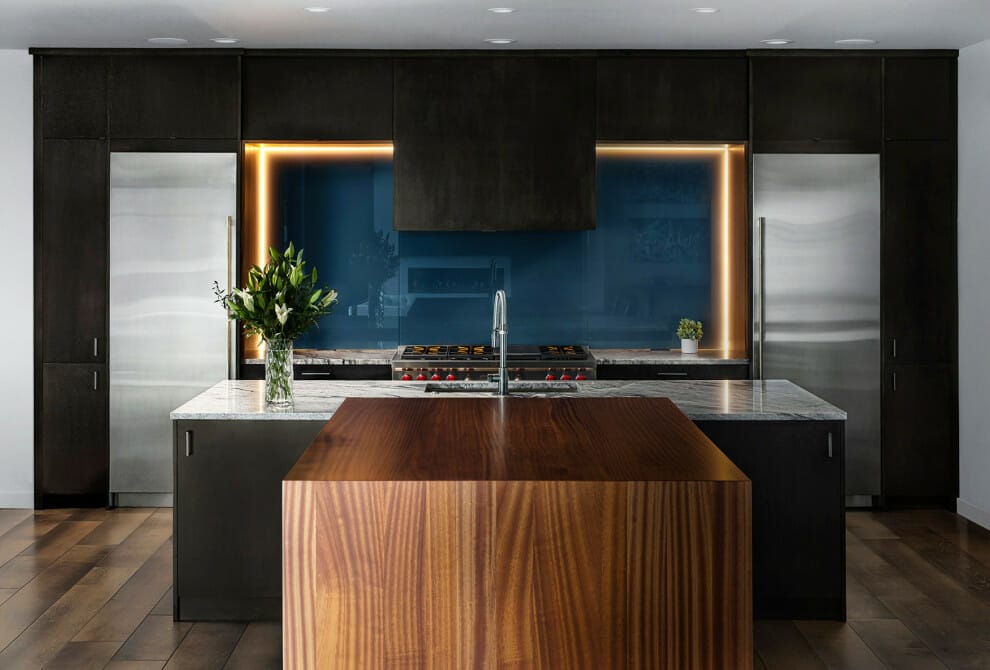 A backsplash is often a forgotten spot by homeowners. Many leave it empty for no reason.
However, providing this backsplash with a LED light strip will increase your home value.
It doesn't take much deliberation if you want to go with light strips in your backsplash. It would help by choosing LED lights with an IP rating of 65 to avoid short circuits because this spot has a high humidity level.
11. Widen Your Vanity Space with White LED Lights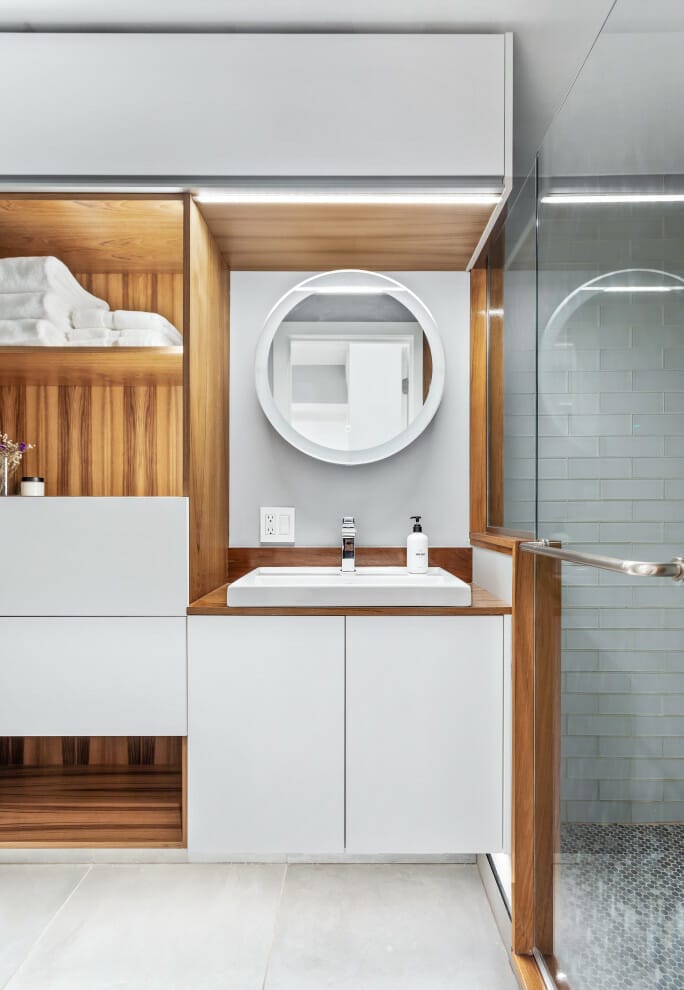 Some people may think that a white LED will look normal. However, this lighting can provide the best illumination for the mirror in your bathroom. Further, it also makes your vanity space look more expansive.
Placing it right above the vanity mirror will help you find your best look during dressing up.
12. Set Functional LED Light Strips for Your Home Office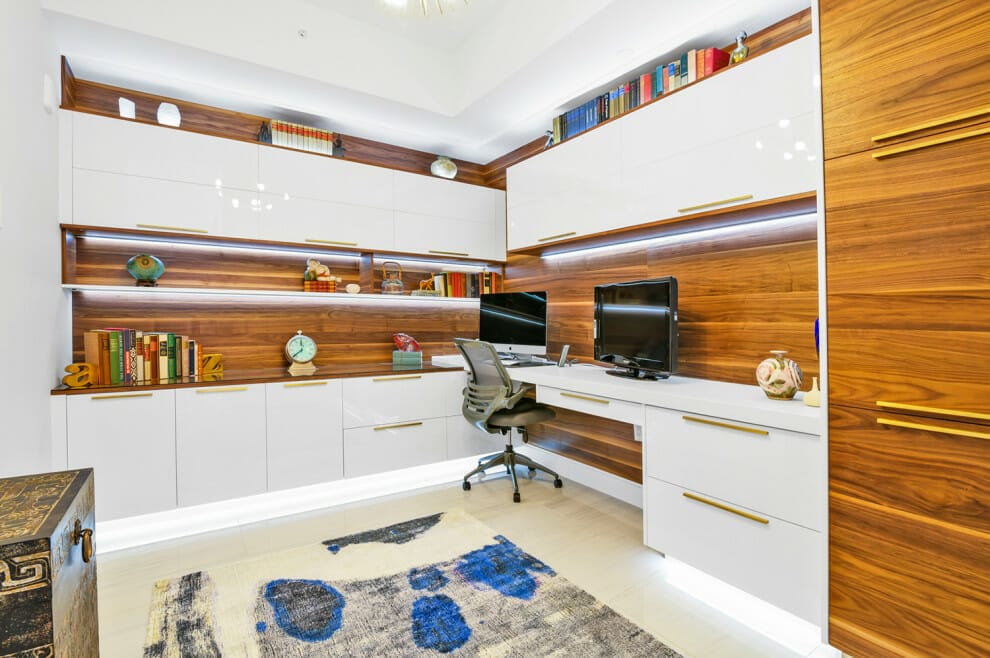 Ideas for LED light strips for rooms are also good for the home office. Instead of using the colorful ones, it's better to go in white as above.
It is because these light strips have double actions. Apart from the decorative purpose, it can also become the task lamp either.
13. Trendy LED Lights Room Decor Ideas for Boys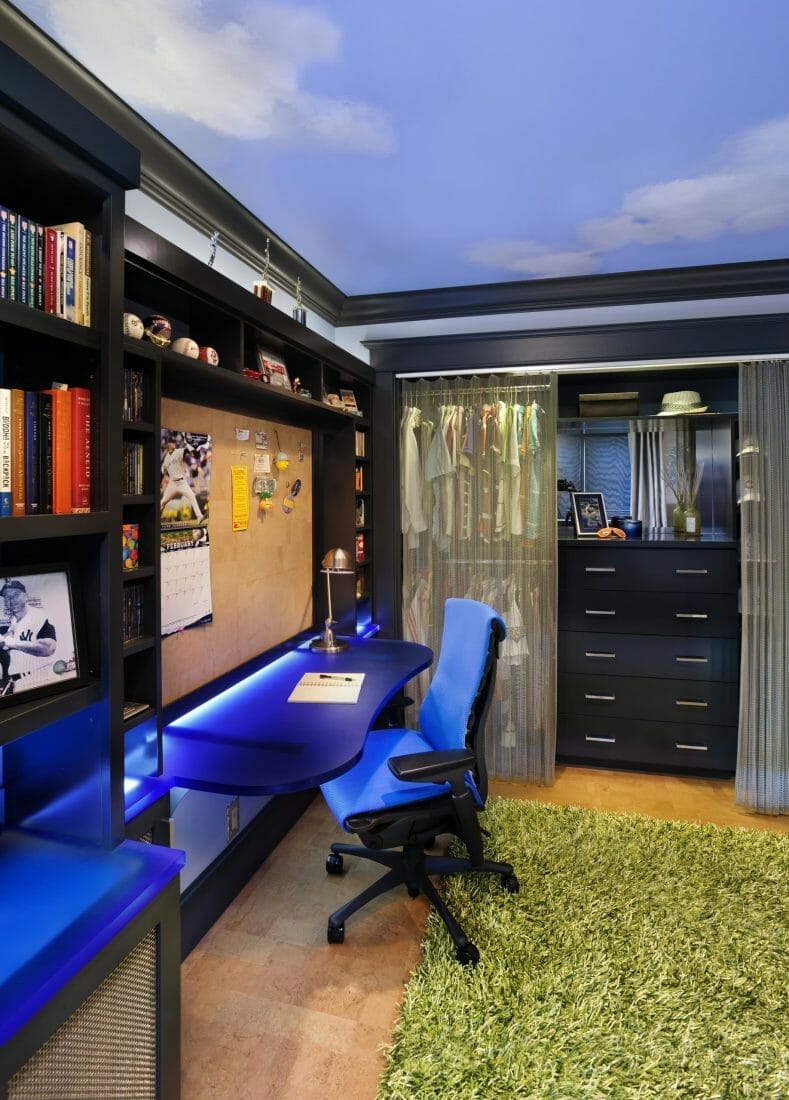 Unlike the previous concept, which looks more formal, you can freely apply ideas for led light strips with fancy colors for your child's room.
For example, you start with blue lighting for boys' rooms and pink for girls. Everything is all up to you.
Besides looking good in the bedroom, you can also apply this colored-led lighting concept to the gaming space.
14. Spotlight Your Display Cabinet with LED Strip Lights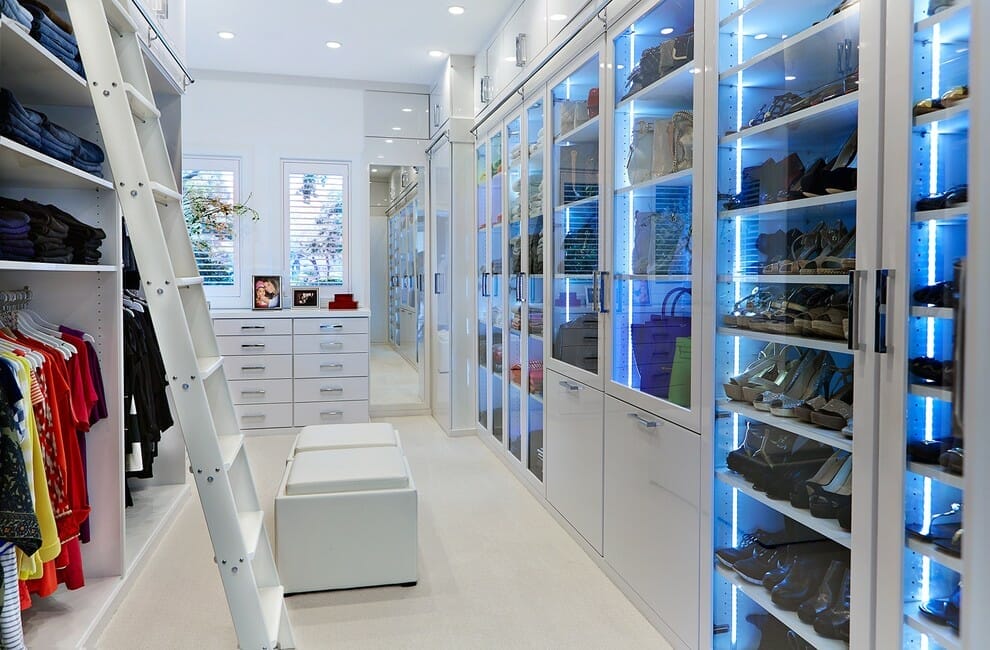 Adopting ideas for led light strips then setting them inside the display case is the most brilliant step. That way, you no longer have to spend a lot of money to buy accents bulbs.
Merely stick some light strips inside the cabinet, and everything is clear. Now, it will perfectly spotlight all the goods in your cupboard.
15. Fancy Orange to get The Modern Look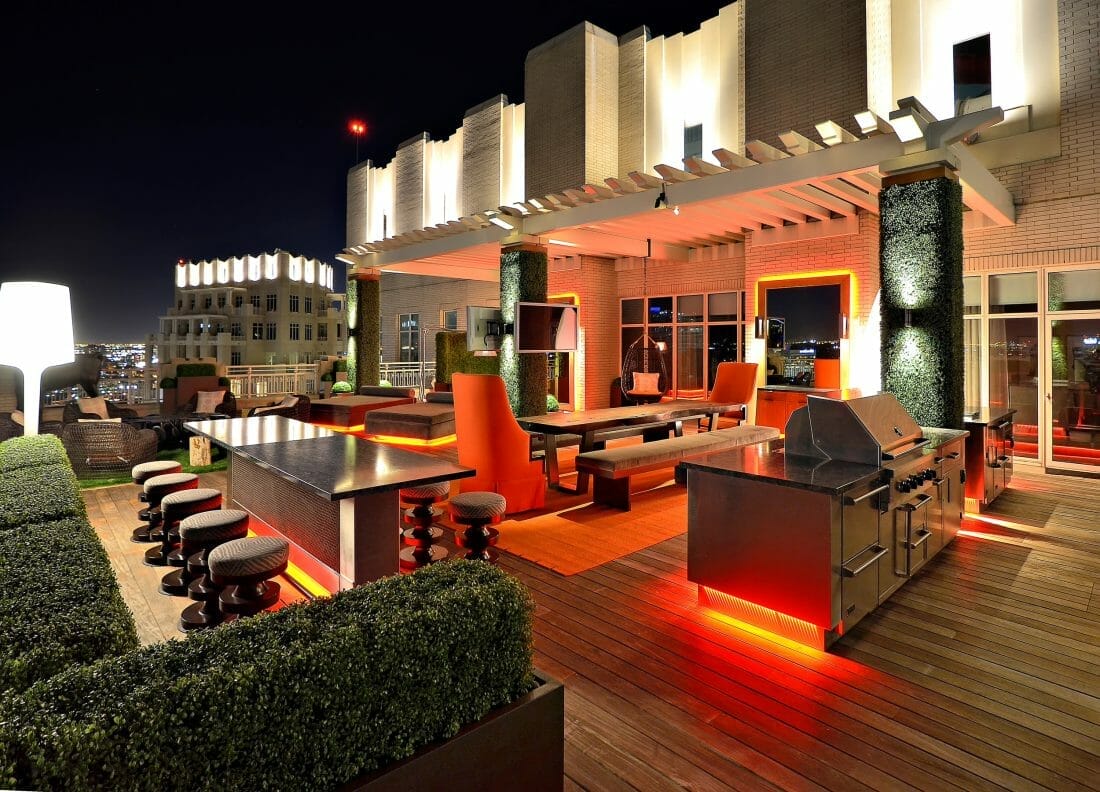 Who says orange is terrible? On the contrary, LED light strips with this color will succeed in creating a unique ambiance on your porch with a modern theme.
On top of that, it can bring positive energy to everyone who sits and takes time in that area.
16. Brilliant Ideas for LED Light Strips in Your Basement Room
Now, don't forget about your basement once you are done with the exterior design setup.
Suppose you have a theater on the ground floor. In that case, you can also install LED light strips on the false ceiling, right in the center of the room. That way, your basement won't ever be gloomy anymore.
17. Yellow LED Light Strips Under the Drawers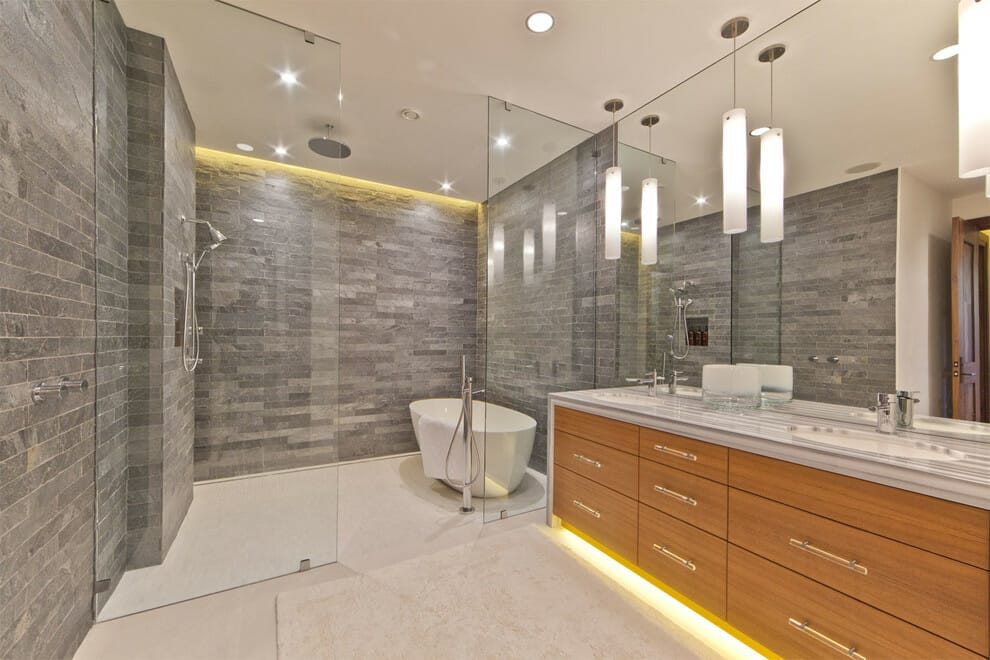 Do you want your contemporary bathroom to look more stylish and elegant? In that case, instead of providing complicated and expensive light fixtures, you can merely go with ideas for LED light strips in yellow.
It would be best to put it under your drawers. And see how everything will become more exciting and comfortable at once.
18. Install the Light Strips Along the Stairs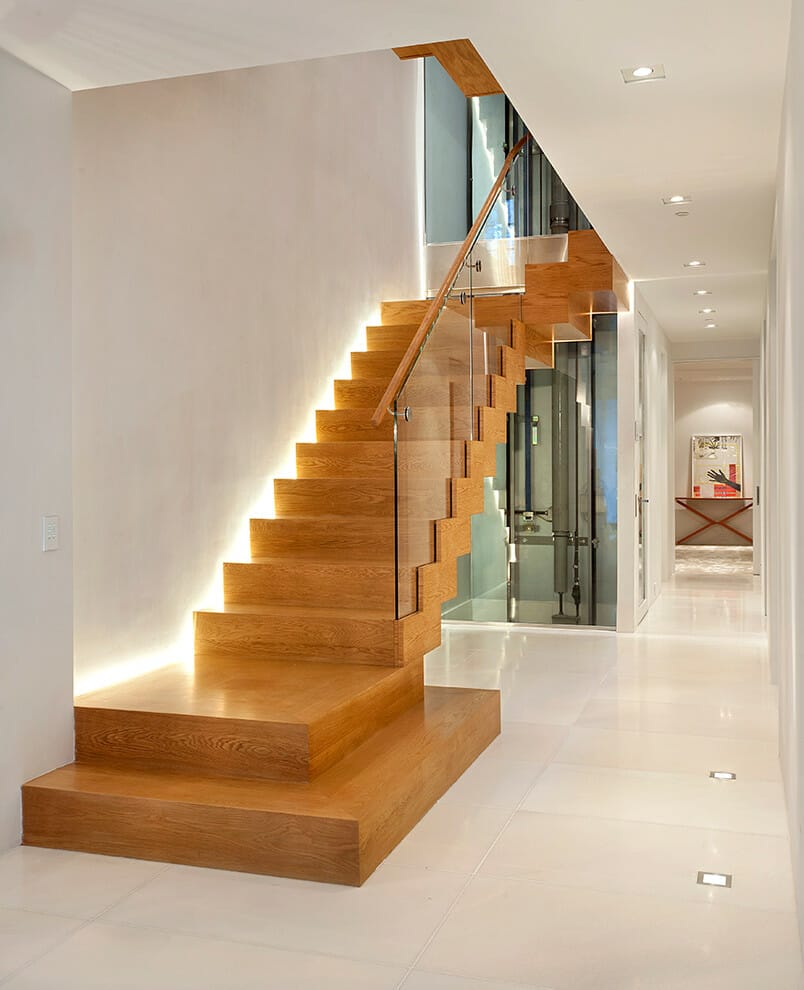 Suppose you are still confused about where to put led lights in a room. In that case, you can set them along your main stairs.
Besides providing navigation when the leading light is off, the presence of led light strips attached to the walls of all stairs will also help make your narrow staircase look wider.
19. Level Up Round Mirror with Strip Light on The Back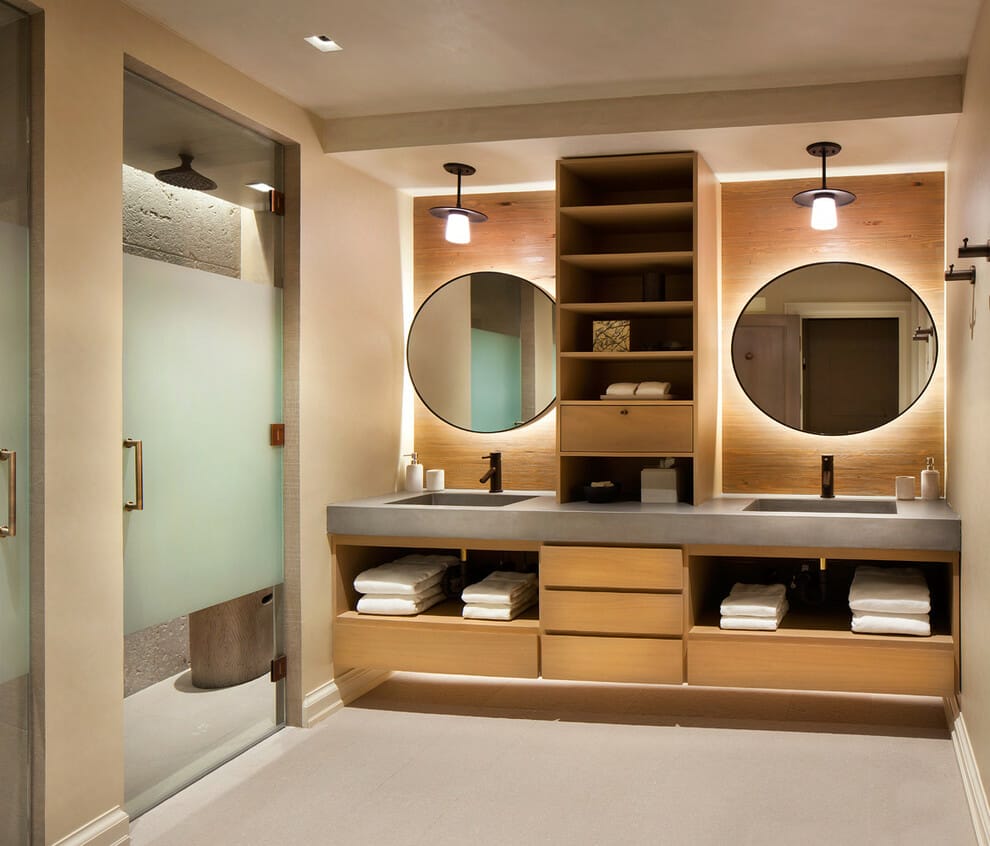 Frameless mirrors can be boring if other decorative elements do not complement them. Thus, you need to provide light strips as the backlighting of the furniture.
That way, your vanity room will be more lovely and admired by many people.
20. Put It Along with The Ceiling Coving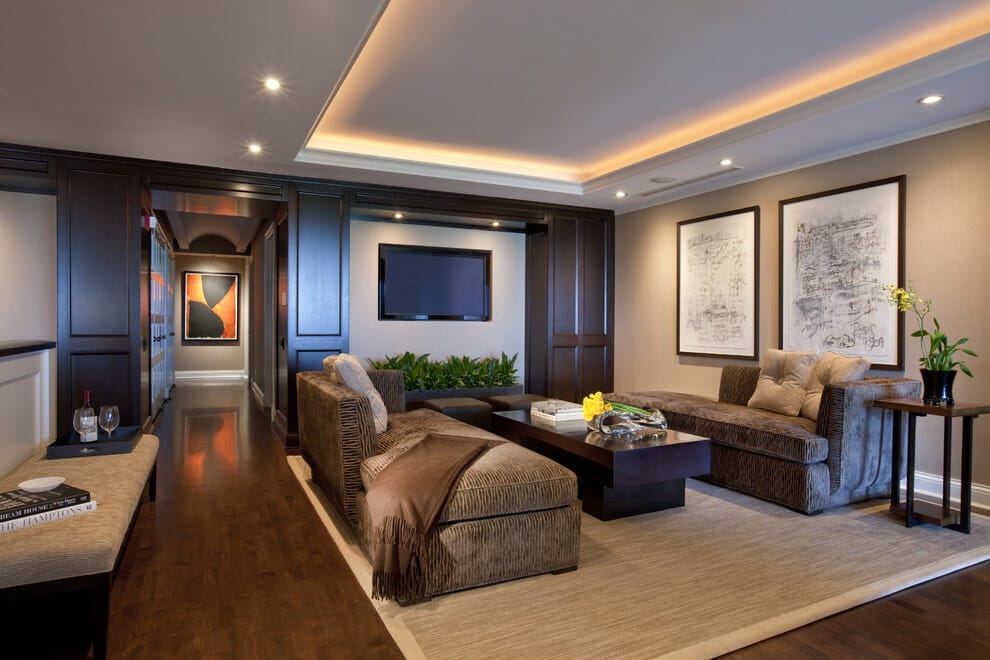 Ceiling coving and cornice are the best spots to put light strips in the living room. Apart from acting as additional illumination, this lighting also states the existence of the sitting room beneath.
21. Cool and Warm Combination in One Room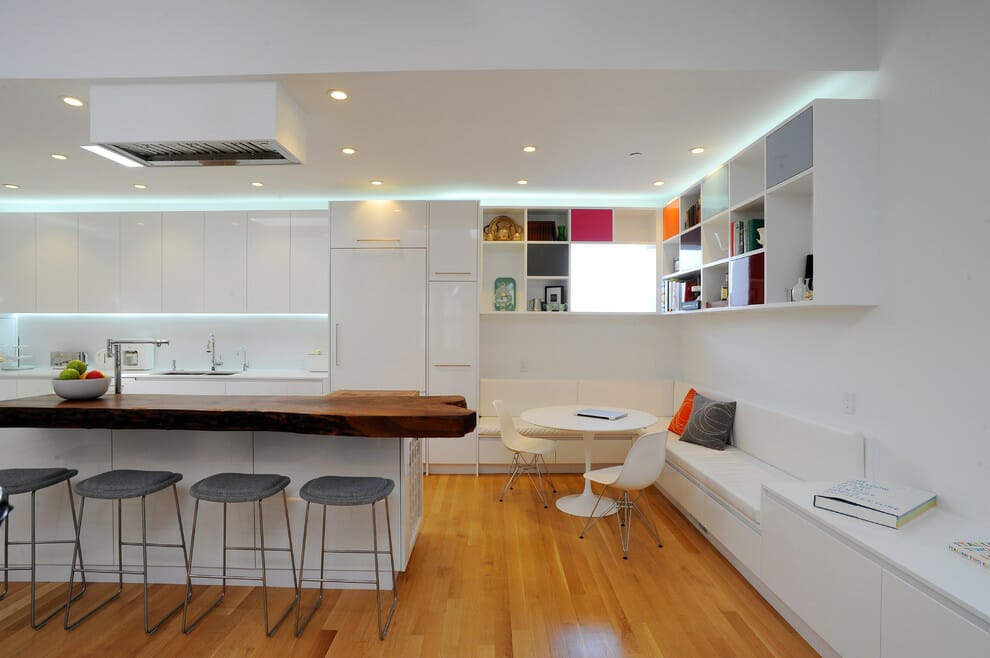 Of the many ideas for LED light strips, now is your time to be bolder in expressing your creativity in determining lighting in the room.
You can combine light strips with excellent lighting with warmer colored bulbs. This combination will later provide extra comfort in your dining room and your kitchen as well. Do you dare to try it?
22. Install It Under The Kitchen Set to Extend the Floor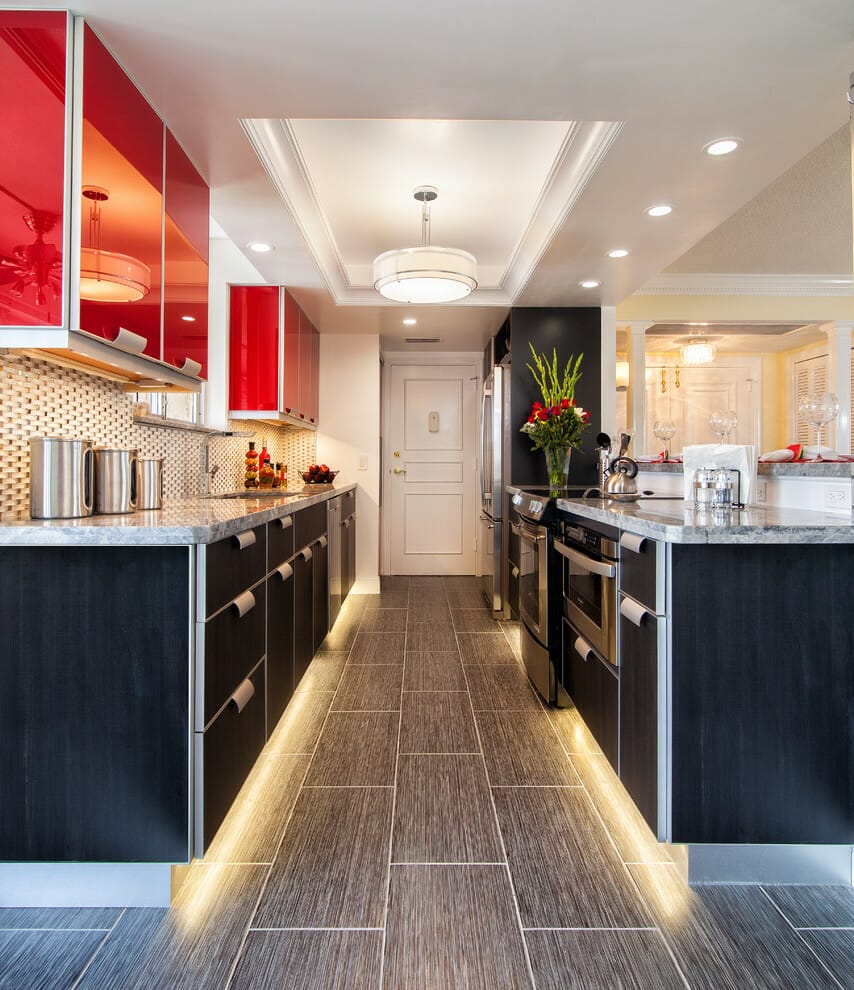 Who said that the ideas for LED light strips only apply to ceiling mounts? You can even freely install it at the bottom of your kitchen cabinet for additional illumination.
That way, your narrow kitchen floor becomes wider than before. Additionally, it also serves to navigate you to walk properly at night when the leading lights are turned off.
23. Inspiring Ideas for LED Light Strips in The Kitchen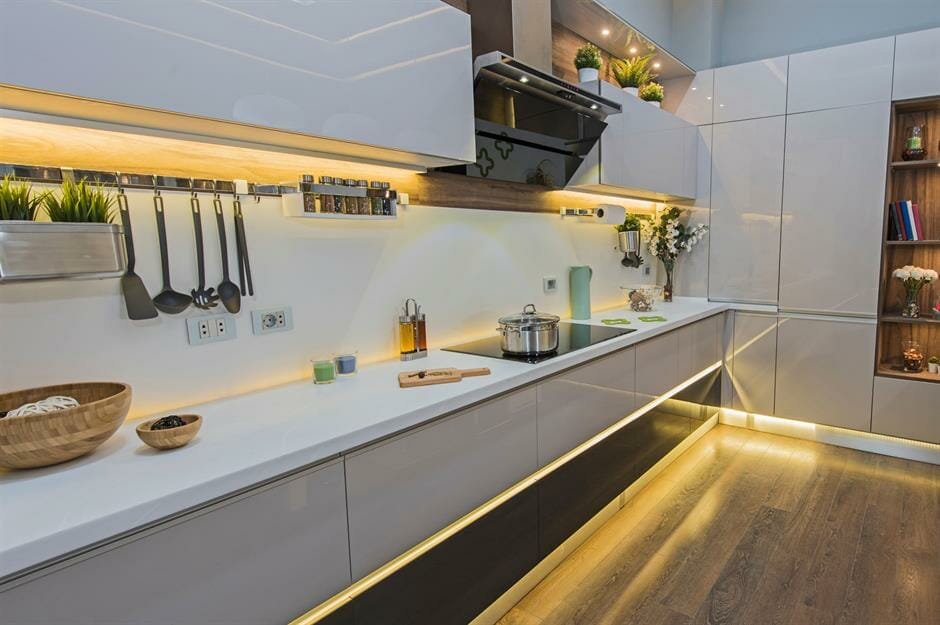 A contemporary kitchen full of white will be too monotonous to look at. Therefore, you can give a short statement by installing LED light strips in warm yellow in several spots.
First, you can put them under the shelving system to highlight your decorative ornaments, cooking utensils, and spices section.
Then, you can also install led light strips at the bottom of your cabinet to give an overall impression of the floor.
24. LED Strip Lighting for Garden Pathway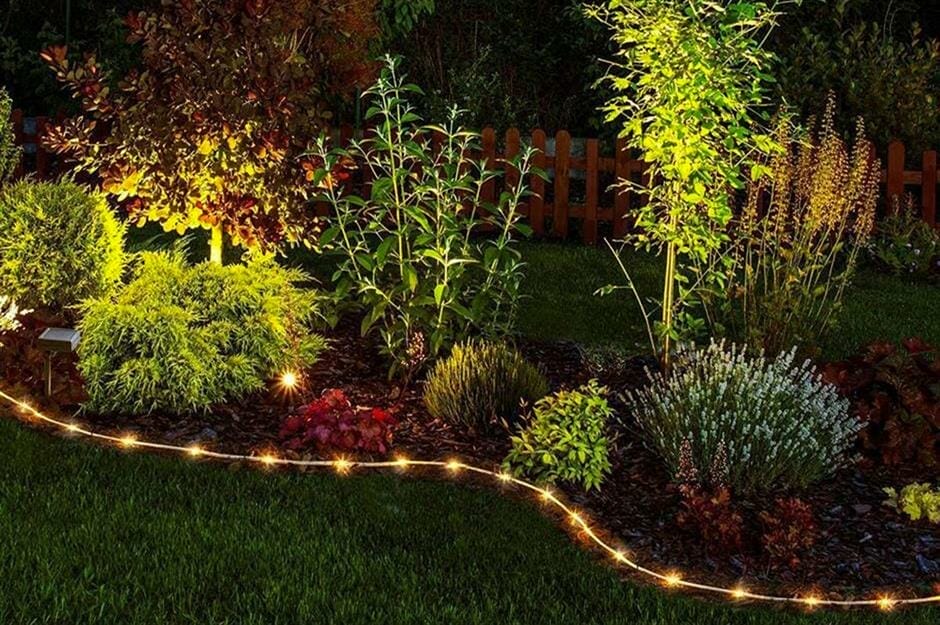 What is more, you can take advantage of ideas for LED light strips to beautify your front garden. You can use it as flowerbed border lighting, pathway, or ornamental illumination on the surrounding trees as a starting step.
Most importantly, make sure to keep the light strips close to a power source to work well.
25. Backlighting for Headboard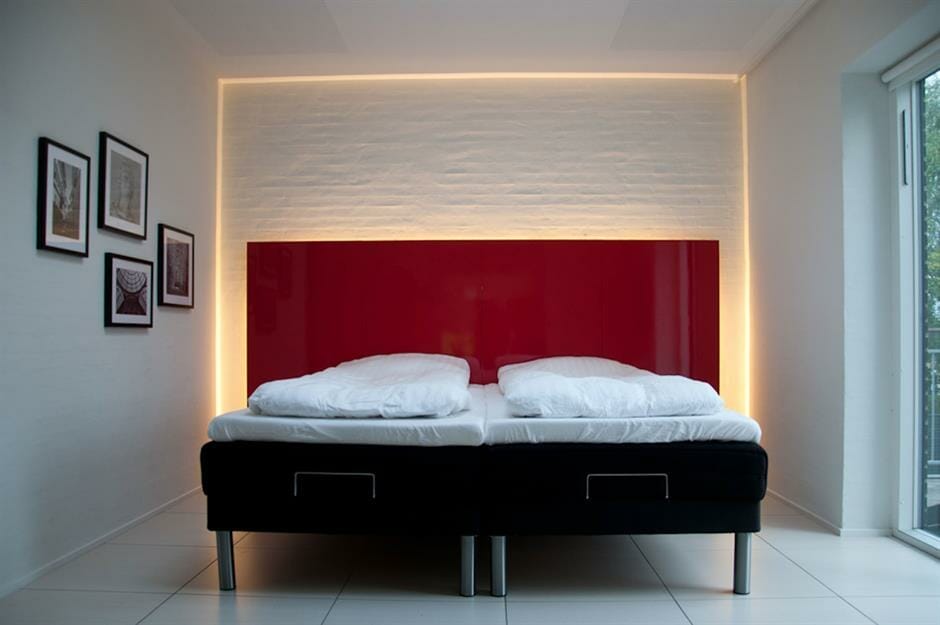 It doesn't matter if you choose not to put a lot of wall decor in your bedroom.
Instead, you can install light strips in your favorite color to make a statement on your plain headboard. That way, your personal space remains aesthetic and impressive at once.
26. Violet Light Strip on Your Panel Ceiling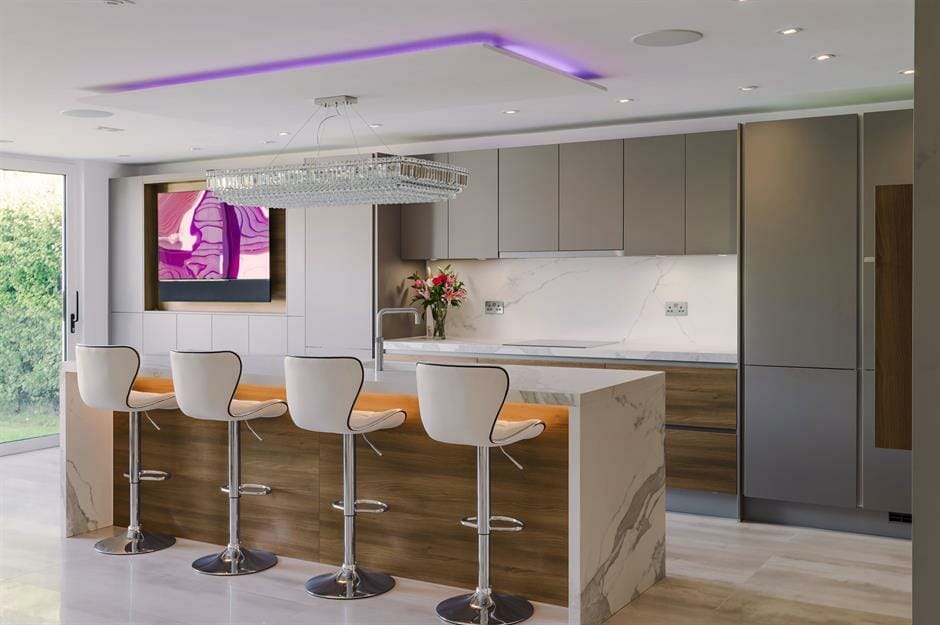 As said in the previous section, the ideas for LED light strips also come with many color options, including violets.
Even though most people tend to choose white, yellow, and blue, it turns out that violet can also give a luxurious impression to your room.
Moreover, it will be more stunning if paired with the all-white interior design above.
27. Use It As Ambient Lighting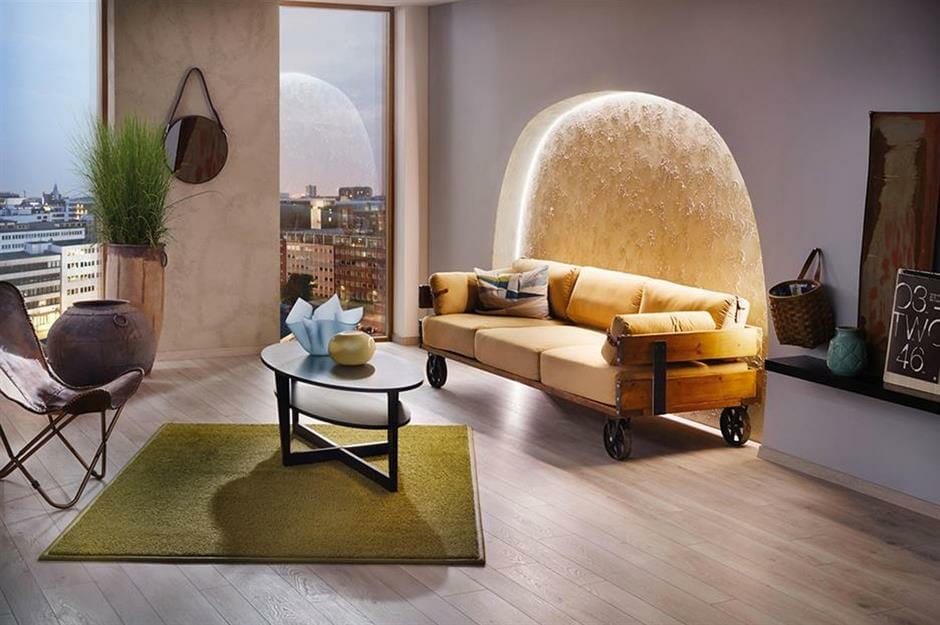 Do you have a sofa or couch with a unique shape? If so, you can implement the ideas for LED light strips to highlight this furniture.
Like the picture above, consider choosing the best spot to put your unique sofa, then install light strips with warm white color behind to spotlight it properly.
Aside from being an accent lamp, it can also be comfortable ambient lighting for everyone.
28. Place The LED Light Strips Under The Sofa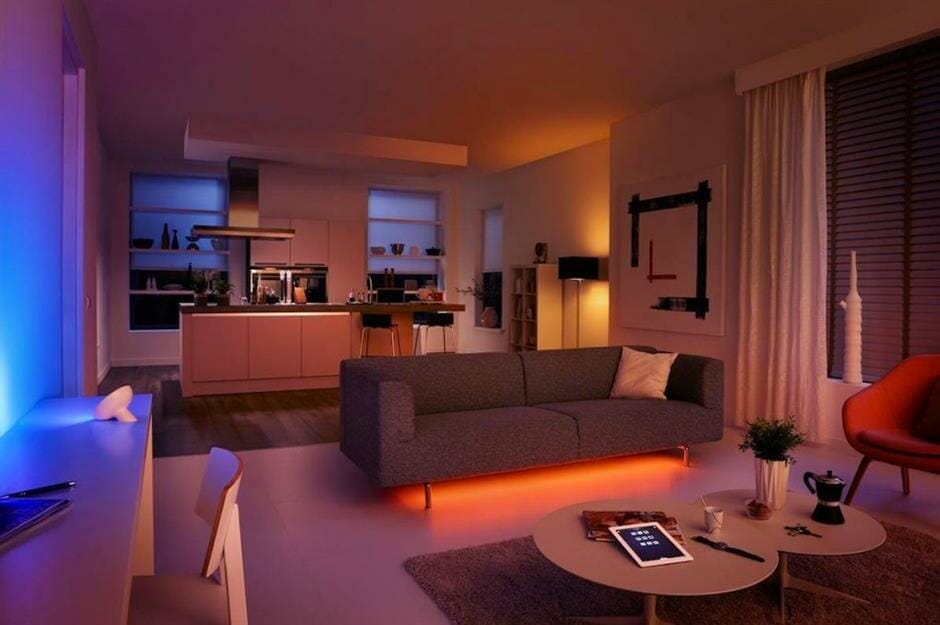 Next, you can also consider implementing ideas for LED light strips to put under the sofa. Soon, it will help to give a fascinating look to your primary furniture. Subsequently, this also makes it easier to find lost items under the chair.
29. False Ceiling Lighting with Light Strips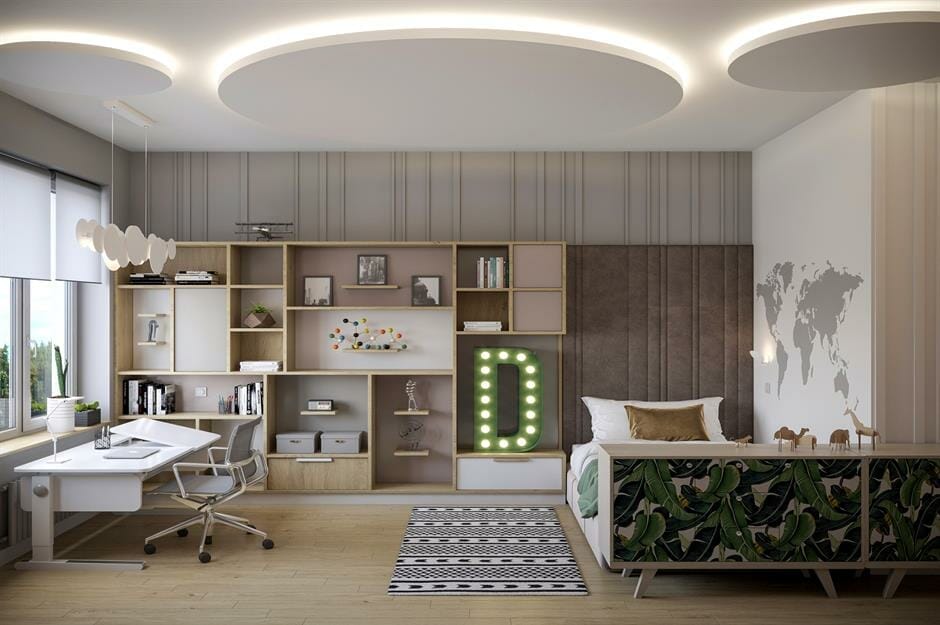 A false ceiling can be stunning if you manage to decorate it nicely.
As the round false ceilings already provide a statement for the room thus, you merely need to emphasize it by installing the LED light strips around.
It doesn't have to be too complicated. You have to follow the shape of your false ceiling, and all is done.
30. Colored Led Light Strips Under The Stair Tread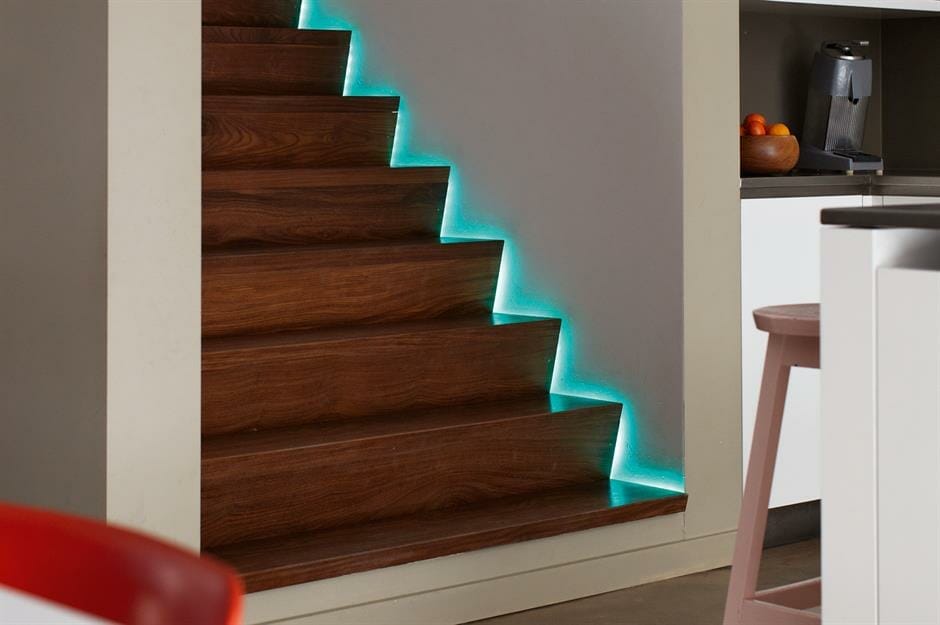 At this point, ideas for LED light strips also allow you to put some lighting under the treads. Not without reason, it will help you to safely go up and downstairs, especially if it's in a dark basement. Consider choosing bright colors like blue, red, or orange to make it anti-mainstream.
Well, that's all about the ideas for LED light strips to inspire you. Hopefully, you find the perfect one to follow. And immediately realize it to upgrade your home value.