Gray couches mingle with any design style. Apart from being a timeless seating choice, they give colorful accent pieces a versatile foundation. You can marry them with other neutrals, too. If you swoon over them, read up on gray couch living room ideas below.
Undeniably, gray sofas offer homeowners a sense of freedom. They enable you to swap in accent pillow covers or rugs since such pieces go with various hues. Also, feel free to repaint the walls to revamp your seating area.
Investing in gray couches is a good call because they adapt to decor changes excellently. Whether you use your gray sofa as a subtle unit or statement furniture, it will wow every visitor. These design inspirations help you decorate with gray-colored sofas right.
1. Warm Gray Couch Living Room Decor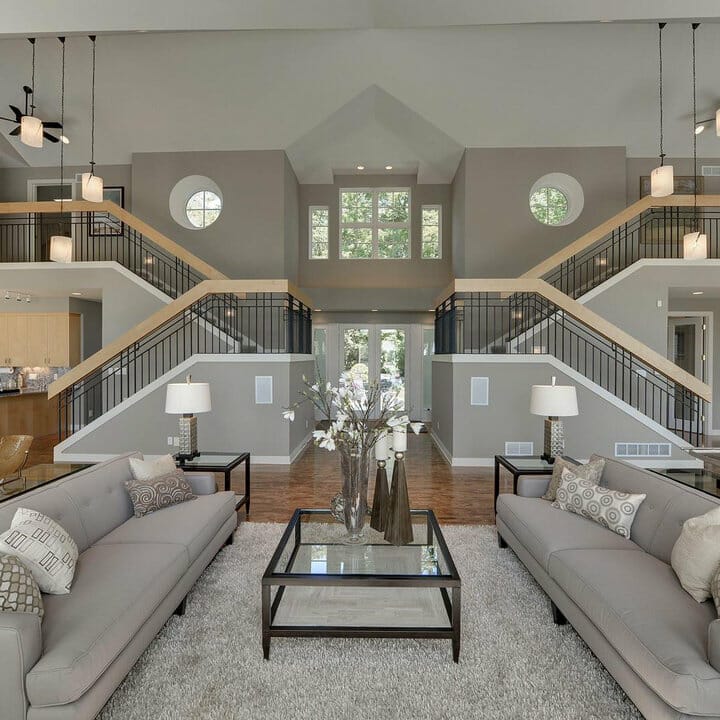 Gray couch living room ideas provide nearly limitless decor options. As you know, there are numerous shades of gray, so always take undertones into account. They can dictate your furnishings, ornaments, and wall colors.
Here, the black-framed glass tables and taupe-like gray tufted couches strike a contemporary flair. Furthermore, the rug boasts a lighter gray tone while anchoring them.
The wooden floor accentuates warm gray couches and conveys serious warmth. Moreover, decorative pillows deliver dimension, outstanding patterns, and additional shades of gray. Glass doors, stairs, and windows lend this two-story abode visual symmetry.
2. Gray Sofa Living Room Ideas with Mismatched Armchairs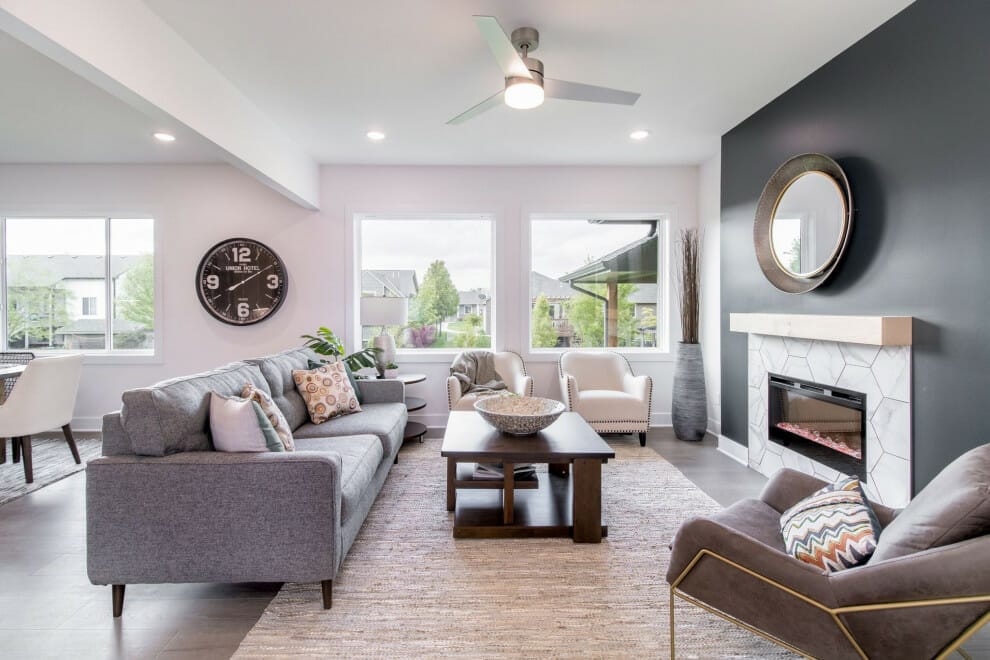 Homeowners varied the intensities of neutrals to give the scheme some depth. The light gray couch faces the fireplace while representing a mid-century modern vibe. However, it can harmonize with a contemporary armchair that comes in warm gray.
Here, gray tones unify different styles of furniture units. Moreover, the charcoal gray focal wall guides guests' eyes to the round mirror and hexagon marble fireplace tiles.
The throw blanket, statement vase, and floor tiles introduce other gray tones. Meanwhile, gray-blue and printed pillows complement the leafy houseplant while carving interest.
3. Gray Couch Living Room Ideas with Wooden Accents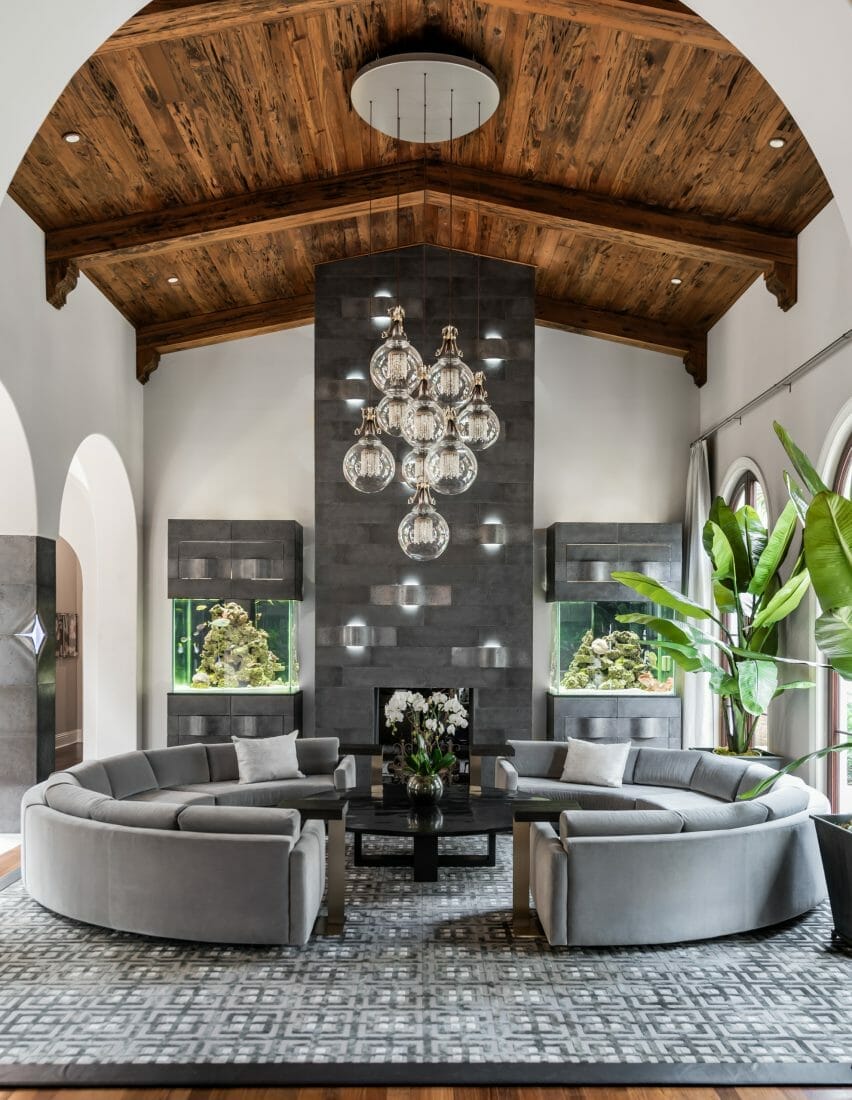 In this seating space, gray fireplace tiles and aquarium stands shine against stark white-painted walls. Meanwhile, the gray pillar is a remarkable contrast to adjacent arches.
Homeowners created a remarkable juxtaposition with their curved light gray sofas. The wooden floor rivals them and produces a high-contrast appearance.
The charcoal gray coffee table and slate hearth add enough depth. Glass ball pendants grab attention while leading the eyes to the wooden ceiling with decorative brackets. Also, fake banana trees and orchids spiff up the interior instantly.
4. Gray Meets Wood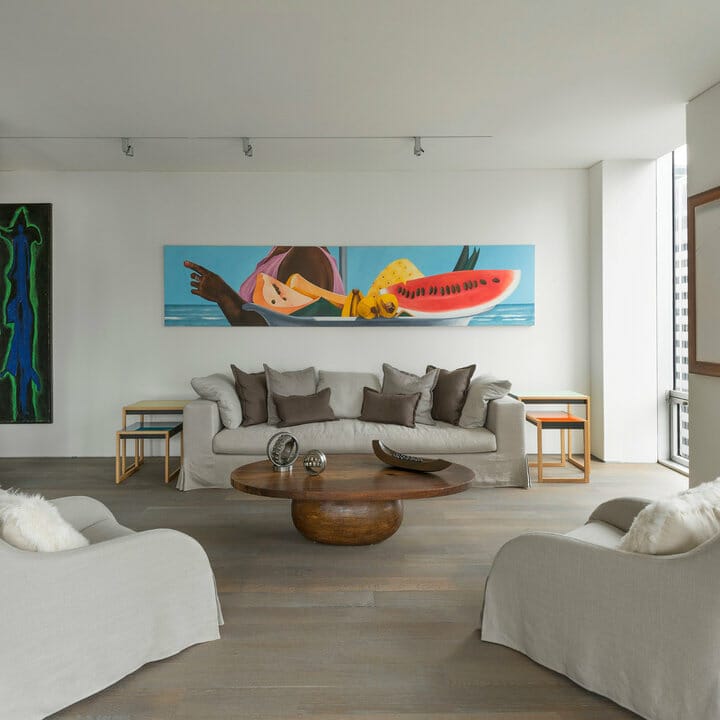 Need gray couch living room ideas? Take notes from this interior. The white wall enables the subtle gray sofa to be slightly notable. Moreover, matching upholstered chairs and pillows keep the unit from appearing out of whack.
Talking about gray sofa living room decor pieces, outfit the couch with accent pillows. Here, they employ varying gray tones and shapes for some dimension.
The round table accentuates embellishments of silver and warm gray shades. Meanwhile, mismatched pale wood end tables and oversized artworks bring punchy bursts of color.
5. Gray Sofa Living Room Designs for Open-Plan Abodes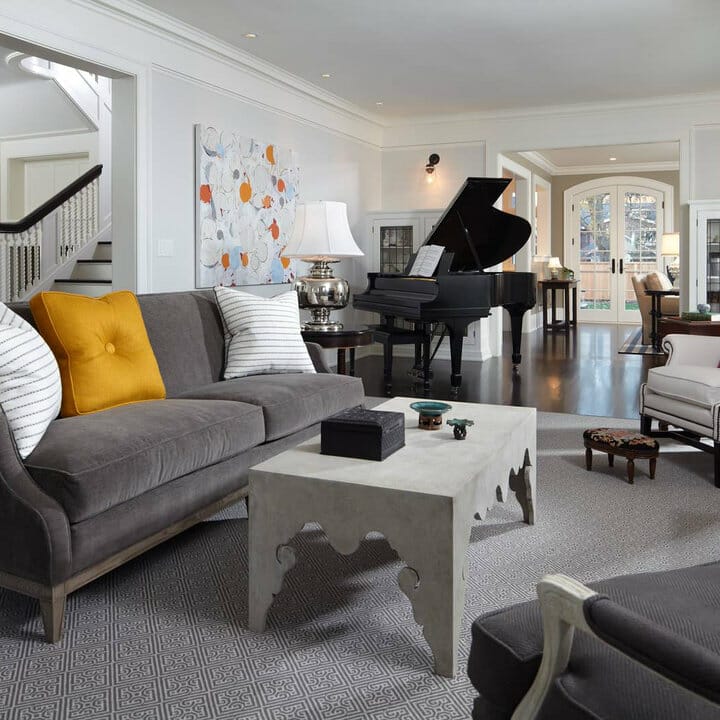 With incredible gray couch living room ideas, you can create your dream interior. The exquisite coffee table, velvet sofa, and textured armchair carry different gray shades.
The mustard yellow and striped accent pillows complete the warm gray couch. Moreover, the patterned rug and floral footstool depict eclecticism.
The dark gray storage box and piano infuse the open-concept living room with enough drama. Furthermore, the pale gray wall showcases a head-turning artwork with cool and warm hues.
6. Gray Couch Living Room Ideas with Accents of Orange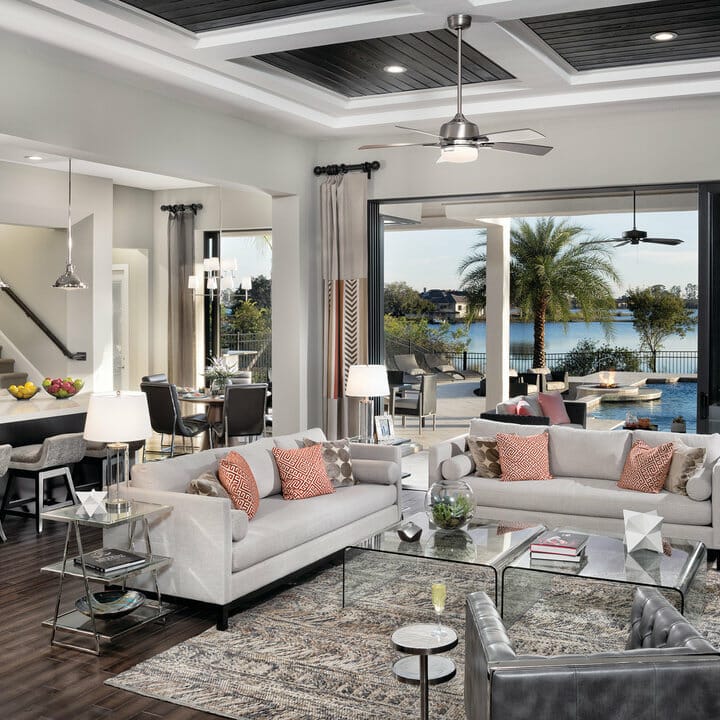 Clueless about what colors go with gray furniture items? Just pay attention to the couches' undertones. Here, pale warm gray sofas live in harmony with taupe and orange accent pillows.
The leather tufted armchair, dining chairs, ceiling panels, and bar stools inject varying tones of gray. Also, they prevent this open-layout abode from becoming one-dimensional.
Blush pink pillows temper the masculinity of the dark gray sofa. Meanwhile, silver accents tie various styles and shapes together.
7. Simple Gray Sofa Decor Ideas for Living Rooms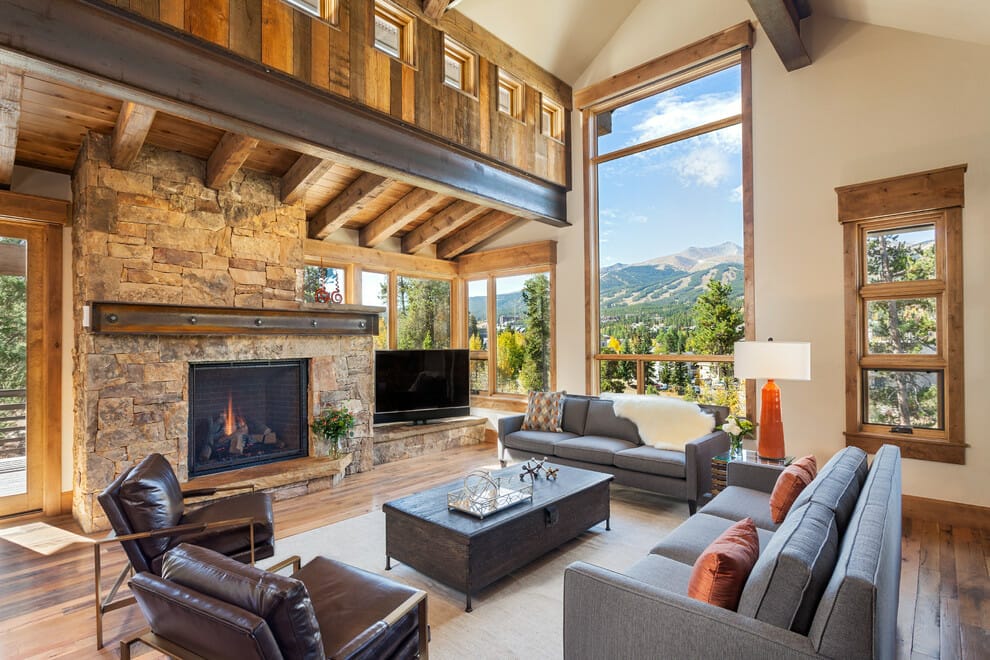 Light gray sofas meet dark warm gray leather chairs fabulously here. Moreover, the rectangular storage table and ironwork wear gray too.
The orange table lamp and pillows make gray couches less chilly. Meanwhile, the geometric statement pillow unifies different hues in this room.
The plush white throw blanket and pale gray rug lighten up darker neutrals. Raw wood and rugged stone elements strike a rustic tone.
8. Up-to-date and Cozy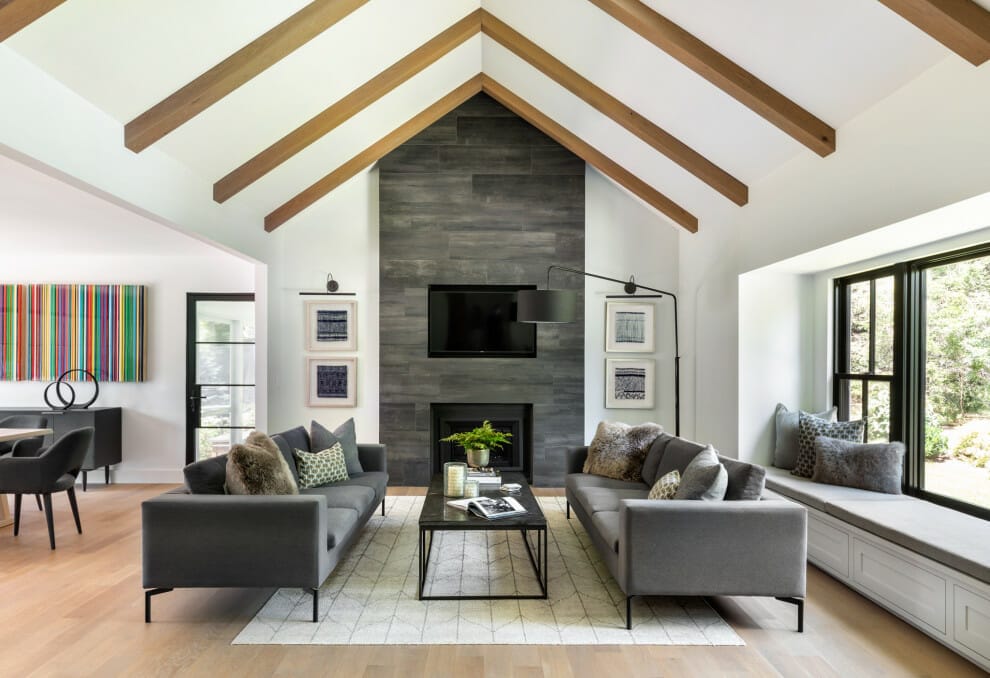 Do you love streamlined gray couch living room ideas? If so, duplicate this seating configuration. Two light gray couches face each other. Also, they provide an excellent foundation for different fabrics and textures.
The fireplace, floor lamp, center table, window seat cushions, and dining chairs repeat gray shades. All things bare wood keep the open-layout abode balanced. Here, the greenery, pieces of wall art, and colorful vertical stripes introduce further interest.
9. Cool Shades are Welcome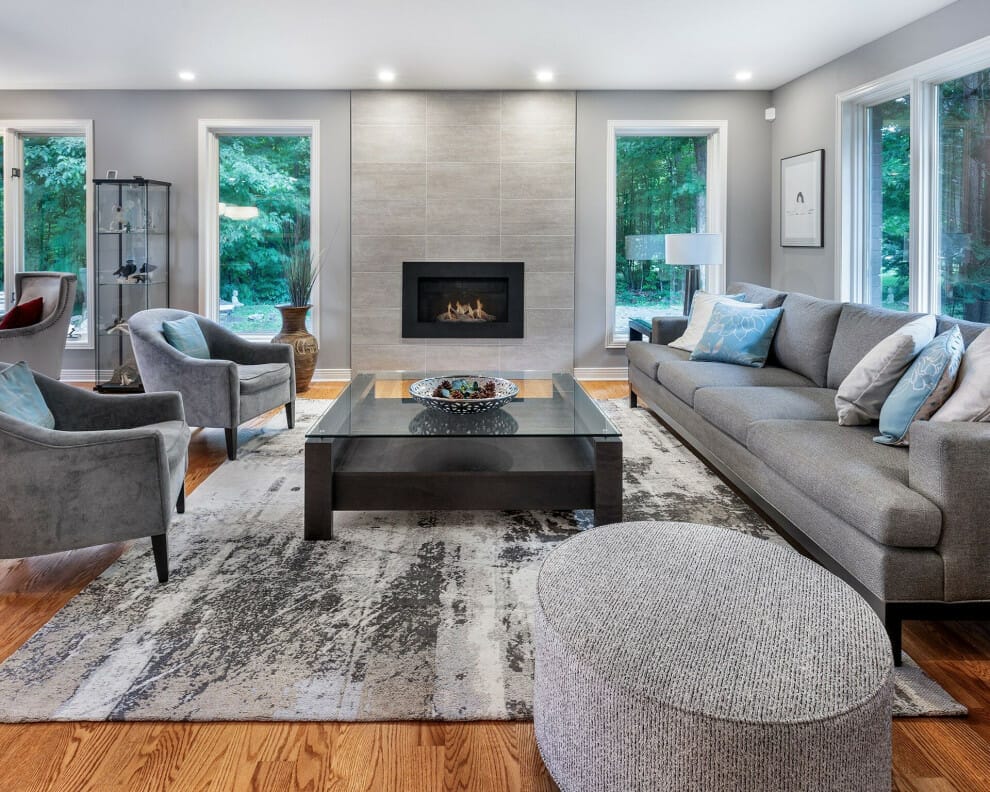 Abundant gray couch living room ideas might overwhelm homeowners. Since neutrals have a variety of intensities and shades, use their undertones as your decor guide.
The extra-long sofa and velvet chairs come in cool gray tones. No wonder they effortlessly mingle with blue and gray accent pillows.
The abstract rug, center table, round ottoman, walls, and fireplace tiles supply additional grays while adding dimension. Natural wood and rich red tones deliver lots of warmth.
10. Gray Couch Living Room Ideas with Bold Details
Gray sectional living room ideas are almost endless. However, this example will turn visitors' heads instantly. Here, the sectional sofa holds midnight blue, gray, and grid pillows.
Underneath the pale gray sectional is a grid area rug. In addition to employing assorted gray shades, it keeps this modern room cozy.
The hunter green stool matches with the gray sectional brilliantly. Furthermore, the circular table accents a greenery vase and books. Wood, taupe, and beige temper cold tones of gray.
Crisp white walls let the pale gray sectional create a subtle impact. Meanwhile, gray tones lend different shapes a sense of cohesion.
11. Go Subtle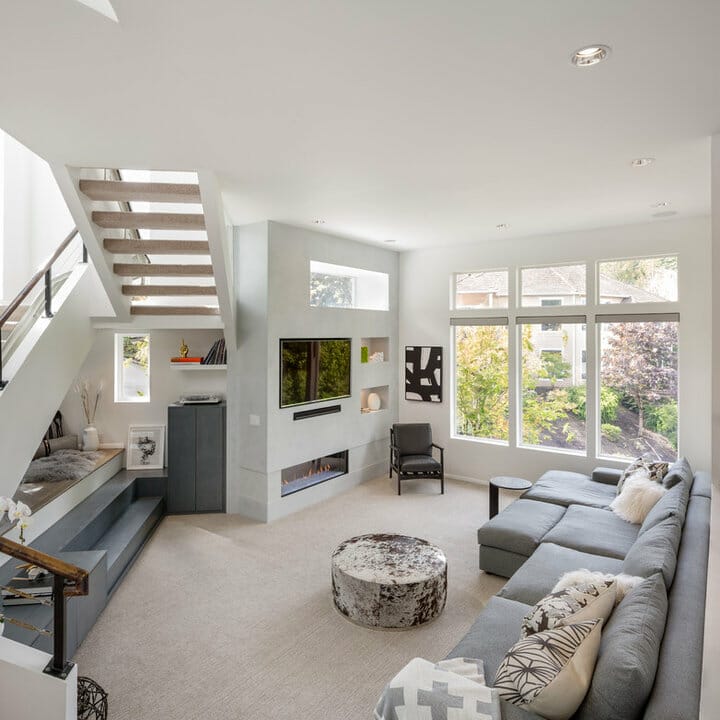 Although the sectional comes in subtle gray, it gives this seating area tremendous dimension. Moreover, it allows fluffy and printed accent pillows to be the focal point.
The built-in bench, carpet, cupboard, throw blanket, and armchair delivers an assortment of gray tones. Meanwhile, the cowhide ottoman, fireplace, and warm-toned details carve balance.
12. Tones of Jewel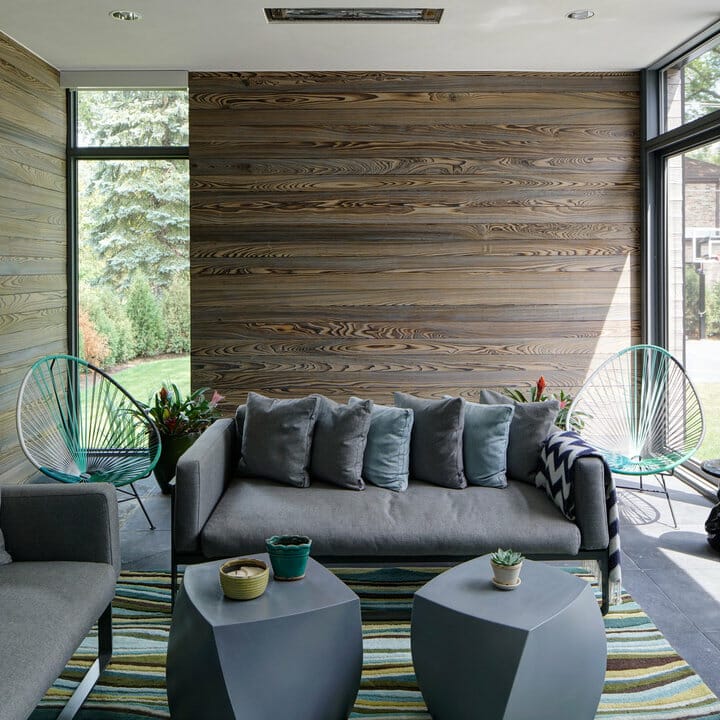 Gray couch living room ideas welcome jewel tones. Here, the pillow-laden gray sofas go with the turquoise pot and lounge chairs perfectly.
The chevron blanket and geometric gray tables depict modernity. Stunning wooden walls offset grays, while the coordinating rug and bold tropical plants complete the area.
13. Gallery Walls for Gray Couch Living Room Ideas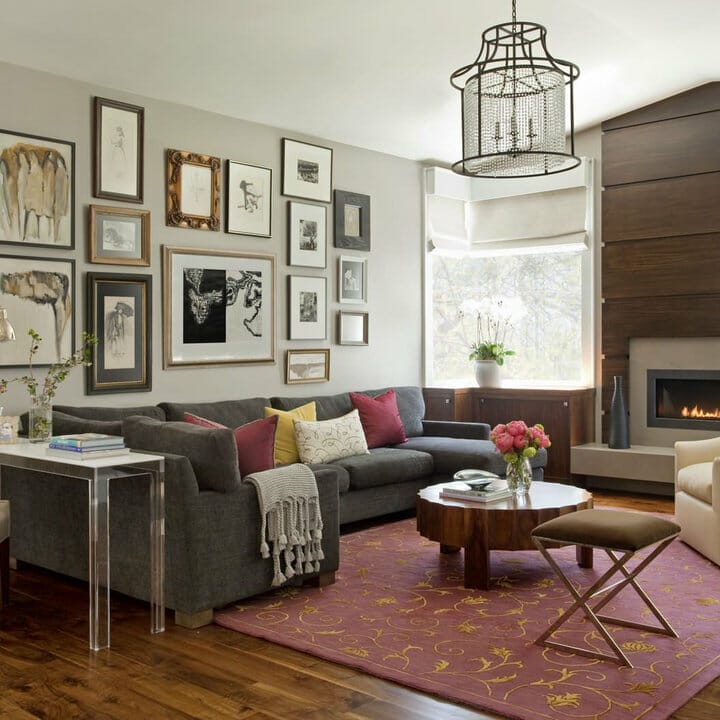 The warm gray sectional lets homeowners include pink, muted red, and yellow accents. Furthermore, the brown upholstery, fireplace, and wooden surfaces portray homeliness.
Here, the gallery wall lends the gray sectional an artistic backdrop. Additionally, varying finishes of artwork frames convey eclecticism.
14. Pops of Purple
The extra-long coffee table is a perfect fit for the massive gray sectional here. Striped floor seats and wooden end tables sit on the charcoal gray flooring.
Bursts of purple liven up gray furniture pieces. Meanwhile, the Rubik cube-inspired accent pillow and multitone painting temper the blandness of whites and grays.
15. Touches of Color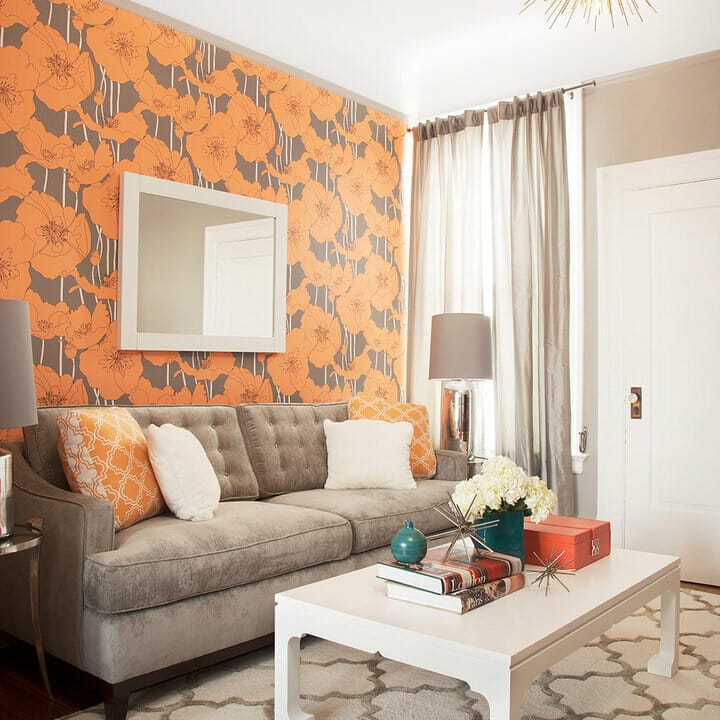 The warm gray velvet couch accommodates bright orange and white pillows. Meanwhile, the floral wallpaper does not only offer interest but also epitomizes cohesion.
In this area, the rug, curtains, and table lamps repeat warm gray tones. Meanwhile, orange and teal accessories perk up the white table.
16. Dark Gray Couch Living Room Ideas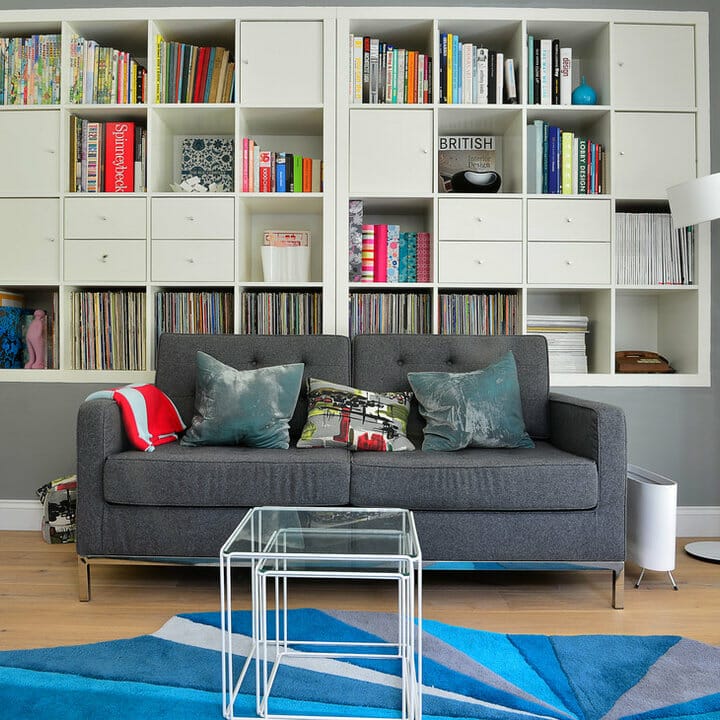 When decorating with a dark gray couch, try introducing contrast. The deep gray sofa meets the white cube bookshelf, base molding, and sleek table drastically.
Bursts of color invigorate this living room. Also, the natural wood surface tempers reflective and punchy details.
17. Lots of Light Gray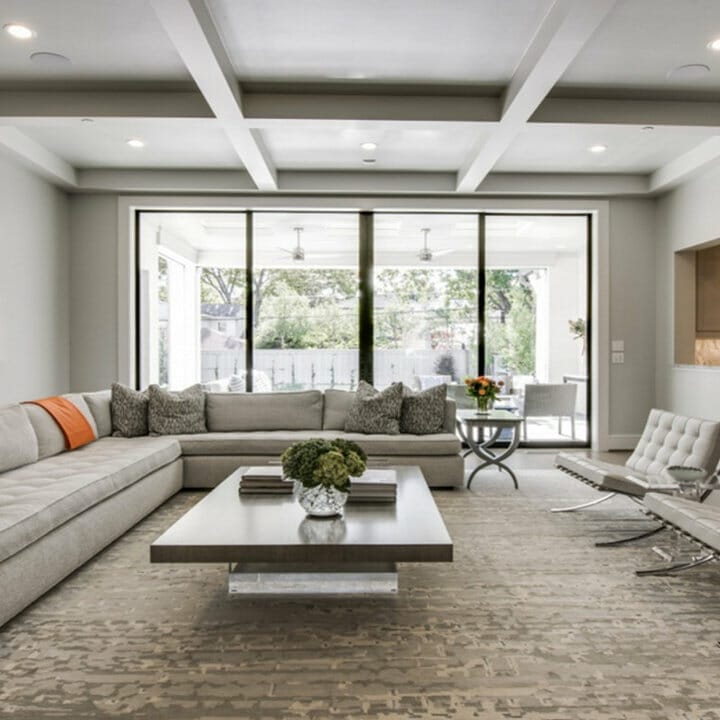 The sectional, coffered ceiling, coffee table, and tufted chairs give splashes of light gray. Apart from portraying subtle sophistication, they retain the room's tranquility.
Actual blooms and floral gray pillows prettify the area. The rug injects character, while accents of orange create an impactful contrast.
18. Gray Couch Living Room Ideas with Earthy Shades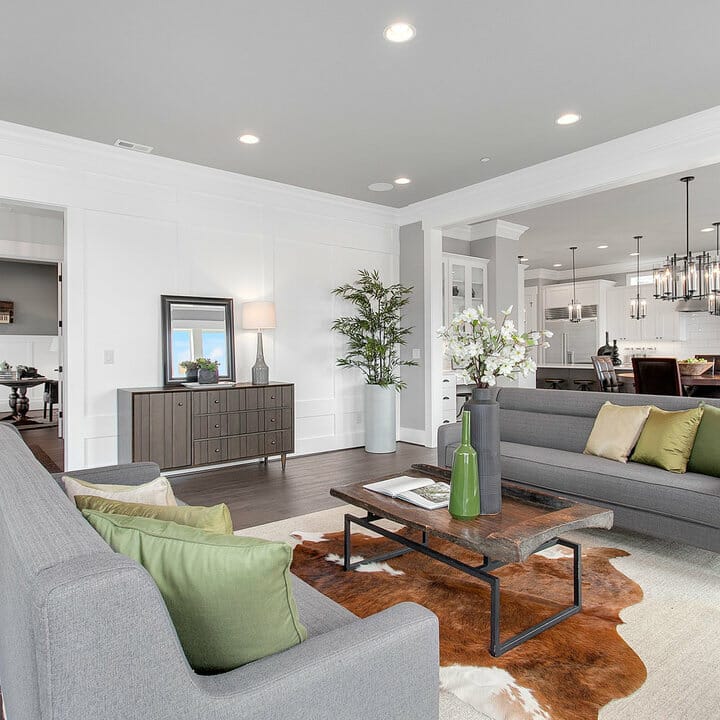 Light gray sofas offer numerous decor opportunities. Here, they allow simple pillows of earth tones to be the living room's centerpieces.
The cowhide rug and rich-stained wood table lend the interior a natural appeal. Moreover, decorative vases unify gray and earth tones.
19. Can't Say No to Contrasts
Bold blue tufted chairs accentuate the pillow-laden light gray sofa. The steel-toned wire chair and silver accessories complement the couch.
Due to its timelessly neutral shade, the sofa goes with all things white. Meanwhile, multiple woodsy tones and coral embellishments capture enough warmth.
20. Terrific Teal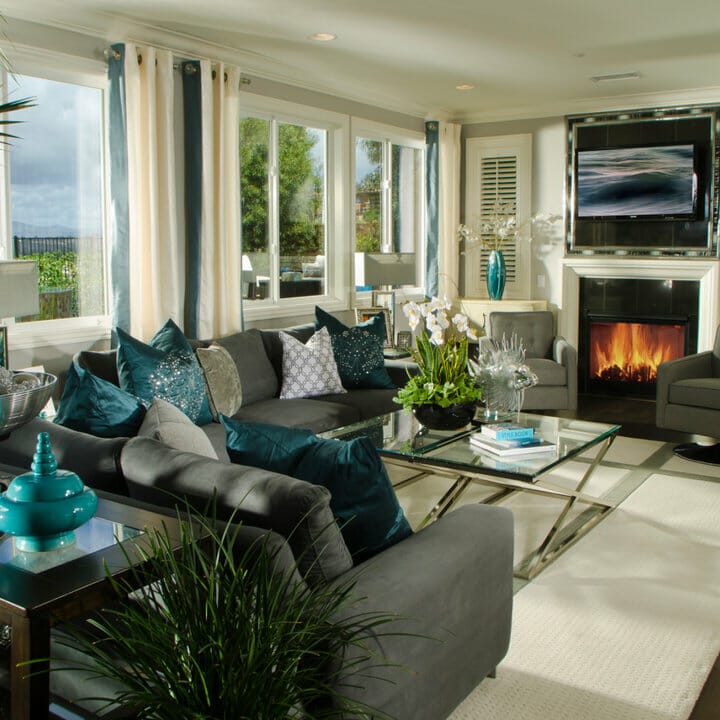 Gray couch living room ideas are undoubtedly flexible. You can vary the shades and materials for some visual interest.
Exquisite teal pillows spiff up the dark gray sectional couch. Furthermore, various turquoise and green adornments accompany them.
21. Minimal Yet Welcoming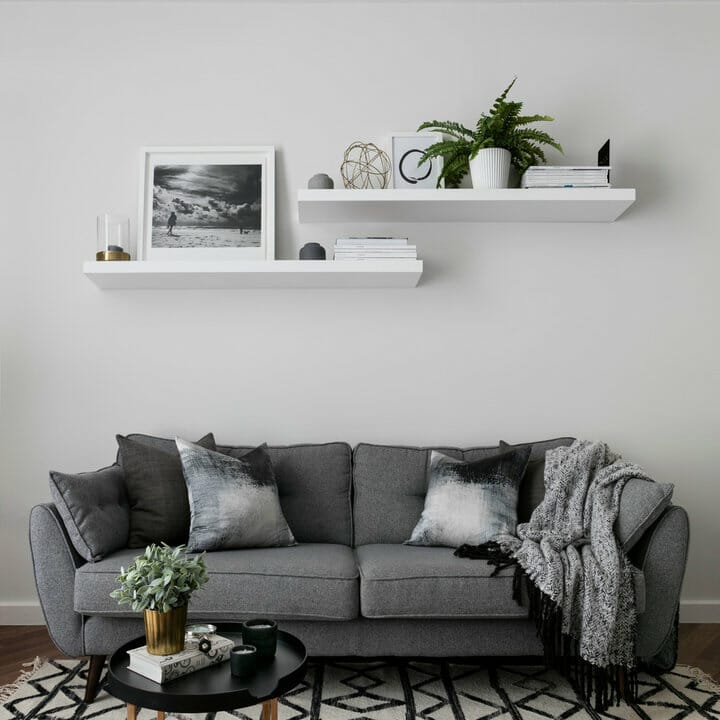 The mid-century modern couch above becomes a statement piece, thanks to its medium gray tone. It blends with monochromatic gray fabrics stylishly, too.
Here, the charcoal gray tray table and embellishments produce depth. Shiny metal and wood accents lend the living room extra personality.
22. Lots of Natural Textures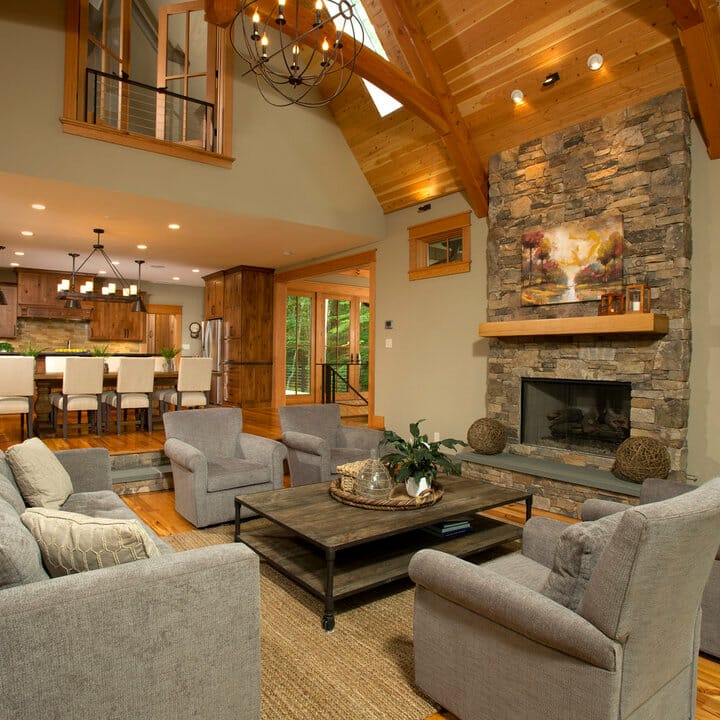 The airy gray tufted sofa faces the rustic stone fireplace. Furthermore, matching armchairs give this open-layout living room elegance.
Gray tones bridge the industrial table and modern hearth. Thanks to woodsy hues and natural textures, the space feels more inviting.
23. Gray Couch Living Room Ideas with a Deep Purple Wall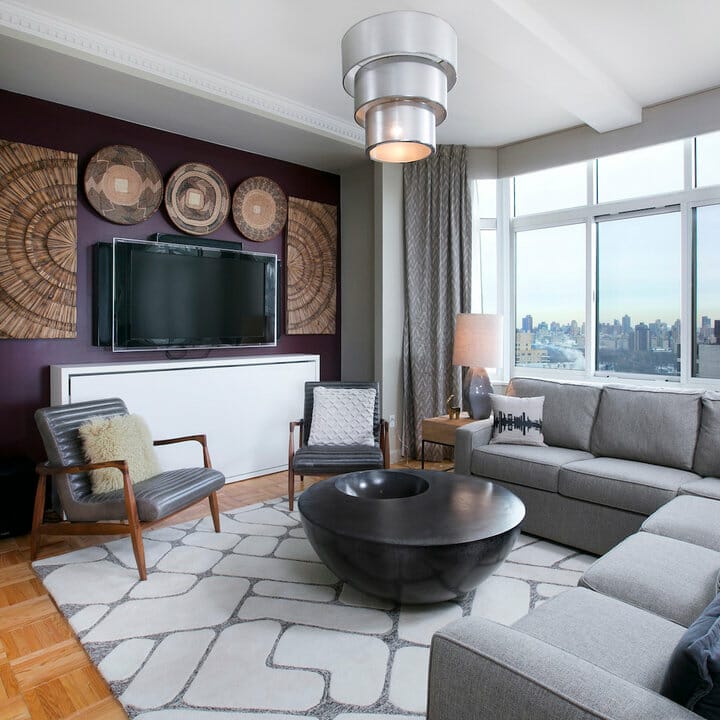 The bowl-shaped table, sectional, and sleek armchairs come in different gray tones. Apart from adding texture, they keep the room from lacking dynamism.
There's a dramatic purple wall here. In addition to being the room's focal point, it also guides eyes to bohemian wooden adornments that generate balance.
24. Massive and Marvelous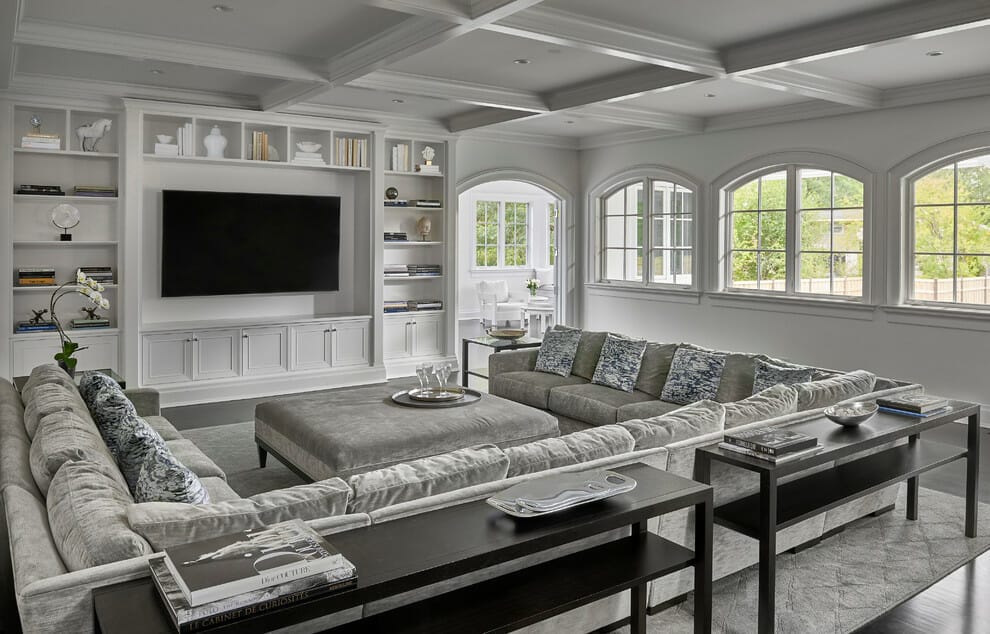 Some gray couch living room ideas are ideal for spacious abodes. Airy gray tones dominate the space via the U-shaped sectional, ottoman table, and subtle patterned rug.
The extra-long tiered end tables employ dark gray for visual depth. Furthermore, the media wall and pillows produce a neat look.
25. Gray Couch Living Room Ideas with Folding Screens
The deep gray couch emphasizes comfy white and striped accent pillows. Upholstered armchairs fit in with it perfectly, while the freestanding colorful embellishment steals attention.
Dark red decorative folding screens exude warmth and oriental vibes. Moreover, the green vase titivates the white mantel and plain gray artwork.
26. Stay Minimalist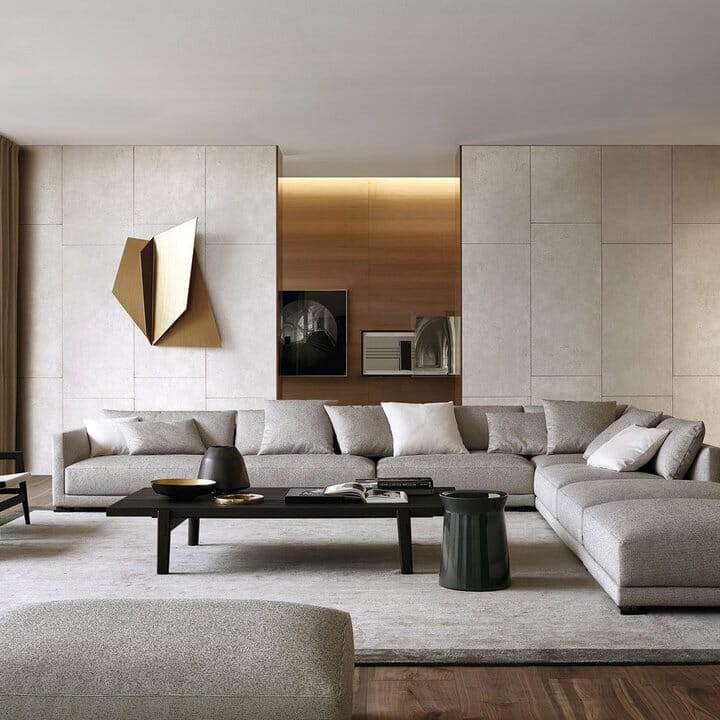 Here, the extra-large sectional sofa, ottoman, and area rug keep things airy due to their light gray shades. Meanwhile, charcoal gray furnishings invite drama.
Gold and wood interior elements make the living room stay minimalist yet inviting. Monochromatic gray artworks represent cohesion.
27. Versatile Gray Couch Living Room Ideas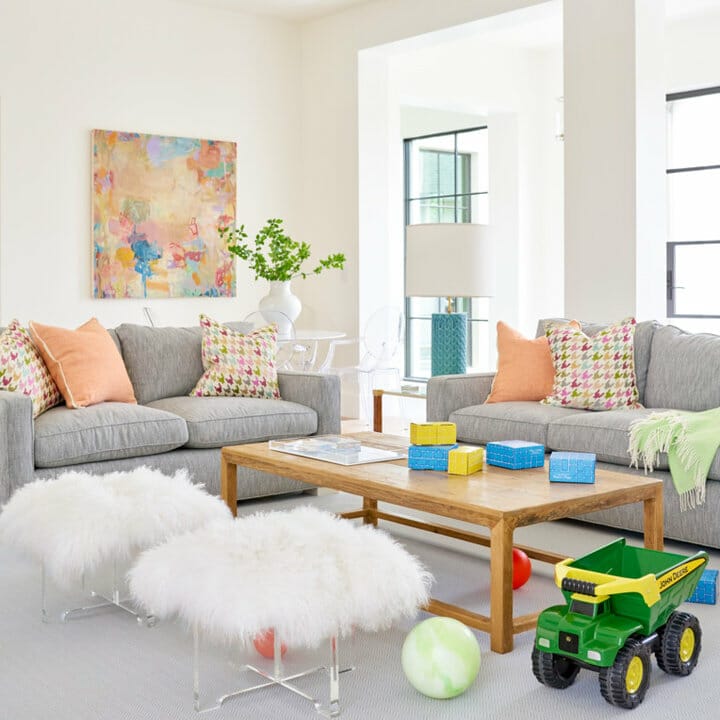 Gray couches become a subtle background for solid peach and multicolored pillows. Moreover, the pale gray rug sets the stage for fluffy stools and vibrant kids' toys.
Here, the table lamp and blanket supply additional soft pastel tones. Meanwhile, the abstract artwork behind the gray sofa ties different pastels together.
28. Balance is a Must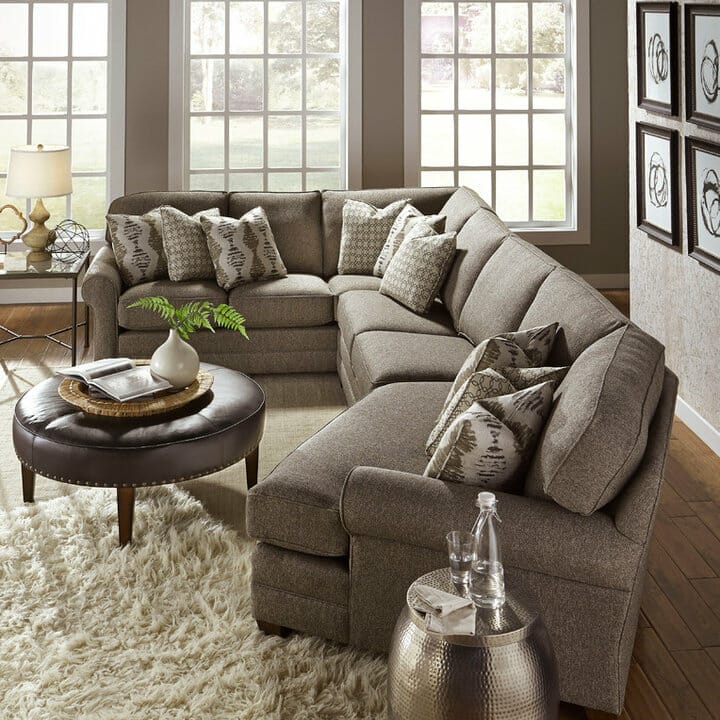 The warm gray sectional sofa and walls keep the room welcoming. Furthermore, grasscloth and shaggy rugs improve the area's cozy factor.
Because of the hammered silver stool and deep gray leather ottoman, the room isn't flat. Moreover, assorted textures and matching ornaments offer a massive dose of personality.
29. Crave for Dimension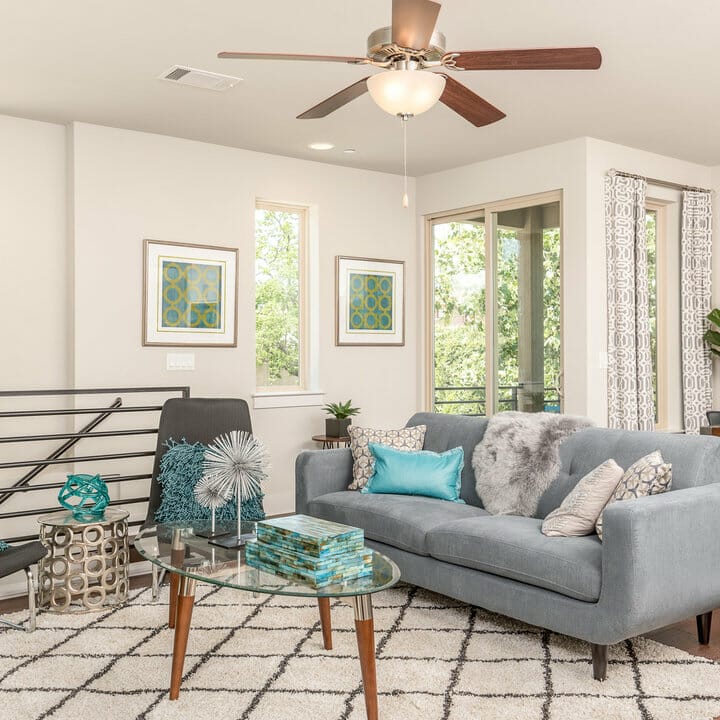 Here, the gray-blue couch draws attention to turquoise and patterned pillows. Meanwhile, the oval glass and silver cylindrical tables rival straight lines.
Varying turquoise and gray tones bridge different shapes. Also, the multitone centerpiece makes this eclectic room more cohesive.
30. Grid Gray Couches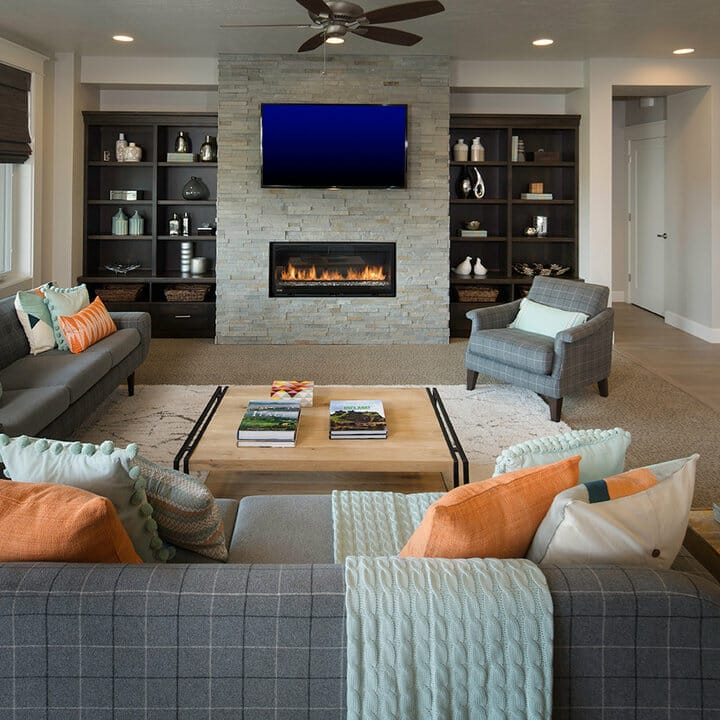 These grid gray sofas enable the room to welcome contrasting shades. Solid coral accent pillows imbue some cheer while letting them pose as the highlights.
Multitone and light blue pompom pillows complement the peach-colored ones. Furthermore, the dark gray window blind and built-ins introduce depth.
Gray is a classic but easygoing neutral. That's why you should embrace it. Those gray couch living room ideas show some terrific ways of integrating timeless furniture pieces. Select the shades that perfectly reflect your taste.