Some homeowners ignore kitchen backsplashes. In fact, they can make a difference in culinary spaces with white cabinetry. If you're looking to jazz up yours, have a gander at my brilliant backsplash ideas for white cabinets below.
Picking the right backsplash is crucial. It gives any tiny section of the kitchen wall some protection. Also, it delivers style to the cooking area. Furthermore, homeowners can enliven their backsplashes with slabs of natural stones, tiles, paints, or wallpapers.
These ideas provide some magnificent ways of reinventing a kitchen. Moreover, they let you add depth, texture, and breaks of color to your space. Here are backsplashes that fit in with white cabinets.
1. Backsplash Ideas for White Cabinets and Gray Countertops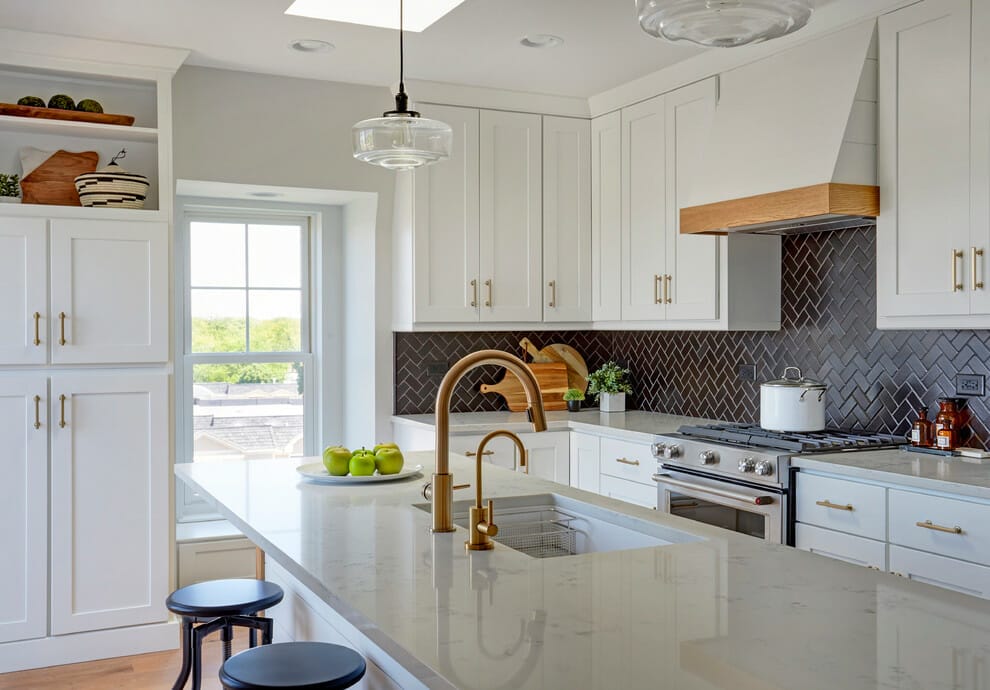 Need incredible backsplash ideas for white cabinets? This look is undeniably worth trying. Due to matte black rectangular tiles, the cooking area doesn't appear bare. In addition to making a statement, they lend the space some edge.
The homeowner chose to base kitchen accents on the backsplash. She incorporated wood, gray, and brass details into the space. They suit the inky shade well.
The herringbone pattern of black backsplash tiles keeps things trendy. Meanwhile, pendants and stools introduce extra drama.
2. Backsplash for White Cabinets and White Countertops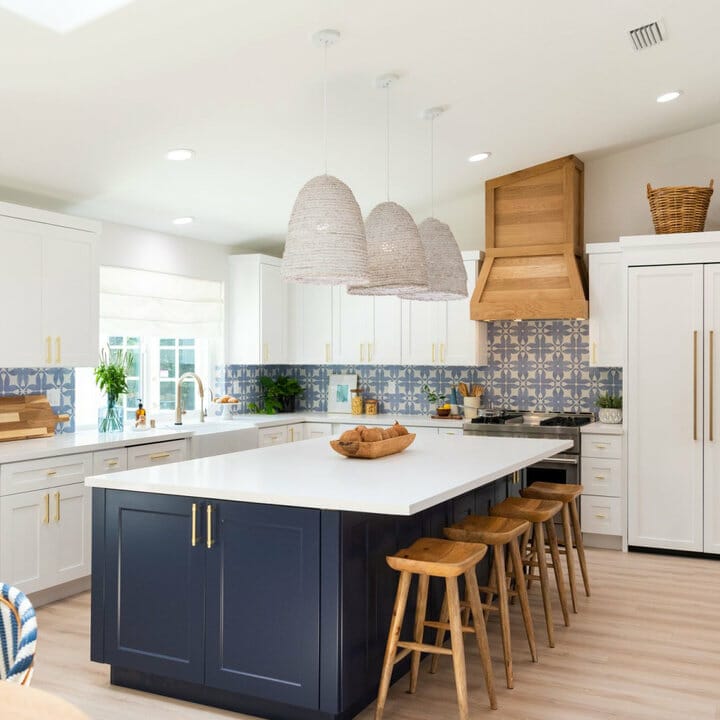 I admire this patterned kitchen backsplash. As the photo shows, it doubles as a small accent wall in this cooking area.
Tessellated tiles make for a statement backsplash effortlessly. Because of their playful look, the primarily white kitchen doesn't feel boring.
The backsplash influences the entire kitchen. Apart from generating a sense of renewal, it also keeps the whole space cohesive.
3. Beautiful and Beachy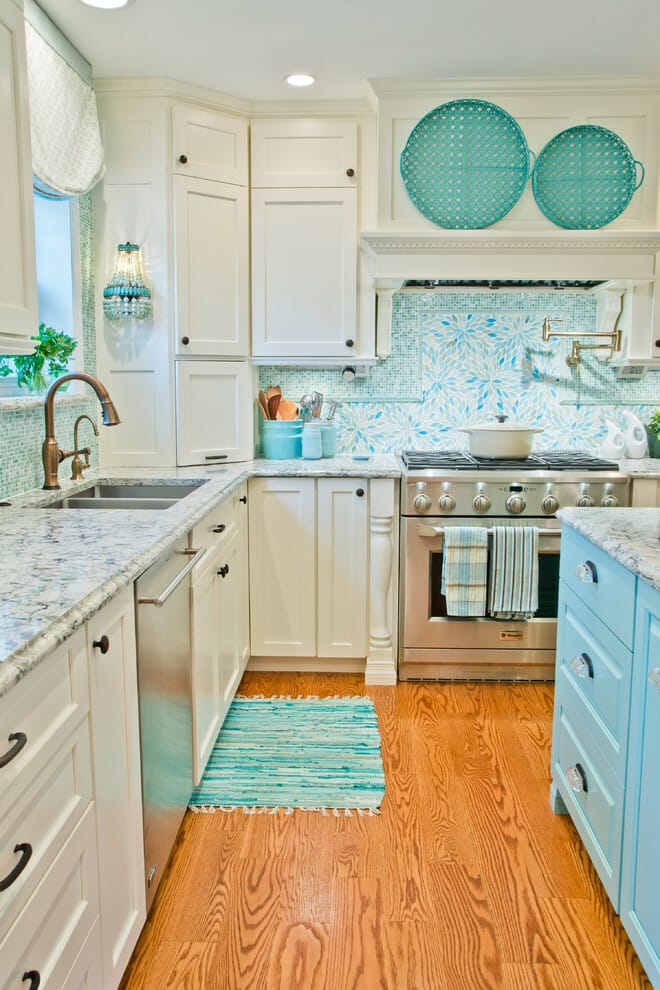 If you're into backsplash ideas for white cabinets and quartz countertops, duplicate this look. The gorgeous wallpaper spruces up the backsplash. Moreover, it sports seafoam green, turquoise, pure white, and sky blue.
The wallpaper carves a coastal aesthetic. Not only does it harmonize with soft white cabinets but also energizes the whole room.
The mosaic tiles add details to the backsplash. Furthermore, the neutral quartz countertop balances out beachy hues excellently.
4. Glamorous Green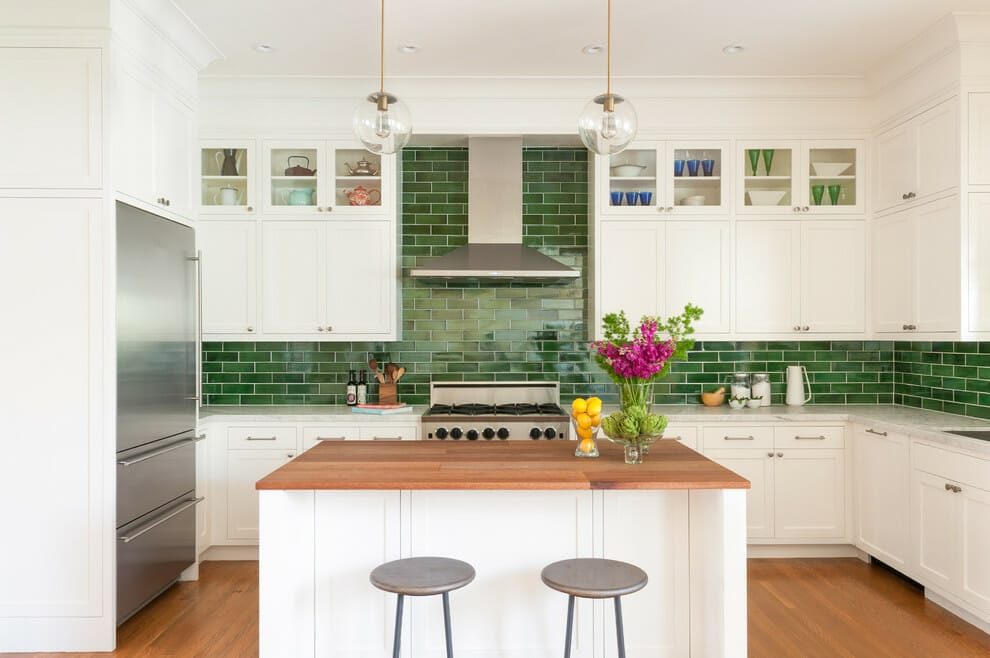 A culinary space with crisp white cabinets is ideal for experimenting with bold shades. This kitchen, for example, feels energetic due to lustrous, deep green subway tiles. They provide a shiny upgrade while adding some drama.
Here, high-gloss backsplash tiles contrast with matte white cabinets. In addition, they deliver a classic edge instantly.
White grouts emphasize bold green subway tiles. Meanwhile, the greenery and decorative drinking glasses produce a sense of continuity.
5. Modern Backsplash for White Cabinets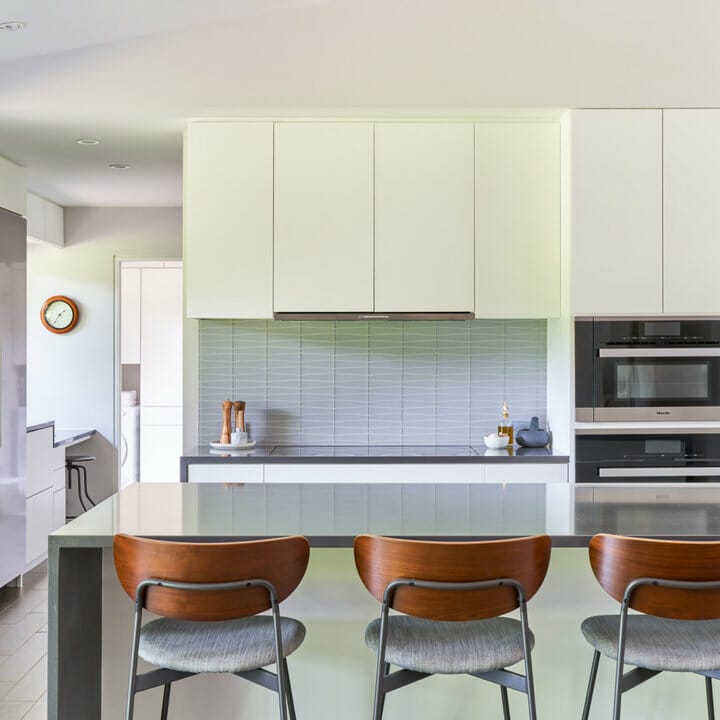 The light gray backsplash lets the homeowner maintain the airy and sophisticated look of the kitchen. It infuses a modern aesthetic, too.
As you see, the gray backsplash lends the kitchen a little detail. Although it draws the eye, it still fits in with hardware-free white cabinets.
Due to the backsplash, the whole area appears calm and cohesive. Meanwhile, wood accent pieces keep things both homey and balanced.
6. Luxury Backsplash Ideas for White Cabinets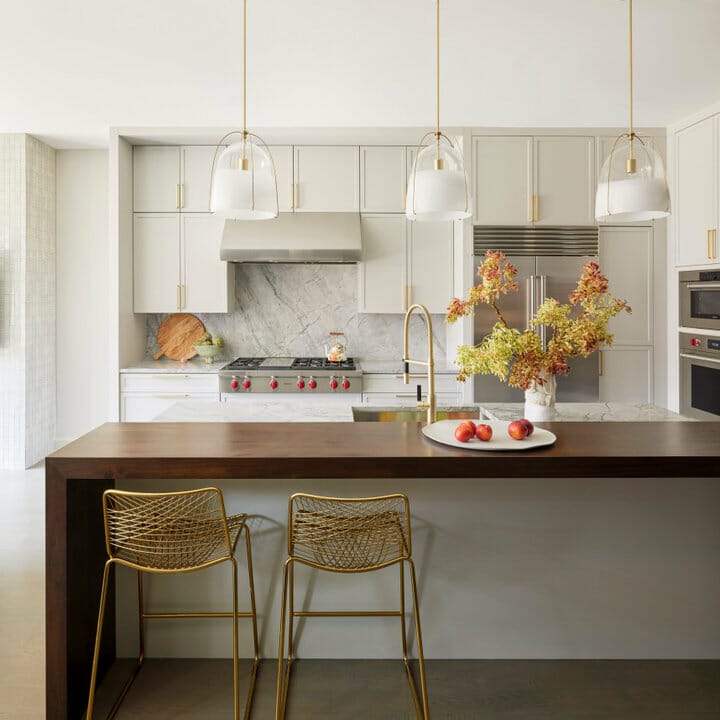 If you're after a glam look, embellish your backsplash with a slab of marble. In addition to carrying opulence, it generates a sleek statement.
The marble backsplash protects the wall against grease. Moreover, it introduces a refreshing update while offering visual cohesion.
The luxurious marble backsplash blends with solid white cabinets. Also, it provides a bit of variety in a primarily white kitchen. Lastly, the wooden island, gold details, and autumnal colors warm the room up.
7. Mid-Century Modern Kitchen Backsplash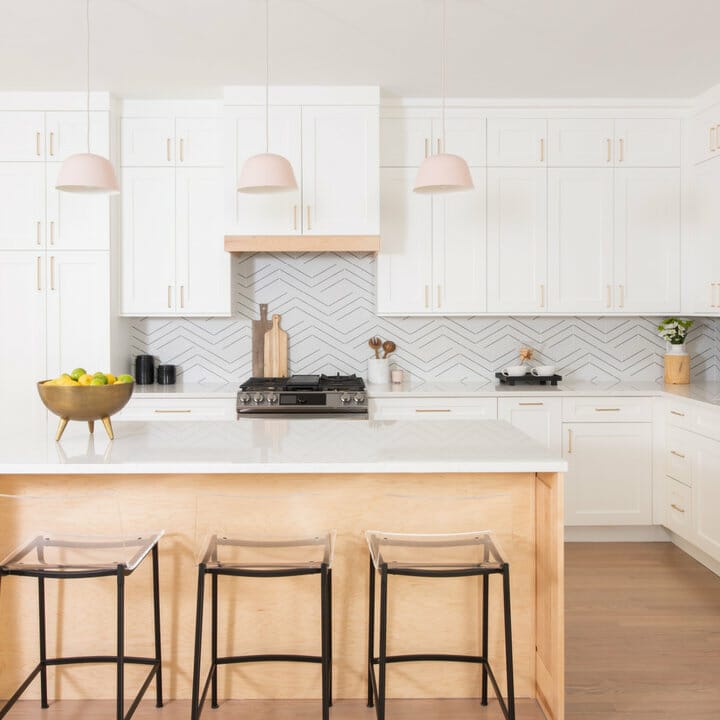 These vinyl tiles carry a mid-century modern flair. Furthermore, they become the highlight of the white-and-wood cooking area.
Here, the backsplash delivers a pop of pattern to the kitchen. Meanwhile, bright white cabinets with brass handles frame it perfectly.
Metal and acrylic stools add extra visual interest. Moreover, blush pink pendants heighten the mid-century modern feel and provide a subtle touch of color.
8. Vintage Vibe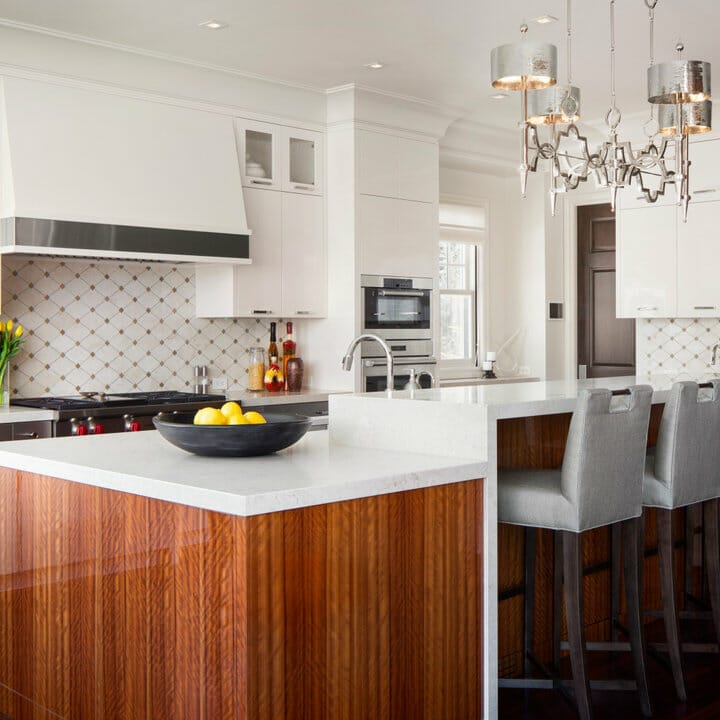 Here is another kitchen with vinyl backsplash tiles. In addition to making for an accent wall, they change the ambiance of the cooking area.
The vinyl tiles offer a vintage vibe. Moreover, they infuse a bit of uniqueness into the room. Meanwhile, the white range hood and cabinets frame them stylishly.
Here, vinyl backsplash tiles break the monotony. Also, their brown details assist the wooden island and red accents in keeping things warm.
9. Square Tile Backsplash Ideas for White Cabinets
Need cool backsplash ideas for white cabinets? If yes, refrain from installing subway or rectangular tiles. These square tiles provide marvelous visual variation. Furthermore, they suit the eclectic cooking area perfectly.
Soft white square tiles inject a retro edge. In addition, they emphasize the beauty of the yellow marble countertop.
Because of neutral backsplash tiles, copper and gold details shine instantly. The geometric planter, olive green stove, mismatched pendants, and plants make the room more dynamic.
10. Gray Backsplash for White Countertops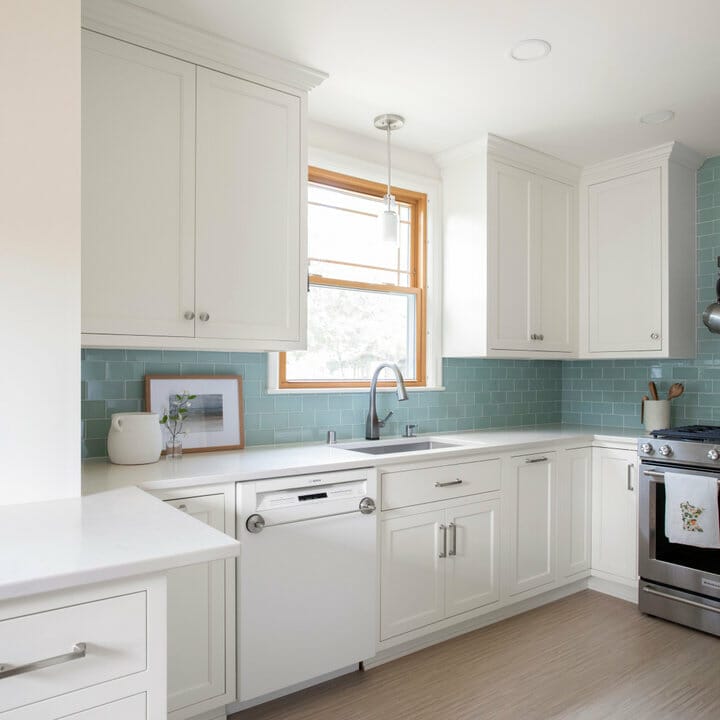 Speaking of backsplash ideas for white cabinets, choose a solid yet soft shade. This cooking area is equal parts serene and stylish, thanks to gray-blue subway tiles. They give the room a little sparkle, too.
Here, the subway tiles preserve the airy feeling of the room while emanating tranquility. Also, the ceiling-to-counter layout creates visual interest.
11. Marble-Effect Backsplash for White Cabinets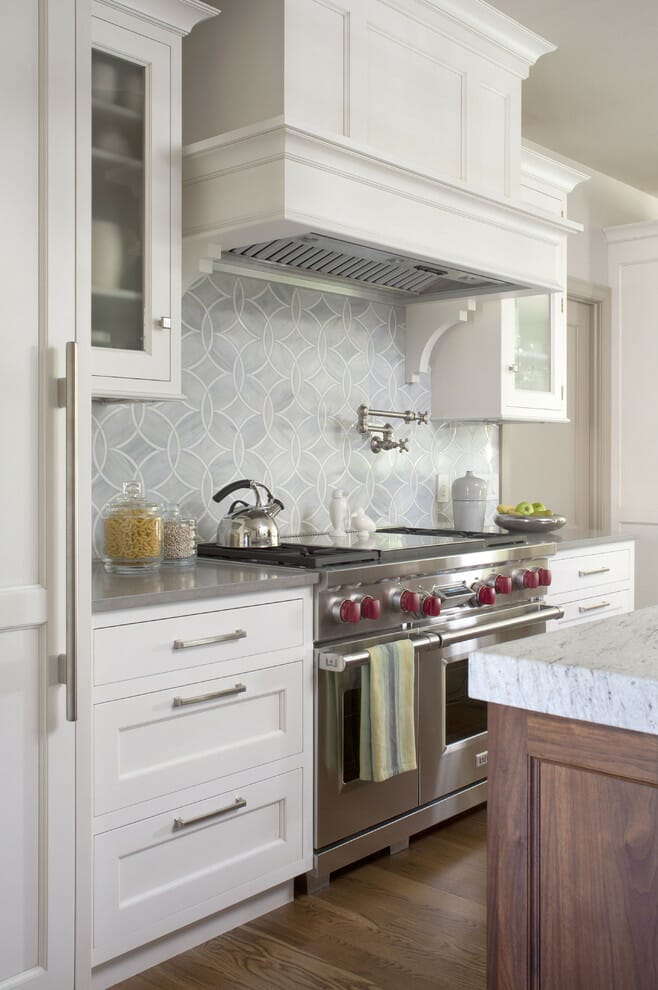 This marble-effect backsplash makes the tiny cooking area look slightly glam. Moreover, the pattern of the vinyl tiles brings in retro vibes.
In this picture, the stunning backsplash blends with the metallic stove and concrete counter. Furthermore, it serves as a backdrop for gray and glass food jars. Lastly, the warmth of red details and wood surfaces balances its coldness out.
12. Backsplash Ideas for White Cabinets and Granite Countertops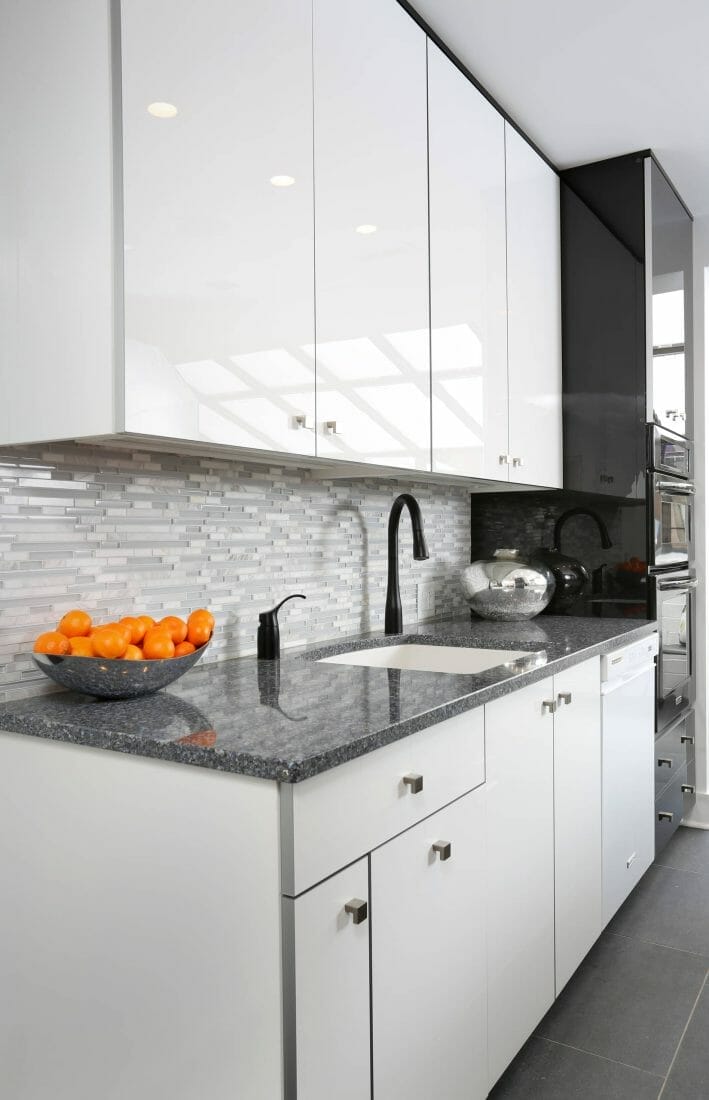 The backsplash above is nothing short of superb, thanks to glass subway tiles. As you see, they sport white and pale gray. Due to them, the whole cooking area becomes cohesive.
These glass subway tiles boast varying lengths. Not only do they infuse plenty of texture, but also produce a clean, sophisticated look.
Despite their slim appearance, the subway tiles catch the eye. Also, they maintain the room's bright feeling while blending with the gray granite counter and black accents.
13. Gray Backsplash Ideas for White Cabinets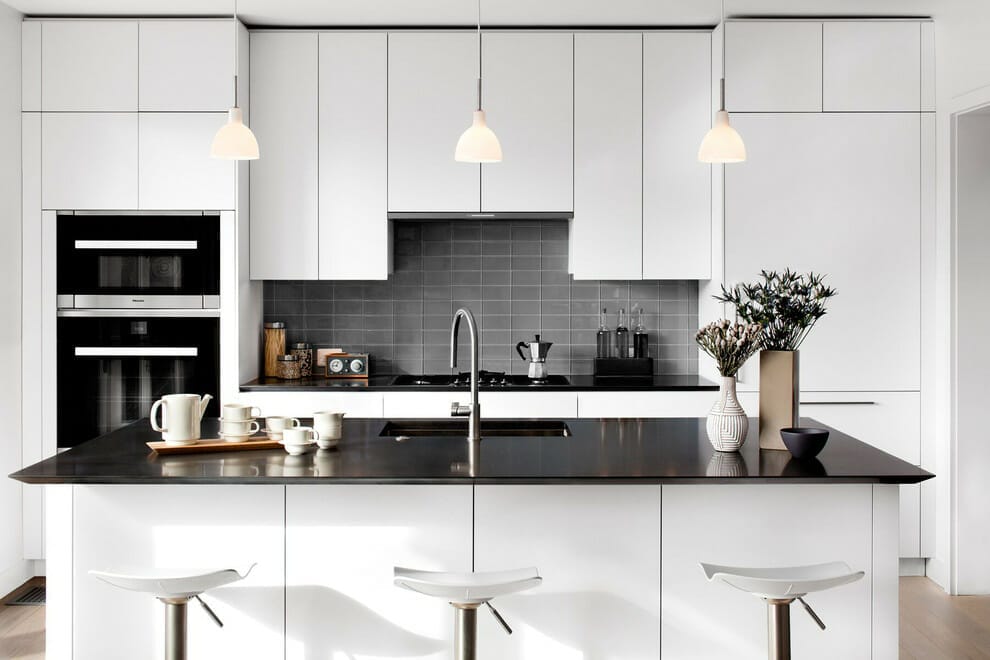 If you're into horizontal stacks, try this idea out. The deep gray subway tiles give some depth while introducing a modern aesthetic.
Crisp white cabinets are hardware-free. Moreover, they let the eye focus on the dark gray backsplash and black counter.
Without a doubt, the gray backsplash is the highlight of this kitchen. Furthermore, the pendants repeat the visual symmetry that upper cabinets deliver. Meanwhile, dark-toned artificial flowers bring extra touches of drama.
14. Say Yes to Subway Tiles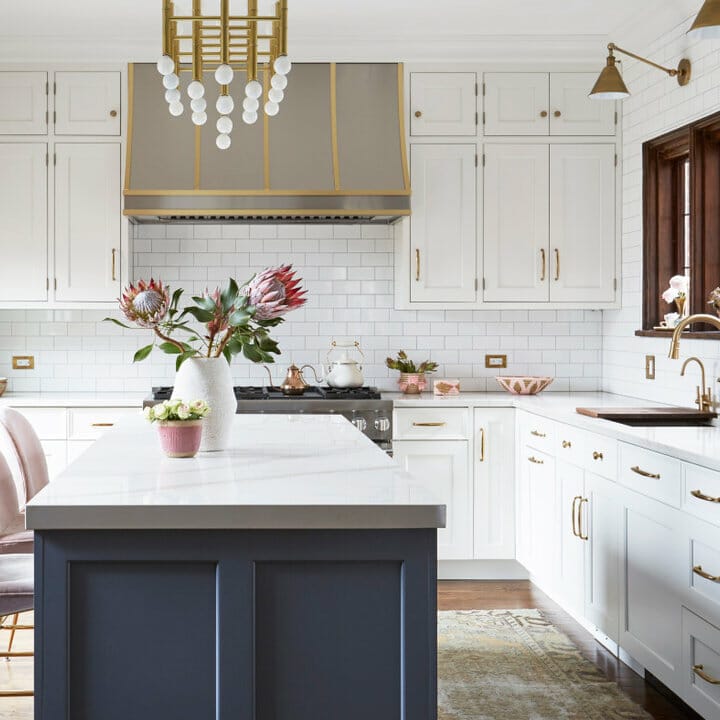 Talking about backsplash ideas for white cabinets, consider subway tiles. In addition to never getting out of trend, they suit white cabinetry excellently.
This kitchen backsplash, for example, boasts white subway tiles with gray grout lines. Furthermore, their high-gloss finish contrasts with the matte paint of the cabinets.
White subway tiles accent copper and gold details. The navy island emanates a sense of depth, while splashes of pink make the space seem elegant.
15. Subtle Yet Striking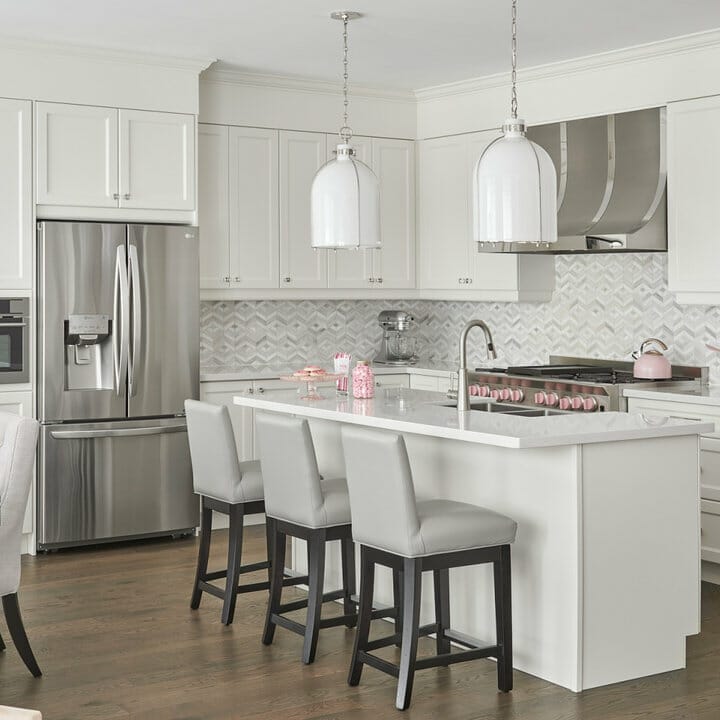 These printed vinyl tiles transform the backsplash into a tiny accent wall. Although the pieces make a statement, they don't overwhelm the room.
The warm white cabinets employ dainty knobs. Apart from emphasizing the patterned backsplash, they generate a clean yet cozy look.
As you see, the backsplash drastically changes the ambiance of the cooking area. It delivers a bit of playfulness while producing a modern edge. Lastly, pastel pink accents balance out gray and silver elements.
16. Backsplash Ideas for White Cabinets and Wooden Shelves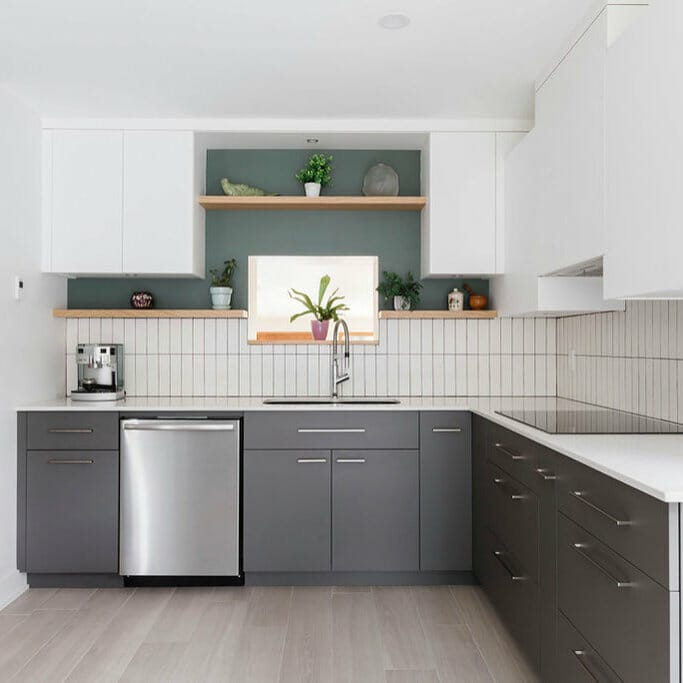 This cooking area isn't monotonous at all, thanks to two-tone cabinetry. The upper cabinets wear crisp white and have no handles. They pair with blonde wood shelves. Meanwhile, the lower ones come in matte gray.
The vertical stacks of white subway tiles contrast with horizontal handles and shelves. Apart from elongating the backsplash, they carve a neat look.
17. Opt for Rectangular Tiles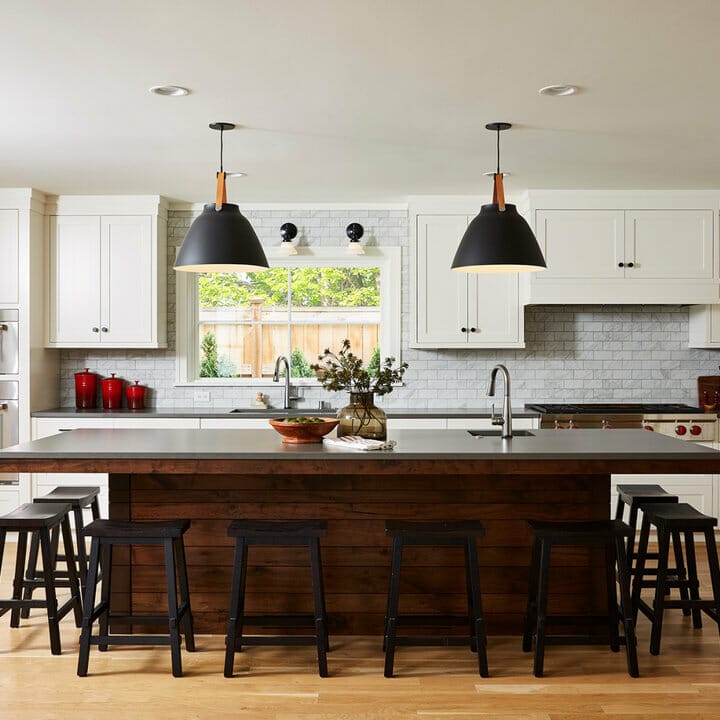 Here, rectangular marble tiles beautify the counter-to-ceiling backsplash. Furthermore, they ooze both opulence and sophisticated grace at once.
The marble backsplash emphasizes red storage containers and black sconces. In addition, they keep the interior airy and bright.
18. Patterned Backsplash Ideas for White Cabinets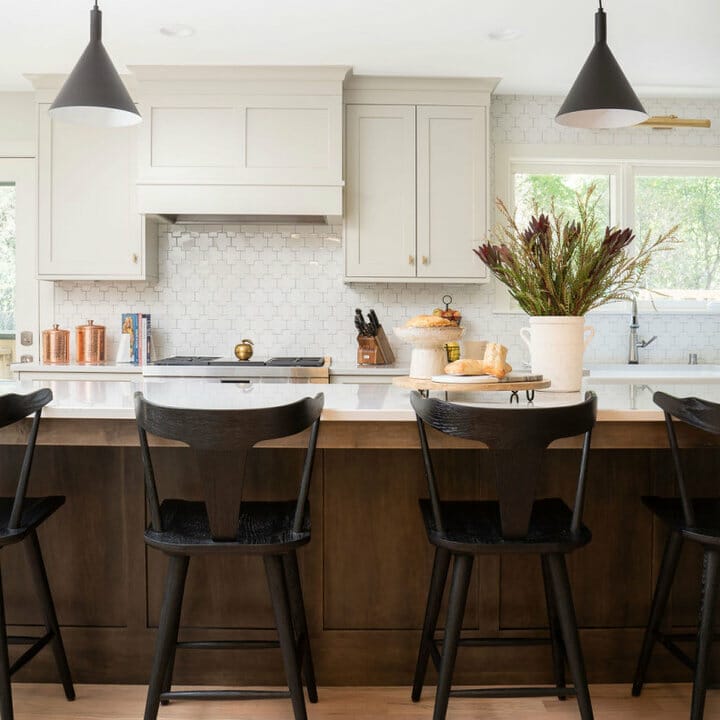 The high-shine tiles lend this primarily white kitchen a touch of pattern. Because of them, the whole room becomes brighter and more aesthetically appealing.
As you see, the patterned tiles carry exquisite details. In addition to highlighting copper canisters, they also let black accent pieces sing.
19. Modern Farmhouse Kitchen Backsplash with White Cabinets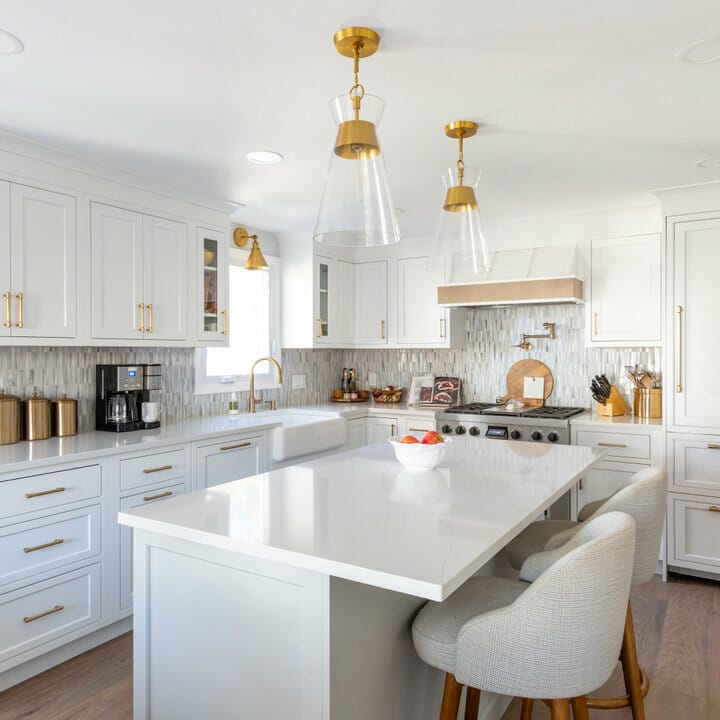 This modern farmhouse kitchen is equal parts opulent and welcoming. Moreover, the iridescent tiles deliver a little shimmer while brightening things up.
The slim iridescent tiles harmonize with gold accent pieces. Furthermore, they provide fabulous details while introducing a breath of fresh air.
20. Humble Herringbone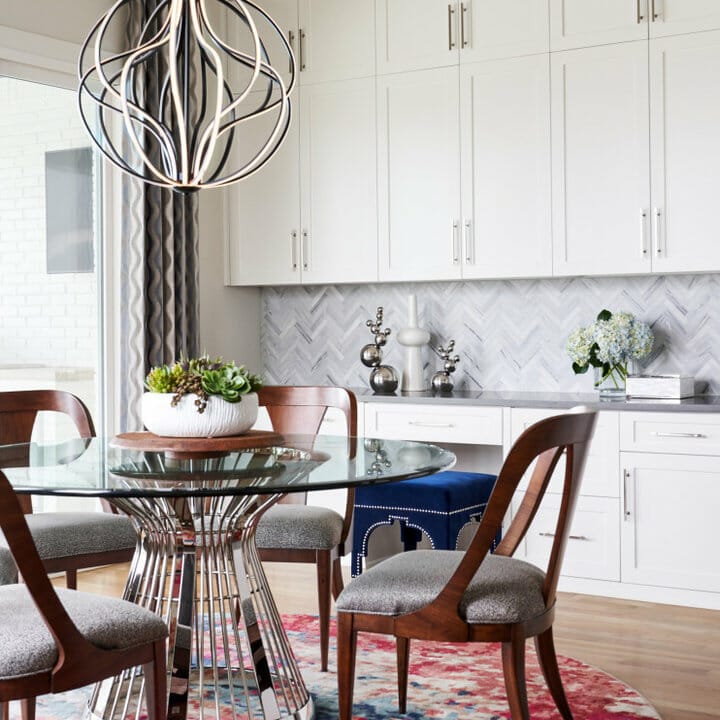 Talking about backsplash ideas for white cabinets, opt for the herringbone pattern. In addition to appearing trendy, it offers a marvelous finished look.
The herringbone-patterned backsplash allows hydrangeas and silver ornaments to shine. Also, it injects a bit of variety.
21. Calm Chevron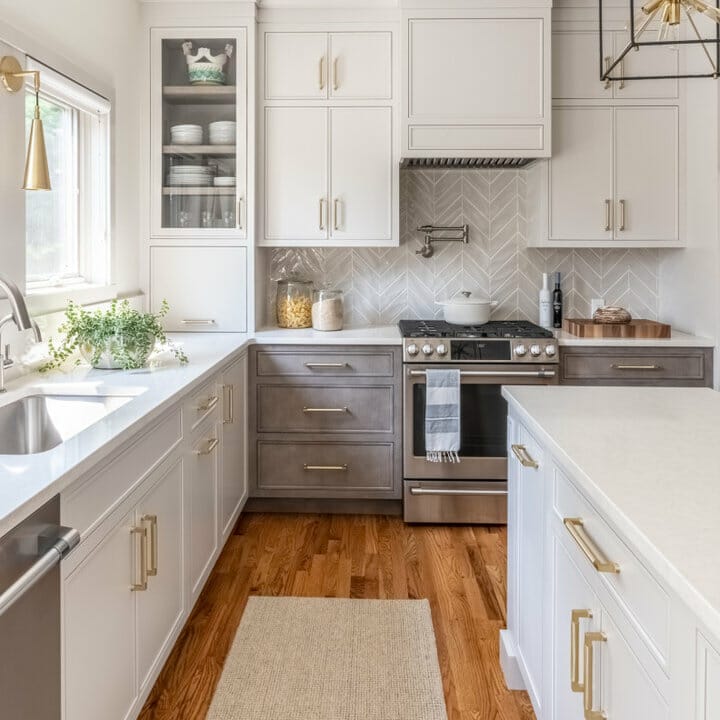 The chevron pattern keeps things from going flat here. In addition, it enables the backsplash tiles to look chic as well as attractive.
Lustrous tiles come in pale gray. Furthermore, they spruce up matte cabinets and calm the soul. They let brass and green details be centerpieces too.
22. Beyond Backsplash Tiles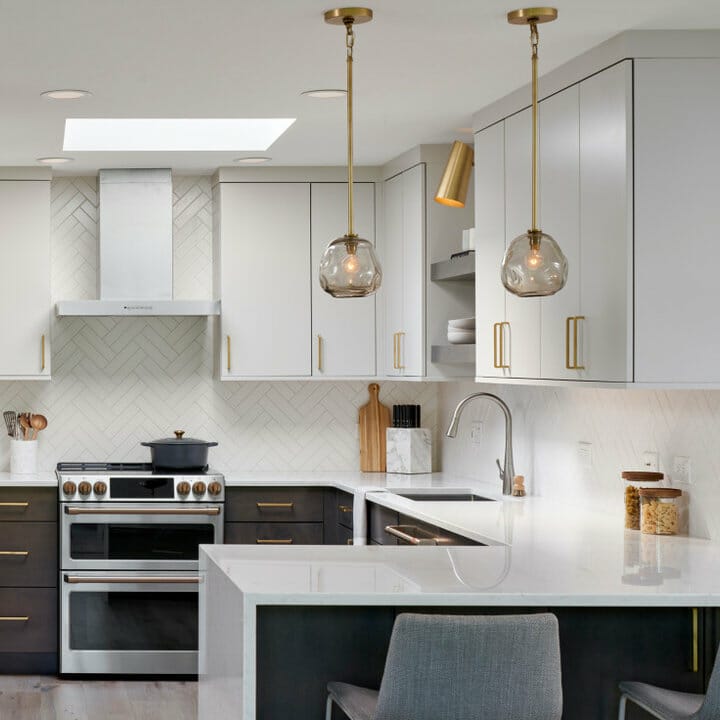 This is one of the astonishing backsplash ideas for white cabinets. The herringbone wallpaper is not only removable, striking, and inexpensive. Additionally, it fits in seamlessly with the white counter and top cabinetry.
The backsplash right behind the faucet employs a more subtle herringbone pattern. Moreover, pops of metallic hues radiate luxury.
23. A Slab of Marble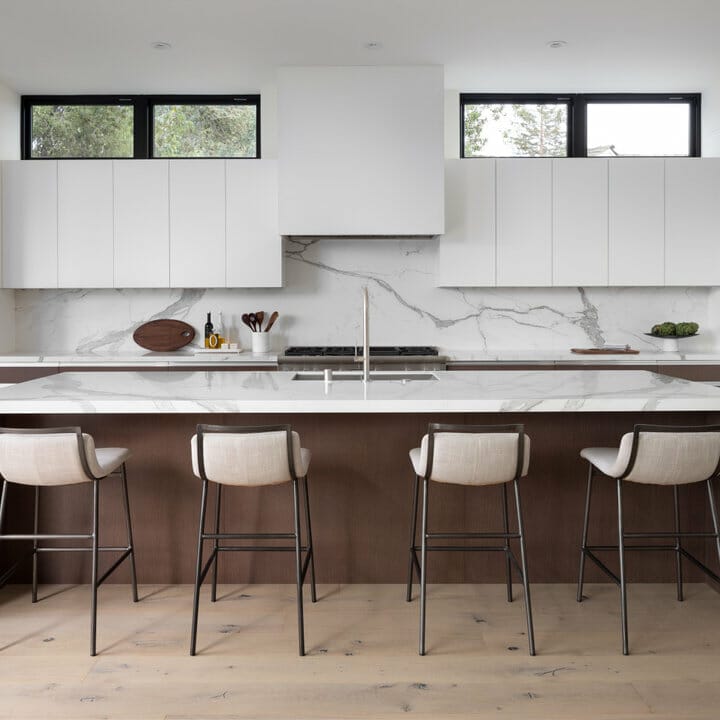 Just because the cooking area is minimal doesn't mean it doesn't deserve something magnificent. This room, for example, boasts a marble backsplash.
Here, the marble backsplash offers protection, cohesiveness, and opulence. Moreover, dark brown accents make the kitchen inviting.
24. Dark Gray Backsplash Ideas for White Cabinets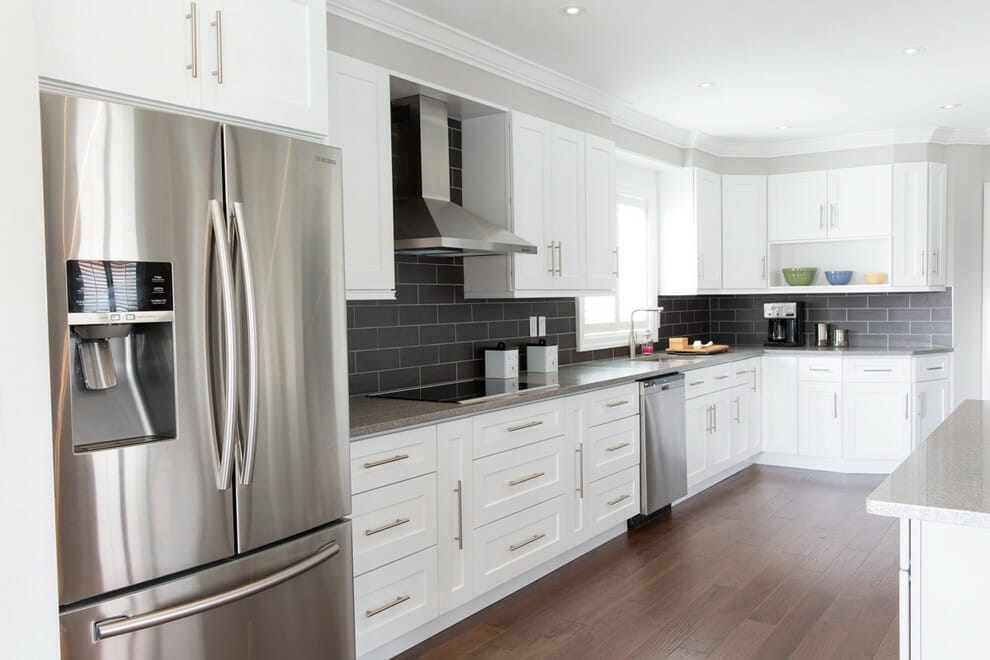 The stark white cabinets in this cooking area develop an airy look. In addition, they emphasize charcoal gray subway tiles.
As you see, charcoal gray subway tiles carve a bold statement. They infuse a contemporary edge, too. Meanwhile, pastel accents enliven the room subtly.
25. Playful and Pretty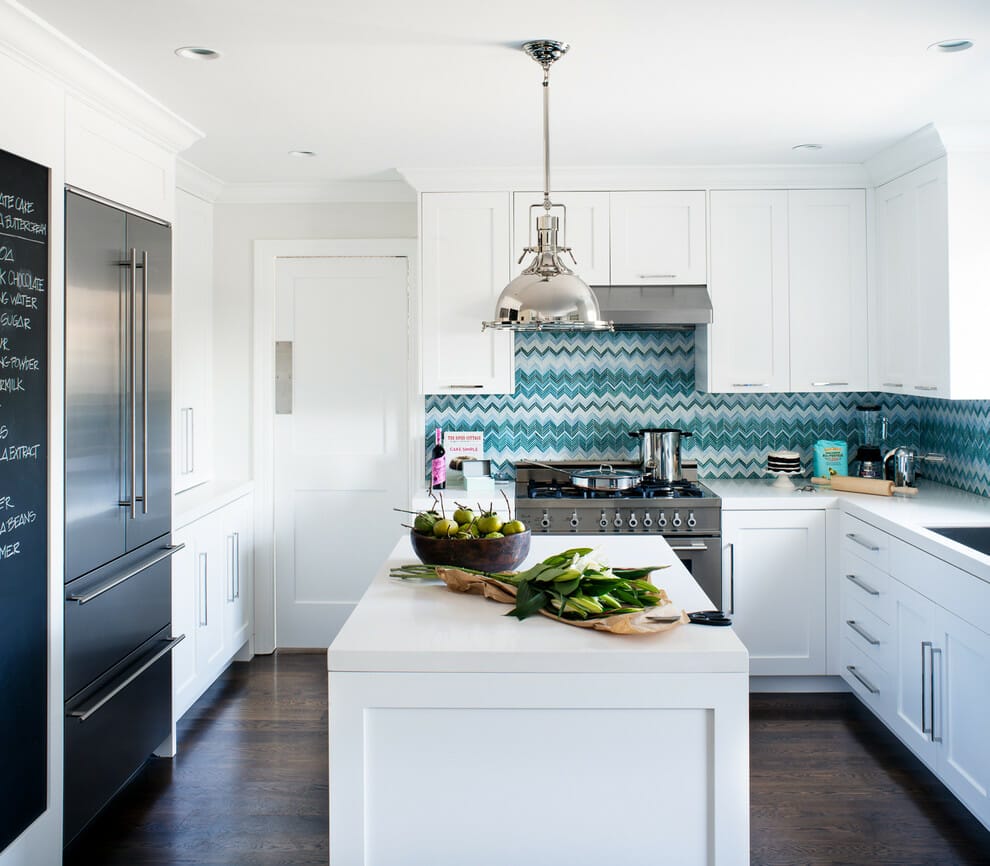 The chevron-patterned wallpaper perks up otherwise bare white cabinets. In addition, it employs varying shades of blue for a dynamic look.
Without a doubt, the printed wallpaper on the backsplash makes the homeowner feel happy. Also, it blends with gray and silver pieces.
26. Neutral Backsplash Ideas for White Cabinets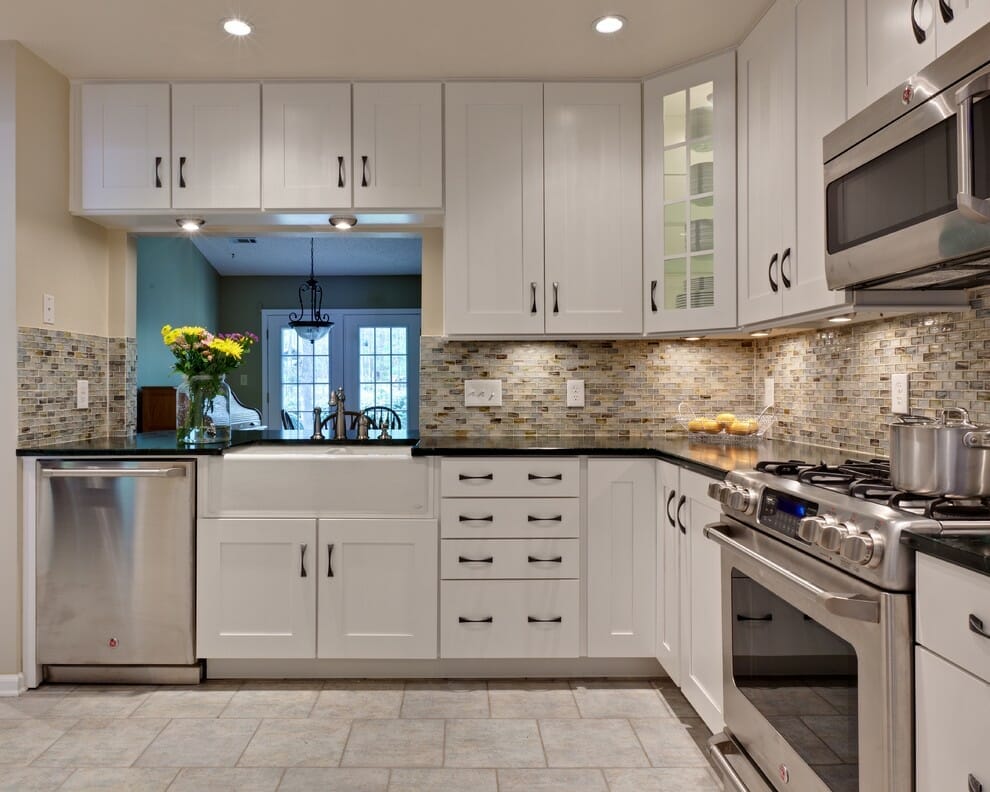 The raised white cabinets enlarge this farmhouse kitchen. Meanwhile, the black counter and handles bring some depth.
Since the space is somewhat small, the homeowner chose to coat the backsplash with neutral, rectangular mosaic tiles. They add energy and style without overwhelming the interior.
27. Basketweave Backsplash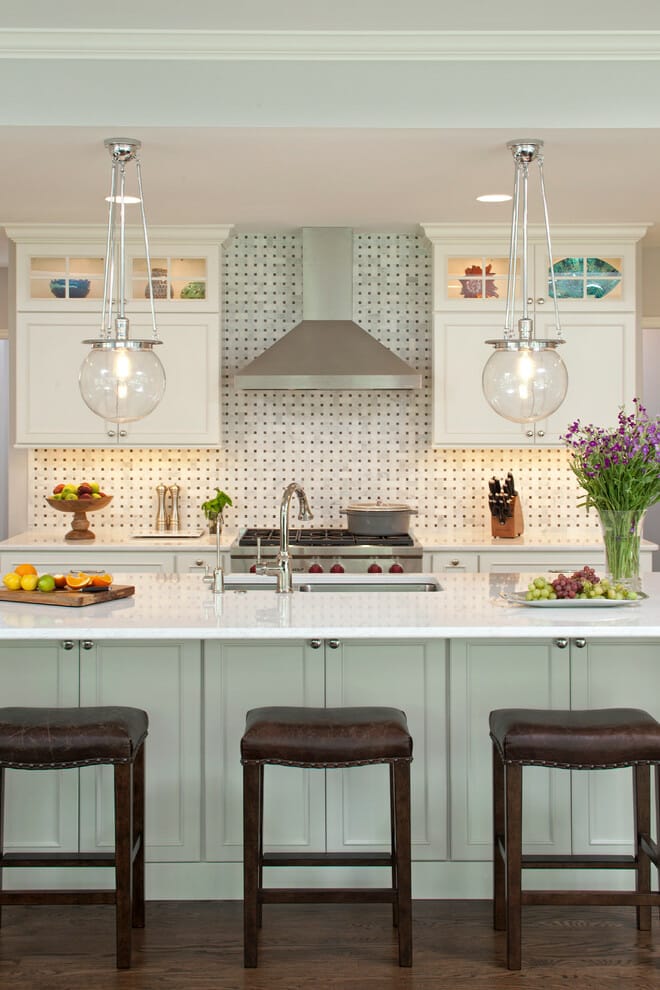 If you get sick of the white kitchen's typical look, try this idea. The basketweave backsplash is the interior's highlight here. However, it still fits in with other elements.
The basketweave backsplash calls attention to glass-front top cabinets. Meanwhile, clear glass pendants ensure the room doesn't appear busy.
28. Navy Meets Gold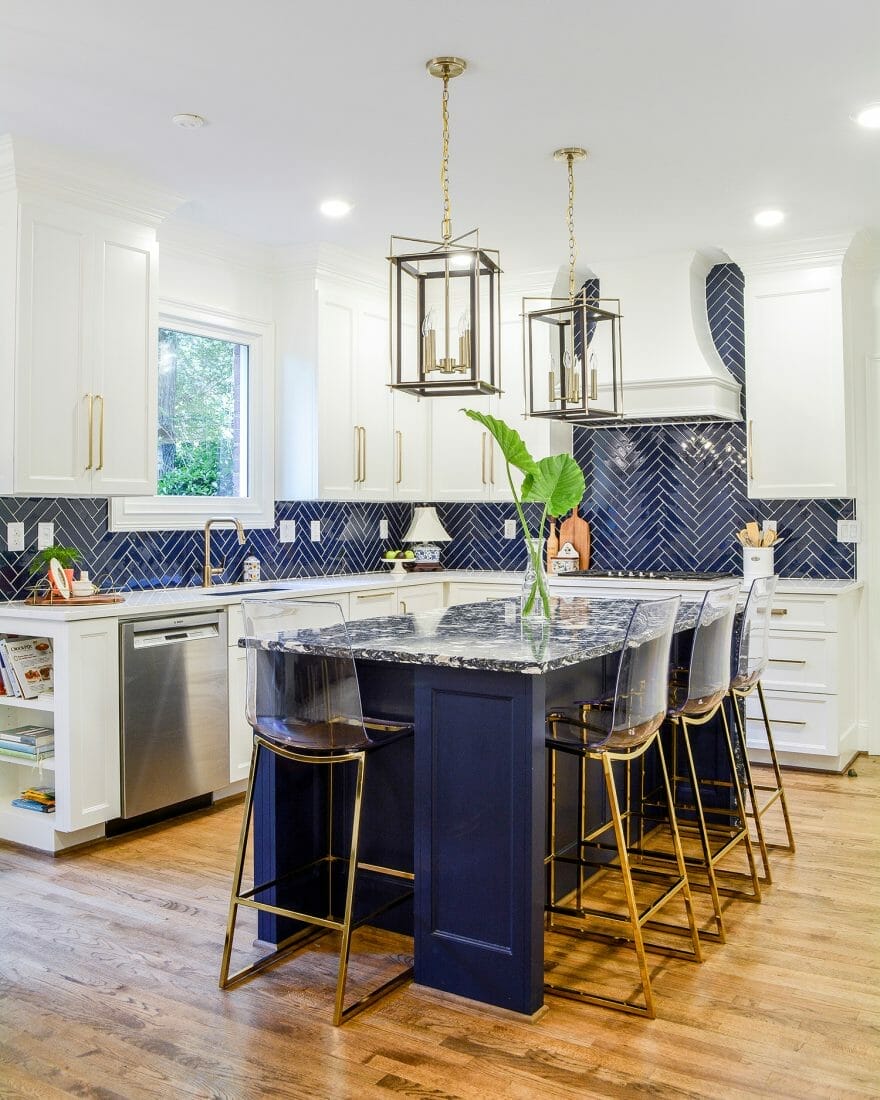 This otherwise basic white kitchen shines, thanks to high-gloss navy subway tiles. Moreover, they're a bold contrast to bare cabinetry.
Due to the navy herringbone backsplash, the room doesn't lack cohesion. In addition to injecting details, it emphasizes glam brass accents.
29. Patterned Flair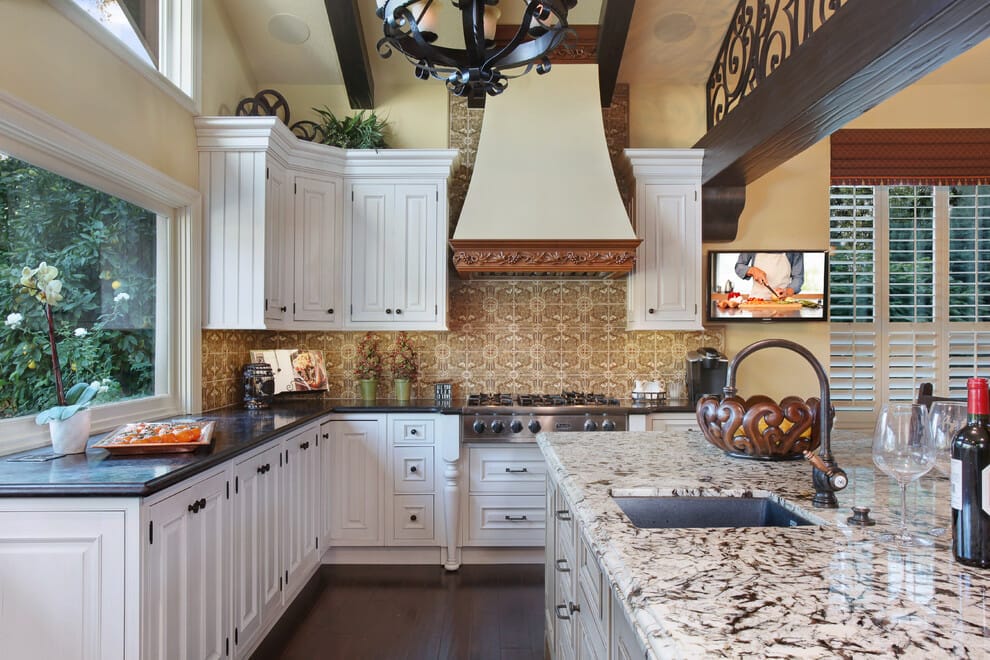 Undeniably, this is one of my favorite backsplash ideas for white cabinets. The printed backsplash suits the French country kitchen best.
The brown printed wallpaper does not only titivate white cabinets but also ooze warmth. It complements ornate wooden and metal details, too.
30. Pearly Shimmer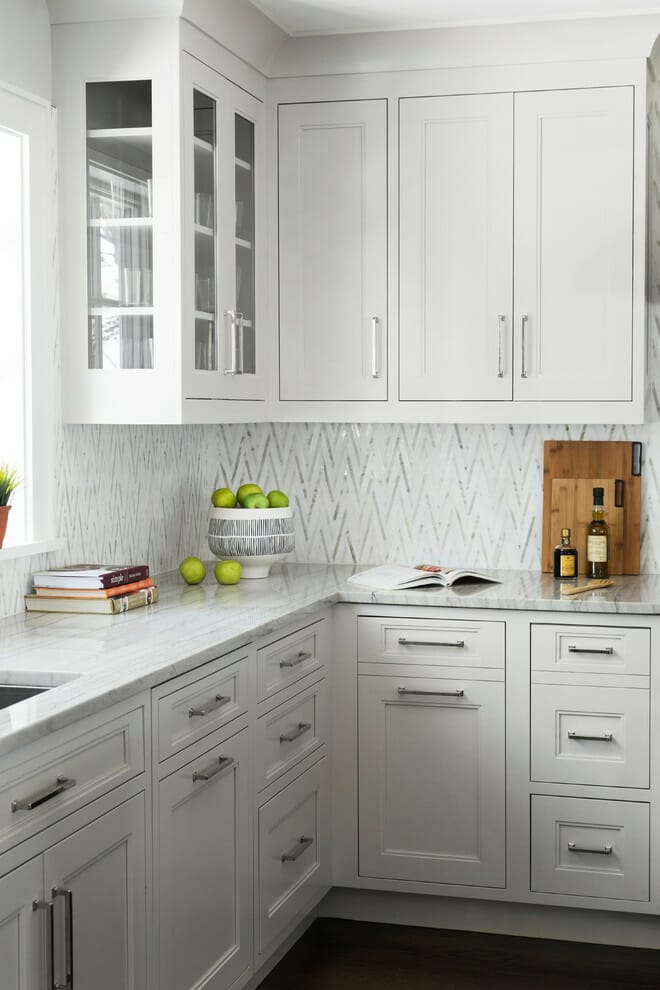 This kitchen backsplash boasts a chic chevron pattern. Moreover, it lends the room a bit of a sparkle in seconds.
The silver elements of the backsplash complement the drawer handles perfectly. In addition to giving the kitchen a glam look, they contrast with wood and green accents.
Those backsplashes harmonize with white cabinetry. Deciding on the right one is a difficult job since choices have no limit. My suggestion is to pick any of the backsplash ideas for white cabinets that appeals to you.