Deep-toned brown sofas undeniably provide spectacular practicality and versatility. However, they don't need to be lusterless. If you're into neutral furnishings, read up on these dark brown sofa living room ideas.
Dark brown sofas are a staple in many seating areas. In addition, they mingle with numerous decor styles and color schemes. Also, such furniture pieces are suited to homeowners with young kids or pets since they hide stains.
Unfortunately, some people think dark brown sofas are classic but blah. Of course, this isn't true. With the appropriate styling, you can uncover their beauty. Ahead are 29 ideas that will give them an updated look.
1. Dark Brown Leather Sofa Living Room Ideas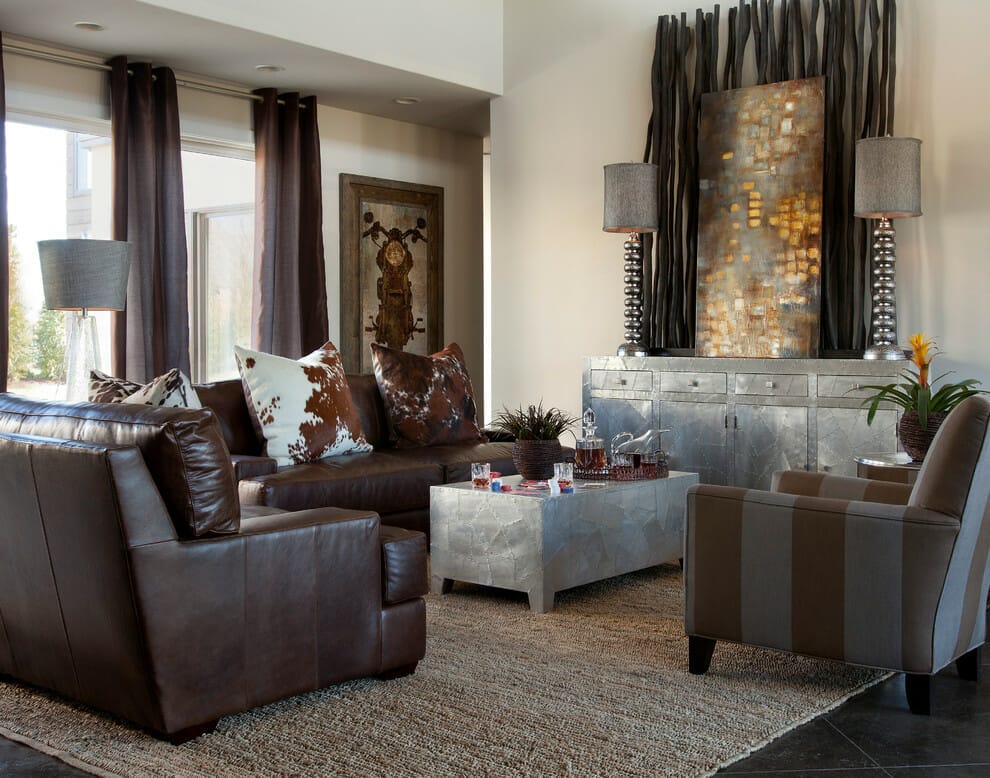 Need dark brown sofa living room ideas? If yes, emulate this look. Deep-toned brown leather sofas don't look out of whack in this space. They offer depth while keeping the interior luxe instead.
The homeowner repeated dark brown tones via a planter and an upholstered chair. Here, they bring the living area together.
Leather sofas influence the rest of this interior. They harmonize with the vintage wall hanging and cowhide throw pillows. Additionally, gray, white, and metal elements ensure the scene feels balanced.
2. Minimalist Living Rooms with Dark Brown Sofas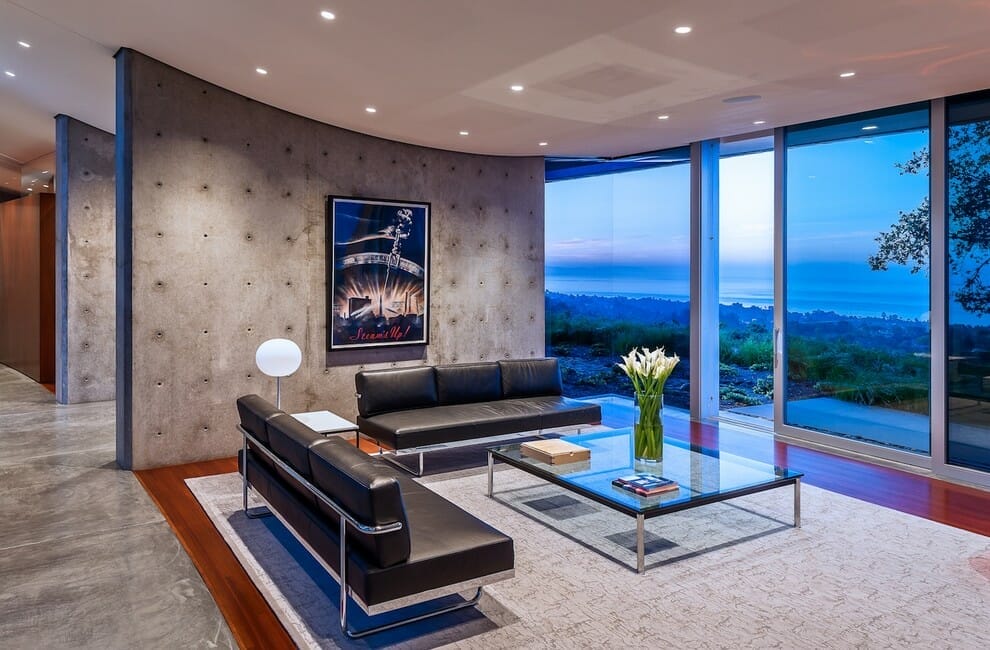 This is one of the dark chocolate brown couch living room ideas. Here, streamlined sofas produce a dramatic statement. Moreover, the warm wood flooring boosts the cozy factor.
The glass coffee table portrays urban minimalism. Meanwhile, the massive gray rug and white flowers soften its appearance instantly.
In this seating area, the concrete wall directs the eye to the framed art. Also, the wall of windows provides striking scenery.
3. Dark Brown Sofa Living Room Ideas with Earth Tones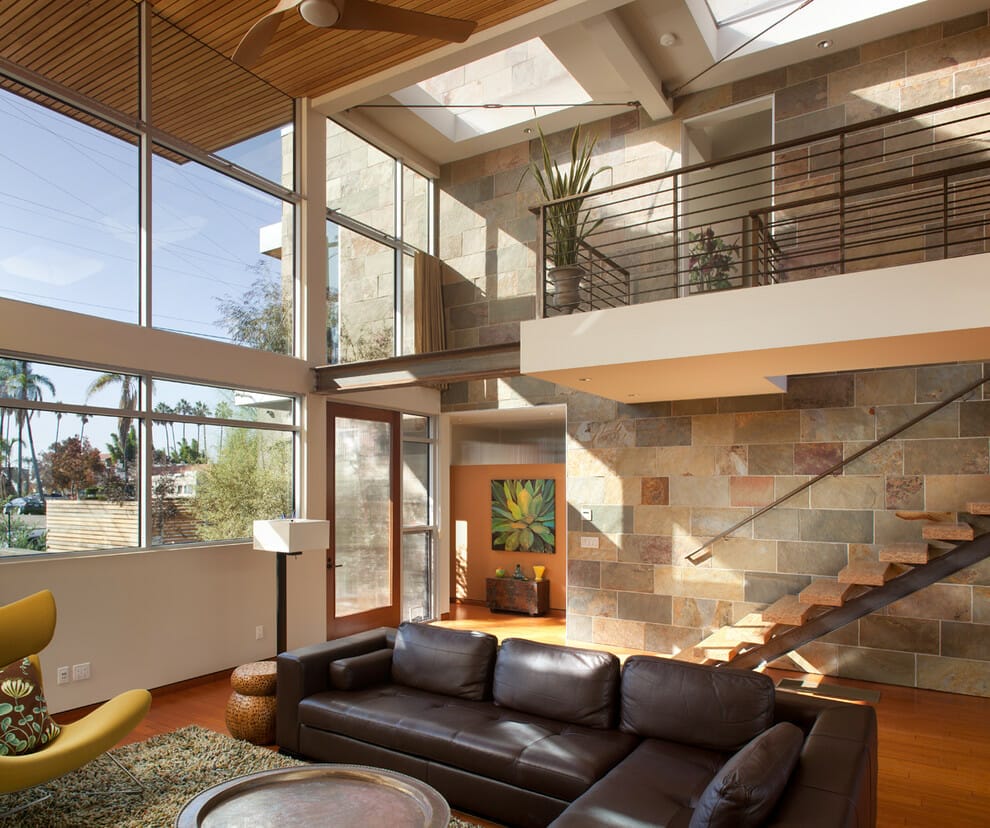 Speaking of dark brown sofa living room designs, consider integrating earth tones. The cocoa brown sectional sofa makes the interior appear snuggly. They fit it in with muted yellow and wood elements, too.
The skylight, glass door, and expansive windows lighten up the room. Moreover, the stool and circular coffee table temper hard edges. Meanwhile, natural stone tiles adorn the focal wall and ground the space.
4. Dark Brown Sofas for Traditional Living Rooms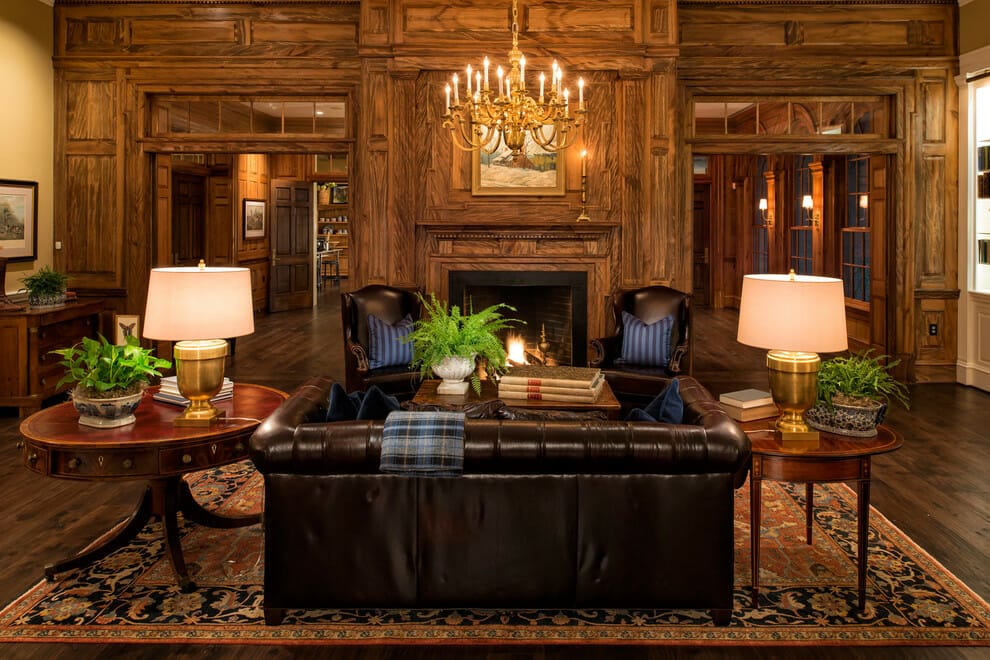 If you're into dark brown sofa living room decor ideas, emulate this layout. The intense brown sofa and armchairs invite some depth. Also, they live excellently with the French country-style chandelier and printed rug.
The rich brown sofa and circular side tables introduce symmetry. Meanwhile, traditional wooden panels offer natural textures while coordinating with leather furniture.
Hints of gold depict glamor. Furthermore, leafy indoor plants elevate the room. Lastly, tartan and striped fabrics deliver extra visual interest.
5. Dark Brown Sofa Living Room Ideas with Warm Accents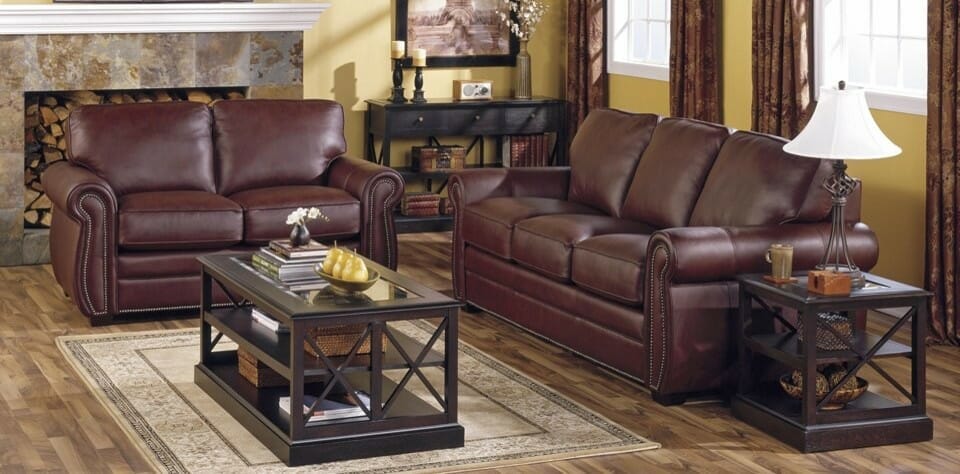 Without a doubt, rich brown goes fabulously with woodsy and warm hues. Here, the dark brown leather couch and loveseat meet light mustard yellow-painted walls marvelously.
Dark wood tables heighten the homey ambiance in this room. Moreover, patterned curtains pick up the intense brown shade of leather furniture pieces.
Natural stone fireplace tiles produce understated beauty while highlighting dark brown units. The charcoal gray console table and candle holders carve some drama. Meanwhile, light neutral accents and windows temper dark elements.
6. Chocolate Brown Sofa Living Room Ideas with Arches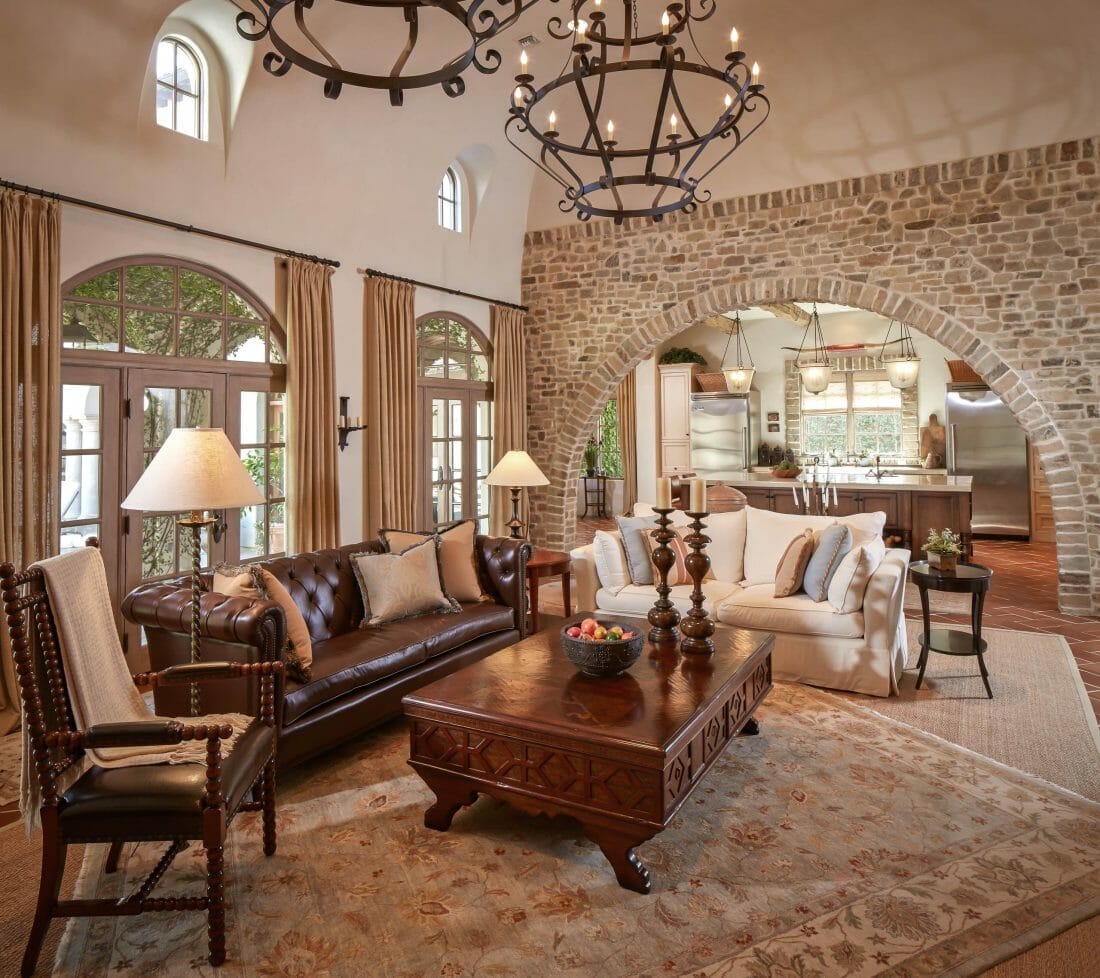 Talking about dark brown sofa living room ideas, try stealing this look. The chocolate brown Chesterfield sofa becomes a highlight here. Furthermore, antique light fixtures and furnishings develop tons of interest. They complement the tufted seat, too.
Meanwhile, the soft white linen loveseat balances out the visual weight of the brown leather sofa. Bricks and terracotta tiles carry textures.
Then, the light brown rug, throw pillows, and curtains tie the living area together. Moreover, the floral-themed rug and arches impart a French country ambiance.
7. Dark Brown Sofa Living Room Ideas with Touches of Blue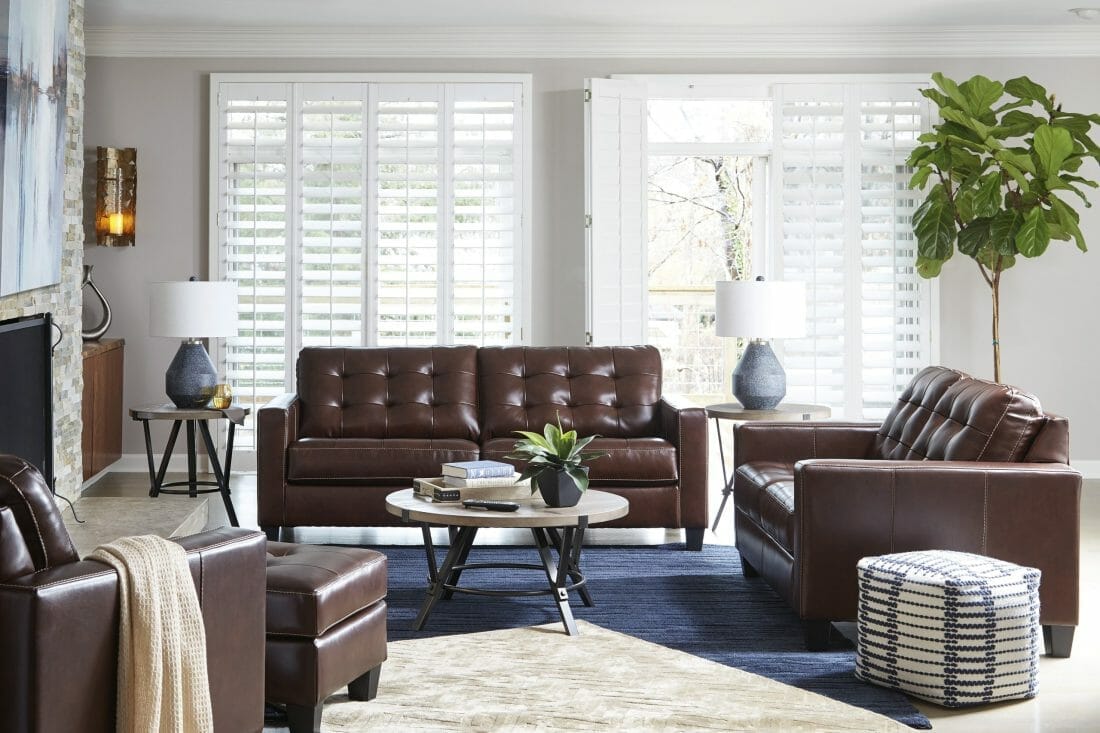 The brown tufted footstool, armchair, and sofas emanate homeliness instantly. They behave as centerpieces too. Meanwhile, the navy rug and blue-gray task lamps highlight the richness of the leather upholstery.
Thanks to the patterned pouf and throw blanket, they supply cozy textures. Also, gray walls and white shutters stop dark brown furniture units from seeming heavy.
Since the wall art and fireplace wear lighter shades, the room looks airy. Moreover, round tables and houseplants make sharp edges softer.
8. Dark Brown Couch Living Room Design with Gray Walls
No dark brown sofa living room ideas are complete without light-toned elements. First, paint the walls pale gray. Next, integrate an area rug and artworks in similar shades for a cohesive appearance.
Light gray units and surfaces brighten up the deep chocolate brown sectional sofa. Meanwhile, metallic gold and silver pillows produce a balanced look.
The metal-and-wood floor lamp delivers a retro appeal. Furthermore, palm leaves and brown details improve the wow factor. Also, the circular coffee table clashes with the straight lines of the abstract rug.
9. Contemporary Living Rooms with Dark Brown Sofas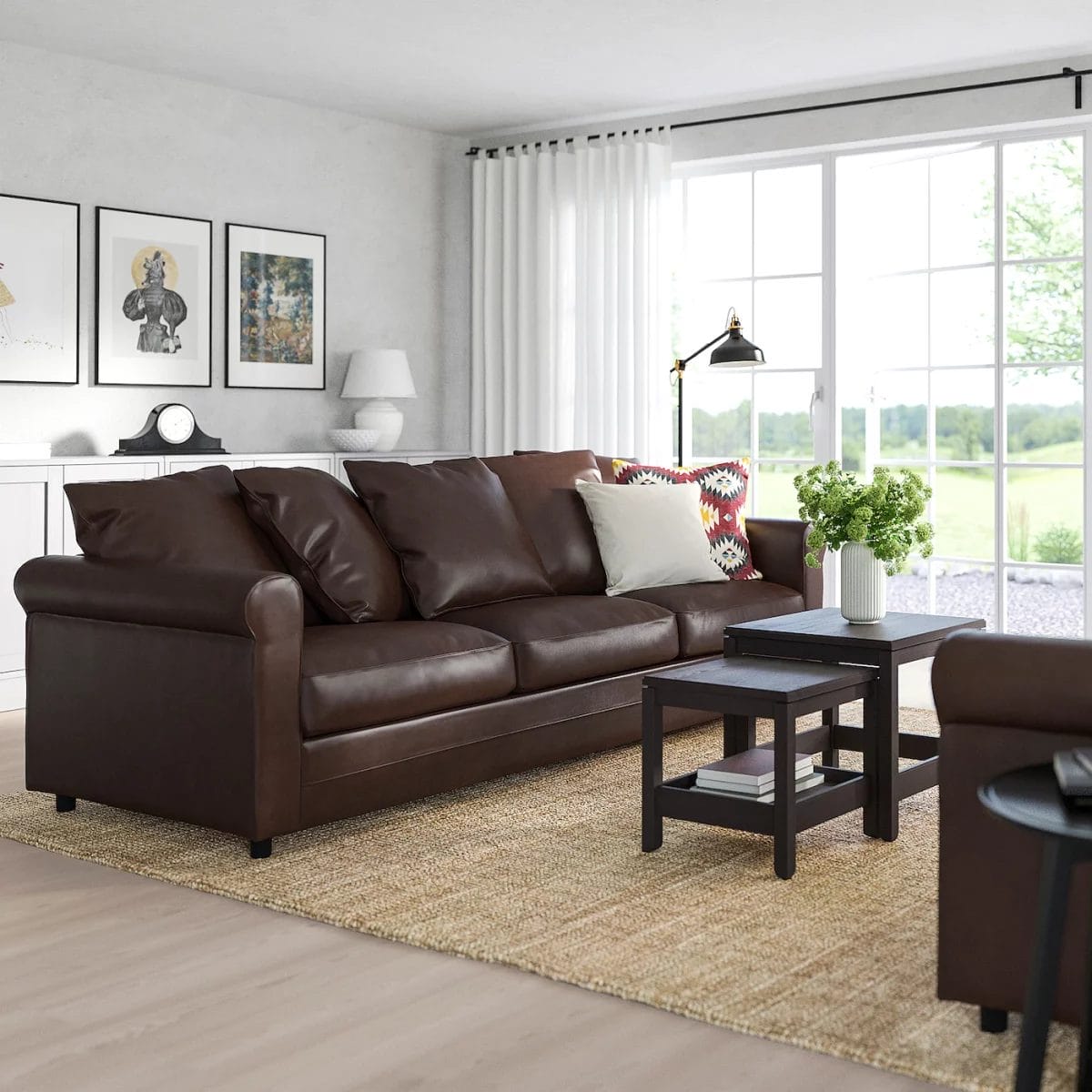 If you admire dark brown sofa living room ideas, imitate this look. The richness of brown leather sofas generates a deluxe appeal.
Because of intense brown leather sofas, this contemporary seating area feels homey and cozy. Moreover, leather throw pillows give off a seamless feel.
Pale gray walls and white furnishings contrast with deep brown sofas. In addition, the black tiered table, ornament, and floor lamp accompany the leather upholstery. Lastly, the printed pillow, greenery, and earth-toned artworks introduce touches of color.
10. Dark Brown Sofa Living Room Ideas with Window Walls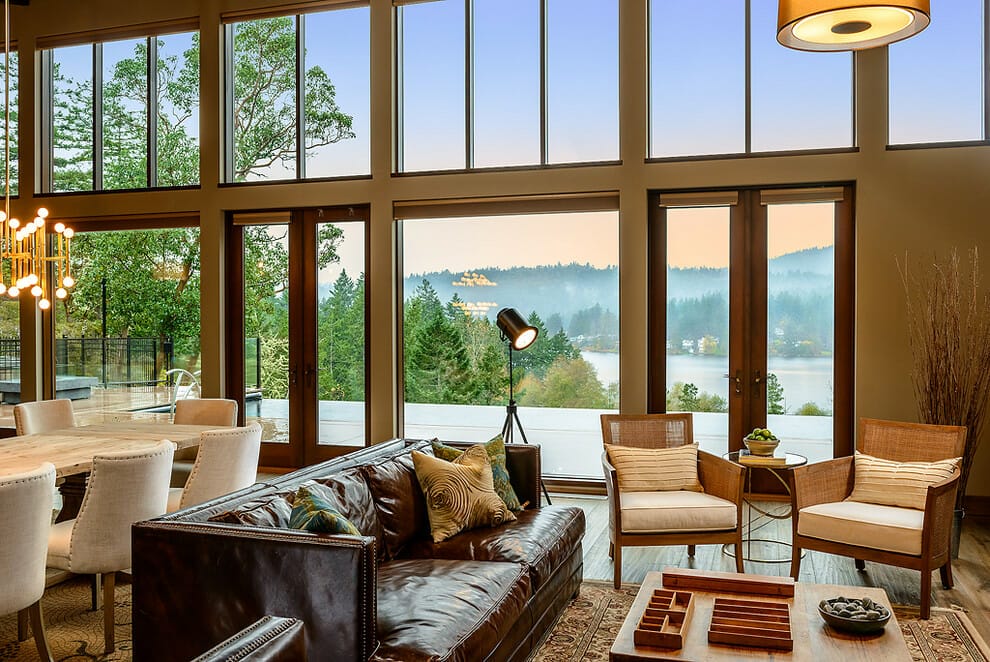 Do not hide your glam, dark brown leather sofa. You should embrace its rich tone instead. The couch carves some elegance and visual depth.
Here, mustard yellow walls blend with the leather sofa well. Furthermore, water blue and olive green throw pillows deliver other earth tones.
Window walls and white textiles lighten up the rich brown sofa. Meanwhile, river rocks, wooden table ornaments, and tree twigs infuse natural textures. The floor lamp, rug, and pendants carry lots of personalities.
11. Splashes of Red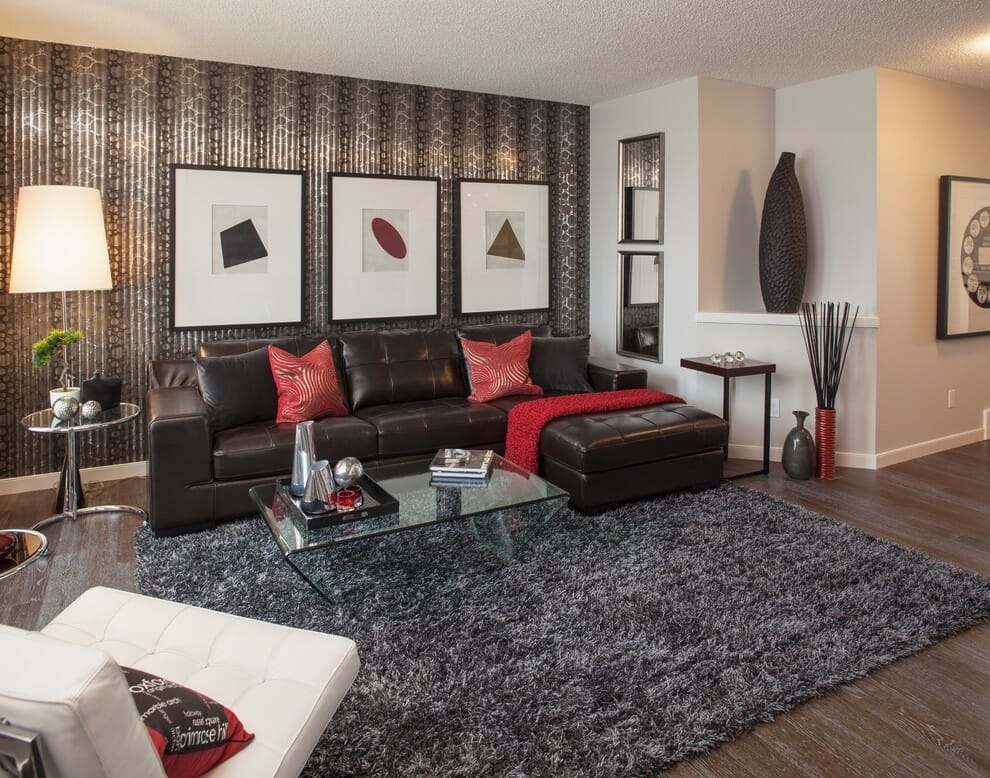 Speaking of colors to match brown leather sofas, autumnal hues like red are your friends. The red accent pieces naturally mingle with rich brown leather upholstery.
Certainly, the chic wallpaper leads the eye to the sleek artworks. Moreover, they employ black frames and geometric shapes in different earth tones.
The gray rug, walls, throw pillows, and decorative jugs ensure the seating area seems balanced. Meanwhile, the acrylic table and silver details prevent the brown leather sofa from overburdening the interior.
12. Pops of Patterns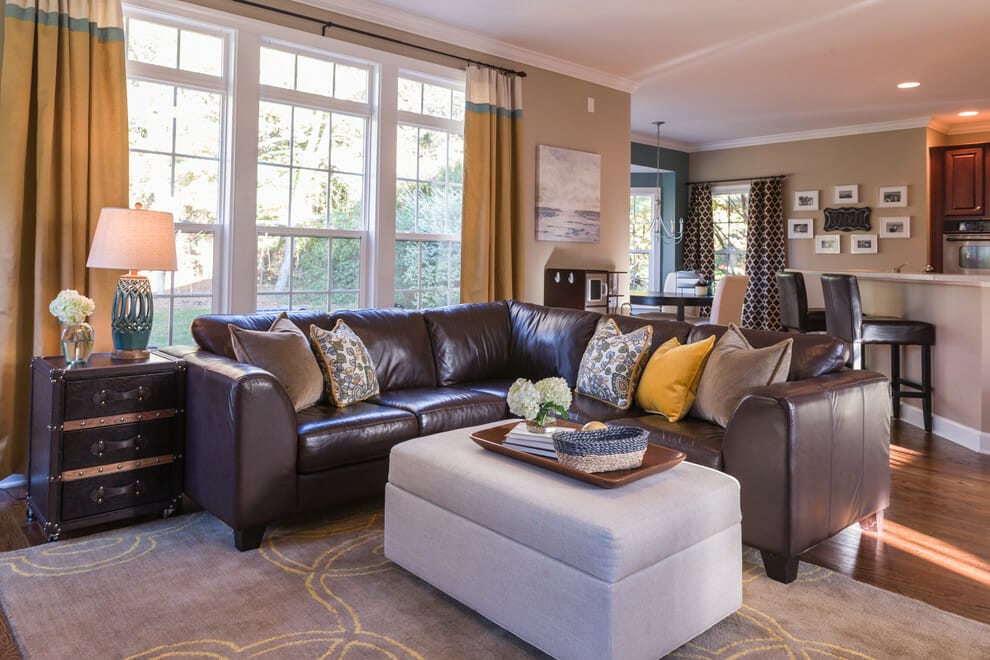 With numberless dark brown sofa living room ideas, you have abundant choices. The pale gray storage ottoman and intense brown leather sofa produce a bodacious juxtaposition.
The mustard yellow and blue elements brighten up the look. Moreover, decorative brown pillows convey homeliness.
Printed pillows and graceful flowers titivate the contemporary room. Meanwhile, the two-tone rug underneath the ottoman ties the look together.
13. Dark Brown Sofa Living Room Ideas with Eclectic Prints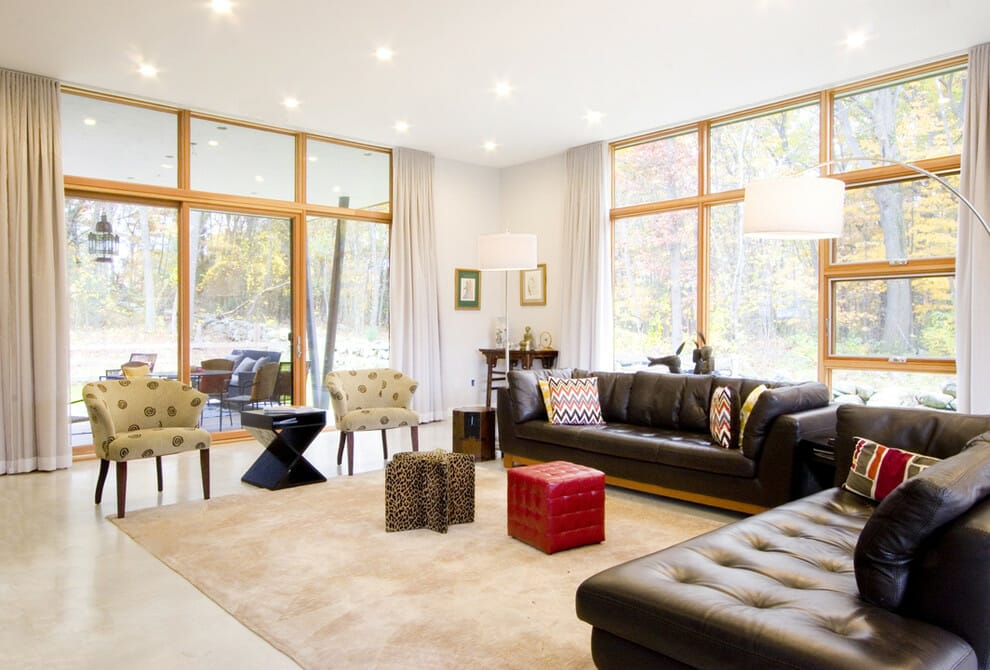 Deep chocolate brown leather sofas boast some tufts. Not only do they seem elegant but also embrace a classic aesthetic.
Chevron and abstract throw pillows feature varying earth tones. Furthermore, they spruce dark brown sofas up in an instant.
The beige rug anchors red and animal print ottomans. Additionally, subtle gray walls, crisp white furnishings, and walls of windows keep the interior airy.
14. Dark Brown Sofa Fabric for Living Rooms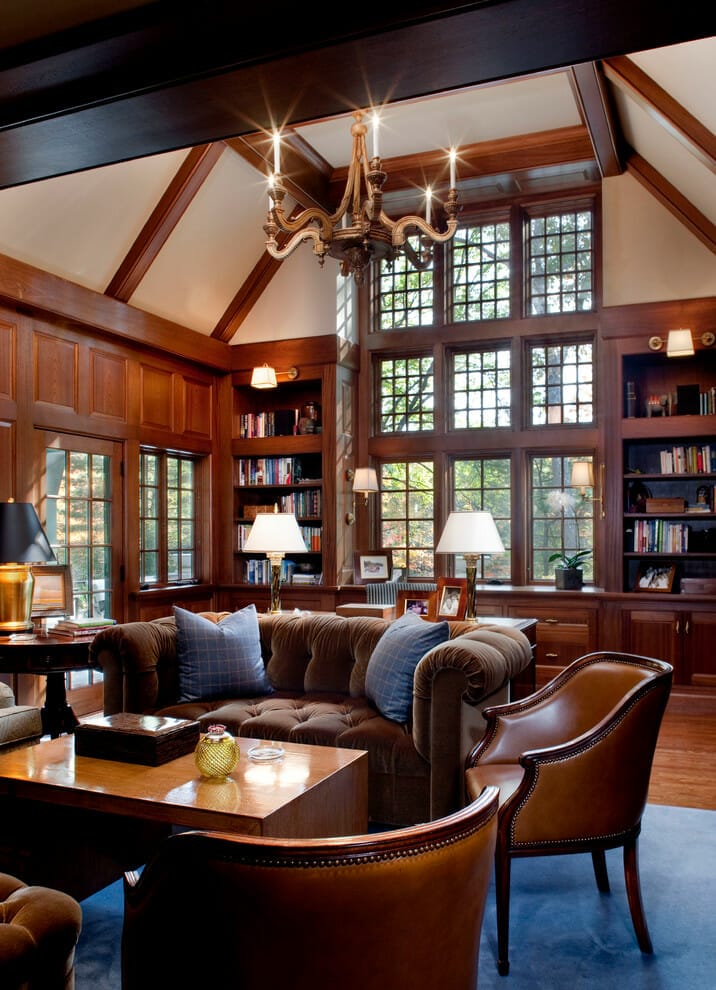 This room is equal parts stately and welcoming. The dark brown fabric of the tufted sofa clashes with the solid blue rug and grid throw pillows.
Here, other seats wear caramel brown. Furthermore, they meet seamlessly with the wooden floor, tables, and wall paneling. Meanwhile, white ceiling panels and lampshades provide contrast.
15. Dark Brown Sofa Living Room Ideas with Antique Pieces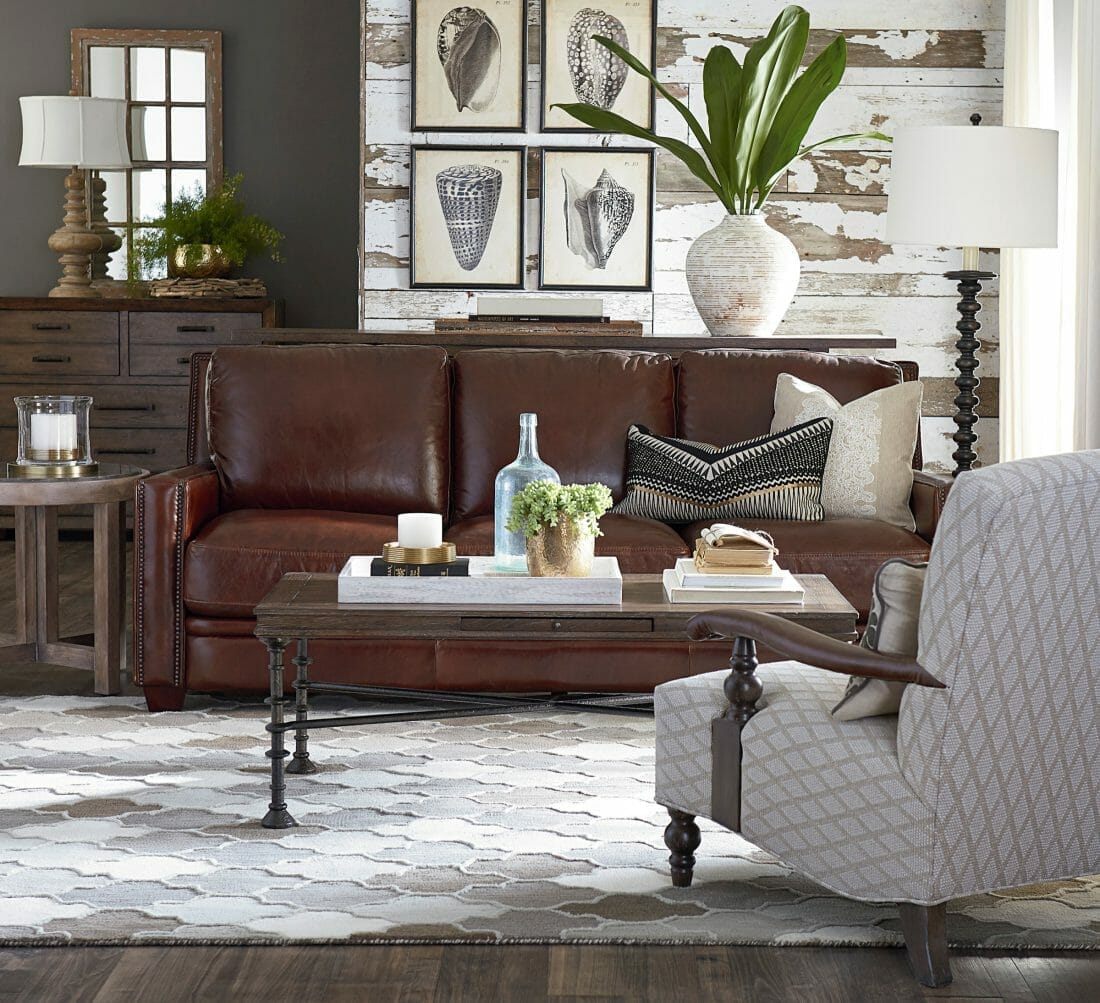 The rich brown leather sofa is well-worn yet cozy. As you see, the homeowner coupled it with antique furniture units and ornaments.
Despite its chipped look, the shiplap wall panel becomes a fantastic backdrop for a whitewashed jug and coastal artworks. Meanwhile, the patterned armchair, textured rug, and mismatched throw pillows steal guests' attention.
16. A Touch of Tuscany
This living room employs colors of nature. The dark brown leather sofa complements relaxing earth tones on furnishings while adding splendor.
Wood and stone surfaces invite natural textures into the room. Moreover, windows and cream walls balance out the intense color of the leather upholstery.
17. Inviting and Opulent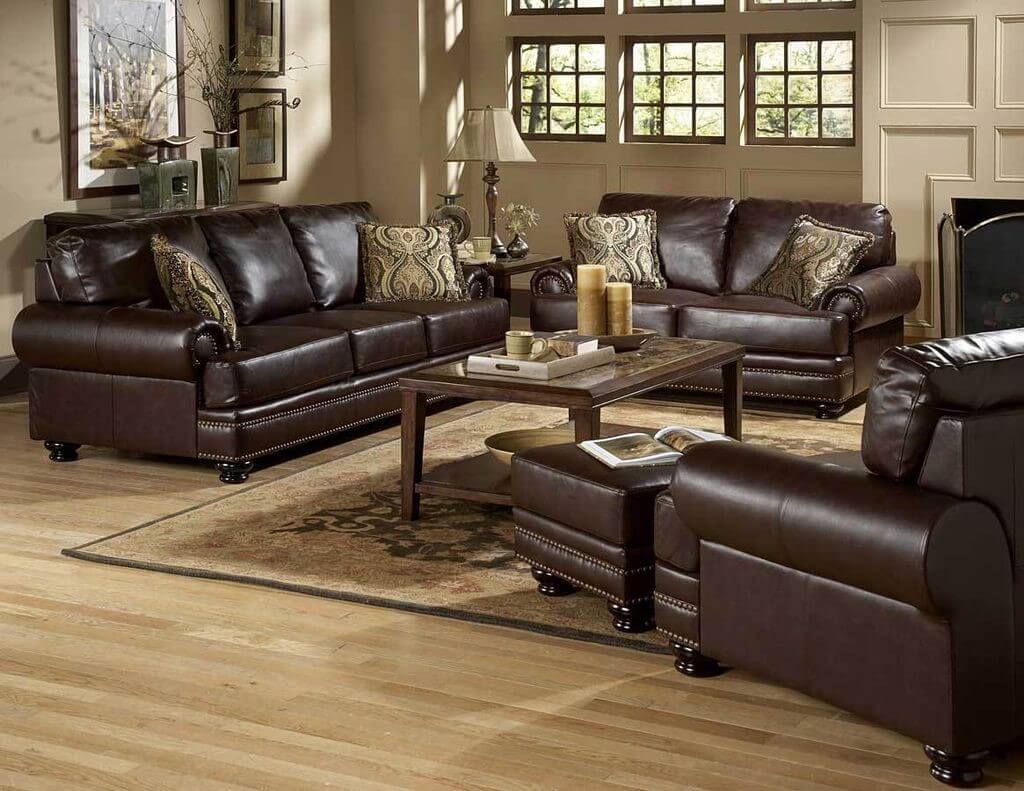 Speaking of dark brown sofa living room ideas, don't hesitate to repeat the material. The space, for example, has intense brown leather furniture items. They convey glamor and cohesion.
The pale wood floor and sand-colored walls ensure dark brown leather units don't overwhelm the interior. Furthermore, classic patterns, artworks, and cream candles add interest.
18. Change the Focus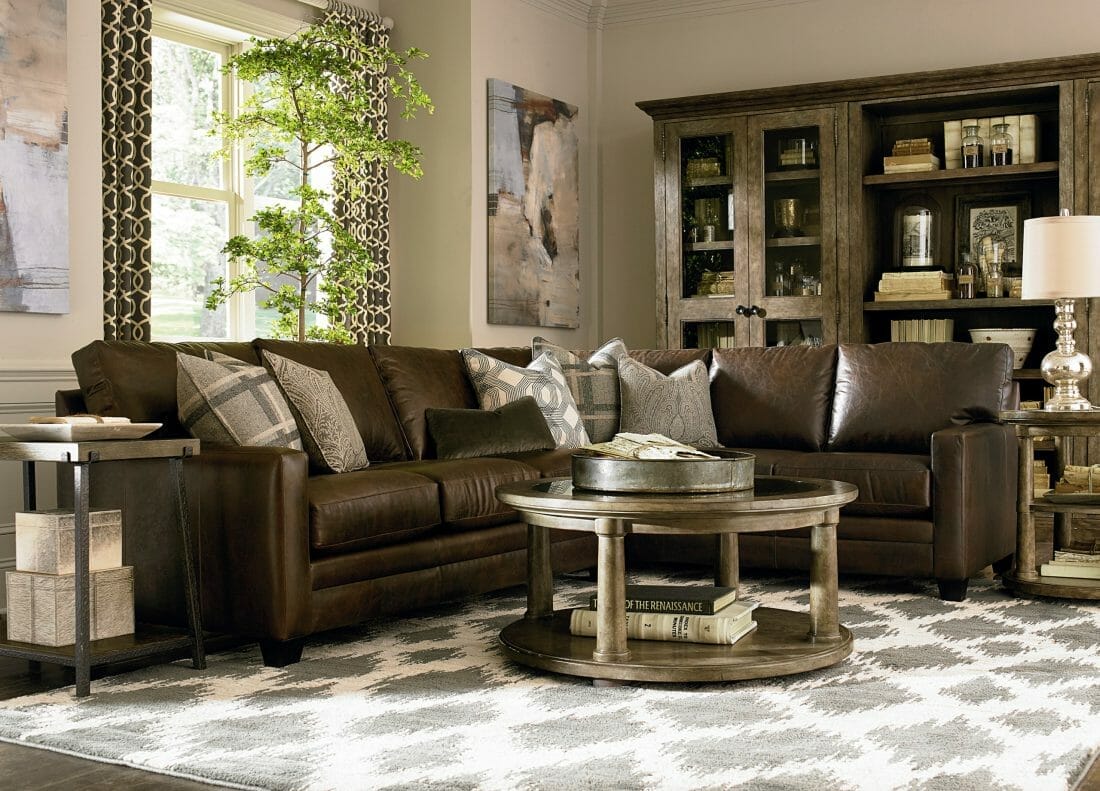 The rich brown leather sofa poses as an influencer here. It enables the homeowner to add other antique furnishings.
Patterned curtains divert attention away from the brown sofa. Meanwhile, the tall houseplant, vintage throw pillows, and paintings make the scene appear complete.
19. Warm Vs. Cold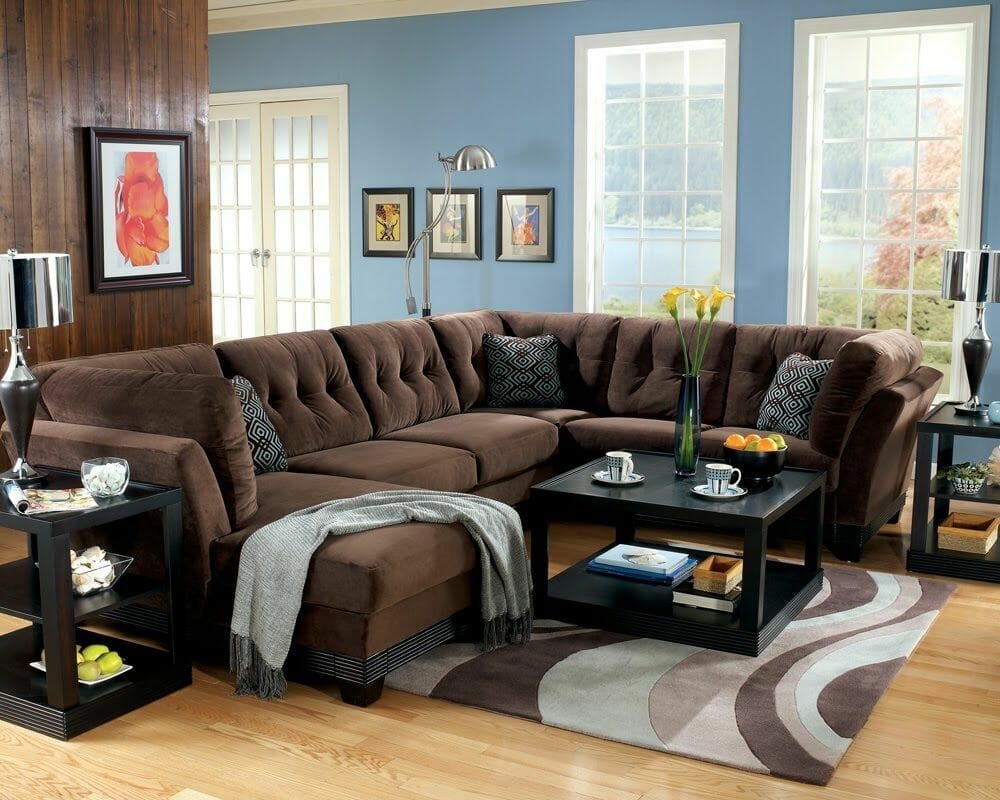 There are countless dark brown sofa living room ideas. In this photo, the deep brown sectional anchors the seating area. It harmonizes with black patterned pillows and tables, too.
French doors, white window frames, and blue walls help this space look bright. Furthermore, punchy hues temper neutrals here.
20. Go All-In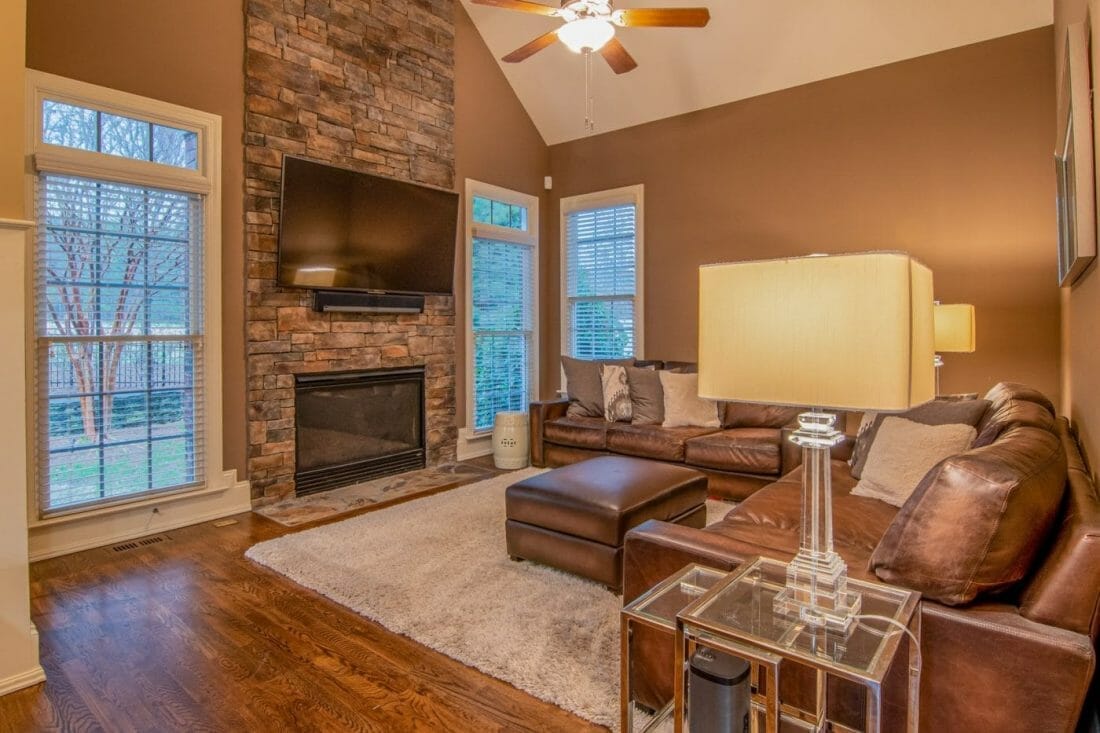 Since the leather sectional sports dark brown, coat the walls with the same color. In addition to making the scene snuggly, they deliver a seamless feel.
Glass furnishings, gray fabrics, and windows offset all things intense brown. Meanwhile, the soaring stone fireplace adds details and warmth.
21. Dark Brown Sofa Living Room Ideas with Teal Walls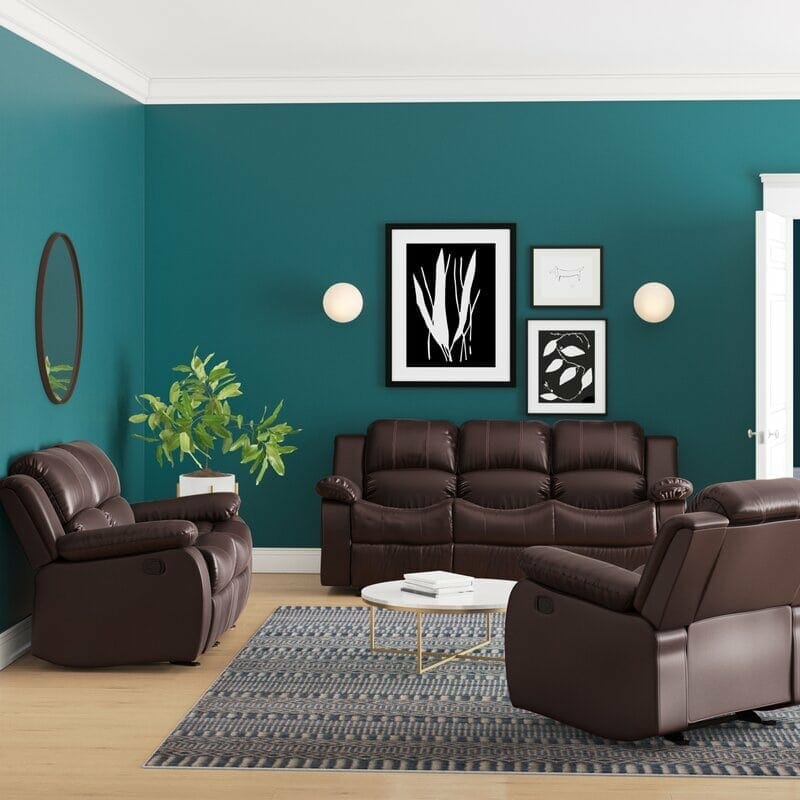 For a serious visual impact, go for teal. This dark blue shade spruces things up and accents monochromatic wall decorations.
Thanks to teal walls, they let the rich brown tone of furniture pieces sing. Moreover, metallic details and light neutrals brighten up dark seats.
22. Vintage Meets Industrial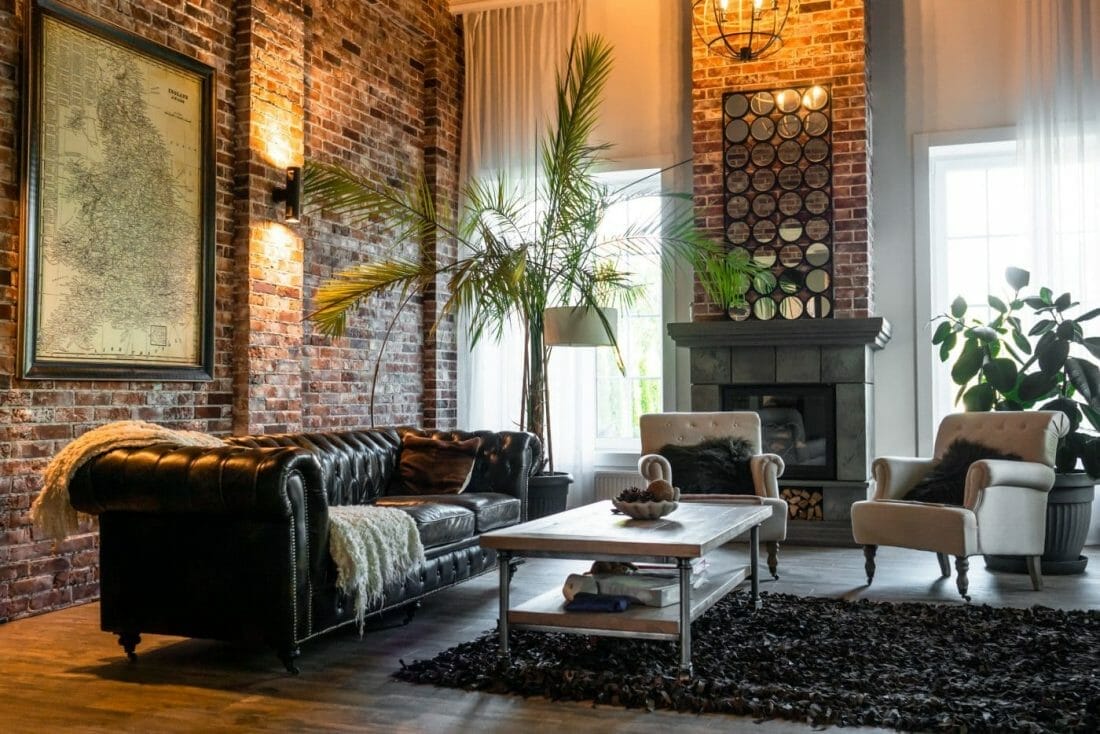 Exposed bricks give this vintage room an industrial edge. Meanwhile, the Chesterfield leather sofa fits in with dark textiles and planters.
Sheer curtains and pale gray tufted chairs ensure the space doesn't feel dingy. Furthermore, tiny circular mirrors and leafy plants freshen things up.
23. Contrasts Do Matter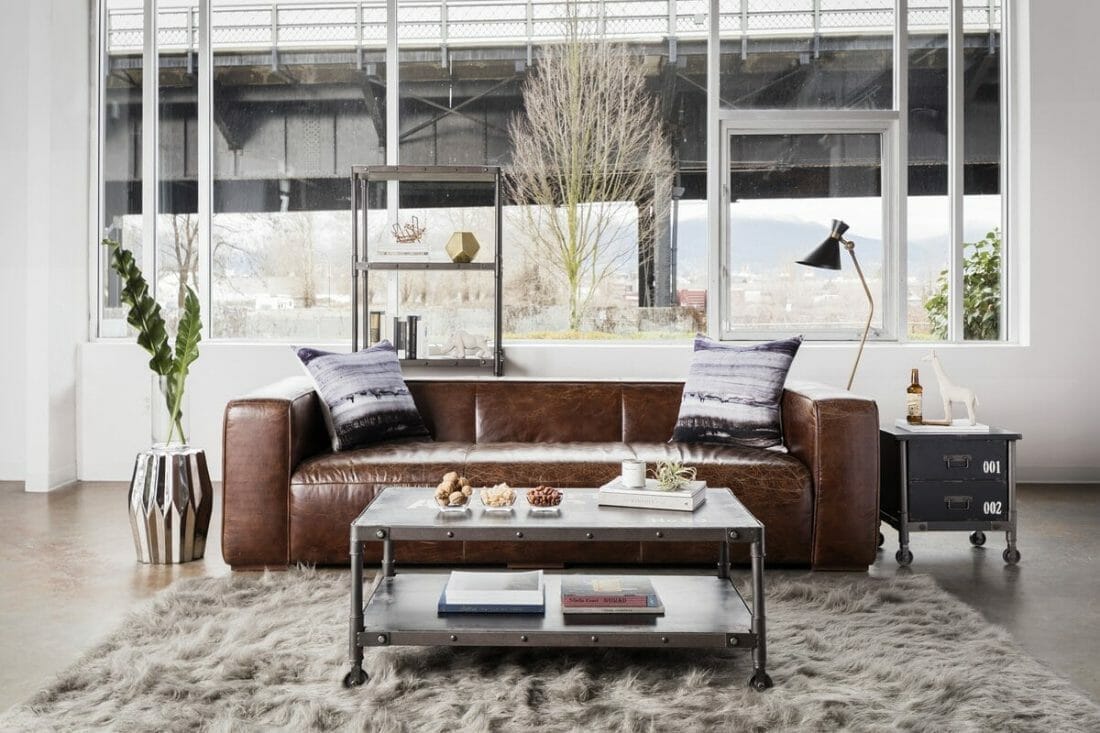 I know you adore dark brown sofa living room ideas. However, it's crucial to contrast the rich brown leather couch with white walls and metal pieces for visual balance.
The plush rug and abstract gray throw pillows make things lighter. Meanwhile, accents of green and gold titivate the urban space.
24. Go Matchy-Matchy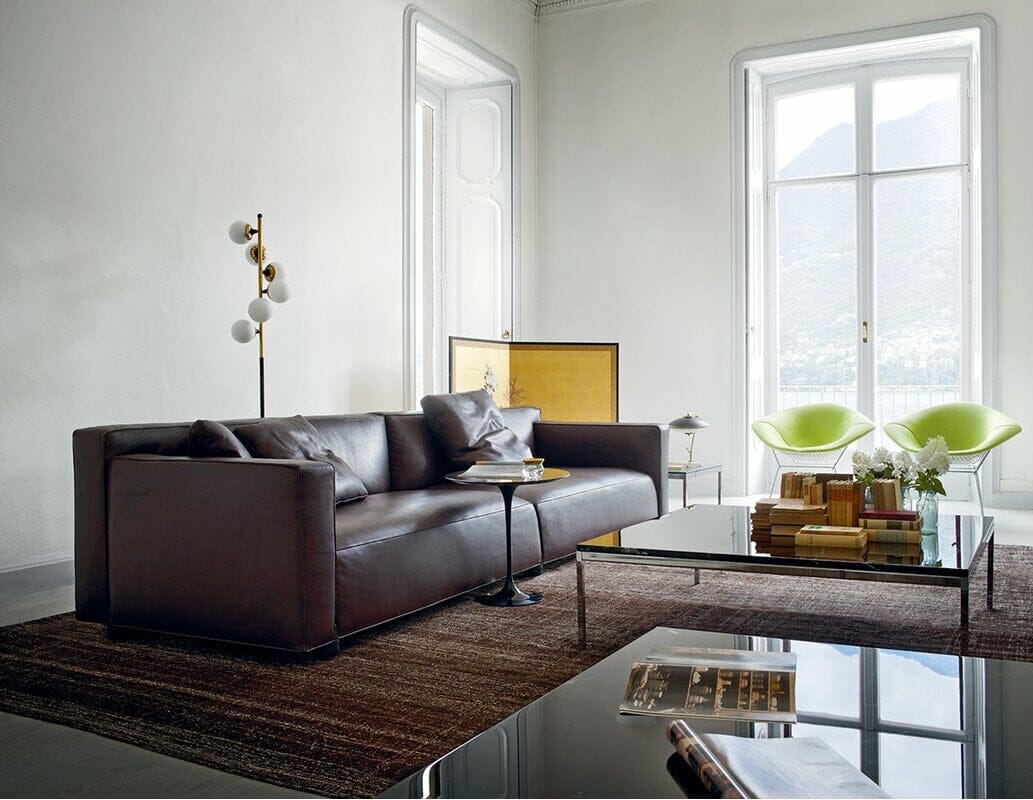 The rich chocolate brown leather sofa and throw pillows emanate sophisticated warmth. Meanwhile, the brown rug and black tables coordinate with them.
Vintage books, white blooms, and chic lamps imbue plenty of character. Mustard yellow and lime green accent pieces jazz up white walls.
25. Dark Brown Sofas for Farmhouse Living Rooms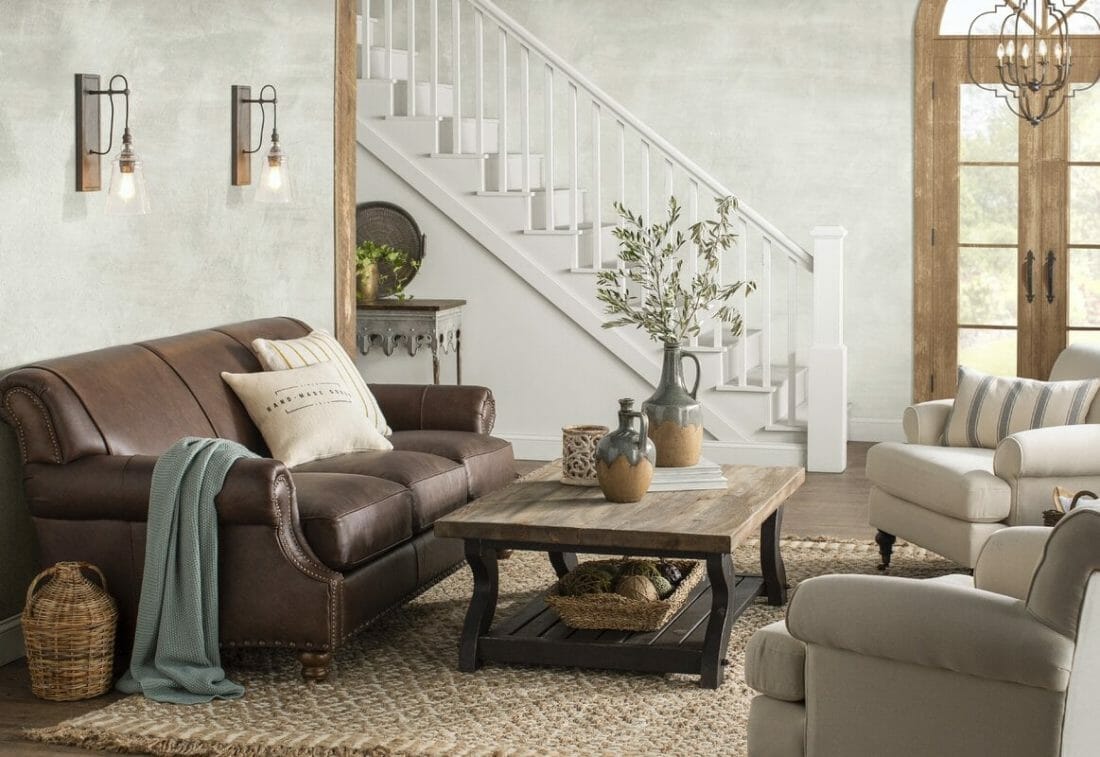 Dark brown sofa living room ideas are suitable for many decor styles, including farmhouse. Here, the deep brown leather upholstery pairs with rattan and wood elements.
White, light sand, gray balance out the leather sofa's richness. Meanwhile, classic fabrics and light fixtures round out this farmhouse room.
26. Color-Coordinated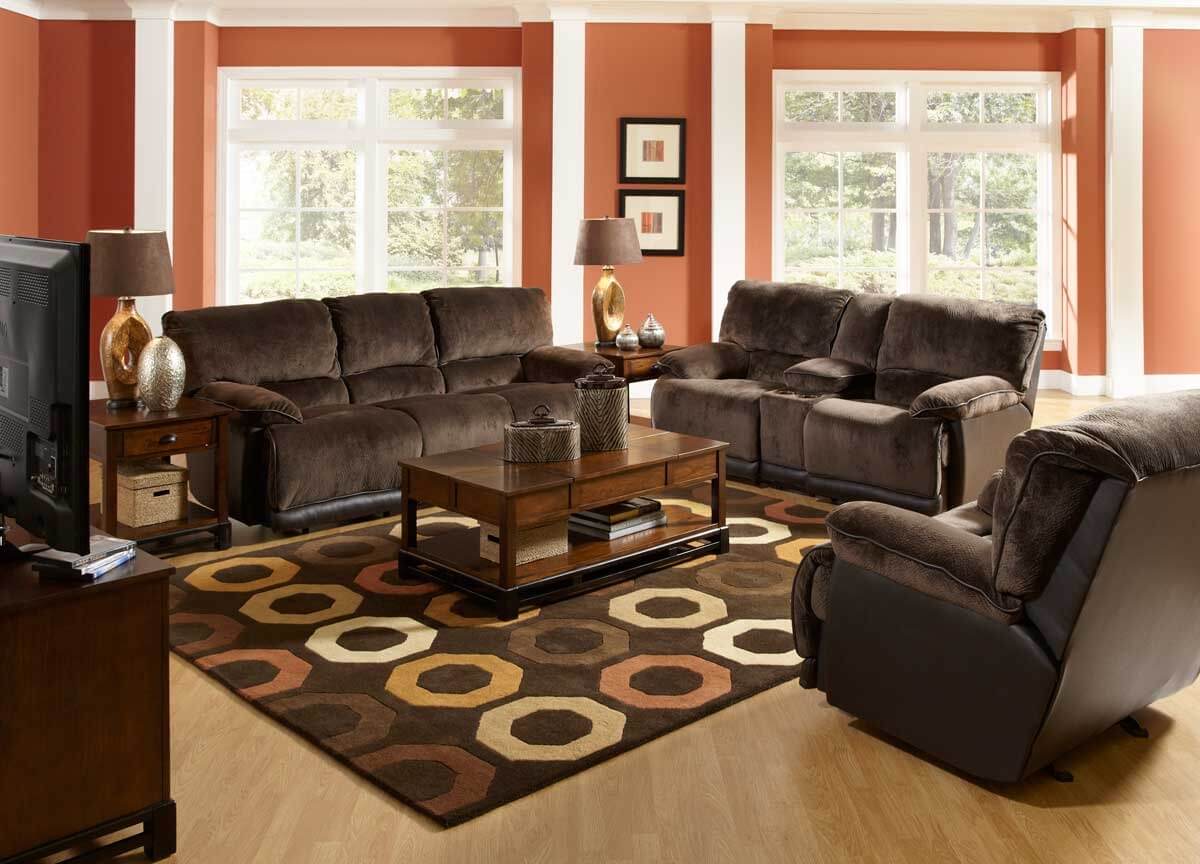 Dark brown undeniably matches with warm accent colors. Here, rich cocoa brown furniture units temper the starkness of pillars.
Rust orange, mustard yellow, and dark red complement the intense brown. Furthermore, geometric features and metallic touches redirect the focus.
27. Dark Brown Sofa Living Room Ideas for Open-Concept Homes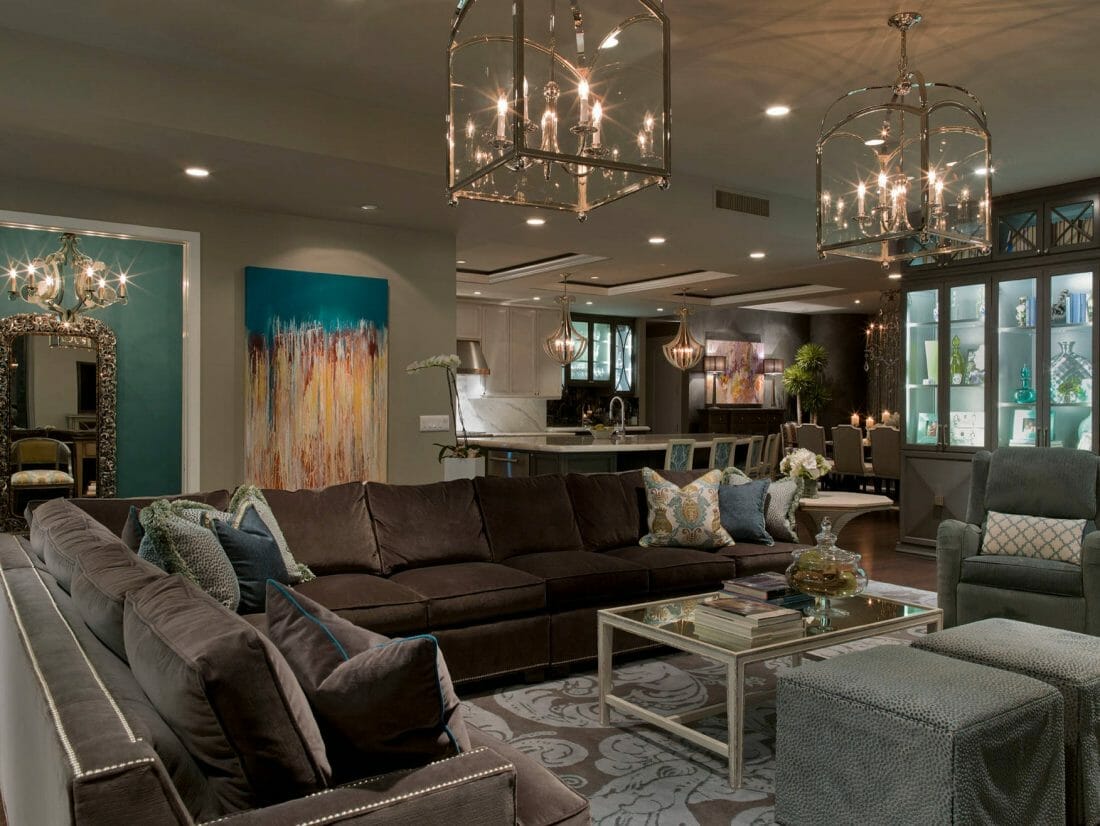 The dark brown sectional delivers warmth and visual weight at once. Meanwhile, a variety of gray and blue shades keeps things balanced.
Decorative throw pillows prevent the sofa from feeling heavy. Additionally, chunky metallic chandeliers make this open-layout room seem luxe.
28. Trendy Yet Snuggly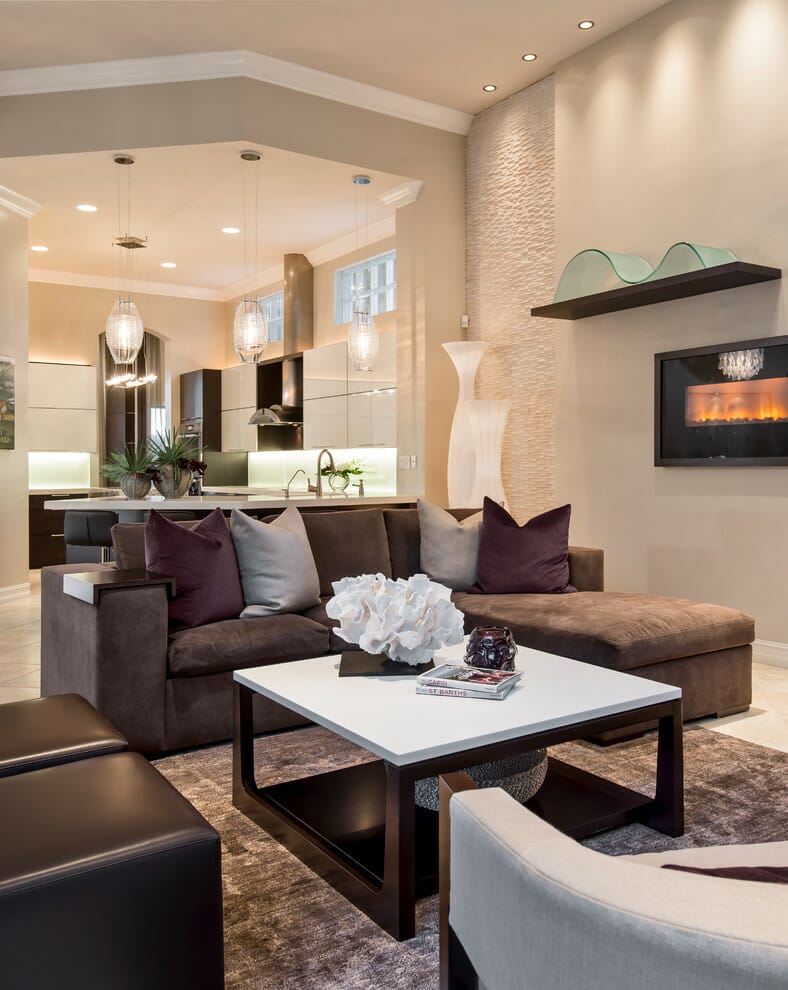 Here, the modern velvet sofa wears deep brown. Apart from depicting coziness, it emphasizes dark purple and gray throw pillows for a feeling of balance.
Clean white surfaces and glass pieces tone rich hues down. Meanwhile, the electric fireplace lends the open-concept interior some intimacy.
29. Rustic Yet Stately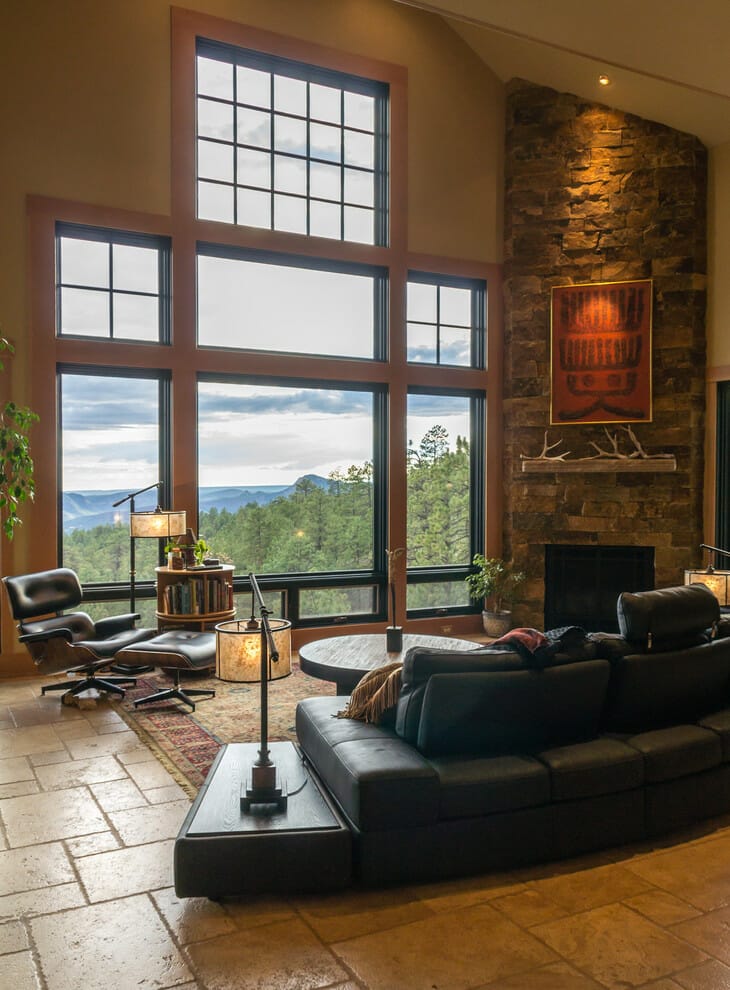 The rich cocoa brown couch and leather armchair inject visual depth. Earth tones and natural materials fit in with them brilliantly.
Windows offer magical mountainous views. Round and cylindrical units elegantly temper their hard edges. Lastly, deer antlers boost the rustic factor here.
In conclusion, rich brown is such a forgiving and versatile upholstery color. Also, those dark brown sofa living room ideas prove the shade isn't unexciting. Just emulate any of them. I guarantee you can style intense brown couches right.